After I posted my Halloween mantel and received such positive feedback, I decided to do more decorating posts moving forward. Our current house is more amenable to that- more space, better natural light, etc. I ran out of time to do a Christmas mantel, so I'm moving right into winter decorating ideas instead.
But rather than use our mantel as a backdrop, I decided to arrange our corner hutch for a winter display. They're white with a pale blue interior, which reminded me of a sunny day over a snow-covered meadow.
Plus, I didn't need to do ANY additional thrifting for this and was able to use pieces from my home.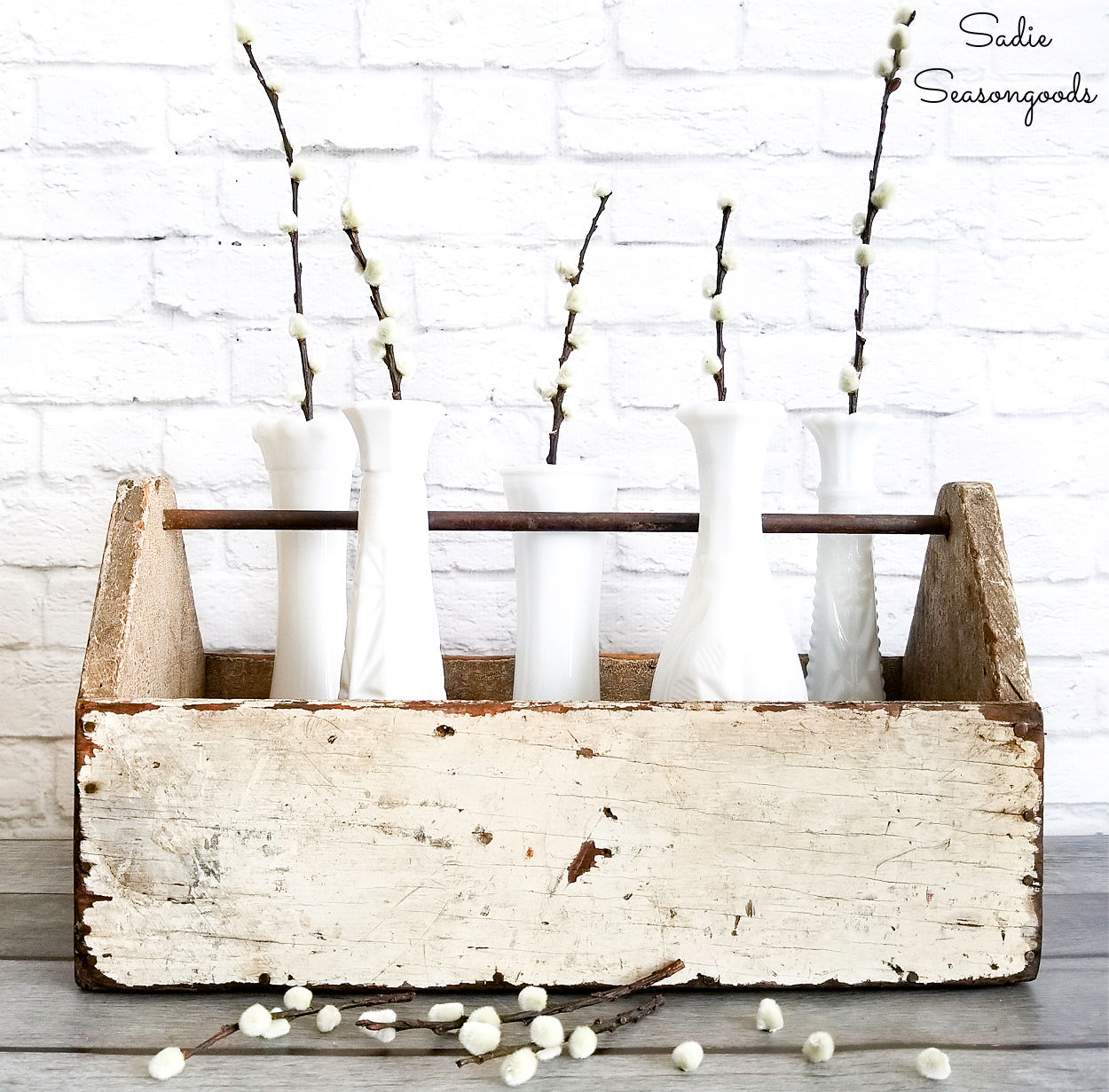 I focused on a neutral landscape of white, off-white, silver, and crystal. All of which I had thrifted (and purchased from antiques stores) over the years.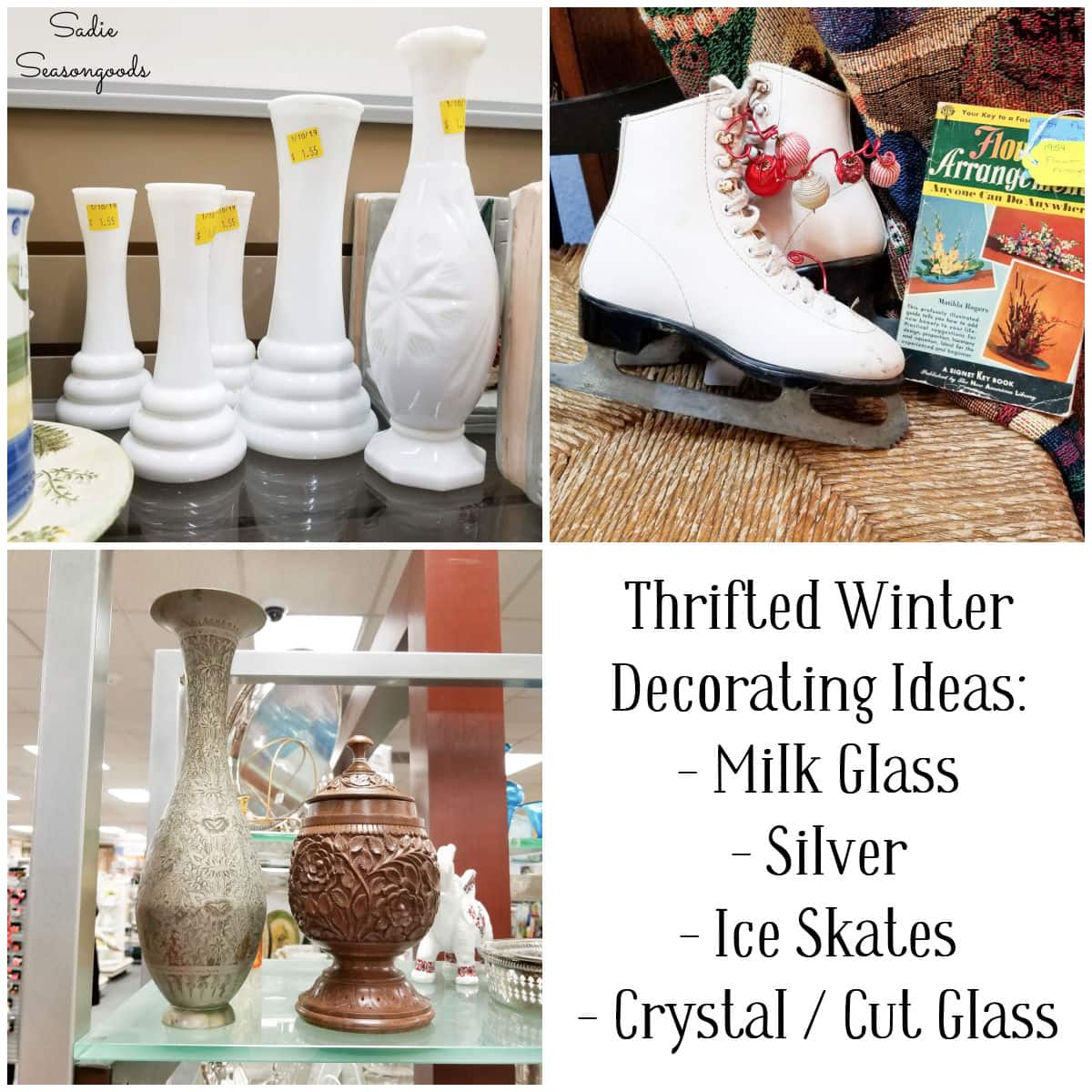 I thought you might enjoy the process of gathering treasures and arranging them together. Especially since winter home decor can be confounding at times.
And I also had a couple of pieces that I'd inherited that would work, such as this cut crystal pitcher. My grandparents' received it as a wedding gift in the mid-1930s.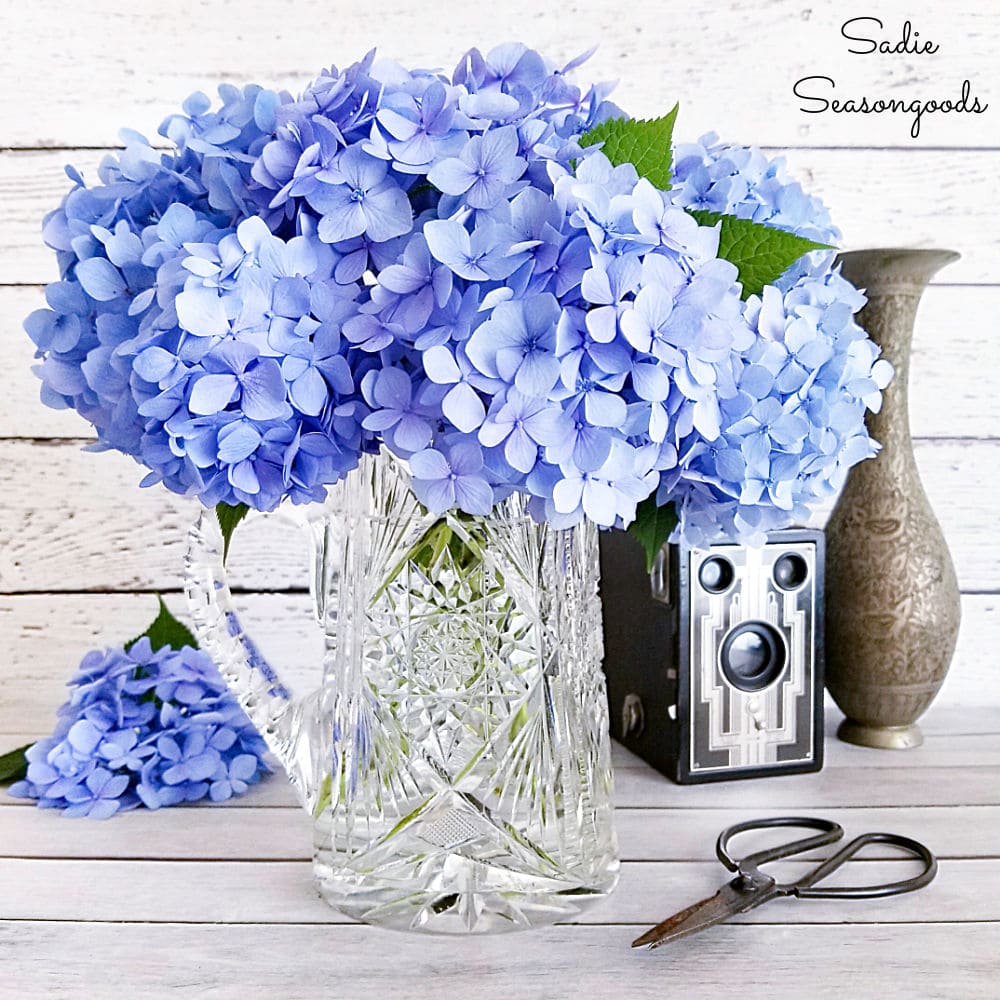 Once I had gathered bunches of pieces from cupboards and other hiding places, I started arranging the shelves.
This post contains affiliate links for your shopping convenience. As an Amazon Affiliate, I earn from qualifying purchases. All blue, bold, and underlined text is a clickable link, either to a product or to a related post.
Secondhand Supplies for Winter Home Decor
Decorating like this- gathering pieces from here and there to assemble together- is like a trip down memory lane. For instance, I had nearly forgotten about this bud vase that I had (mildly) splurged on several years ago.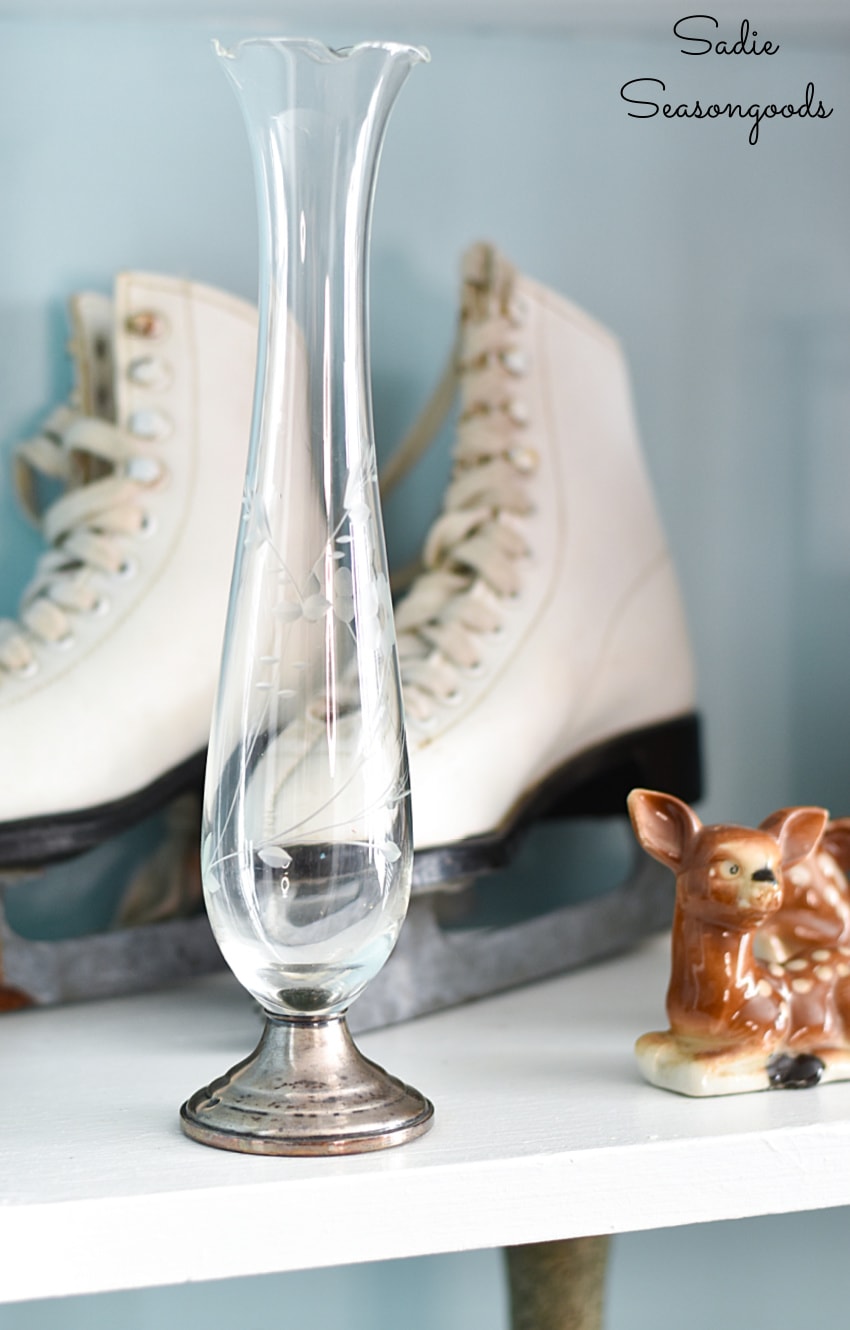 A fancy vintage shop that I used to frequent had obtained an entire set of these. They had been the vases set on room service trays at The Plaza Hotel back in the 20s and 30s.
Imagine the stories it could tell. The Roaring 20s, the glitz and glamour of a fancy hotel in NYC. Oh, my…
It was PERFECT for the look I was going for.
Next to the vase, I added my vintage deer salt & pepper shakers. I purchased these while updating my Junkin' Journey blog post on Hendersonville, North Carolina.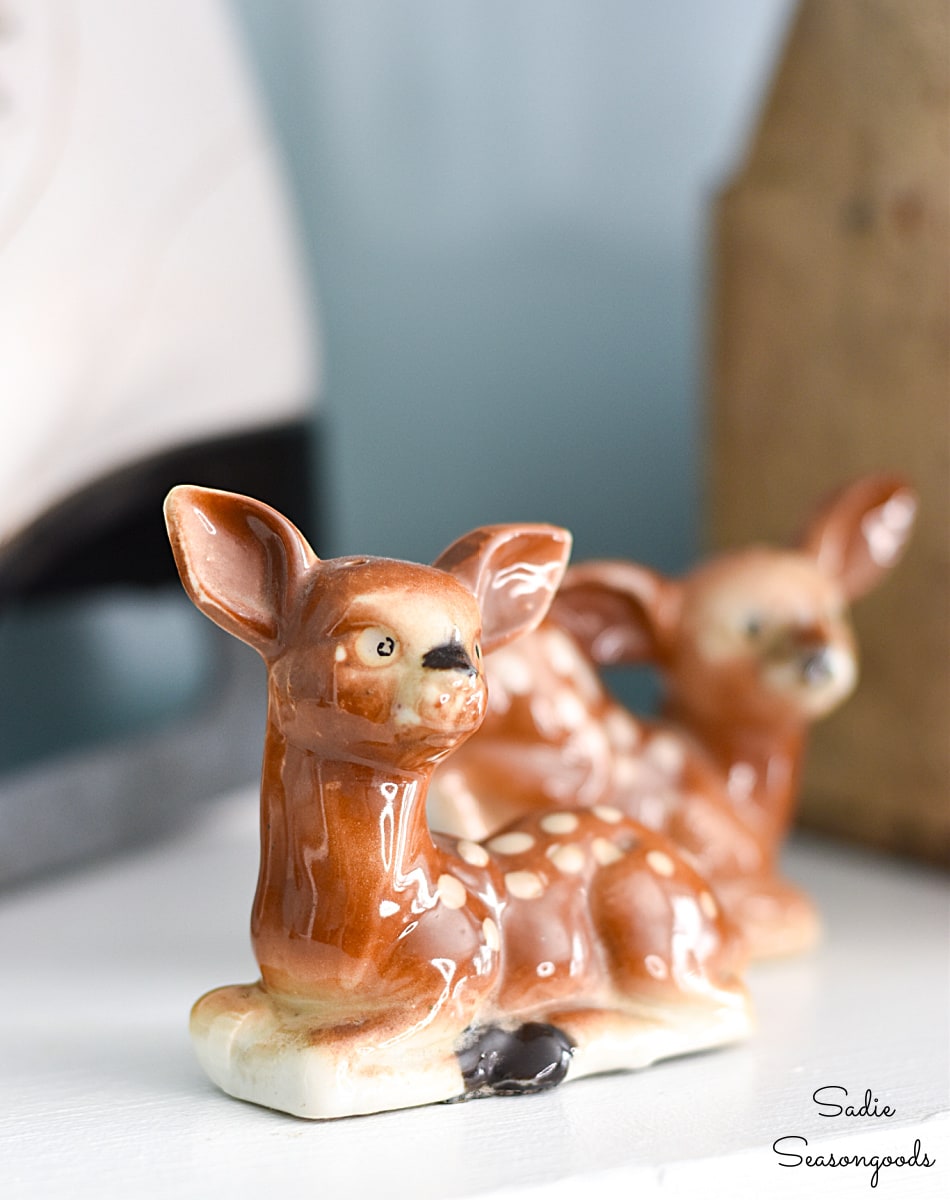 What's more iconic for winter than deer in snow?
Then, I added a very chippy tool box filled with vintage milk glass vases. I bought the tool tote from a favorite Instagram seller (she also has an Etsy shop).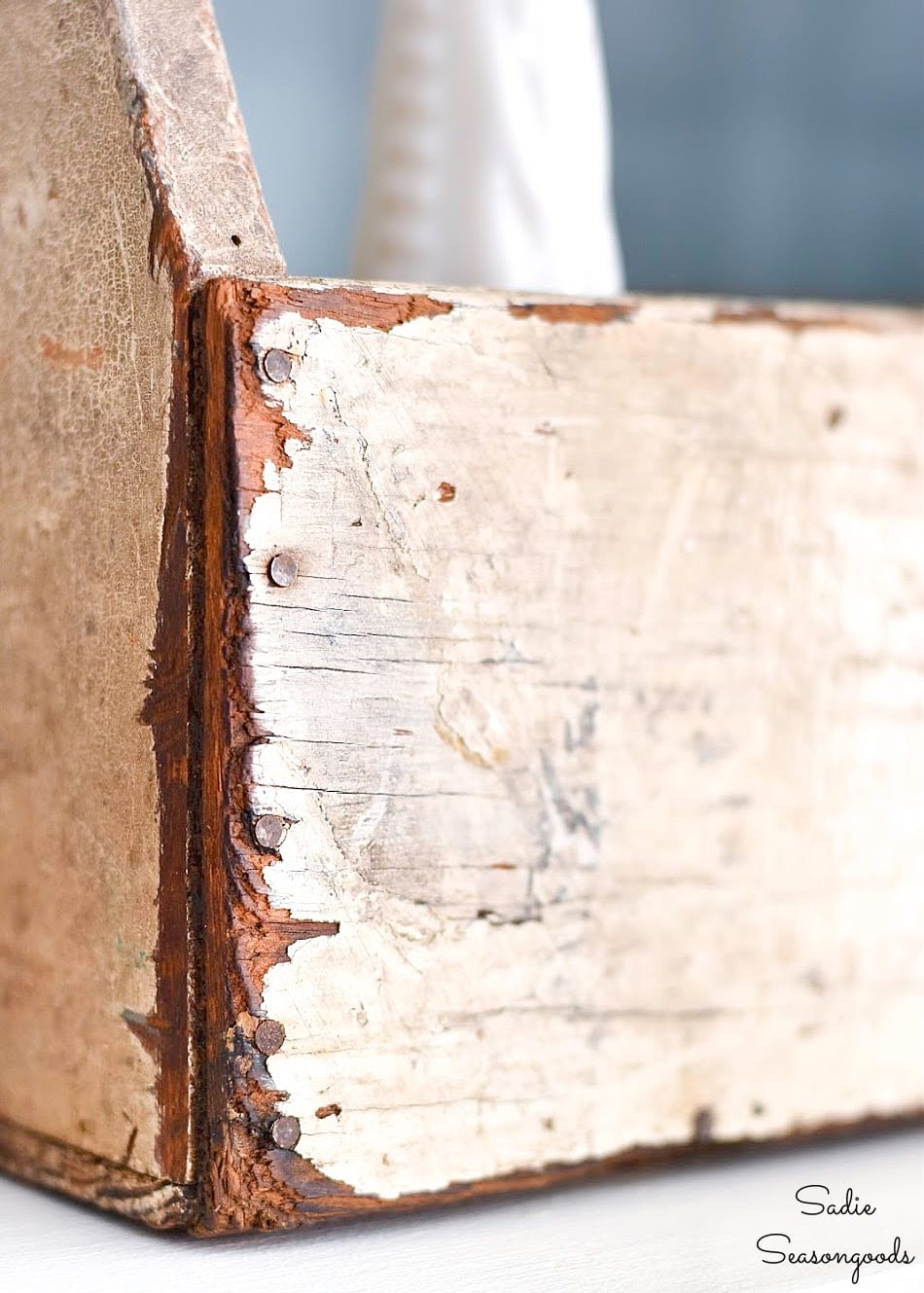 I could use it more throughout the year, I suppose. But I'm always drawn to it for winter decorating ideas.
My shelves were REALLY coming together nicely. The whites, creams, and silvers looked lovely against the blue interior of the shelves.
And the clear glass and crystal added a icy elegance to it all.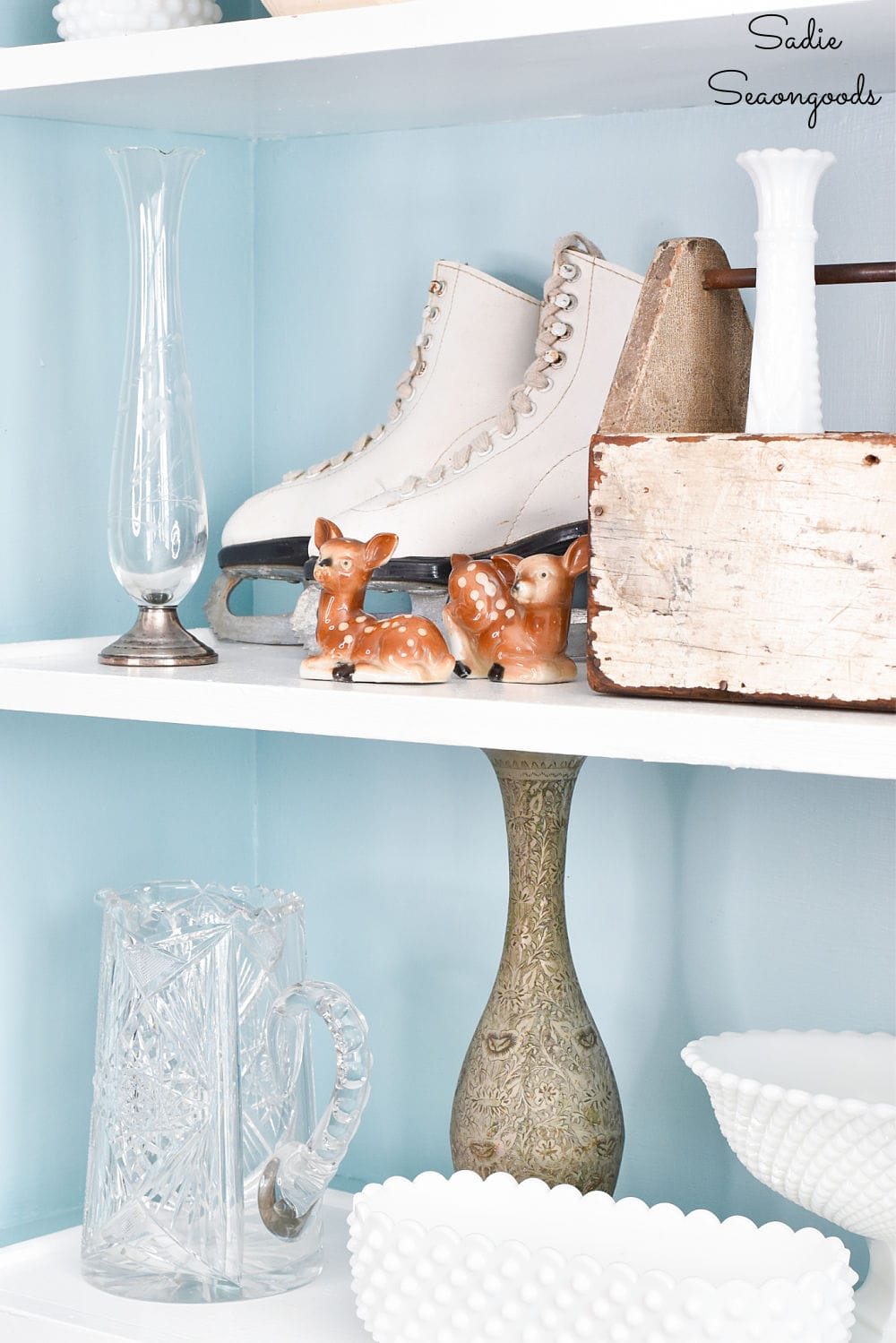 Some of you might recognize that hobnail milk glass dish and its compote neighbor from this Easter project, too! And that etched pewter-y vase was thrifted for a Boho decor blog post.
But I finally had a reason to showcase it after all!
Well, shall I pull back and show you the shelves in their entirety?
Winter Decorating Ideas from the Thrift Store
Here they are from this angle which gives you a good shot of the silver pitcher I thrifted a few years ago!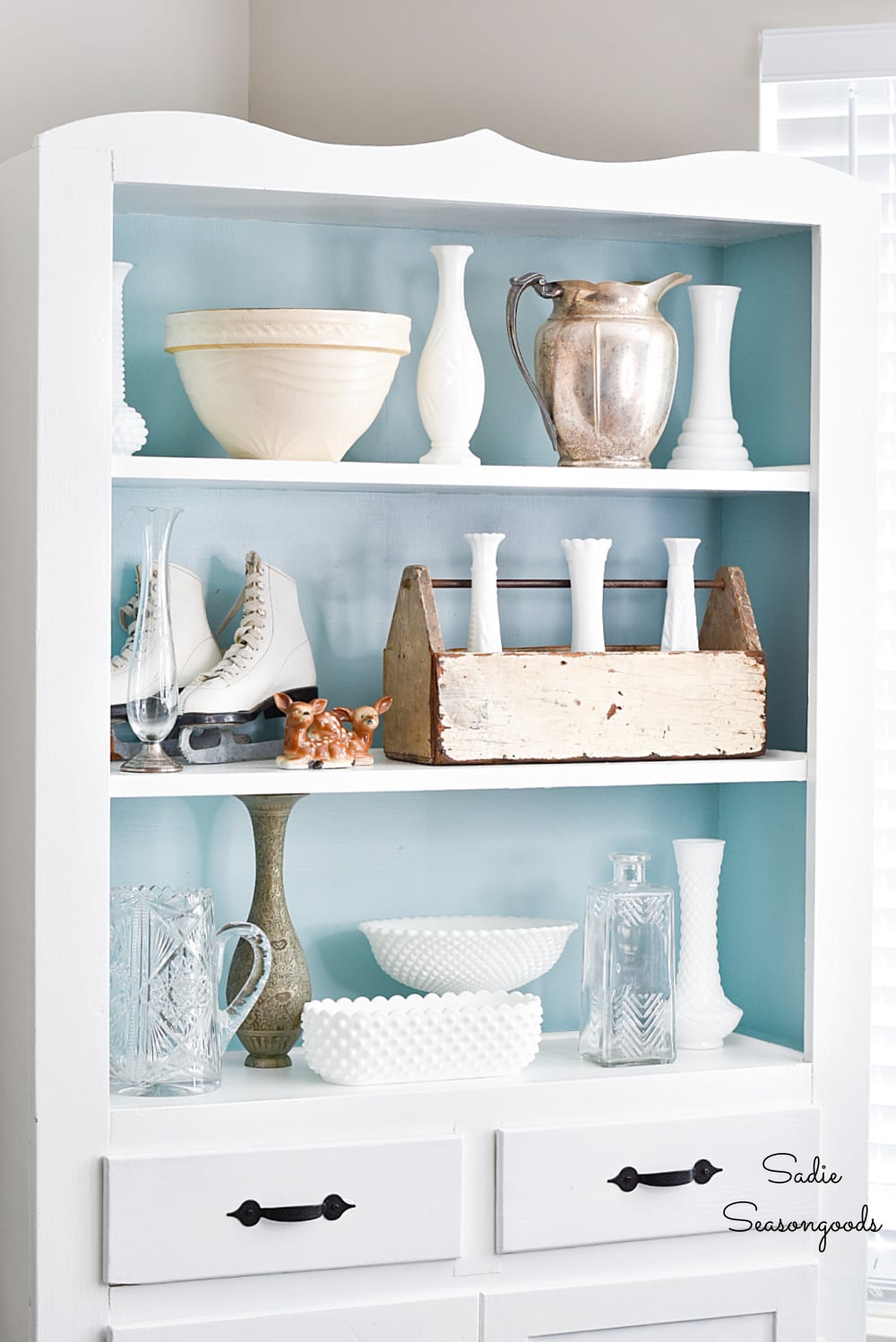 You can actually see the pitcher in the background of the thrift store picture from this blog post about old bobbins that I found!
The old stoneware mixing bowl was something my mother picked up at a garage sale several decades ago. The most recent acquisition was that ribbed glass bottle on the bottom shelf, which I bought at Habitat ReStore just a few weeks ago.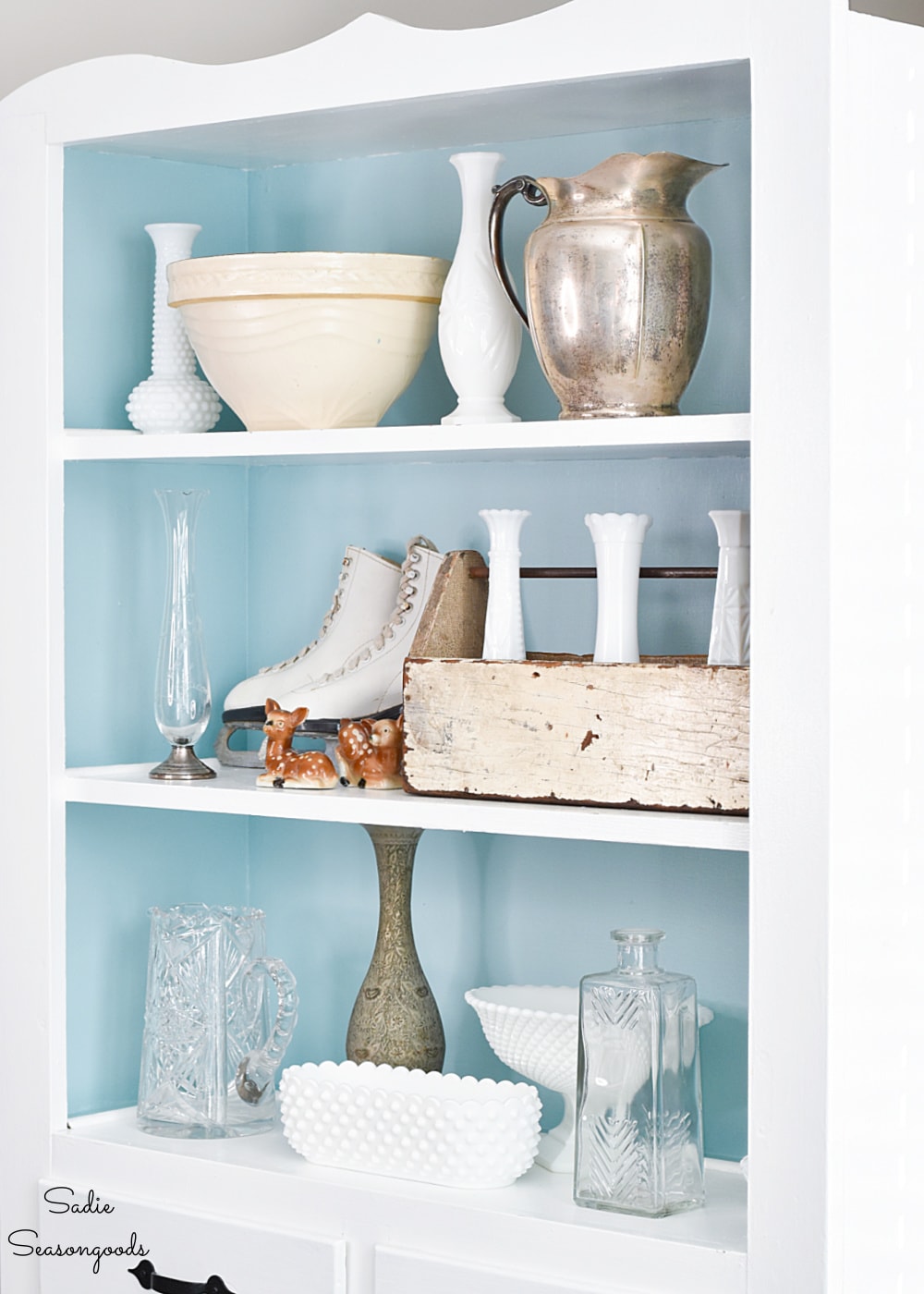 But I think all in all, everything works cohesively as DIY winter decor, don't you? Once I started musing on all my random pieces of milk glass, a winter vision started blooming in my mind.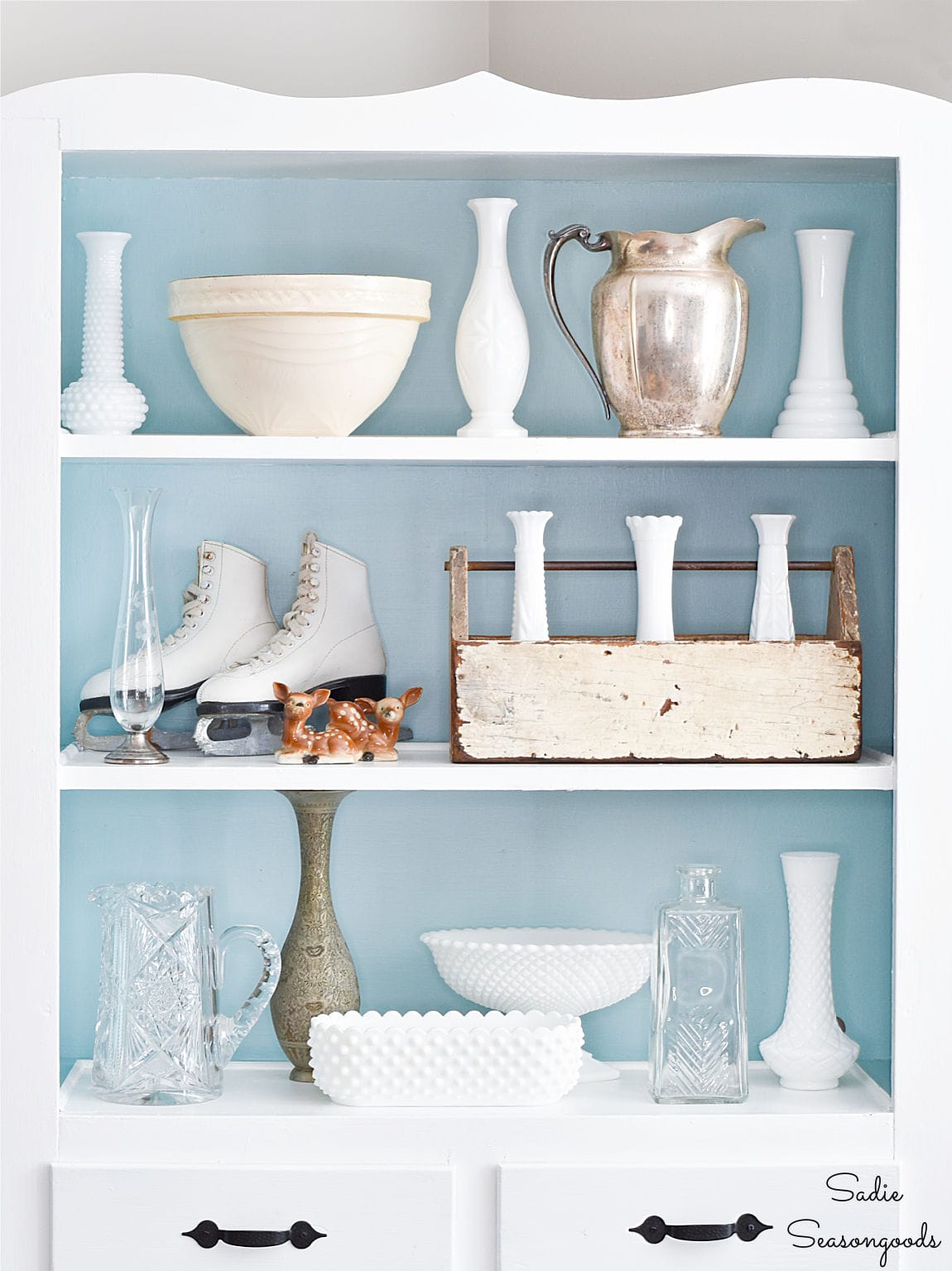 Individually, none of them scream "winter". Well, maybe the child-sized ice skates do.
But assembled together? Against the blue and white shelves? A winter landscape waiting to happen!
I love the different heights and textures, too. Hobnail like a nubby white sweater. Cut glass like frost on a window or a frozen pond scarred by ice skates.
Thank you for indulging me in another decorating post! I enjoyed putting it all together and hope it gives you a few winter decorating ideas of your own!
And if you're looking for some winter-specific upcycling ideas, too, then this collection will make you feel cozy AND crafty!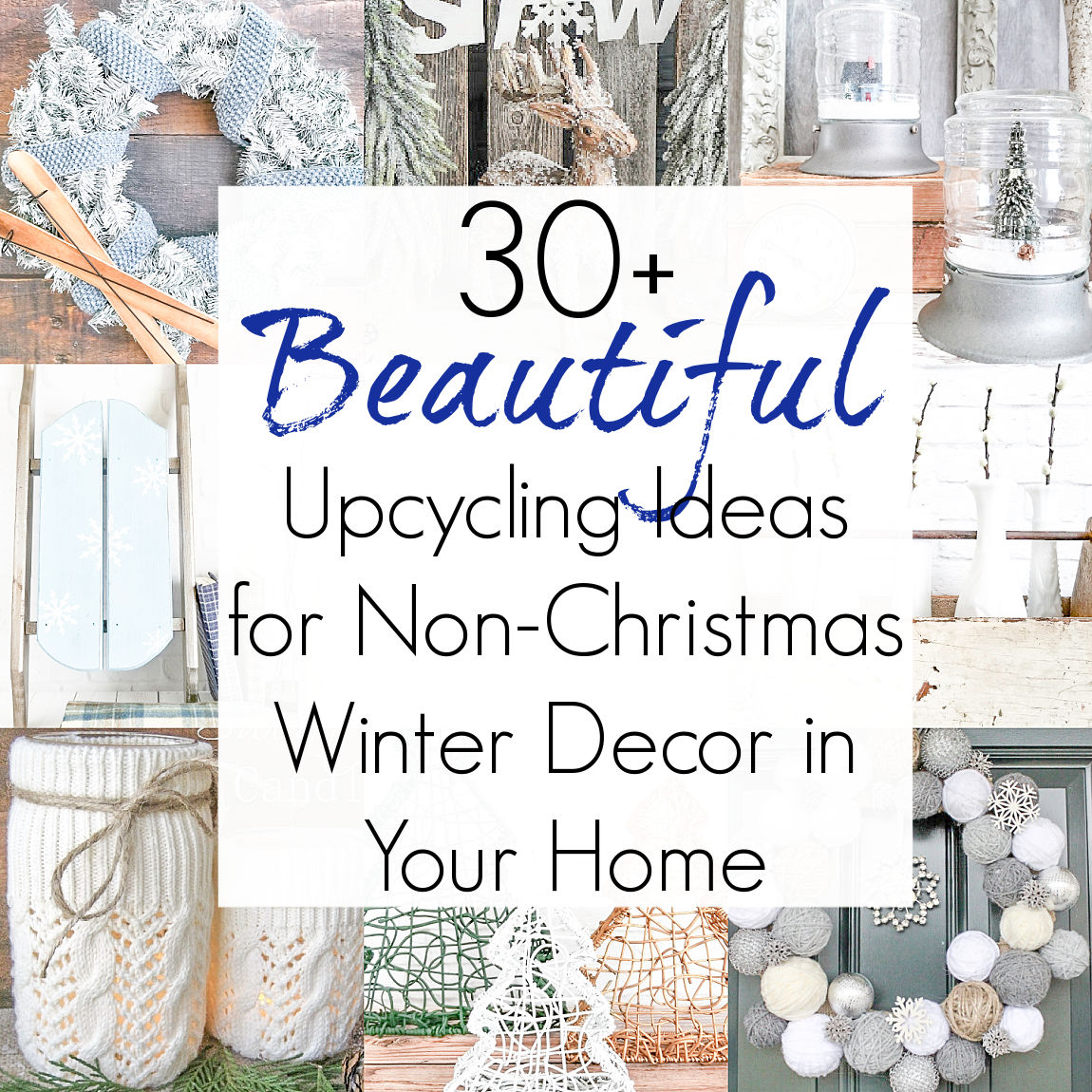 Craft on!
S
Want to be notified when I publish my next upcycling project tutorial?
Subscribe to Blog via Email
Join me on Social Media:

PIN ME!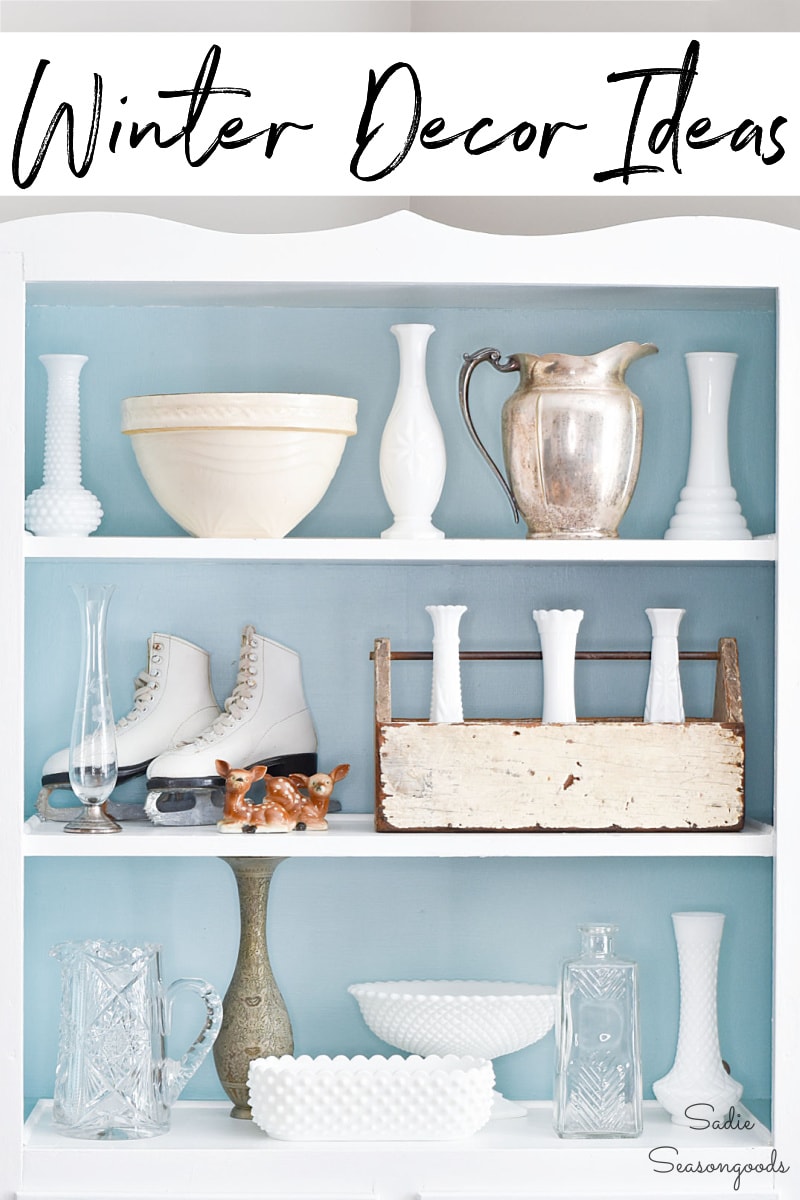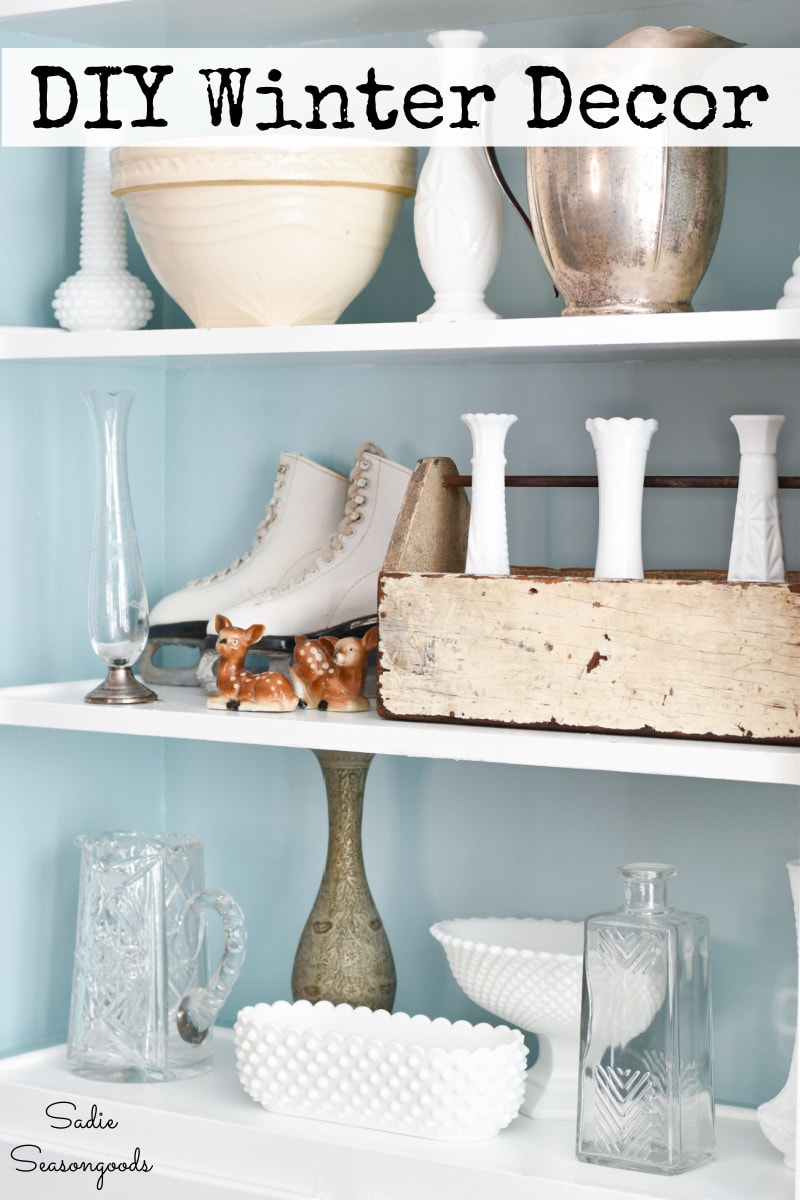 Sarah Ramberg is the owner of Sadie Seasongoods, a website that celebrates all things secondhand. From upcycling ideas and thrifted decor to vintage-centric travel itineraries, Sadie Seasongoods is a one-stop shop for anyone who loves thrifting and approachable repurposing ideas. Sarah is also the author of "Crafting with Flannel" and has been featured in numerous media outlets and magazines.