This, my friends, is a non-thrift store craft project, which I rarely ever do. But I have a very good reason for it. You see, I've partnered up with Upcycle Arts, the Creative Reuse organization here in Charlotte, NC. They happened to have a huge stockpile of donated clothespins and asked me to create a project with them. And with Christmas looming ahead, I decided to make some wooden snowflake ornaments with them.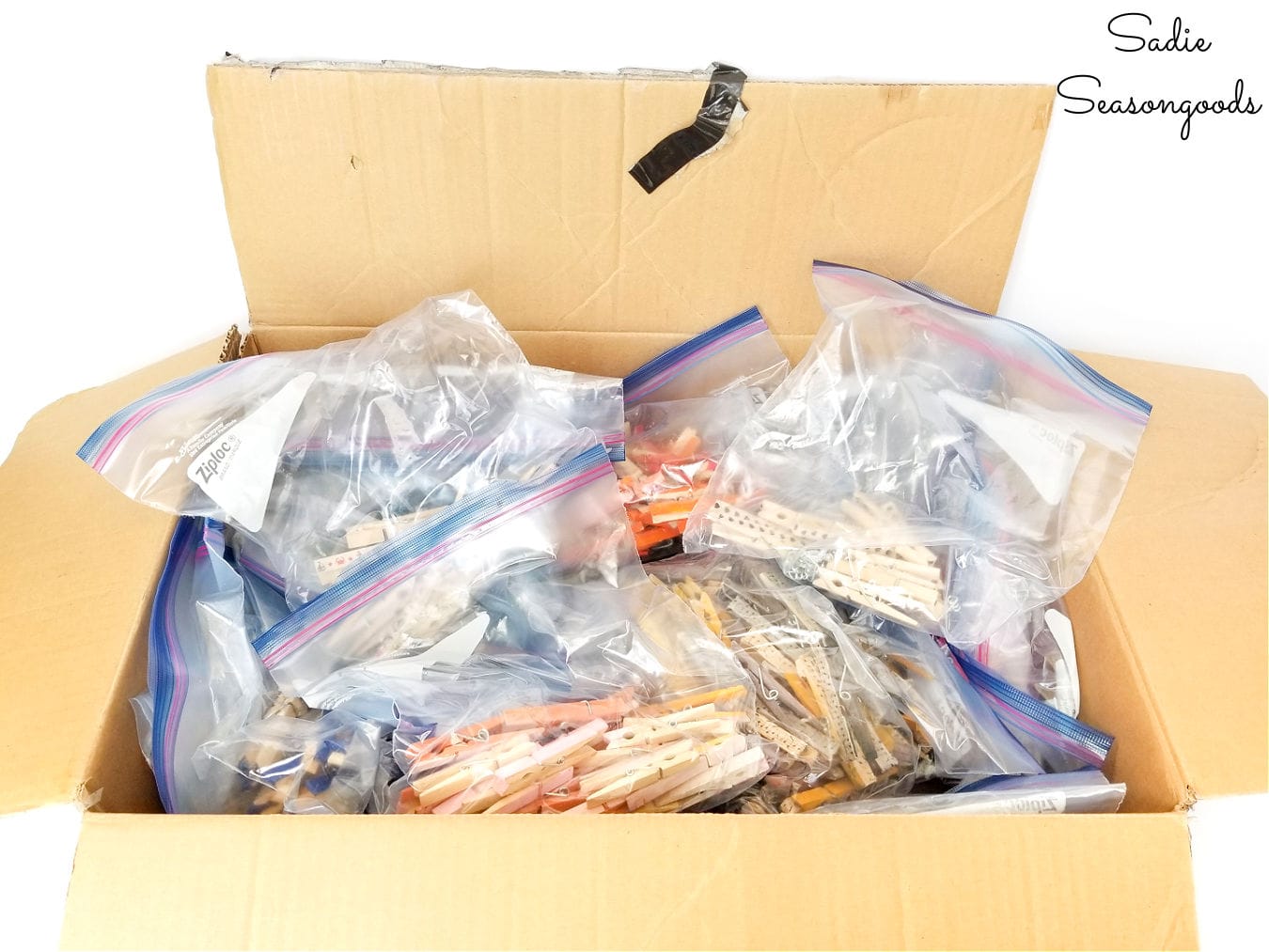 Not familiar with Creative Reuse? Well, think of a craft store that is comprised solely of donated materials, some of which may be…unorthodox for crafting. And many of those materials are available in bulk, having been donated by a local manufacturer, brand, store, or similar. Perhaps it's excess bottle caps from a brewery. Or a boatload of plastic buckets from a paint shop.
And in this case, a huge box of clothespins that came from an artisan who was changing her creative focus.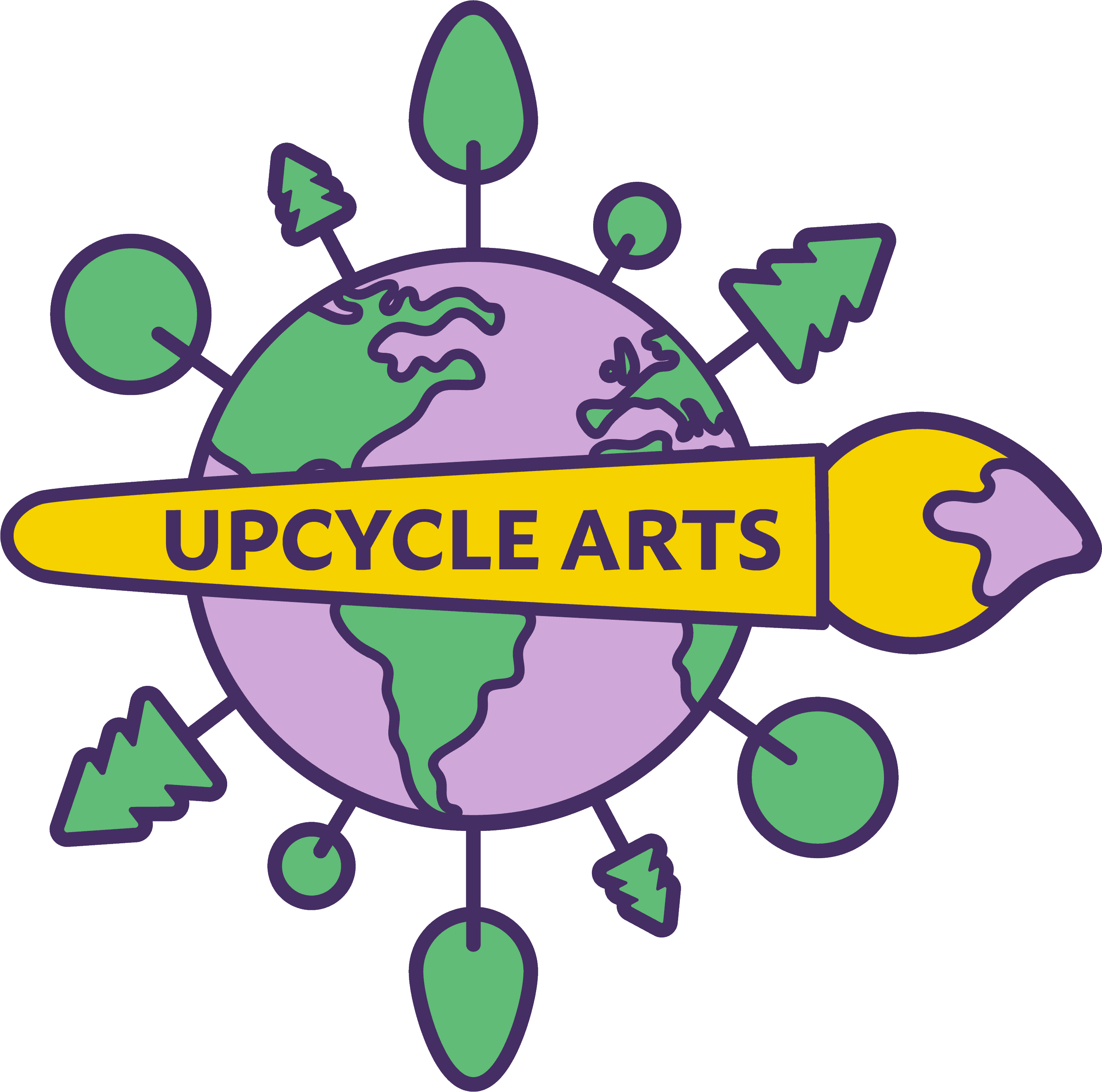 Anyway, I'll be adding "Upcycle Arts Brand Ambassador" to my resume moving forward. And while that'll mean a multitude of different things in the future, for now, it's just creating an easy-to-replicate craft project with some of their donated materials: wooden clothespins.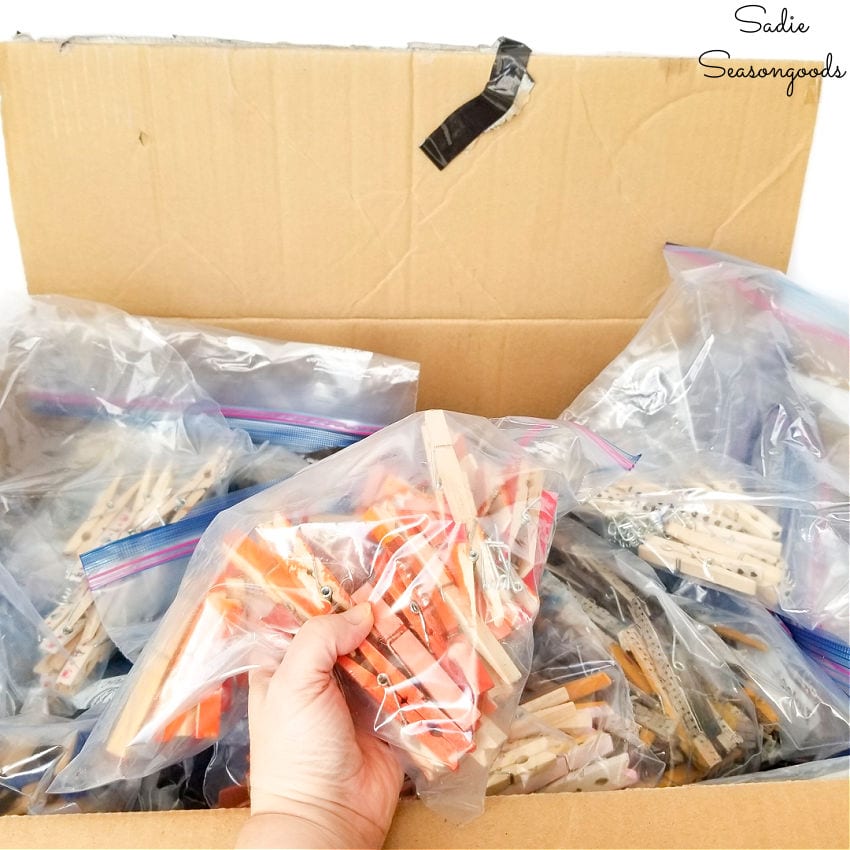 This post contains affiliate links for your crafting convenience. As an Amazon Affiliate, I earn from qualifying purchases. This post is also sponsored by Upcycle Arts.
Creative Reuse with Wooden Clothespins
Now, there *is* something else you need to know about this project. I won't be sharing the full tutorial here because it's included in a Craft Kit available from Upcycle Arts.
The full craft kit contains enough clothespins for four snowflakes, plus silver and white acrylic paints; a foam brush; super glue; and twine!
And if you don't want to purchase the full craft kit, the digital instructions are available for purchase as a download, as well. The best part, though? Both of these options are fundraisers for Upcycle Arts.
But, I hope you don't mind that I still wanted to share this project with you. And, I wanted to announce this new and exciting partnership for me.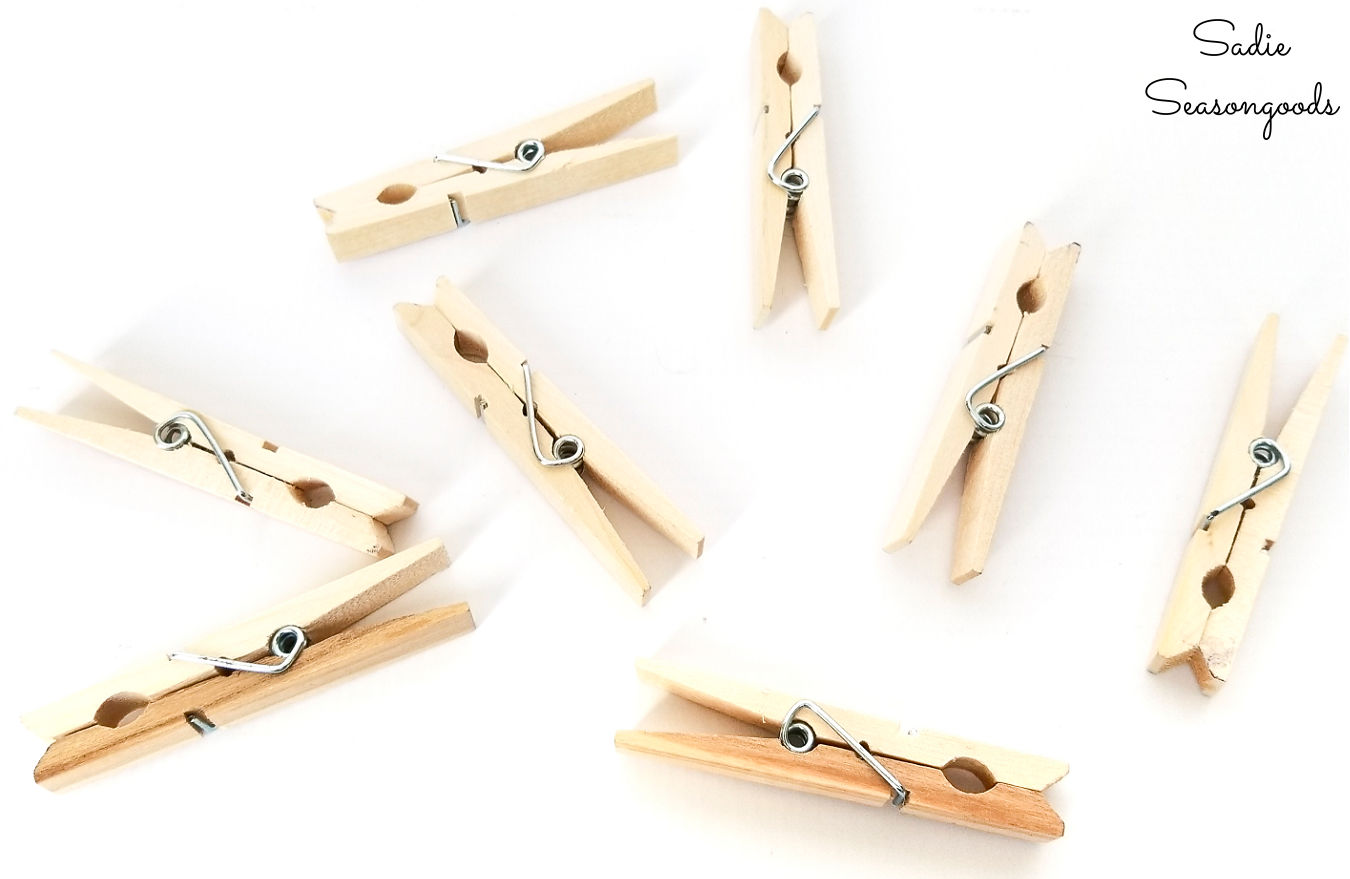 Connecting with the craft community has long been on my wish-list of things to do. But there just wasn't an upcycling community where I used to live in Greenville, SC. Now that we live in Charlotte, NC, however, it's a very different story!
Anyway, when all was said and done with the clothespins, this is the wooden snowflake I had made.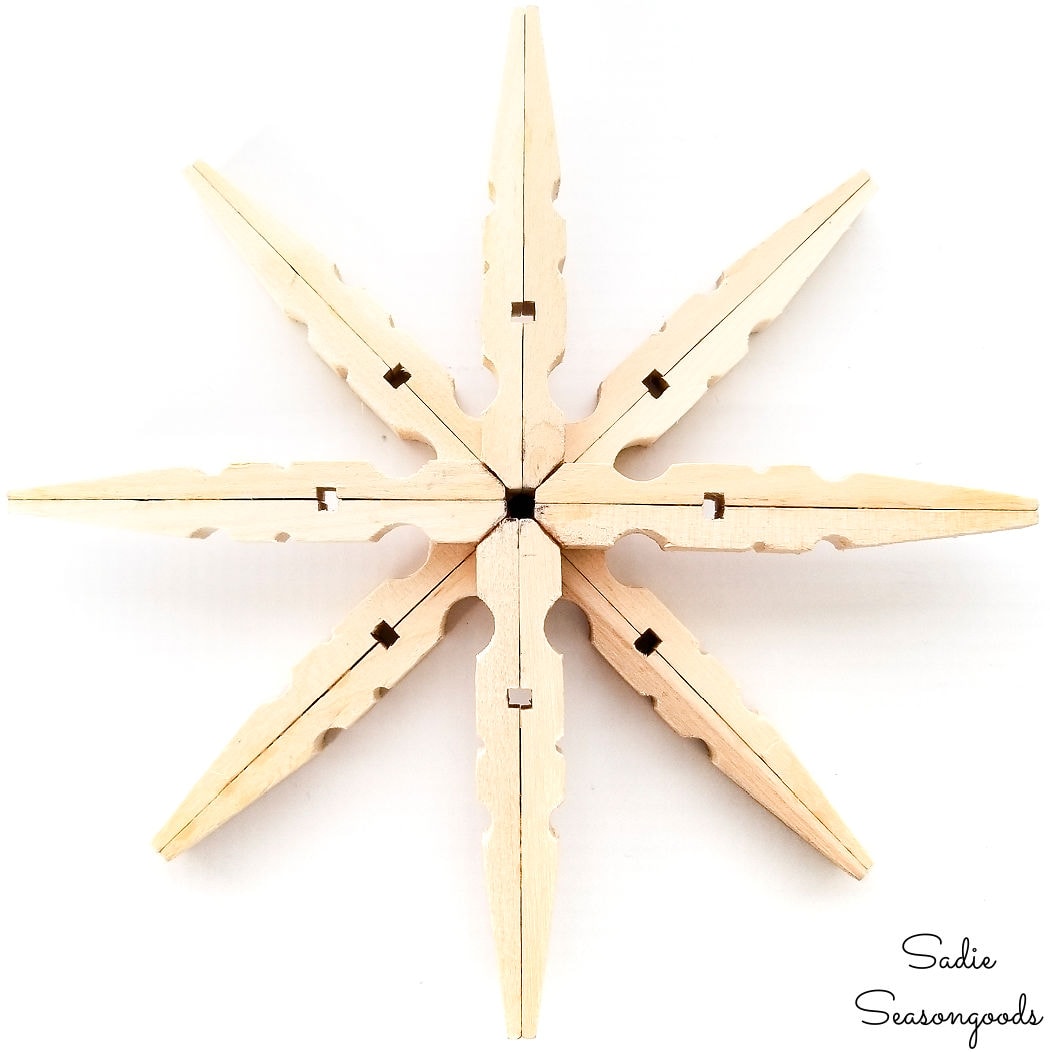 Like I mentioned before, the instructions for making the above snowflake are what are included in the craft kit (which includes the clothespins) and downloadable instructions.
And, of course, I had to paint some of them! Fun little wooden snowflake ornaments for your tree, all made from donated clothespins.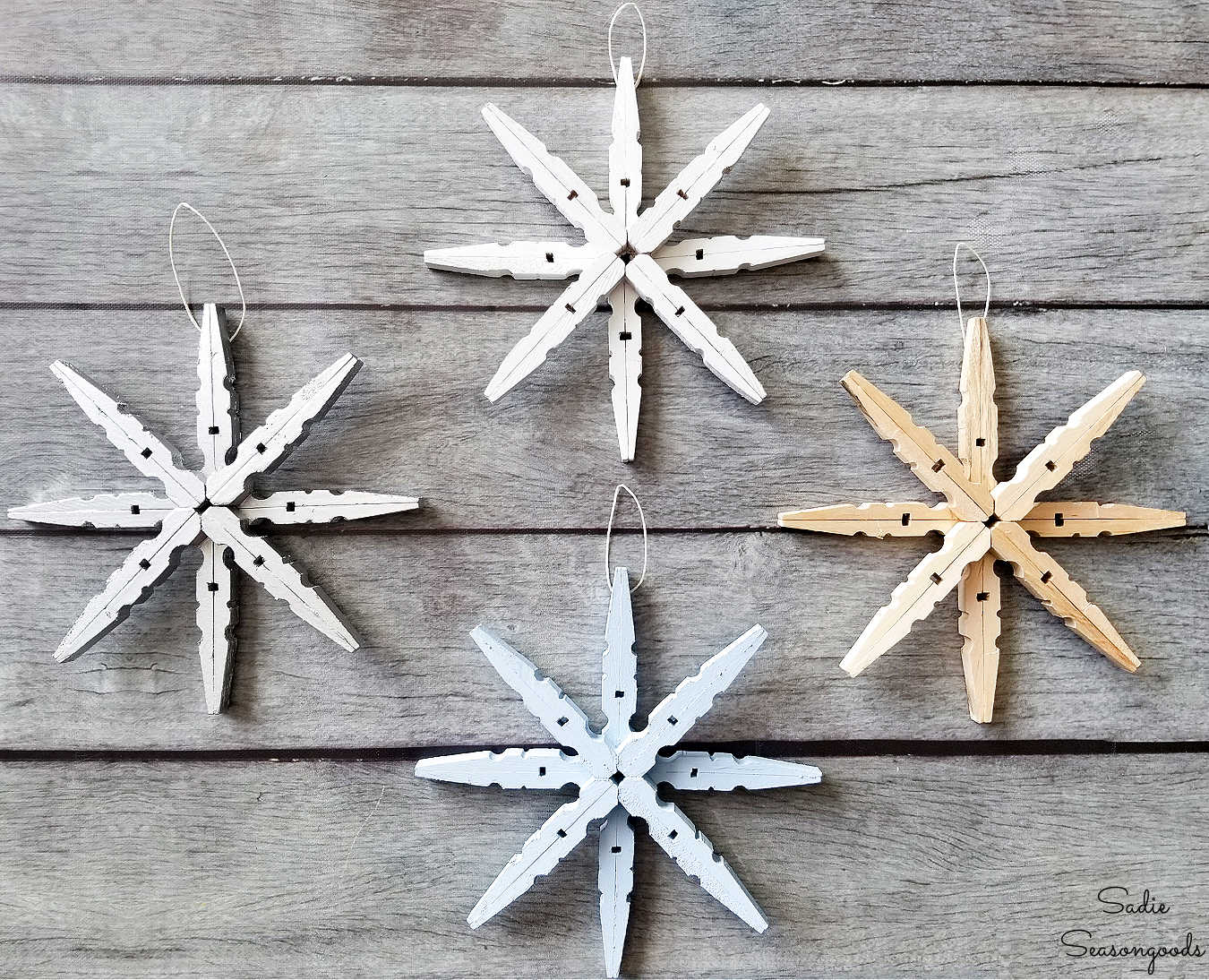 Vintage Rhinestone Brooches on Wooden Snowflake Ornaments
But, as much as I loved how the wooden snowflake ornaments looked just as they were, I decided they needed one more detail.
Vintage rhinestone brooches.
So, I procured a few from my friend Lucy who owns the jewelry shop, Bel Monili. Specifically, I procured slightly damaged or flawed pins; ones with broken bits or discolored stones that she couldn't use in her gorgeous jewelry.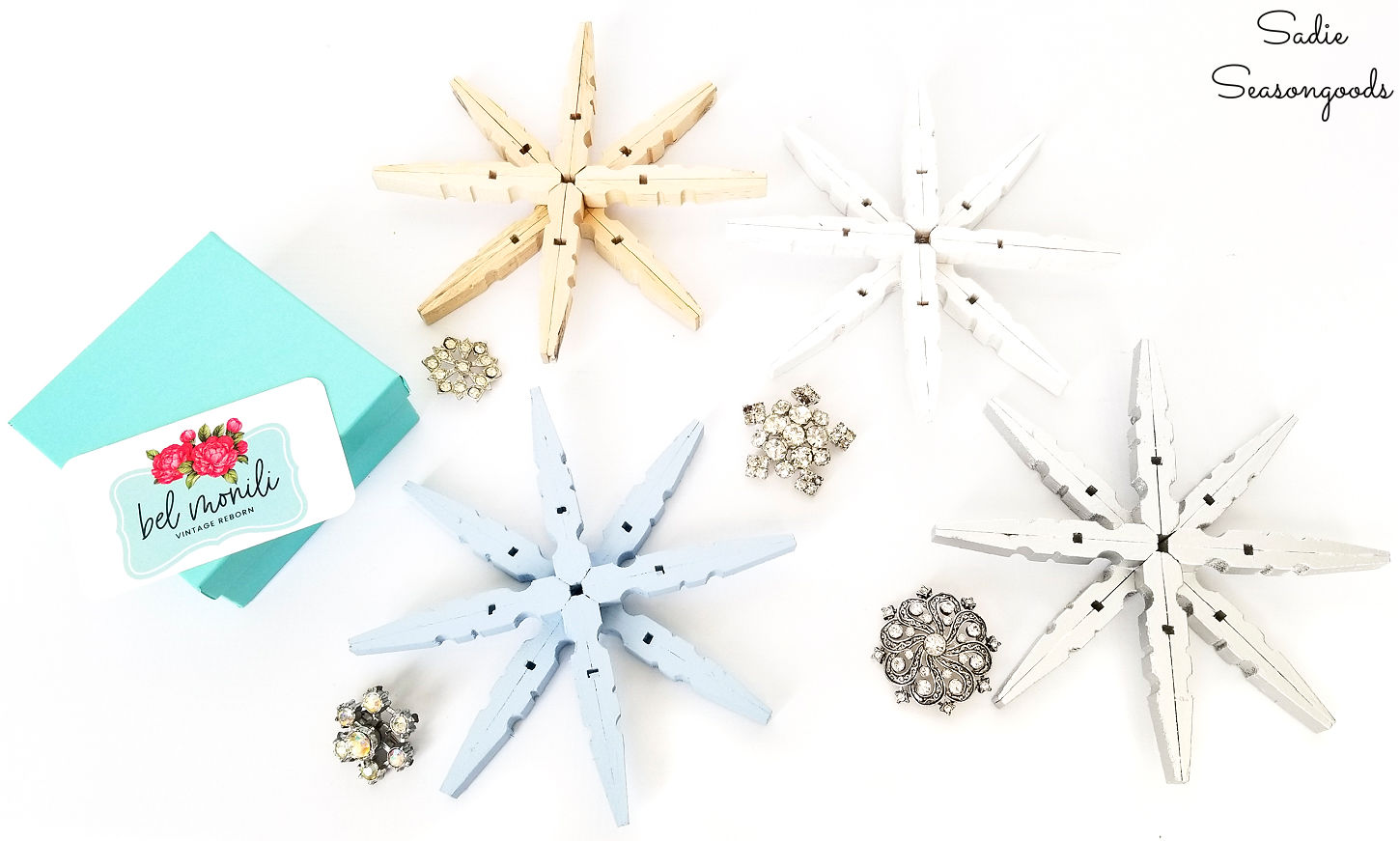 After clipping off the actual pinbacks with wire cutters, I attached them to the centers of the wooden snowflake ornaments.
Lastly, I attached a small jewelry bail to the back of each ornament.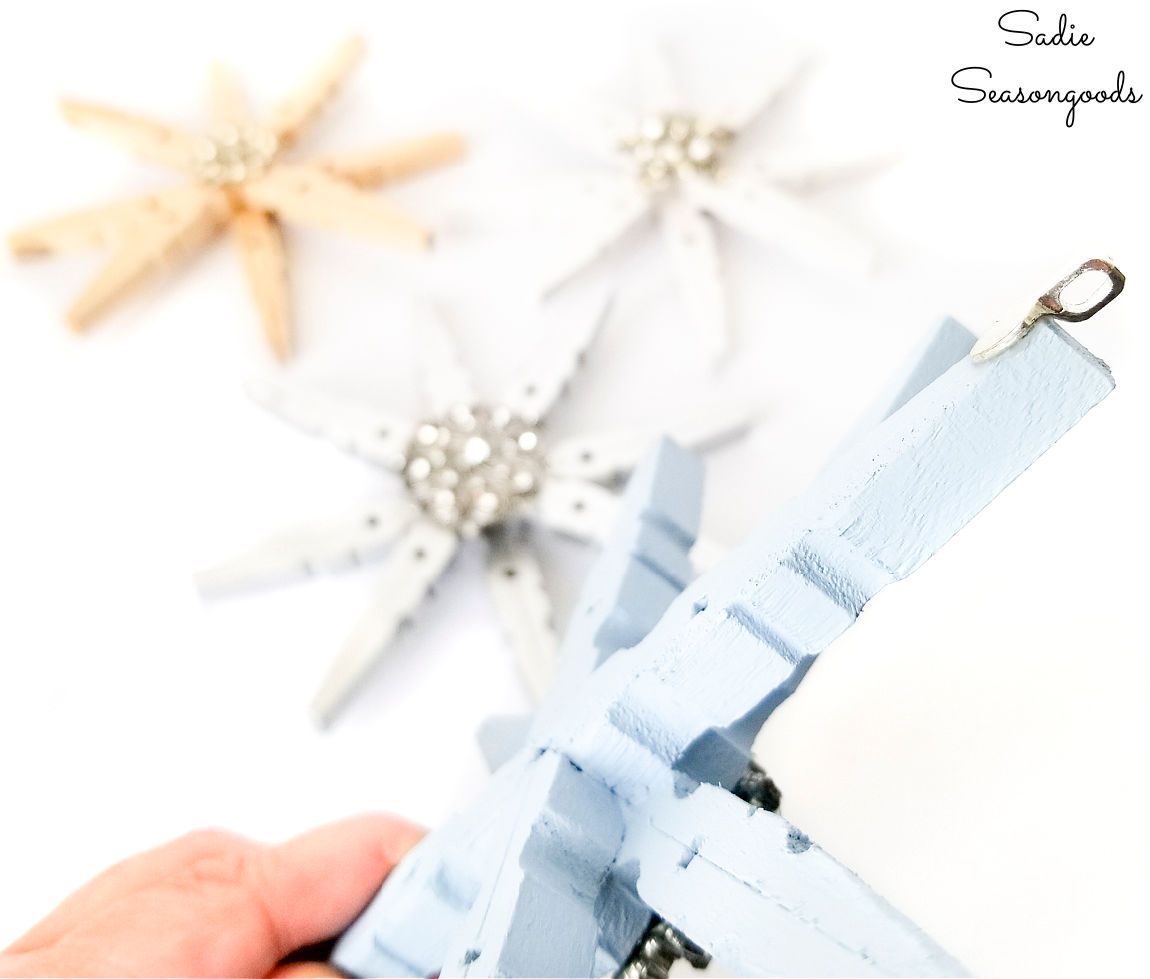 This way, I had a nice clean loop for an ornament hanger or thread/string.
And with that, my set of wooden snowflake ornaments was done and ready to be hung on the tree!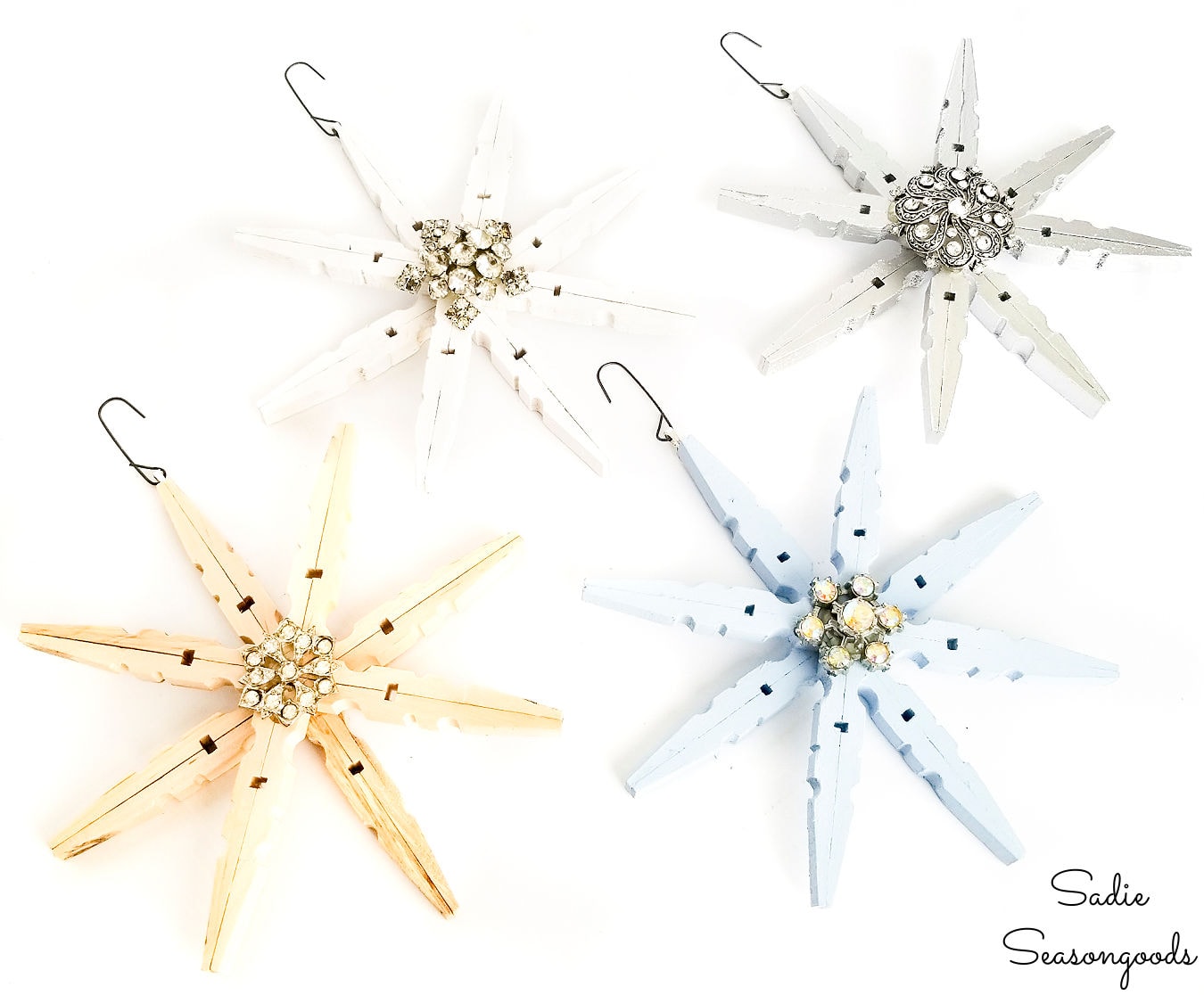 Wooden Snowflake Ornaments from Clothespins
Isn't that a great way to upcycle excess clothespins? Upcycle Arts had hundreds, maybe thousands, of them! And now, with my project instructions and photos, they'll have craft kits available to folks in our community who want to make these.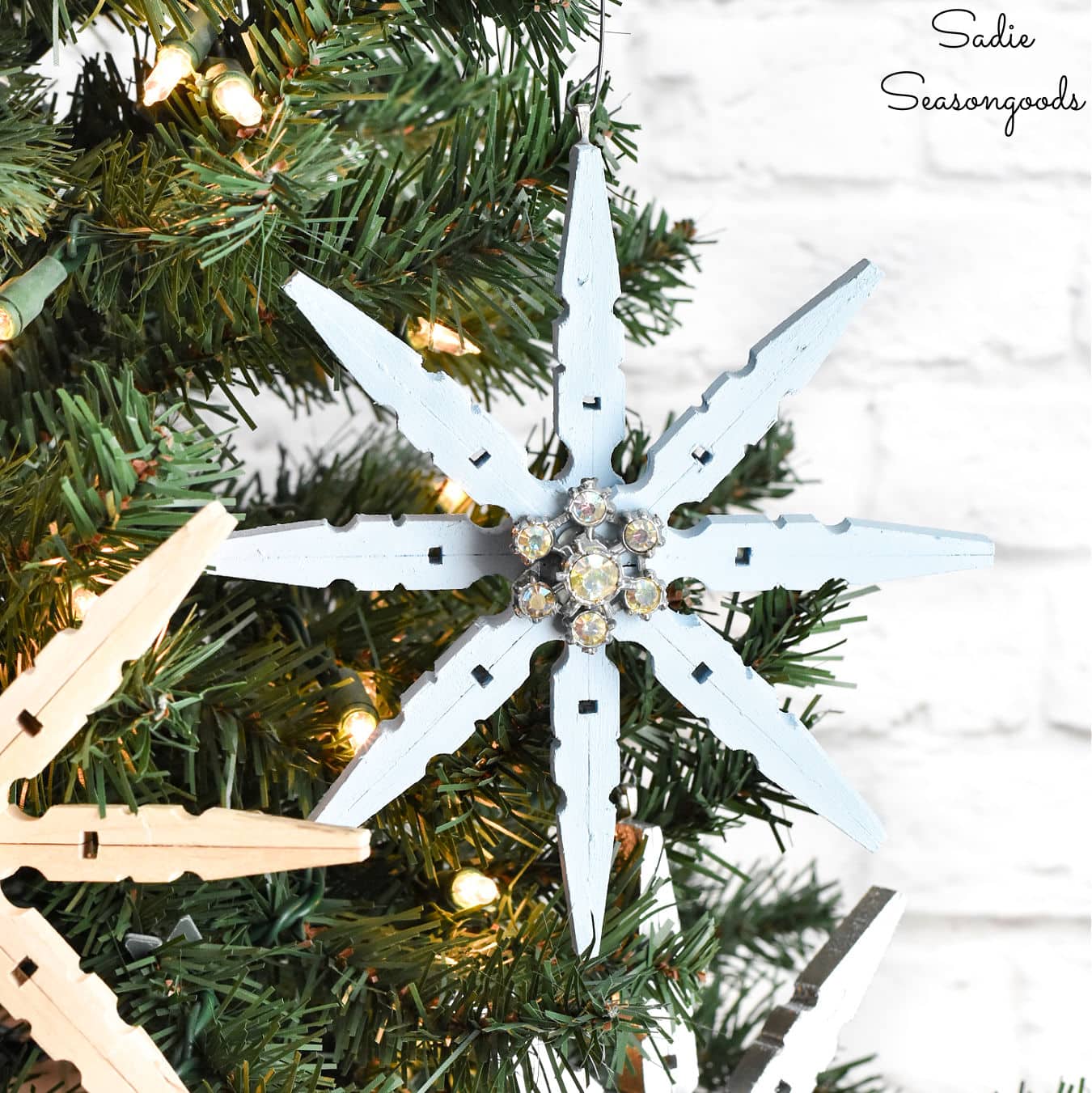 Of course, the vintage rhinestone brooches are my own embellishment. They won't be in the craft kits from Upcycle Arts. But I bet a lot of crafty folks have all sorts of pieces that they can use as embellishments.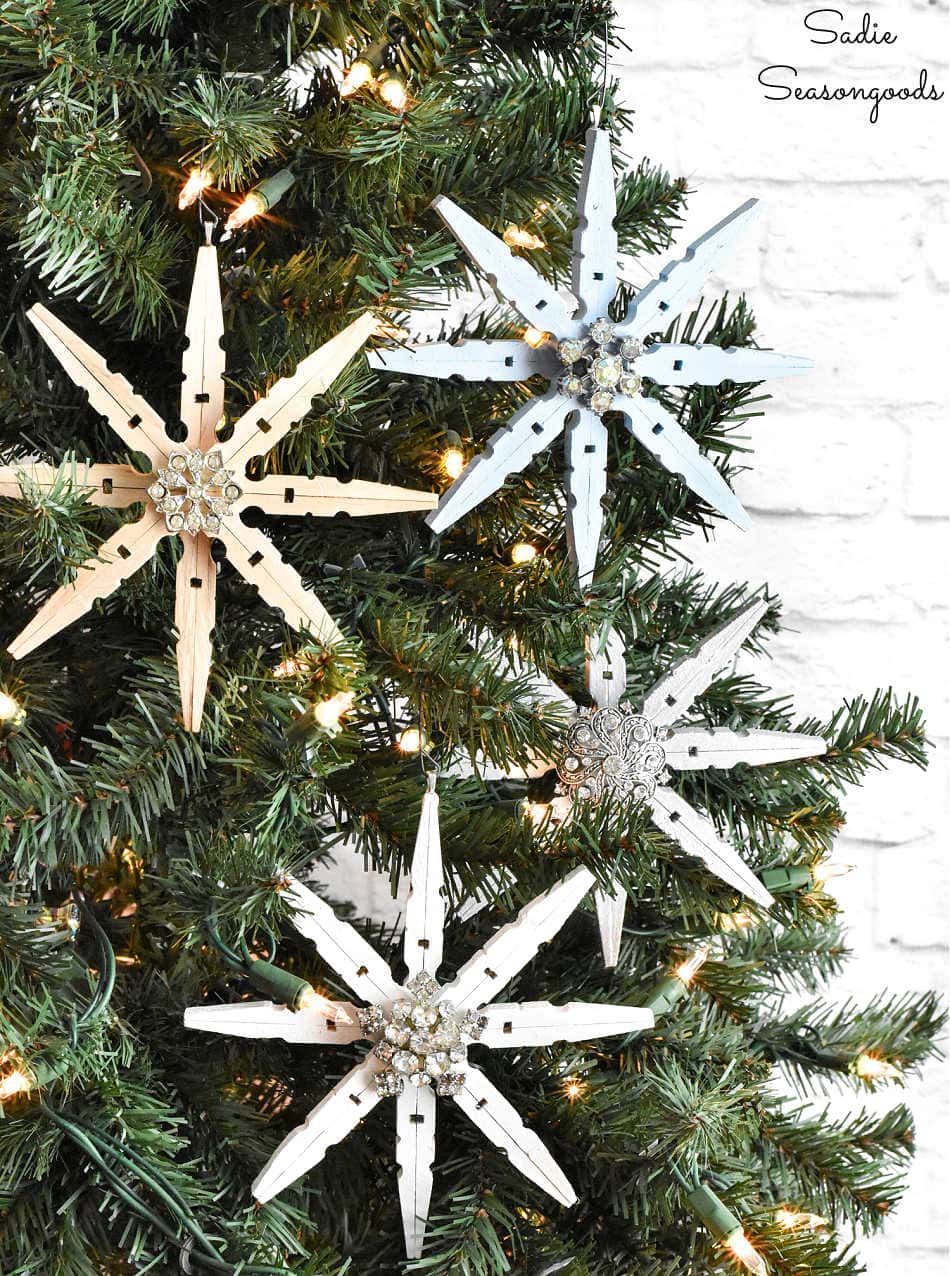 Thank you for indulging me in this exciting news and project, even if the full tutorial has to be purchased from Upcycle Arts. Just know that your dollars go towards the mission, including collecting and storing all the donated materials and supplies; creating arts and crafts events for the community; and creating upcycled art installations around the City of Charlotte.
And if you enjoyed this craft idea for wooden snowflake ornaments, then you may also be interested in this "wreath" that I made from a vintage clothespin bag, as well!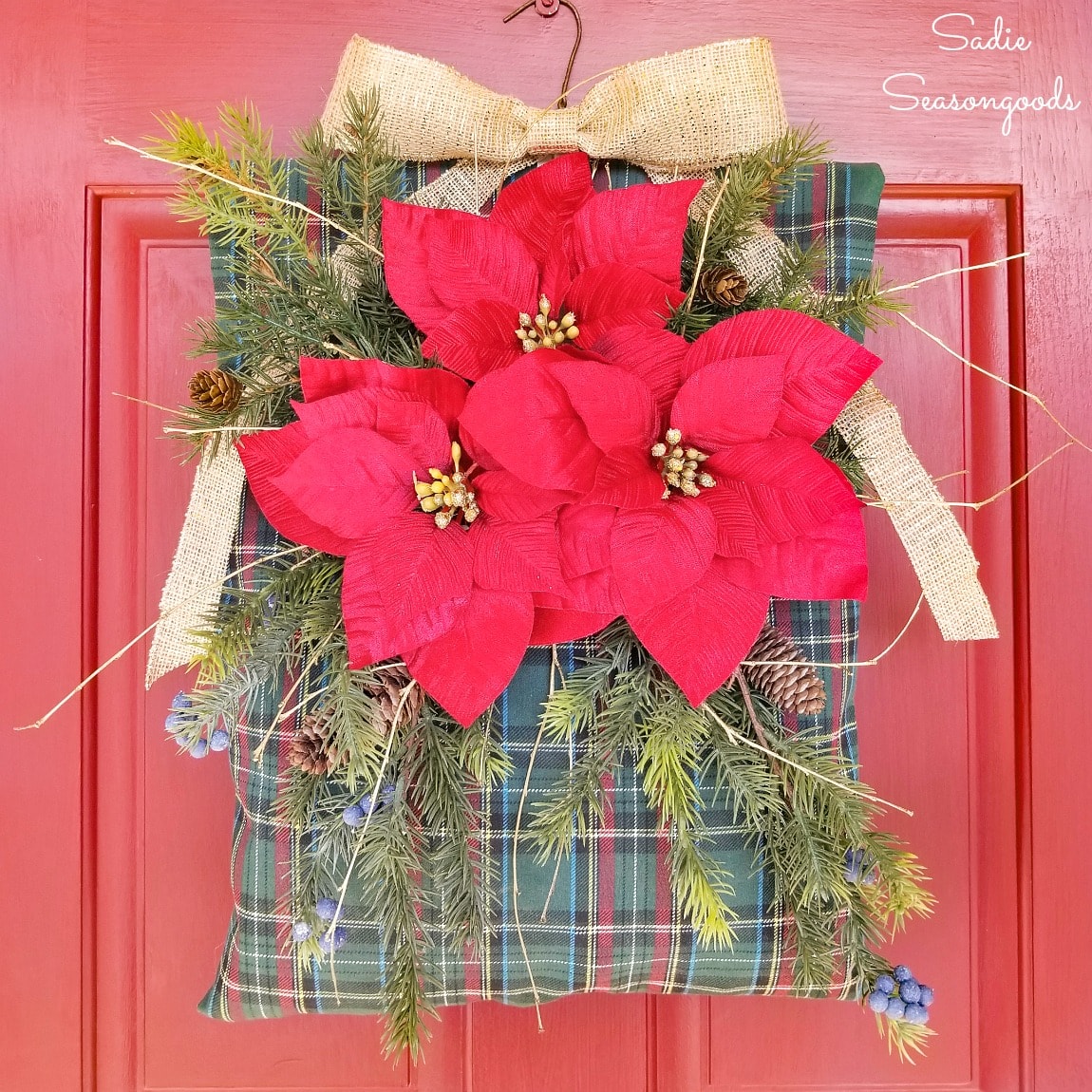 Craft on!
S
Want to be notified when I publish my next upcycling project tutorial?
Subscribe to Blog via Email
Join me on Social Media:



PIN ME!