There I was at the Goodwill Outlet (aka, "The Bins")…staring at a coffee mug tree. It was on top of the pile, likely tossed there by someone who scoffed at its missing arm. But me? I grabbed it…broken treasures are my favorite finds. And this mug holder or coffee cup holder was the perfect candidate for a Christmas project. My plan? To transform it into a minimalist Christmas tree or Scandinavian Christmas tree!
Even better? As I mentally disassembled it in my head, though, I realized that I could get TWO holiday projects from it…but let's get to Project #1 first.
Taking apart the coffee mug tree was fairly simple- the arms were glued in and over time, the glue had become brittle.
So, with little effort, I was able to remove each arm from the stand/base…and set them aside for Project #2 (which you can find here on the blog!).
I was left with a flat base with a tall center spindle that had three sets of perpendicular set holes that went all the way through. With the arms of the coffee cup holder removed, I could now transform it into a minimalist Christmas tree.
This post contains affiliate links for your crafting convenience. As an Amazon Affiliate, I earn from qualifying purchases.
Transforming a Mug Holder into a Minimalist Christmas Tree
My plan was to slide wooden dowels into each set of pre-drilled holes. But, I decided I wanted a fourth hole because there was plenty of room near the base (not for a coffee mug, mind you…but certainly for a dowel!).
So, we drilled an extra hole near the bottom of the coffee mug tree.
The holes were *relatively* even (meaning a dowel could slip through straight across and not look uneven/wonky). Nevertheless, I went ahead and used a round file to clean them up ever so slightly.
Next, I gathered some wooden dowels to transform into tree "branches" for the minimalist Christmas tree.
With four sets of holes, we determined that the four "branches" should be 6", 8", 10", and 12" in lengths. So, we cut down the wooden dowels as such.
After sanding the edges, I slipped them through the holes of the coffee mug tree and glued them in place.
Next, it was time to paint the minimalist Christmas tree! I found a mossy green spray paint that had the cool green color was perfect for a Scandinavian Christmas tree or Nordic Christmas decorations.
Once that dried, I hand-painted the base of the mug tree and a tiny part of the spindle in a dark brown to replicate a Christmas tree trunk. NOW my tabletop tree or minimalist Christmas tree was all done and ready to be decorated!
Minimalist Christmas Tree for Scandinavian Christmas Decorations from a Mug Holder
I gathered some ornaments that I thought would look good on the Scandinavian Christmas tree, including rustic brass bells (similar to these from Target and similar to these from Pottery Barn!) and clear mercury glass.
I loved the combination of neutral colors against the mossy green color of the minimalist Christmas tree.
And that was it – my small tabletop Christmas tree was decorated and ready to display.
And you know what? You could easily personalize this idea to your holiday tastes. In fact, I think I'll be on the hunt for another coffee mug tree and spray paint the whole thing silver like a vintage aluminum tree. Then I'll hang some of my small vintage Shiny-Brites on it!
If you enjoyed this upcycling idea for Christmas decor, then you'll love this centerpiece idea with a cheese dome or glass cloche!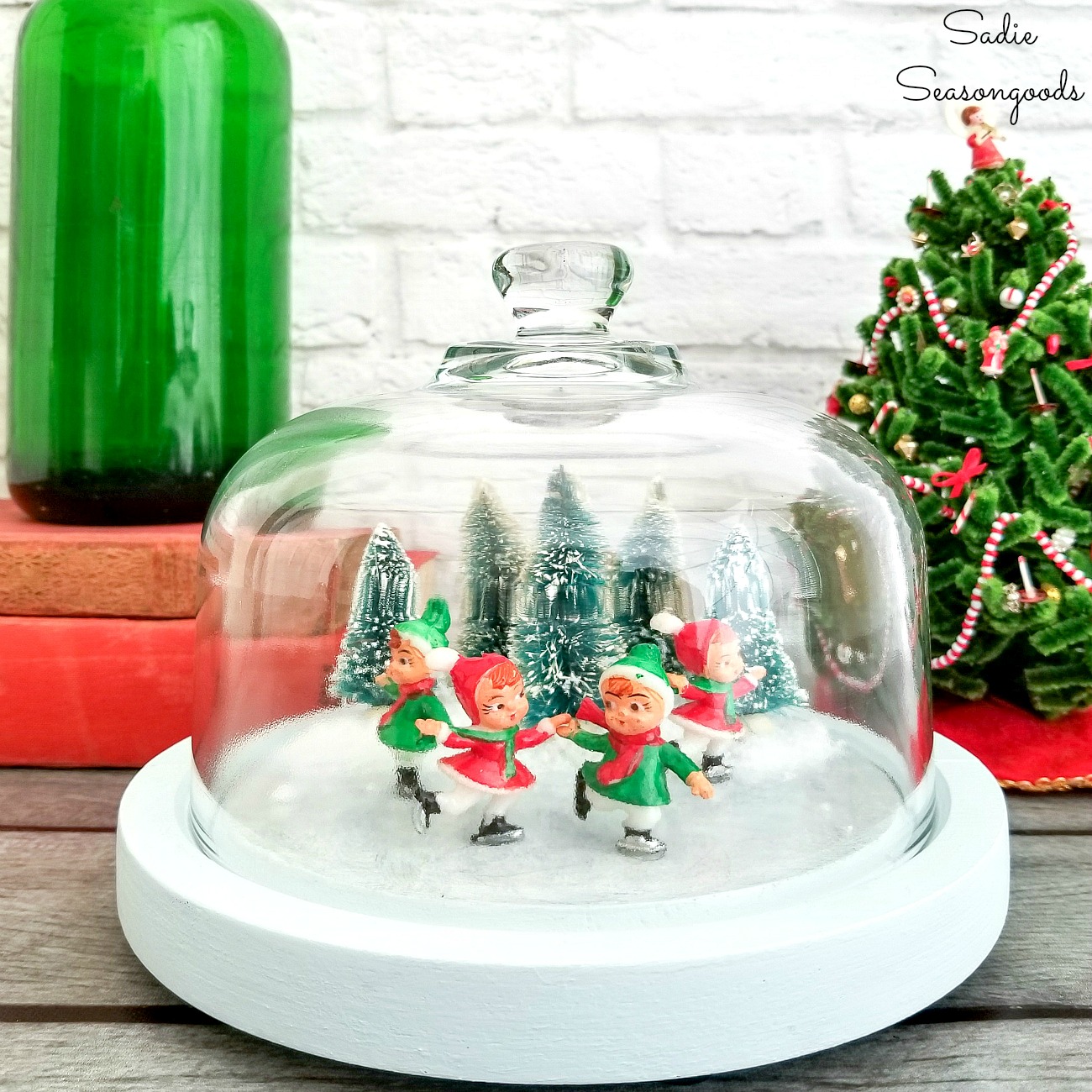 And make sure you check out the other Christmas project I made from this coffee mug tree – DIY ornaments from the wood spindles!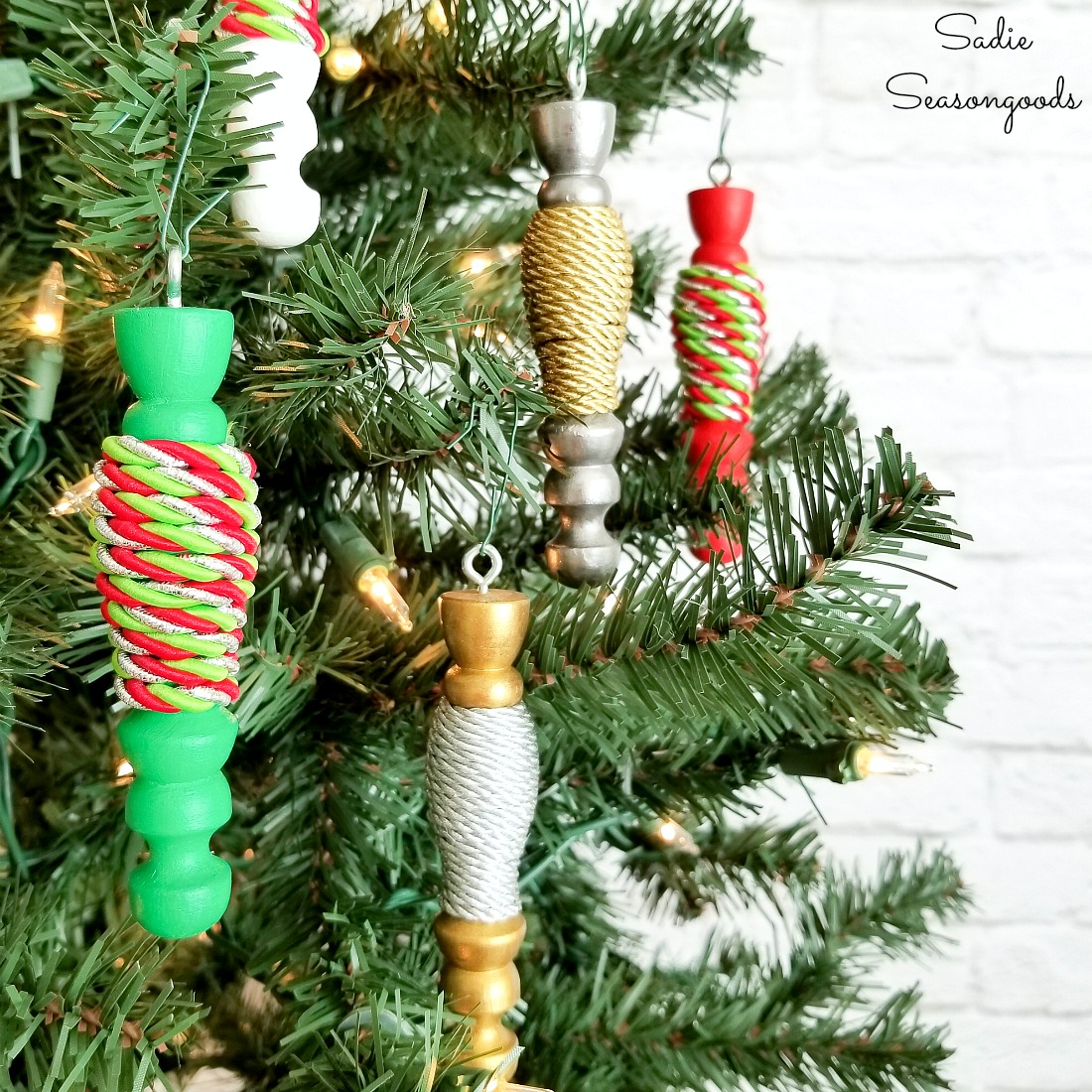 Craft on!
S
Want to be notified when I publish my next upcycling project tutorial?
Subscribe to Blog via Email
Join me on Social Media: