Even though I have been trying oh-so-hard to work on projects from my garage stash, I still can't help but swing by a thrift store now and then. Because, you just never know what you'll find. And this sewing bucket was definitely calling my name. I had a crazy idea to upcycle it into a candy bowl holder for Halloween. Something that would allow me to welcome trick or treaters while maintaining a safe distance and no contact.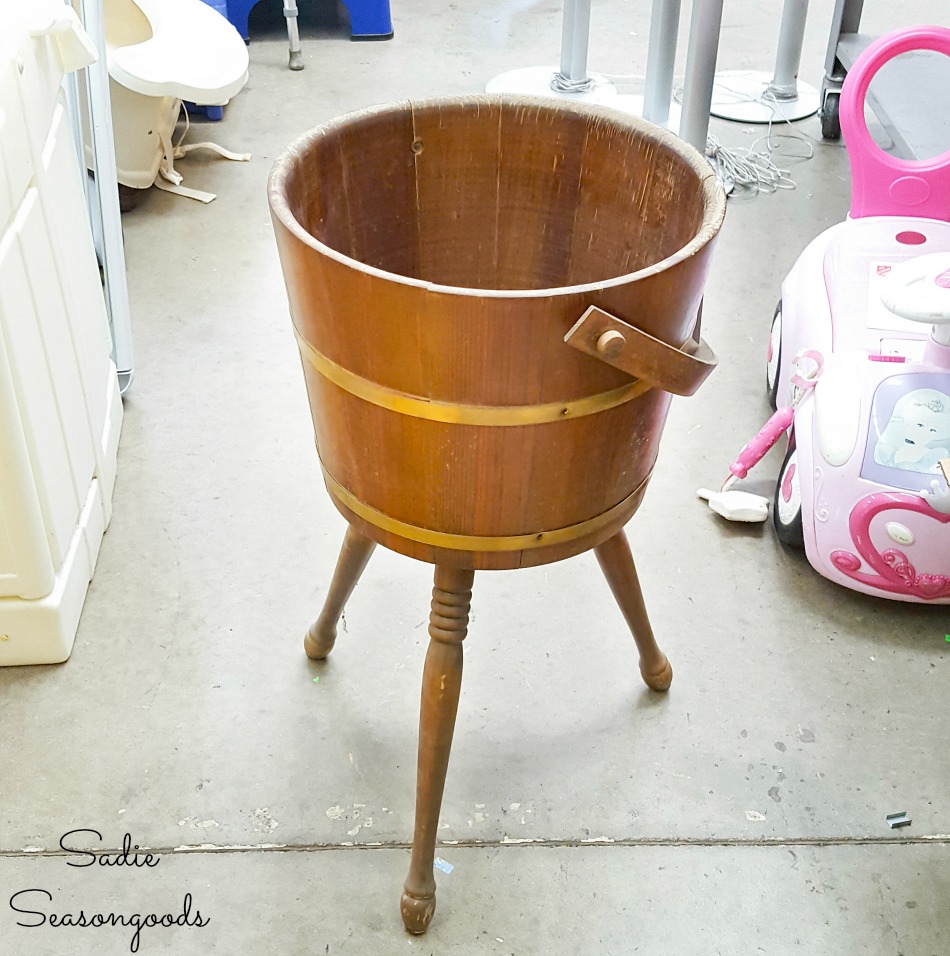 If my idea worked as well in reality as it did in my head, I wouldn't actually DO anything to the sewing bucket. It would simply be covered up- no paint, no tools, no nothin'!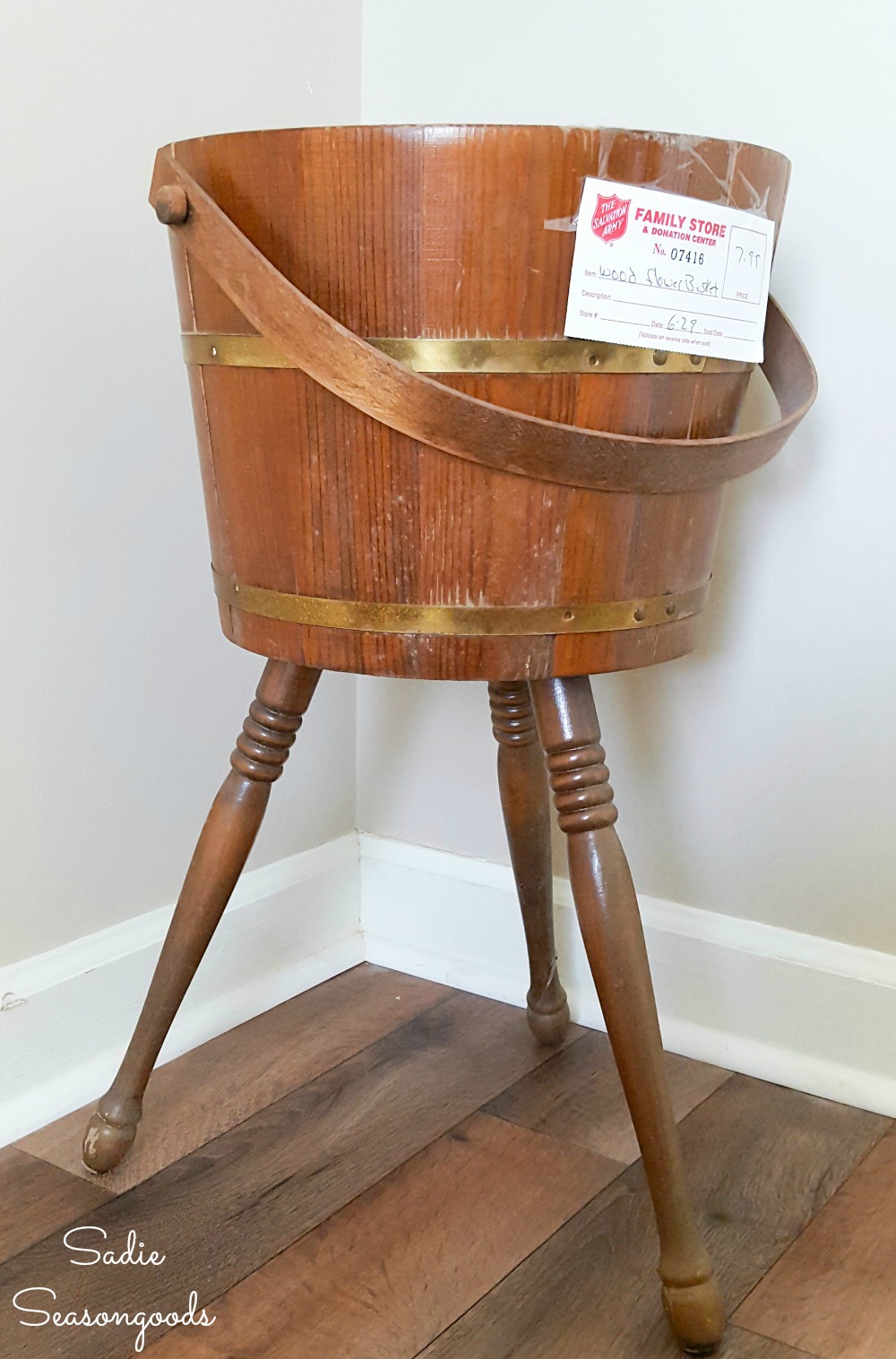 And yes, you're right- I've made a Halloween candy bowl before! But it was dainty, perfect for a desk at work, for instance.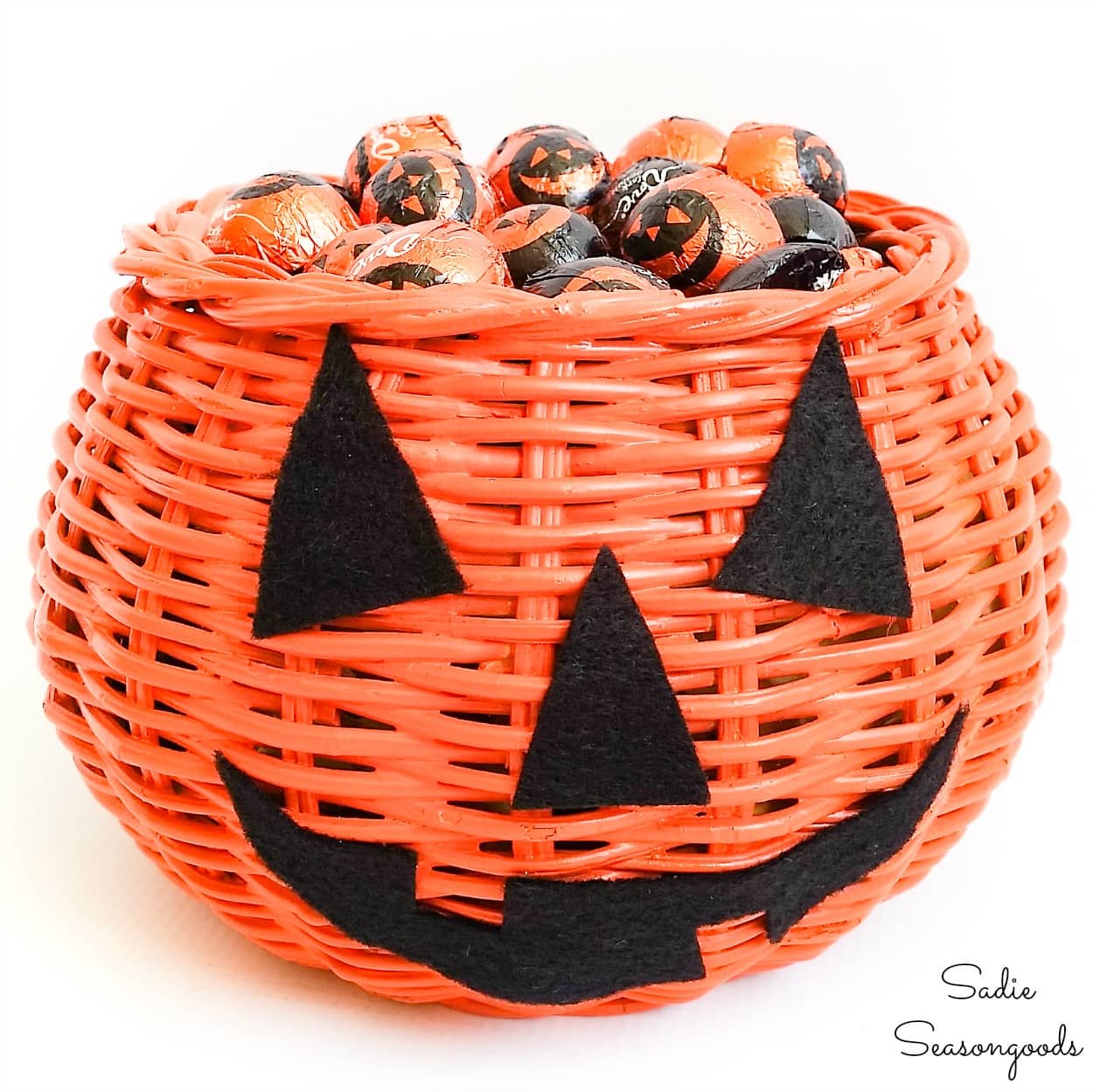 This new project, however, would be perfect for trick-or-treaters. So, I gathered up a couple of additional items, including a Halloween candy bowl (which I already had) and a white bed sheet (from another thrift store).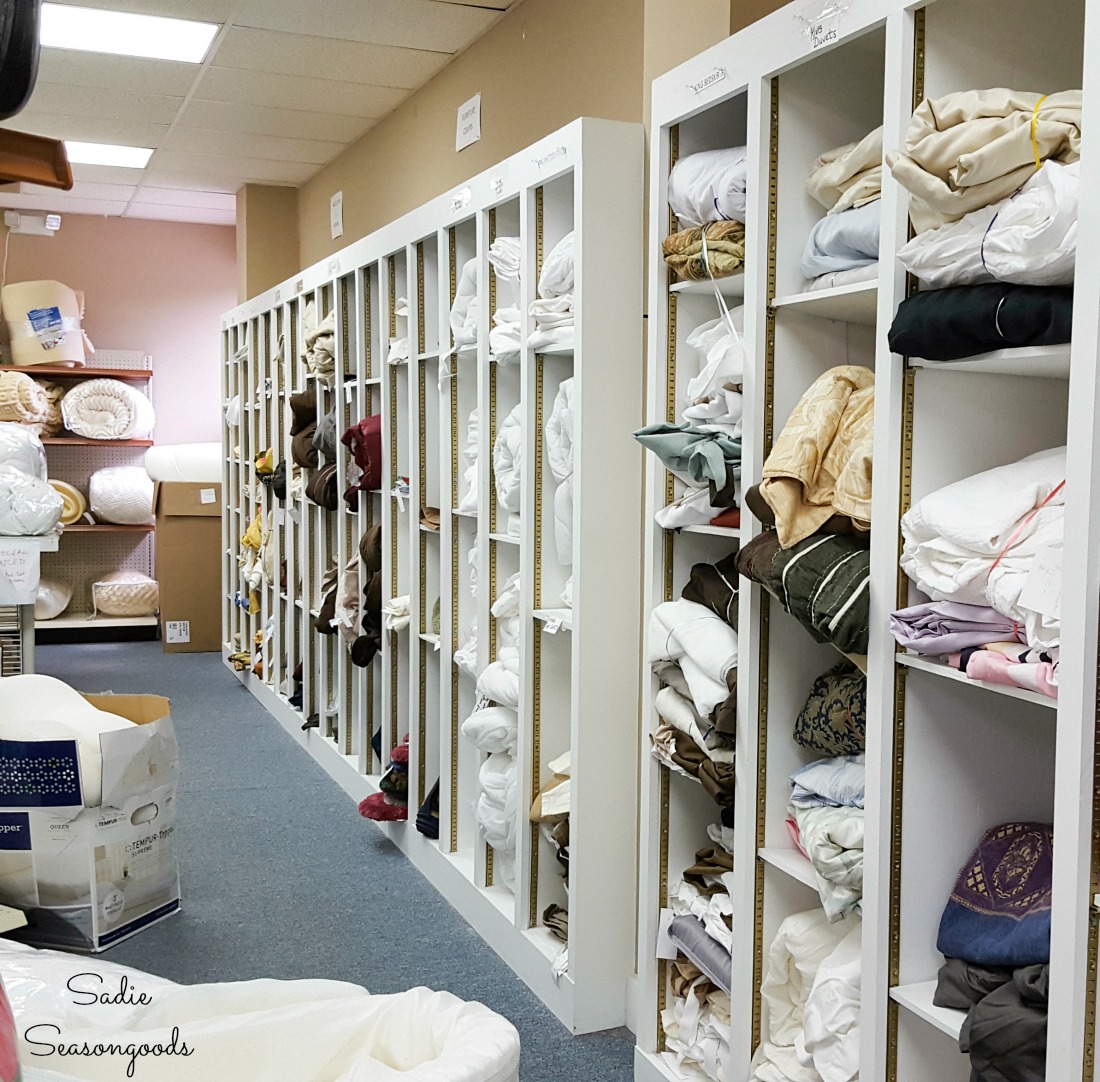 This post contains affiliate links for your crafting convenience. As an Amazon Associate, I earn from qualifying purchases. All blue, bold, and underlined text is a clickable link, either to a product or to a related post.
Ghost Decoration and Candy Bowl Holder
With thrifted finds in hand, I set forth to create a candy bowl holder that would look like a sweet and friendly ghost!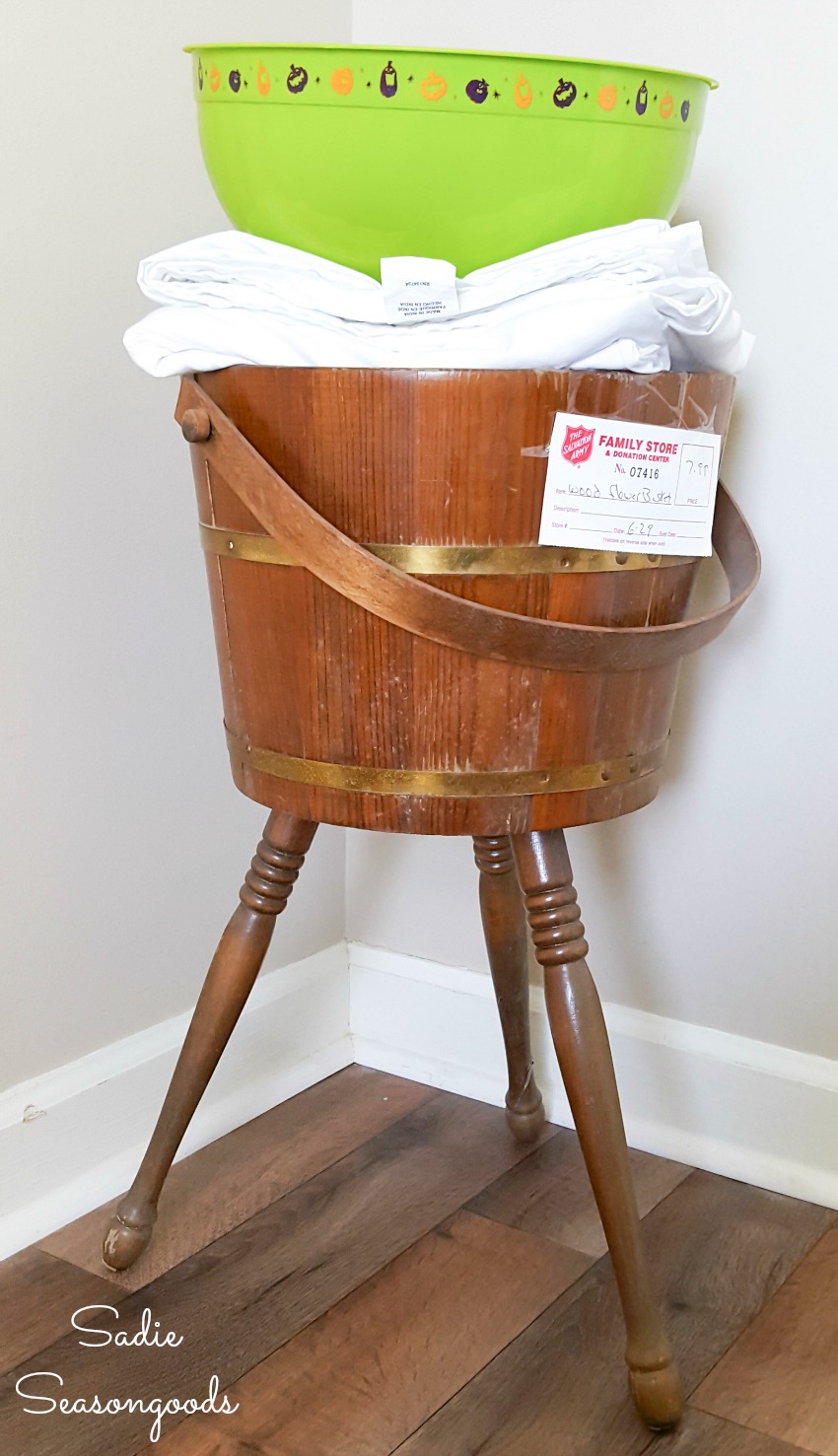 First, I draped my freshly-laundered sheet over the sewing bucket (which looked like a firkin to me) and pushed the candy bowl into the open top.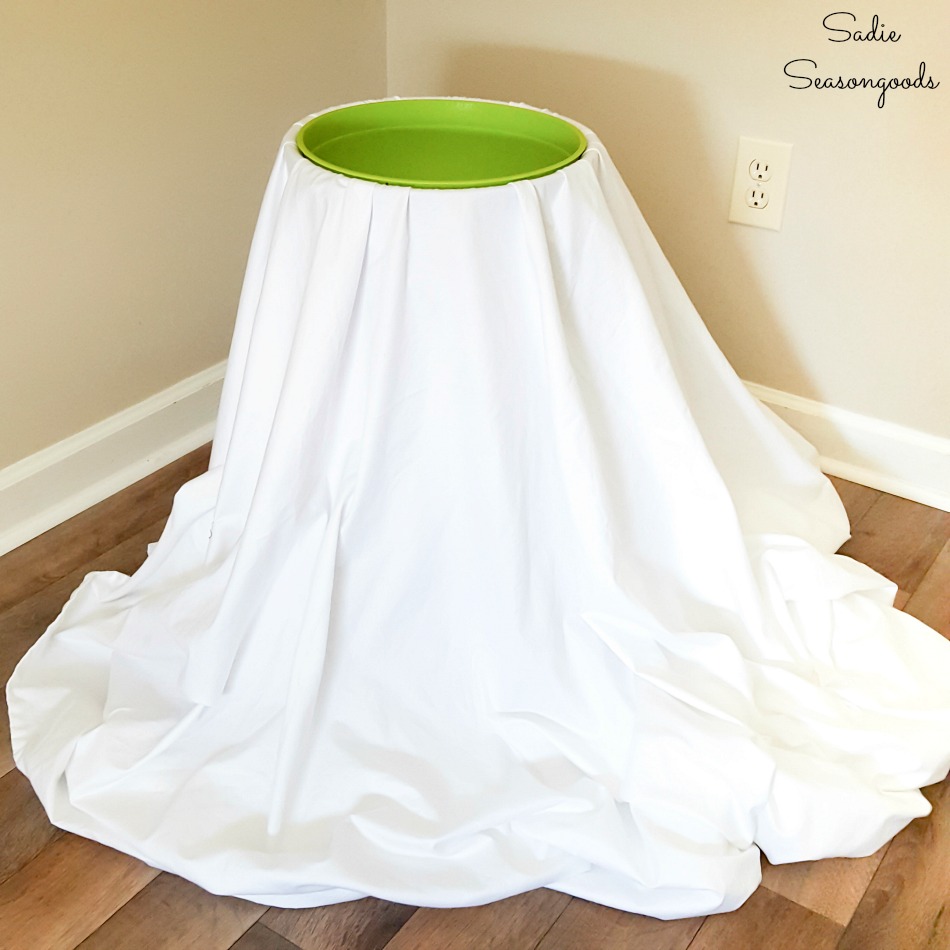 While the candy bowl kept the bed sheet in place, I used some binder clips just to make sure!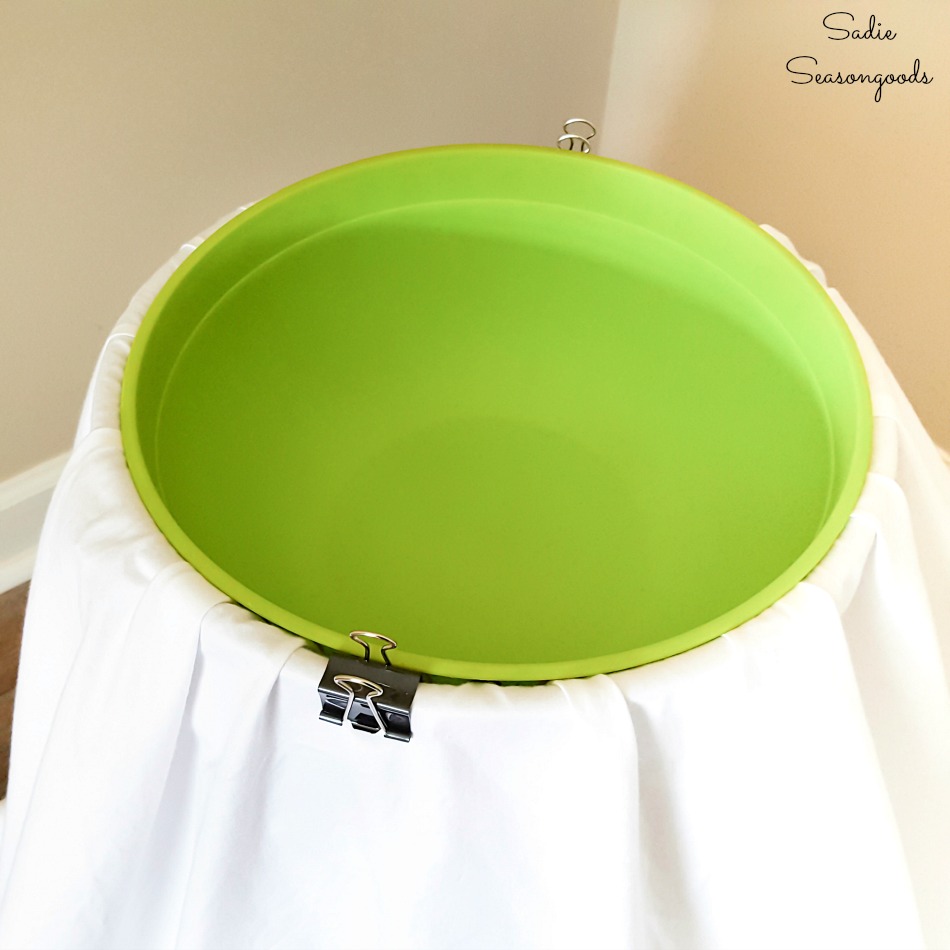 They're so handy…and I rarely use them as actual office supplies.
Next, I took my scissors to the sheet, and cut off the excess fabric fairly close to the floor, so that it draped ever so slightly.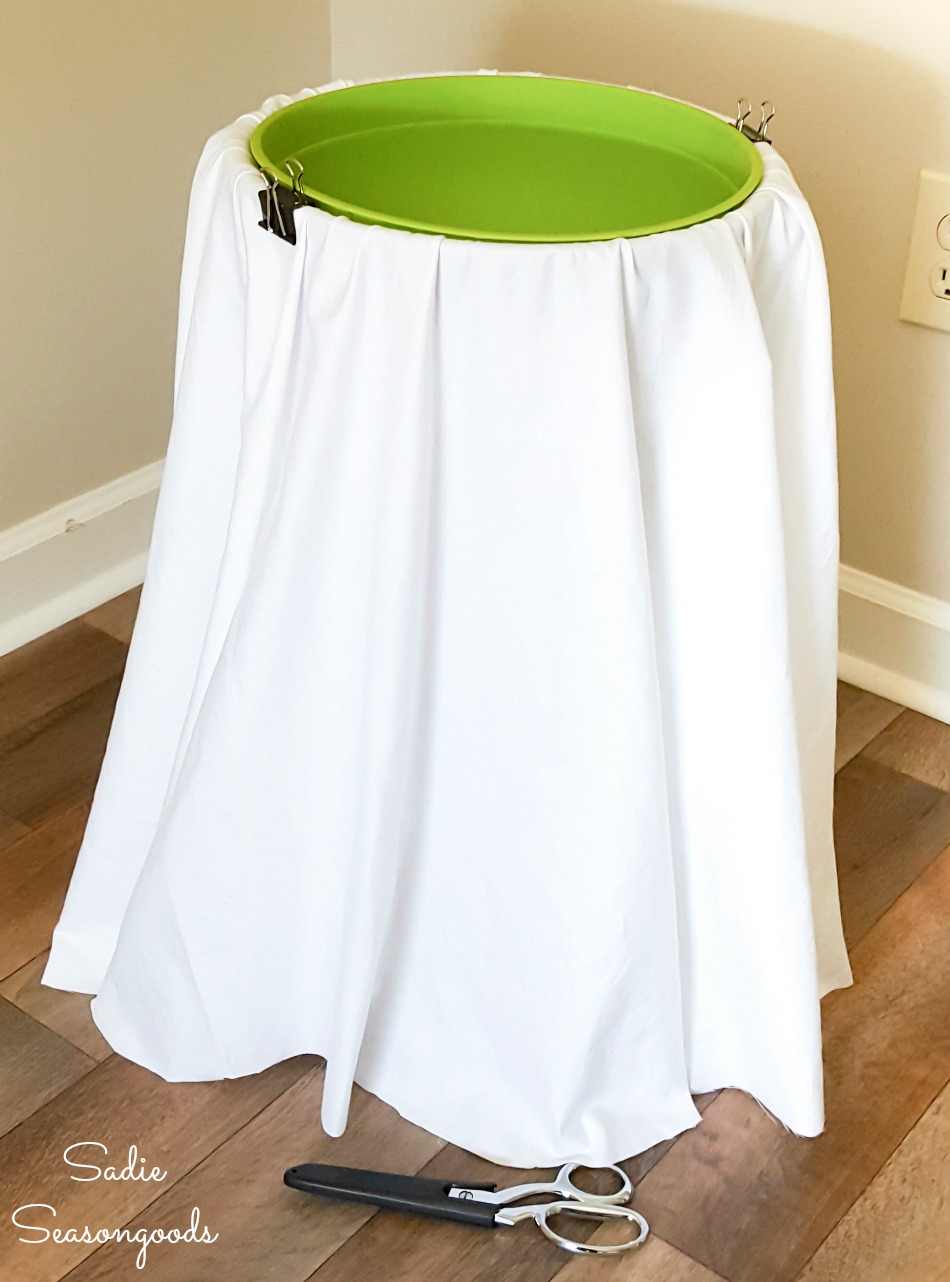 No Contact Trick or Treating with a Halloween Candy Stand
Then, I asked our green candy bowl to "take one for the team" and get a white-paint makeover! Thankfully, he didn't put up much of a fight.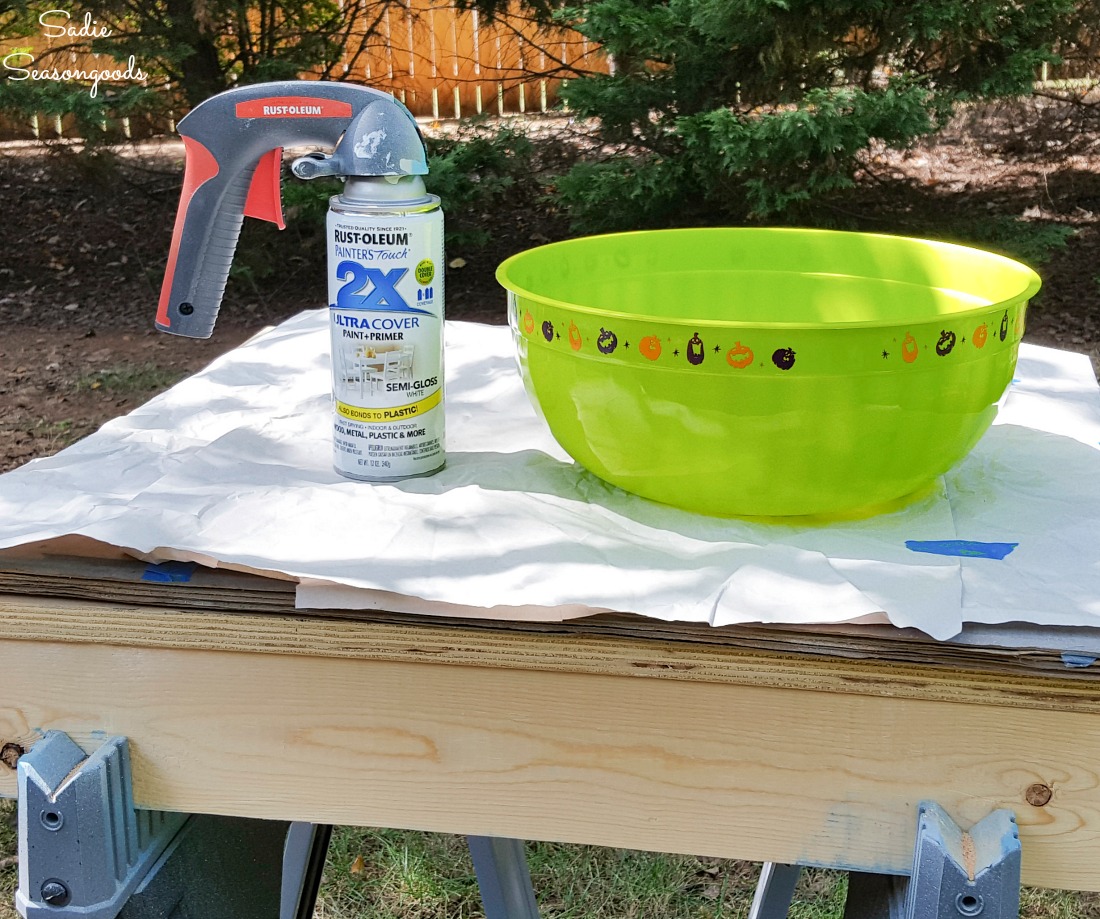 This way, he'd blend in seamlessly with candy bowl holder that I was hoping to create!
When the paint had dried, I replaced the bowl and removed the clips from sewing bucket. Now I had a cohesive look that was starting to look a little like a Halloween ghost decoration, wouldn't you say?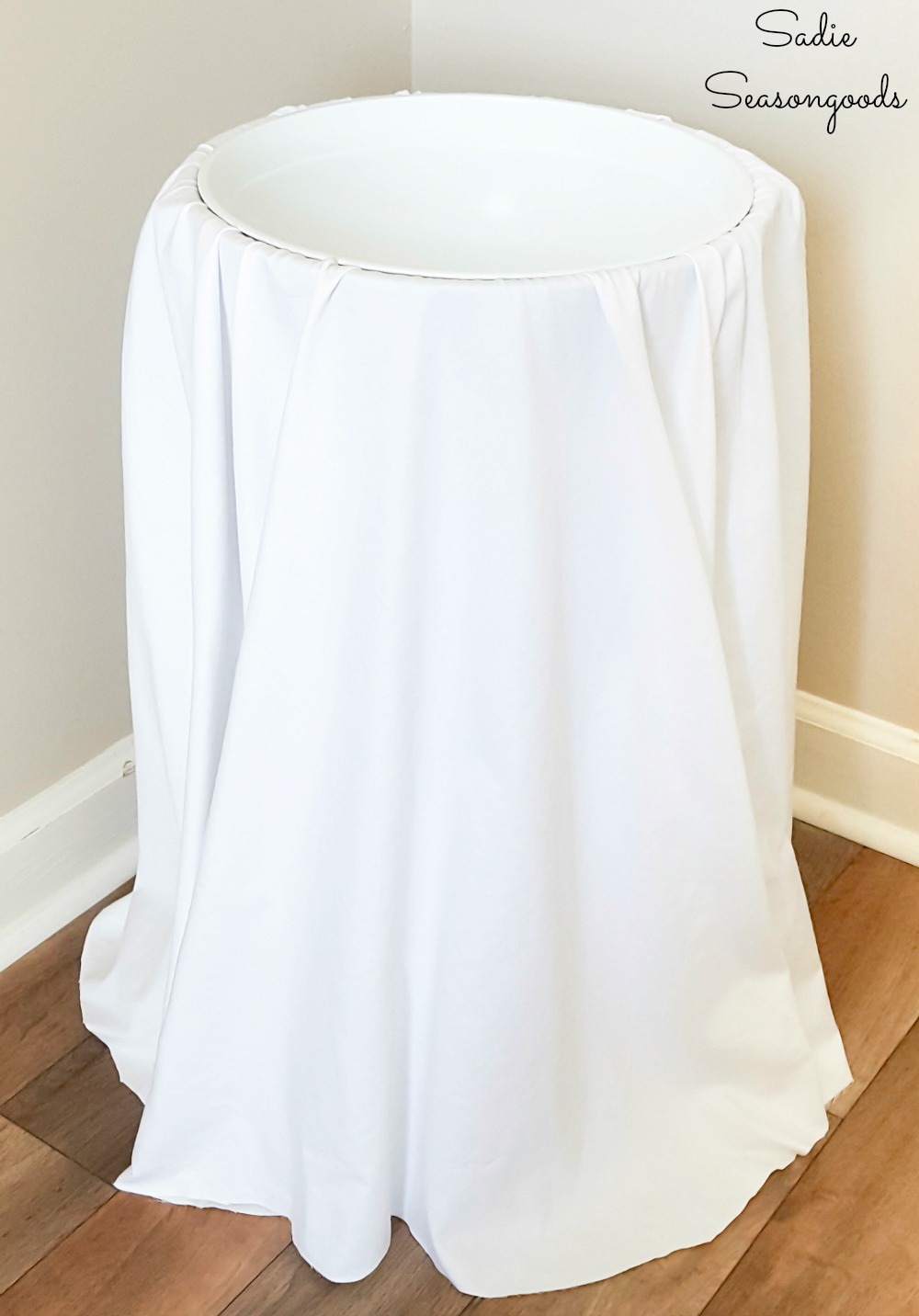 Last but not least, I needed a ghost face on my candy bowl holder and ghost decoration! I went into my stash of felt and grabbed some peel-and-stick felt in black.
This would be PERFECT for what I needed. I just adore adhesive felt for a quick and easy ghost face!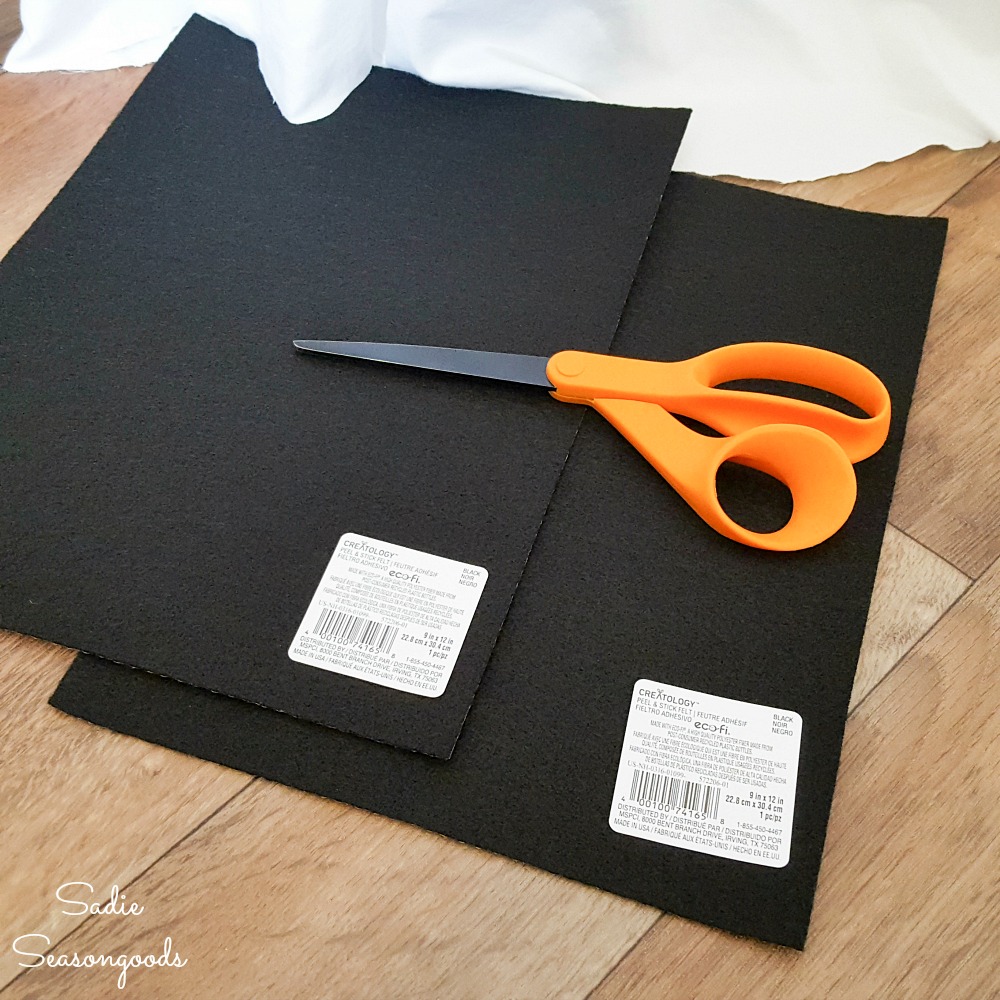 And that, my friends, was all she wrote…err…all she did to the sewing bucket. Isn't it the cutest candy bowl holder ever?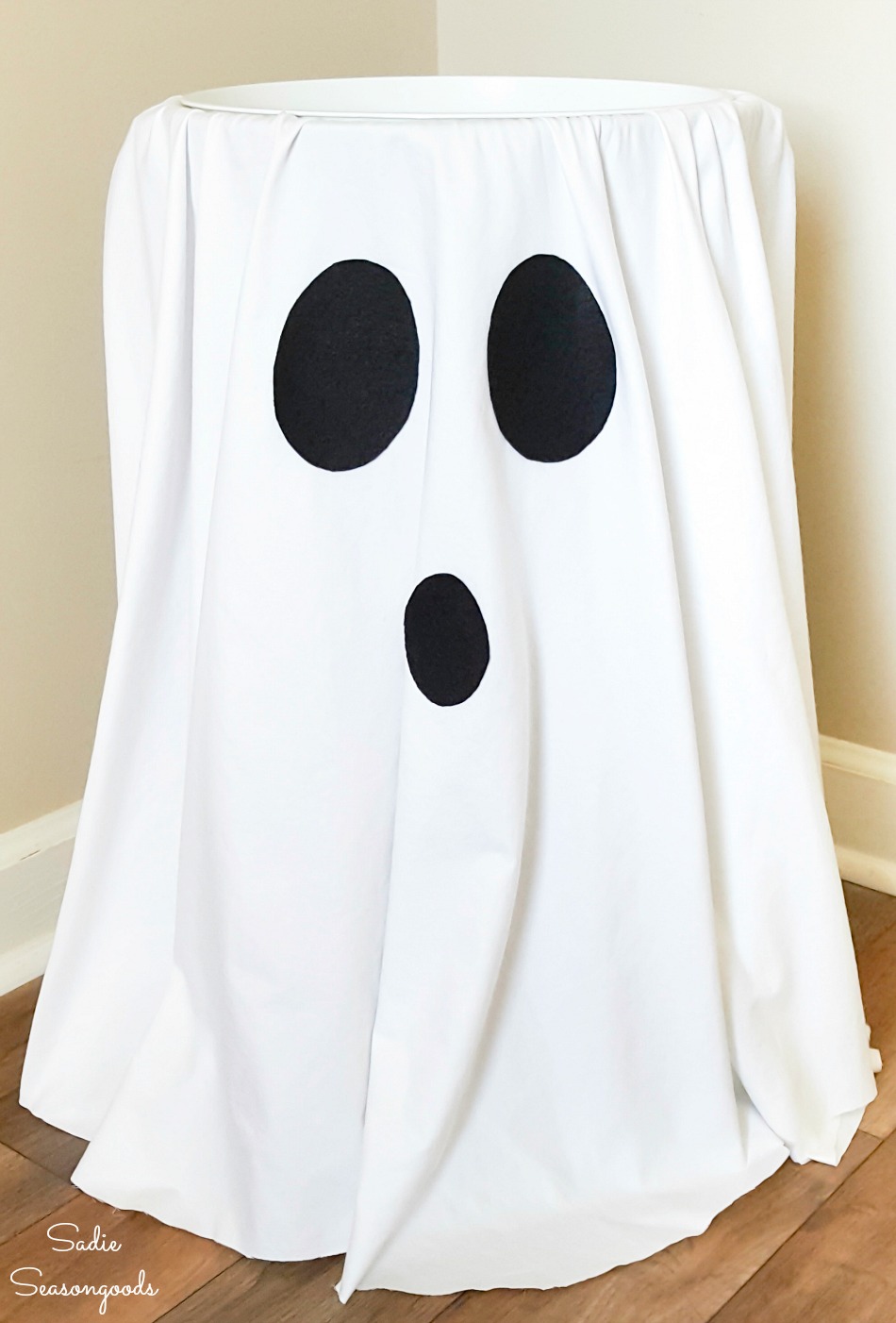 Perfect for leaving on your front porch or sidewalk, or even for a socially distanced trunk-or-treat!
Alternative Trick or Treat Idea with a Candy Bowl Holder
Now I'm ready for Halloween trick-or-treaters while staying at a safe distance with minimal or no contact!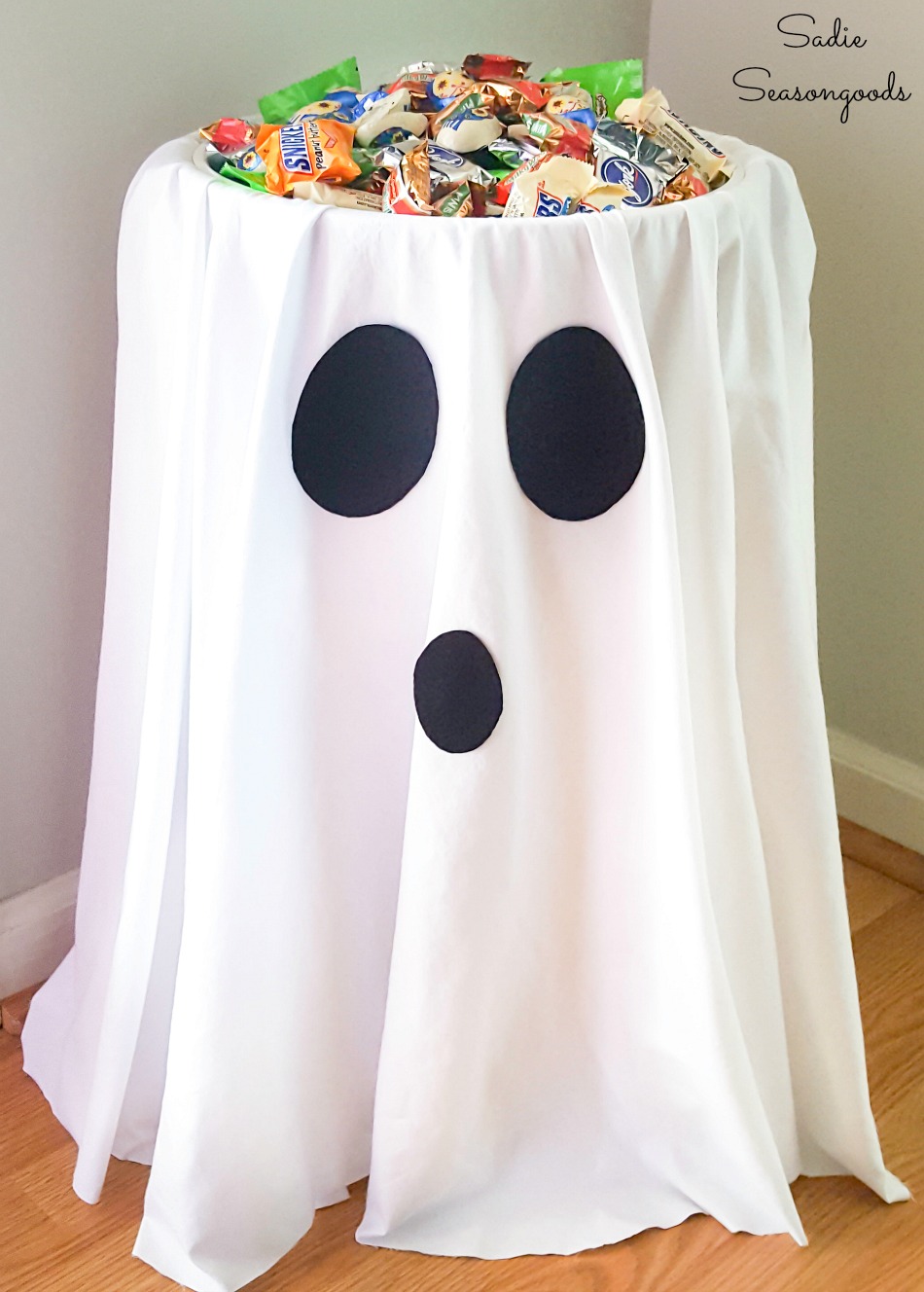 Would you even guess that there's a sewing bucket (or maybe knitting bucket) underneath? Totally camouflaged without doing anything permanent to it!
Oh gosh, there is a LOT of tasty temptation here. MUST. FOCUS. ON. PROJECT. NOT. CHOCOLATE.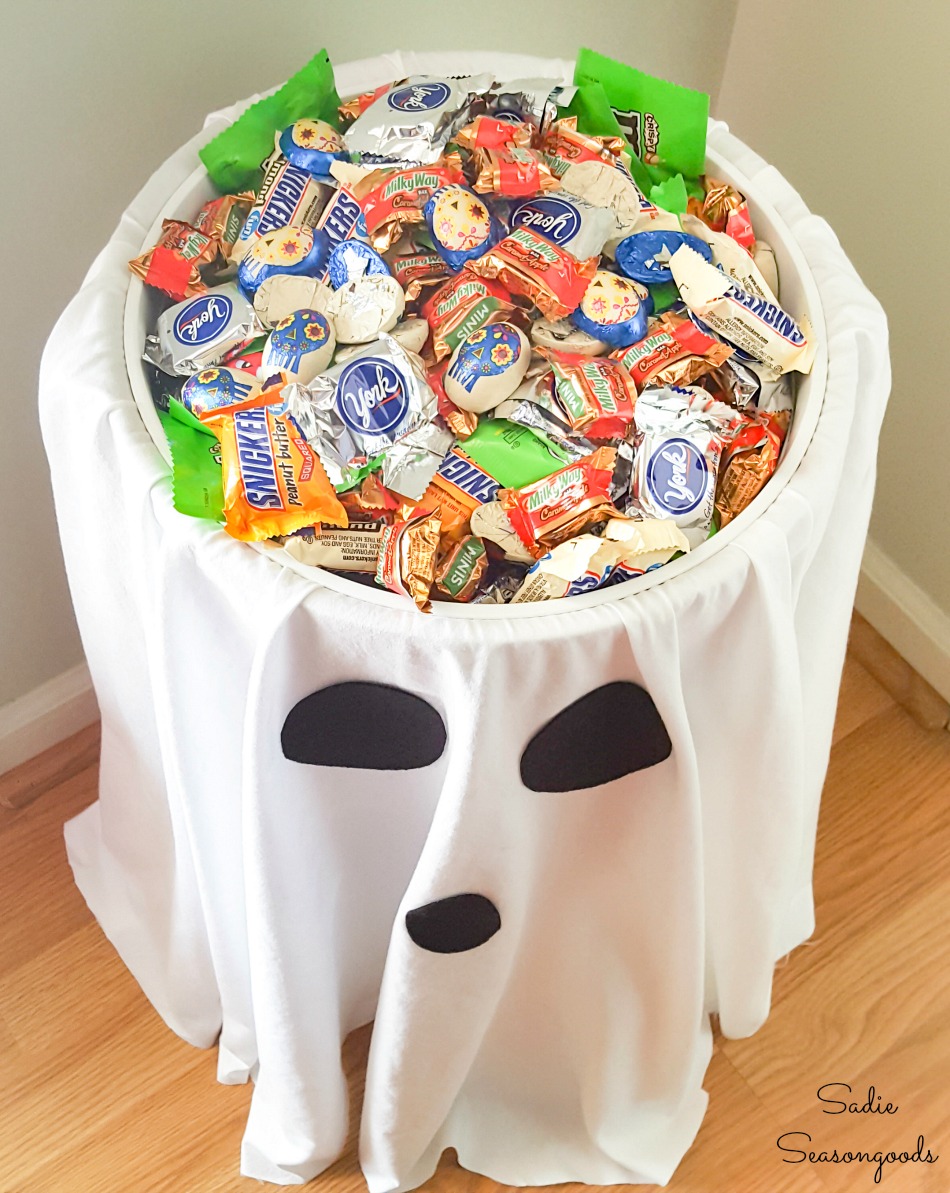 Oh well, temptation won me over.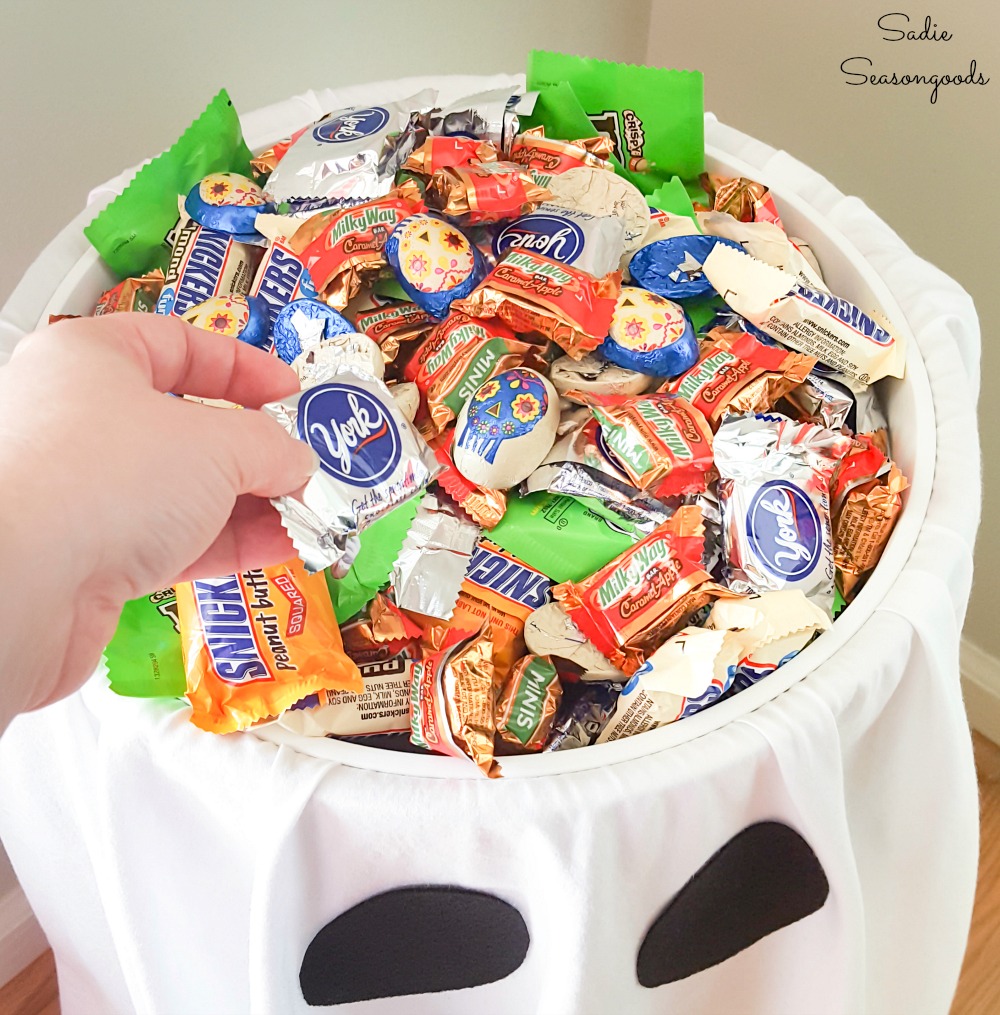 Either way, I LOVE the candy bowl holder and ghost decoration. And I can re-repurpose the sewing bucket for yet another project in the future.
I'm also super excited to announce that my first book is now available! If you love working with flannel or fabric crafts in general (sewing and non-sewing), then you will LOVE "Crafting with Flannel"!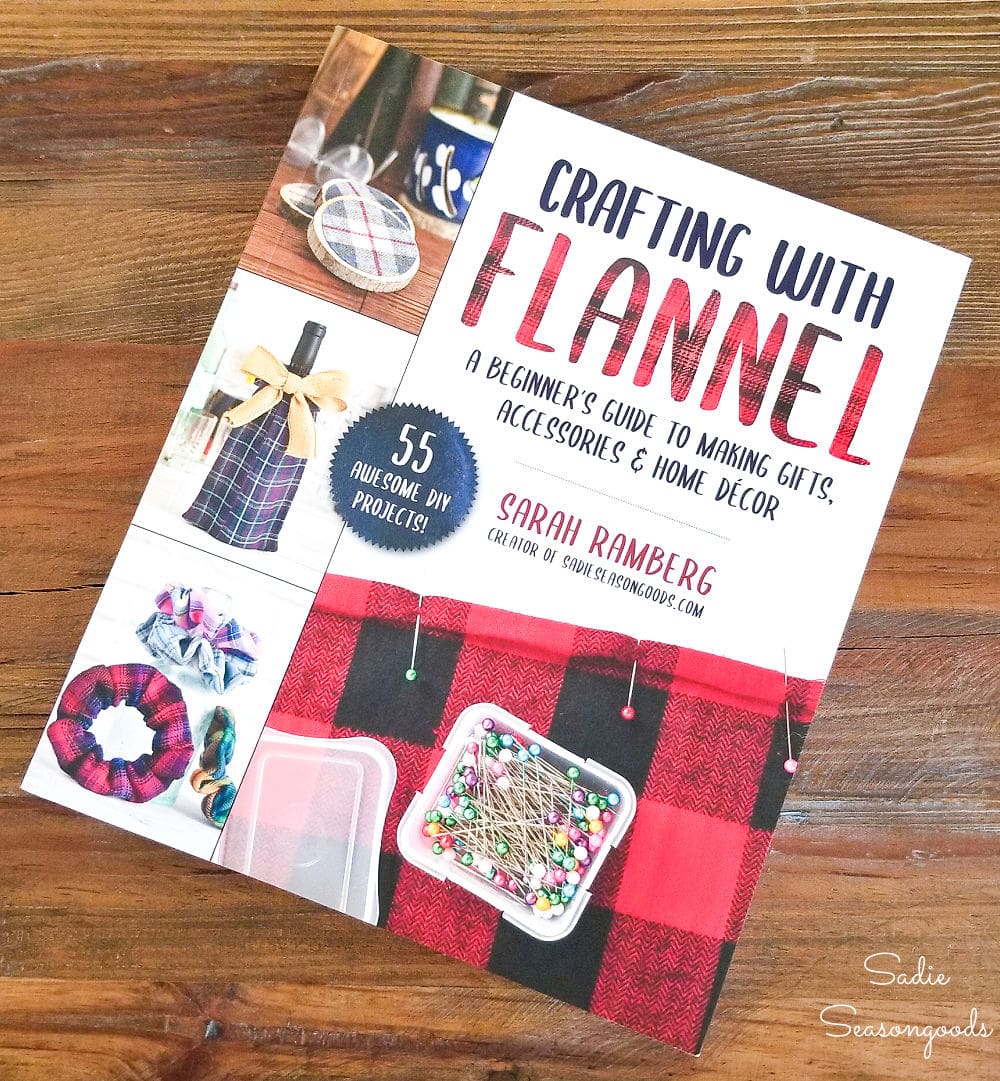 Speaking of Halloween candy, if you enjoyed this upcycling idea for Halloween, then you'll love these ADORABLE fabric pumpkins made from bandanas!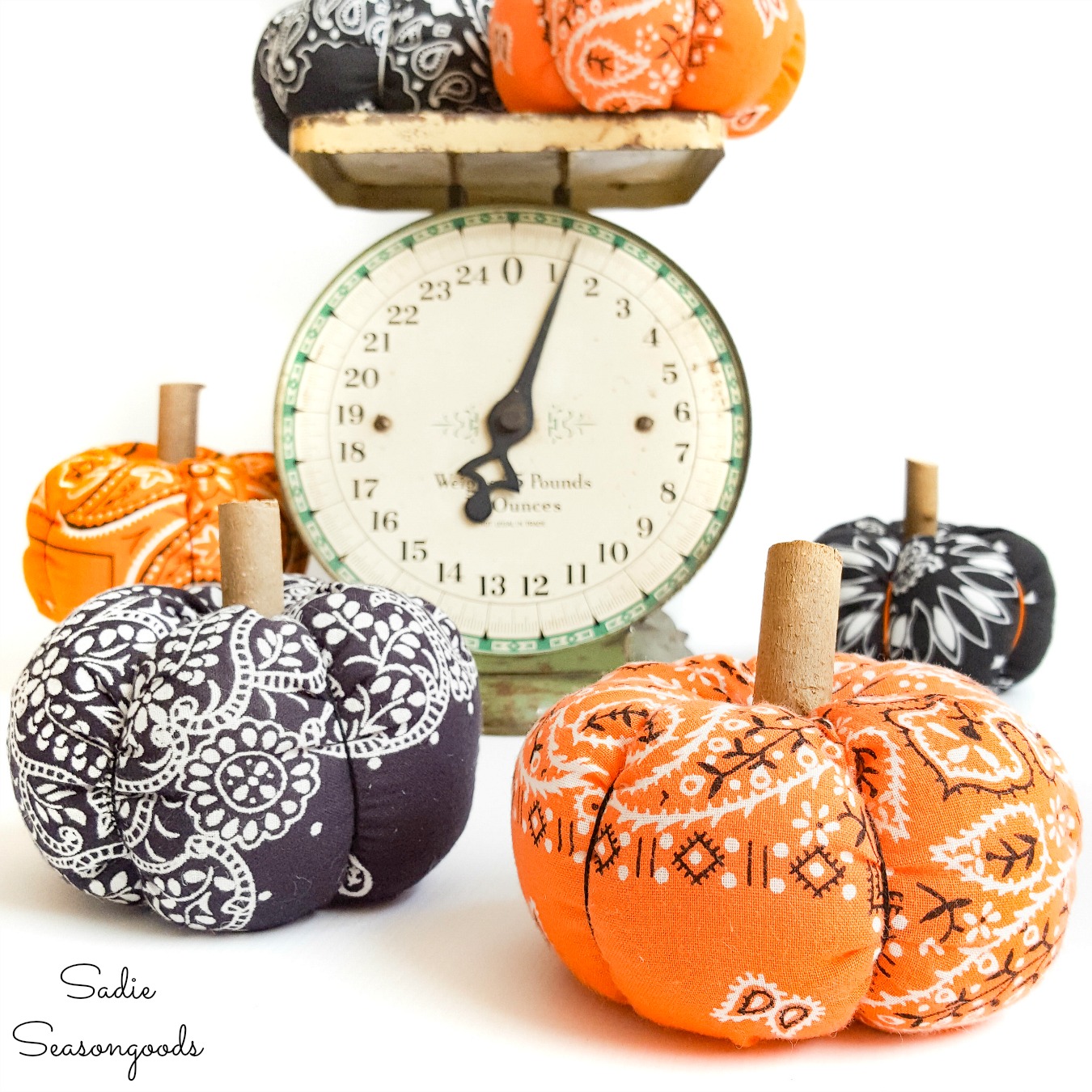 Craft on!
S
Join me on Social Media:

PIN ME!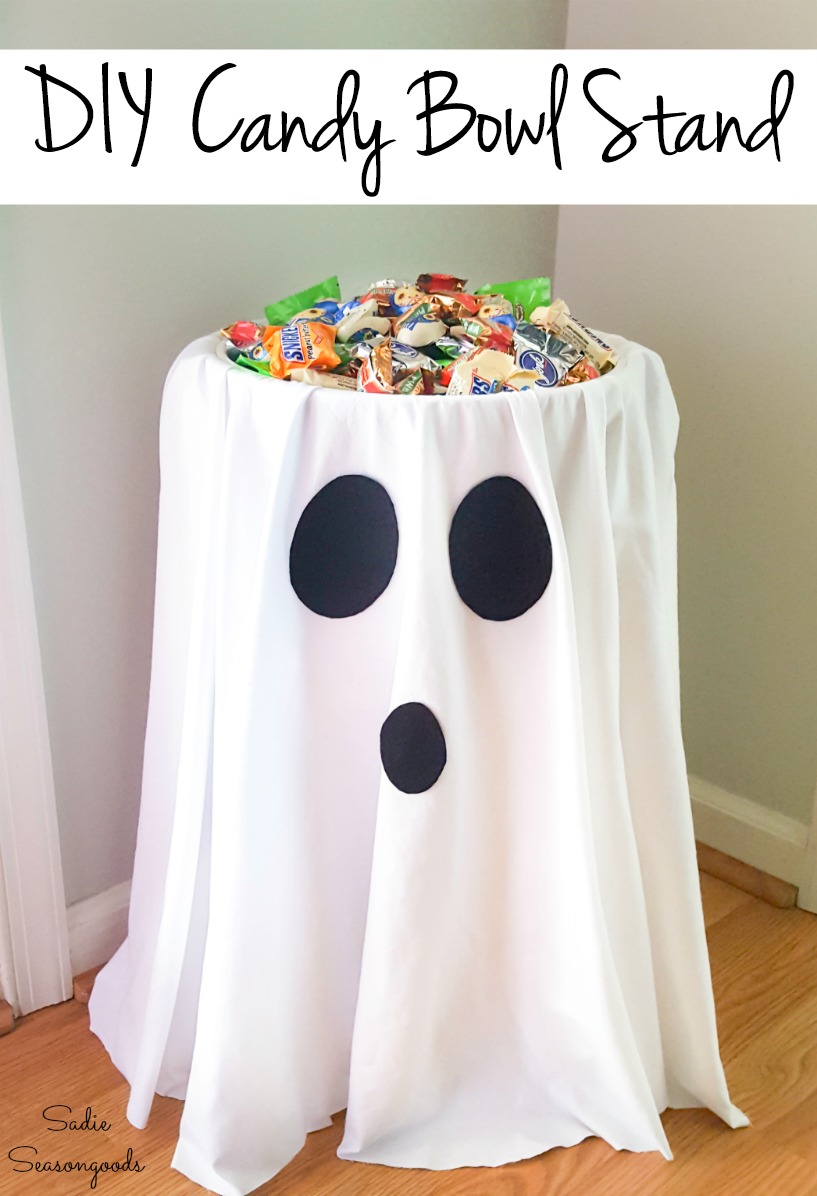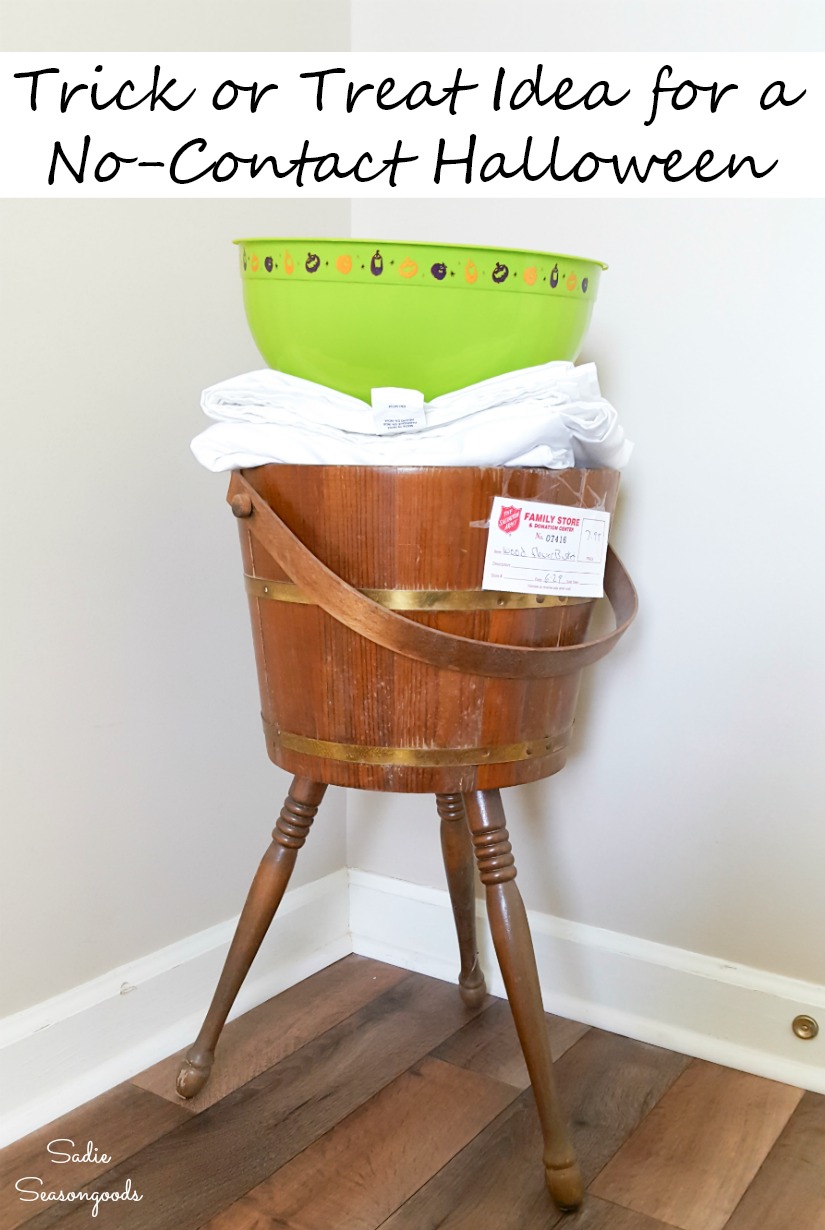 Sarah Ramberg is the owner of Sadie Seasongoods, a website that celebrates all things secondhand. From upcycling ideas and thrifted decor to vintage-centric travel itineraries, Sadie Seasongoods is a one-stop shop for anyone who loves thrifting and approachable repurposing ideas. Sarah is also the author of "Crafting with Flannel" and has been featured in numerous media outlets and magazines.