The sales are starting, the lights are going up, and that can only mean one thing: Christmas is coming! And to celebrate this festive and glorious season, a few Christmas crafts are in order. And to keep everything thrifty and on budget, these Christmas craft ideas are all upcycled and repurposed.
Christmas Cloche
Have an old cheese board and dome tucked in the back of your cupboard? Or perhaps you spotted one at the thrift store the other day. Either way, they are the perfect thing for upcycling into Christmas or winter scenes, like this little ice skating pond.
Snowball Ornament
Looking for a sparkly, icy snowball ornament idea that won't leave a mess everywhere it goes? This project is the perfect answer and uses supplies you may already have at home.
Christmas Craft Ideas with Coasters
An outdated set of coasters from the thrift store got a cheery and festive makeover with this upcycling idea. A little paint goes a long way, and by adding different holiday-themed words to the coasters, everyone at your party can remember which drink is theirs.
Charlie Brown Tree
The Charlie Brown Christmas tree is iconic, isn't it? And this version is not only easy to make, but started as a most unexpected thing: A banana holder from the thrift store! Such a great way to upcycle one of those things and a conversation piece in your holiday decor, for sure.
Mason Jar Lid Ornaments
There are any number of Christmas craft ideas that involve mason jars, but this one focuses solely on the lids. Specifically, the band or ring portion of a mason jar lid. They are super easy to upcycle into darling wreath ornaments using craft supplies you probably already have in your stash.
Christmas Craft Ideas with Cross Stitch
Traditional cross-stitch is intimidating (and hard on the eyes). But oversized cross stitch with chunky yarn on a tennis racket head? Quick, easy, and satisfying for a cross-stitch newbie!
Fabric Christmas Crackers
Christmas crackers are a fun little surprise to add to your dinner parties or for wrapping smaller gifts. And while these don't have the traditional "pop", they are doubly-repurposed: using old flannel shirts as the fabric and cardboard tubes from paper towels or gift wrap!
The tutorial for this project can be found in my book, "Crafting with Flannel", by Sarah Ramberg.
Paper Trees
These recycled paper trees are fun Christmas craft ideas to make with all sorts of paper. Book pages, sheet music, old Christmas cards- you name it. These secret to their cuteness is the torn edges and the vintage receipt spikes that you use to make them.
Playful Holiday Wreath
This Christmas wreath has a retro feel, thanks to the vintage decorations and old fashioned Santa graphic in the center. But the best part is that it was made by upcycling a plastic tray from the thrift store.
Christmas Craft Ideas with Picture Frames
They may look like lovely wrapped gifts, but unfortunately, they're just decorative and perfect for your Christmas mantel. The secret to these wrapped present decor? Thrift store picture frames!
Thread Cone Trees
Old thread cones in the right colors (hello, green and red) are the perfect thing to upcycle into darling little tabletop tress this Christmas season. And they're SO easy to make with your kids- all you need is pretty sequins and glue!
Spindle Ornaments
These little wooden spindles are truly the perfect size and shape to turn into Christmas ornaments with paint and twine. But the craziest part is where they came from. Would you believe it was a coffee mug tree from the thrift store?
Christmas Card Box
If you're anything like me, you keep a few Christmas cards each year- cherished memories from loved ones or just really adorable cards you can't bear to toss. So, a storage box like this (upcycled from a thrift store find) is the perfect thing for storing them year after year.
Christmas Craft Ideas with Jars
Waterless snow globes are the easiest snow globes to make, and they really are just as cute! And while you can use new jars and decorations from the craft store, I'm partial to old jars and vintage decorative bits like these.
Christmas Card Display
A thrifted cork board is pretty uninspired-looking, as-is. But a simple makeover with paint and flannel fabric transforms it into a festive display for your favorite Christmas cards each year.
The tutorial for this project can be found in my book, "Crafting with Flannel", by Sarah Ramberg.
Christmas Craft Ideas for a Creative Holiday Season
I hope these Christmas craft ideas (including these DIY mini ornament hooks) give you the inspiration you need to create a most festive holiday season. The thrift store (and even your own cupboards/closets) are full of potential holiday crafts. Sometimes, you just need the right idea to get you started…
Craft on!
S
Join me on Social Media:

PIN ME!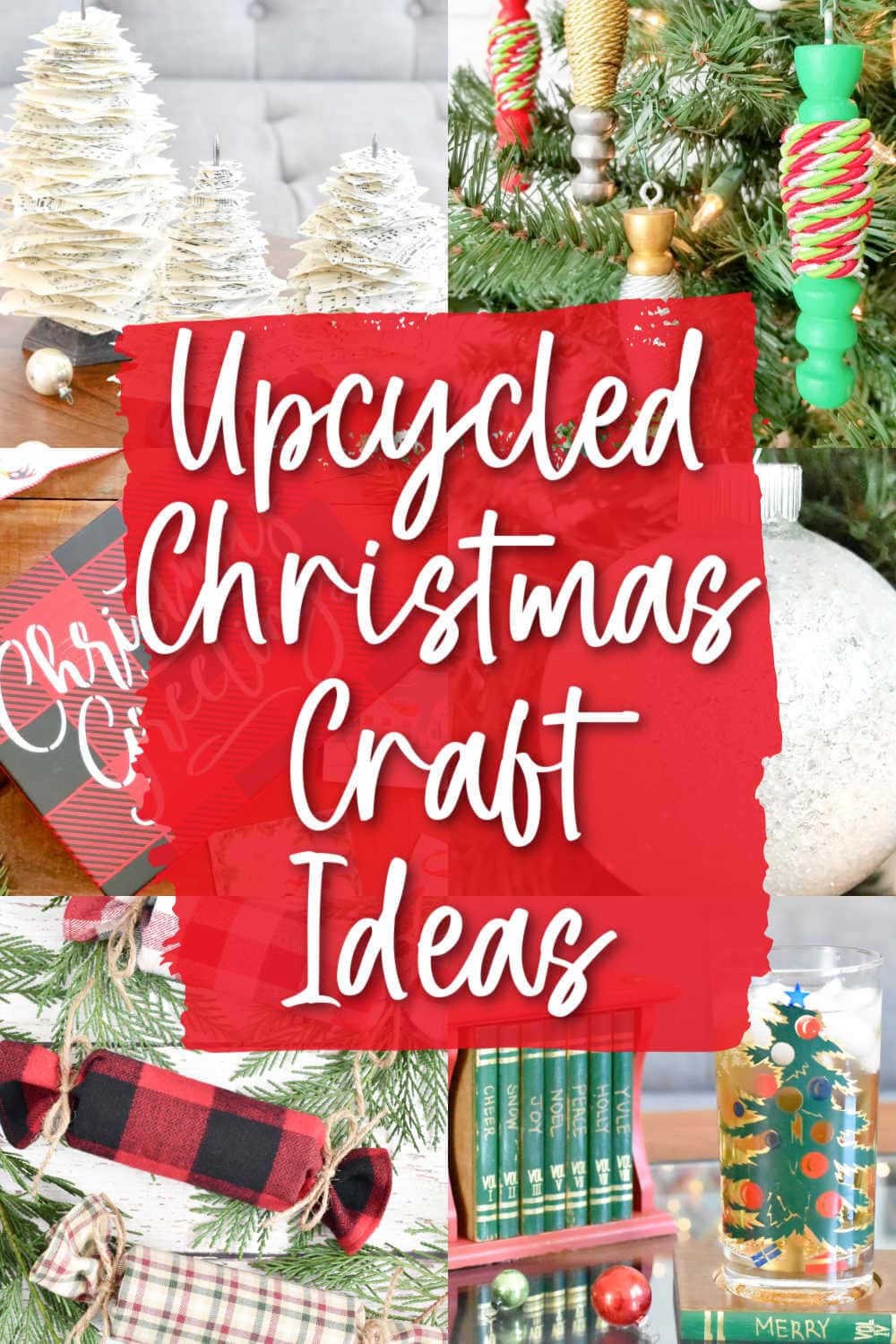 Sarah Ramberg is the owner of Sadie Seasongoods, a website that celebrates all things secondhand. From upcycling ideas and thrifted decor to vintage-centric travel itineraries, Sadie Seasongoods is a one-stop shop for anyone who loves thrifting and approachable repurposing ideas. Sarah is also the author of "Crafting with Flannel" and has been featured in numerous media outlets and magazines.