Several years ago, I upcycled some metal buttons into Boho jewelry that resembled old coins. I loved how it turned out and wanted to reuse that same "craft" in a new way. But, this time I'm using the vintage buttons to make coin charms that I'll use to decorate some old bottles. DIY Boho decor has been on my mind lately and I hope this upcycling idea will give off the right Boho vibes!
To refresh your memory, this is the coin charm jewelry that I made by upcycling those metal buttons.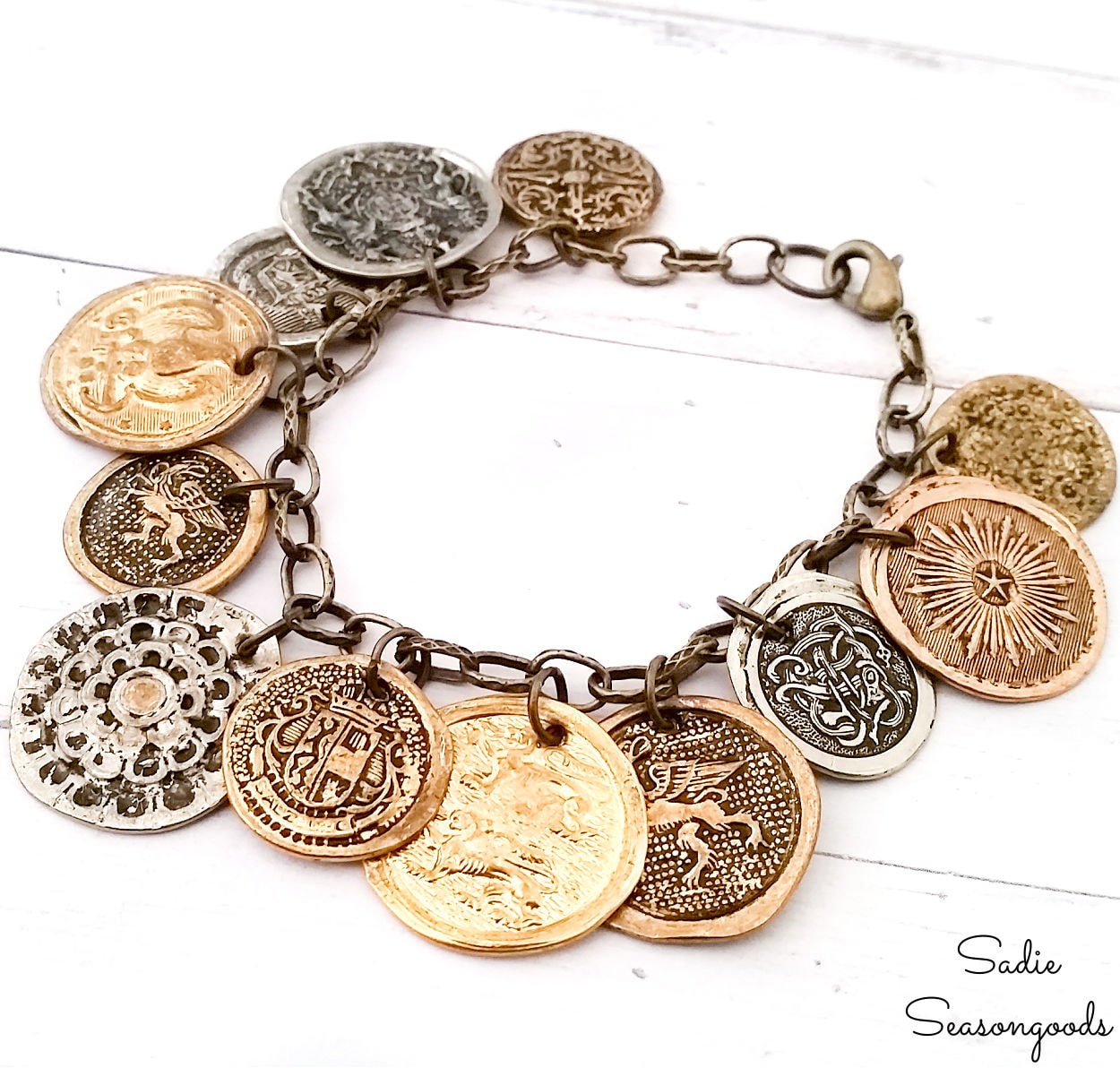 I have a couple of reasons to do this – not only did I love my original project, but I still had a TON of metal buttons left over!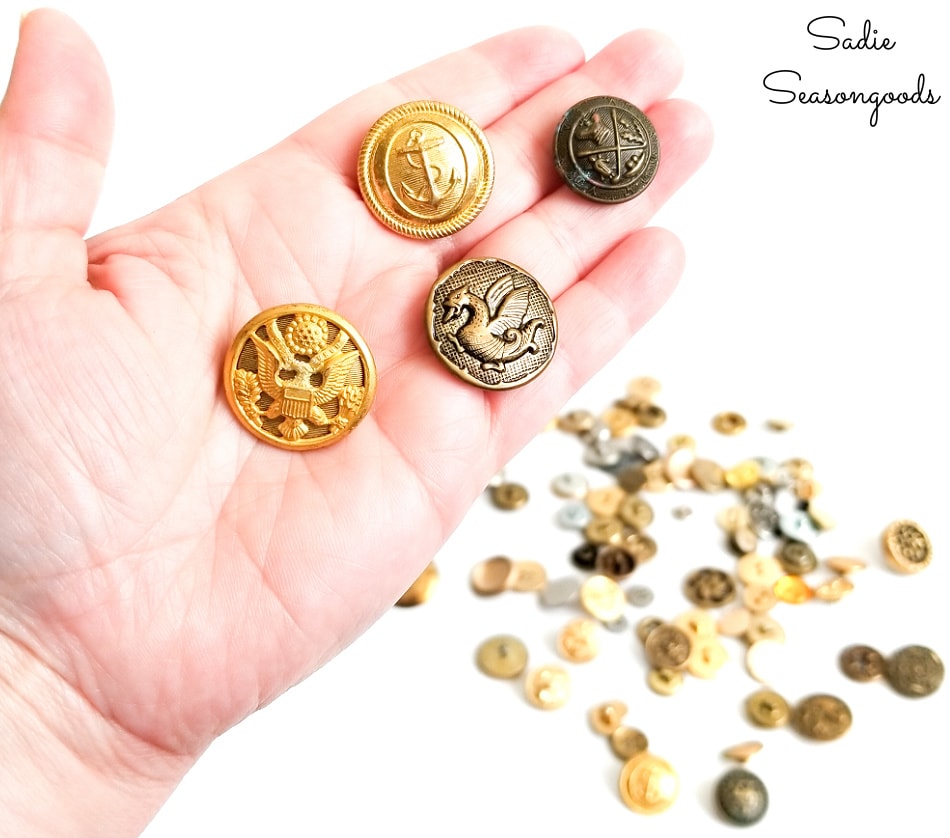 I also wanted to revisit the craft process itself and perhaps improve upon it. In the blogging world, that's never a bad idea!
This post contains affiliate links for your crafting convenience. As an Amazon Affiliate, I earn from qualifying purchases. All blue, bold, and underlined text is a clickable link, either to a product or to a related post.
Creating Bottle Charms for DIY Boho Decor
In my original blog post, I flattened the vintage metal buttons (found in various Etsy stores) using a small anvil, but this posed a problem. Most of my readers didn't HAVE a small anvil.
So, by revisiting this craft project, I could explore other options.
First, I tried doing it inside, using a dead blow hammer and a heavy wooden cutting board. I also placed the button inside some scrap fabric to protect its design.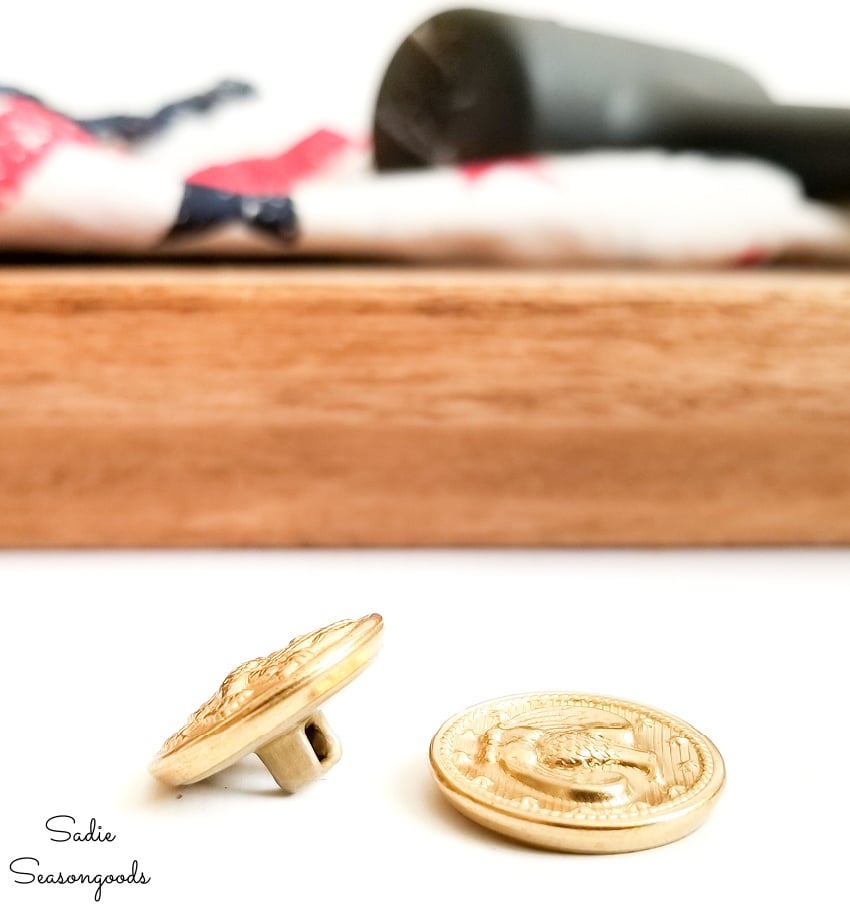 But the results were just "OK". The metal button had gotten flatter, but didn't resemble the coin charm that I was looking for.
Next, I headed outside and ditched the dead blow hammer for my old hammer.
Instead of using an anvil, I flattened the metal buttons on a concrete slab (sidewalk, driveway, garage floor). I continued to place the buttons between layers of fabric and tapped away (no need to hit super hard at all).
And you know what? It worked like a charm (pun intended). So, after sitting in my garage for a few minutes with metal buttons, my old hammer, and a scrappy bandana, I had plenty of coin charms.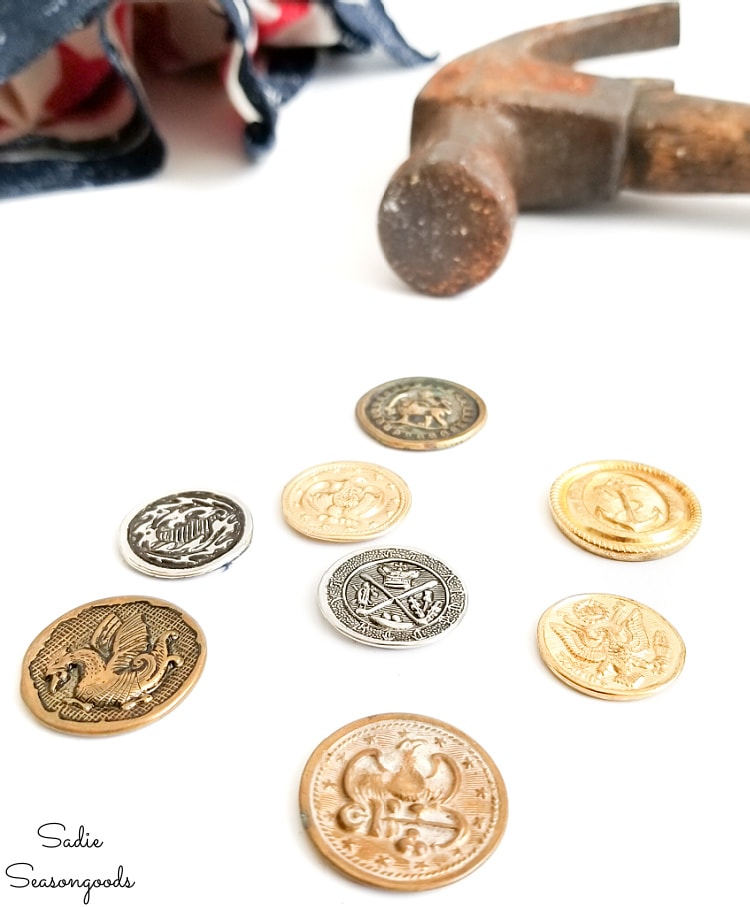 The coin charms were wonderfully flat and would work delightfully for the DIY Boho decor I had in mind.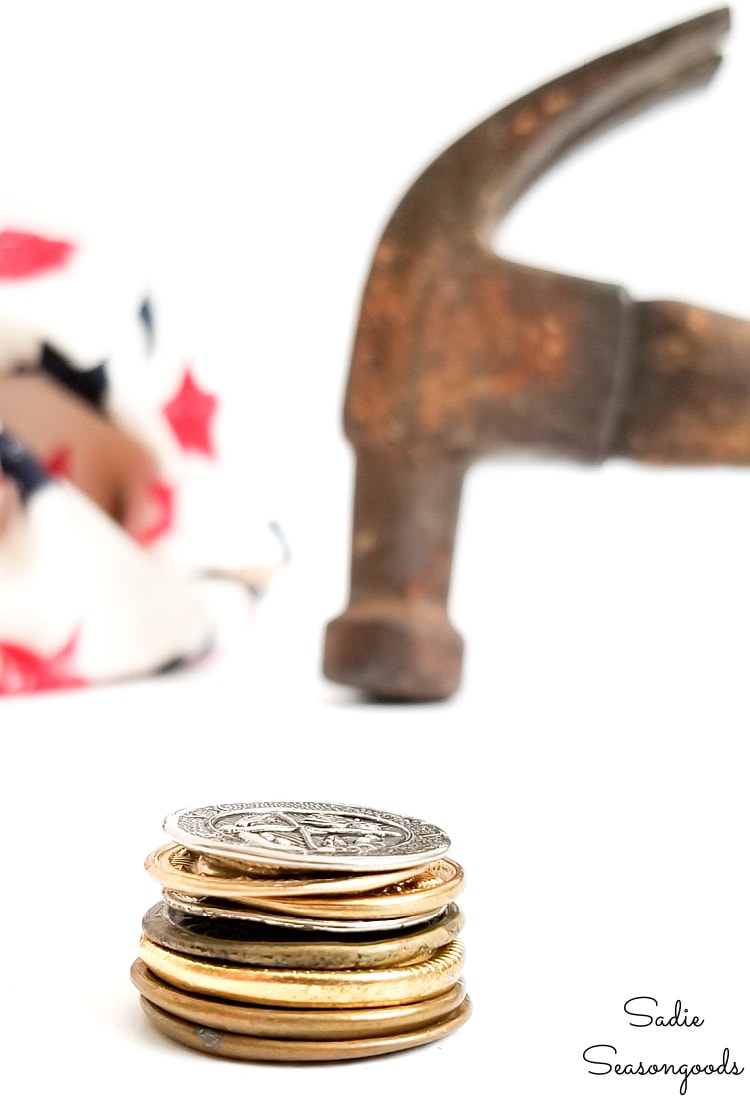 Once I had flattened all the metal buttons that I'd need for this bottle craft, it was time to transform them into actual charms. To do so, I grabbed a piece of scrap wood and an awl or hole punch.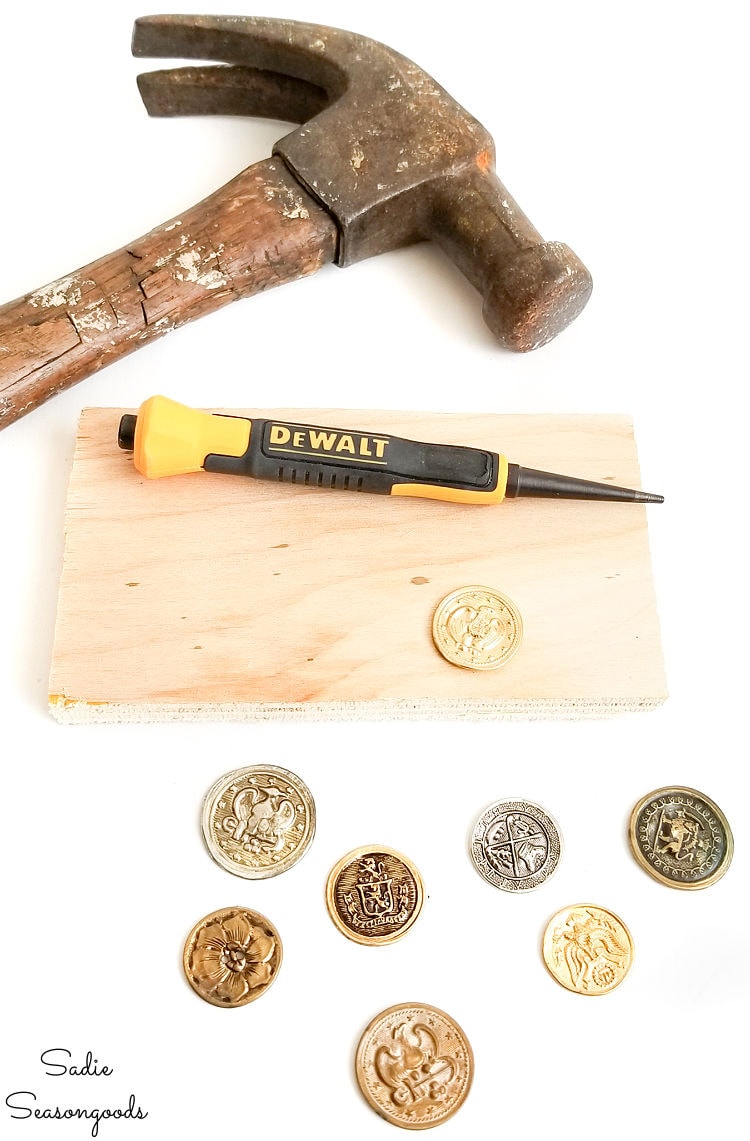 FYI, though, the awl worked a lot better than the punch!
Then, I simply popped a hole at the top of each bottle charm by tapping the awl through the button with my hammer.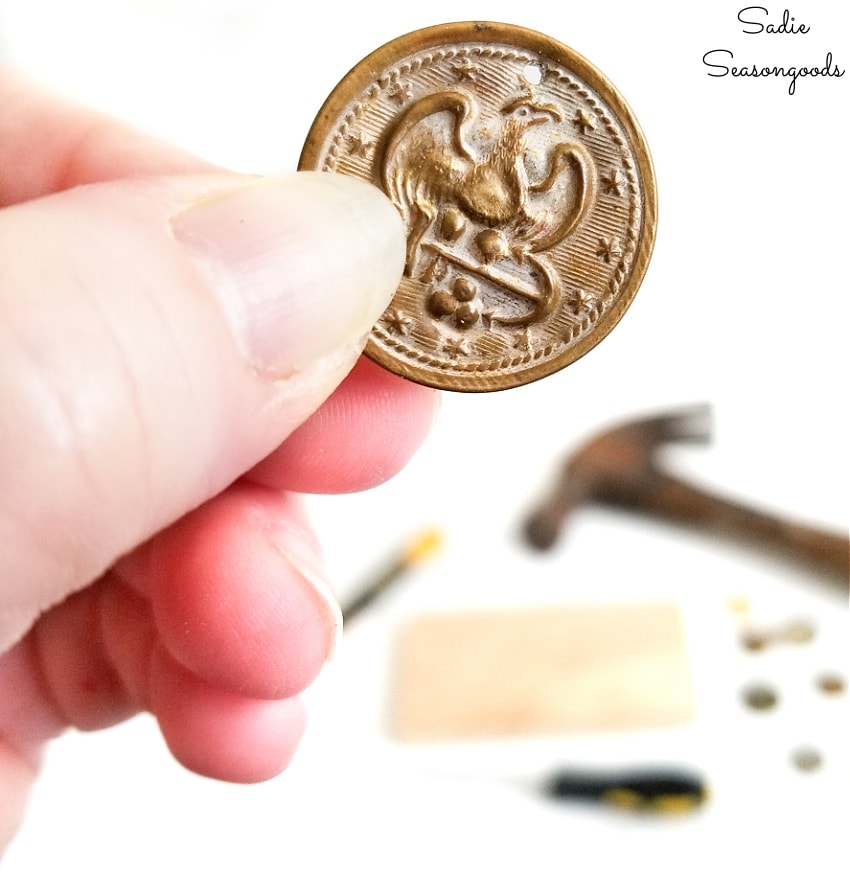 Decorating Bottles with Coin Charms and Sari Silk Ribbon
The coin charms needed additional hardware before I could use them in my DIY boho decor.
When I originally made my coin jewelry with metal buttons, I only added one jump ring to each one. But this time, I added two jump rings (you'll see why in a moment!).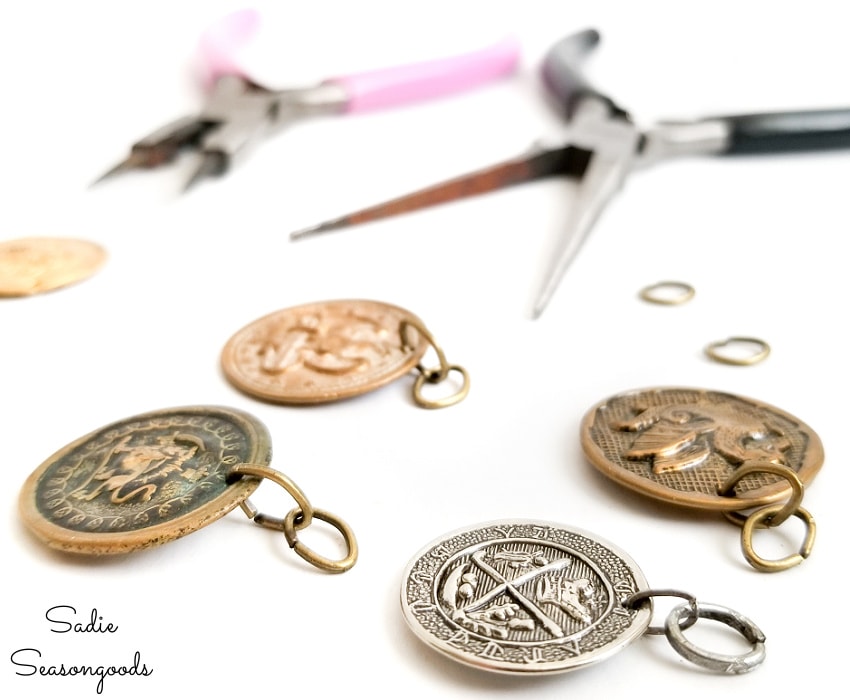 As always, I used my jewelry pliers to open, insert, and close the jump rings securely!
To bring my bottle decorating idea to life, I'd use some sari silk ribbon that I purchased on Etsy!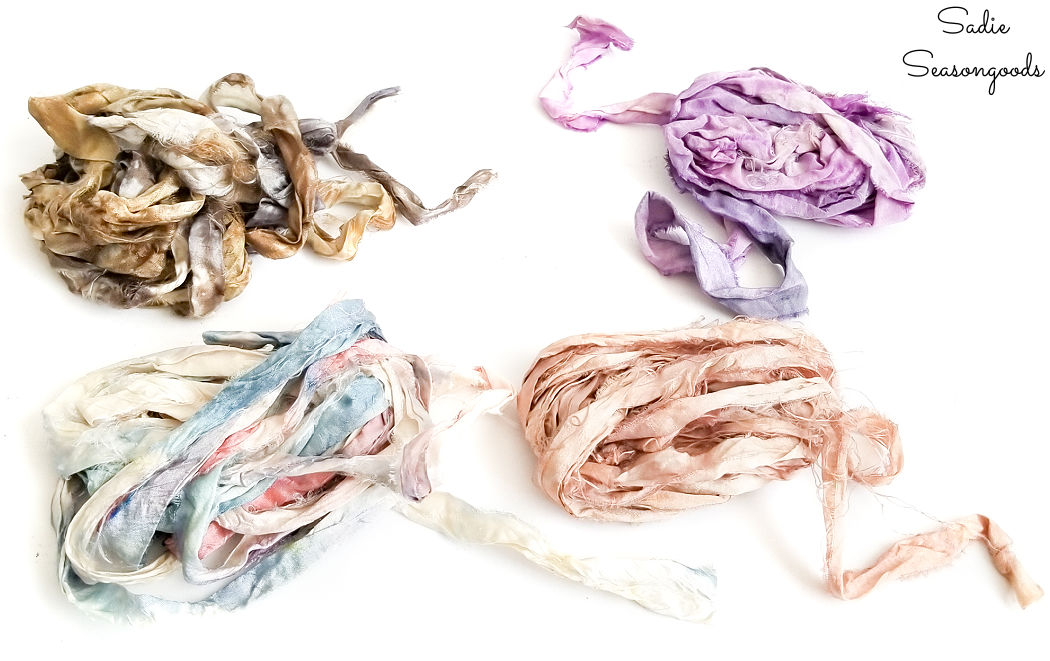 The sari silk ribbon is made by recycling Indian saris! So, this is a double-upcycling project.
First, I wrapped some of the sari silk ribbon around the necks of the vintage glass bottles. Then, I knotted the ends together and left two long tails hanging down.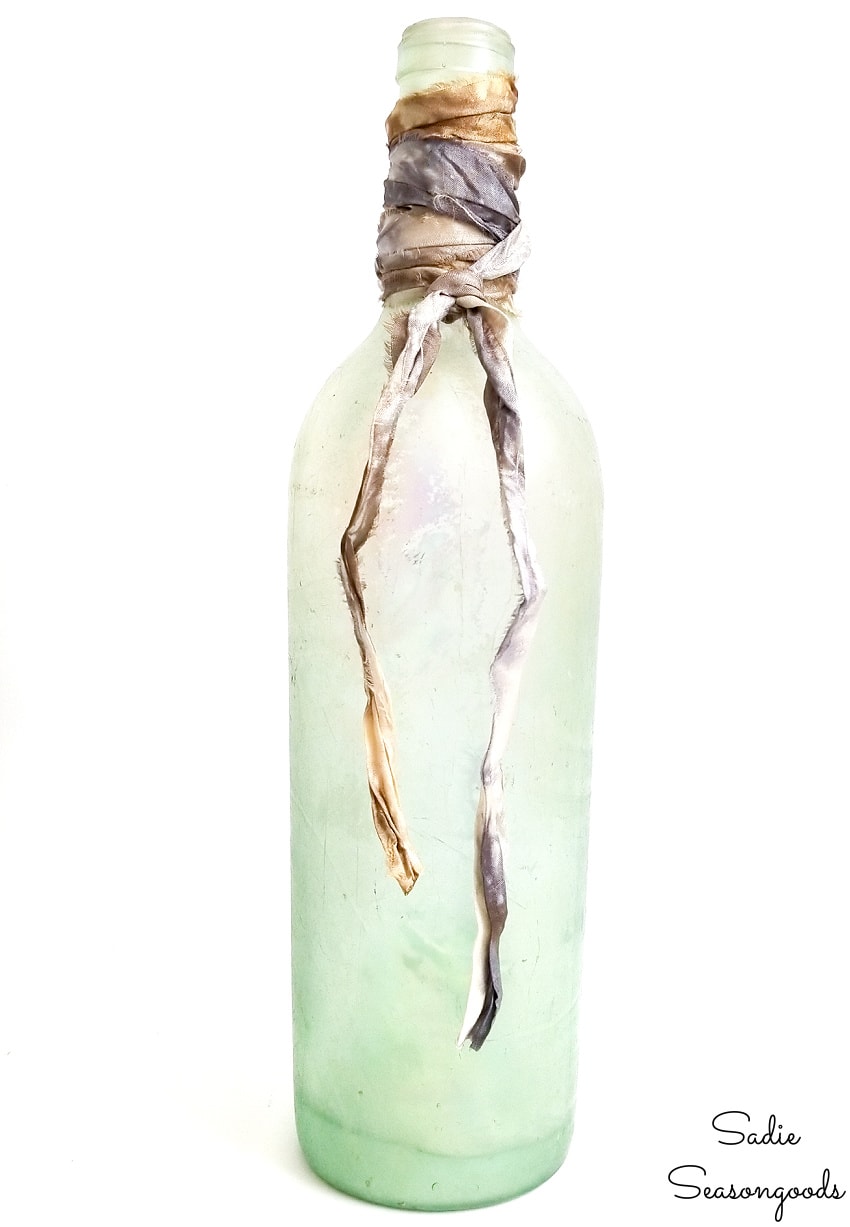 Then, I inserted one end of the ribbon tail through the top jump ring on the coin charm.
After that, I folded the end of the ribbon tail under and wrapped jewelry wire tightly around it. This hid the end of the ribbon AND created a secure loop that the coin charm could dangle from!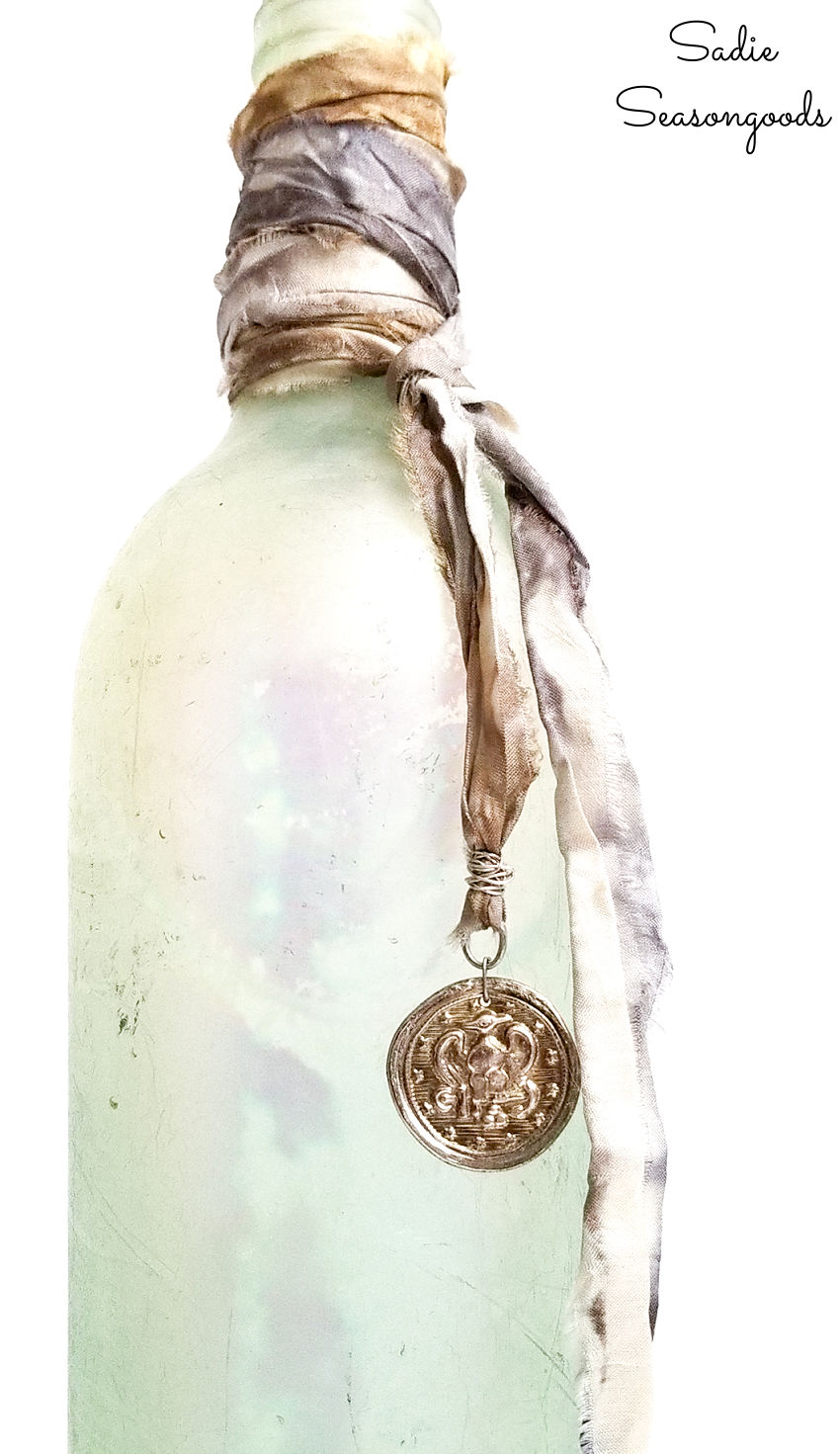 That's why I used two jump rings; so that the coin charm would lay flat against the old bottles!
All that was left to do was the same thing with another of my coin charms on other ribbon tail.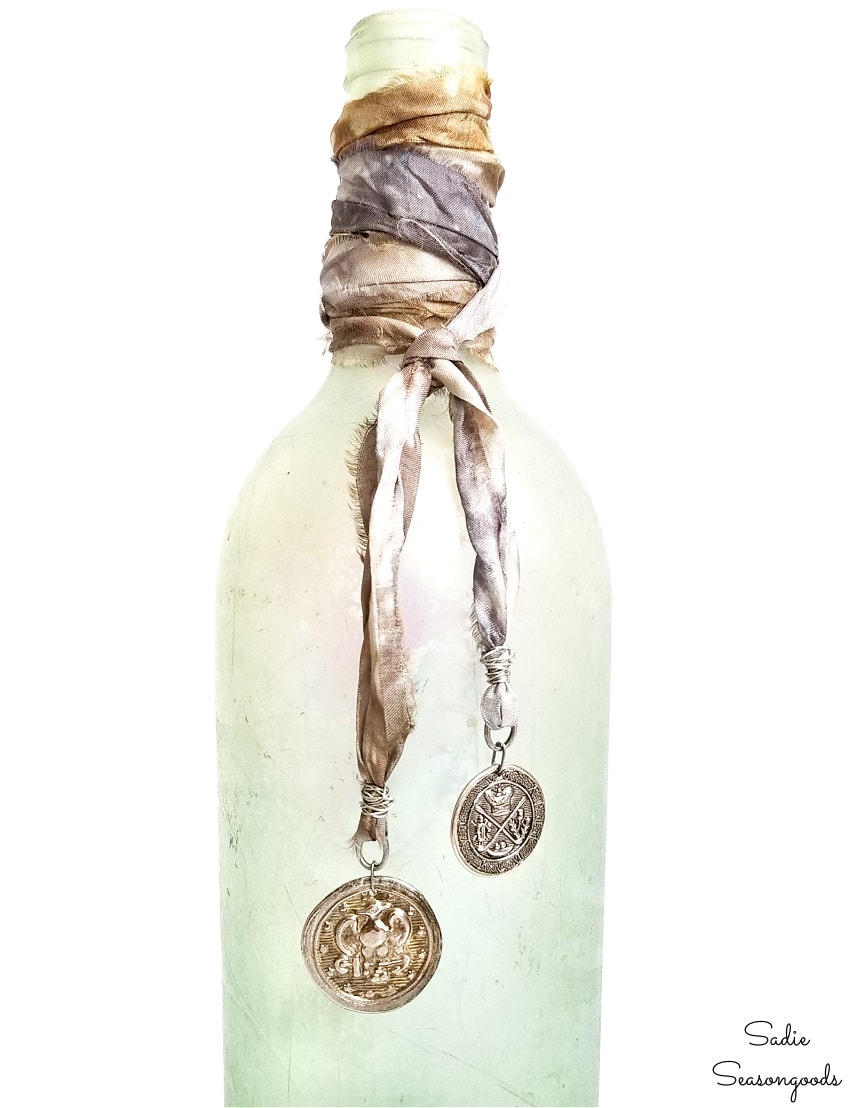 DIY Boho Decor with Bottle Charms from Metal Buttons
And that was it. I kept wrapping the sari silk ribbon around the my old bottles and attaching the coin charms to the ribbon tails.
I loved the combination of the weathering on the bottles, the mottled colors of the Sari silk ribbon, and the coin charms from metal buttons.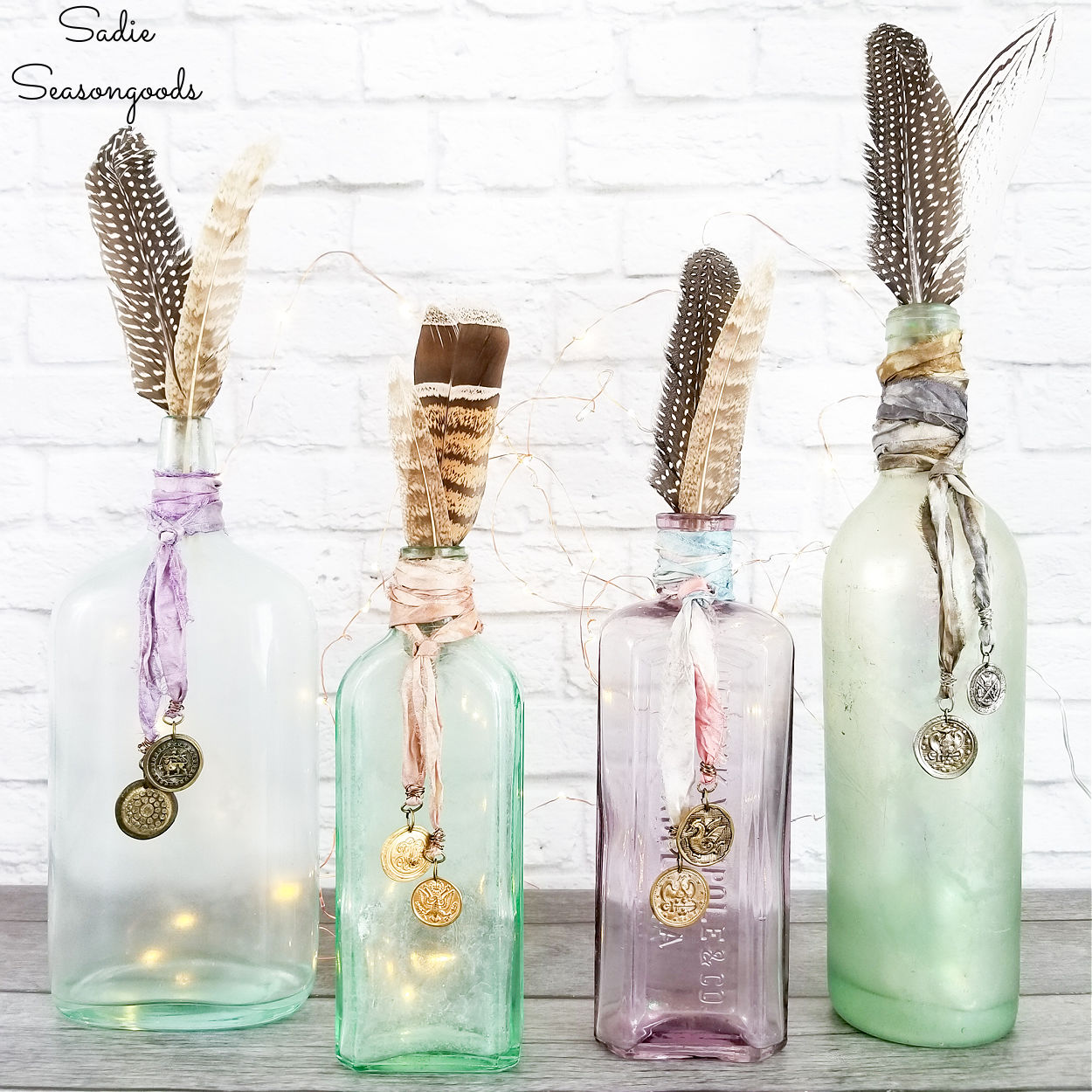 My DIY boho decor and bottle craft had turned out better than I had even hoped!
To display them, I added humanely sourced feathers! Whenever I use feathers in projects, they are always humanely collected – that's important for me to point out!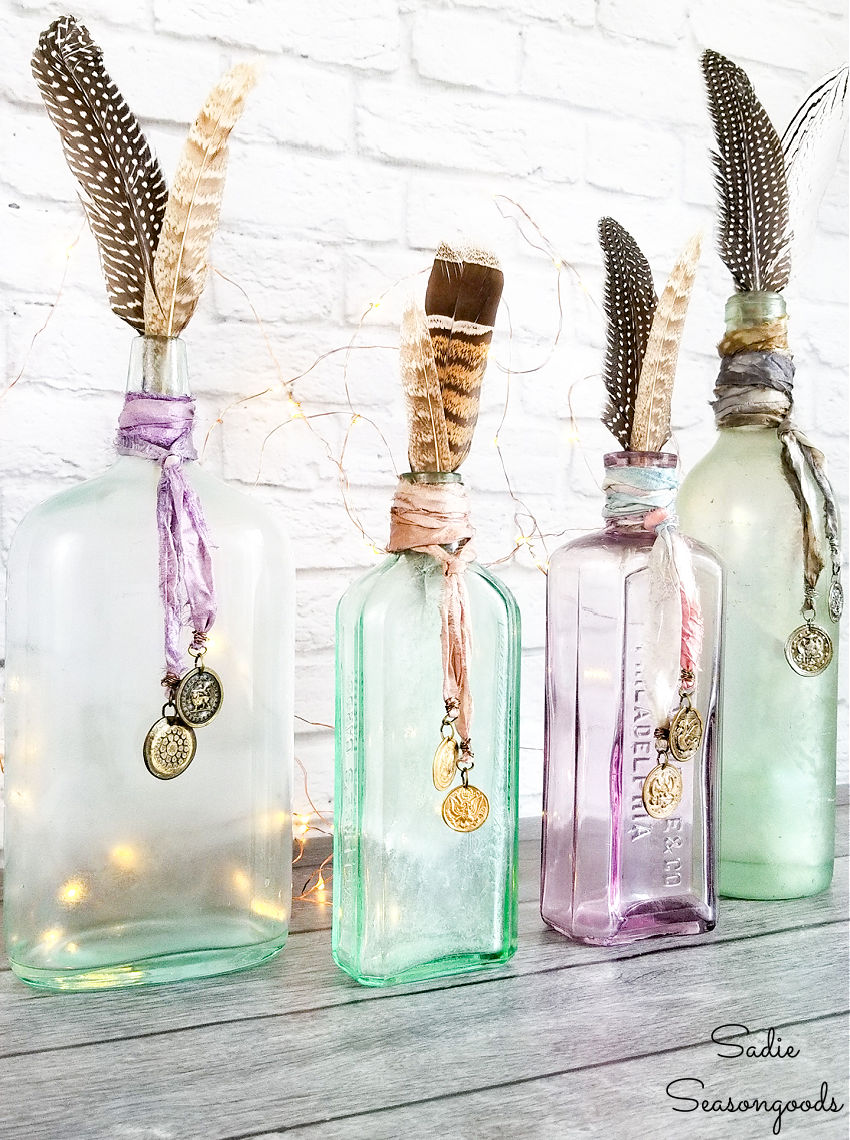 And you could certainly use these boho decor ideas with new bottles straight from your recycling bin! You could add a hint of color to them like I did with this project, or even "weather" them with some uneven frostiness like I did in this project, too.
If you enjoyed these boho decor ideas with upcycling, then you'll also love my basket wall decor. It's also got the boho vibes that you may be looking for!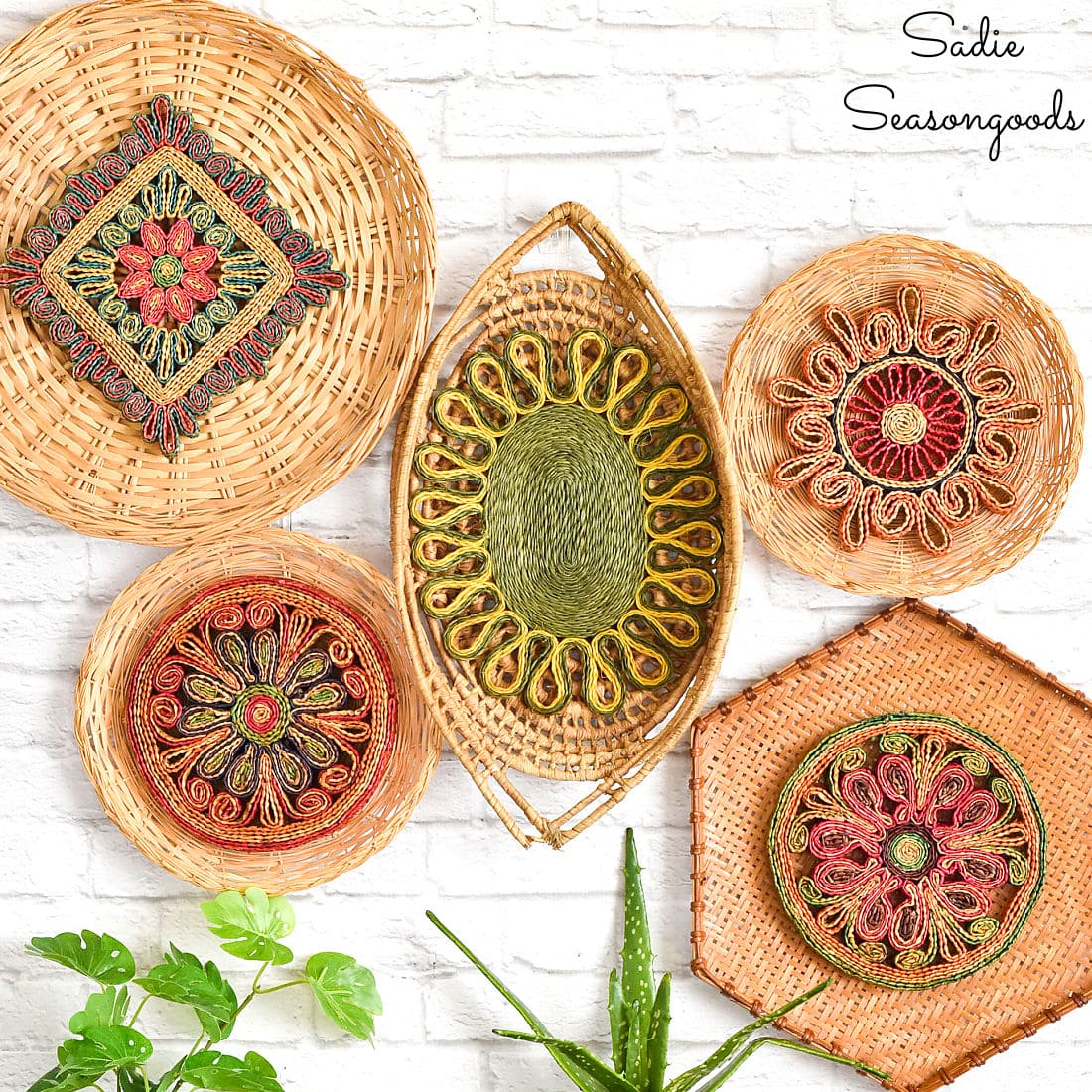 Craft on!
S
Want to be notified when I publish my next upcycling project tutorial?
Subscribe to Blog via Email
Join me on Social Media:
PIN ME!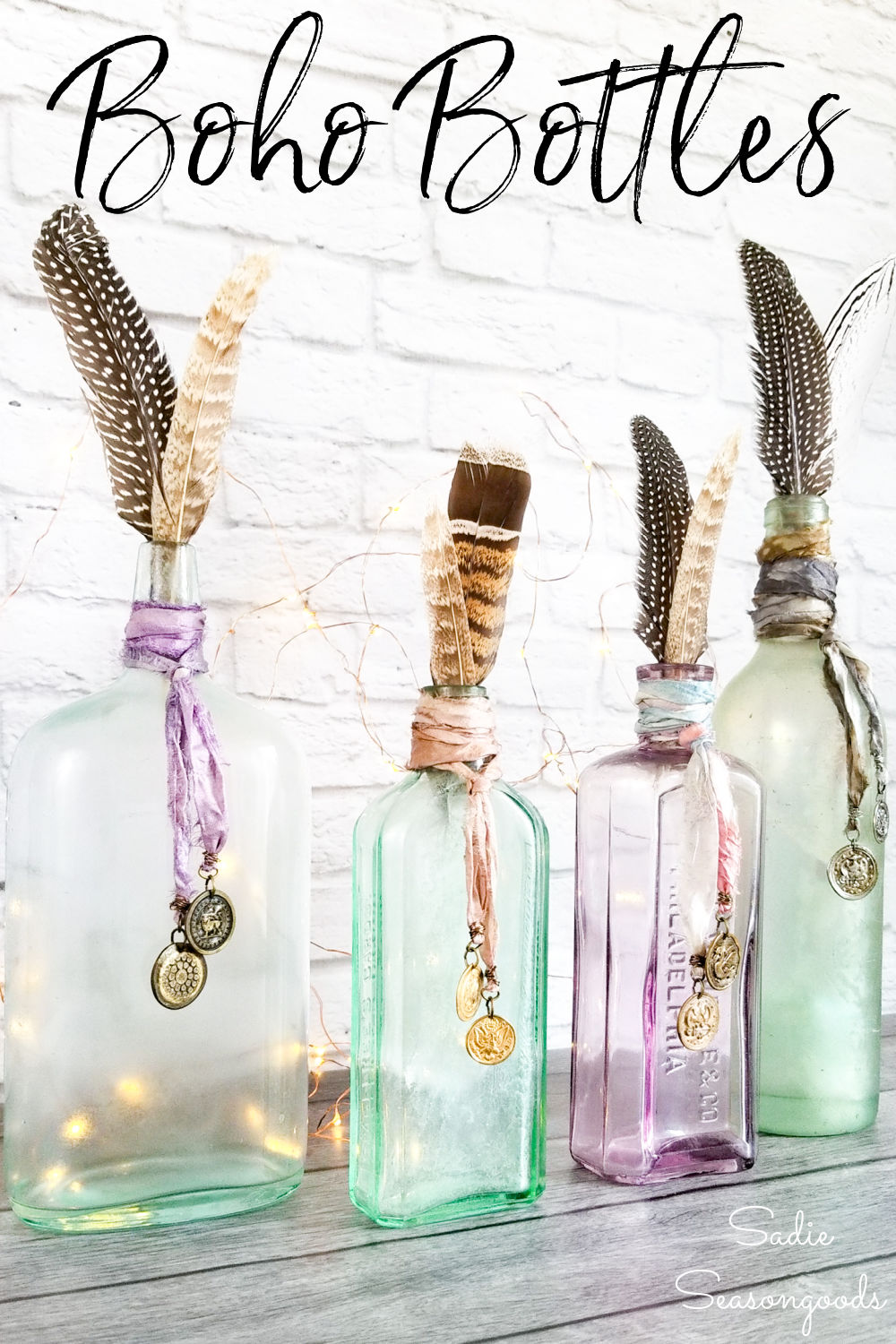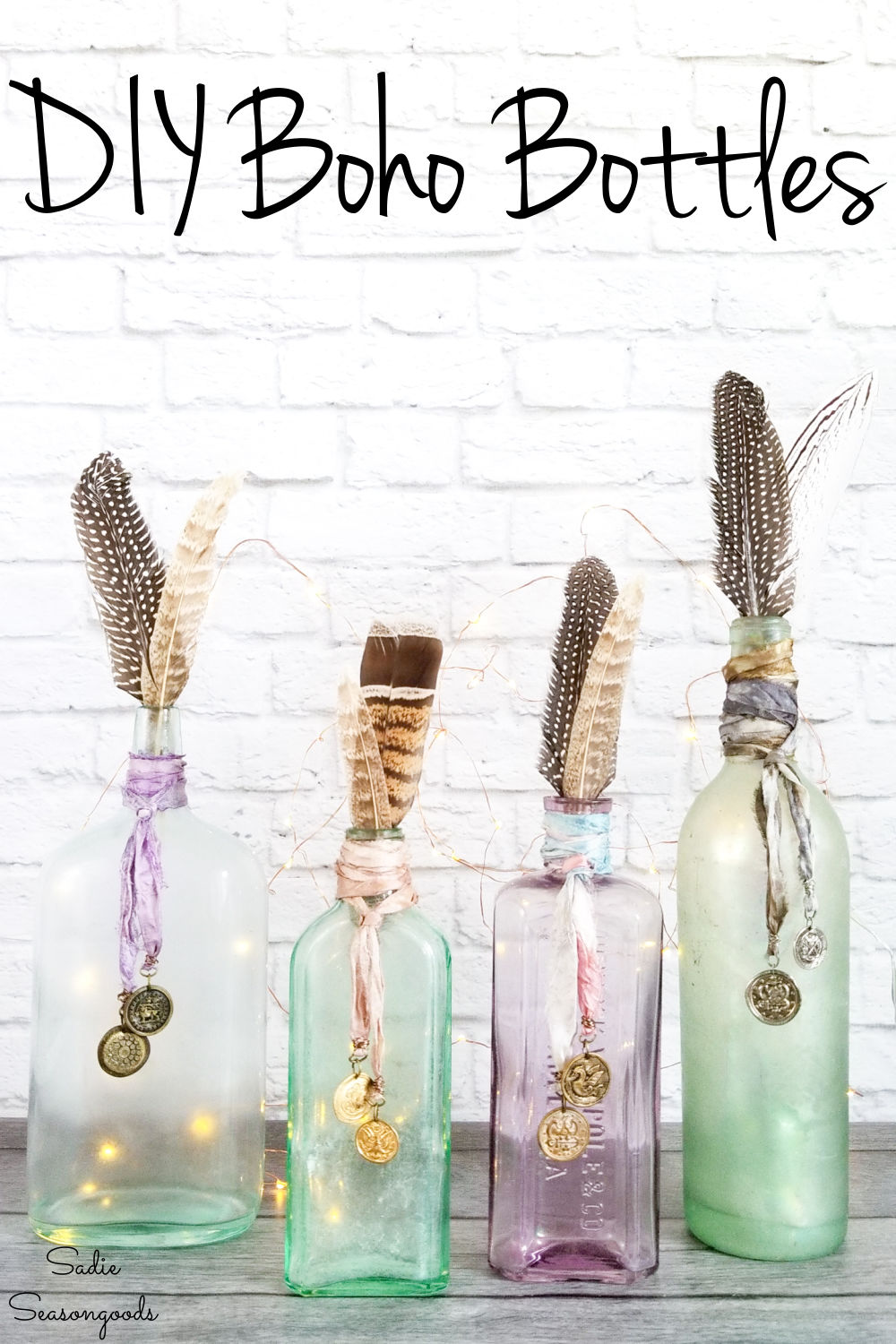 Sarah Ramberg is the owner of Sadie Seasongoods, a website that celebrates all things secondhand. From upcycling ideas and thrifted decor to vintage-centric travel itineraries, Sadie Seasongoods is a one-stop shop for anyone who loves thrifting and approachable repurposing ideas. Sarah is also the author of "Crafting with Flannel" and has been featured in numerous media outlets and magazines.