I struck thrifter's gold the other day (or, more like thrifter's silver) when I spotted a bunch of silver plate bread baskets on the Goodwill shelves. Each metal basket was perfectly tarnished (i.e., patina!) and in need of a new purpose in life. As I studied the collection of wire baskets, I pondered the idea of transforming them into rustic decor…

They were priced to move- so I snagged three wire baskets in slightly different shapes (round, oval, and scalloped). They were grubby as all get out, but as I rolled some ideas around in my head, one kept coming back to me- weaving patterns of ribbon through the "spokes".
I also couldn't shake the idea that we equally refer to these as "bread baskets" and "bread bowls"- and so the basket/bowl hybrid idea was borne. A farmhouse bowl, in fact – easy to make rustic decor with a simple thrift store makeover. This post contains affiliate links for your crafting convenience.
Upcycling a Metal Basket with Burlap Ribbon into Rustic Decor
My plan? To give them a modern-rustic makeover with paint and then basket-weave burlap ribbon in and out. Will it work? I wasn't certain, but I was happy to give it a go nonetheless.
First, I gave each metal basket an "aggressively mediocre" polishing and cleaning, and then set up shop for farmhouse-style paint jobs.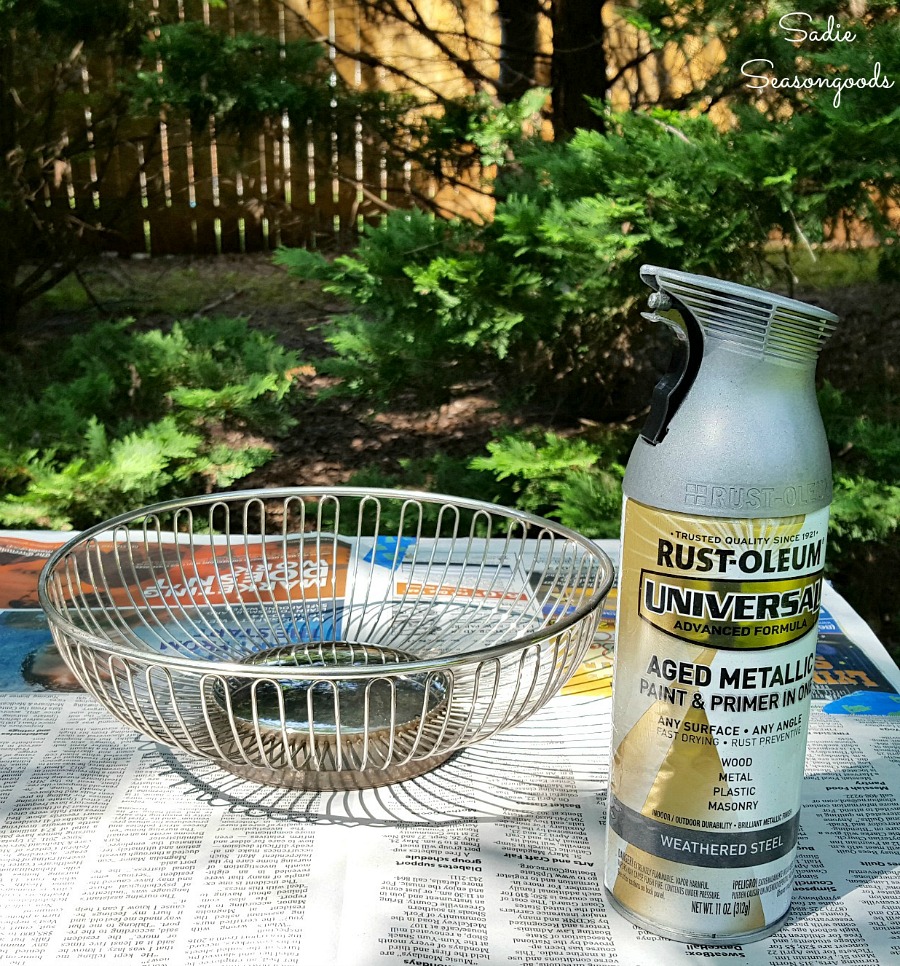 Why paint them silver when they're already silver? Because when I'm done with my upcycling idea, I won't be able to polish them again…so using a galvanized metal spray paint will preserve the dark (but clean) silver-grey color that I want.
When the paint itself had dried, I gave them two light coats of clear matte top coat to keep the galvanized silver paint from chipping as easily. When all was said and done, I had much farmhouse-ier looking bowls in a darker, weathered, nuanced silver-grey.
Now for the basket weaving! I gathered some burlap ribbon and even some ribbon that looked like grain sacks, which would be perfect for the farmhouse bowl idea I had in mind.
In order to not waste ribbon, I used some cooking twine to measure out how much I'd need for each ribbon by weaving it through the metal basket. Then, I used the twine as my template for cutting the burlap ribbon.
Once I had the burlap ribbon lengths cut, I simply wove it in and out of the silver "spokes" (seriously, is there a better term for them?), just like a basket.
After hot-gluing the ribbon ends together inside the metal basket, I basket-wove the next piece of ribbon directly beneath the first, in the opposite weaving pattern.
Farmhouse Bowl / Rustic Decor from a Metal Basket or Bread Basket
A few minutes later, I was done! Such a fun take on rustic decor or a farmhouse bowl, and the "basket weaving" only takes a few minutes to complete!
Here's another view of it so you can see my farmhouse bowl from the inside.
The oval basket didn't come out quite as cleanly as I would have liked (being oblong and all), but I really liked the rougher burlap against the galvanized metal.
I need to look for a narrower burlap ribbon for oval shaped wire baskets, don't you think?
And while it was hard to photograph, even a single woven burlap ribbon at the top of the scalloped basket looks nice on its own. A change of pace but coordinates nicely with the others!
But talk about a basket weaving hack- this is a lot easier than working with natural fibers from scratch! And with farmhouse decor or rustic decor all the rage, you can make a farmhouse bowl (or several!) for just a few dollars with this upcycling idea!
A word of warning, however- because of the spray paint and sealer, the surfaces of these baskets would no longer be considered food-safe. Please line basket/bowl with a towel or other material to ensure that food does not come into direct contact with the project.
If you enjoy rustic decor or farmhouse decor from the thrift store, you might also enjoy this "thrift the look" blog post of mine, as well!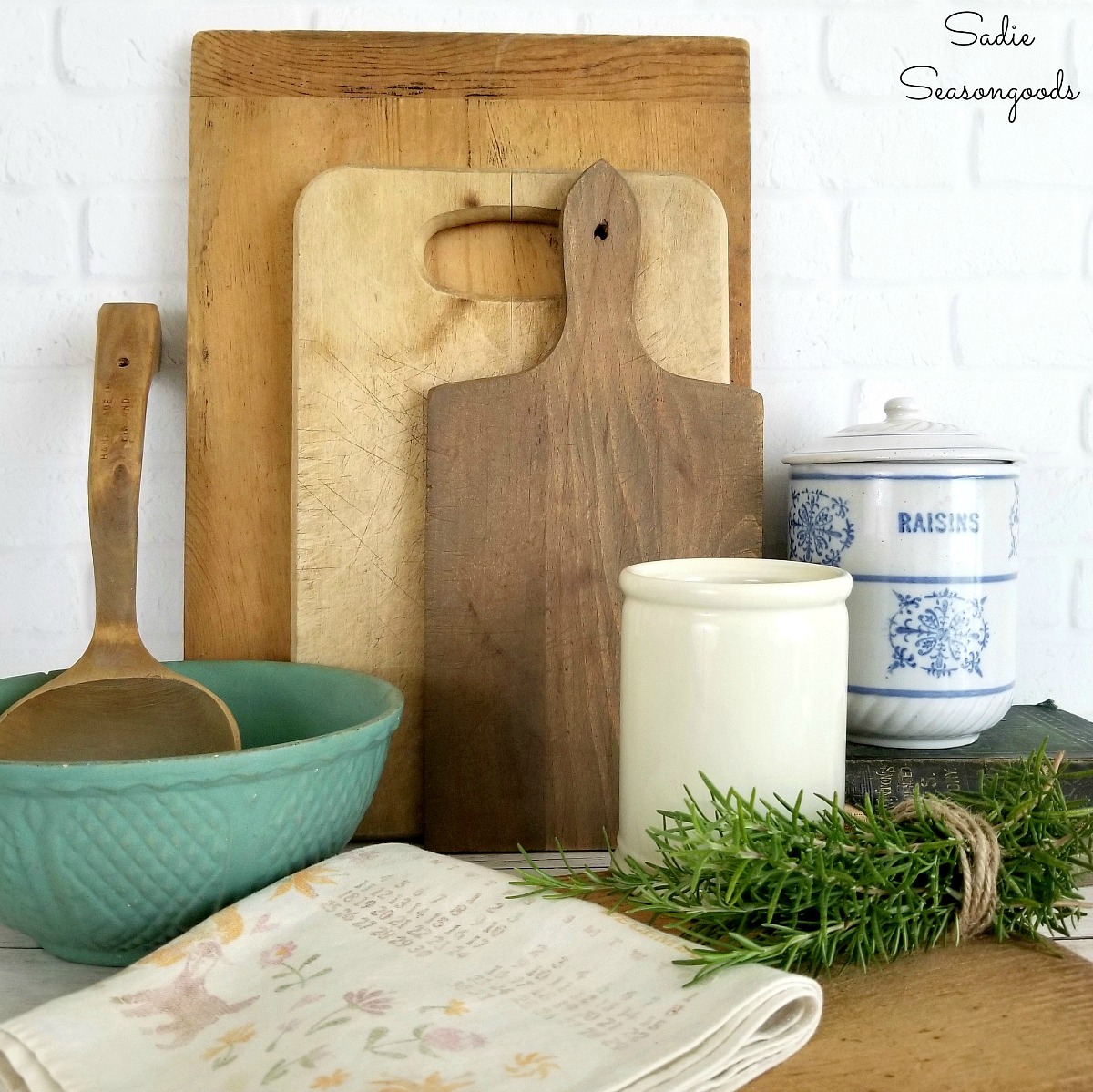 Craft on!
S
Want to be notified when I publish my next upcycling project tutorial?
Subscribe to Blog via Email
Join me on Social Media: