Doilies are something that a lot of us inherit, find in Grandma's home, or even spot in thrift stores. But from there, what to do with them? Especially if these handmade doilies don't really fit into our current-day decor style.
And let's face it- those vintage doilies took a lot of work to complete. Tossing them in donation piles or watching them linger in thrift stores is hard on our vintage-loving souls. Thankfully, though, there are some fantastic upcycling ideas for them that might be a better fit in our homes and lives today.
Framed and Displayed
There are lots of ways to frame vintage doilies for display, but this one is my favorite. Window screen is a great way to suspend the doilies in a frame while keeping the entire display frame lightweight and easy to hang.
Hanging Planters
Here's the unexpected boho decor idea you never knew you needed: a hanging planter that repurposes a vintage doily! It works great for smaller potted plants and the terracotta clay looks gorgeous underneath the crocheted doily.
Colorful Table Runner
White and beige doilies strung together in a table runner isn't all that exciting. But dyeing them in bright, fresh hues is a game changer with this upcycling idea. And turning a pile of doilies into a table runner is easier than you may think.
Doilies as Roses
What about turning those doilies into roses like this? Tatting is perfect for placing in a bud vase for a touch of grandmillenial or cottagecore style. And again, they could be dyed first for a pop of pretty color, as well.
Delicate Snowflakes
The tiniest doilies are ideal for using as snowflakes in winter or Christmas projects, like this snow scene tote bag. But I could totally see them being used as snowflakes on other projects, too- perhaps a Christmas ornament?
Tic Tac Toe Pieces
For smaller pieces of tatting and even lace ribbon, upcycling them into "X" and "O" pieces for a tic tac toe game is both sweet and playful. Making the tic tac toe board is easy and can be done on anything- a chalk board, a cutting board, and in this case, a wooden cake stand.
Halloween Spider Web
If any of Grandma's doilies are torn or stained, consider turning them into a spider web for spooky Halloween decor! Especially if you're dyeing them grey like this- any tears or blemishes within the doily just add to the spooky factor.
Decorative Pillows
Decorating pillows with vintage doilies is a fun way to personalize your seasonal pillows or showcase a particularly spectacular doily that Grandma had made. Perhaps a floral doily in Spring or heart-shaped doilies like these around Valentine's Day?
Doily Display
A doily is the perfect thing to display in an embroidery hoop, which might be something else you find in Grandma's attic. And a grouping of them is a simple way to get that cottagecore look that is so on-trend these days.
Angel Wing Ornaments
If a doily or piece of lace is damaged or even unfinished, here's a great way to repurpose it: Angel wing ornaments for your Christmas tree! Now you've created a new heirloom from an old one, as well as a nostalgic gesture for the holiday season.
Coin Purse
A lot of vintage doilies ended up as hot pads for the kitchen, and here's a great idea for repurposing them. Turning a pair of them into a change purse for a tote bag is super easy for anyone with some basic sewing skills.
Doily Clock
Not just another doily in an embroidery hoop, no indeed. This time, Grandma's doily is showcased as a DIY wall clock to proudly display in any room of your house.
Whimsical Flowers
They really do look like flowers, don't they? And when attached to a screen like this, you can add further embellishments by embroidering vines and leaves for a beautiful, whimsical botanical display.
Plate Covers
Starching Grandma's hard work is a fun way to add shape and stiffness to that tatting. And in this case, they were molded over bowls to use as plate covers or cloches for a sweet afternoon tea.
New Life for Grandma's Doilies
I hope these ideas inspire you to take those old doilies out of drawers and boxes and create new projects with them. Whether you inherit them or find them at thrift stores, it's wonderful to enjoy this hard work in new and unexpected ways.
And what about all those pieces of silver plate that you no longer use or spot on thrift store shelves? I've got a collection of upcycling ideas for them, as well.
Craft on!
S
~~~
Join me on Social Media:

PIN ME!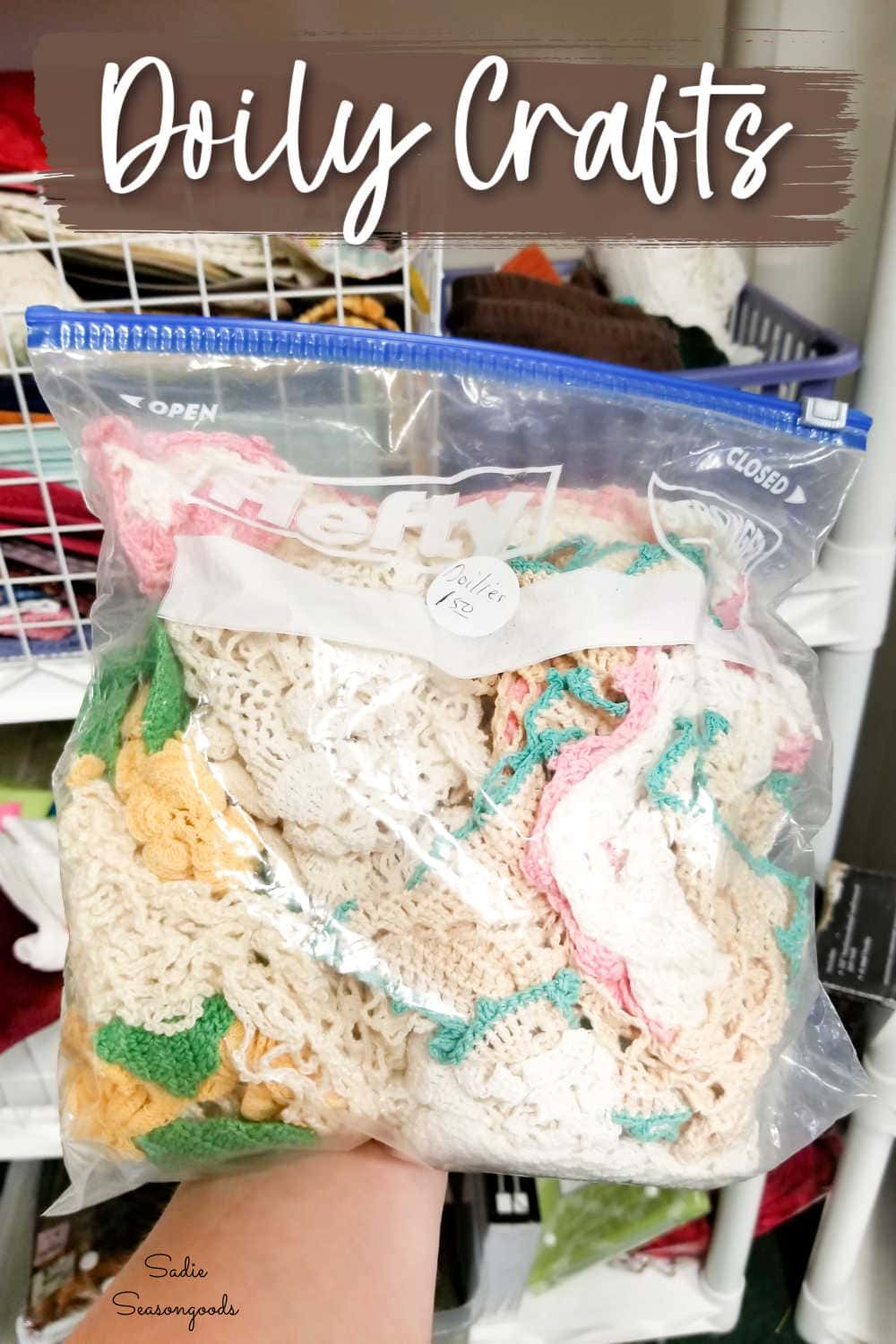 Sarah Ramberg is the owner of Sadie Seasongoods, a website that celebrates all things secondhand. From upcycling ideas and thrifted decor to vintage-centric travel itineraries, Sadie Seasongoods is a one-stop shop for anyone who loves thrifting and approachable repurposing ideas. Sarah is also the author of "Crafting with Flannel" and has been featured in numerous media outlets and magazines.