Whenever I stumble upon an antiques mall that has a "Clearance Section" I am like a heat-seeking missile with one goal in mind: to find a broken vintage treasure (on the cheap!) to become my next repurposing project. And so, when my eyes fell upon this old washboard that was missing the actual washboard, I knew it was a moment of crafting kismet. It seemed destined for upcycling and would be perfect as primitive decor.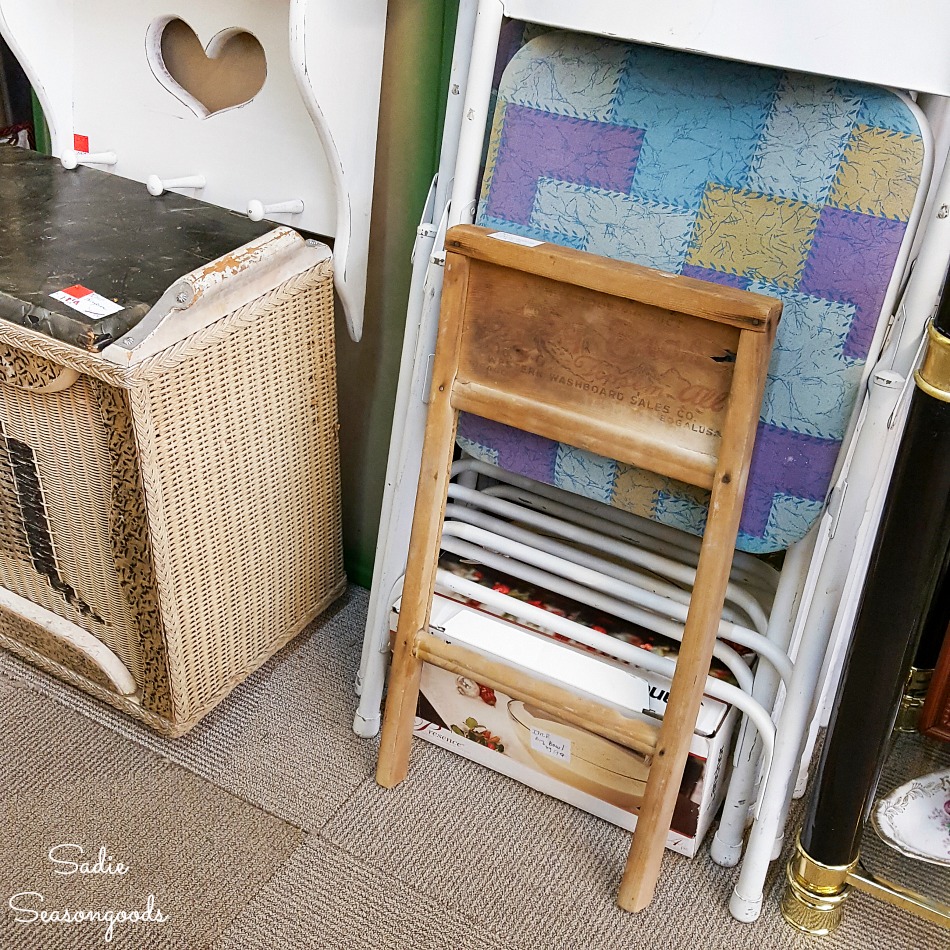 I think we can all agree that this antique washboard had paid her dues in life. Between her missing washboard, her warped legs, and the fact that her frame would shift in your hands, she was in desperate need of some TLC!
To some, she was beyond repair, but to me…she was the poster child of possibility.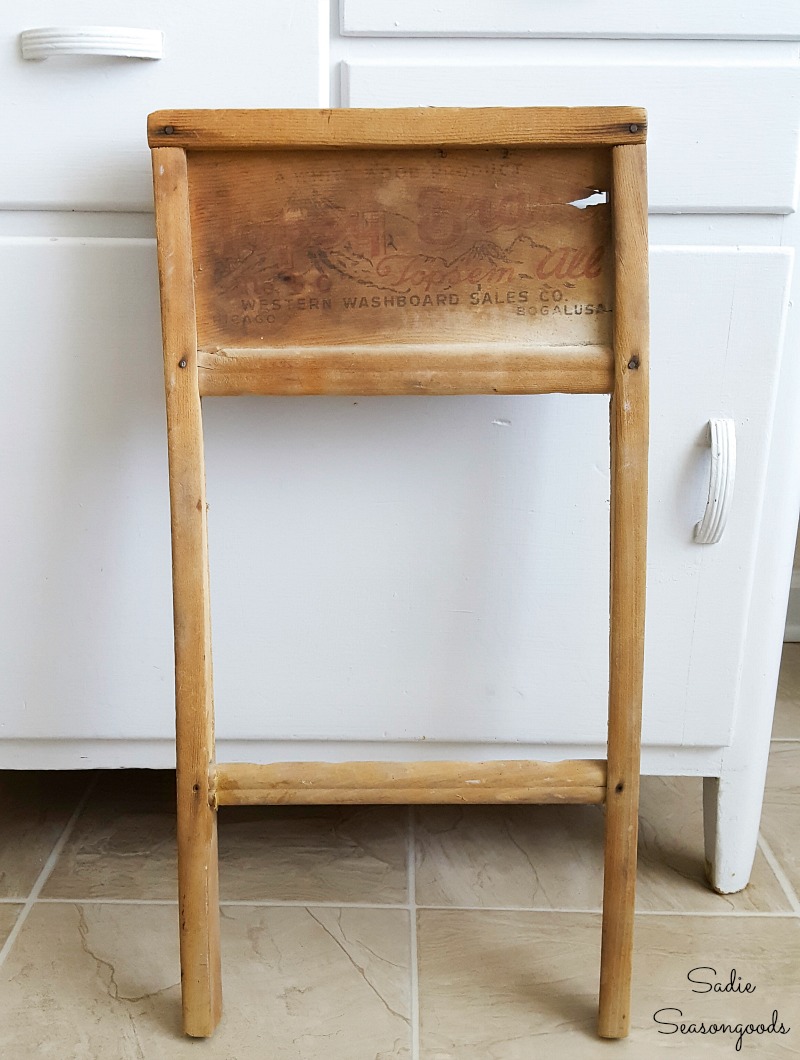 My plan was to fix her up and transform her into a chicken wire frame. And thanks to some friends with a working farm, I had some chicken wire on hand!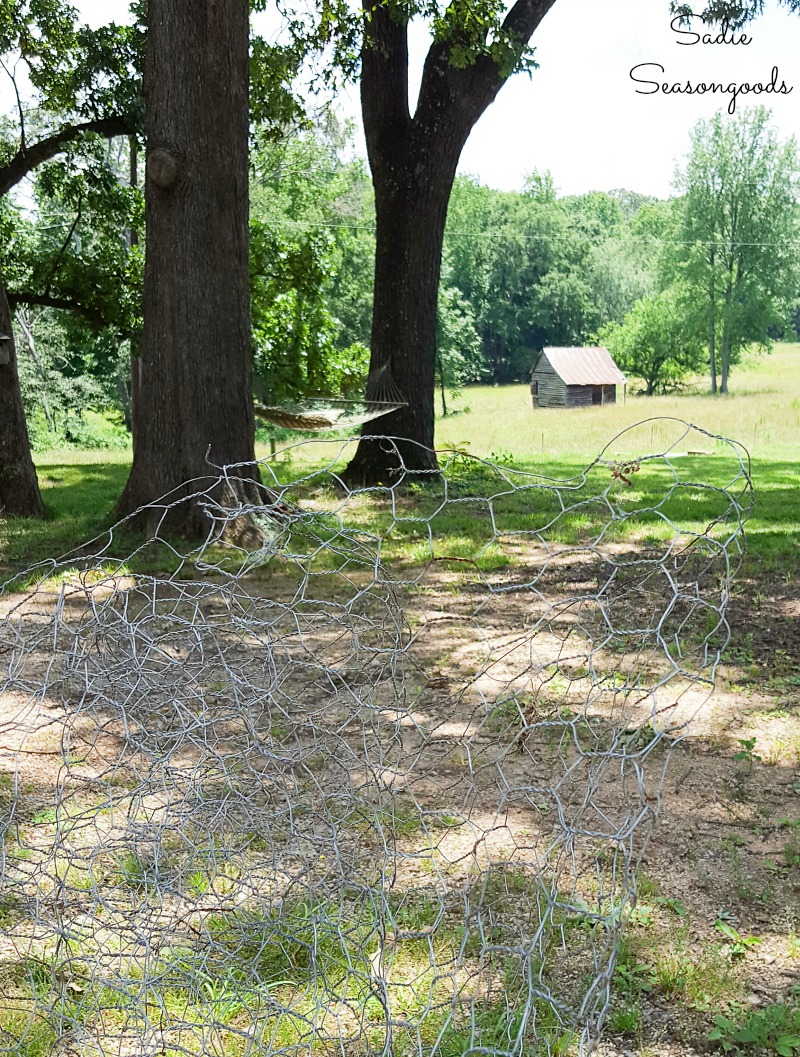 This post contains affiliate links for your crafting convenience. As an Amazon Affiliate, I earn from qualifying purchases. All blue, bold, and underlined text is a clickable link, either to a product or to a related post.
Upcycling an Antique Washboard as a Chicken Wire Frame
First, I needed to stabilize her "moving" parts because, well, they shouldn't slide in and out like that!
So I carefully applied some wood filler on the back side, in crevices and joints that couldn't be seen.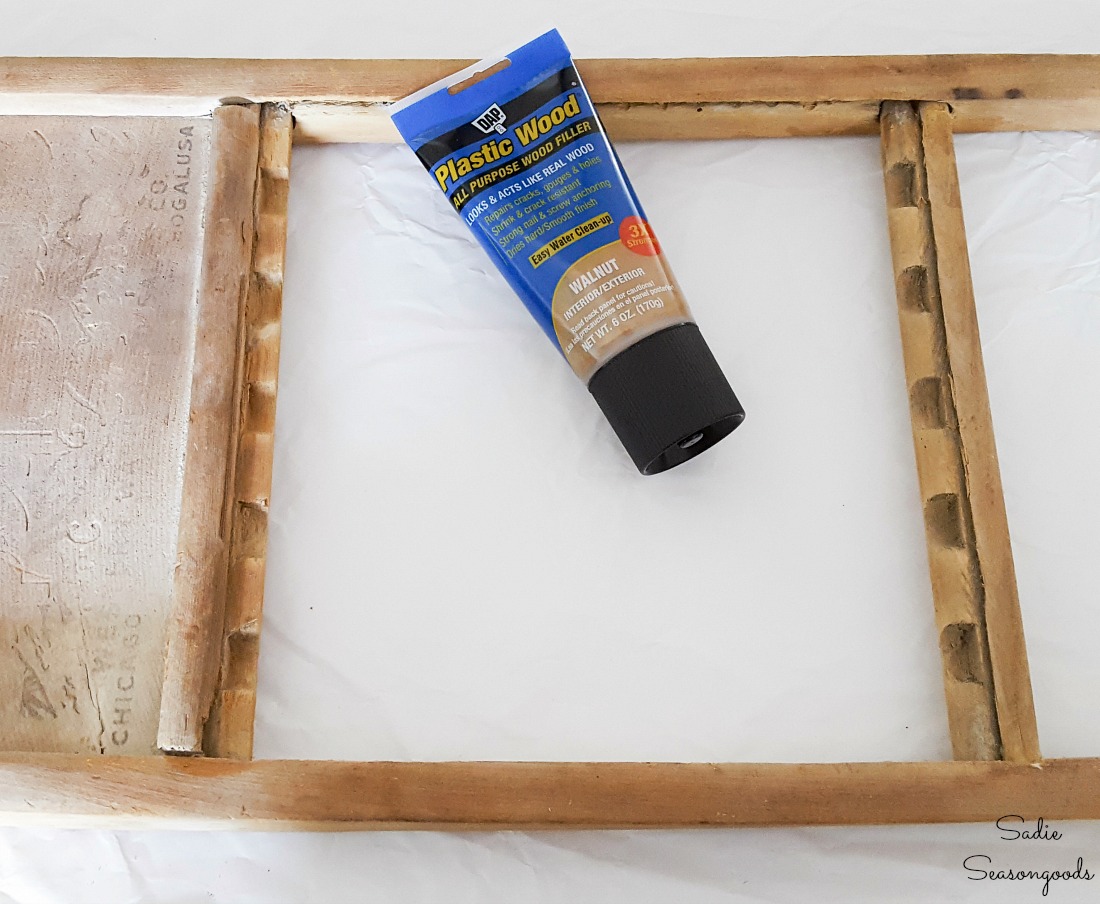 Next, I made some make-shift clamps to hold everything securely using rubber bands. The bands would hold the shape of the old washboard as the plastic wood dried and cured overnight.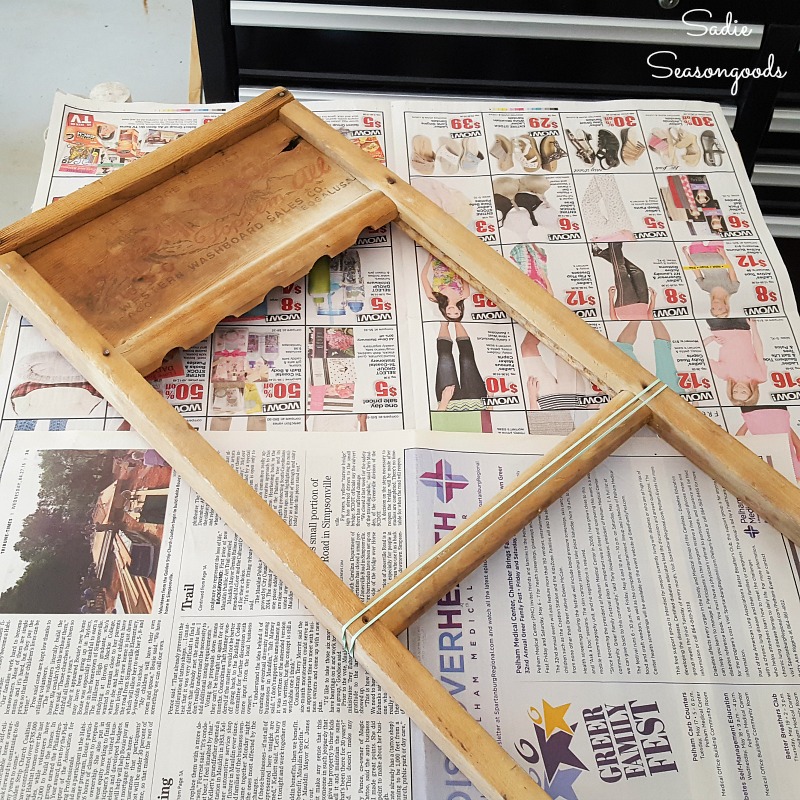 Then, I decided to deepen the wood color of the old washboard, but not with wood stain. I tested stains on the back and they were all too dark for the parched wood.
So, all I did was wipe down the frame with wood oil using a soft, clean cloth. It's amazing what a little wood conditioner can do!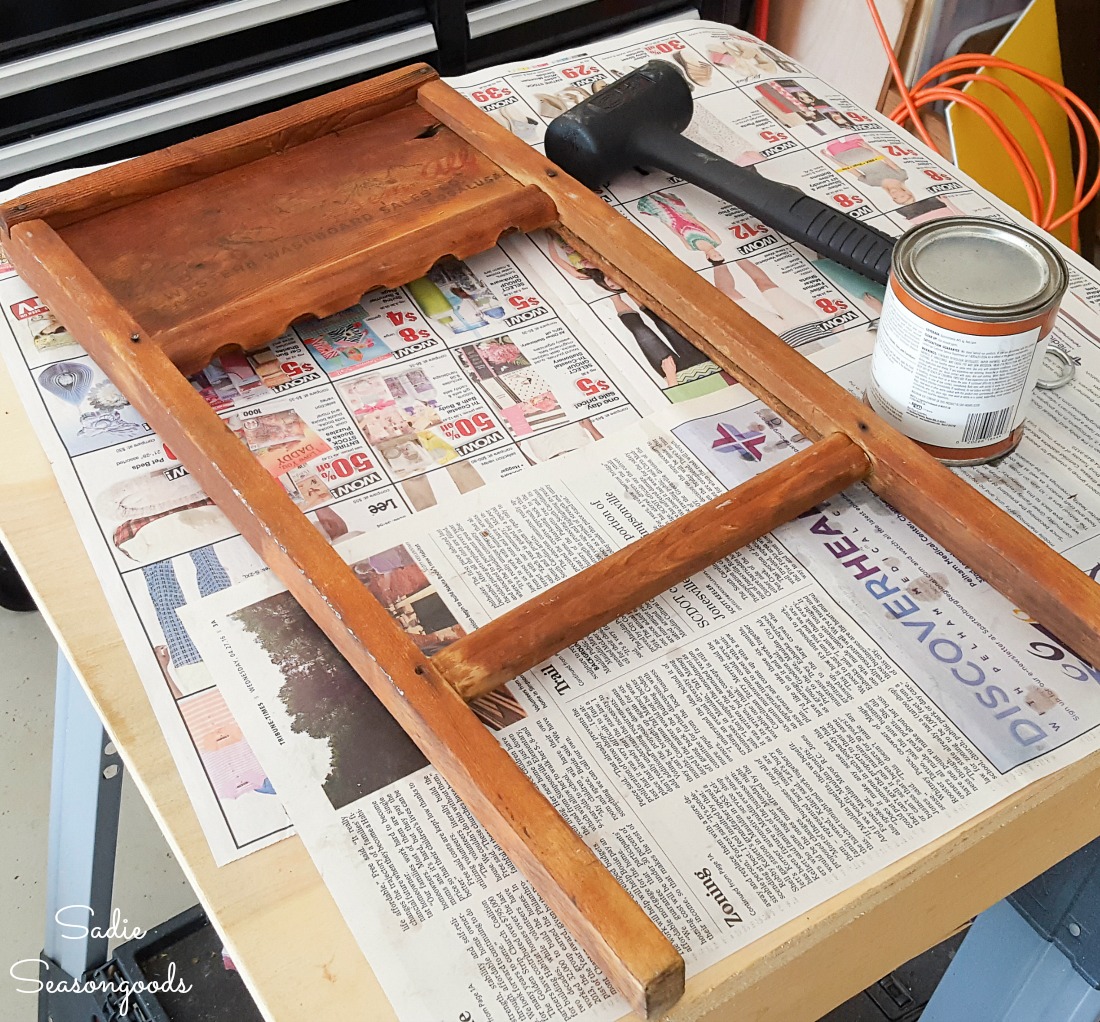 Now it was time to transform the antique washboard into a chicken wire frame!
First, I laid out the chicken wire on my old washboard and grabbed my wire cutters to trim it down to size. The chicken wire was too ornery to measure first!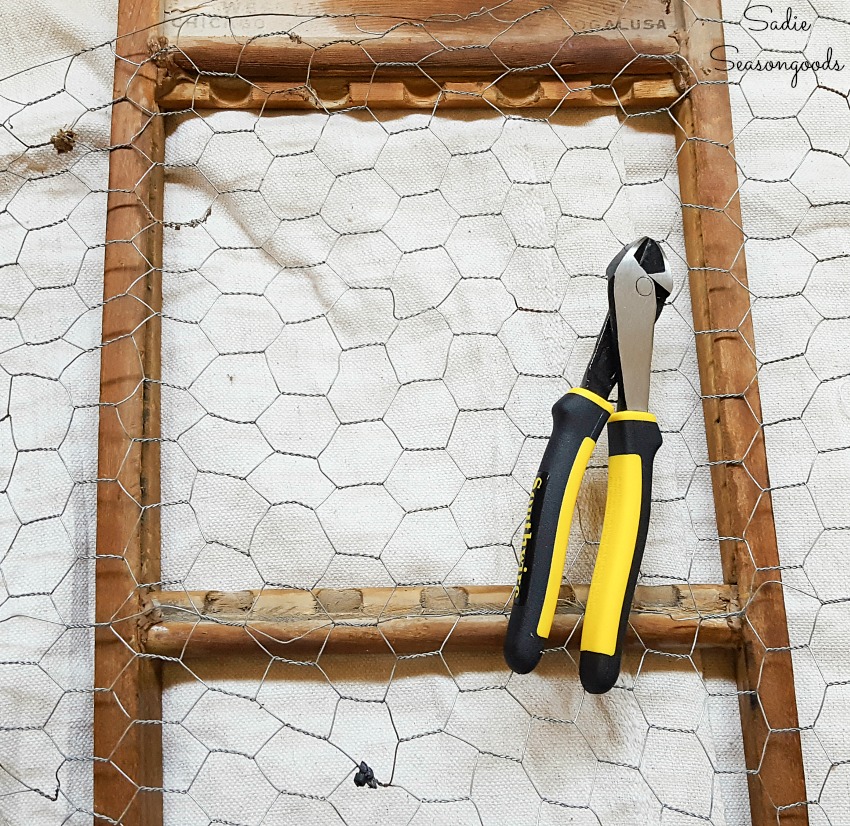 Using my staple gun, I carefully fixed it to the back of the old washboard, pulling it taut while trying not to affect the shape of the wire.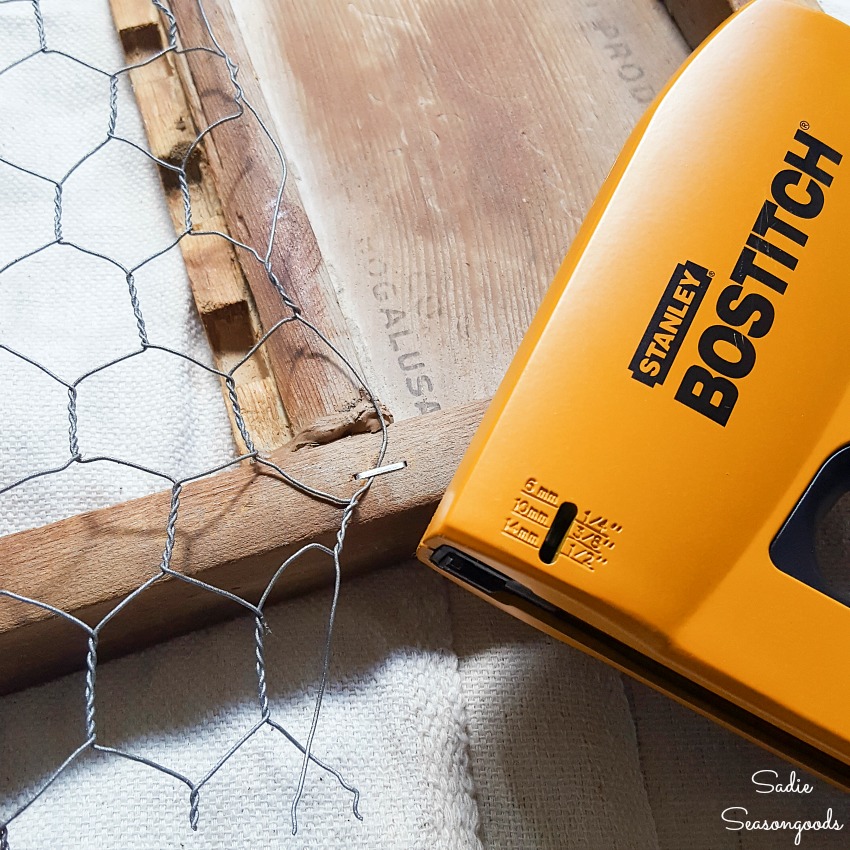 Finally, I trimmed the chicken wire with my wire cutters and ensure that there were no sharp edges.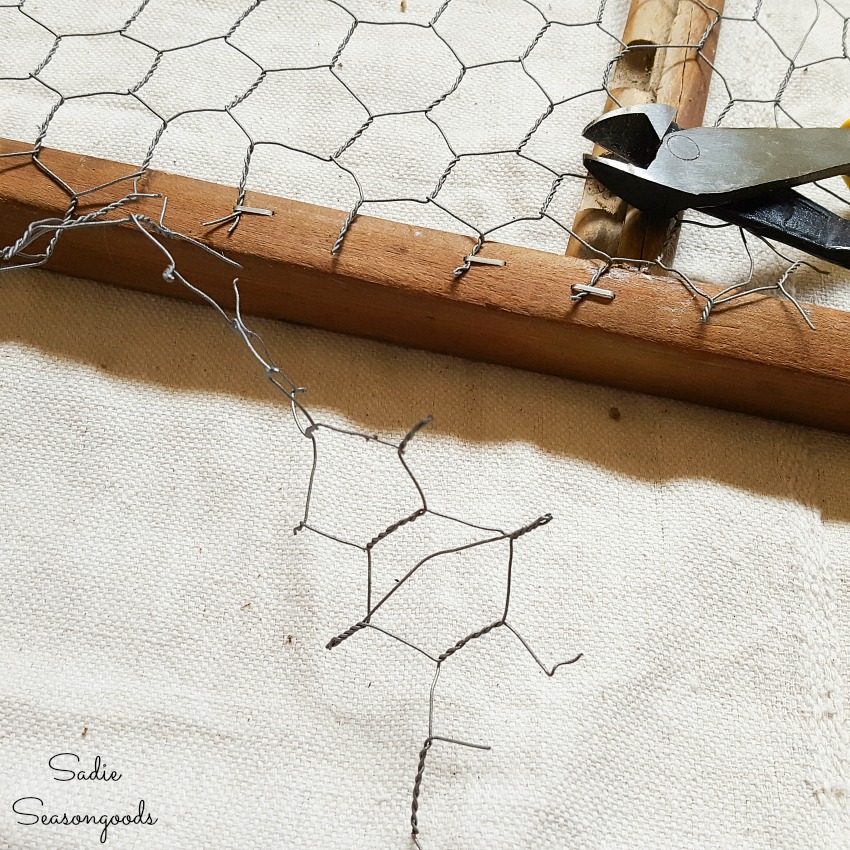 Upcycling an Old Washboard into a Chicken Wire Frame
And just like that, the old washboard had been fixed up and upcycled into a chicken wire frame!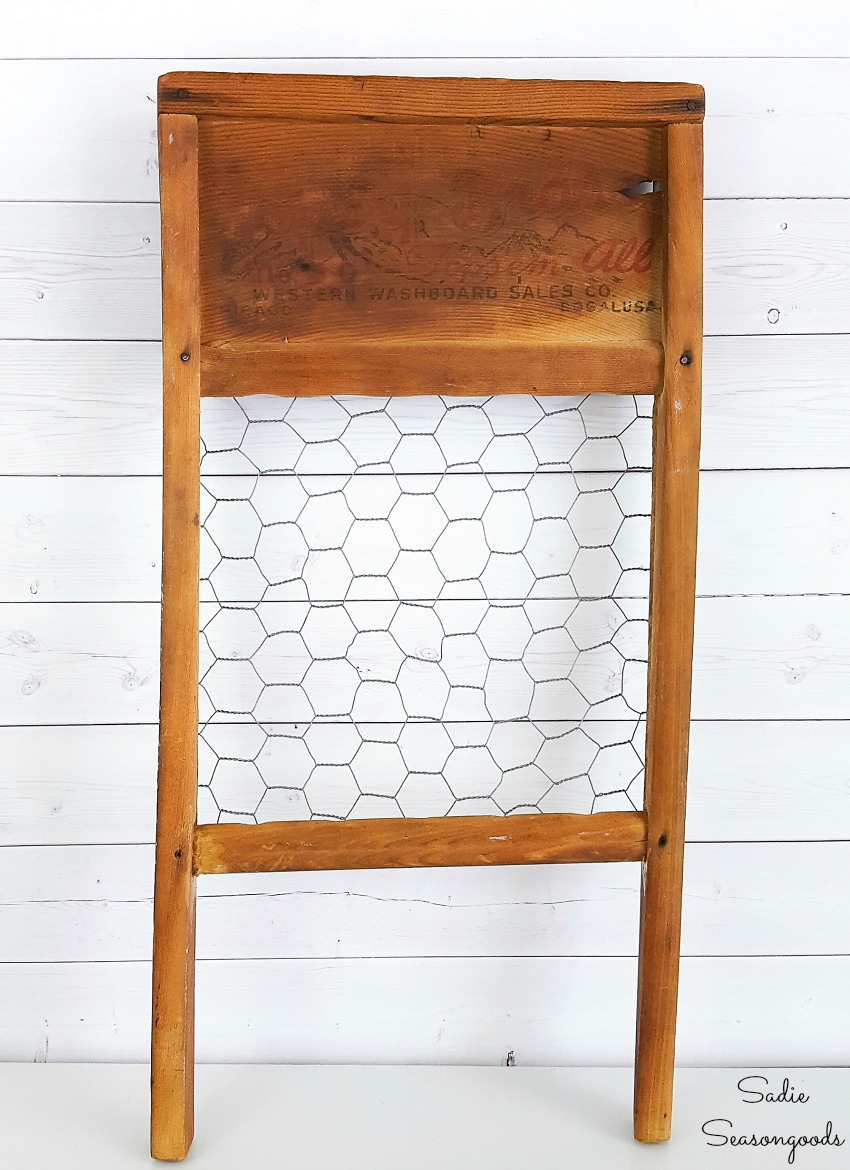 But I wasn't done!
I went through some old family photos and selected a few favorites of my grandparents and great-grandparents to clip to the chicken wire.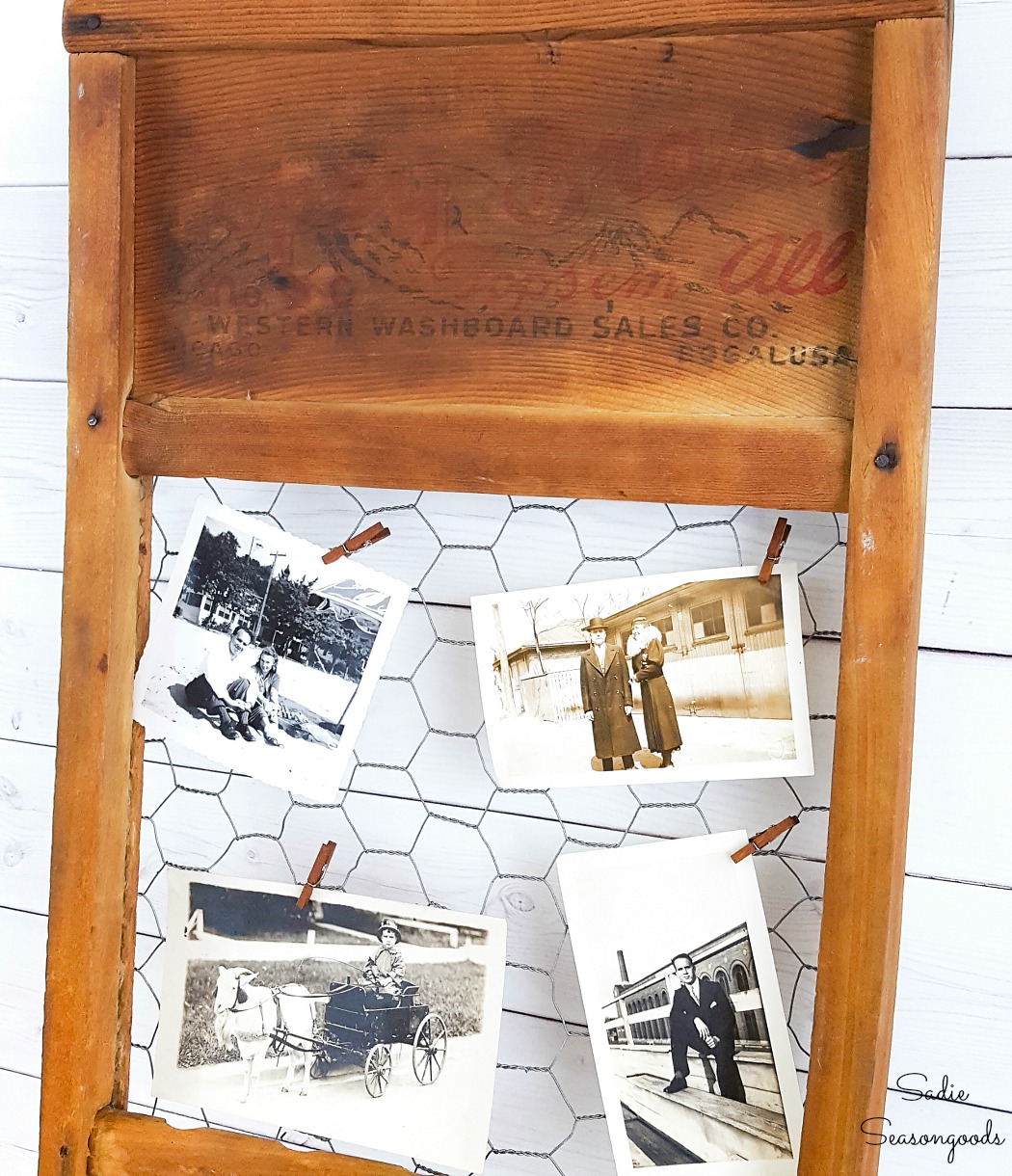 Those miniature clothespins are just so handy. I've used them in several projects now, and they really are ideal for a chicken wire frame.
I just love how this chicken wire frame worked out! The antique washboard was in such bad shape, and I'm thrilled that I could save it as primitive farmhouse decor.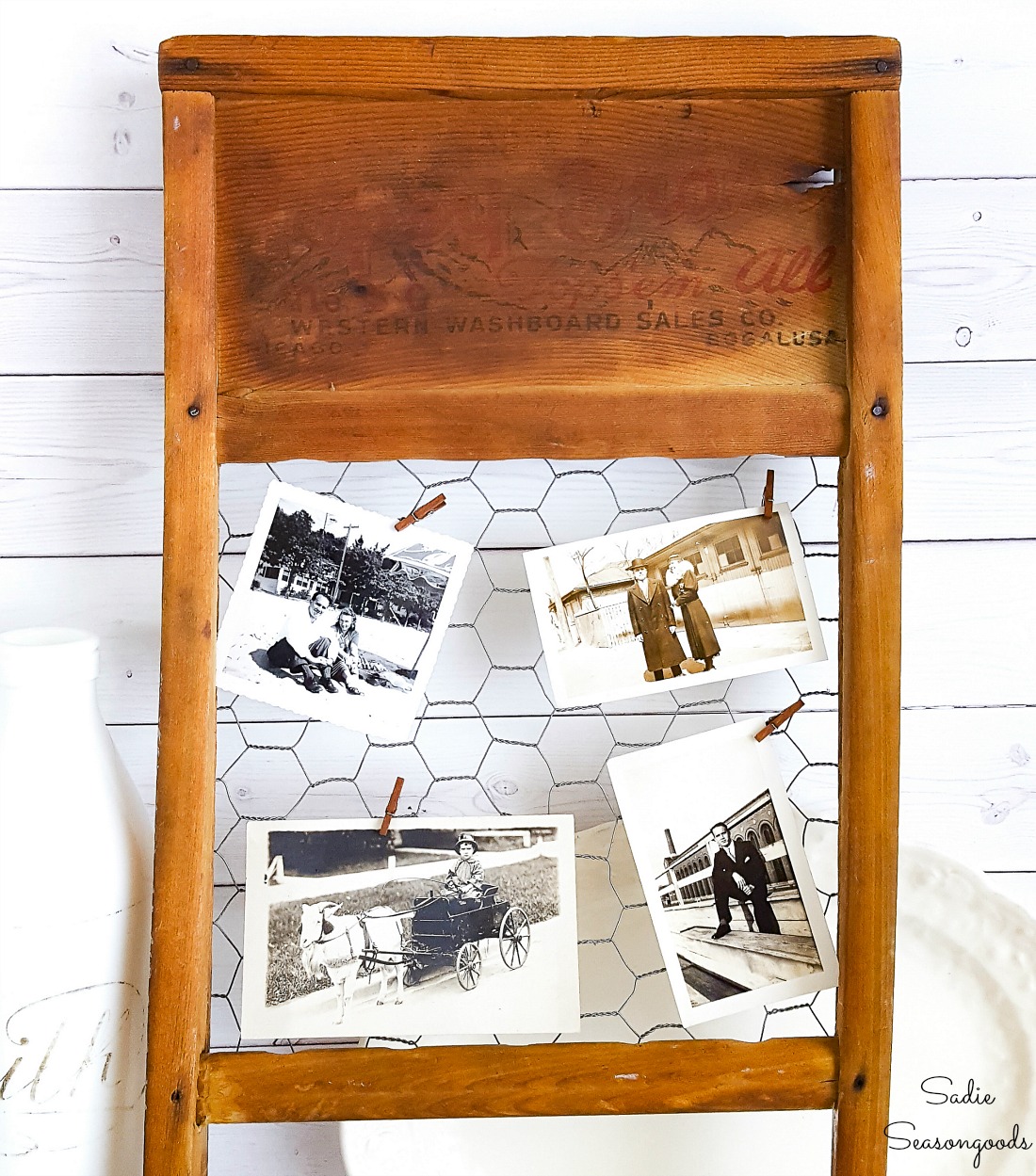 I can see other uses for my chicken wire frame, too. Maybe to hold recipe cards…or post cards…notes and reminders…etc.
And I still have some chicken wire leftover for a future project…hmm…
If you enjoyed this upcycling idea for primitive decor, then you'll love this windmill decor that I made from ceiling fan blades!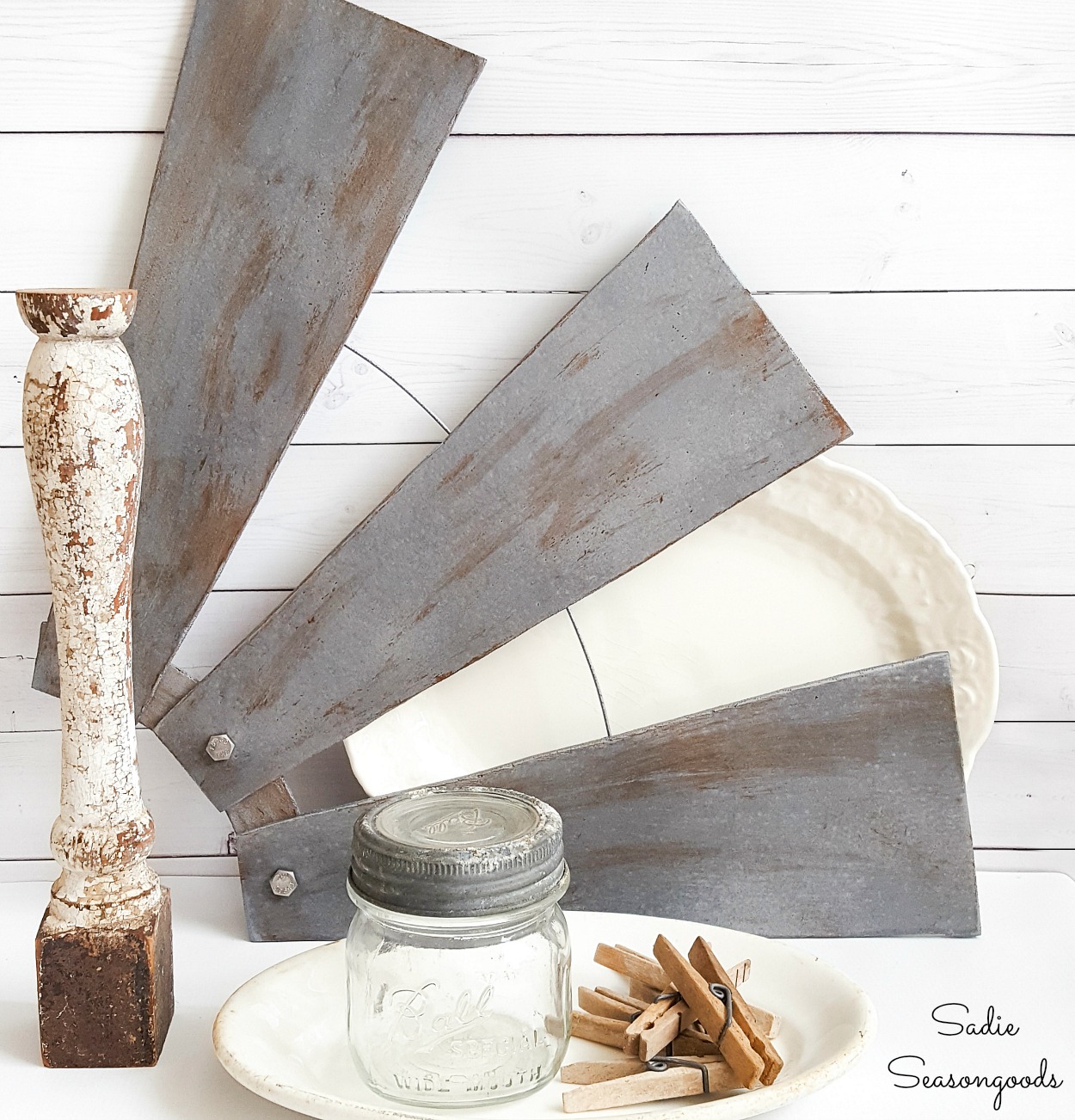 Craft on!
S
Want to be notified when I publish my next upcycling project tutorial?
Subscribe to Blog via Email
Join me on Social Media:



PIN ME!