Traditional Fall decor – pumpkins, leaves, acorns- are perfectly fine and regularly incorporated into Thanksgiving decor. But with a few extra elements- pilgrims, turkeys, Indian corn, and cornucopias- it suddenly feels more like the feasting holiday, doesn't it? And there are some great upcycling ideas from thrift store finds that will elevate all your Thanksgiving decorating needs.
Upcycled Thanksgiving Wreath
It's hard to believe that this chic and elegant Thanksgiving wreath started out as thrift store finds, but it's true! And it's possible that this wreath would have never even come to fruition if the DIY supplies hadn't ended up next to each other on the same thrift store shelf.
Pilgrim Hat Place Cards
Place cards are a staple at larger and more formal Thanksgiving gatherings. For an extra dash of whimsy, these place cards look just like pilgrim hats. But the best part is that they're made from repurposed (and inexpensive!) light fixtures!
Indian Corn Art Project
If you've got a button jar, box, or tin filled with buttons that could use a good craft project, perhaps this is the one! How adorable is this Indian corn art project with a variety of buttons?
Harvest-centric Door Decor
An old leather quiver– or even a newer one!- is an unusual but seasonally appropriate item to use as door decor around Thanksgiving. Filled with arrows and fall foliage, it's a curiously stylish nod to the harvest season and perfect for the end-of-autumn holiday.
Farmhouse Funnel Centerpiece
Vintage funnels as cornucopia? What a genius way to repurpose them, along with pumpkins and other fall foliage. And such a fun centerpiece to use on your Thanksgiving dining table or around the house.
Family Heirloom Placemats
Thanksgiving is a time of remembering and relishing old family recipes, many of which are still on classic recipe cards from days gone by. And to protect your dining table from all the trappings of a glorious feast, enlarging those recipe cards as placemats is nostalgic, delightful, and functional- all at the same time.
Metal Pumpkins as Thanksgiving Decor
For a contemporary Thanksgiving, metal baskets from the thrift store get an abstract makeover to look pumpkin-esque and gourd-like. Decorating them with artificial sage leaves is a playful nod to the holiday, and they look elegant and understated on your table.
Cornucopia Gravel Art
This vintage mid-century modern gravel art had been damaged by a flood. Thankfully, though, the gravel art itself was ok- it was the background that wasn't salvageable. Luckily, though, it could be given a new lease on life with a new background and is a fun retro addition to Thanksgiving decor now.
Indian Corn Dishes
These Indian corn dishes are so lovely with their autumn color palette, but they actually didn't start out this way. They started as bright yellow and green corn dishes from the thrift store!
Decorative Sign
A bamboo tray like this is a fairly common find at thrift stores. Thankfully (pun intended), they are fun and easy to upcycle into decorative signs to use as Thanksgiving decor. It's really a double-duty DIY, too, because it can still be used as a tray!
Cutting Board Centerpiece
Celebrating a Thanksgiving feast with the family is the perfect time to incorporate elements of cooking and family heirlooms into your decor. Using a clean (but well-loved) cutting board as a centerpiece base is a great idea for setting the scene with other Thanksgiving elements, heirlooms, and seasonal decorations.
Tweed Acorns for Thanksgiving Decor
Plush acorns made from tweed jackets are the unexpected Thanksgiving decor project you didn't know you needed until now. And their cap? A thrifted salad bowl, believe it or not.
Pie Plate Decor
Pumpkin pie is about as quintessentially Thanksgiving as the turkey. Which makes this upcycled pie plate the perfect touch of autumn in your Thanksgiving decor. Especially is you have an old pie plate on hand that's gotten t0o rusty to bake with.
Simple Thanksgiving Wreath
This simple Fall wreath idea actually works quite well at Thanksgiving. The wheat shafts celebrate the harvest and decorative feathers celebrate the feast. You could embellish it further, of course, but sometimes less is more.
Pumpkin Bottles
Fall or Thanksgiving decor straight from the recycle bin is about as frugal and thrifty as it gets! These bourbon bottles were given a "gourd-geous" makeover with paint to look like fall pumpkins; perfect for the dining table or just scattered around your home.
Upcycling Ideas for Thanksgiving Decor
I hope this collection inspires some new upcycling ideas for your own Thanksgiving decor this year! It's always fun to incorporate vintage family pieces into your holiday decor, but I won't tell anyone if you also use items from the thrift store, as well.
Interested in a few more upcycling ideas for Thanksgiving decorations? Then please check out this collection of Thanksgiving DIY crafts before you go!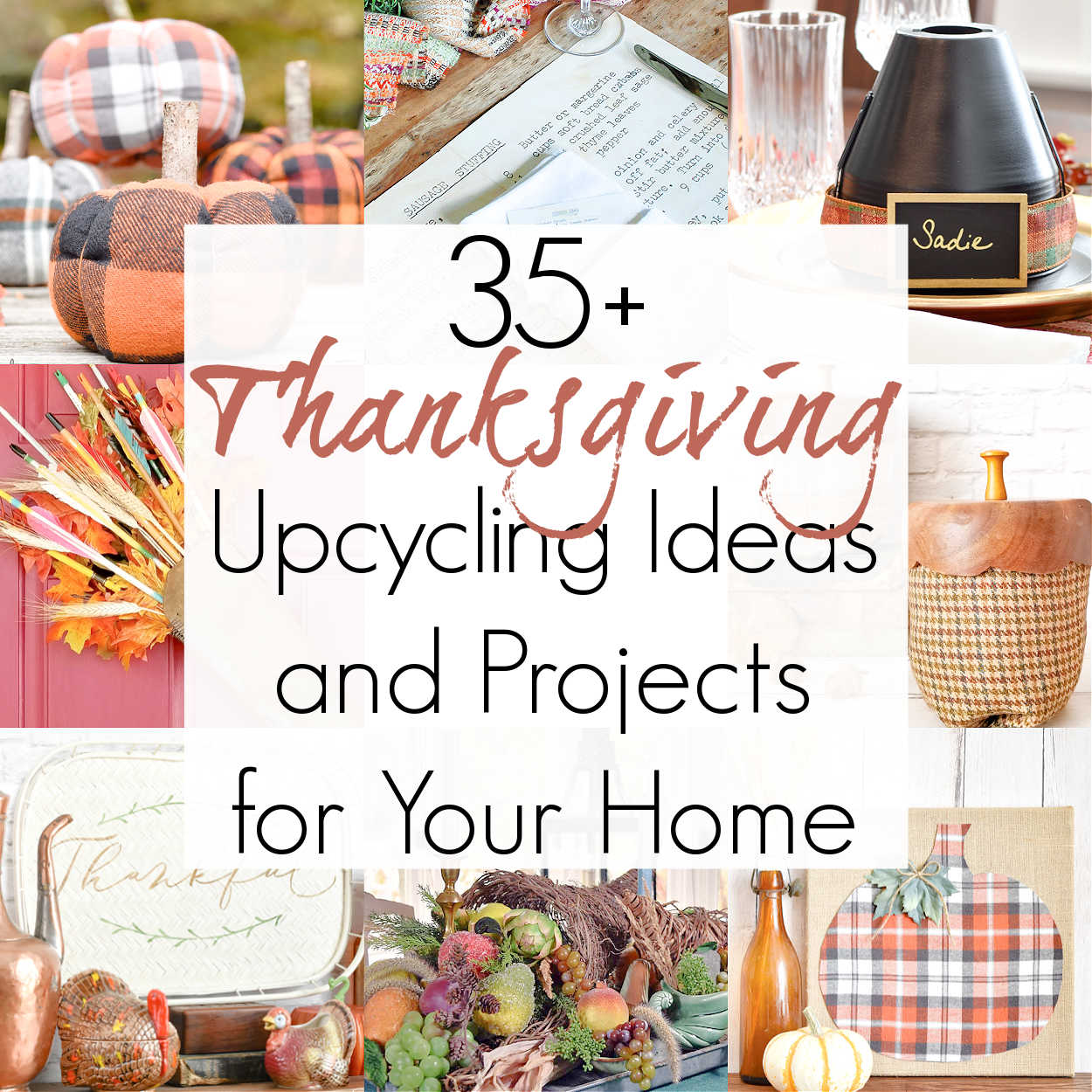 Craft on!
S
Want to be notified when I publish my next upcycling project tutorial?
Subscribe to Blog via Email
Join me on Social Media:

PIN ME!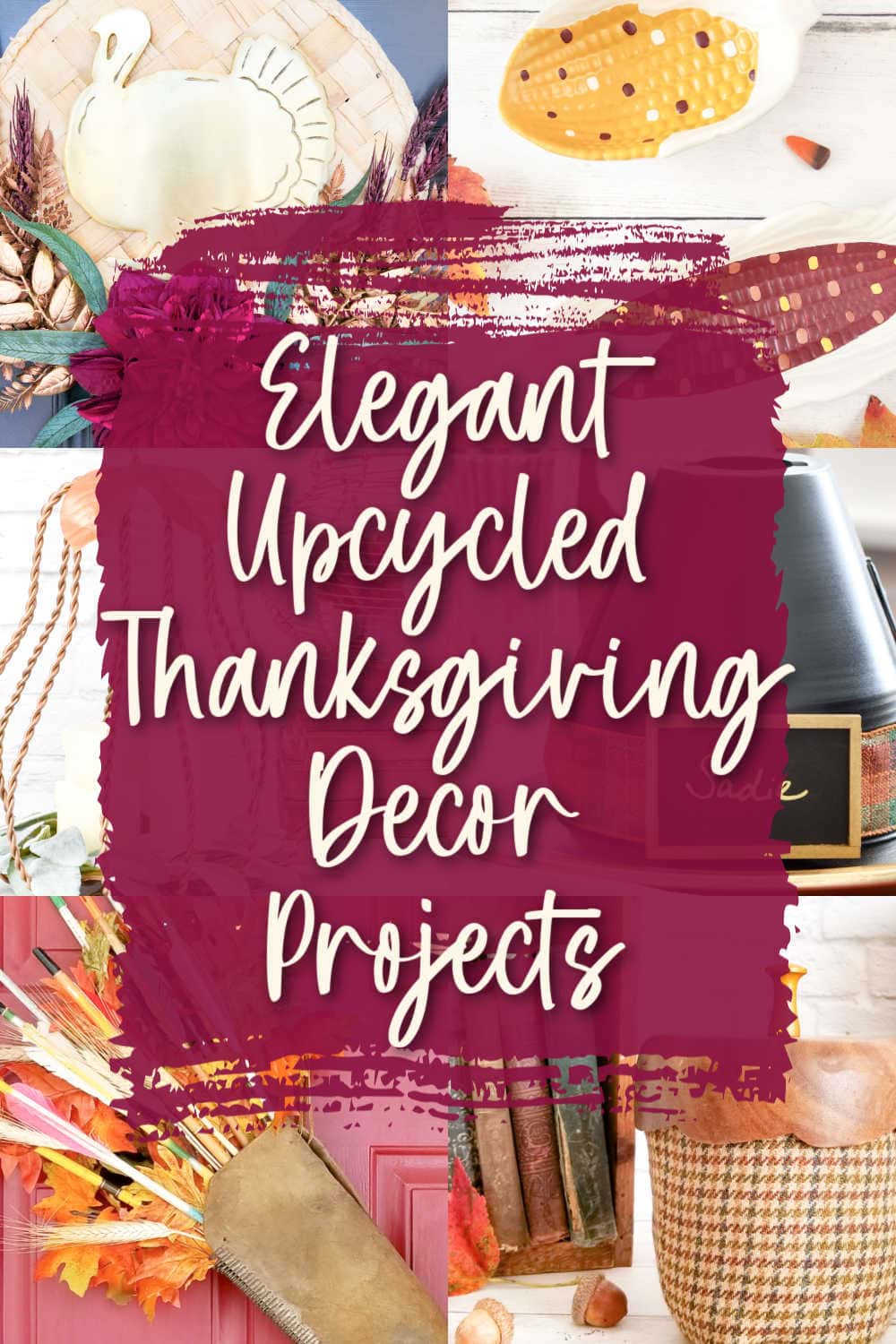 Sarah Ramberg is the owner of Sadie Seasongoods, a website that celebrates all things secondhand. From upcycling ideas and thrifted decor to vintage-centric travel itineraries, Sadie Seasongoods is a one-stop shop for anyone who loves thrifting and approachable repurposing ideas. Sarah is also the author of "Crafting with Flannel" and has been featured in numerous media outlets and magazines.