We have a lot of birds that frequent our yard. We offer multiple bird feeders, bird baths, and bird houses (many of which are upcycling projects of mine), and I wanted to make a new one for them. Bird nesting material is something I wanted to make plentiful for them, and I had an idea of just how to do it.
Before I get to that, here are some of our nesting birds. We've had baby wrens in our one of our bird houses: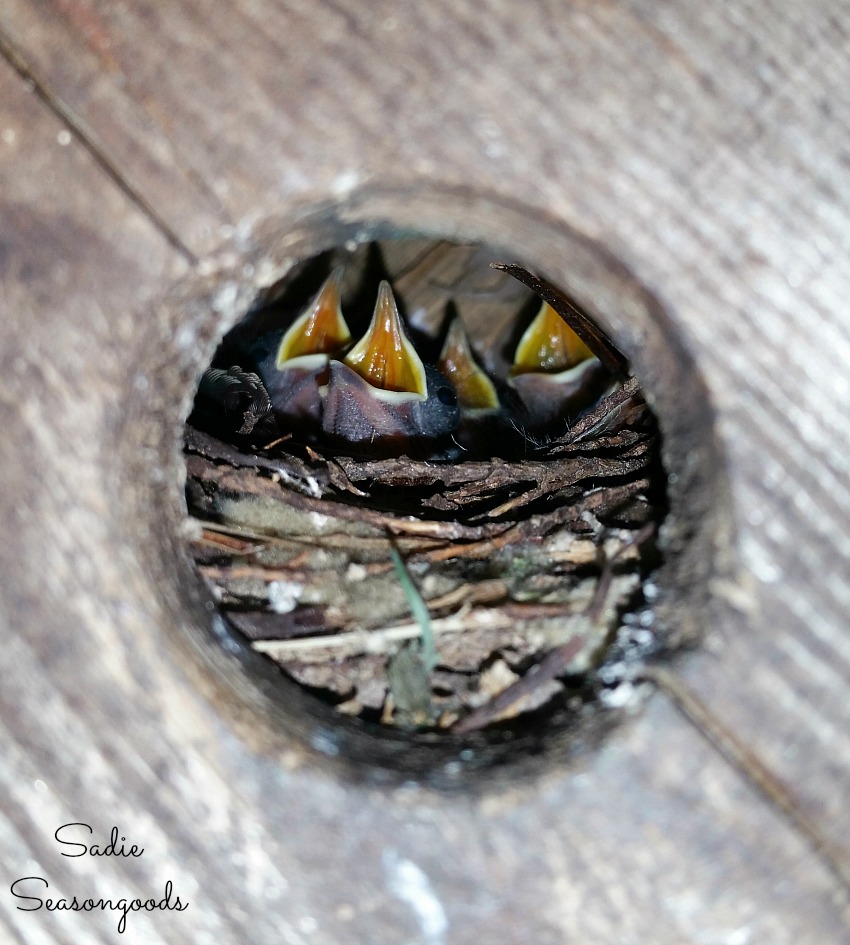 And a chickadee nest in the same bird house the following year: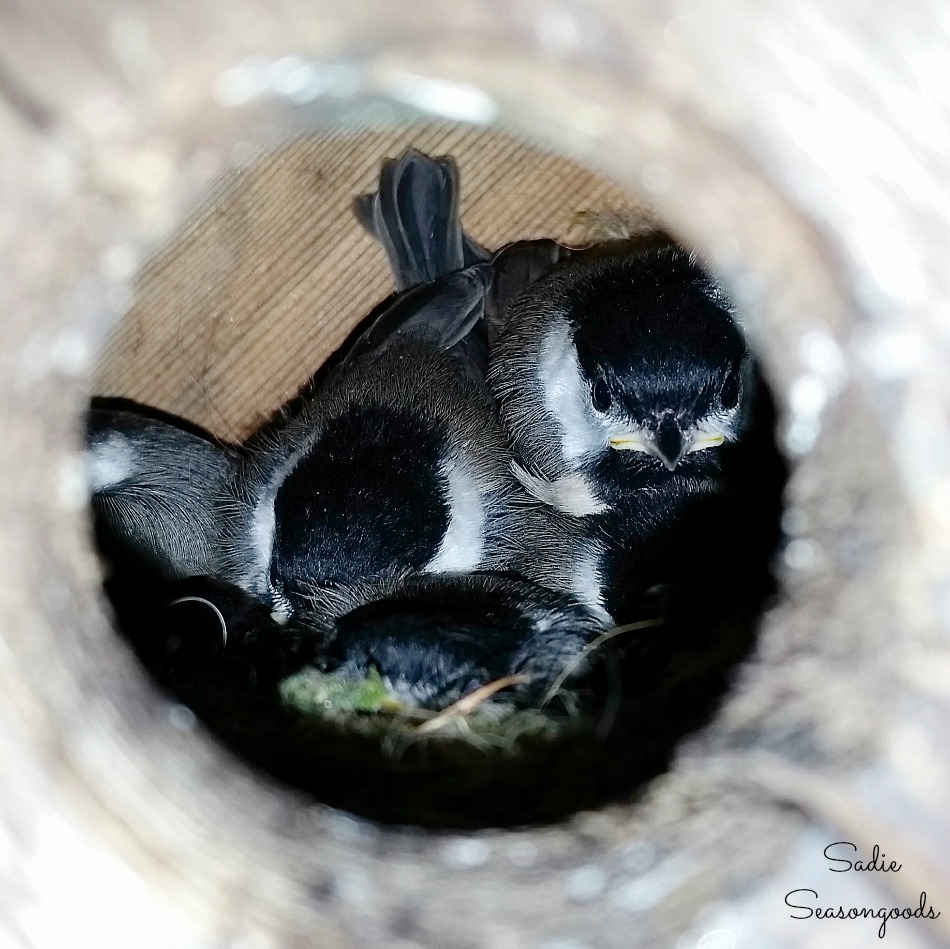 Anyway, back to my project idea! I had some bed springs in my craft room that seemed PERFECT for holding any bird nesting material that I could find. So, I decided to give it a try.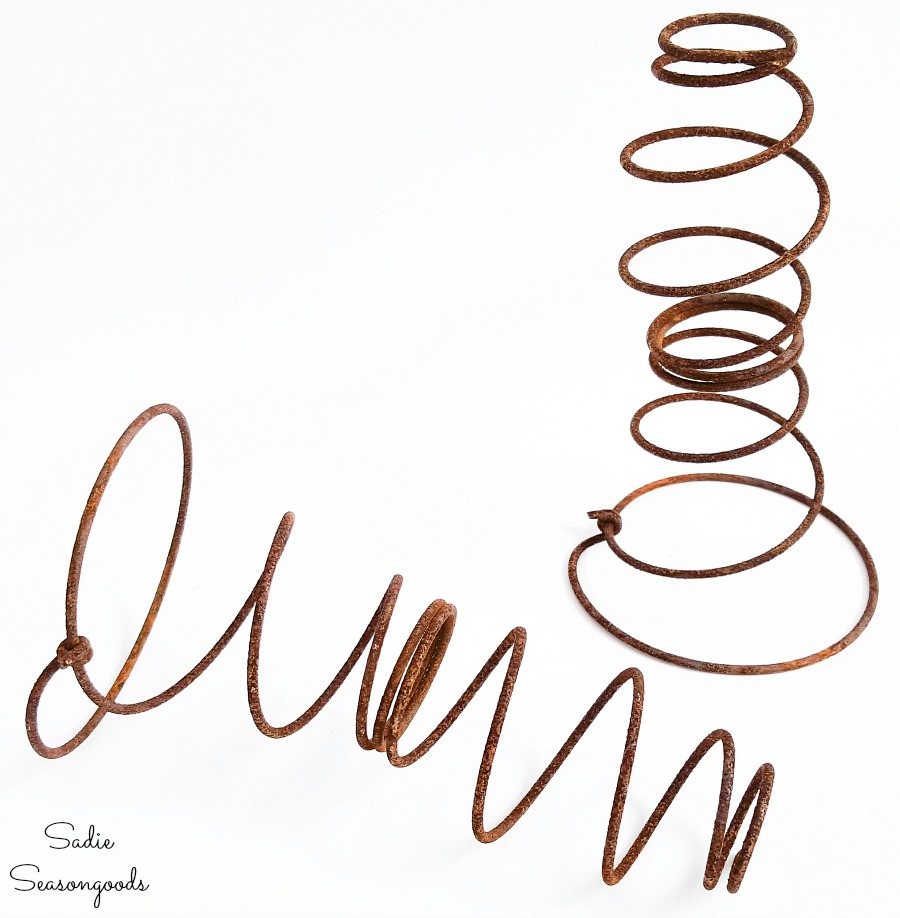 This post contains affiliate links for your crafting convenience. As an Amazon Affiliate, I earn from qualifying purchases. All blue, bold, and underlined text is a clickable link, either to a product or to a related post.
Bird Nesting Material for Wild Birds
Before I started constructing a holder from one of my bed springs, I needed to gather the nesting material that I'd use. I wanted to make sure that whatever I filled the rusty spring with was safe and all-natural for the wild birds.
First, I obtained a bag of plant fluff for the primary source of my bird nesting material.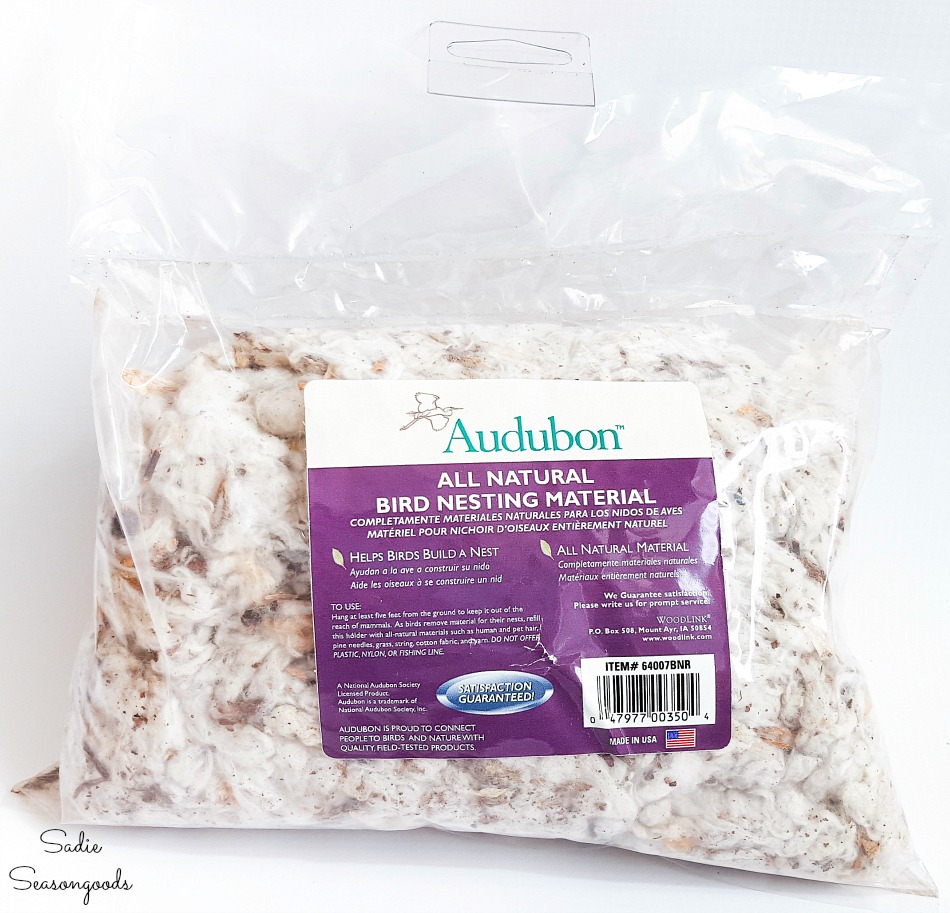 I don't know which species of plant this material comes from, but I'd love to find out. Either way, it's Audubon-approved so I had full confidence in its safety for my birds!
I also wanted to add some other nesting material inside the rusty bed spring, as well.
So I gathered a few additional natural elements:
Dried grass;

All natural cotton string;

Jute twine; and

Cottonball fur.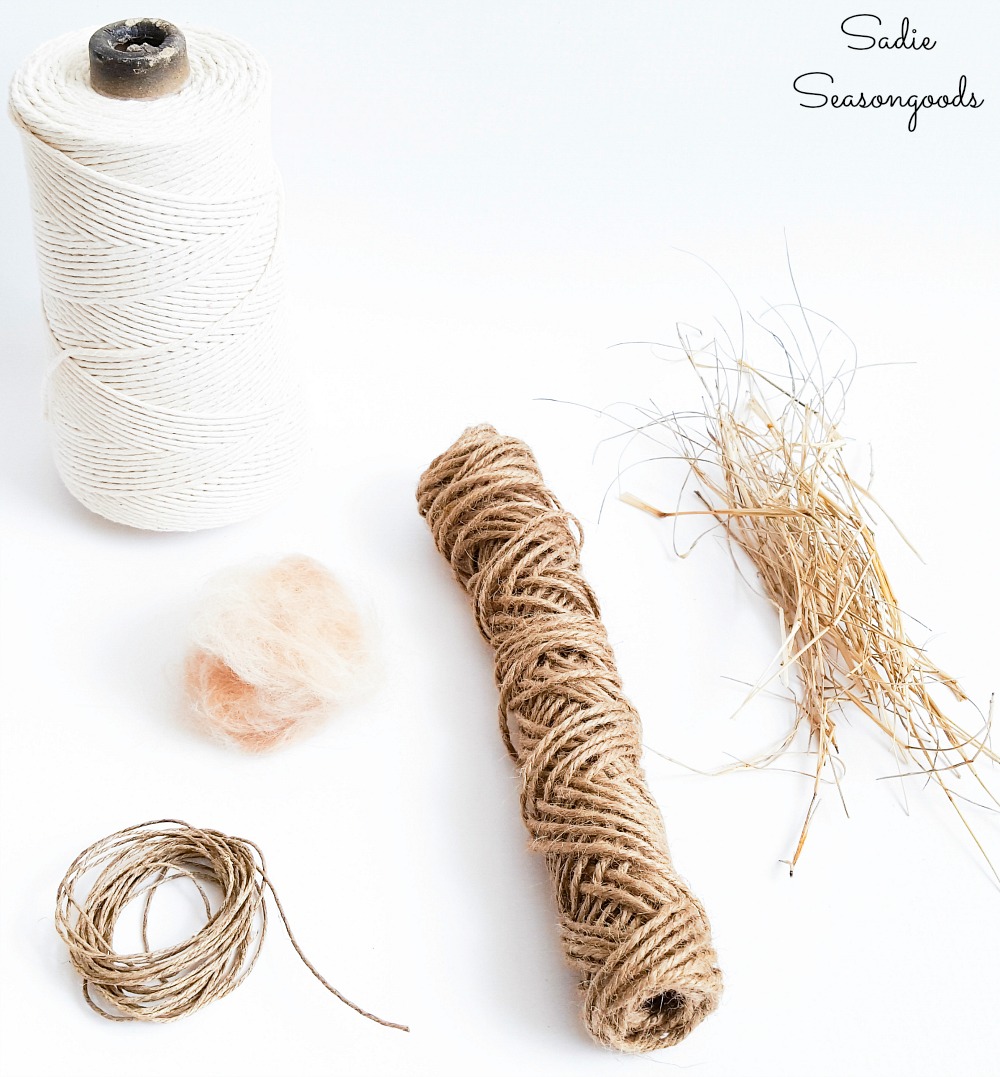 Yep.
You read that right- Cottonball fur. As long as you don't treat your pets for fleas/ticks, pet fur is highly recommended as nesting material for song birds!
Now, to turn my bed spring into a holder for nesting material, I just needed to do a couple of things to it. And all I needed was some low-gauge jewelry wire and wire cutters. I chose to use a matching bronze wire since the bed spring was so rusty.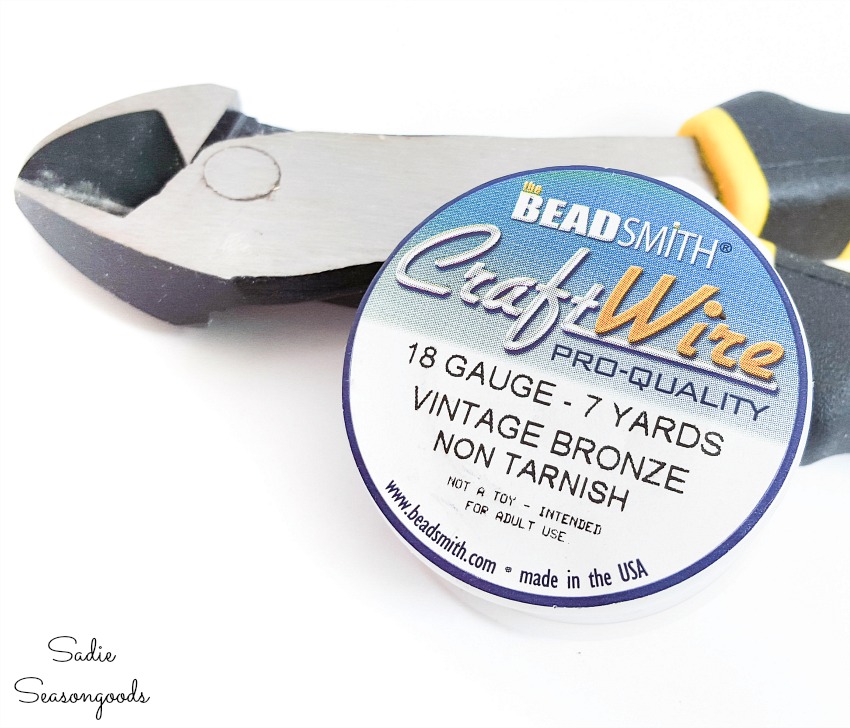 Upcycling a Rusty Spring to Hold the Nesting Material
First, I added two pieces of wire along opposite sides of the rusty spring by simply wrapping the ends around the top and bottom.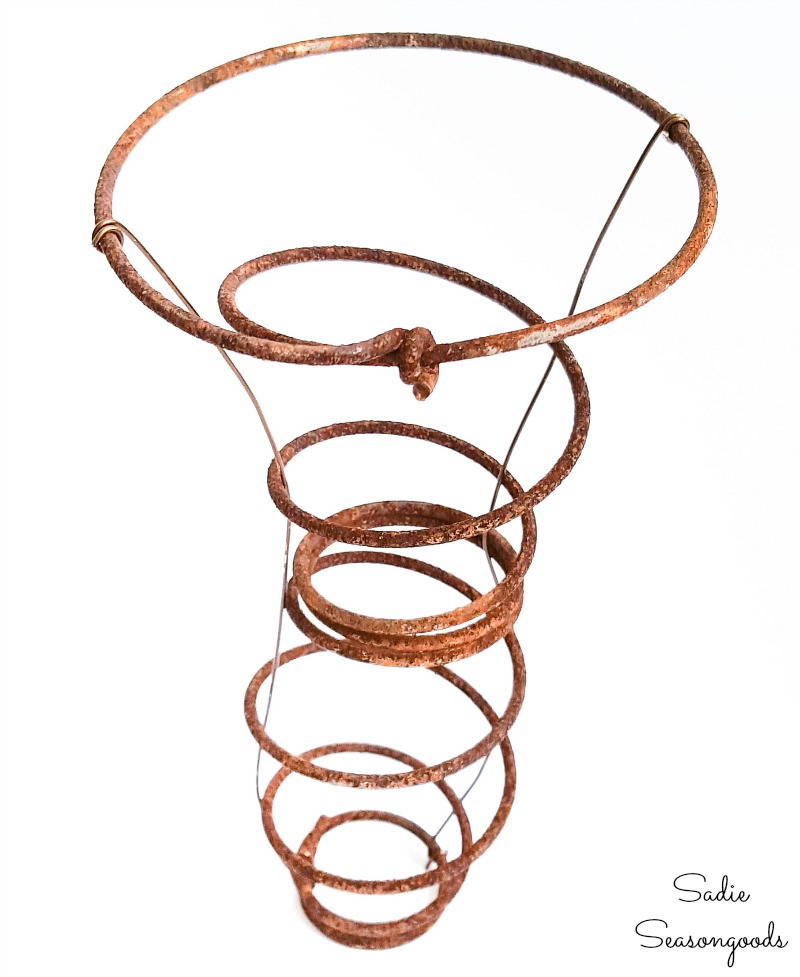 Here's a better view of it. Think of the jewelry wire as vertical insurance to help keep the bird nesting material from falling out completely.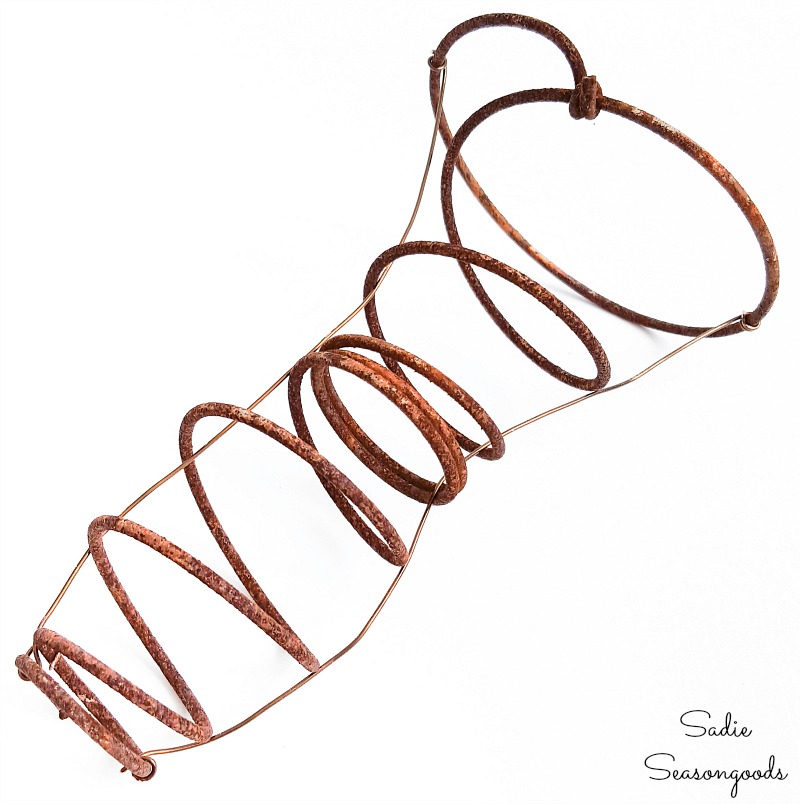 Then, I started layering in the bird nesting material. I alternated between the plant material from Audubon and other bits, such as the pet fur and dried grass.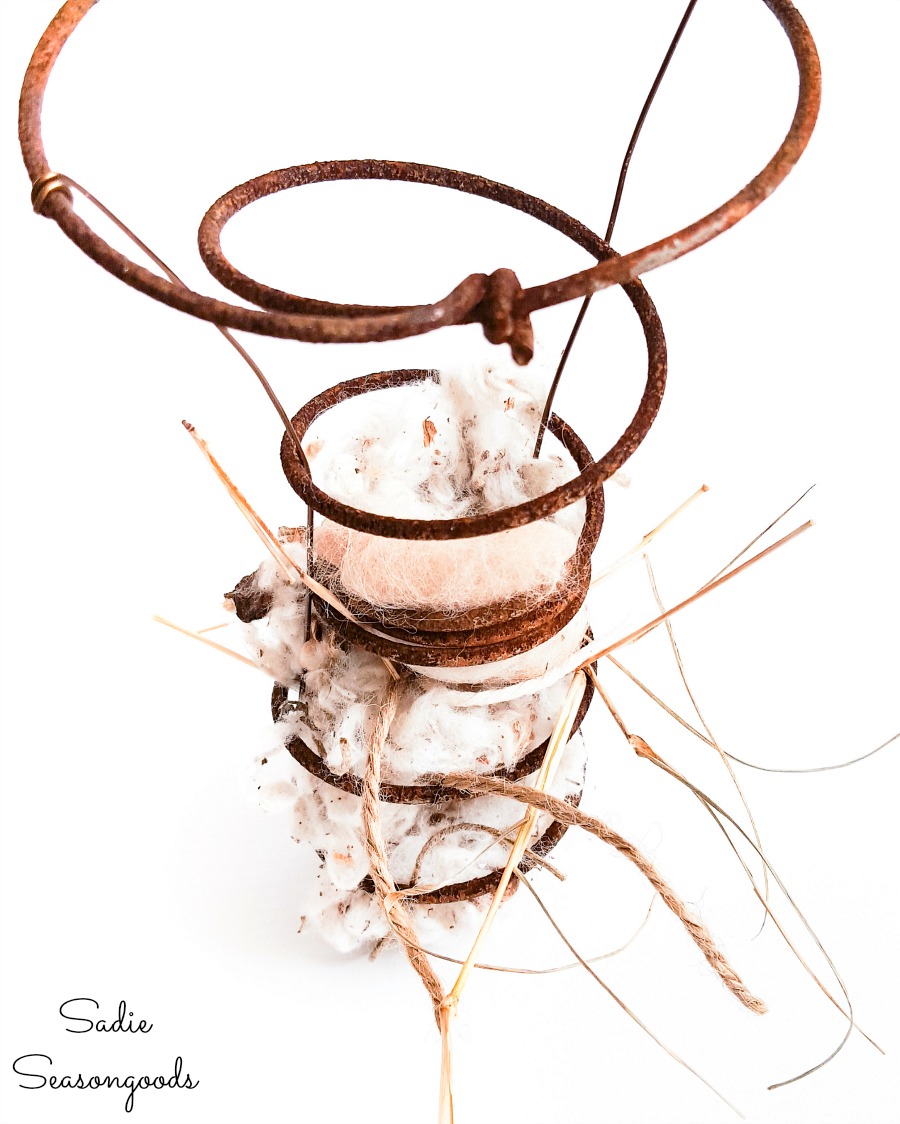 I filled up the rusty spring with nesting material until it was stuffed, but not packed in too tightly.
After all, the birds needed to be able to easily pluck and pull the nesting material from the holder!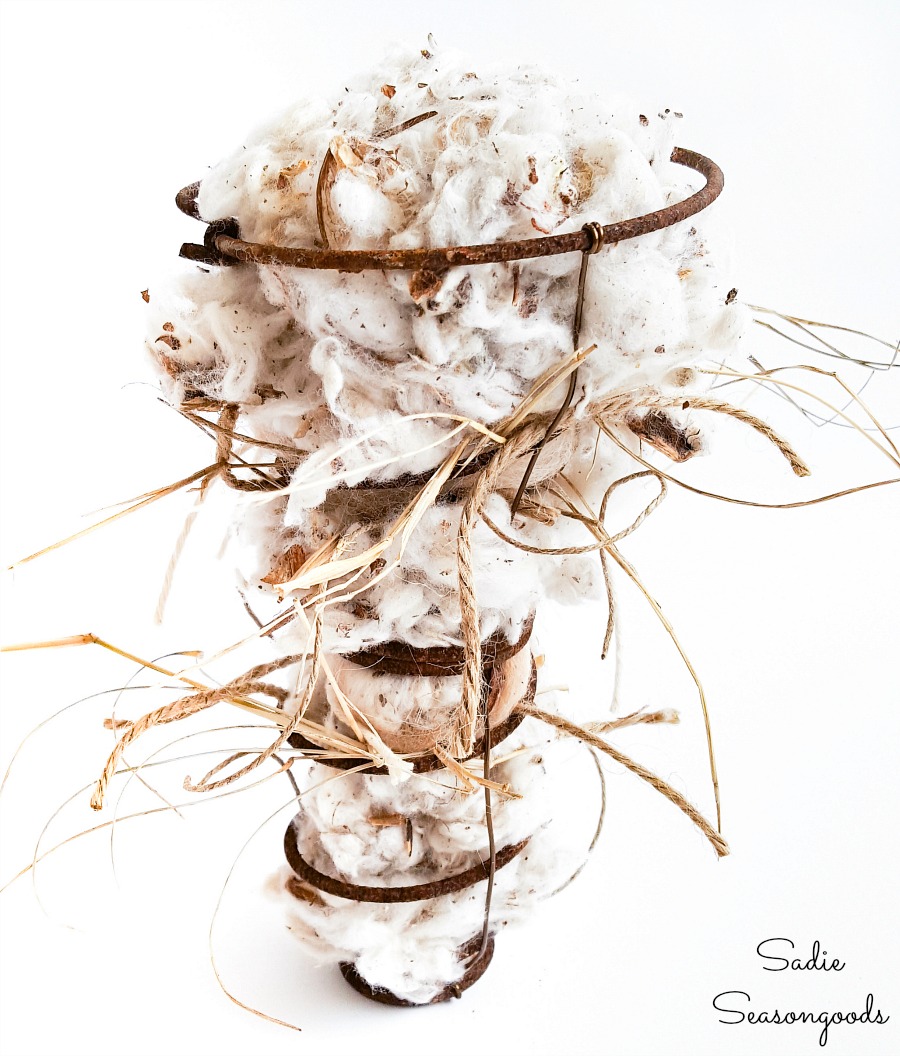 Bed Springs as a Holder for Bird Nesting Material
To finish it off, I added a strap of wire across the top of my bed spring (it disappeared into the fluff! But it's there- I promise!).
Finally, I created a hanging handle with an additional piece of wire.
Now it was ready to be hung outside in the yard! Think my birds will come and fetch some of the nesting material?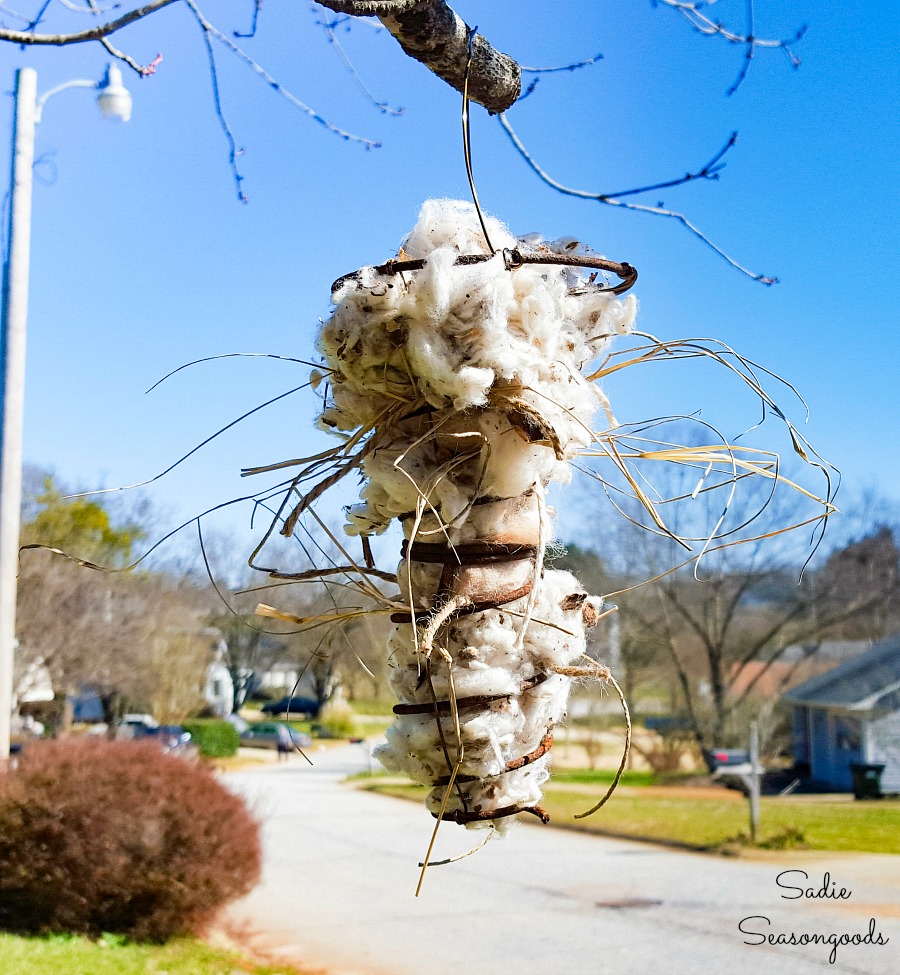 There's always a waiting period for wild birds to discover something new in the yard! And I am NOT known for my patience.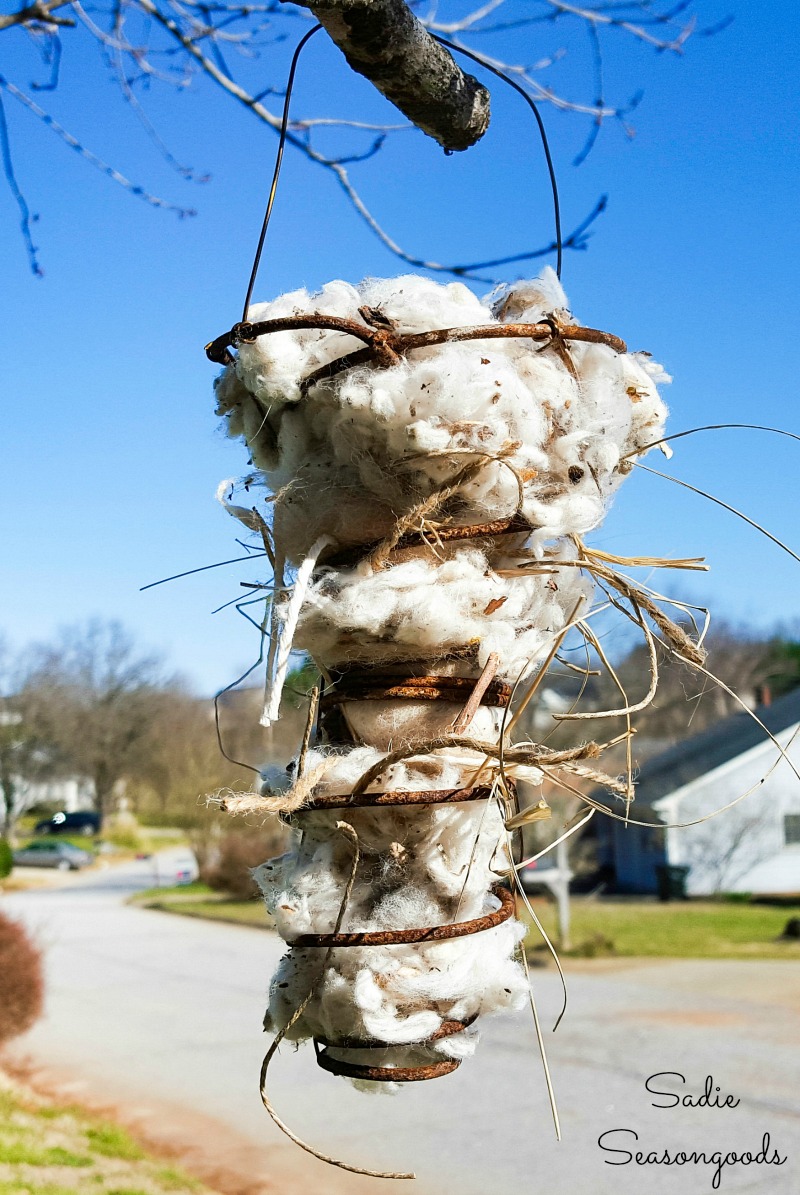 But guess what- THEY LOVED IT! I eventually moved it from a tree to the bird feeder pole. And I captured some video of one of my chickadees pulling out the bird nesting material!
And if you enjoyed this upcycling idea for bird nesting material with a rusty spring, then you may also enjoy this suet feeder that I made with a coffee cup!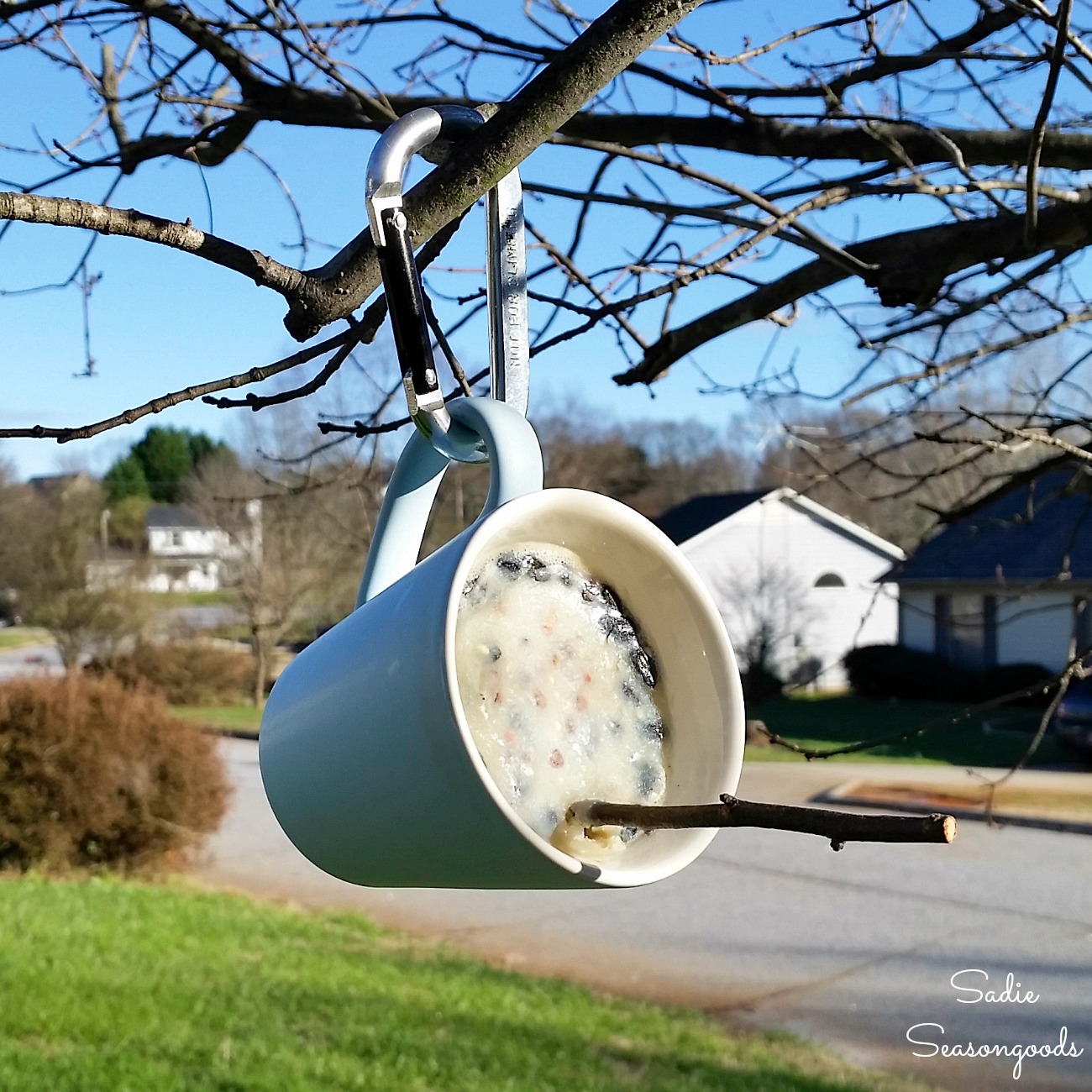 Craft on!
S
Want to be notified when I publish my next upcycling project tutorial?
Subscribe to Blog via Email
Join me on Social Media:



PIN ME!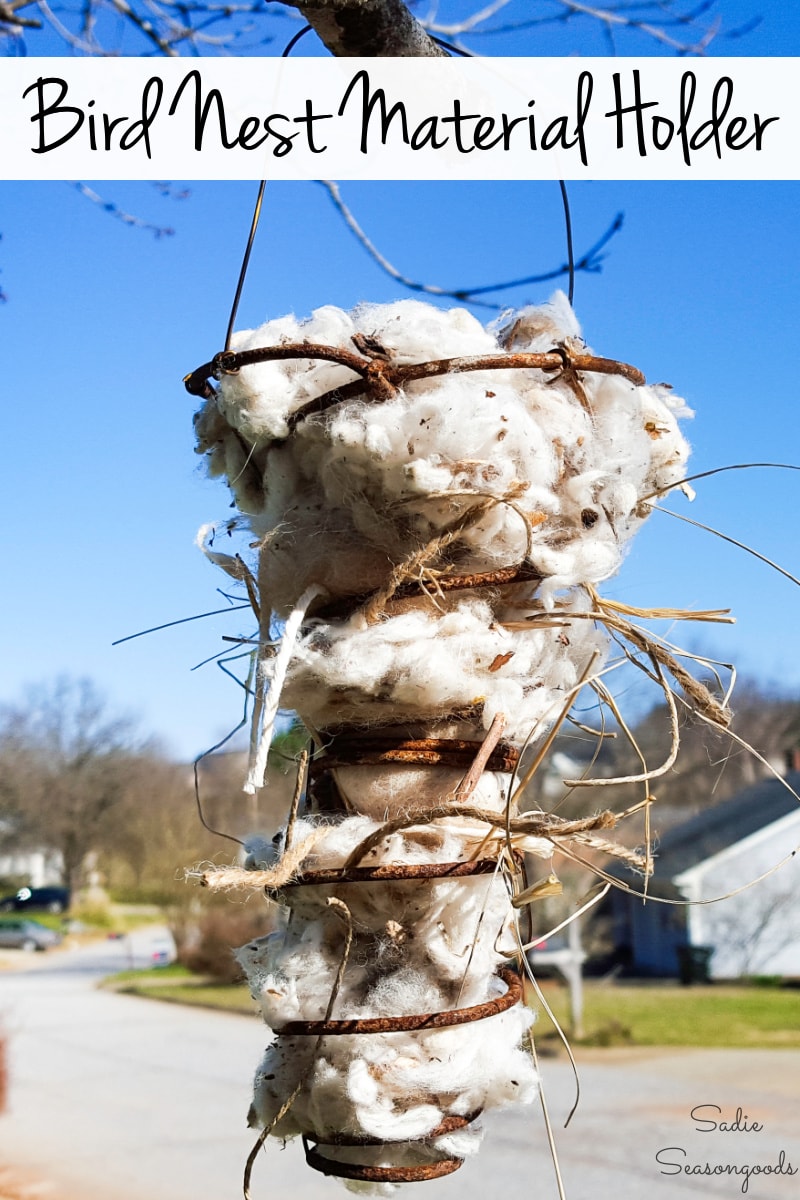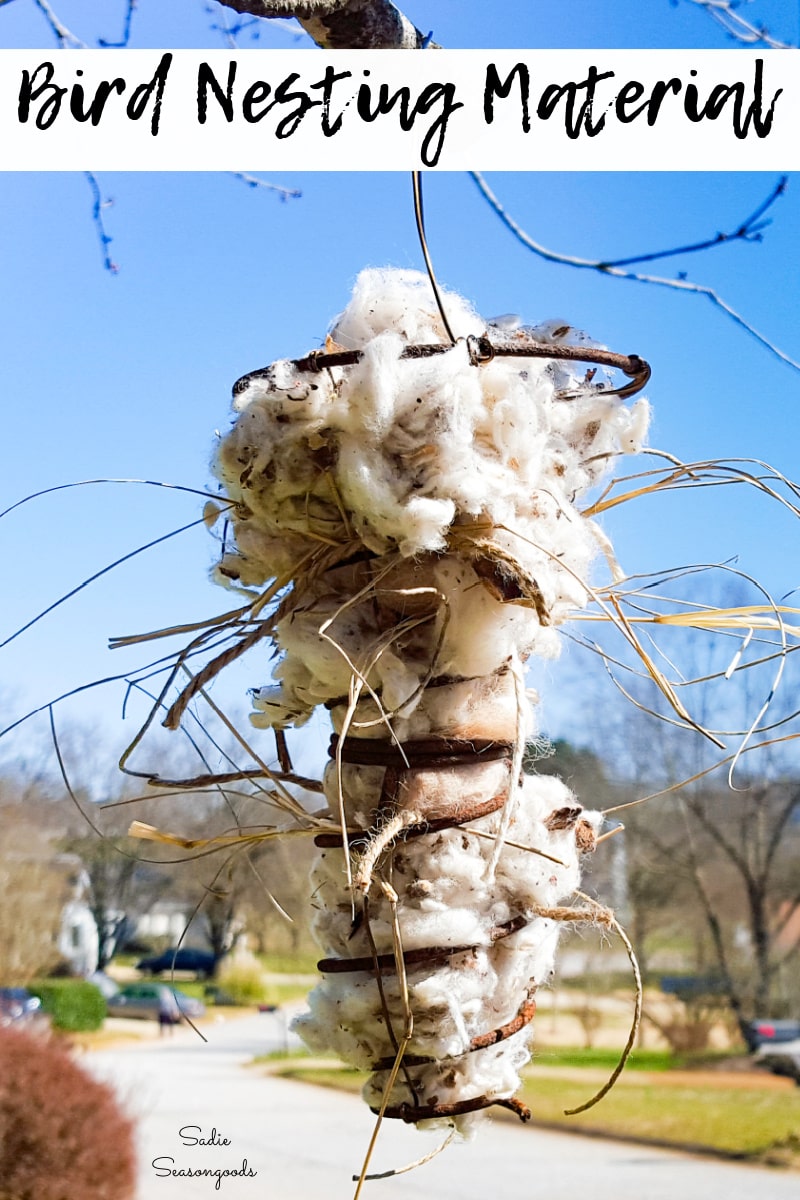 Sarah Ramberg is the owner of Sadie Seasongoods, a website that celebrates all things secondhand. From upcycling ideas and thrifted decor to vintage-centric travel itineraries, Sadie Seasongoods is a one-stop shop for anyone who loves thrifting and approachable repurposing ideas. Sarah is also the author of "Crafting with Flannel" and has been featured in numerous media outlets and magazines.