In my constant quest for cozy home decor during the winter months, I decided that some fireplace hearth decor was in order. Specifically, a fireplace basket that would hold a few logs AND worth as cozy hearth decor.
Even though we keep most of our firewood on the back porch, I like the look of a few logs on the hearth. After scouring my local thrift stores, I decided to forgo the more expensive option (brass) and nabbed a wicker log basket.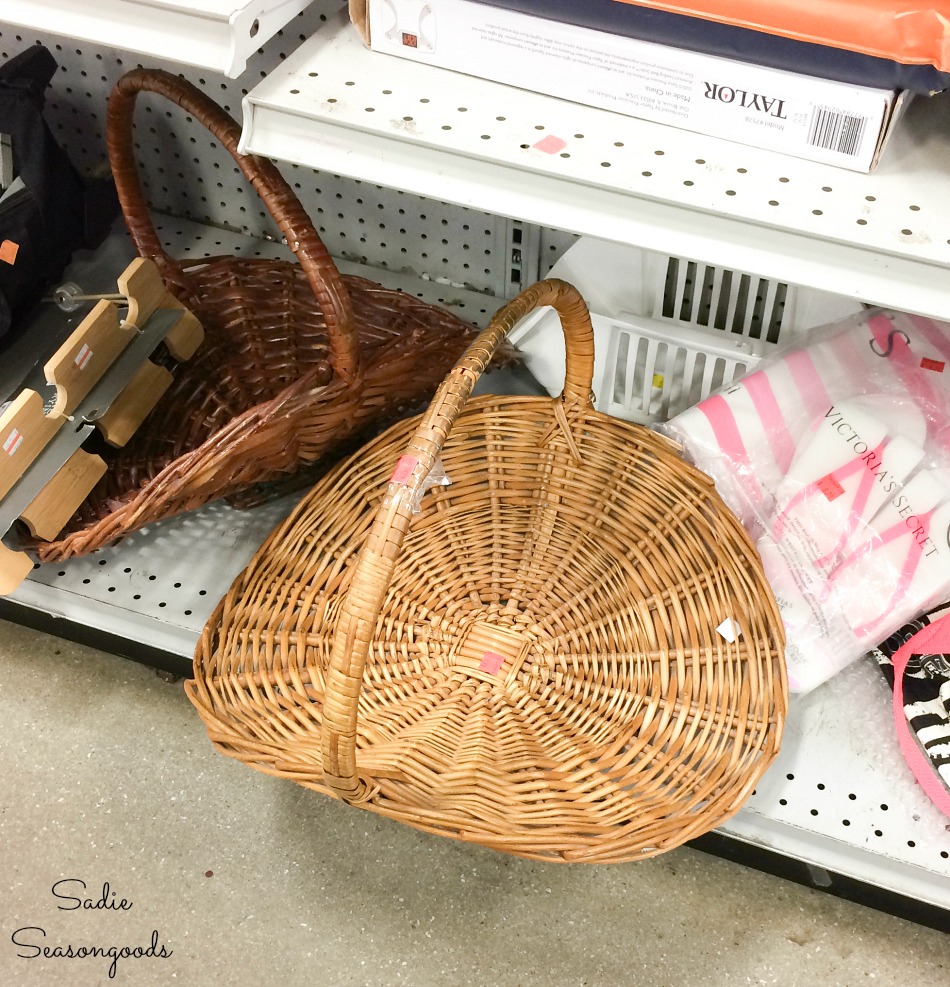 I brought it home, set it on our brick fireplace hearth (to make sure it fit well enough) when I realized just how…brown…everything was.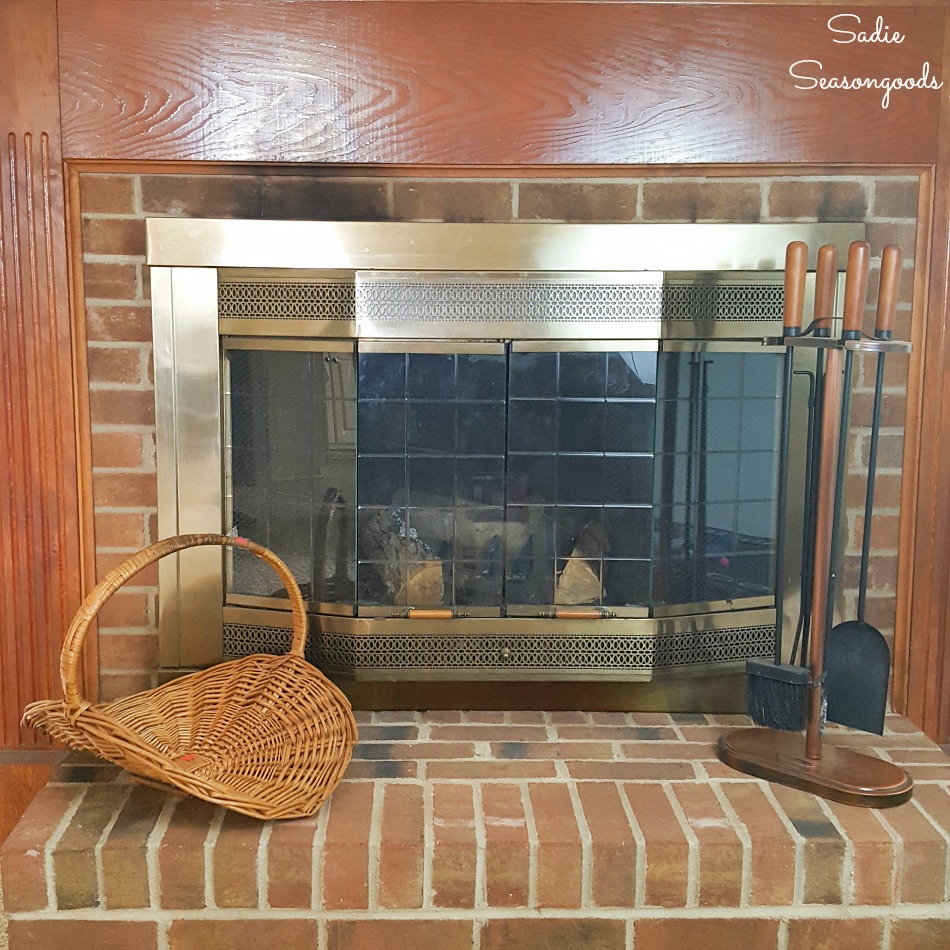 Heck, even the cat blended in.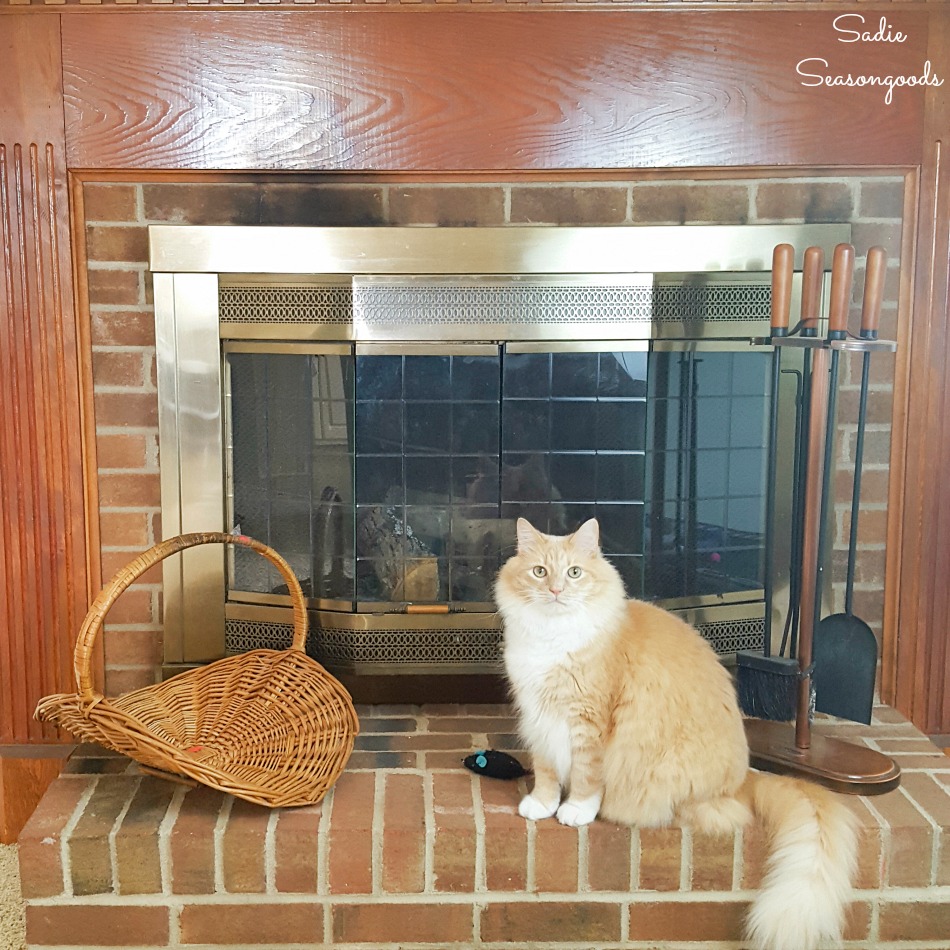 So, I decided to give a complete makeover to the fireplace basket so that it set off nicely on the brick AND brought a touch of "cozy" to the room.
Why not create something functional (i.e., firewood holder or fireplace log holder) that doubles as cozy winter decor?
This post contains affiliate links for your crafting convenience. As an Amazon Affiliate, I earn from qualifying purchases. All blue, bold, and underlined text is a clickable link, either to a product or to a related post.
Upcycling a Fireplace Basket with an Upcycled Flannel Shirt
First, I needed to remove as much of the dust as possible from the wicker log basket. It was, admittedly, pretty gross in person.
Next, I set up a spray painting station to paint it white. Since Cottonball's white fur popped against the brick hearth, I decided a white basket was the way to go.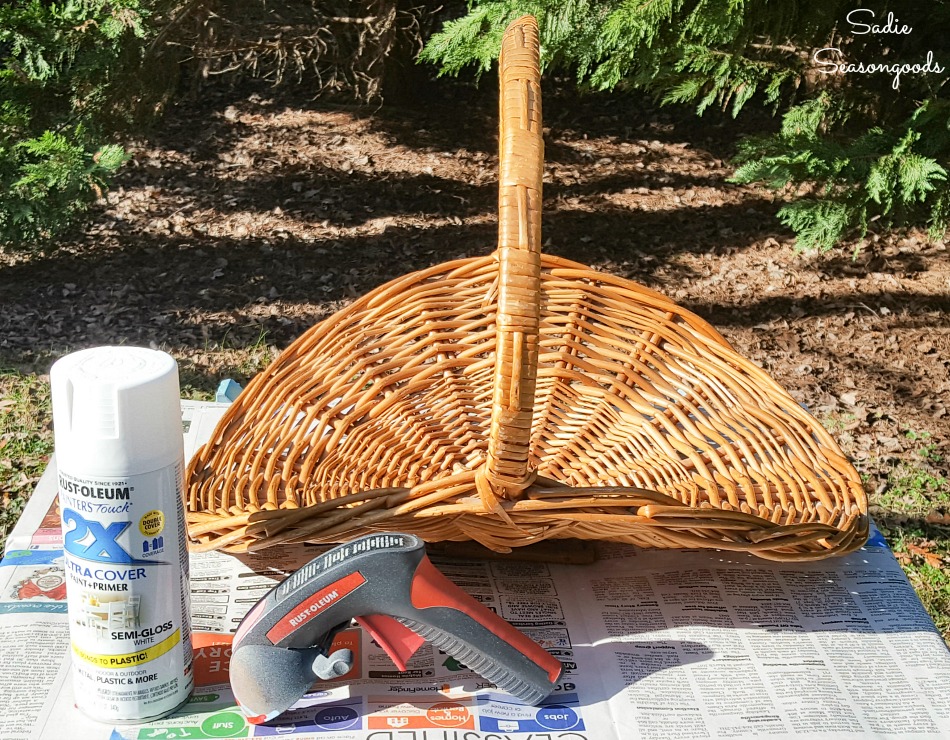 After giving it a couple of coats of spray paint, I let it dry and headed out to find some flannel shirts for upcycling. I wanted green flannel shirts or blue flannel shirts, ideally. I figured those colors would look good on my now-white fireplace log holder.
For winter decorating, I go for blues, cool greens, and touches of brown or white (kind of like a snowy winter landscape).
I liked how this blue flannel shirt looked against my basket and decided to put it to work. And worth noting, it had a big ole' hole where the last buttonhole should be, so it was a perfect candidate for repurposing!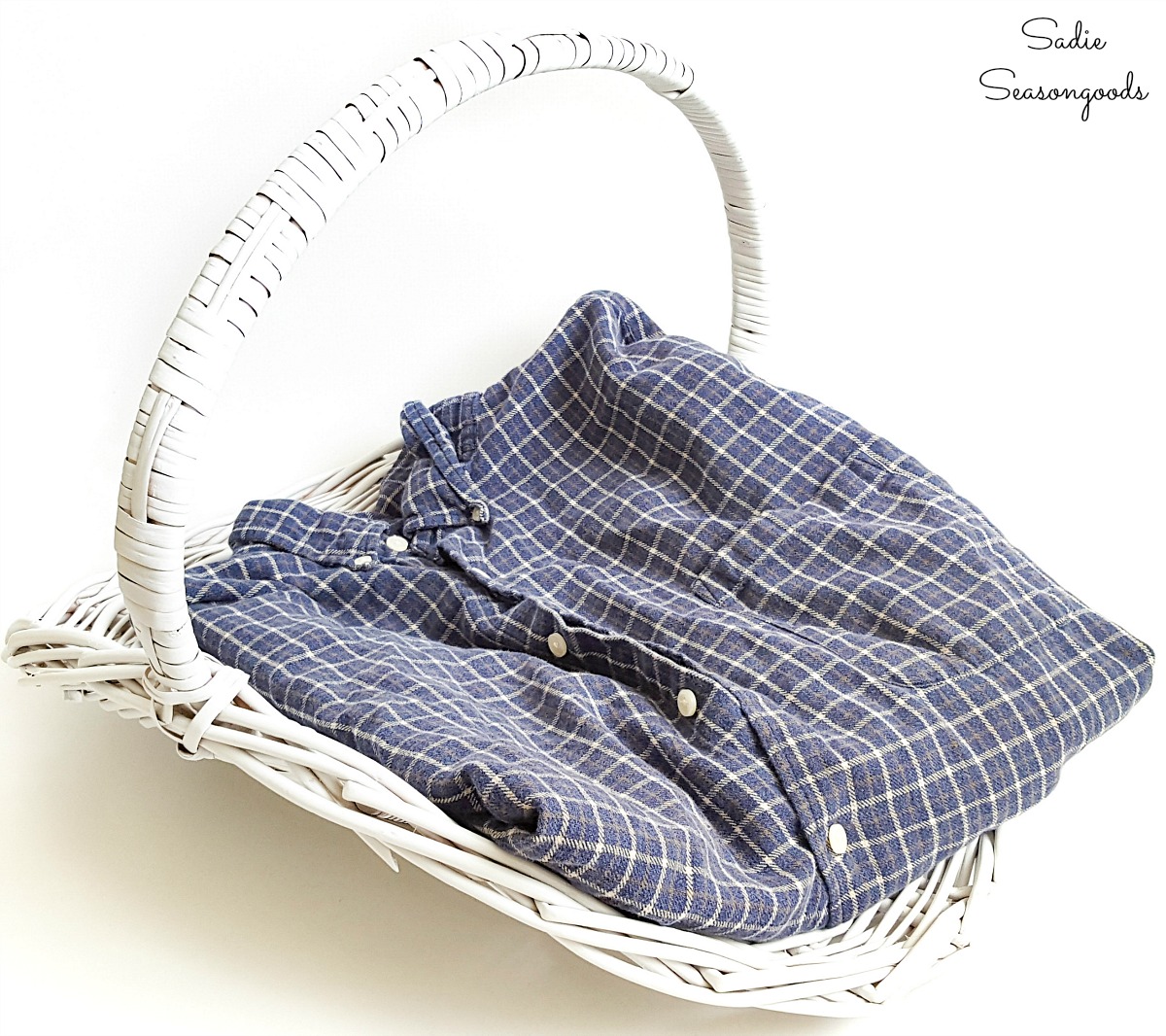 Then, I cut the sleeves off of my flannel shirt and set the rest of the shirt aside for another day/project. I wanted the long length of fabric that the sleeves provided.
From there, I cut long, same-width strips of flannel, making to sure to capture the same design on each strip.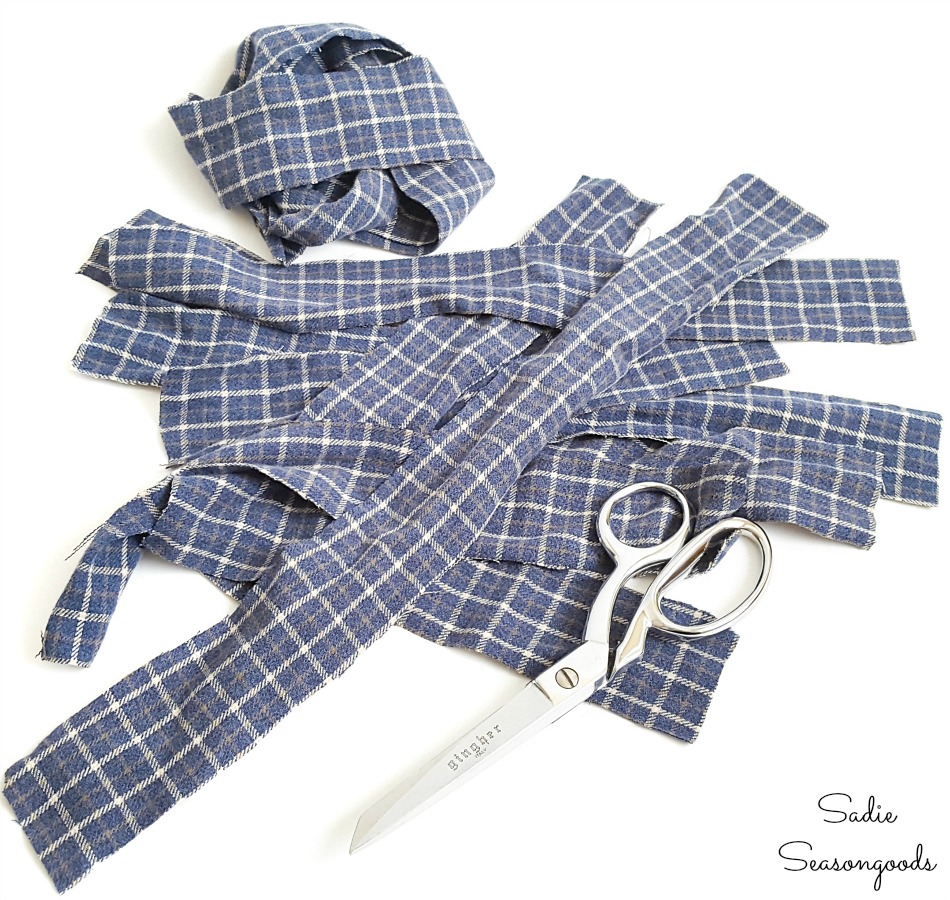 Next, similarly to what I did in the Fall, I stitched the strips end-to-end, ironed the connecting seams flat, and hemmed the long sides.
Now, I had plaid ribbon made from an upcycled flannel shirt! Exactly what I needed to create some fireplace hearth decor with wicker basket!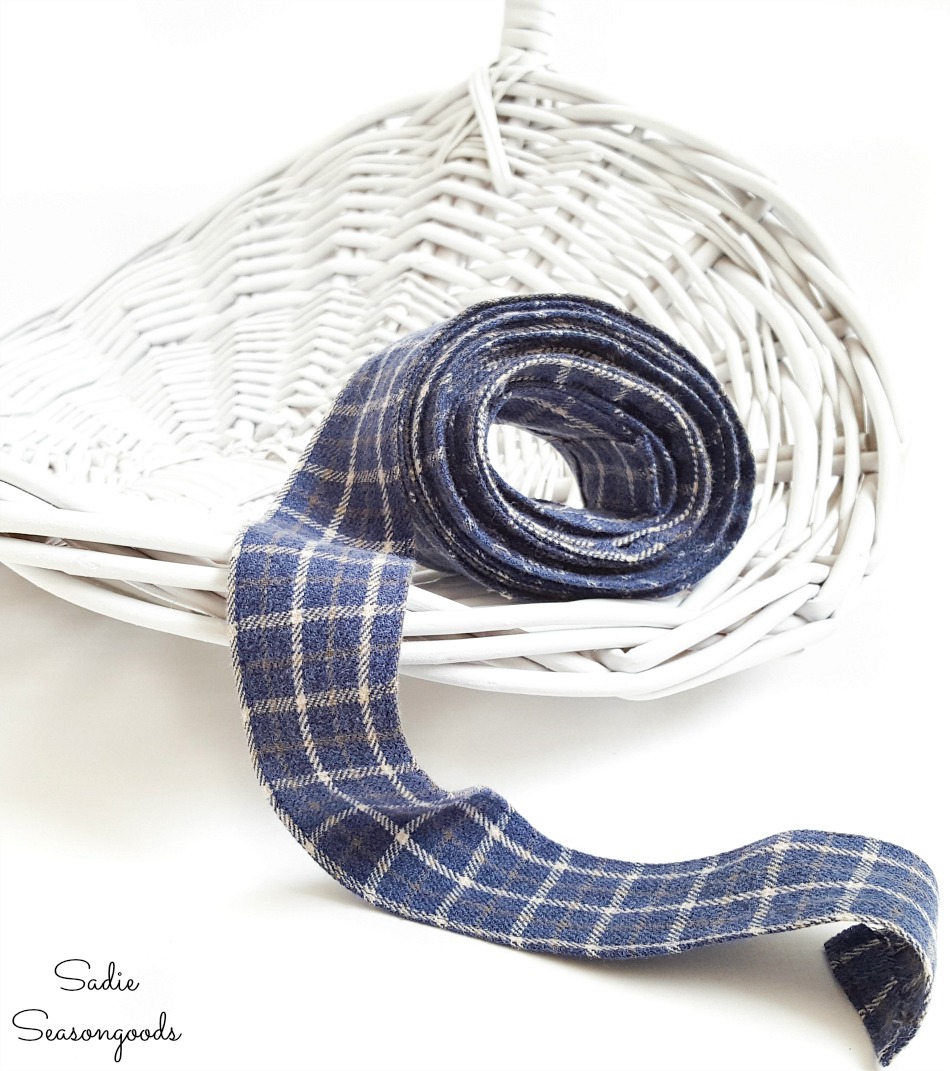 Now I was ready to finish the makeover process on my fireplace hearth decor!
I hot-glued one end of my flannel ribbon to the inside of the handle on the fireplace basket, and began carefully wrapping the plaid ribbon round and round.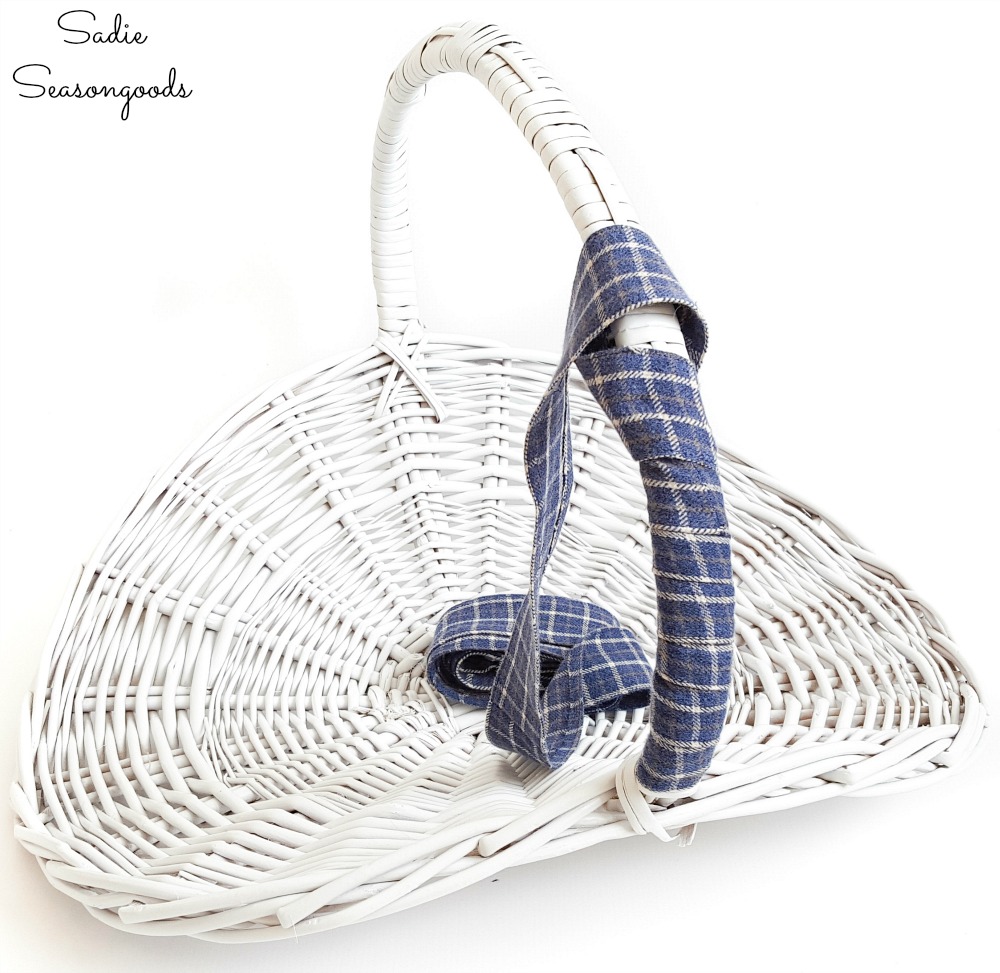 When I reached the other side, I snipped off the excess flannel ribbon. Lastly, I folded the end under and hot glued it to the inside handle.
Fireplace Hearth Decor from a Wicker Log Basket
There, now my fireplace basket looked cozy and homey. It would be perfect as hearth decor that would "pop" against the monotone brick.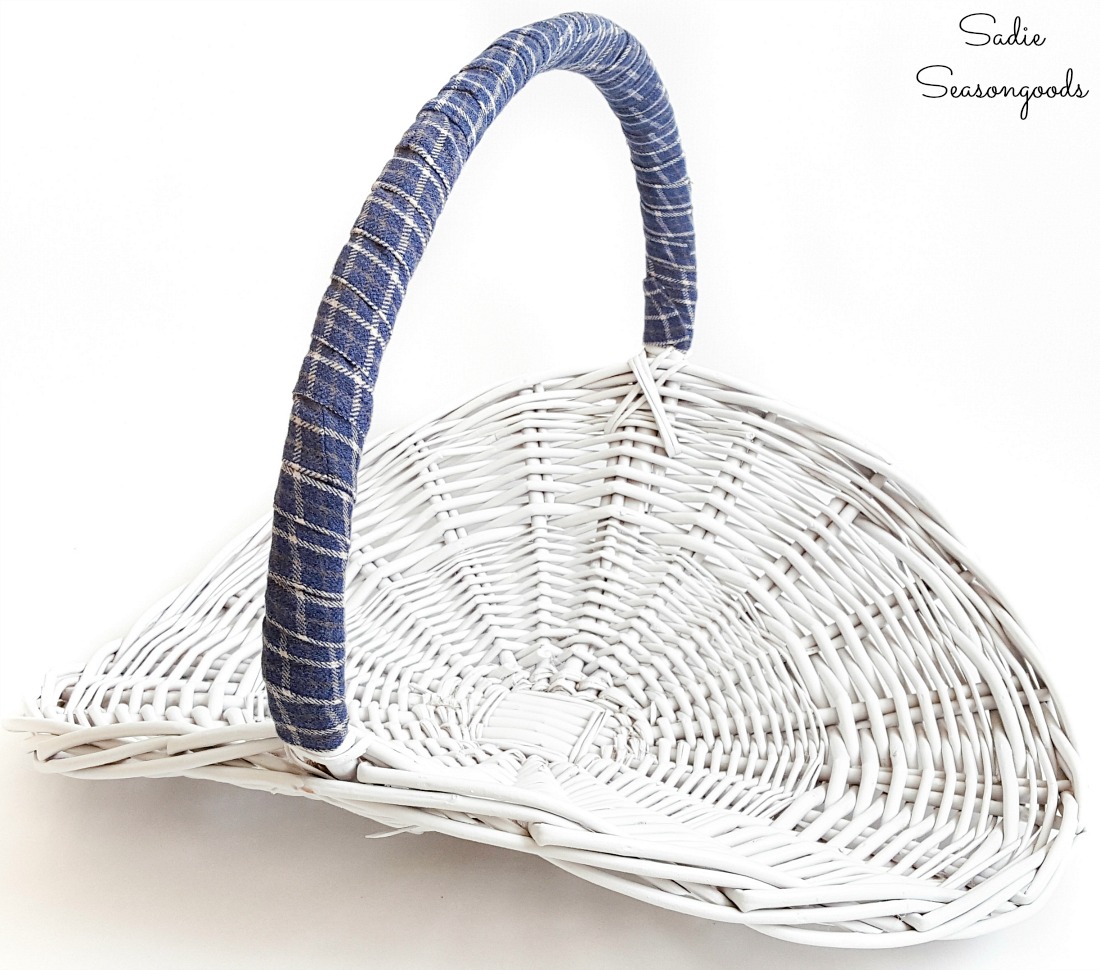 What a transformation, eh? The flannel ribbon adds a touch of "cozy", and it has a much better hand-feel than the bare painted basket!
I'm quite pleased with how my fireplace hearth decor turned out!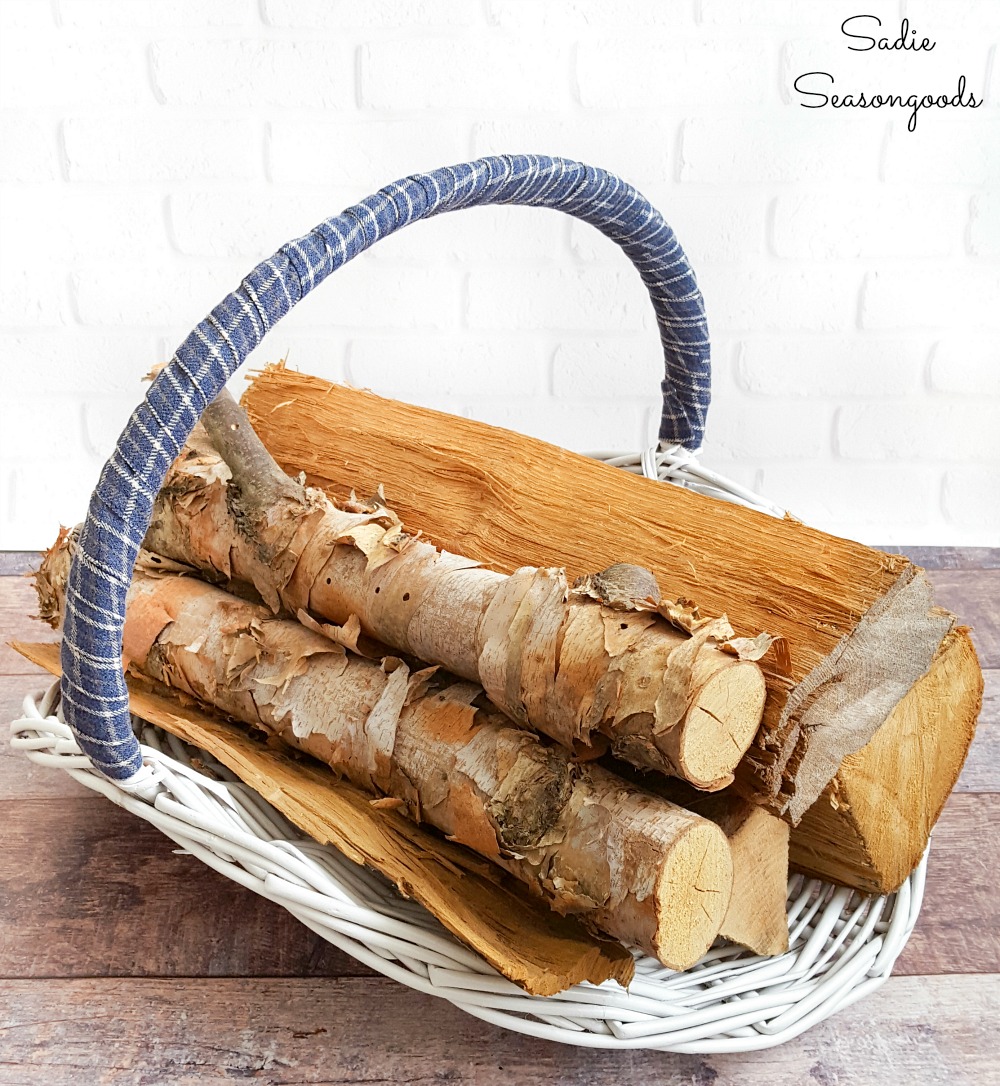 Now I just need to lug my fireplace basket back to the hearth where it can be both functional all season long!
I'm also excited to announce that my first book is now available! If you enjoy upcycling clothing and simple sewing projects, then you will love my book on flannel crafts!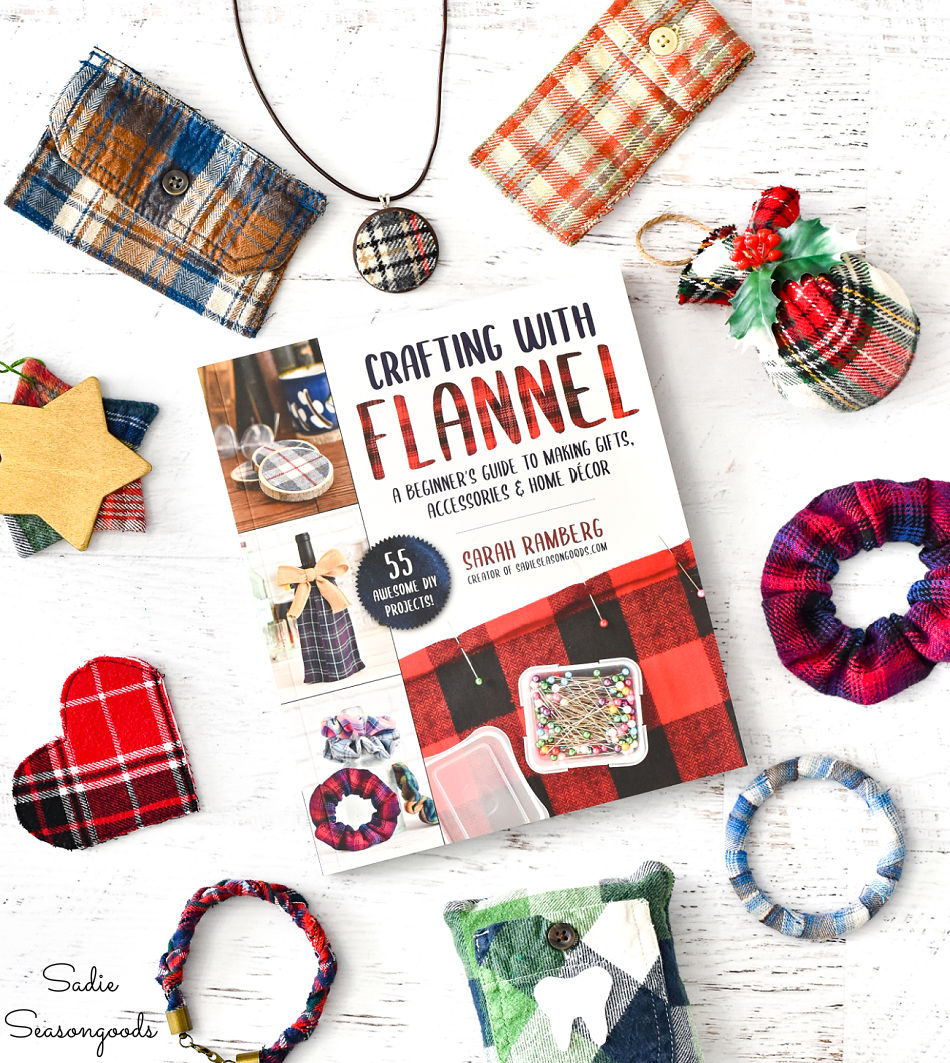 And, if you enjoyed this upcycling idea for cozy home decor, then you may also be interested in this book decor I made with upcycled flannel shirts, too!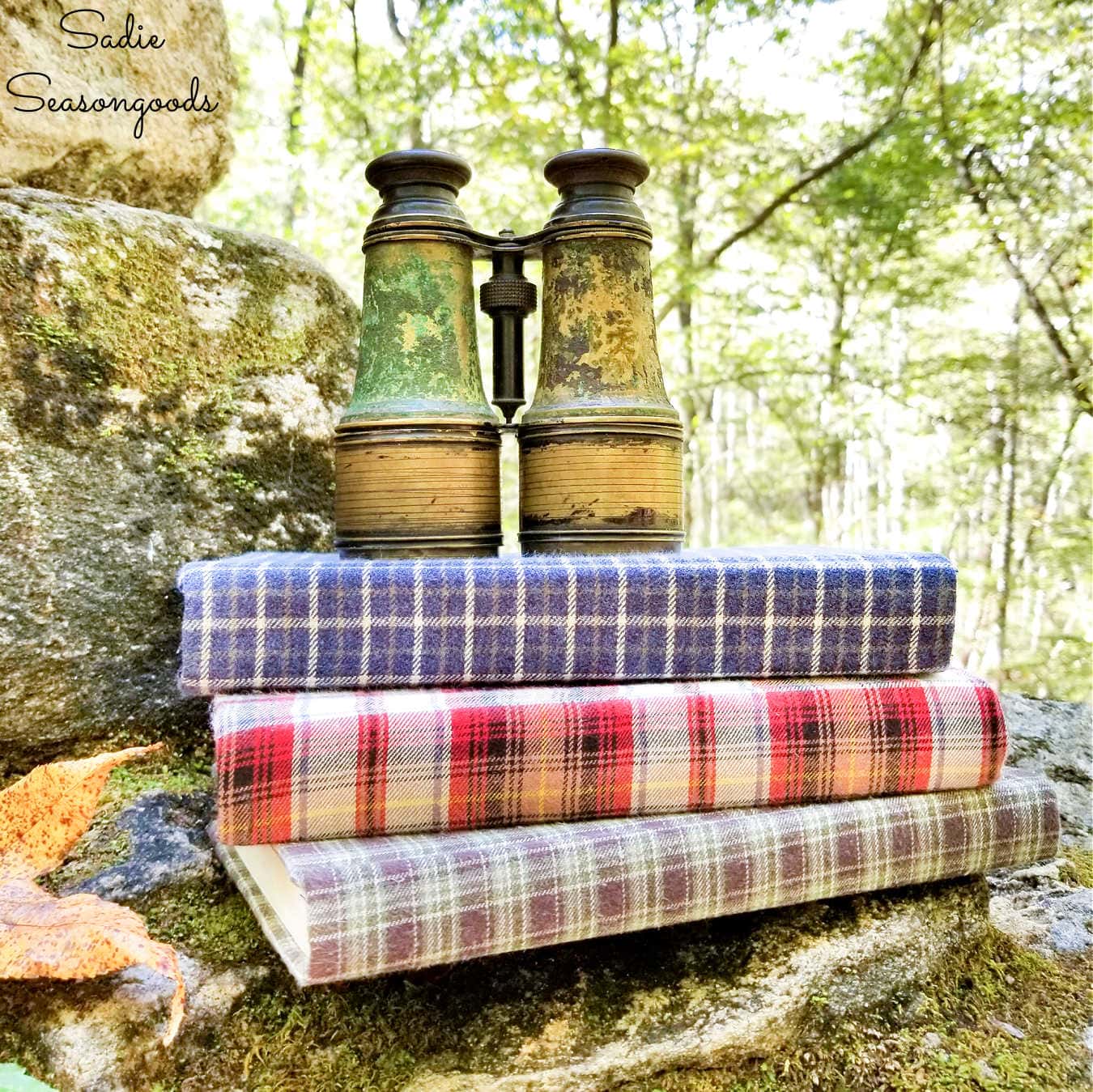 Craft on!
S
Want to be notified when I publish my next upcycling project tutorial?
Subscribe to Blog via Email
Join me on Social Media:

PIN ME!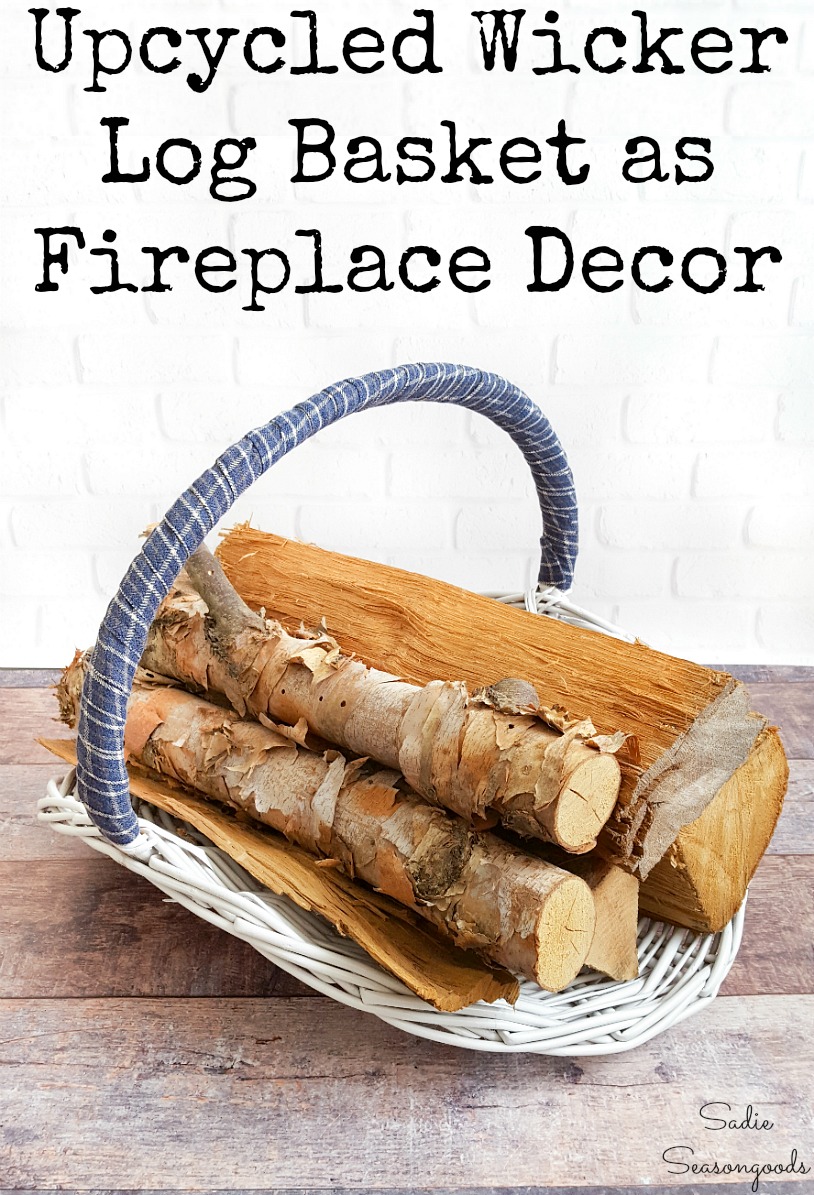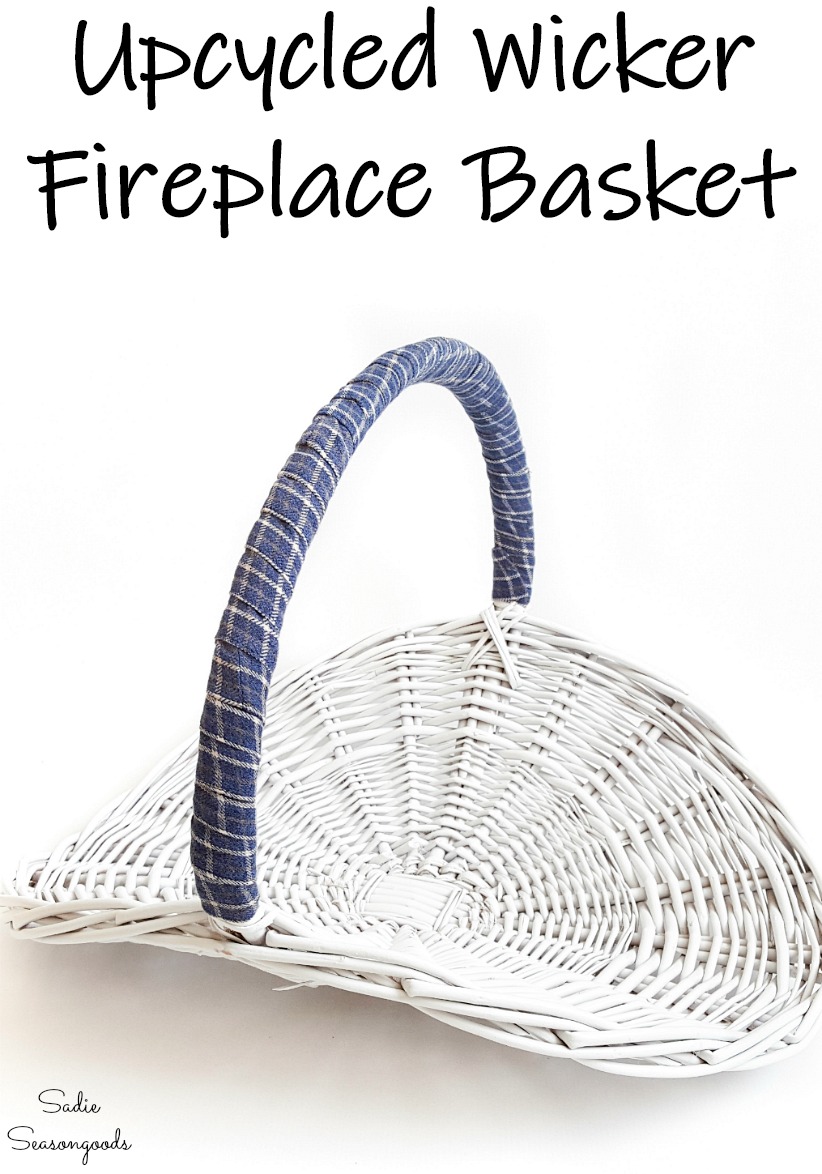 Sarah Ramberg is the owner of Sadie Seasongoods, a website that celebrates all things secondhand. From upcycling ideas and thrifted decor to vintage-centric travel itineraries, Sadie Seasongoods is a one-stop shop for anyone who loves thrifting and approachable repurposing ideas. Sarah is also the author of "Crafting with Flannel" and has been featured in numerous media outlets and magazines.