I think it's high time I create another flannel project, don't you? The weather is finally feeling like Fall and I am craving all the cozy plaid. And today's project also has a special twist: All of my project materials came from thrift stores that benefit an animal-based charity! And to get in a cozy frame of mind, I decided to create some book decor with flannel shirts.
To get this animal-charity-thrift-shop party started, I headed up to Asheville, North Carolina to hit a couple of my favorite stores.
First, I went to Animal Haven of Asheville and purchased a few hardcover books. I specifically looked for books that were (for whatever reason) missing their dust jackets in order to be less wasteful.
Then, I went to Brother Wolf Animal Rescue's thrift shop where I found a flannel shirt or two.
I, admittedly, already had some shirts in my stash but definitely needed more for my upcycling idea for book decor.
And with that, I had what I needed to make some fabric covered books, which I just think will be wonderful for some cabin-style autumn (and winter) decor.
This post contains affiliate links for your crafting convenience. As an Amazon Affiliate, I earn from qualifying purchases.
Thrift Store Books and Cheap Flannel Shirts
To create some flannel covered books, I opened up one freshly-laundered shirt and selected one of the thrift store books to cover.
First, I laid the book near the hem of the shirt.
Then, I carefully rolled the book (cover – spine – cover) up the shirt to "measure" the flannel fabric I'd need. Basically, I "walked" the book along the fabric to determine how much flannel I would need.
Next, I cut out the rectangle, giving myself a 1.5"-2" margin of error all the way around the book.
I didn't need to be precise; I just wanted to make sure I had plenty of flannel fabric for the project.
After ironing my flannel rectangle, I then brushed on a healthy coat of decoupage medium to one cover of my book.
Then, I laid it back on the fabric (glue side down), then did the same to the spine, and then to the other cover.
Doing each of the three exterior surfaces (cover – spine – cover) separately allowed me to press the fabric into the ridges, which gives the books nice definition (in my opinion).
Book Decor for a Hygge Home
Next, I brushed some decoupage glue on the inside of each cover and smoothed the flannel fabric over it.
After that, I cut angles on each top and bottom cover "flap" of flannel fabric. Then, I brushed decoupage glue on the inside cover of my book decor and smoothed the flannel flaps down.
Now I was left with a "tongue" of fabric at both ends of the spine.
First, I trimmed off any excess (leaving just ½" – ¼" of fabric flap), and brushed a wee amount of decoupage glue onto the flannel fabric.
Then, I used a toothpick to tuck the fabric between the cover spine and the bound pages. If you open the book a bit, you'll see the opening in which to tuck!
And that was it! The first of my book decor was done!
Book Decor with Flannel Shirts for Cozy Home Decor
As you can see, I made several of fabric covered books from different flannel shirts.
I love how my book decor turned out, and are the perfect cozy home decor to add during the colder months.
Settling down by the fire with blankets and hot tea is the quintessential definition of a hygge home. And this upcycling idea for book decor is an easy and inexpensive way to get that cozy feeling.
*****
I'm also excited to announce that my first book is now available! If you enjoy upcycling clothing and simple sewing projects, then you will love my book on flannel crafts!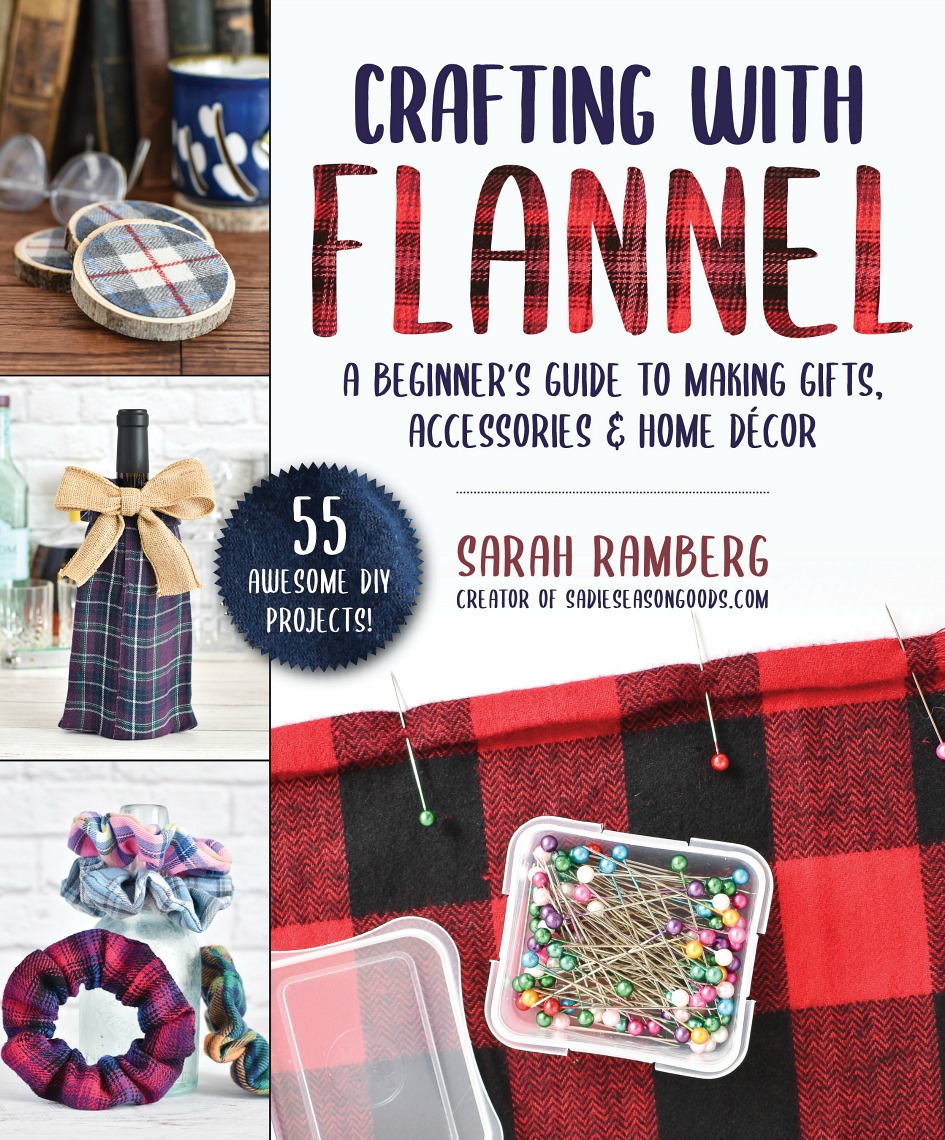 *****
If you enjoyed this upcycling idea for decorative books with flannel fabric, then you may also be interested in this collection of repurposed projects for flannel shirts, as well!
Craft on!
S
Want to be notified when I publish my next upcycling project tutorial?
Subscribe to Blog via Email
Join me on Social Media: