One thing that all crafters have in common is dealing with craft room organization (or the lack thereof). We have so many materials (lots of them little and spill-able), and craft paint storage or paint storage in general is often a problem. I mean, let's face it…those little bottles of craft paint can really get out of hand!
After falling in love with this paint storage idea from Create & Babble, I wanted to create something similar.
But of course, I wanted to repurpose something as part of my project. So, I decided to use some wooden drawers that I found at Habitat ReStore.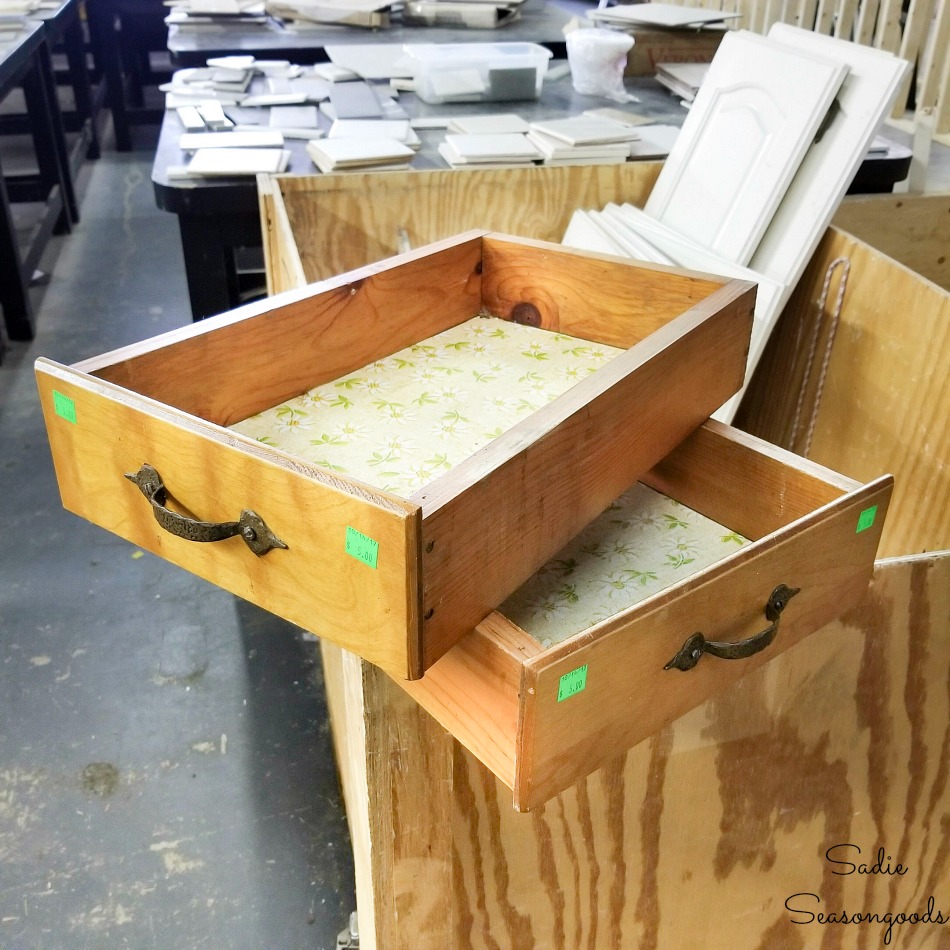 I found these old kitchen drawers during a 50% sale (in fact, I found 3)! I loved that they were solidly constructed and I also loved the retro liner paper inside each one.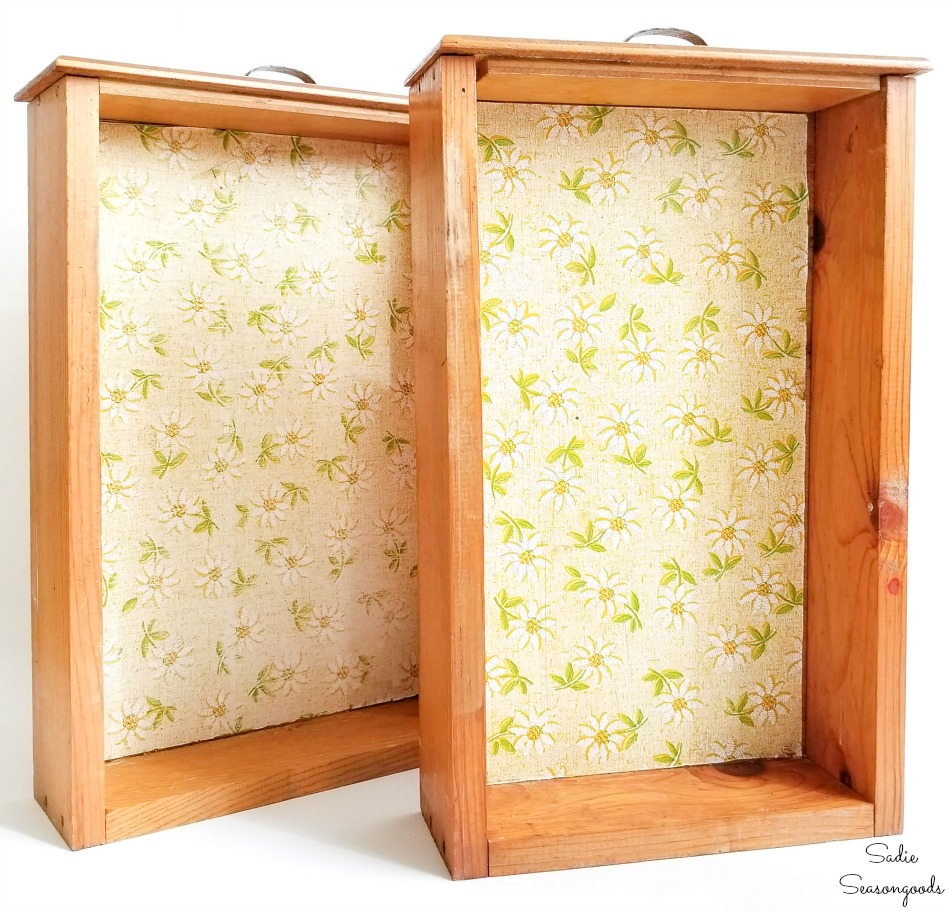 Because I had different sizes of craft paint, I wanted a few different options for craft paint storage.
So, we grabbed some inexpensive birch plywood, some tools, and got to work!
This post contains affiliate links for your crafting convenience. As an Amazon Associate, I earn from qualifying purchases. All blue, bold, and underlined text is a clickable link, either to a product or to a related post.
Upcycling the Wooden Drawers as Craft Paint Storage
First, we needed to create the shelves for all my little bottles of craft paint! And I wanted them to be angled so that the bottles of craft paint would be slightly angled up.
After measuring the drawer length and taking into account the space needed for rows of little bottles, Jon used a speed square to measure out 15° beveled shelves. Next, he cut them from the plywood with our circular saw.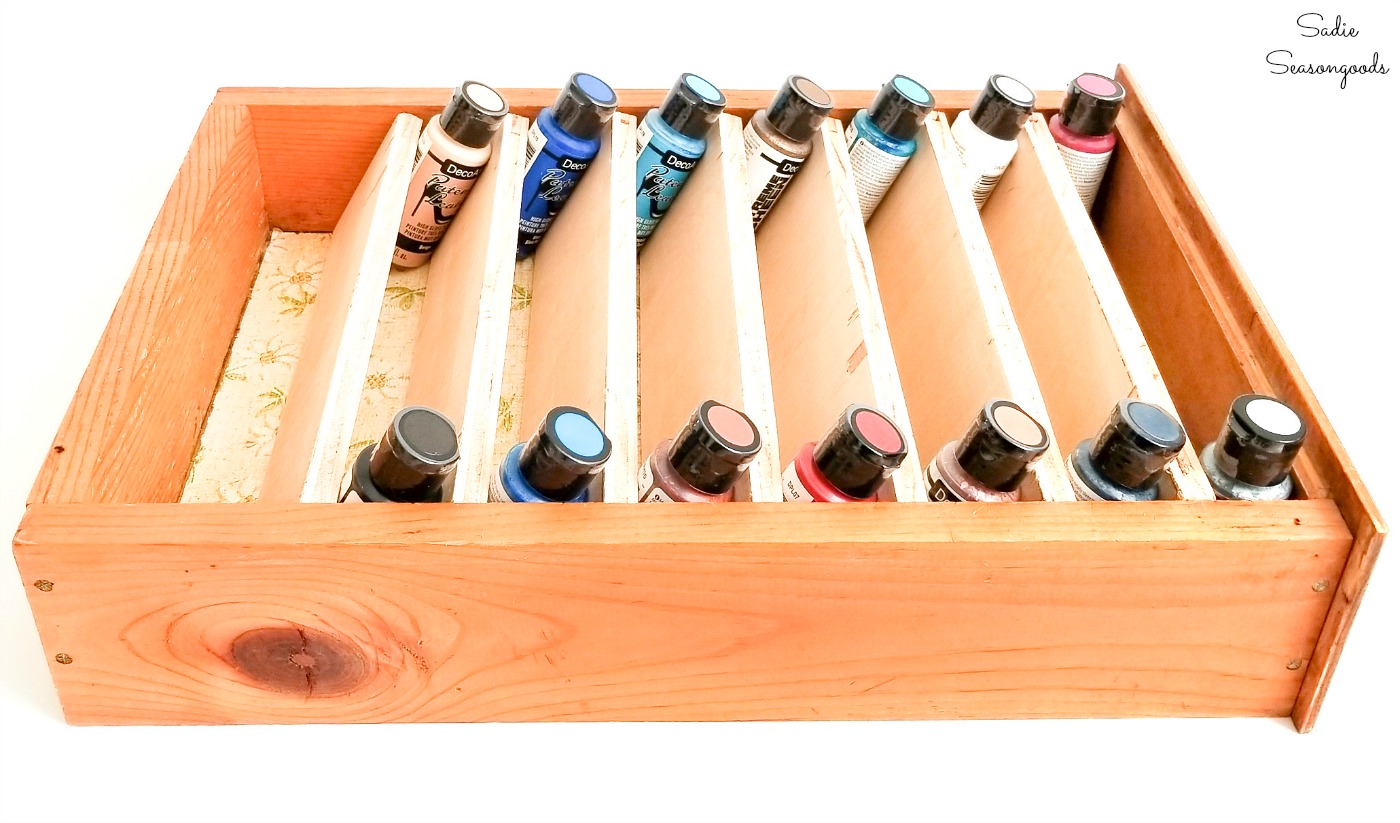 I set them in the old kitchen drawer so you could see what my plan was. But they're not screwed in yet.
See how they are cut at an angle? This will keep the craft paint bottles tilted up while stored in the acrylic craft paint rack.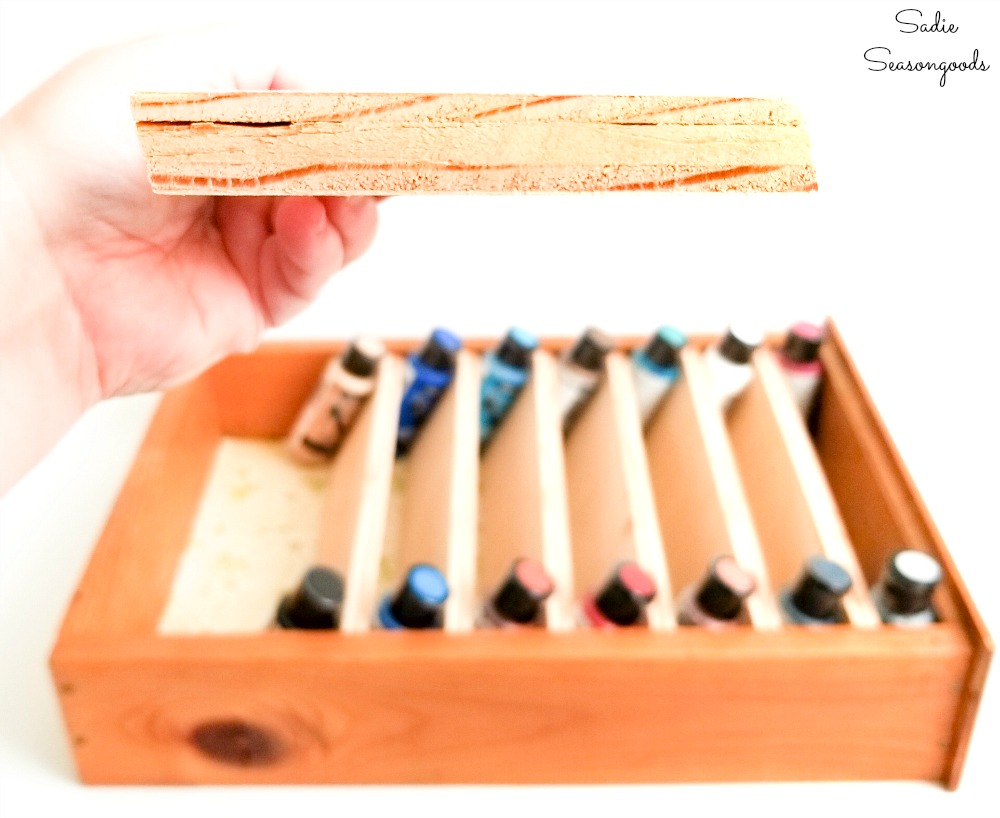 Next, I wanted straight shelves for my collection of short, squat craft paint bottles.
So, Jon measured and cut out basic shelves for the smaller wooden drawers that I had bought at the thrift store.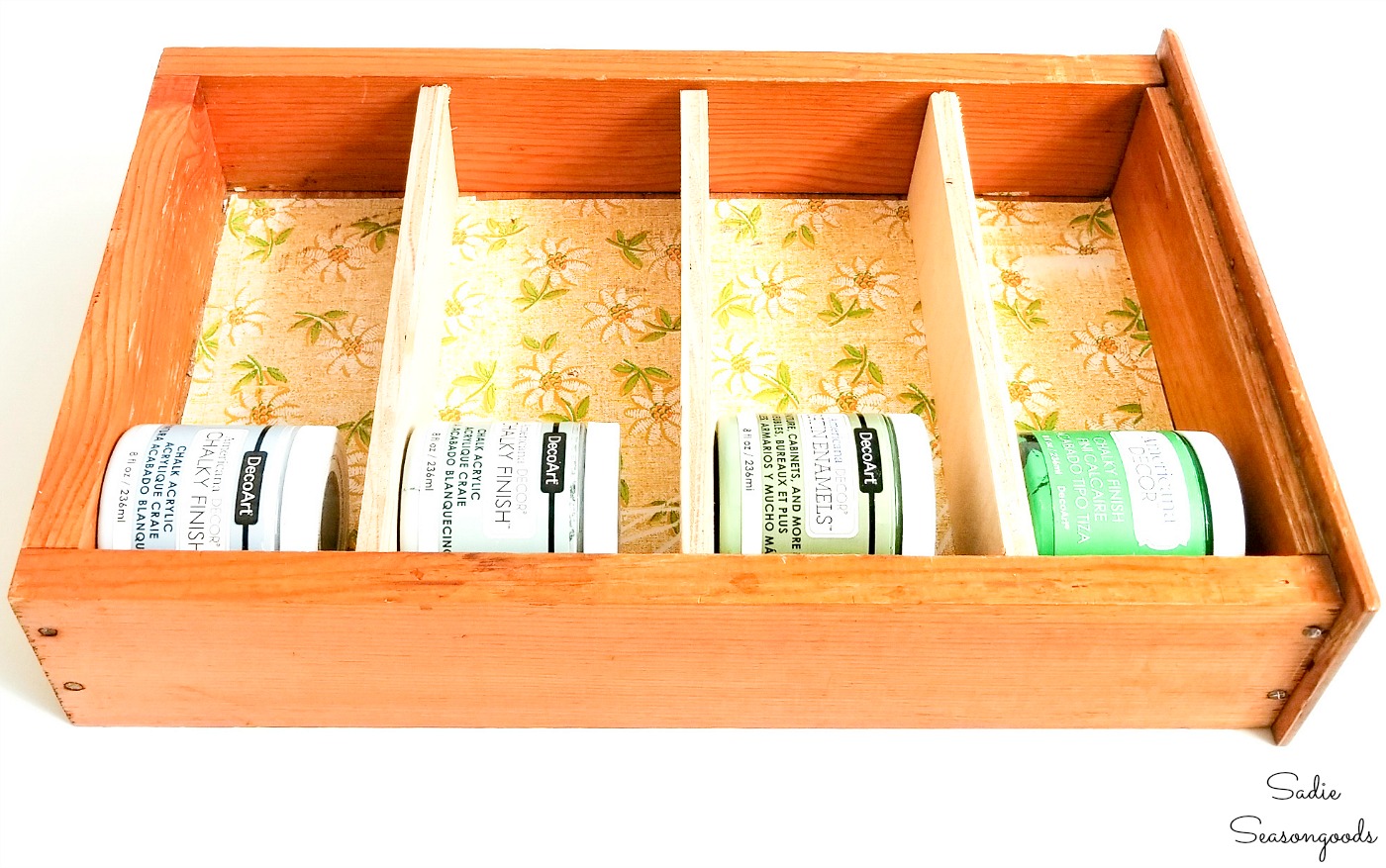 These will sit straight inside the drawers to hold fatter and shorter bottles of craft paint.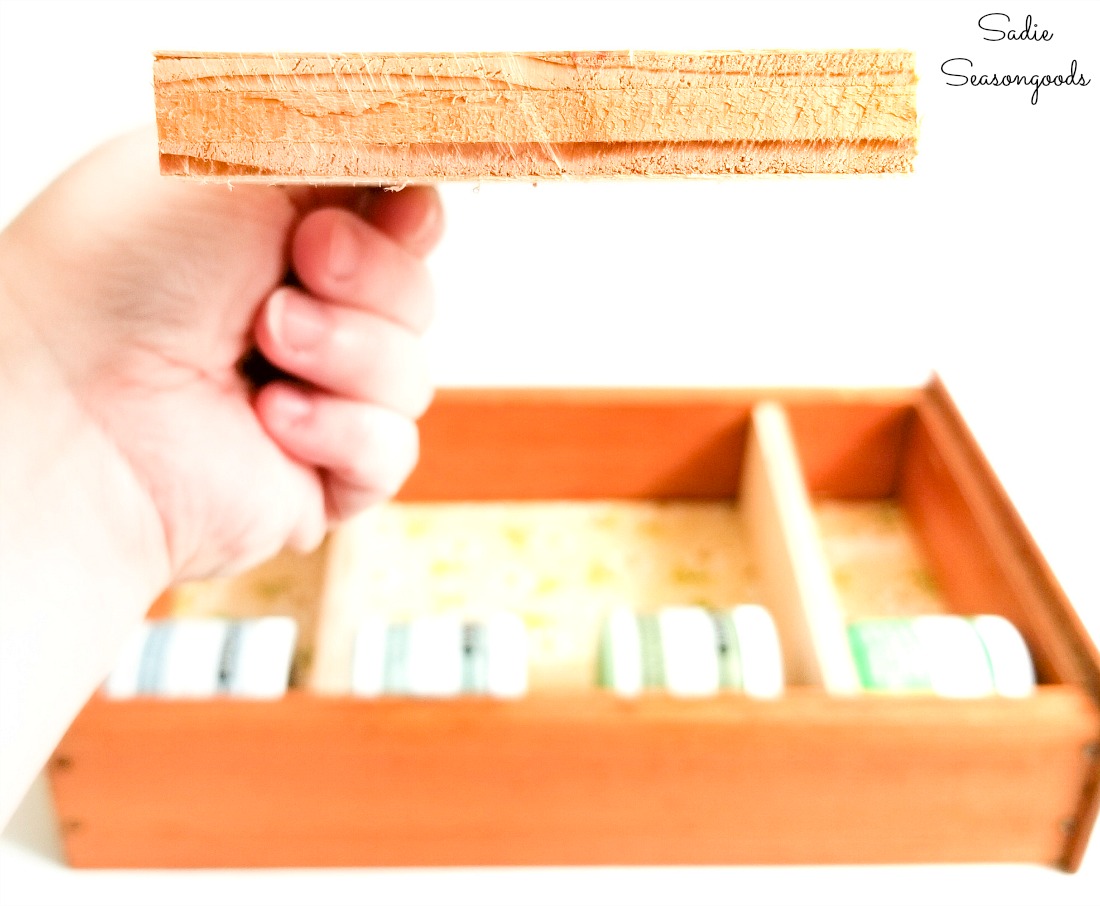 Once all the shelves were cut and sanded down, I painted everything (drawers and shelves) in a basic white paint.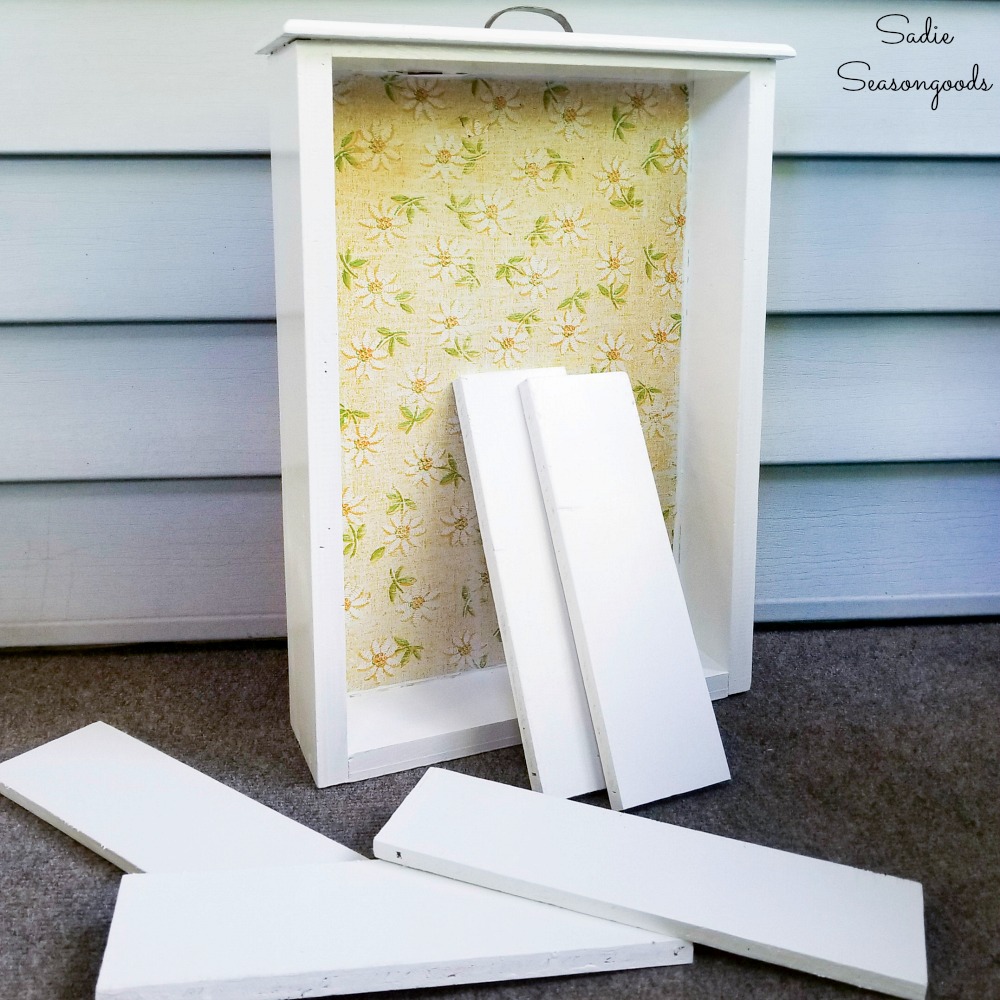 And when the paint was dry (two coats on all surfaces), we set up shop to attach the shelves!
DIY Craft Storage for Acrylic Craft Paint Bottles
First, we drilled in the beveled shelves inside the largest drawer (set 2" apart to accommodate the craft paint).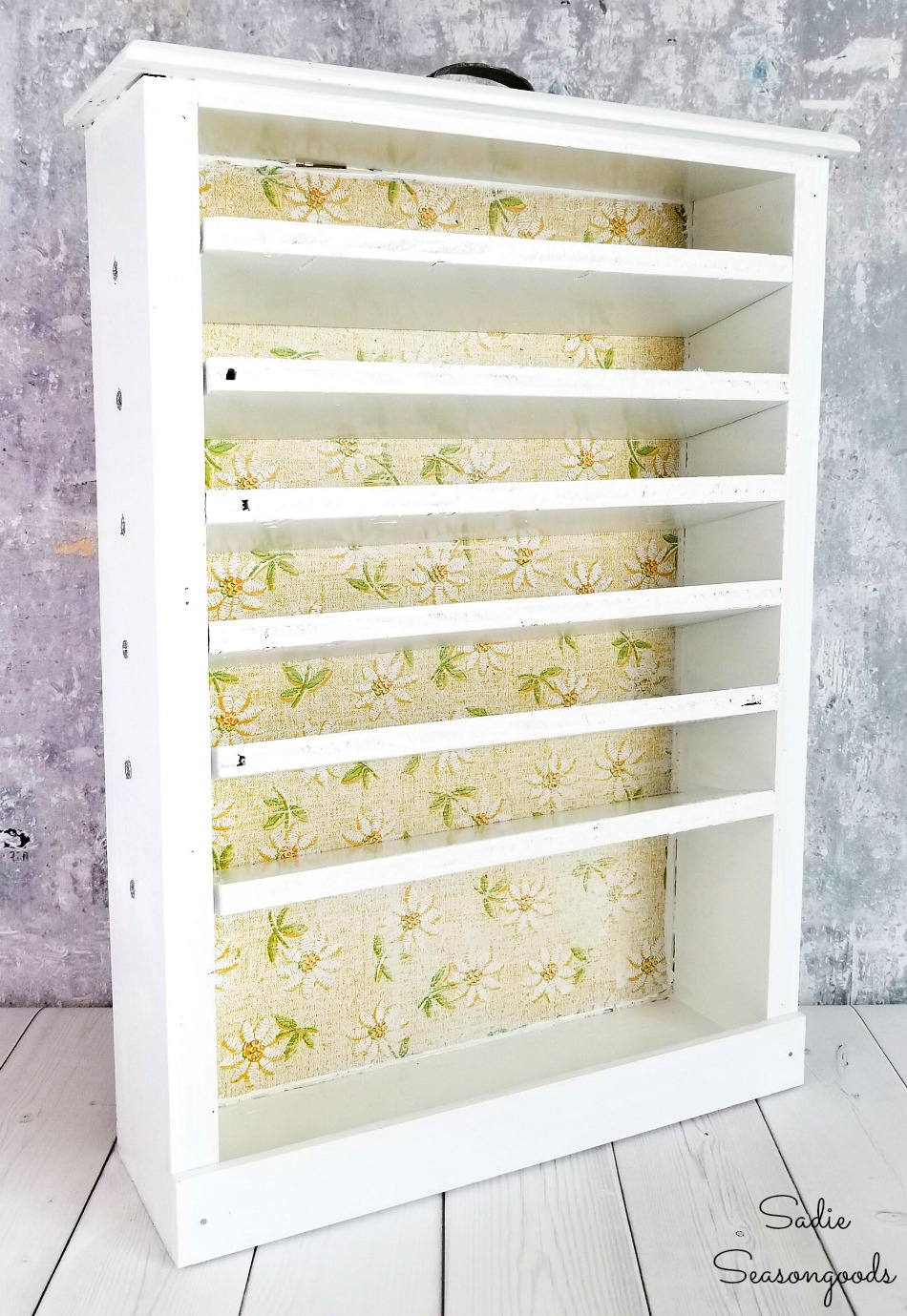 Because of an aggressively large wood knot near the bottom of the drawer, we decided to just attach a small piece of trim along the bottom upon which I could stack bottles.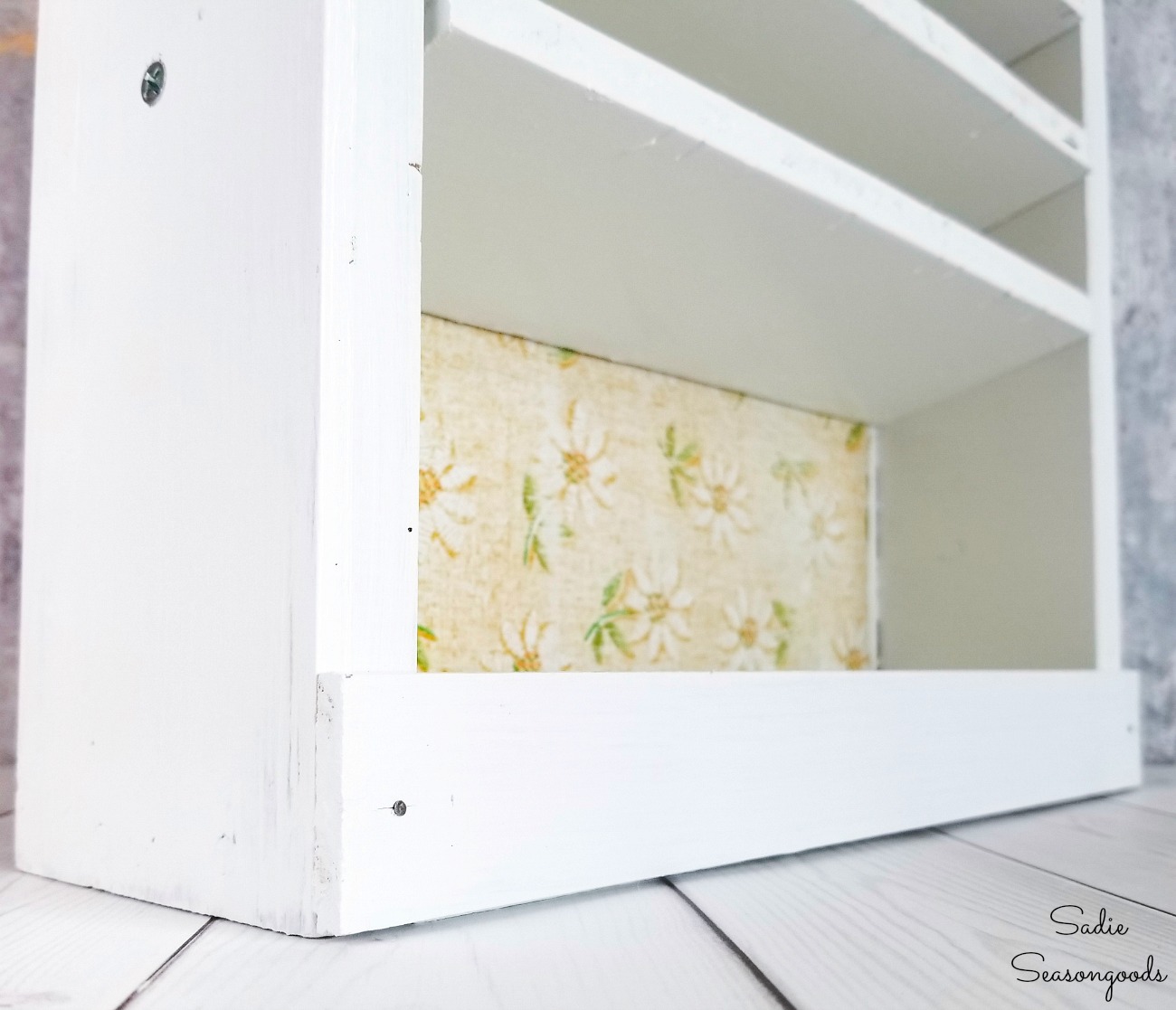 Then, I started filling the shelves with bottles of craft paint. And let me tell you- the wooden storage shelves worked PERFECTLY!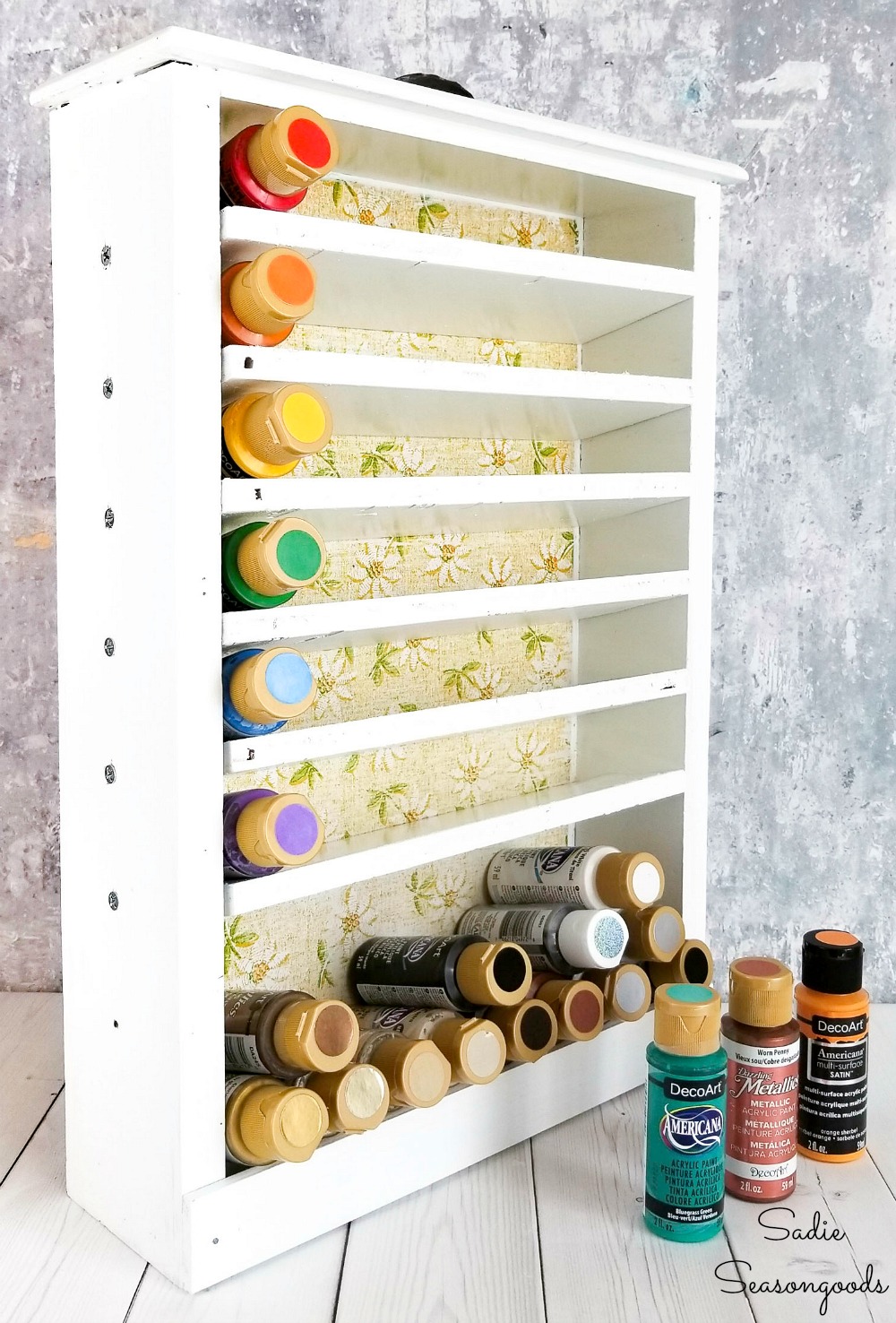 It was almost like an open paint locker for acrylic craft paint. Complete with a handle on top for carrying around!
Next, we did the same thing with the smaller drawers.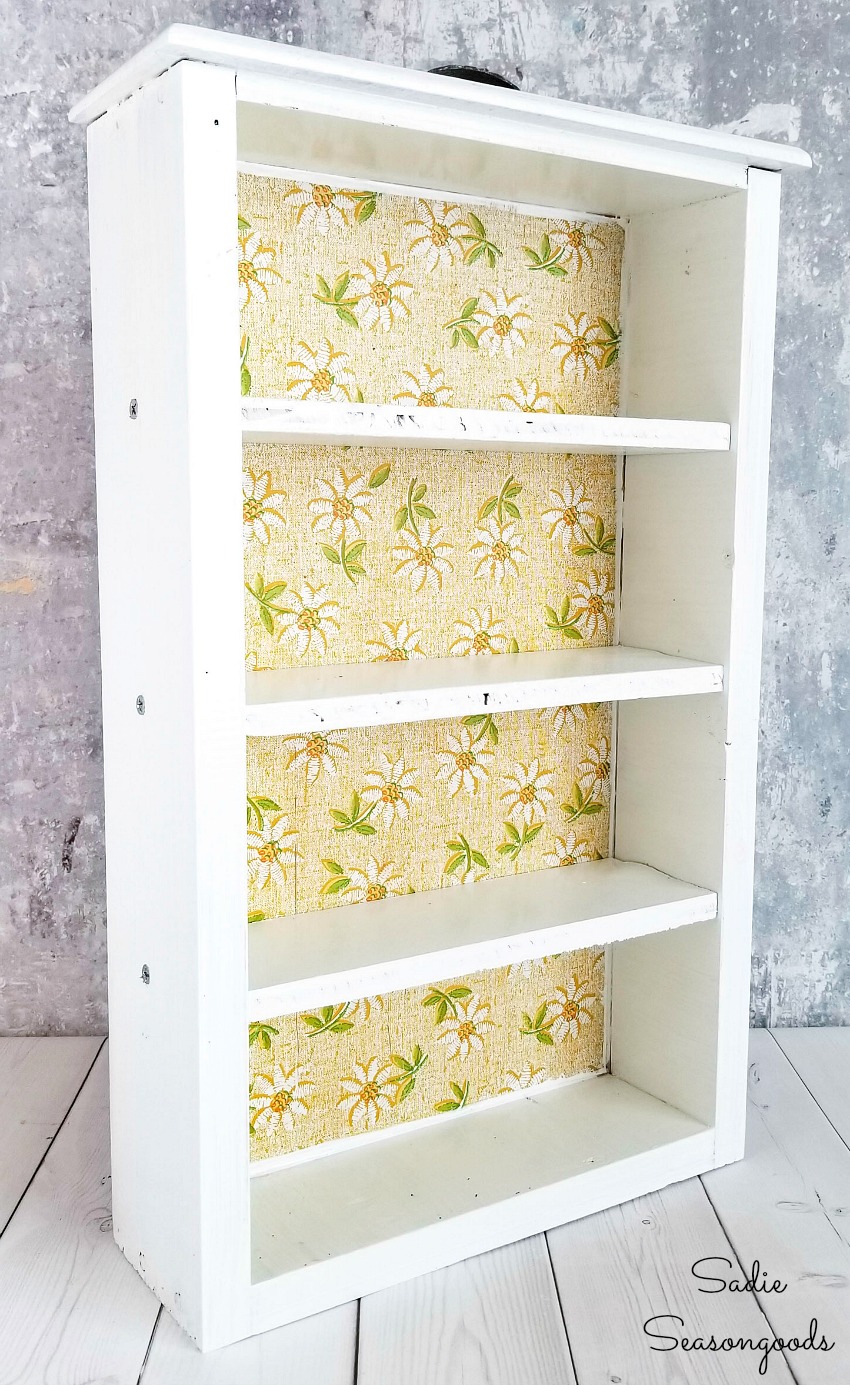 I was thrilled to finally have craft paint storage that was going to make a HUGE difference in organizing my craft room!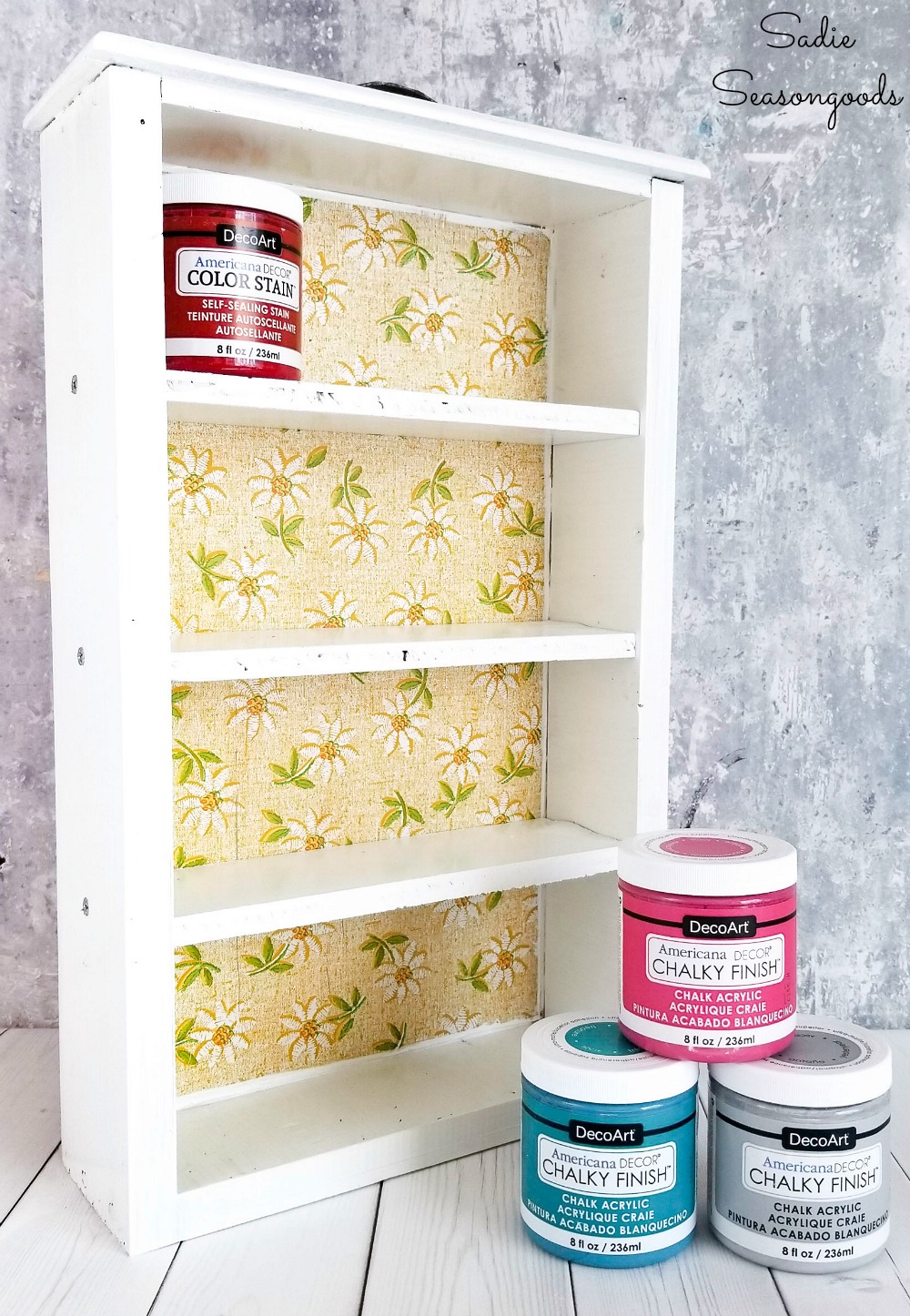 Craft Paint Storage in Wooden Drawers
It didn't take long for me to fill up the wooden drawers with all my little bottles of craft paint. Look how colorful and cheerful they look!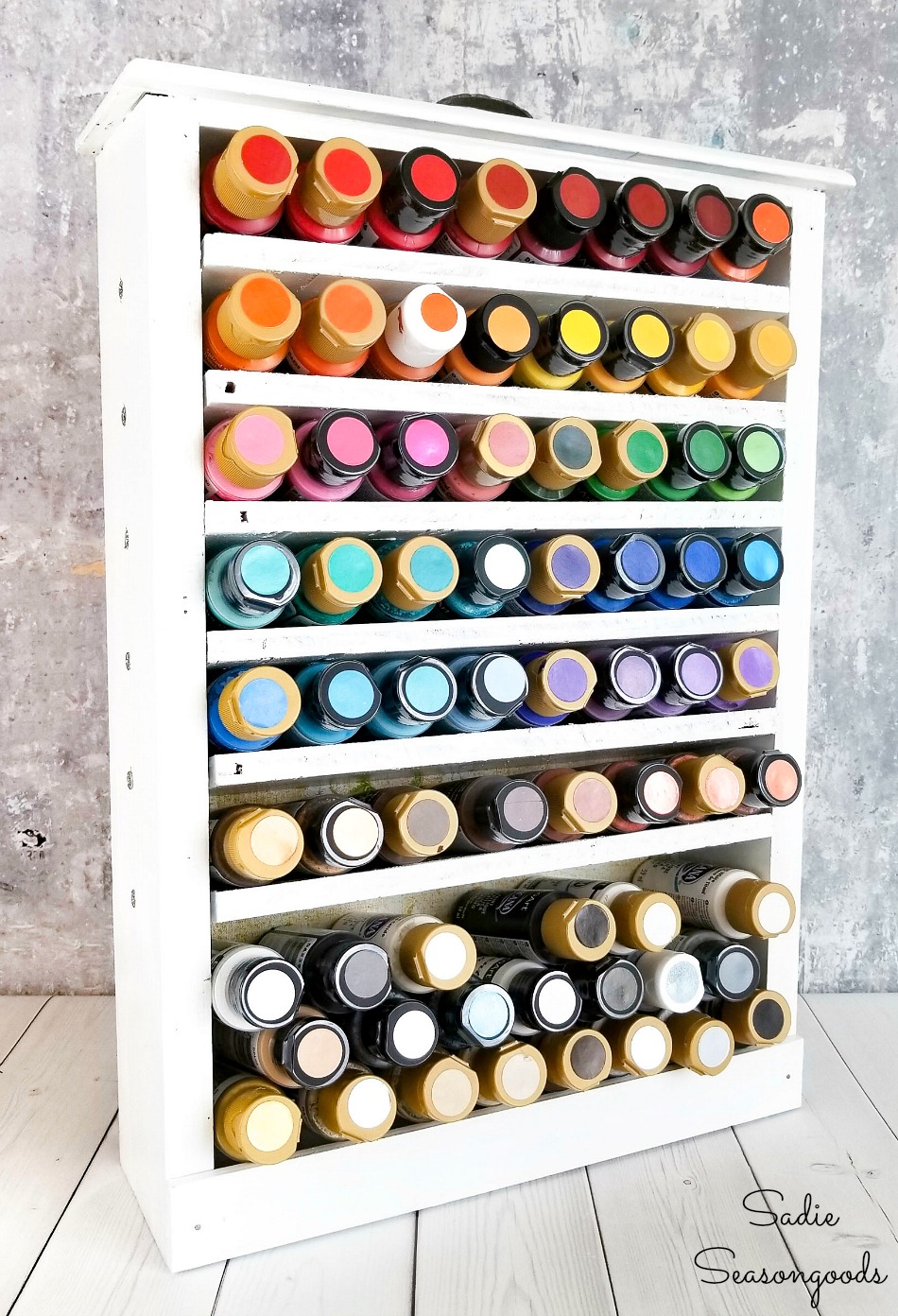 I love that DecoArt paint has stickers on the tops- that way, I can set them on the shelves with the tops out (to prevent leakage) and still see the color.
And the white paint really lets the paint colors pop, eh?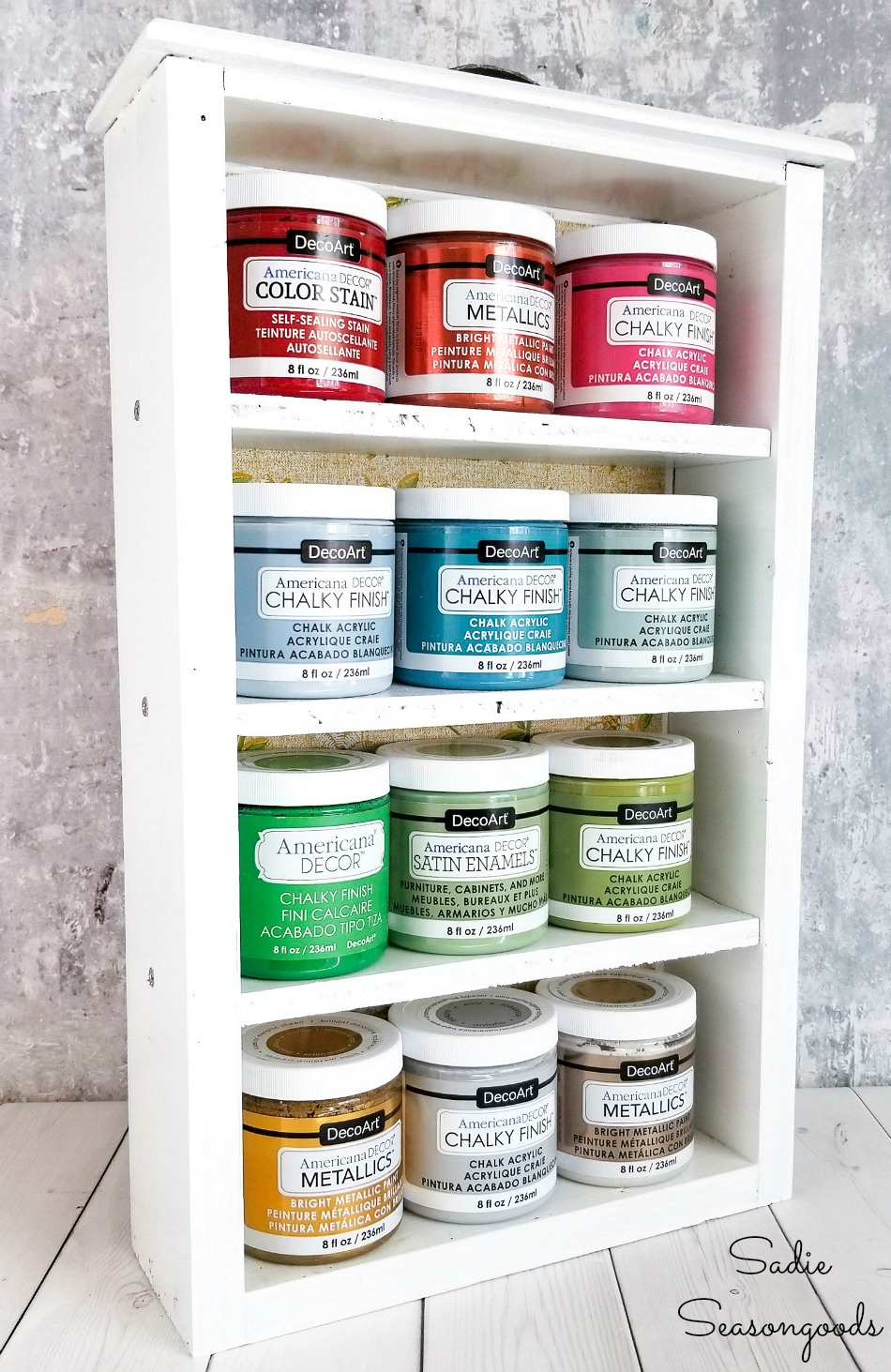 Because the wooden drawers have handles on top, I can carry them around!
We will eventually hang them (using load-bearing anchors) in my craft room. But until then, my craft paint storage needs are taken care of in a fun, upcycled way.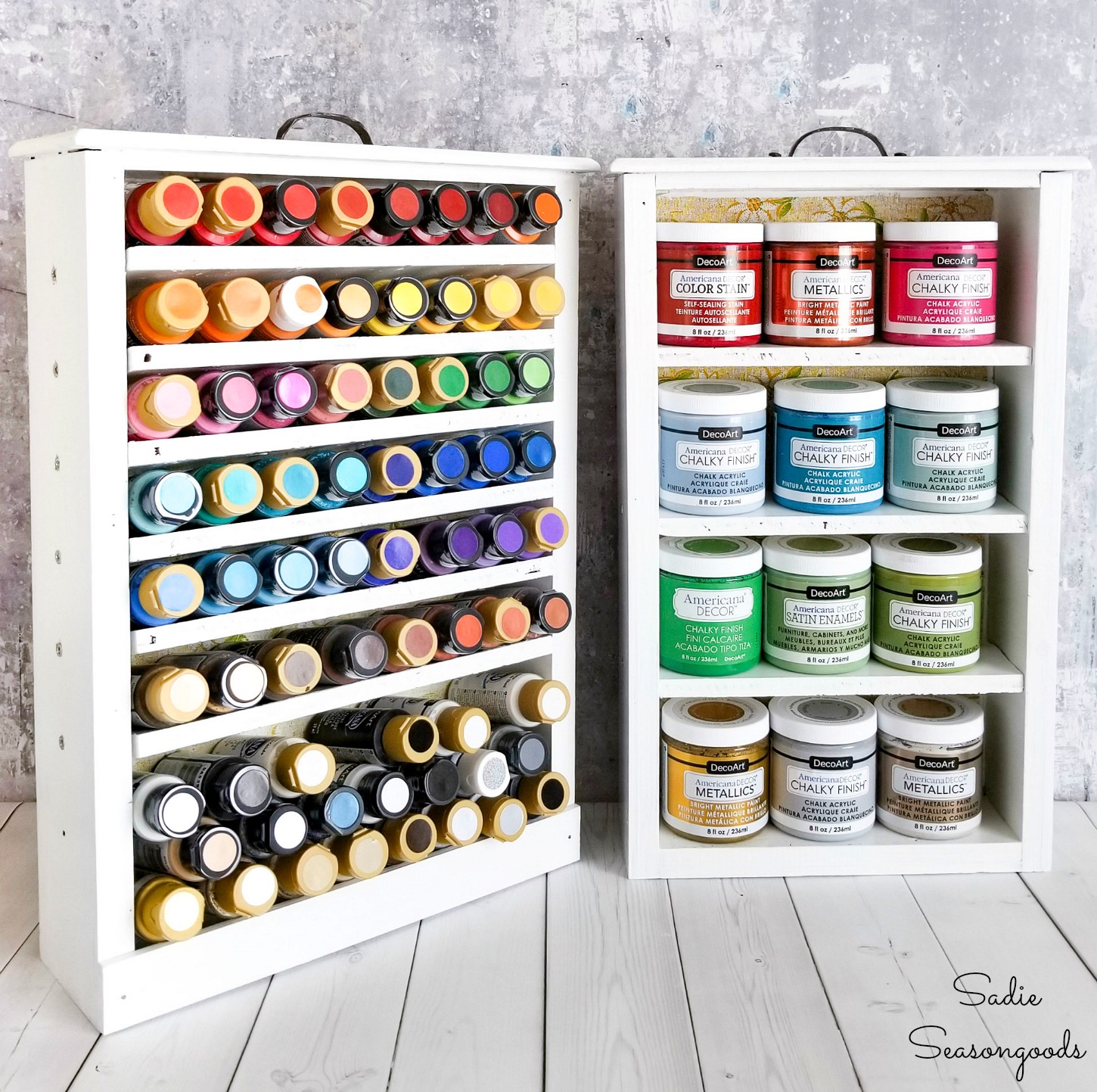 If you enjoyed this upcycling idea for craft room storage, then you'll love these craft organizers that also started out as thrift store finds!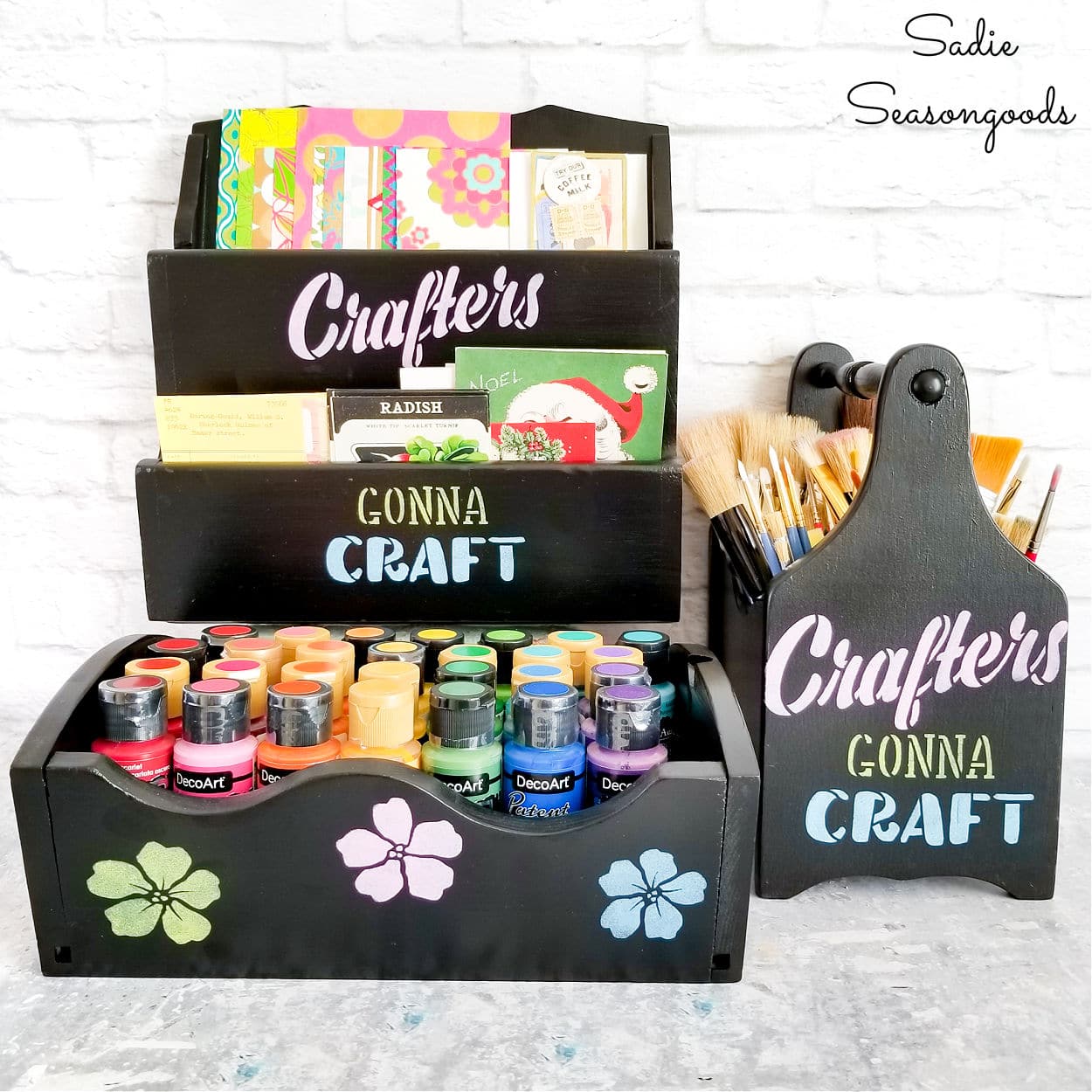 Craft on!
S
Want to be notified when I publish my next upcycling project tutorial?
Subscribe to Blog via Email
Join me on Social Media:



PIN ME!