Admittedly, I'm not usually a fan of painting brass. But every now and then, I'll make an exception for the right piece. And this decorative scale that I found at Habitat ReStore was definitely meant to be one of those exceptions.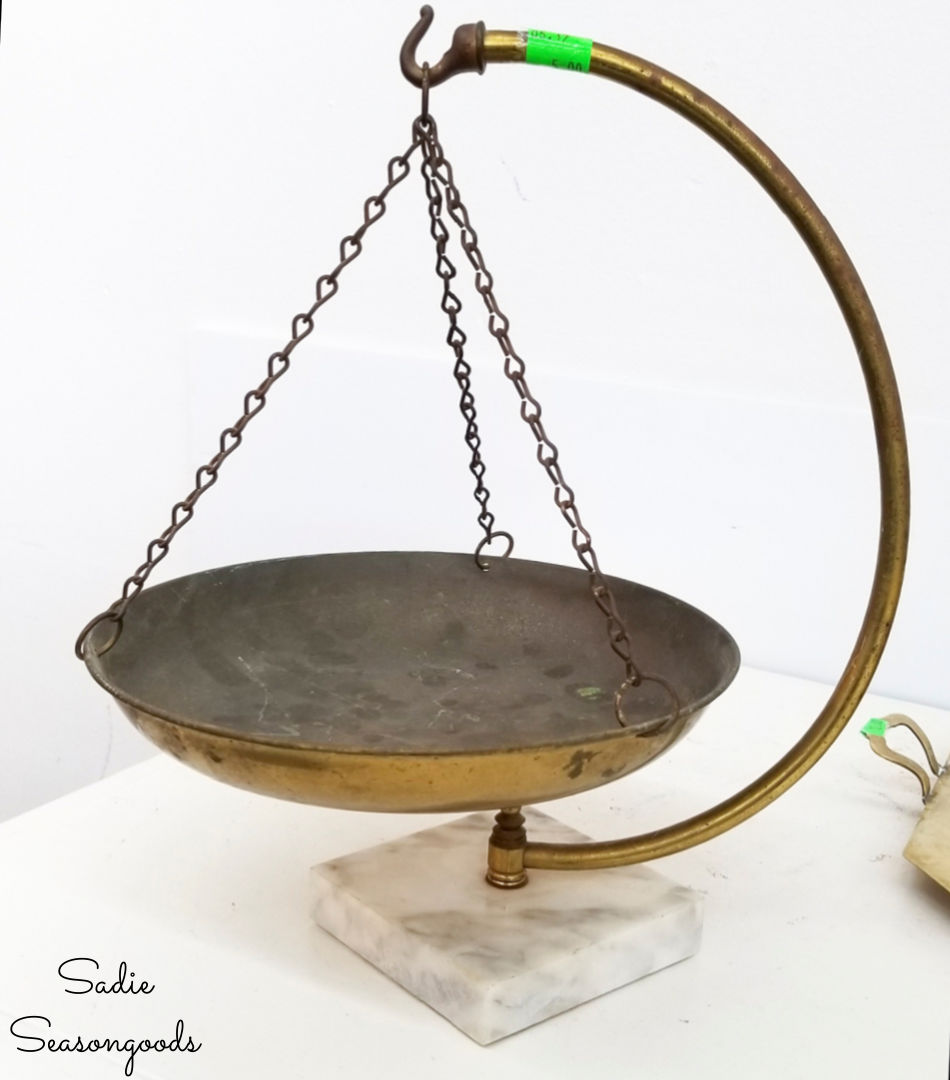 I'd never seen anything quite like it- perhaps more of a hanging bowl than a brass scale. Either way, on its little marble base, it was just too unusual and interesting to pass up!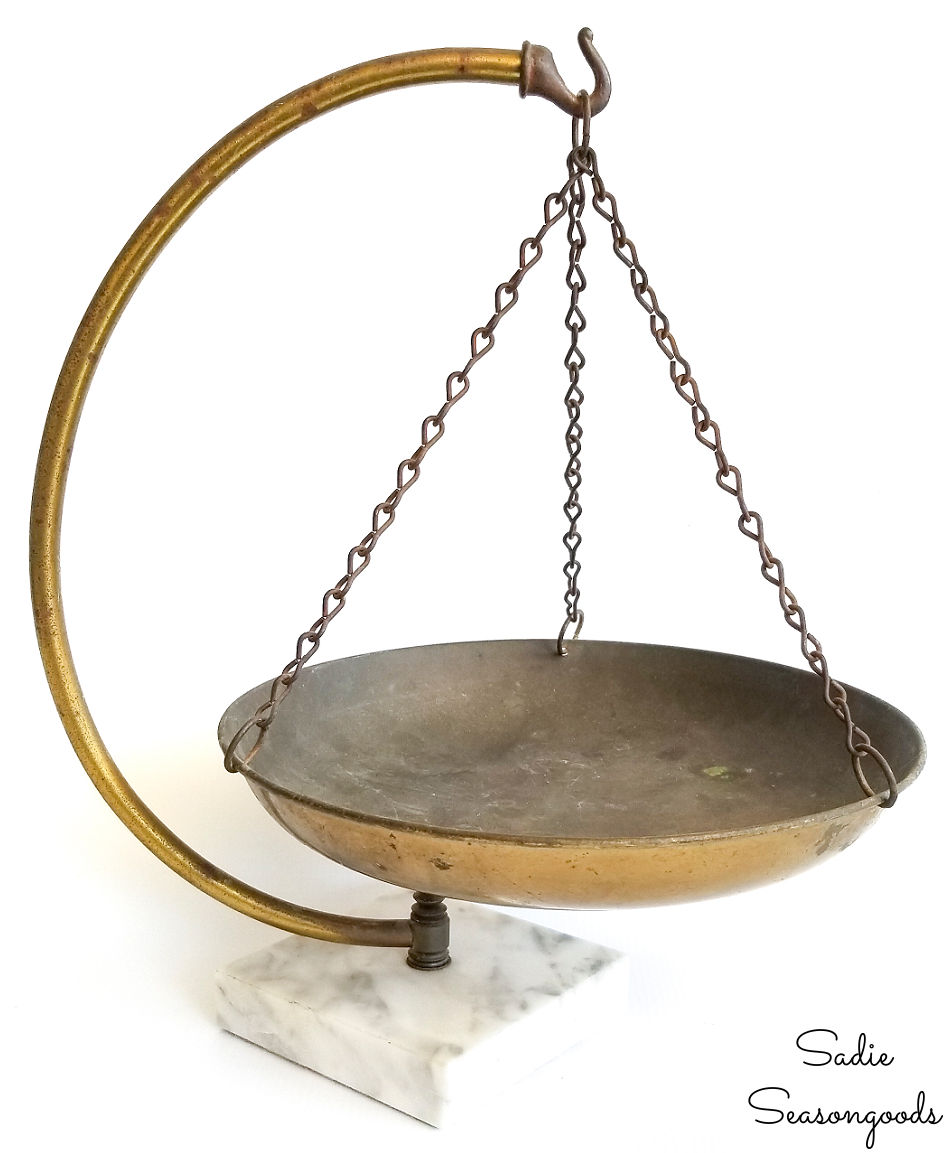 The brass itself, however, was in terrible condition- particularly the inside of the bowl. I'll never be certain, of course, but I'm strongly suspected that it had been used as an ashtray in its previous life.
Blech.
But, it deserved a second chance with an easy makeover, using a similar process that I followed for this vintage brass lamp. So, I disassembled the scale; hand washed and dried everything; and gathered the paints and supplies that I'd need!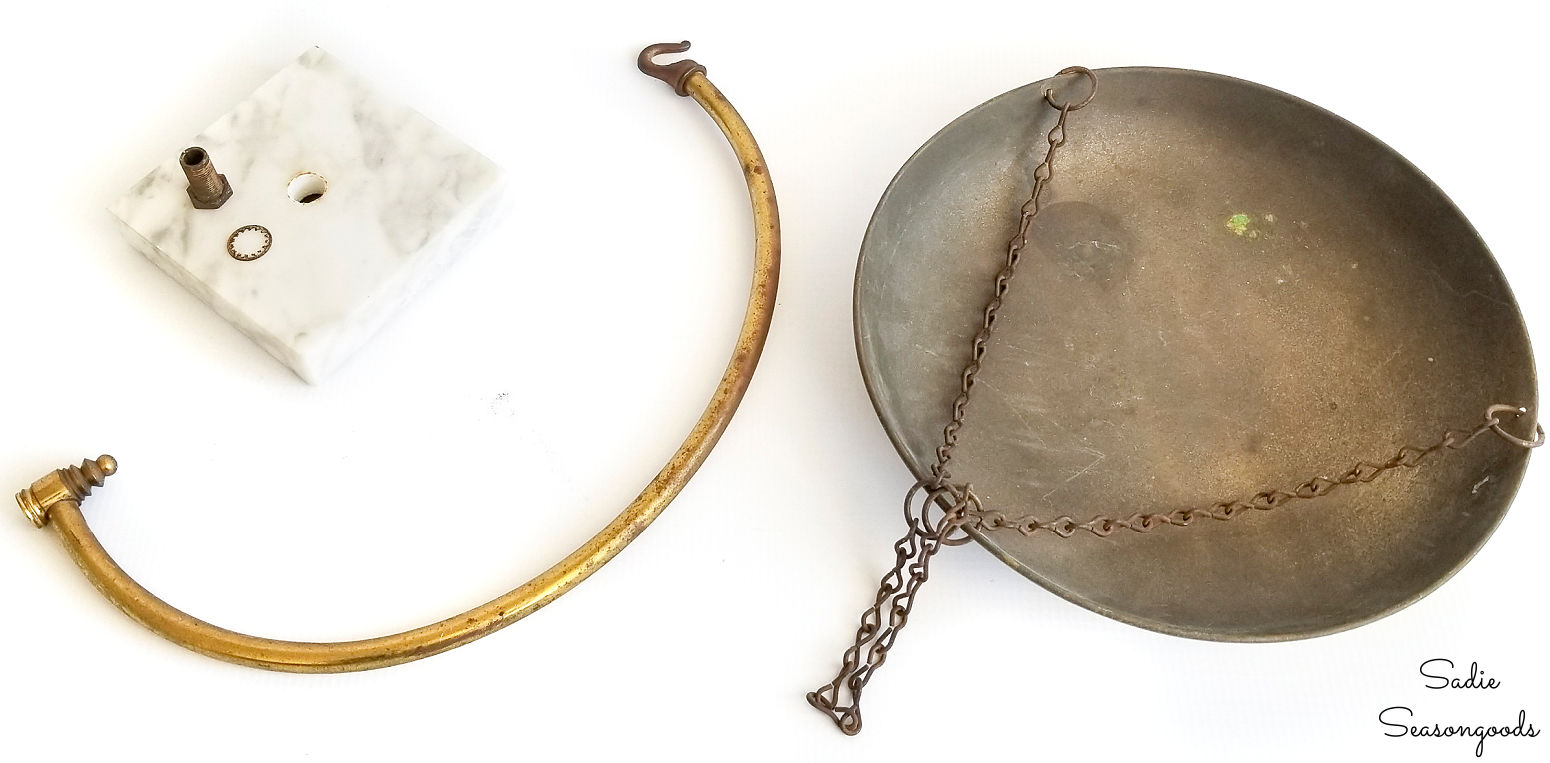 This post may contain affiliate links for your crafting convenience. As an Amazon Affiliate, I earn from qualifying purchases. All blue, bold, and underlined text is a clickable link, either to a product or to a related post.
Painting a Vintage Brass Scale
First, I decided to makeover the decorative scale as two different parts: the hanger/base and the bowl/chains. I needed to coat each with metal primer before anything else.
For the base, I wanted to take advantage of the fact that it could stand on its own. But I needed to protect the marble! So, I drilled a hole in a to-go container lid and slid it over the connecting bolt as a shield!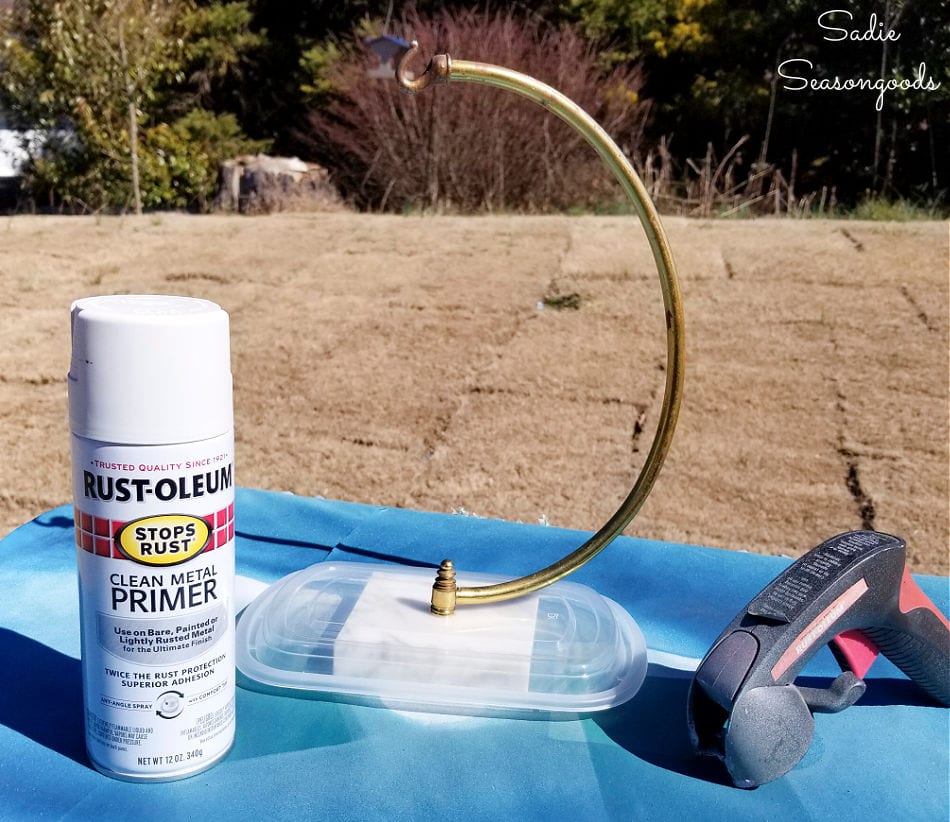 When it came to the bowl, I primered the underside of it first.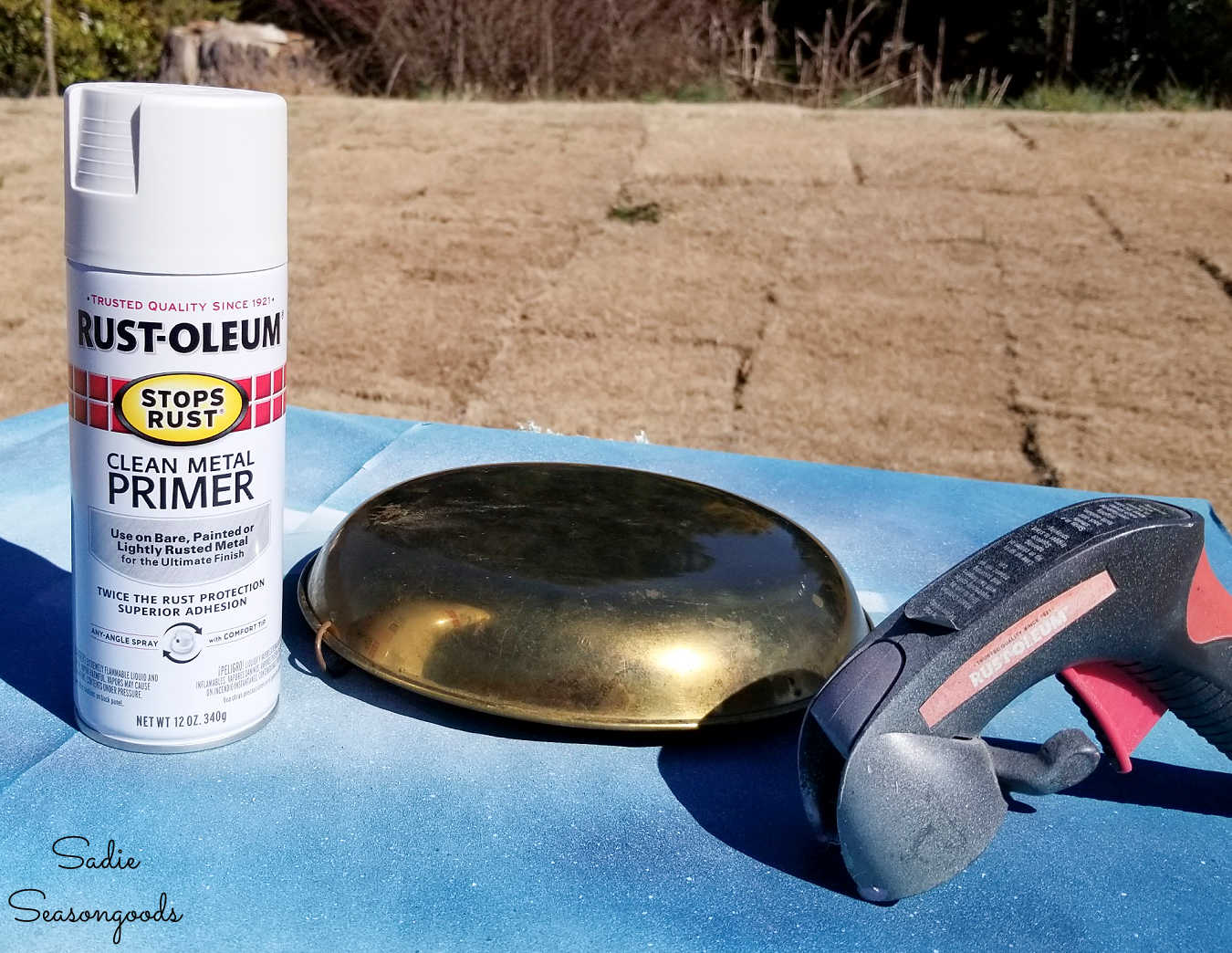 For the concave side of the bowl (and chains, too), I tied a long loop of kitchen twine through the top ring. I held the bowl/chains by the string and primered it while holding it.
Then, I simply hung it on a shepherd's hook in our yard to dry!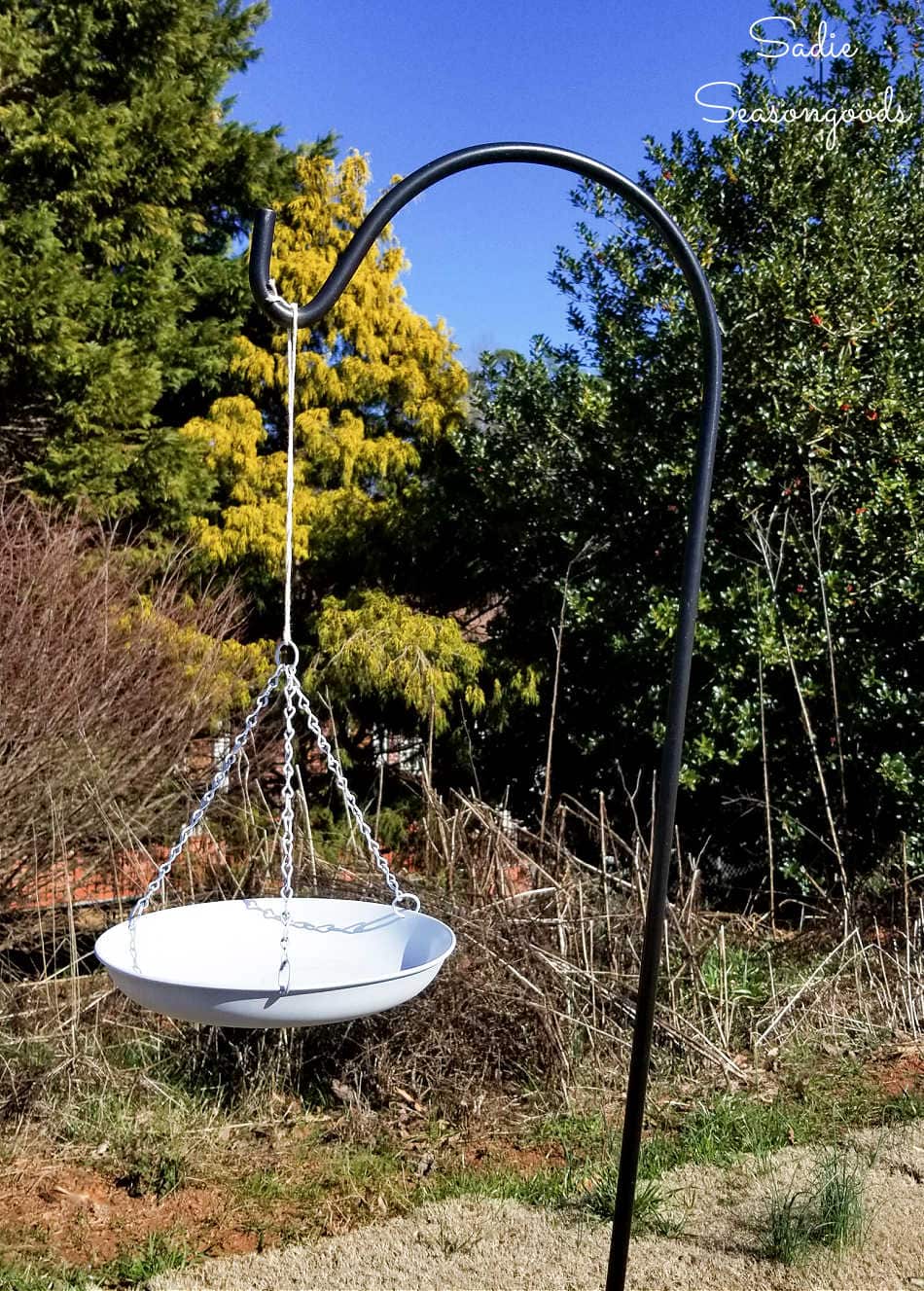 As it dried, I carefully moved some of the joining rings to ensure that I primered the parts that had initially been resting against the chains and/or bowls. That way, I could touch up any parts that had missed the initial coat of primer.
When all was said and done with the metal primer, I grabbed my spray paint of choice to finish my decorative scale makeover.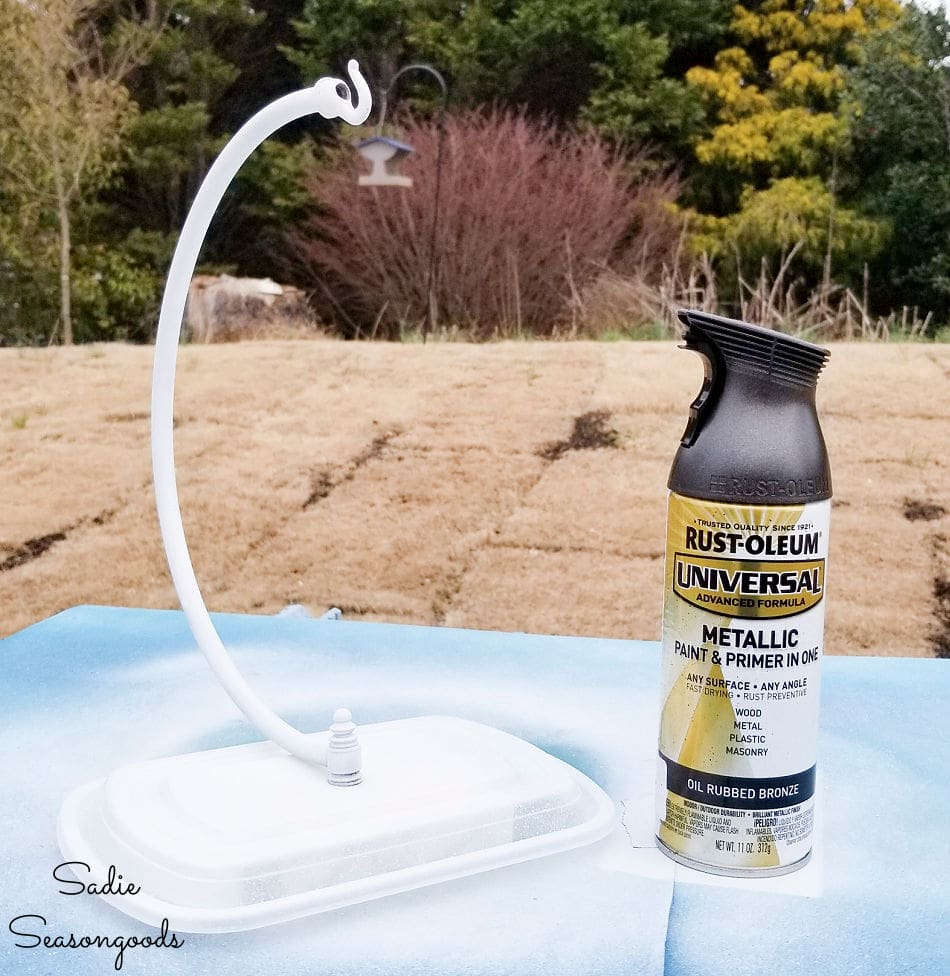 Oil rubbed bronze was obviously a lot darker than the original brass, but it's one of my favorite metallic paints!
And I went through the same motions as I had with the primer to ensure even and thorough coverage.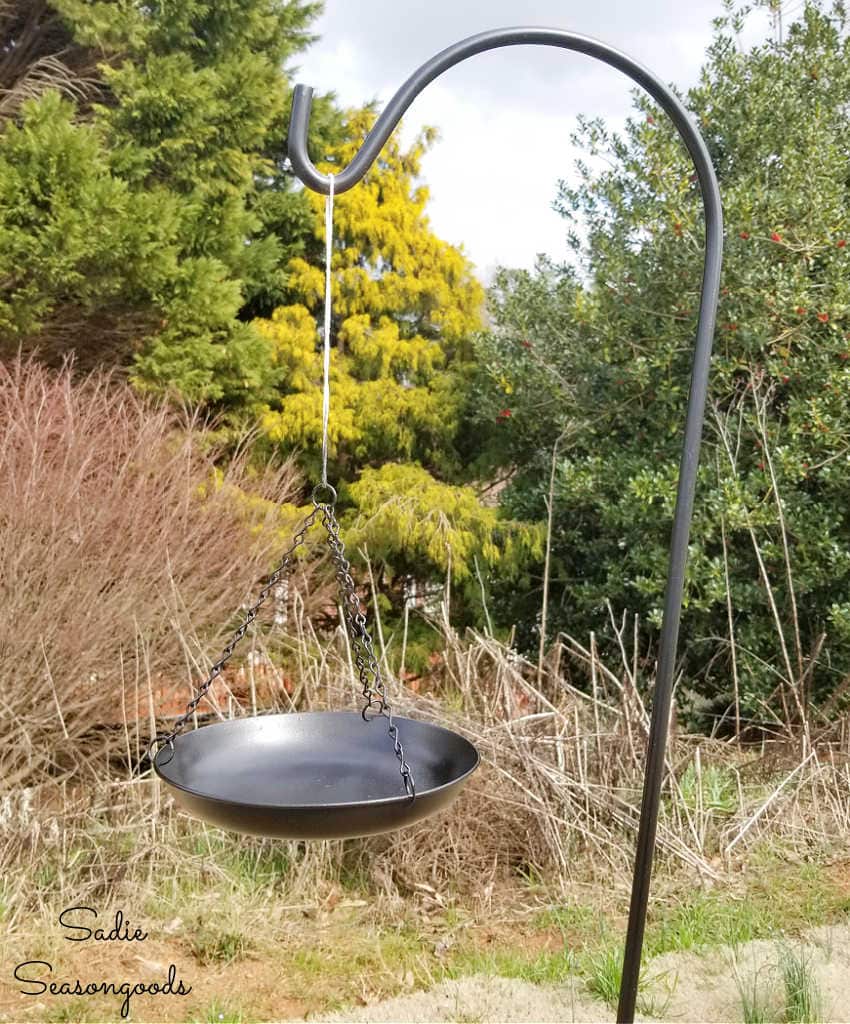 Decorative Scale Makeover
After using a spray satin topcoat on all the parts, I was nearly done! Before I'd started on the primer, I had peeled off the original felt from under the marble base.
It had deteriorated over the decades and made a dusty mess! So, all I did was cut out a new square of adhesive felt and stuck it underneath the marble!
Now it was all done and I could reassemble everything. The darker paint was quite a different look, but I love how it looks in person.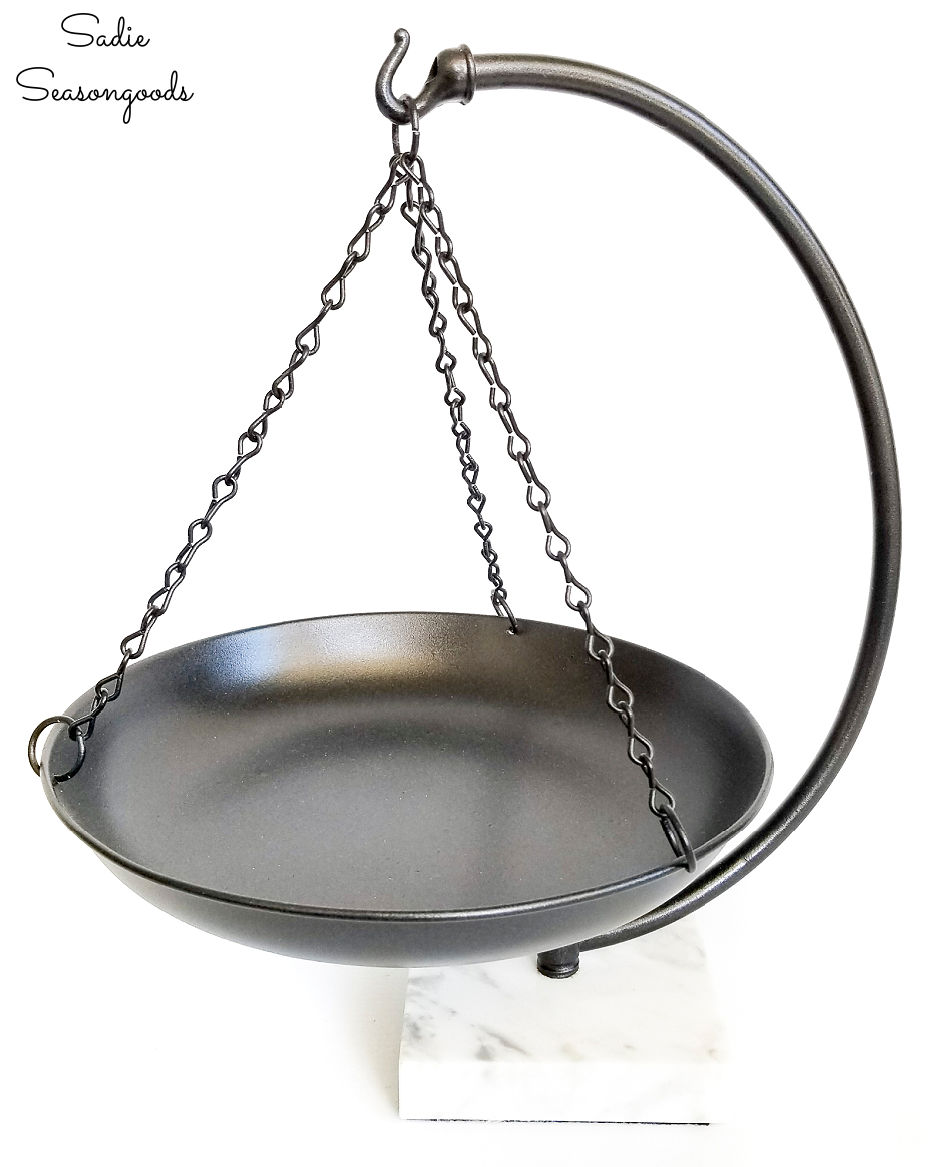 A decorative scale for our coming-along-nicely eclectic living room! I love it as an air plant holder (for faux air plants), but what would you use it to display?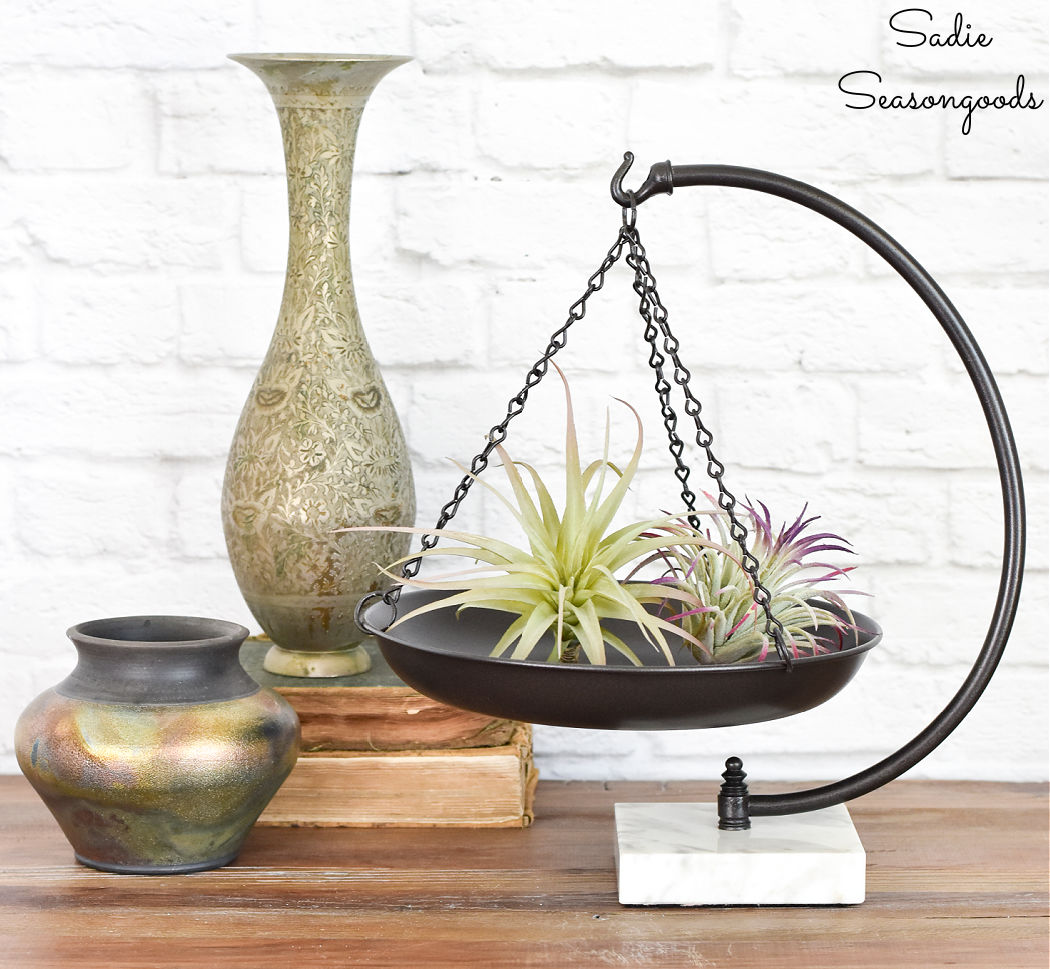 All I know is that it'll never be used as an ashtray again! Poor little brass scale, you deserved better than that.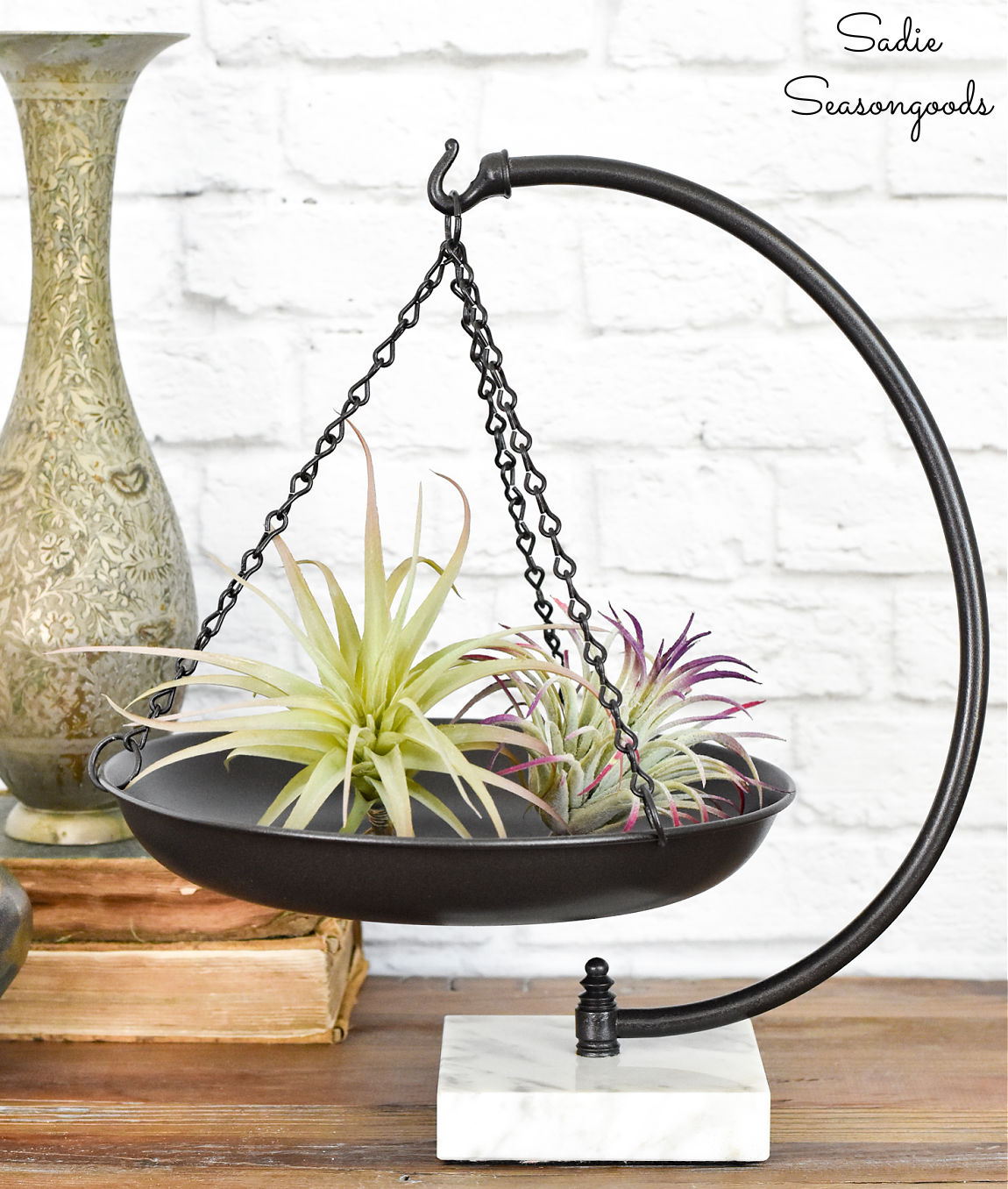 So, tell me- would you have painted the brass or left it as is? Had the inside of the bowl not been so corroded and rough, I might have been able to avoid painting it. But the years hadn't been kind to it, so I have no regrets over painting my little hanging bowl!
If you enjoyed this upcycling idea for a decorative scale, then you may also enjoy how I created this industrial side table. Hint: Think 1980s movie tapes on VHS!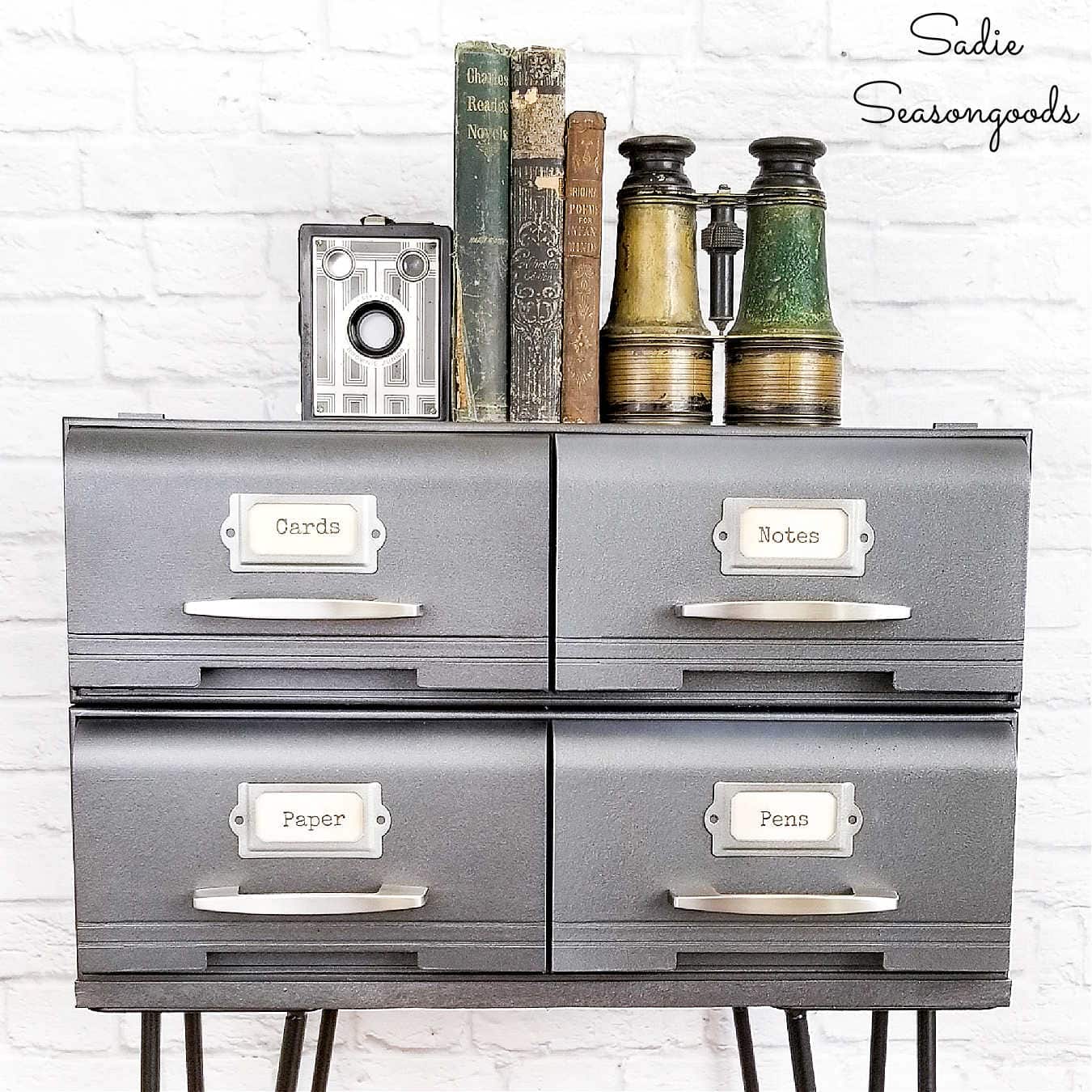 Craft on!
S
Want to be notified when I publish my next upcycling project tutorial?
Subscribe to Blog via Email
Join me on Social Media:

PIN ME!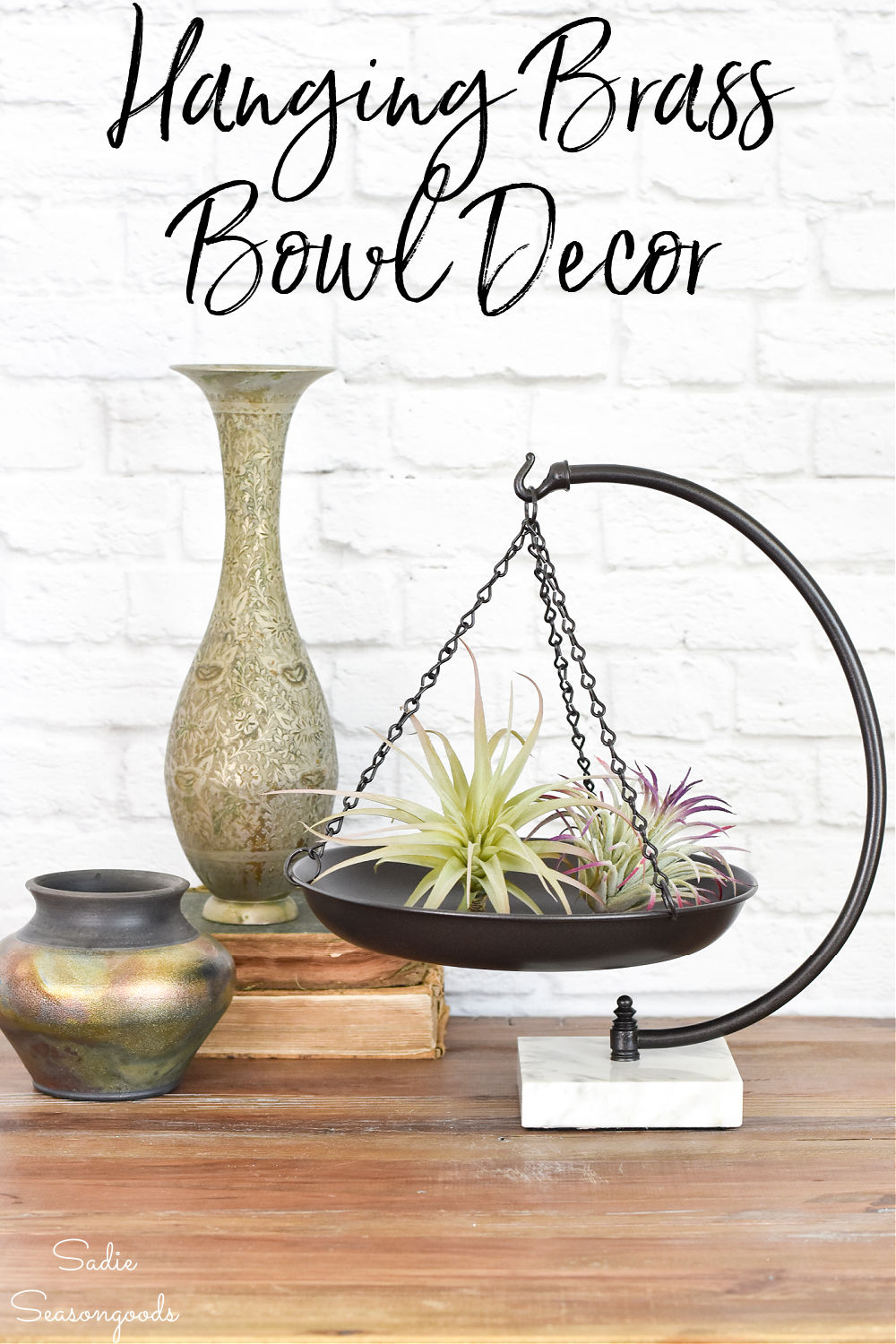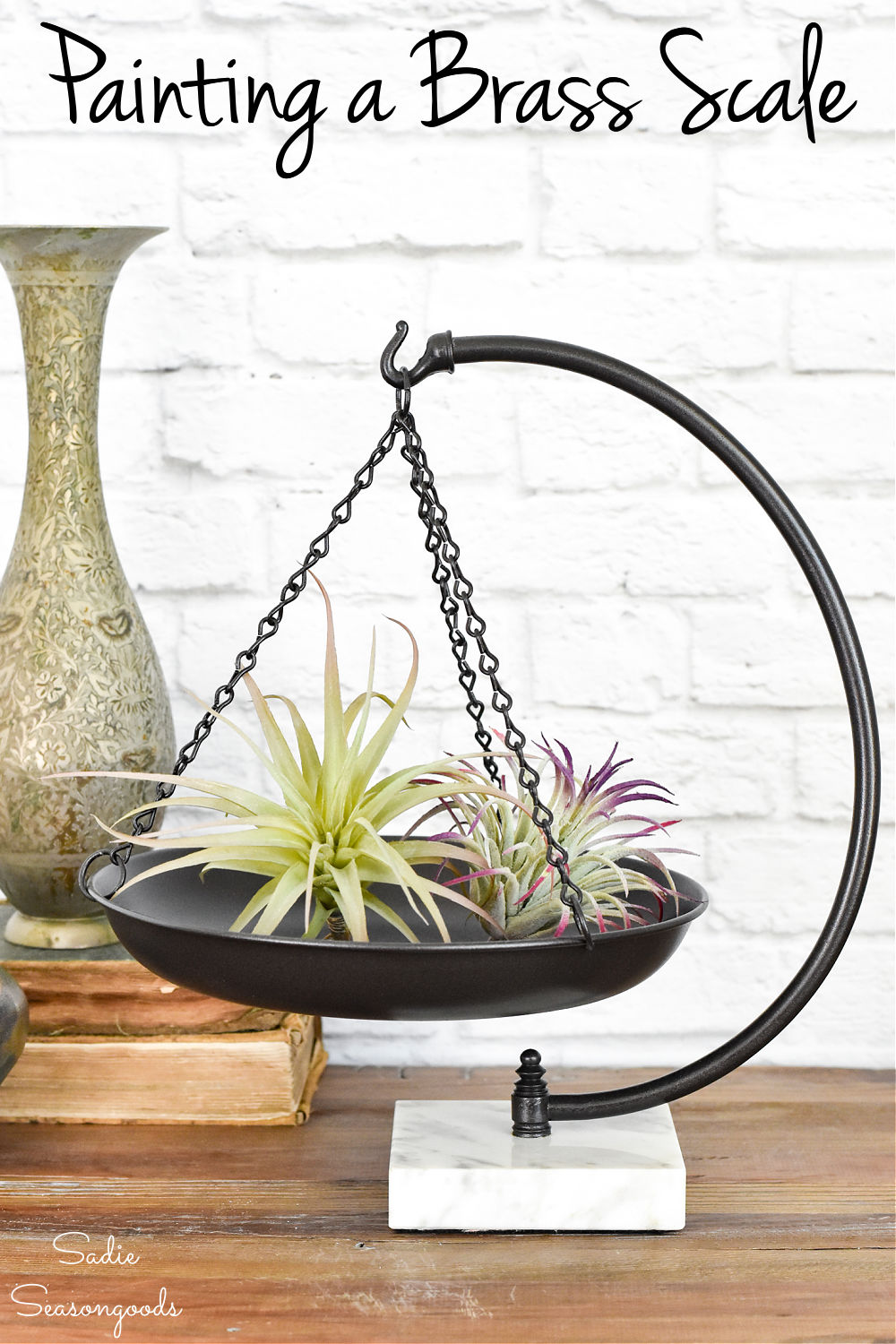 Sarah Ramberg is the owner of Sadie Seasongoods, a website that celebrates all things secondhand. From upcycling ideas and thrifted decor to vintage-centric travel itineraries, Sadie Seasongoods is a one-stop shop for anyone who loves thrifting and approachable repurposing ideas. Sarah is also the author of "Crafting with Flannel" and has been featured in numerous media outlets and magazines.