Several years ago, I saw a rustic birdhouse that was done up like a "junk shop". And while I didn't make the purchase, I never forgot how cute it was. So, when I found this broken birdhouse while thrifting, it seemed like I had been given a second chance at a junky birdhouse. I just needed to fix it up and I already had the right piece of barnwood to do it!
Here's the original (that I didn't buy).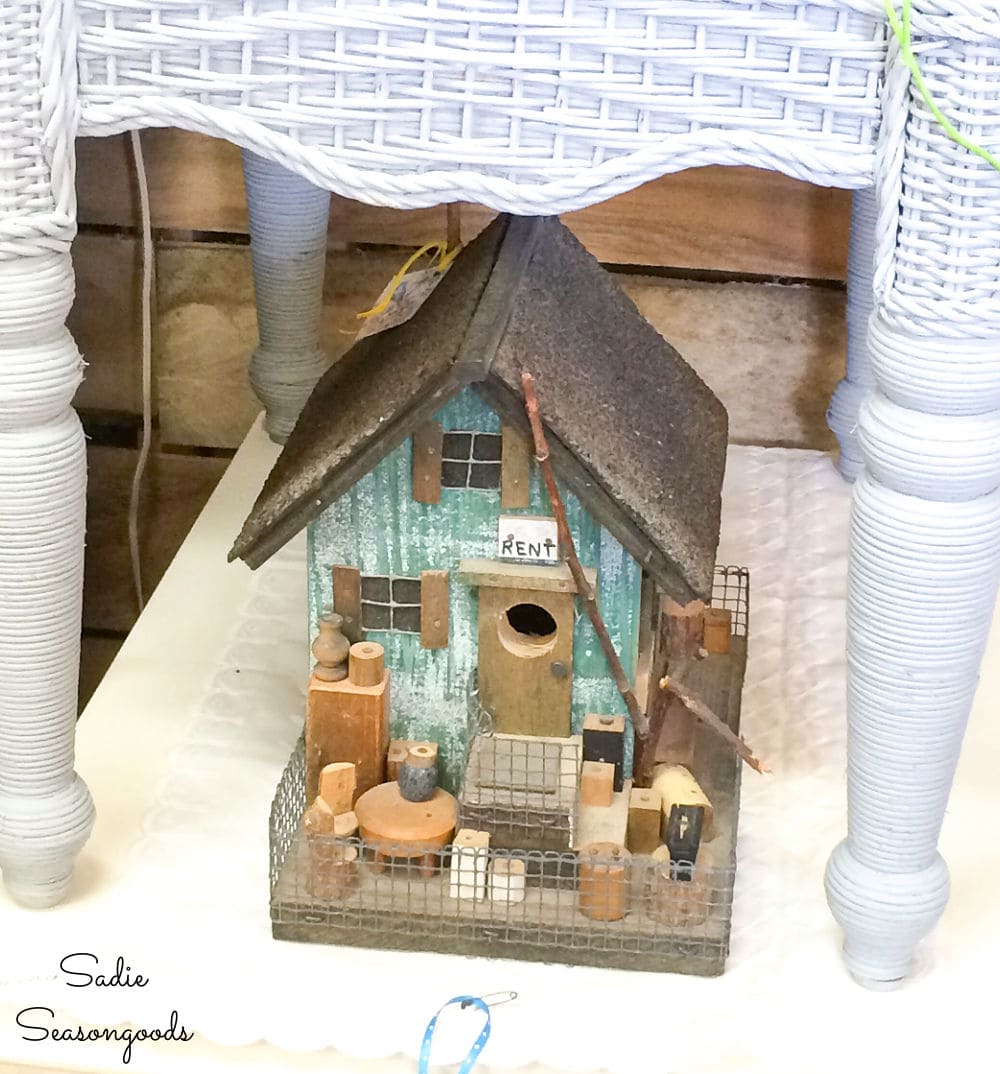 And this is my thrifted find (for about 10% of the cost of my inspiration birdhouse!).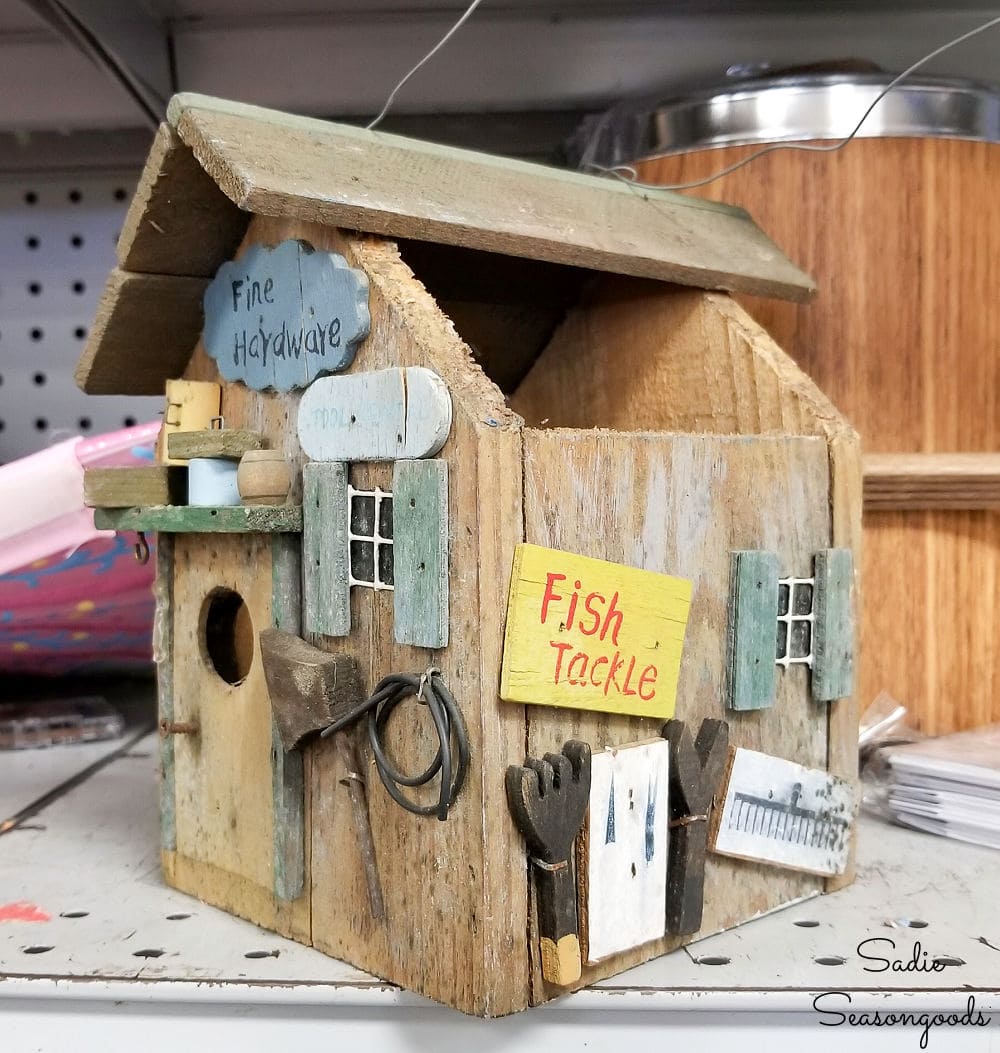 I honestly didn't have to do much to fix up my fixer upper. Just a new base, a new roof, and a hanging wire. Easy peasy and I knew it would look adorable in my yard!
This post contains affiliate links for your crafting convenience. As an Amazon Affiliate, I earn from qualifying purchases. All blue, bold, and underlined text is a clickable link, either to a product or to a related post.
Using Barnwood to Update a Rustic Birdhouse
To fix up my broken birdhouse, I first wanted to disinfect it as best I could. So, I made a light bleach solution in a spray bottle of water and spritzed the whole thing down. Inside and out.
Then, I let it sit overnight to dry out before tackling the old roof slats that needed to be removed.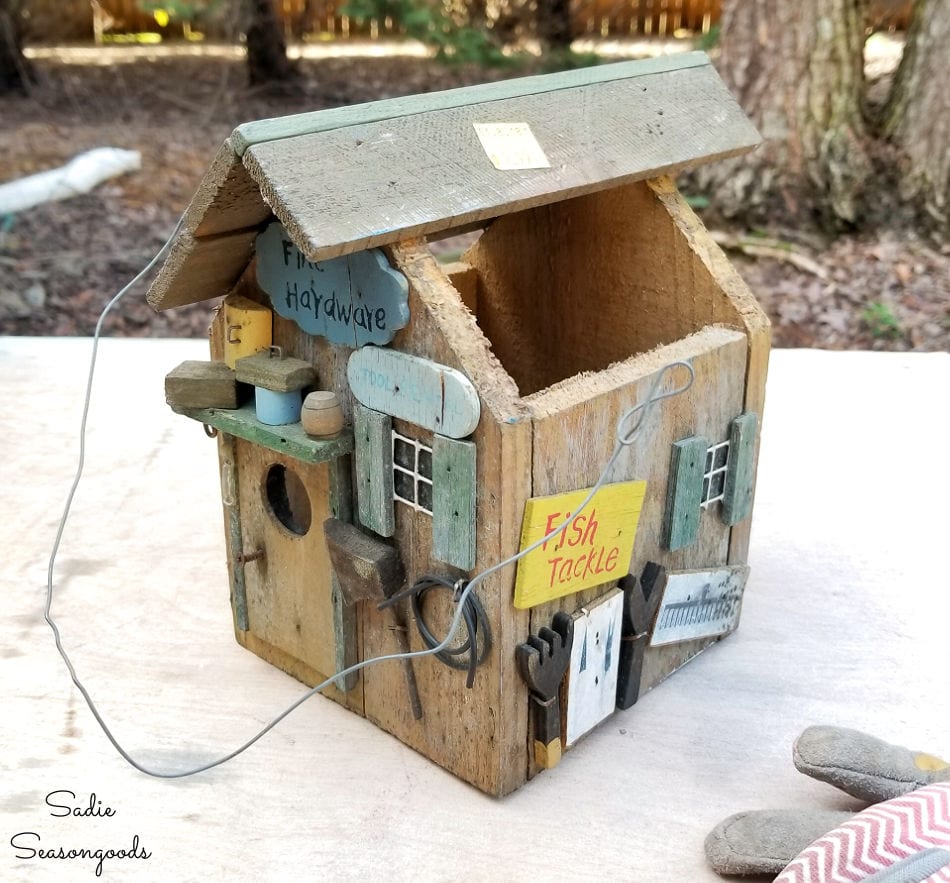 With work gloves on, I pried them off and gave the interior a good sanding to remove splinters and extra-rough surfaces.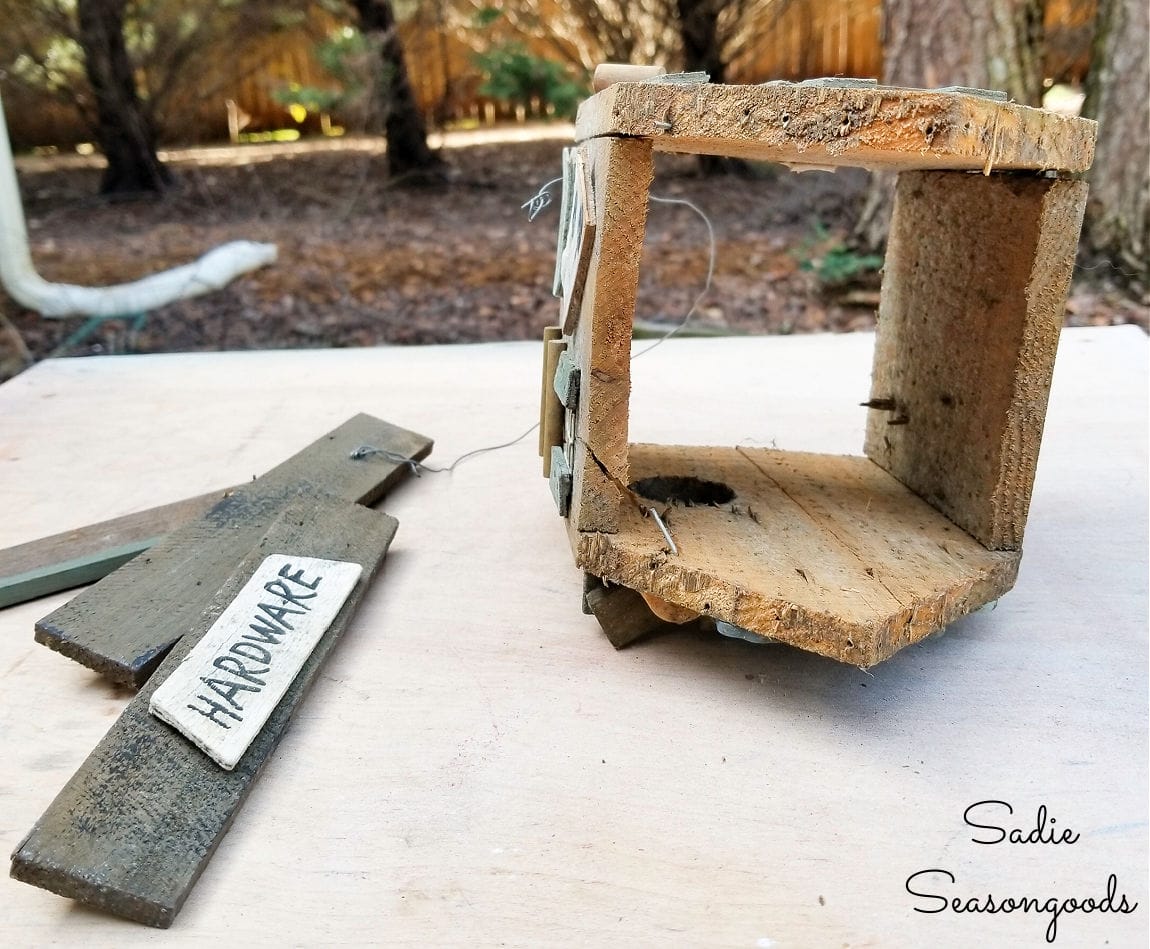 Next, I retrieved the plank of barnwood that I planned on using for the base and roof. It was wonderfully weathered and already a good width.
Plus, it was on the thin side and wouldn't add too much weight to my rustic birdhouse.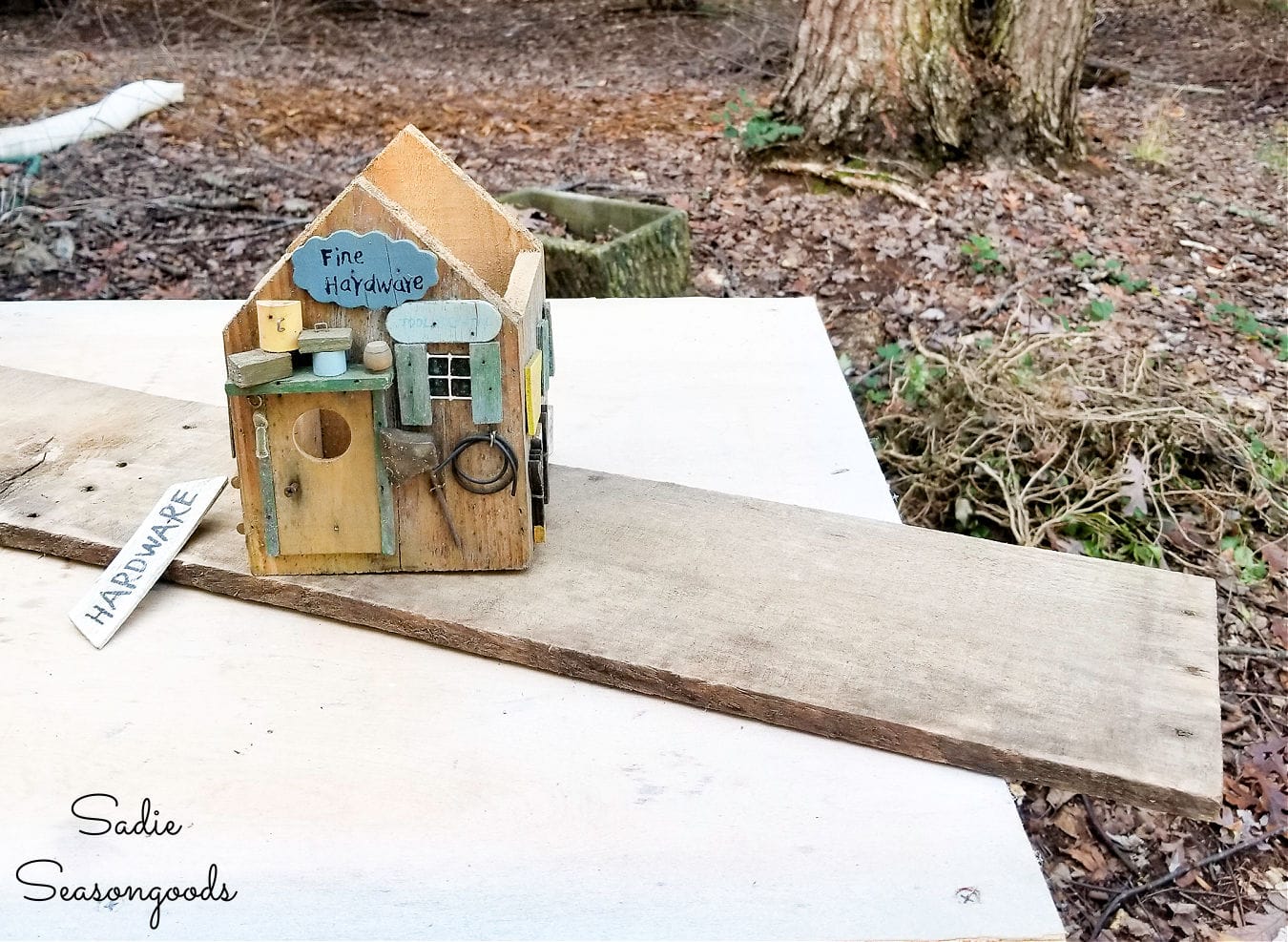 After taking some measurements, we sawed off three sections of barnwood. I needed two coordinating sections for the roof (which I planned to make hinged) and one for the base.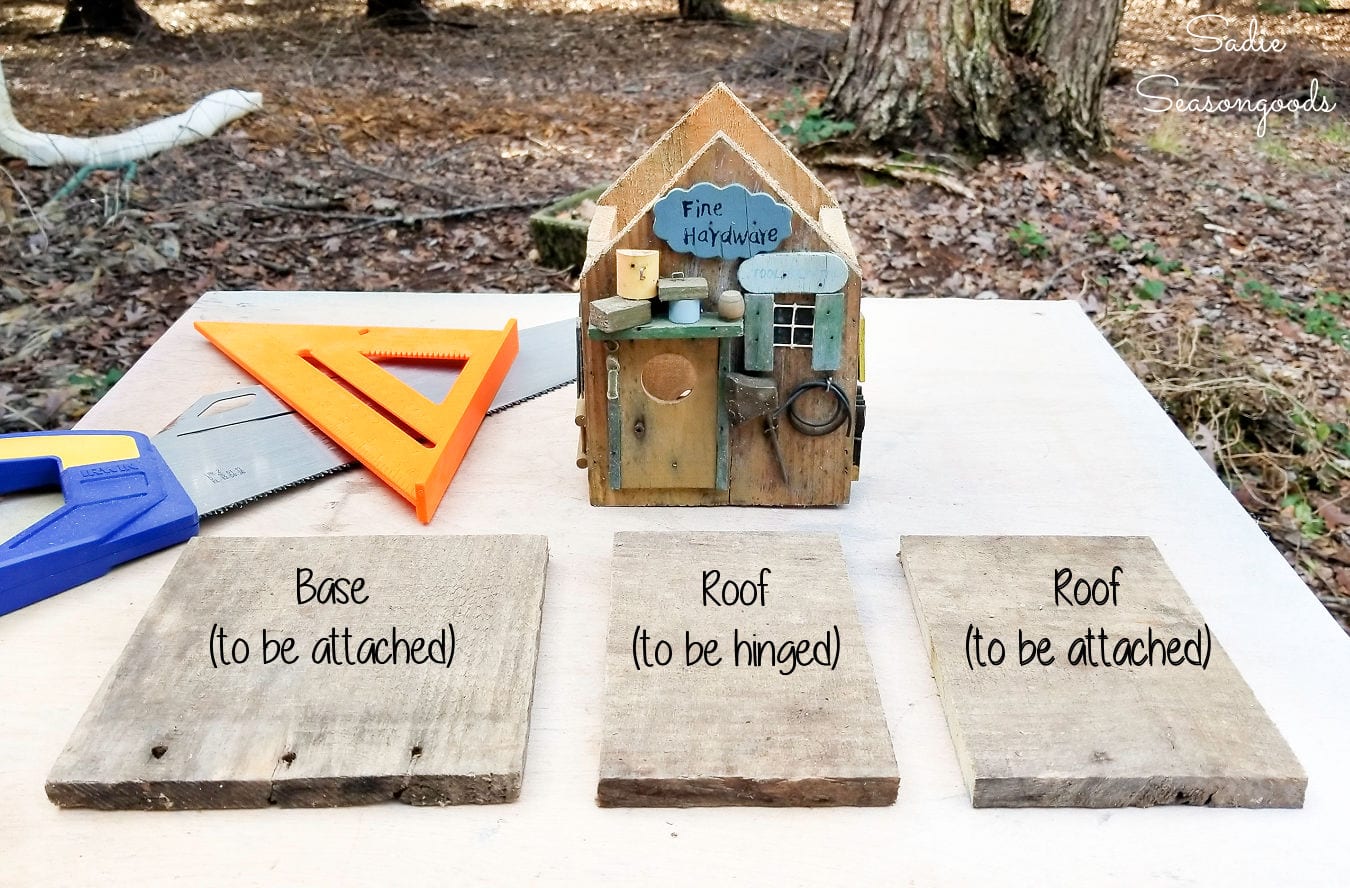 Theoretically, this is what it'll look like when I'm done. I just needed to add a splash of color first!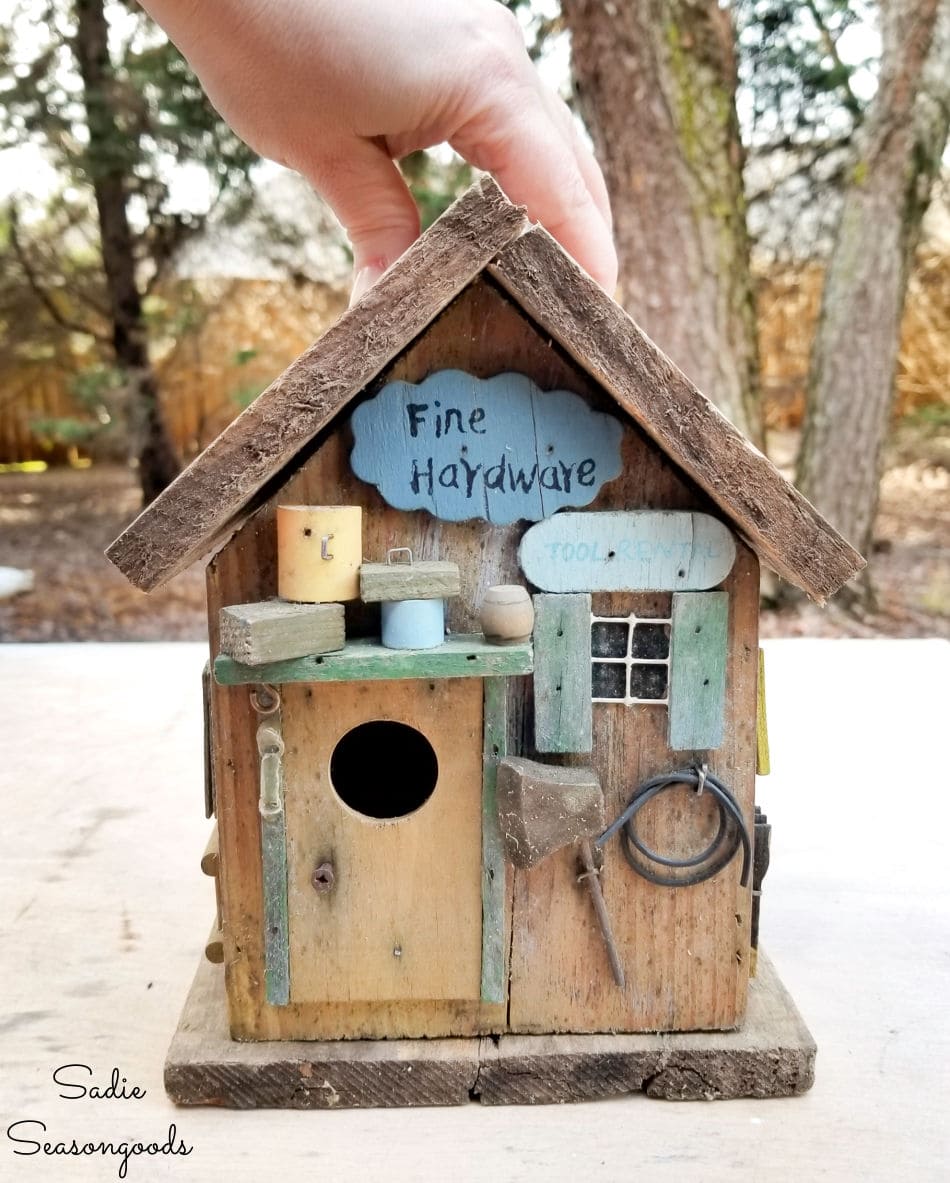 Fixing a Rustic Birdhouse for a Junk Garden
I wanted the barnwood roof and base to coordinate with the existing colors of the shutters and doorframe of my rustic birdhouse.
YES, I love the natural barnwood, but for a decorative birdhouse, a touch of paint was warranted.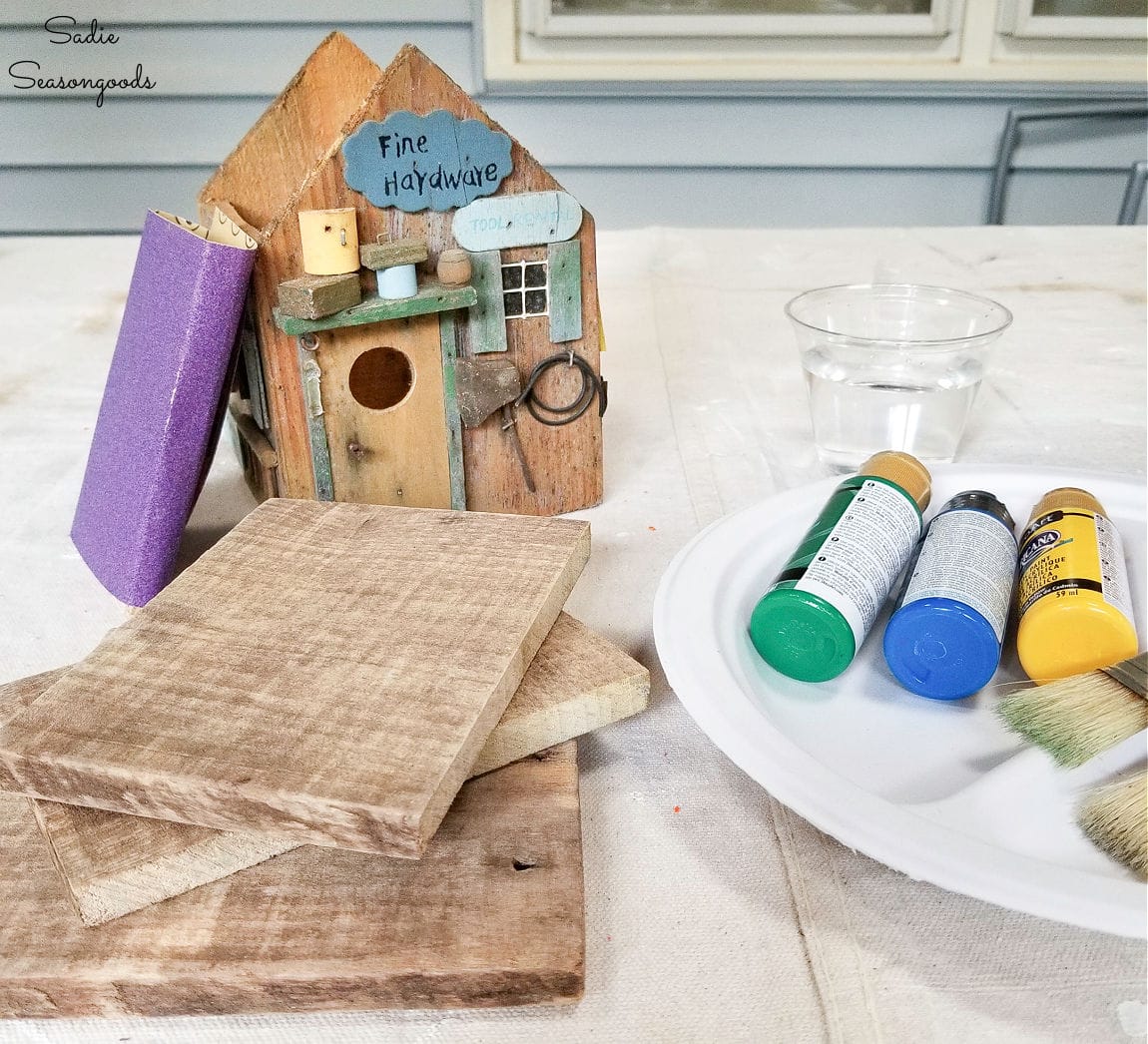 To keep the paint job "washed out", I used a wet chip brush and just a drop of paint (sometimes blue, sometimes green).
After the paint dried, I lightly sanded each piece of barnwood to both smooth it out and weather the colors.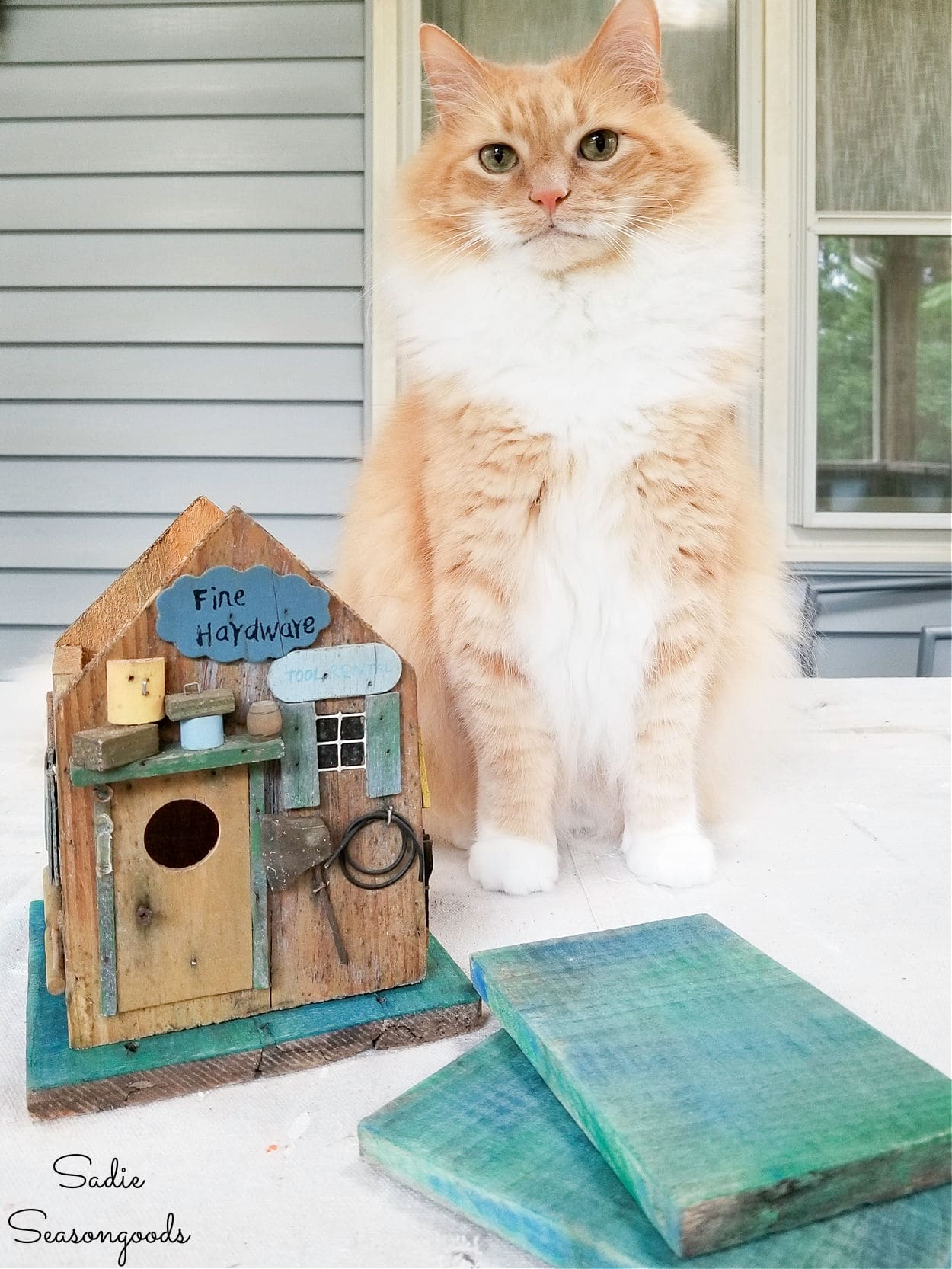 After this, I sealed the roof pieces and base with top coat and used a spray-on sealant for the birdhouse itself.
Now it was assembly time!
Using a combination of small screws and wood glue, I first attached the small section of barnwood roof to the birdhouse, lining it up with the peak. Then, using two small hinges, I connected the second section of roof, linking it up with the edge of the screwed-on roof section.
After that, I drilled a couple of small holes in the middle of the birdhouse base (for ventilation/drainage). Then, I used wood glue on the base, centering the birdhouse on top. How did I weigh it down and help the wood glue adhere without clamps?
I made a makeshift "weight" by filling a produce plastic bag with our coin jar contents! It sounds silly but it worked like a charm!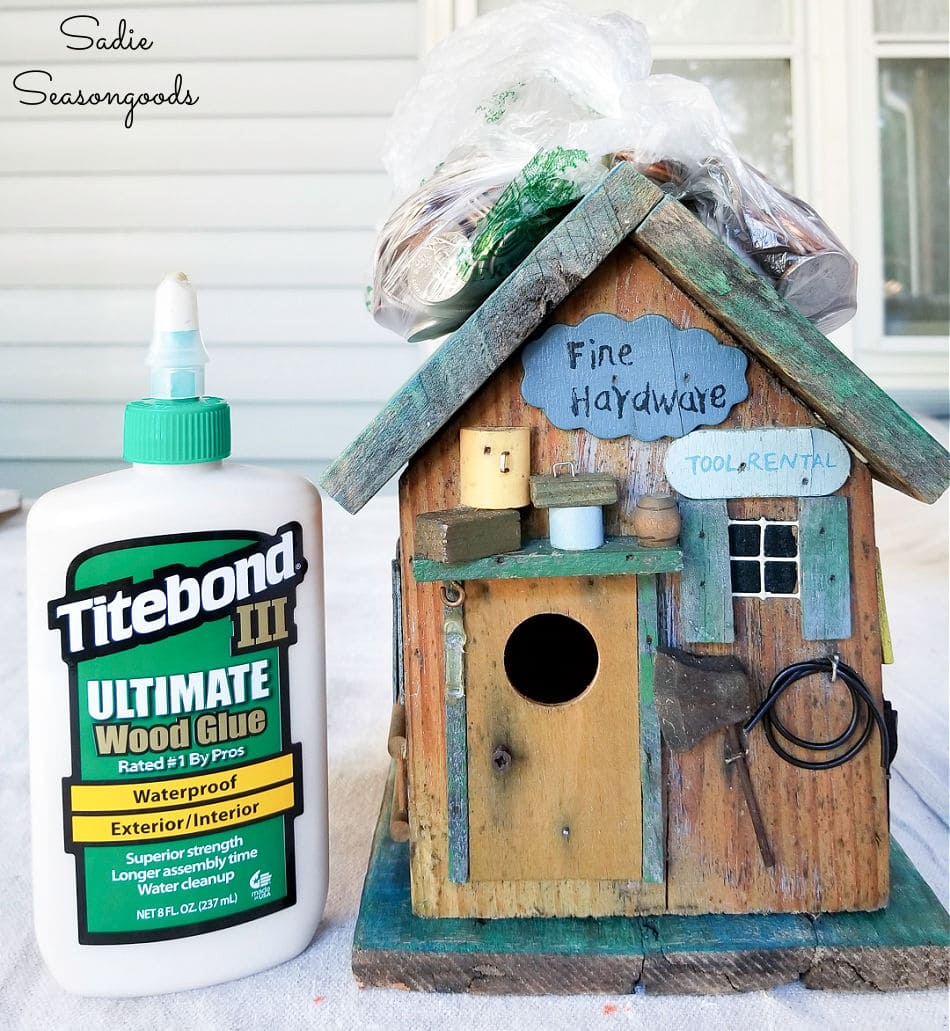 Once the glue had thoroughly set and dried, I reinforced the base by tapping in some small nails through the bottom.
And just like that, my rustic birdhouse had been thoroughly repaired and was nearly ready to be used.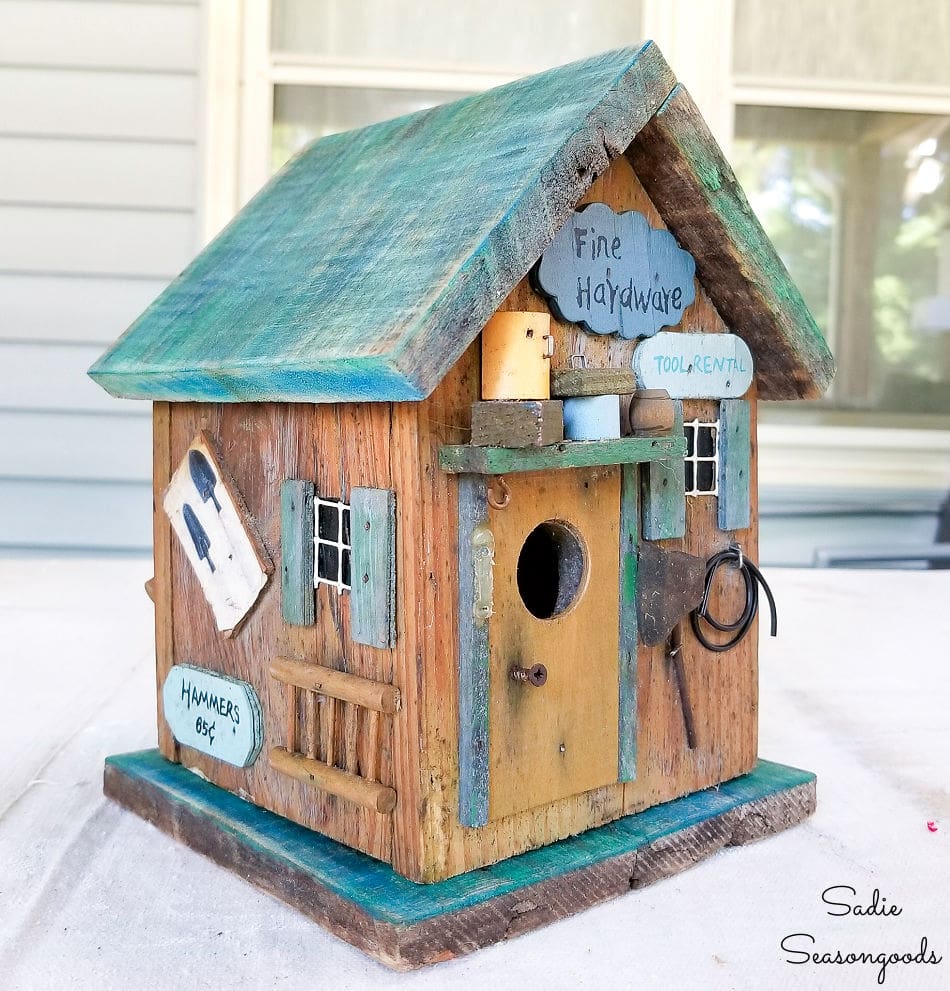 Here's my new hinged roof on the birdhouse! This will make it easy to clean out each season.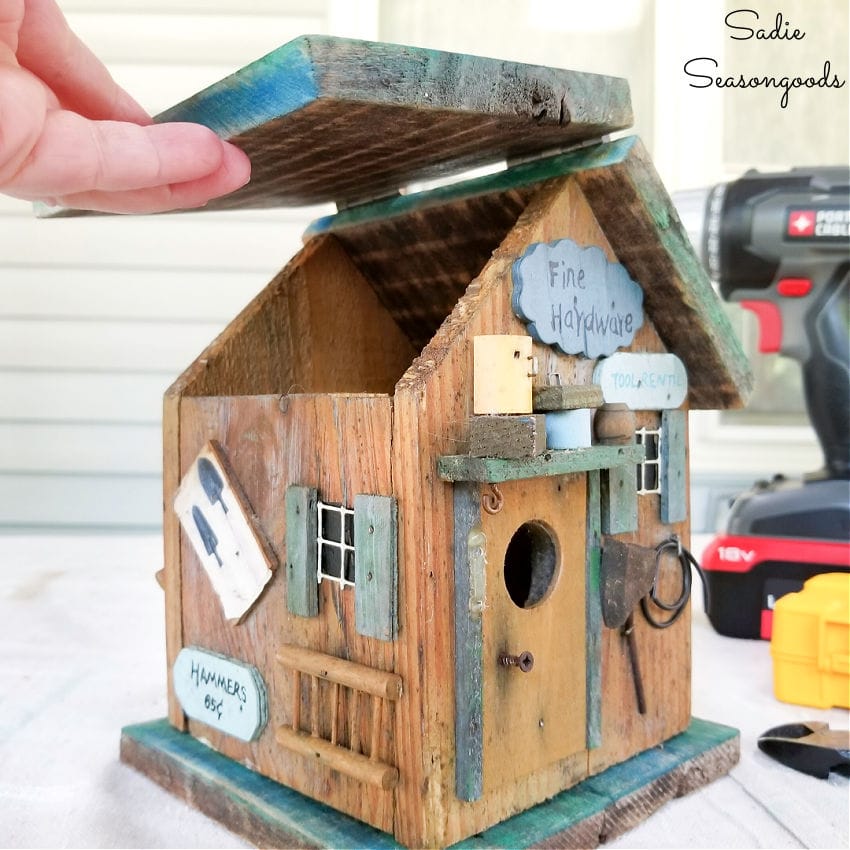 Repairing a Rustic Birdhouse with Barnwood
Lastly, I drilled pilot holes under each gable and inserted a small eye screw. Then I simply strung some braided picture hanging wire between the two screws.
Ta-da! My rustic birdhouse was all fixed up and ready for the yard.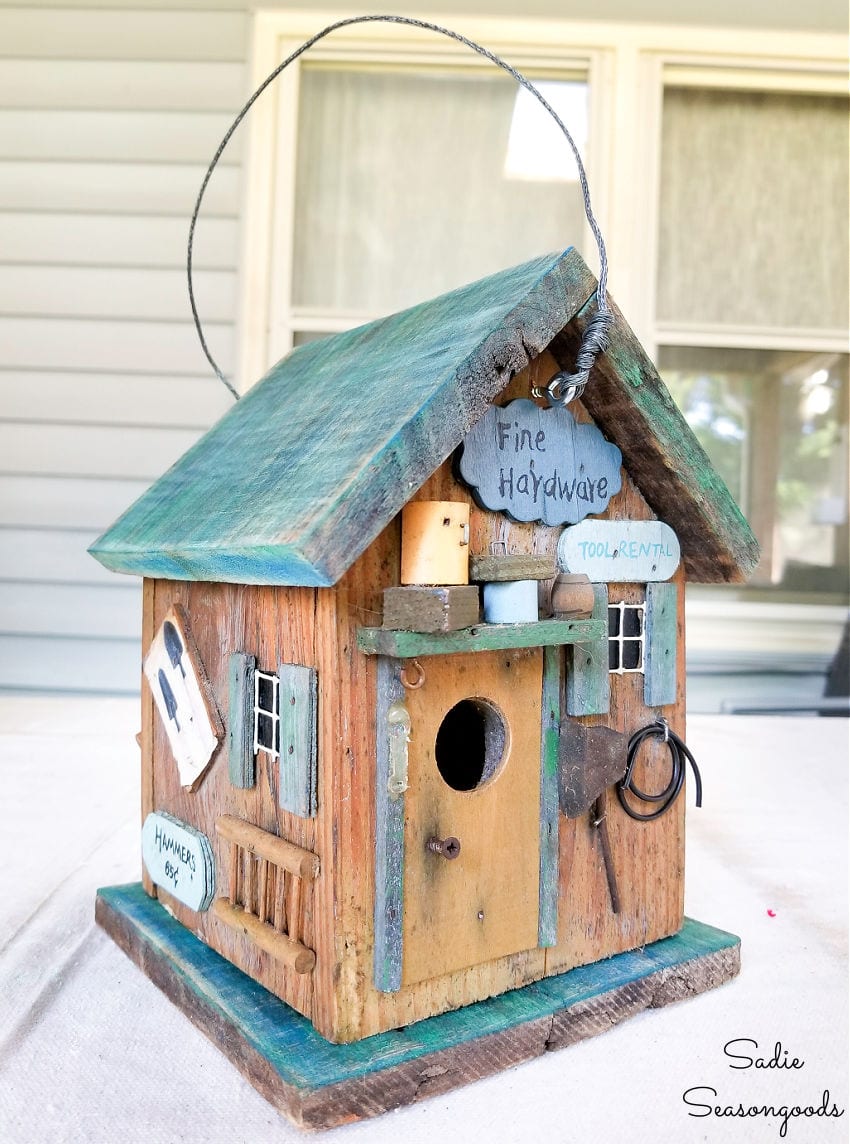 It really is adorable wildlife habitat – I'll let you know if any of my resident wren or chickadee families move in.
As you may recall, those are my most frequent birdhouse nesters.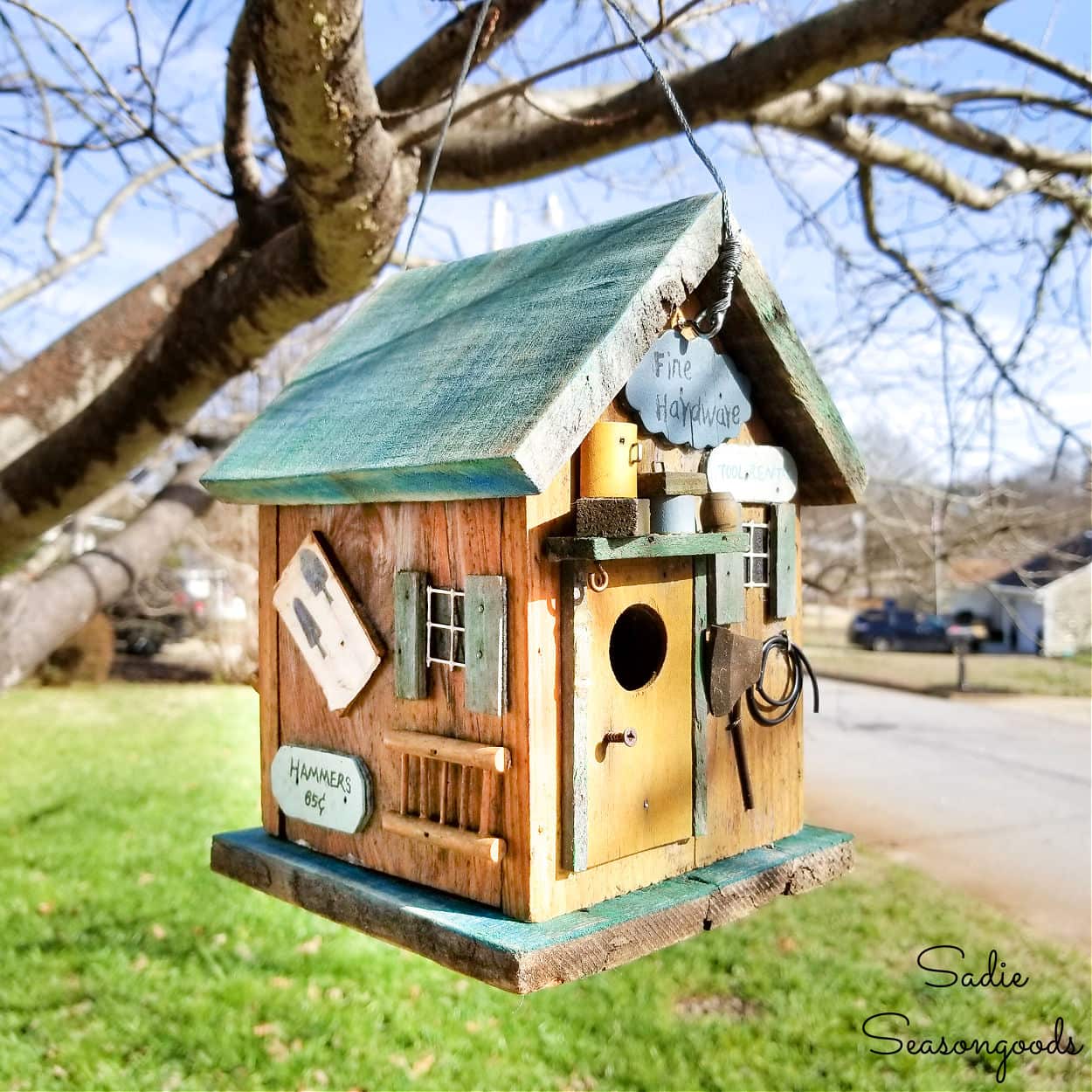 *****
Guess what else is happening today? It's Thrift Store Decor Team day, so check out what my friends have been up to – simply click on the links beneath this collage photo to see the 'after' shots!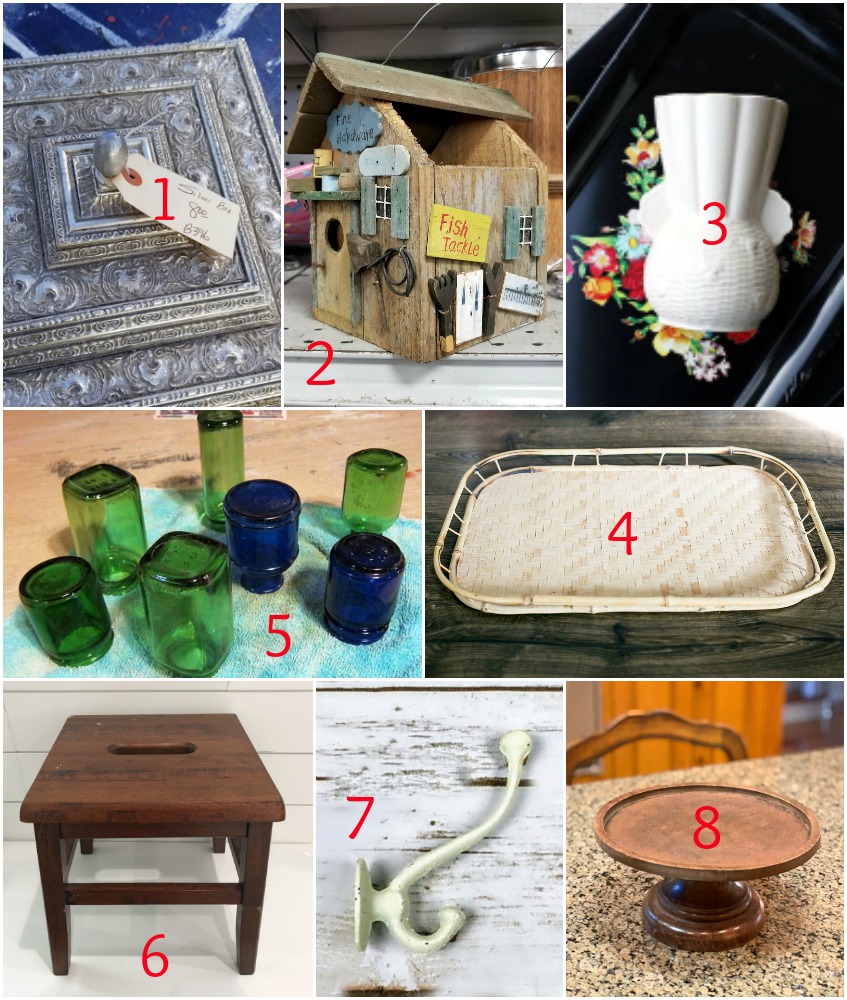 2. Fixing Up a Broken Birdhouse with Barnwood (that's mine!)
3. Vintage Wall Pocket Organizer
8. Pedestal Makeover
*****
What can I say? I'm obsessed with upcycled bird projects – check them all out here, if you're curious! Thankfully, my birds seem to love them as much as I do, too.
And if you enjoyed this upcycling idea for a rustic birdhouse, then you may also be interested in this bird project for INSIDE, as well!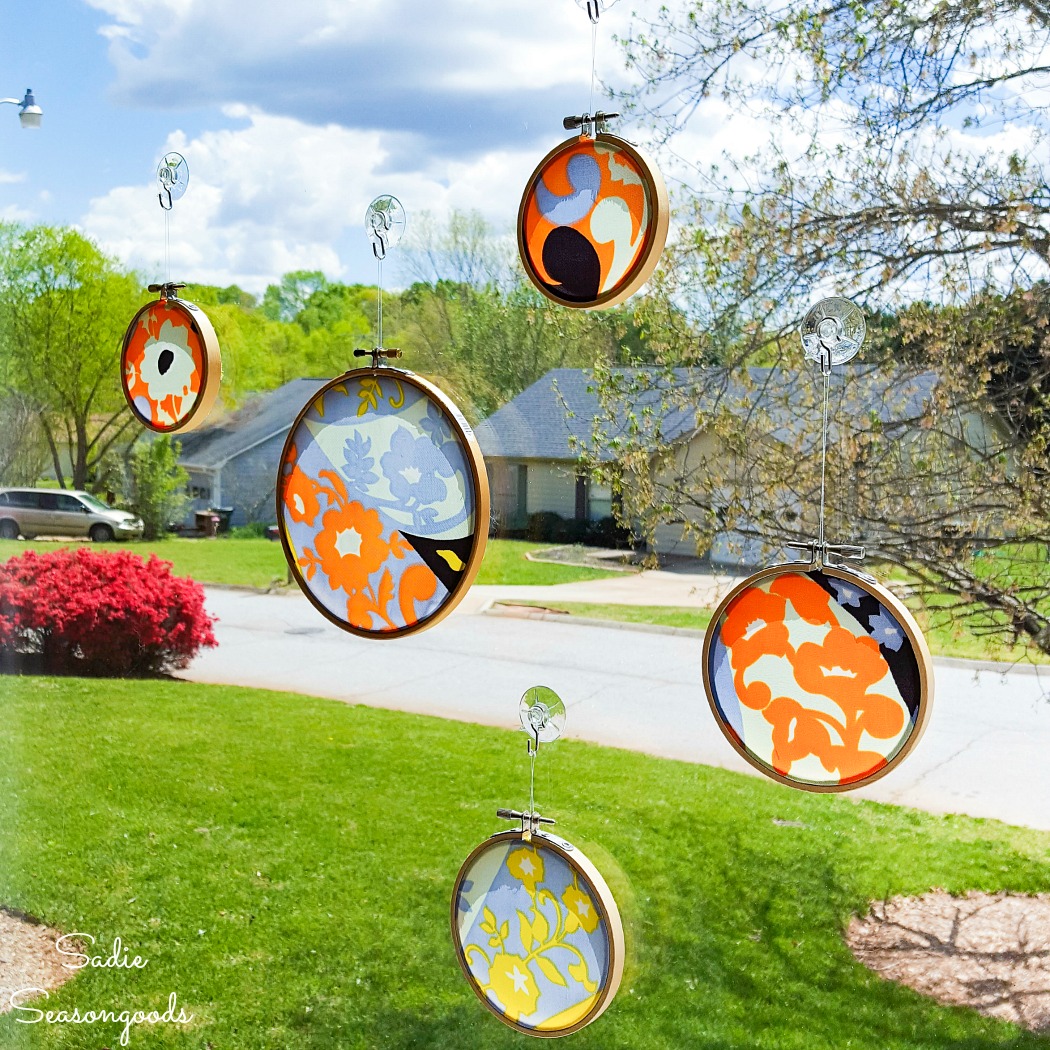 Craft on!
S
Want to be notified when I publish my next upcycling project tutorial?
Subscribe to Blog via Email
Join me on Social Media:

PIN ME!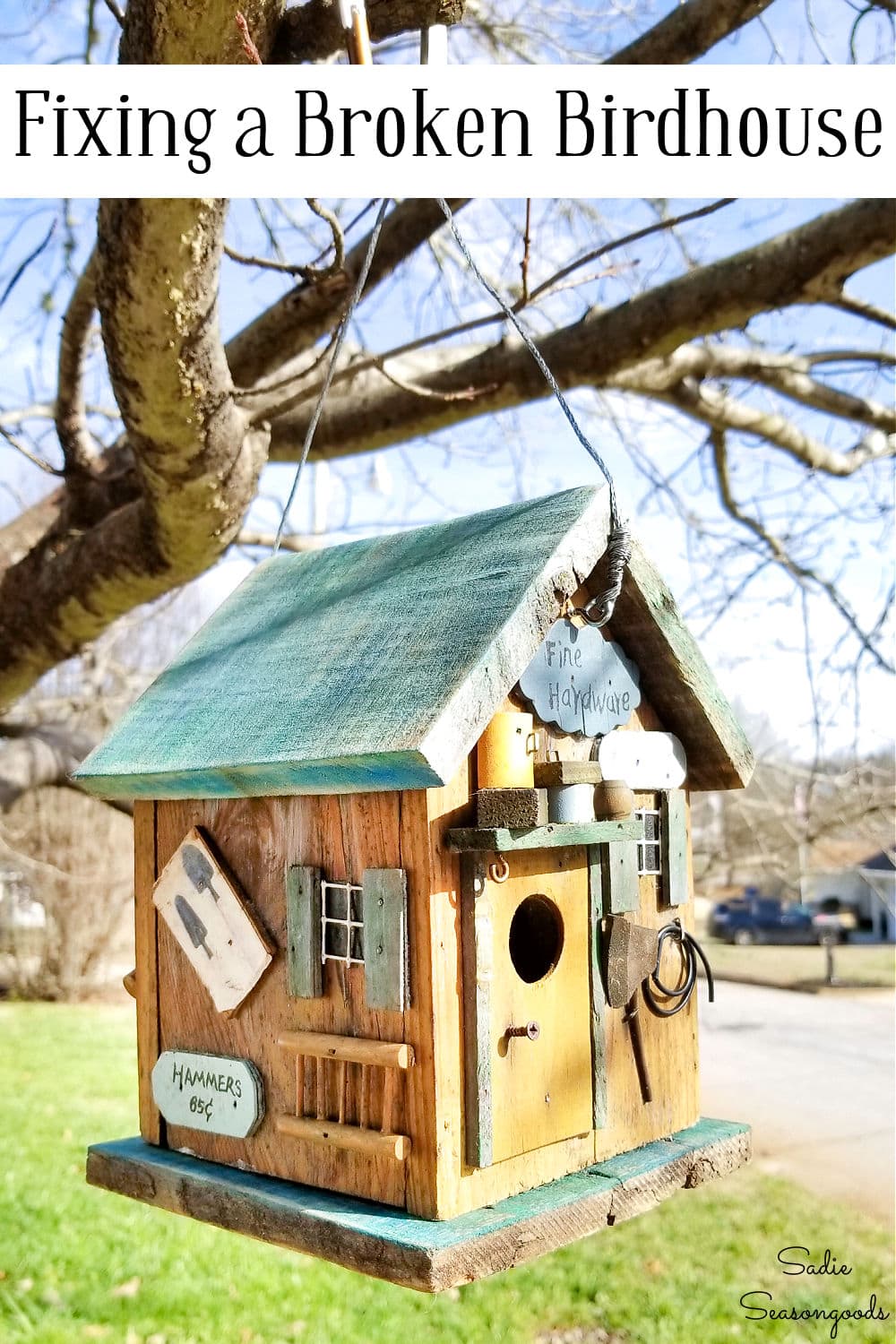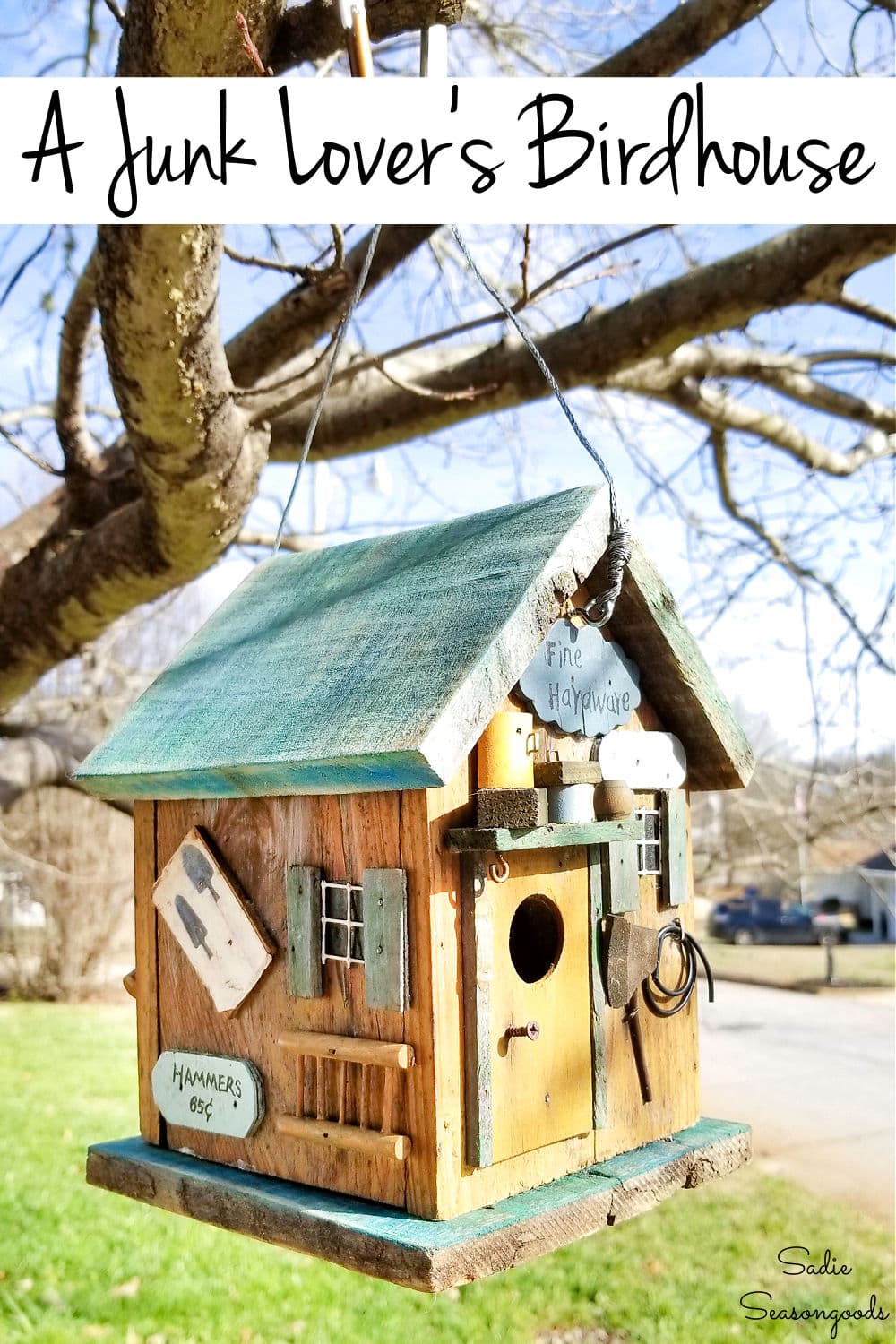 Sarah Ramberg is the owner of Sadie Seasongoods, a website that celebrates all things secondhand. From upcycling ideas and thrifted decor to vintage-centric travel itineraries, Sadie Seasongoods is a one-stop shop for anyone who loves thrifting and approachable repurposing ideas. Sarah is also the author of "Crafting with Flannel" and has been featured in numerous media outlets and magazines.