Several years ago, I saw a "junk shop" decorative birdhouse in an antiques shop. And while I didn't make the purchase, I never forgot how cute it was. So, when I found this broken DIY birdhouse while thrifting, it seemed like I had been given a second chance at a junky birdhouse. I just needed to fix it up and I already had the right piece of barnwood to do it!
Here's the original (that I didn't buy)…
And this is my thrifted find (for about 10% of the cost of my inspiration birdhouse!).
I honestly didn't have to do much to fix up my fixer upper. Just a new base, a new roof, and a hanging wire. Easy peasy and I knew it would look adorable in my yard! This post contains affiliate links for your crafting convenience.
Using Barnwood to Update a DIY Birdhouse
To fix up my broken birdhouse, I needed to remove the remaining roof slats. With work gloves on, I pried them off and gave the interior a good sanding to remove splinters and extra-rough surfaces.
This was the plank of barnwood that I planned on using for the base and roof. It was wonderfully weathered and already a good width. Plus, it was on the thin side and wouldn't add too much weight to my DIY birdhouse.
After taking some measurements, we sawed off three sections – two coordinating sections for the roof (which I planned to make hinged) and one for the base.
Theoretically, this is what it'll look like when I'm done. Just want to add a splash of color first!
Speaking of adding color, I wanted the barnwood roof and base to coordinate with the existing colors of the shutters and doorframe of my DIY birdhouse. YES, I love the natural barnwood…but for a decorative birdhouse, a touch of paint was warranted.
To keep the paint job "washed out", I used a wet chip brush and just a drop of paint (sometimes blue, sometimes green). After the paint dried, I lightly sanded each piece of barnwood to both smooth it out and weather the colors.
After this, I sealed the roof pieces and base with top coat and used a spray-on sealant for the birdhouse itself.
Now it was assembly time! Using a combination of small screws and wood glue, I first attached the small section of barnwood roof to the birdhouse, lining it up with the peak. Then, using two small hinges, I connected the second section of roof, linking it up with the edge of the screwed-on roof section.
After that, I drilled a couple of small holes in the middle of the birdhouse base (for ventilation/drainage). Then, I used wood glue on the base, centering the birdhouse on top. How did I weigh it down and help the wood glue adhere without clamps? I made a makeshift "weight" by filling a produce plastic bag with our coin jar contents! It sounds silly but it worked like a charm!
DIY Birdhouse Fixer Upper with Barnwood – Ready to Hang!
Here's my new hinged roof on the birdhouse! This will make it easy to clean out each season.
For hanging, I drilled pilot holes under each gable and inserted a small eye screw. Then I simply strung some braided picture hanging wire between the two screws. Ta-da! My DIY birdhouse is all fixed up with barnwood and ready for the yard.
It really is adorable wildlife habitat – I'll let you know if any of my resident wren or chickadee families move in. As you may recall, those are my most frequent birdhouse nesters.
*****
Guess what else is happening today? It's Thrift Store Decor Team day, so check out what my friends have been up to – simply click on the links beneath this collage photo to see the 'after' shots!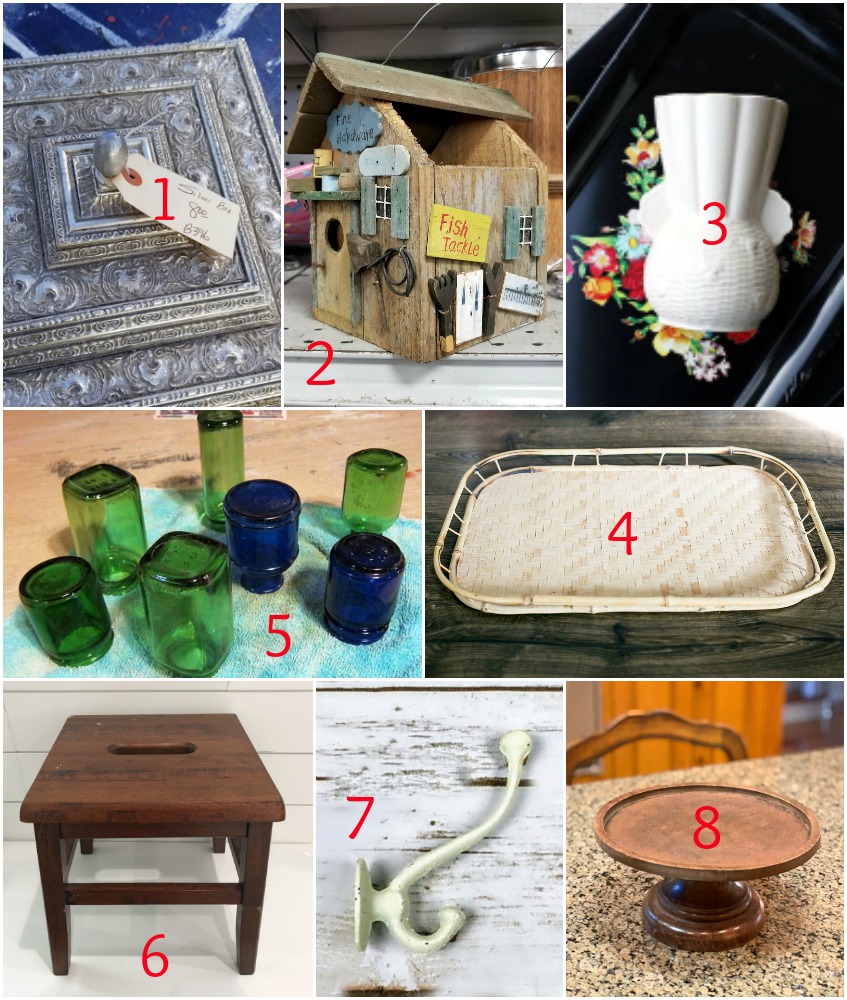 2. Fixing Up a Broken Birdhouse with Barnwood (that's mine!)
3. Vintage Wall Pocket Organizer
8. Pedestal Makeover
*****
What can I say? I'm obsessed with upcycled bird projects – check them all out here, if you're curious! Thankfully, my birds seem to love them as much as I do, too.
Craft on!
S
Want to be notified when I publish my next upcycling project tutorial?
Subscribe to Blog via Email
Join me on Social Media: