One of my favorite local thrift stores happens to have an amazing linens department, and I always check it out whenever I stop by. I recently found this table runner that looked like brocade fabric and I KNEW I needed to upcycle it somehow. It had some red wine stains in the center, but that was fine by me. Because I planned on making an envelope clutch and only needed a third of the runner to do that!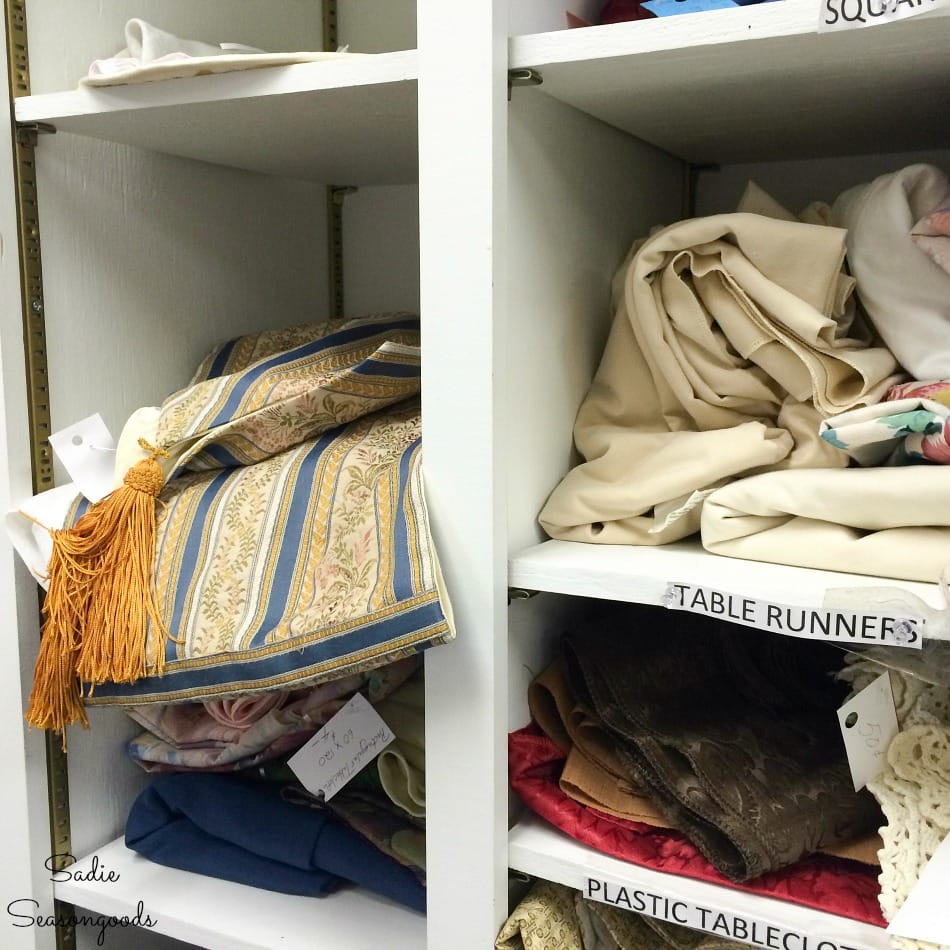 The vision in my head was clear as a bell. I just wasn't sure if it would be as easy to pull off as I thought, but I was willing to give it a try!
This post contains affiliate links for your crafting convenience. As an Amazon Affiliate, I earn from qualifying purchases. All blue, bold, and underlined text is a clickable link, either to a product or to a related post.
How to Make a Clutch Purse
First things first, I removed a tassel and folded the pointy end over like an envelope flap.
Then, I measured (basically the height of the flap triangle, if that makes sense), multiplied it by 3, and cut off the length of table runner that I'd need for an envelope clutch.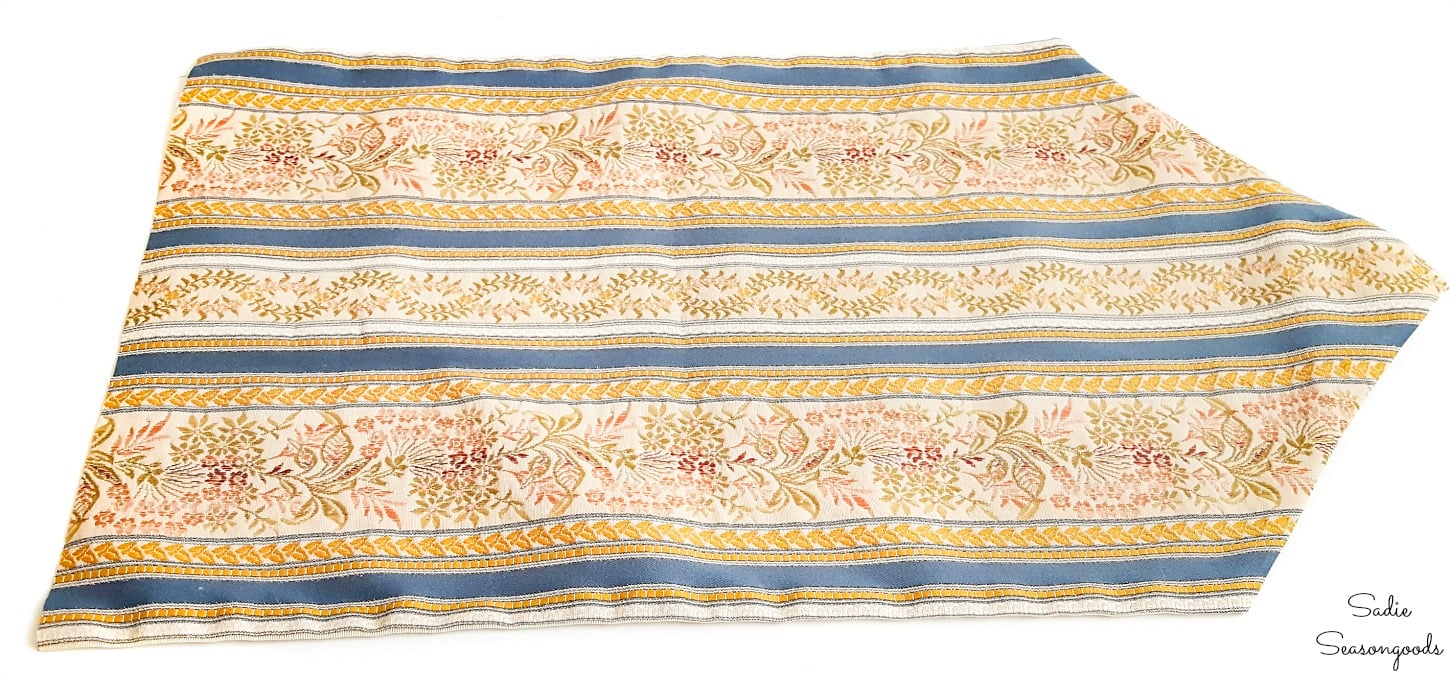 Ultimately, this is the look I would be going for when I was all done. Imagine the piece of table runner that I cut off, folded over itself in thirds.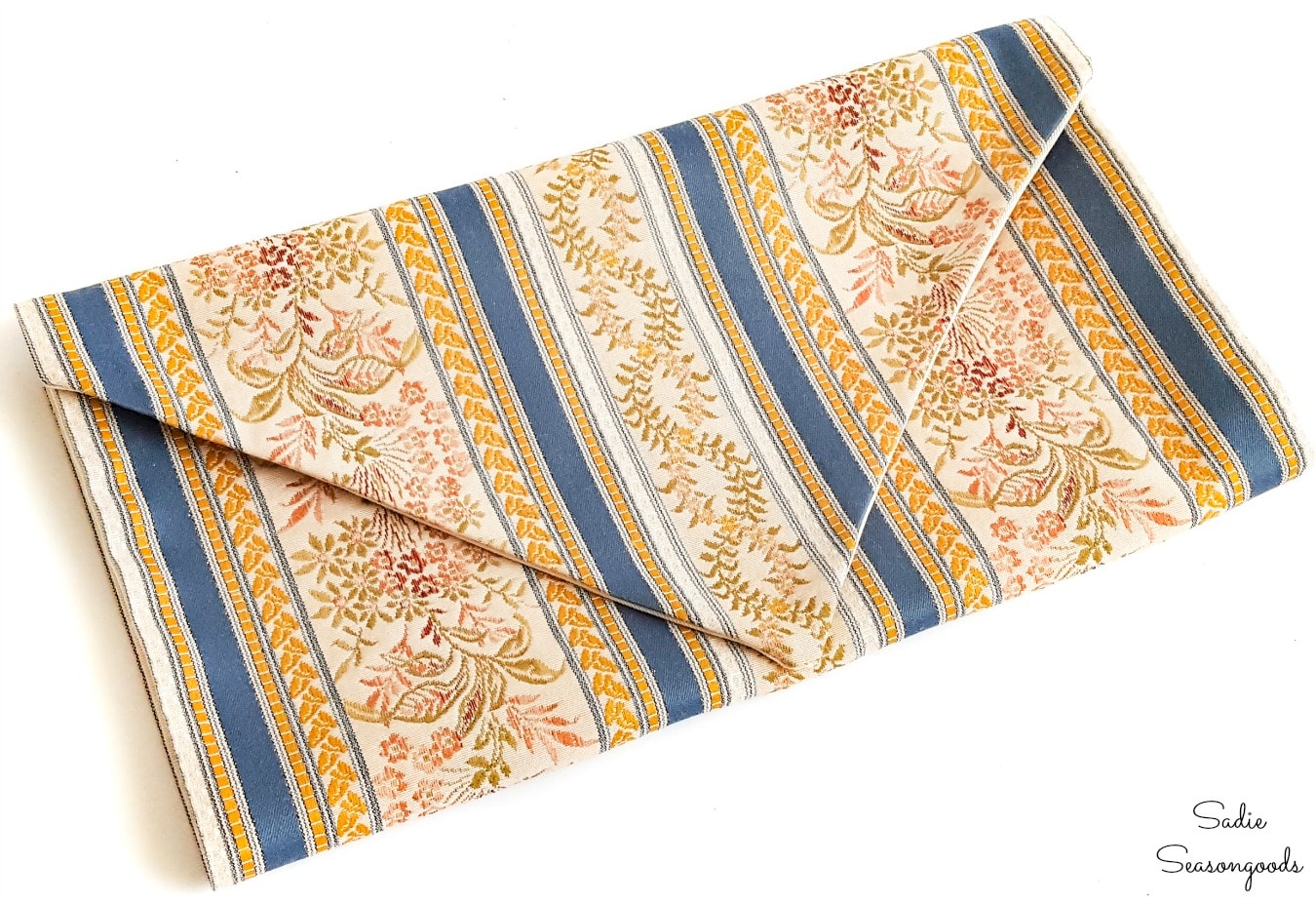 To give my clutch purse some body, I traced out my piece of brocade table runner on some ultra firm interfacing or fabric stabilizer.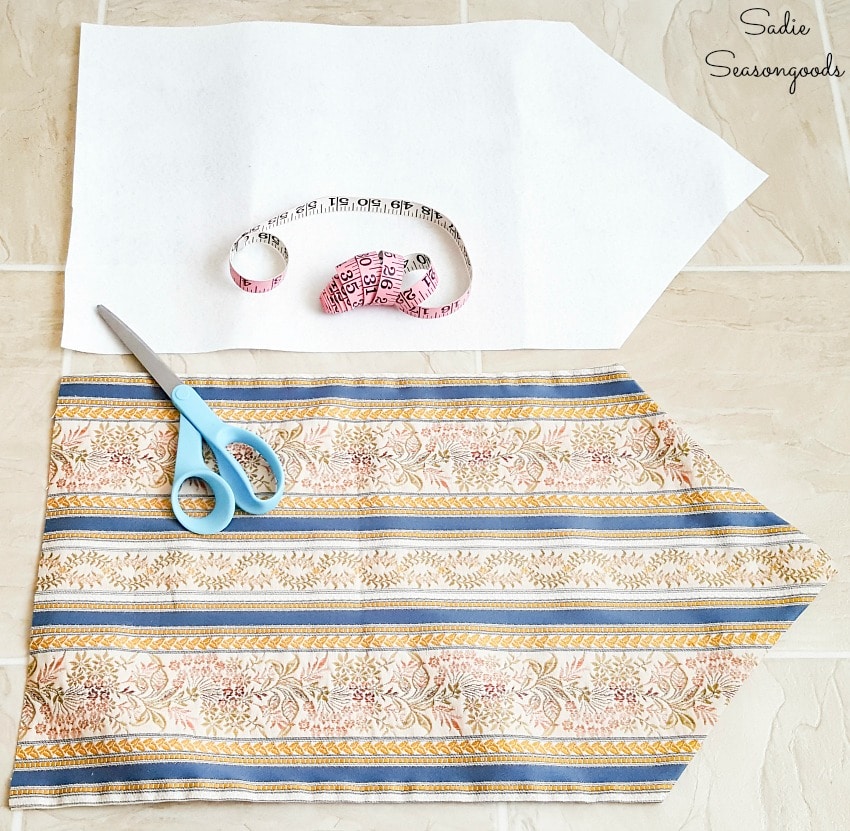 Next, I slipped the stiff interfacing inside the table runner end, between the brocade fabric on top and the lining. Think of the interfacing as a pillow and the table runner as a pillowcase.
At this point, I just needed to make sure that it fit inside.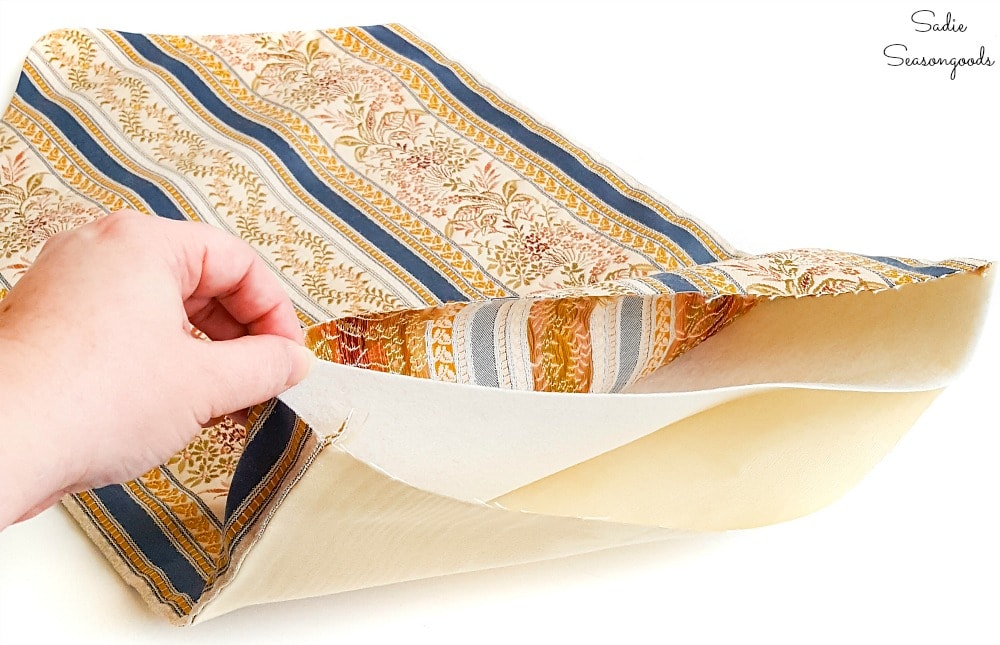 Once I knew it fit inside, I could add the hidden closures!
I purchased some sew-in magnets that I would attach to the interfacing.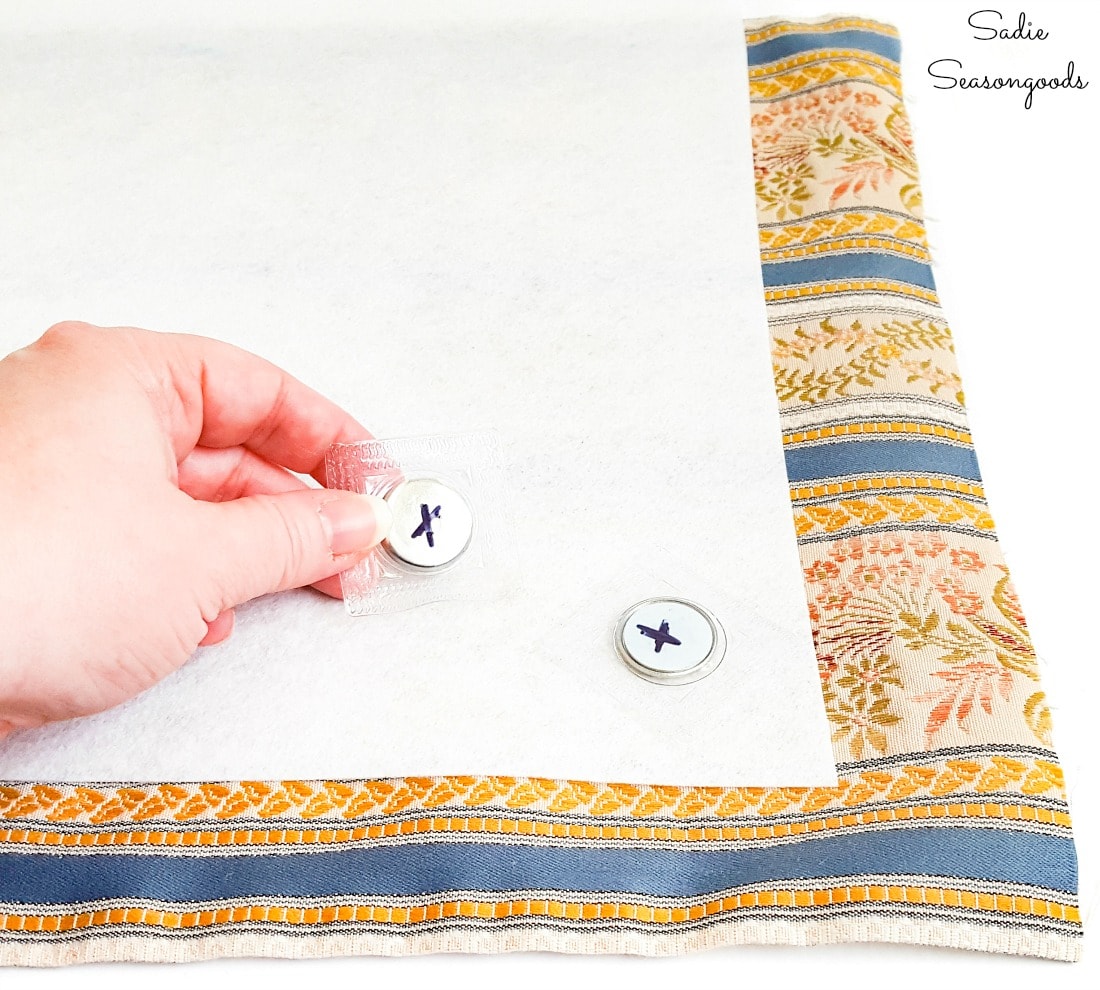 The sharpie-written X's mark the magnetic sides of each magnet.
Sewing an Envelope Clutch
Using my sewing machine, I stitched on one sew-in magnet near the corner of my interfacing ("X side" facing out).
Then, I stitched the other magnet on the flip side of the interfacing (again, "X side" facing out), approximately 6" in from the end. Just like an envelope!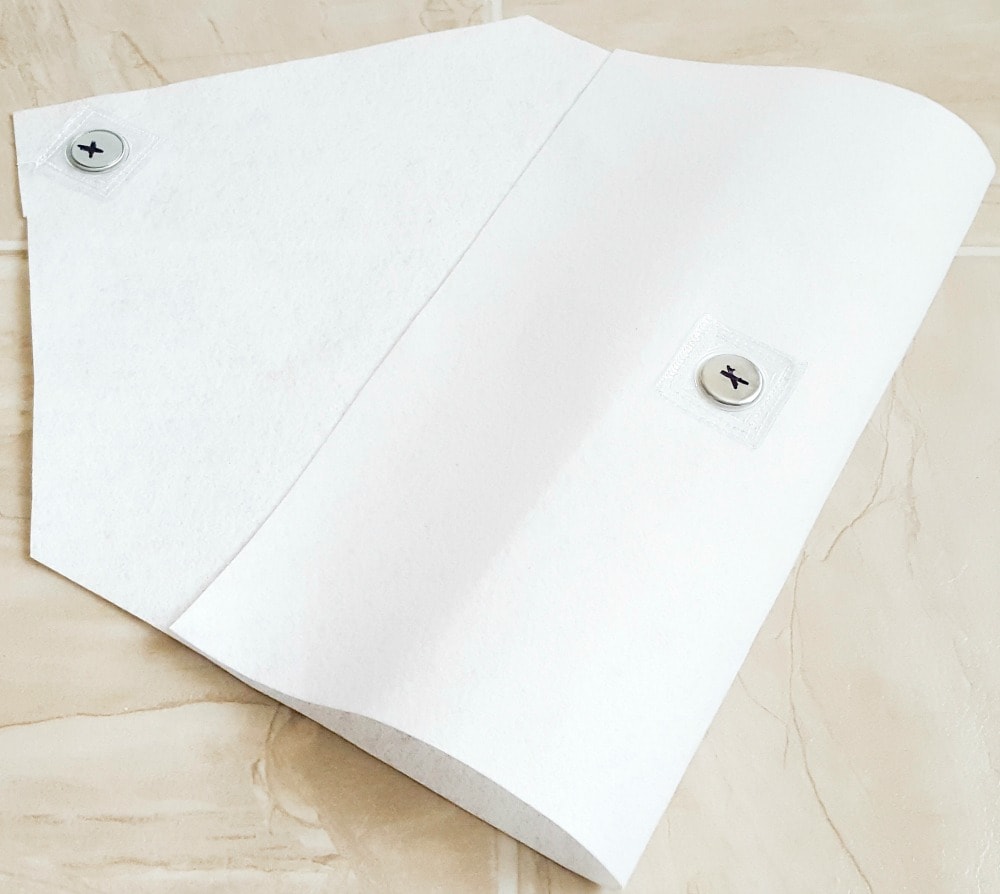 With the brocade side facing down, I slid the interfacing in with the corner magnet facing up. I then verified that it would magnet-snap close when tri-folded (being an envelope clutch and all).
Next, I folded over the open end twice to close the interfacing inside. After that, I pinned it and carefully stitched it closed on my sewing machine.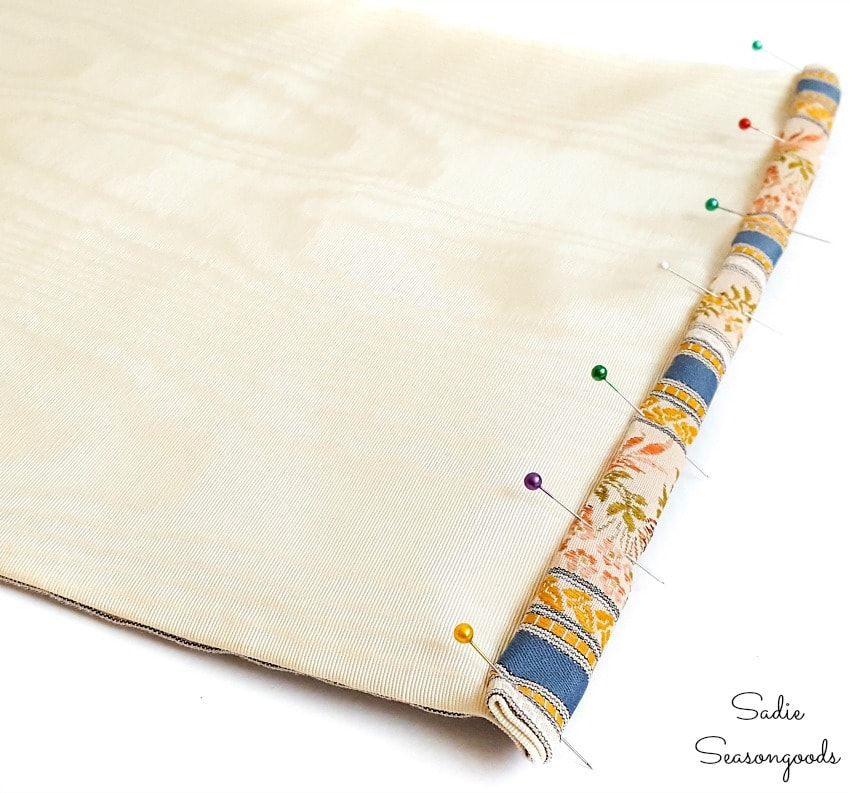 Next, I turned up the flat edge and pinned it for stitching the sides shut.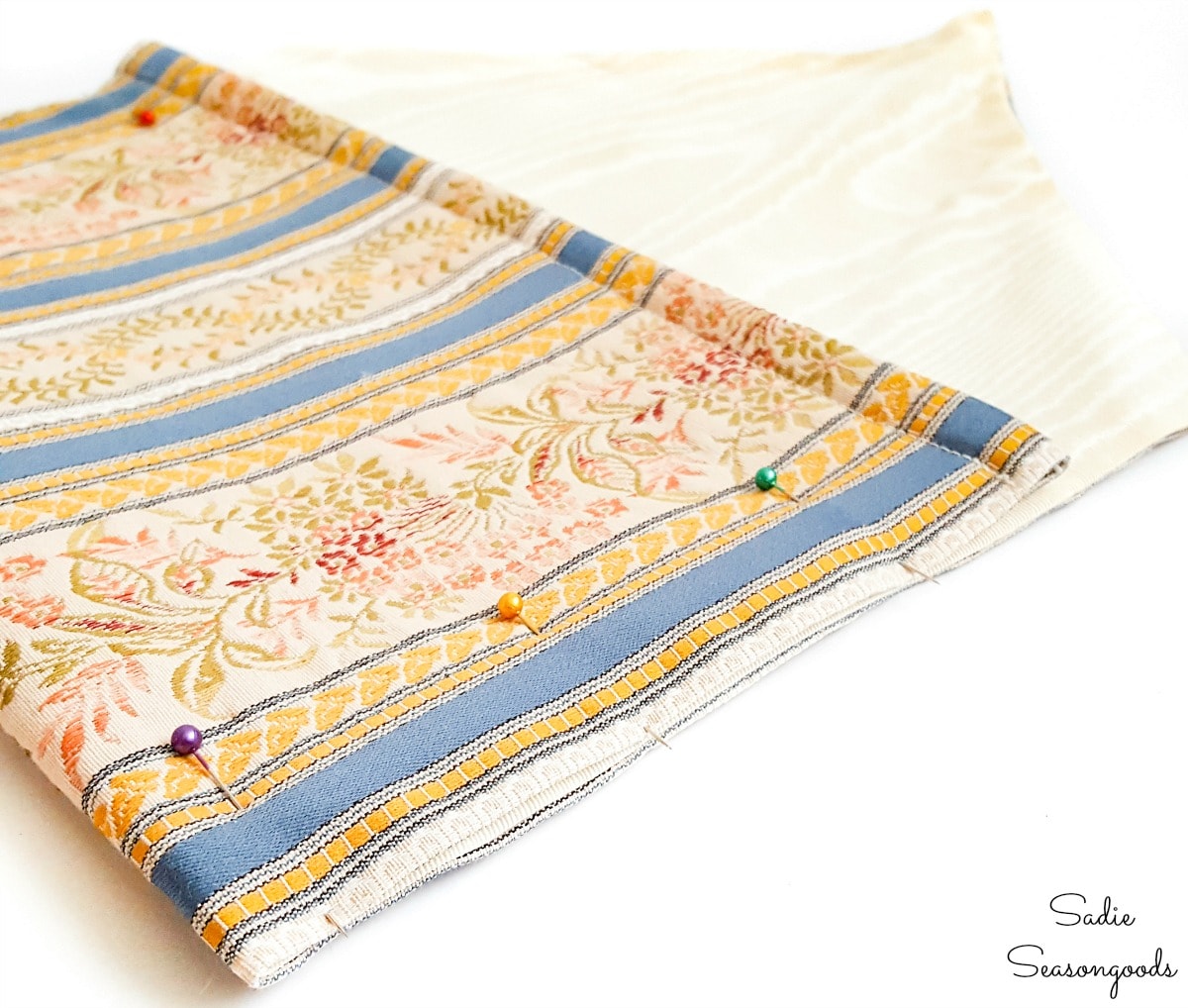 My upcycling idea for an envelope clutch was actually working out perfectly!
And then that was it! Once it was magnetically "snapped" closed and I lined up the stripes of the fabric together, I gave the top flap a little press with my iron.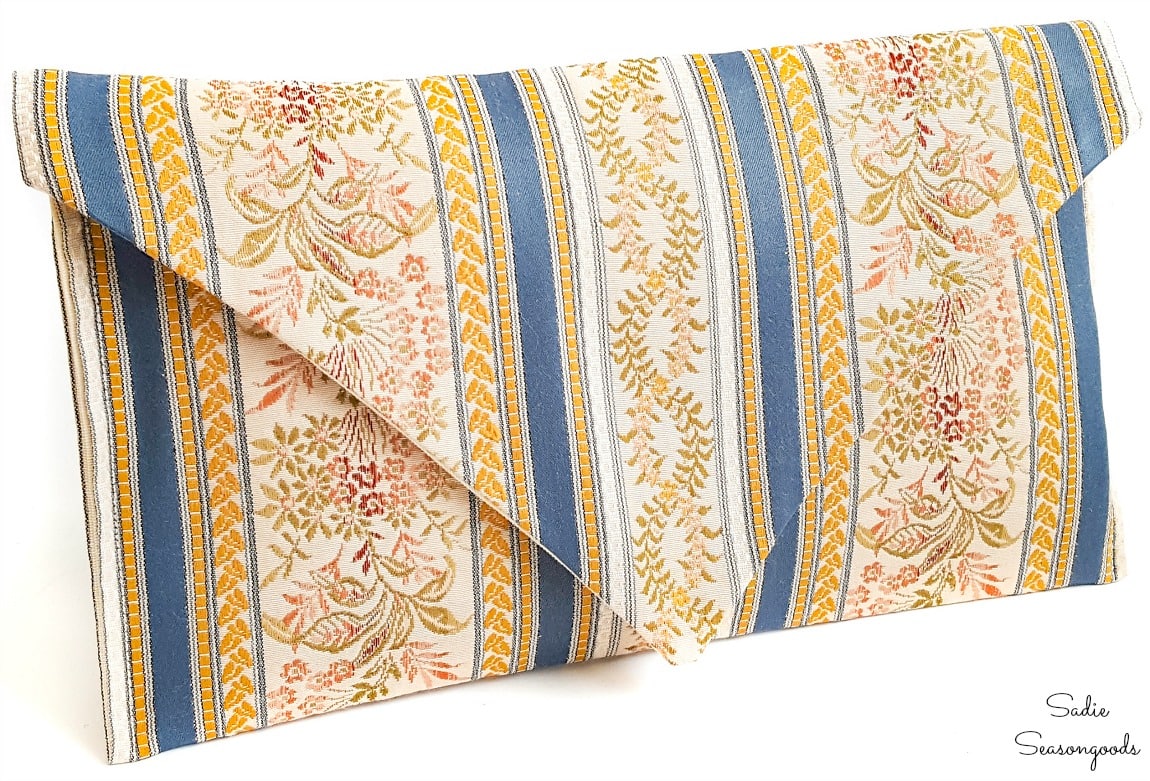 Not a full crease, mind you, but just something to give the fabric and interfacing some memory when opened and closed.
This jacquard table runner was seriously PERFECT for upcycling into an envelope clutch. The original lining of the table runner is now the liner of my evening bag.
And because the sew-in magnets are attached to the secret interfacing between the layers of fabric, you don't see them.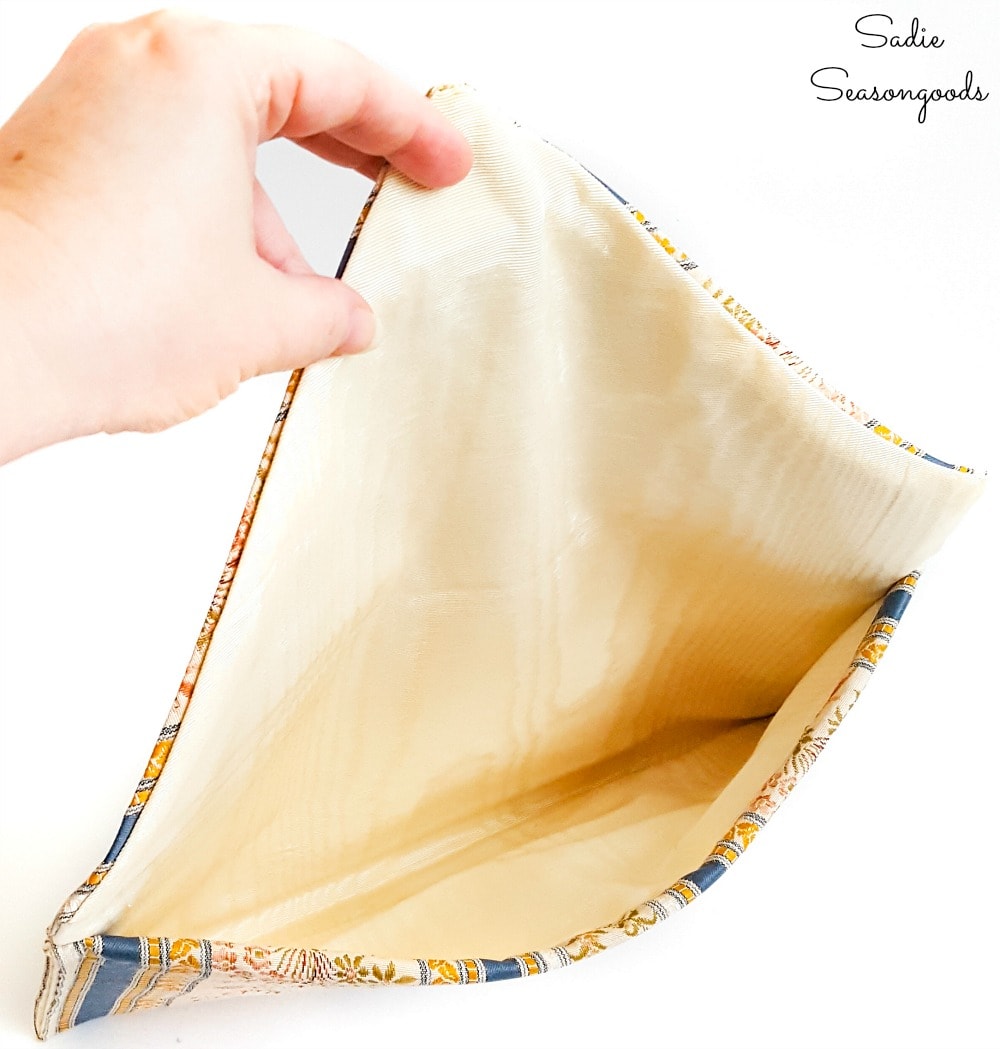 Bottom line…MY CRAZY UPCYCLING IDEA WORKED!
Making an Envelope Clutch from a Table Runner
In typical Sadie fashion, I thought the envelope clutch needed one more thing to really bring it home. So, I added a vintage brooch to the corner of the flap. NOW it was perfect.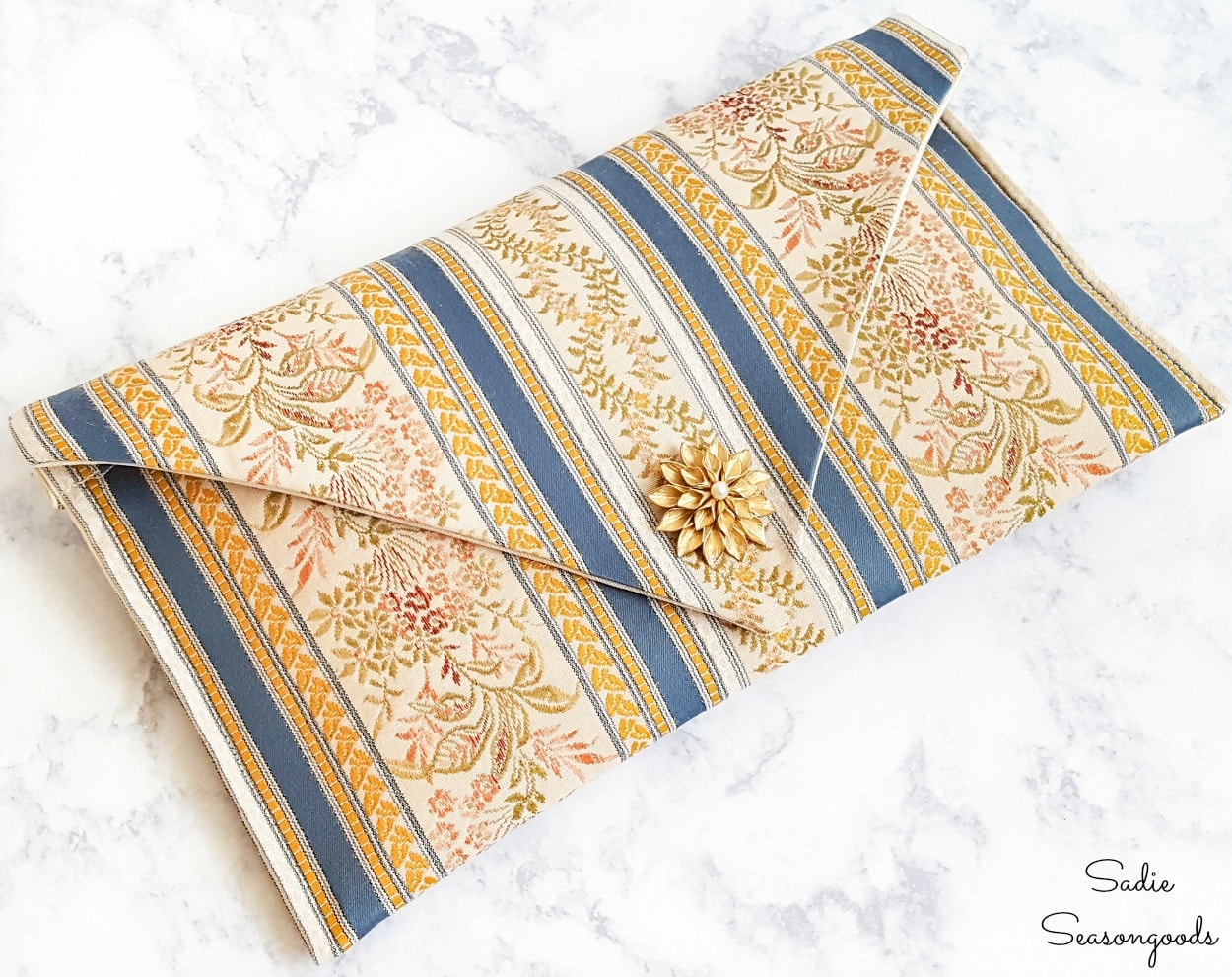 See what mean? It looks like it was meant to be pinned onto the brocade fabric…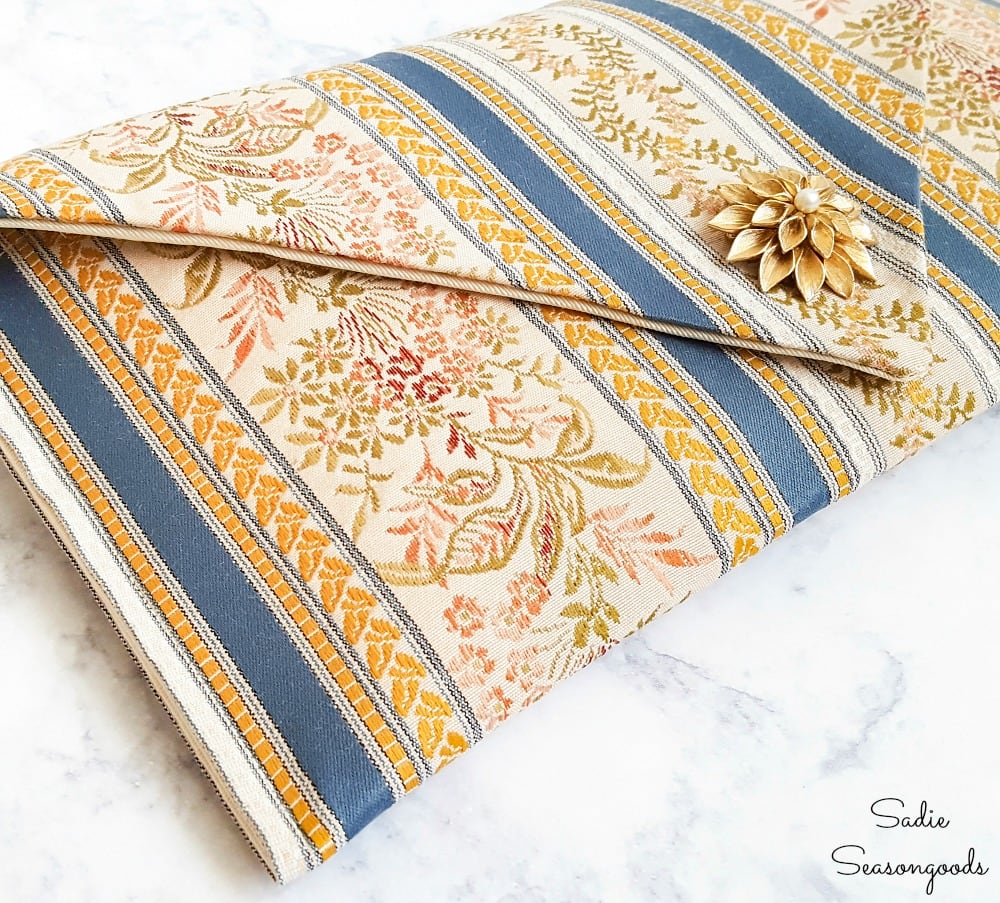 I simply adore it and can't wait to squire it around town one night in the near future.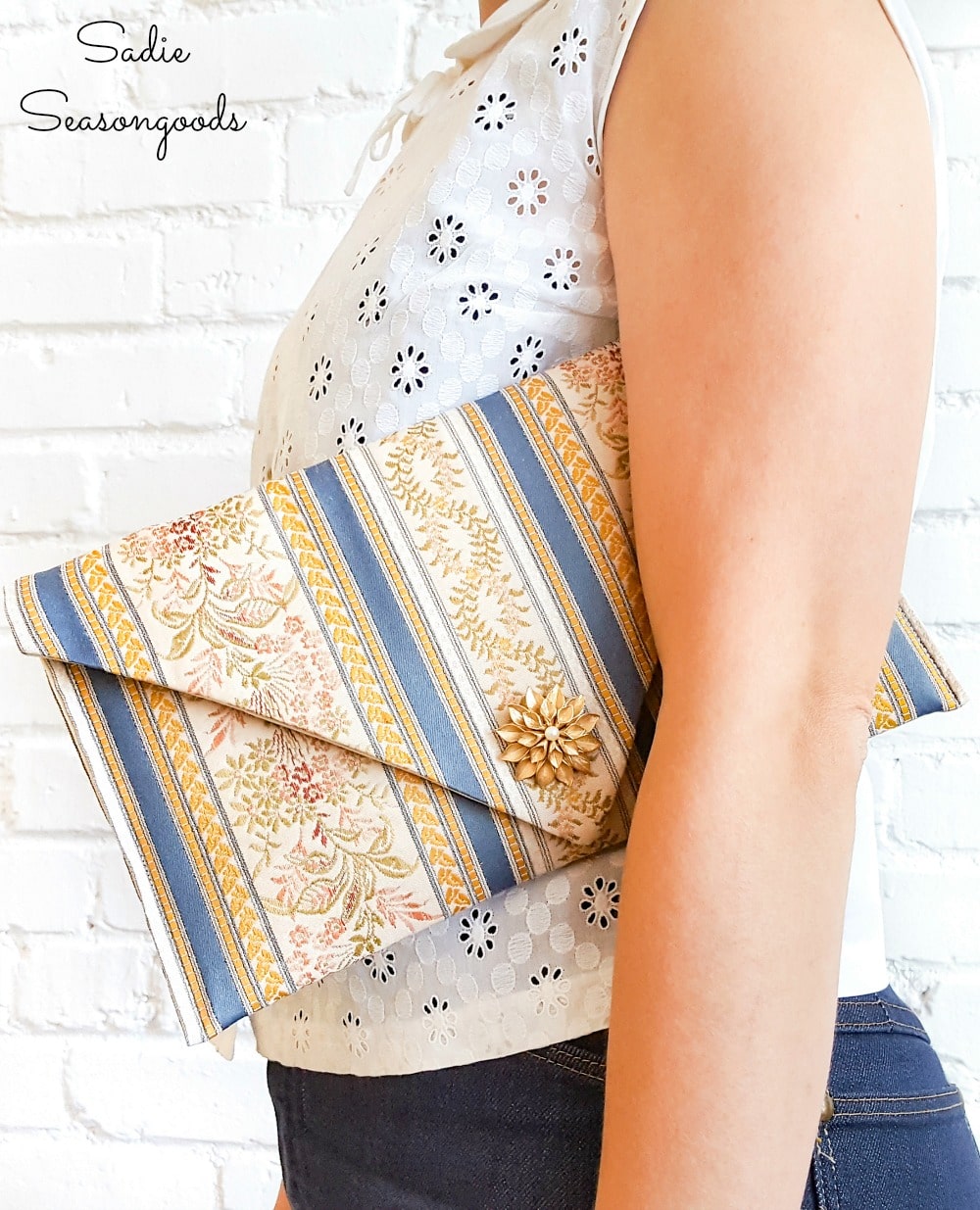 Who knew bag making could be so simple?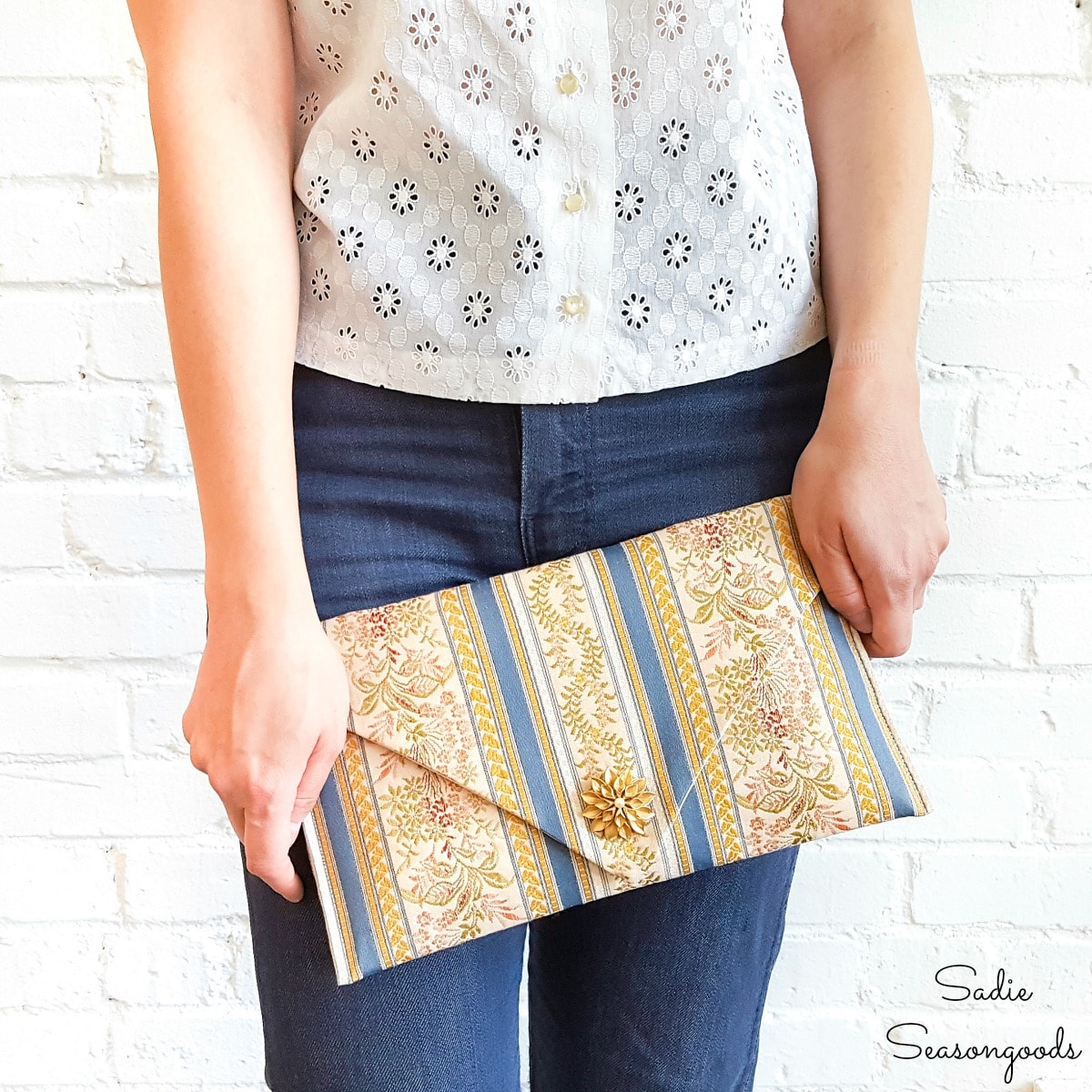 If you enjoyed this upcycling idea for a simply sewing project, then you may be very interested in my first book! It contains 55 project tutorials using flannel fabric- some sewing projects, some not!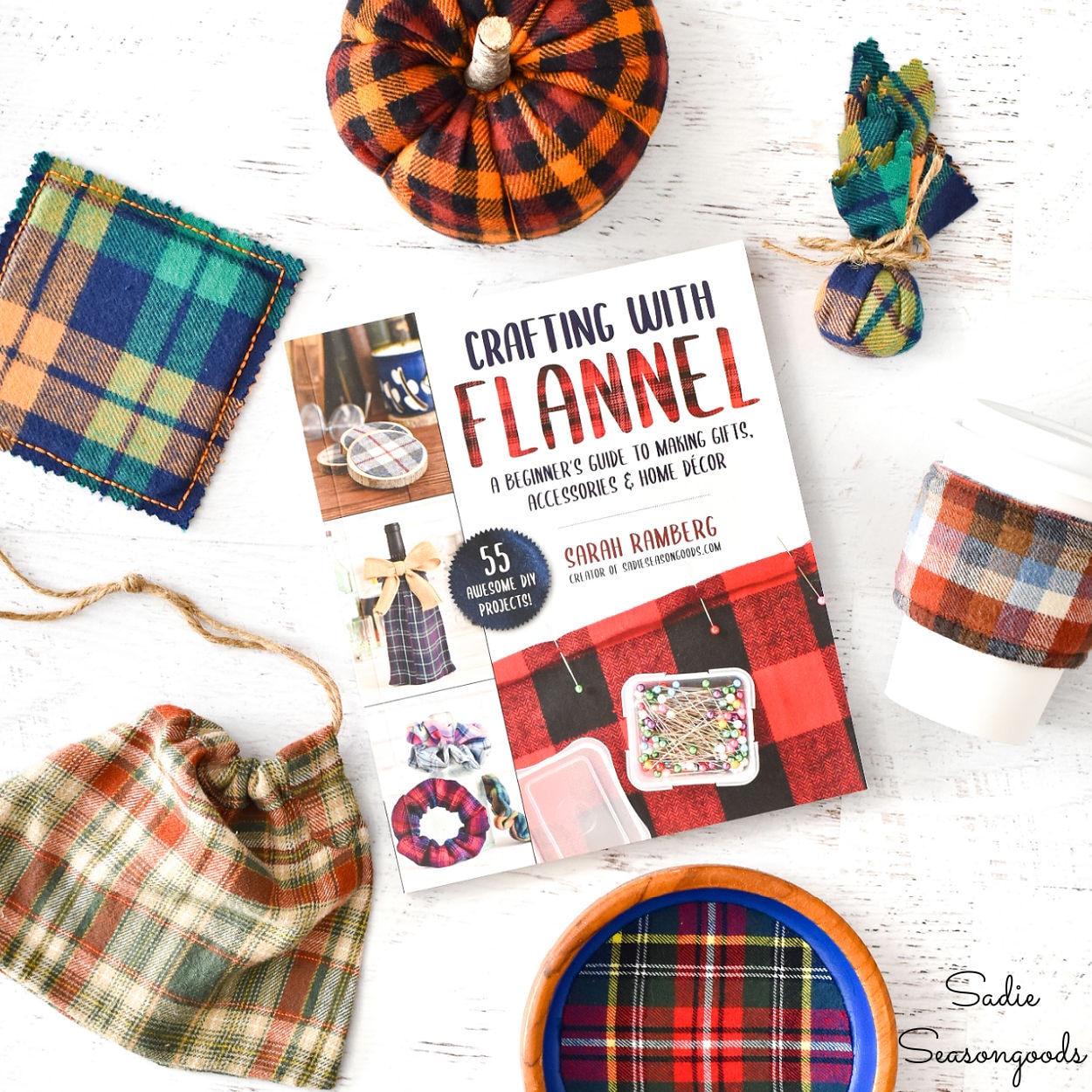 And for even MORE ideas for DIY Bags, I hope you'll check out this collection of inspiring ideas, as well!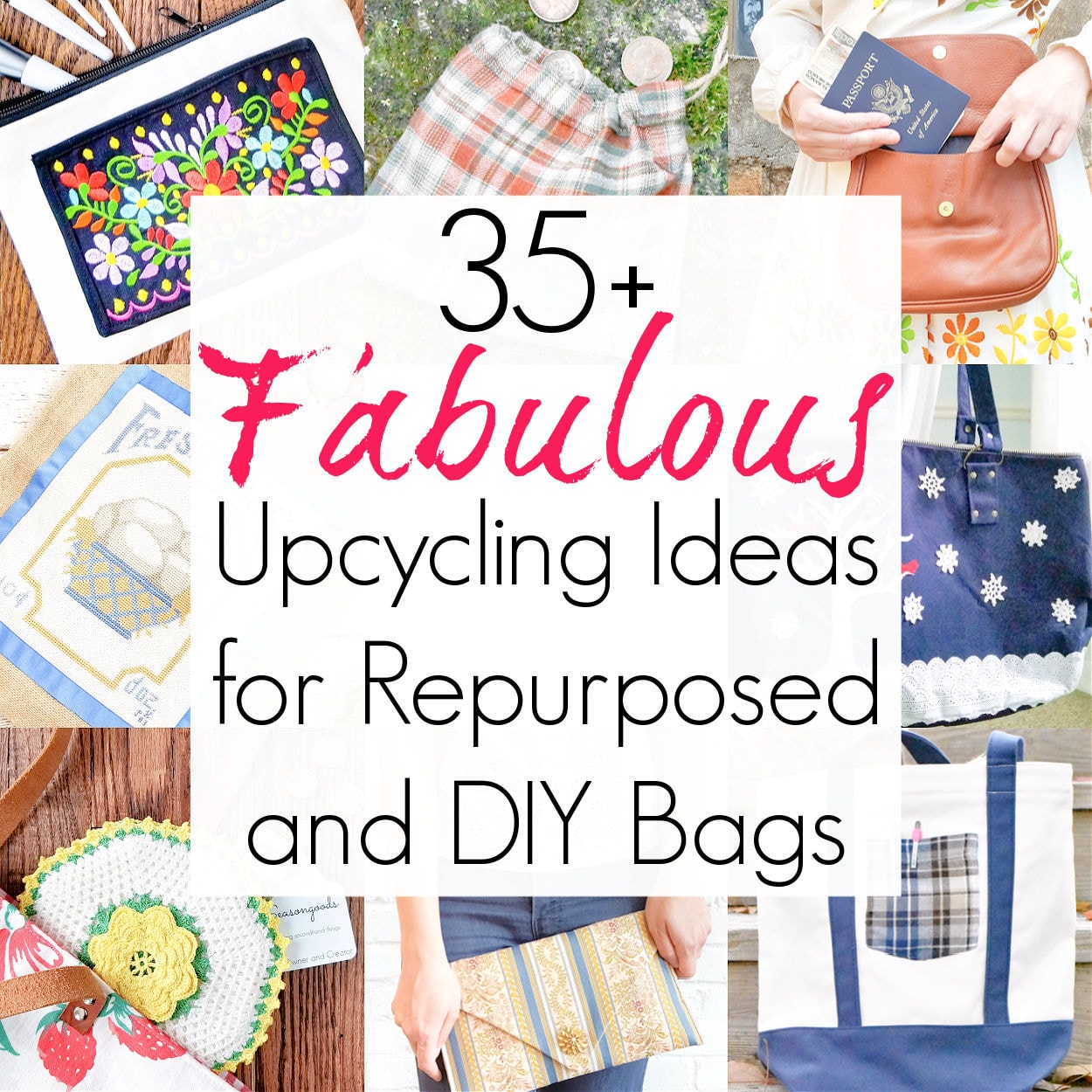 Craft on!
S
Want to be notified when I publish my next upcycling project tutorial?
Subscribe to Blog via Email
Join me on Social Media:

PIN ME!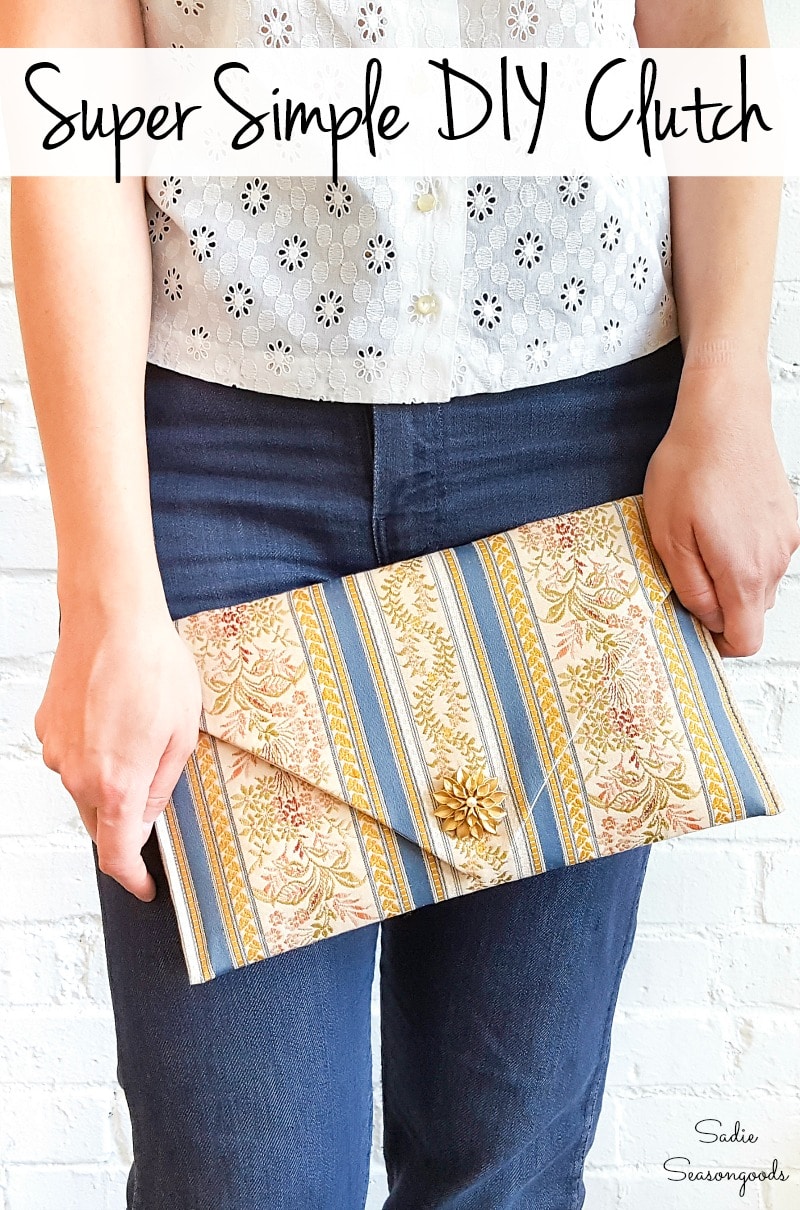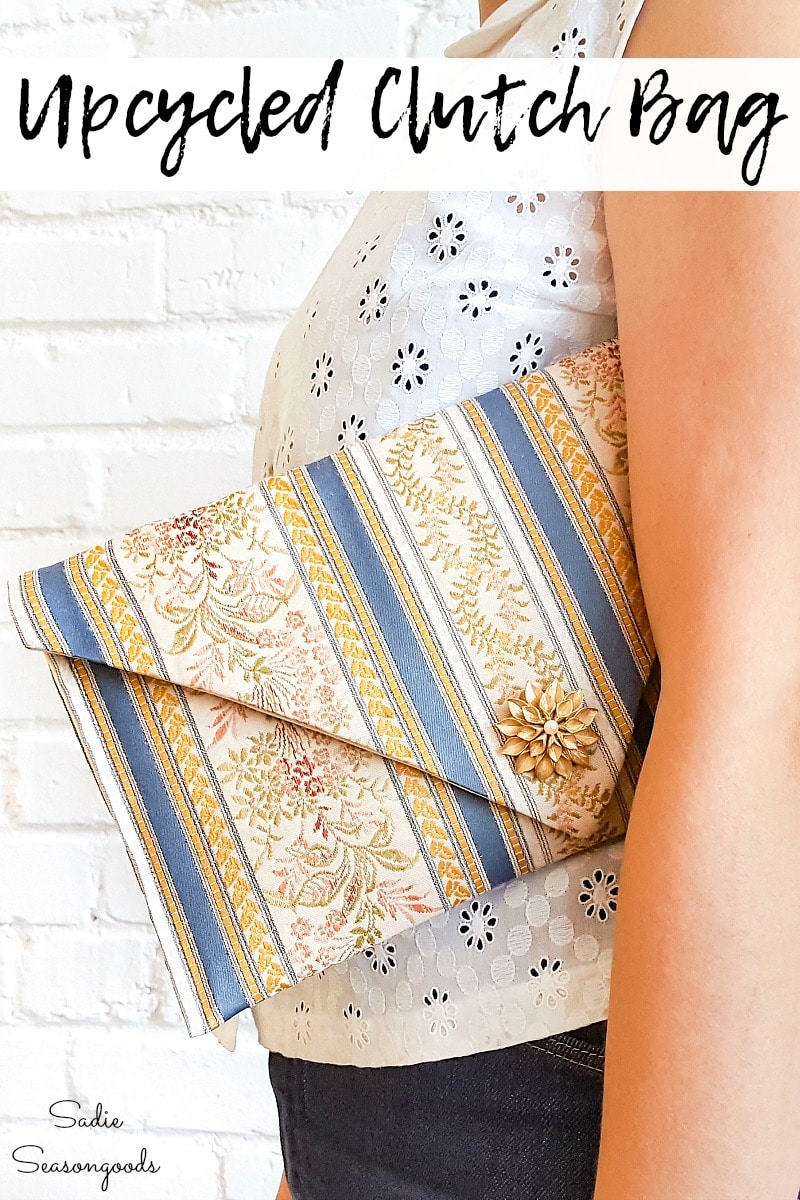 Sarah Ramberg is the owner of Sadie Seasongoods, a website that celebrates all things secondhand. From upcycling ideas and thrifted decor to vintage-centric travel itineraries, Sadie Seasongoods is a one-stop shop for anyone who loves thrifting and approachable repurposing ideas. Sarah is also the author of "Crafting with Flannel" and has been featured in numerous media outlets and magazines.