While we're not there yet, my hope is that in the near-ish future, we won't need to wear face masks constantly. Don't get me wrong, I'm happy to wear them until we're at comfortably safe place! But, if you're anything like me, you'll ultimately be left with a pile of masks and unsure what to do with them. So, I thought it might be fun to come up with a few repurposing ideas for a fabric face mask (which is the kind of I've been wearing for the past year).
Besides, I can't imagine that thrift stores will want ANY cloth face masks in your upcoming donations, and throwing them out seems wasteful.
But for me, personally? I already have a few where the elastic has gotten stretched out and/or I bought ones that were too uncomfortable to wear.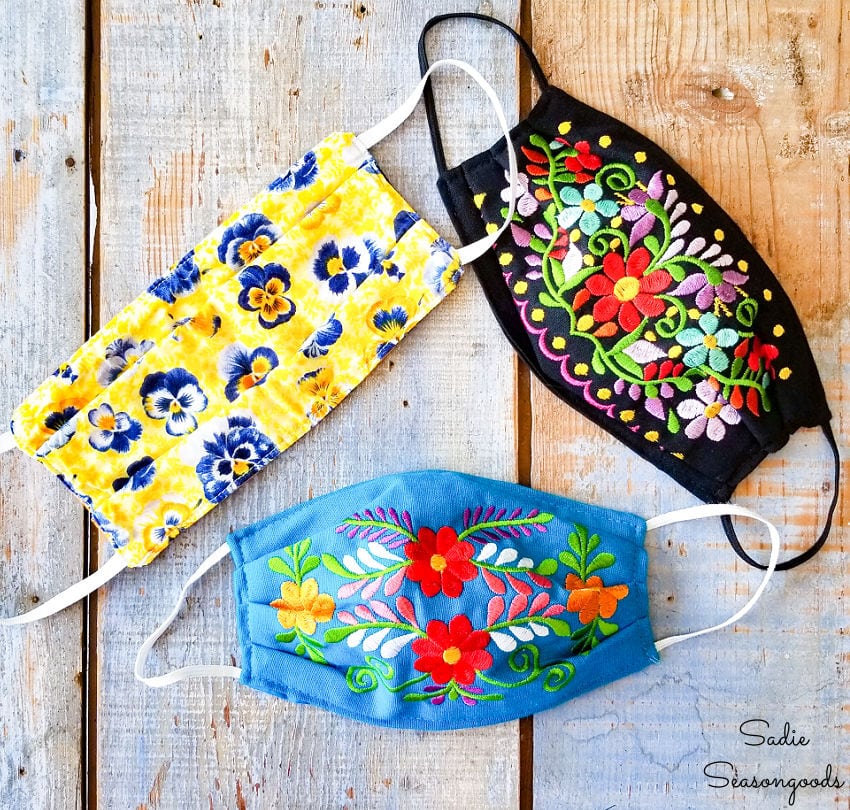 So, I wondered- what could I do with old face masks? Could they be repurposed somehow?
After all, I'm no stranger to fabric crafts, right? I wrote a book about projects to make with flannel shirts and fabric!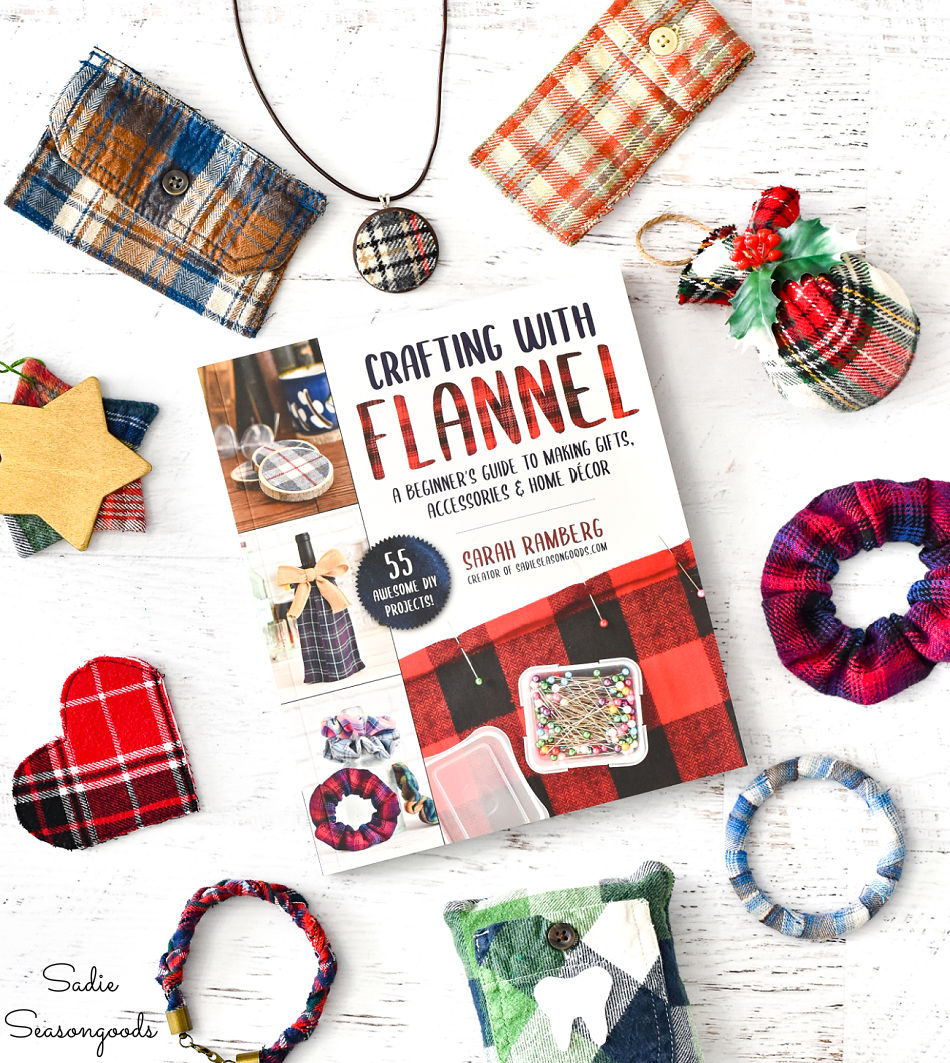 So, repurposing some cloth face masks seemed like a great idea for me to play around with!
This post contains affiliate links for your crafting convenience. As an Amazon Affiliate, I earn from qualifying purchases. All blue, bold, and underlined text is a clickable link, either to a product or to a related post.
What To Do With All Those Face Masks
Sometime last year, I purchased a pair of festive embroidered face masks that I thought were just SO pretty. But, as luck would have it, they were HORRIBLY uncomfortable.
So, I set them aside and never, ever wore them.
They were pretty enough to keep, though, so I decided to turn one into a coin purse! All I needed were some basic sewing supplies and a 2" frog closure.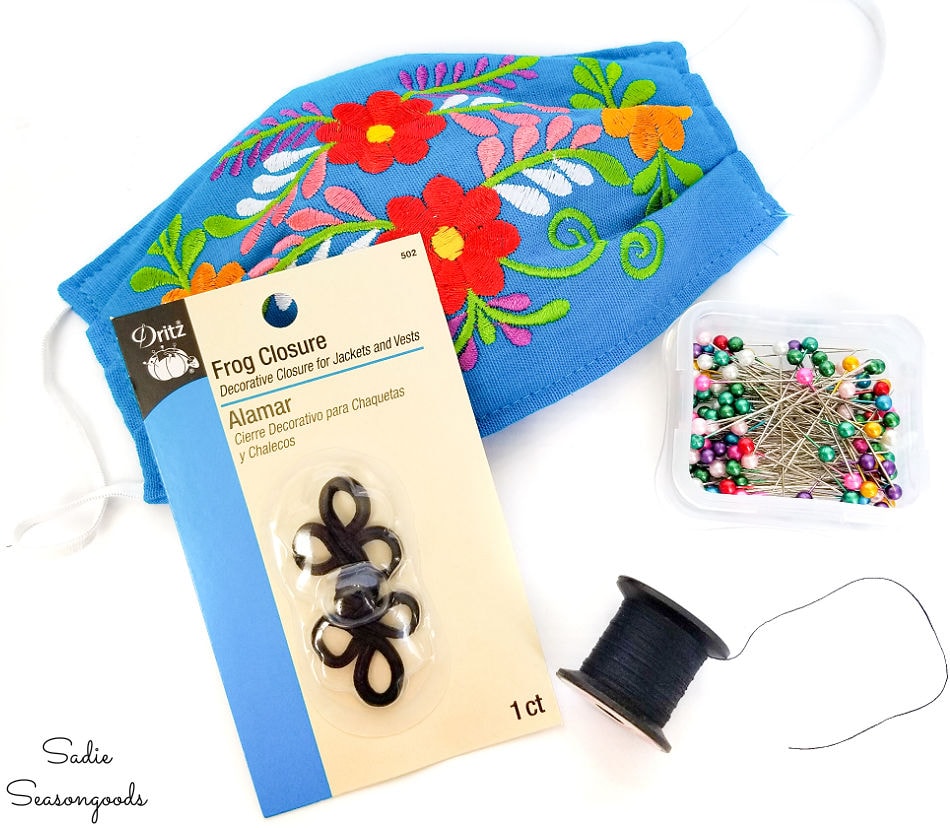 First, I removed the elastic ear bands. I pulled the elastic taut and used my seam ripper to cut the stitches that held it in place.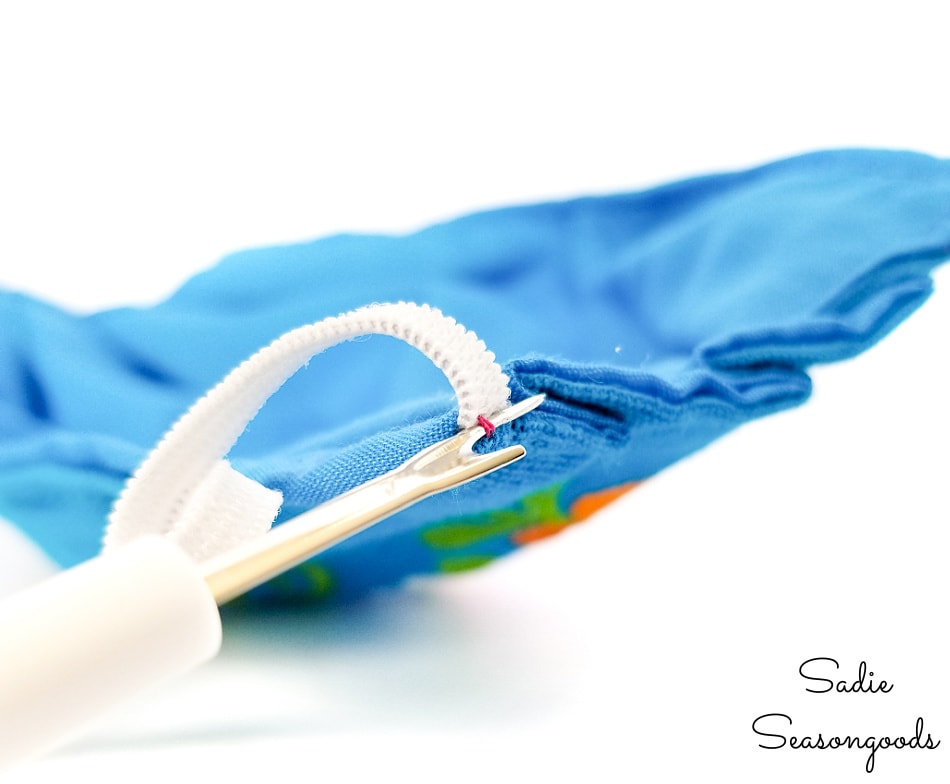 Since that left a bit of an opening in the corners of my fabric face mask, I proceeded to whip-stitch them closed.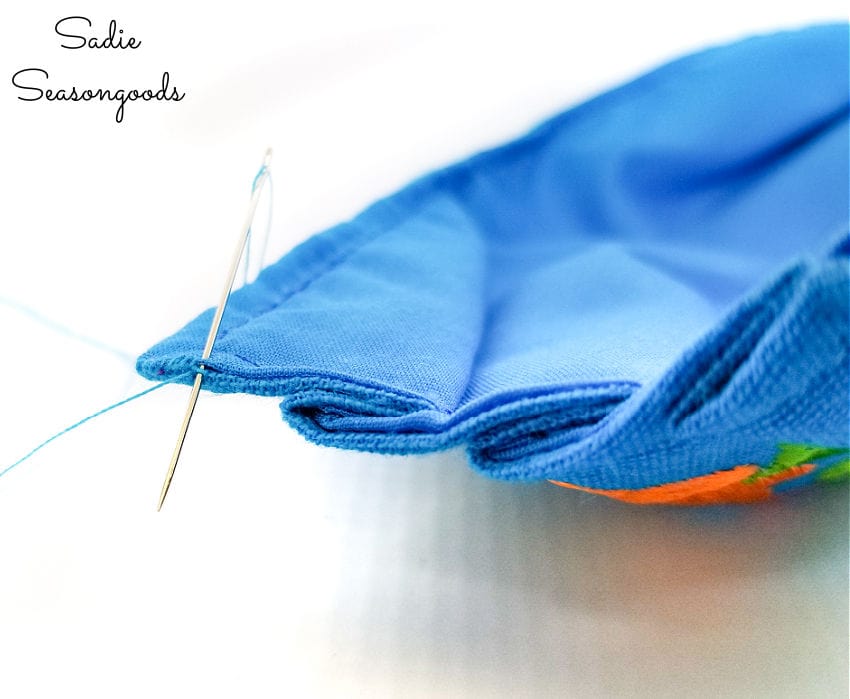 After that, I folded the face mask in half and pinned the frog closure over the top. I kept it closed/looped so that I knew exactly where to place it.
From Fabric Face Mask to DIY Change Purse
Next, I carefully stitched each half of the frog closure onto the face mask.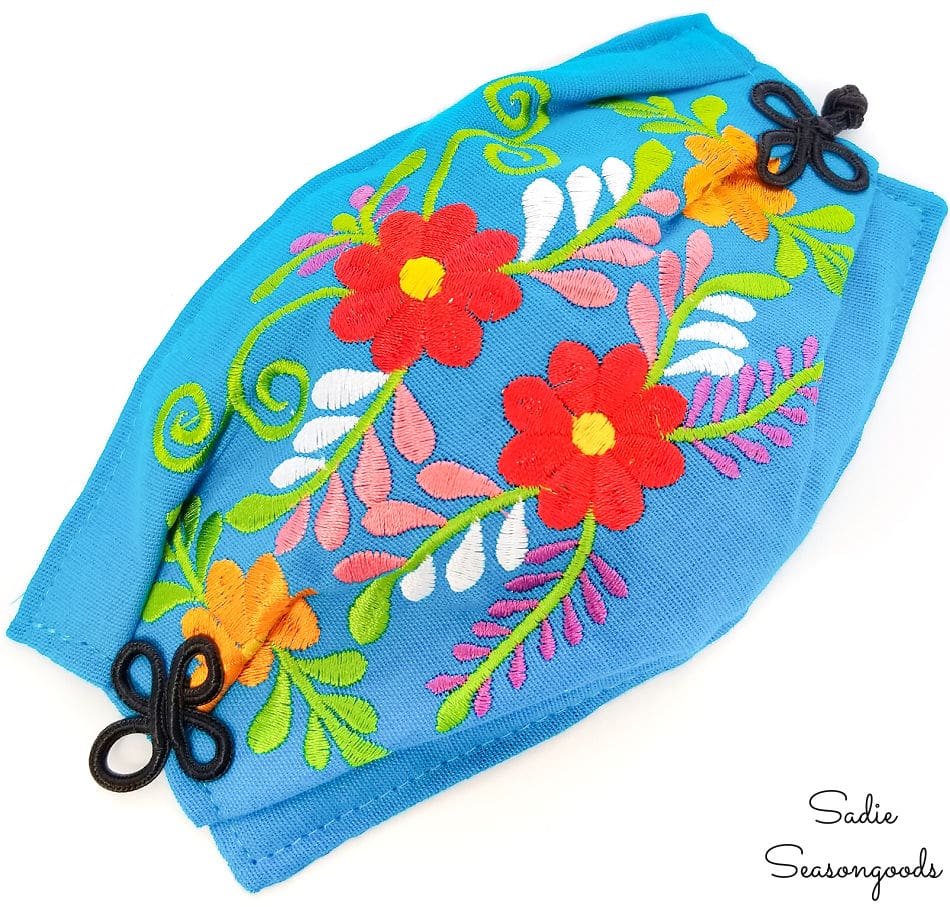 Once again, I folded the mask in half, hooked the closure, and pinned it together near the top opening.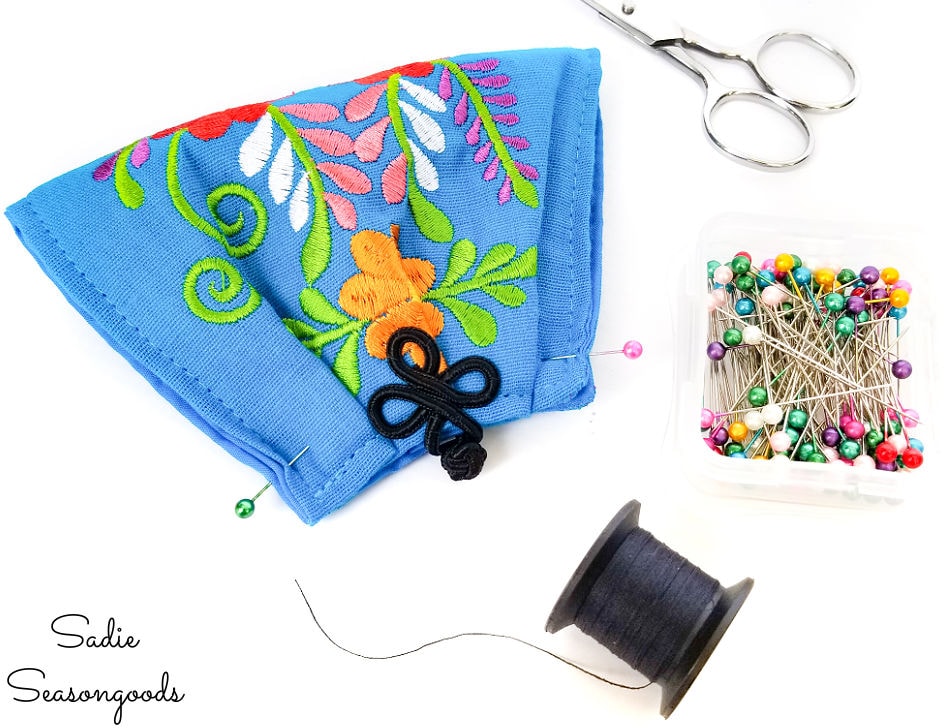 I strategically placed each straight pin ½" from the top to indicate where my stitching should stop. Going all the way to the top would have resulted in a very tiny opening in my coin purse.
Lastly, I stitched the sides of my DIY coin purse on my machine. I tried to go over the existing stitches…
But perfectly straight lines in sewing projects is NOT something I'm good at!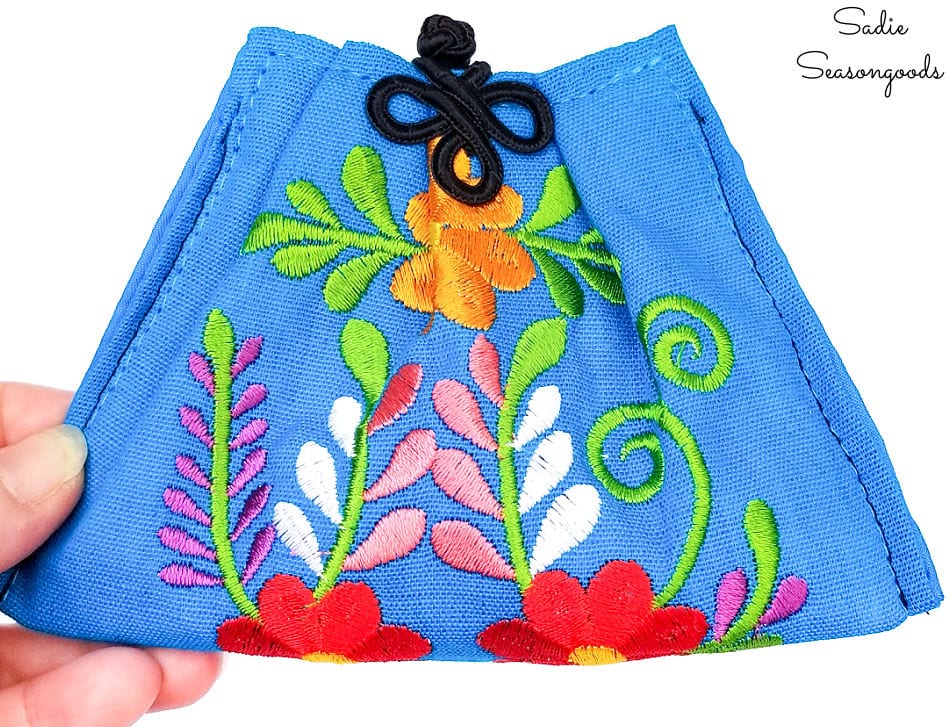 And just like that, I had repurposed one of my COVID face masks into a change purse in just a few minutes. It was so easy!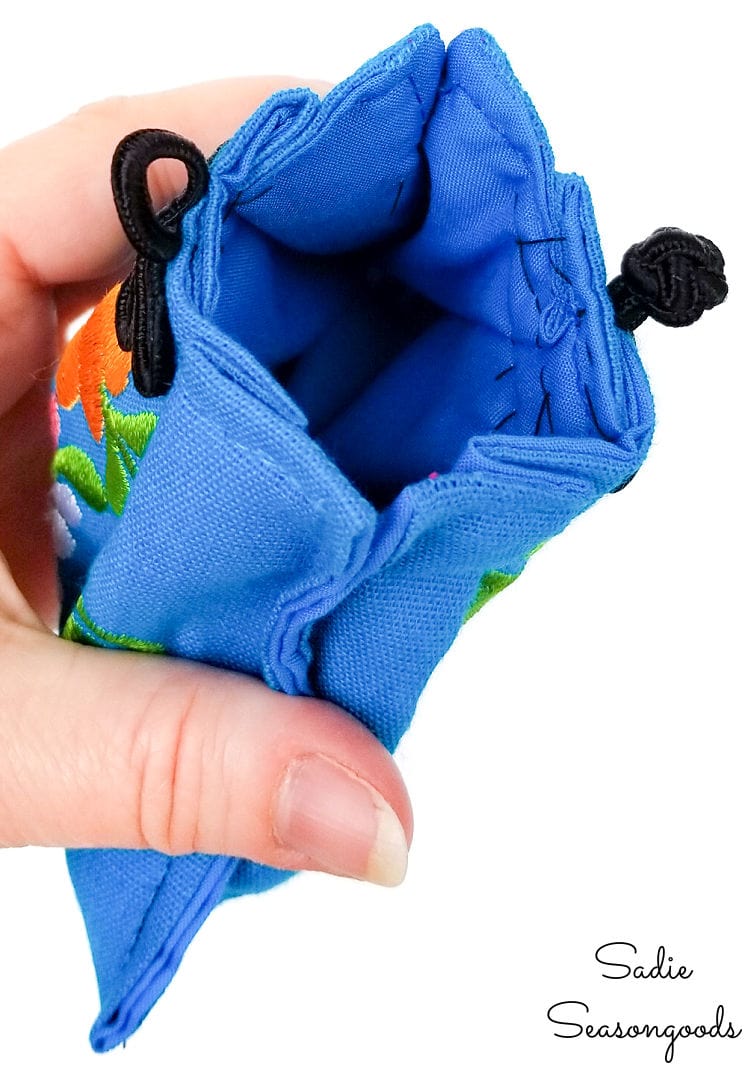 Business Card Holder or Gift Card Sleeve from a Fabric Mask
For this repurposing idea, I used a pleated face mask that I had sewn last year. The elastic wasn't quite shot, but it had gotten stretched out and the mask constantly slipped off my nose.
Once again, I began by snipping off the elastic bands right at the edge of the mask. Pulling them as I snipped help hide any frayed edges.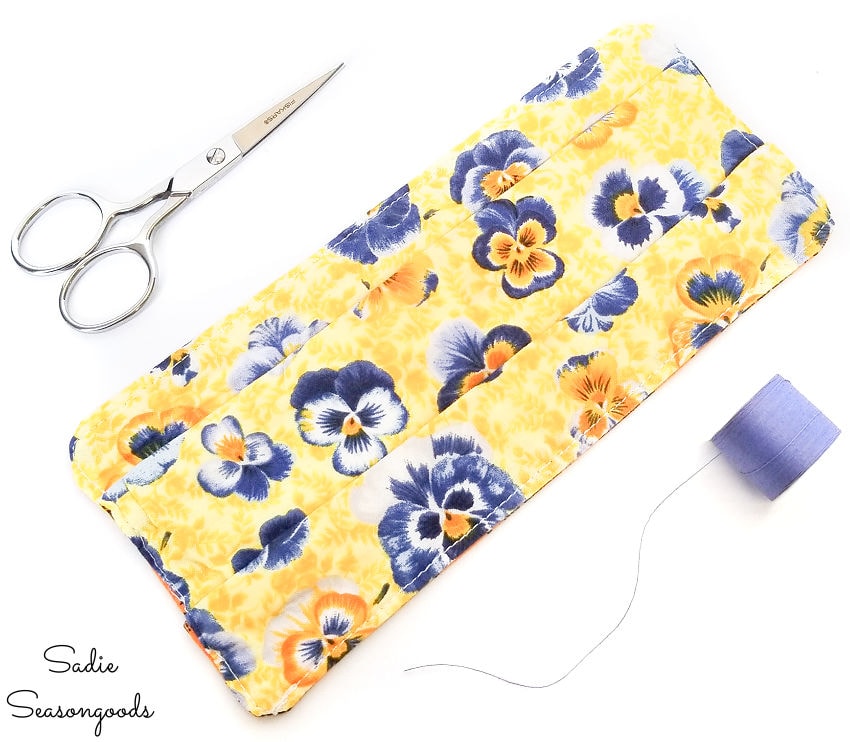 Then, I ironed the pleats until they were crisp and proceeded to stitch the pleats down with contrasting thread.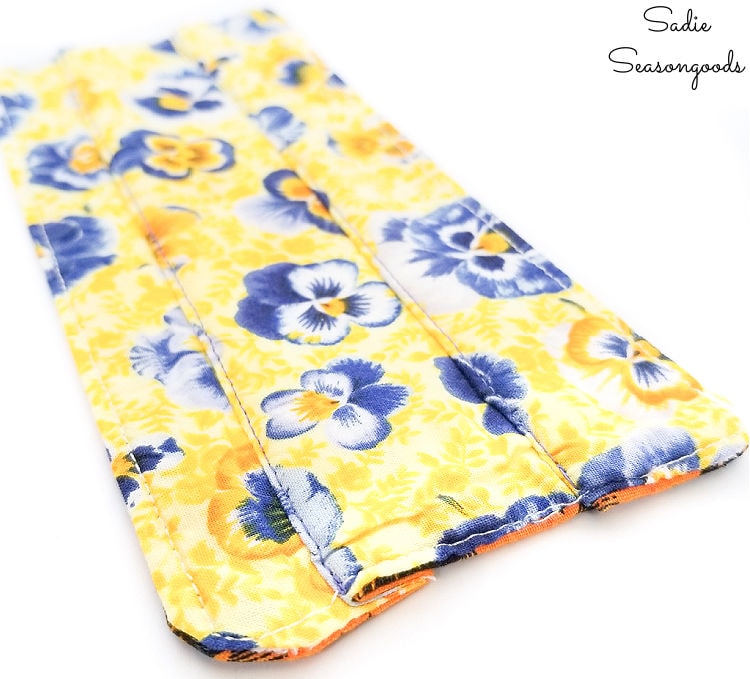 This resulted in a relatively flat surface and would prevent the pleats from getting snagged while in my purse.
Lastly, I folded the cotton face mask in half and pressed it with my iron. Then, I simply used my sewing machine to stitch down the sides and bottom to create a (relatively) flat card sleeve.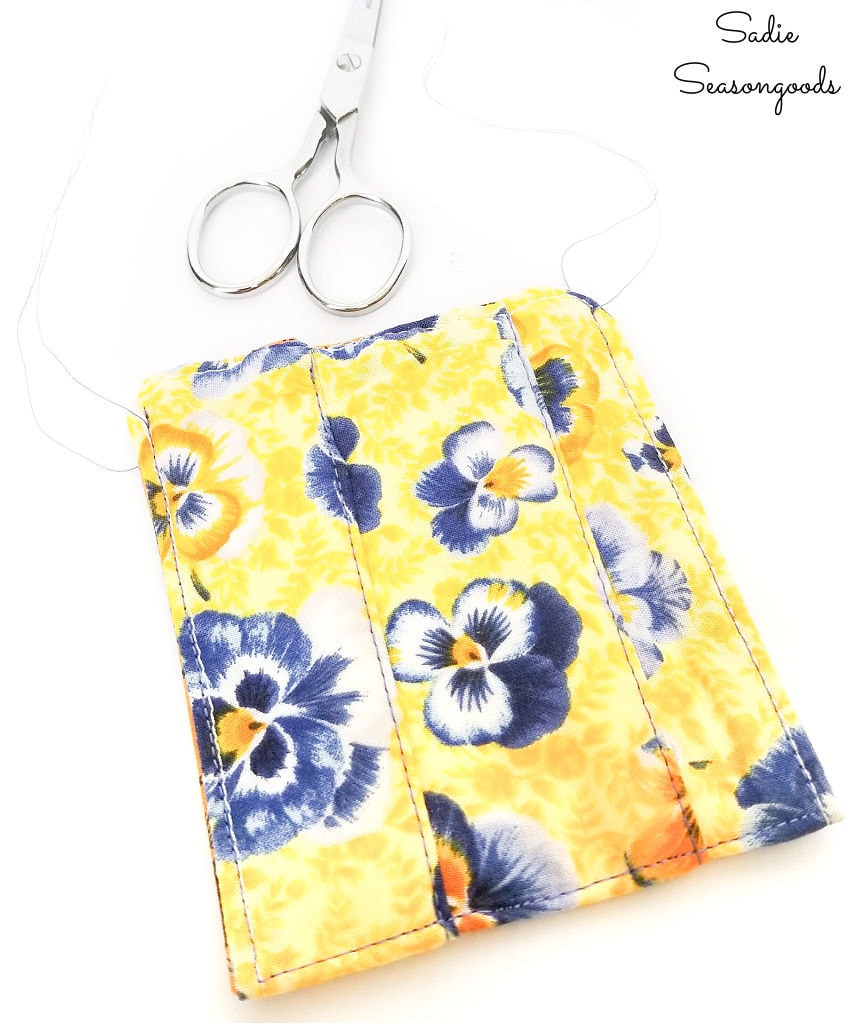 Now I can use it to hold business cards or a gift card!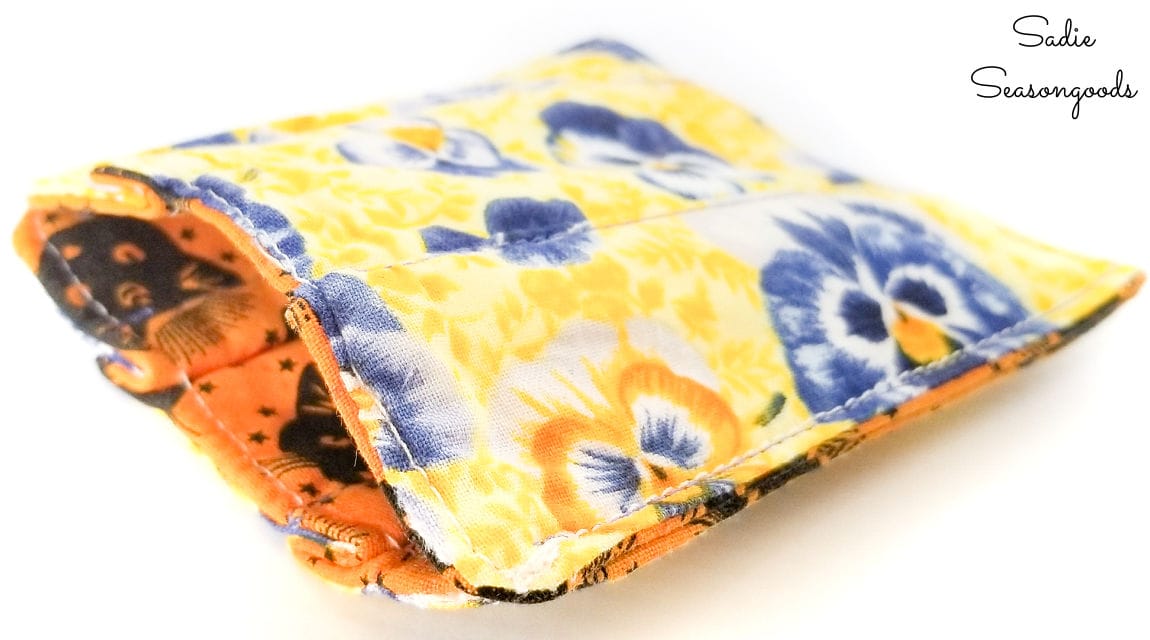 And yes, that's a Halloween cat (Swami cat!) fabric on the inside. I wore a Halloween mask all year in 2020 and I got a LOT of compliments on it.
Cloth Face Mask as a Decorative Patch
For my third face mask recycle, I decided to turn one into a decorative patch. I already had a plain canvas makeup bag to use it on, which worked out wonderfully.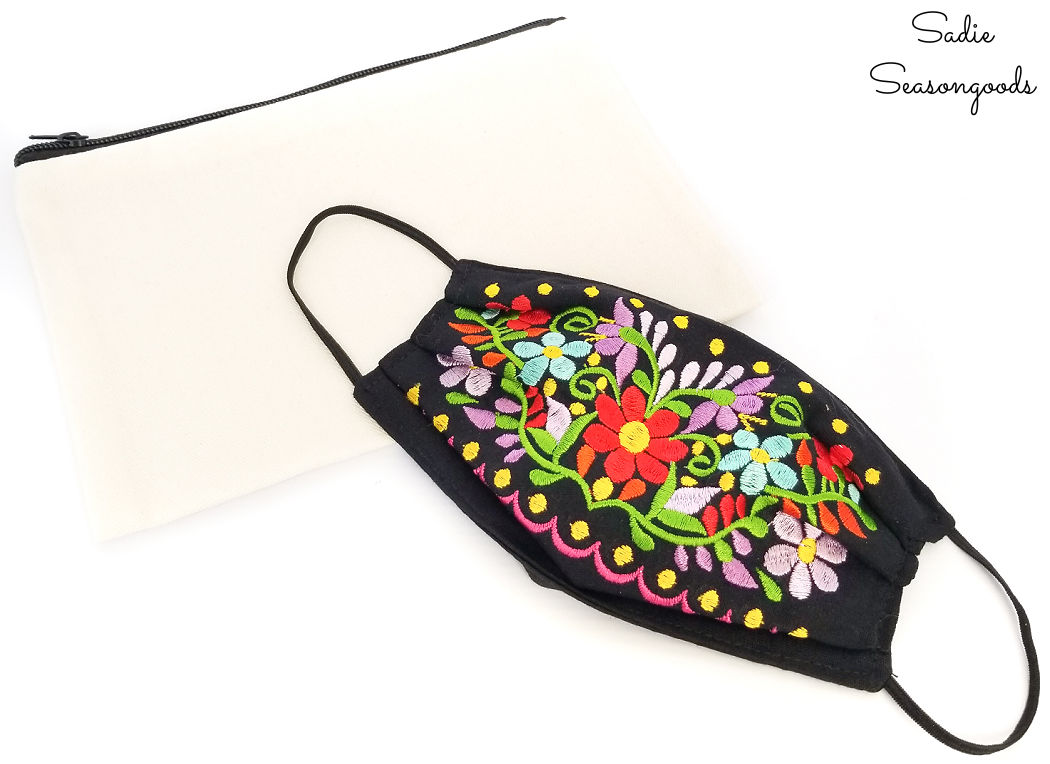 First, I used my seam ripper to undo the side pleats from the cotton face mask.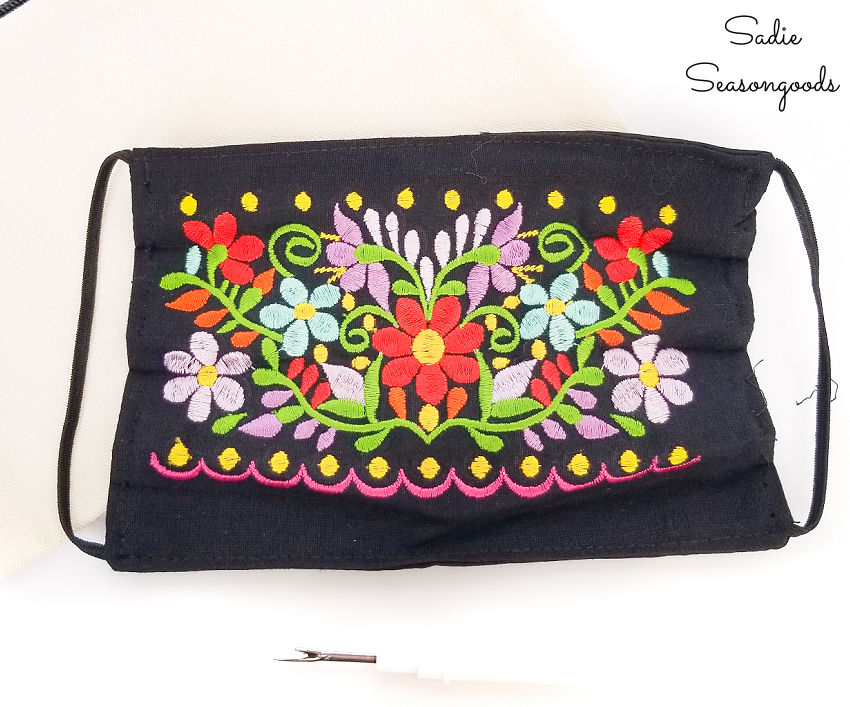 Then, I trimmed off all the excess fabric (and elastic bands, of course), leaving me just the embroidered panel which I'd use as a patch.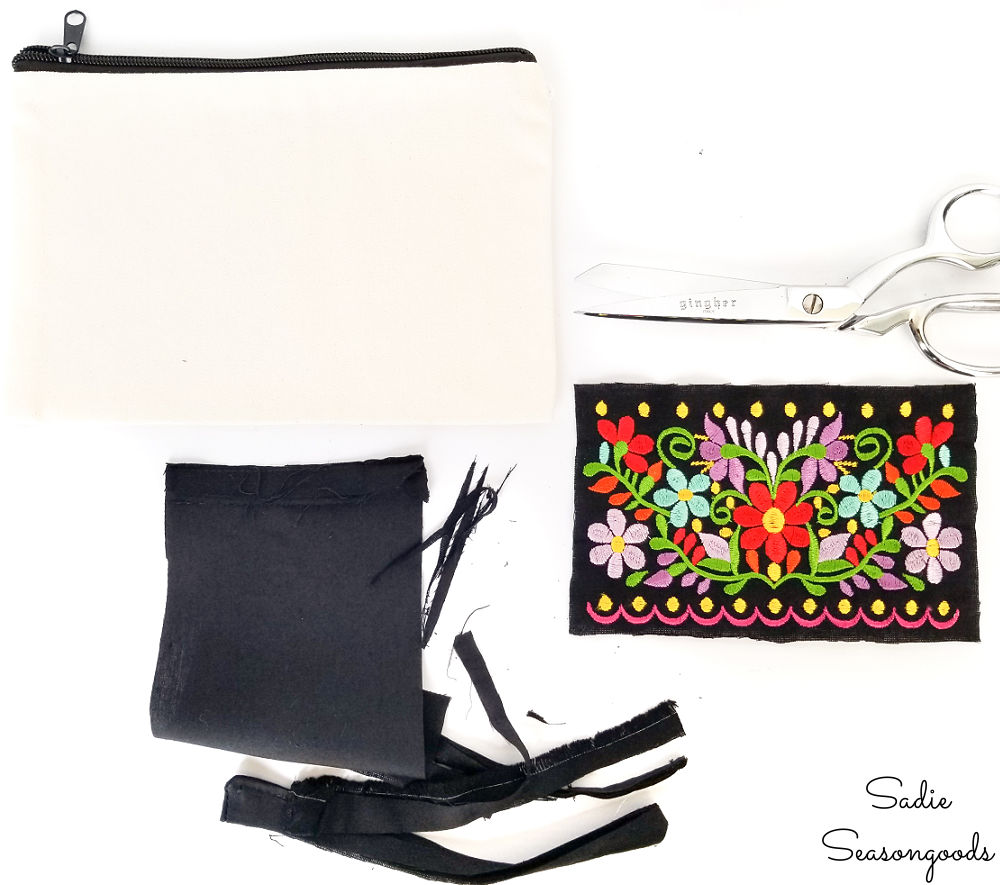 Next, I stitched the raw edges of my mask into some ¼" bias tape to give my patch a clean and finished look.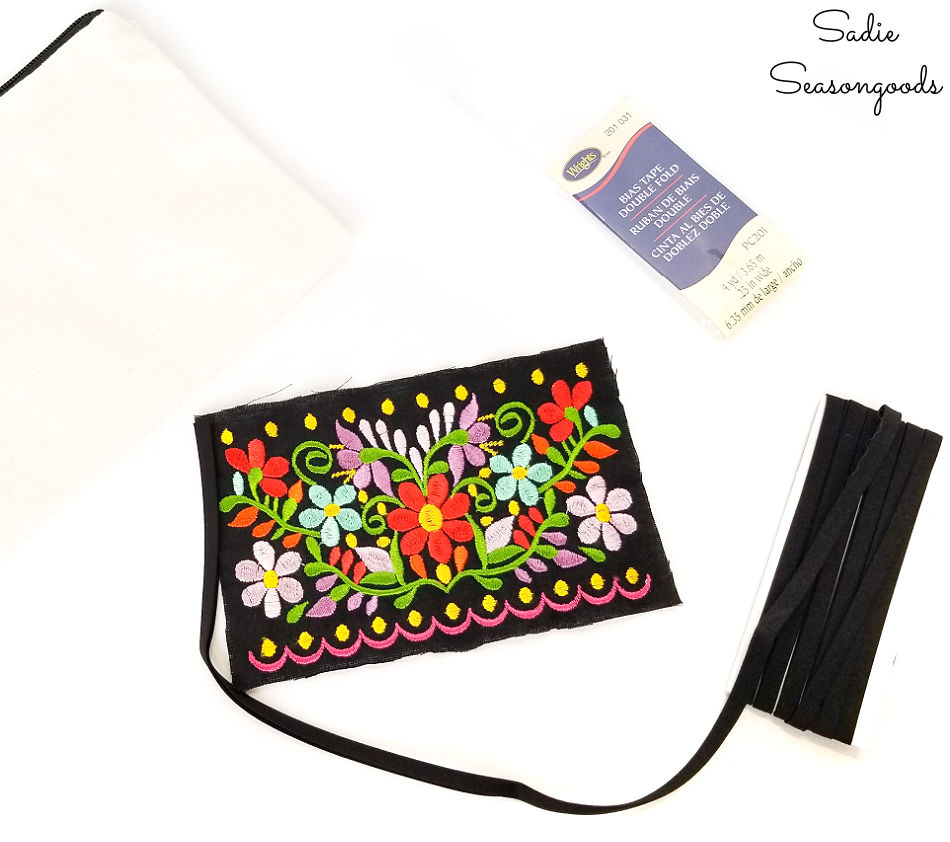 All I needed to do then was attach my face mask patch to the canvas bag! How easy was that?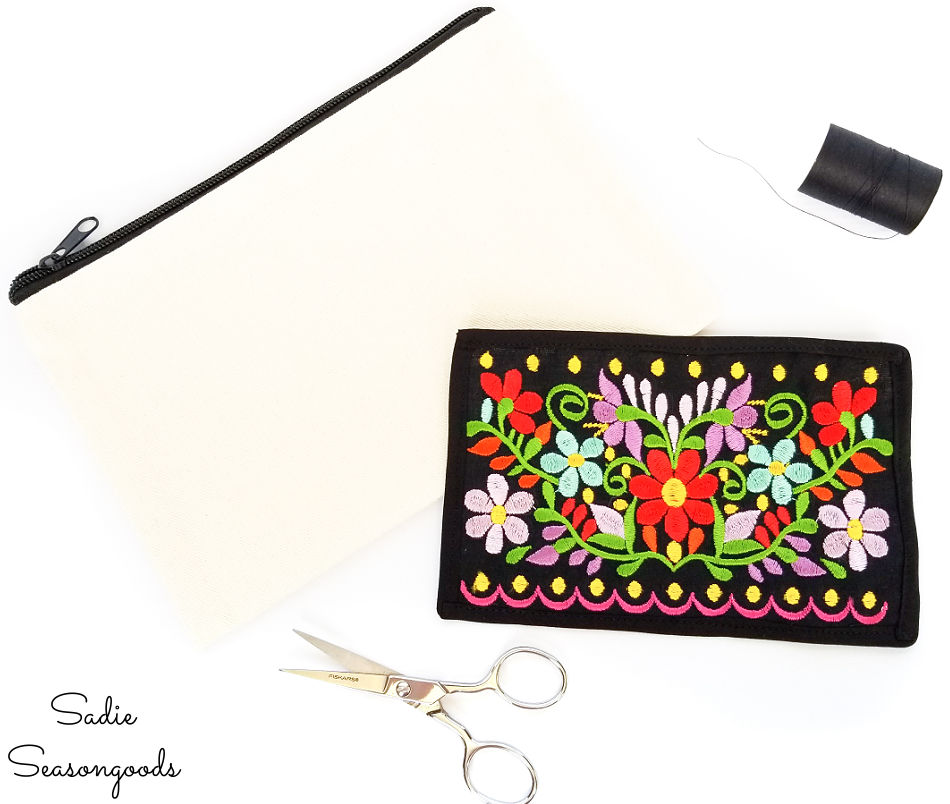 I stuck a rectangle of aluminum foil inside the makeup bag before using fabric glue to attach the patch. As added insurance, I also added a few stitches at each of the four corners, once the glue dried.
When all was said and done, my repurposed face masks were as cute as could be. And none of them took more than 30 minutes or so to complete.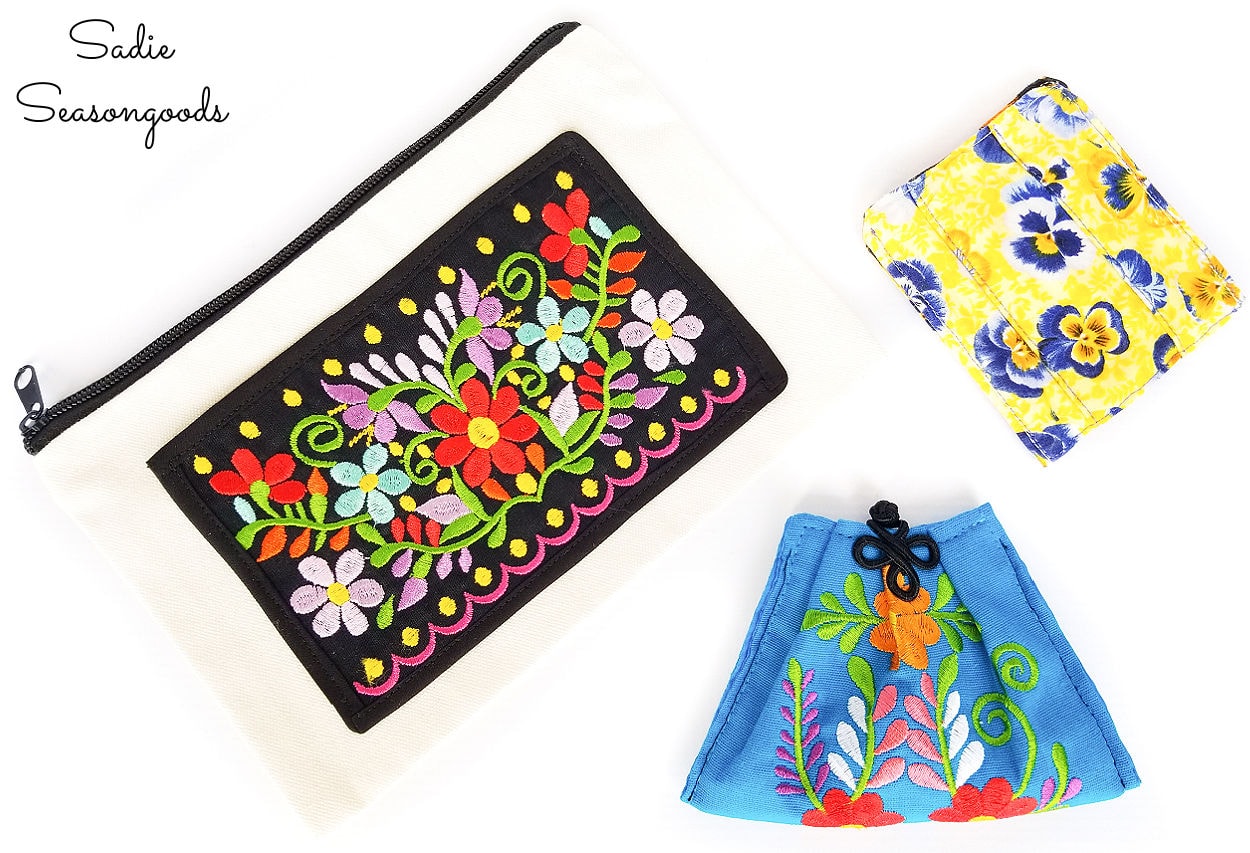 Repurposing Ideas for Face Masks
I just LOVE how each of my repurposed face mask projects turned out! They're all very easy upcycling ideas that any level of crafter could do.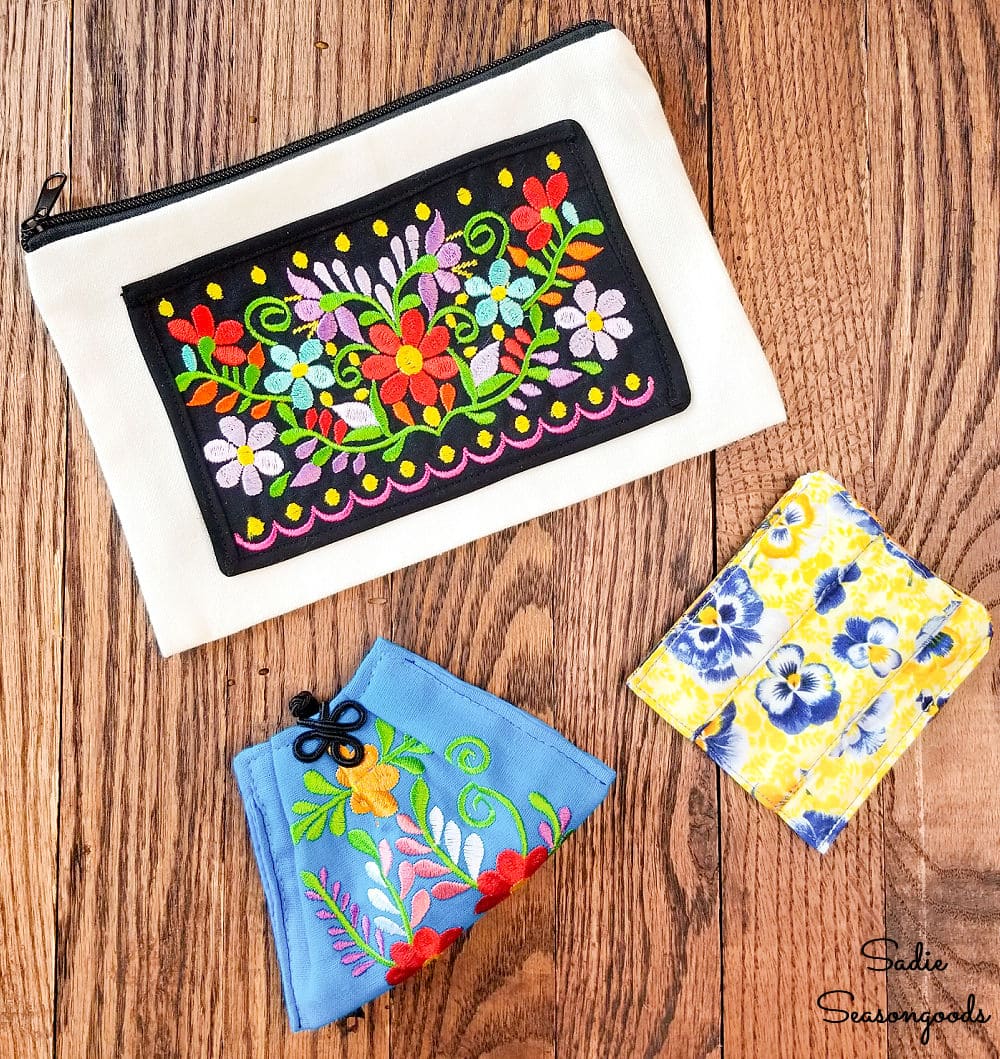 However, I think the patch on my makeup bag is my favorite of the three. It looks like a bag I'd pick up at a boutique. And then probably put back because I'm a cheapskate and wouldn't want to pay that much for it!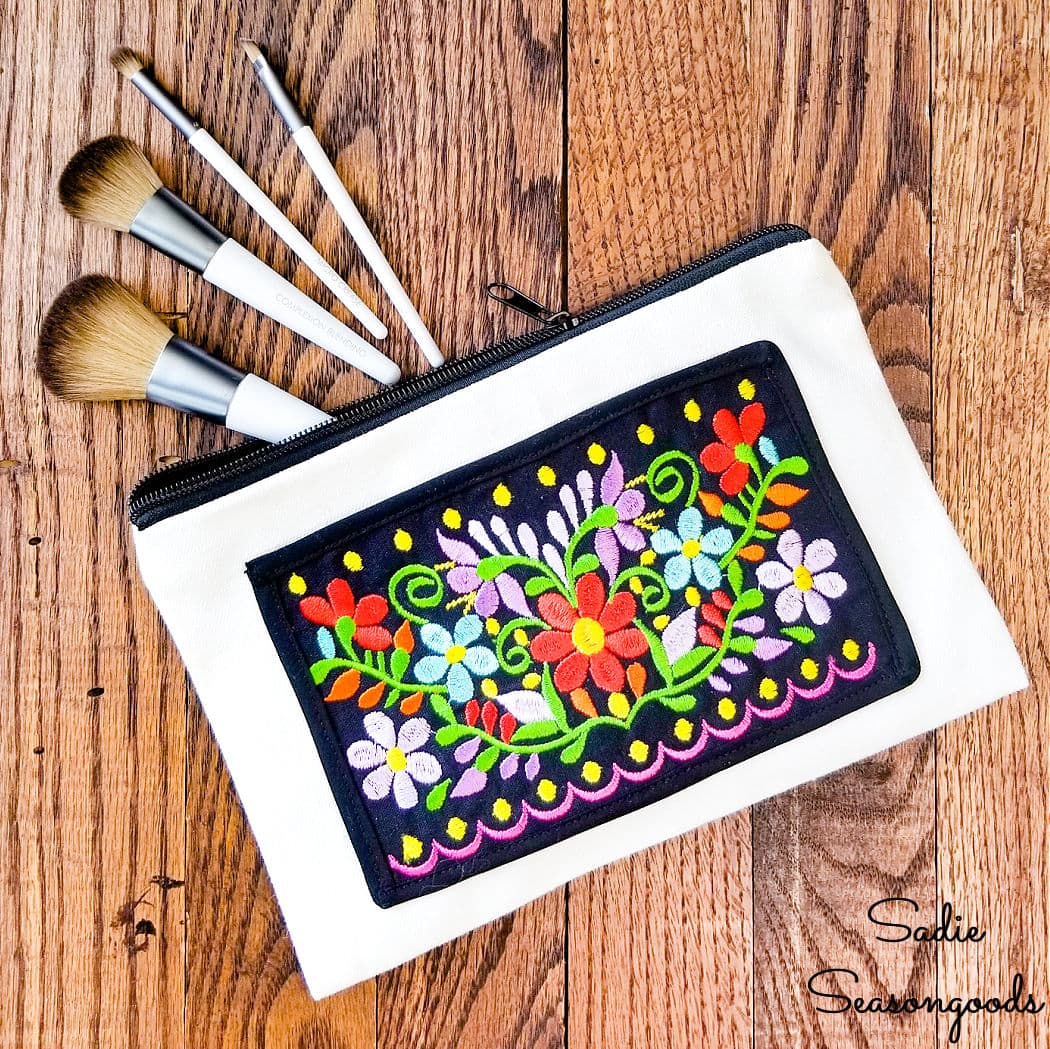 Do you think you'll be upcycling any of your COVID face masks once we don't need to wear them anymore?
I'll definitely save a few for future use- flu season, airplanes, etc. But throwing out my other masks seems wasteful (and maybe careless, since many of mine were handmade).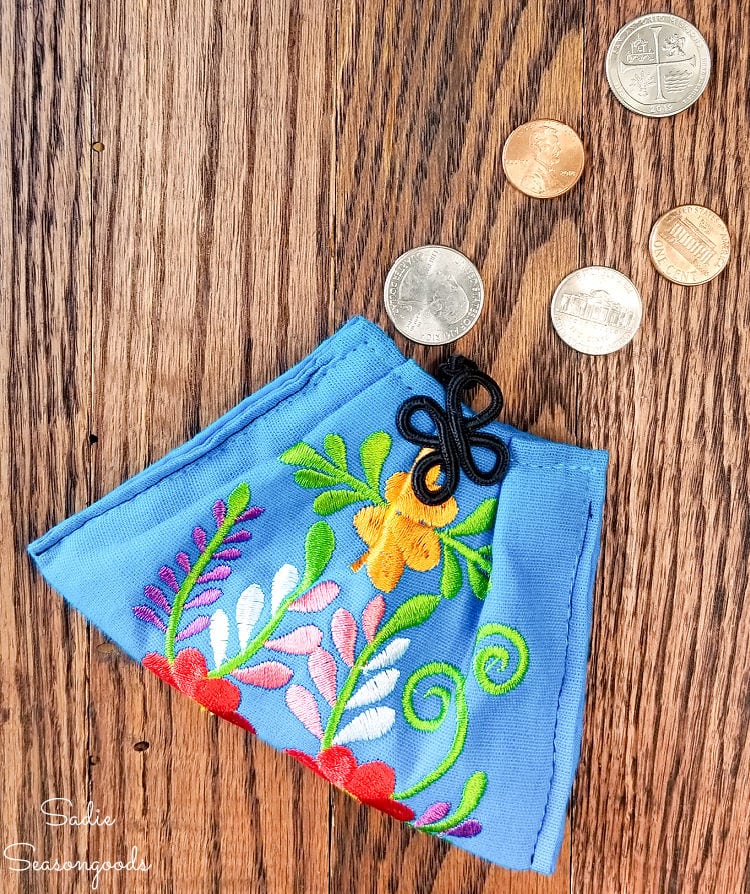 And while all cloth masks are different in terms of construction and appearance, it's fun to think of ways to recycle them for future use!
Speaking of which, I've teamed up with my friend, The Refashionista, on this mask-repurposing adventure. Check out what she did with this mask on her blog!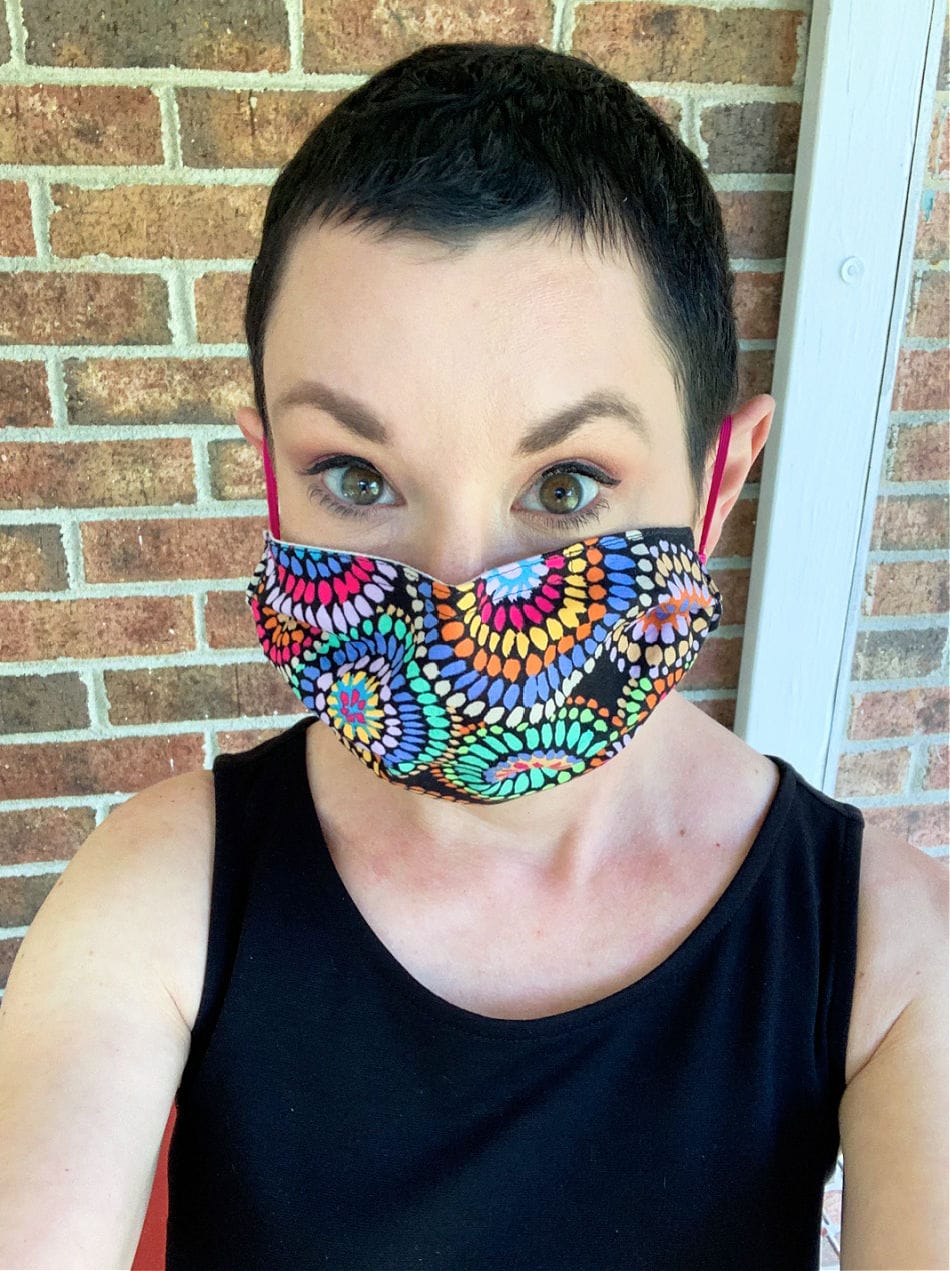 And if you enjoyed these ideas for repurposing cloth face masks, then you may also be interested in my hidden pin cushion inside a vintage teapot, as well!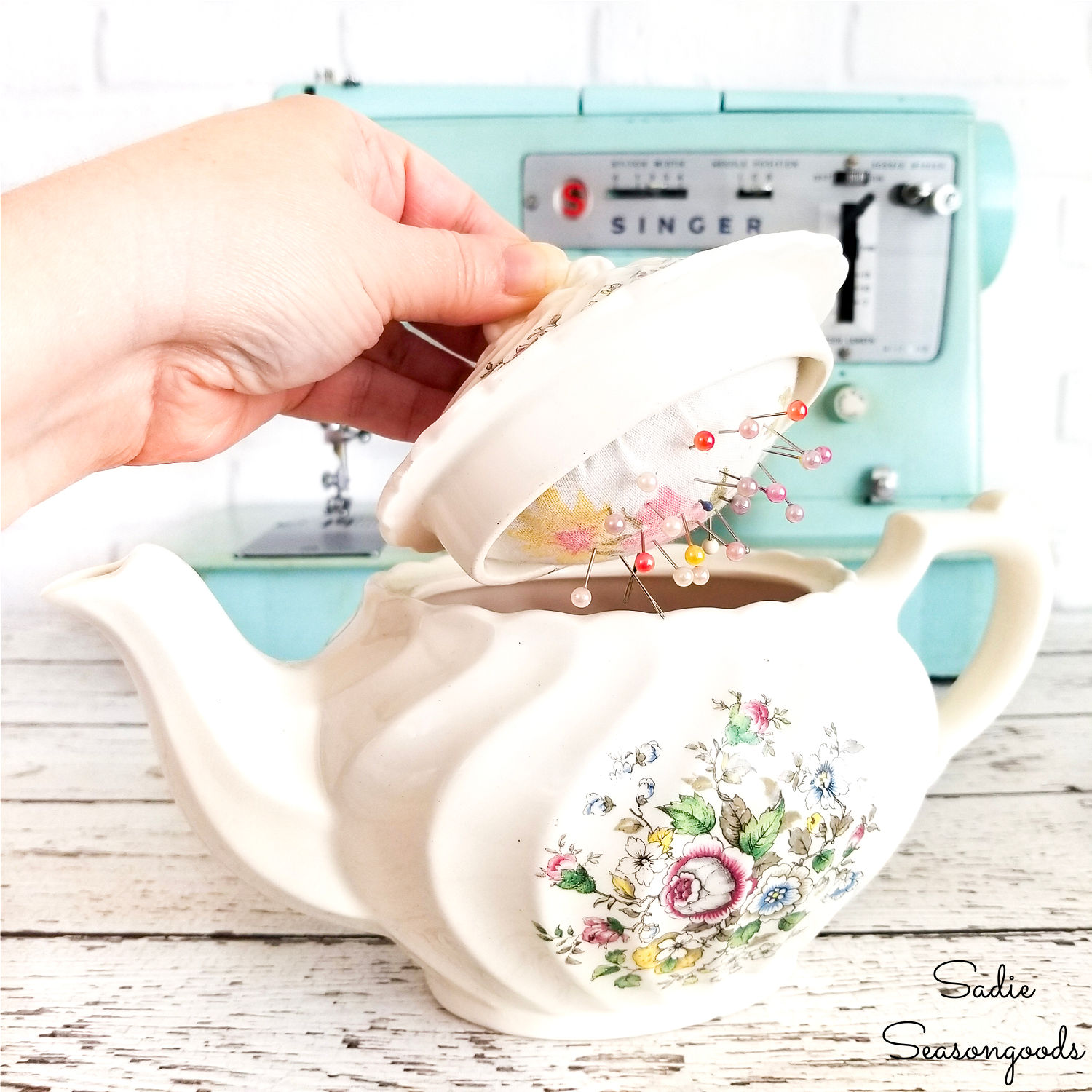 Craft on!
S
Want to be notified when I publish my next upcycling project tutorial?
Subscribe to Blog via Email
Join me on Social Media:

PIN ME!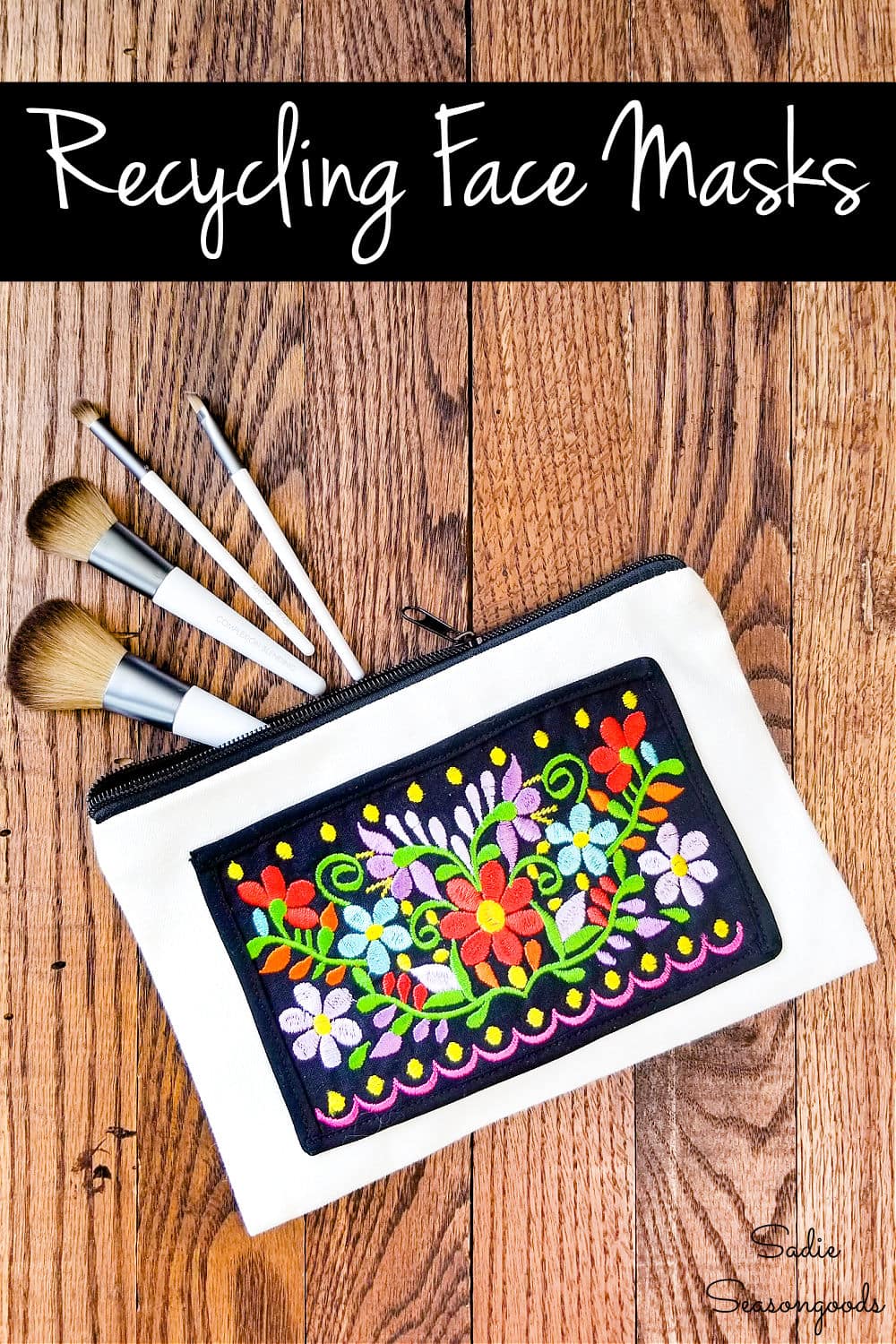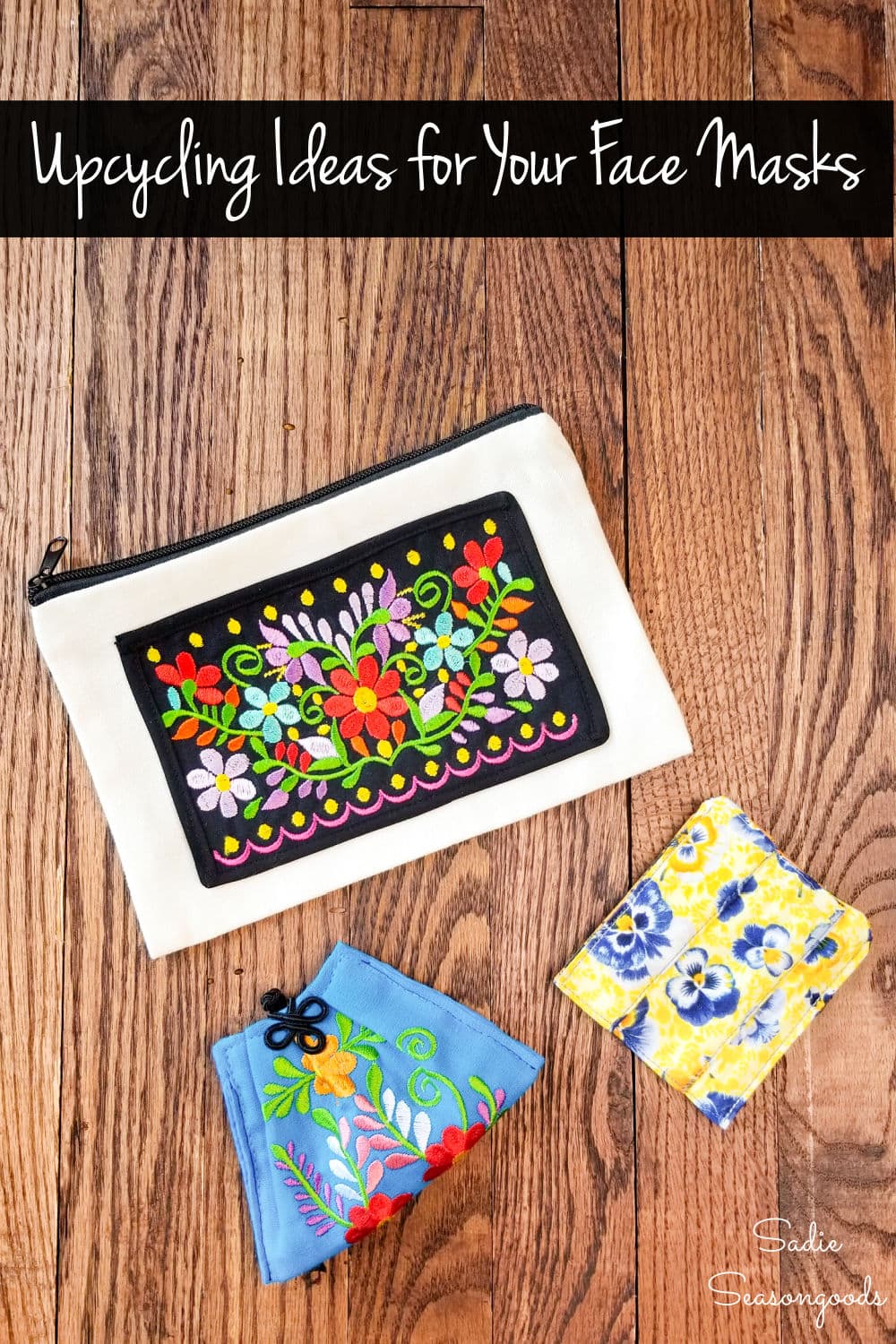 Sarah Ramberg is the owner of Sadie Seasongoods, a website that celebrates all things secondhand. From upcycling ideas and thrifted decor to vintage-centric travel itineraries, Sadie Seasongoods is a one-stop shop for anyone who loves thrifting and approachable repurposing ideas. Sarah is also the author of "Crafting with Flannel" and has been featured in numerous media outlets and magazines.