Vintage Florentine pieces are pretty common at antiques shops- you know what I'm talking about, right? The gold painted pieces like trays, jewelry boxes, etc.? Well, for years I've admired Florentine coasters and always secretly thought about turning them into Christmas ornaments. I just couldn't bear the thought of purchasing a perfectly good, full-priced set and doing that.
But, I ended up finding a baggie of wood coasters that were already painted in a Florentine gold!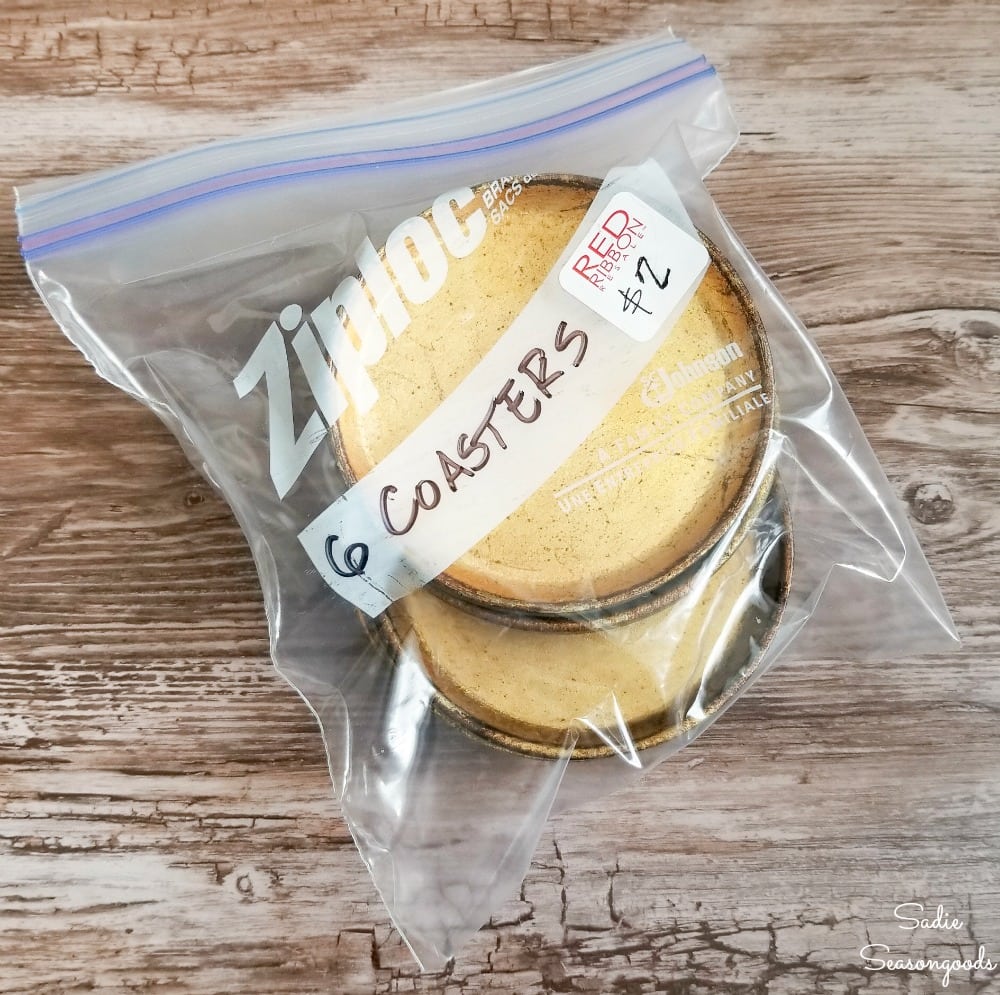 My thrifted coasters were very pretty and just a tad beat-up…making them perfect candidates for an upcycling project.
I decided I would add a little paint and an embellishment (such as filigree jewelry) as an homage to authentic Florentine coasters.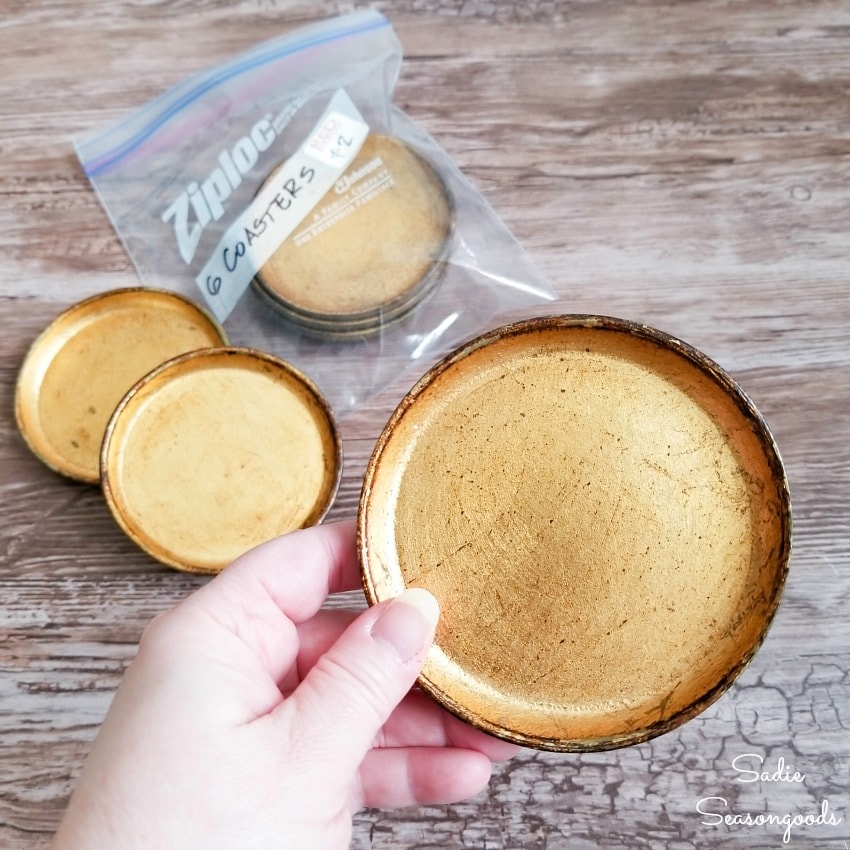 And yes, I *have* used jewelry bits in my ornament-making adventures before! Remember these wooden snowflake ornaments?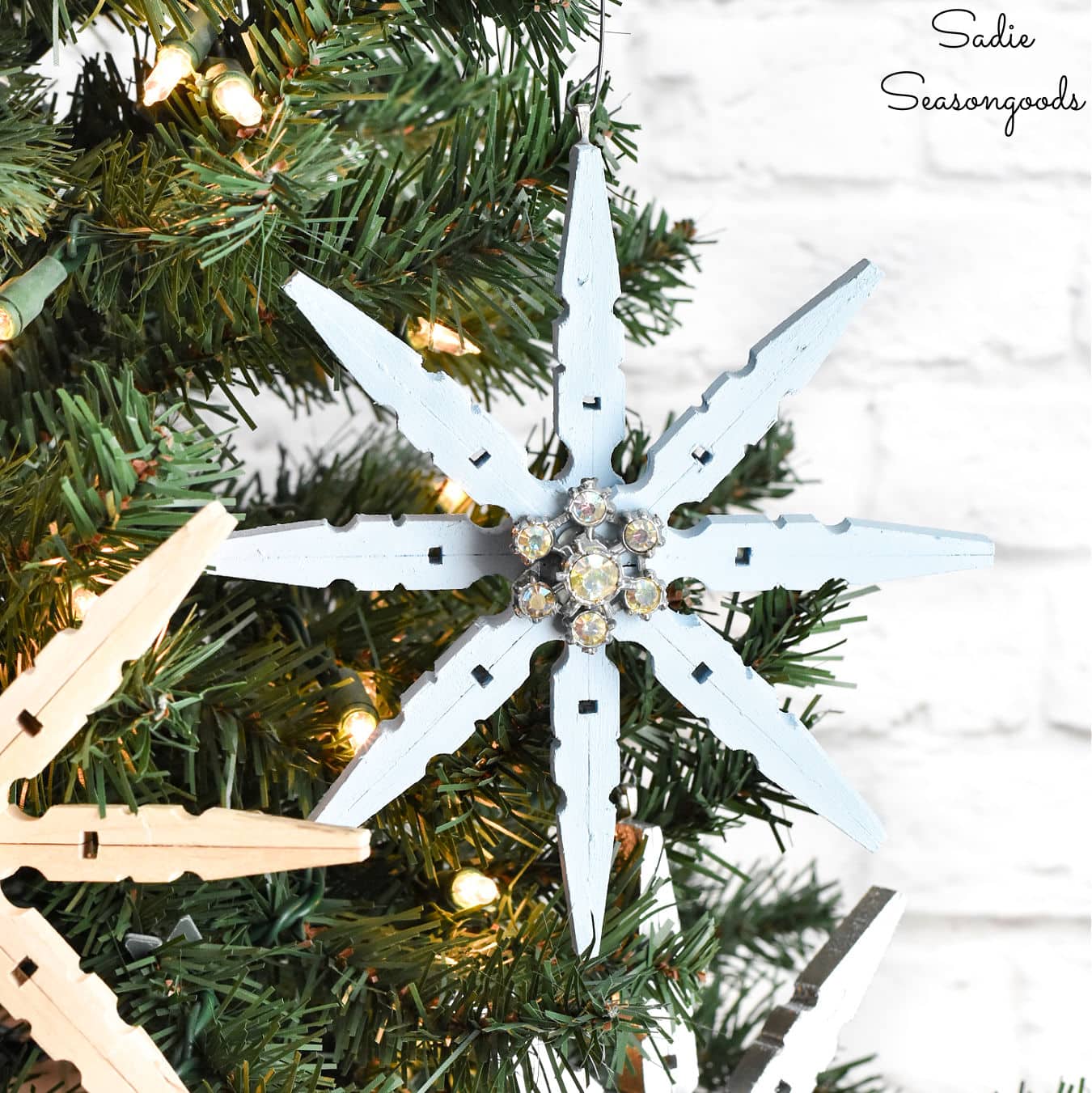 As far as the Florentine coasters, however, they wouldn't be used for drinks, that's for sure! I fully intended on hanging them on my Christmas tree instead.
This post contains affiliate links for your crafting convenience. As an Amazon Affiliate, I earn from qualifying purchases. All blue, bold, and underlined text is a clickable link, either to a product or to a related post.
Painting the Florentine Coasters
First things first, I needed to alter the wood coasters in a way so that I could hang them on my Christmas tree.
After giving various ideas some thought, I decided the simplest thing to do would be to drill a small hole in the lip of each one.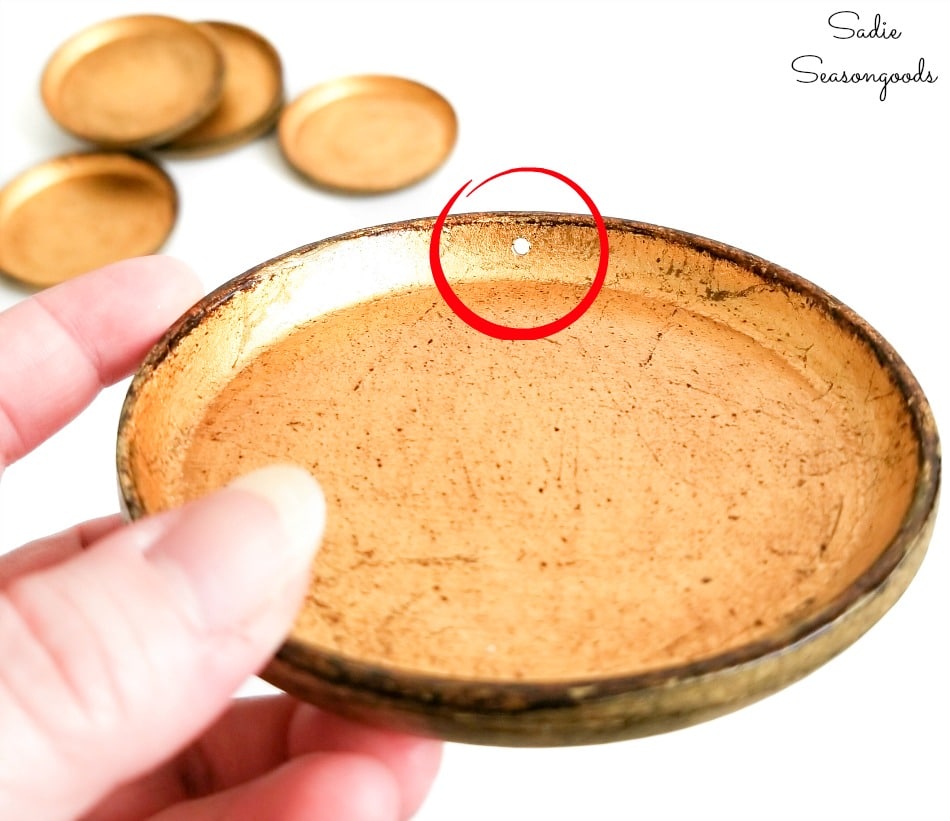 Now for the fun part- decorating the coasters! While the plain gold was pretty, actual Florentine coasters are quite ornate and exotic.
So, I grabbed some jewel-colored craft paints, vinyl stencils, and brushes.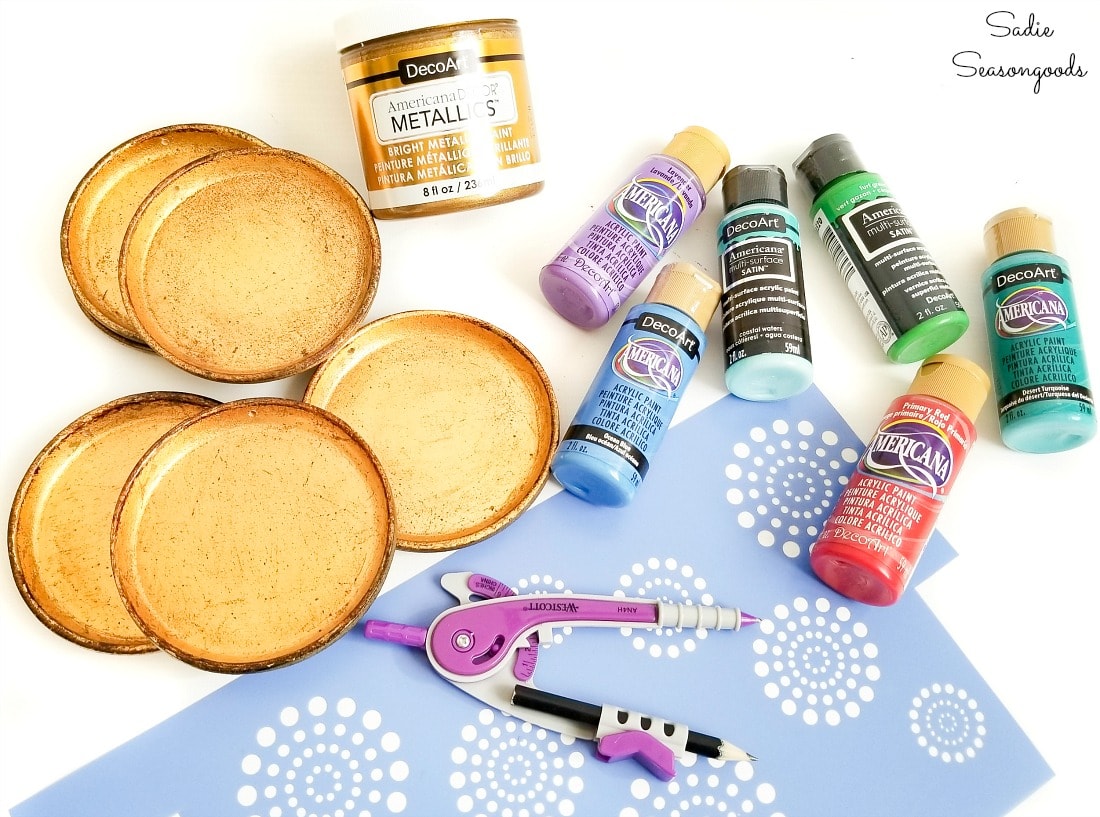 First, I stenciled directly on the Florentine gold finish, but it didn't really "pop". So, I ended up painting the base of the wood coasters first.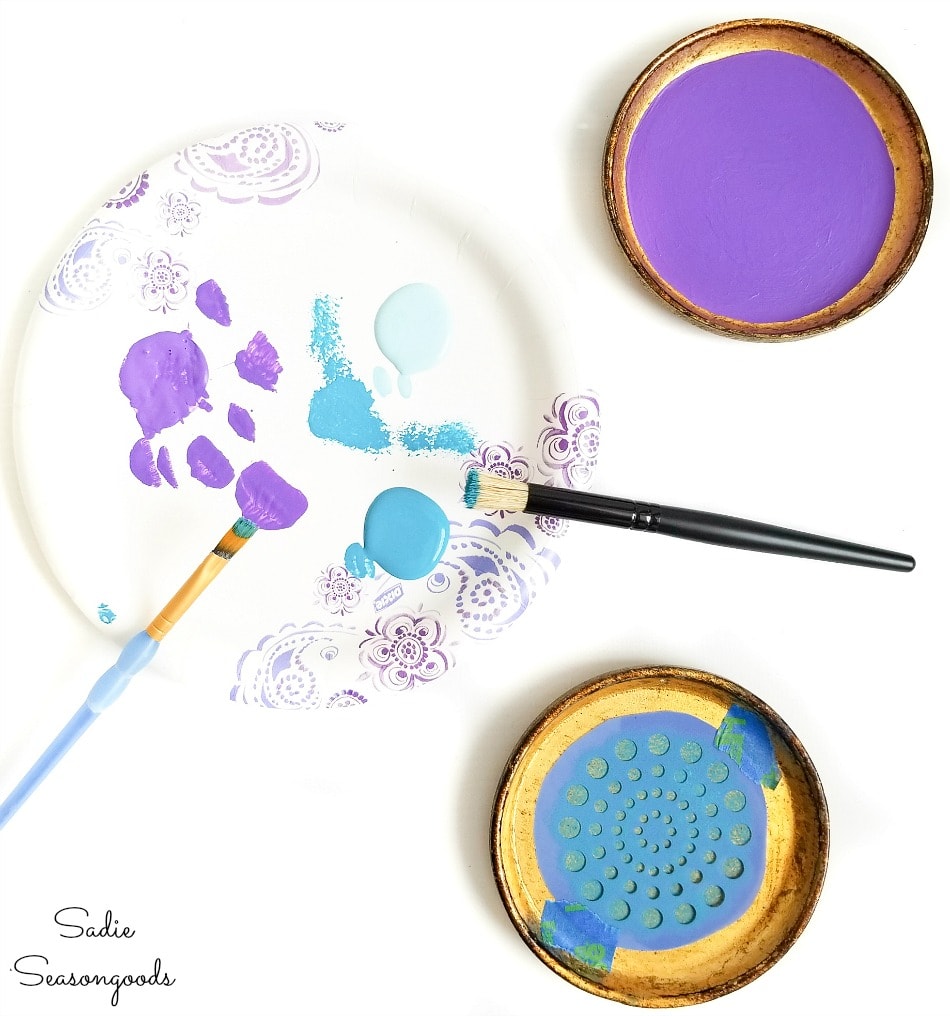 I painted all of the drink coasters with a different color, making sure that the coverage was opaque. Then, I sealed the paint job with a satin varnish.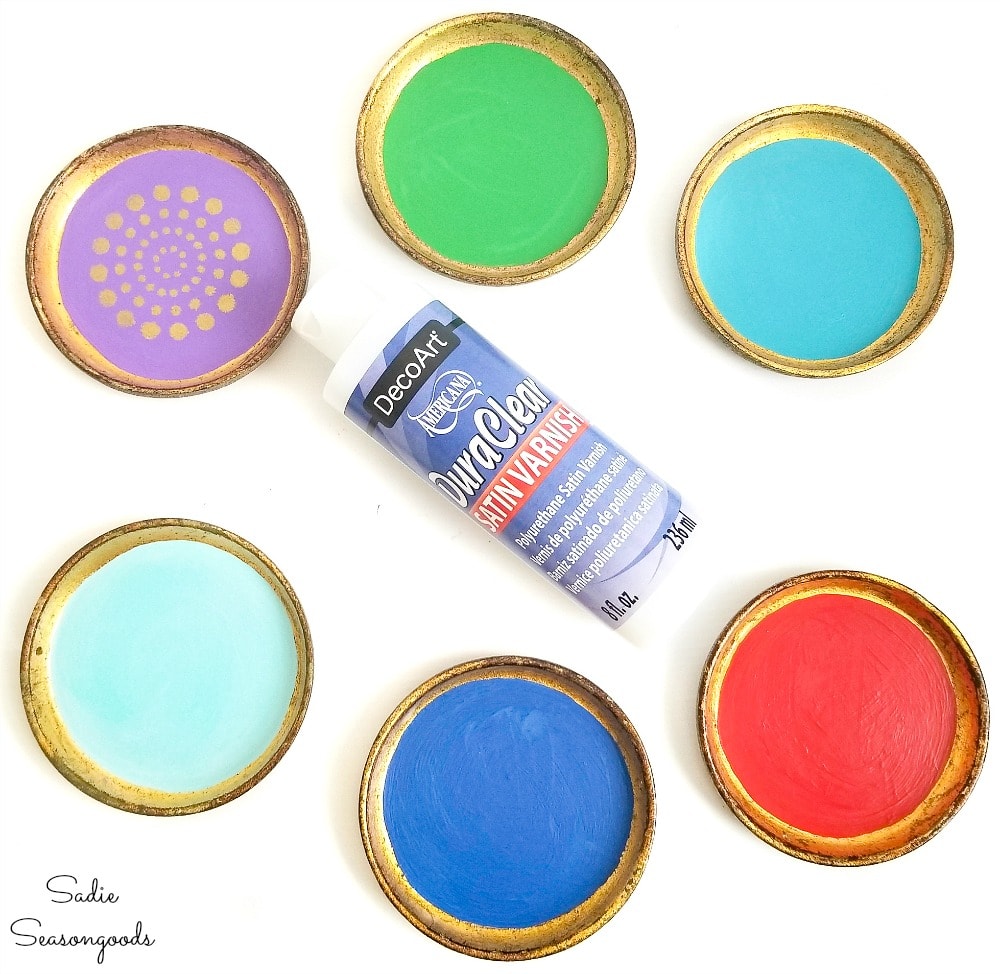 Now for the embellishment part!
Transformation into Exotic Ornaments
Since these would no longer be used as drink coasters, I planned on adding filigree jewelry and findings to the center of my Florentine coasters. The jewelry would provide the ornate look of Florentine coasters, but without much work at all!
I had a pair of old filigree earrings (the two with rhinestones in the center after I clipped off the earring part), and some brass filigree findings that I purchased on Etsy.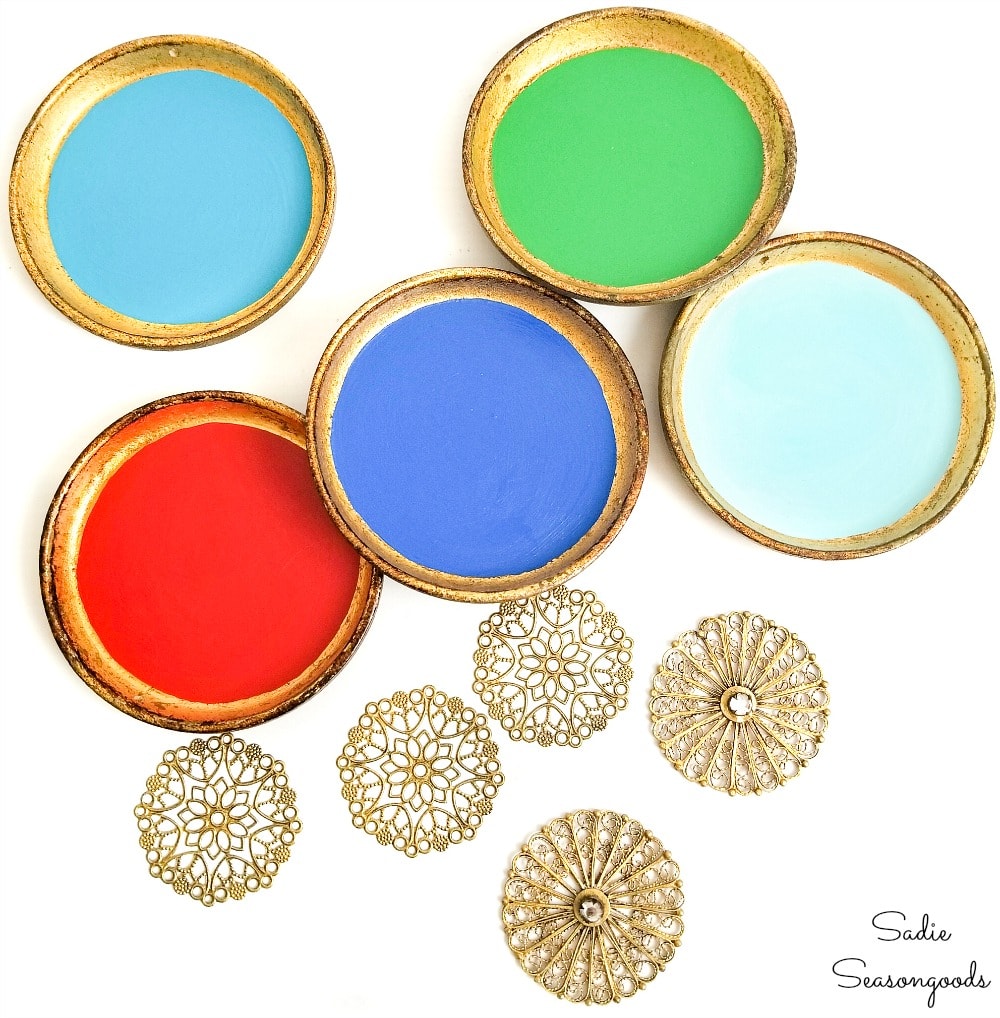 But, first I gave them all a quick (and light) coat of gold paint so that they matched the gold of the coasters.
After the paint dried, I used a bit of super glue to carefully attach each piece of filigree jewelry to the center of the Florentine coasters. Then, I added a coordinating rhinestone to each one, for just a bit more glitz.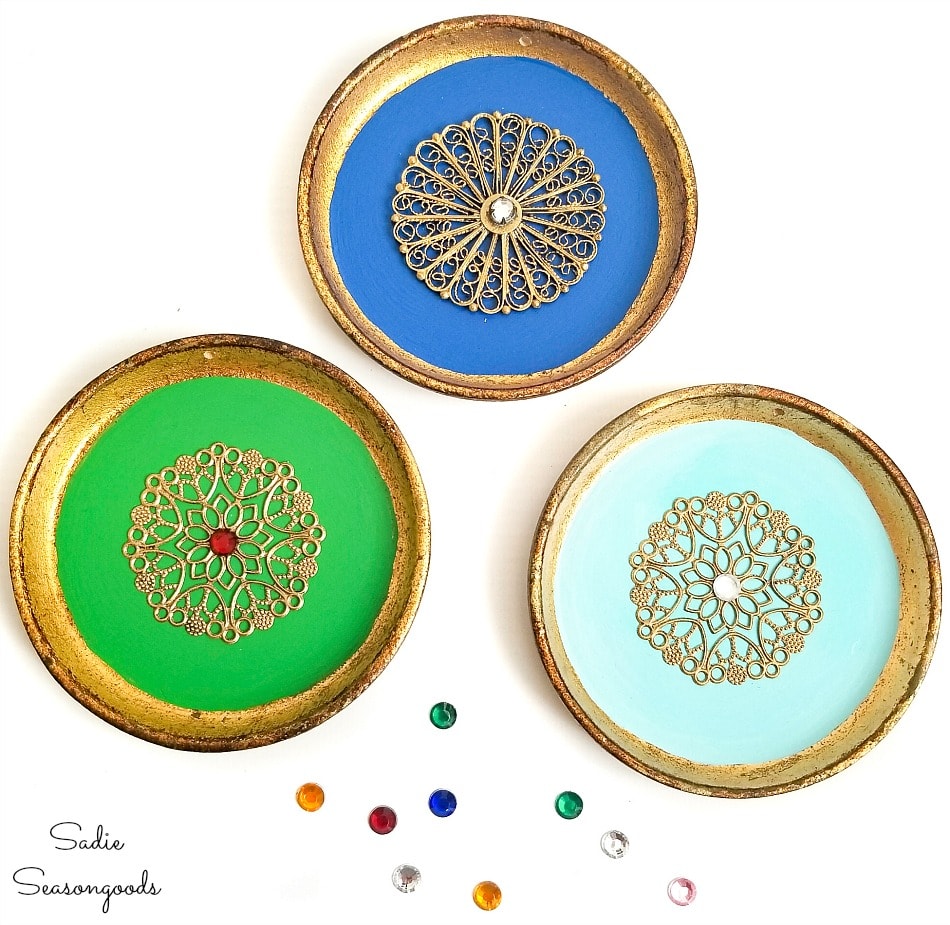 Totally optional, of course, but I just loved how the earring pieces looked with their gemstones in the center.
To finish it up, I just needed to add some hanging string. I threaded some gold embroidery floss (with a knot tied in the middle) through the drilled hole and then tied the ends together.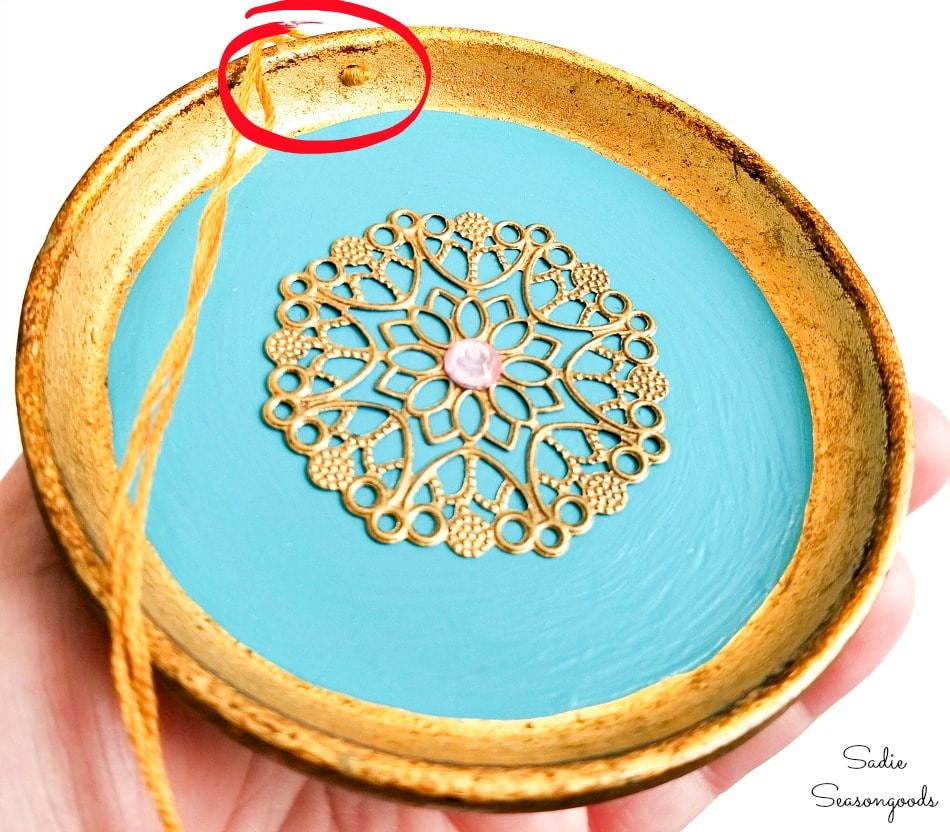 You could barely see the little knot, which was a relief to me!
Exotic Christmas Ornaments from Florentine Coasters
And voila! A set of Christmas ornaments that look kinda-sorta similar to Florentine coasters! Each one different but a coordinating set nonetheless.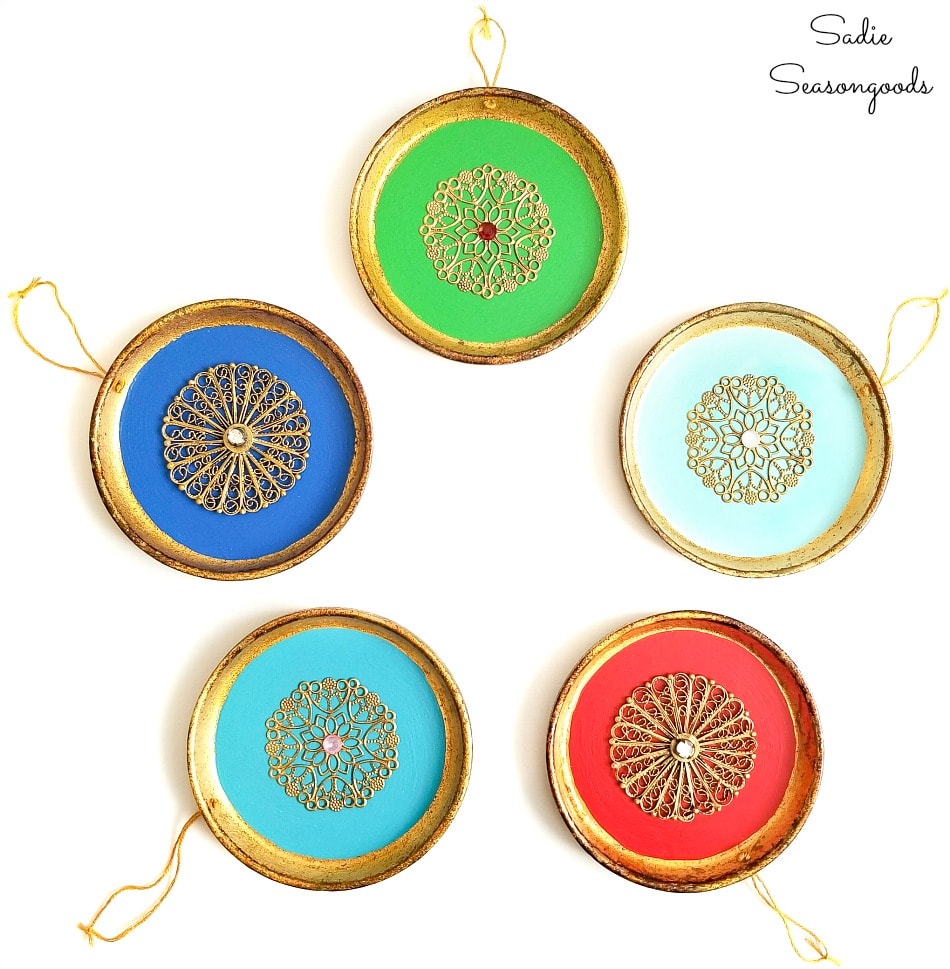 Hanging on a Christmas tree, the Florentine coasters look like fetching ornaments, don't you think? Plus, they won't break and will be super easy to store since they're flat.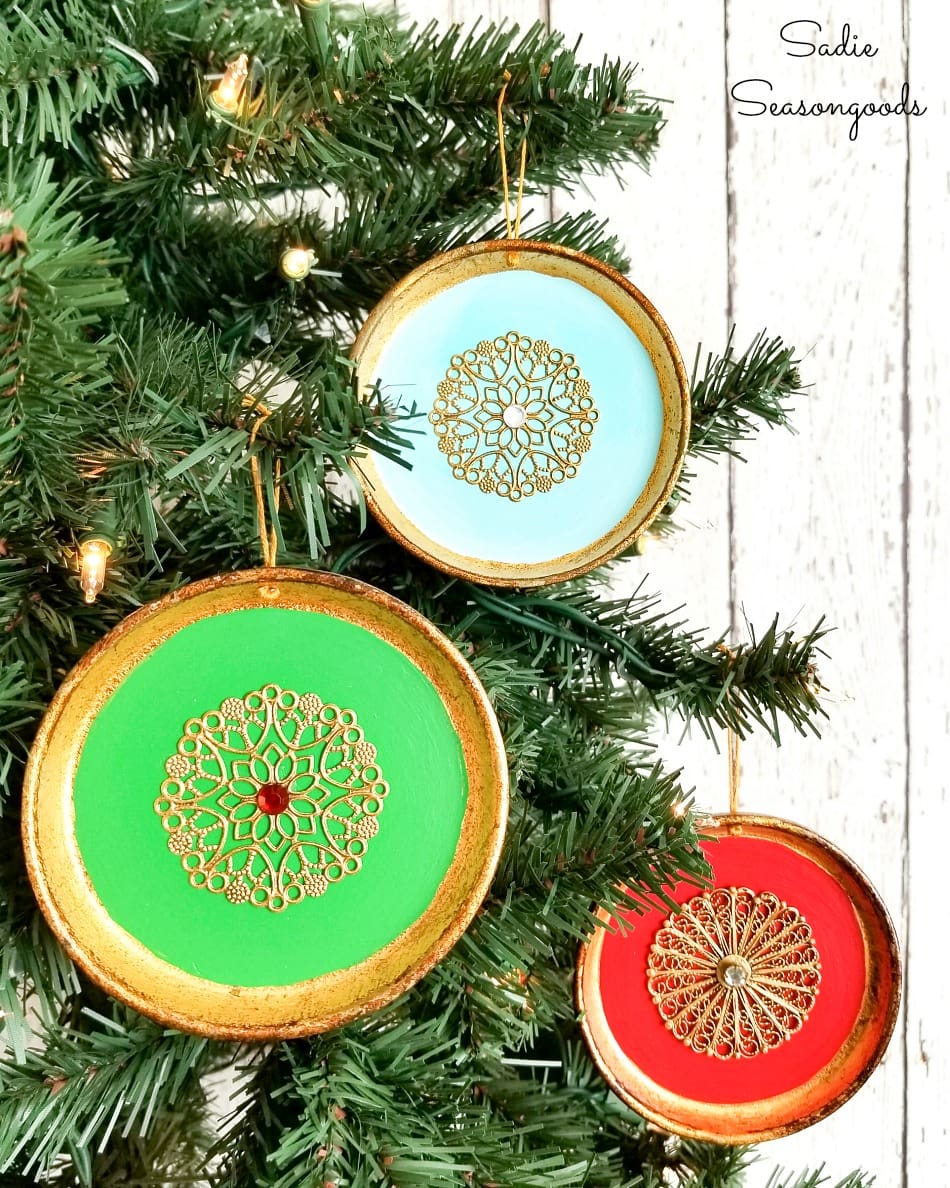 And yes, no one (including me) would stop you from just drilling small holes through actual Florentine coasters and using them as ornaments- they'd be positively gorgeous!
I just don't find them in shops very often…and you could get a similar effect with plain wooden coasters if you just paint them gold and distress them a bit. All kinds of upcycling possibilities with this idea…
If you enjoyed this upcycling idea for unique Christmas ornaments, then you'll love these DIY ornaments that are made from tea infusers!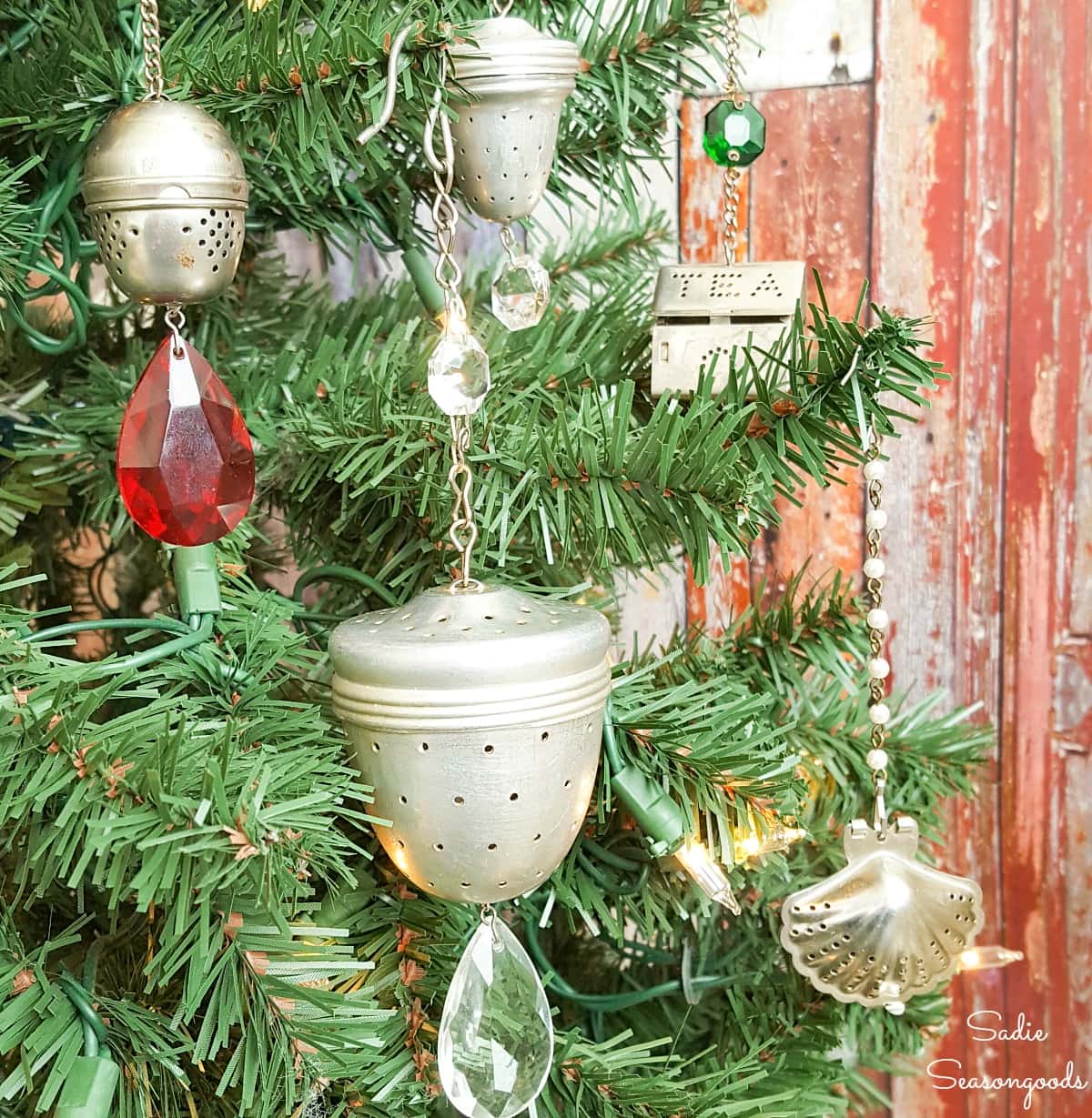 Plus, don't forget- my first book, "Crafting with Flannel", has an entire chapter dedicated to Christmas projects! Including several ornament ideas like these. For anyone interested, it's available for purchase online from Amazon, Target, Barnes & Noble, and Walmart.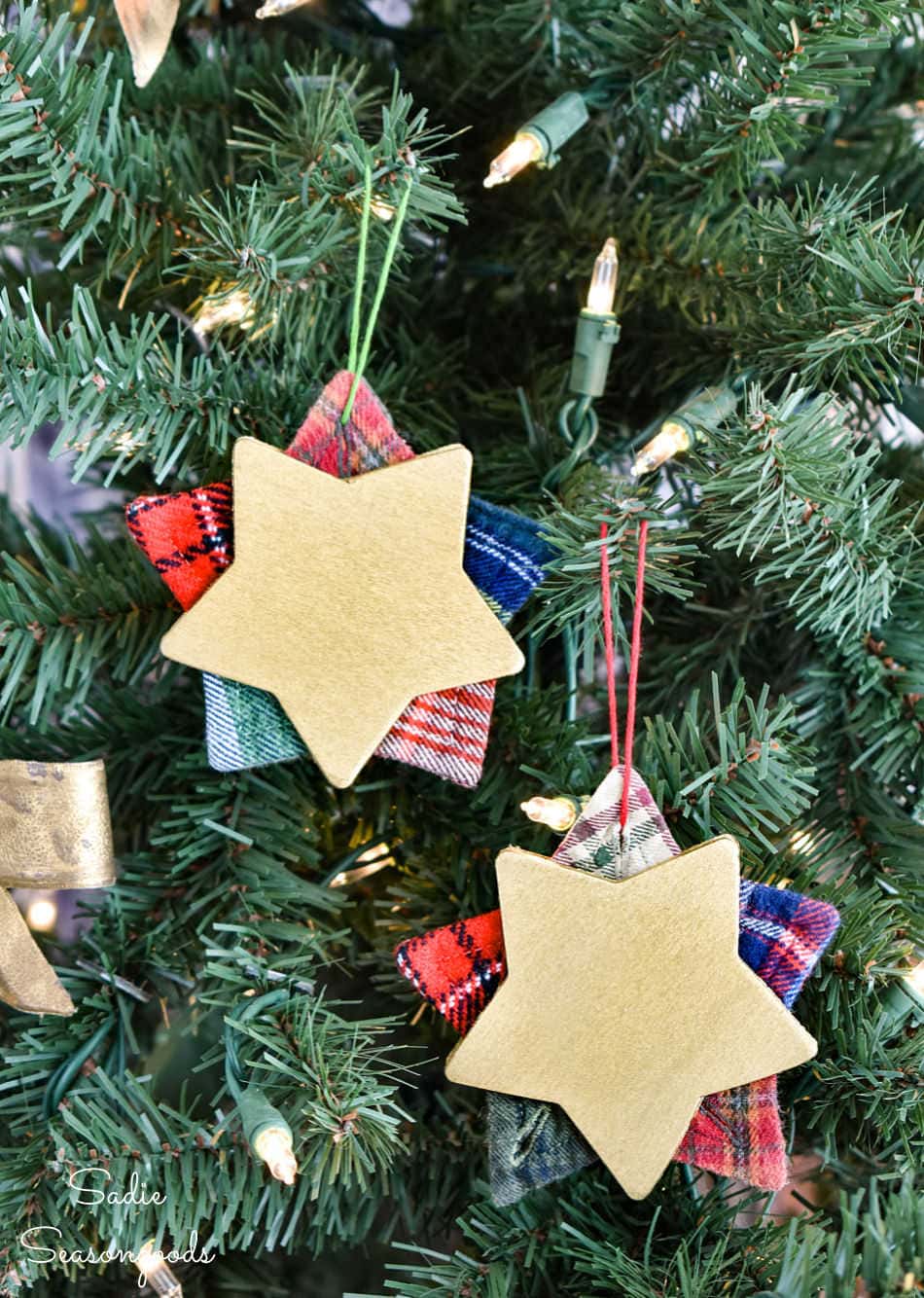 Craft on!
S
Want to be notified when I publish my next upcycling project tutorial?
Subscribe to Blog via Email
Join me on Social Media:
PIN ME!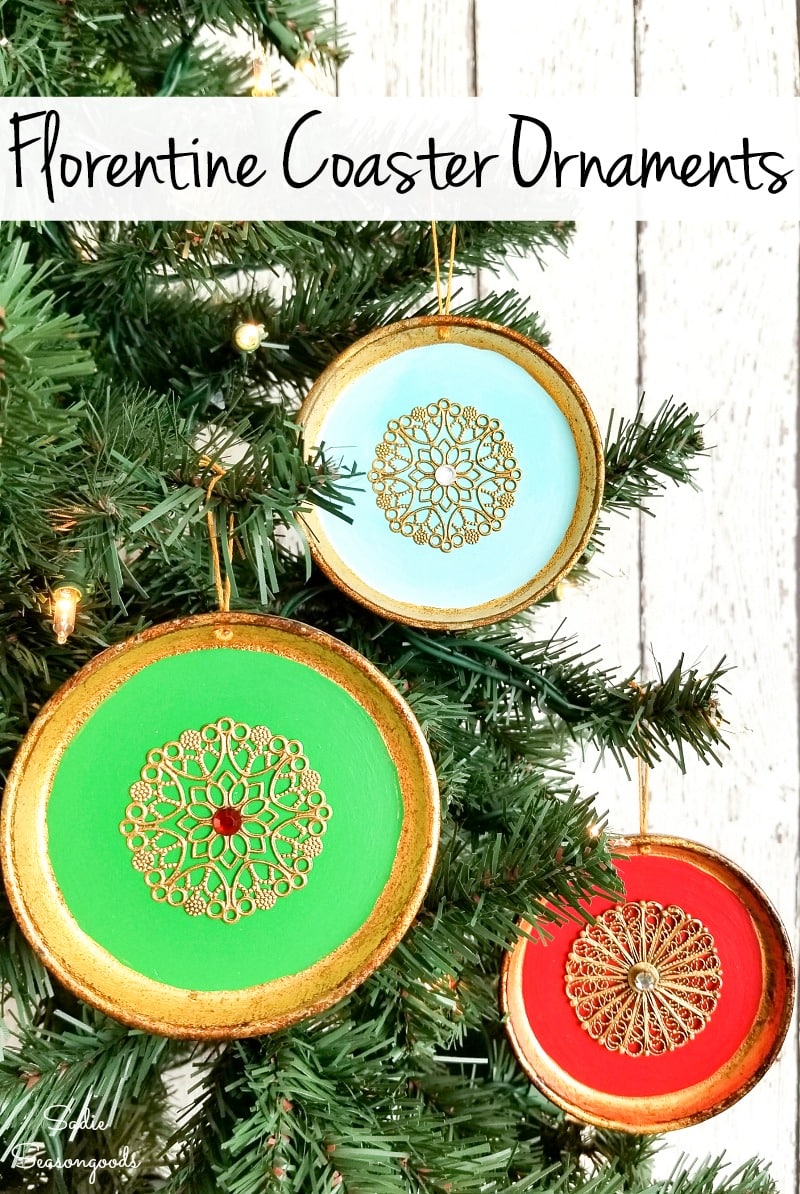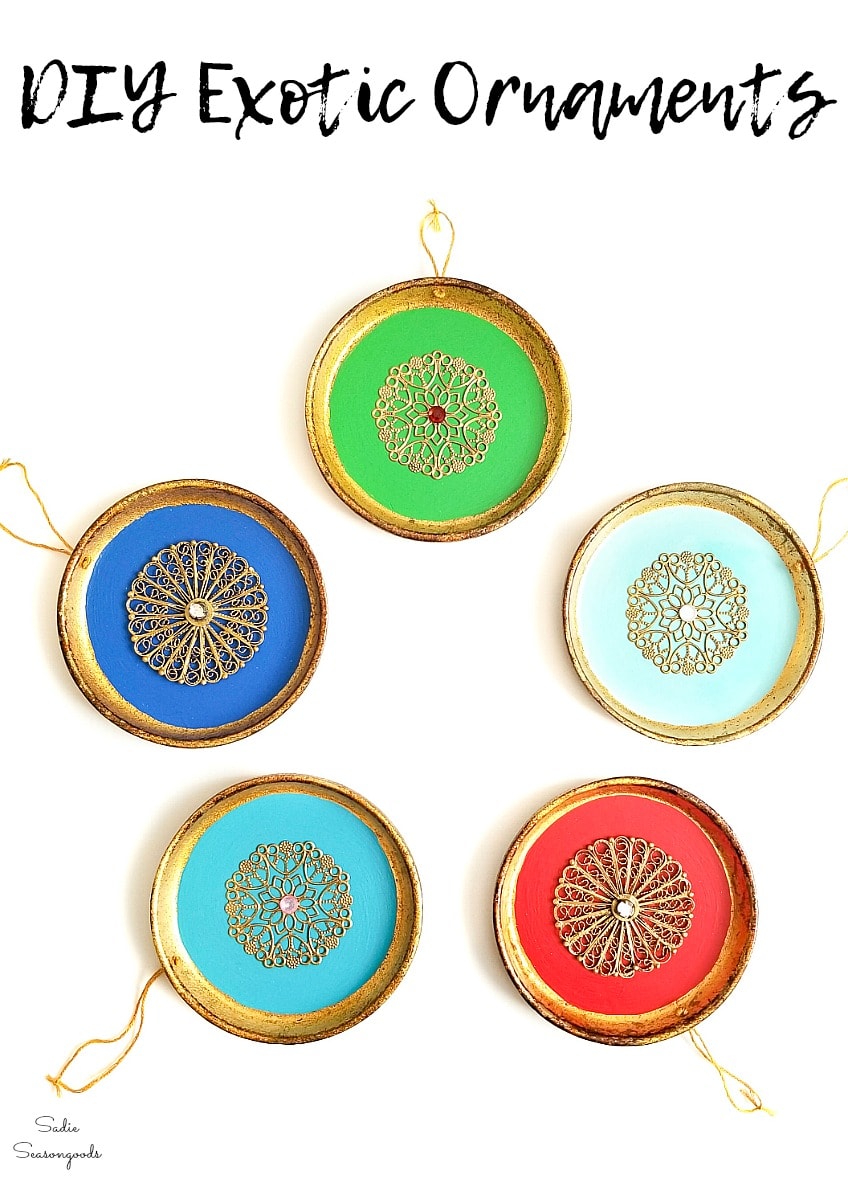 Sarah Ramberg is the owner of Sadie Seasongoods, a website that celebrates all things secondhand. From upcycling ideas and thrifted decor to vintage-centric travel itineraries, Sadie Seasongoods is a one-stop shop for anyone who loves thrifting and approachable repurposing ideas. Sarah is also the author of "Crafting with Flannel" and has been featured in numerous media outlets and magazines.