Since I work with Habitat ReStore so closely, I am always challenging myself to come up with upcycling ideas for some of their more commonly found items. Like these Christmas ornaments that I made for them a couple of years ago. Today, however, I decided to do the same with a vent register, which they always have in stock. It seemed like the perfect piece to use as a paper sorter of sorts; or more specifically, a greeting card holder.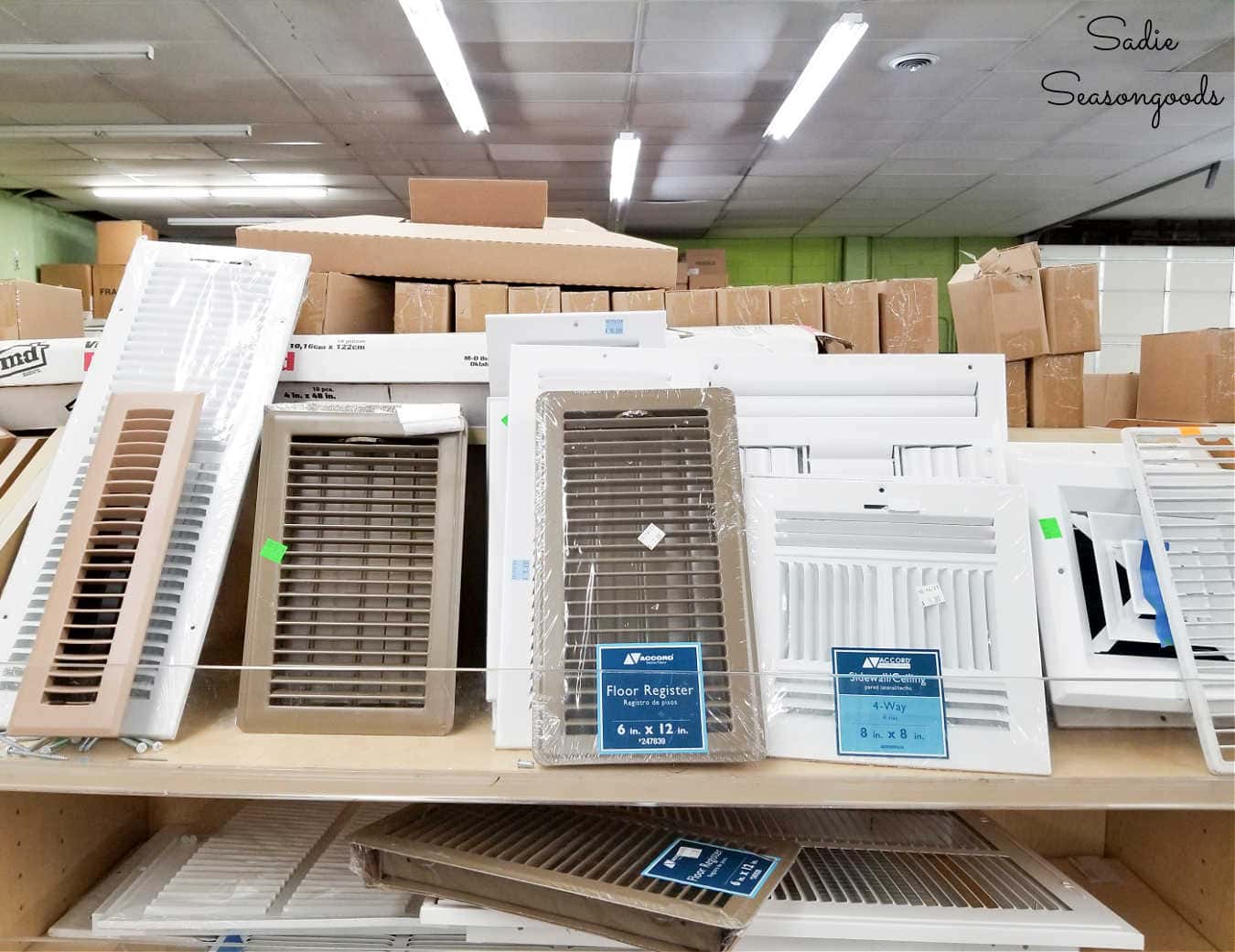 Now, the funny thing is, I've made my own DIY Greeting Cards before…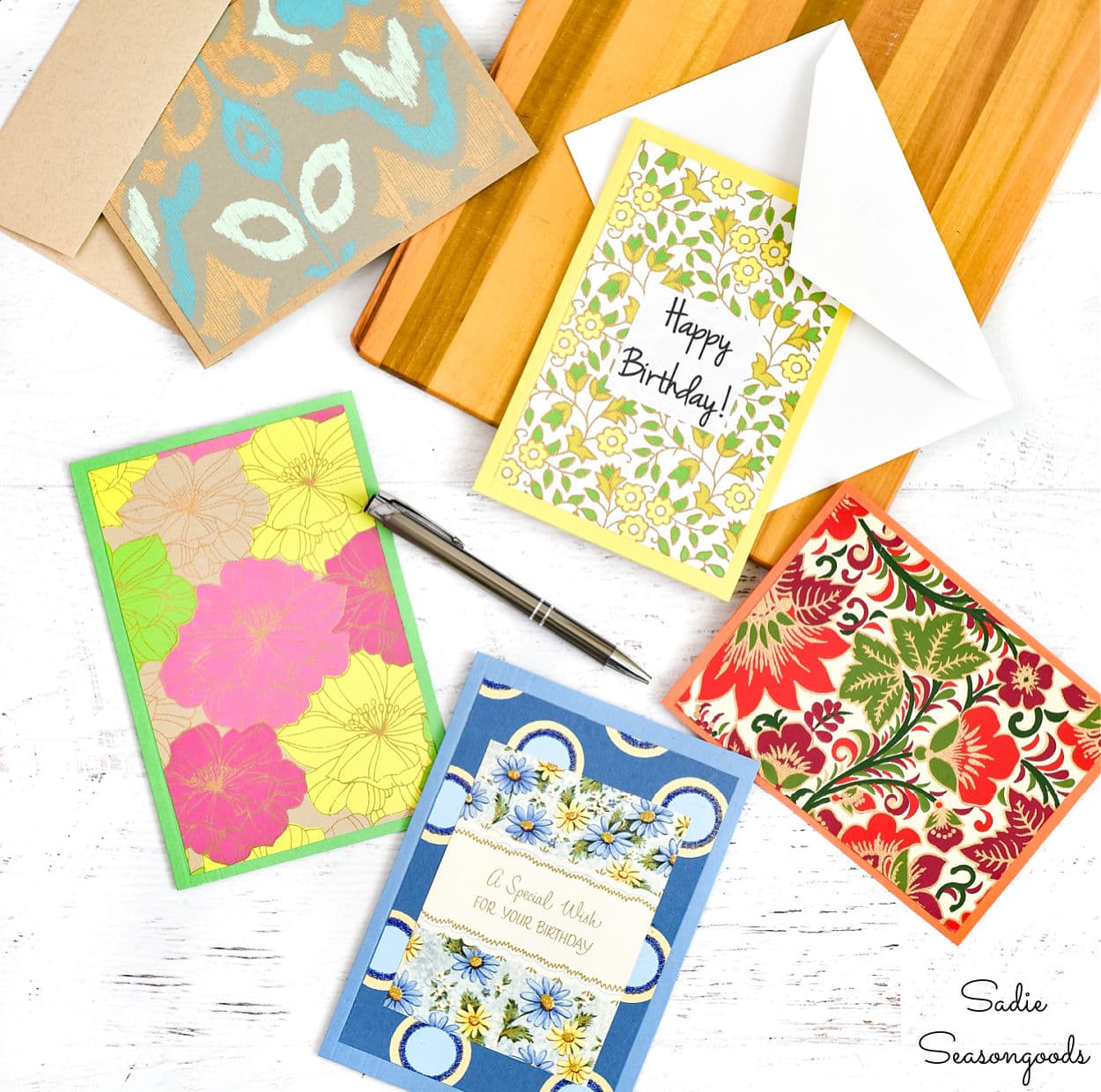 AND I've made a paper organizer before…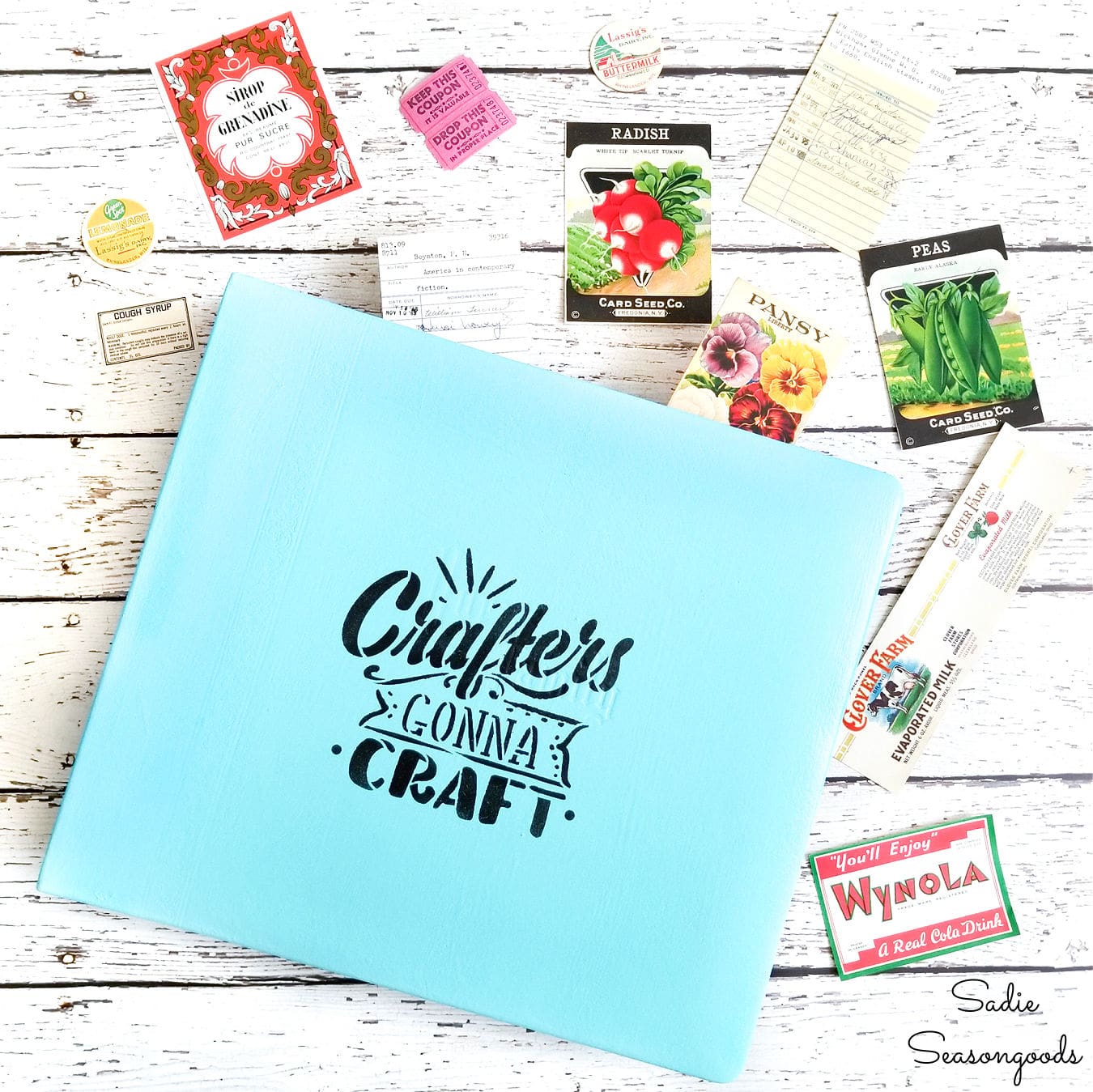 But never a distinct storage idea for greeting cards themselves. Call me old fashioned, but I always try and have plenty of spare cards on hand- of the sympathy, birthday, congratulatory, and thank-you variety. And until now, they've just been piled up in a drawer.
So, why not take advantage of my frequent trips to the ReStore and try and upgrade my card organization approach?
This post contains affiliate links and is sponsored by the Charlotte Region ReStore(s). All blue, bold, and underlined text is a clickable link, either to a product or to a related post.
Upcycling a Vent Register
Now, I will preface this with the fact that not just any vent register will do when it comes to greeting card storage. The average ceiling vent registers are pretty narrow, and aren't wide enough for typical cards.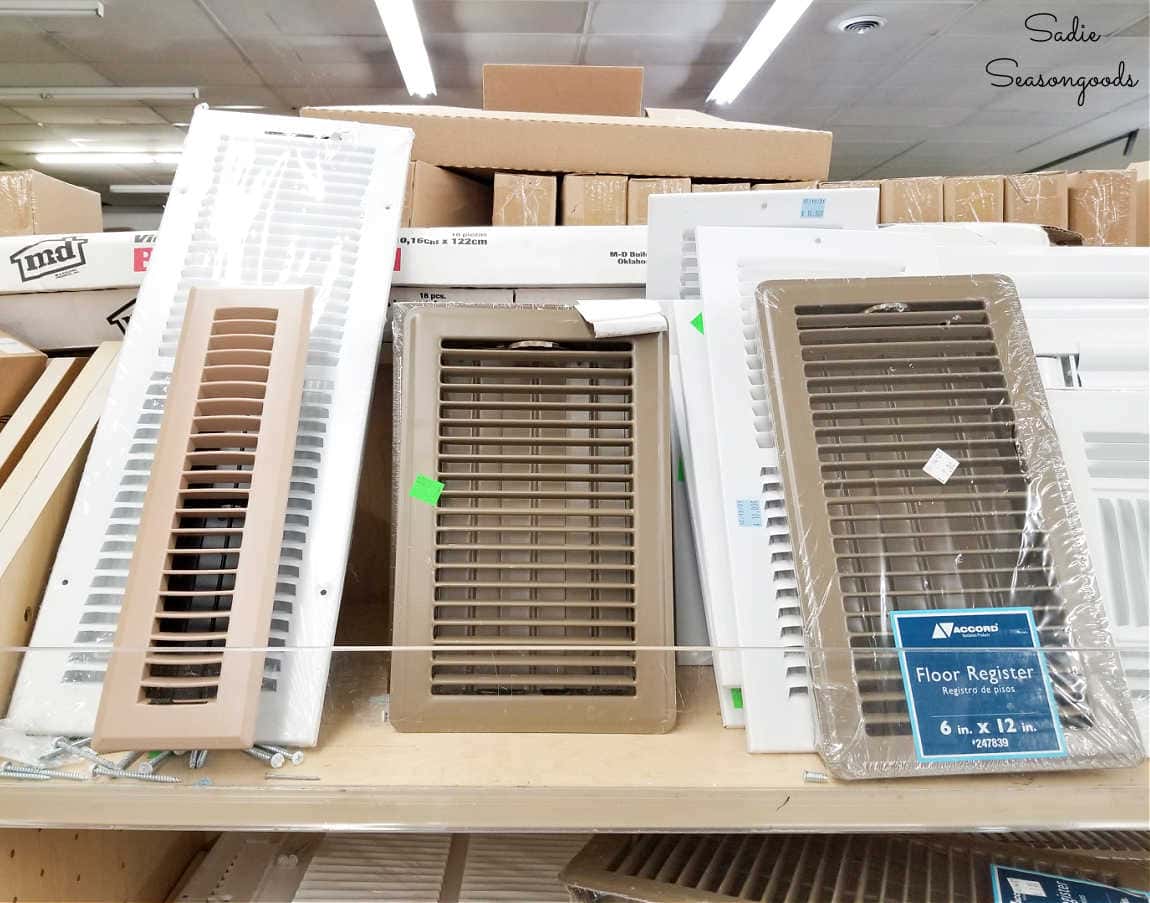 So, I honed in on the floor registers that they had in stock. The slots were wider and more accommodating to average size greeting cards.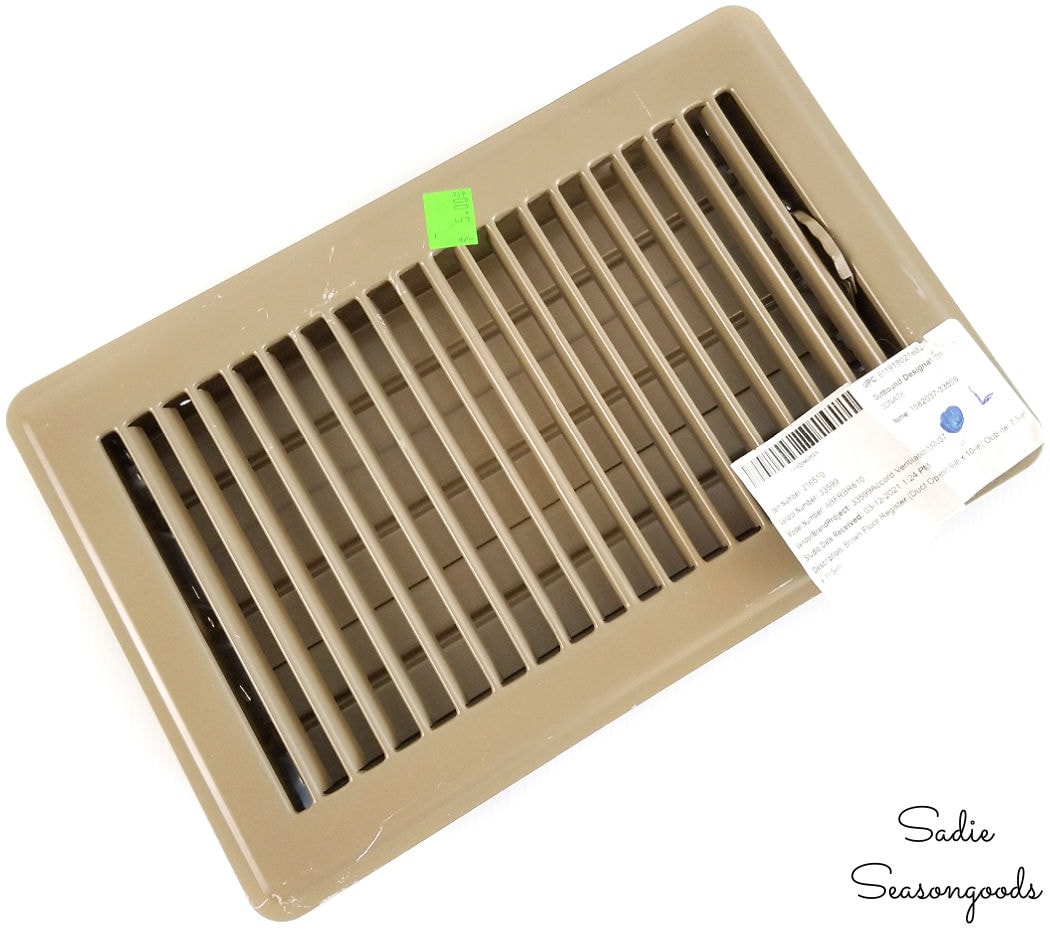 The best part about this project, though, is that there really isn't much to it! Sure, I could have just tucked my greeting cards into the slots and called it a day. But, OF COURSE, I had to make it a touch prettier and a little safer to handle.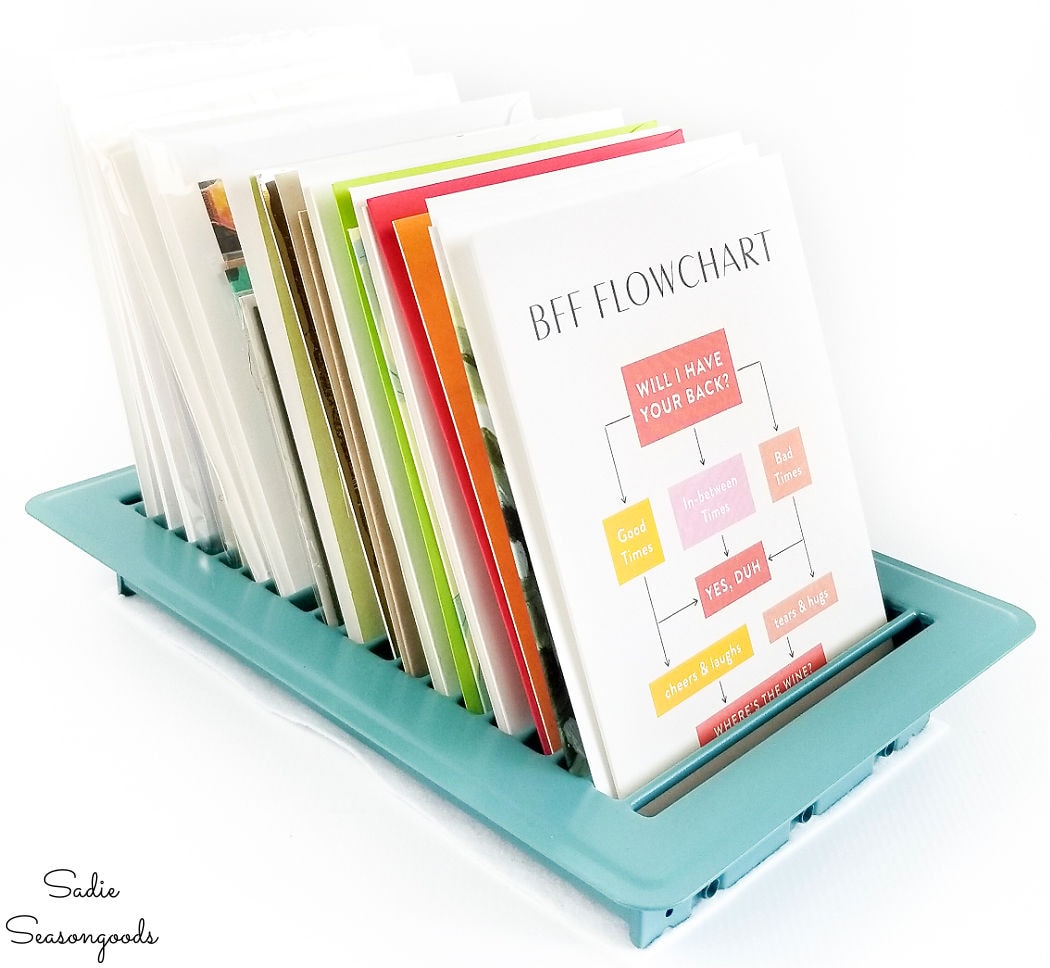 Look at that! It works SO PERFECTLY as a greeting card holder. And there were just a couple of things I did to the register before painting it and using it for my spare cards.
If you are interested in the full tutorial for creating this greeting card holder, please pop over to the Charlotte Region ReStore's blog post! All of the details and step-by-step photos can be found on their website- I sincerely appreciate your understanding.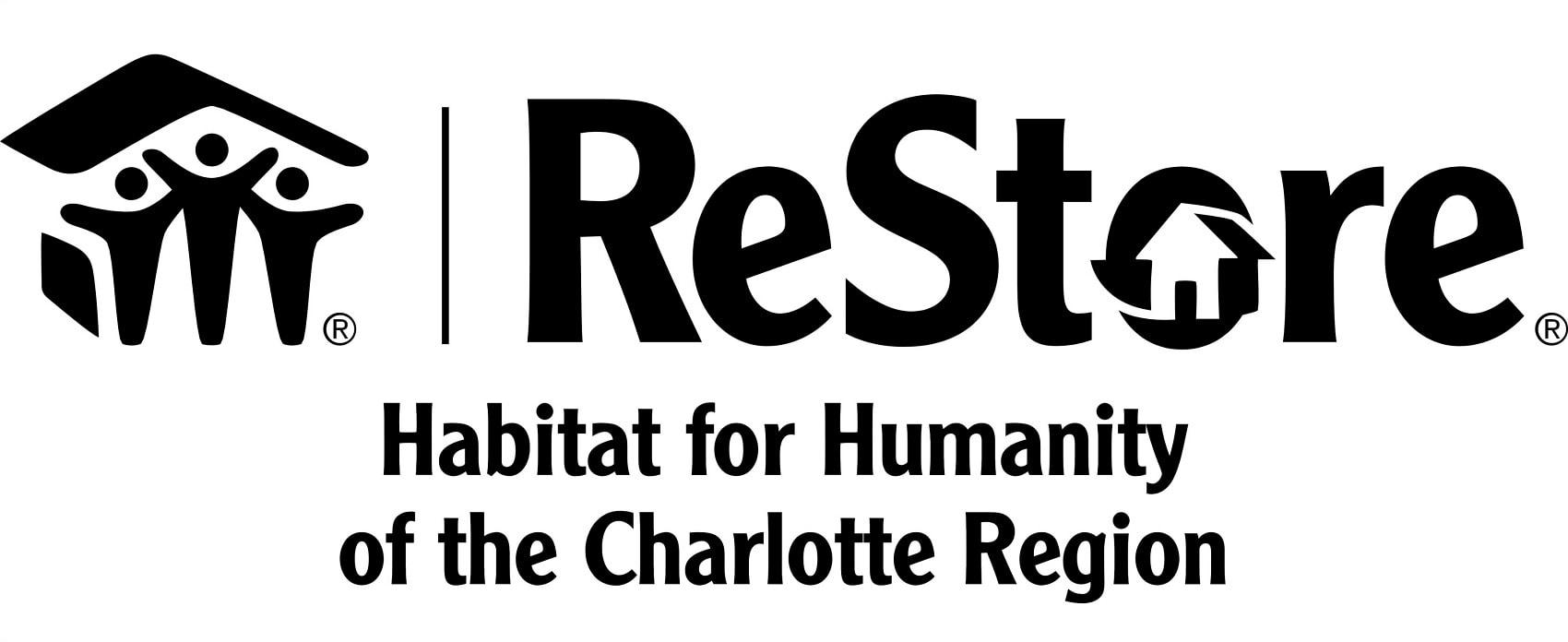 Greeting Card Holder
I just love how well this turned out! And it'll fit perfectly in my filing cabinet for easy retrieval whenever I need to send a card.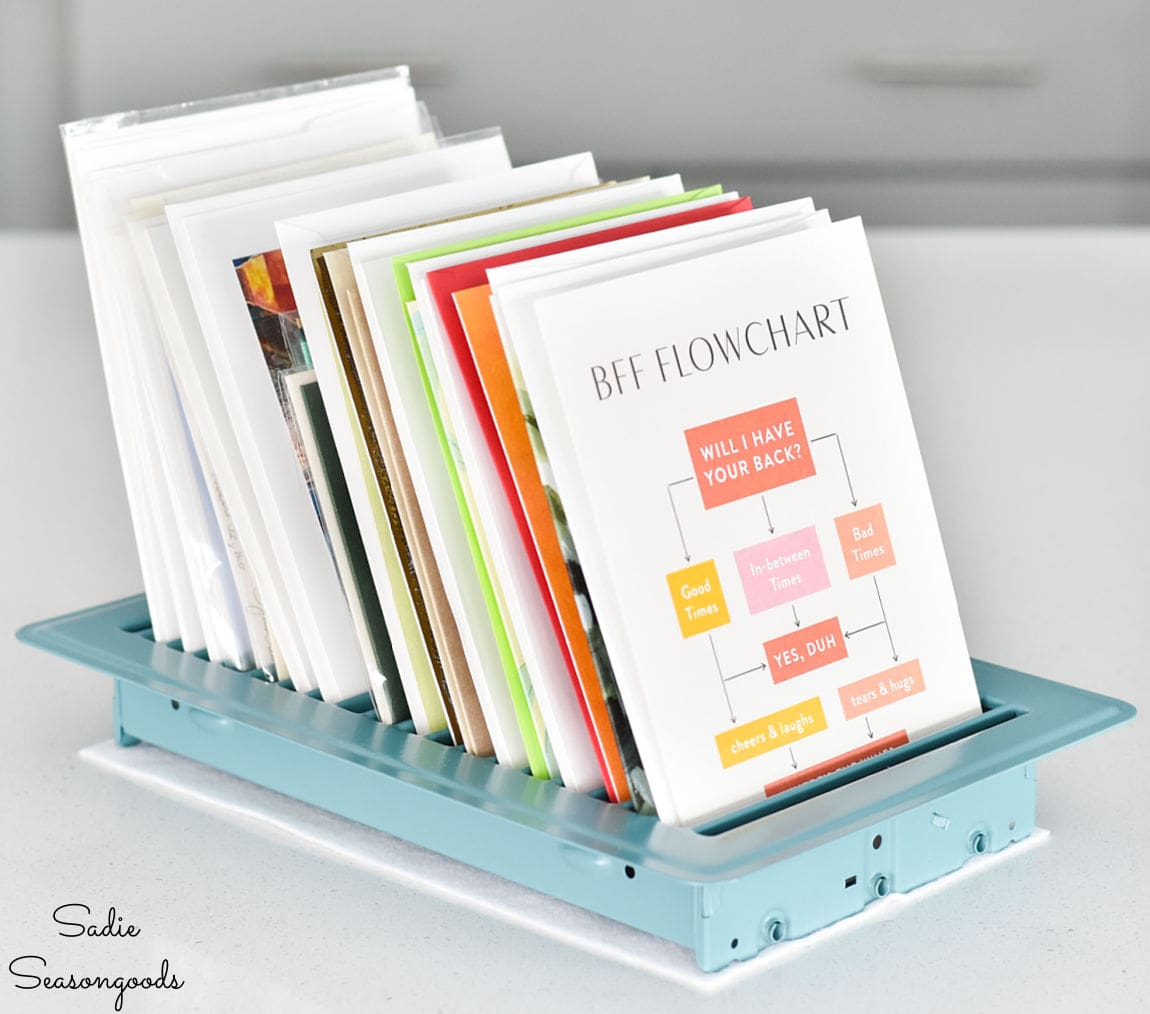 But, this idea has other applications, too- especially for the narrower vent registers that I mentioned earlier. Like seed packets, especially once they've been opened and you want a fun way to store them upright to prevent seeds from spilling out!
Or business cards…or other papers and cards that you just want to keep standing and sorted.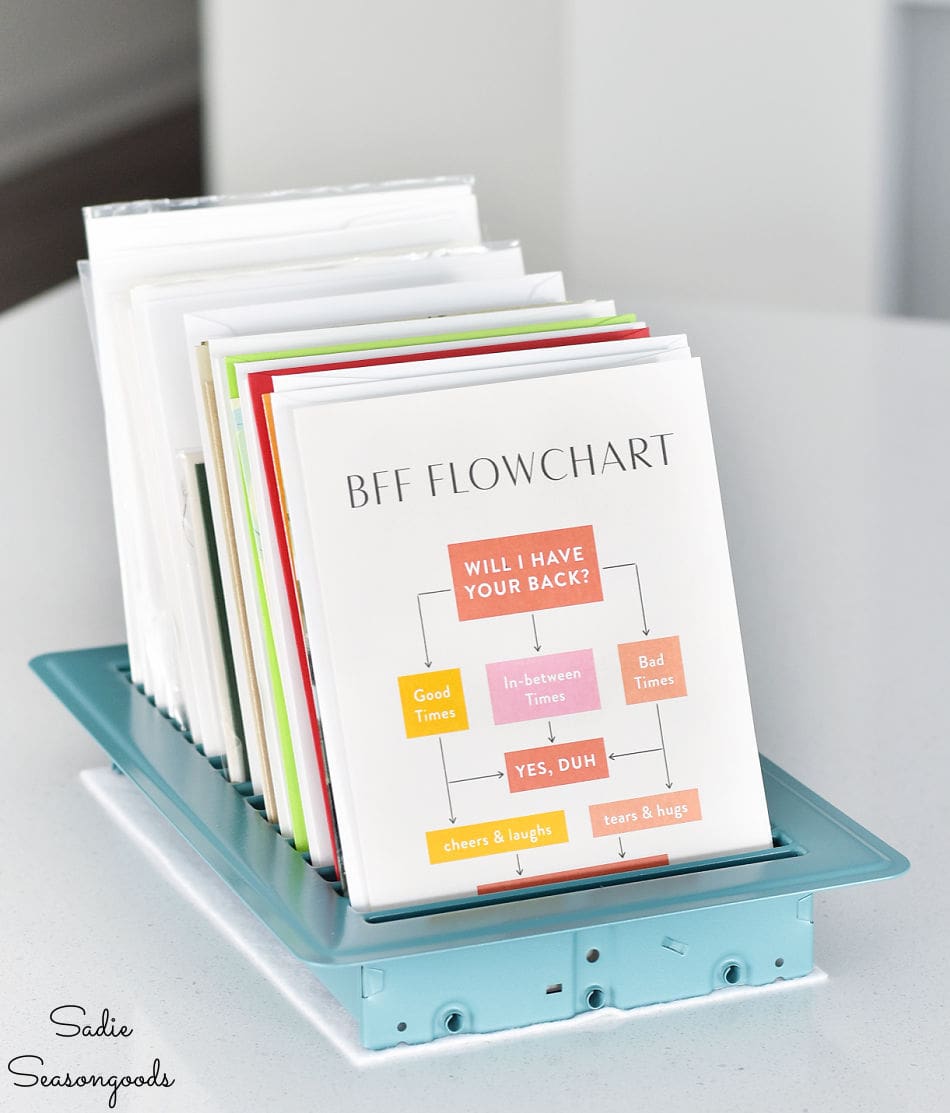 AND, I also wanted to give a well-deserved shout-out to my friend, Shannon Kohn, who designed the BFF Flowchart card that you see up front in my photos! She's designed several cards through Minted that are sold at Target Stores- how cool is that?
Anyway, I hope you enjoyed this upcycling idea for making a greeting card holder from a metal vent register! And as always, I appreciate your understanding that the full tutorial is on the ReStore blog, and not mine.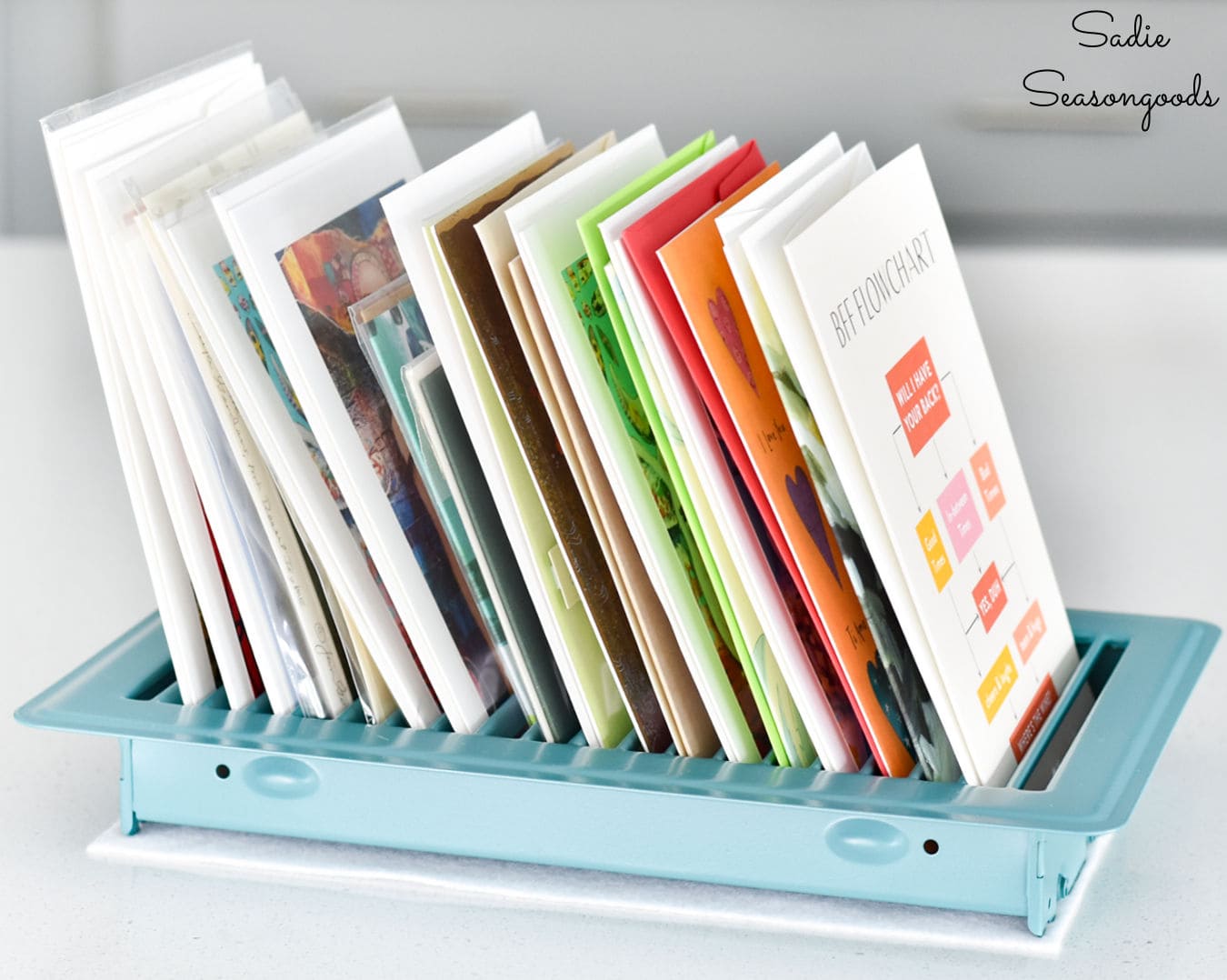 If you enjoyed this upcycling idea for storing greeting cards, then you may also enjoy how I organize all of my stencils in my craft room, as well!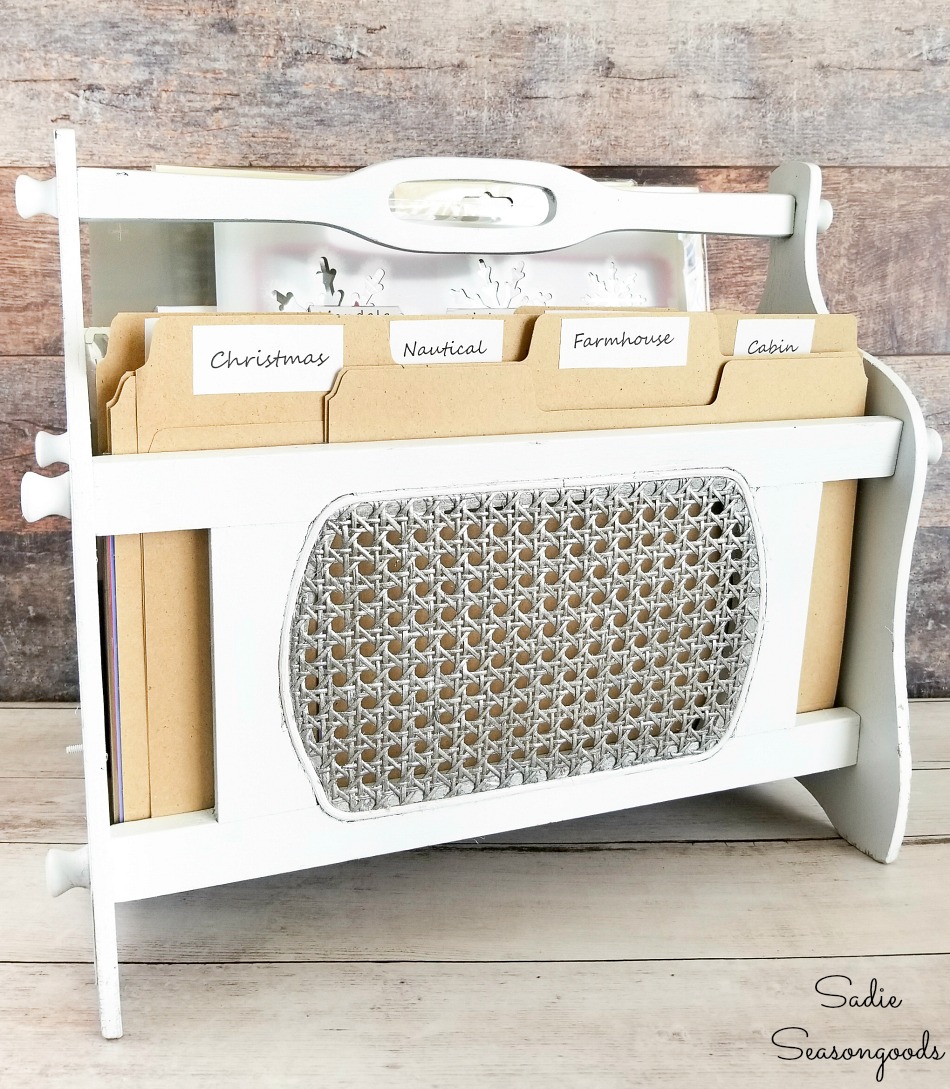 Craft on!
S
Want to be notified when I publish my next upcycling project tutorial?
Subscribe to Blog via Email
Join me on Social Media:

PIN ME!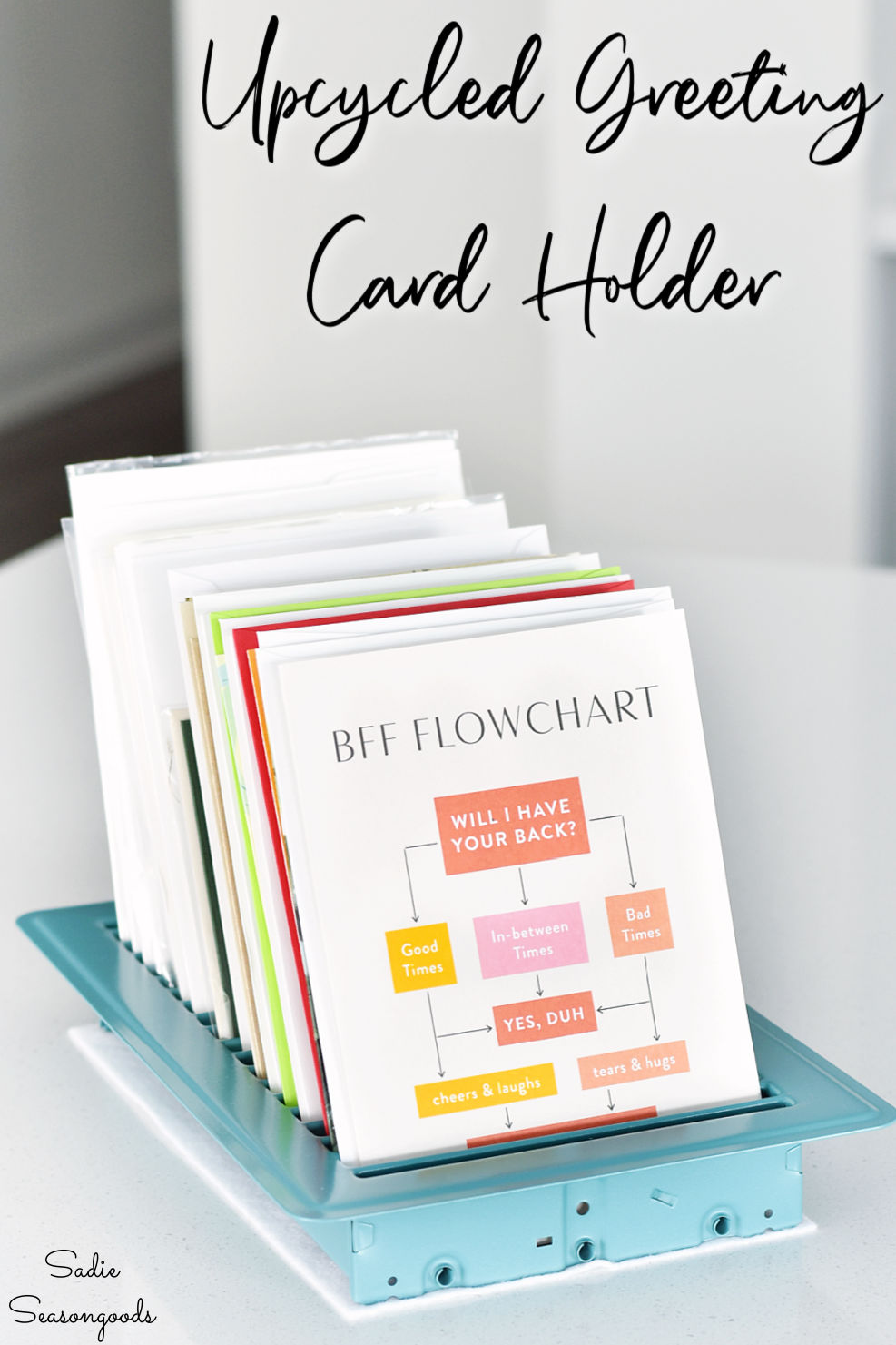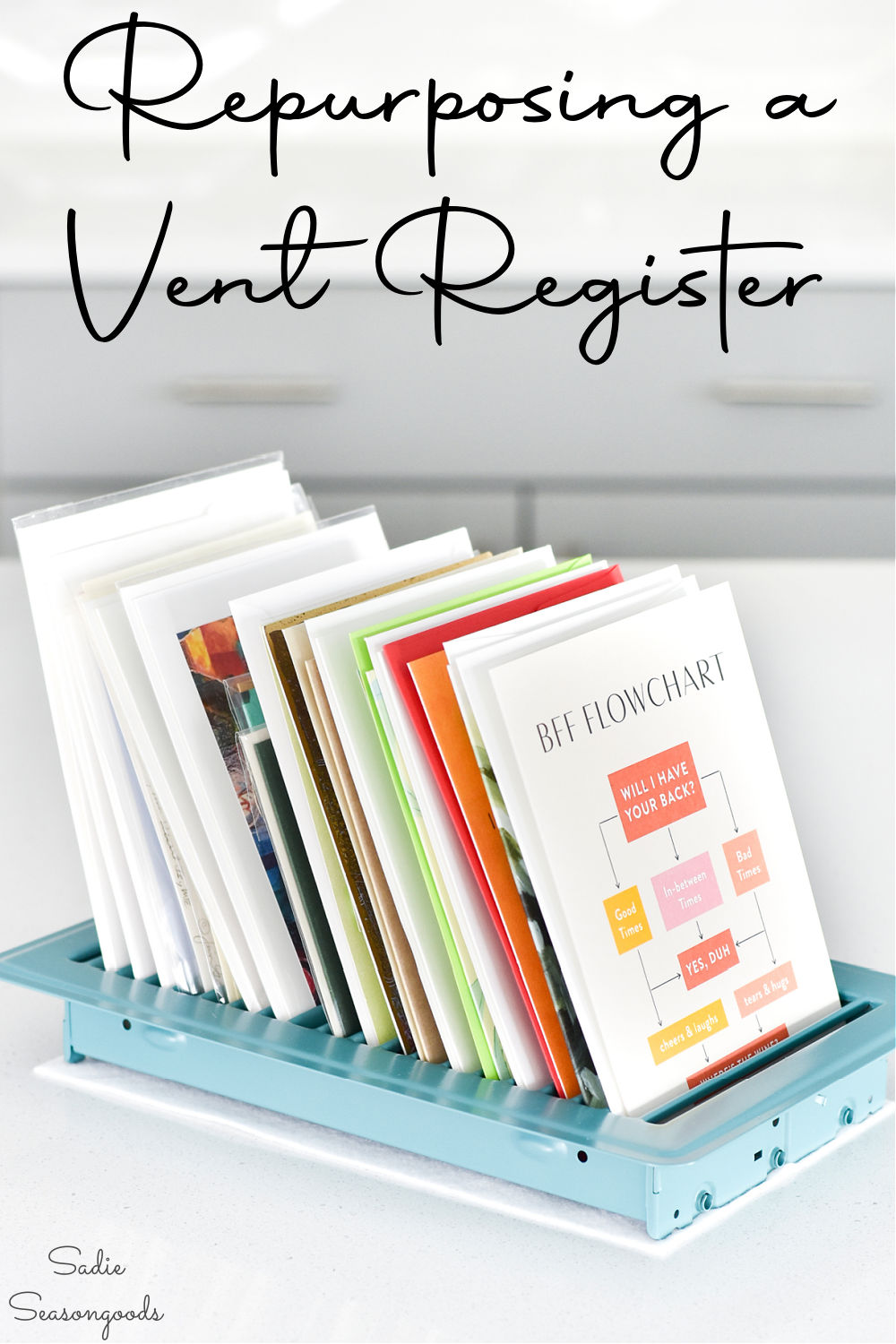 Sarah Ramberg is the owner of Sadie Seasongoods, a website that celebrates all things secondhand. From upcycling ideas and thrifted decor to vintage-centric travel itineraries, Sadie Seasongoods is a one-stop shop for anyone who loves thrifting and approachable repurposing ideas. Sarah is also the author of "Crafting with Flannel" and has been featured in numerous media outlets and magazines.