The 4th of July is right around the corner. This means that it's time to decorate your home with all things red, white, and blue! To keep things on budget and personalized to your own tastes, DIY is the way to go. And, of course, upcycling is the thriftiest way to enjoy the festivities without breaking the bank.
USA in Buffalo Check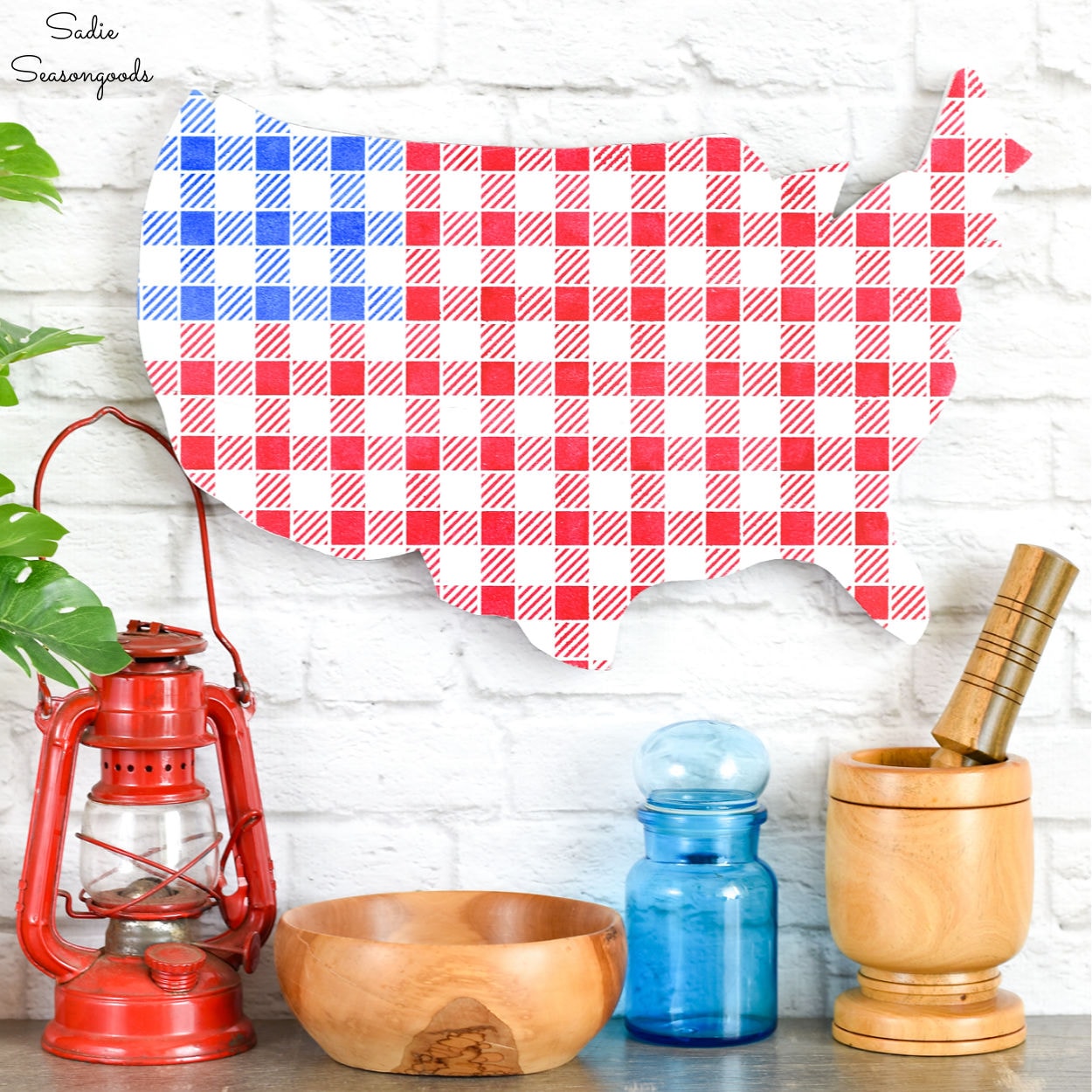 Painting something shaped like the USA in buffalo check is a very festive way to celebrate Independence Day! This wall plaque started as a broken clock from the thrift store, but a makeover in red, white, and blue gives it a fresh and festive new look.
Patriotic Planter
A red, white, and blue theme for the porch is perfect for summer. Painting an inexpensive bucket for July 4th makes for a great planter like this, as well.
Bowl Covers for a July 4th BBQ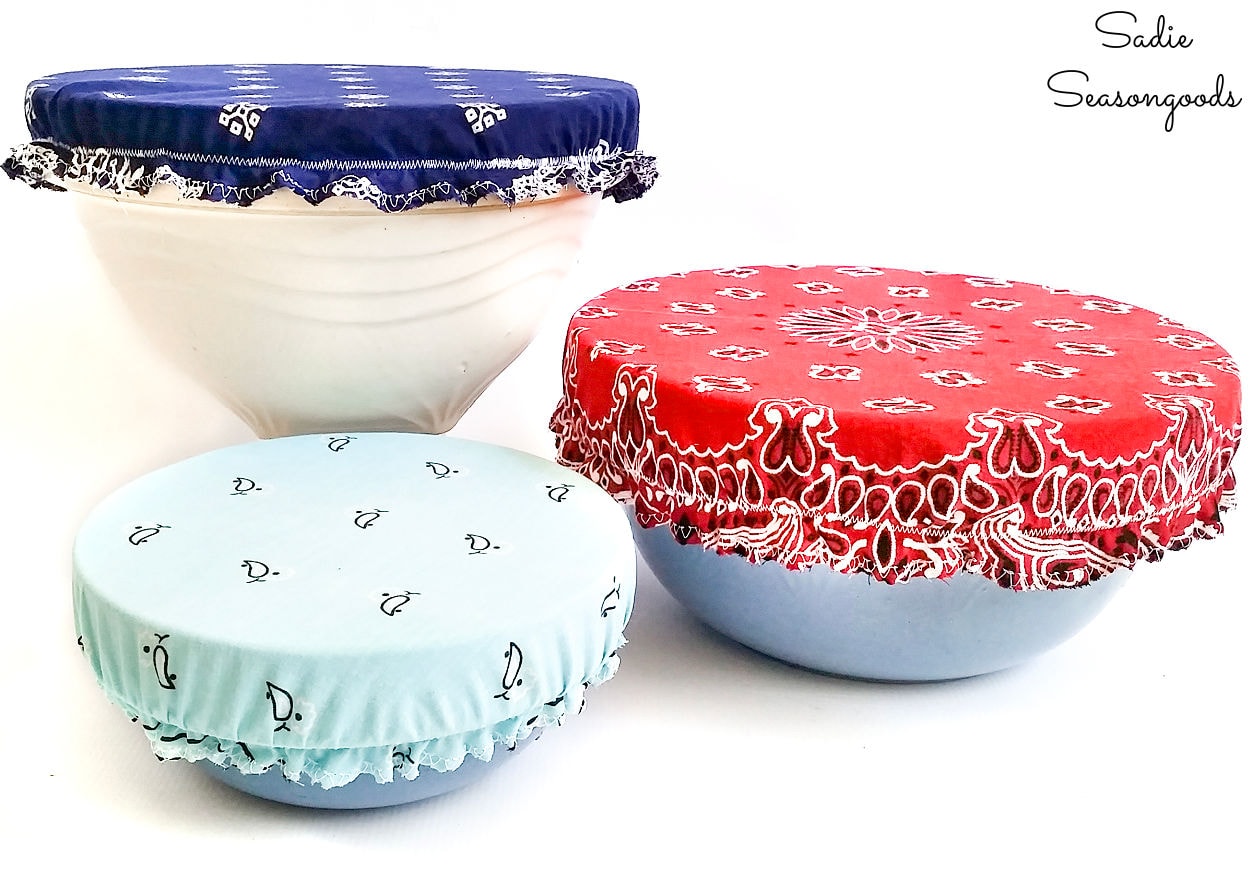 Save the plastic wrap and foil for leftovers in your fridge and use festive fabric covers to keep the bugs out at BBQs! These reusable bowl covers are easy to sew and use clean bandanas for an extra Americana touch.
Patriotic Necktie Wreath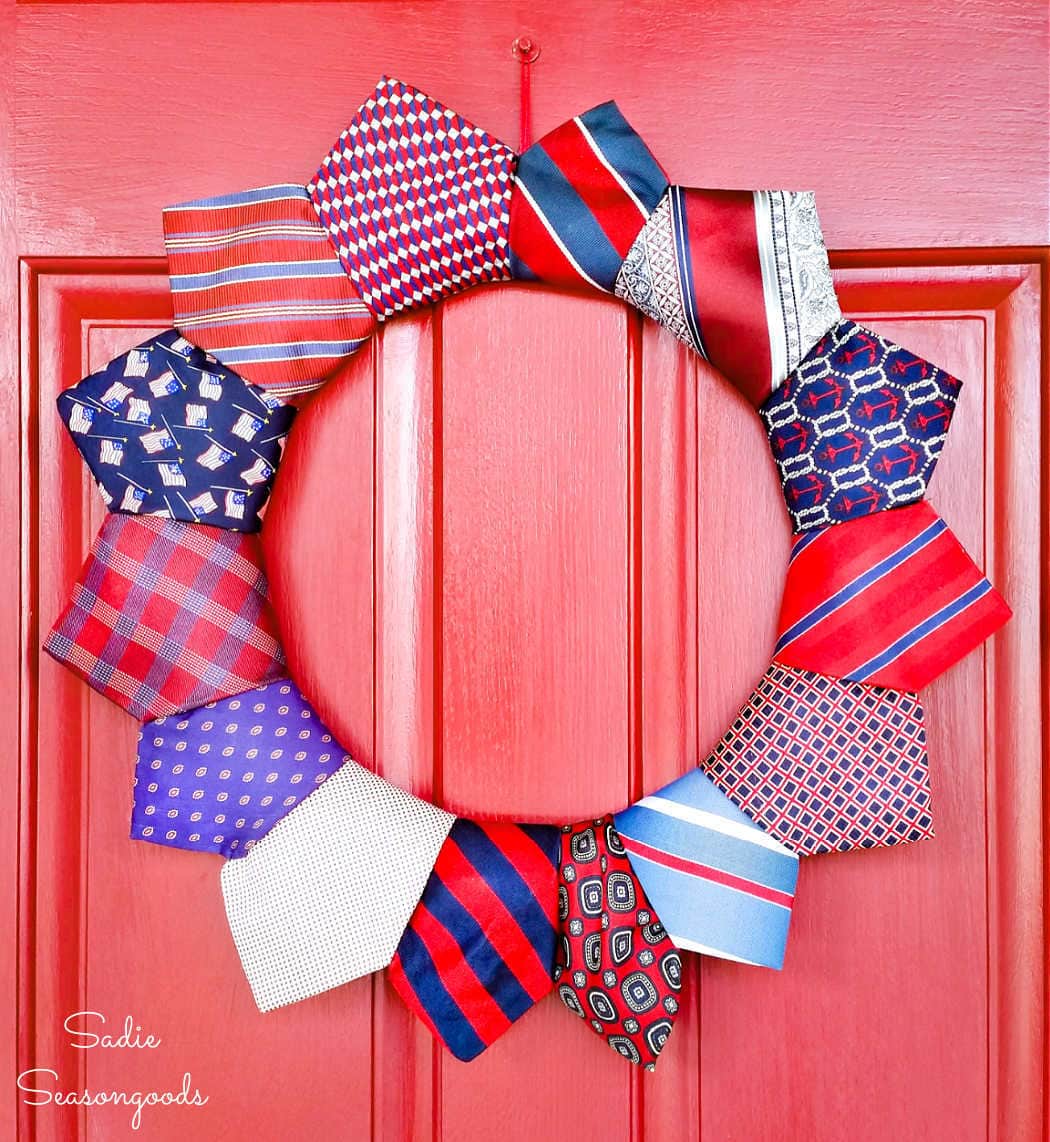 Whether you have a closet full of unworn ties or pick up a few at the thrift store, they are a great source of crafty inspiration. Take this patriotic wreath, for example. Isn't this a great way to repurpose them AND celebrate July 4th with a fantastic wreath?
American Flag Garden Sign
An American flag-inspired sign for your yard and garden is a wonderful way to celebrate summer. This version uses old garden stakes, but just about any kind of scrap wood in your garage or barn would do just fine.
July 4th Centerpiece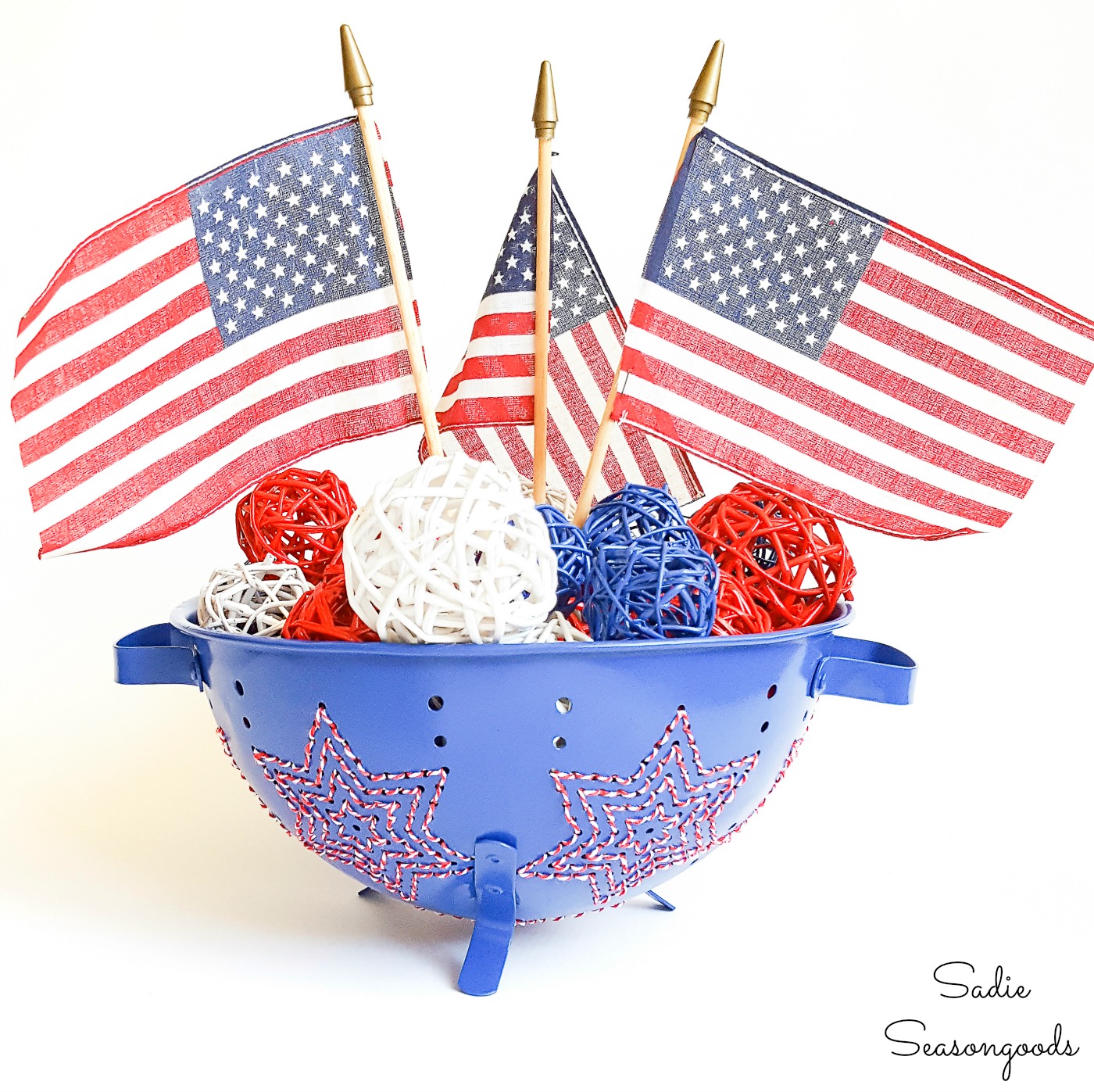 A vintage colander with star-shaped drainage holes is underappreciated in the kitchen. But given a patriotic makeover with some festive stitching? It becomes a patriotic centerpiece like no other.
Cross Stitched Flag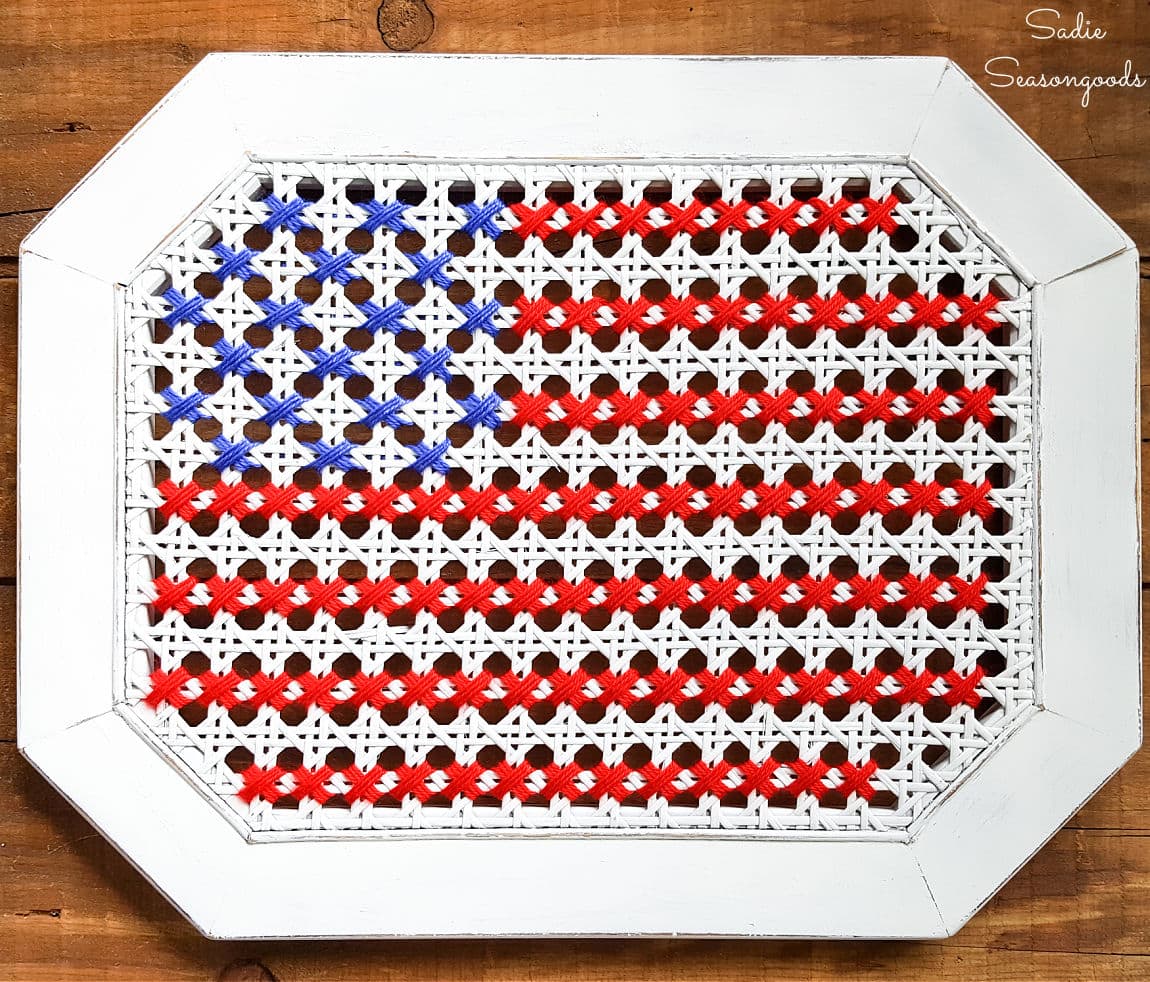 Older pieces of cane furniture are easy to find at thrift stores. And if you have one that's in not-so-great shape, perhaps the cane webbing is itching for a stitching like this American flag version.
Patriotic Candleholders
Plain glass candleholders are wonderful to craft with because you can embellish them however you want! A little paint and festive trim turned these plain holders into whimsical July 4th decorations that are perfect for your home.
DIY Mini Liberty Bell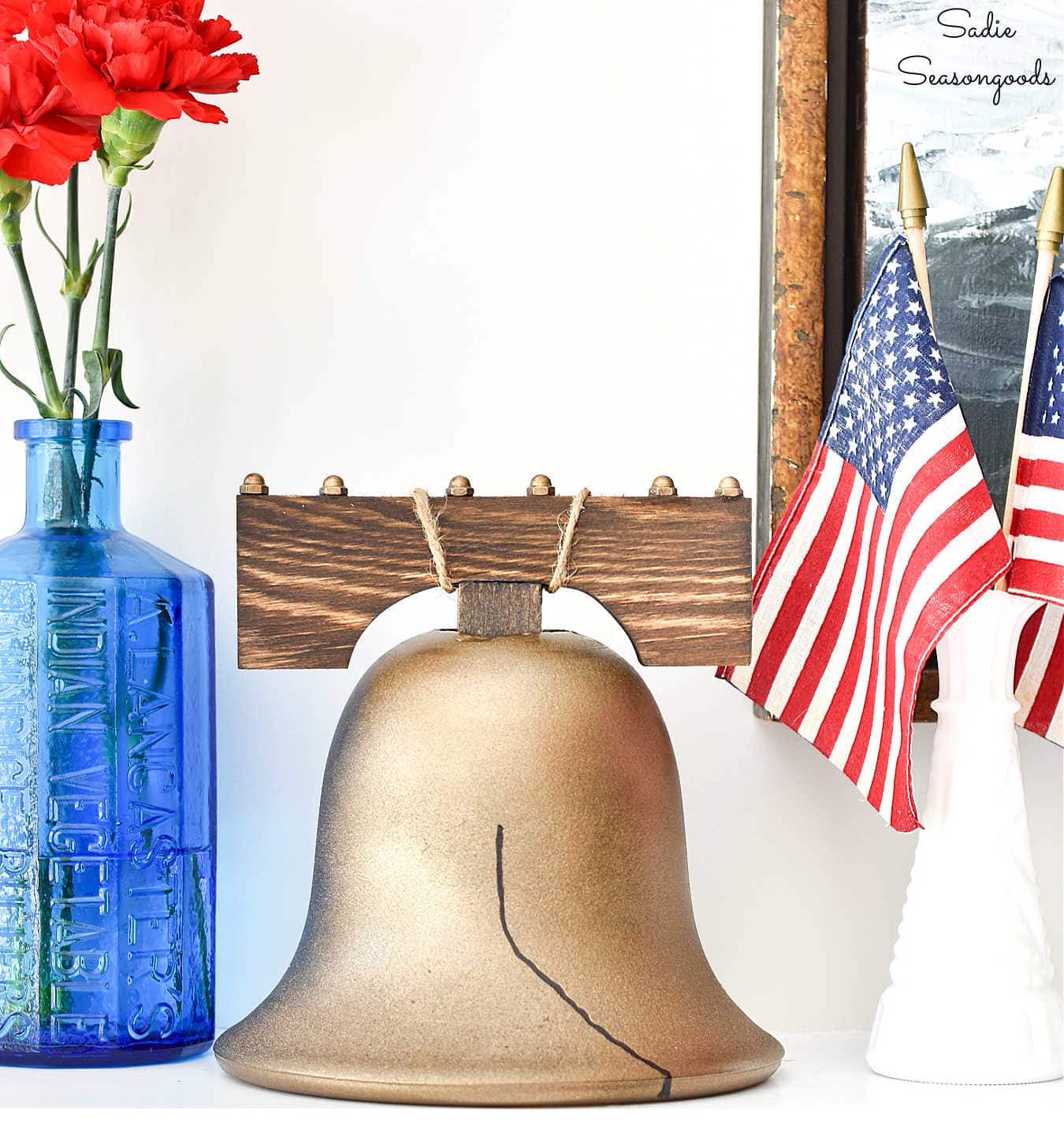 How about a small Liberty Bell to put on your mantel or elsewhere in your home? Believe it or not, but this version of it was made from a glass light shade that came from a thrift store.
Fake Firecracker Decor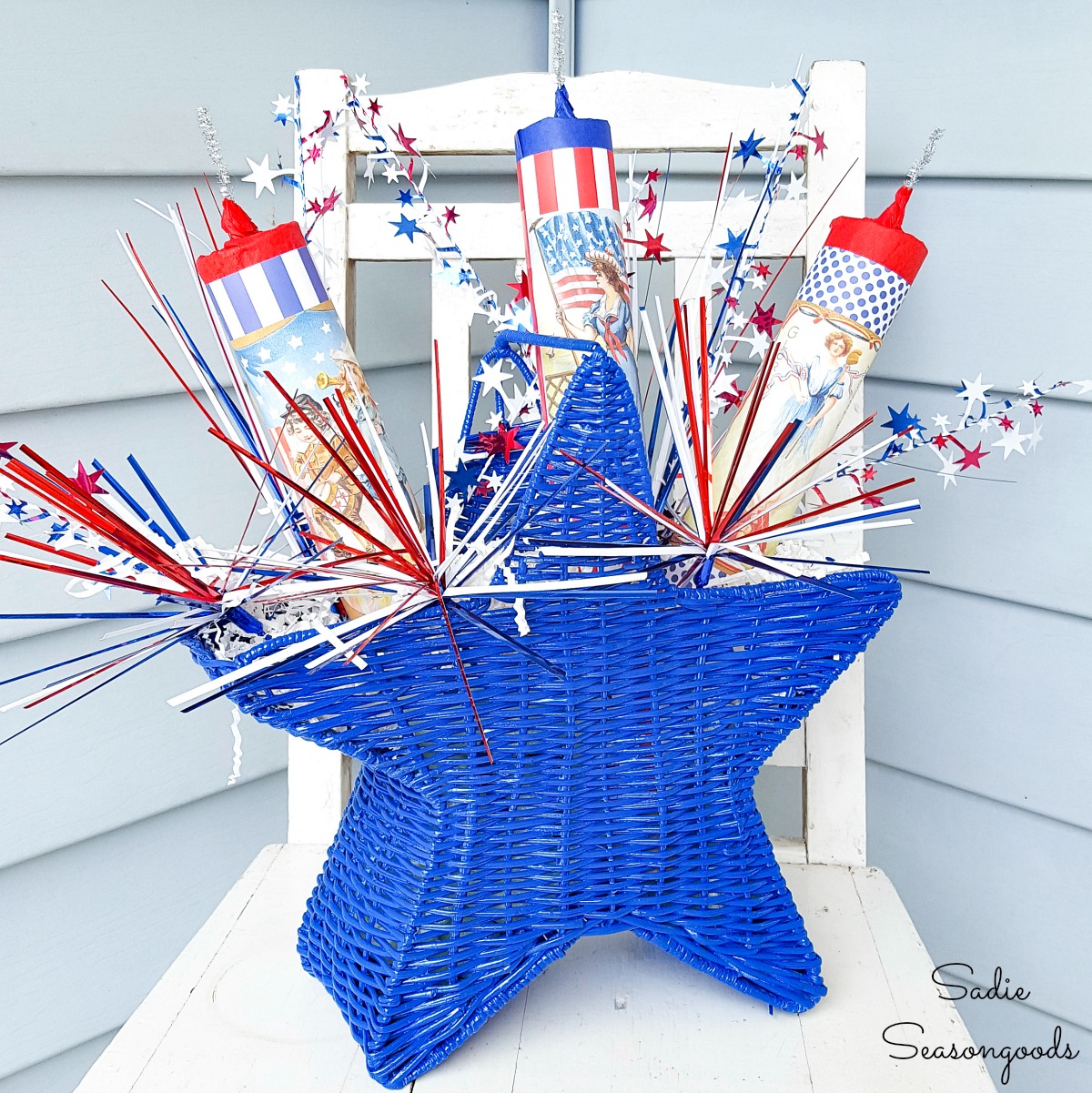 Firecrackers and July 4th go hand in hand. And you can incorporate them into your July 4th decorations with these silent versions that are made from paper towel cardboard tubes.
Vintage Campaign Button Wreath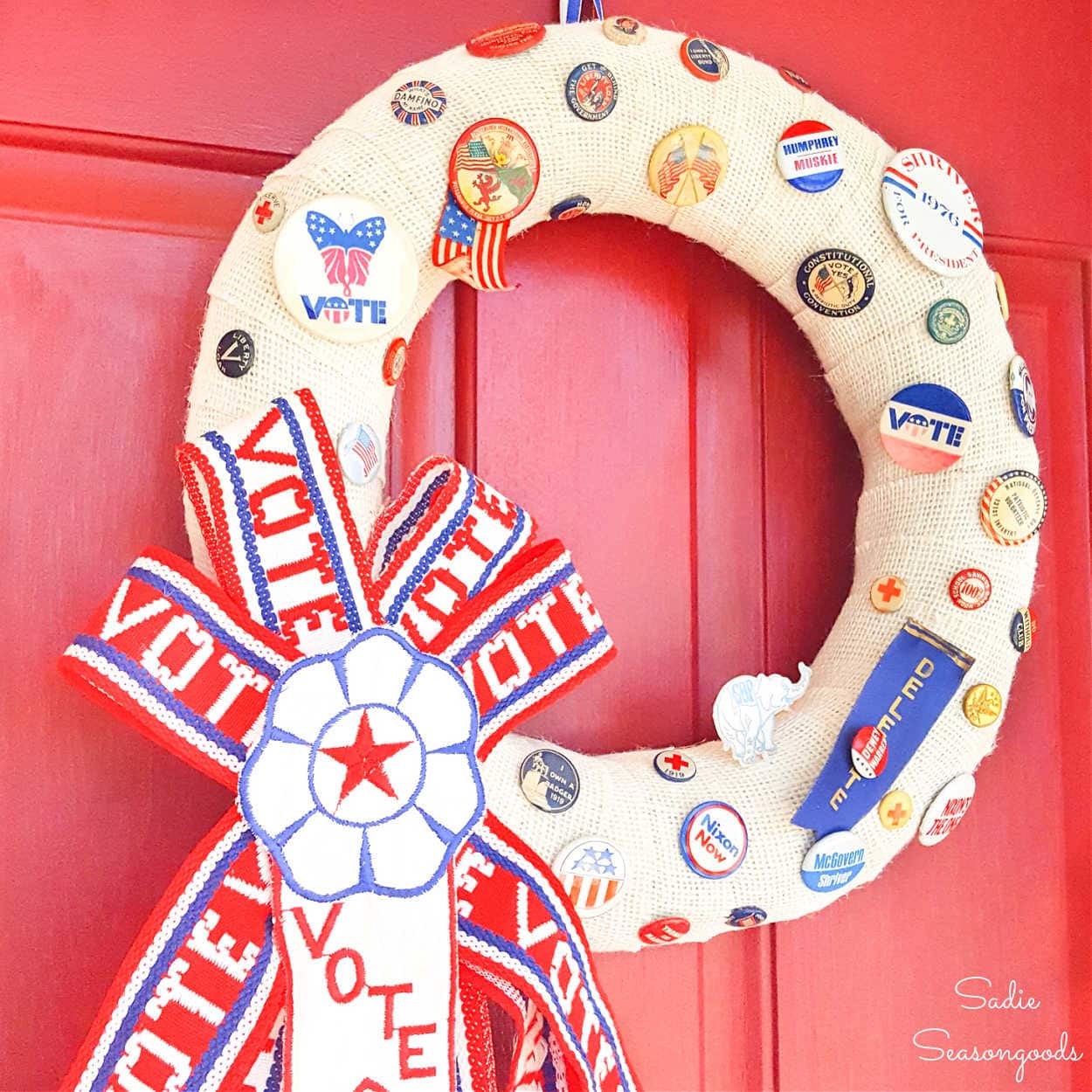 After the election is over, what do you do with all those campaign buttons? Why, you repurpose them into a festive wreath for your front door! The best part is that you can incorporate any political party you like (or don't like), and collecting the buttons is a fun scavenger hunt.
Burlap Table Runner
Burlap is a favorite fabric of crafters everywhere. It's inexpensive, easy to work with, and ideal for embellishing. And this patriotic table runner is a perfect example of why it's so popular.
Vintage-Inspired Patriotic Sign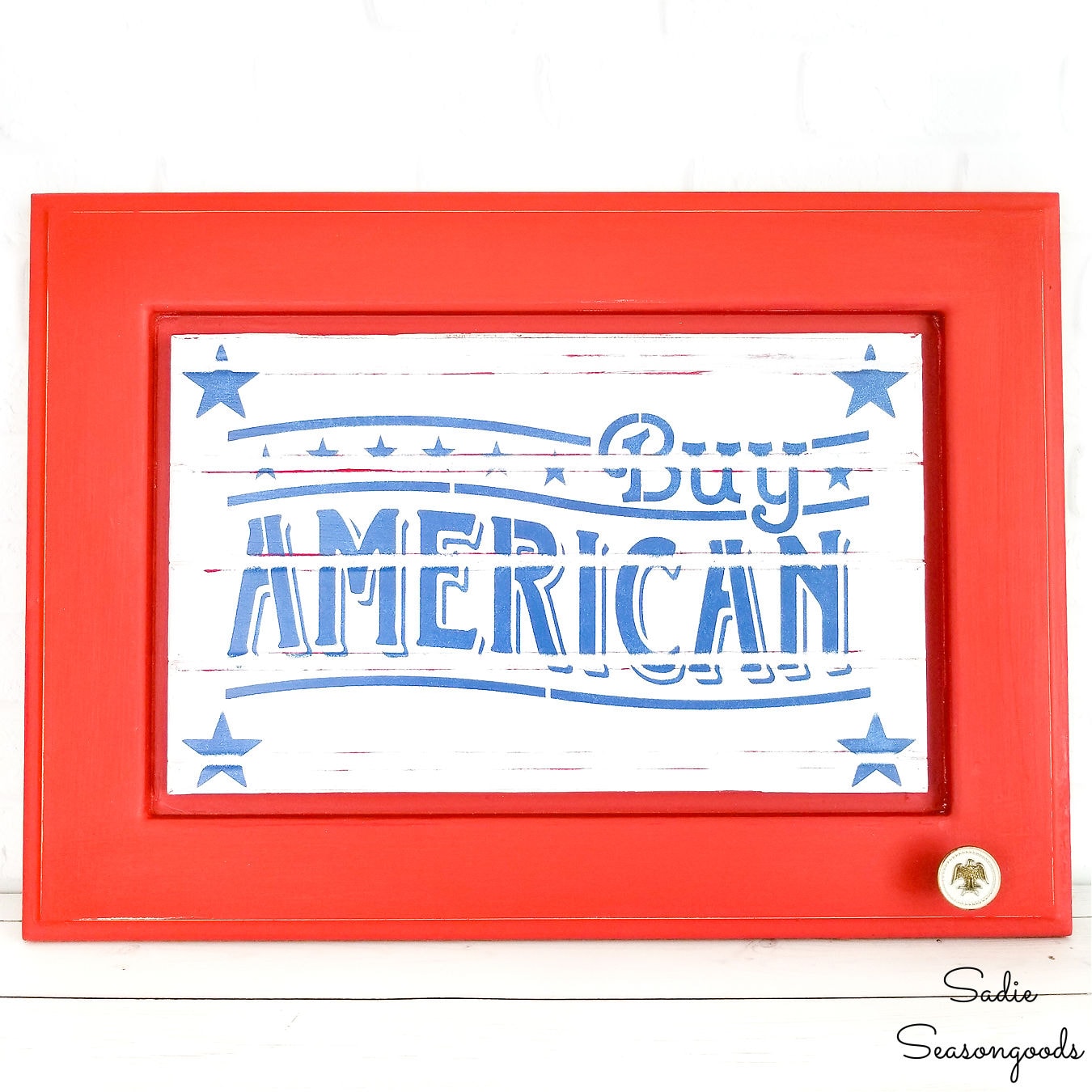 Inspired by the classic signs and posters from World War II, this patriotic sign was made with an old cabinet door. It harkens nostalgia and patriotism, and is the perfect centerpiece on your mantel this summer.
Happy 4th of July!
S
PIN ME!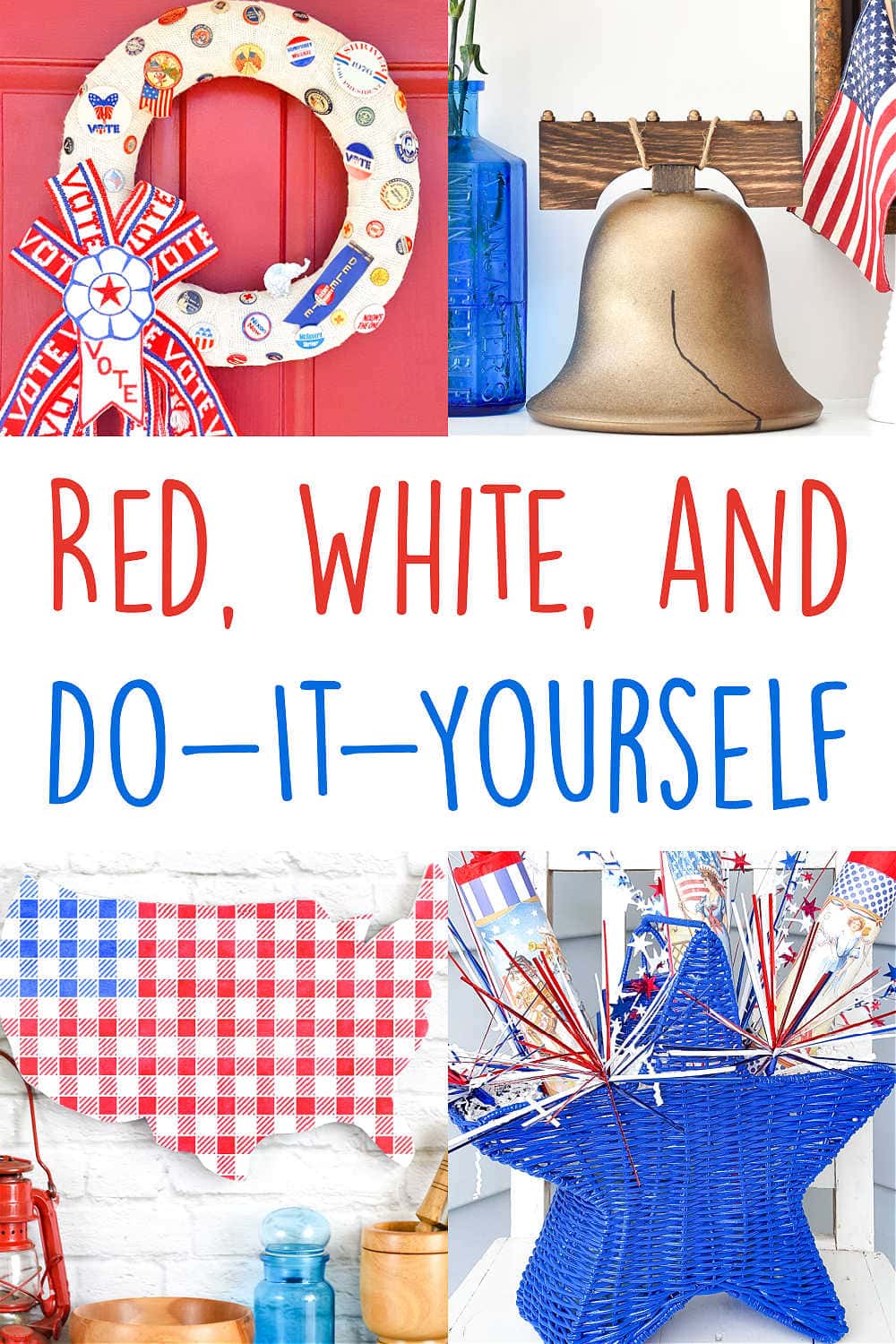 Sarah Ramberg is the owner of Sadie Seasongoods, a website that celebrates all things secondhand. From upcycling ideas and thrifted decor to vintage-centric travel itineraries, Sadie Seasongoods is a one-stop shop for anyone who loves thrifting and approachable repurposing ideas. Sarah is also the author of "Crafting with Flannel" and has been featured in numerous media outlets and magazines.