Not too long ago, I had a REALLY fortuitous thrifting trip- as I drove home, I realized I had found materials for nine different projects. NINE! Maybe the thrifts were all freshly replenished, or maybe I was wearing a most impressive thinking cap, but either way, it was an adventure for the record books. One of my finds was a wire kitchen rack that I wanted to upcycle into wire storage baskets that had the look of industrial farmhouse decor.
Because it was "backless", I assumed it was meant for a kitchen cupboard…to hold spices, etc. But that gave me license to create a backing from my stash of barn wood! And I knew exactly which piece I'd use…
This post contains affiliate links for your crafting convenience. As an Amazon Affiliate, I earn from qualifying purchases.
Upcycling a Wire Kitchen Rack into Wire Storage Baskets
First, I needed to determine how large the backing (from my barn wood) should be. So, I spread out some newspaper, placed the wire kitchen rack on it, and cut out a rectangle.
Now that I had a template to use, I prepared the barn wood. I used a wire brush to remove the excess paint chips and pliers to remove any rusty nails. Based on my newspaper template, I divided the measurements in three, measured the barn wood, and sawed off three equal length pieces.
I scavenged our garage for a small piece of scrap wood to use as cross-connectors. And because I didn't want to see shiny new screws from the weathered/painted side, we drilled in screws through the connectors on the back.
Of course, I made sure that the screws weren't too long to pierce through the front of the barn wood!
Next, I sealed the chippy paint side with a satin top coat.
Now I could turn my attention to the wire kitchen rack! This was the part that I would transform into the look of industrial farmhouse decor.
So, I selected a flat colored metallic paint for its makeover- a color I hadn't played around with before.
To hang the wire kitchen rack on the barn wood, I just needed two small cup hooks.
But, I only had them in brassy gold (which would NOT do)! So, I painted them with the same paint as the wire kitchen rack.
While the cup hooks dried, I added two D-ring hangers and wire on the back for hanging- nothing fancy and super easy. My wire storage baskets / industrial farmhouse decor was nearly done now!
Wire Storage Baskets from a Wire Kitchen Rack
Once the cup hooks were dry, I inserted them into the barn wood and hung the wire kitchen rack. And just like that, I had some hanging storage baskets with the look of industrial farmhouse decor!
Here's a close up of the cup hooks that I spray painted to match the wire kitchen rack. They blend in PERFECTLY and you can hardly see them!
Such a fun makeover for a fairly plain/basic piece. And it works perfectly in our office that has the style of industrial farmhouse decor.
I love that the wire kitchen rack doesn't even LOOK like one of those inside-the-cabinet-door shelves anymore.
*****
I'm also excited to announce that my first book is now available! If you enjoy upcycling clothing and simple sewing projects, then you will love my book on flannel crafts!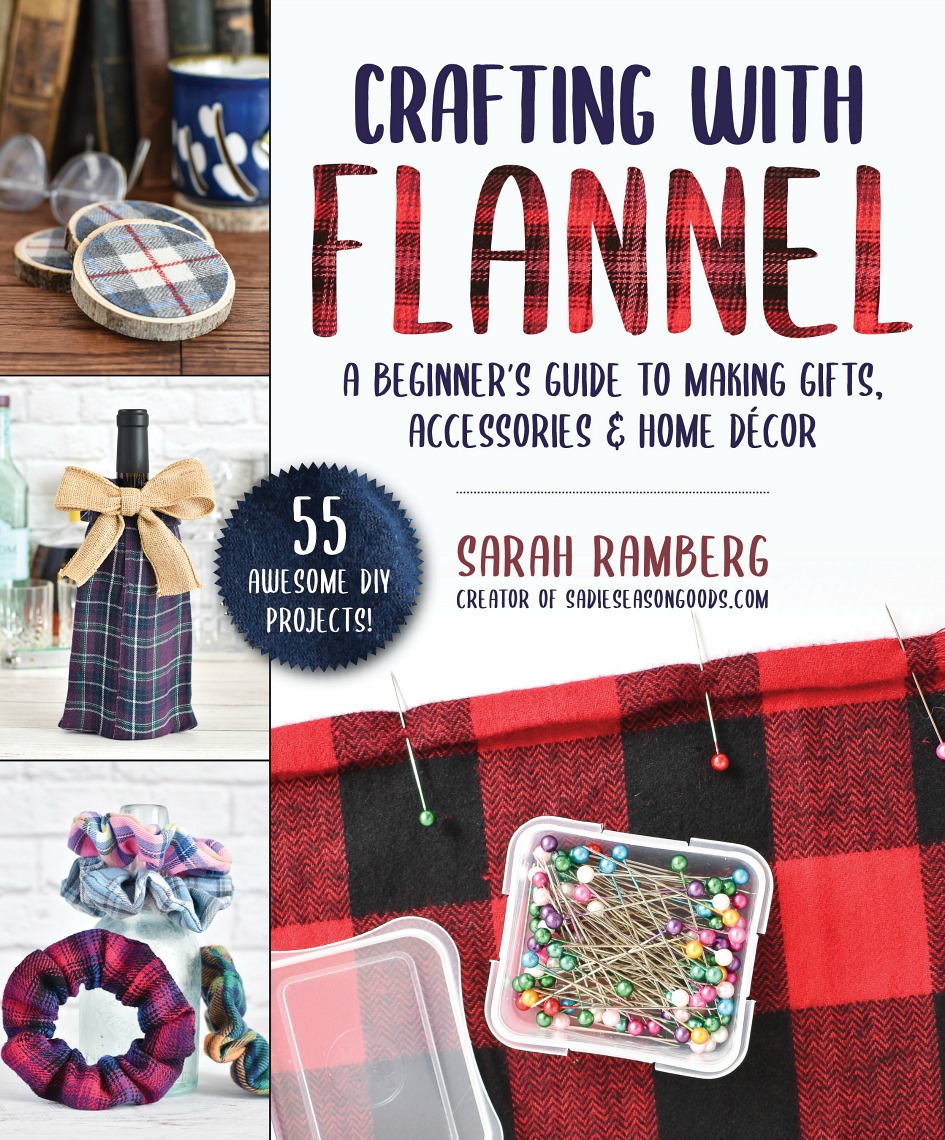 *****
If you enjoyed this upcycling idea for storage that has the look of industrial farmhouse decor, then you'll love what I did with some old VHS storage drawers!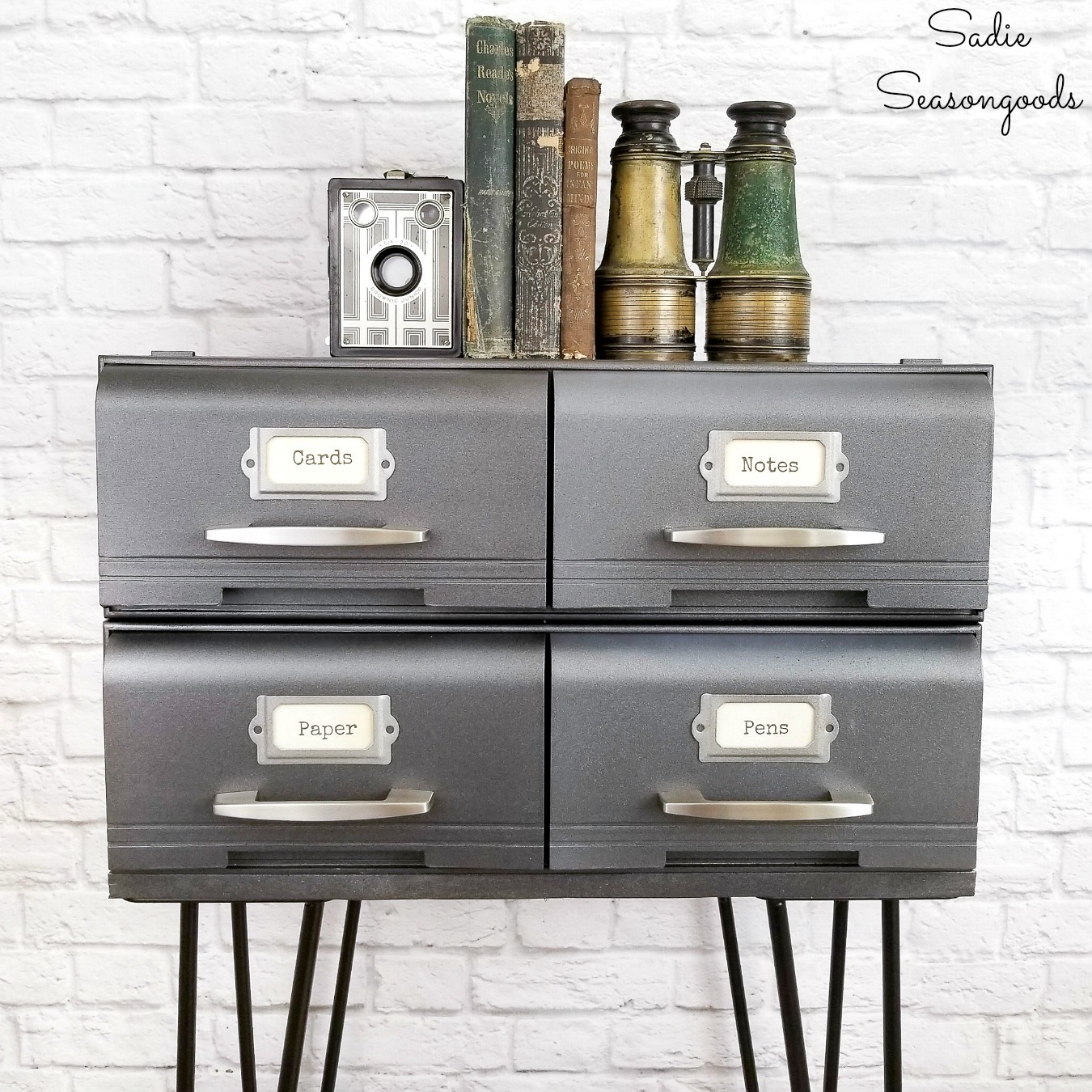 Craft on!
S
Want to be notified when I publish my next upcycling project tutorial?
Subscribe to Blog via Email
Join me on Social Media:



PIN ME!