Even though I already upcycled something into a paint brush holder, I had an idea that I wanted to try out. And it involved a nail apron, or one of those canvas aprons that workers used to wear (or maybe still wear?) at hardware stores.
A nail apron had been on my mind because I passed one up on a trip to Franklin, TN and it has haunted me ever since!
Thanks to Ebay, though, I was able to remedy that junkin' mistake with a pair of nail aprons!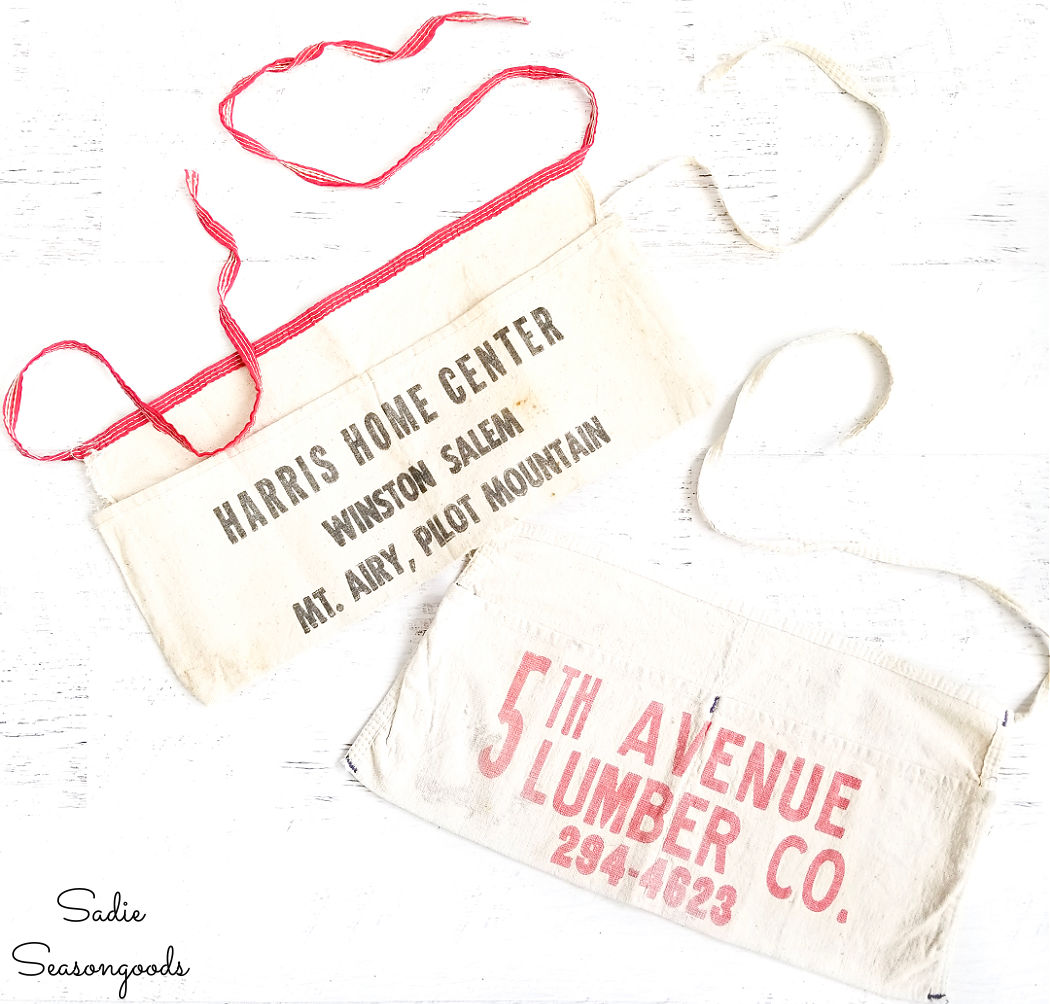 A quick pause (paws?) while Cottonball poses for a photo while sitting on my canvas aprons…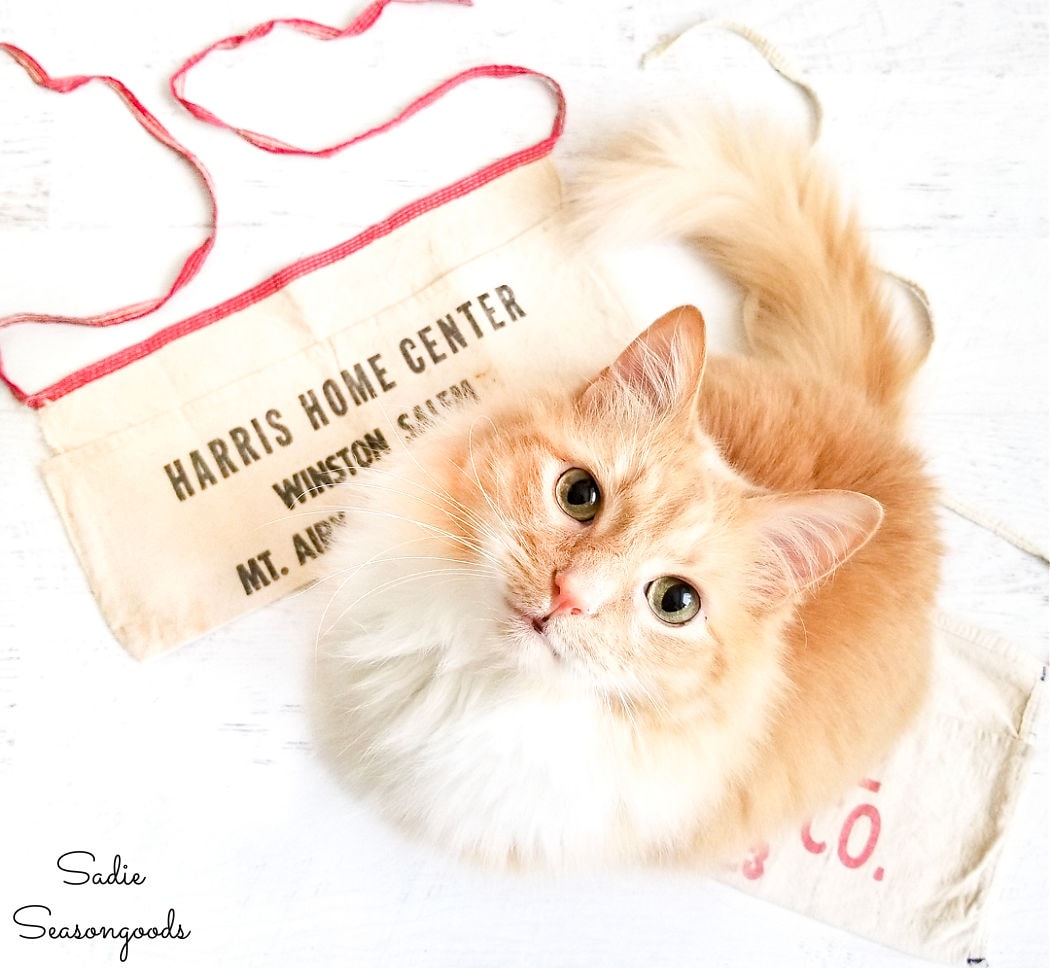 Anyway, back to my idea! I actually had a couple of paint brush storage ideas for these aprons. One would resemble a canvas knife roll (like chefs use) and the other would remain open.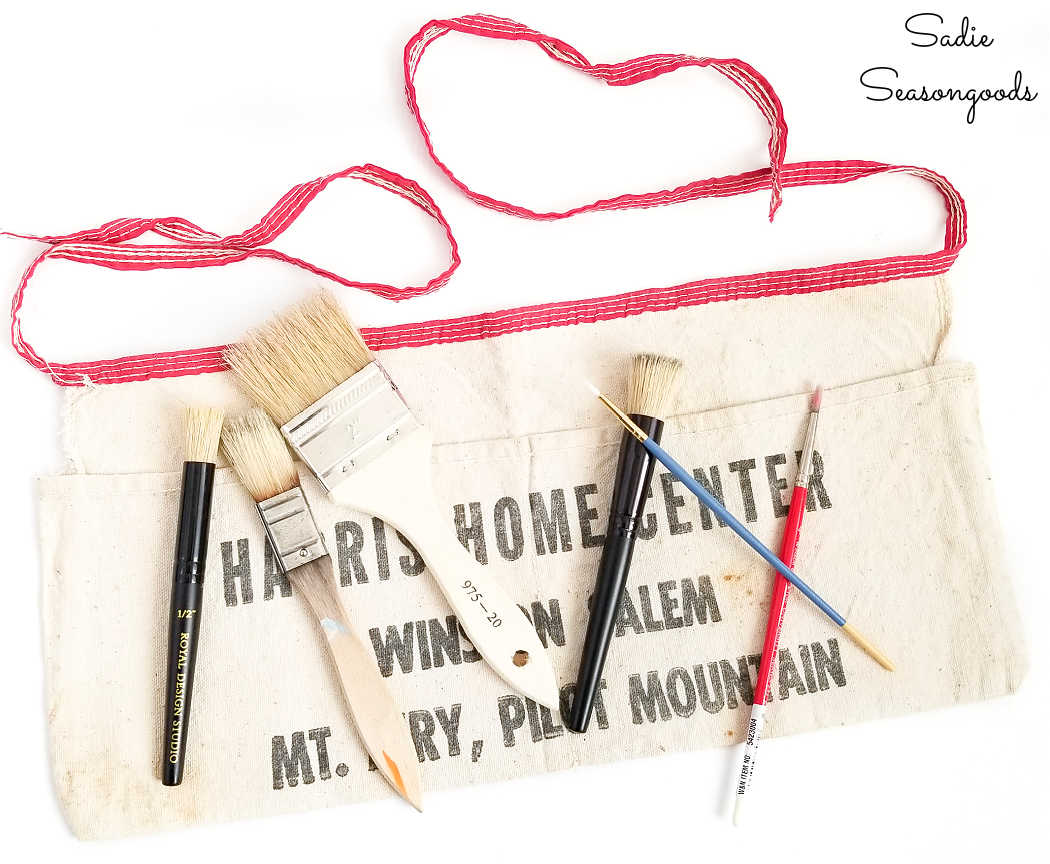 Ironically enough, I've gone in the opposite direction with a previous project. I turned something else entirely INTO an apron!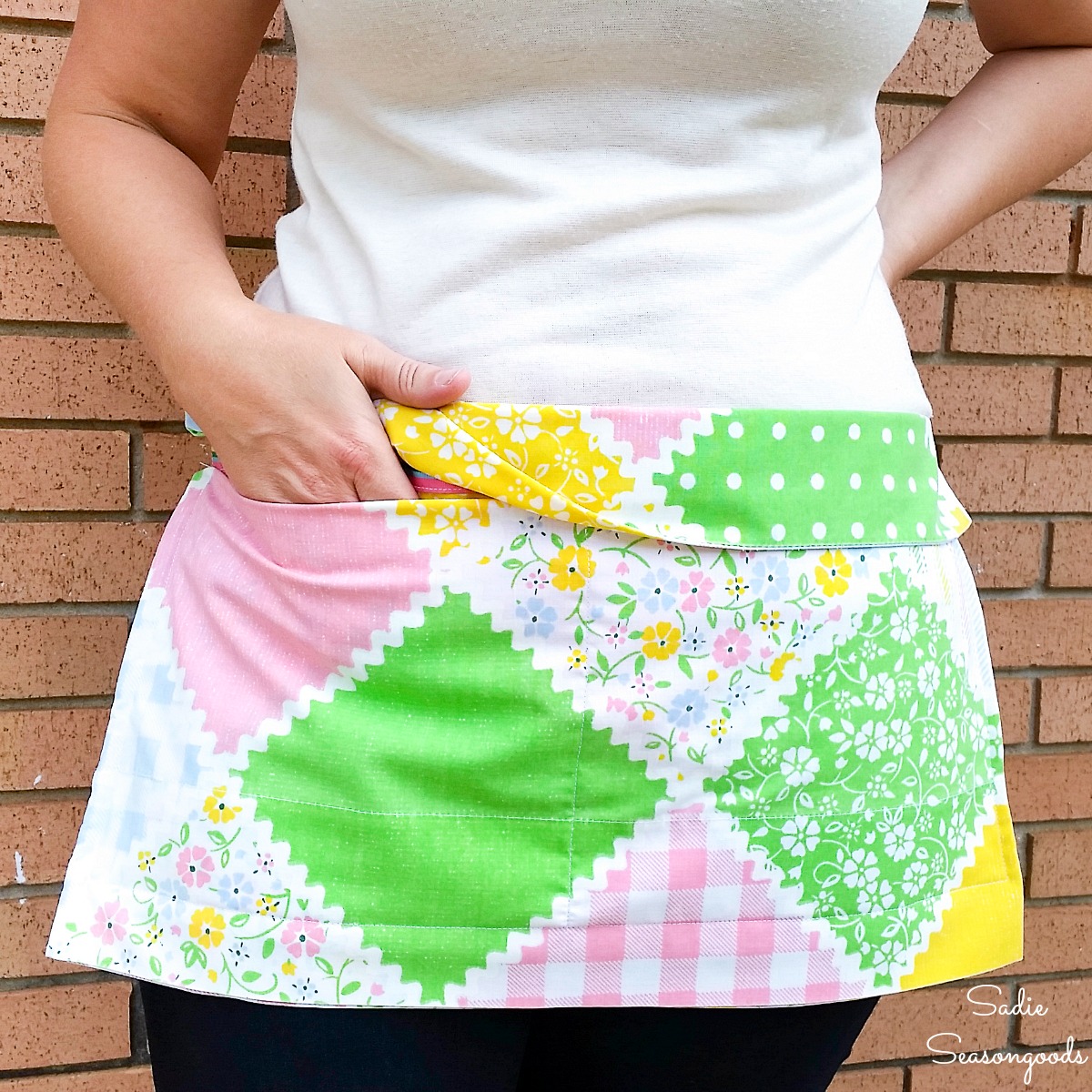 But, I digress. So, with canvas aprons on hand and upcycling ideas in my head, I got down to business!
This post contains affiliate links for your crafting convenience. As an Amazon Affiliate, I earn from qualifying purchases. All blue, bold, and underlined text is a clickable link, either to a product or to a related post.
Making a Brush Organizer from a Nail Apron
For my first idea, I needed to create slots or narrow pockets in the nail apron for my paint brushes. Or rather, stenciling brushes in this case.
There was already a sewn seam down the center of the apron, thus creating two pockets. So, all I needed to do was create more seams.
First, I used my stencil brushes as guides and stuck straight pins in the nail apron to indicate where the new seams should go.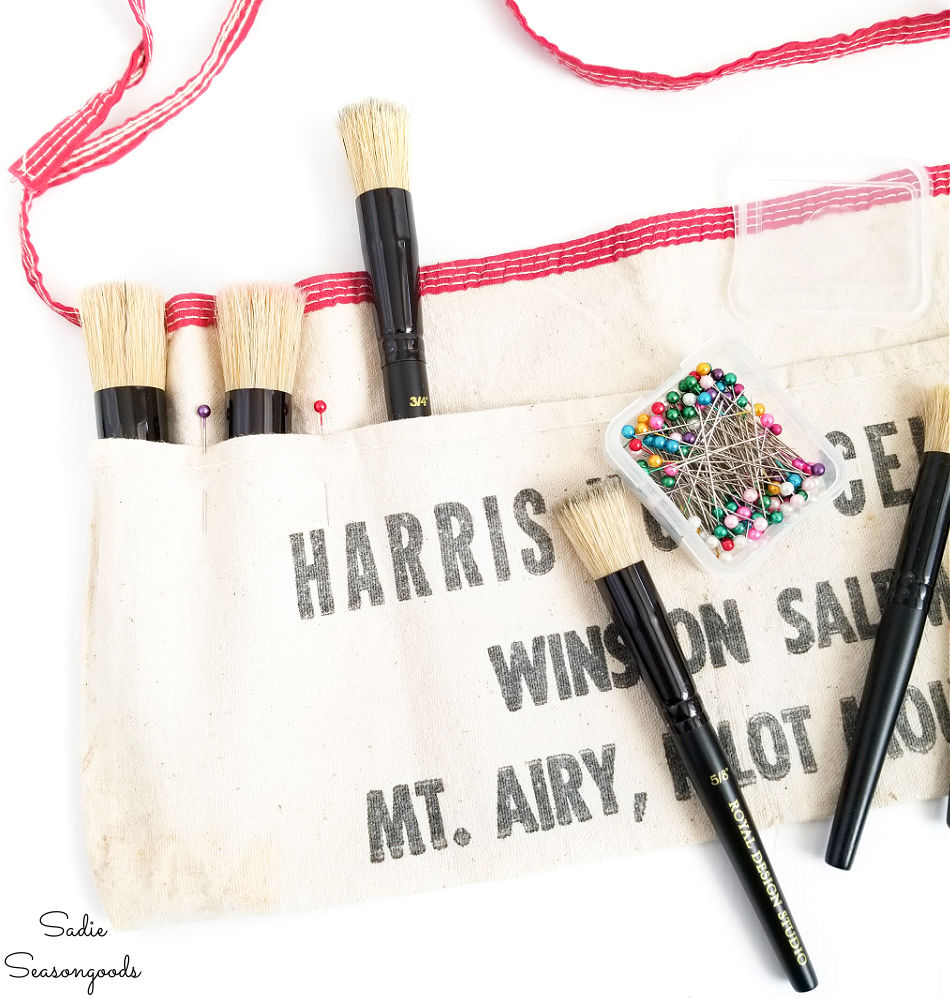 It ended up looking like this when I was done pinning.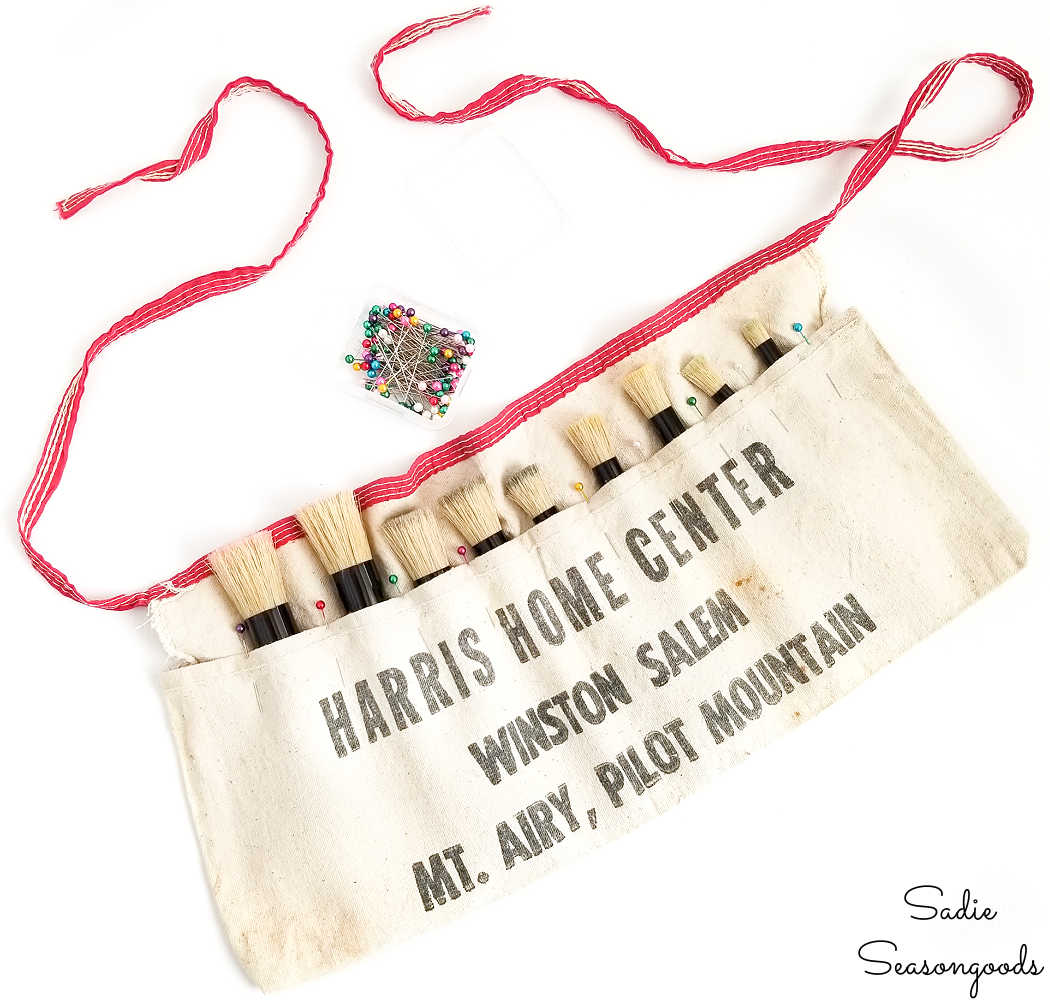 When I had marked all the future seams, I grabbed some coordinating thread and headed to my sewing machine.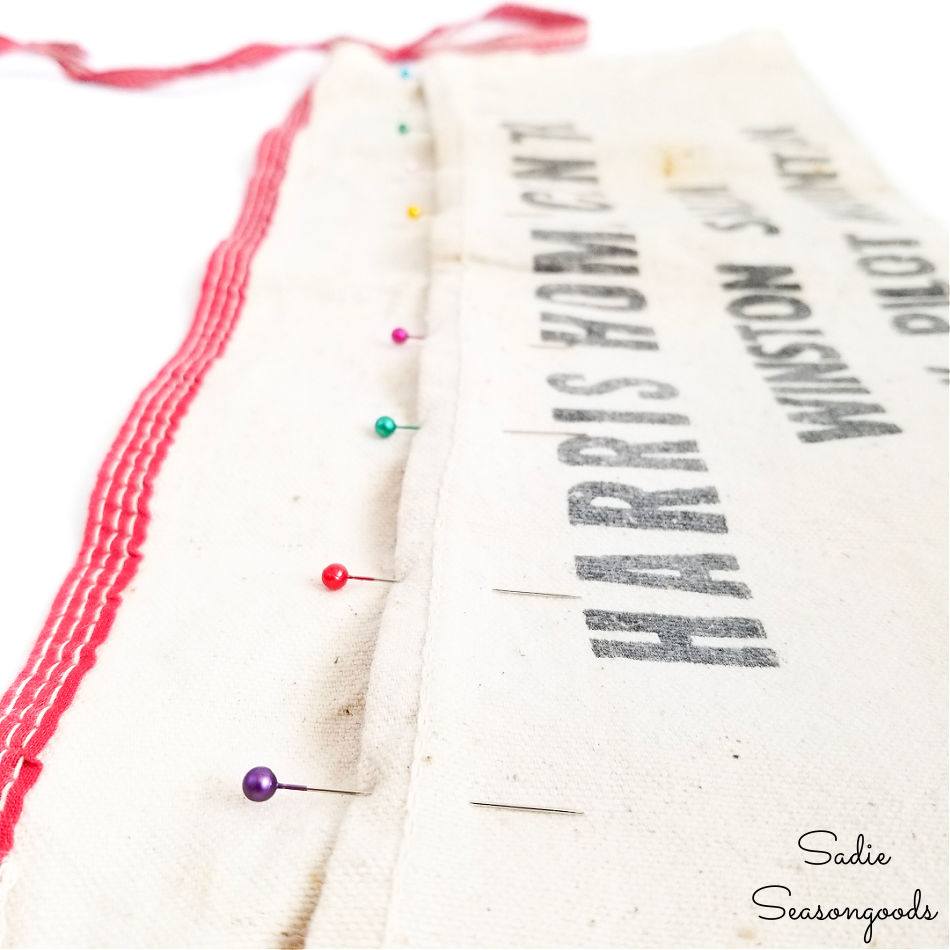 I straight stitched each seam, backstitching at the beginning and end for security. Next, I knotted and trimmed off the thread tails and placed my stencil brushes in the apron holder!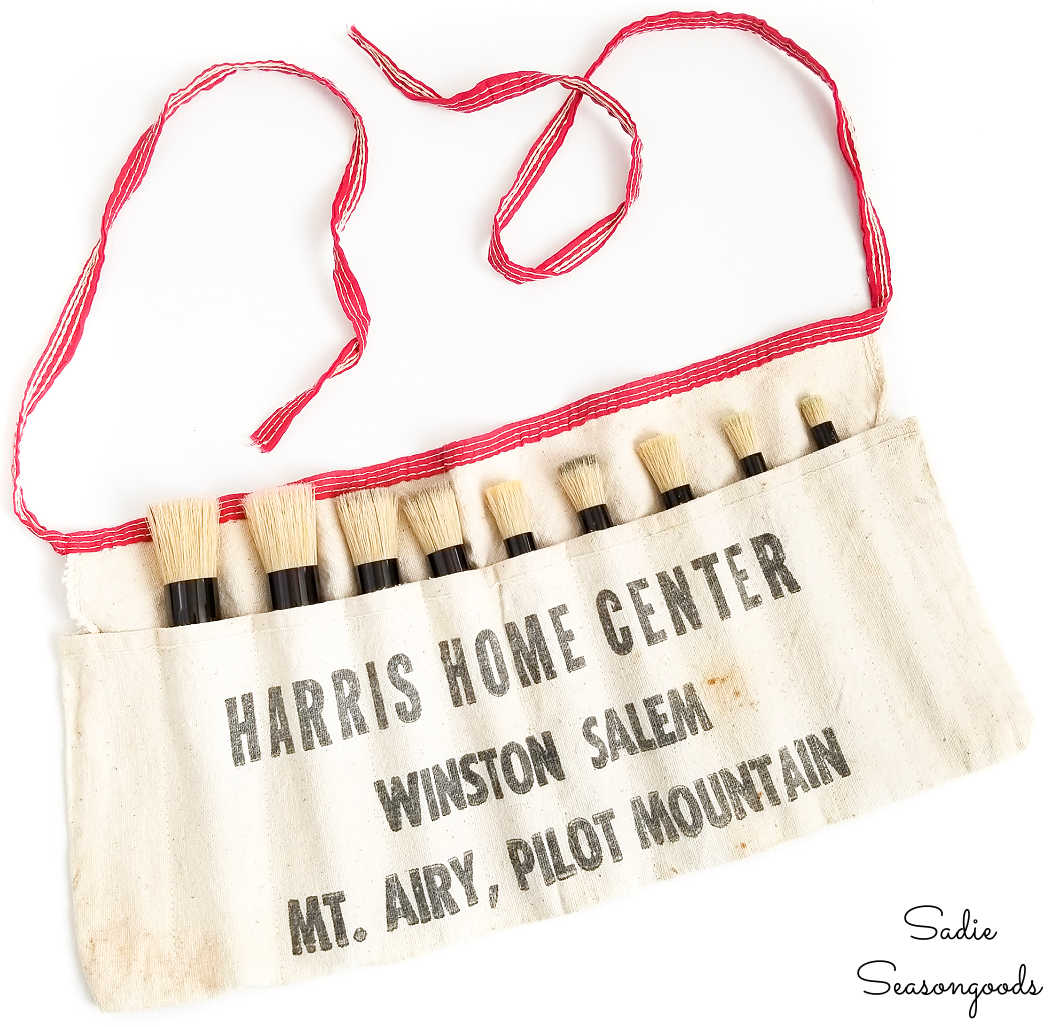 It worked perfectly as a paint brush holder! And just as I had hoped, it rolled up just like a knife roll. I used the waist ties to hold the roll in place.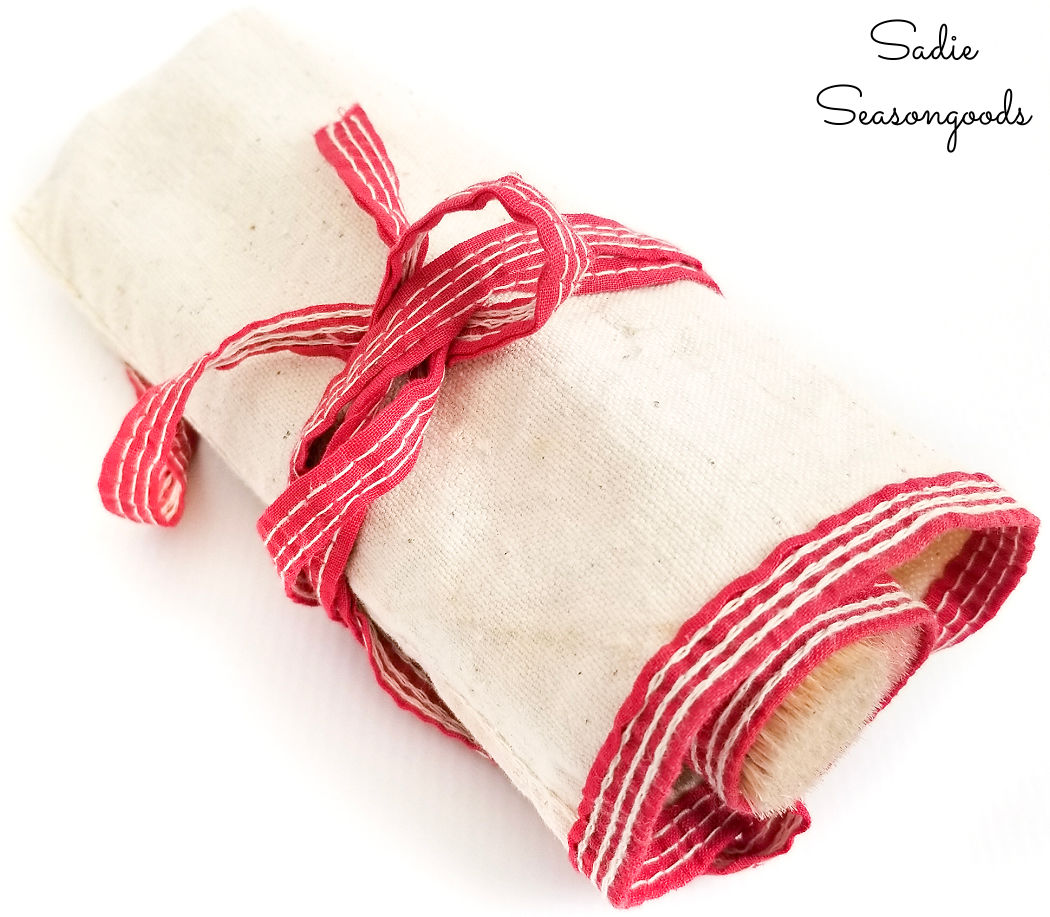 Brush Storage on Reclaimed Wood
For the next brush organizer, I decided to attach one of the nail aprons to piece of reclaimed wood from my stash.
My plan for this one would result in a paint brush holder that was open all the time. And almost as decorative as it was functional.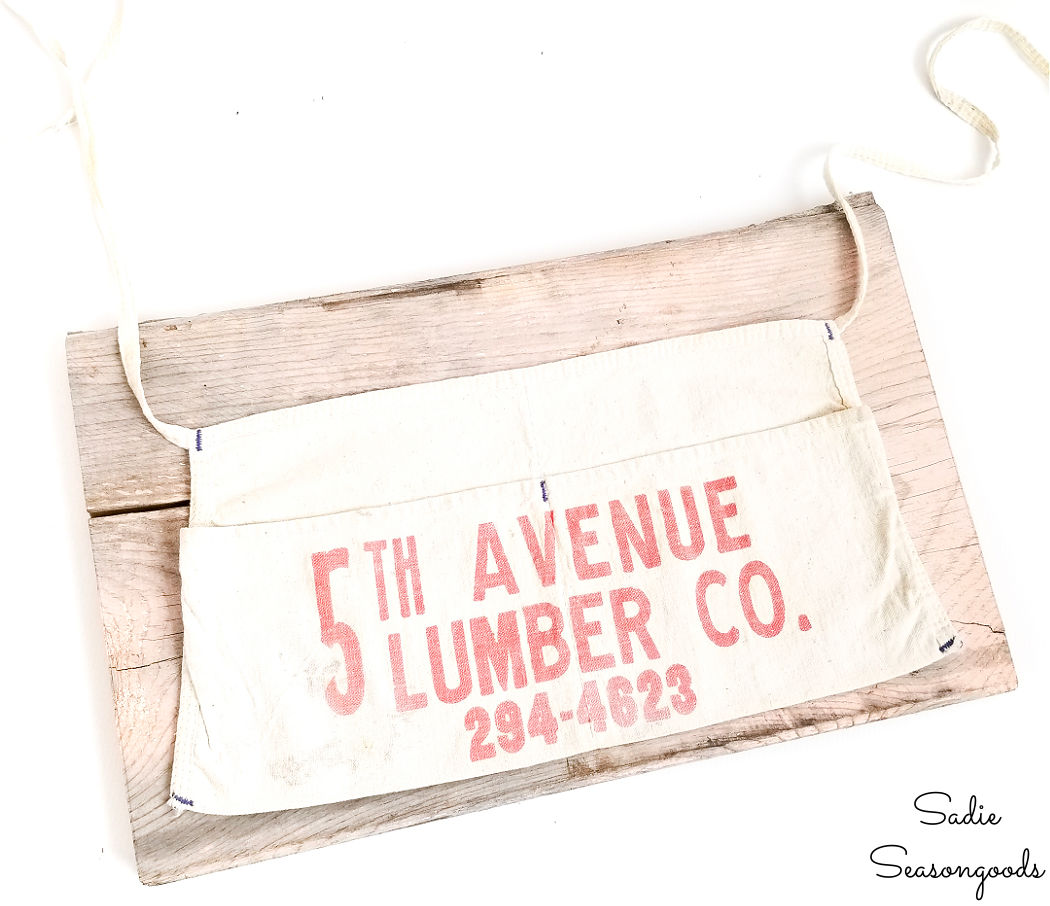 Mr. Seasongoods also cut it down to size for me with our circular saw.
First, I did the same thing I did with the previous canvas apron; I marked where new seams should go for my craft paint brushes.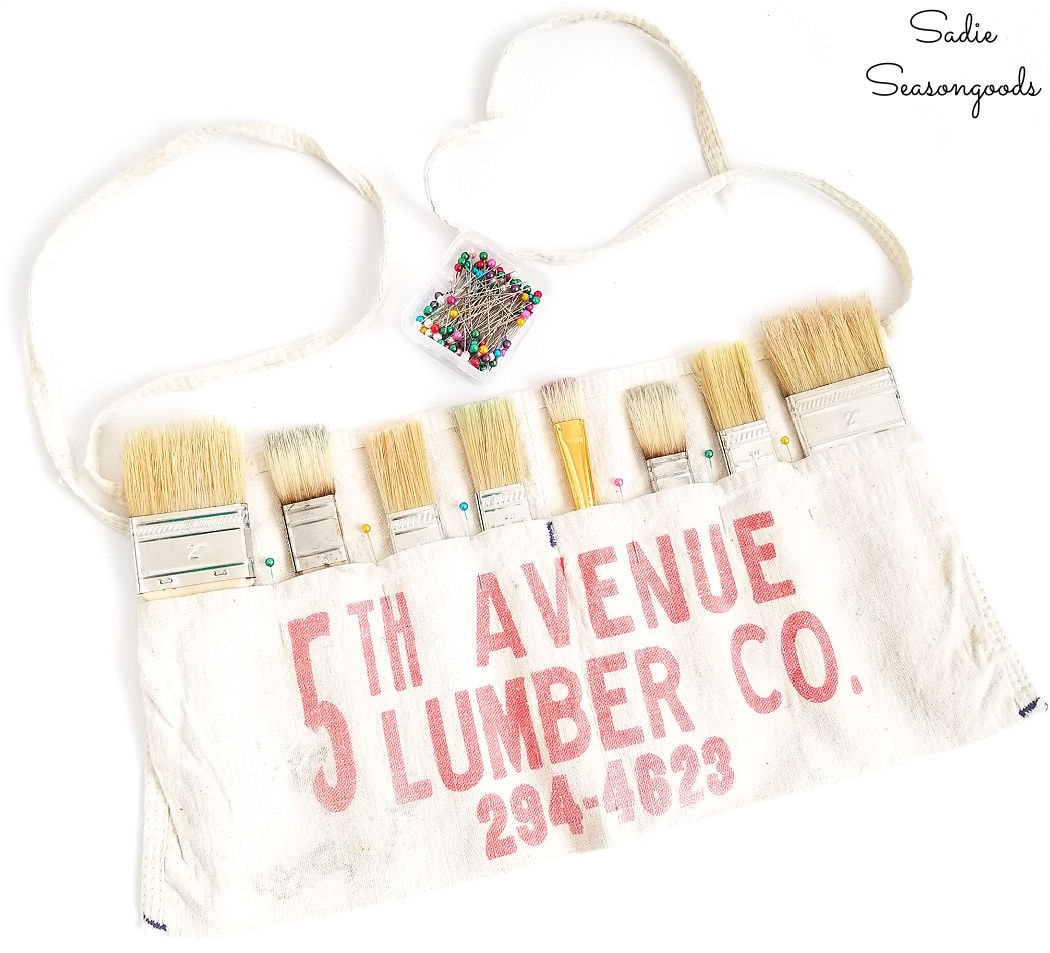 After I stitched them on my machine, I went back to the reclaimed wood. I had scored these upholstery pins from Etsy– vintage, aqua, and perfectly weathered!
Aren't they positively divine?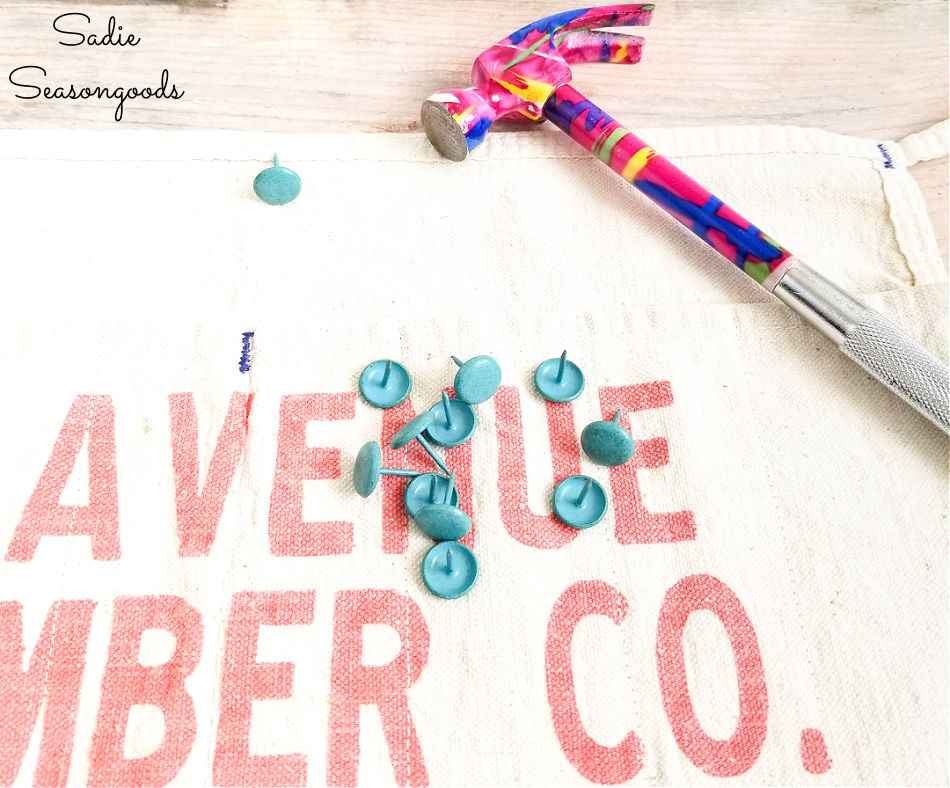 With my craft hammer, I used the upholstery pins to hold the nail apron to the reclaimed wood.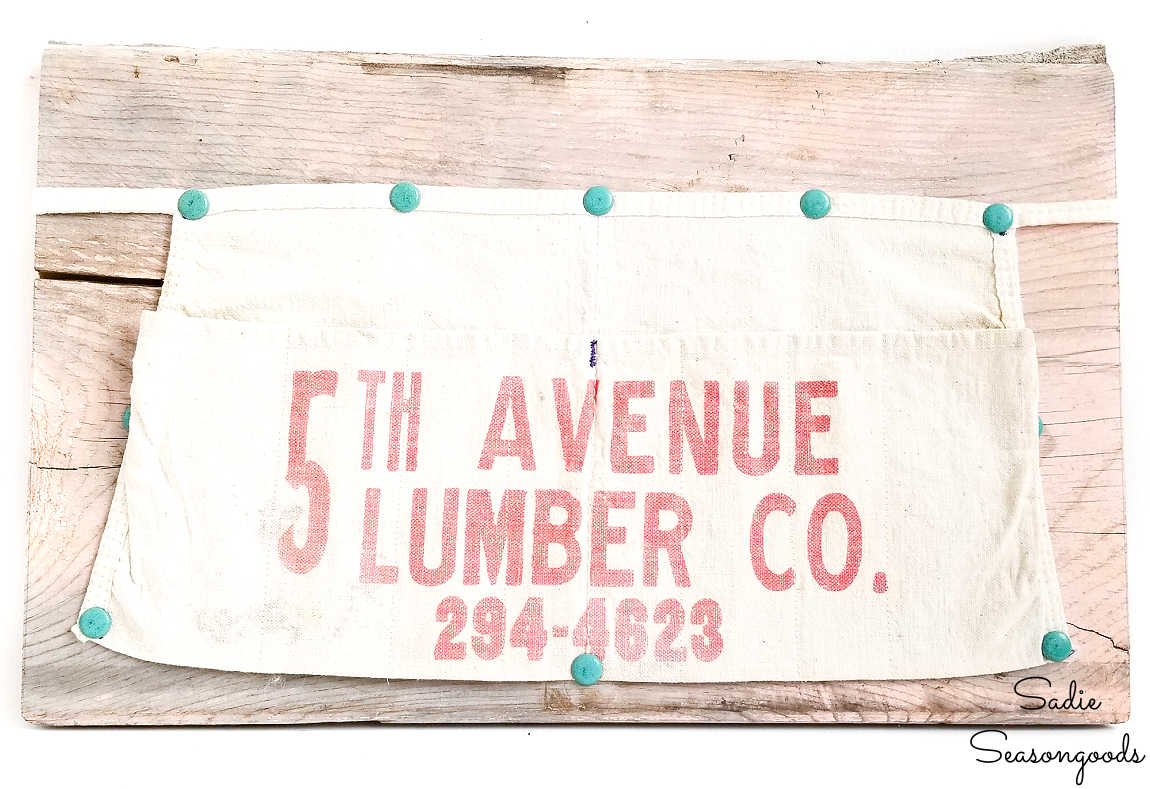 And just like that, I had ANOTHER paint brush holder with a nail apron! I also tied the waist strings around the back of the wood.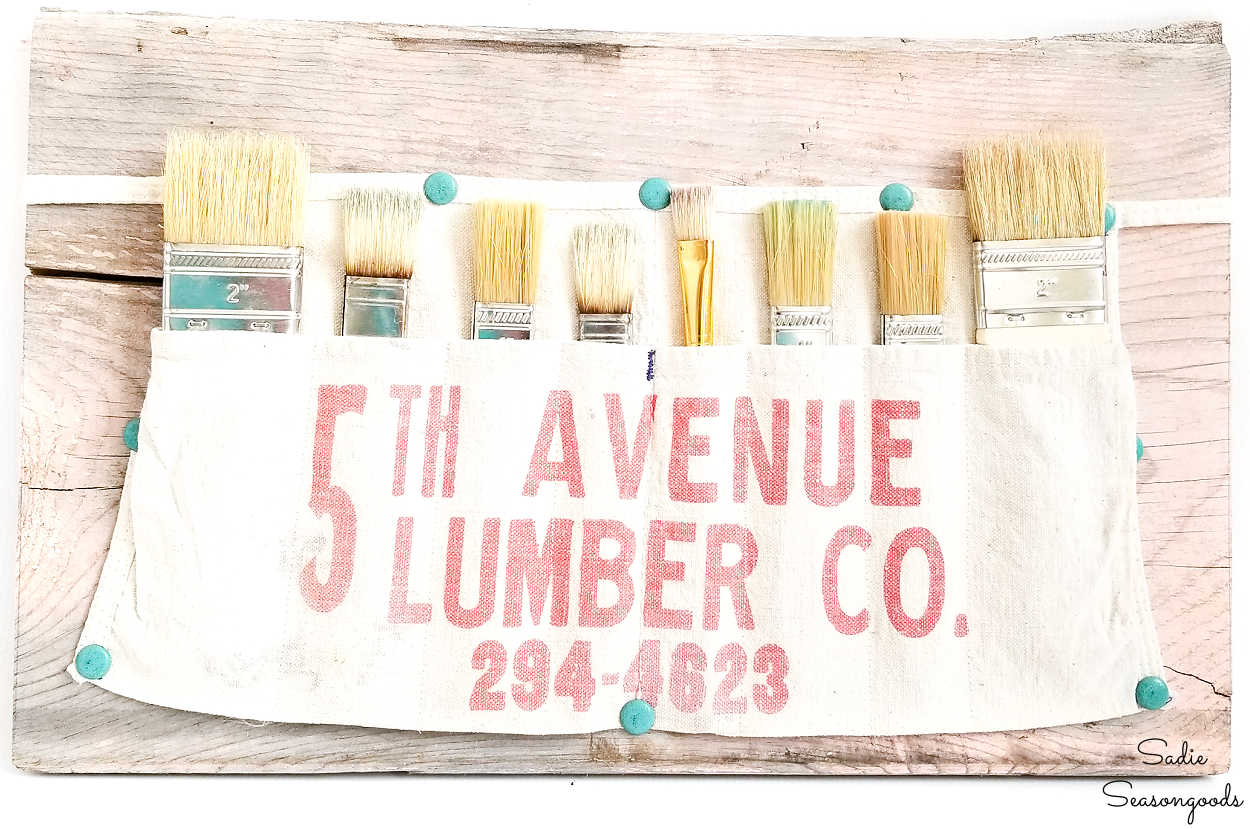 This brush organizer could be hung on the wall (with picture hangers on the back) or just leaned against the wall. Either way, I'd have easy access to my craft paint brushes!
Nail Apron as a Brush Organizer for Craft Storage
Not only were my paint brush holders cute and handy, but they came together quickly! No paint to dry, no glue to set, no craft mess to clean up.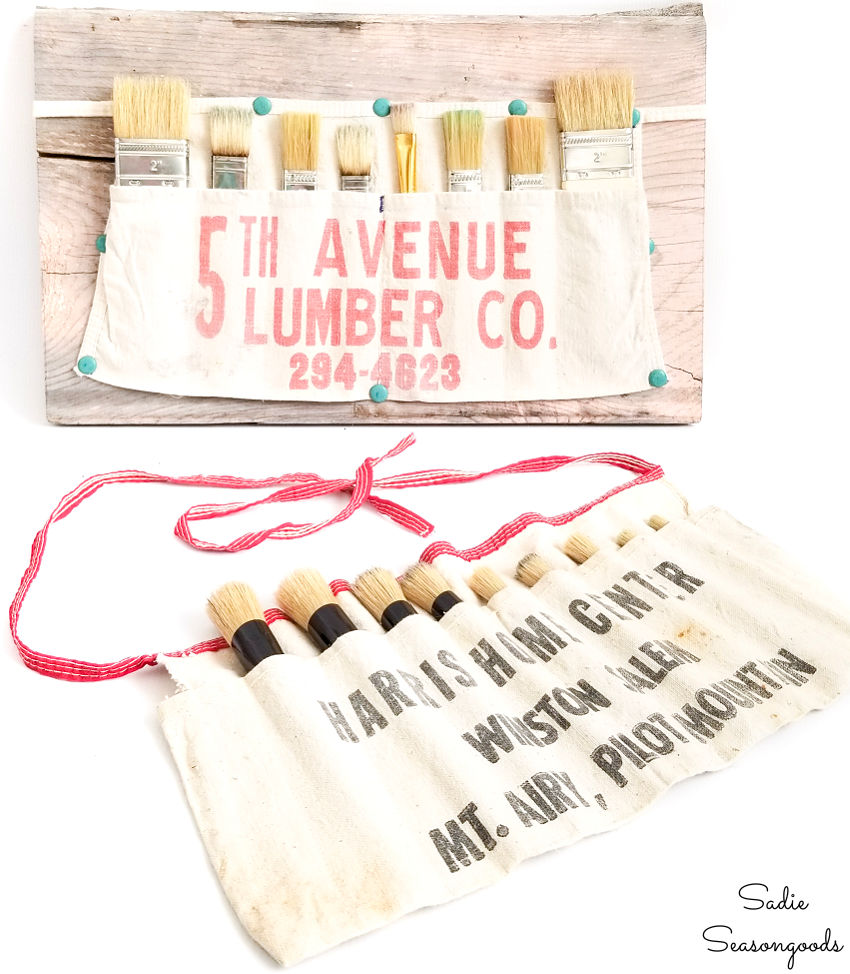 Just straight up craft organization with a fun vintage look!
Now I'm wondering what else I could use a nail apron for! Especially for craft organization and storage, since that's always a struggle.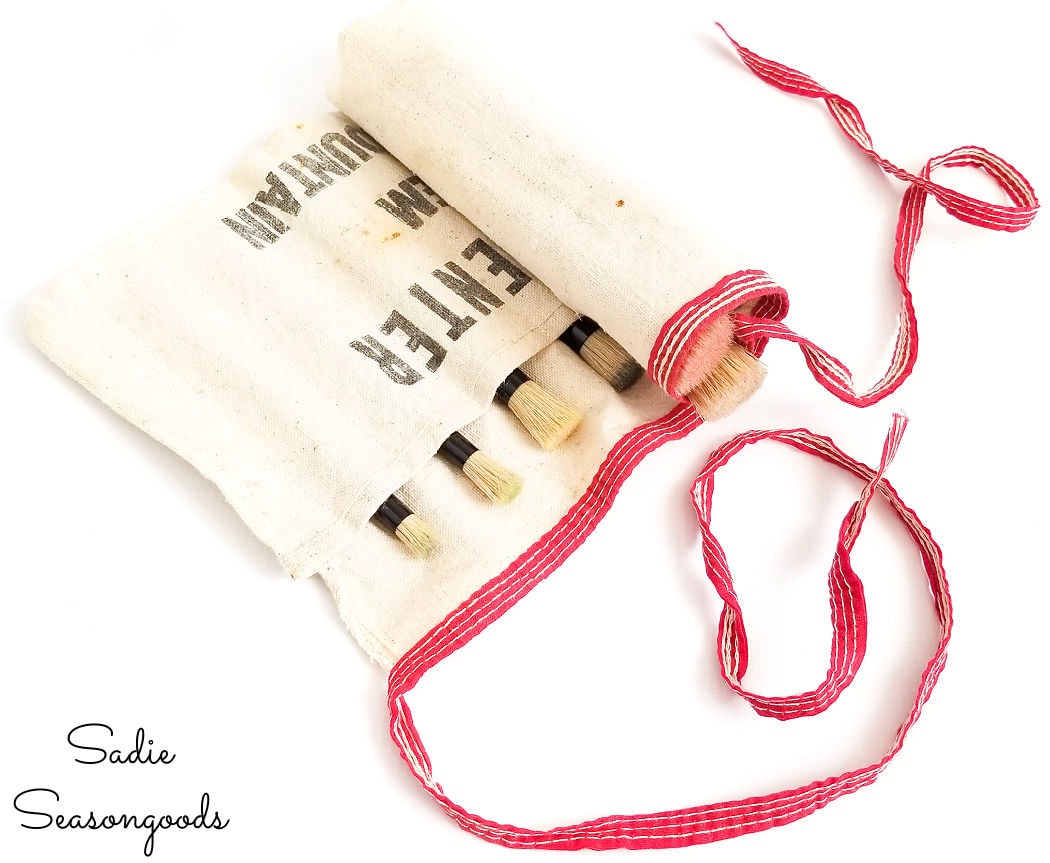 But aren't they cute? I love the graphics on the canvas- a little vintage, a little industrial.
And one is portable while the other is something I can proudly hang on the wall in a decorative way.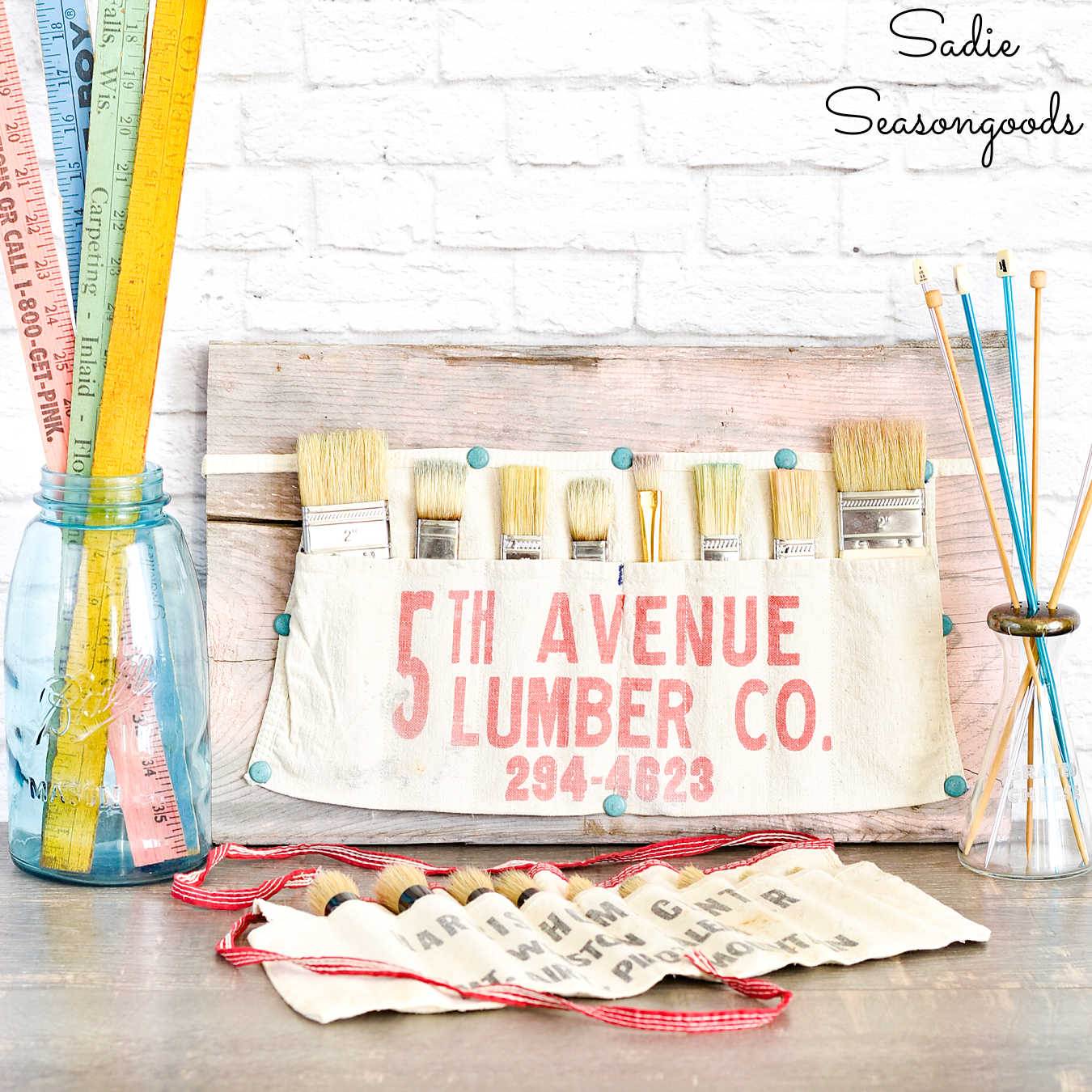 And if you were wondering how my basic sewing machine did while sewing through two layers of canvas? No problems or issues whatsoever!
If you enjoyed this upcycling idea for a paint brush holder, then you may also be interested my upcycled version of a hardware organizer or bins, too!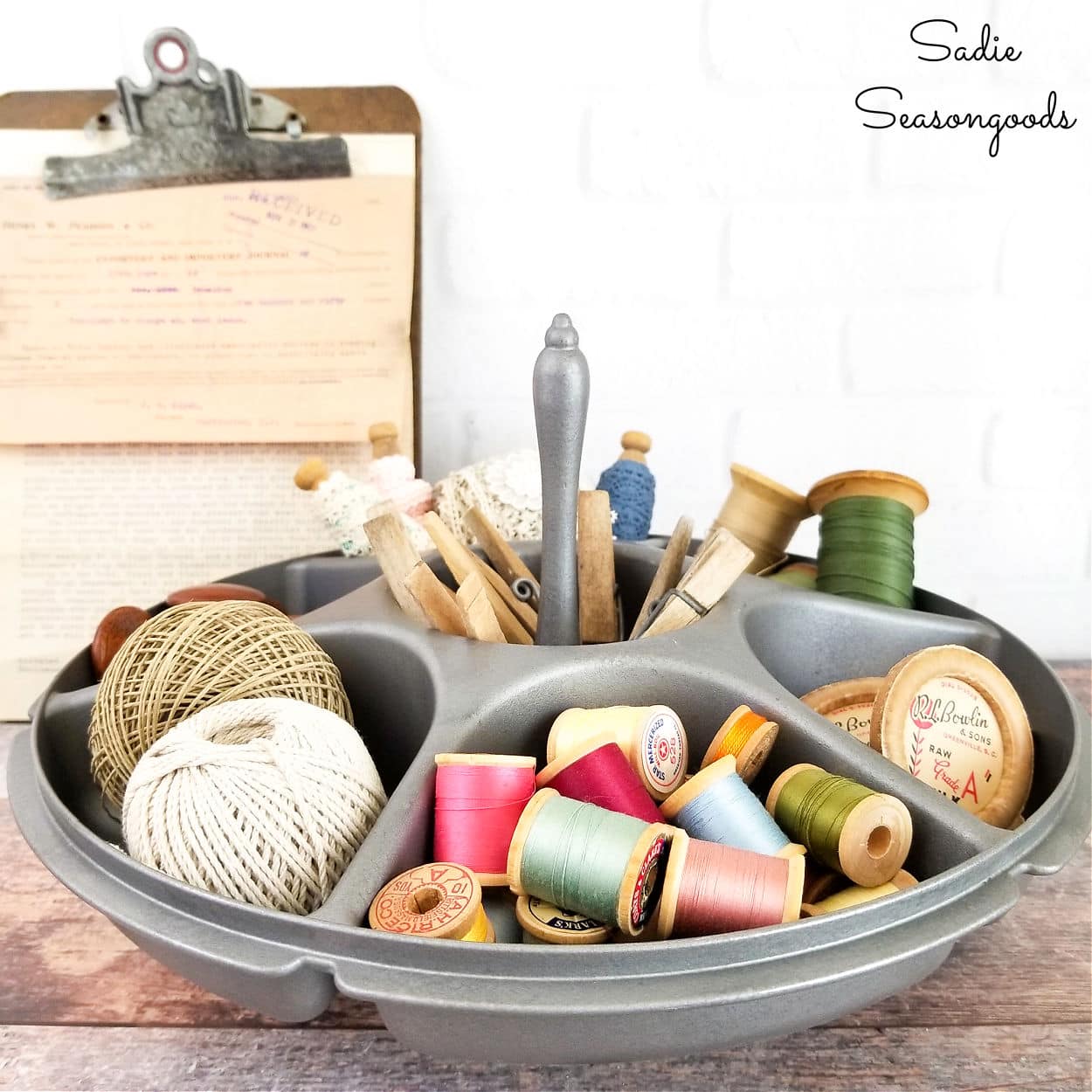 Craft on!
S
Want to be notified when I publish my next upcycling project tutorial?
Subscribe to Blog via Email
Join me on Social Media:

PIN ME!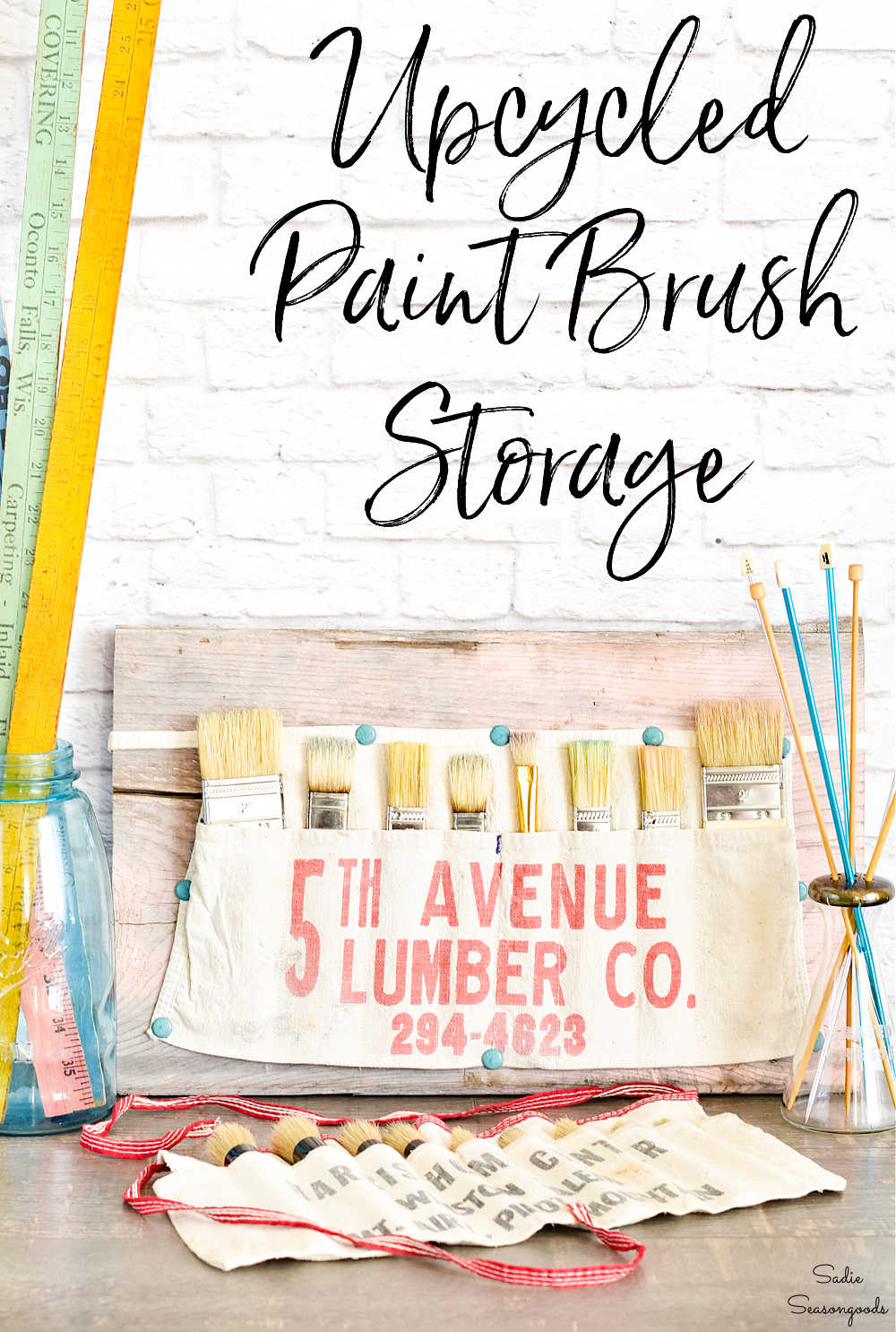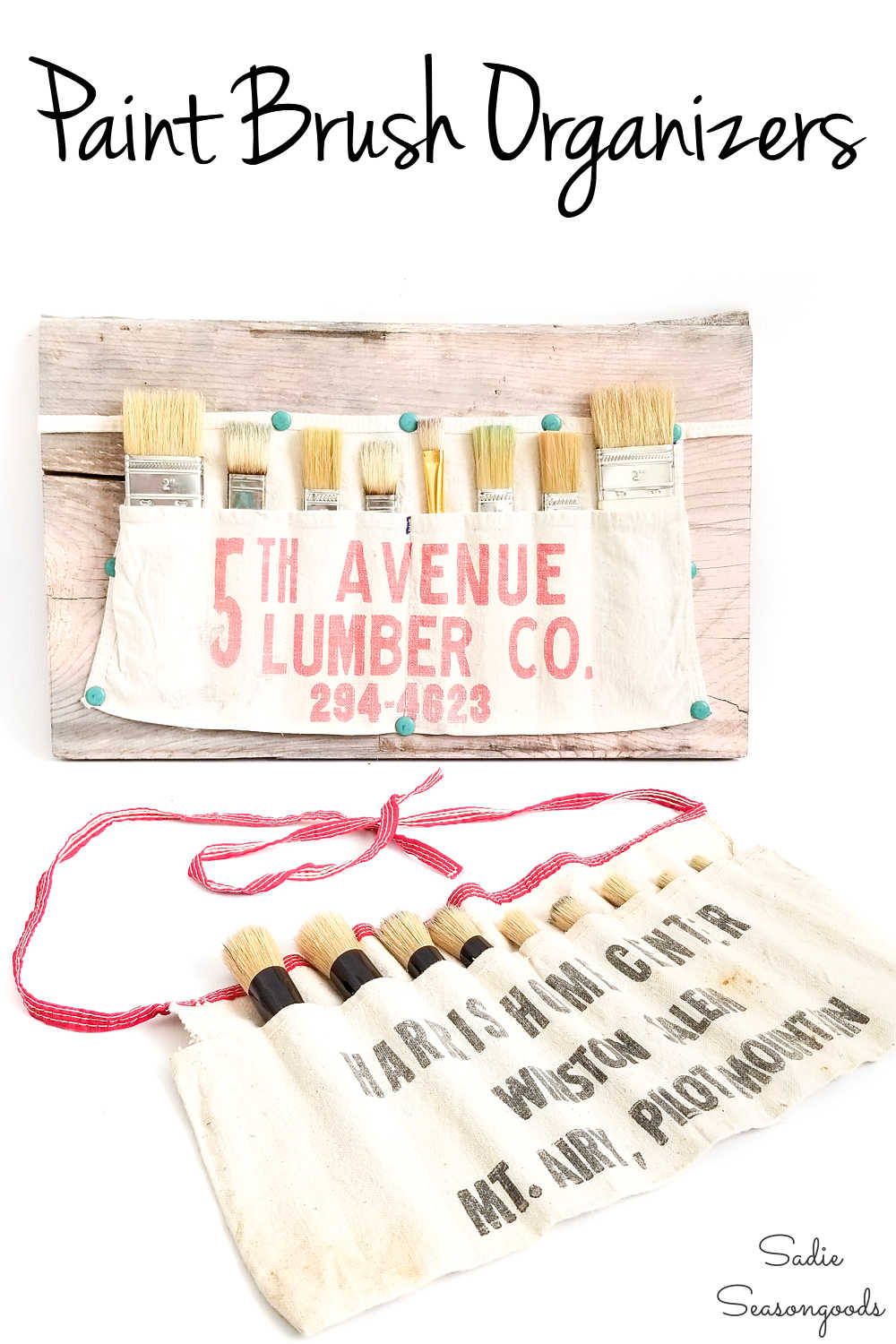 Sarah Ramberg is the owner of Sadie Seasongoods, a website that celebrates all things secondhand. From upcycling ideas and thrifted decor to vintage-centric travel itineraries, Sadie Seasongoods is a one-stop shop for anyone who loves thrifting and approachable repurposing ideas. Sarah is also the author of "Crafting with Flannel" and has been featured in numerous media outlets and magazines.