Even though I'm not a faux flowers kind of person, I decided to try my hand at tissue paper flowers. Why, you might ask? Well, I'm always looking for projects to make from things that are ubiquitous (and wildly cheap) at thrift shops. I kept seeing vintage sewing patterns at thrifts – but when I say "vintage", I mean ugly patterns for 80s and 90s clothing. And making big paper flowers from the sewing pattern paper seemed like a great way to put those shoulder pad patterns to rest.

I would never do this with the really nice vintage sewing patterns – but 1990s skorts and jumpers are things that should never come back in style. And let me tell you, these big paper flowers are SO easy to make!
This post contains affiliate links for your crafting convenience.
Using Sewing Pattern Paper to Make Big Paper Flowers
First, I cut 8-10 rectangles from my sewing pattern paper, all roughly the same size. Then, I stacked them on top of each other as neatly as possible. , and stack them on top of each other. I cut my vintage sewing patterns into rectangles that were roughly the size of a standard sheet of paper, as a guide.
Then, I folded the sewing pattern paper in an accordion-style fold. When I was done, I rounded off the ends so that it looked like an accordion cigar.
Now I needed something to pinch the center of my "cigar" that would also serve as a flower stem! I used some natural-looking floral wire to wrap around the middle of the sewing pattern paper, leaving a nice length for stem. If it just me or does it look like a dragonfly now??
Finally, it was time to transform my "dragonfly" into big paper flowers! And to do so, you need to make like a bustier: Lift and Separate!
I gently formed my big paper flowers by carefully separating apart the layers of tissue… truly lifting and separating.
I fluffed and crunched the "petals" on both sides of the floral wire center, and made sure the entire thing was pretty uniform all around.
Big Paper Flowers that Look Like Dried Hydrangeas for Rustic Decor
When all was said and done and I was happy with it, I had a full and fluffy paper flower that kind of resembled dried hydrangeas. I popped it in a vase (well, a vintage bottle) and admired my work.
Isn't that so sweet? I love how the bits of black from the sewing pattern paper show through here and there. And these big paper flowers are so quick to make, you'll have an arrangement of them in no time.
And there you go- perfect for upcoming Fall parties…Thanksgiving centerpieces…even weddings!…and wonderfully cheap. Plus, you can recycle your scraps, so it's like a net-zero project.
If you enjoyed this upcycling idea for vintage sewing patterns, then you'll also love these ideas for Christmas gift wrap!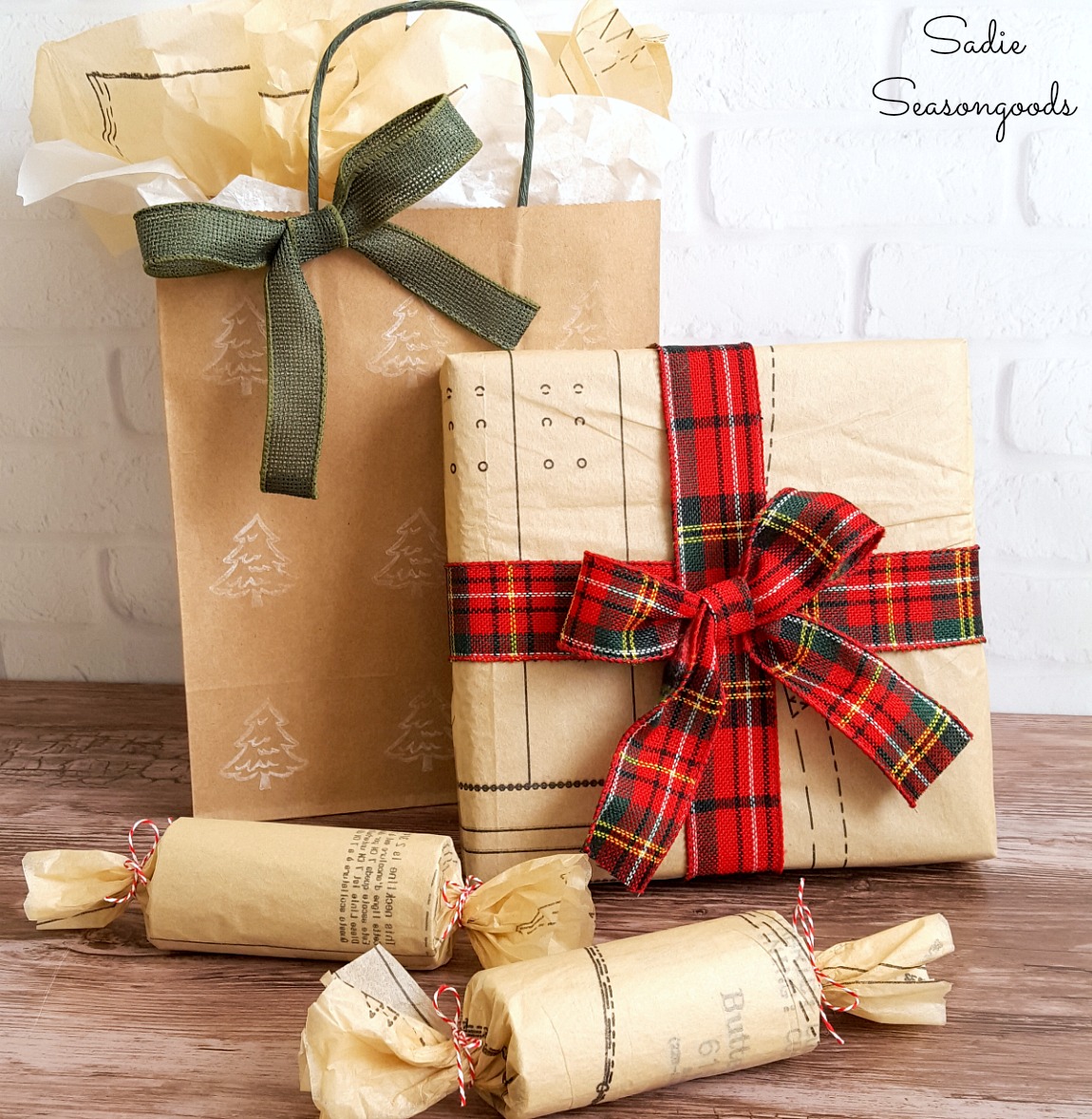 And make sure you check out this framed wall art idea with vintage sewing patterns before you go, too!
Craft on!
S
Want to be notified when I publish my next upcycling project tutorial?
Subscribe to Blog via Email
Join me on Social Media: