On a trip to Nashville, TN, I squeezed in a little time to check out the local thrift stores on my way into town. I happened upon a Goodwill in Lebanon, TN where I found a mismatched pair of pot lids. I loved the colors and the metal was in good shape, so I bought them both to build a platform bird feeder for my backyard.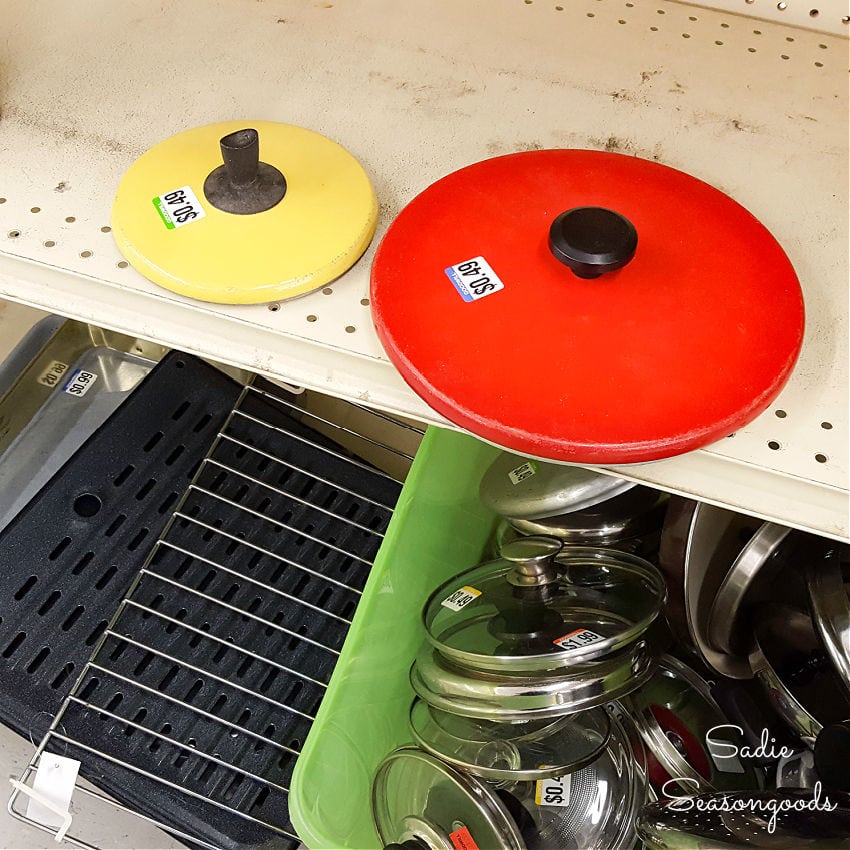 All I needed to do to make the bird feeder was disassemble the pot lids and add in some easy-to-find hardware.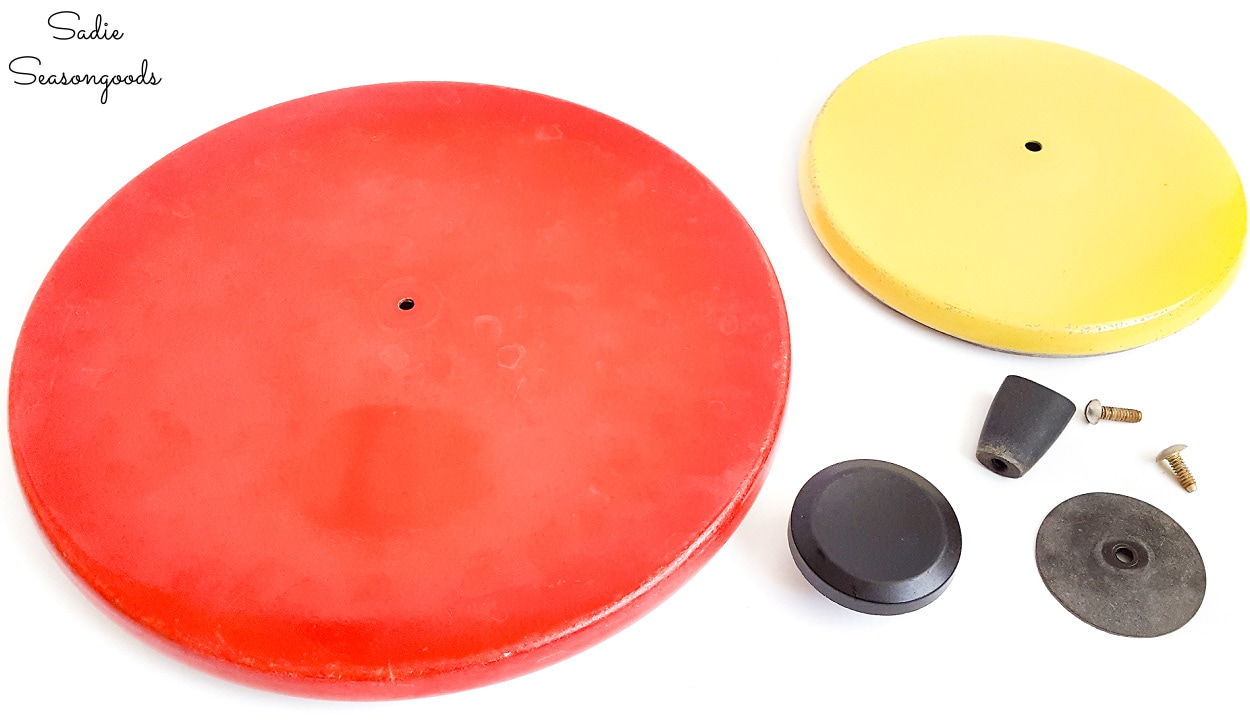 Ready to see how I made a DIY platform bird feeder? Let's go!
This post contains affiliate links for your crafting convenience. As an Amazon Affiliate, I earn from qualifying purchases. All blue, bold, and underlined text is a clickable link, either to a product or to a related post.
Recycling Pot Lids for the Birds
First, I made a trip to the hardware store and purchased the following bits:
A threaded rod that fit through the holes of the pot lids;

A coupling nut that could screw onto the threaded rod; and

An

eye bolt

and two matching hex nuts that fit both the coupling nut and threaded rod.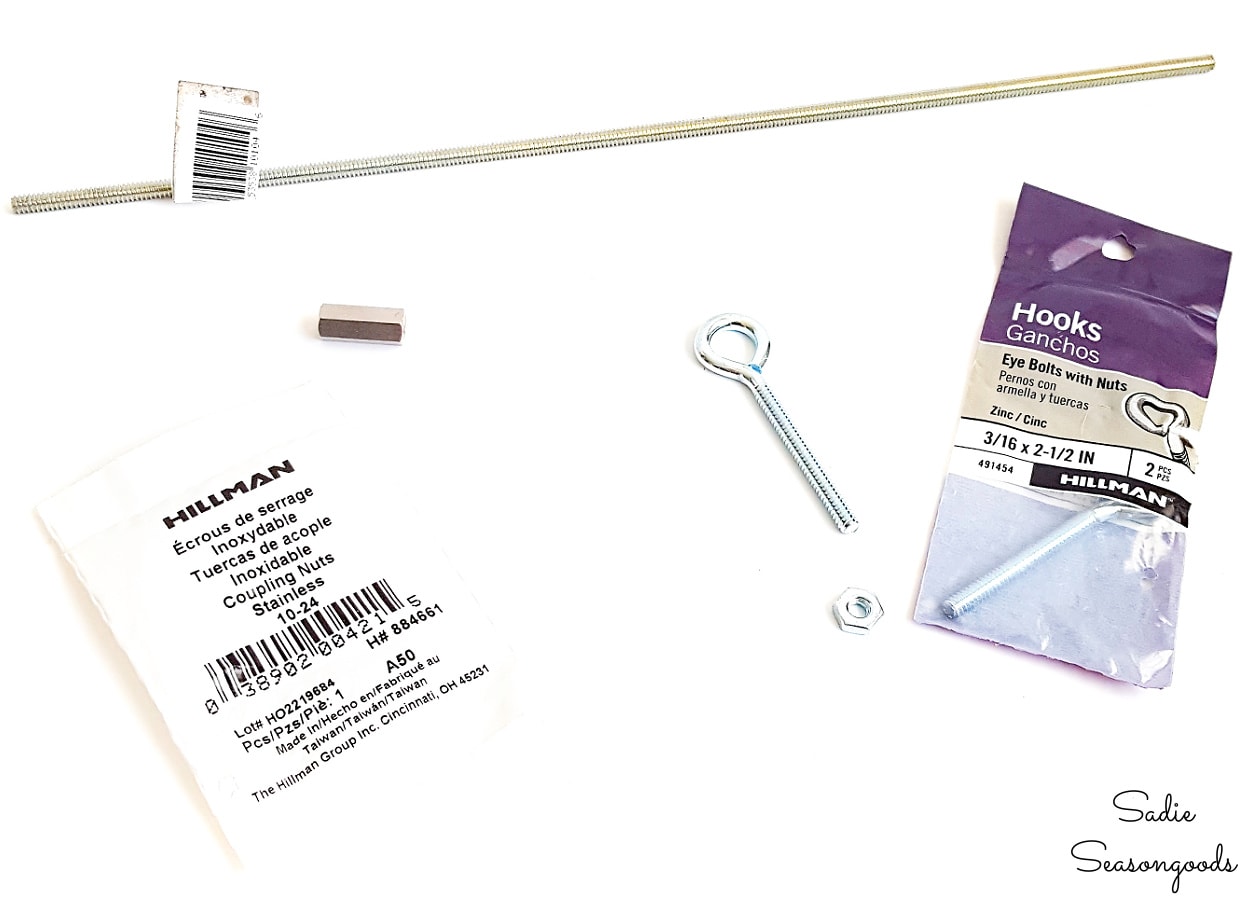 And yes, I brought the pot lids into the hardware store with me. It's the best way to do it, even if you feel funny about doing so!
Once I had all the hardware I needed and the pot lids were clean, I started to build the platform portion of the hanging bird feeder.
First, I threaded the rod through the smaller pot lid and screwed on one of the original pot lid knobs on the underside (i.e., yellow side) of the lid.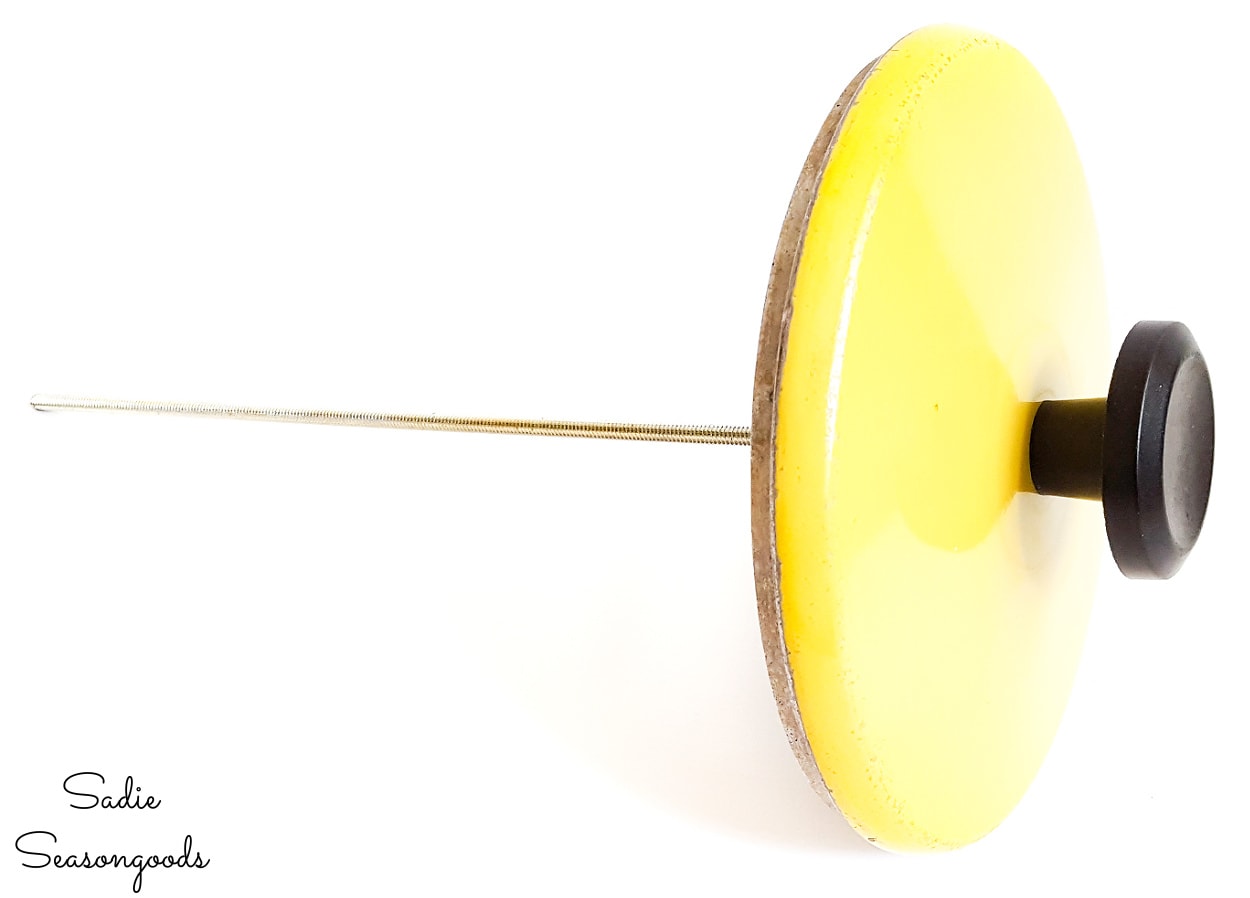 Then, I added one of the hex nuts to the inside of the yellow lid, and tightened it against the inside of the pot lid.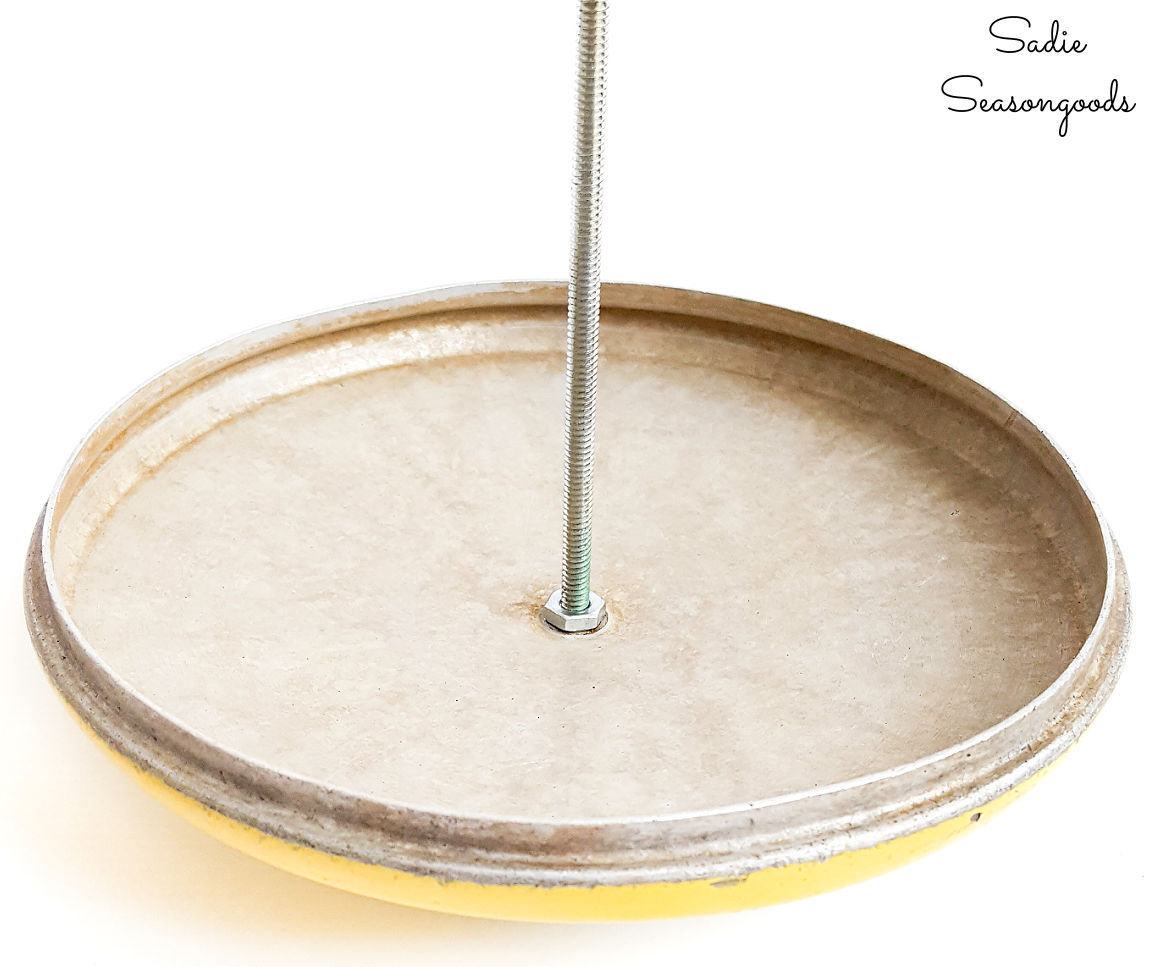 Doing so kept the bottom pot lid (i.e., the platform feeder) secure and in place.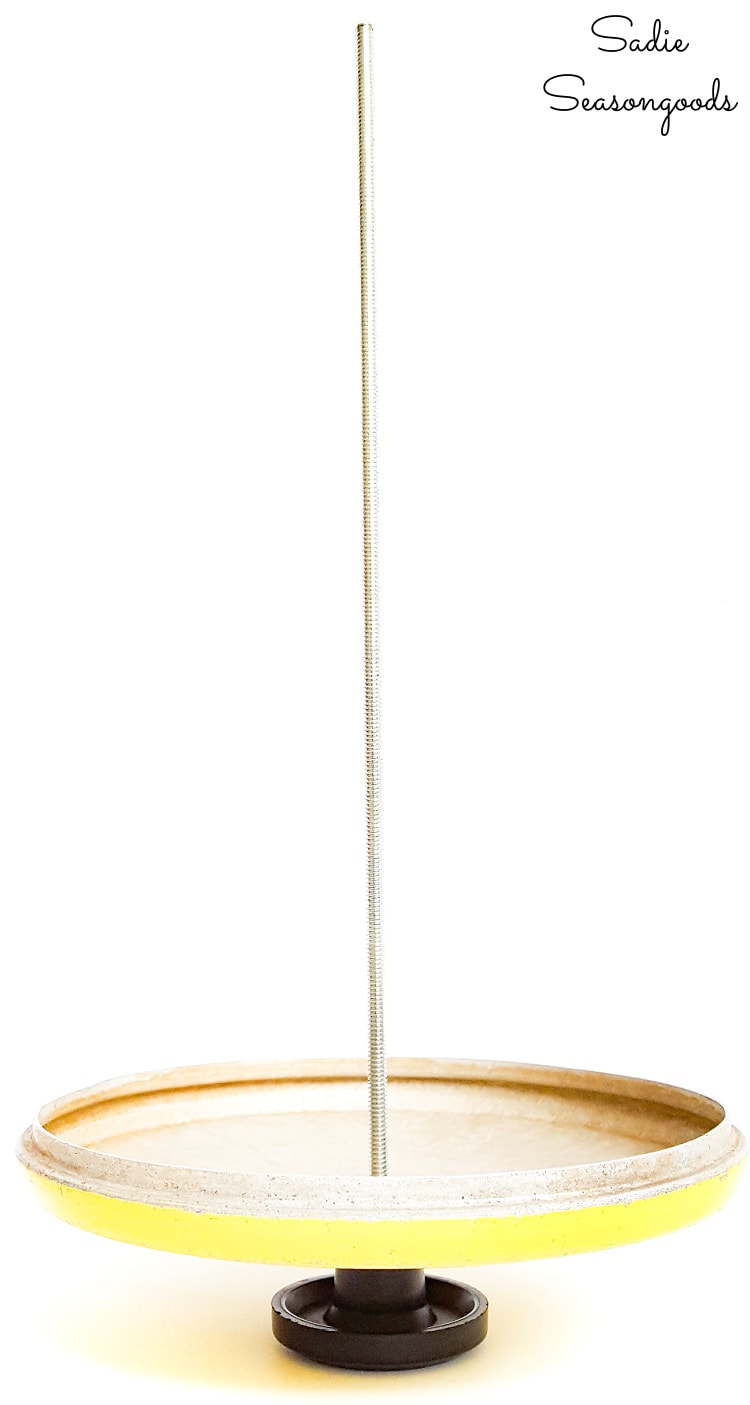 The platform portion of my hanging bird feeder was complete and I could now work on the roof!
Adding a Cover to a Platform Bird Feeder
Next, I added the second of my two hex nuts down the threaded rod, stopping a couple of inches down from the top.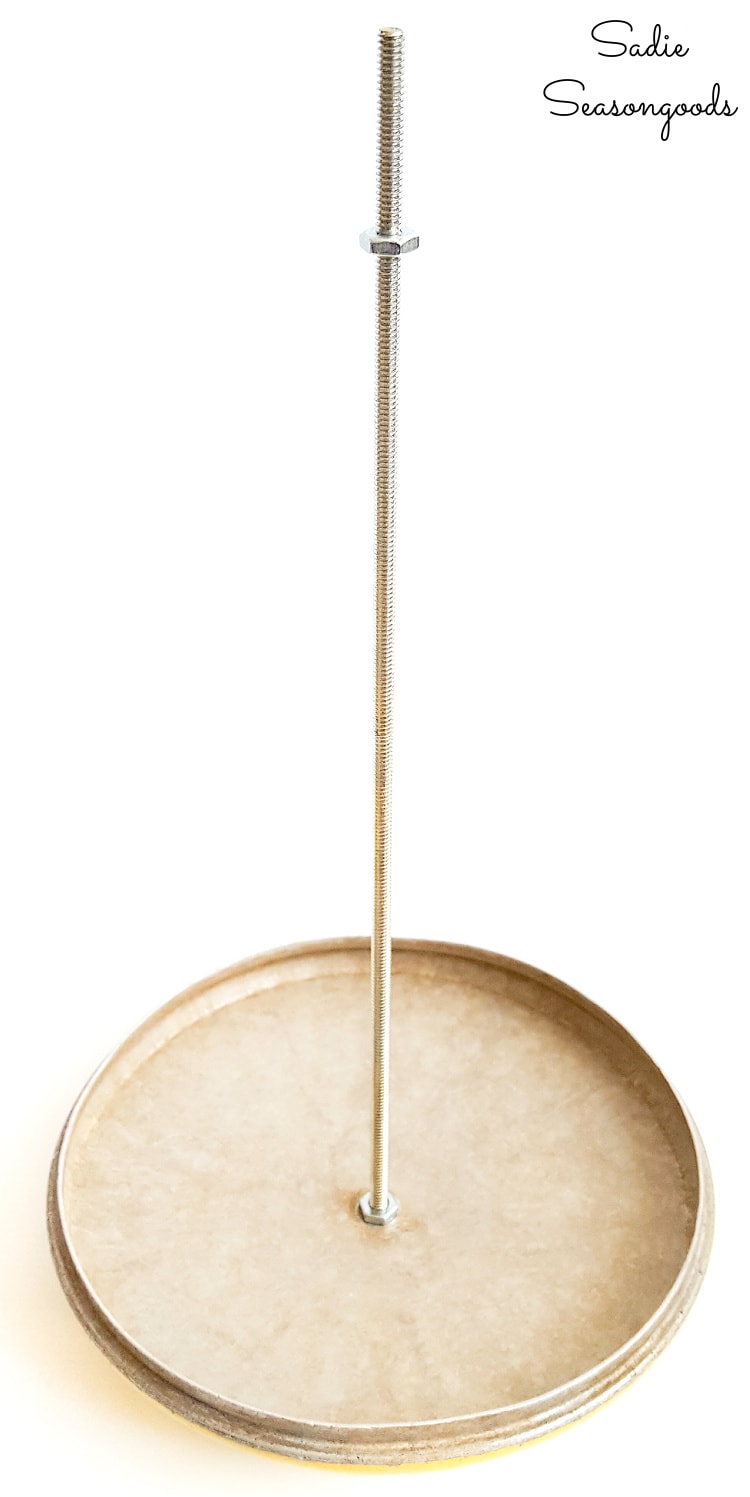 Then, I slipped the larger red pot lid on top of the rod and screwed on the coupling nut half way.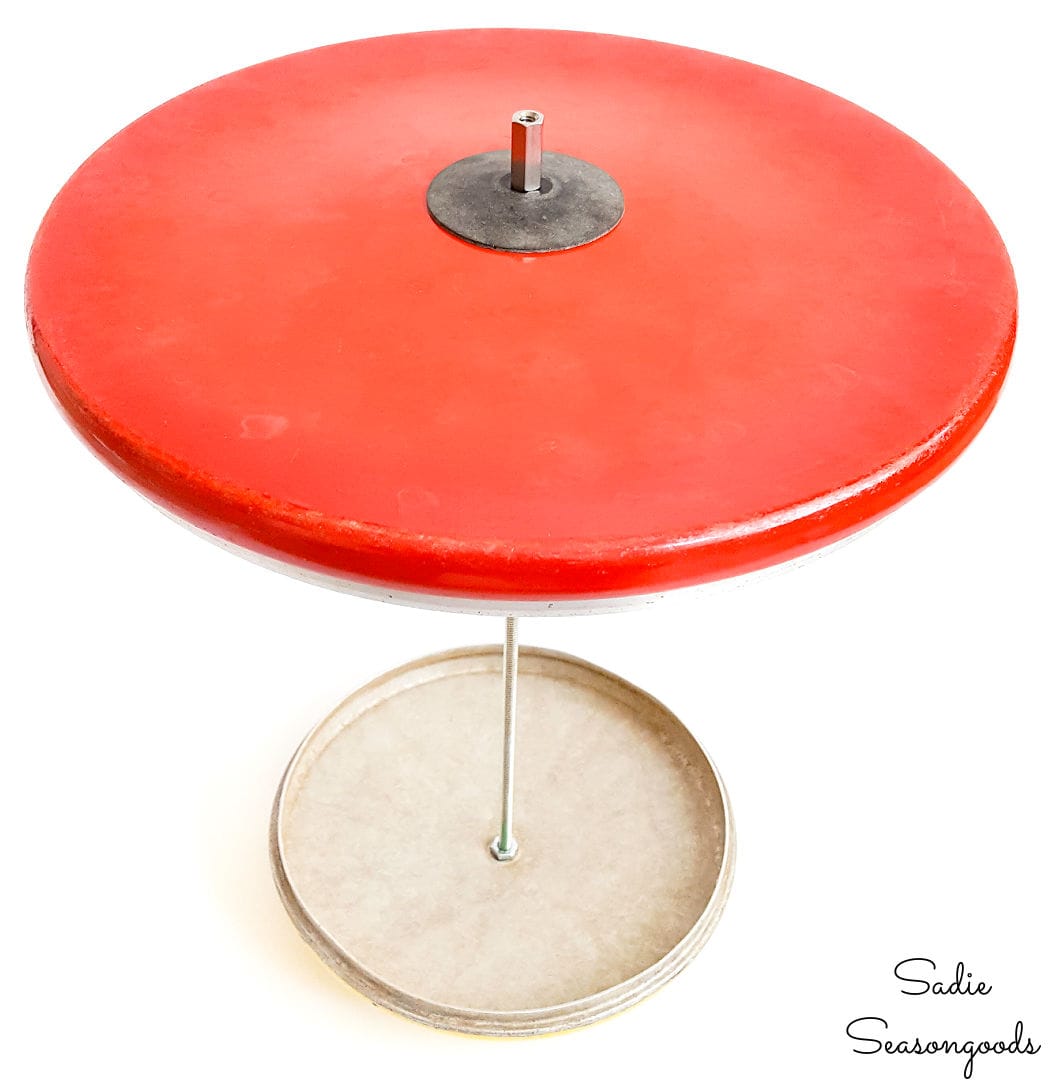 With the coupling nut in place, I tightened the hex nut underneath the red pot lid.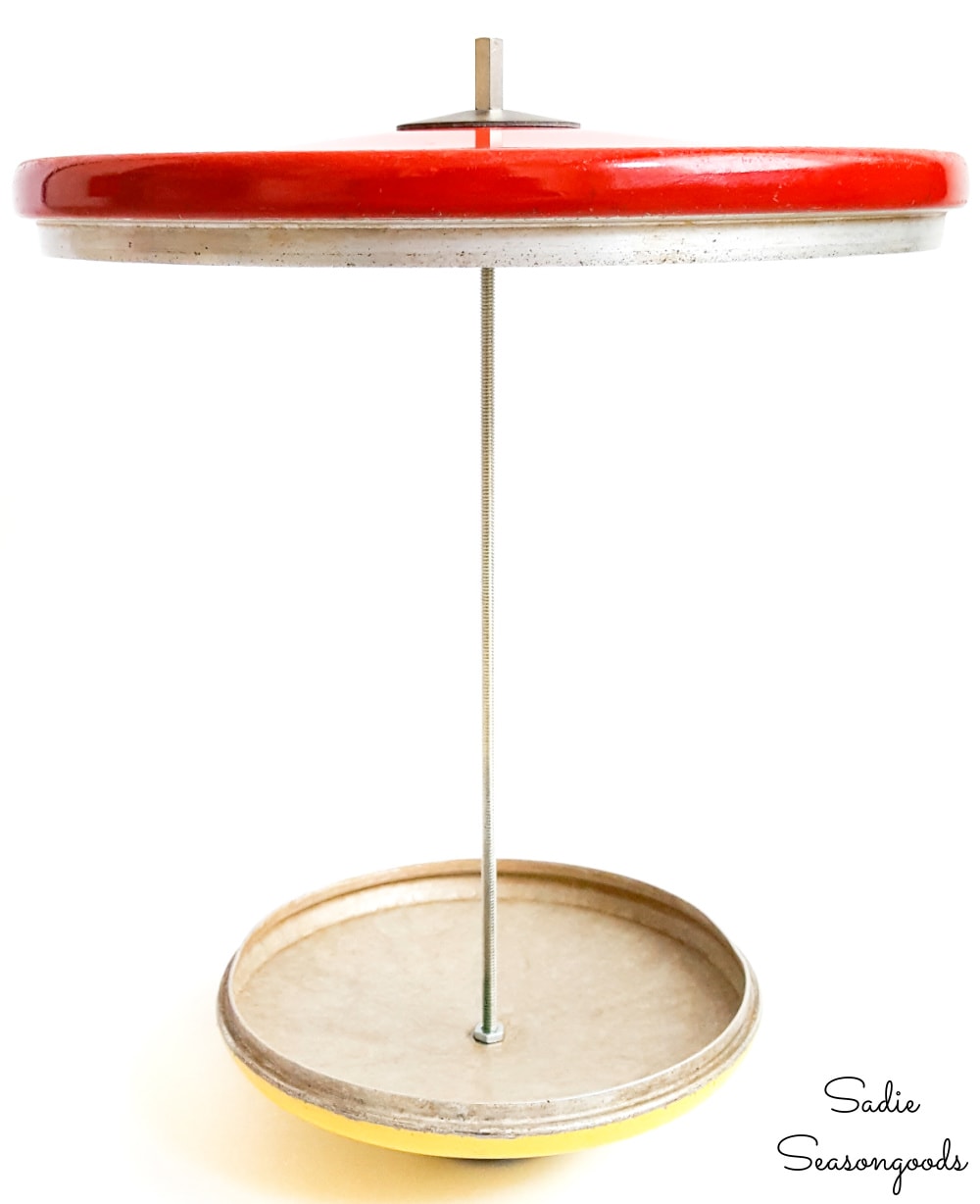 To the top of the coupling nut, I then screwed in the eye bolt- and it was assembled!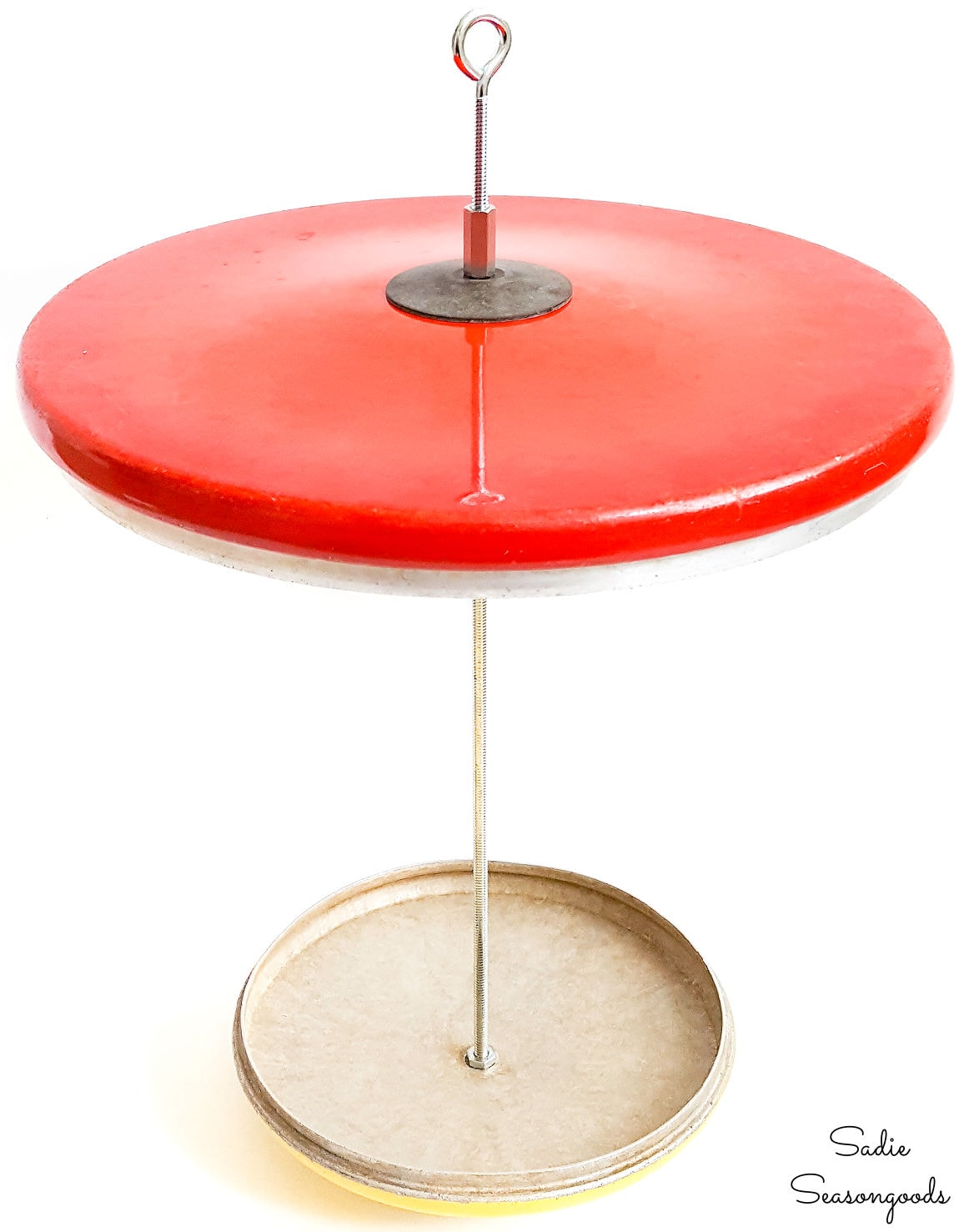 To truly secure everything in place, I went back to each piece of hardware and added a drop or two of my favorite super glue, just for insurance.
Platform Bird Feeder from Repurposed Pot Lids
Lastly, I added a carabiner through the eye bolt for ease of hanging from a bird feeder pole!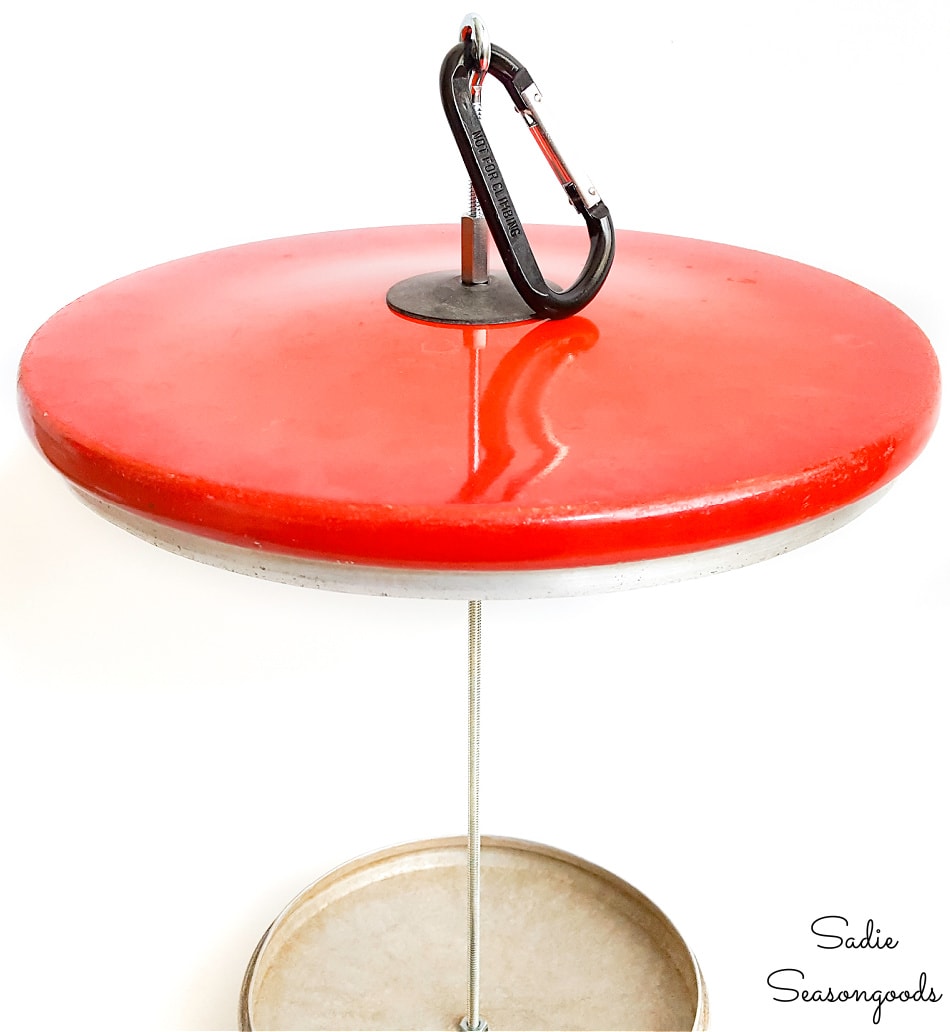 A quick link would also work, as would a loop of sturdy-but-flexible wire.
After I hung it on the bird feeder pole (shepherd's hook), I added some bird seed. The big red lid acts as a rain umbrella, and will also keep it shaded and cool.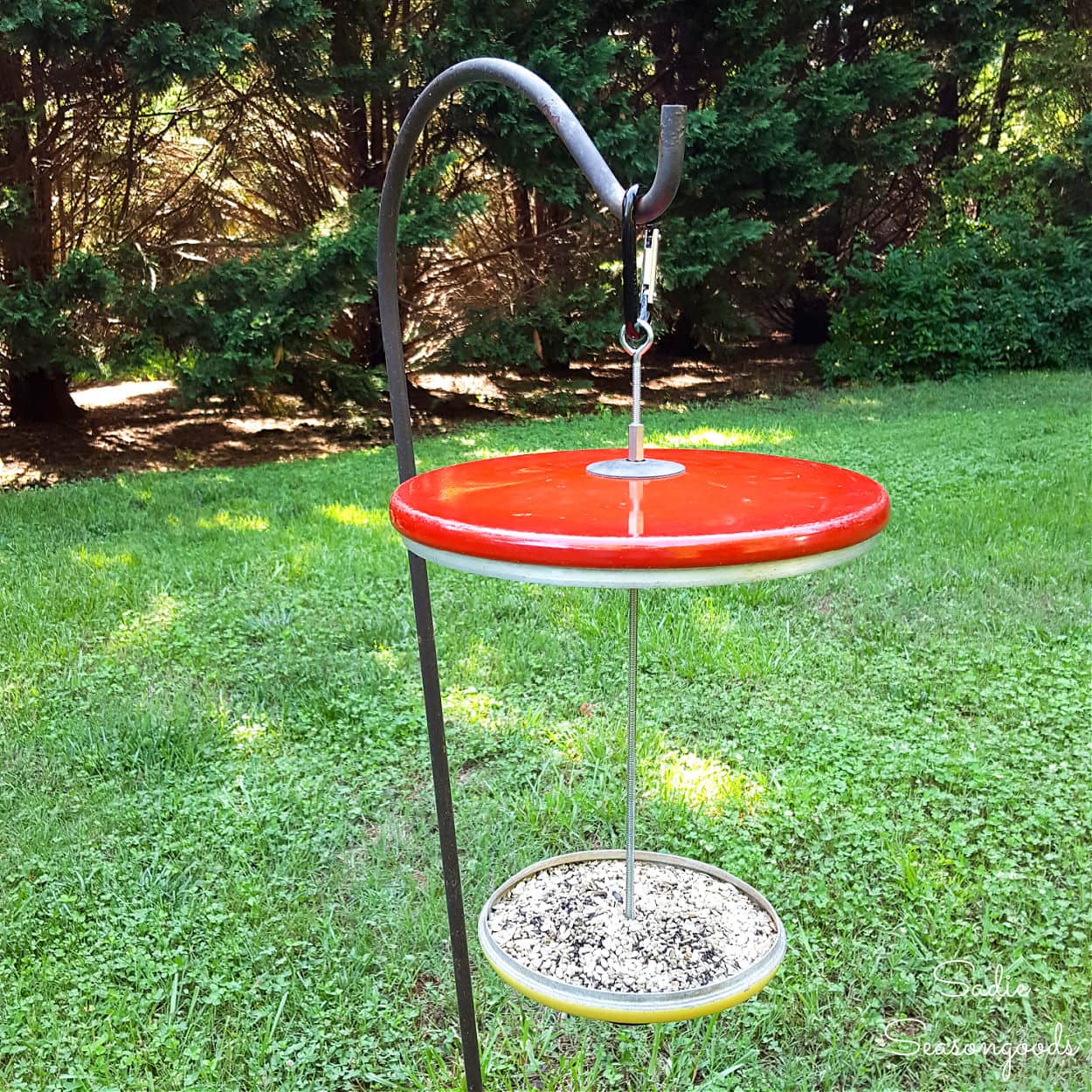 Now I just need to add a little petroleum jelly to my shepherd's hook to keep Mr. Squirrel from climbing it- but how thrifty-nifty is that? And oh yeah- super easy to clean, too!
And the waiting game begins…when will my feathered friends discover it?
Thankfully, it didn't take them long to discover this suet feeder that I made from a coffee mug. So I think they'll find this platform bird feeder pretty quickly!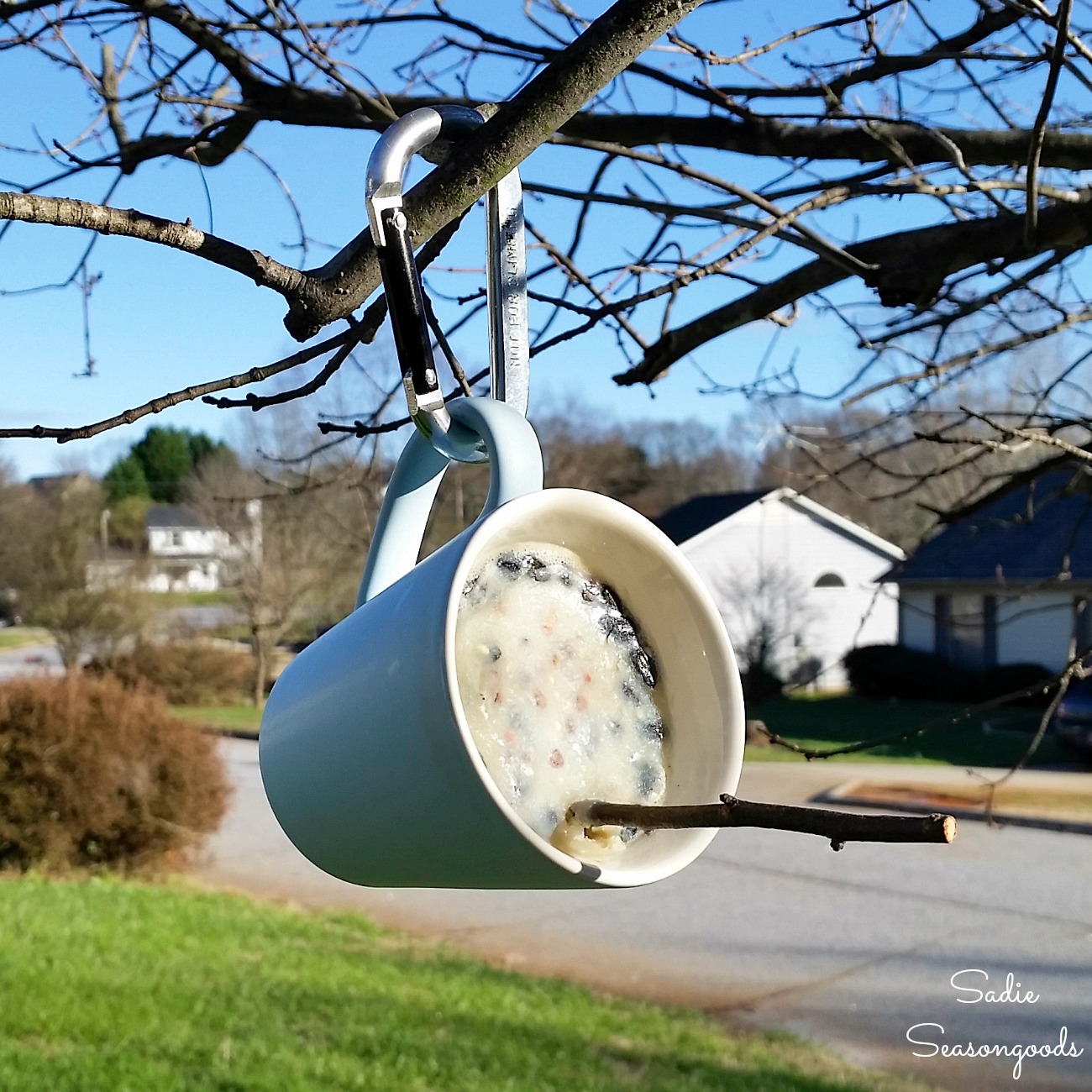 This is also one of the best bird feeders for small birds, as the platform is too small for larger birds to land on! And metal bird feeders aren't easy to find, so if you've been looking for one, you're in luck!
Believe it or not, I've upcycled pot lids into a hanging bird bath as well. So check out this blog post for an easy-to-clean bird bath before you go!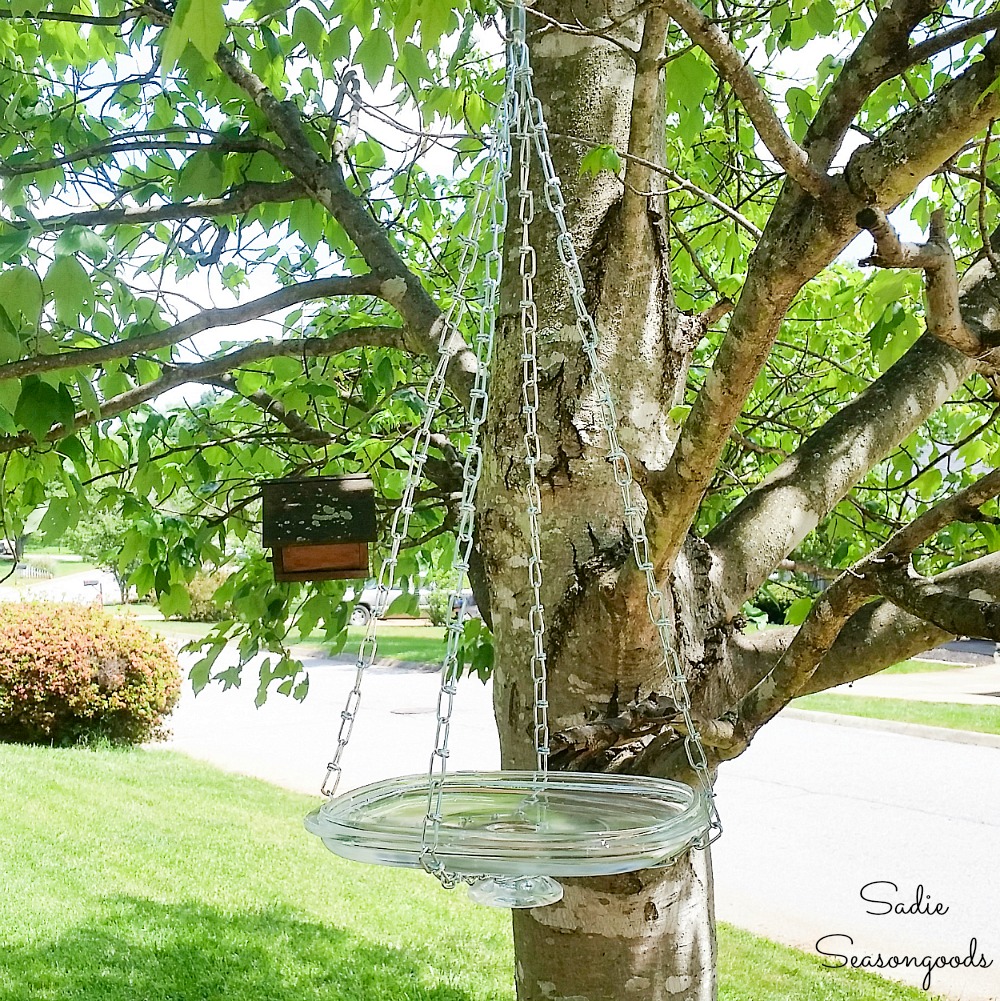 Craft on!
S
Join me on Social Media:

PIN ME!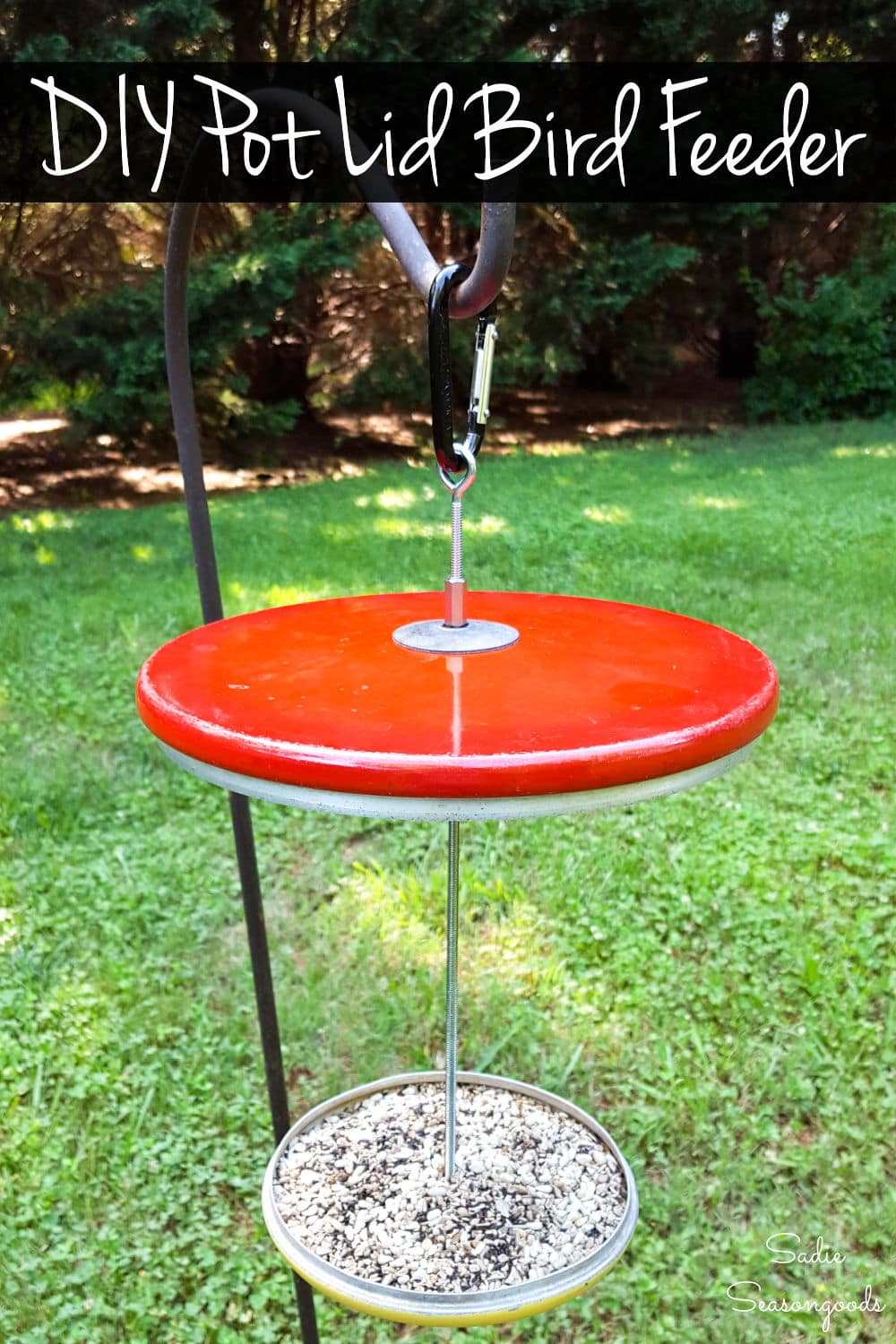 Sarah Ramberg is the owner of Sadie Seasongoods, a website that celebrates all things secondhand. From upcycling ideas and thrifted decor to vintage-centric travel itineraries, Sadie Seasongoods is a one-stop shop for anyone who loves thrifting and approachable repurposing ideas. Sarah is also the author of "Crafting with Flannel" and has been featured in numerous media outlets and magazines.