A couple of years ago, a local store had a FANTASTIC "yard sale" which was more like a fancy flea market. At this sale, I bought two things- a pretty antique picture frame and a very cool, very trendy vintage surveyor's tripod. And making an industrial floor lamp was at the top of my to-do list with that wooden tripod.
Cottonball was intensely fascinated by the vintage tripod from the start, and he briefly thought about a surveying career.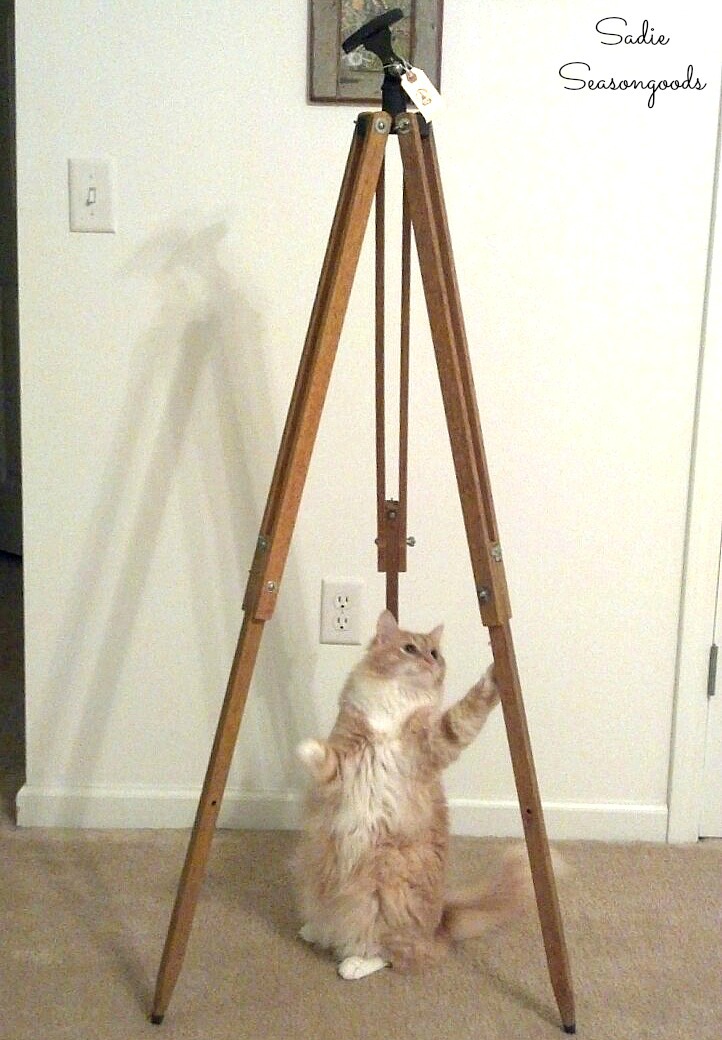 I always knew that the surveyors tripod would eventually become an industrial floor lamp. They are all the rage, and can cost upwards of $500. I mean, who has that kind of cash laying around for a tripod floor lamp? Ok, maybe lots of people do- but I don't!
So, let's get to upcycling this wooden tripod and transform it into the industrial floor lamp of my dreams!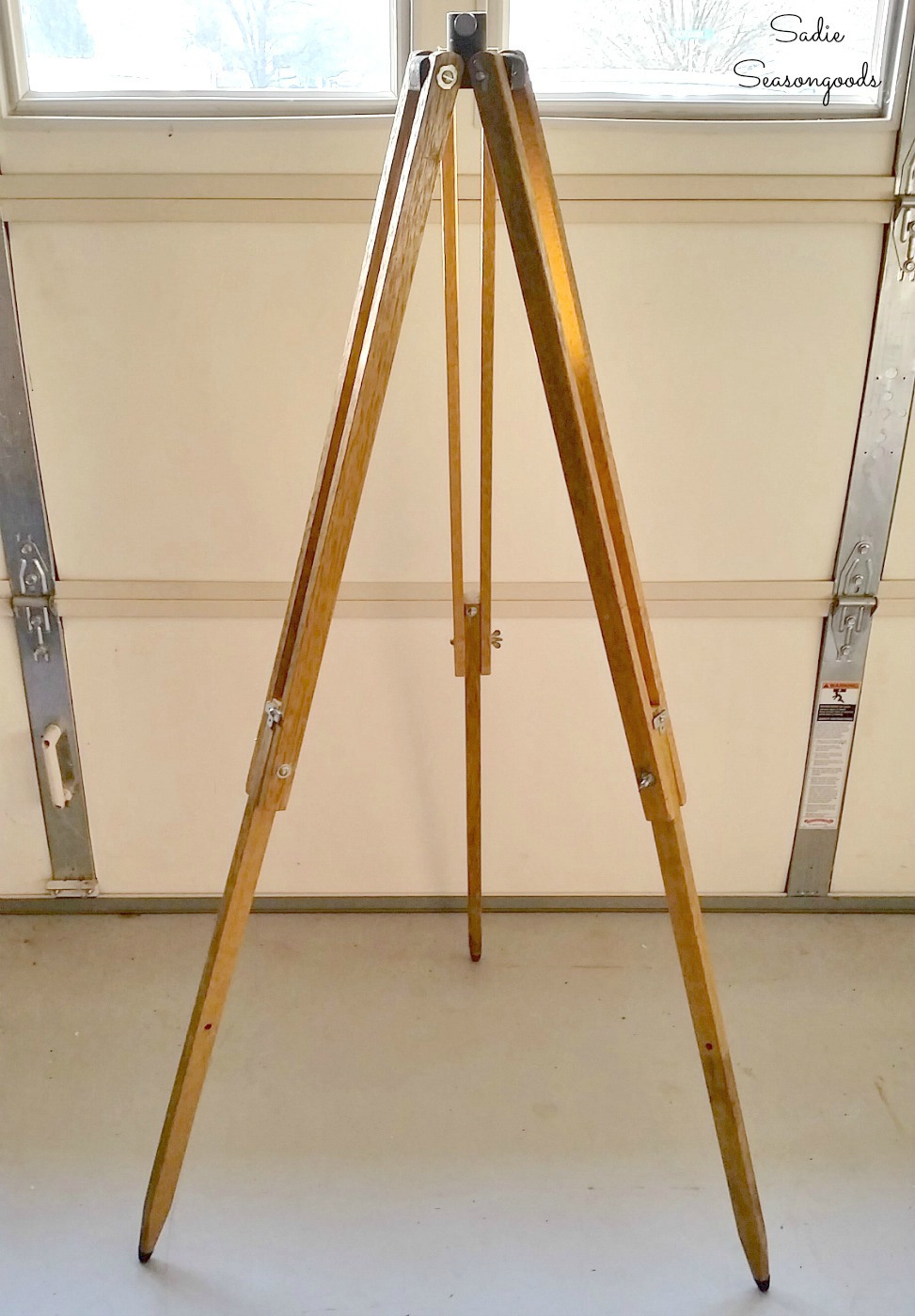 This post contains affiliate links for your crafting convenience. As an Amazon Affiliate, I earn from qualifying purchases. All blue, bold, and underlined text is a clickable link, either to a product or to a related post.
Upcycling a Surveyors Tripod into an Industrial Floor Lamp
We've built lamps before, so it wasn't our first rodeo with wiring a lamp kit. But there was a problem; the large hole at the top of the tripod- where the lamp kit needs to go- was a gaping hole, way too big for a lamp nipple.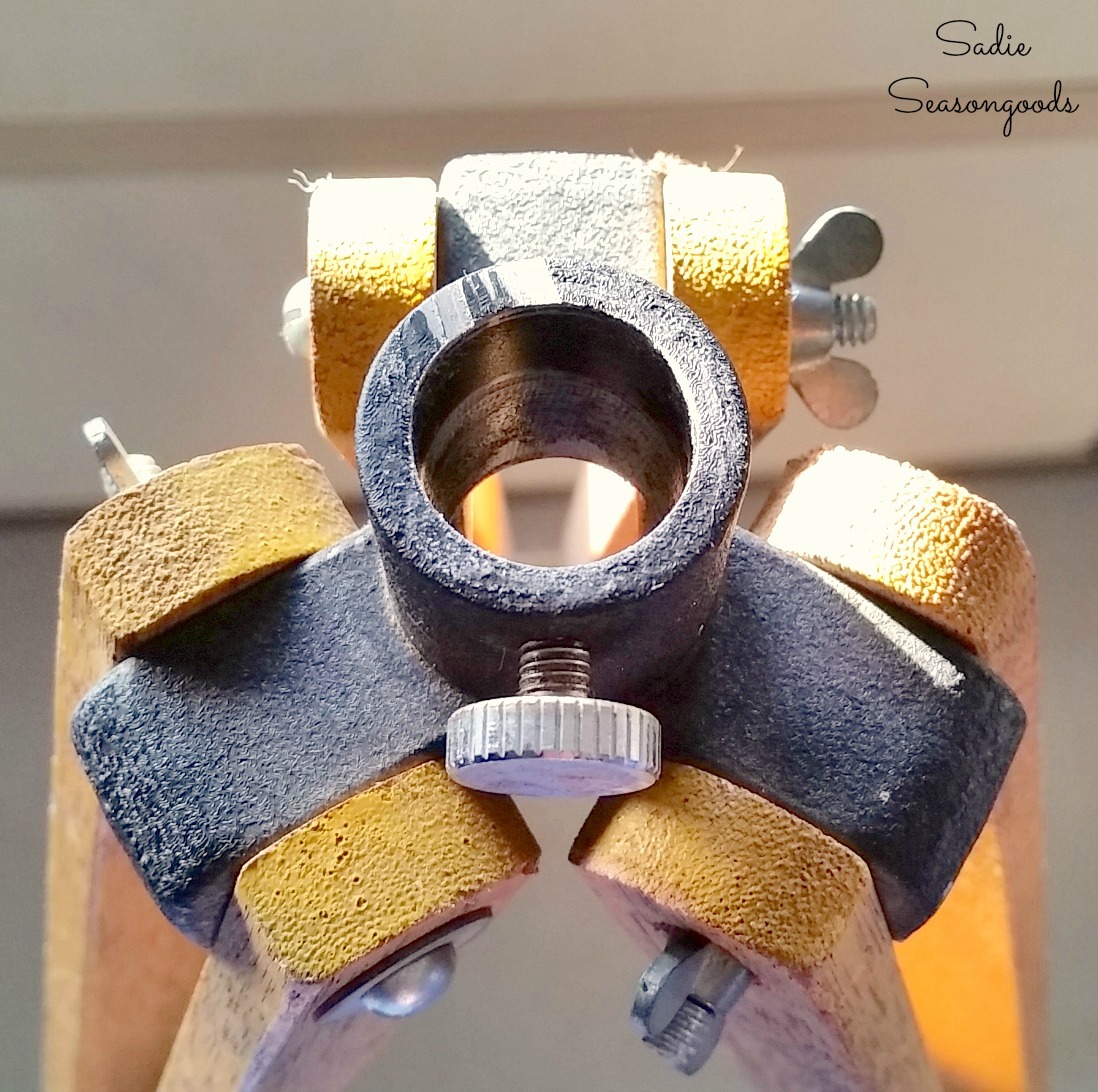 Jon knew he had to build a "plug" for it- something to fill the wide hole so that the lamp kit could be secured in place. We cleaned out the tripod hole (it was coated in vintage goo- fun!) and we bought a wooden dowel, slightly larger in diameter than the tripod hole. Jon then sanded down one end of the dowel to the point that it barely fit in the surveyors tripod.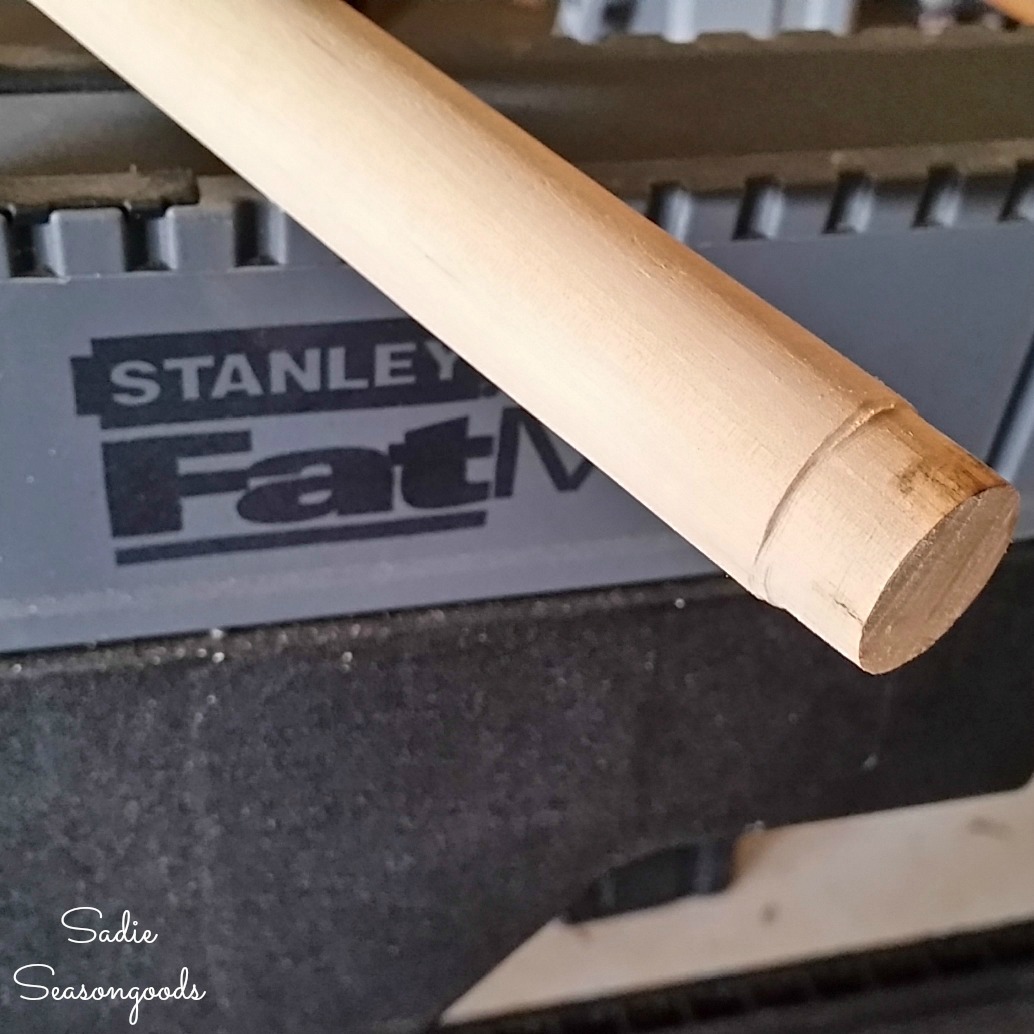 After sanding down enough dowel to fill the hole at the top of the surveyors tripod, he cut off the "plug" and drilled a hole through the center. This was no easy task without cracking the small plug in half- fair warning! Then, we inserted a reducer for the lamp nipple.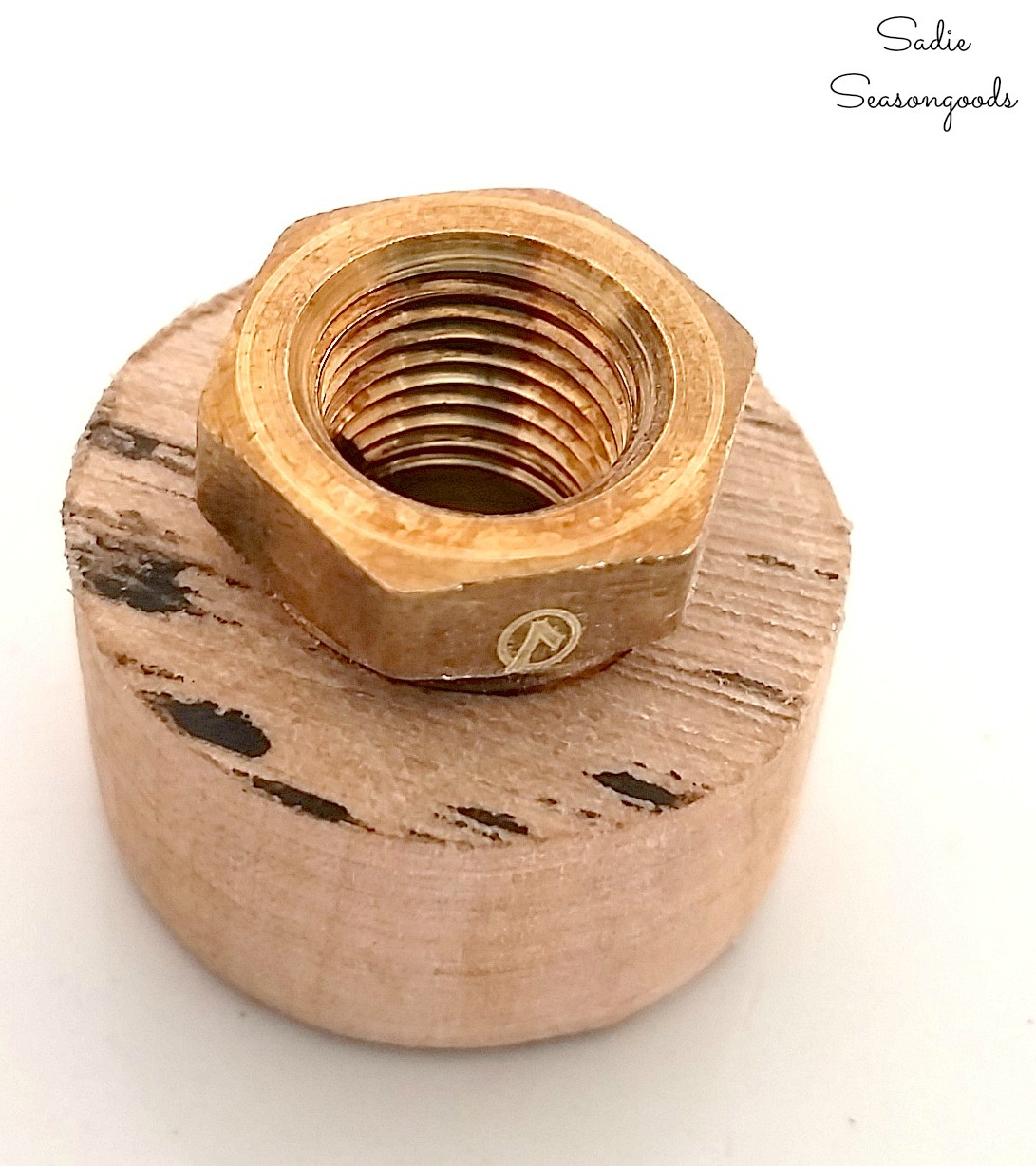 We then hammered the plug into the tripod (a perfectly snug fit!) and screwed in a lamp nipple. Now it was ready for the lamp kit so that the transformation into industrial floor lamp could really happen!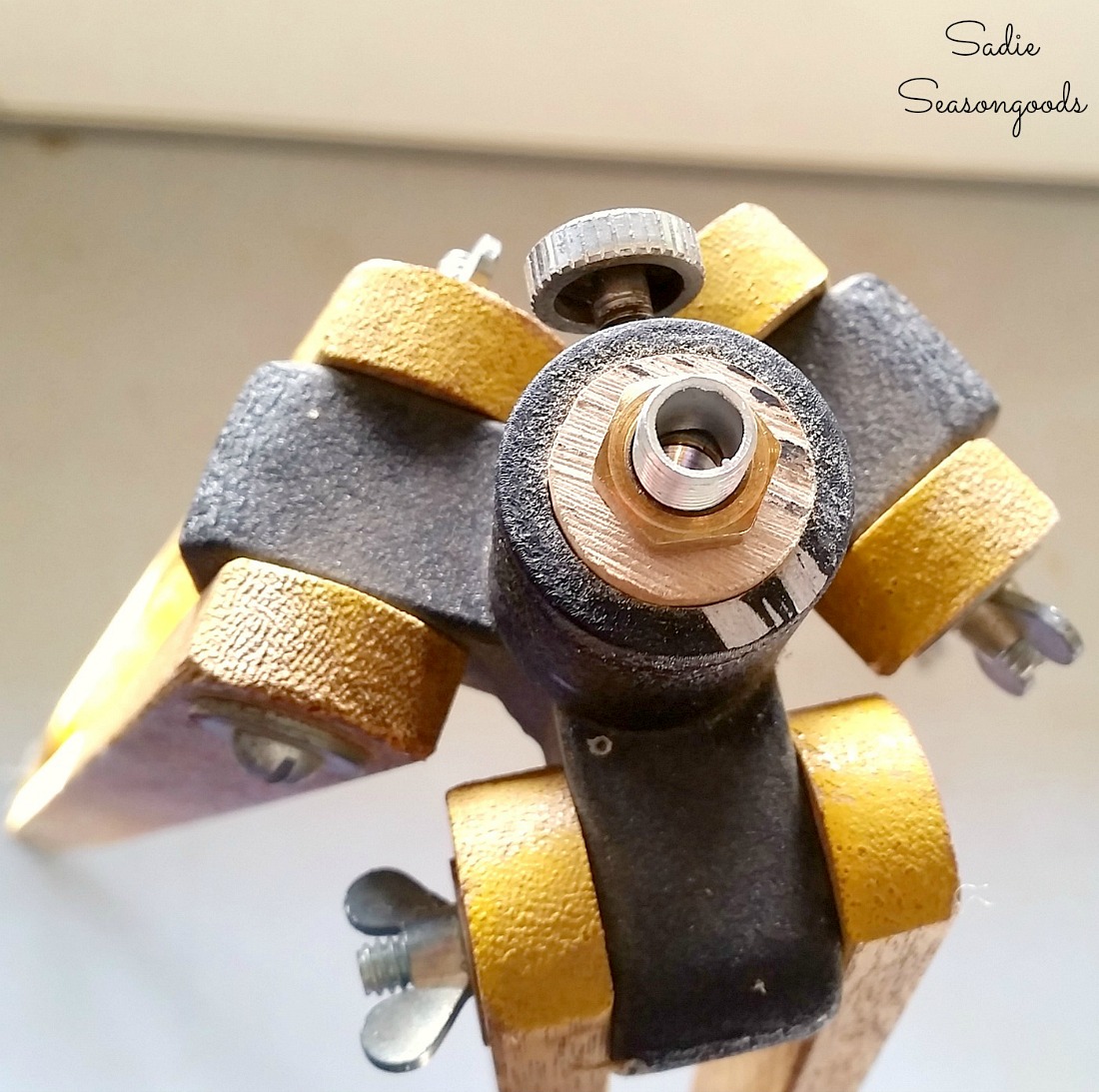 A few minutes later, we had wired the socket into place and we had a functioning tripod floor lamp!! Now all I needed was to do something about the hanging cord and to buy the perfect lamp shade.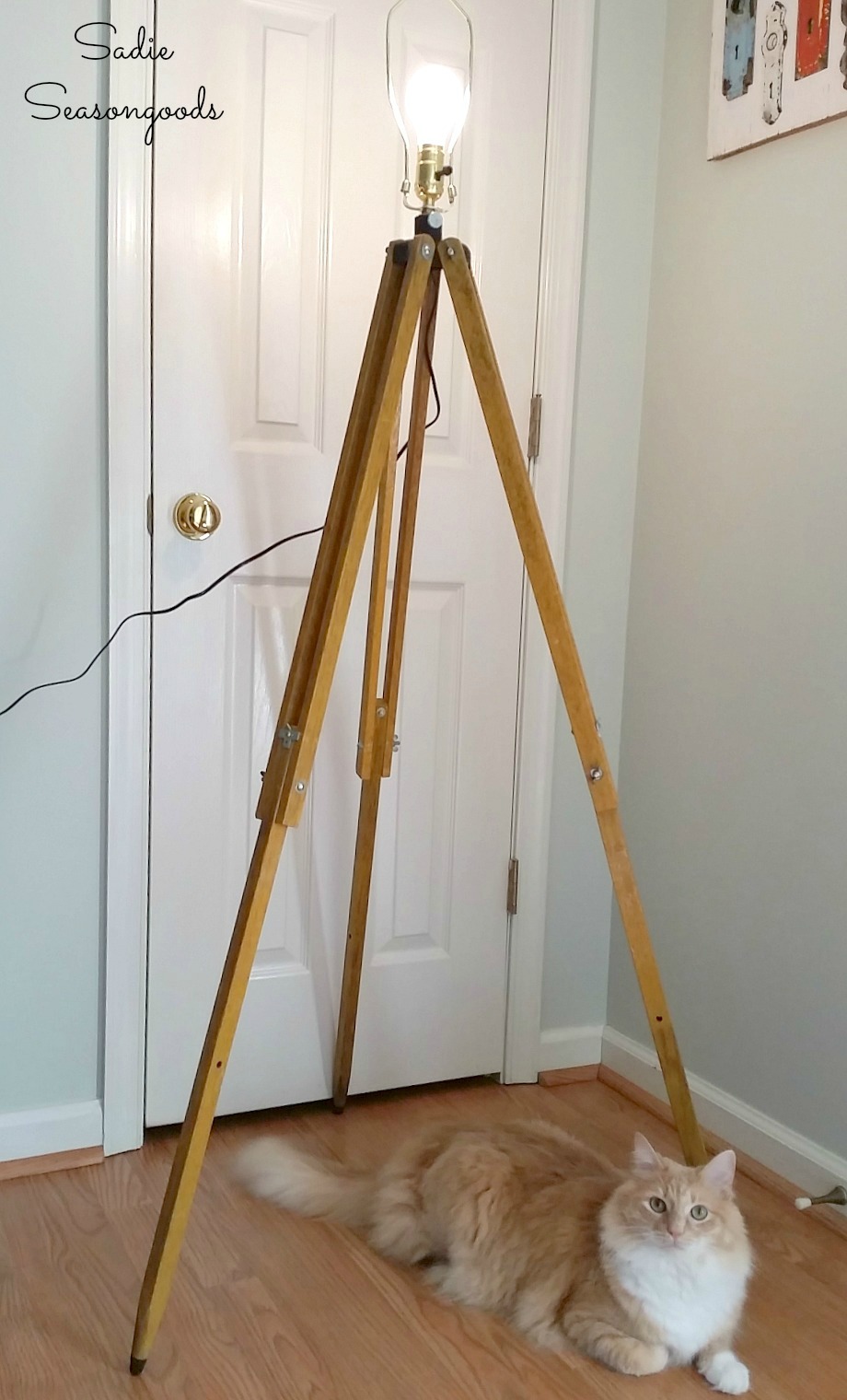 To make my industrial floor lamp to appear "neater and tidier", I wanted to gently secure the cord along one of the legs of the surveyors tripod. I decided a staple gun was too risky and too semi-permanent, but the staples themselves were the perfect hardware for the job.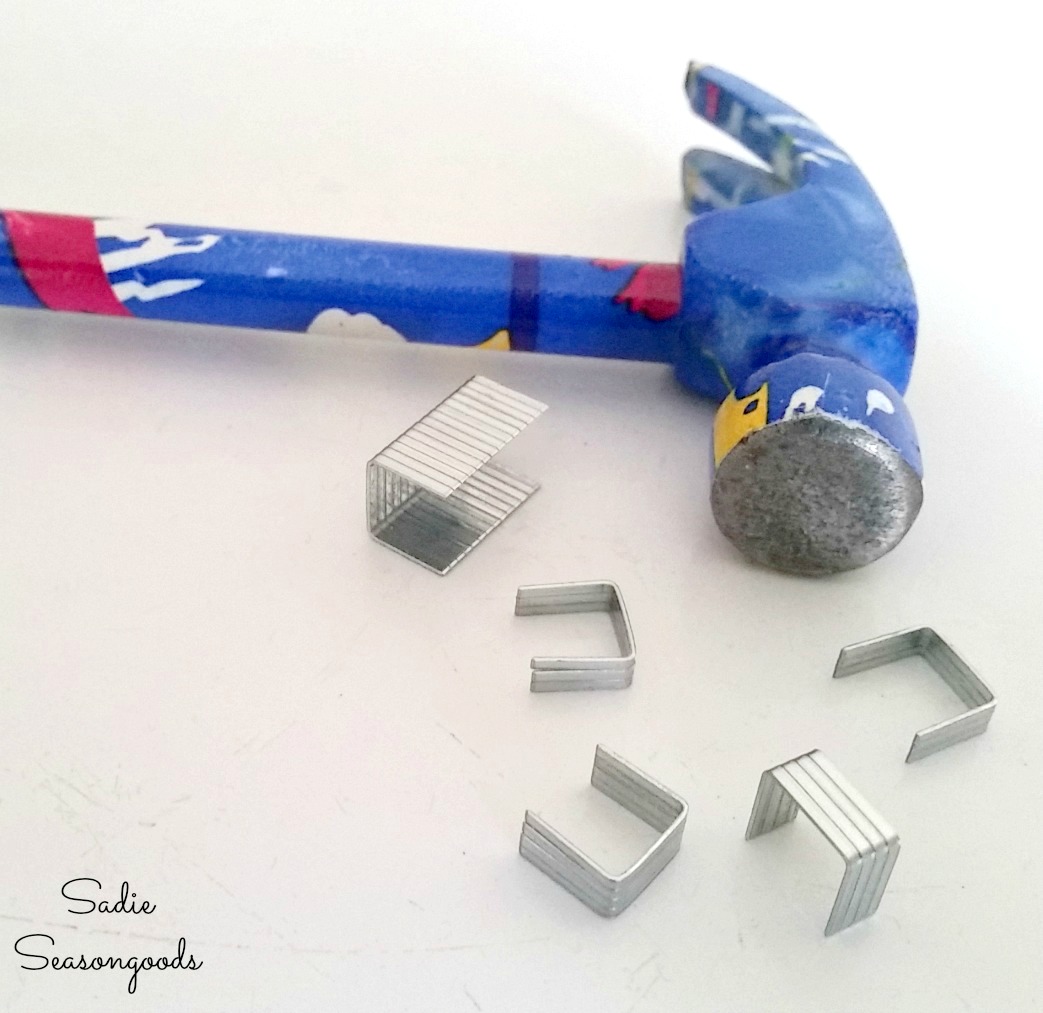 Using my funfetti craft hammer, I lightly tapped them into the tripod leg. The staples "bridged" the cord in place without hard-clamping it down.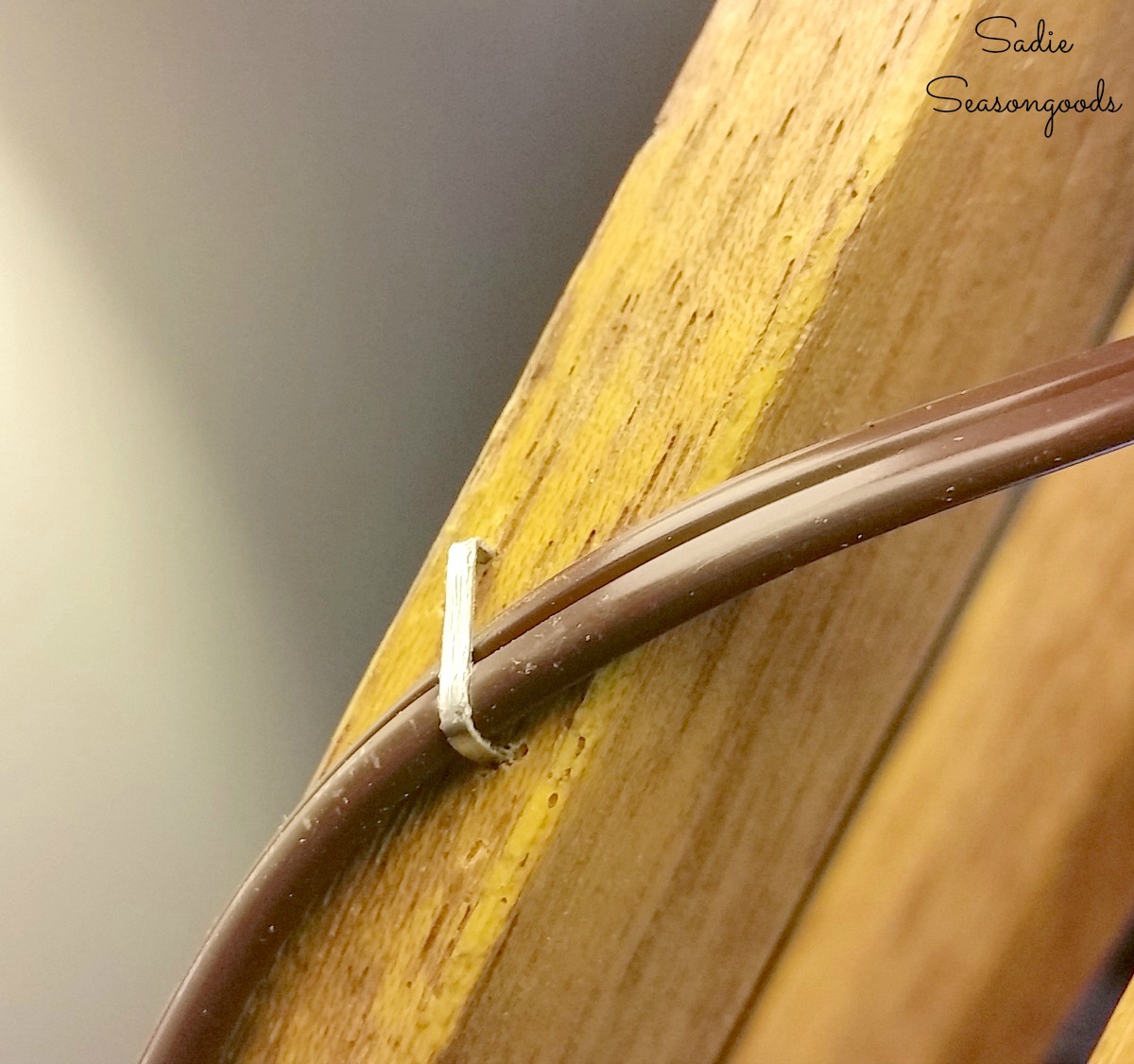 Industrial Floor Lamp / Tripod Floor Lamp – Done!
And ta-da it worked beautifully- no more draping cord! I also found a drum shade at a local lamp / lighting shop that fit it perfectly.
Pro-tip: Bring your lamps into smaller shops when looking for the ideal shade. That will allow you to try a few on before finding the perfect one!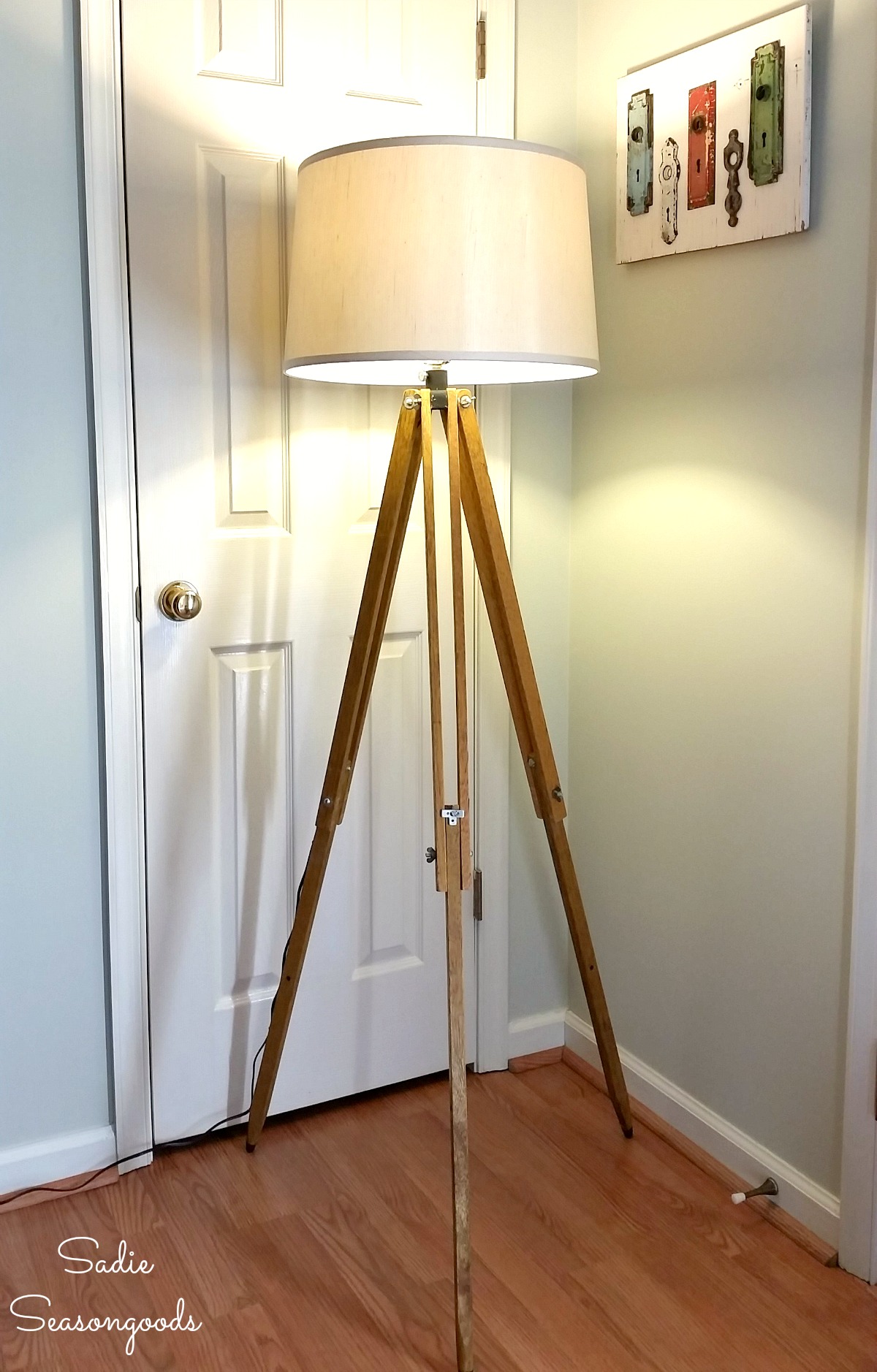 All in all, a complete success- I only wish we hadn't waited so long to make our industrial floor lamp because it really is fantastic. AND it was nowhere nearly as costly as the versions in hip home décor stores. Yard sales + DIY = stylish savings, which is ALWAYS trendy.
Looking for more upcycled industrial decor ideas? I have a few more ideas here that might pique your interest!
Craft on!
S
Want to be notified when I publish my next upcycling project tutorial?
Subscribe to Blog via Email
Join me on Social Media:
Sarah Ramberg is the owner of Sadie Seasongoods, a website that celebrates all things secondhand. From upcycling ideas and thrifted decor to vintage-centric travel itineraries, Sadie Seasongoods is a one-stop shop for anyone who loves thrifting and approachable repurposing ideas. Sarah is also the author of "Crafting with Flannel" and has been featured in numerous media outlets and magazines.