I fell in love with the idea of a gallery wall filled with empty painting frames- vintage picture frames and painting frames that were ornate, antique, and unusual. So I decided to make my own version of gallery wall frames by upcycling some antique picture frames with some metallic spray paint
I spent some time gathering my gallery wall frames…picking ones I liked or seemed like a good price…and never gave it any thought on how they would all come together. Not that I'm advocating that entirely, but after playing around with them, I finally found a grouping I was happy with.
This post contains affiliate links for your crafting convenience. As an Amazon Affiliate, I earn from qualifying purchases.
Upcycling Vintage Picture Frames into Gallery Wall Frames
Unlike many of the examples of these empty frame collages, I decided to paint my frames using three different, but complementary, colors (subtle metallics).
I decided to leave two of my vintage picture frames as they were- these old painting frames were each attractive in their own way and added a nice textural aberration within the grouping.
These gallery wall frames are perfect as-is, don't you think? Plus, one is already a subtle metallic gold.
Something to note- one of the vintage picture frames / painting frames was in rickety disrepair when I bought it. Well, several of them were- but nothing that a couple of small nails and hammer couldn't fix.
However, my smallest one was particularly banged up in the corners and chunks of wood completely missing.
But these imperfections were smoothed out by his paint job and gave him unusual character. So definitely don't pass up the beat up and neglected antique picture frames for a project like this- not only can you likely haggle for a dirt cheap price, but they add authenticity to your collage (i.e., your frames didn't come from a big box store).
Literally- chunks of my vintage picture frames were missing, as if someone had taken a bite out of these painting frames.
Arranging them on the wall was no easy feat.
BUT I took my friends' advice and traced each frame on newspaper, cut the tracings out, and taped (using painter's tape!) to the wall where I wanted them hung. This allowed for subtle movement and perfecting the distance apart from each other.
My Gallery Wall Frames with Upcycled Vintage Picture Frames
And the end result? Definitely eye-catching and pride-worthy.
So what do you think? Is a collage of empty frames in your decor future?
I also have this fantastic collection of upcycled picture frames chock full of upcycling ideas– time to run to the thrift store!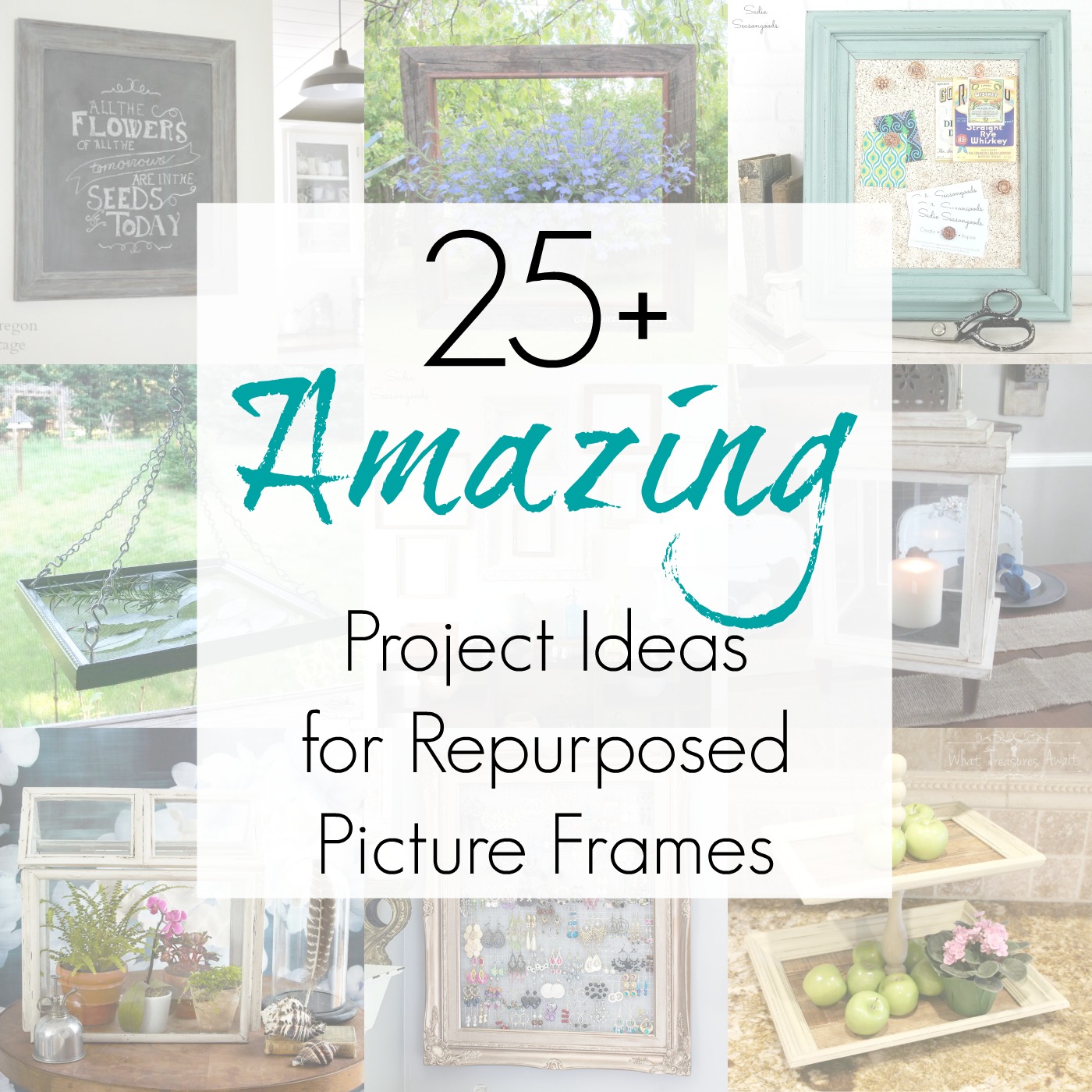 Craft on!
S
Want to be notified when I publish my next upcycling project tutorial?
Subscribe to Blog via Email
Join me on Social Media: