If you've ever wondered how to spray paint glass or were curious about a spray paint for glass that looks like terracotta, then this upcycling idea and tutorial is for you! I'm testing out some the terracotta spray paint by Rustoleum to see if I can create realistic terracotta decor from clear glass vases.
A little background first, though- this all started when I was cleaning out my under-sink cabinet in the kitchen and I found these three olive oil cruets that I had saved.
The store that had supplied them closed, so I couldn't go back and refill them. But me being me, I also didn't want to toss them away (remember, there's no glass recycling in my county anymore).
Painting glass is something I do a LOT of (specifically spray painting glass) but I wanted to try out a new-to-me product, and this terracotta spray paint seemed like the perfect thing to use on these glass cruets.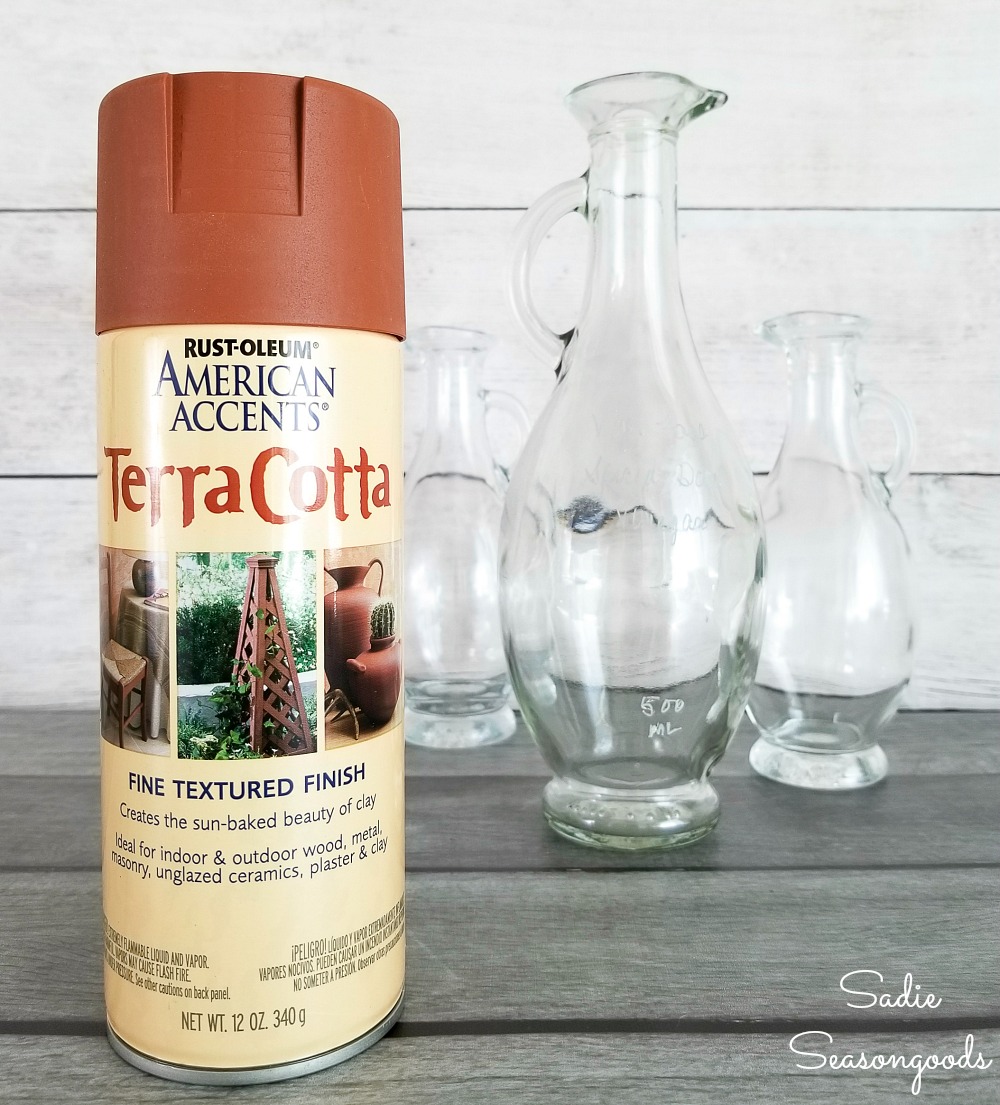 My plan for these glass cruets? Three different variations of the same end result, all using the same spray paint for glass.
Hopefully, this would allow me to compare and contrast the result, and determine which combination of products works out the best!
This post contains affiliate links for your crafting convenience. As an Amazon Affiliate, I earn from qualifying purchases. All blue, bold, and underlined text is a clickable link, either to a product or to a related post.
Putting a Spray Paint for Glass to the Test!
To get started, I set up my spray paint station outside. With the terracotta spray paint, I wanted to try out three different variations.
First, I would use the terracotta spray paint only. In other words, painting the glass directly without any primer.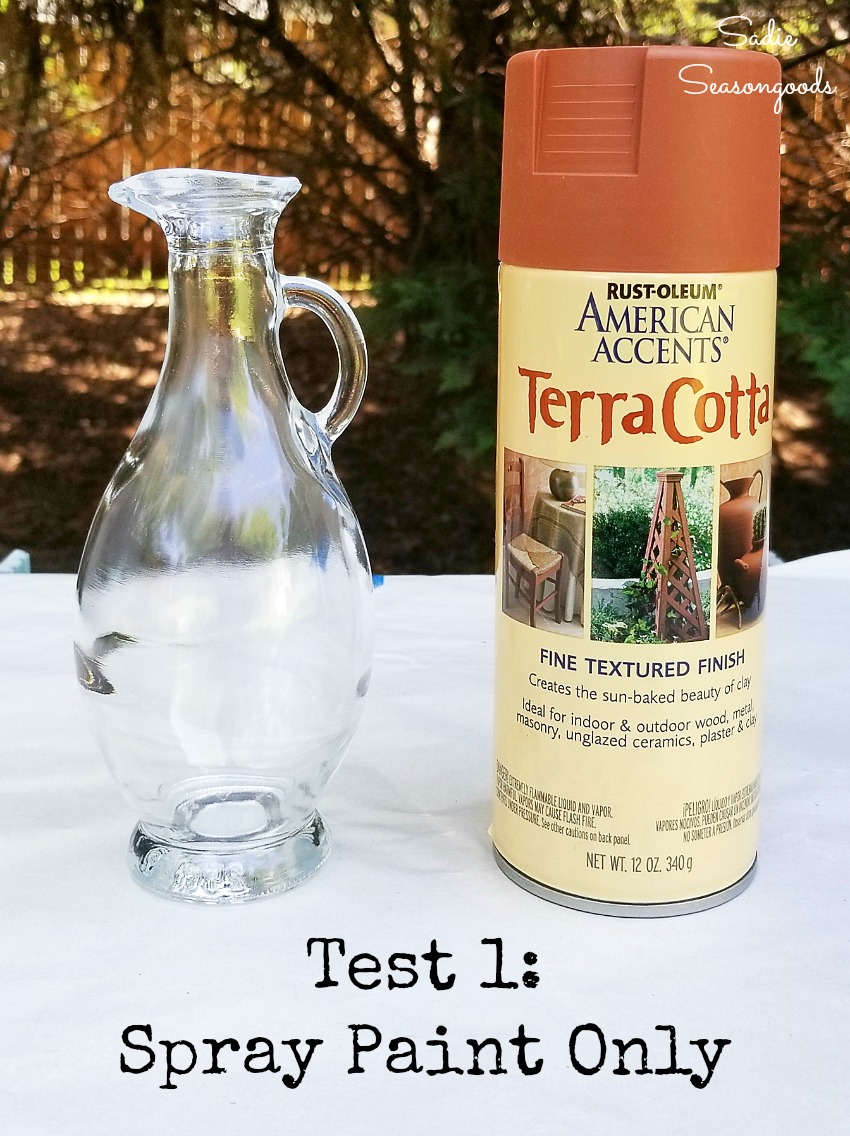 On the second glass vase, I would use a flat primer and THEN the terracotta spray paint.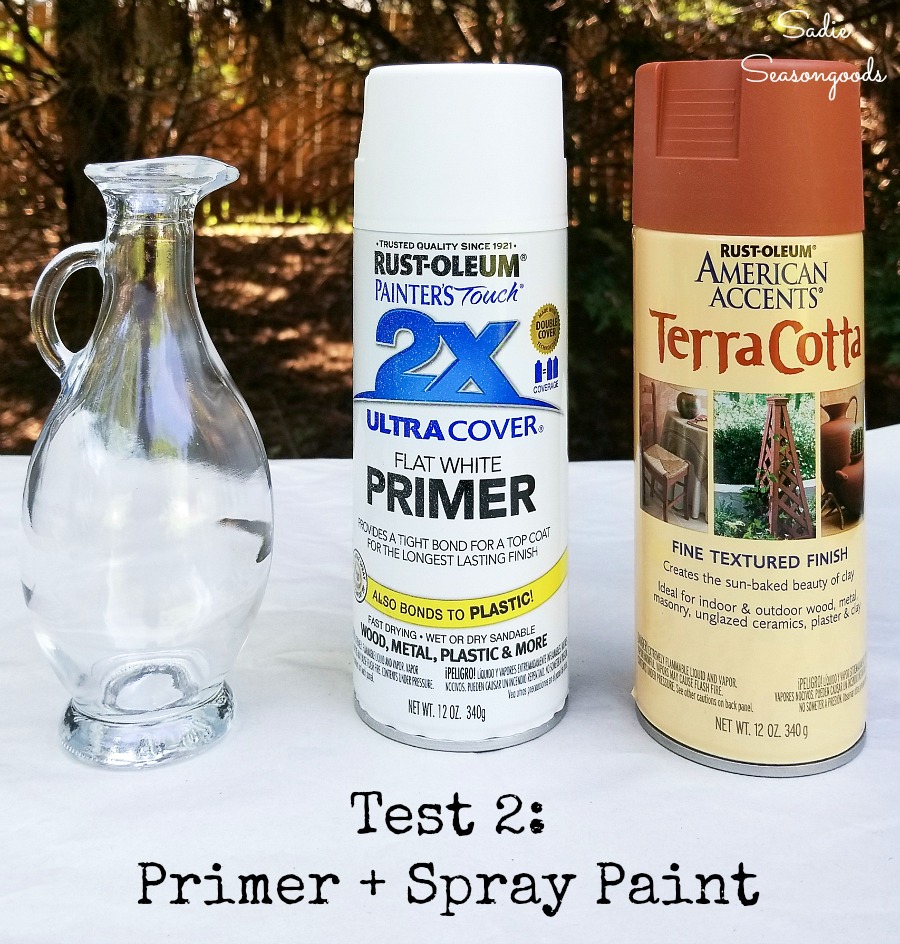 Finally, I would use a primer, then the terracotta spray paint, and finish up with a top coat.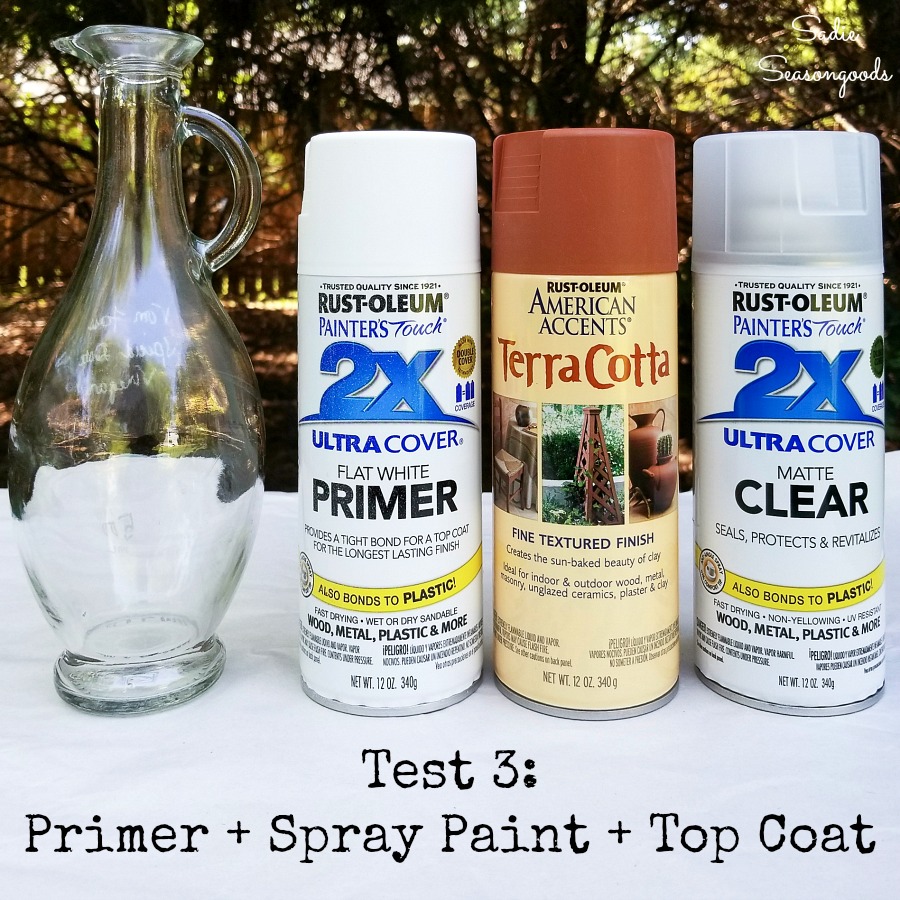 My goal? To determine how well the terracotta spray paint adheres to the glass (i.e., is primer necessary?) and how durable is the terracotta paint alone (i.e., is a top coat necessary?).
And, as with nearly every spray paint project, I used this spray paint trigger.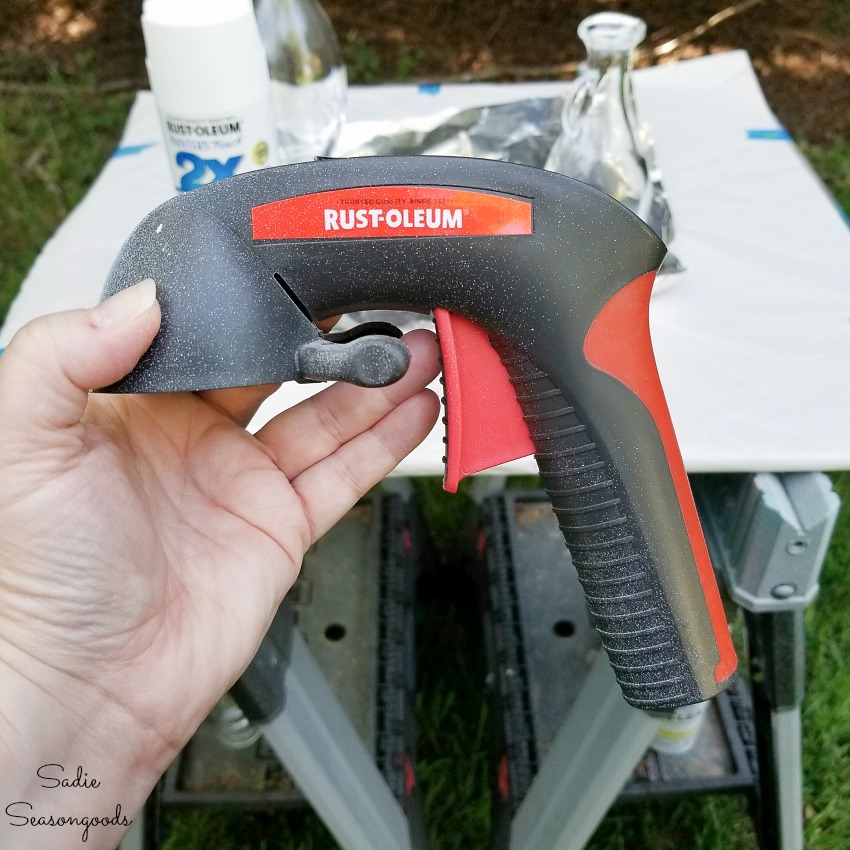 If I don't use a spray paint handle, then I get terrible carpal tunnel pain in my wrist. And it lasts for several days after spray painting, so this spray paint handle is a must-use item in my craft arsenal.
Testing the Terracotta Spray Paint
The good news? No matter which variation of painting glass that I did, each terracotta vase looked and felt the exact same!
Thank goodness I had labeled the undersides with painter's tape so that I knew which variation was which!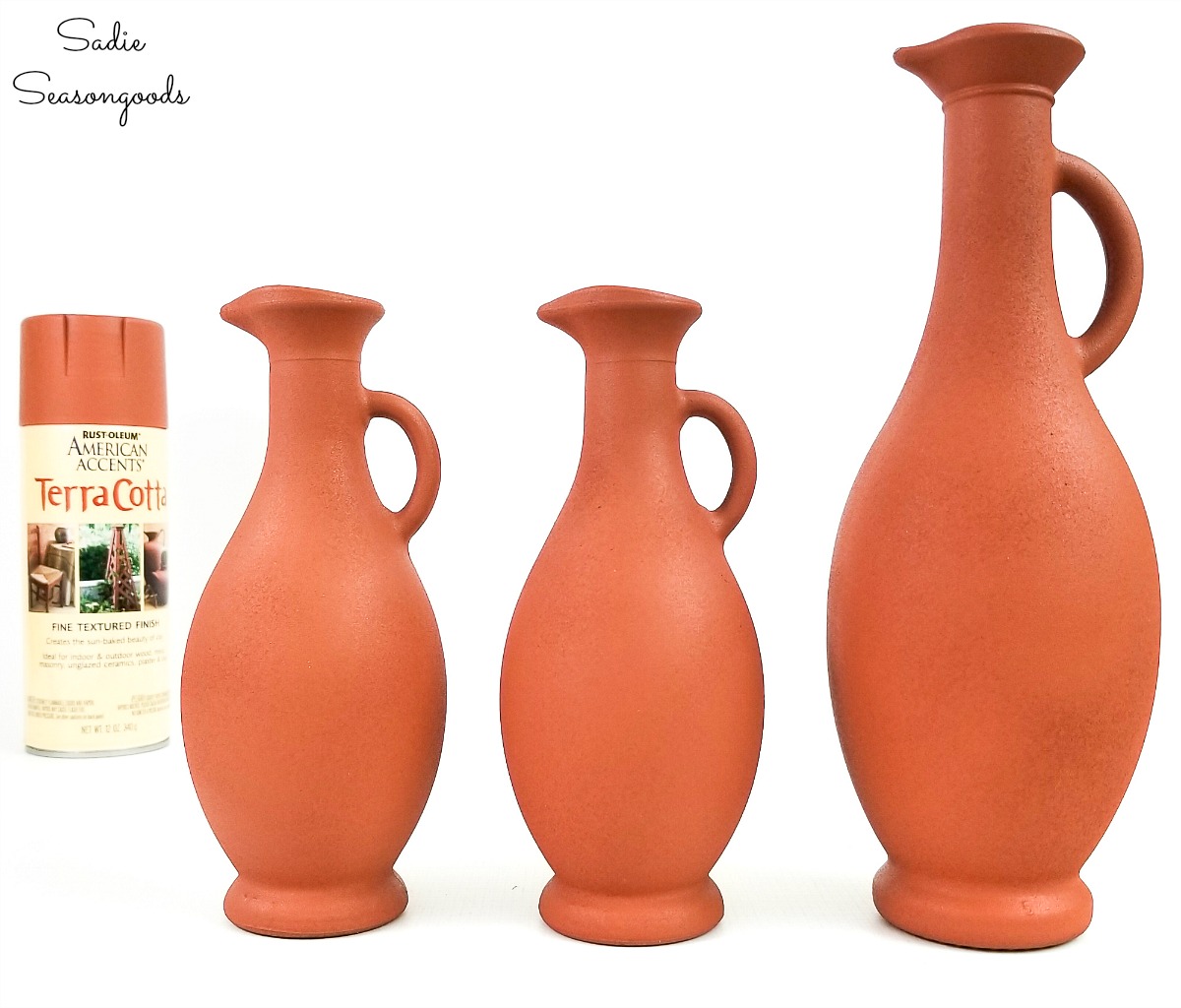 The bad news? Well…there is none.
There's only…better news. For instance, I did a scratch test using my fingernail…and all three cruets responded the same.
Yes, I was able to make a mark after some vigorous scratching, but above all, there was no difference whether I used a primer or topcoat spray or both!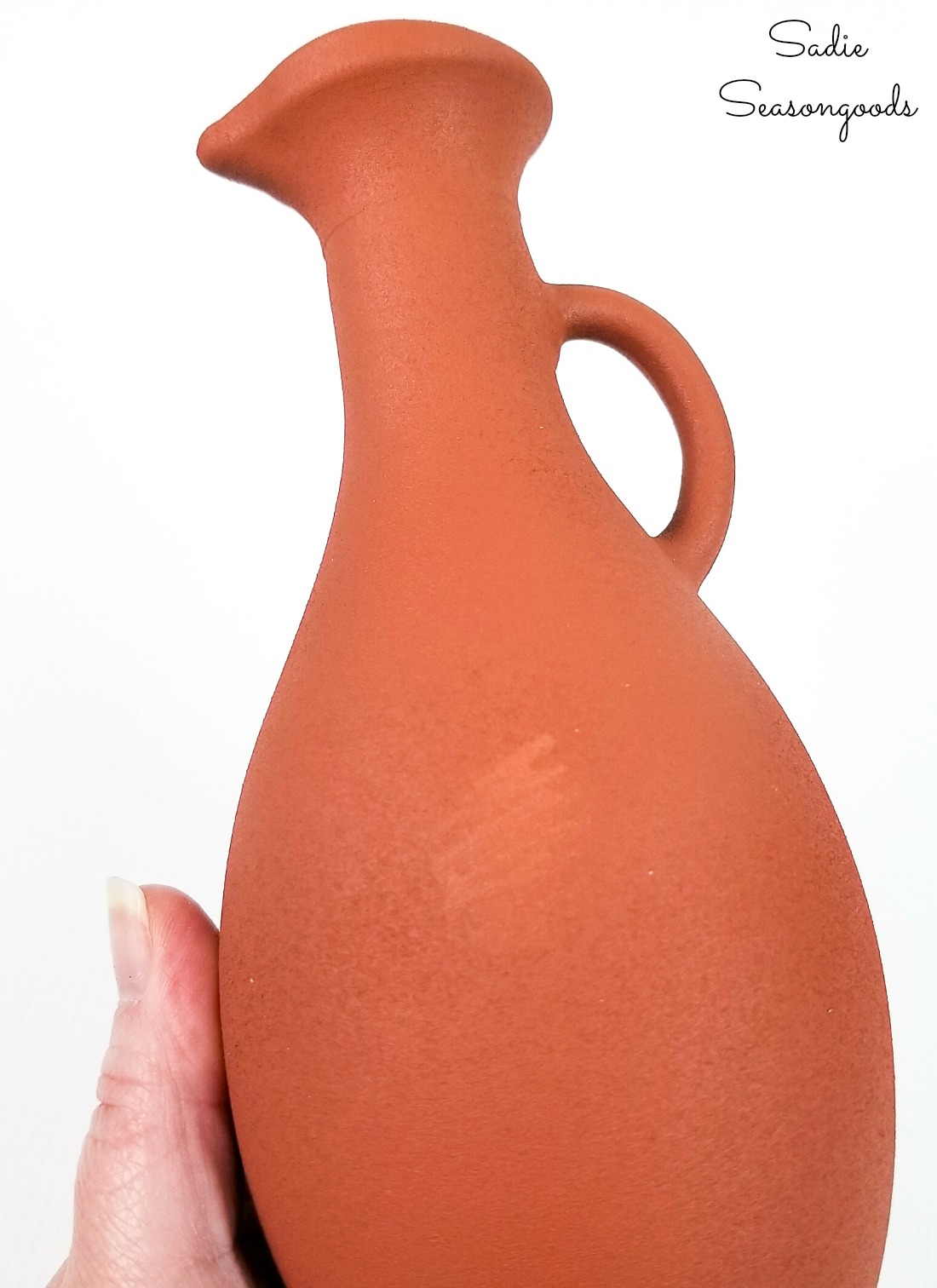 Why is this better news? All you need is the terracotta spray paint! Save yourself the cash and time by not using/buying a primer or topcoat.
And that's my genuine opinion- this post/project is not sponsored in any way and I purchased these products with my own money.
NOTE- I looked at 3-4 stores and couldn't find terracotta spray paint at any of them, so I highly recommend purchasing it online here.
Painting Glass Vases with Terracotta Spray Paint
Even though I don't have any sort of southwestern decor in my home, I honestly LOVE how these turned out.
The color is pretty good; the texture is just gritty enough to feel like a terracotta vase (not a flower pot, which is more chalky-smooth…think of a slightly sandpaper-y terracotta urn or jug); and the value is excellent.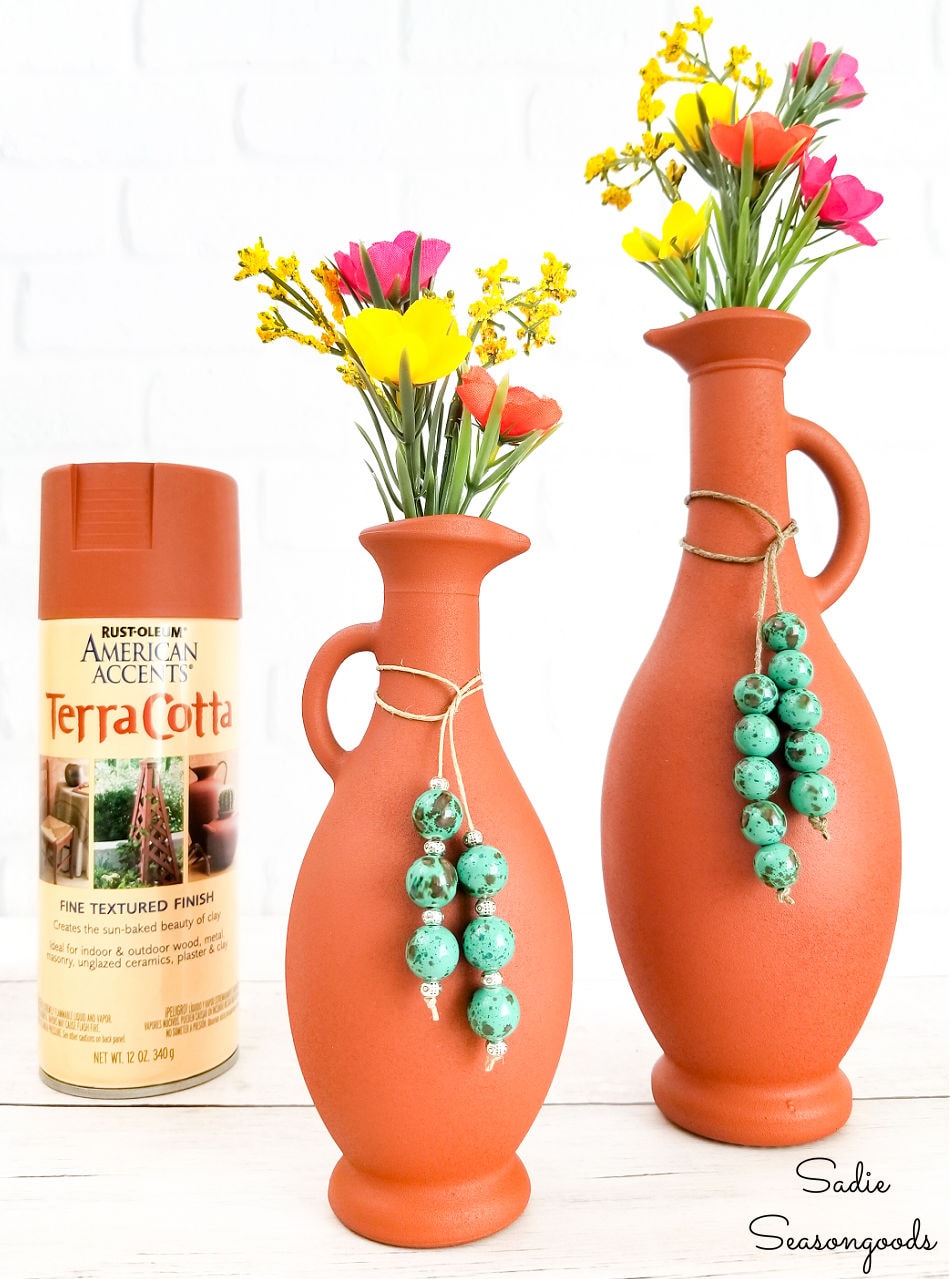 I styled my terracotta vases with faux-turquoise beads, hemp cord, and faux flowers that reminded me of portulaca. Don't those look splendid?
I graded this terracotta spray paint an "A" and would definitely recommend it to anyone wondering how to spray paint glass and/or looking for a spray paint for glass that looks like terracotta.
In other words – I love this spray paint for glass!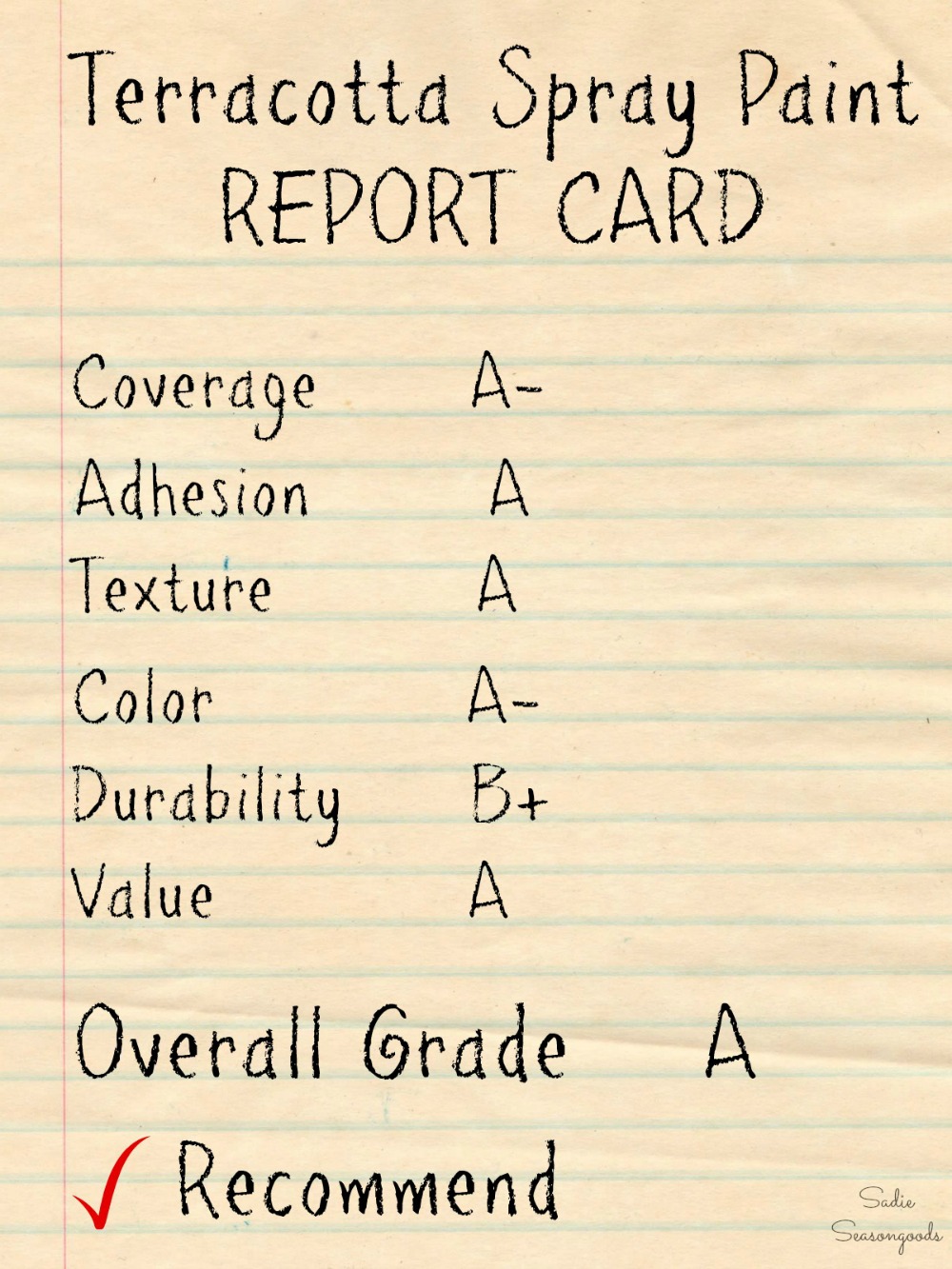 However, I didn't try this on something plastic, metal, or wood- so I don't know how that would fair- therefore, my "A" grade is limited to glass objects.
I hope this was a fresh new take on a Sadie Seasongoods' blog post! Let me know what you think…and if you have ideas for products you'd like to see me purchase, please send those suggestions along.
And If you try out this spray paint for glass, please let me know how your upcycling project turns out!
If you enjoyed this upcycling idea for painting glass vases, then you may be interested in how I transformed some glass florist vases like this!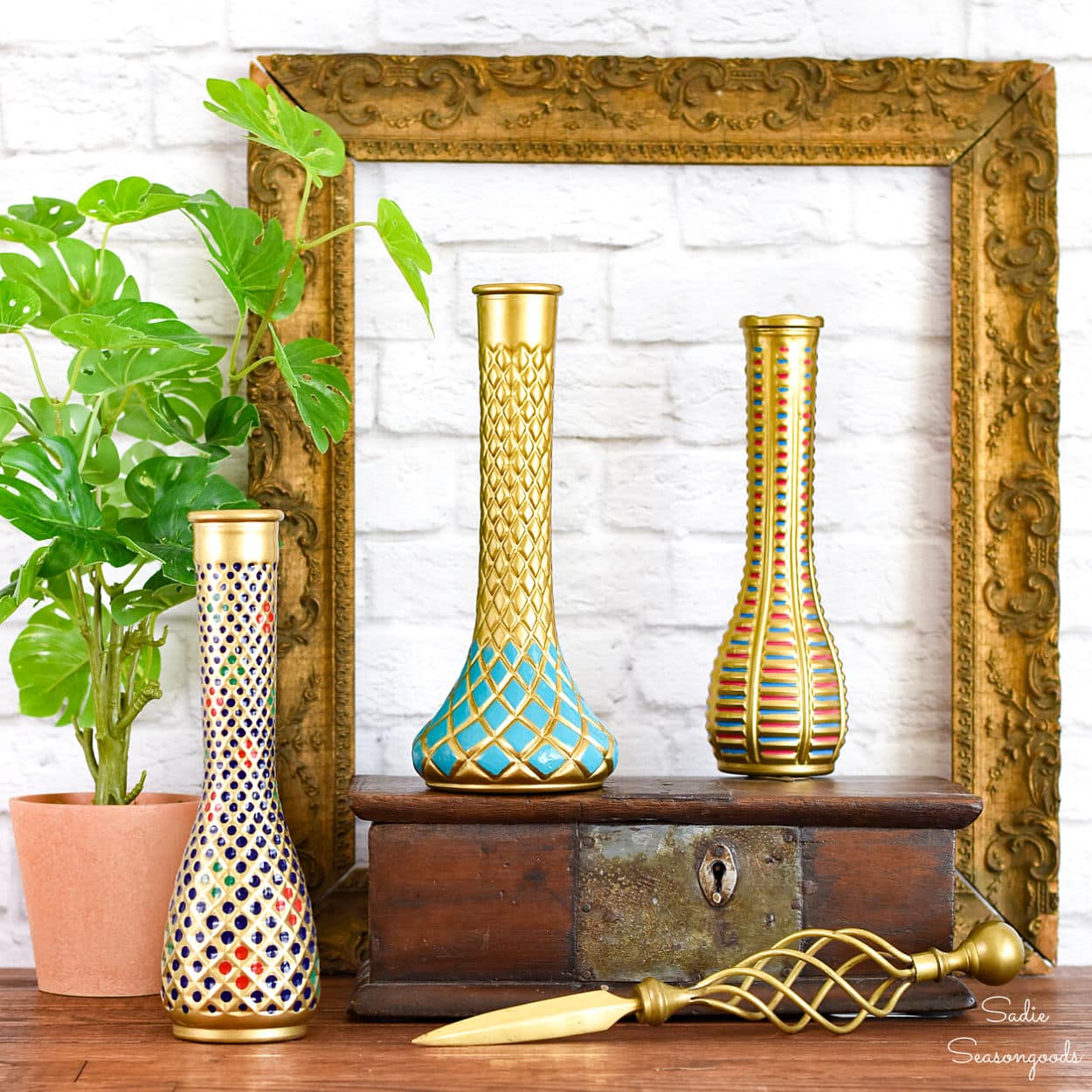 AND I'm so excited to announce that my first book is now available! If you love working with flannel or fabric crafts in general (sewing and non-sewing), then you will LOVE "Crafting with Flannel"!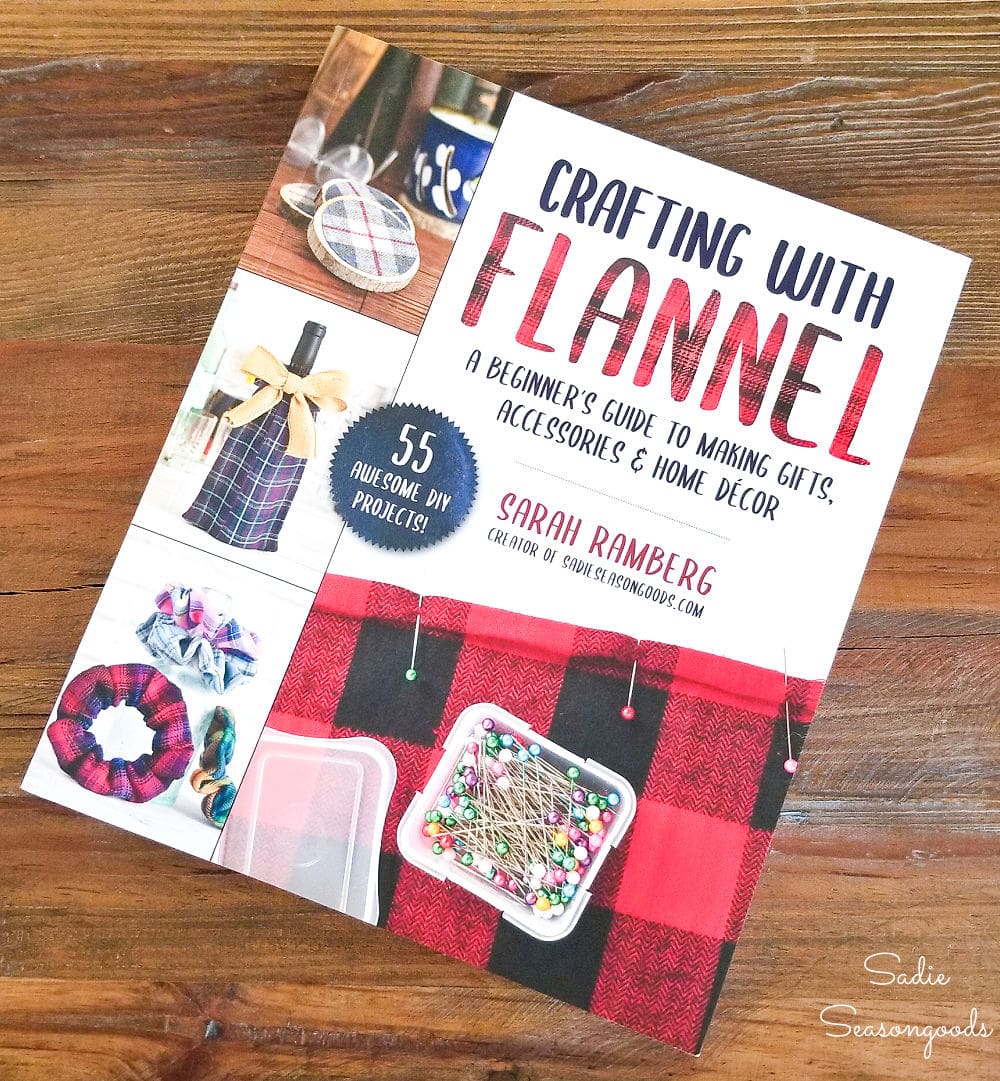 Craft on!
S
Want to be notified when I publish my next upcycling project tutorial?
Subscribe to Blog via Email
Join me on Social Media:
PIN ME!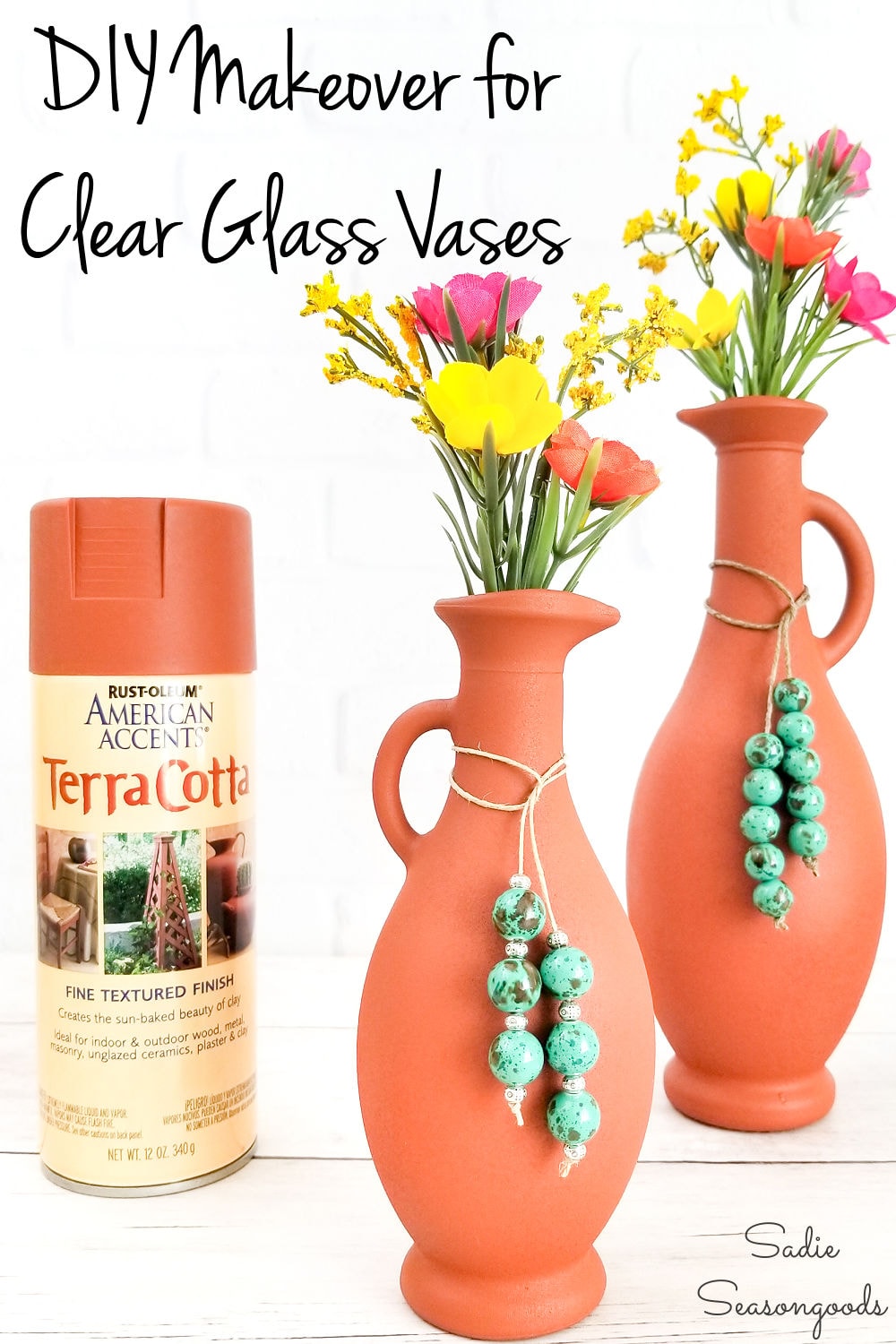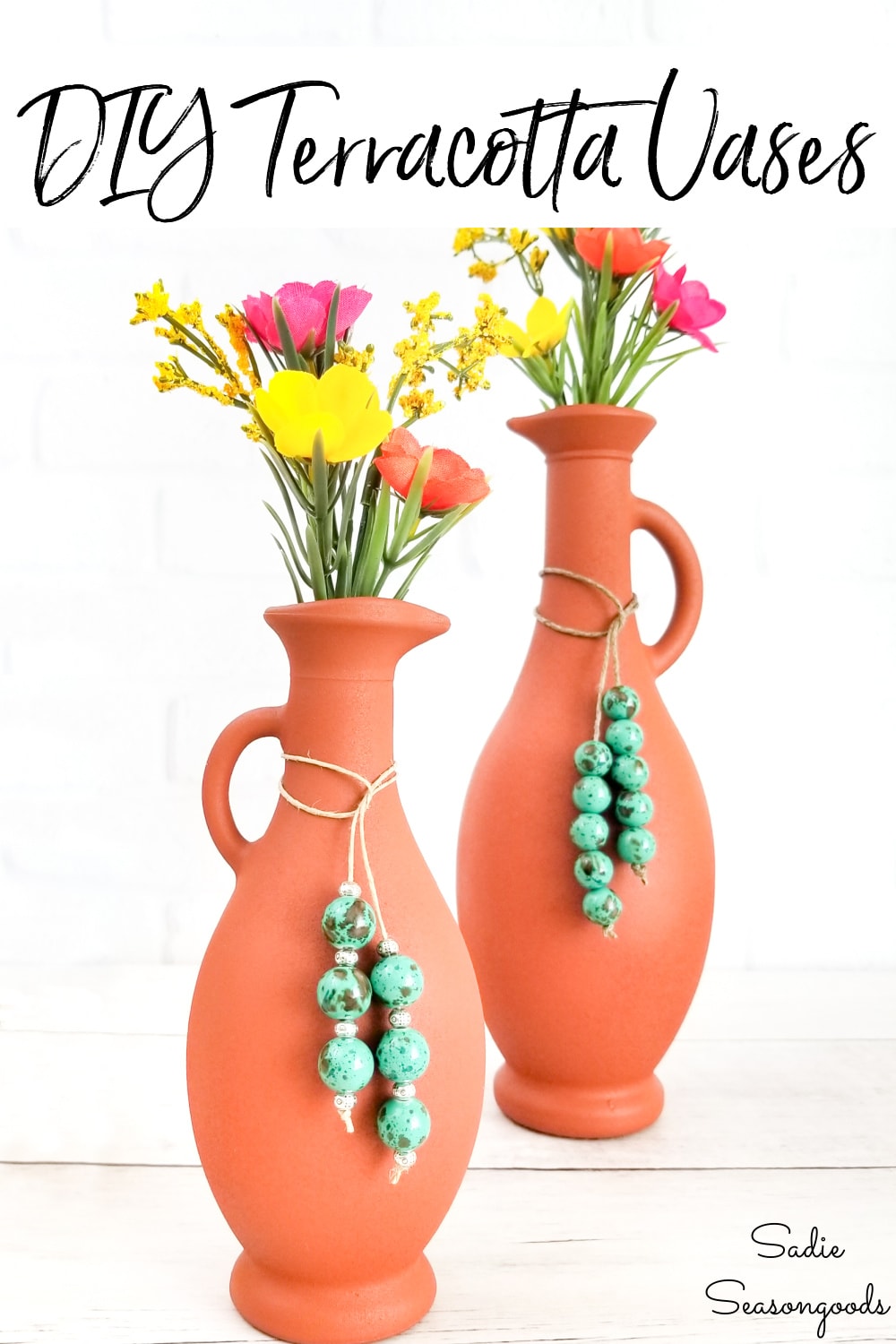 Sarah Ramberg is the owner of Sadie Seasongoods, a website that celebrates all things secondhand. From upcycling ideas and thrifted decor to vintage-centric travel itineraries, Sadie Seasongoods is a one-stop shop for anyone who loves thrifting and approachable repurposing ideas. Sarah is also the author of "Crafting with Flannel" and has been featured in numerous media outlets and magazines.