Like so many other eco/cost-conscious shoppers, I love to bring my own tote bag(s) to carry my groceries home. Any time I can avoid plastic or reduce plastic, I take it! So, I decided to make some cloth produce bags for fruit and vegetables by upcycling some kids t-shirts. They are plentiful at thrift stores and on a smaller scale that is perfect for fresh produce!
I went to my local thrift store and found a couple of kids graphic tees, including a Paris Barbie shirt and this charming aqua shirt from Georgia.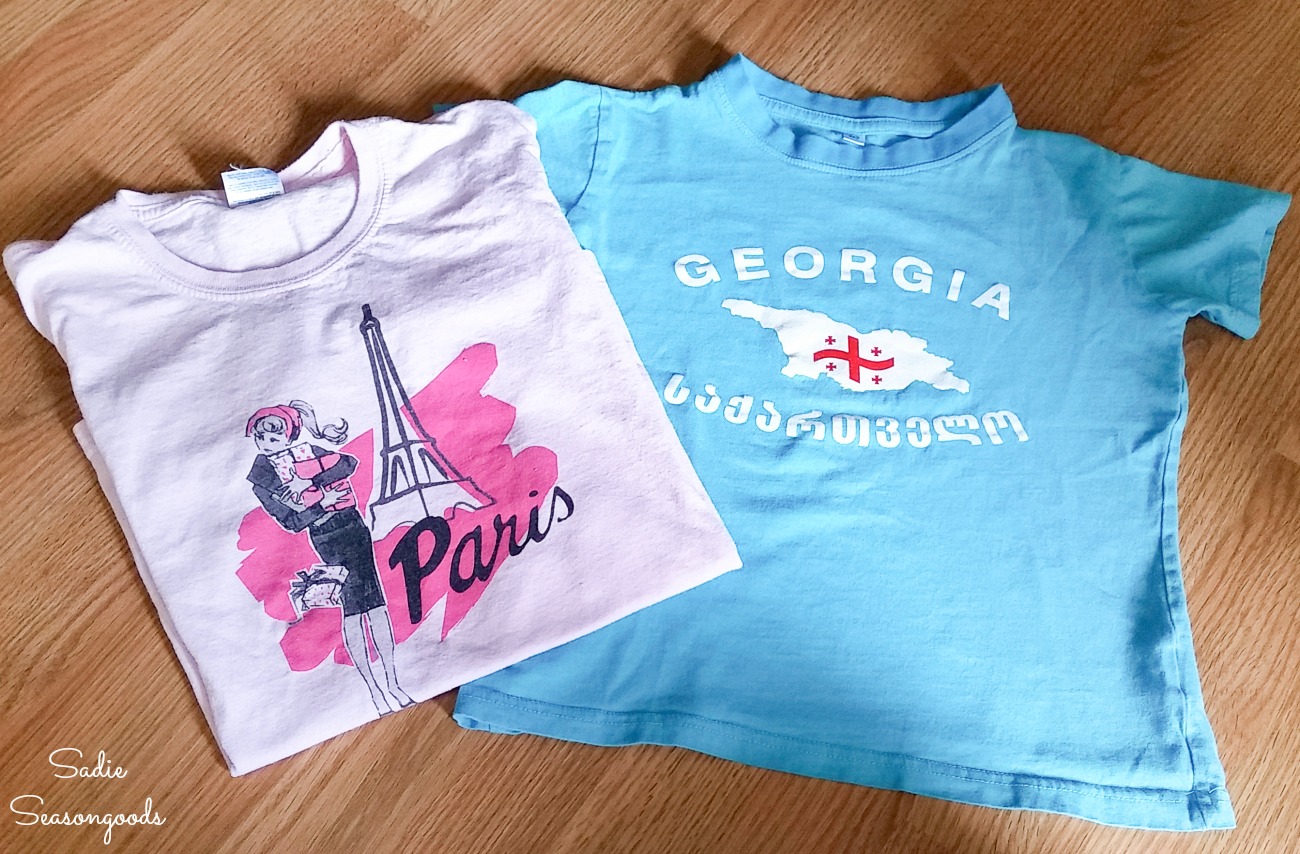 As in, Georgia the country. Georgia in Asia. I mean, how kooky-awesome is that?
Of course, this isn't the first time I've upcycled t-shirts. Remember this one that I turned into a DIY cat tent for Cottonball?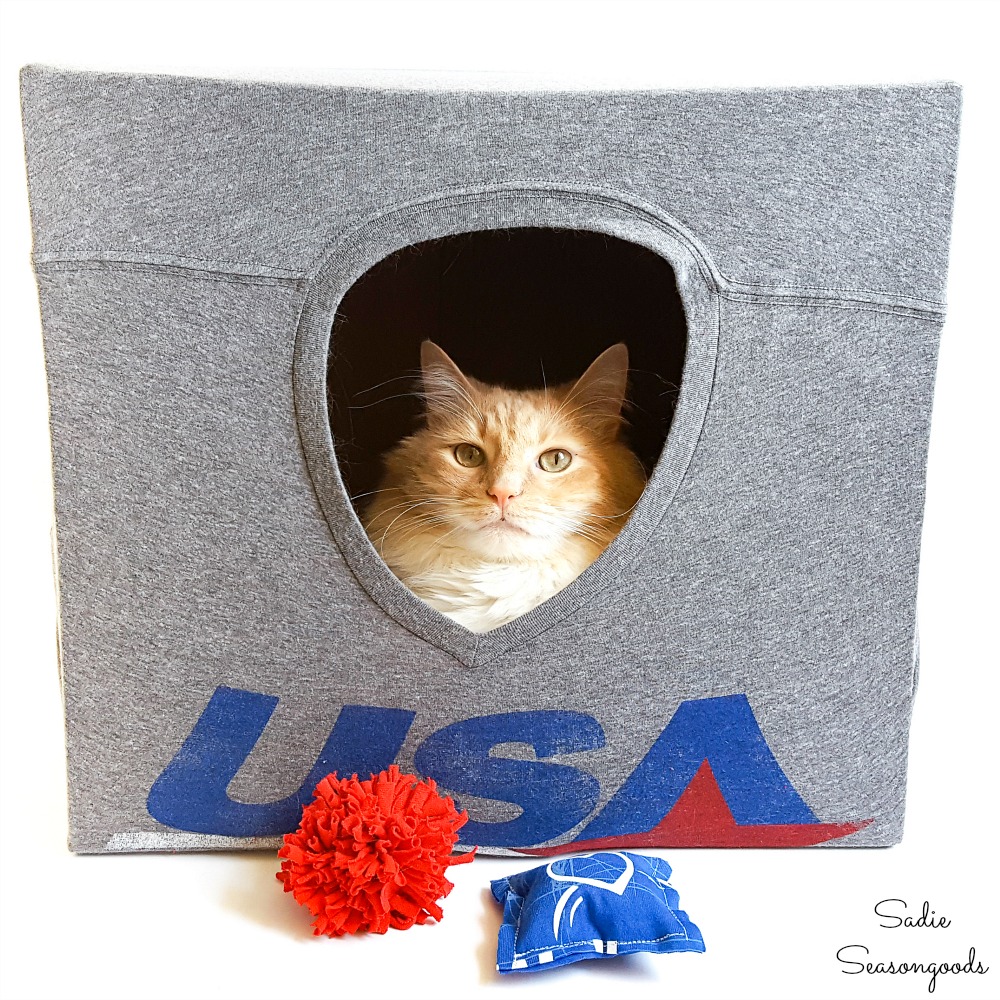 Anyway, I digress- back to today's project! With colorful kids t-shirts in hand, I was ready to transform them into cloth produce bags that were washable and reusable.
This post contains affiliate links for your crafting convenience. As an Amazon Affiliate, I earn from qualifying purchases. All blue, bold, and underlined text is a clickable link, either to a product or to a related post.
Upcycling T-Shirts into Eco Friendly Produce Bags
After washing the kids graphic tees, I first spread one out on the floor (my work surface for now).
No need to iron it or anything at this stage!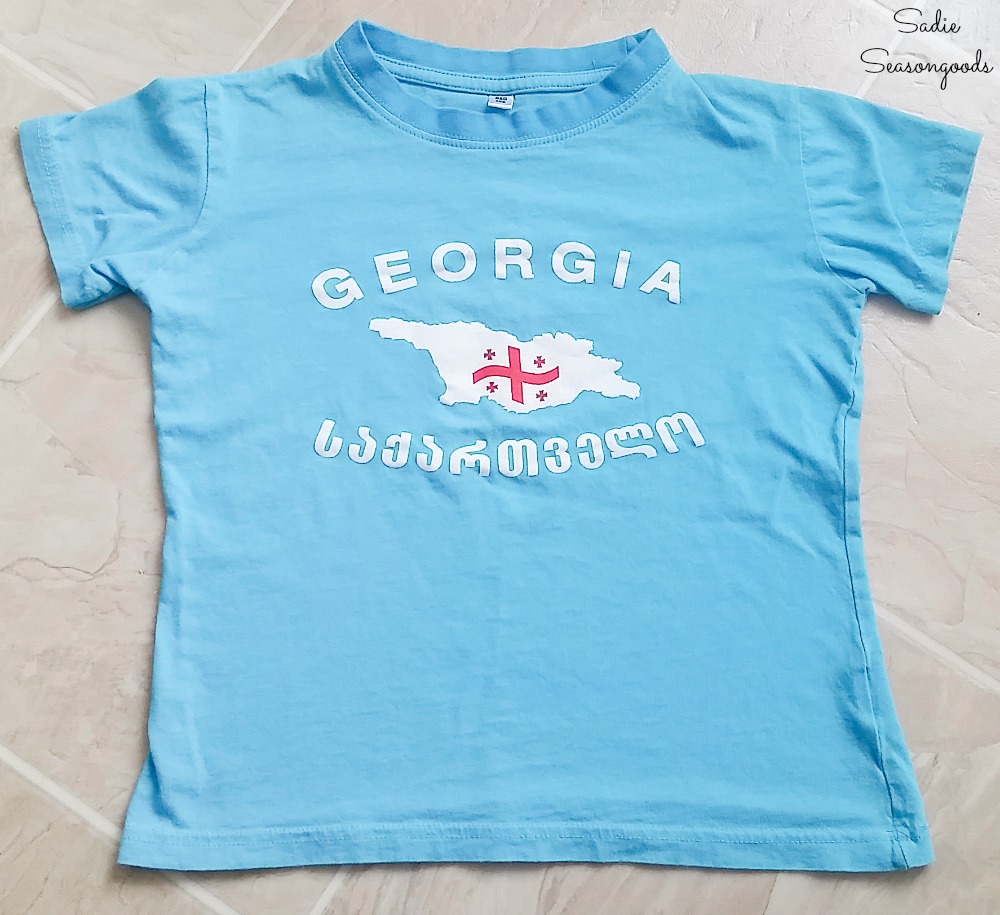 Next, I proceeded to cut off the neck and sleeves- essentially transforming the tee into a tank top.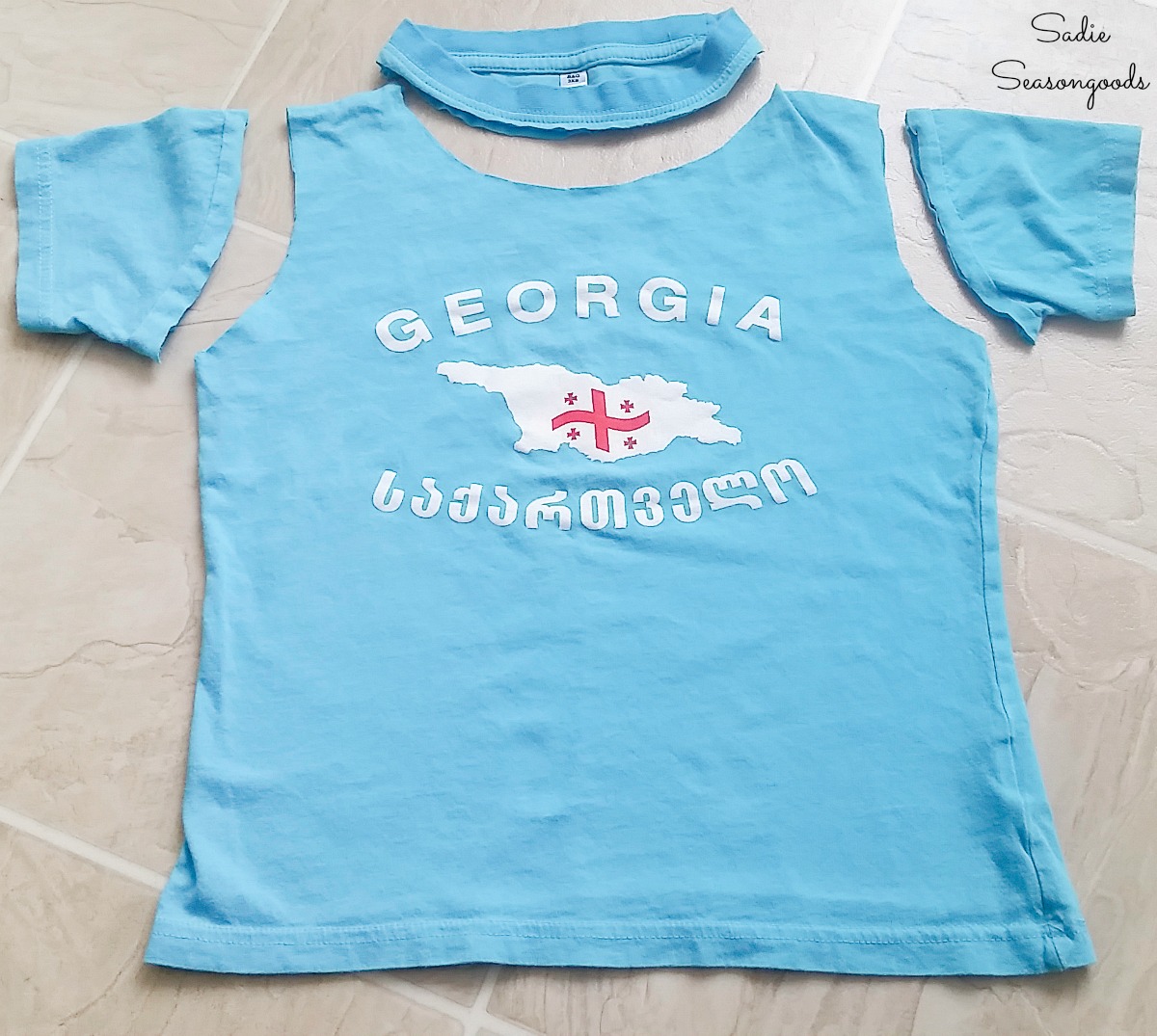 Then, I turned the "tank top" inside out and folded up the bottom seam on both sides, pinning it in place.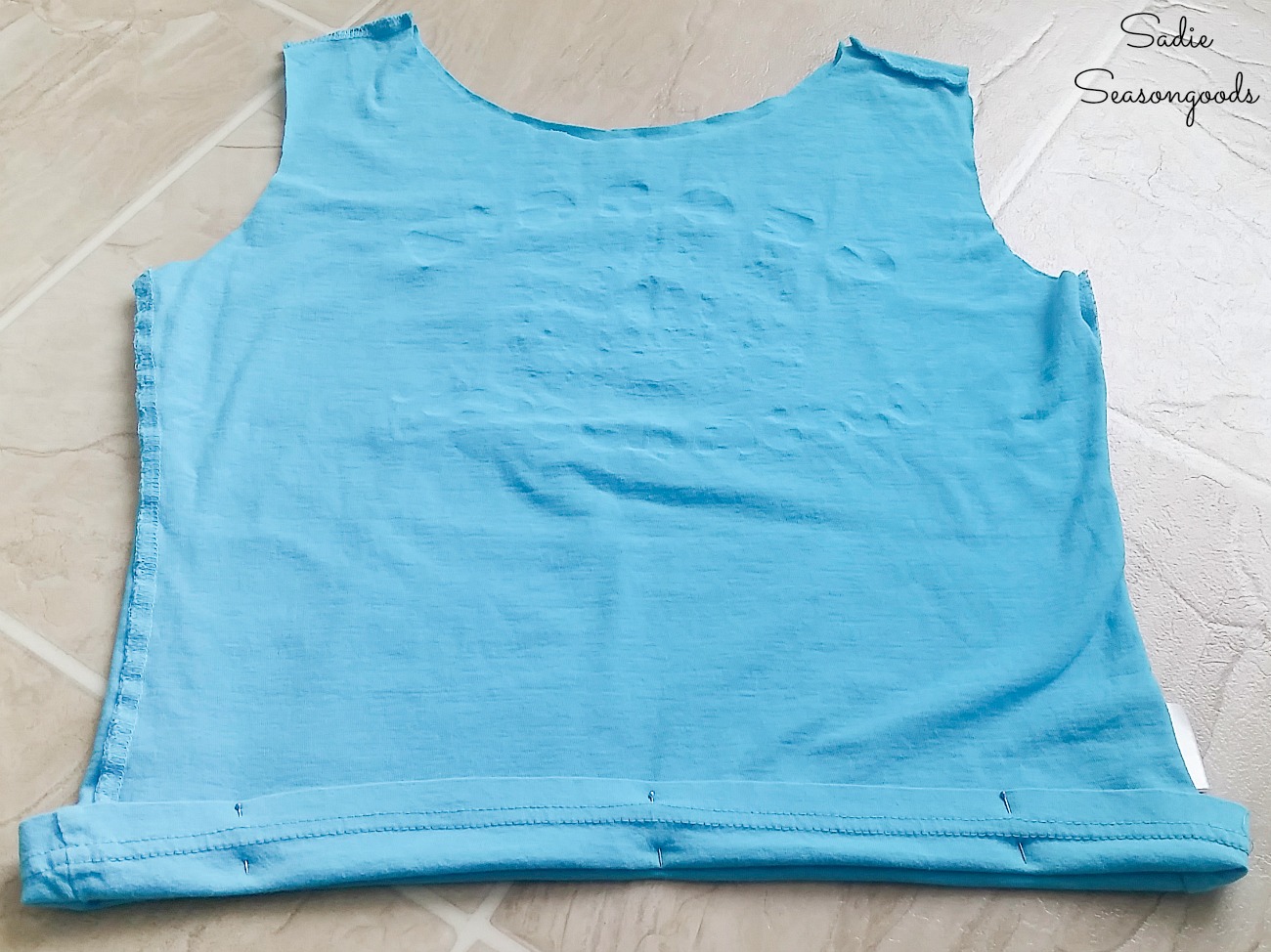 Finally, using my sewing machine, I double-stitched across the folded seam, effectively sealing the bottom of the shirt.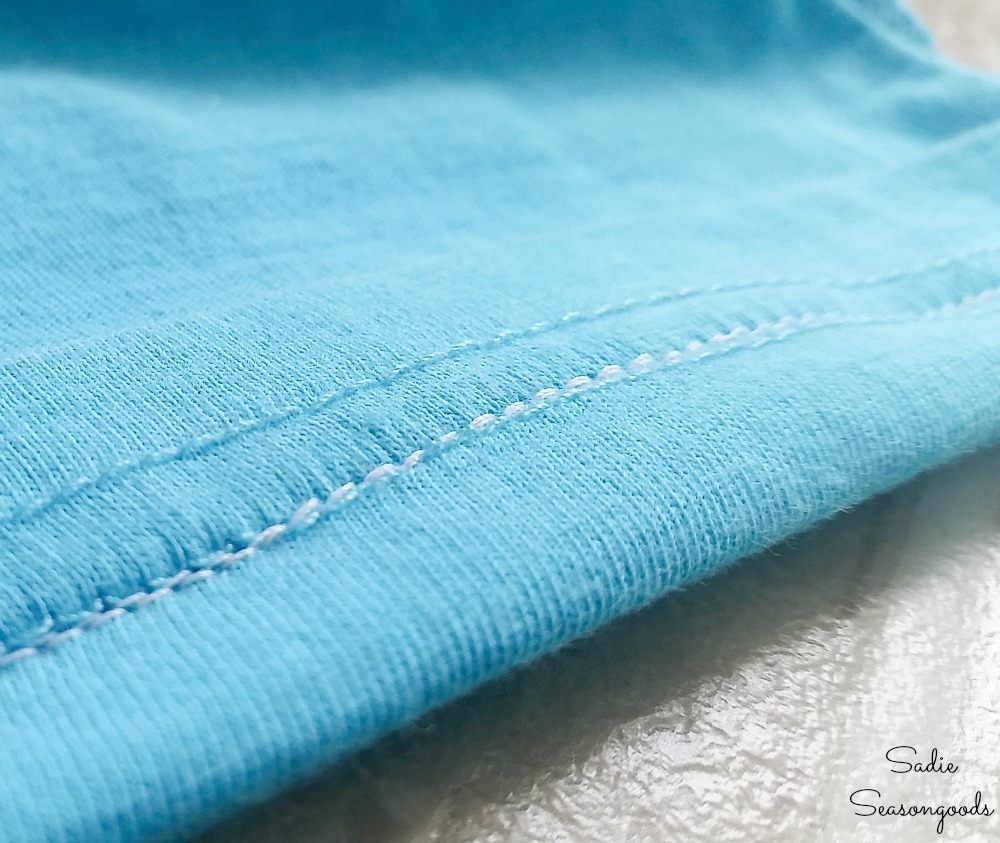 Adding Structure to Cloth Produce Bags with Box Corners
Now, the next step is optional, but easy enough and adds a nice structure to the reusable bags.
While still inside-out, I decided to box the corners by folding the shirt across the front and back (lengthwise). In other words, I re-folded it so that the original side seams of the t-shirt were now in the center of my t-shirt bag.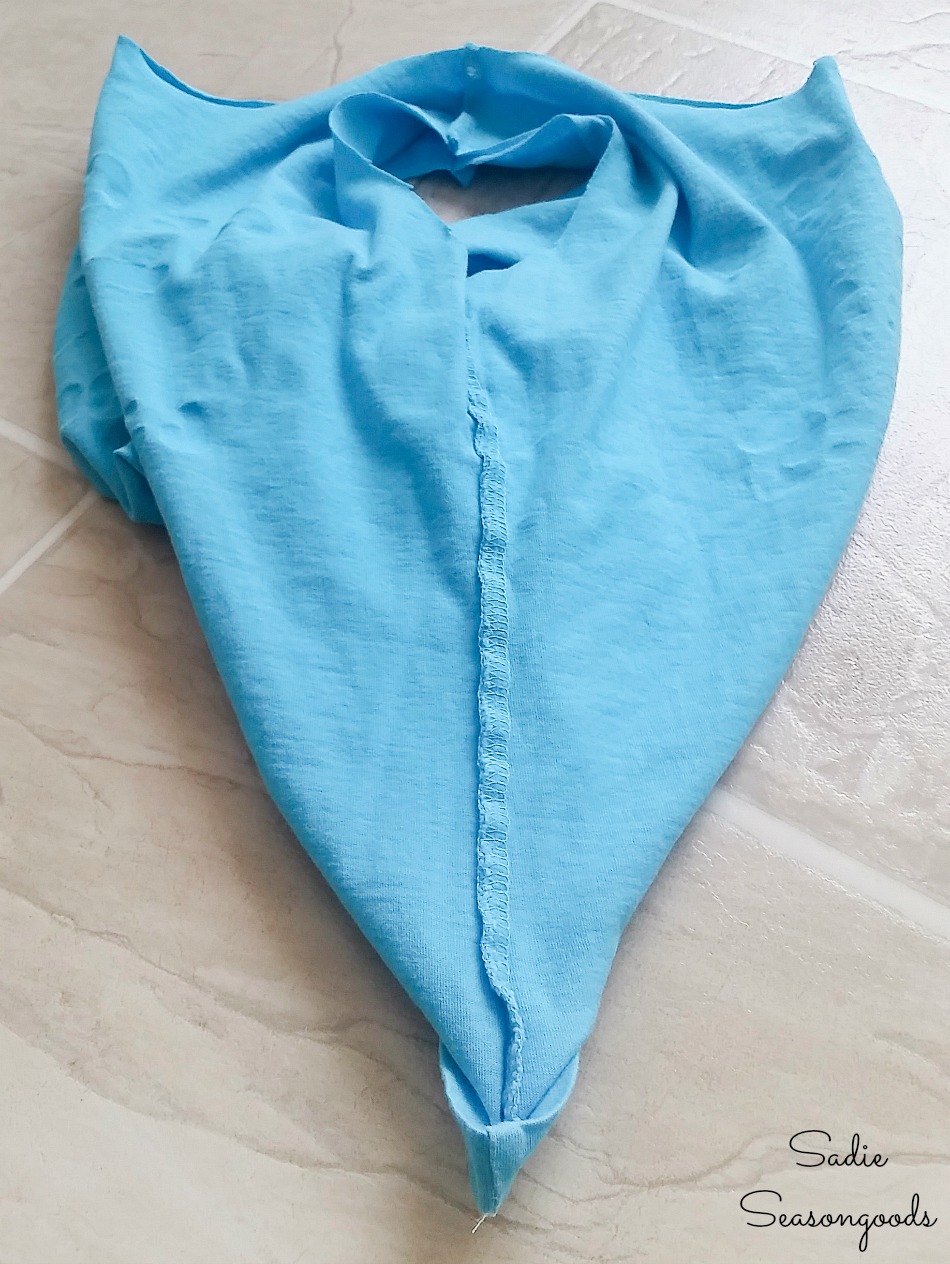 Boxing the corners adds a nice seam perpendicular to the bottom of the bag, giving the bag structure at the bottom.
Anyway, a couple of inches up from the corner, I pinned a line perpendicular to the side seams.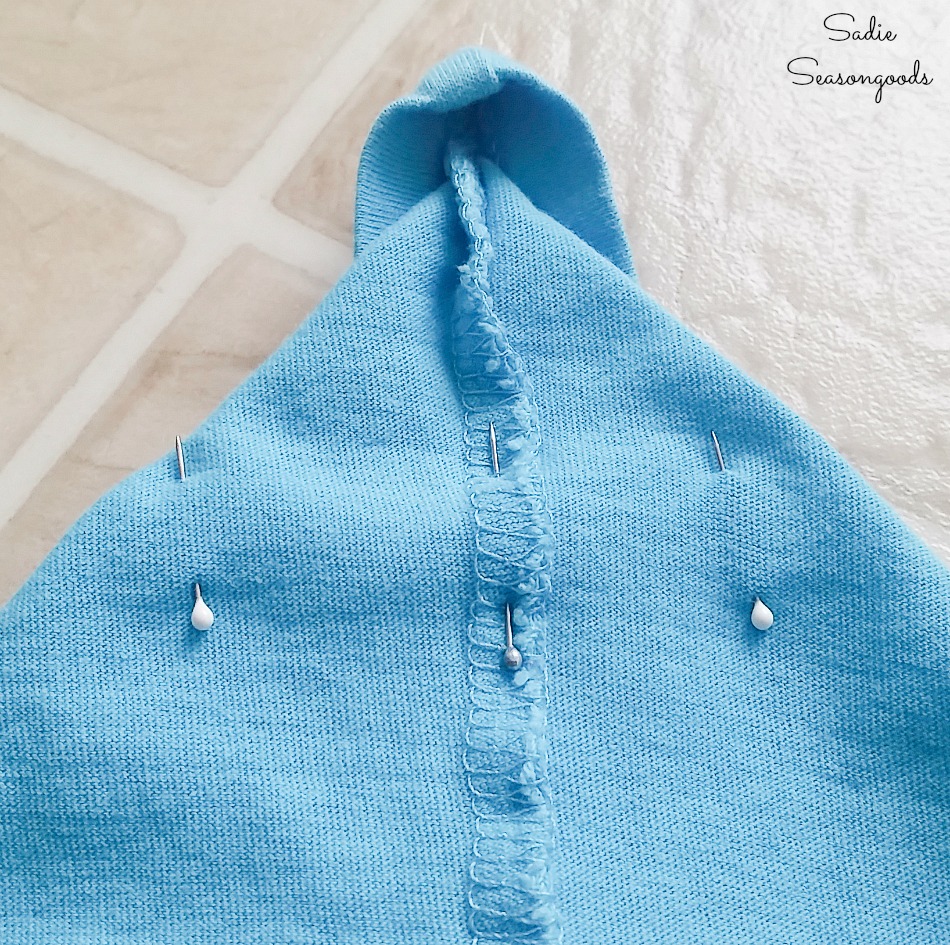 Next, I double stitched a line over the straight pins.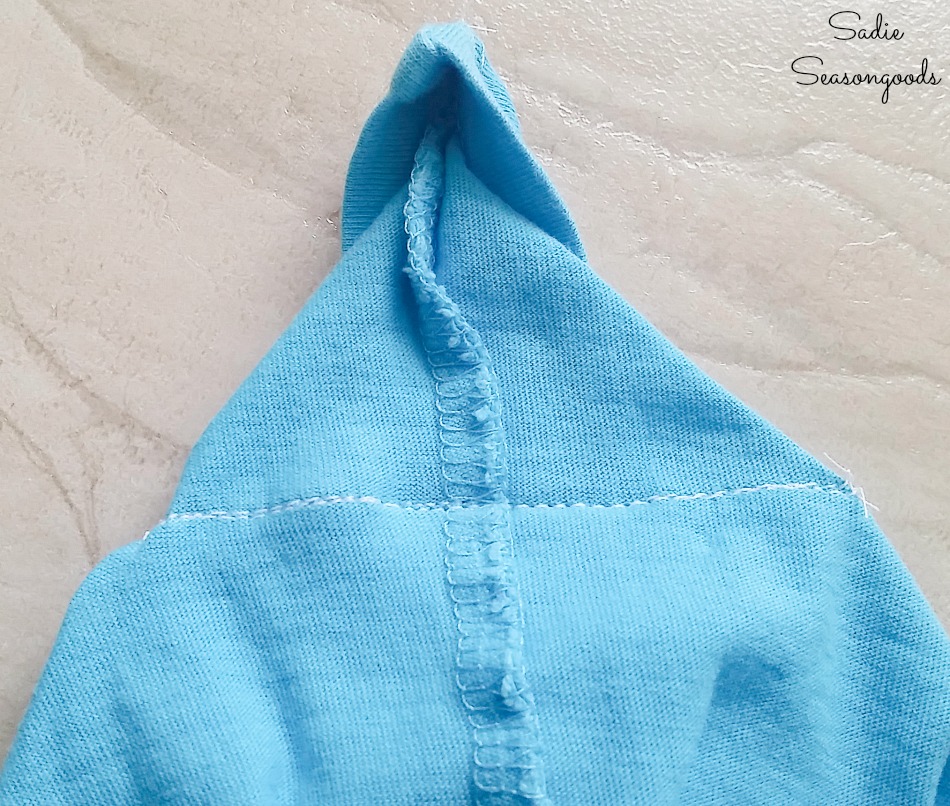 And that's all you need to do to sew box corners! Easy right?
To finish off my bag, I then folded over the raw edges along the sleeve and neck holes, and gave them a nice zigzag stitch.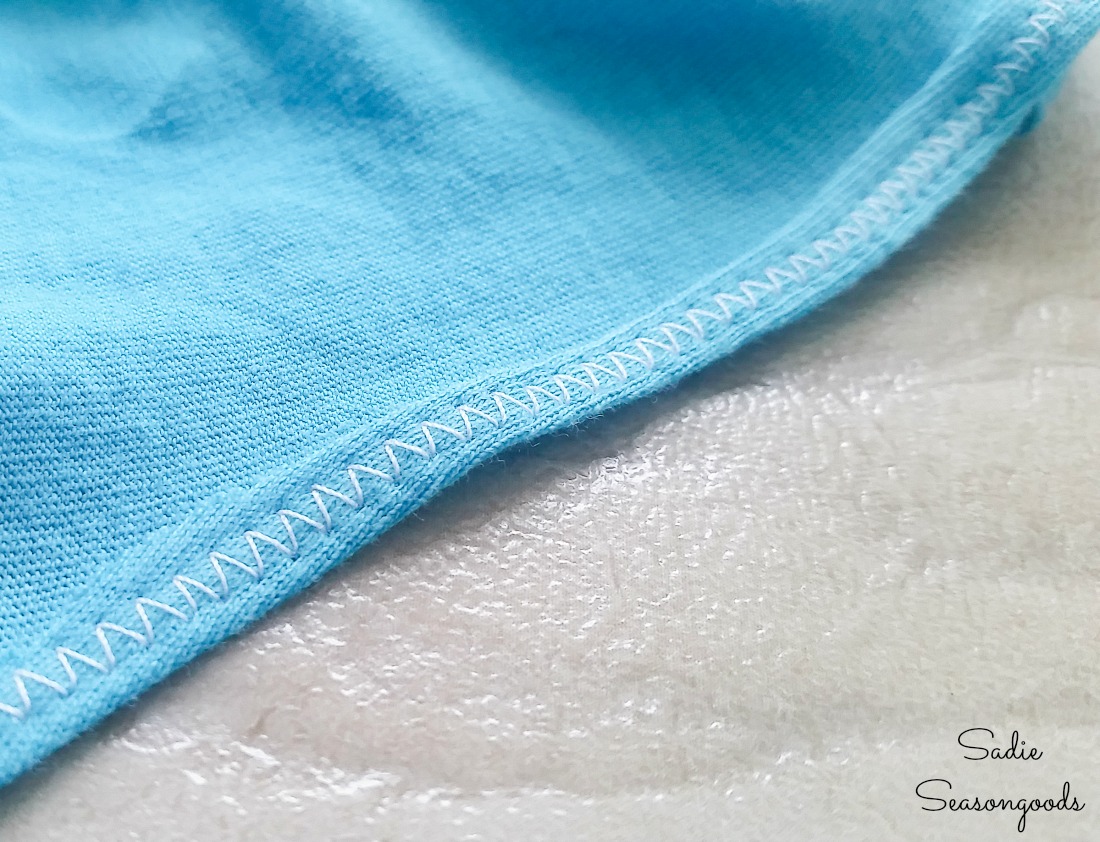 And before you ask, I purposefully used white thread on the bright aqua shirt-bag because I liked the contrast.
Also, you could totally use a regular straight stitch on this step…but the zigzag adds a fun element!
Cloth Produce Bags for Fruit and Vegetables from Kids T-Shirts
And there you have it! A cloth produce bag or reusable bag for fruit and vegetables from a kids graphic tee. Ready for the grocery store or farmer's market and a great way to use less plastic.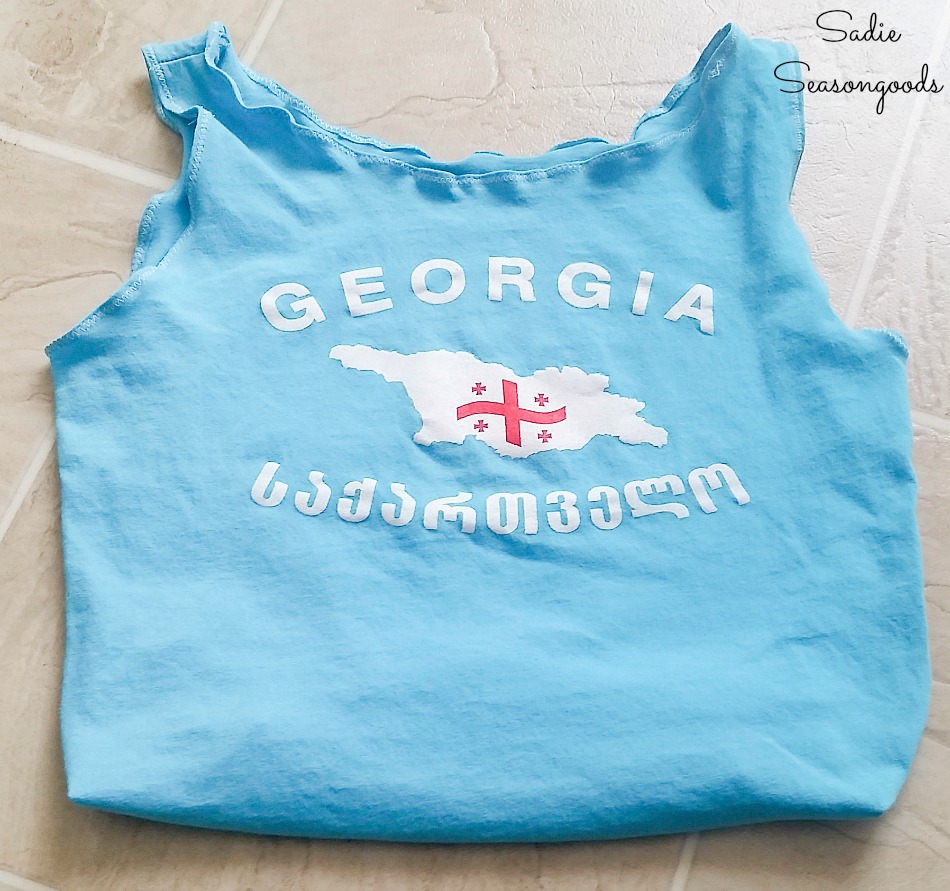 Remember how I said that boxing the corners gave the t-shirt bags some structure at the bottom? This is what they look like when your reusable produce bag is right-side-out.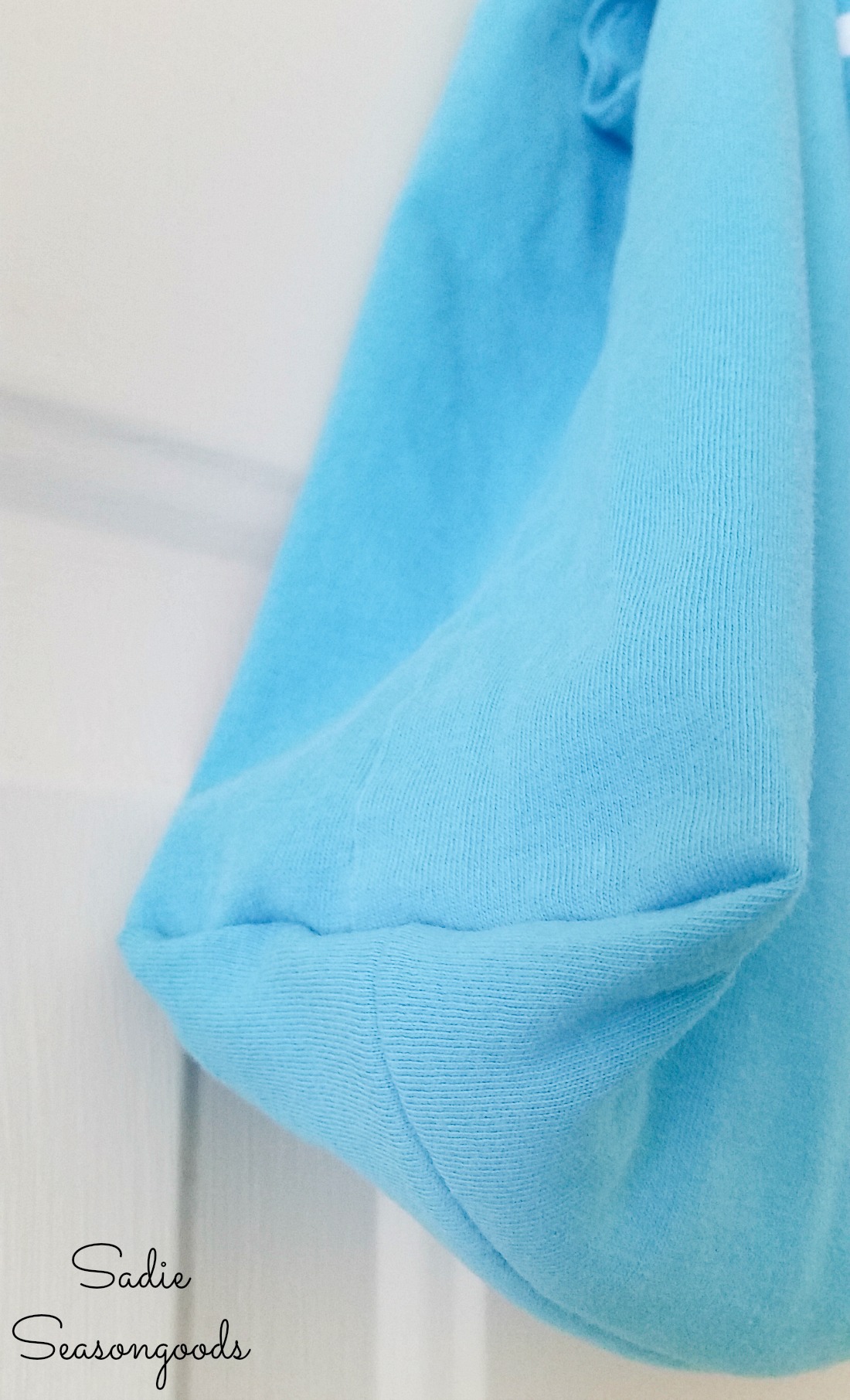 Thus, the bottom of the bag is wider and more accommodating, and I think it adds more durability to your bag, too.
Oh, and I'm totally using the Georgia bag for peaches this summer. I'm punny like that!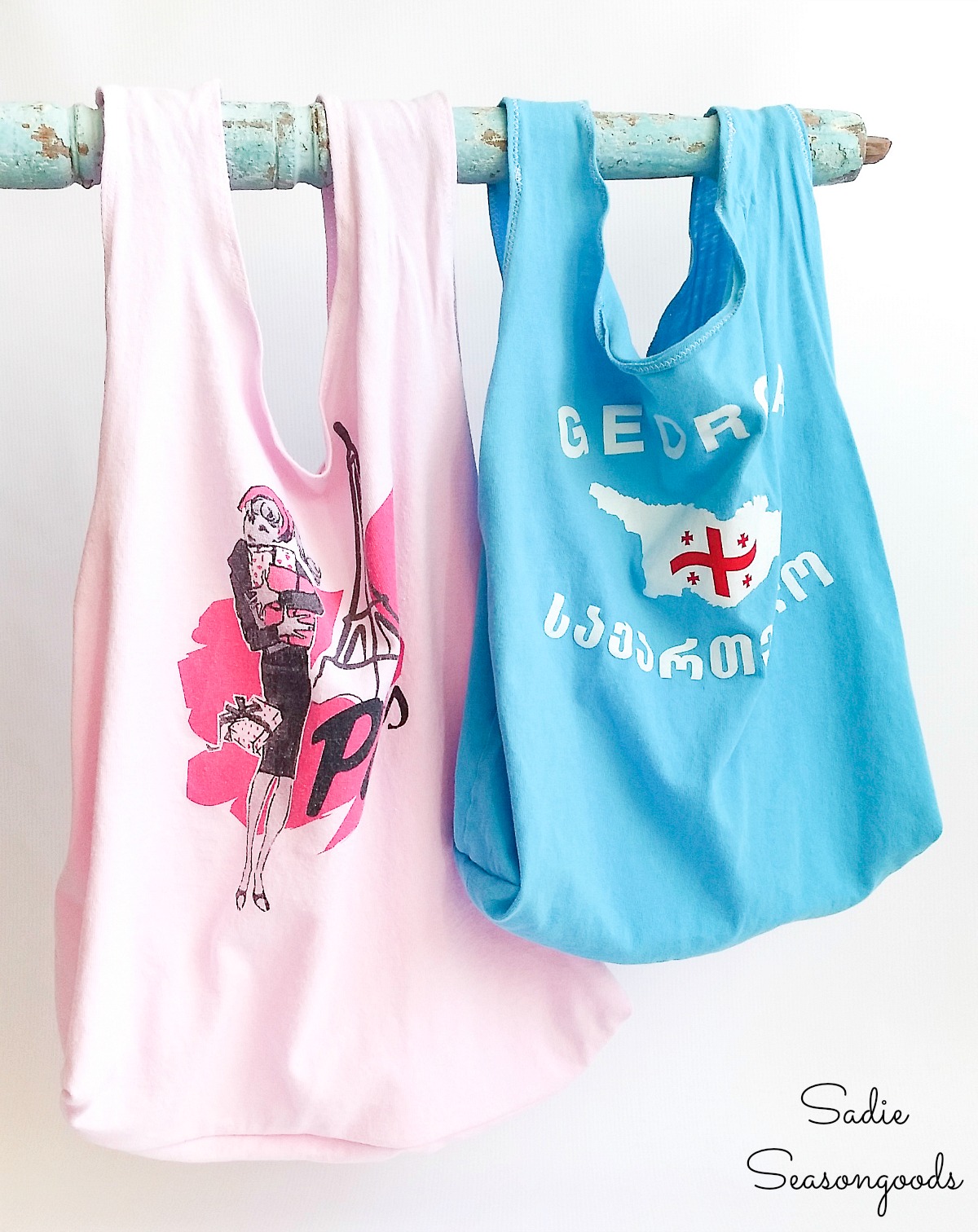 Think about how many cute kids t-shirts you could transform into reusable produce bags! And what a fun way to use your children's favorite tees after they grow out of them?
Plus, these are just a wonderful way to avoid plastic / reduce plastic, which is SO important to consider.
If you enjoyed this upcycling idea for reusable produce bags, then you might also be interested in this reusable grocery bag or market bag project idea, too!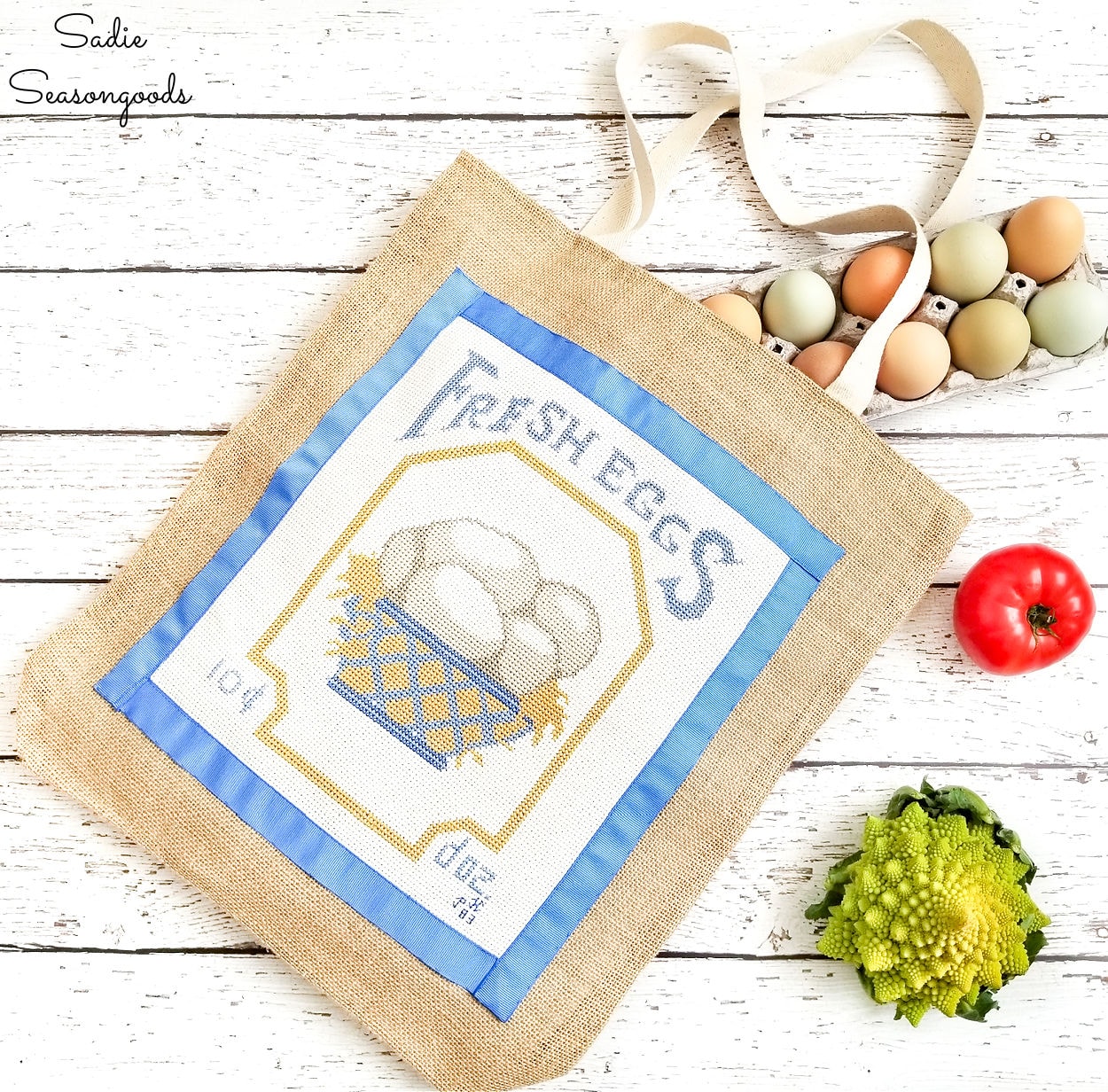 AND, if you are interested in other bag-making ideas or fabric crafts, please check out my new book, too! It is filled with 55 craft project ideas and tutorials that all use flannel shirts and fabric.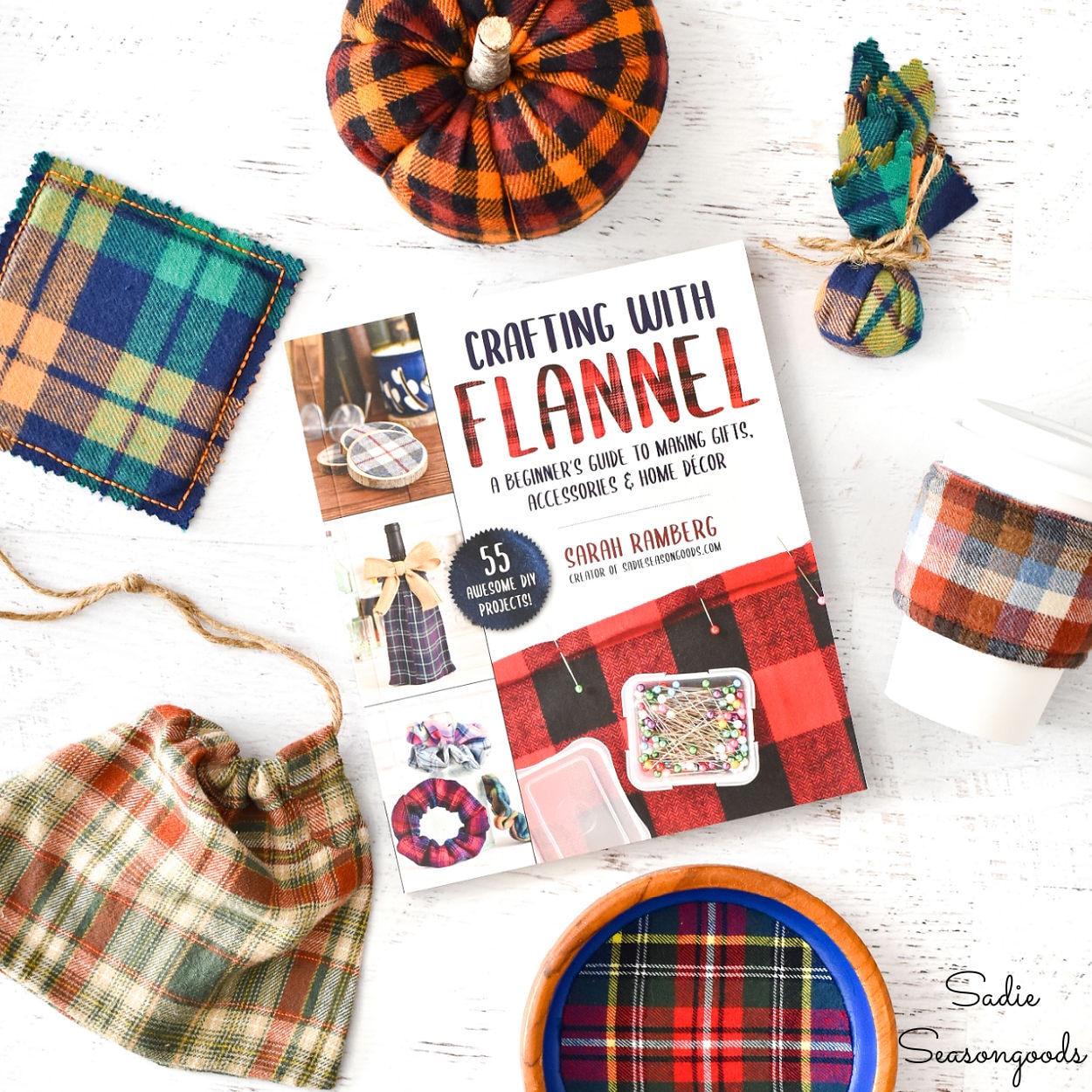 Craft on!
S
Want to be notified when I publish my next upcycling project tutorial?
Subscribe to Blog via Email
Join me on Social Media:
PIN ME!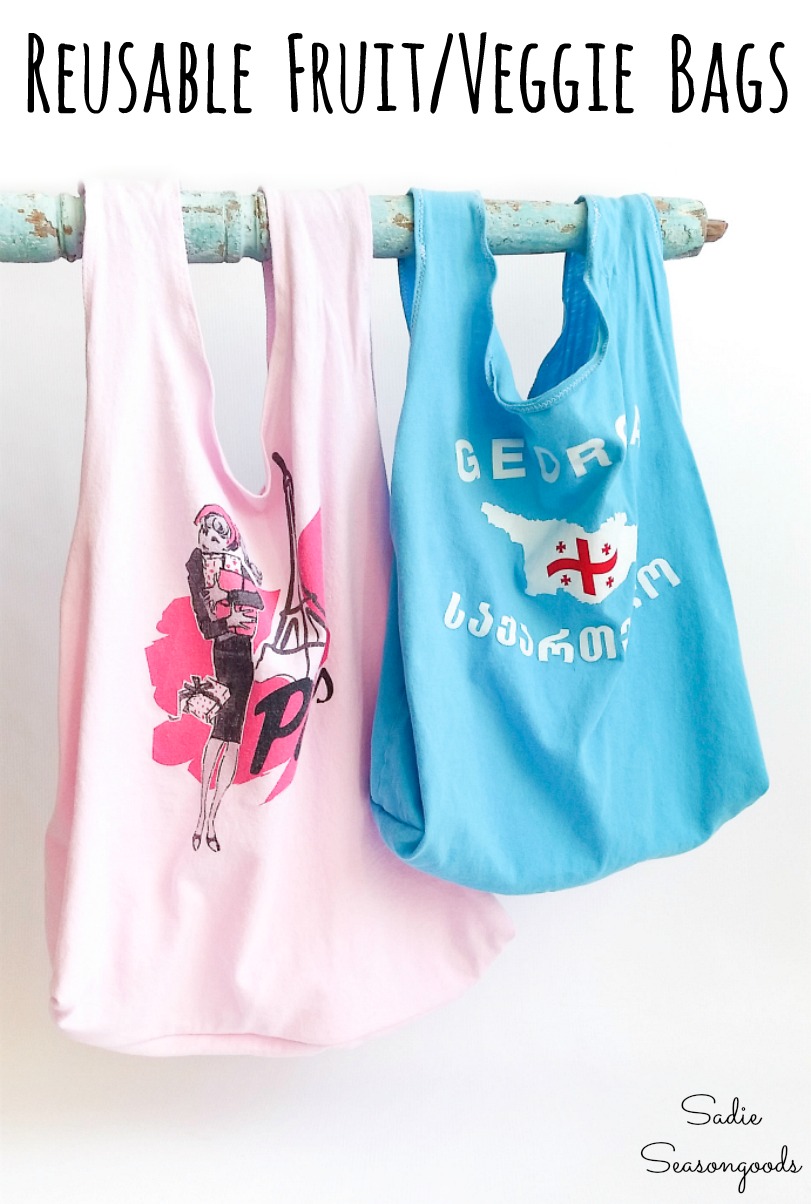 Sarah Ramberg is the owner of Sadie Seasongoods, a website that celebrates all things secondhand. From upcycling ideas and thrifted decor to vintage-centric travel itineraries, Sadie Seasongoods is a one-stop shop for anyone who loves thrifting and approachable repurposing ideas. Sarah is also the author of "Crafting with Flannel" and has been featured in numerous media outlets and magazines.