Houseplants have become a huge trend in home decor again, but let's face it: not everyone can keep plants alive. So, you've come to the right place if you need some DIY or upcycling ideas for fake plants. Because these plants require zero maintenance, look fantastic, and are completely unkillable.
Felt Succulents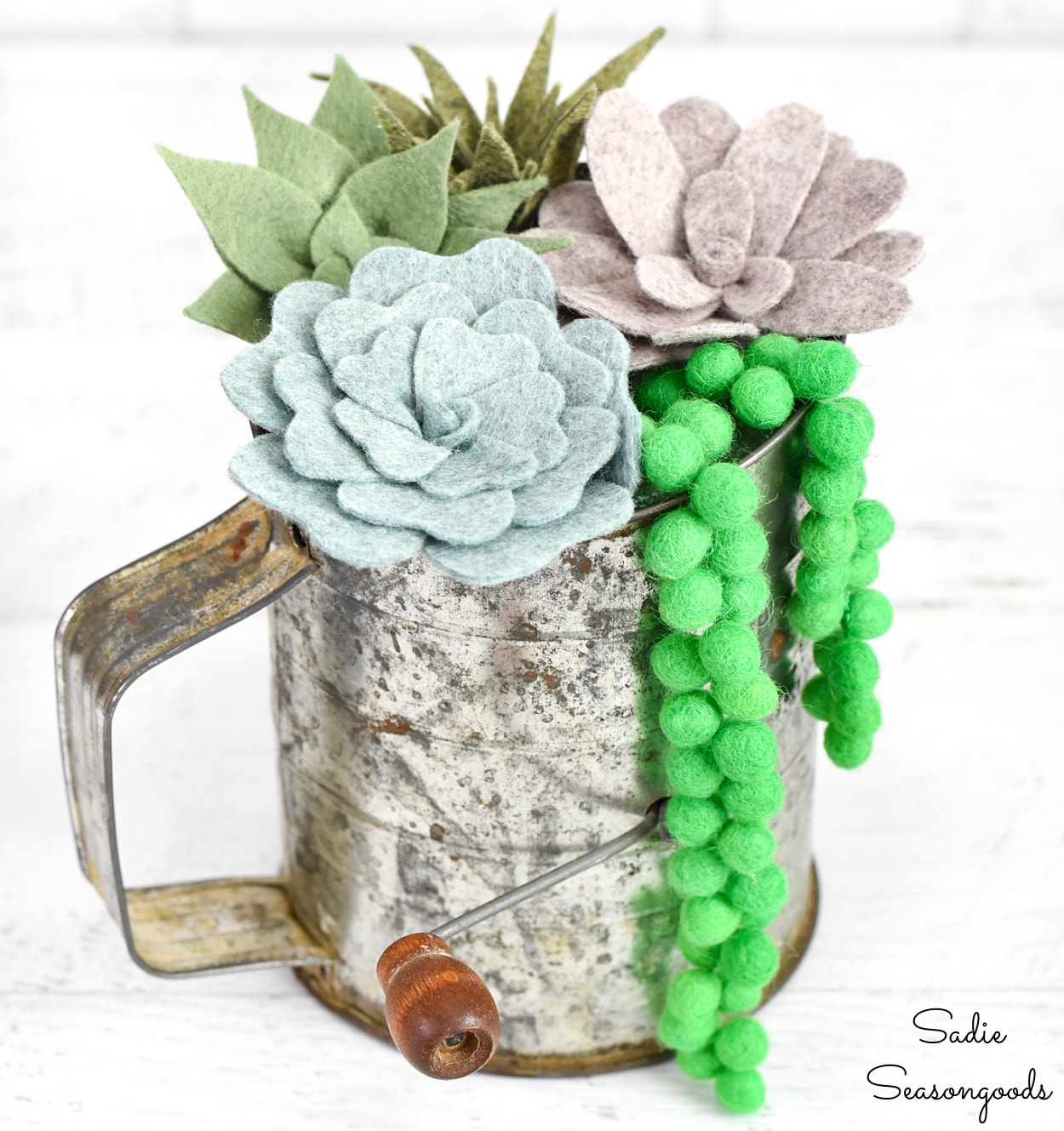 Fabric is a great resource when it comes to making plants by hand. And in this case, felt is the fabric of choice to make these lovely fake succulents that will always look this good. No under- or over-watering concerns for these little plants- and they can be "potted" in literally anything you'd like.
Crepe Paper Tropical Plant
Believe it or not, this tropical beauty is made of paper. But not just any paper- heavy weight Italian crepe paper, to be exact. And doesn't it look like a small banana plant "growing" in its broken-jar planter?
Cardboard Cactus
Cactus plants are super popular right now, but they can be a little dangerous around little fingers and curious paws. But this faux version uses cardboard from your recycling bin to get a similar effect without the pain.
Pinecone Plants
If cauliflower can be made into pizza dough, then anything is possible. And here's further proof of that: pinecones can become succulents for a sweet little dish garden that requires zero sunlight or water. This is such a budget-friendly plant alternative, too, since you can usually find pinecones for free.
Ceramic Cactus Garden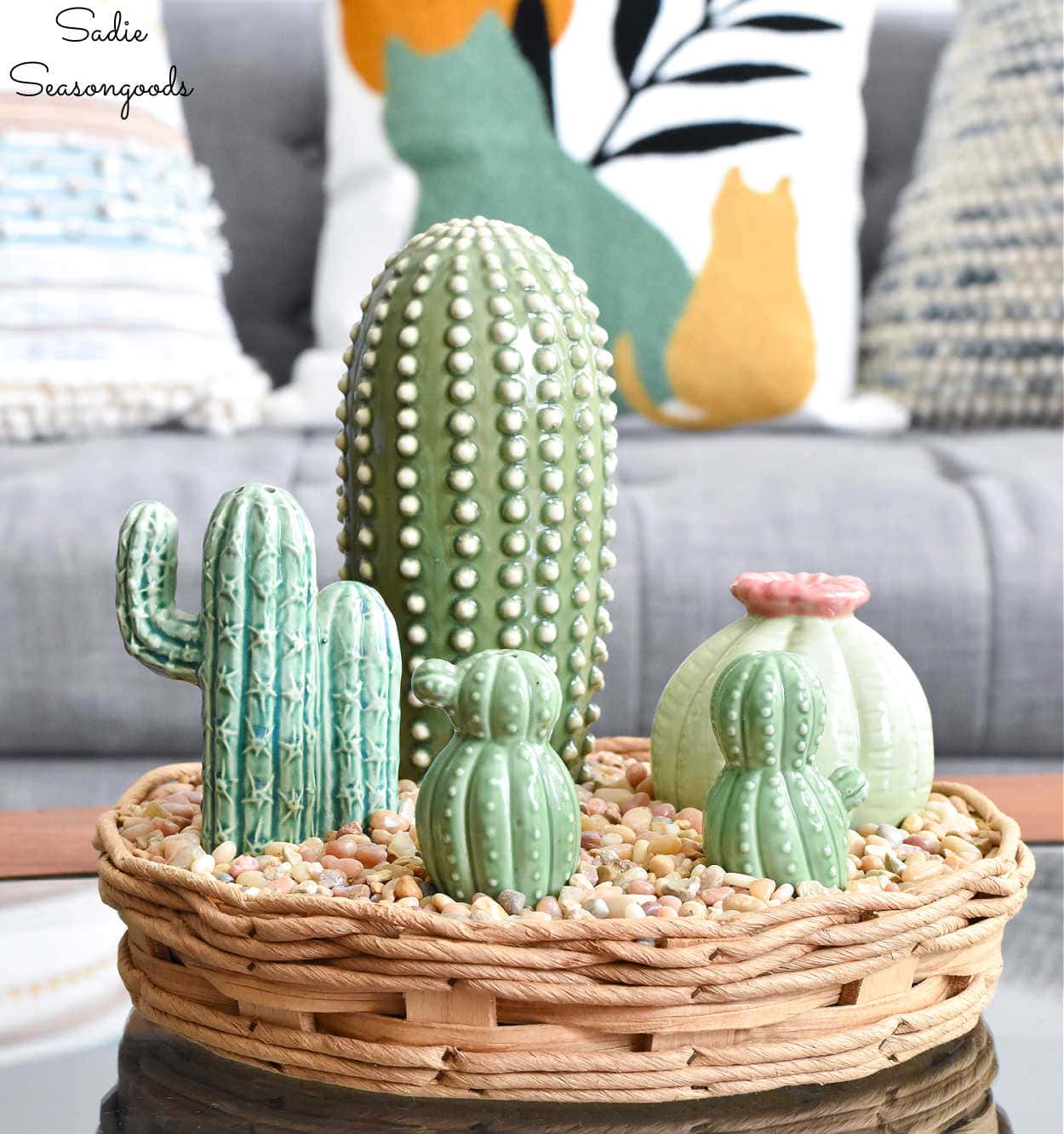 Time to hunt through Grandma's collection of salt and pepper shakers or ceramic figurines. Because if she's got any little cactus versions available, they're perfect for "planting" in a dish garden.
Masking Tape Snake Plant
Perhaps one of the most realistic versions of a fake plant you can make yourself is this DIY snake plant. Believe it or not, but it's made from masking tape, the same roll of tape rattling around in your junk drawer.
Felt Eucalyptus
True, this felt version of eucalyptus stems doesn't have the amazing fragrance that the real kind has. But it looks lovely all the time and will never make a mess. And you could even add the fragrance with some essential oils to really make the experience look and feel realistic…
Faux Topiary Trees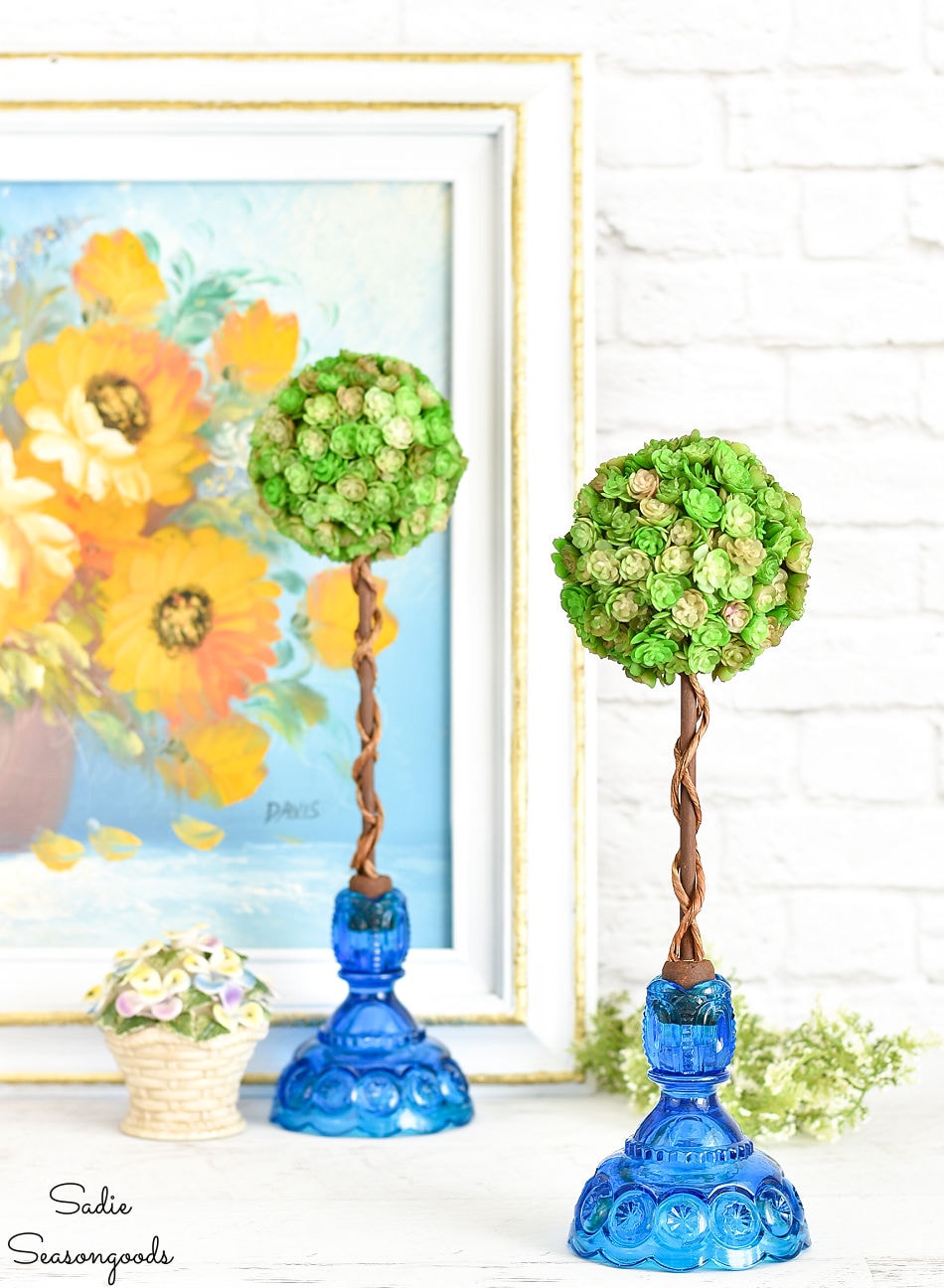 Faux topiary trees are usually made from moss balls from craft stores, but you can also use fake succulent balls (also from craft stores) for an alternative effect.
Denim Snake Plant
When your favorite pair of dark jeans can't be worn anymore, set them aside for a most unexpected project: a DIY snake plant. Snake plants add so much height to your houseplant decor and this faux version is certainly no exception.
Cactus from Coasters
A set of wooden coasters turned into a cactus plant sounds a little crazy, until you see it. AND it's practical since you can take it apart and use it under your beer bottles and water glasses, too. Truly pulling double duty: decorative and functional!
Plastic Bottle Cacti
Plastic water bottles are an environmental nightmare when it comes to proper recycling. So, here's an unorthodox idea: turn them into a fake cactus. Isn't it ironic that the water bottles are empty and these cacti don't need a drop of it to "live"? How harmonious (and crafty).
Sweater Succulents
Accidently shrunk a wool sweater in the dryer? Now that it's technically "felted wool", you can craft with it and turn it into little succulent plants like these.
Wooden Post Cap Cactus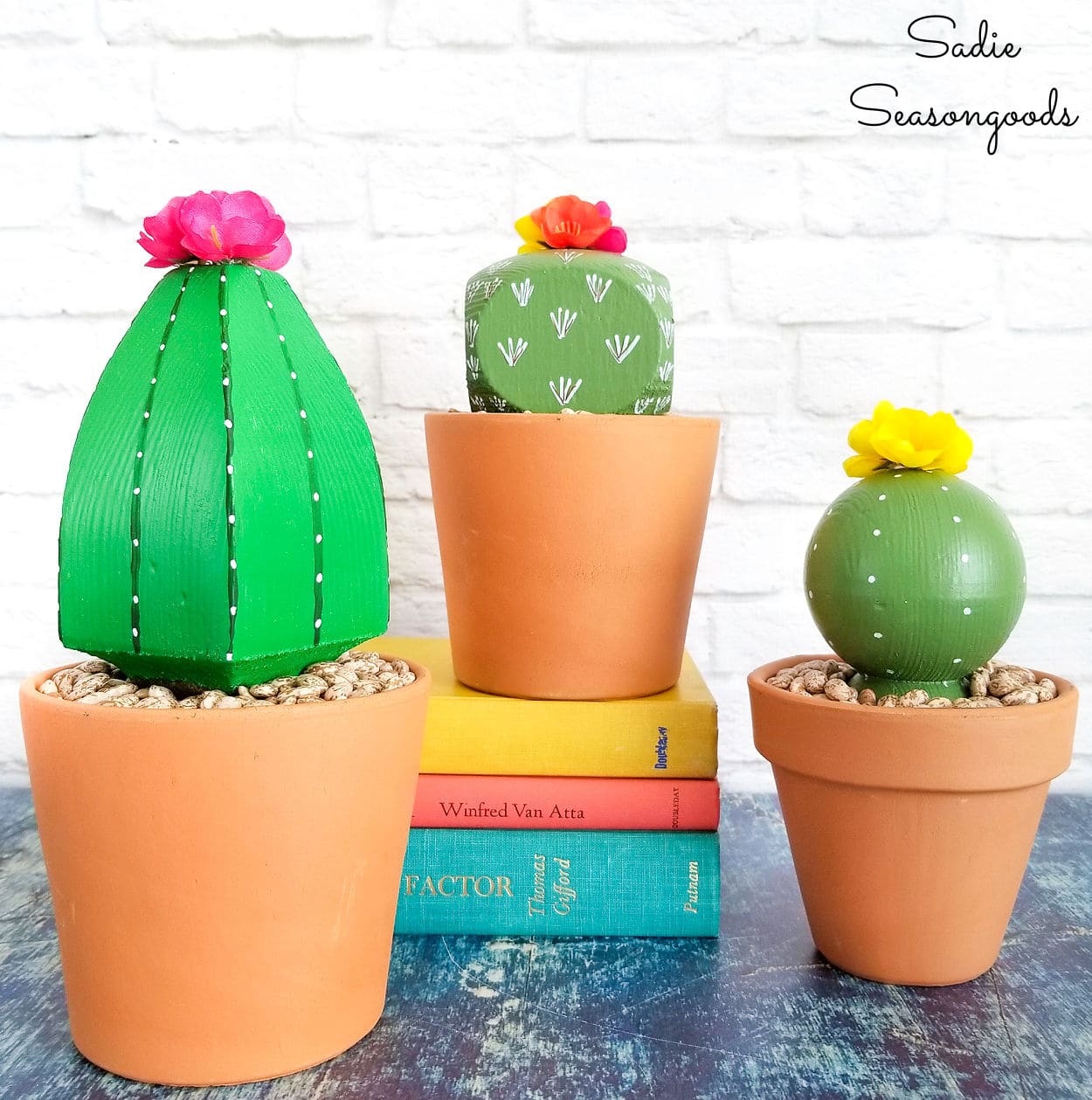 Post caps that go on your fence posts or deck corners are typically unremarkable. But a few of them sport the right shapes to turn them into- you guessed it- fake cactus plants. Is it possible that just about ANYTHING can become a cactus at this point?
Craft Store Succulents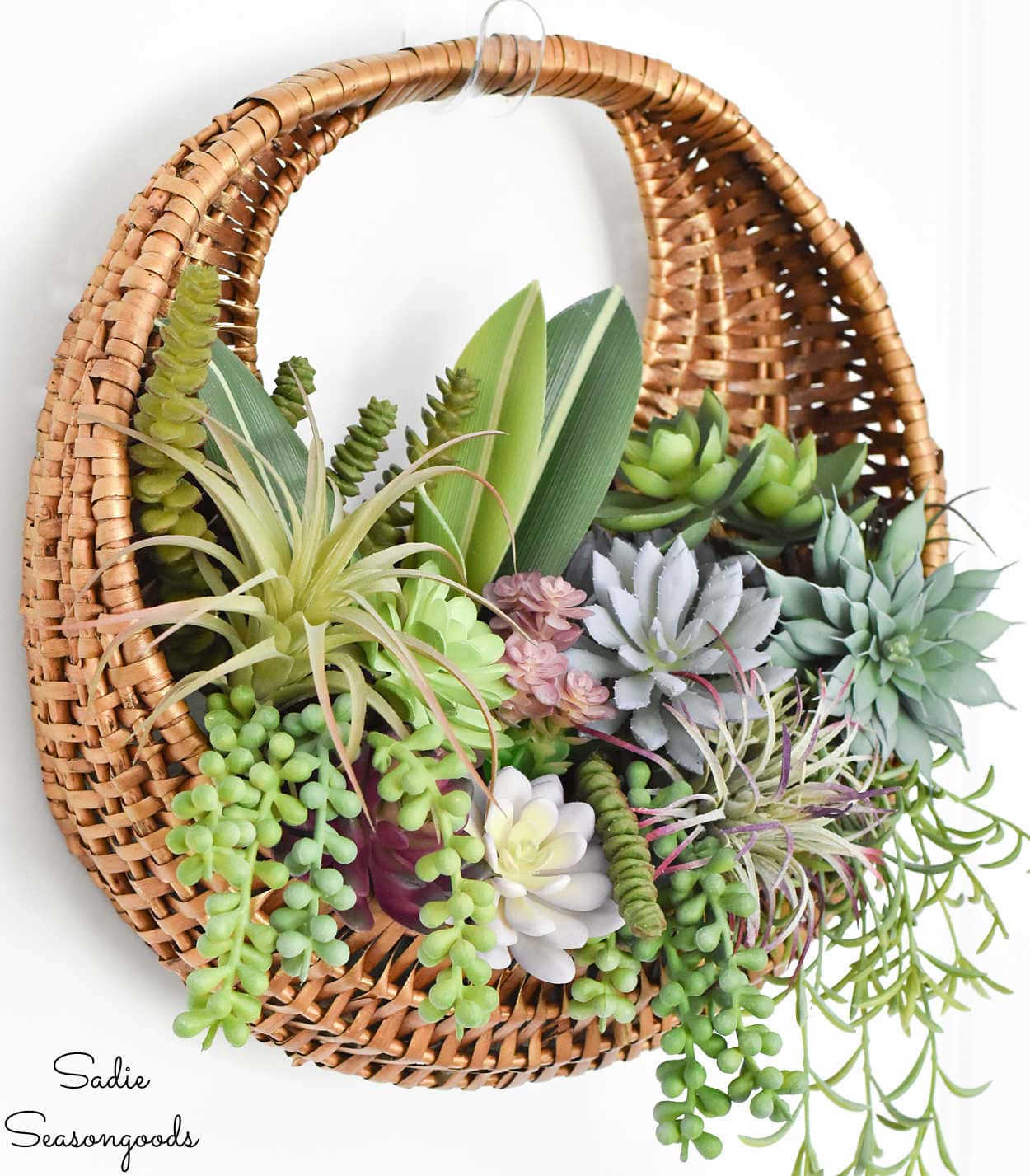 If an upcycled or DIY version of succulents isn't really what you're going for, the craft store has an endless variety of plastic succulents for you. And they really do look fabulous in planters and wreaths.
Botanical Prints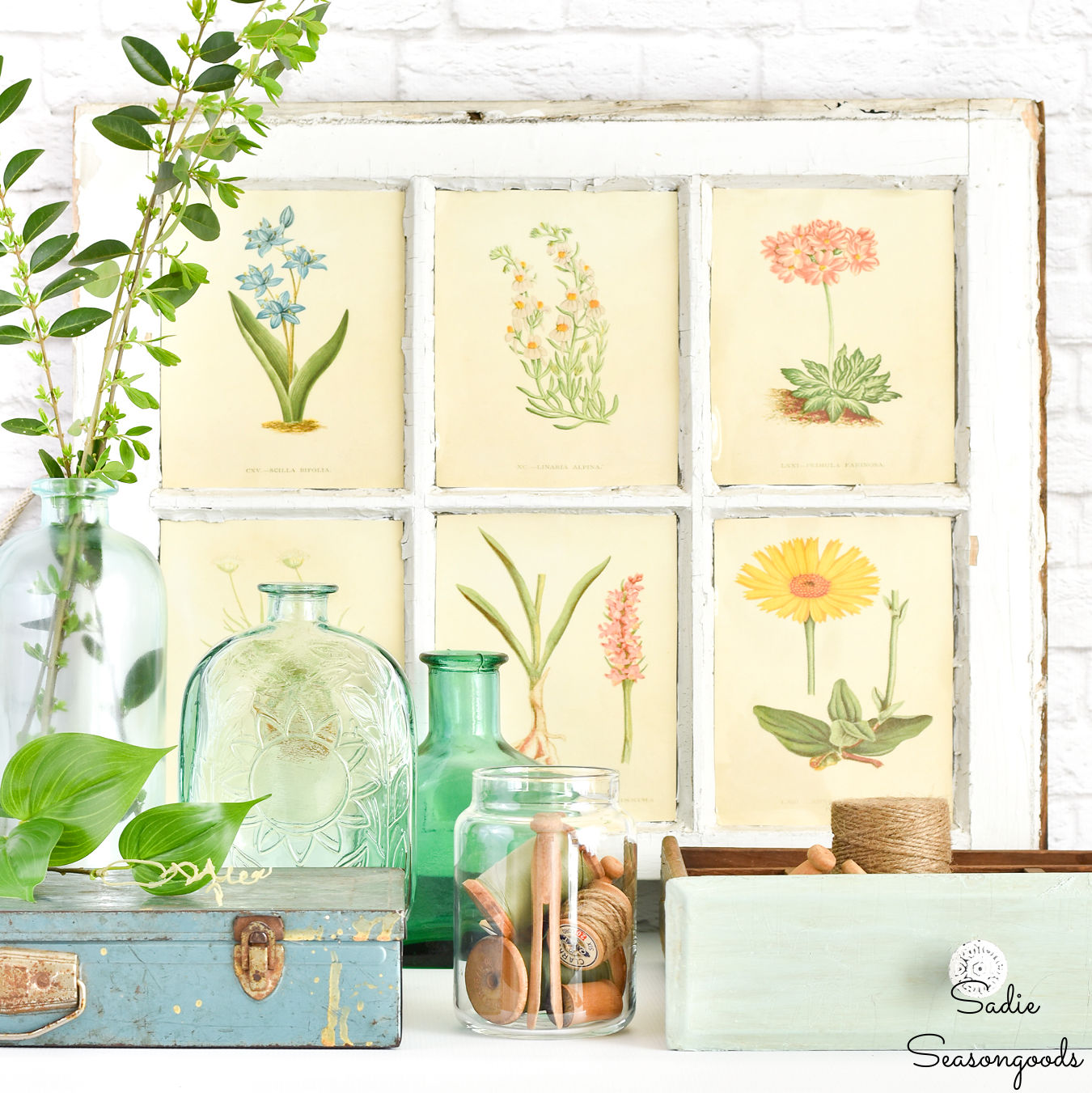 And if fake plants won't work, you can also cash in on the trend with botanical wall art or prints. It may be one dimensional, but it still adds the right color palette and a fresh touch of life to your space.
Craft on!
S
Join me on Social Media:

PIN ME!
Sarah Ramberg is the owner of Sadie Seasongoods, a website that celebrates all things secondhand. From upcycling ideas and thrifted decor to vintage-centric travel itineraries, Sadie Seasongoods is a one-stop shop for anyone who loves thrifting and approachable repurposing ideas. Sarah is also the author of "Crafting with Flannel" and has been featured in numerous media outlets and magazines.