I know, I know- here I go again with another upcycling project using vintage doilies. What can I say, though? There are just SO many possibilities out there! This time, however, I decided to try a crafting product that I've never played around with before- fabric stiffener. The reason? To make a plate cloche or dinner plate cover!
Goodness knows I have plenty of vintage doilies to play around with!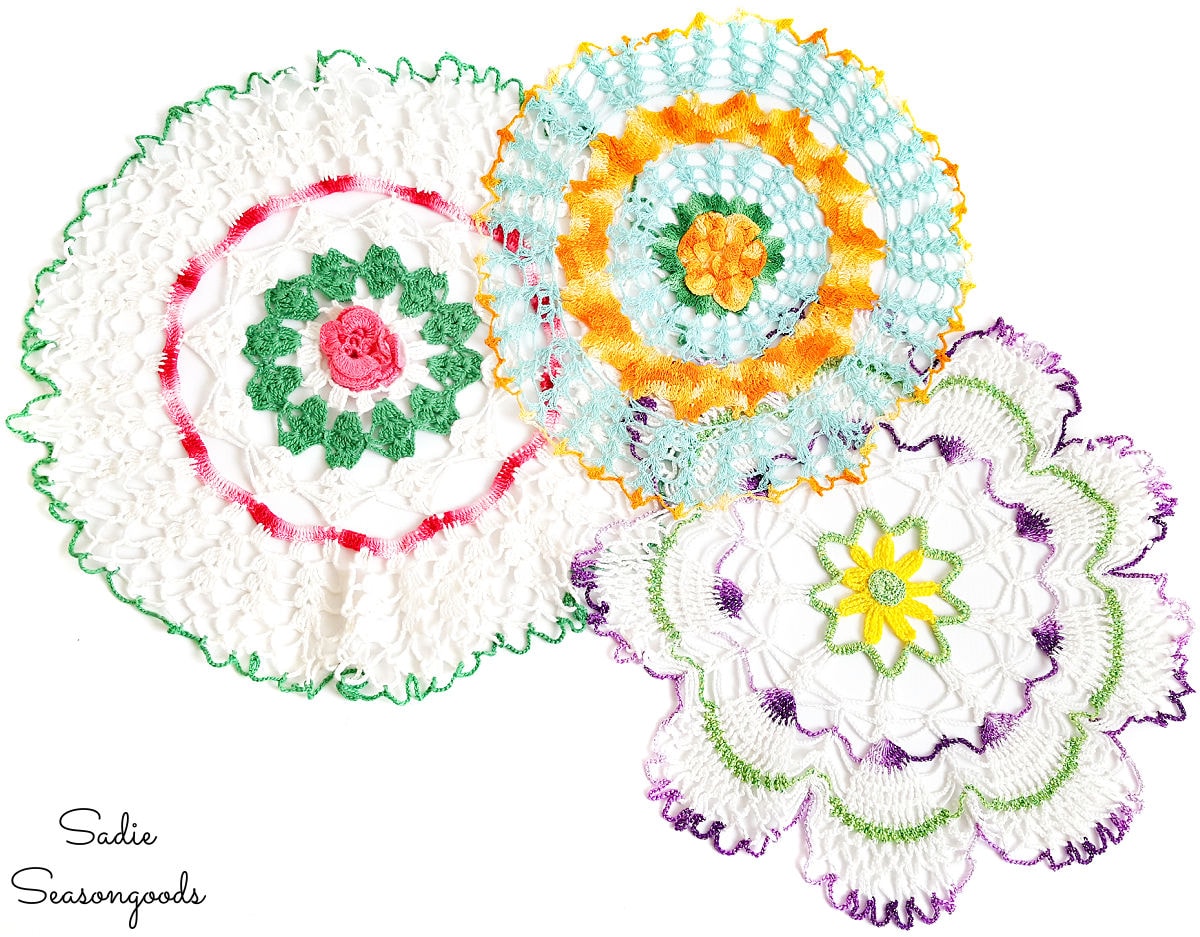 A lot of people have used fabric stiffener on plain, small doilies to create decorative bowls- which is really cool! But as we head into summer, I wanted to take it a step further.
Why not flip the bowl around and create a cloche or plate cover for summer picnics and dinners on the patio?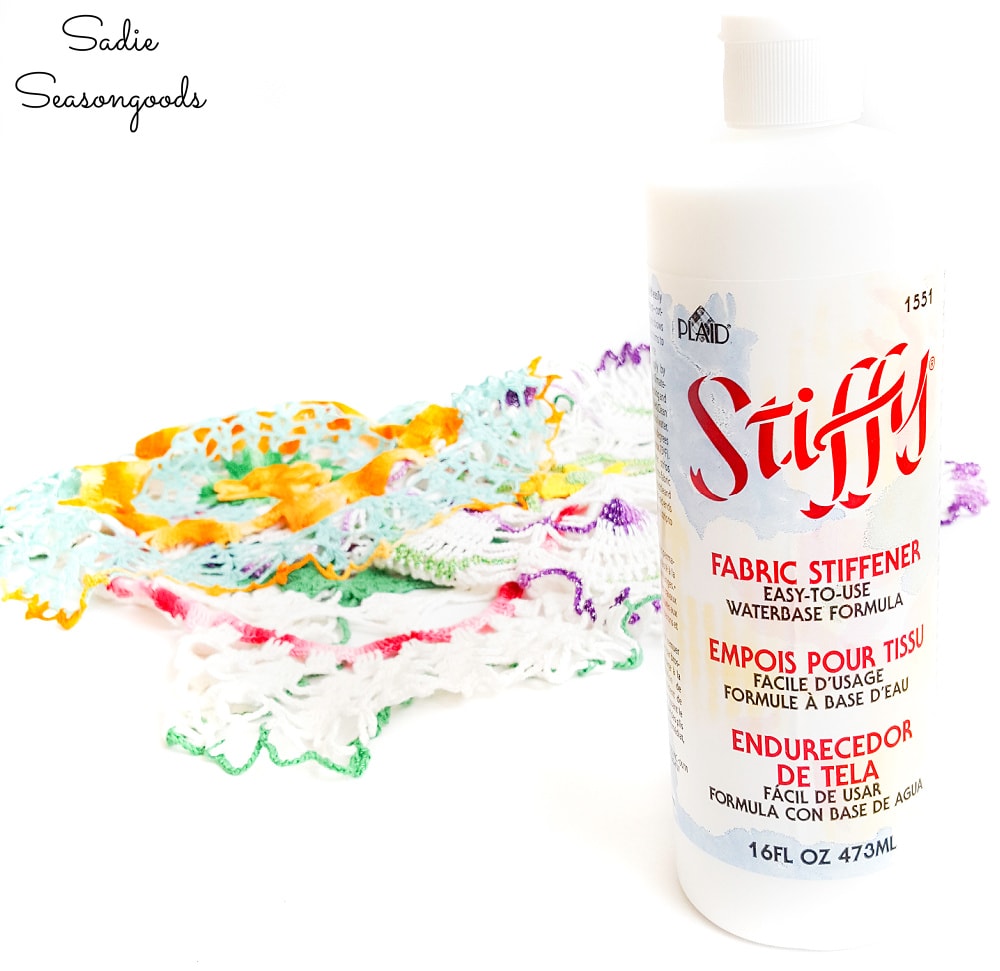 It was definitely worth giving it a go!
This post contains affiliate links for your crafting convenience. As an Amazon Affiliate, I earn from qualifying purchases. All blue, bold, and underlined text is a clickable link, either to a product or to a related post.
Stiffening Doilies to Make Plate Covers
Before I started, I gave a lot of thought to the best approach. My hands were going to be messy (covered in fabric stiffener), so I needed an easy way to smooth my gloppy doilies around an upturned bowl.
A potter's wheel would be an ideal option- but not exactly something I have sitting around.
BUT. But. I did have a lazy Susan from one of my junkin' jouneys! So I dragged it out and grabbed some foil from my kitchen to cover/protect it.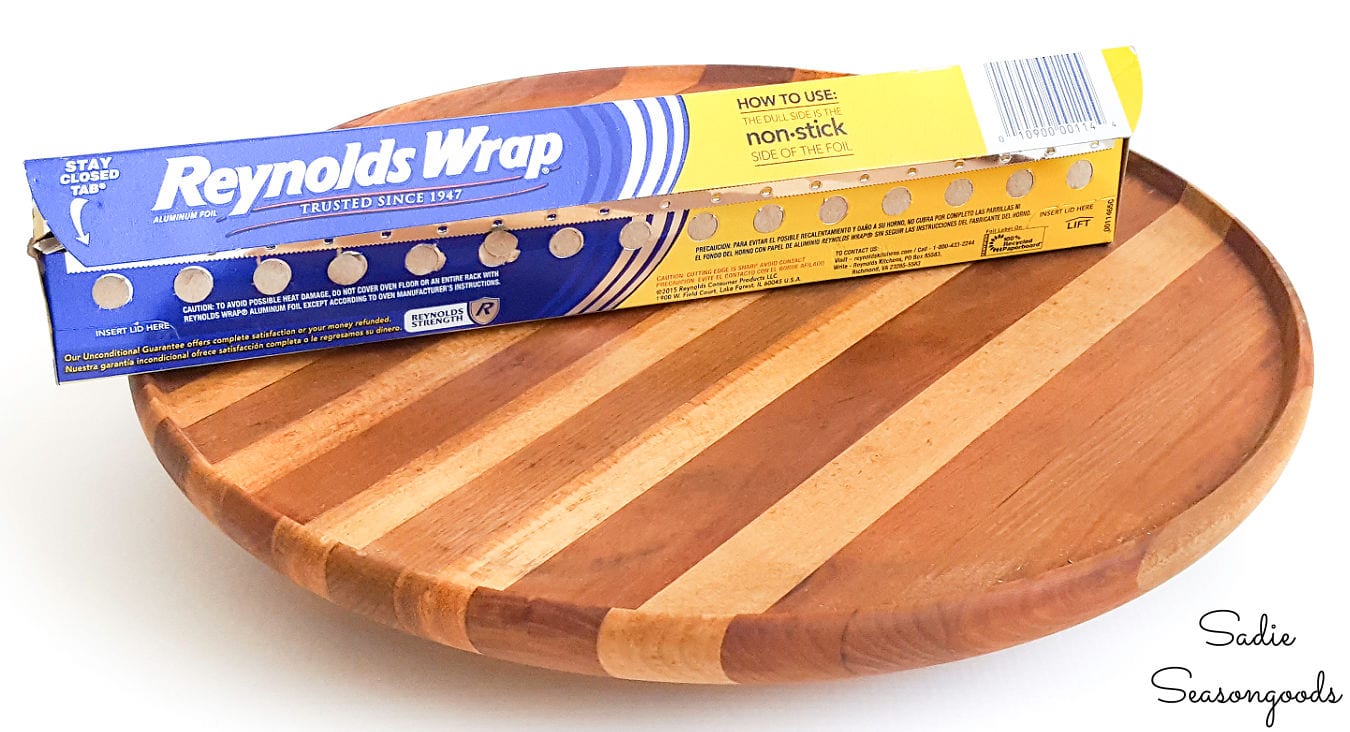 First, I covered the lazy Susan with foil to protect from my doily starching adventures.
Then, I selected a good-sized bowl (i.e., my cloche mold) and covered it in plastic cling wrap.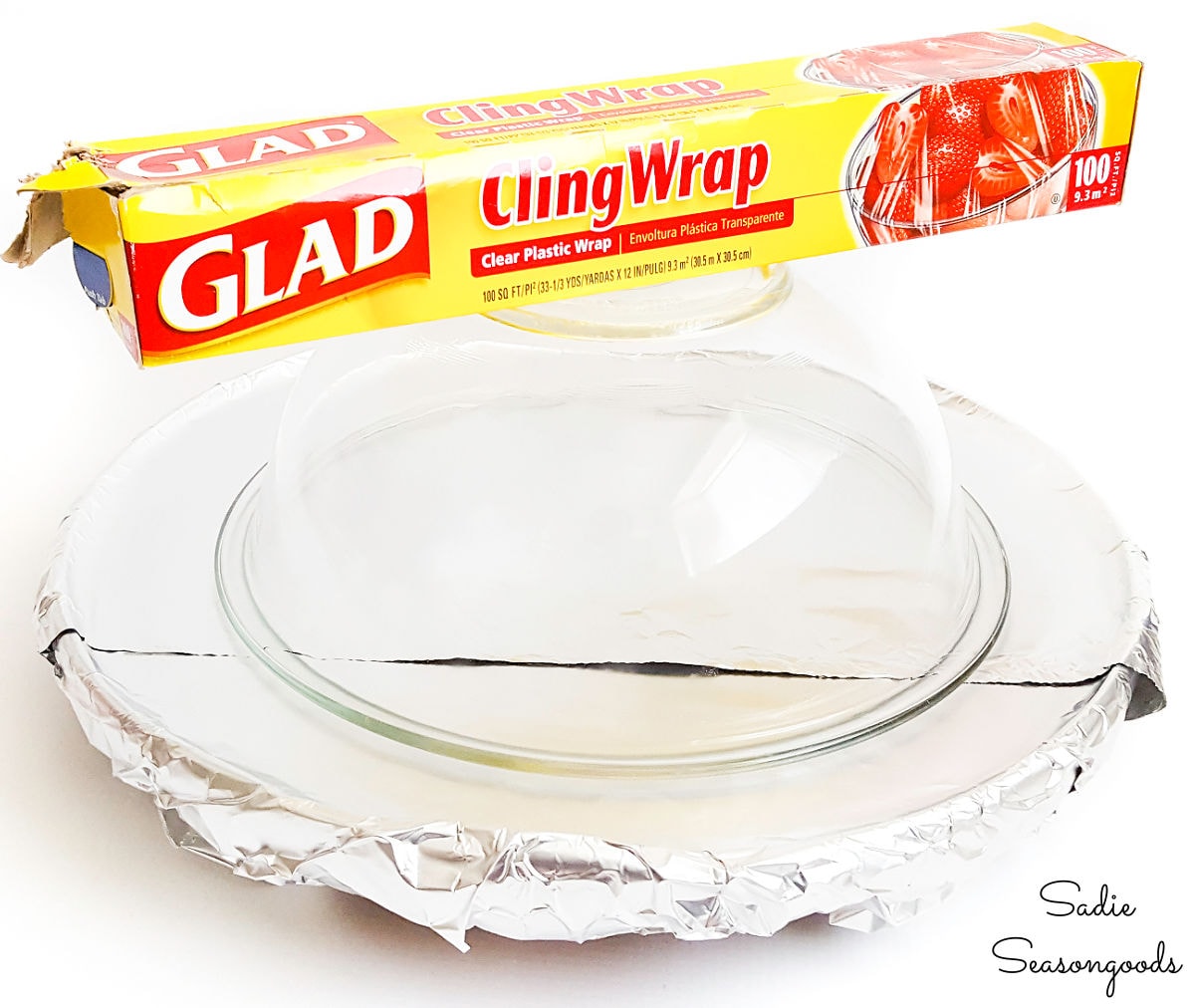 A certain kitten chewed on the corners of the cling wrap box, so just ignore that!
Now I was ready to get my hands dirty! Using a recyclable plastic cup, I wadded up the vintage doily and tucked it in the bottom of the cup. Then, I poured some fabric stiffener in until it just covered the top of the doily.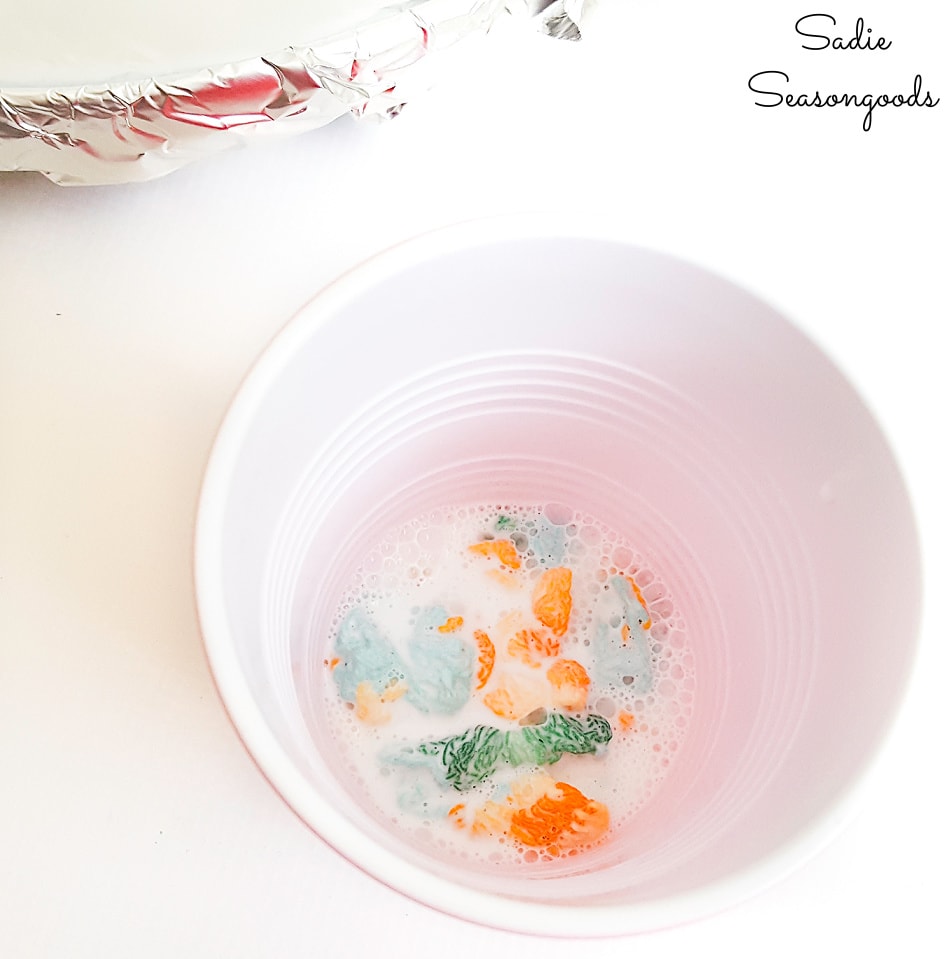 I used a bamboo skewer to poke it around a little, just to ensure it was completely submerged. Then I let it soak for a couple of minutes.
After it soaked, I pulled it out, squeezed as much excess stiffy as I could, and carefully spread it over my plastic-covered mixing bowl.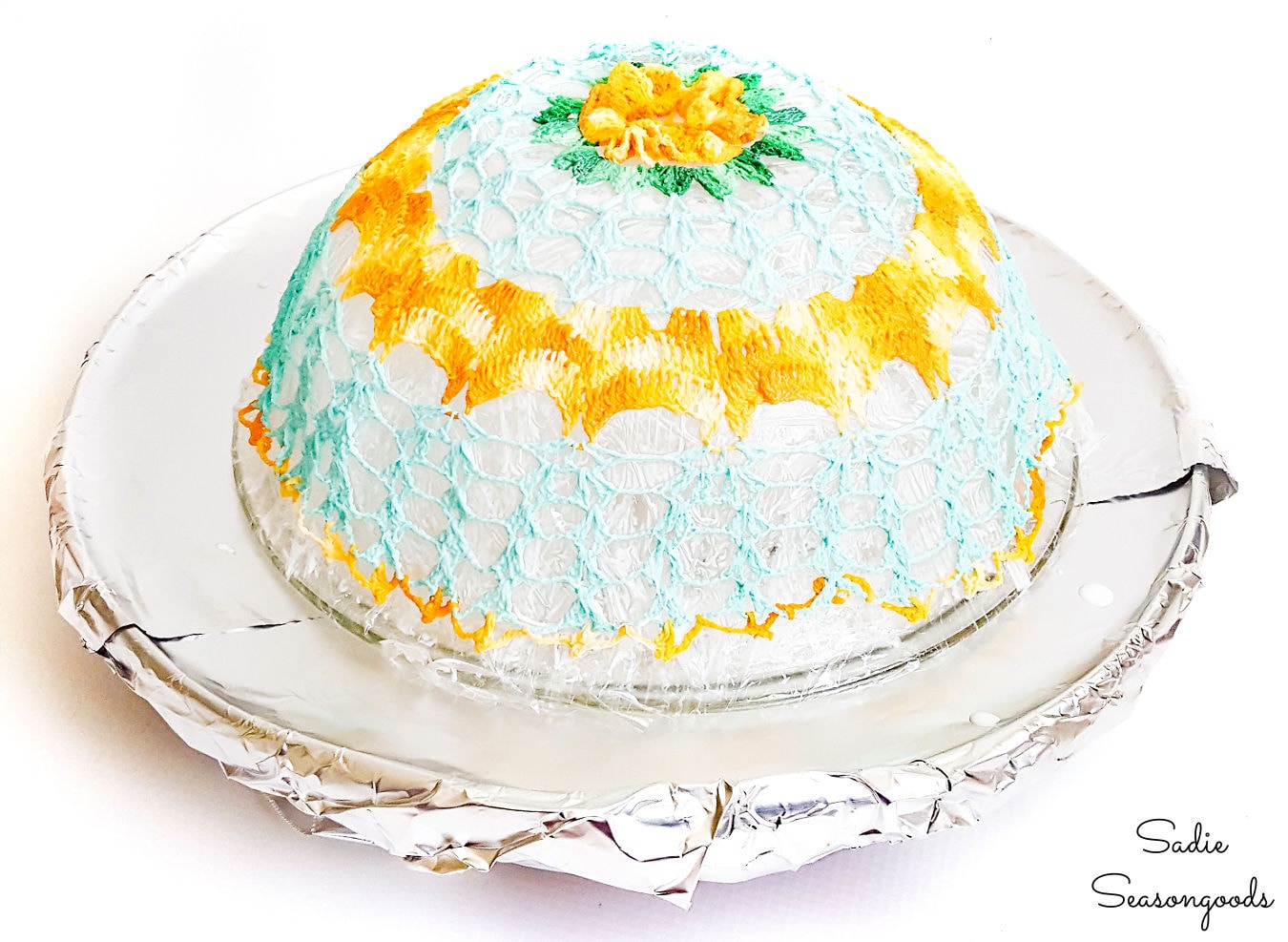 I also made sure that the center flower was directly over the center (flat part) of my bowl.
This was why the lazy Susan was so perfect- I could slowly spin it around as I smoothed the doily over the glass, making sure there were no wrinkles or overlaps.
I was so excited to see how it turned out. But I had to be patient and let it dry overnight.
Transformation into a Plate Cloche
When morning rolled around, I carefully pulled the now-stiff plate cloche from the mixing bowl mold. Then, I began to peel away the cling wrap.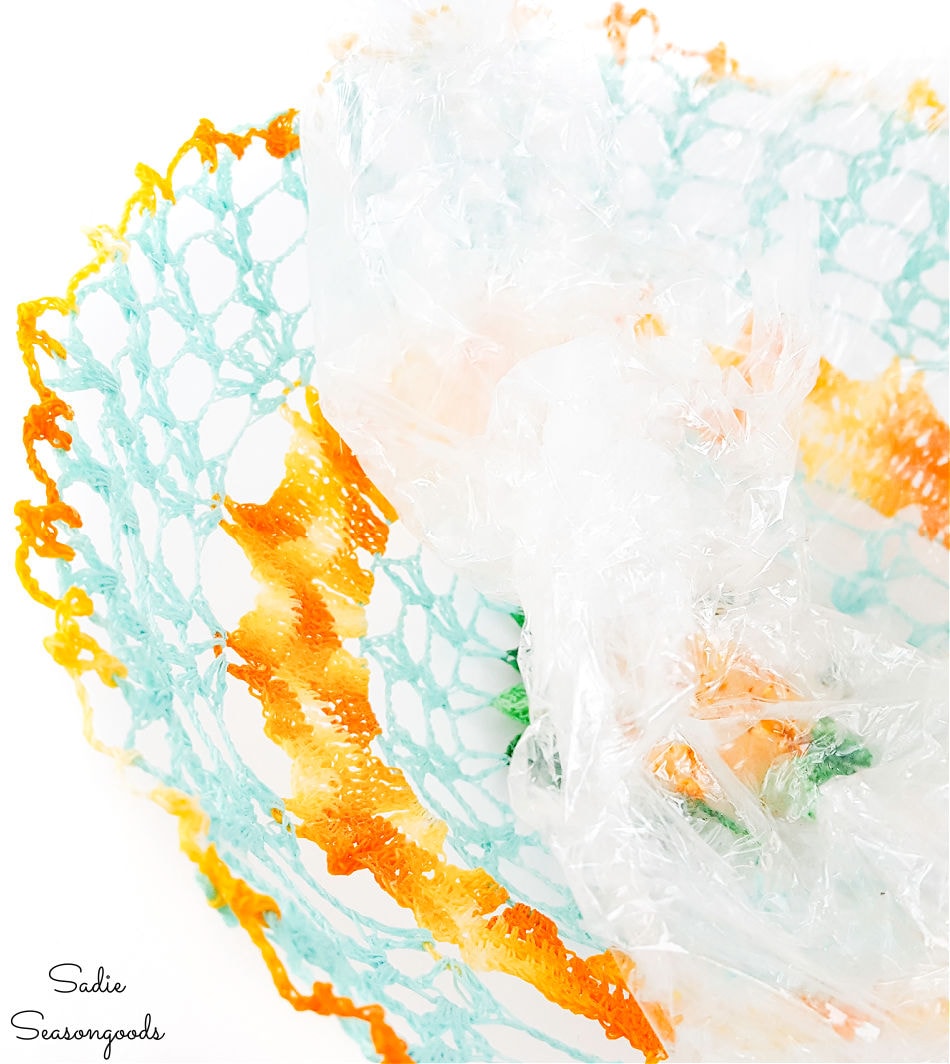 Look at that- it worked! I had a wonderfully shaped doily. It was moveable (i.e., not hard like concrete), but retained its bowl-like concave shape.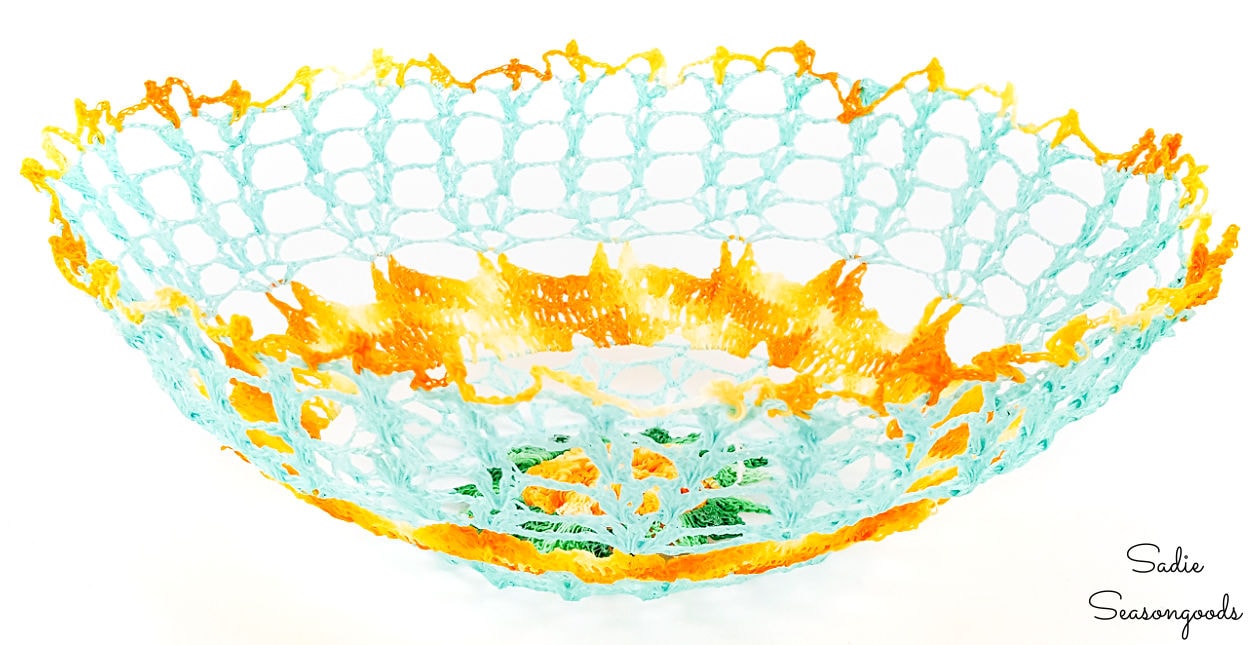 If I were just making a doily bowl, I could have stopped here. But as I mentioned earlier, I planned to turn it around.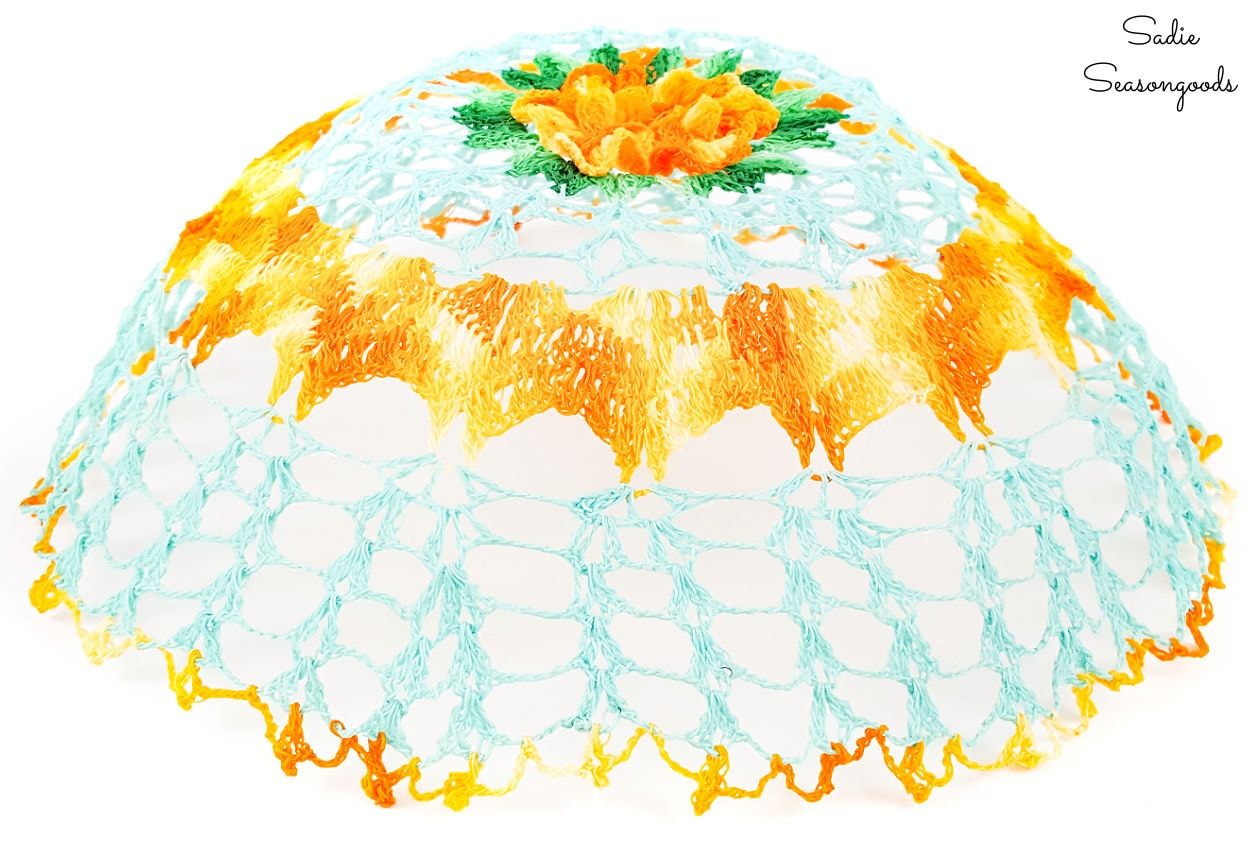 And use it as a plate cloche or dinner plate cover!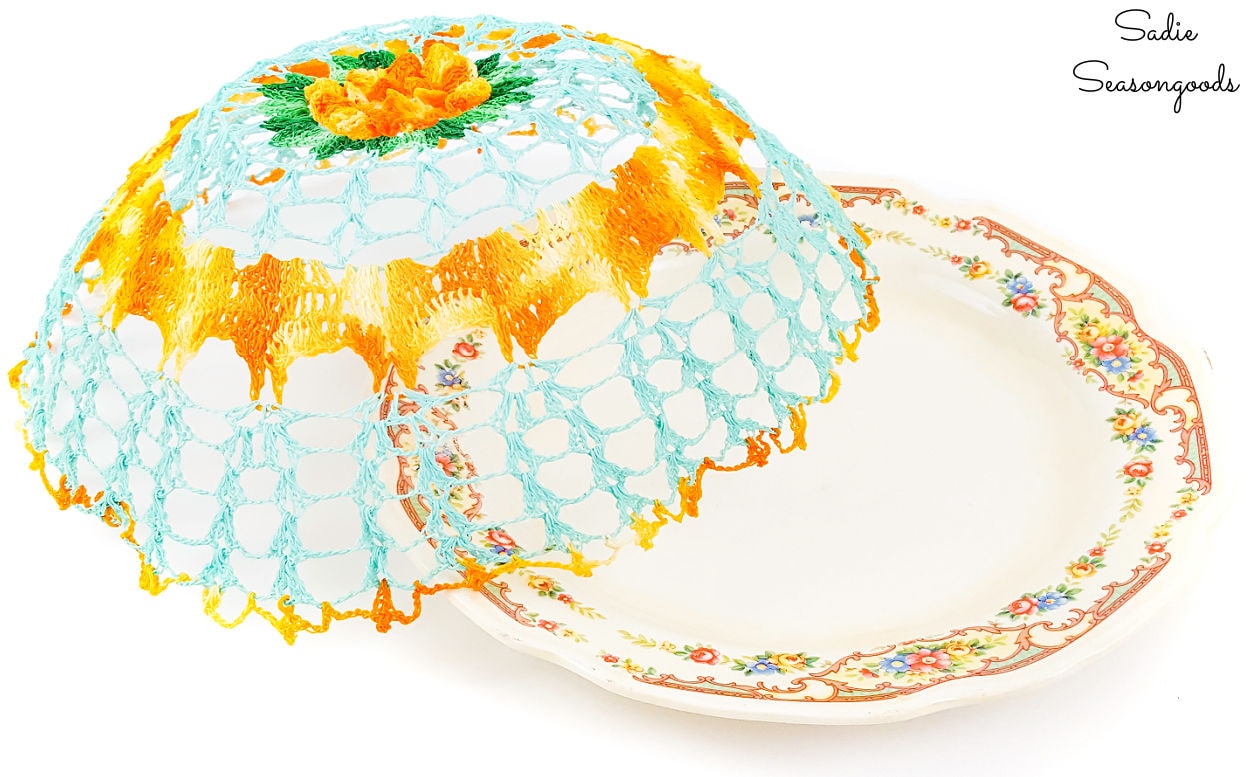 I just needed one more thing to complete the transformation!
A handle! A little handle at the very top.
I thought about using a pretty cut glass drawer pull, but I didn't want the hassle of cutting off the screw hardware. Instead, I used inexpensive wooden knobs that I painted to coordinate with my cloche covers!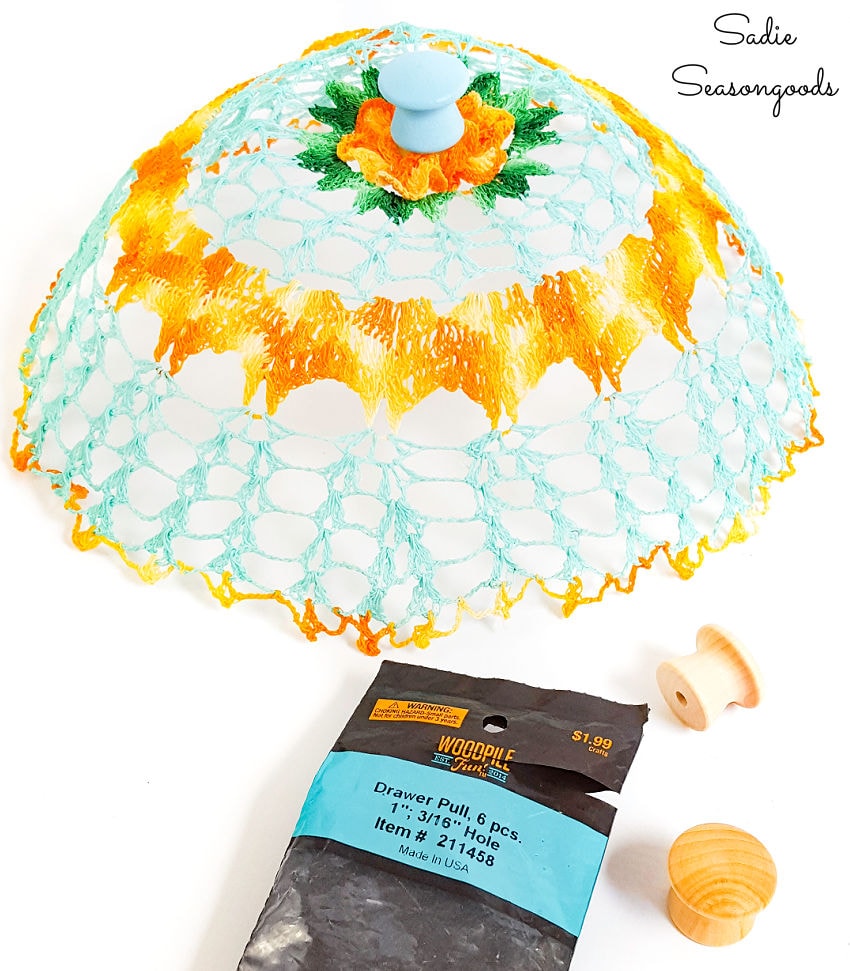 Once the knobs were painted, I simply used my beloved hot glue gun to attach them to the top of each doily cloche.
Plate Cloche from a Vintage Doily
And just like that, I had a plate cloche from a vintage doily.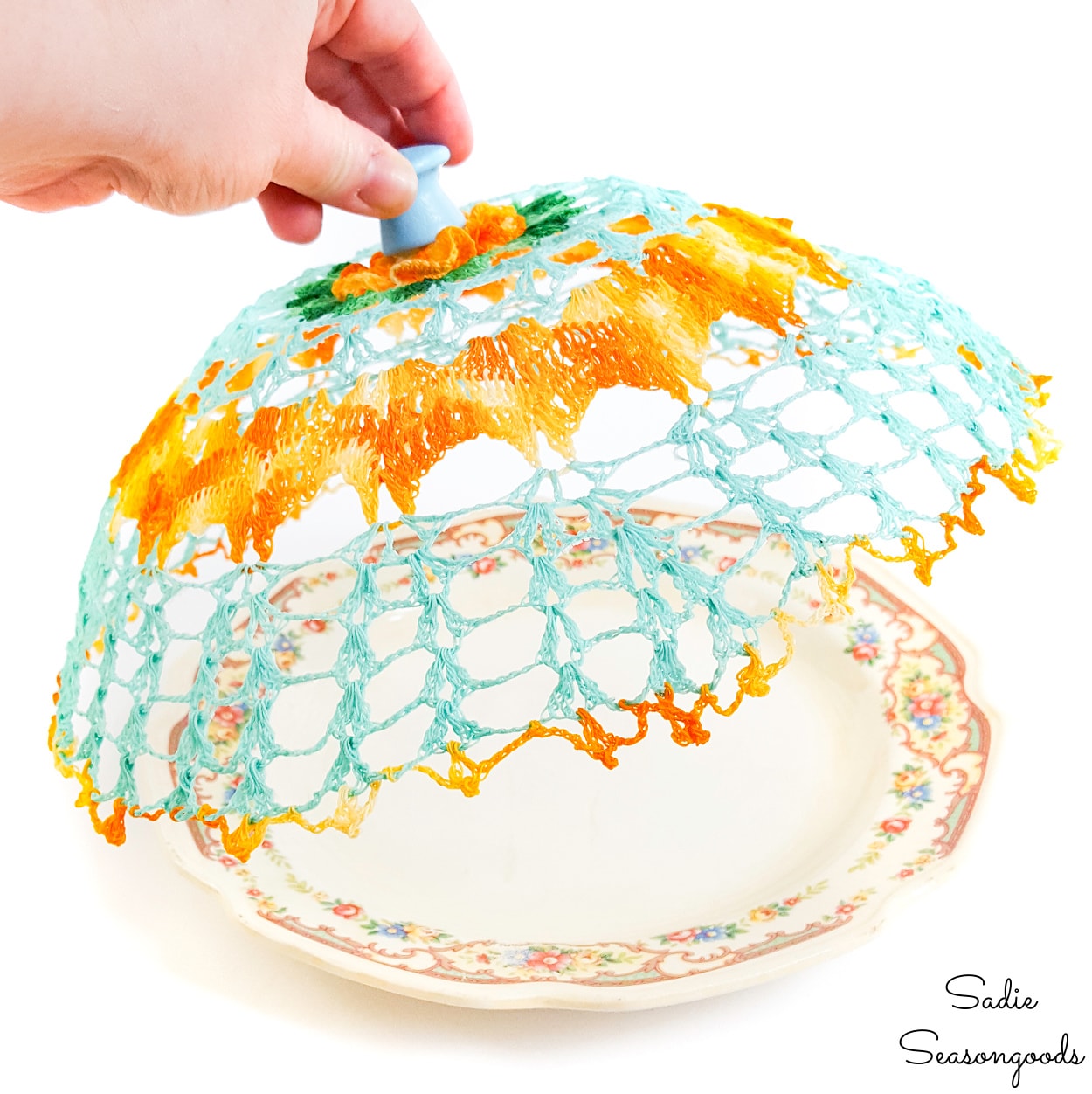 How perfect is that?
I did the same process to one of my other vintage doilies, as well. SO cute!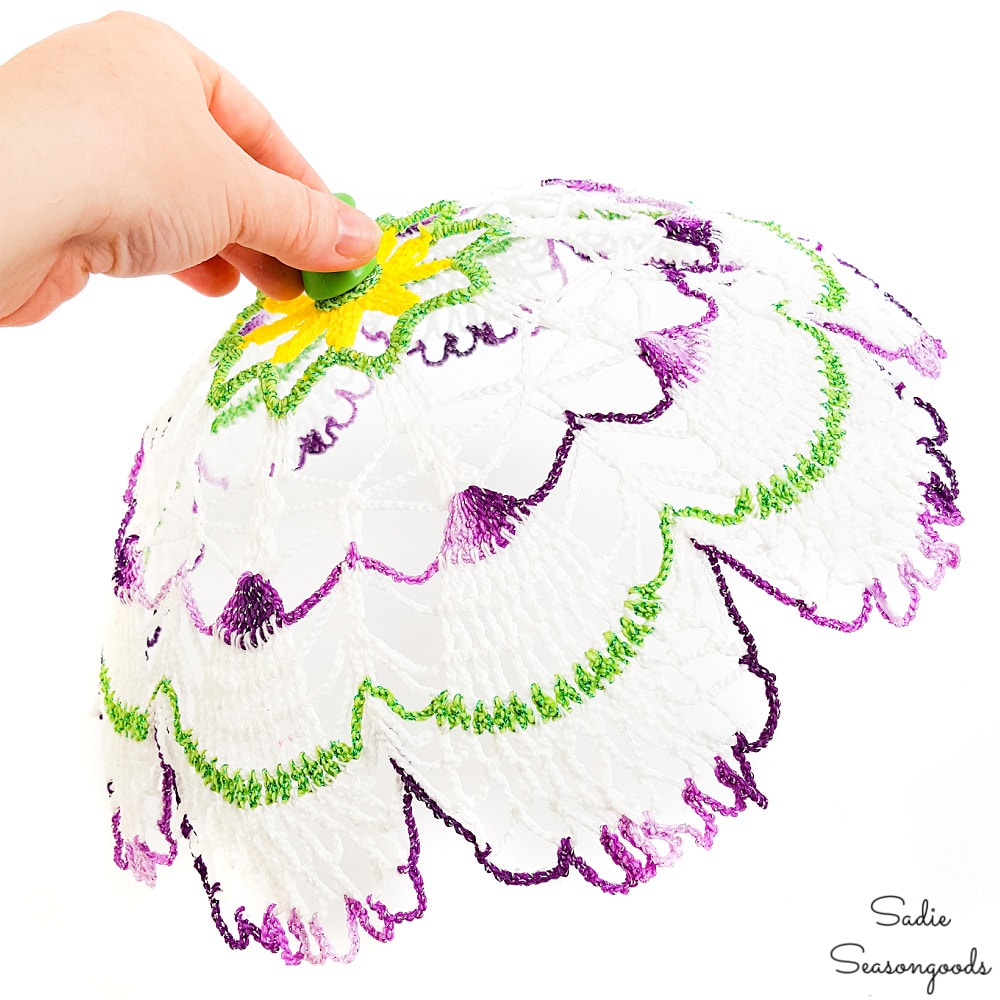 So, they might not keep out the smallest of insects during your next outdoor gathering, but they'll look awfully pretty!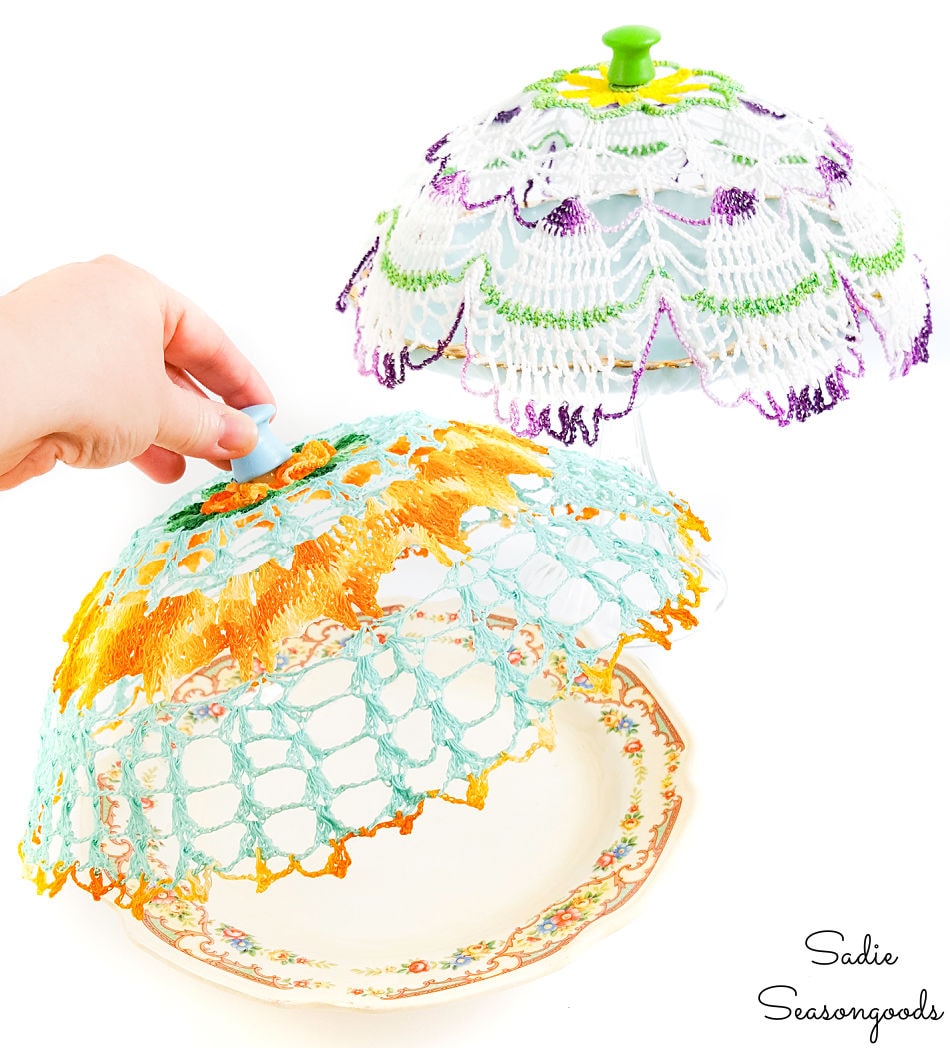 And you could easily make these with a layer of fine mesh underneath. Just stiffen them together over the same bowl.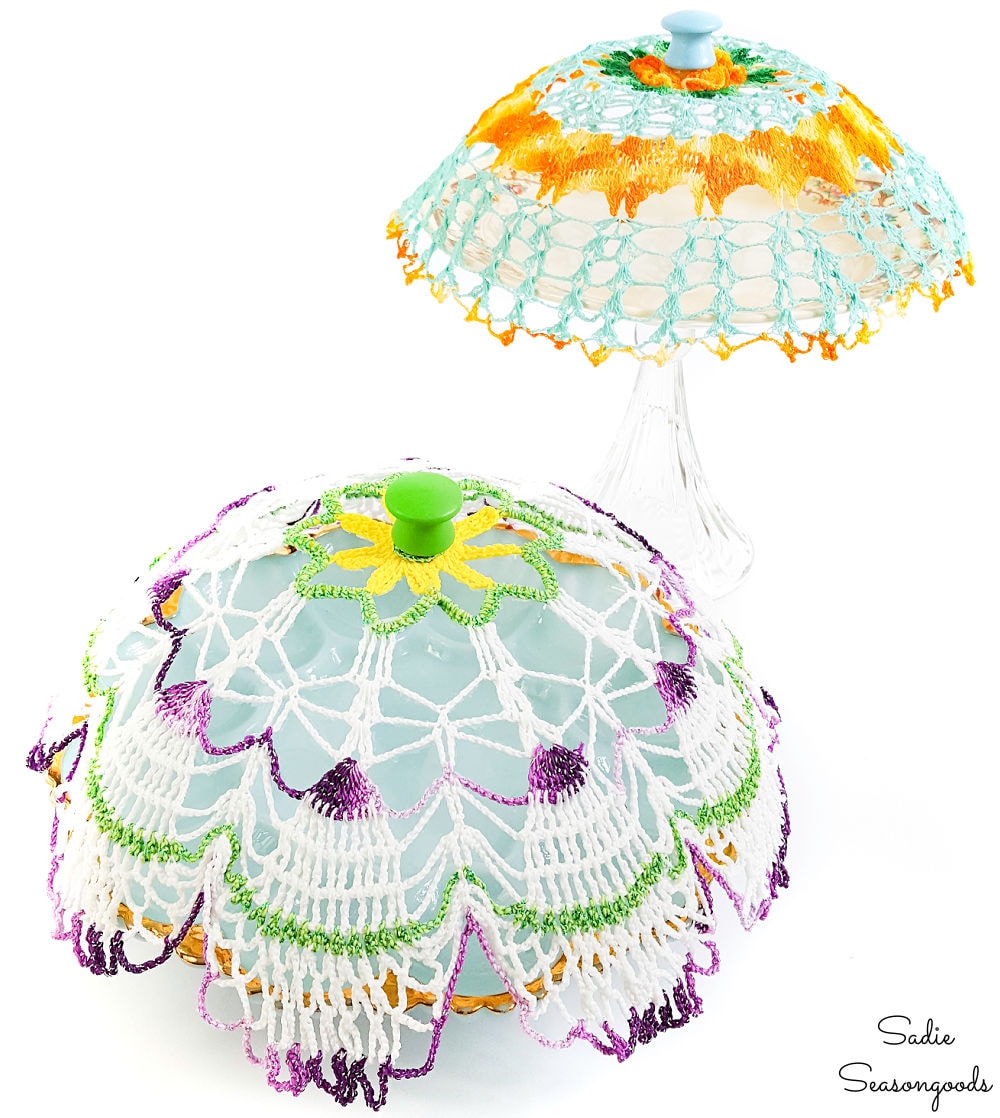 If you enjoyed this upcycling idea for vintage doilies, then you may also like my doily table runner, as well!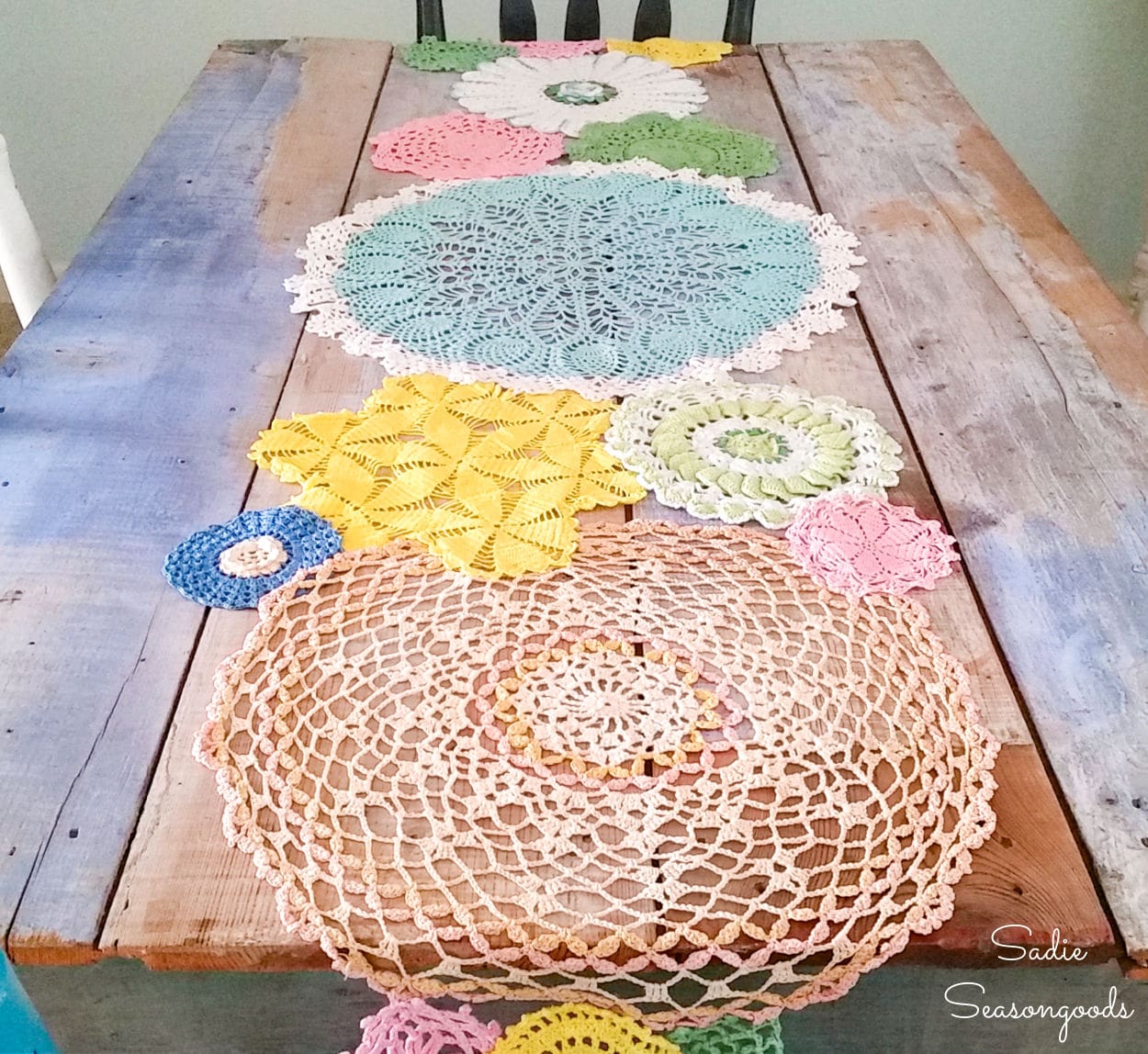 Craft on!
S
Join me on Social Media:

PIN ME!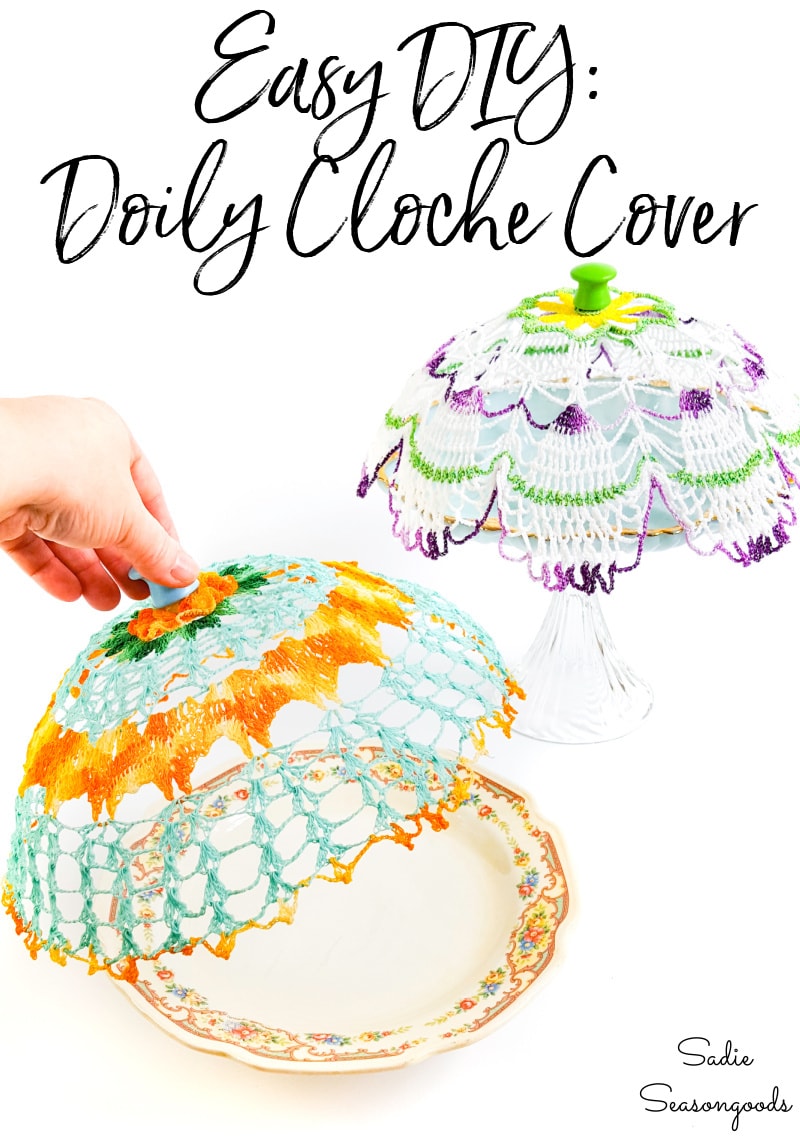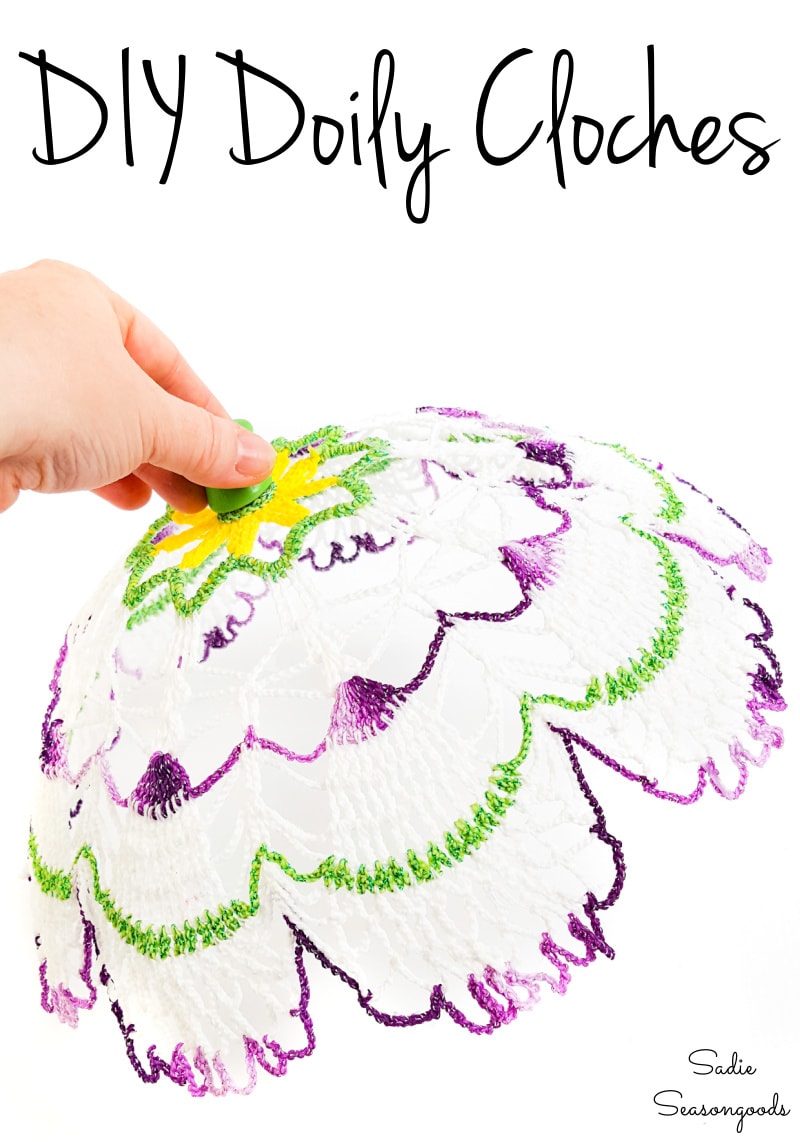 Sarah Ramberg is the owner of Sadie Seasongoods, a website that celebrates all things secondhand. From upcycling ideas and thrifted decor to vintage-centric travel itineraries, Sadie Seasongoods is a one-stop shop for anyone who loves thrifting and approachable repurposing ideas. Sarah is also the author of "Crafting with Flannel" and has been featured in numerous media outlets and magazines.