Making my own jewelry has been a staple in my life for about as long as I've had motor skills. I've obviously graduated from the friendship pins and bracelets of childhood. But, this project is nearly just as simple, using some vintage handkerchiefs as the main ingredient.
This is another older project of mine that I am republishing. In fact, it was originally posted in January 2014, which was my first full month of blogging!
Which means that the photos were awful and the project deserved a fresh coat of paint, so-to-speak.
Anyway, one of my favorite Instagram sellers, Vintage Junk in My Trunk, sent me a handful of vintage handkerchiefs so I could make some new bracelets with them.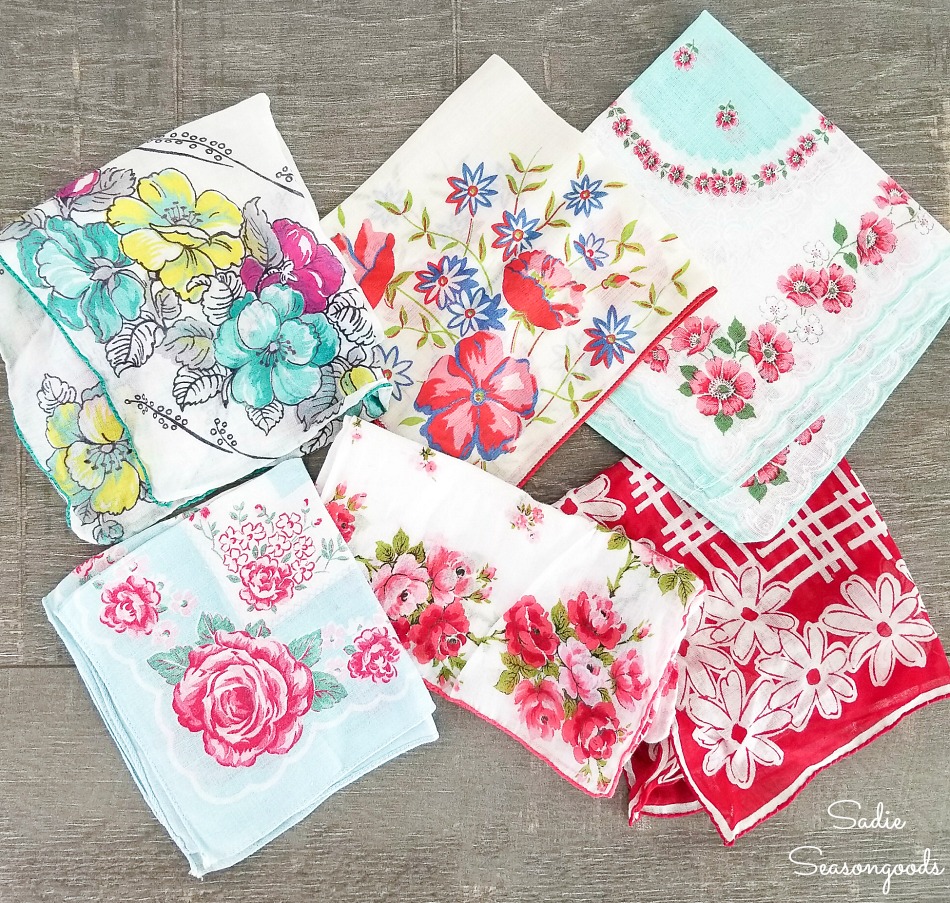 One of the best parts of this project is that it's a great way to repurpose the handkerchiefs that are damaged. Because, chances are, the flaws will disappear during the upcycling process!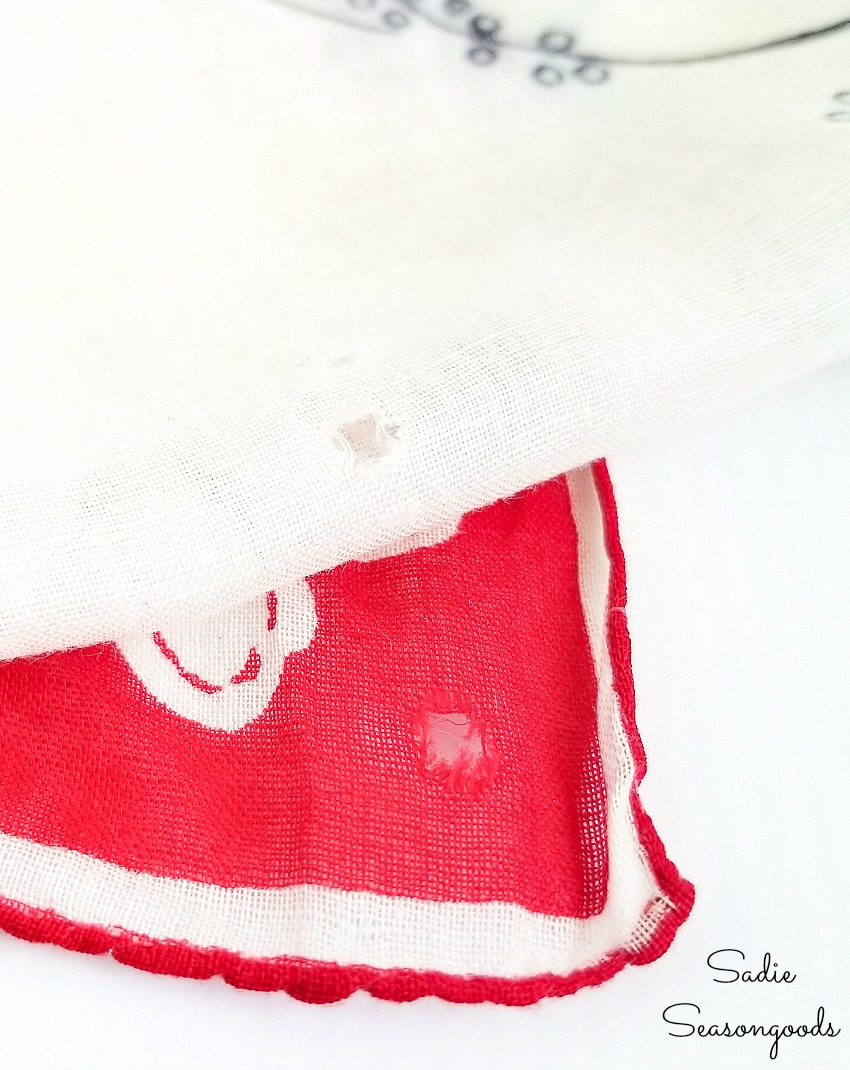 Either way, this is a terrific idea for upcycling those hankies that you've been hanging onto for a while. You may recall that I re-worked a damaged scarf to make a jewelry project, too!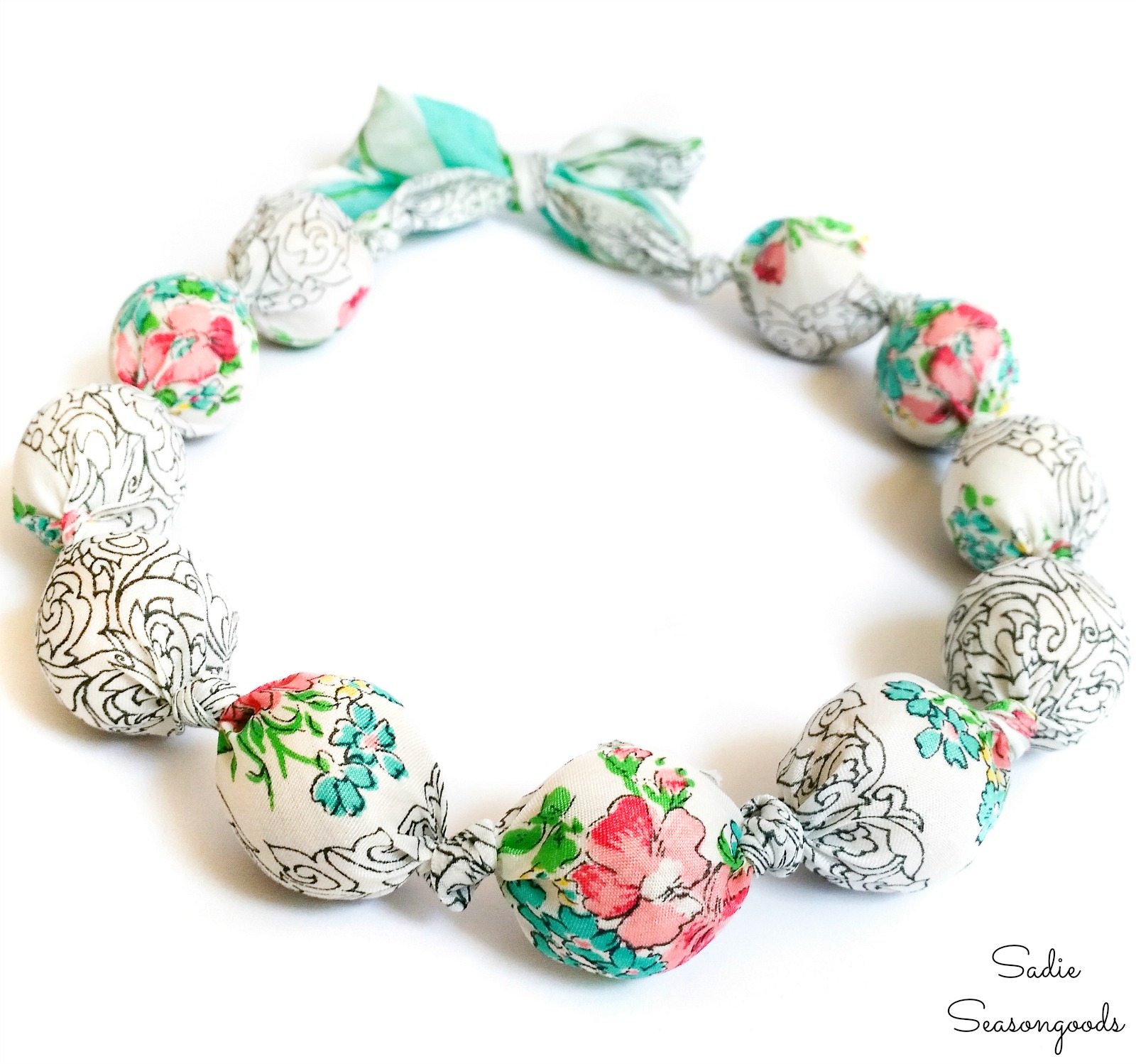 Anyway, here's a simple little project to work on at home, which is something we can all relate to right now!
This post contains affiliate links for your crafting convenience. As an Amazon Affiliate, I earn from qualifying purchases. All blue, bold, and underlined text is a clickable link, either to a product or to a related post.
Prepping the Vintage Handkerchiefs for Jewelry Making
To start these simple bracelets, I first ironed the handkerchiefs. Then, I cut off one of the finished edges before cutting three strips of fabric, each strip about 1¼" – 1½" wide.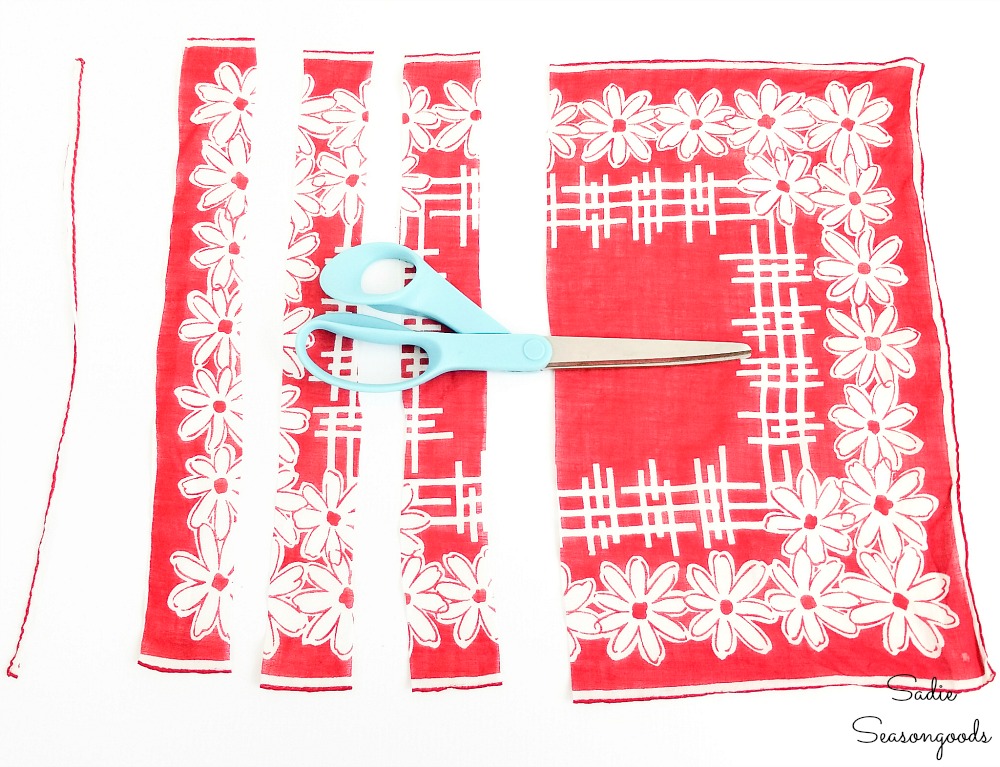 Because I like a "shabby" look to these, I pulled the long edges of each strip to encourage some fraying.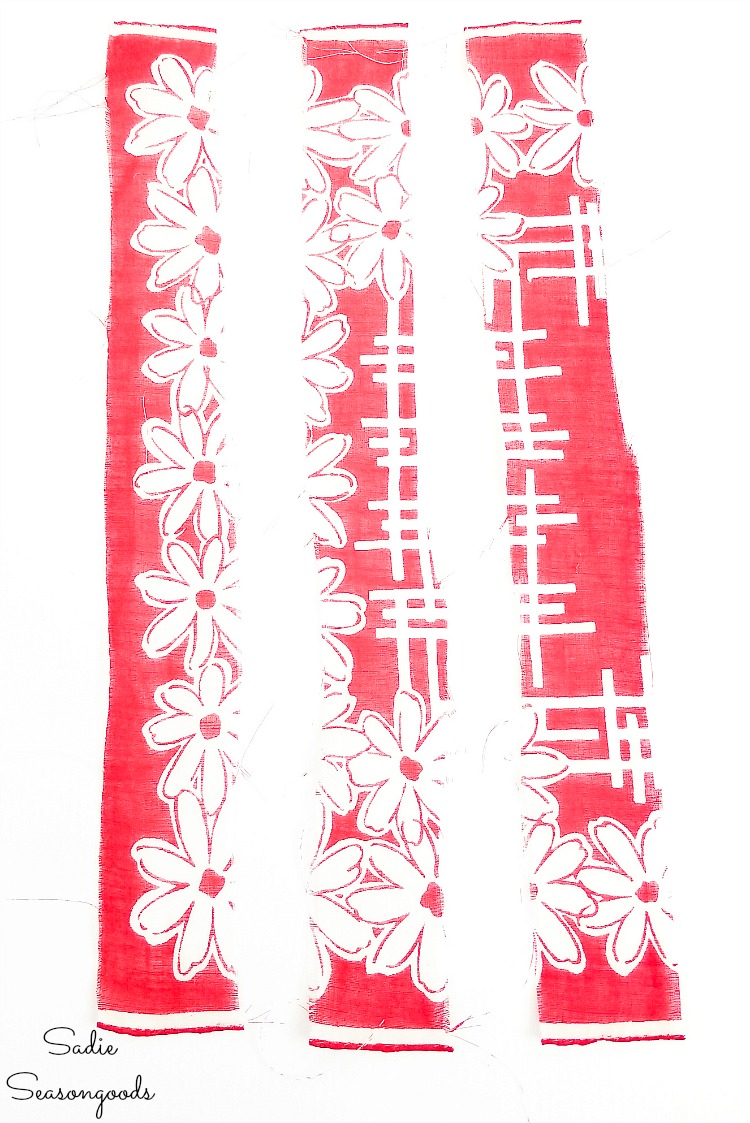 To start the bracelet, I folded each strip in half (just at the top), and all three together. I pulled a needle and thread through the folds a few times before wrapping the thread tightly around the end.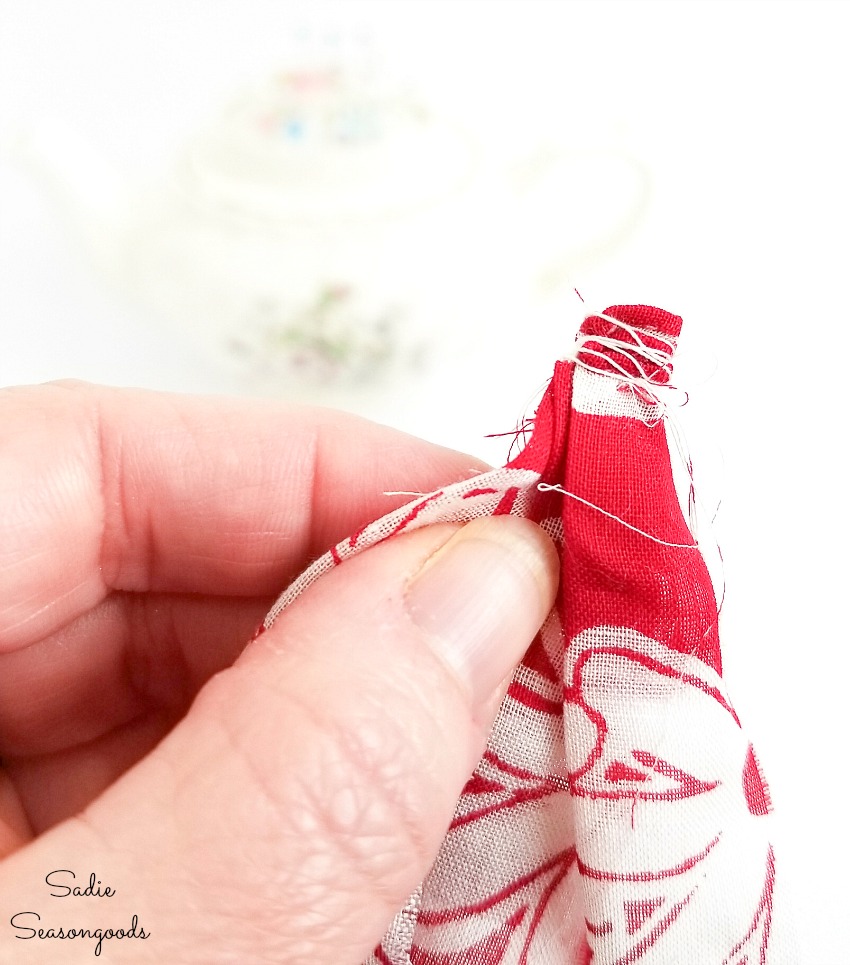 Before I started braiding the strips of vintage handkerchiefs, I threaded my needle again before setting it aside. Trust me, do this now- you'll thank me later!
Then, I began to braid the strips of fabric. Not too tightly, not too loosely- just an even, straight braid that didn't bend or pull.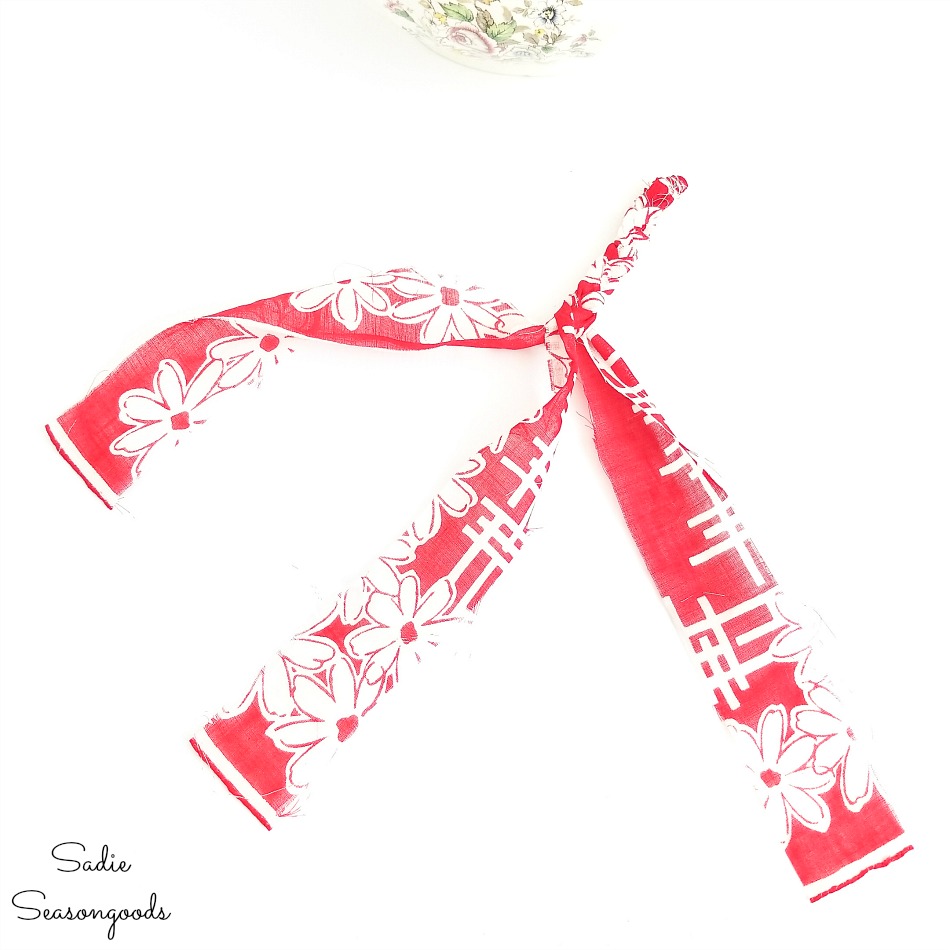 Vintage Inspired Jewelry and Boho Bracelets
When I reached the end, I carefully checked the size of the braid to see if it was long enough to fit around my wrist. It was, so I stopped braiding just shy of the very end, but this will be different for everyone.
NOW that pre-threaded needle comes in handy! Otherwise, I would have had to set the braid down to thread the needle and it would have come undone a bit.
Anyway, just like at the beginning, I pinched the strips of handkerchief between my fingers and pulled the thread through a few times. I finished by wrapping it around the gathered fabric before knotting off.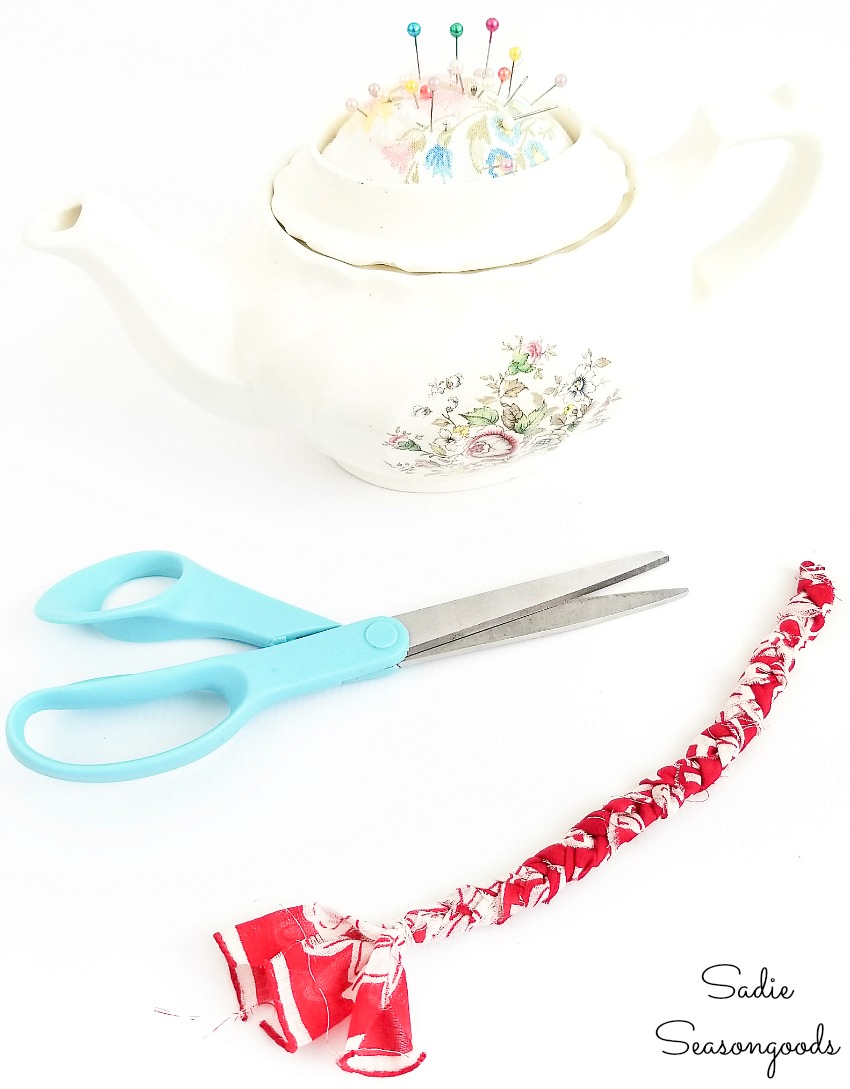 And yes, that's my teapot pincushion and sewing caddy in the background- I use it constantly!
Next, I trimmed off the ends of the strips just above the wrapped thread, taking care not to cut through the thread.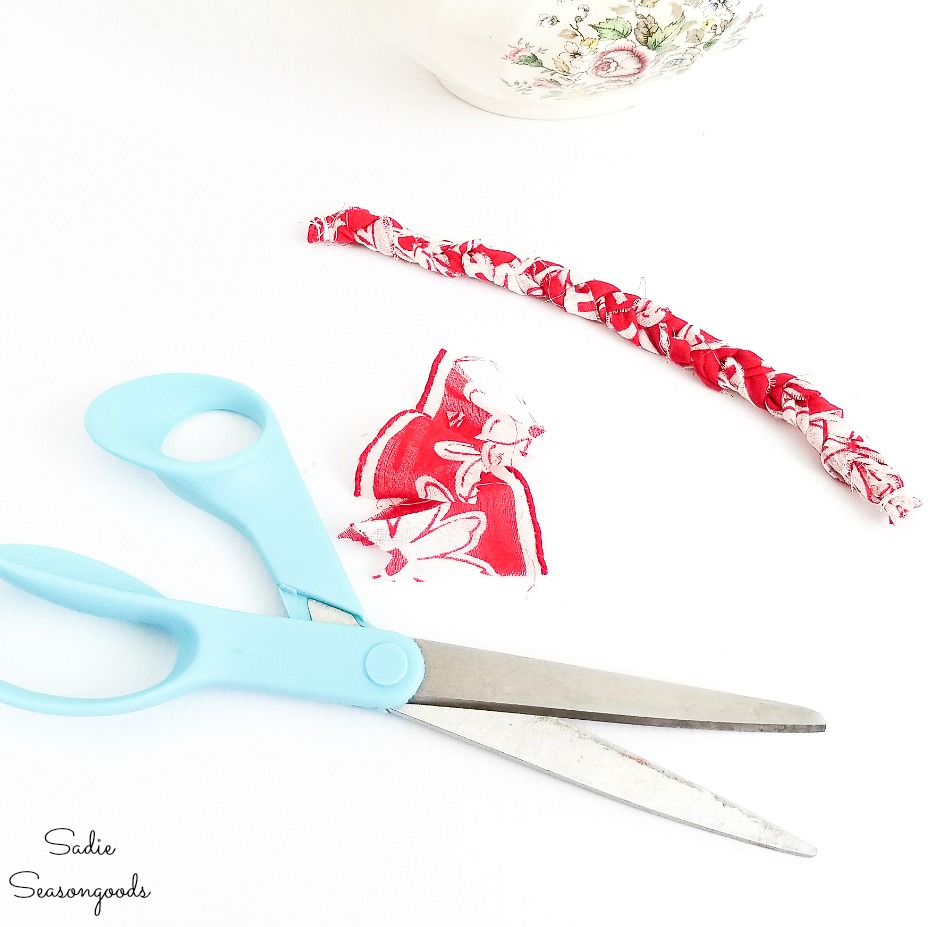 To finish off the braided bracelets, I gathered some jewelry end caps (like these, with an opening of 6-7mm), super glue, and a bamboo skewer.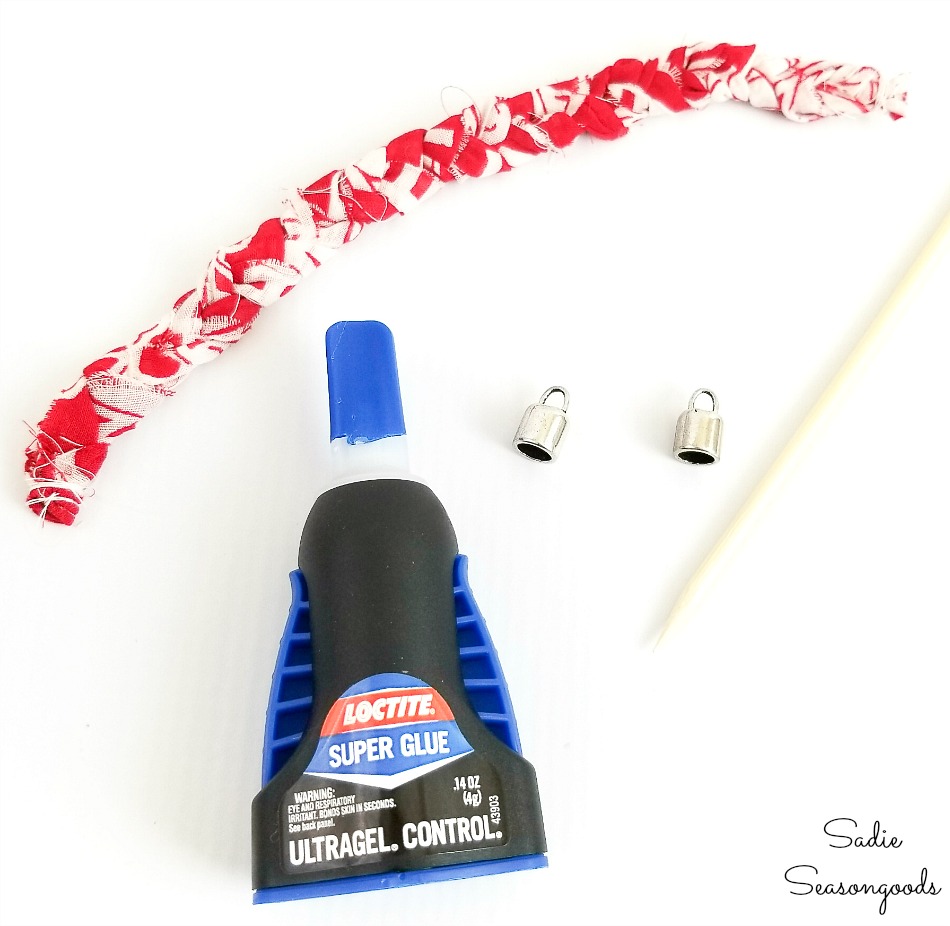 I added a few drops of super glue inside one end cap. I inserted one end of the braided bracelet into the end cap, using the skewer to push it in fully.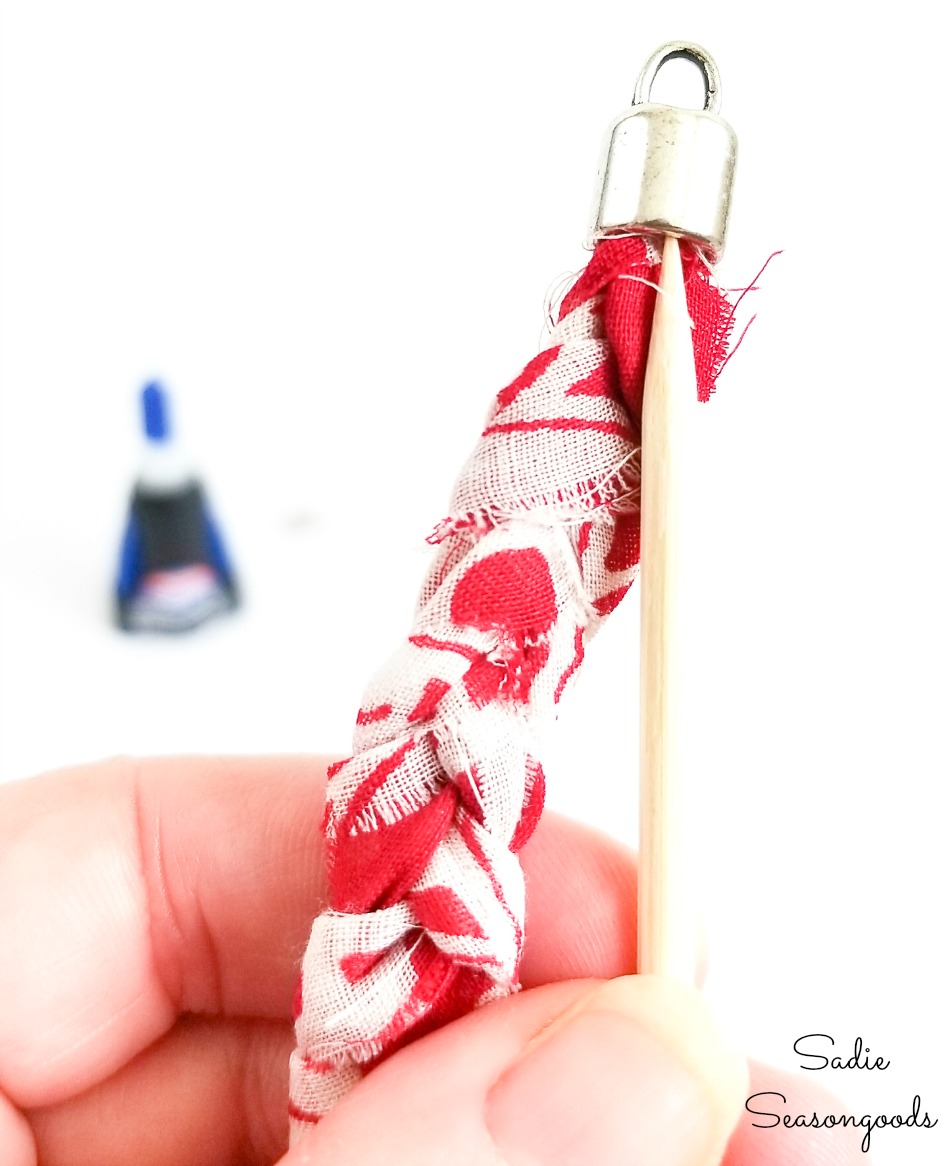 Then, I did the same thing at the other end. All I needed to do to finish it up was attach a clasp (I used a magnetic version) to each end via a jump ring.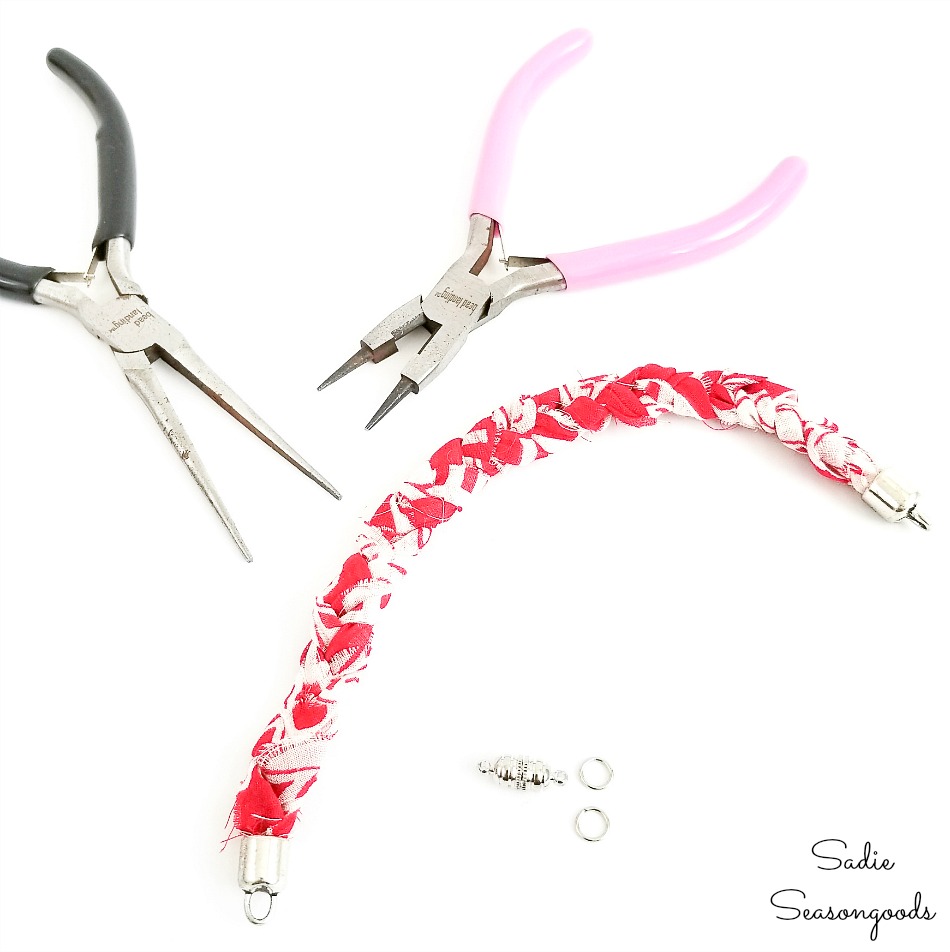 Braided Bracelets from Vintage Handkerchiefs
And that, as they say, was the end! I had upcycled one of the vintage handkerchiefs into a very sweet and shabby little bracelet.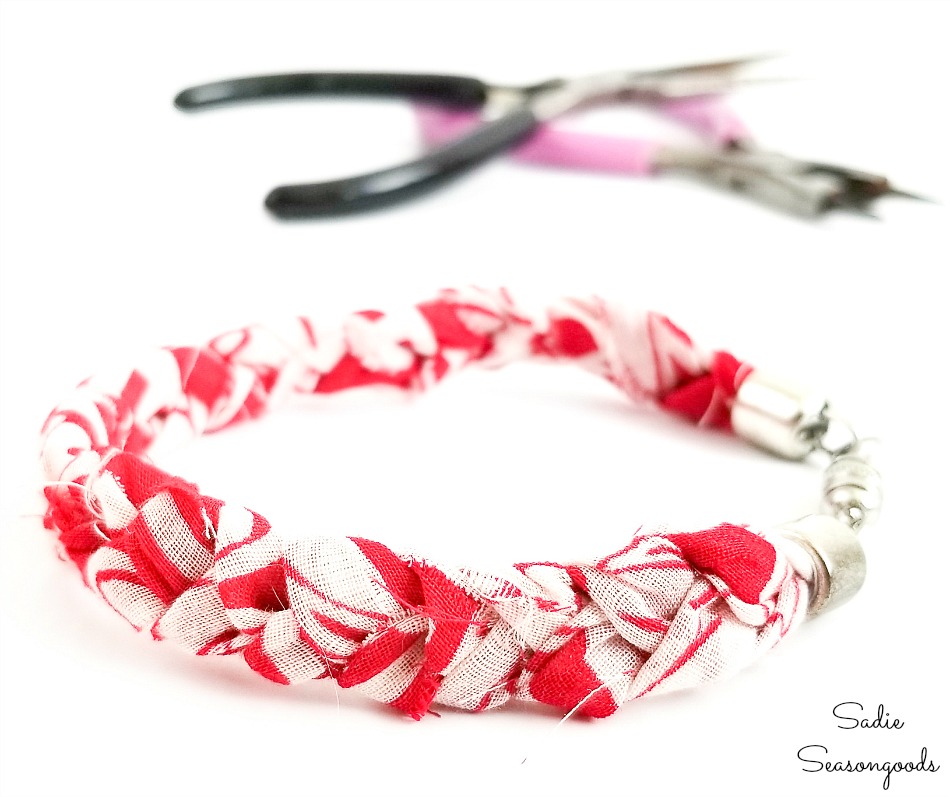 Of course, I needed to make more from some of the other hankies that Gina had sent me! These are like potato chips: once you make one, you can't stop!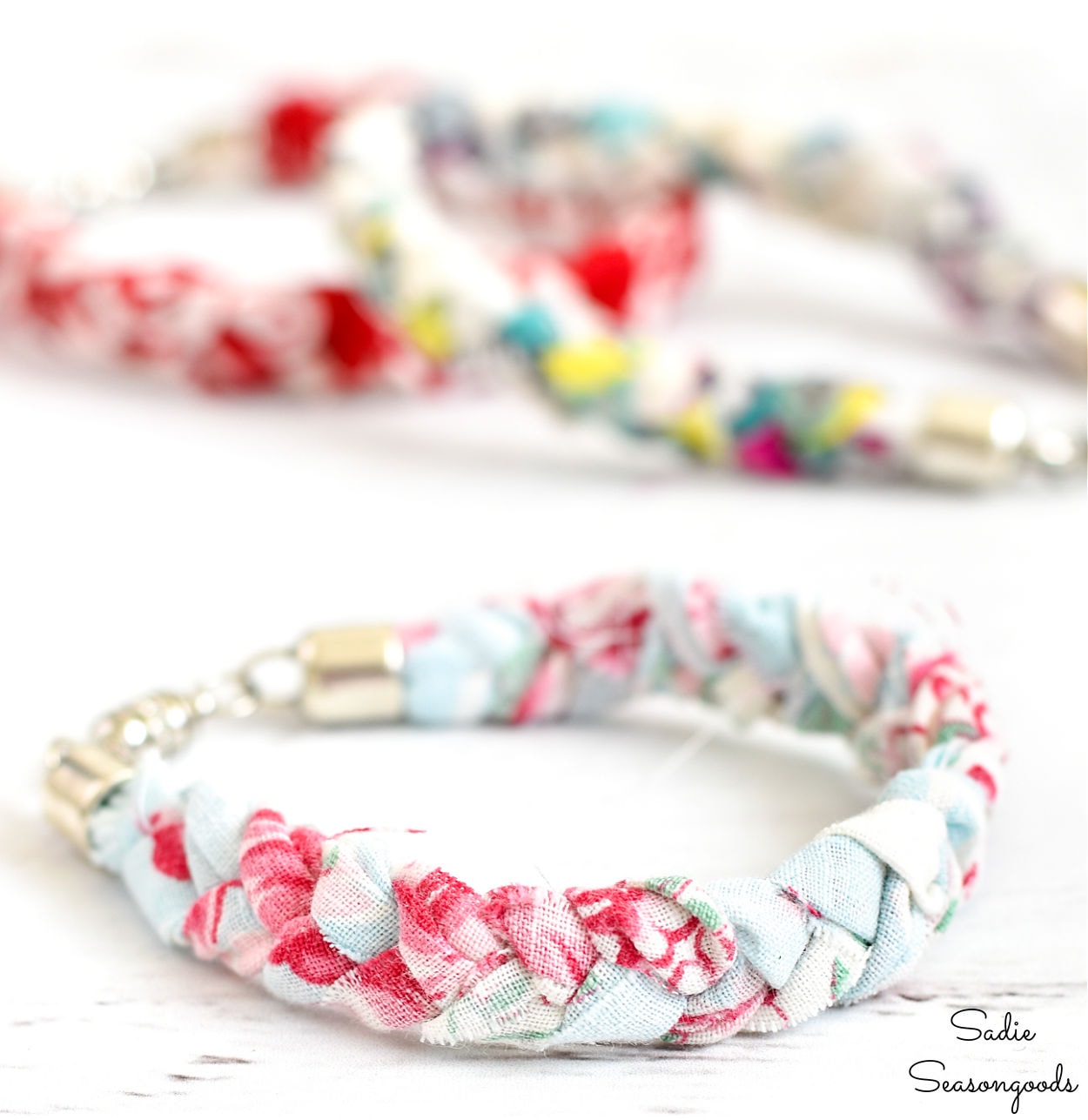 Super easy to make a great way to repurpose those vintage hankies that you may have laying around.
And trust me, if they're damaged or worn through in places, you'll likely never know!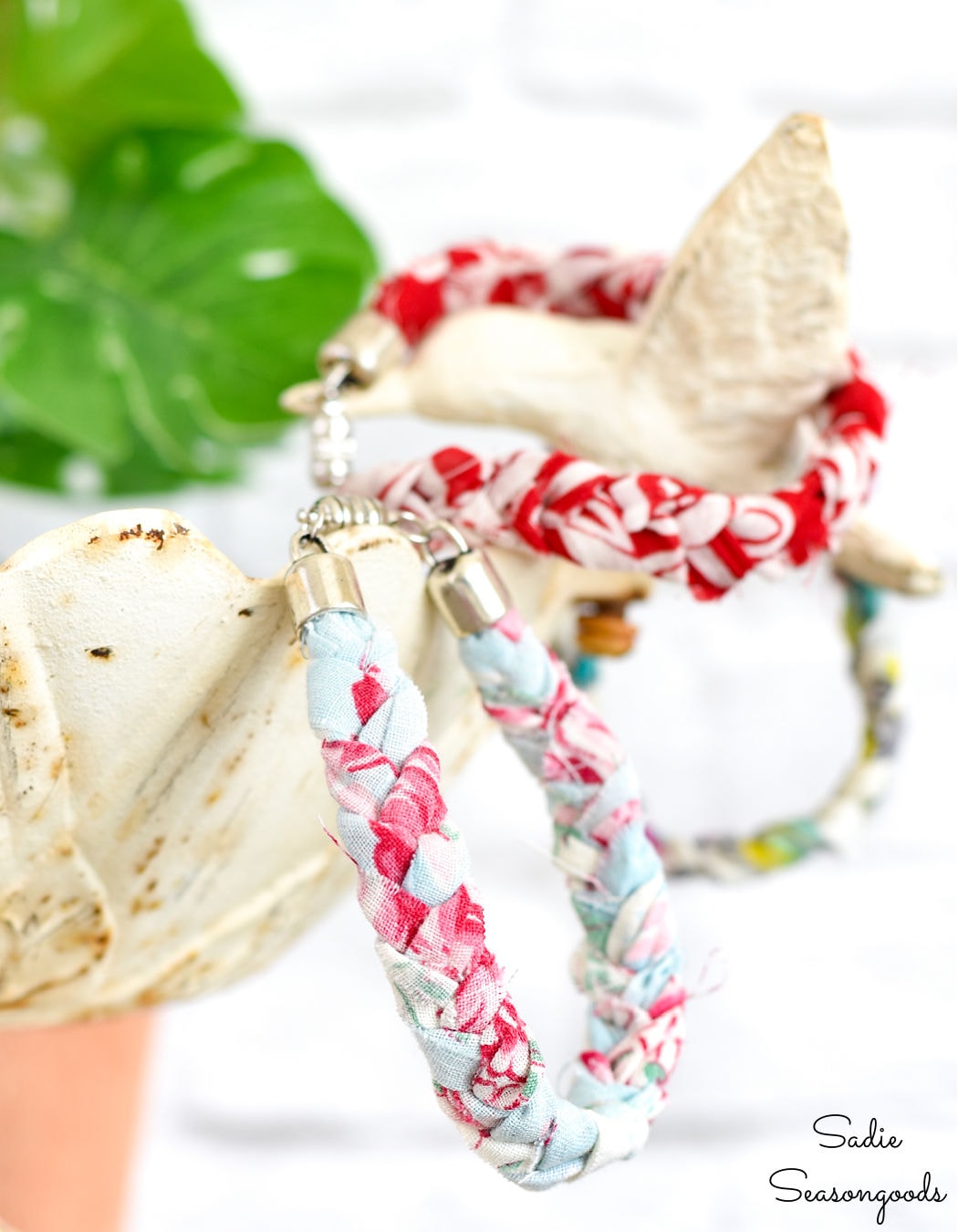 And check it out. I even did a version of these braided bracelets in my book, "Crafting with Flannel"! Can you guess which part of a flannel shirt I used to make them?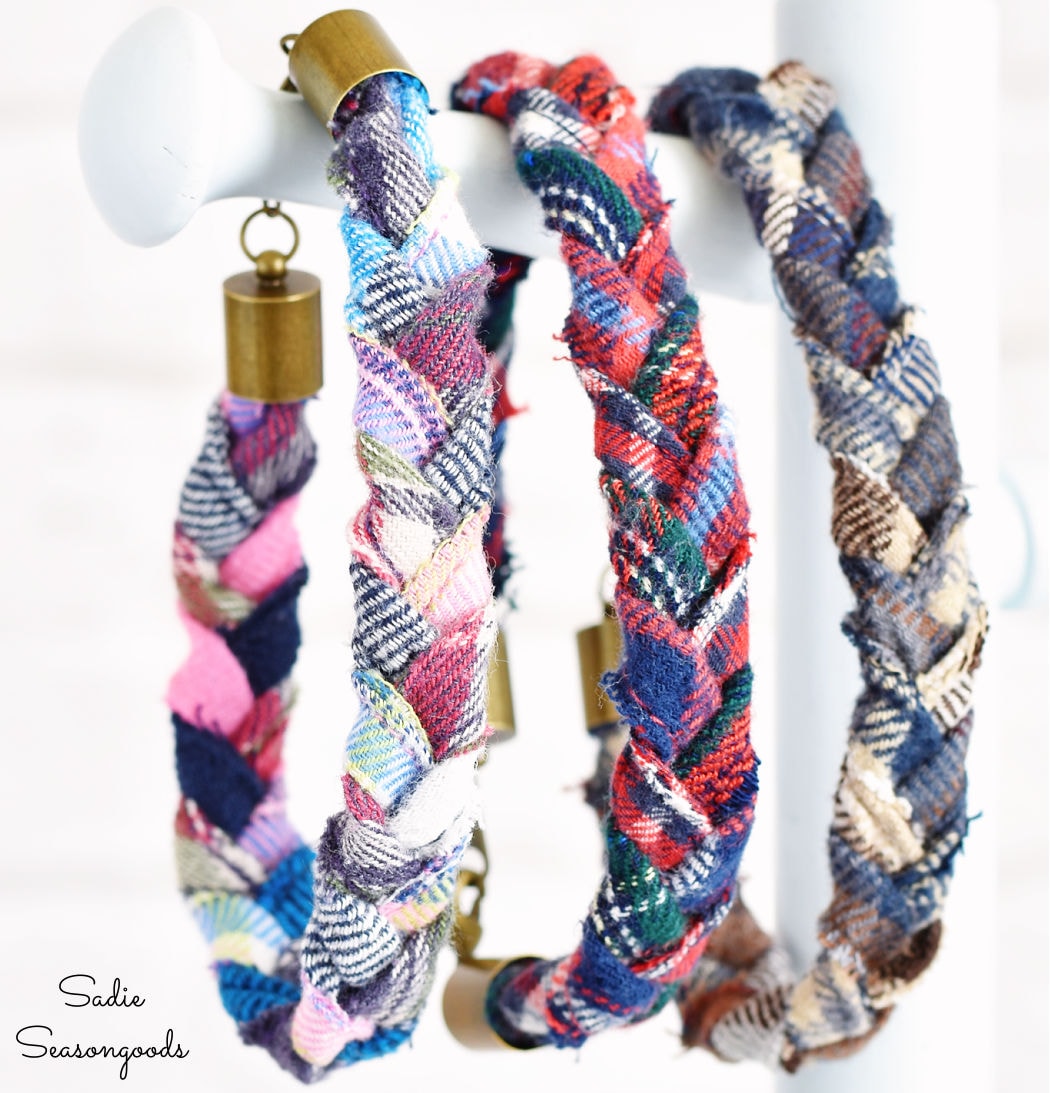 If you enjoyed this upcycling idea for cloth bracelets from vintage handkerchiefs, then you'll also love this DIY charm bracelet from rhinestone buttons!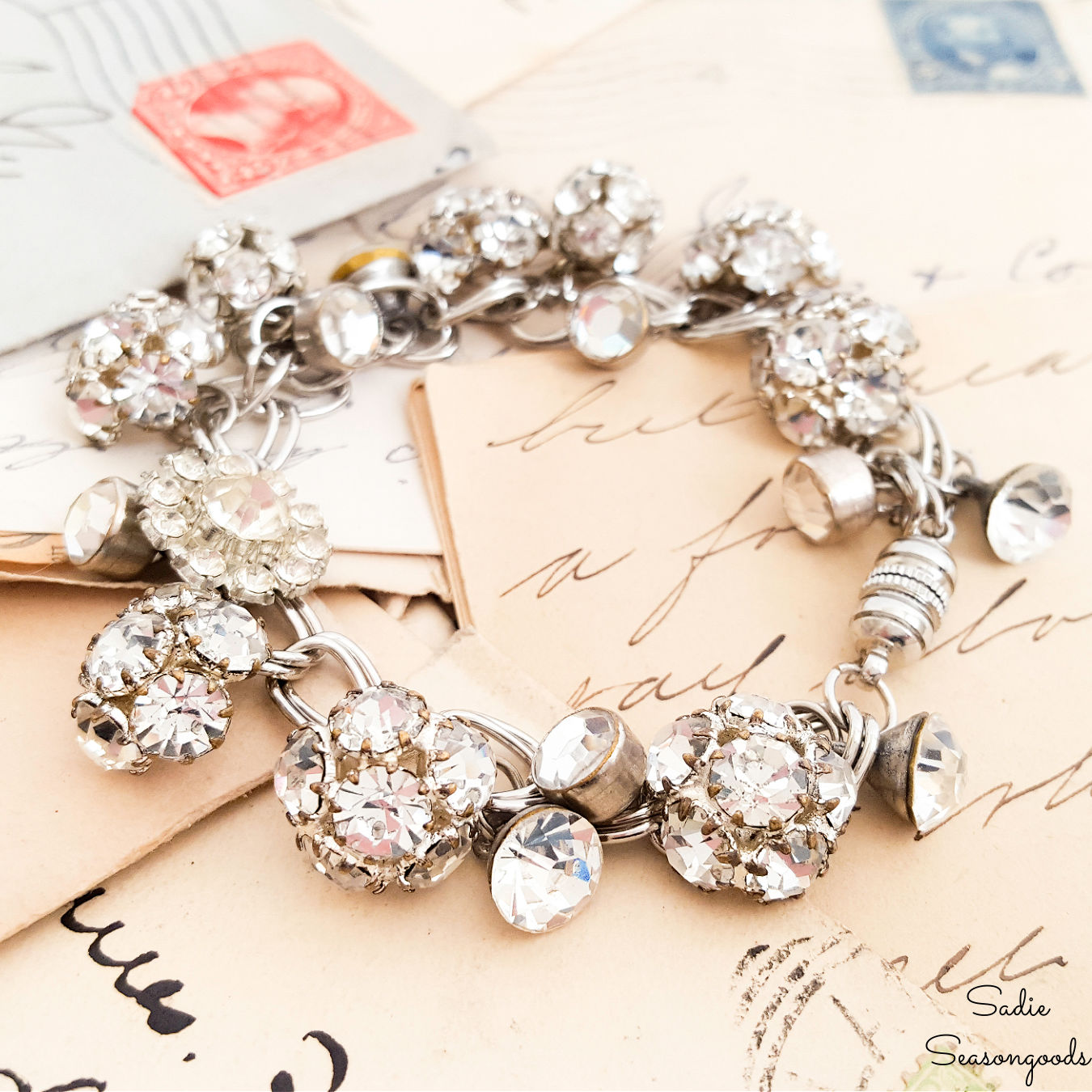 Craft on!
S
Want to be notified when I publish my next upcycling project tutorial?
Subscribe to Blog via Email
Join me on Social Media:

PIN ME!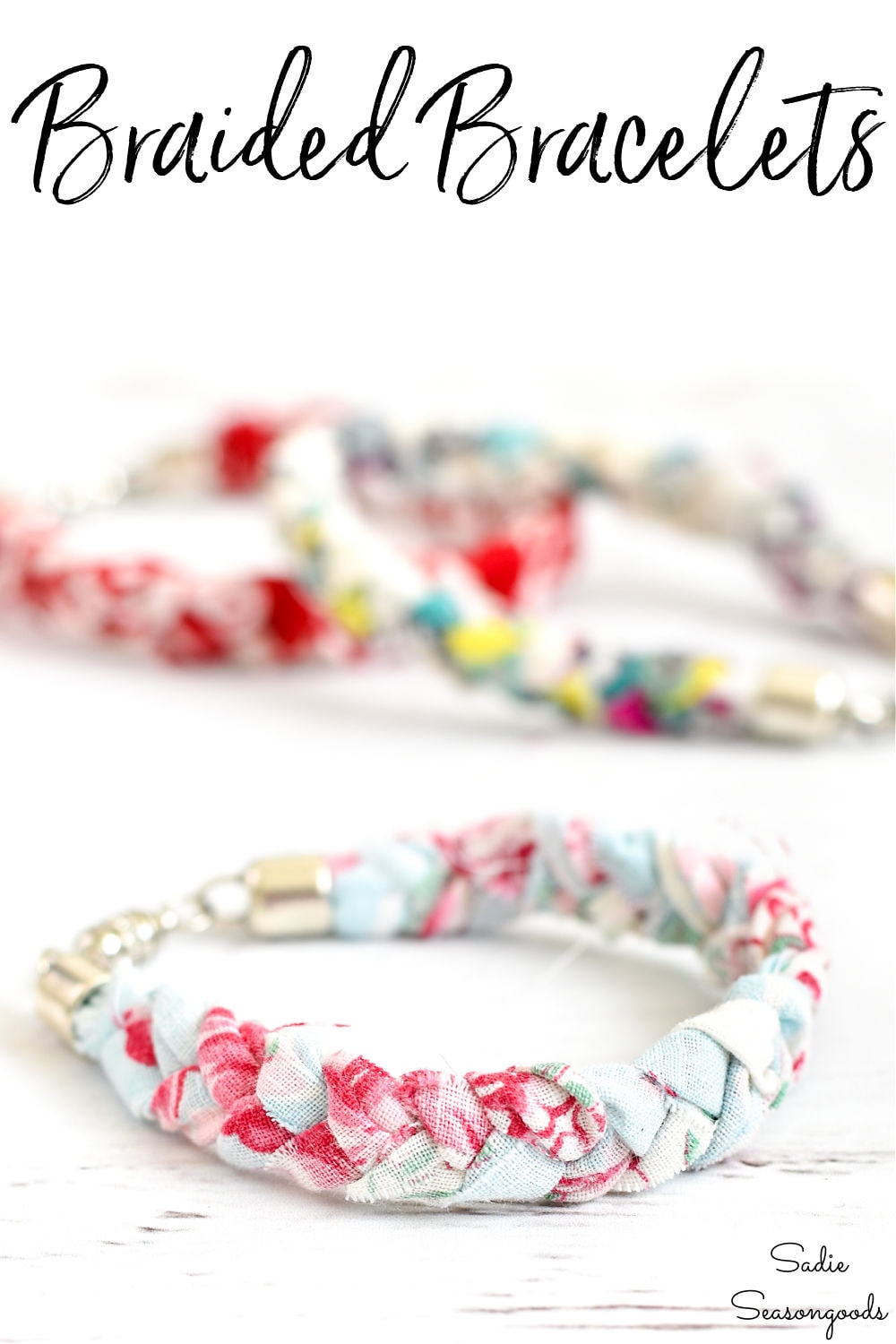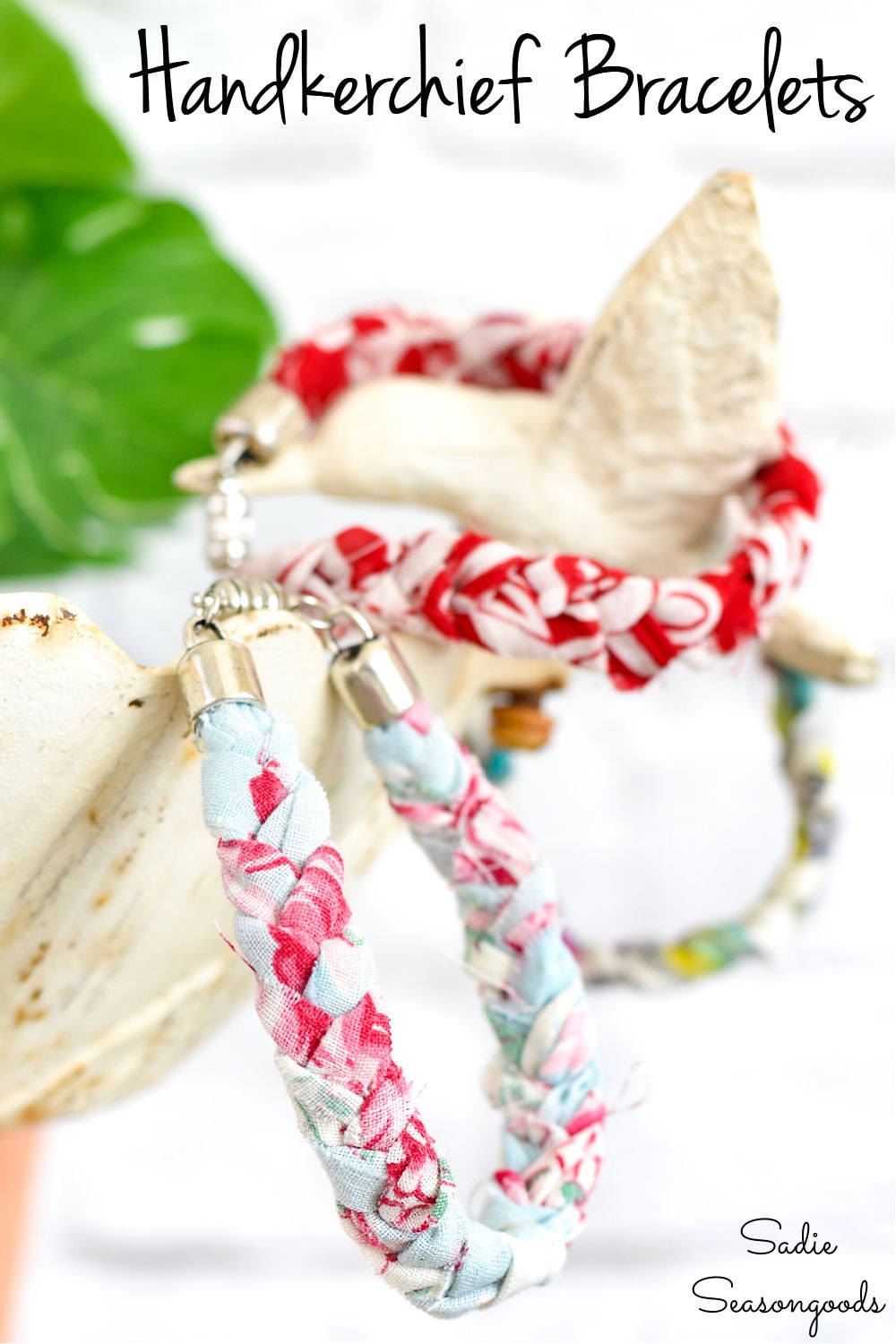 Sarah Ramberg is the owner of Sadie Seasongoods, a website that celebrates all things secondhand. From upcycling ideas and thrifted decor to vintage-centric travel itineraries, Sadie Seasongoods is a one-stop shop for anyone who loves thrifting and approachable repurposing ideas. Sarah is also the author of "Crafting with Flannel" and has been featured in numerous media outlets and magazines.