Every year, I always try and come up with one good patriotic project to post around July 4th. Sometimes the ideas come easily, but this year I struggled to think up even one upcycling idea in red, white, and blue! That is, until I found a bright red cabinet door at Habitat ReStore. I decided that it would be perfect for ! And I would pull inspiration from the American propaganda posters that were so popular during World War II to do so!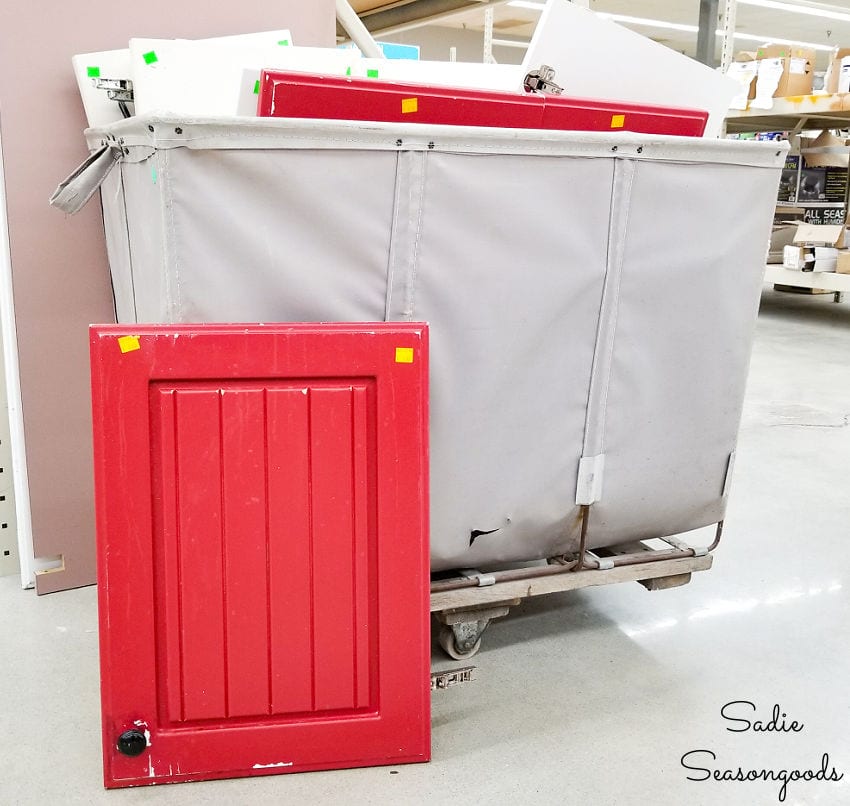 Of course, I've upcycled other cabinet doors, as well. I've even gone the sign route before, but it was to celebrate Fall.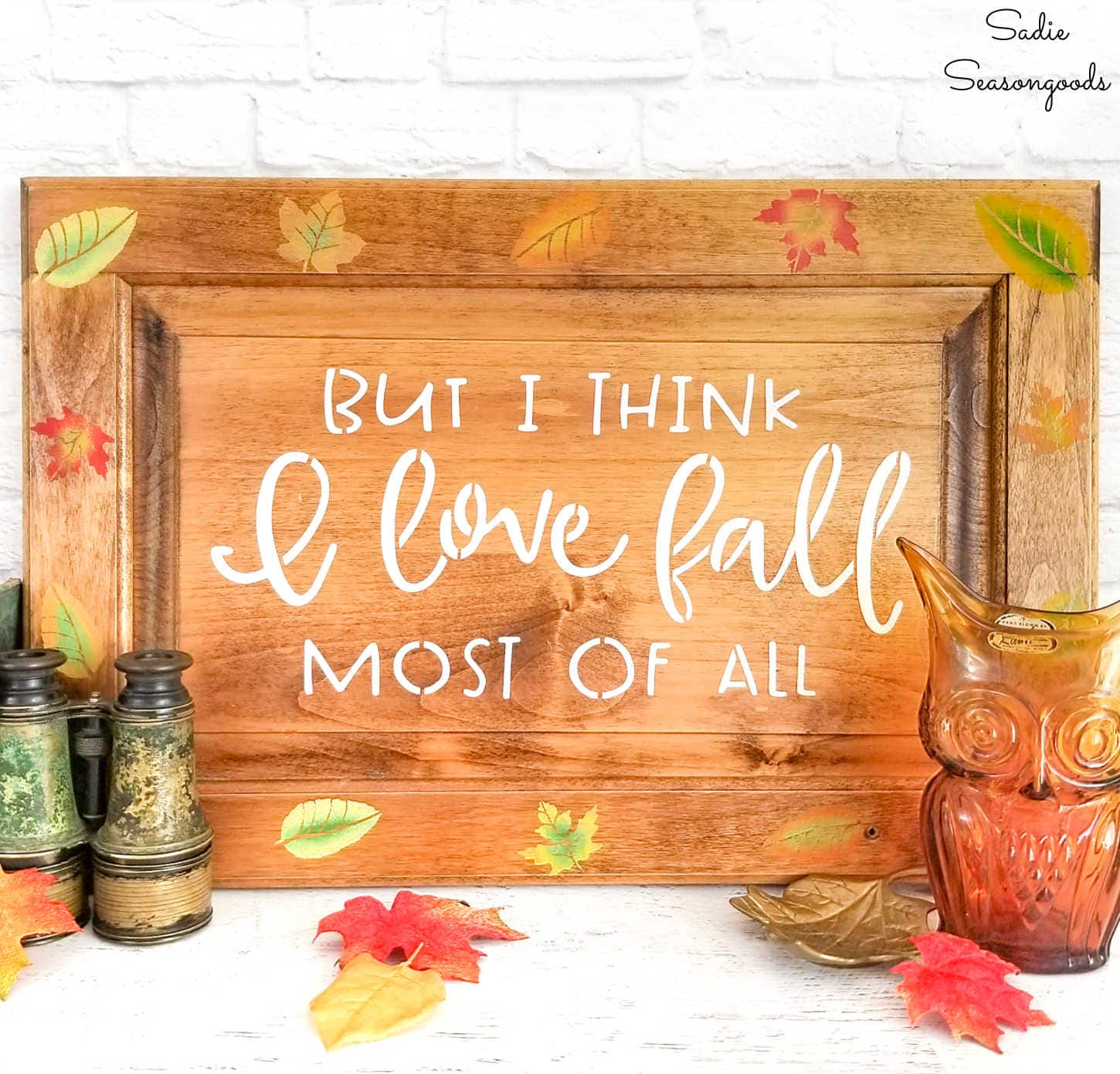 But my plan for this red door was to reach back a few decades to a time when American patriotism was high, and the USA had a common enemy (well, a few enemies). And it wasn't each other here at home!
When pin-up girls sold war bonds and Uncle Sam's face was everywhere you looked.
I just had a feeling that this cabinet door would work out perfectly if I played my cards right.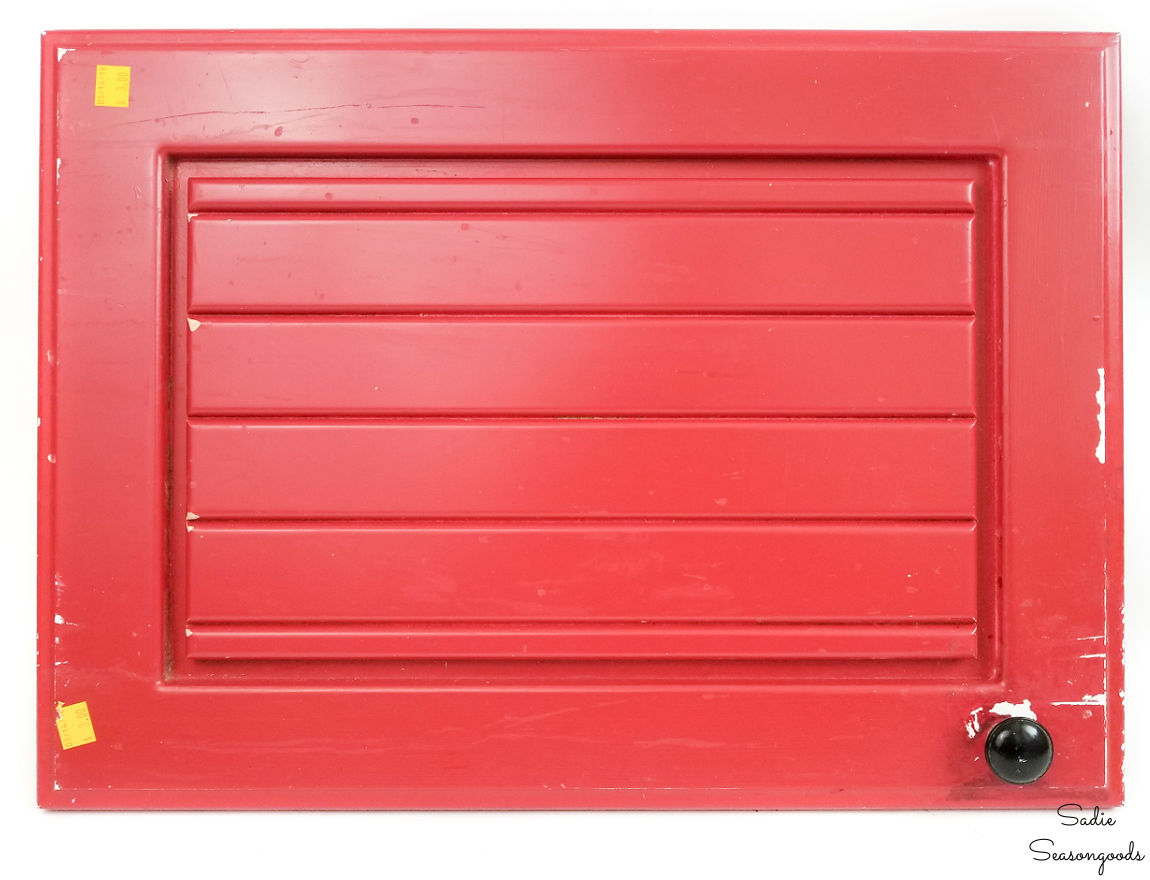 A little prep work, some paint, and the right stencil and I'd have the patriotic sign of my dreams! For a LOT LESS than an authentic sign from the 40s or even a modern reproduction.
This post contains affiliate links for your crafting convenience. As an Amazon Affiliate, I earn from qualifying purchases. All blue, bold, and underlined text is a clickable link, either to a product or to a related post.
Repurposing a Cabinet Door for a Patriotic Sign
First, I first needed to remove all the hardware, which included soft-close cabinet hinges and a heavy black metal knob.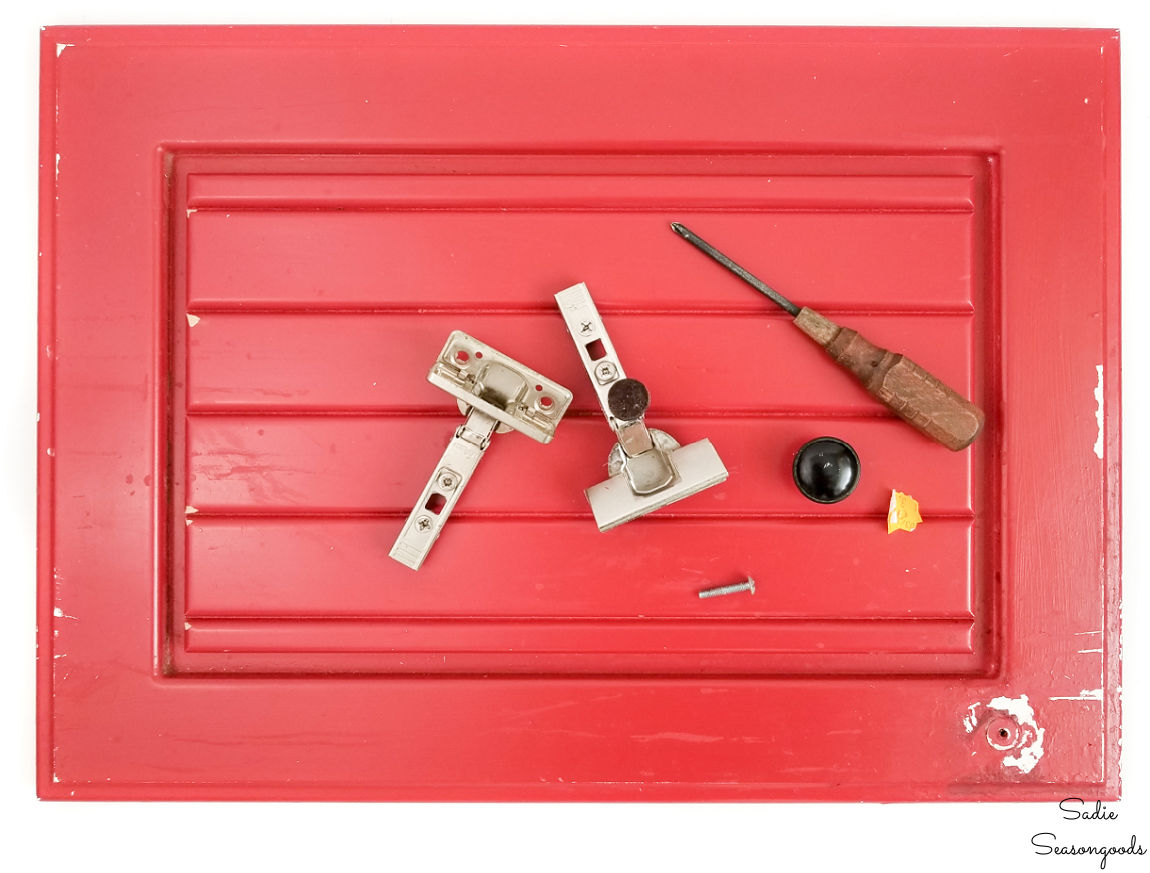 Now- I promise you I'm not crazy, but I decided that the cabinet door was the wrong red.
In my mind, I wanted the red to be more of a warm, tomato red- and not the blue-toned cherry red that was already on the door. So, I lugged it back into the garage for a quick sanding, just to rough up the surface a bit so that fresh paint could adhere better.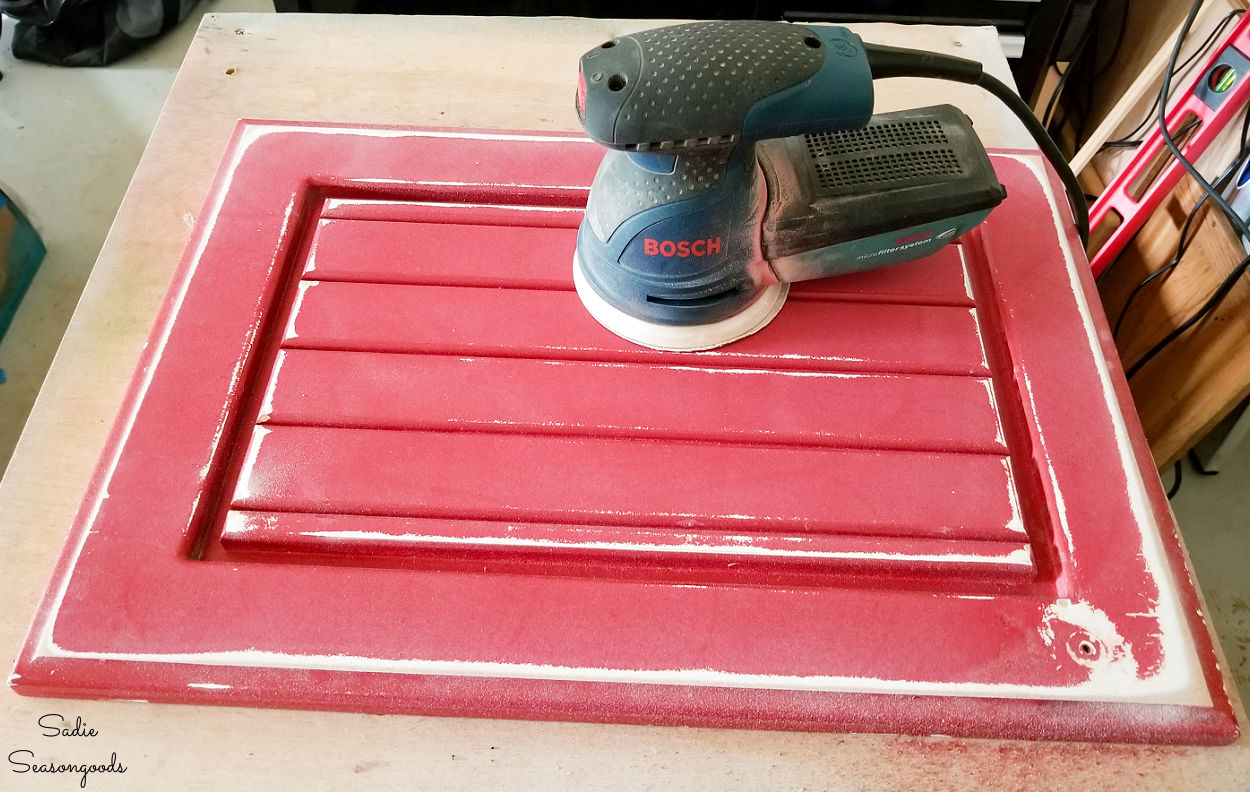 Next, I wiped off all the post-sanding dust and assembled my painting supplies.
Then, I painted the outside rectangle with a deeper, warmer red (Farmhouse Red by Behr). It was richer and warmer, which made it better suited for a patriotic sign (in my opinion).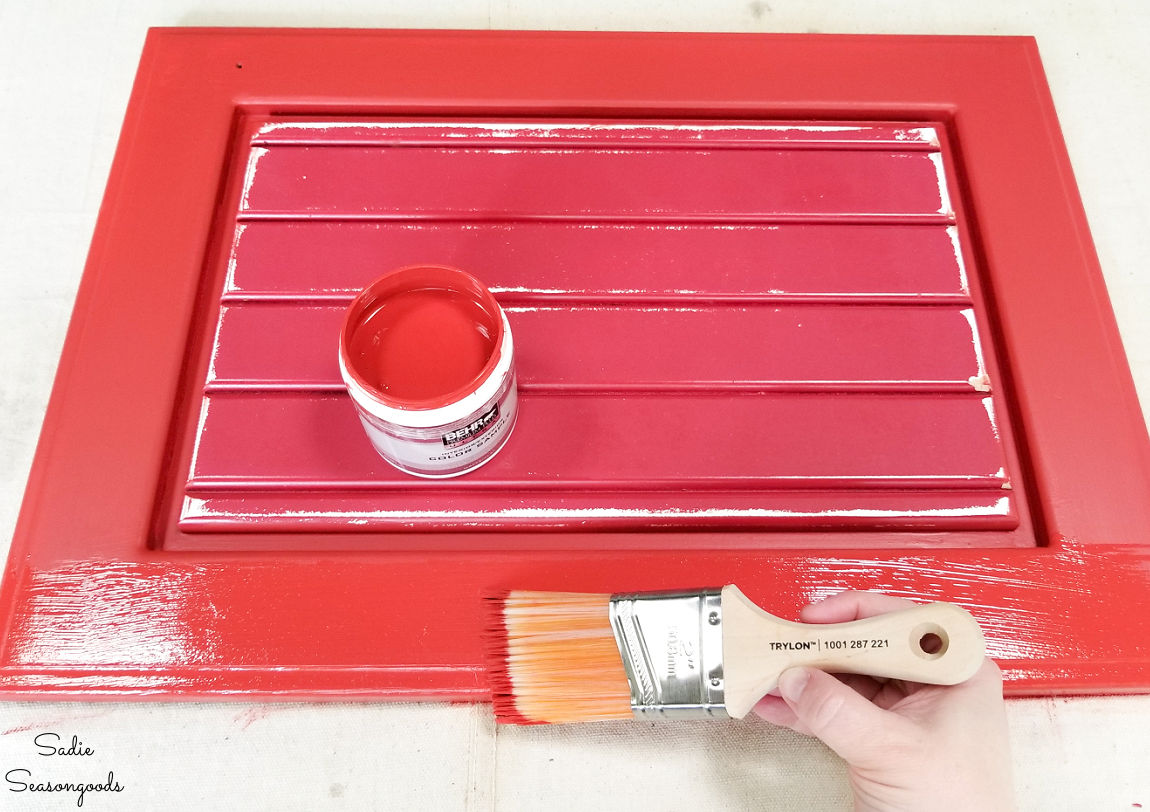 See what I mean about the shades of red? I've painted the border and it's a little more of a true red, whereas the center is definitely a cooler tone.
Next, I taped off the center border and painted the interior rectangle in a creamy off-white color.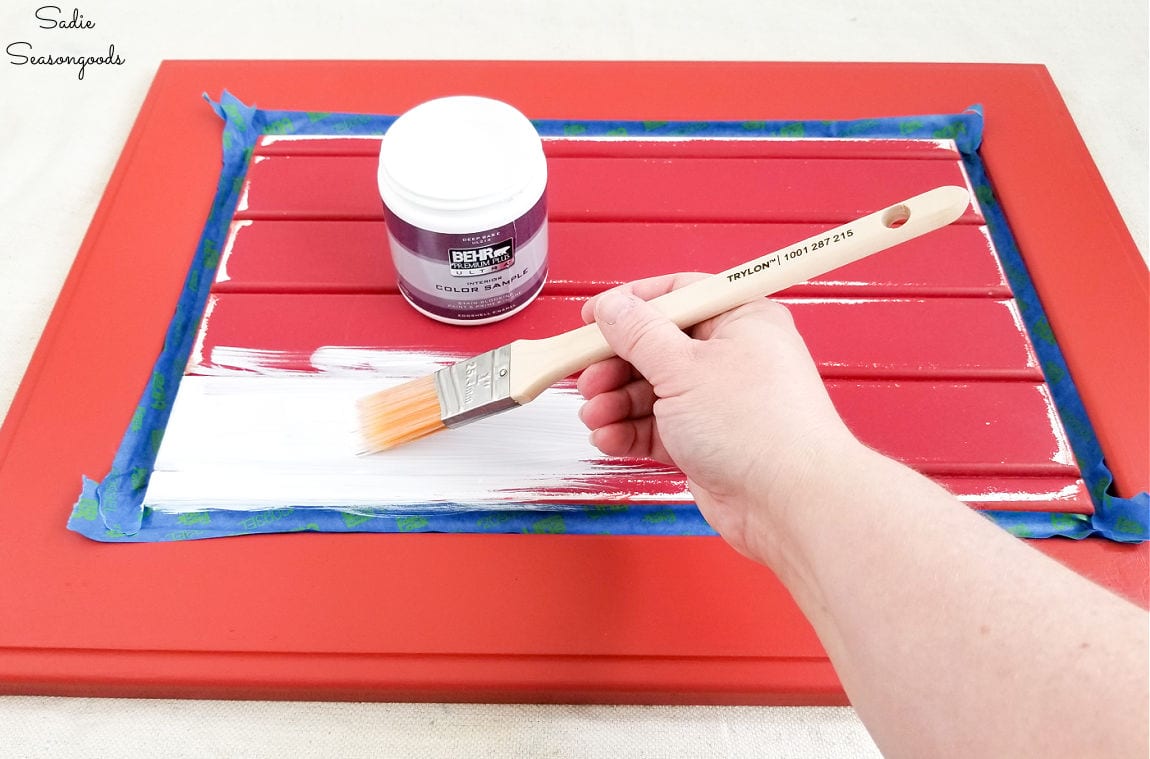 Taking Inspiration from American Propaganda Posters in the 1940s
When the paint had dried, I lightly distressed the entire thing with my favorite flexible sand paper.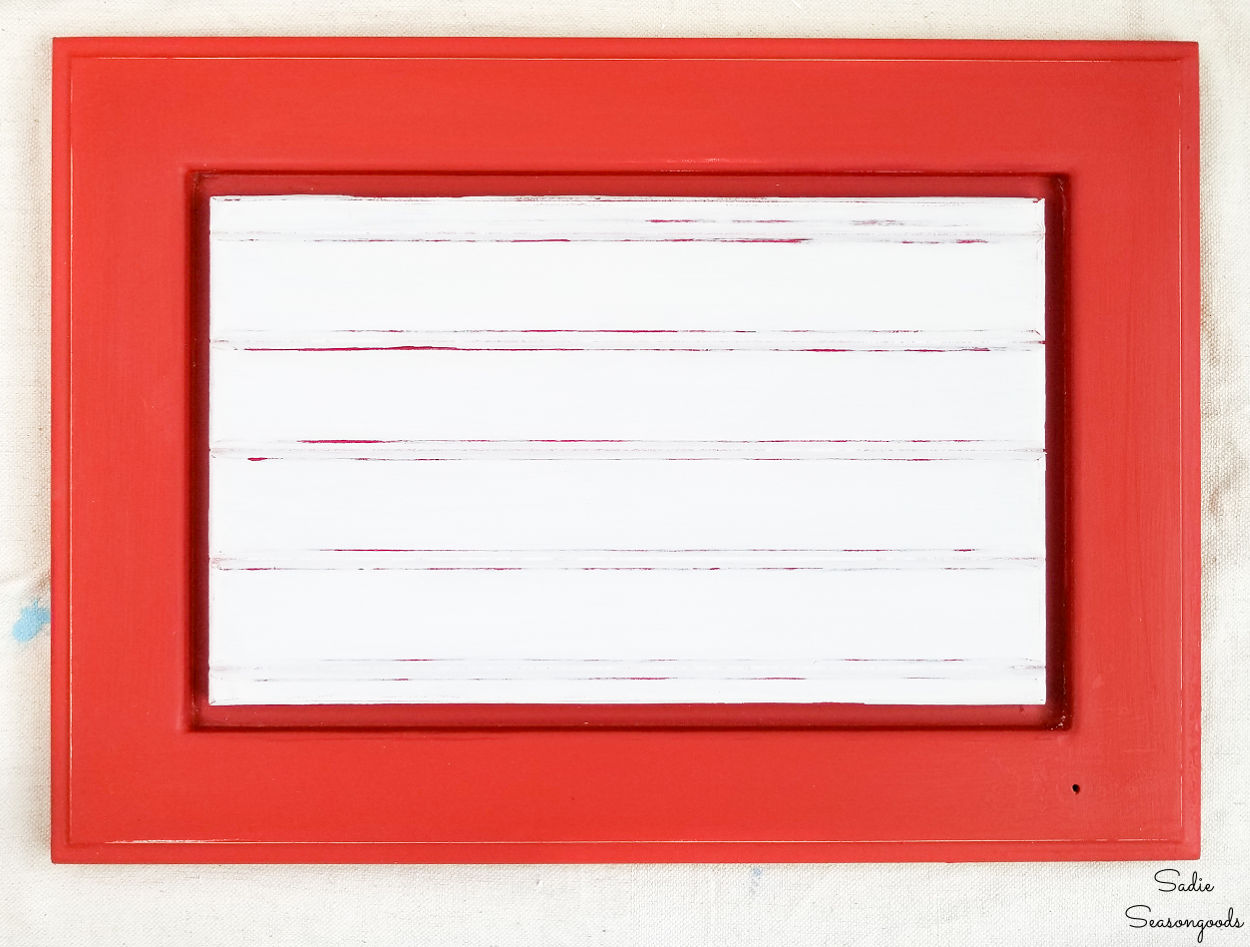 Next, I gathered a specialty stencil with a patriotic slogan, my favorite stencil brushes (from this online store), and a blue paint that reminded me of vintage denim.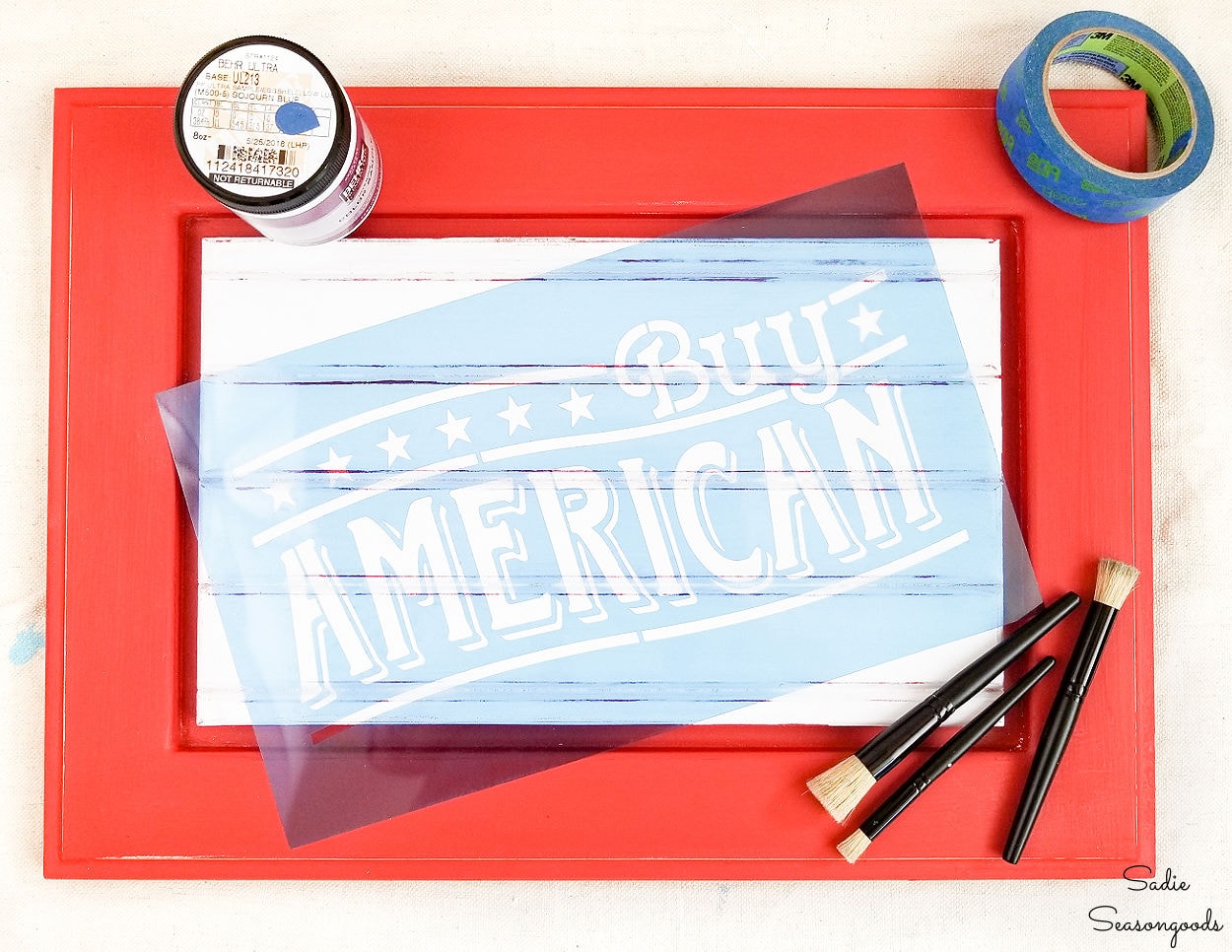 After centering the slogan, I stippled blue paint across the stencil.
I loved that it was going to say "Buy American" . The perfect patriotic slogan for the vintage Americana look that I was going for.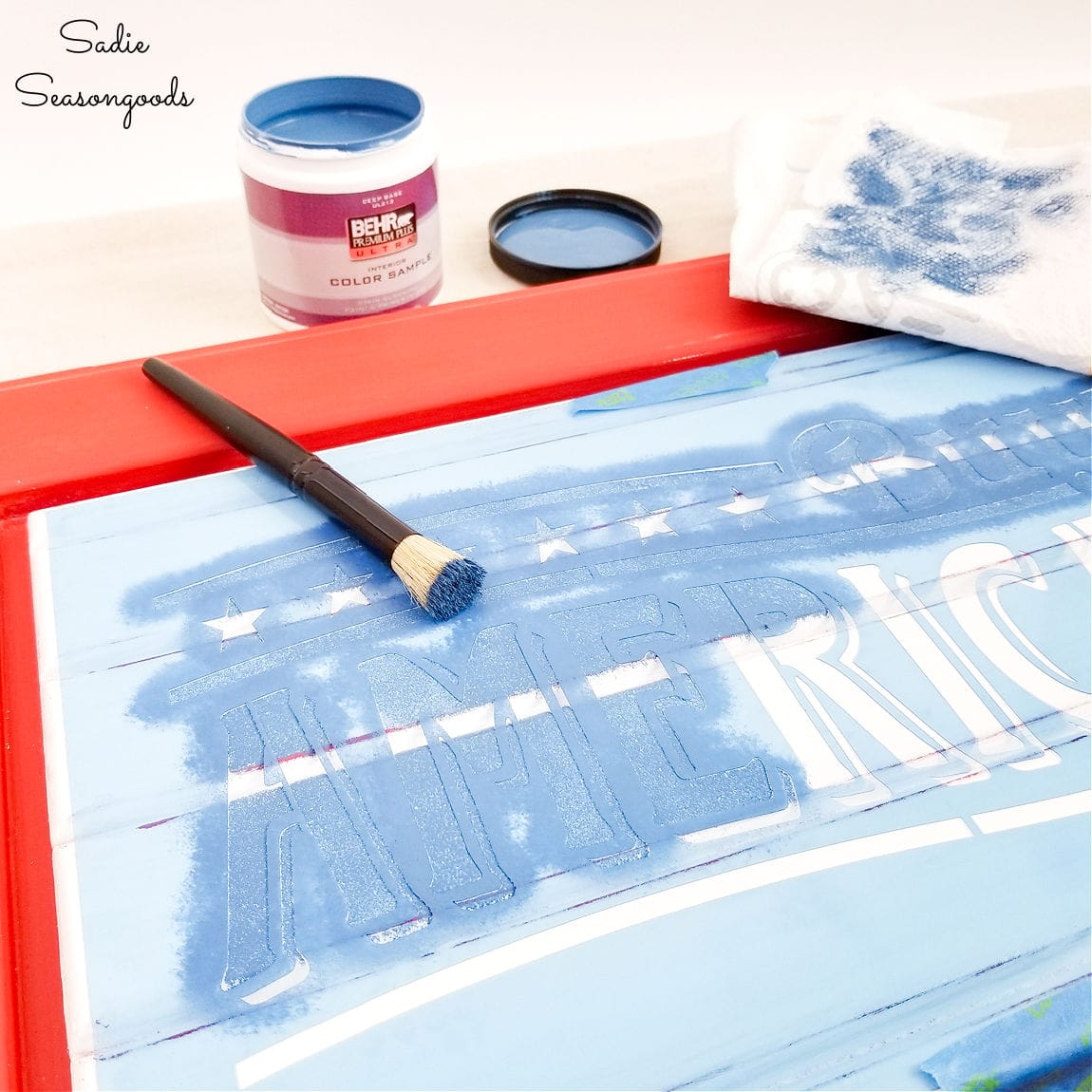 Next, I decided that my patriotic sign needed something else besides the slogan. So, I added four stars, one to each corner, using this handy multi-size star stencil.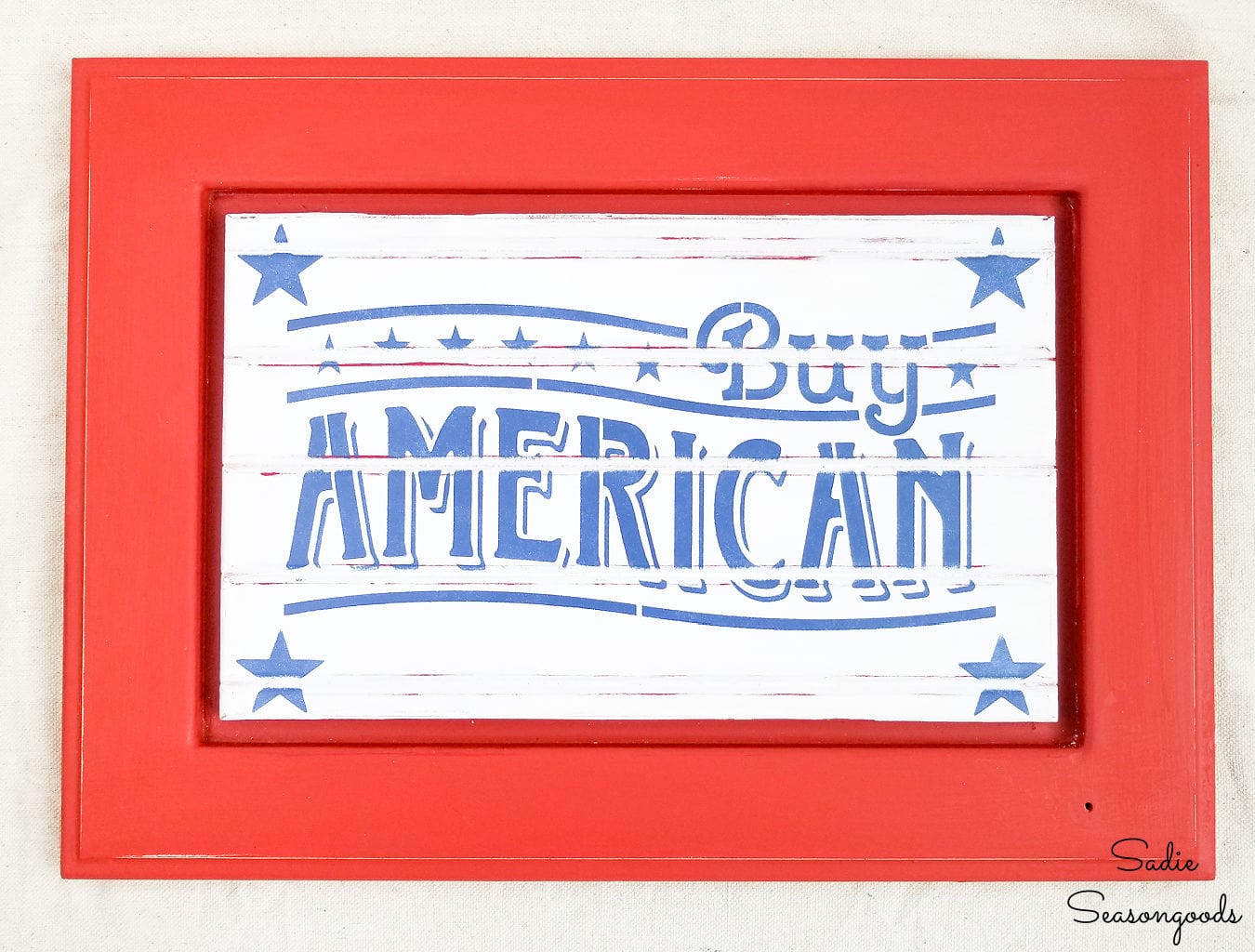 Now it was really looking like the World War 2 Propaganda Posters that I had in my mind!
I still felt that it needed one more finishing touch. I mean, I loved how it looked just like that.
But, I went on Etsy to find a fun knob to cover up and fill in the hole left from the original knob! And I found the perfect one in this amazing Etsy shop, which is filled will all sorts of goodies for projects.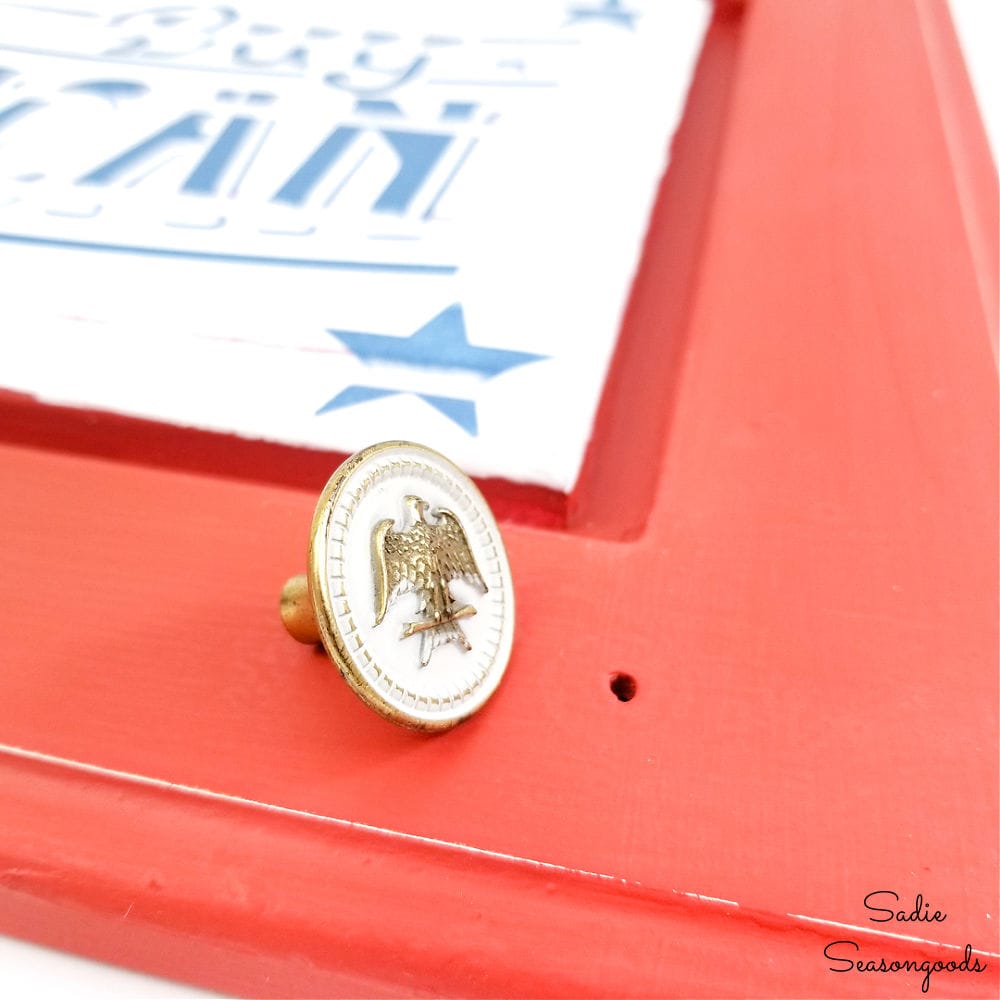 Patriotic Sign on a Repurposed Cabinet Door
NOW my patriotic sign was complete, and I couldn't be happier. Just looking at it makes me start humming "Boogie Woogie Bugle Boy".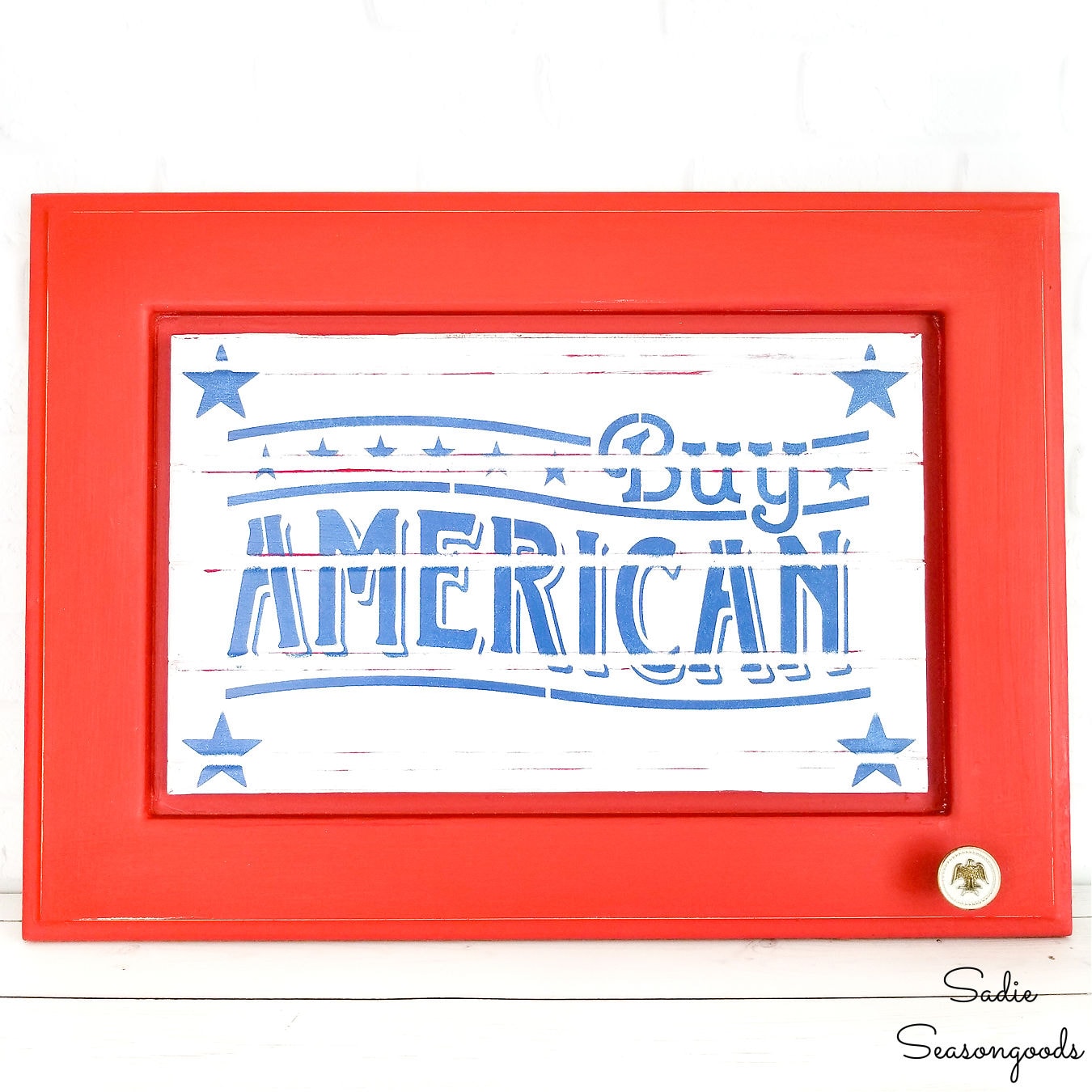 And upcycling a cabinet door is SO MUCH MORE AFFORDABLE than the vintage metal signs or garage signs that inspired me.
Plus, let's face it, "Buy American" is the perfect patriotic slogan. Can't you just see this hung up in an old garage? Vintage Americana decor at its finest!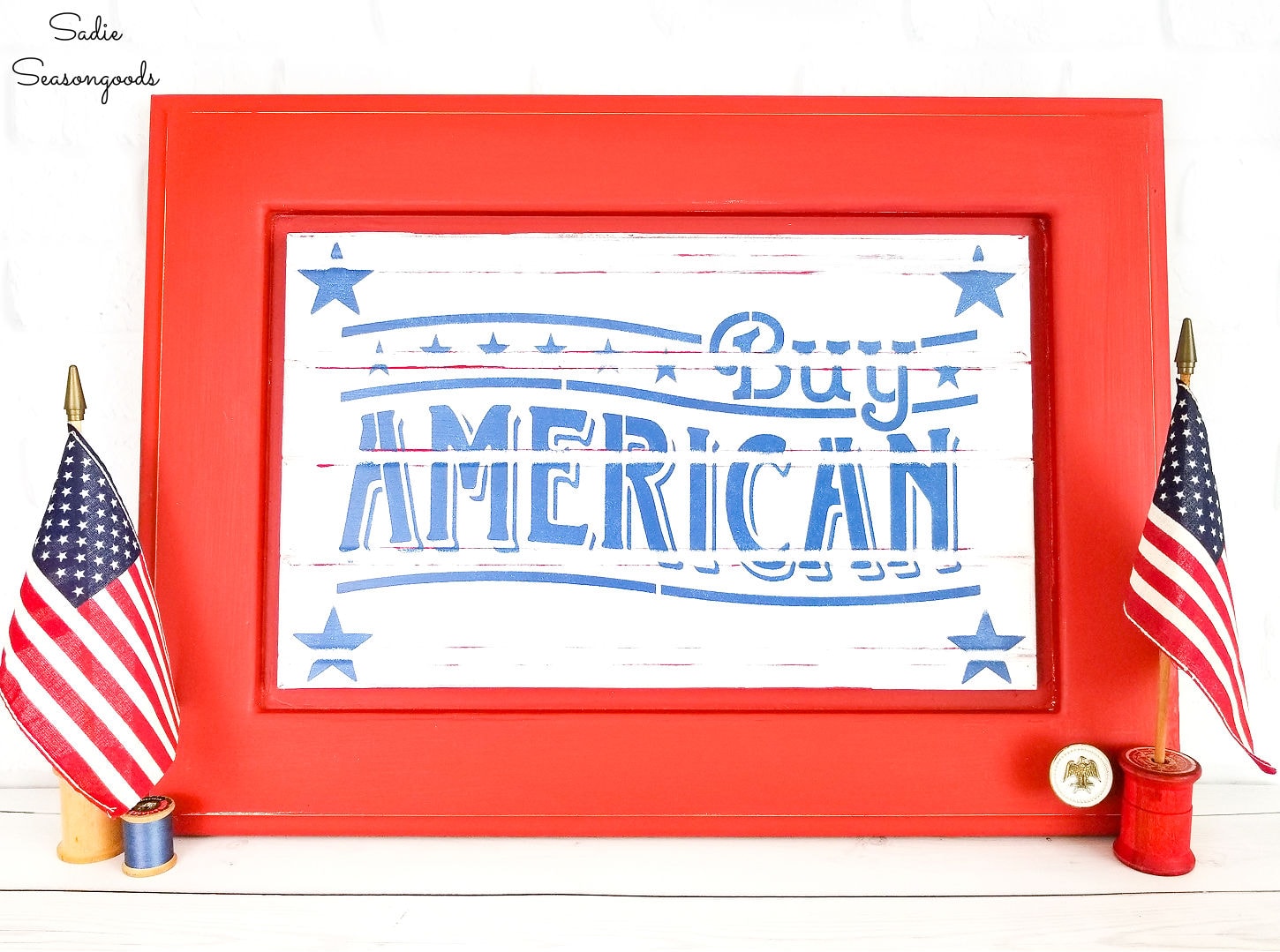 AND I'm so excited to announce that my first book is now available! If you love working with flannel or fabric crafts in general (sewing and non-sewing), then you will LOVE "Crafting with Flannel"!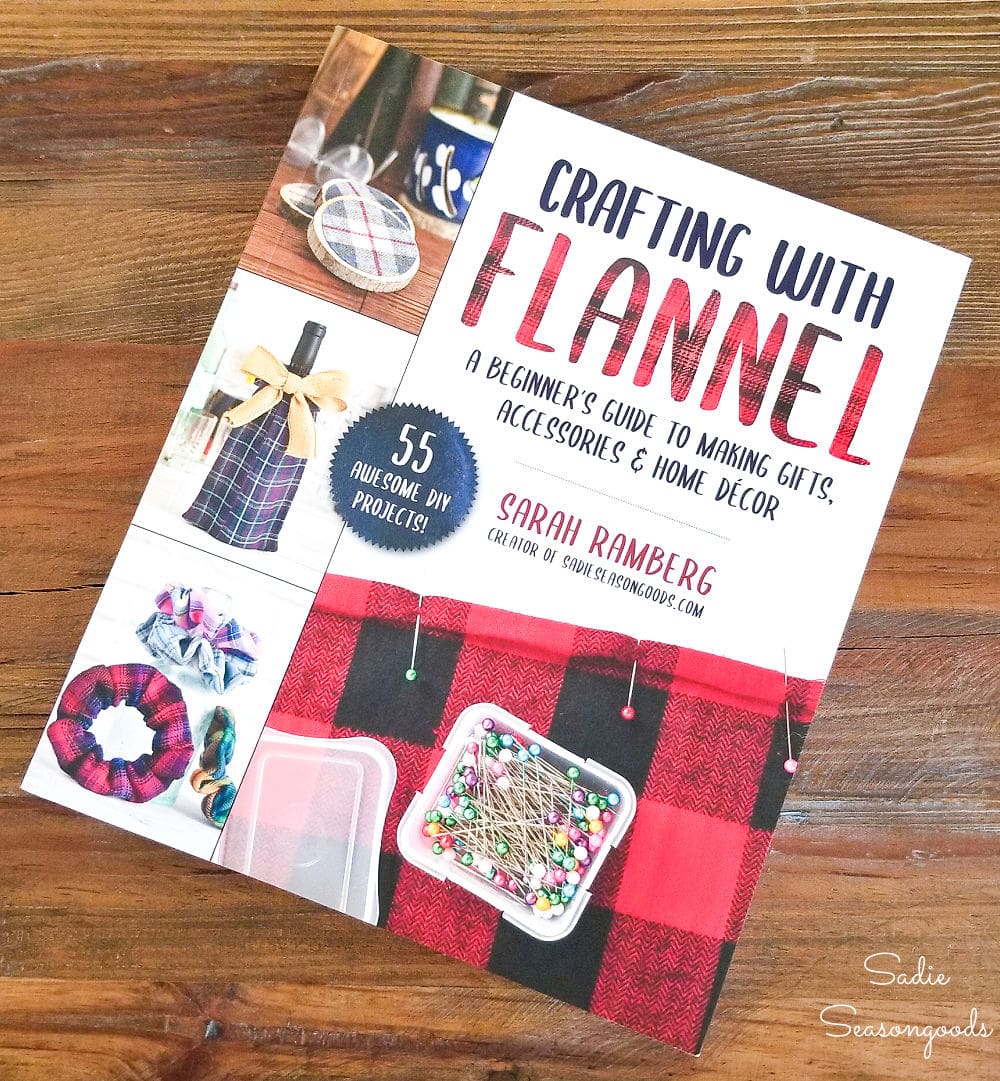 Interested in more upcycling ideas for patriotic decor? Then this collection is DEFINITELY for you!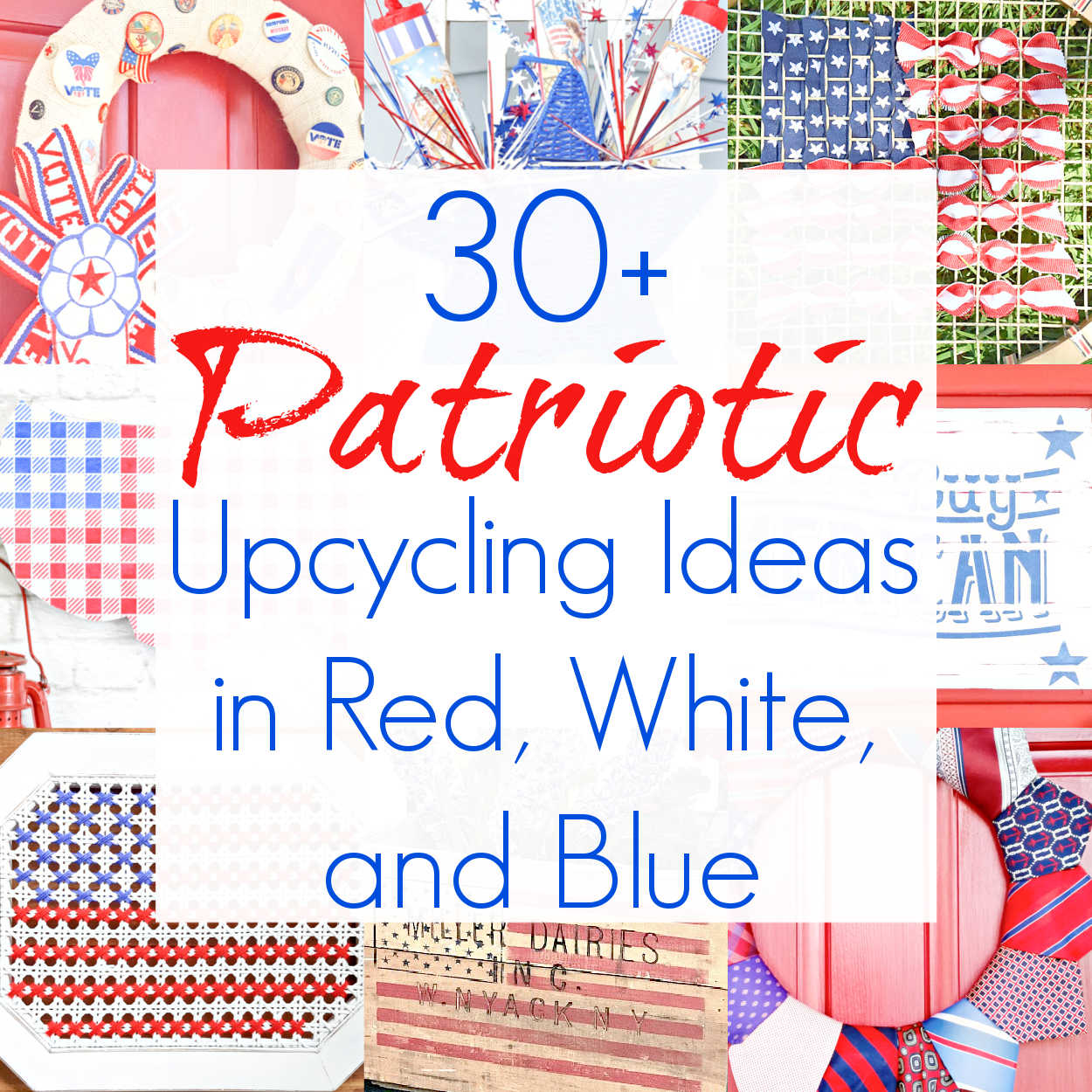 Craft on!
S
Want to be notified when I publish my next upcycling project tutorial?
Subscribe to Blog via Email
Join me on Social Media:



PIN ME!