Like most people, I adore the colors of fall leaves. But even more specifically, I love leaves that are "mid-change". The ones that showcase a gradient of colors in green, yellow, orange, and red. So, I decided that I really wanted to try to capture that magical transition by creating some fall leaves decor to showcase the change.
But what canvas would I use to capture fall leaves in all their glory? Well…
I found this cabinet door at Habitat ReStore a year ago. It was this gorgeous natural wood that was swimming in a sea of plain white doors.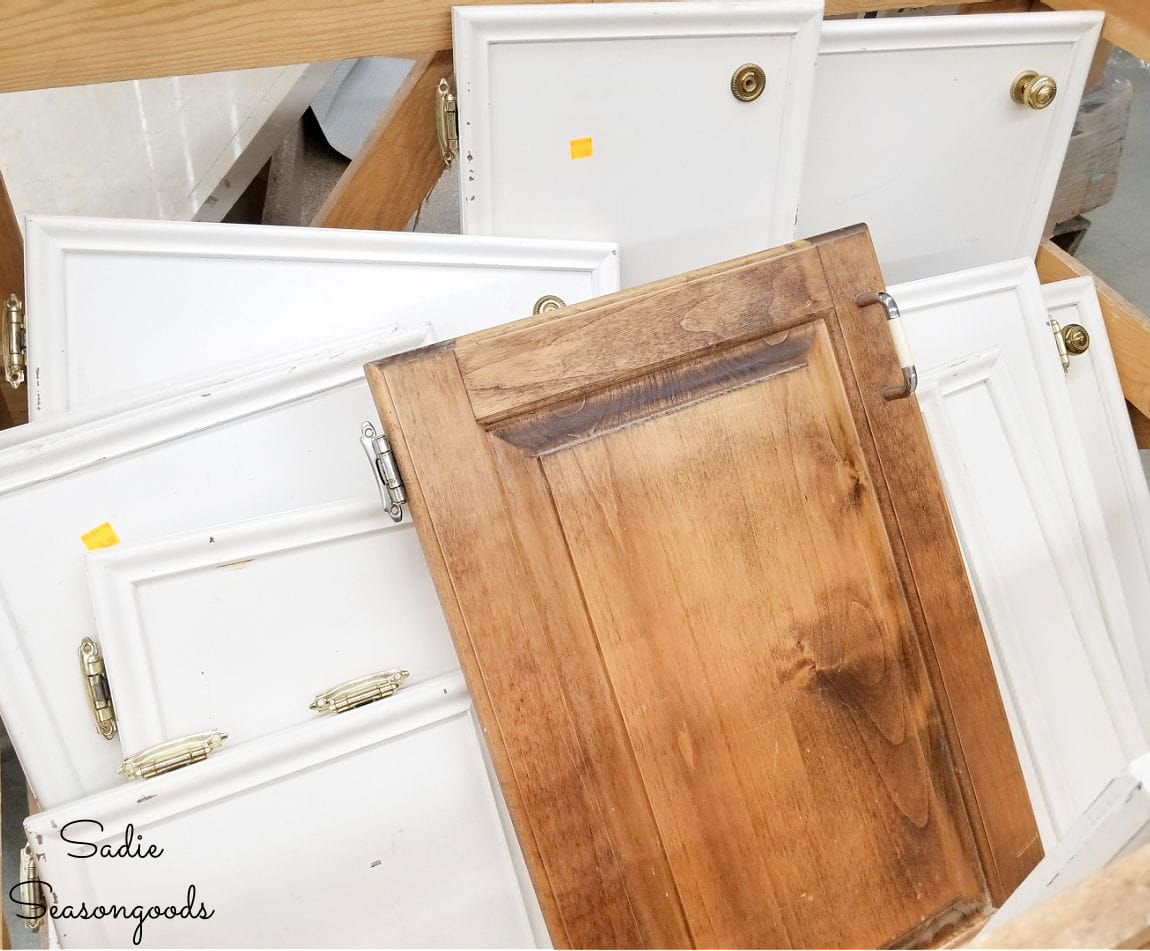 I just LOVE a good upcycling idea for cabinet doors, after all…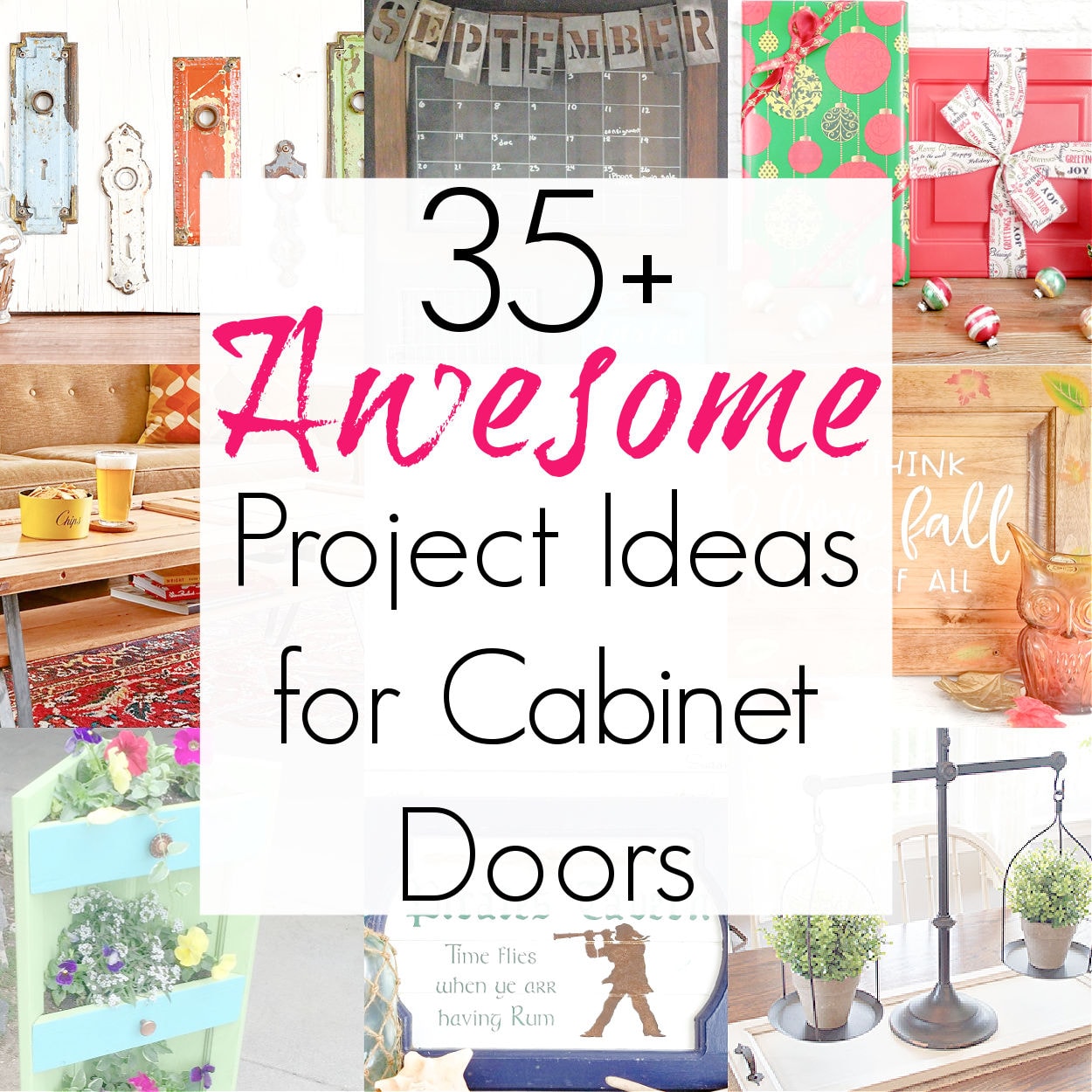 Anyway, back to the cabinet door at hand. I knew that its warm, Earthy hue would be ideal for an autumn sign.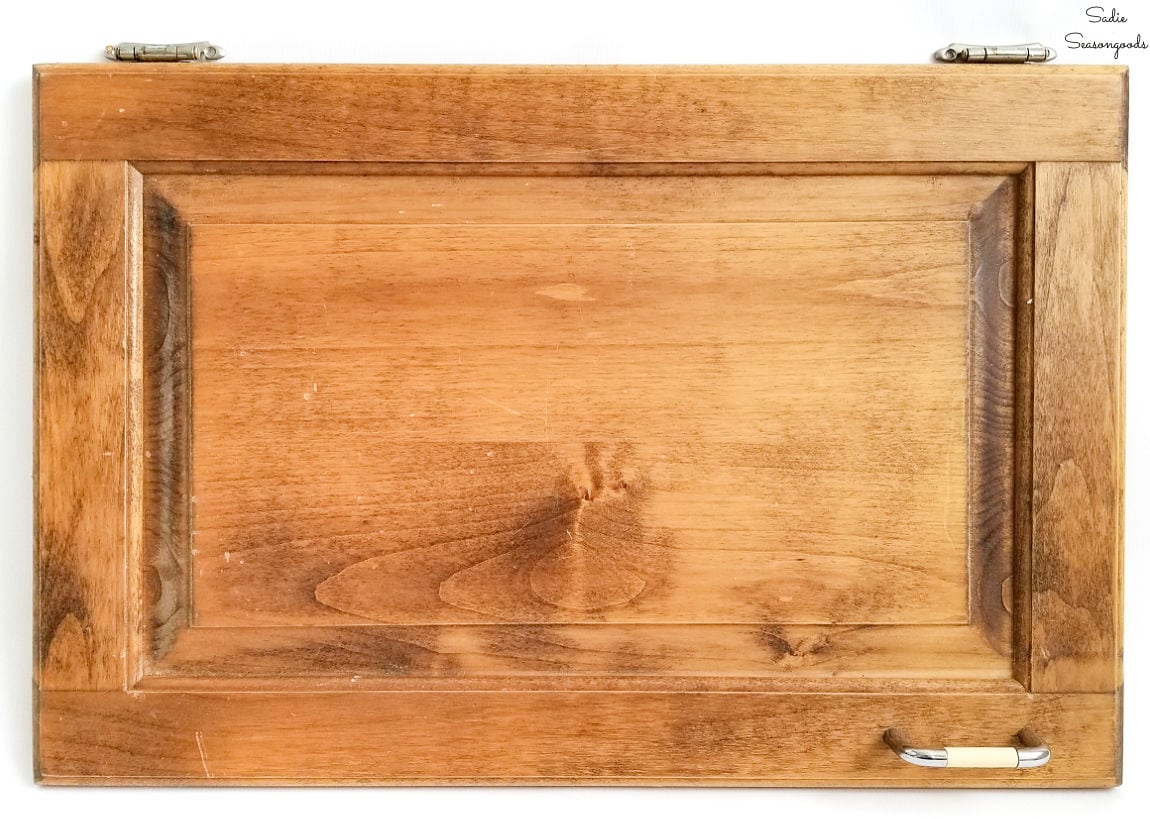 It seemed destined to become a fall wood sign that highlighted my love of the season AND the changing leaves.
This post contains affiliate links for your crafting convenience. As an Amazon Affiliate, I earn from qualifying purchases. All blue, bold, and underlined text is a clickable link, either to a product or to a related post.
Making an Autumn Sign
First, however, there was some prep work that needed to be done on the wood cabinet door.
Removing the existing hardware was at the top of my prep list, even though I've left it on some of my previous cabinet door projects.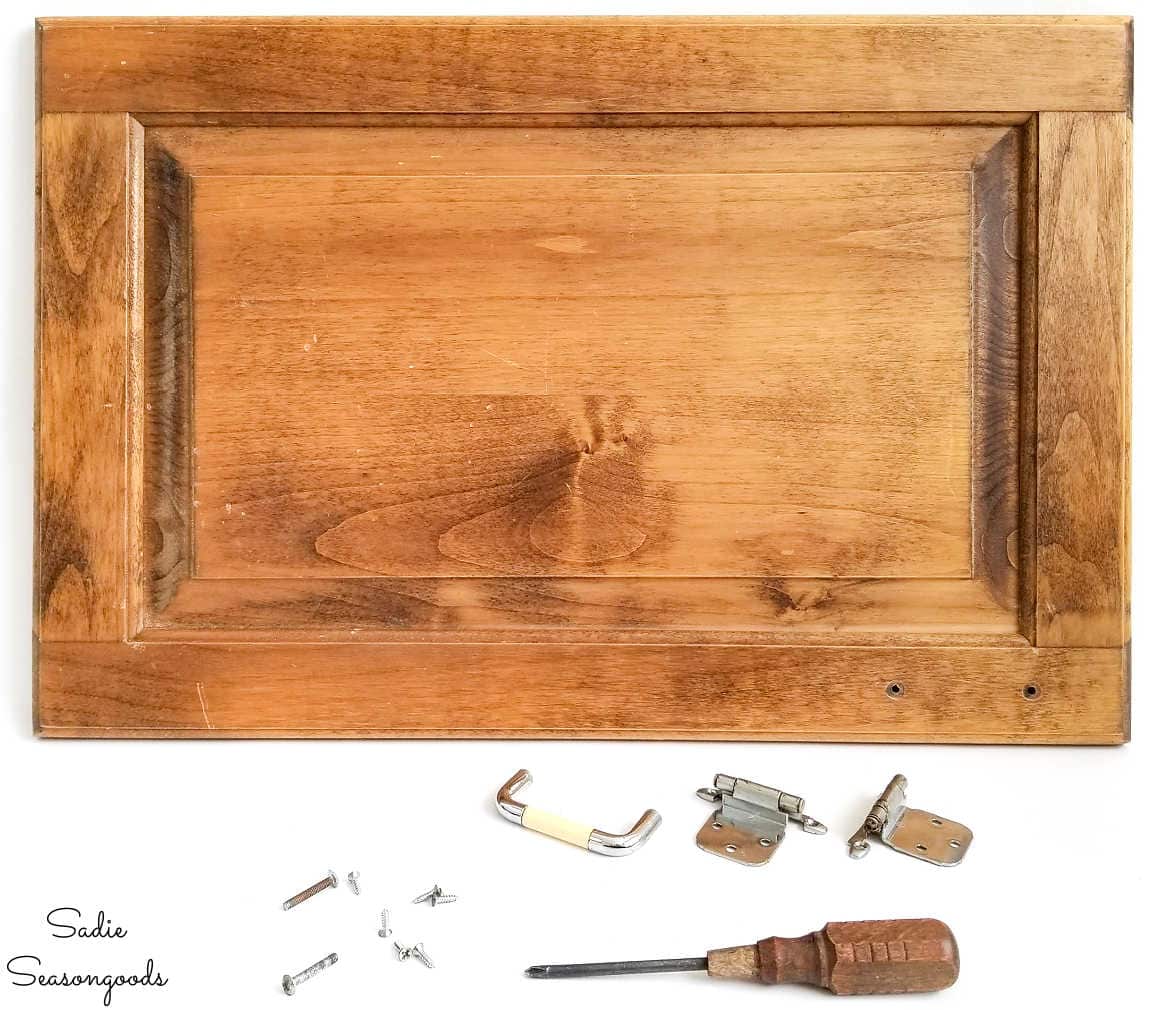 Next, it needed a good cleaning. Like many salvaged cabinet doors, there was a lot of grime and splatters to deal with.
I scrubbed off what I could with a cleaning wipe first. Then, I wiped on some Murphy oil soap which left it gorgeous and gleaming.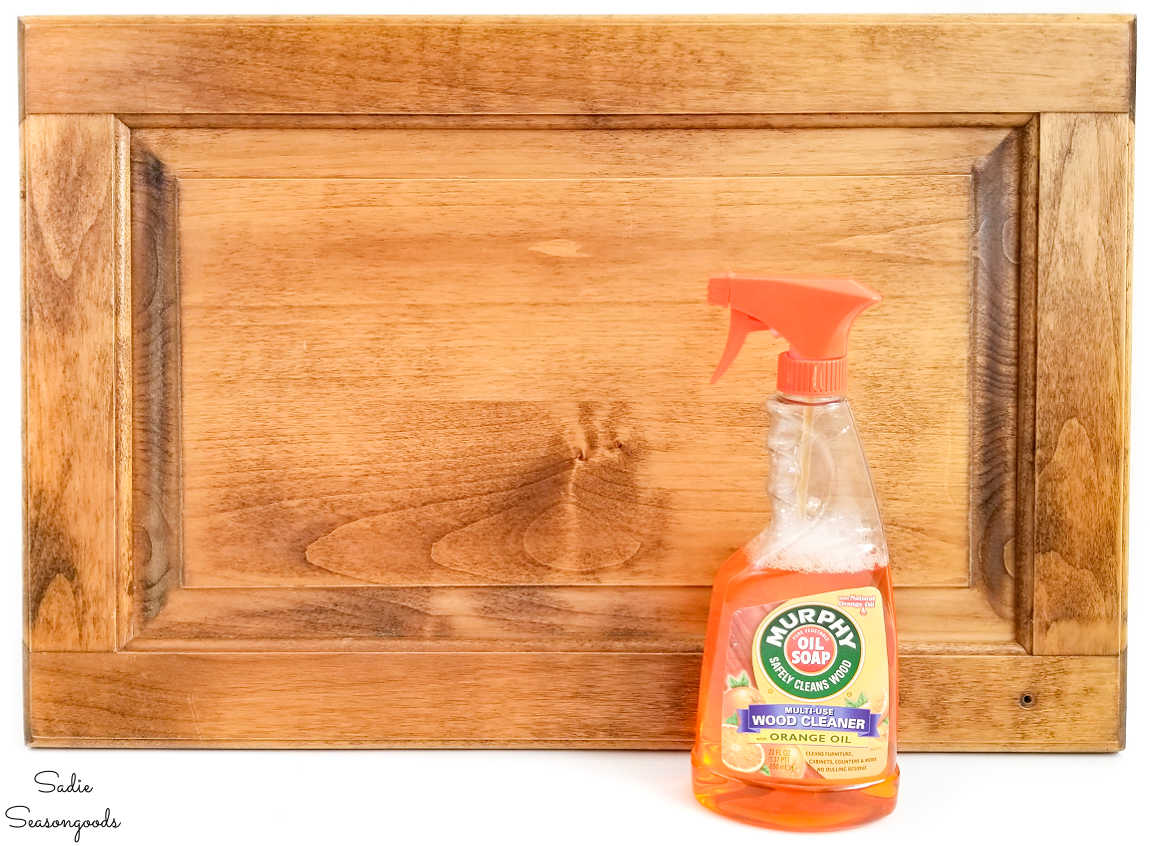 NOW I could break out my fall stencils and start transforming it!
I perused several stencils with fall sayings on them and settled on this one that suited me perfectly. Bright white paint seemed too harsh against the warm wood, so I used the leftover cream paint from this project.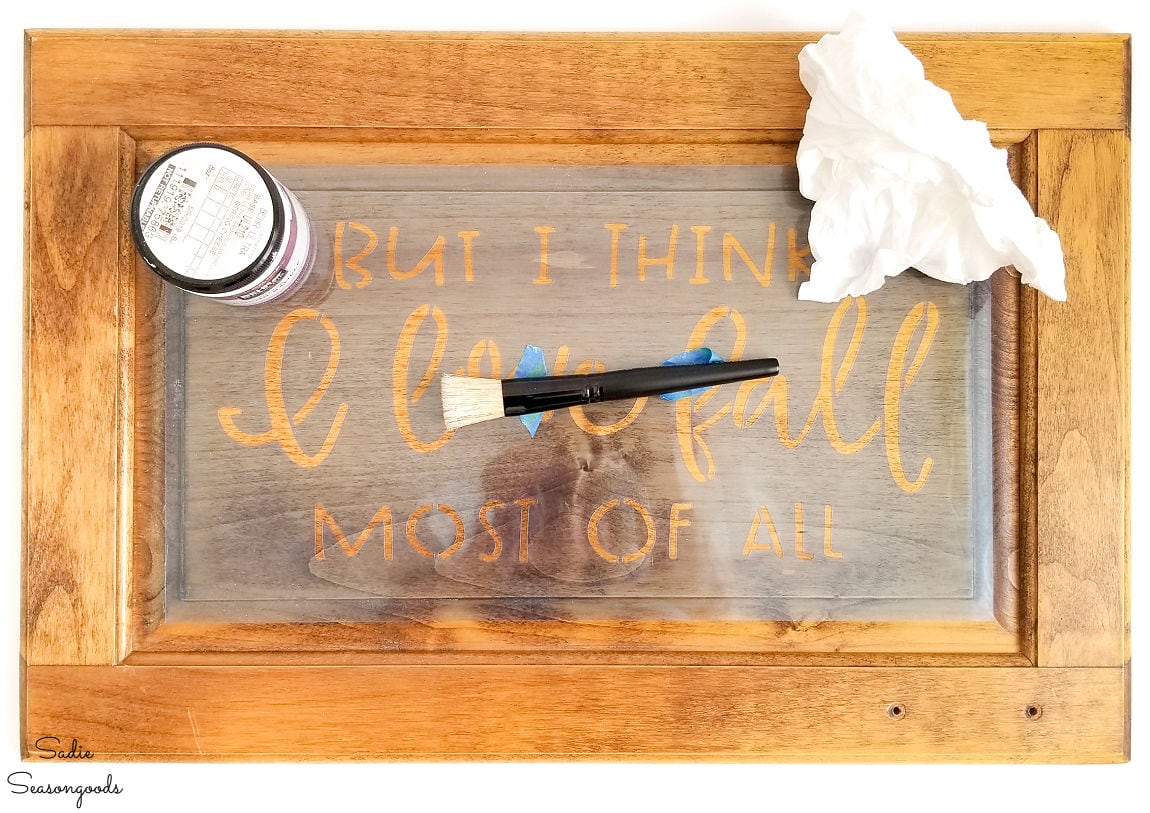 Using a large stenciling brush, I stippled on the paint over the autumn quote. I had to tape it in the center over the largest letters as there was no room on the sides.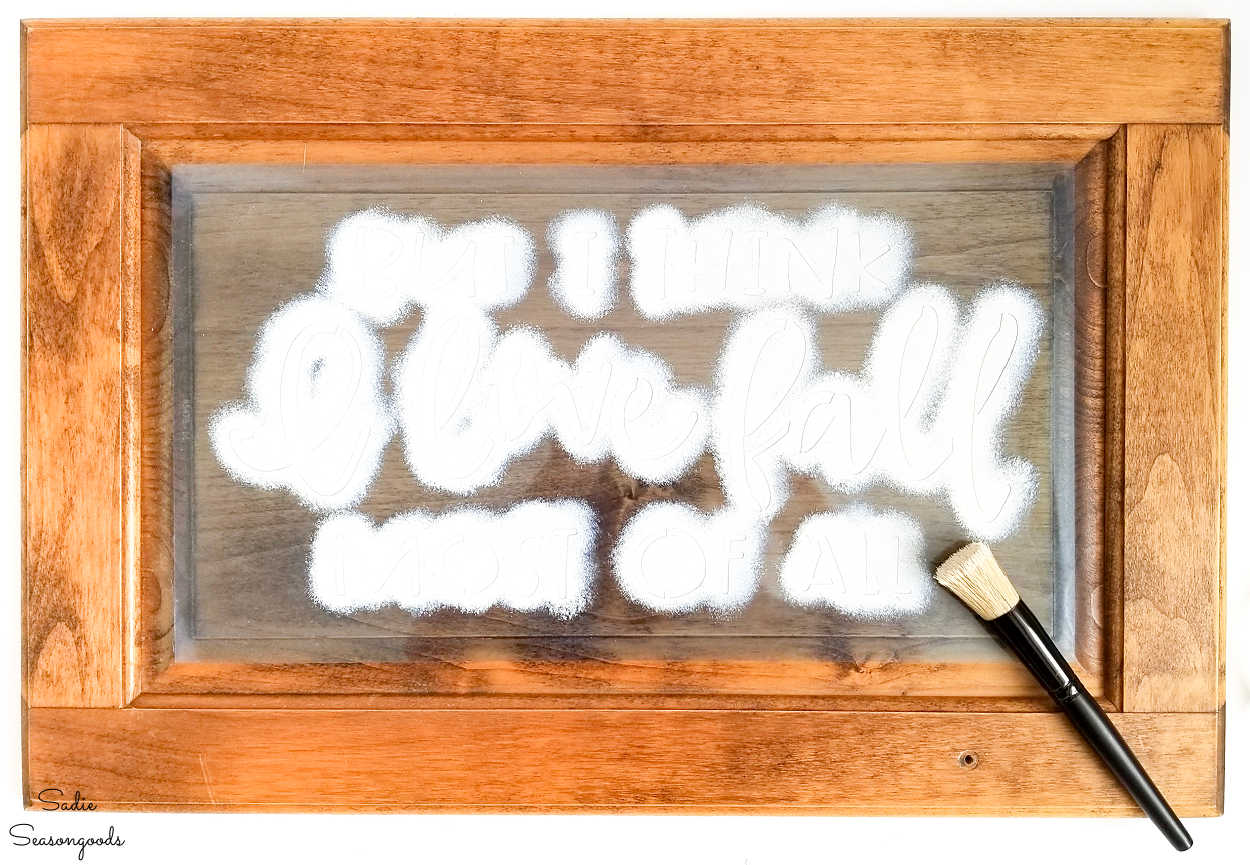 I stippled paint around the taped parts before carefully removing the tape and stenciling the remainder of the fall saying.
When all was said and done, it looked perfect! Stenciled words ALWAYS end up nice and crisp on unpainted wood, don't they?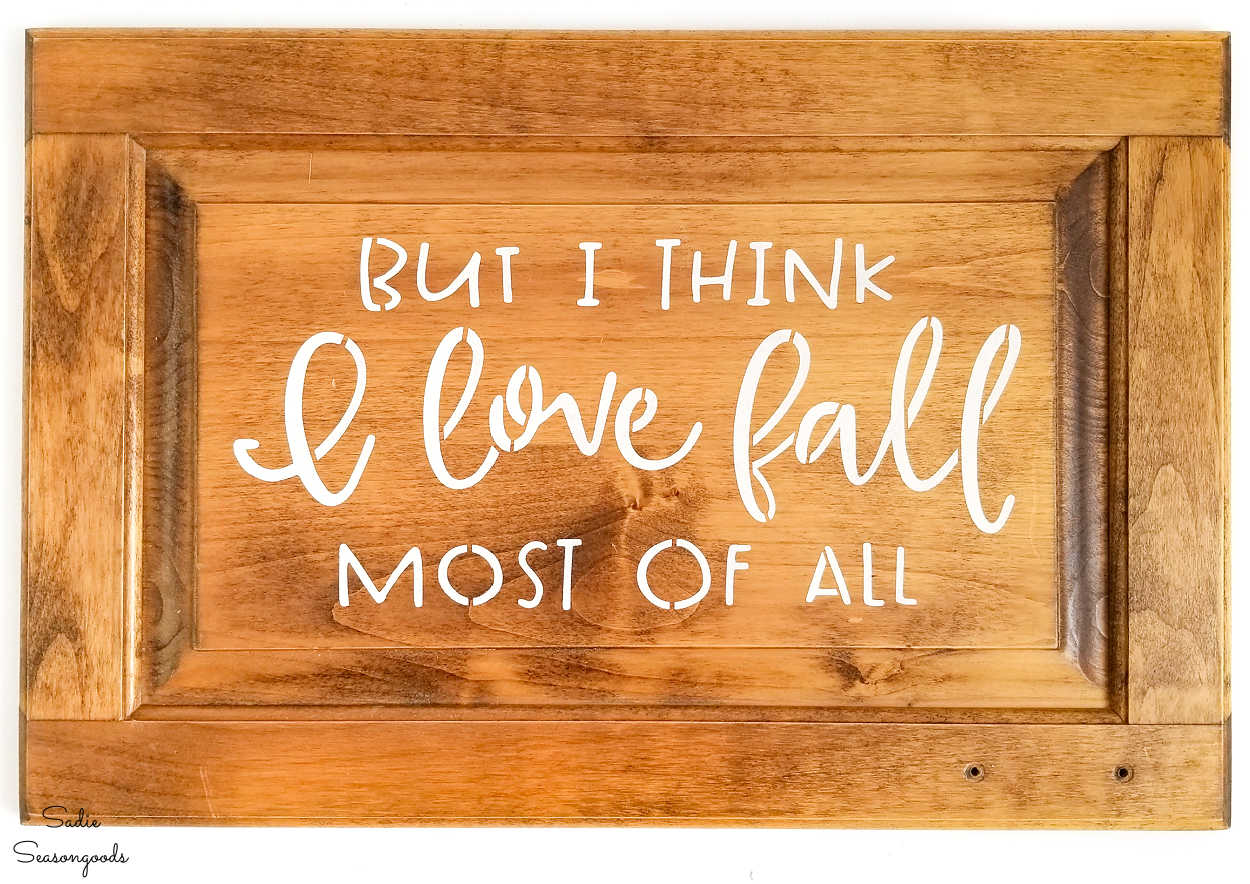 Now it was time for the moment I had been waiting for. Painting fall leaves around the border of the sign!
Fall Leaves Decor with a Stencil
I gathered a leaf stencil and nearly 10 bottles of craft paint- a couple of greens, as many hues of oranges and yellows that I had, and a dark red.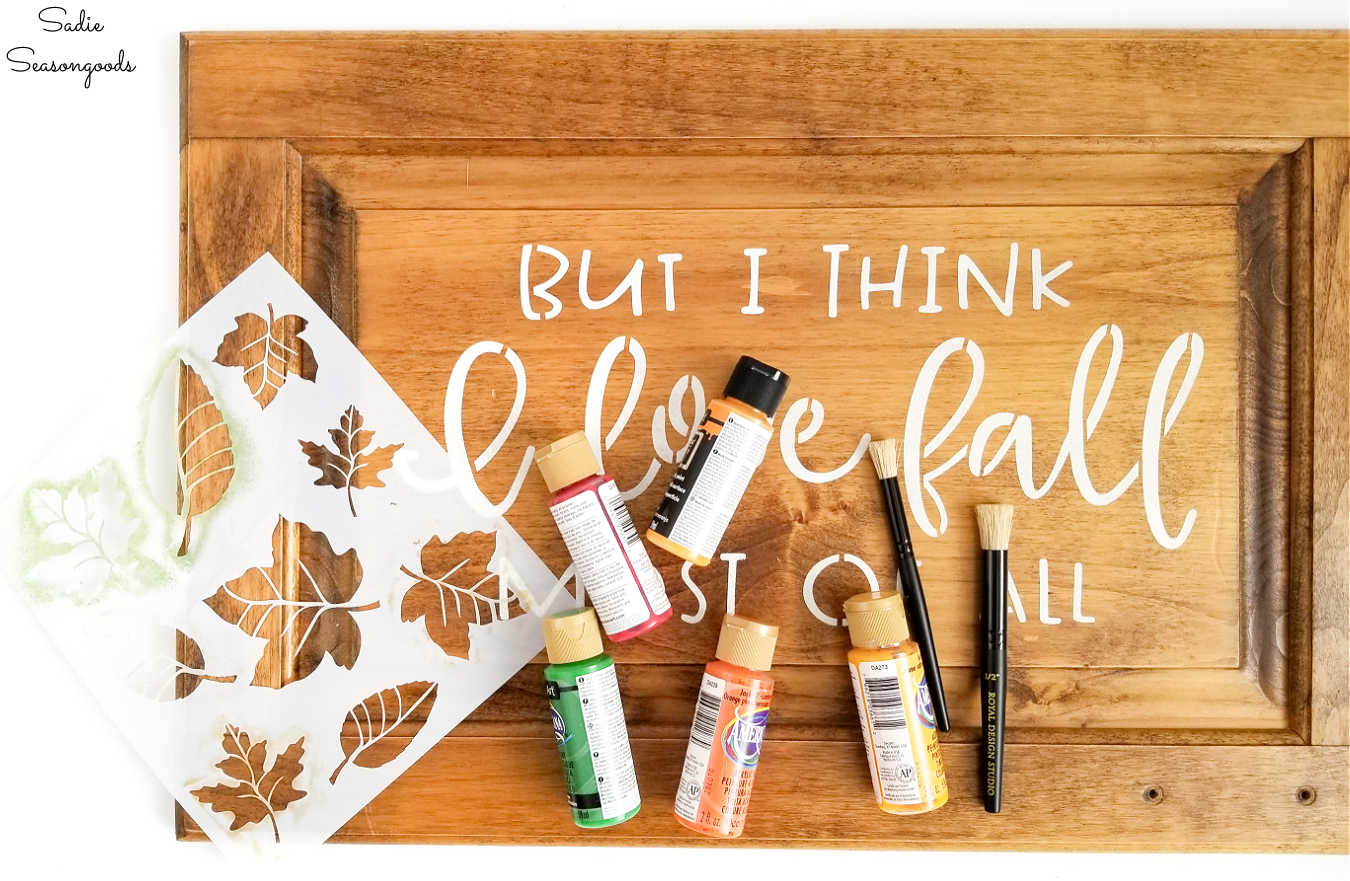 To capture the colors of autumn in my fall leaves, I taped the stencil on and started in the center of the leaf with a darker green.
Then, I switched stencil brushes and stippled orange paint at the outer edges of the leaf, working my way in towards the green. I overlapped the orange over the green a bit and that was it!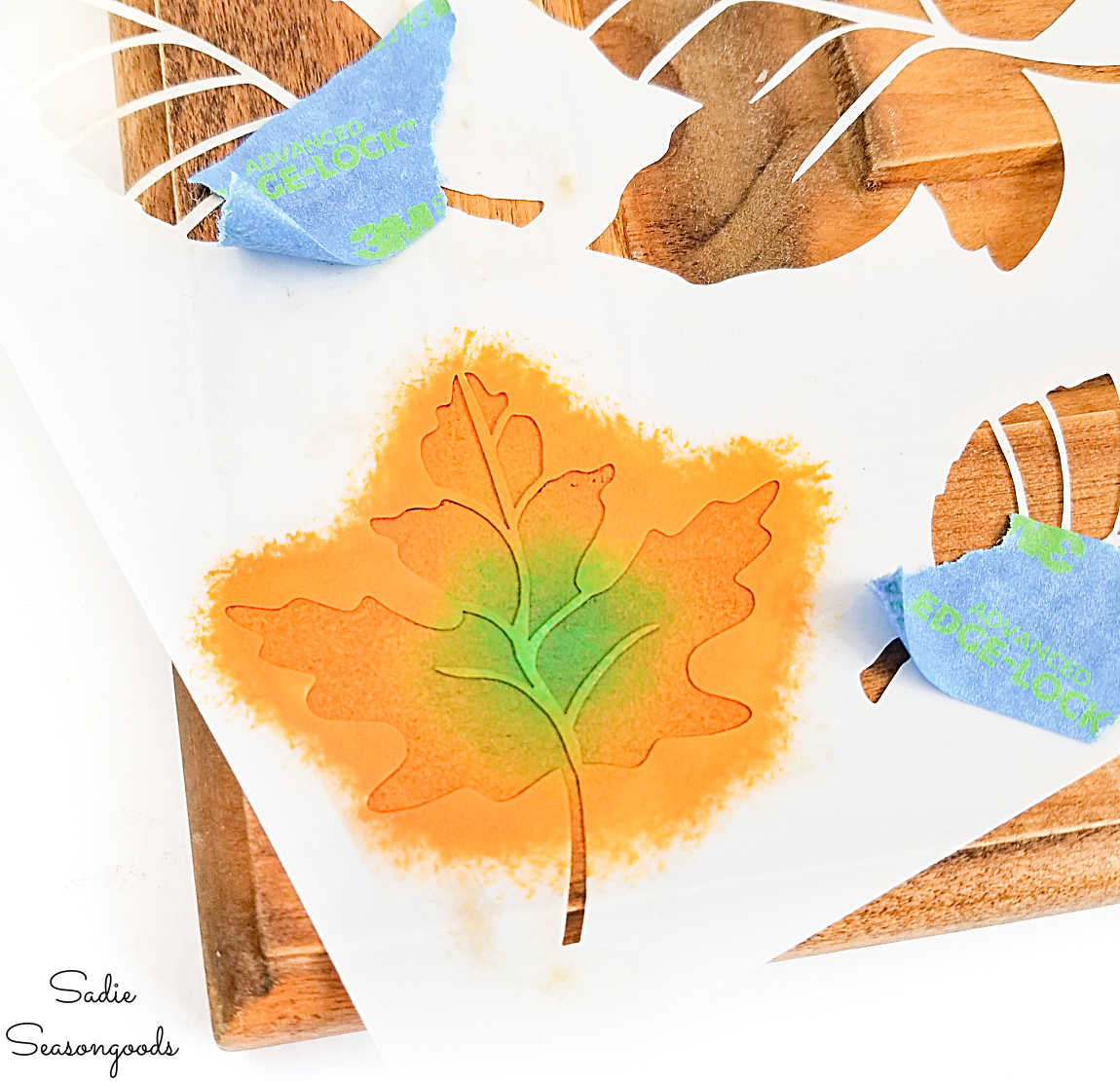 And the moment of truth– did my first attempt at painting fall leaves look relatively authentic?
You know what? I LOVED IT!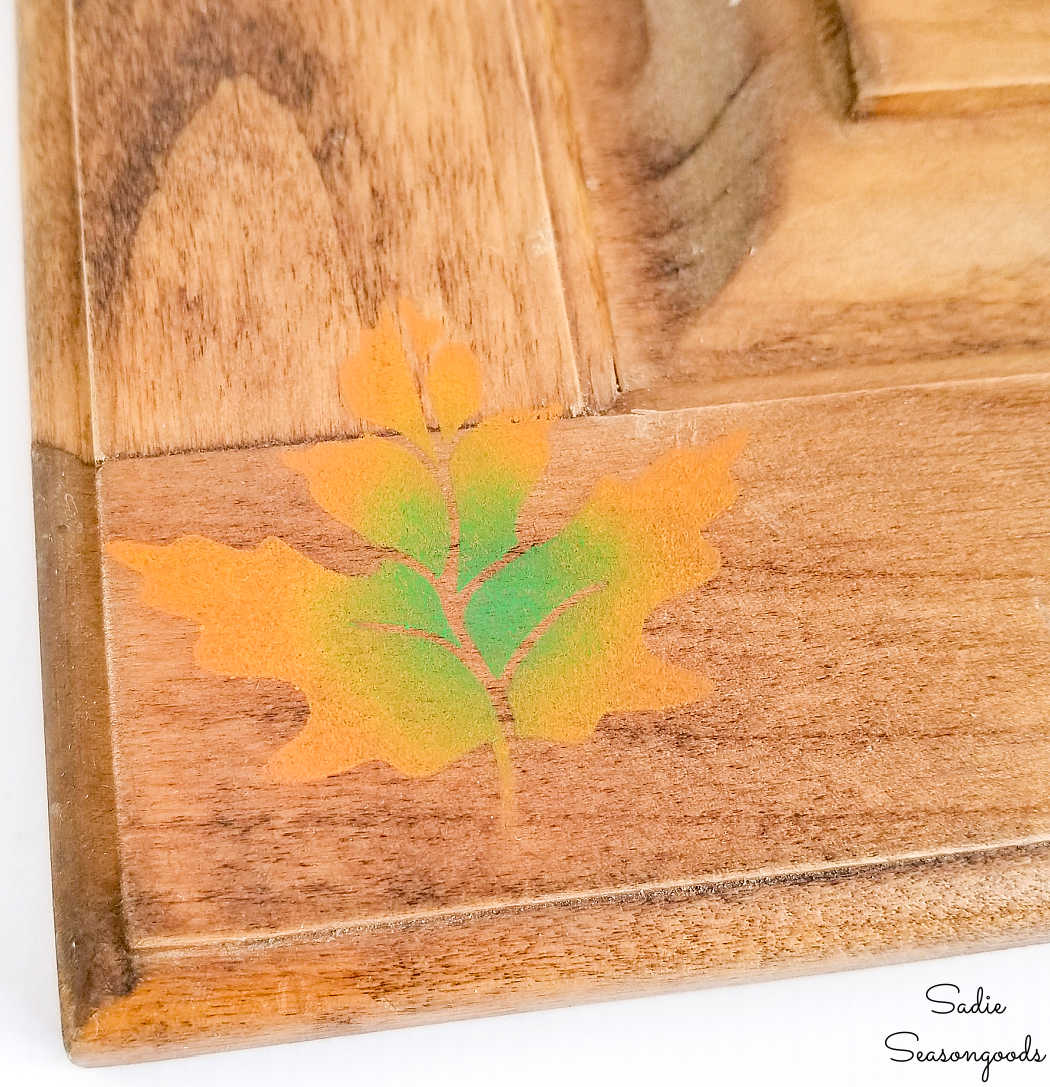 I went all the way around the cabinet door, varying between leaf shapes and using different autumn colors of paint.
Even though I always started the same way (in the very center), I sometimes finished the entire leaf and went back with the center color for more overlapping.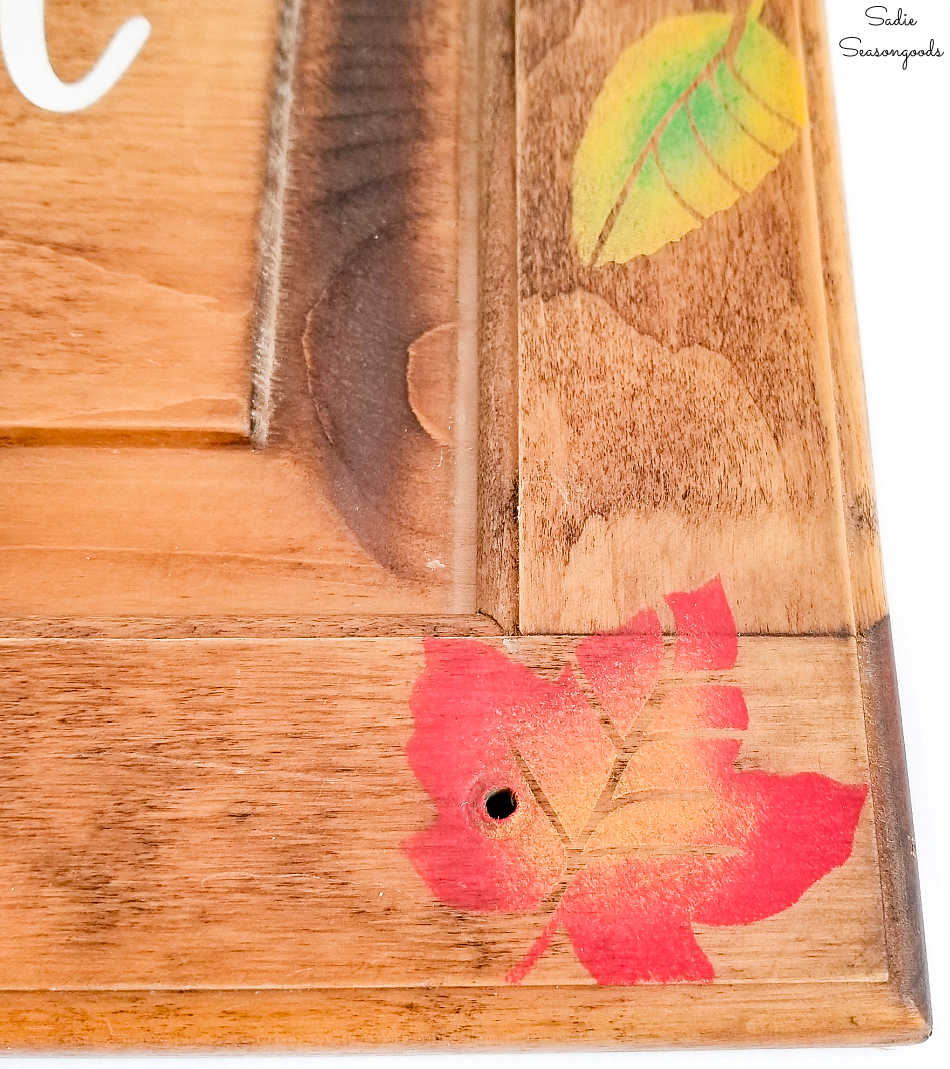 Fall Leaves Decor on an Autumn Sign
Finally, I was done stenciling on the fall leaves. And y'all…I am so in love with my autumn sign.
It's like a love letter to to my favorite season…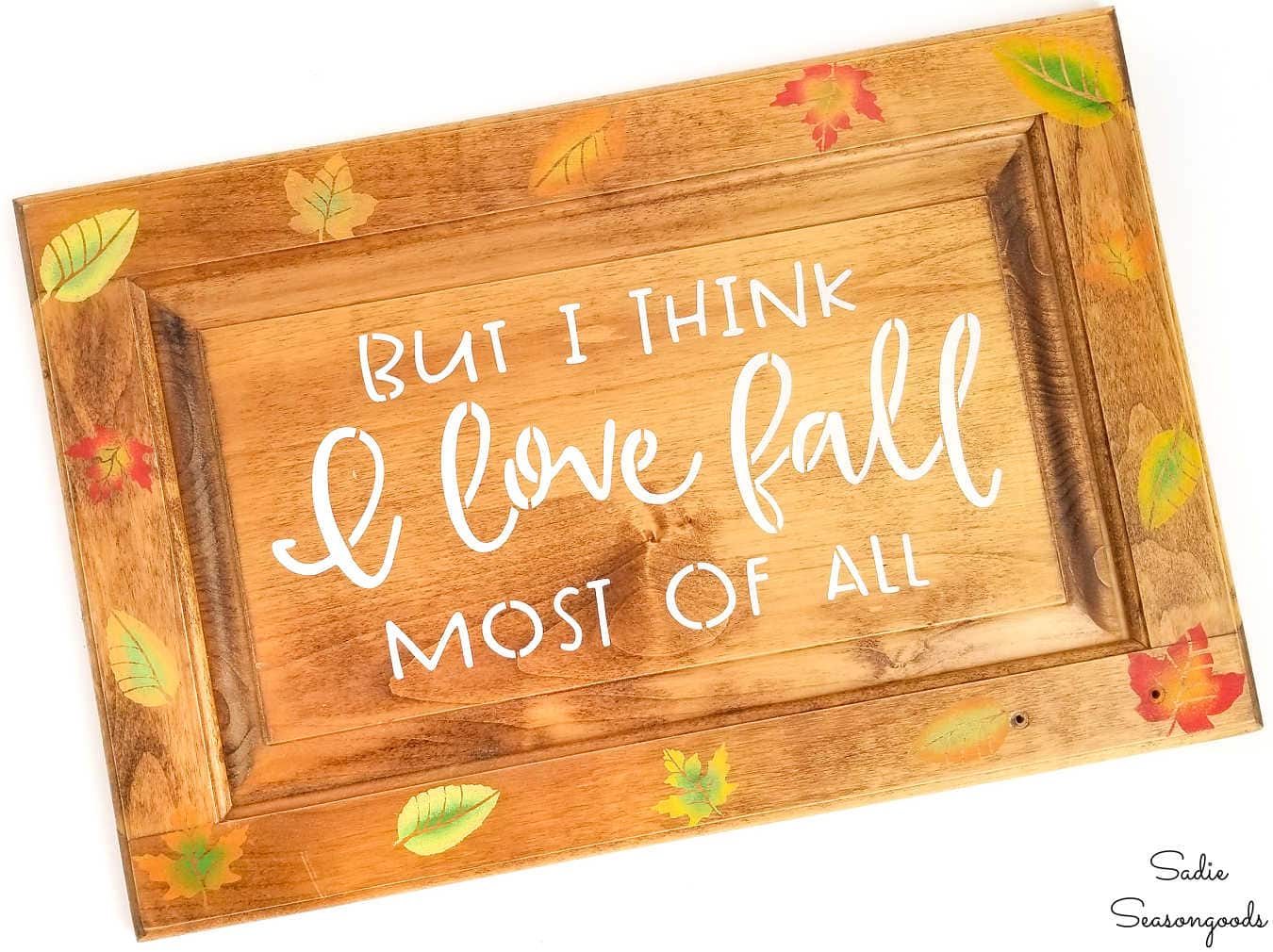 Now, to be fully transparent, I should tell you that it took 2 or 3 days to finish the leaves. I have a limited number of brushes and I worried about constantly layering paint onto the stencil.
So, I'd do 3 or 4 leaves at a time, wash everything, and start back up the next day after the brushes had thoroughly dried.
But, I'd do it all again if I had to because it was worth it! I thought about adding some salvaged hinges to the sign for a little visual interest, but I decided the fall leaves shouldn't be covered up.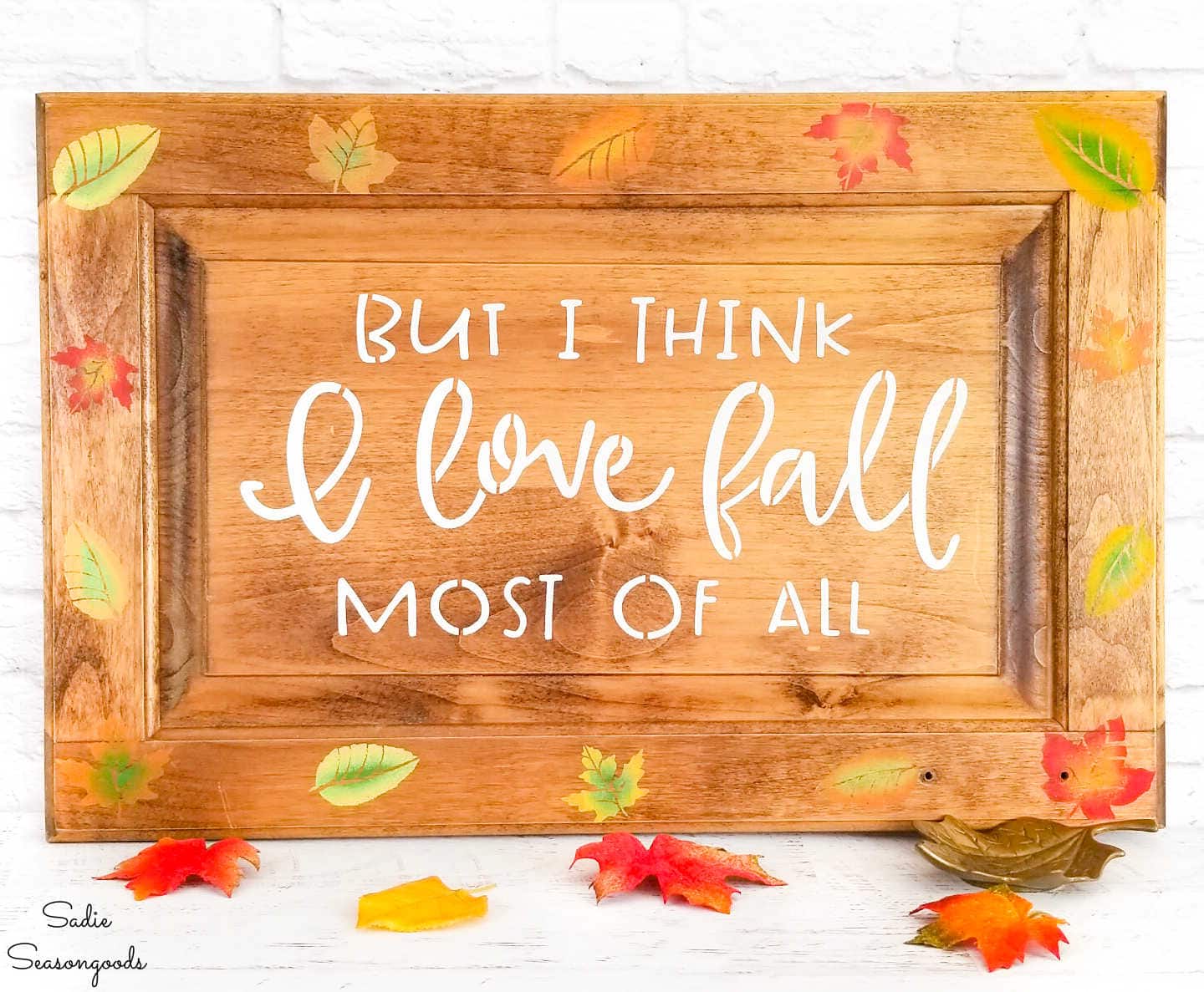 What do you think? I know a stenciled sign on a cupboard door isn't exactly ground-breaking in its cleverness, but this project was as much about a craft technique to try than the end result.
And if you're interested in another easy painting technique for fall decor, you'll love these decorative gourds I made from glass bottles!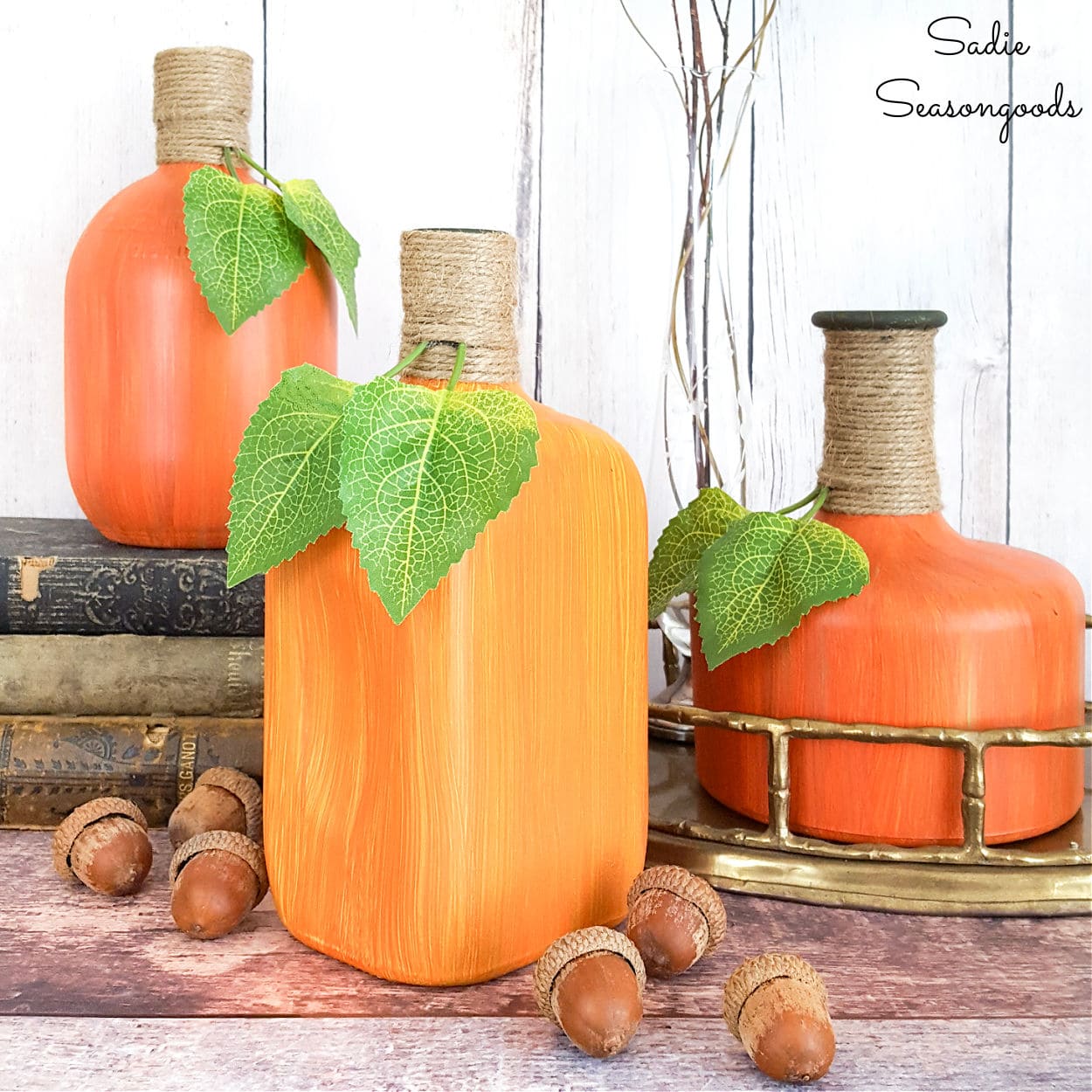 Craft on!
S
Want to be notified when I publish my next upcycling project tutorial?
Subscribe to Blog via Email
Join me on Social Media:
PIN ME!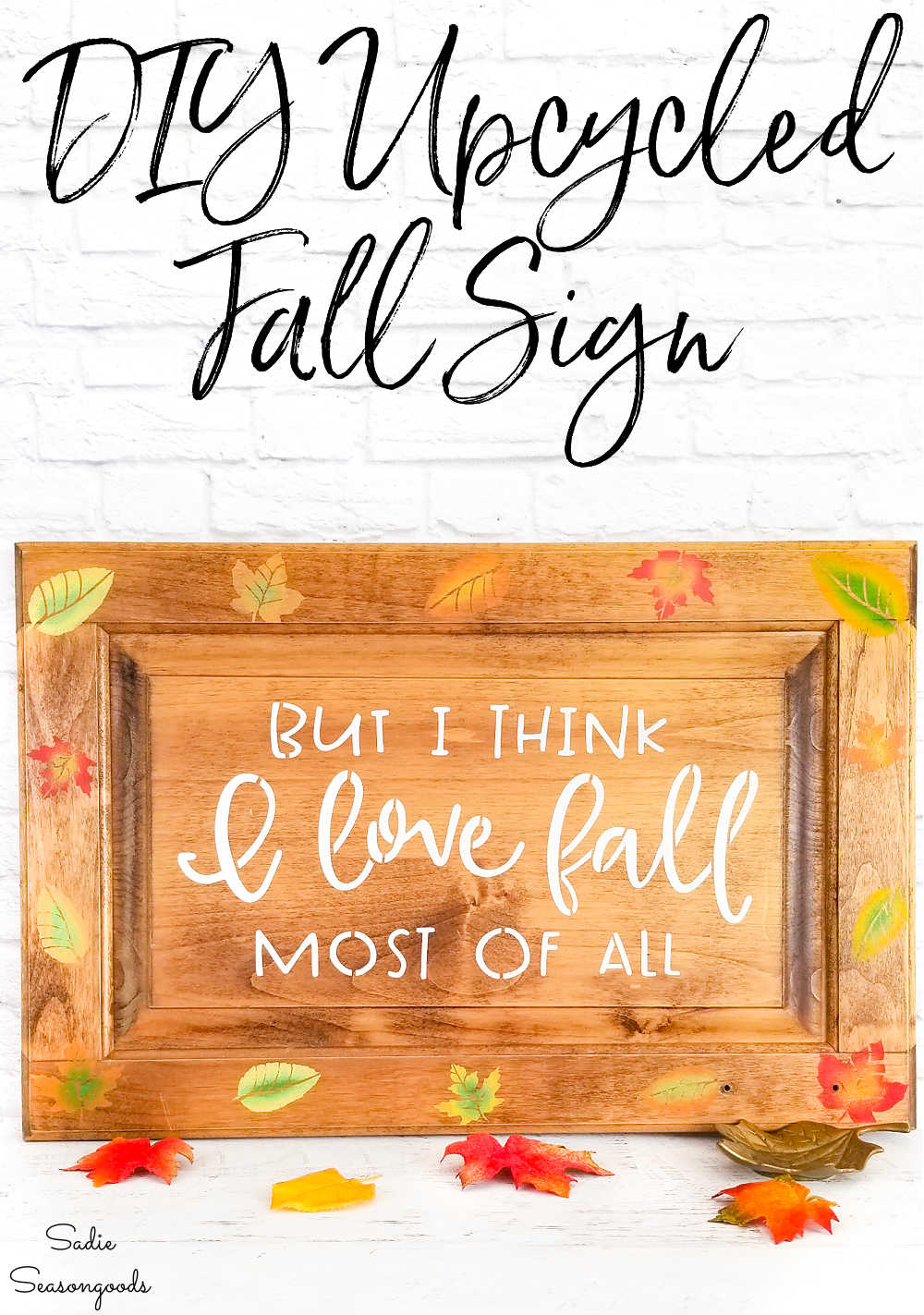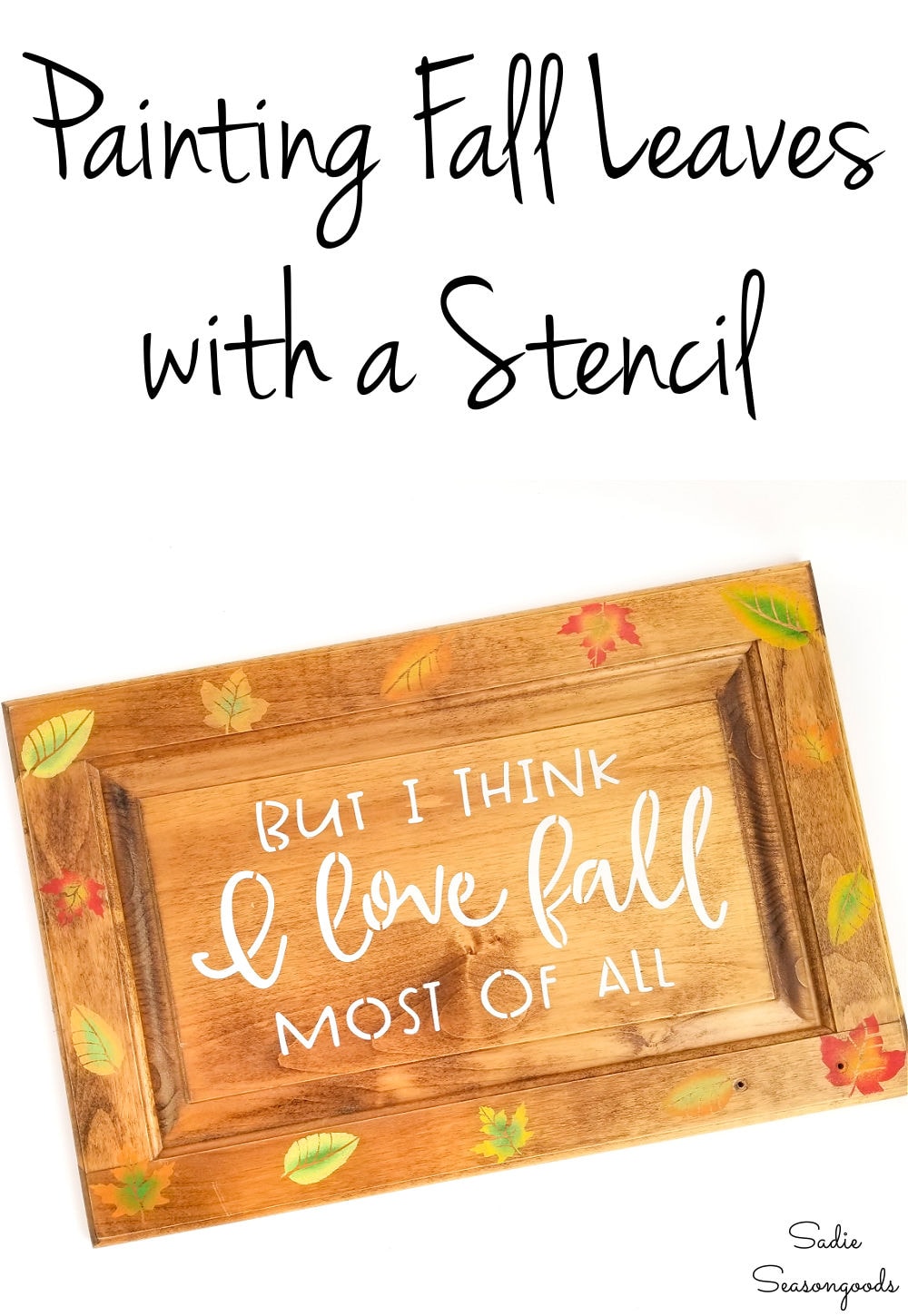 Sarah Ramberg is the owner of Sadie Seasongoods, a website that celebrates all things secondhand. From upcycling ideas and thrifted decor to vintage-centric travel itineraries, Sadie Seasongoods is a one-stop shop for anyone who loves thrifting and approachable repurposing ideas. Sarah is also the author of "Crafting with Flannel" and has been featured in numerous media outlets and magazines.