Every now and again, I prefer doing a "refinish" than a "repurpose" on something that needs some TLUC (Tender Loving Upcycling Care). And so was the case with this wooden lazy Susan …badly stained with water rings, it was begging for a makeover. So, I decided to turn into vintage decor with mid century modern style.
As you can see from the underside, it was still in decent shape. And the rusty flat-head screws that connected the spinning hardware to the base told me it was, in fact, an older (i.e., better) piece. I decided that the wood grain could be saved and showcased, and gathered up my DIY supplies. This post contains affiliate links for your crafting convenience.
Refinishing a Wooden Lazy Susan into Vintage Home Decor
The first step was to remove the original (and damaged) finish. I hate the idea of chemical stripping and much prefer to sand it all off. I attached an 80-grit disk to my orbital sander and got to work.
As you can see, sanding made a HUGE difference on the wooden lazy Susan and revealed clean pale wood underneath.
In the end, I sanded down the entire top surface, side lip, and underside. I stopped short of actually sanding the rotating base because I honestly couldn't imagine anyone ever seeing it! It was also difficult to grasp which made it a safety concern for me.
Once the old finish was completely removed, I quickly went over the wooden Susan again with a 120-grit sanding disk to make it smoother before using wood stain.
Now- who here remembers my library card catalog "makeunder" project? Here's a refresher if you don't – it sure didn't look like this before, did it?: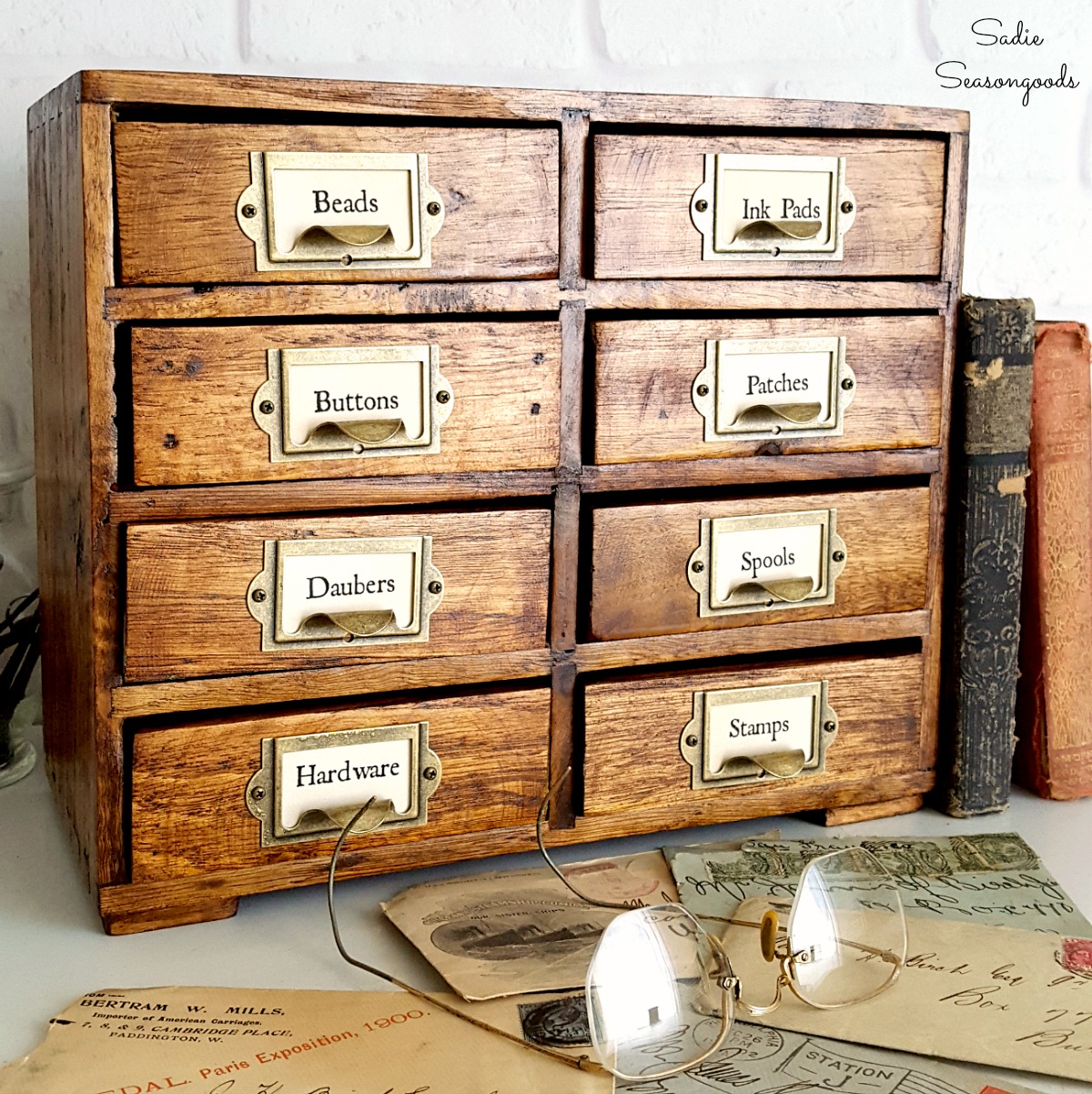 I only bring that project up because it's another refinishing project for those of you that need a break from "paint all the things". Plus, I used the same wood stain from that project on my wooden lazy Susan.
Finishing a Wooden Lazy Susan with Vinyl Stencils
As I had hoped, the wood stain gave the tabletop lazy Susan a rich, deep color that was more brown than red and allowed the wood grain variations to shine through.
NOW I could add the finishing touch – giving it a mid century modern makeover using a stencil. You're probably looking at that stencil and thinking "what the heck, Sadie?", aren't you? 
Because I'm ONLY using the outermost rings of the stencil. Why?
To create a faux metal inlay on my wooden lazy Susan! Using gold craft paint, I only stenciled over the rings to give it a real mid century modern look. I don't have the skills (or patience) for a real metal inlay, so a stenciled version will have to do! 
Ready to see the final reveal?
Wooden Lazy Susan as Vintage Home Decor (Mid Mod Style)
My idea worked! I never know how my ideas will pan out but I'm so pleased with the result. Between the rich wood stain and the faux metal inlay, it has a real mid century modern feel to it.
Of course, I don't have too much "midmod" decor in my home, but vintage home decor can be eclectic with multiple styles working together (in my opinion). Plus, mid modern century decor plays a key role in Boho decor, which y'all know I'm dipping my toes into right now…
Yeesh…ignore the fact that my styling turned the wooden lazy Susan into the Pringles Man. I didn't realize that at the time, haha!
*****
Also, guess what day it is? It's Thrift Store Decor Team day! That means that the best upcycling bloggers around have all created new projects to share. Click on the links beneath this collage to be magically transported to their posts.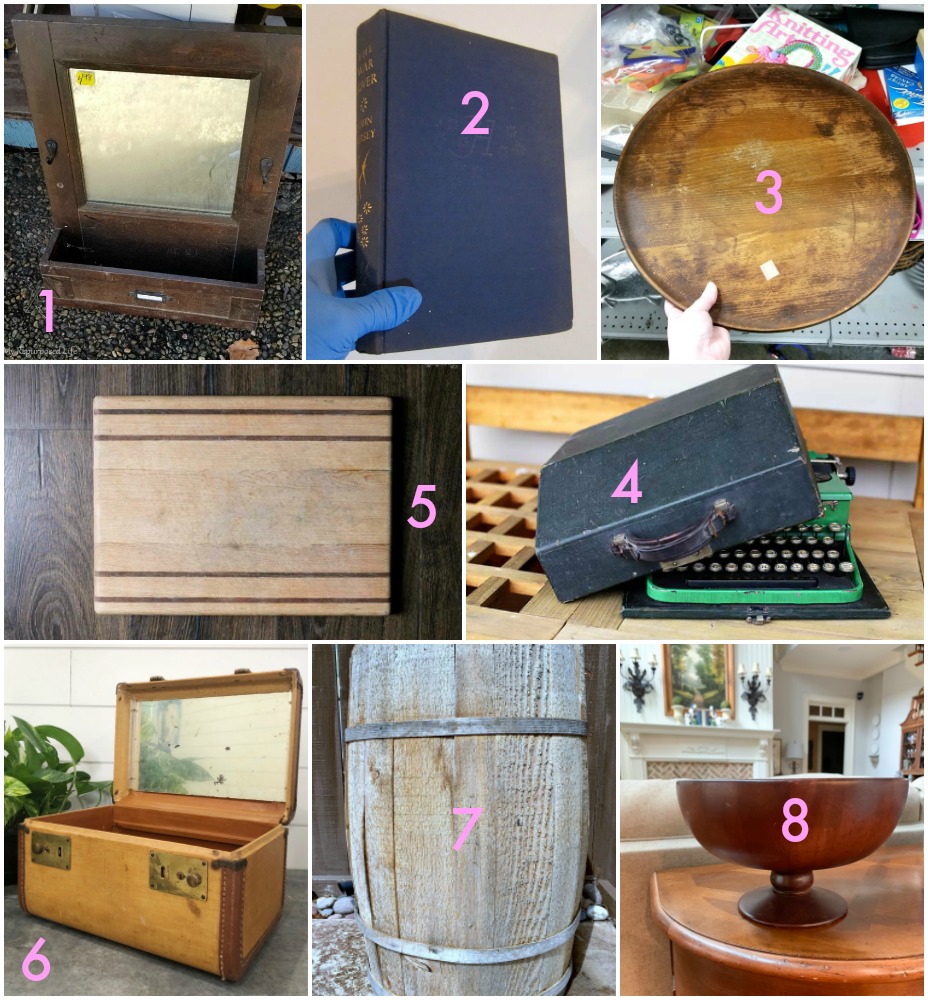 1. Rustic Pottery Barn Mirror Makeover
3. Mid Century Modern Makeover on a Lazy Susan
6. Vintage Train Case Makeover
*****
I hope you enjoyed this refinishing project as a nice change of pace from painting. I enjoy trying out different methods to revive thrift store finds and I REALLY love how this piece "turned" out. Get it? "Turned out"? Because it's a lazy Susan and it turns!
Craft on!
S
Want to be notified when I publish my next upcycling project tutorial?
Subscribe to Blog via Email
Join me on Social Media: