On one of my typical thrifting adventures, I spied this mini chest of drawers near the cash register at the thrift shop. I didn't really fancy the painted fruit "still life" that covered it, but I WAS curious about the wood underneath the paint. The idea of a "makeunder" floated through my mind as I envisioned a vintage library card catalog as the end result.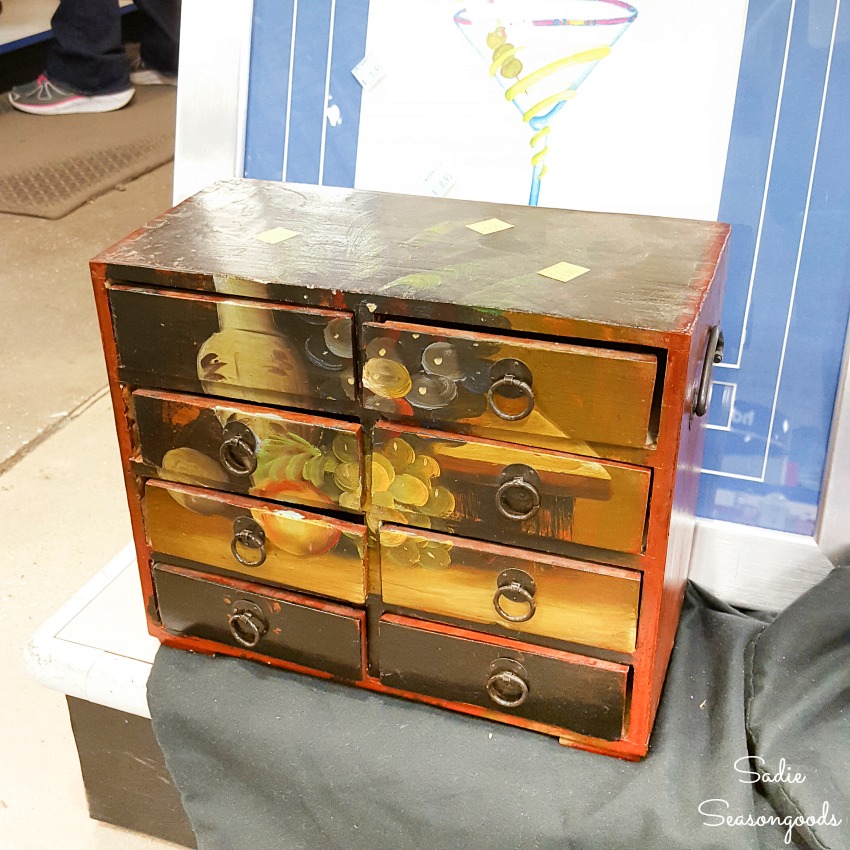 And don't you worry- it wasn't a quality paint job. The original TJ Maxx price tag was still on the bottom! So, no guilt whatsoever.
I plopped in my cart as an impulse purchase because for $5.99, it was worth testing out my theory.
My plan was to remove the painted finish, stain the wood underneath, and replace the existing hardware with finger pulls like an old library card catalog.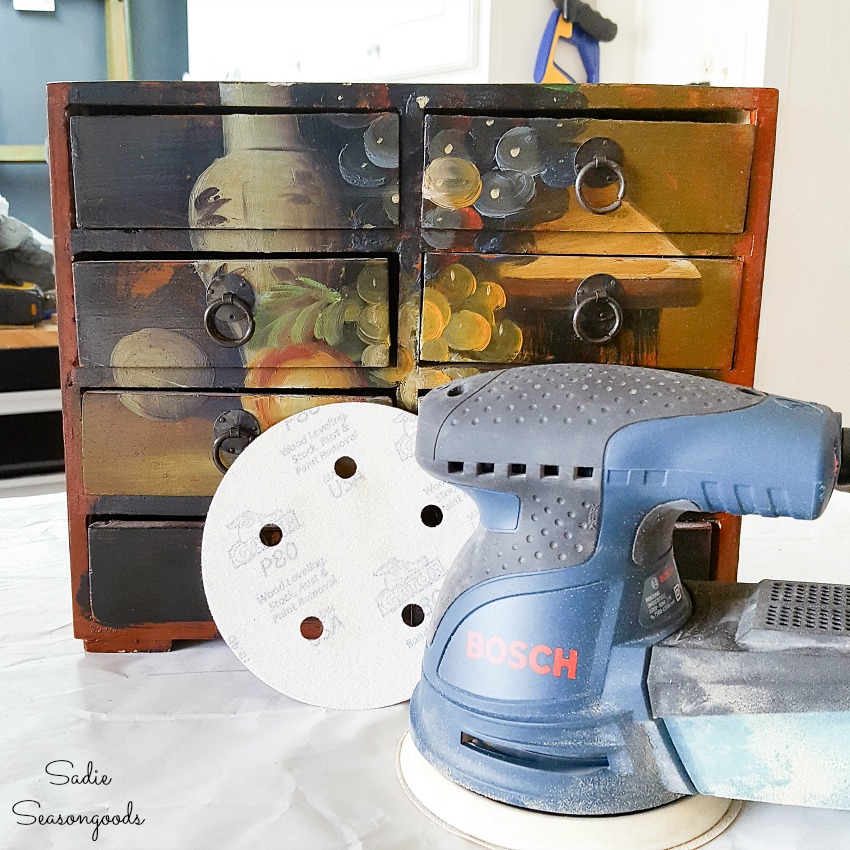 This post contains affiliate links for your crafting convenience. As an Amazon Affiliate, I earn from qualifying purchases. All blue, bold, and underlined text is a clickable link, either to a product or to a related post.
Refinishing a Mini Chest of Drawers
After buying the mini chest of drawers, I set up shop in our garage to start refinishing it.
First, I pried off the original hardware since they didn't exactly look like the kind of hardware on an antique card catalog.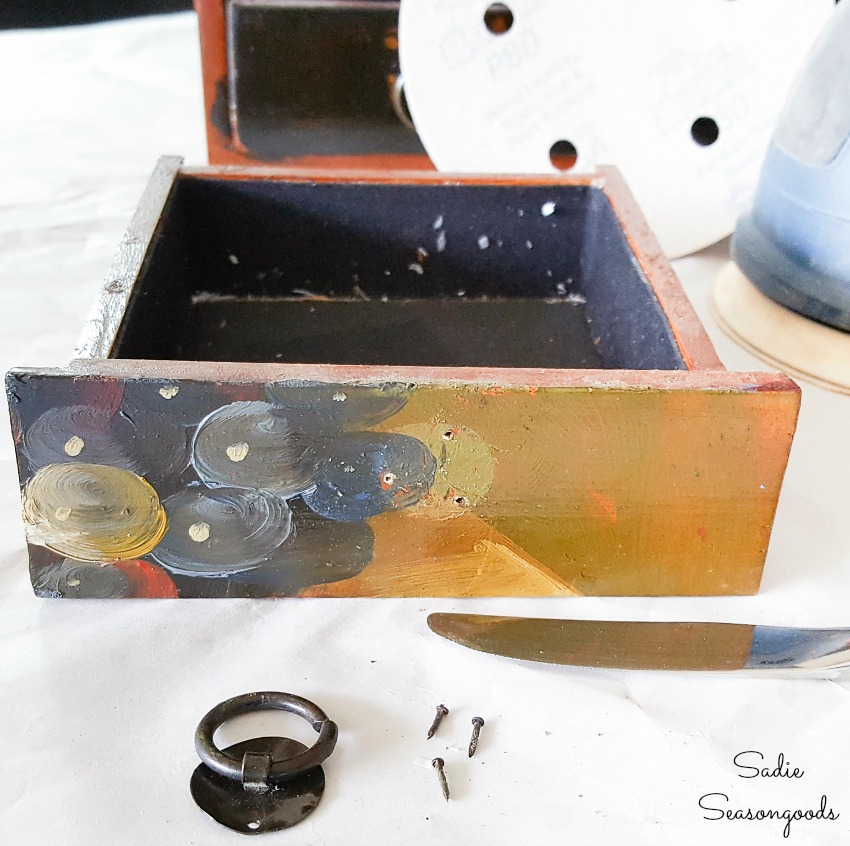 Next, I grabbed my Bosch orbital sander and an 80-grit sanding disc. The existing paint came off pretty easily, which was a relief!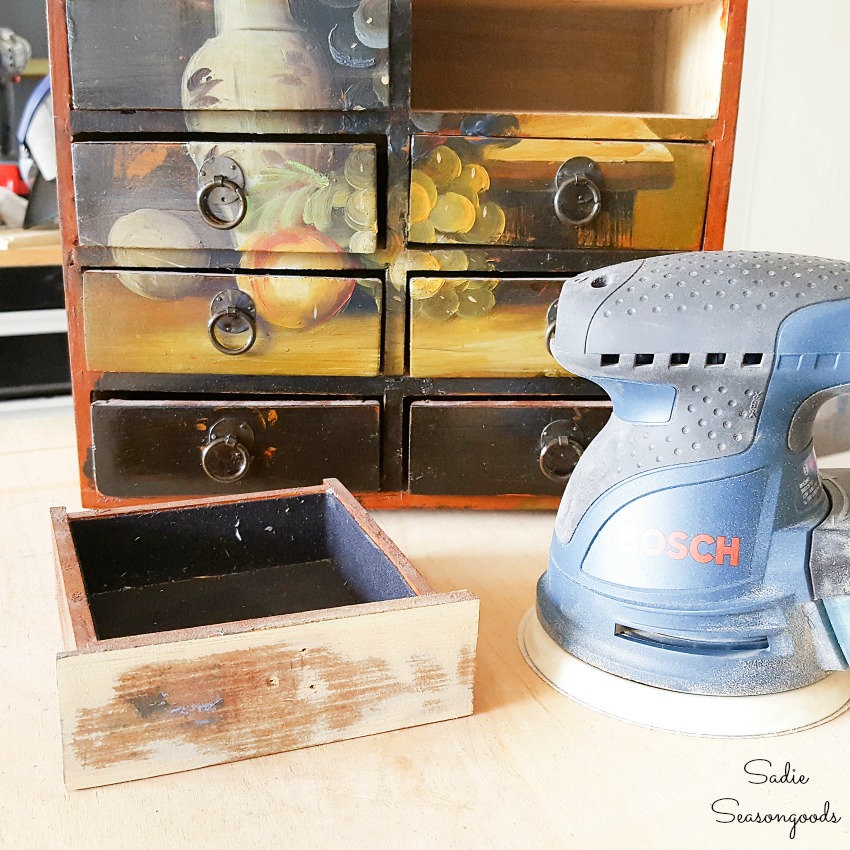 It didn't take too long before I had revealed the clean, pale wood underneath all that paint. I thought for SURE this would take me a couple of days to finish, but I zipped right along.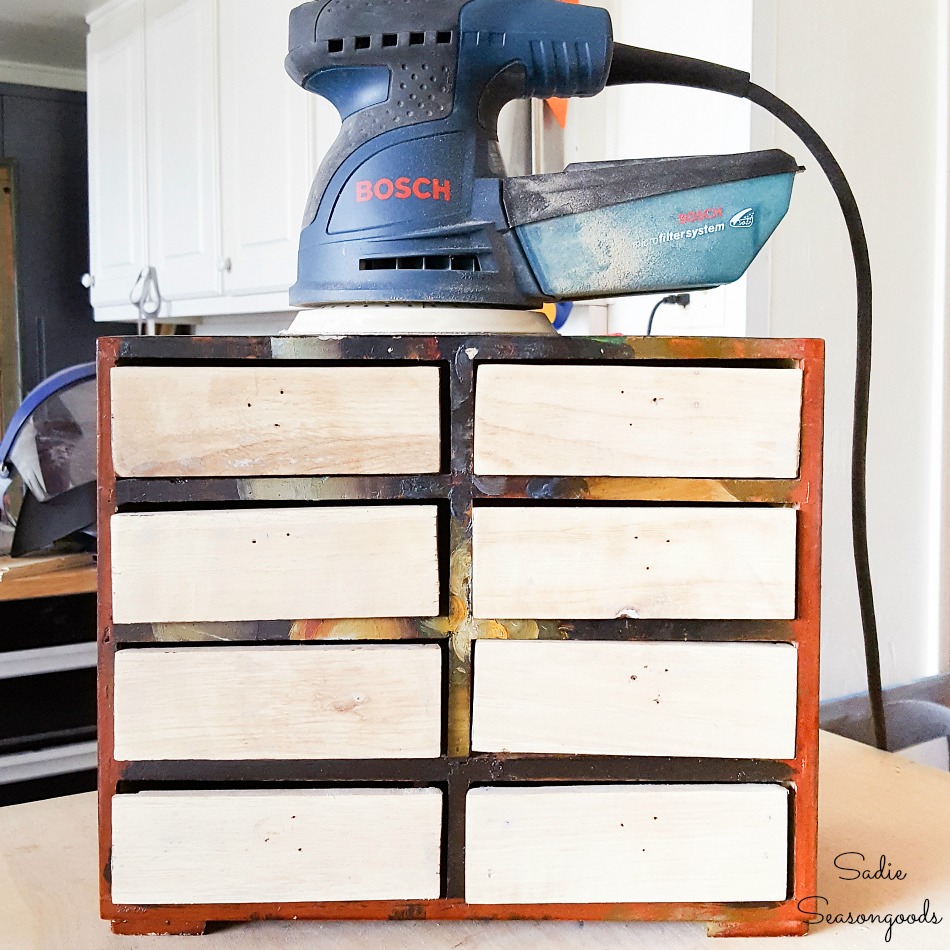 Truthfully, though, I didn't focus on the sides of the mini drawers. Instead, I spent my time on the surfaces that would be visible when everything was closed.
I planned to use my DIY card catalog as both storage and home decor.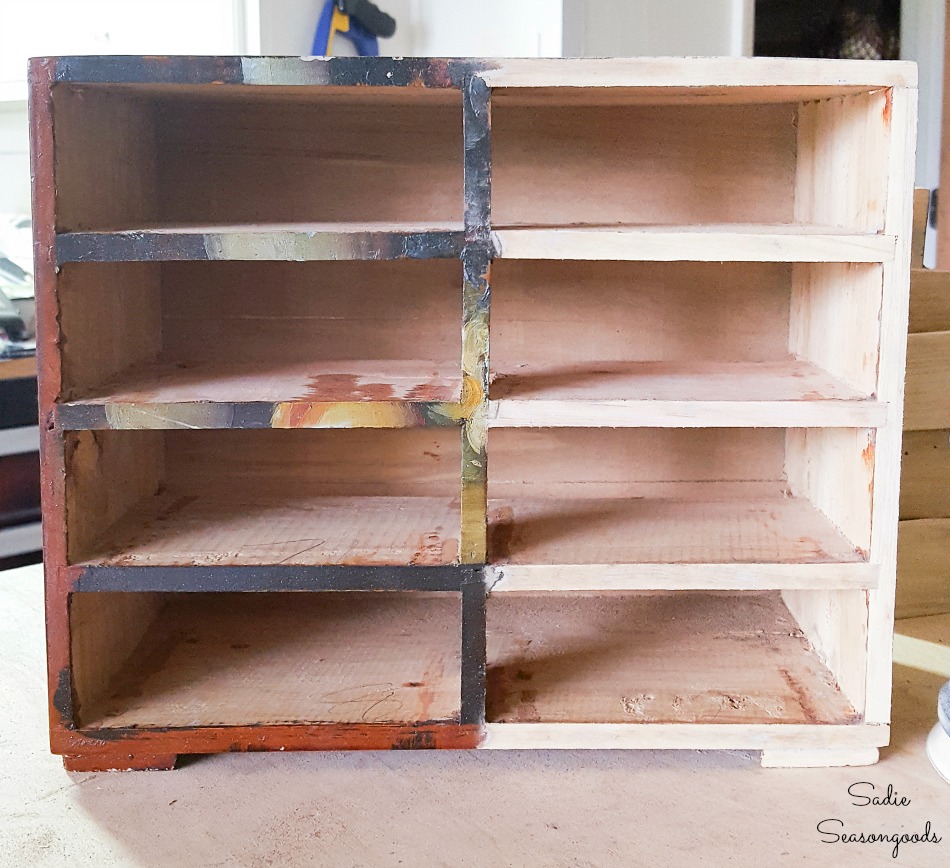 After all was said and done, I had a smooth, clean set of small storage drawers to work with!
The wood even had a decent grain to it and the chest had dovetail joints. I thought I spied those under the original paint job!
Next, I brought the mini chest of drawers outside in order to stain it. I decided that Honey wood stain (by Minwax) would give me the look of a vintage card catalog.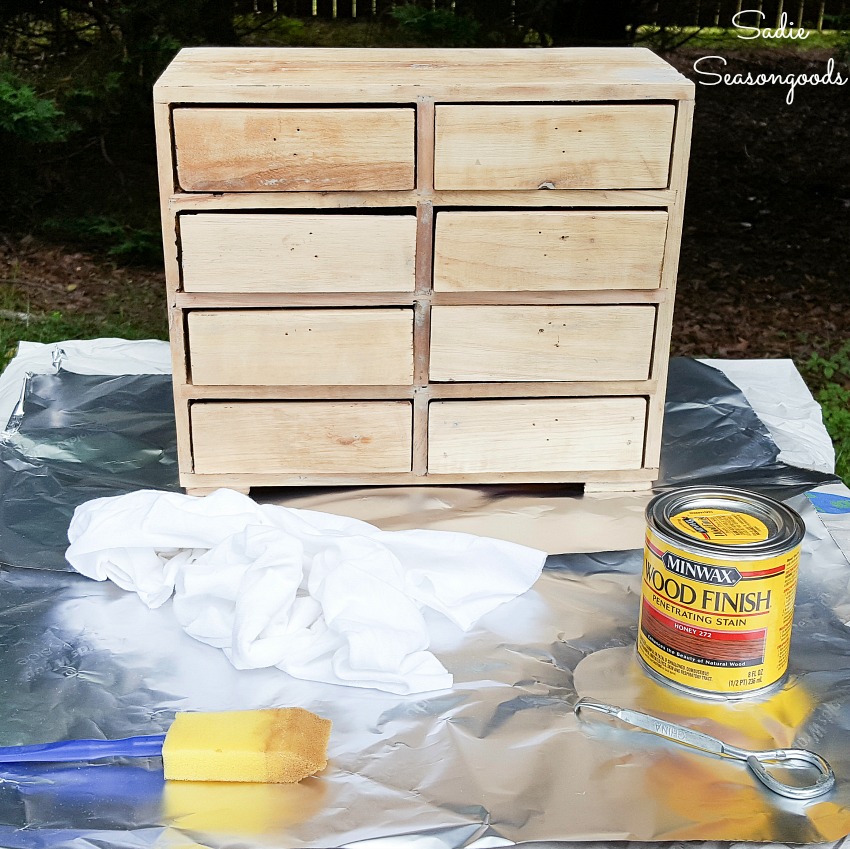 Perfecting the Look of a Vintage Library Card Catalog
Two coats of Honey wood stain later and the small wooden chest had been COMPLETELY transformed!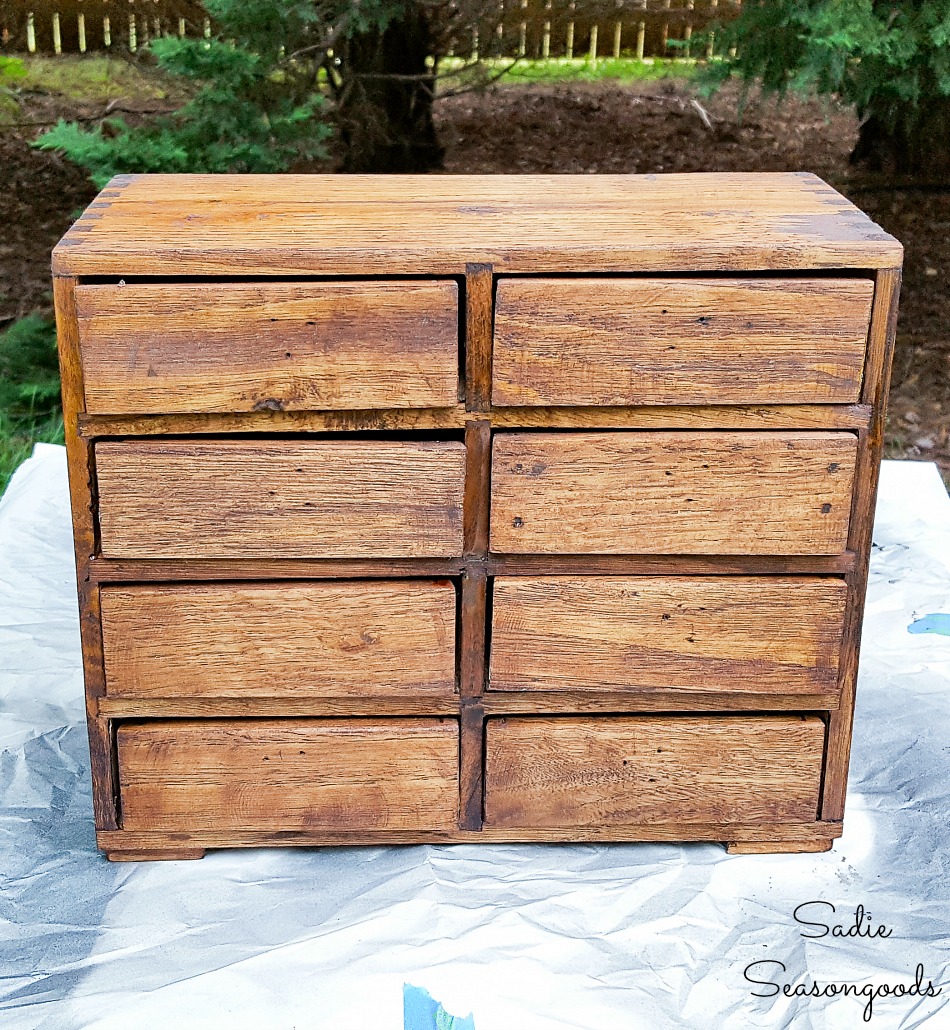 After the honey wood stain had cured over night, I sealed it with a satin topcoat.
Next, I needed to add the hardware to my vintage card catalog. I bought these small card catalog drawer pulls that would fit the mini drawers perfectly.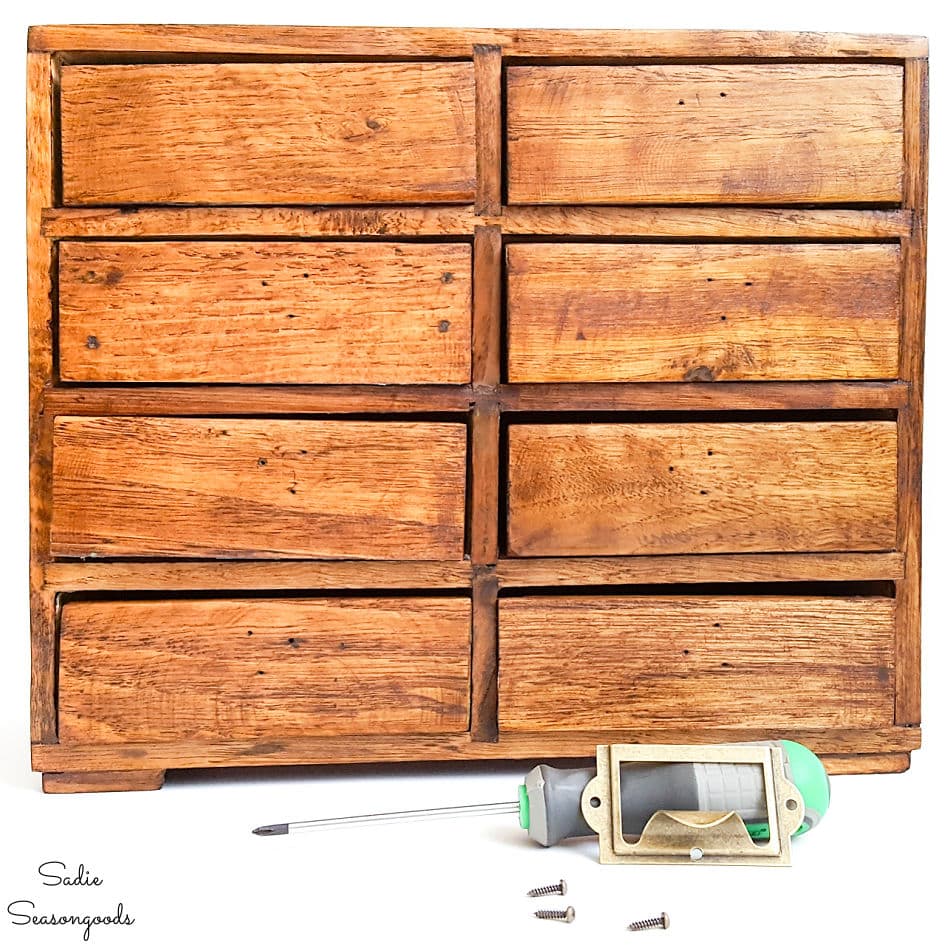 Can. You. Handle. This?
I mean…if I didn't do all the work myself, I might be in disbelief. But I know for a fact that I danced around my garage on a Friday night, with my Bosch orbital sander in one hand and a La Croix in the other, removing the paint.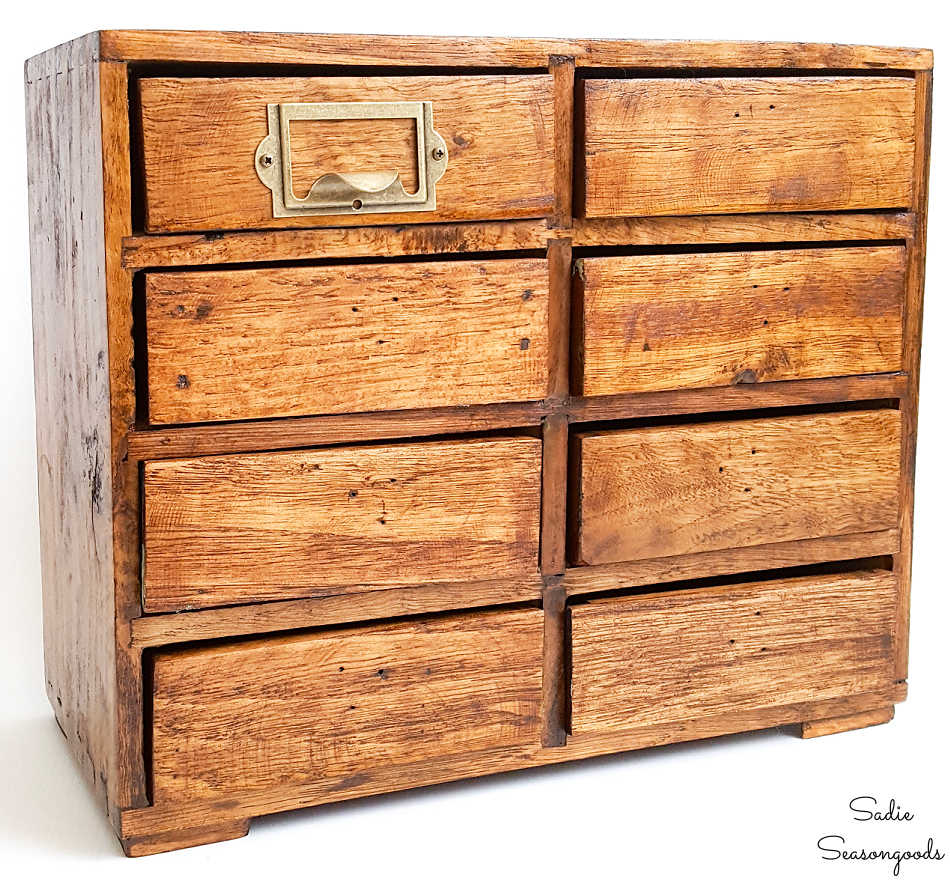 I couldn't believe how much it was starting to look like an antique card catalog! So, I continued to add the finger pulls to each drawer until they were all done.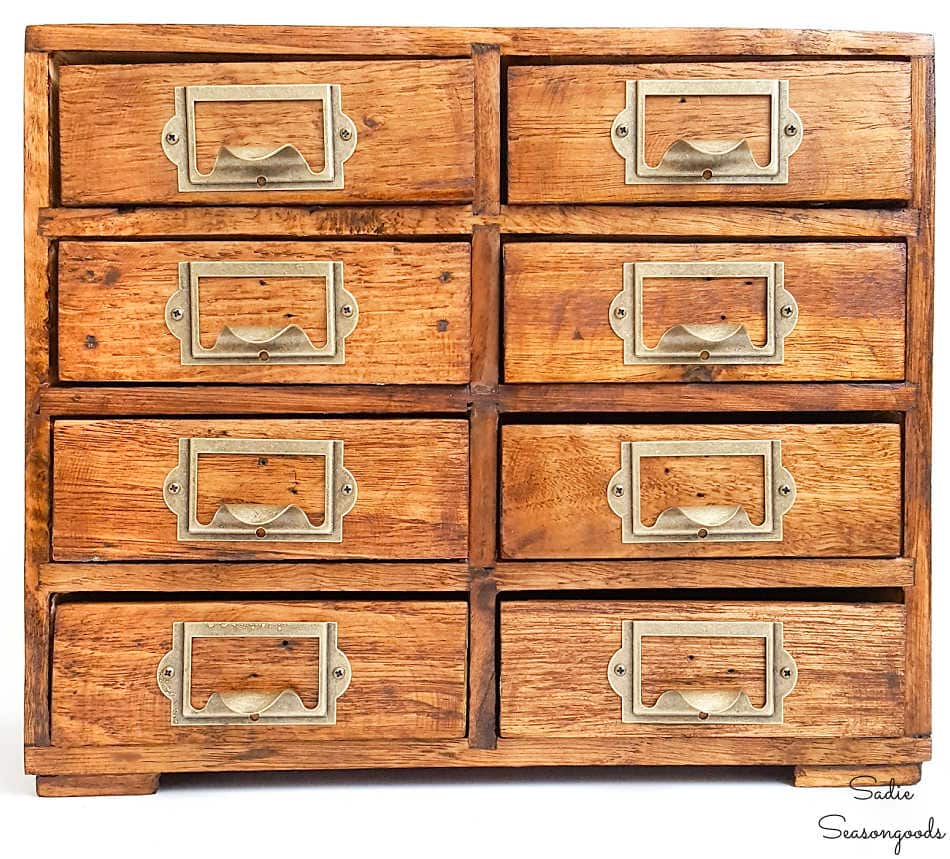 Would you ever have guessed that this was originally covered up by that paint job?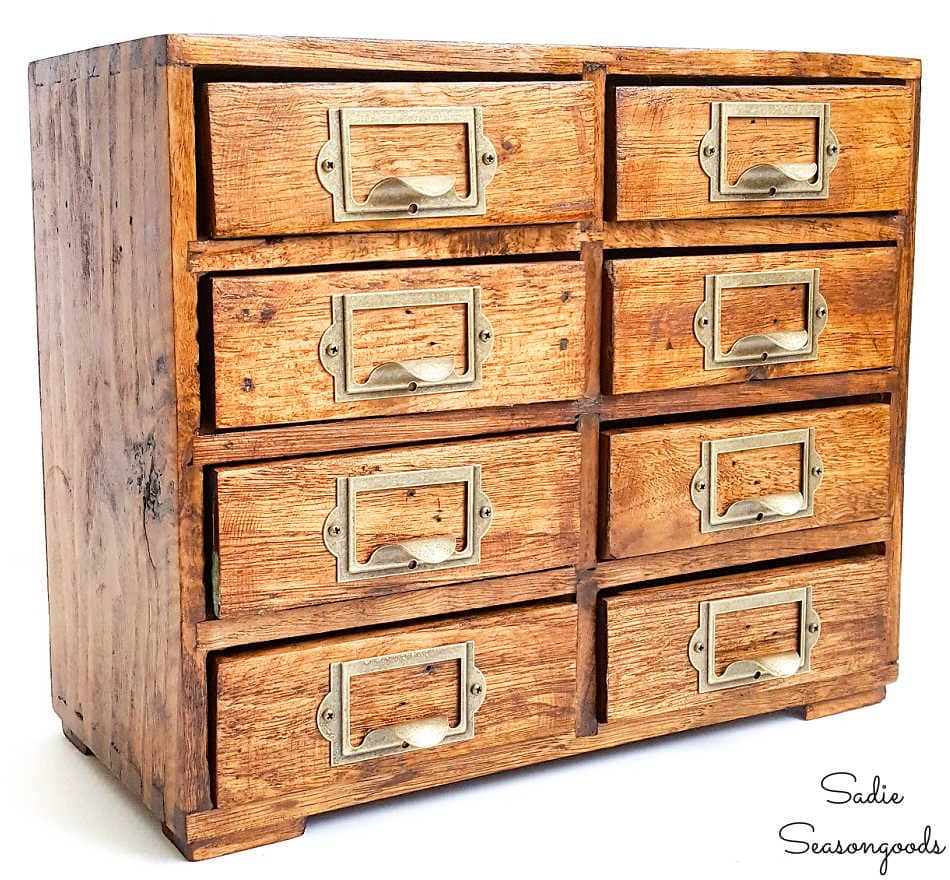 I just needed to add one more thing. Then, my tabletop version of a vintage library card catalog would be complete!
Tabletop Version of a Vintage Library Card Catalog
Labels! I just needed to add little labels to the finger pulls to correspond with the craft supplies that would be stored inside.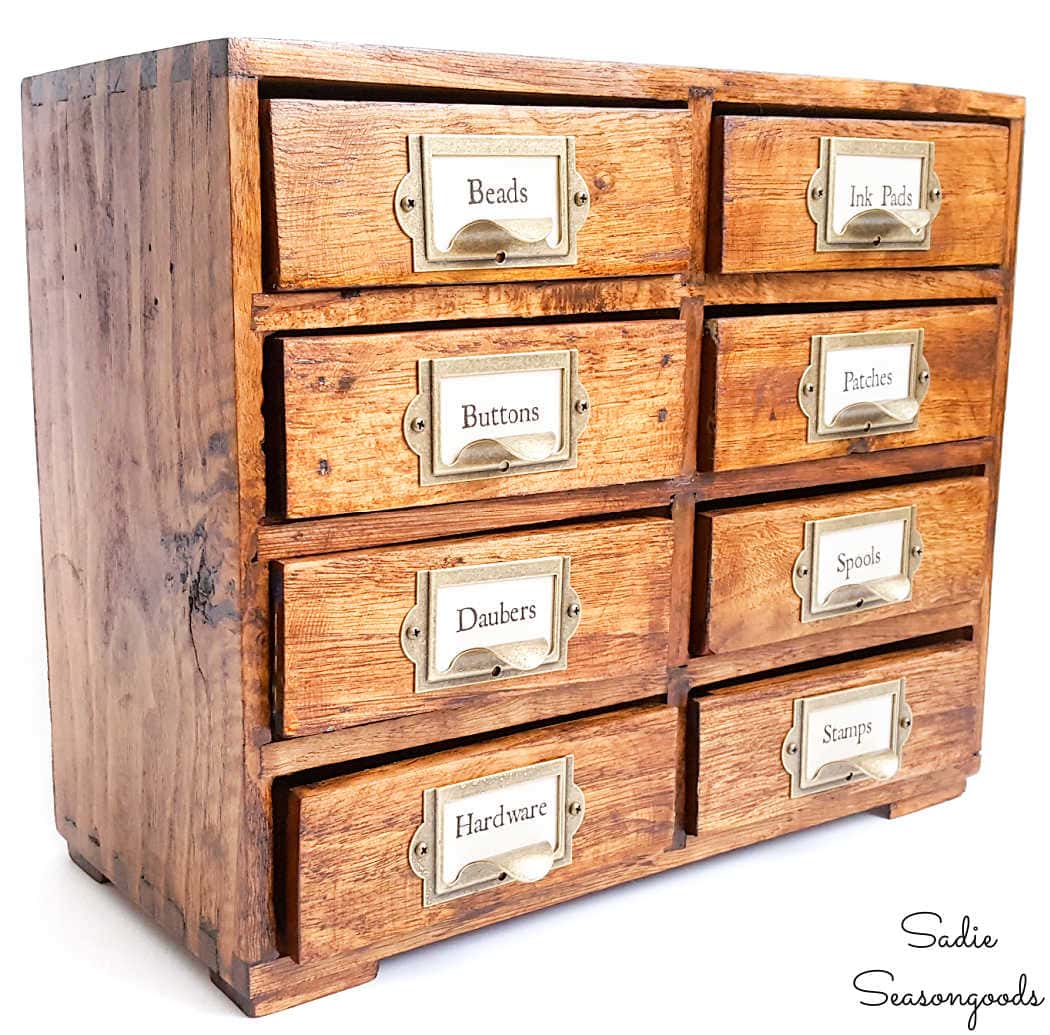 See those dovetail joints that I was talking about? And the gorgeous wood grain!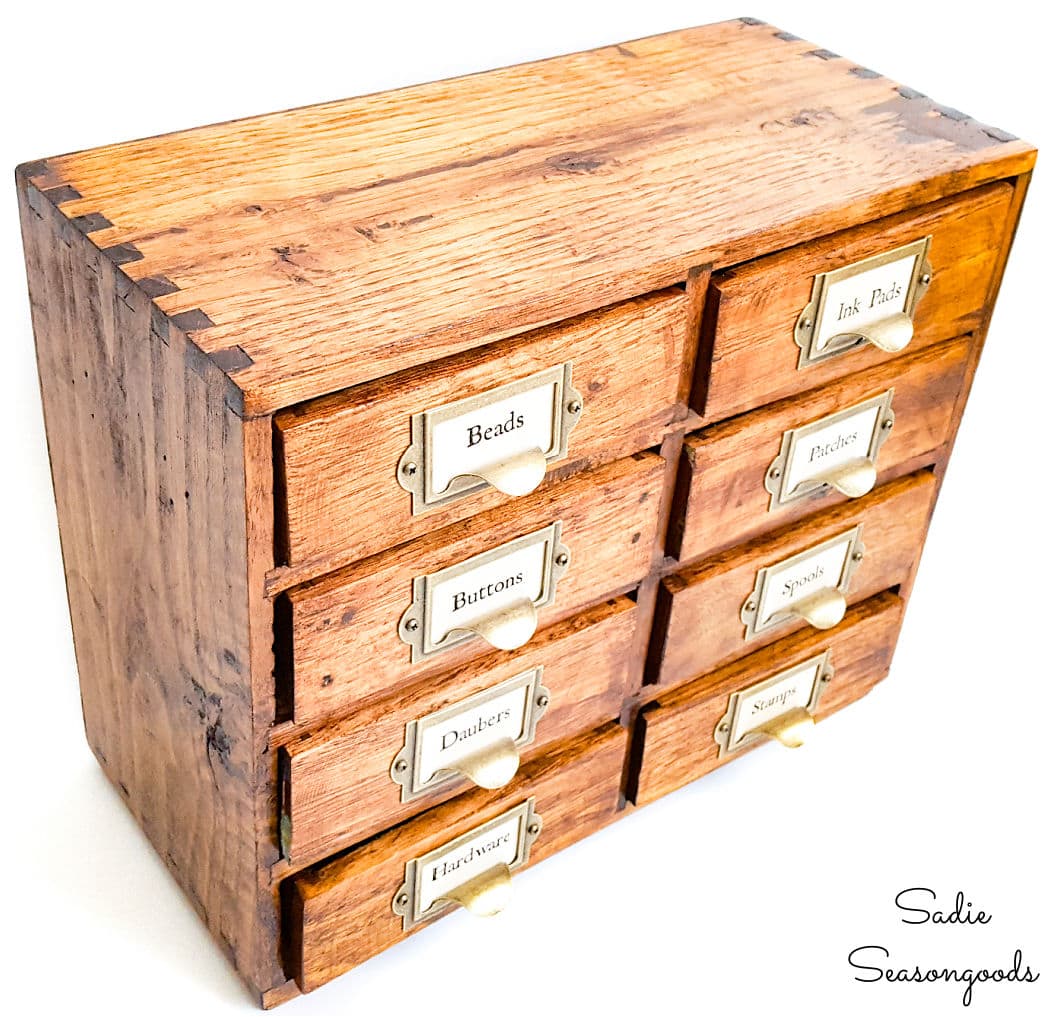 Even though I was really excited about upcycling this mini chest of drawers, even I couldn't predict how gorgeous it could become. Every time I look for a card catalog for sale, it's out of my price range or is a modern reproduction.
But now I finally have my OWN by upcycling a $5.99 Goodwill find!
Did it take a bit of labor to create this DIY card catalog? YES. But you can't put a price on this kind of result and the satisfaction of a project working out this well.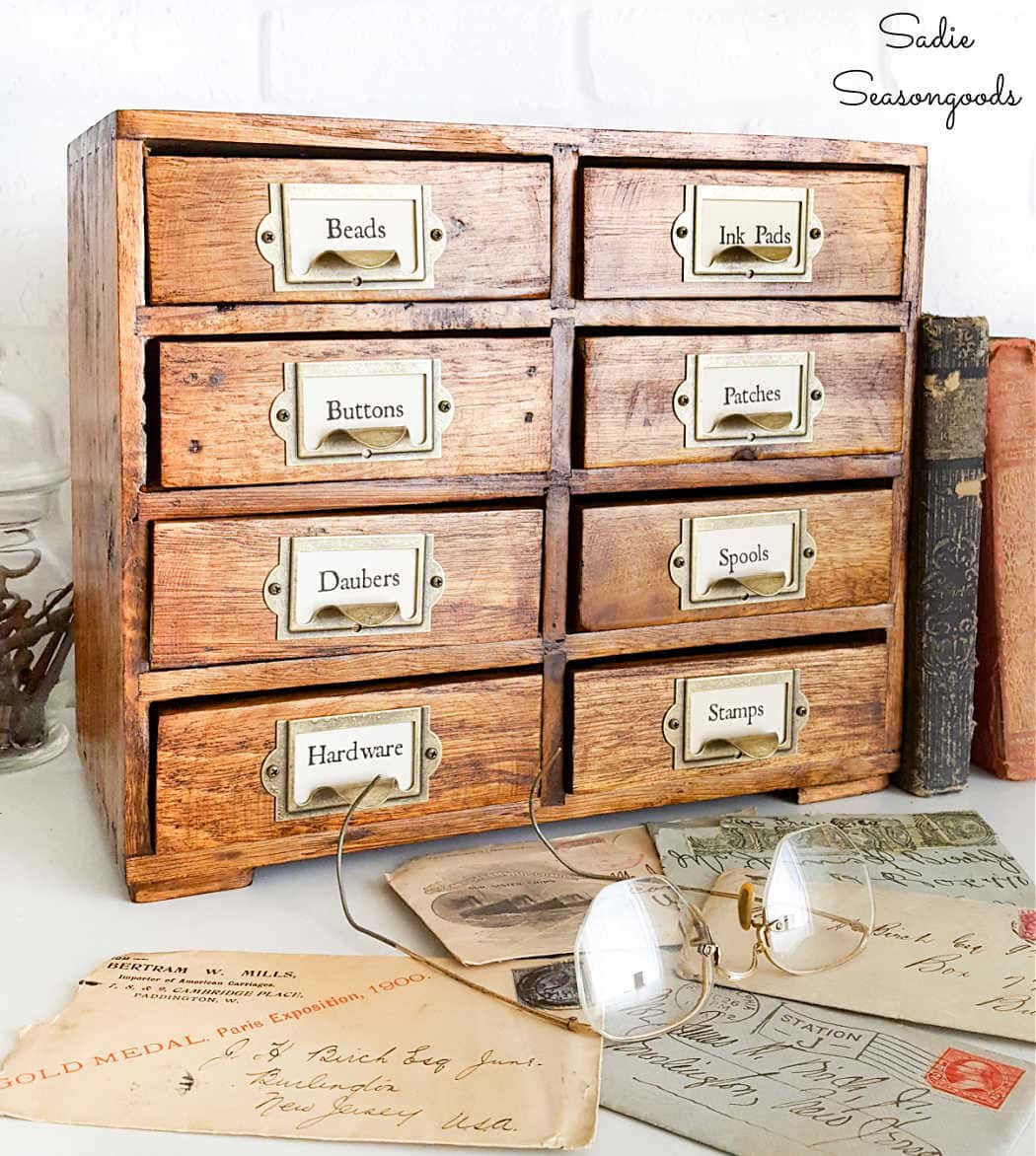 And I can finally say I have a vintage card catalog, even if it's a DIY version. When you can't afford (or don't WANT to pay for) the genuine thing, upcycling something from the thrift store can really scratch that itch.
And yes, you can bet your bottom dollar that if I see another mini chest of drawers on the thrift store shelves, I'll be doing this again!
One can never have too many small storage drawers, especially when they double as vintage home decor!
If you enjoyed this thrift store makeover, then you'll absolutely LOVE this industrial table I made by upcycling another thrift store find!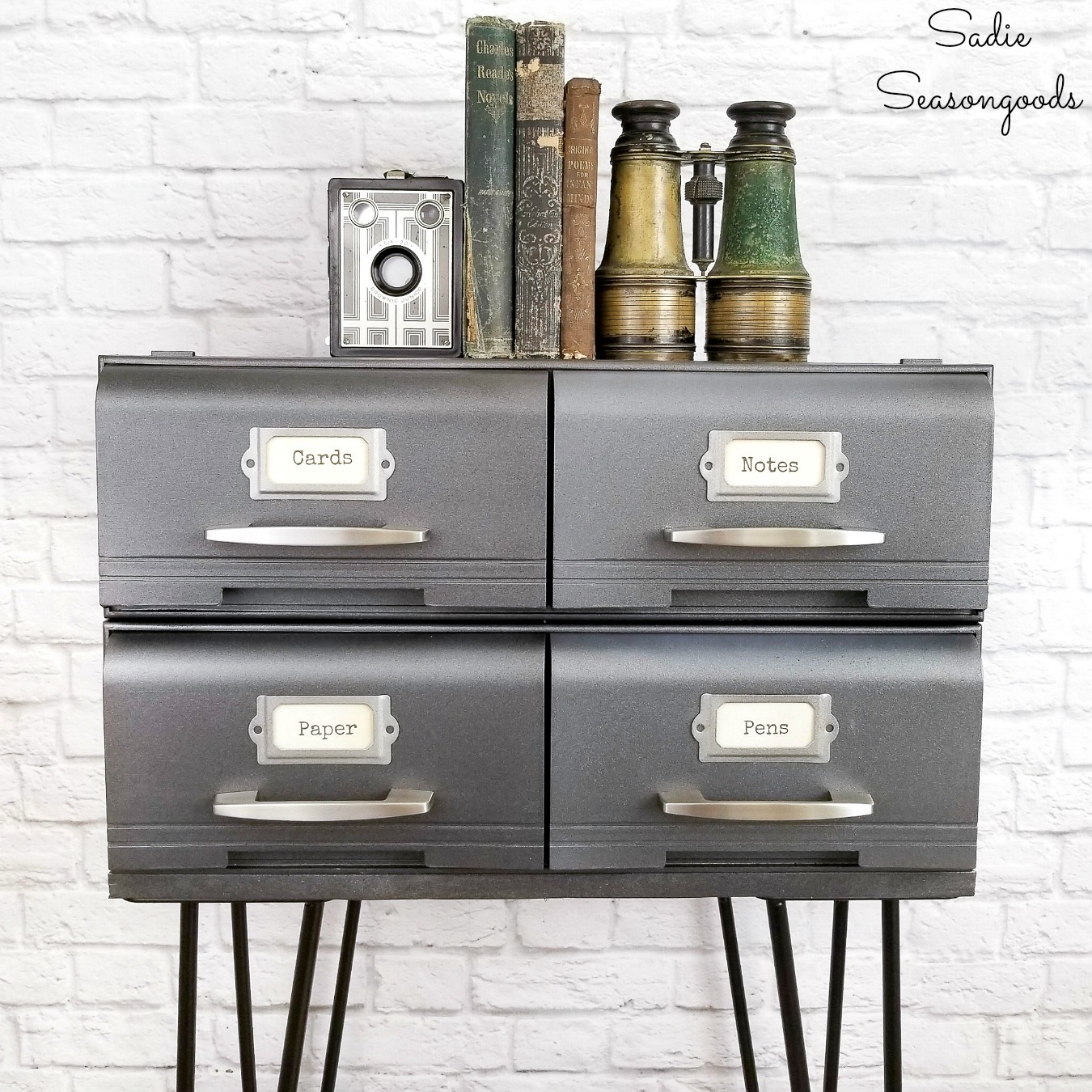 Craft on!
S
Want to be notified when I publish my next upcycling project tutorial?
Subscribe to Blog via Email
Join me on Social Media:

PIN ME!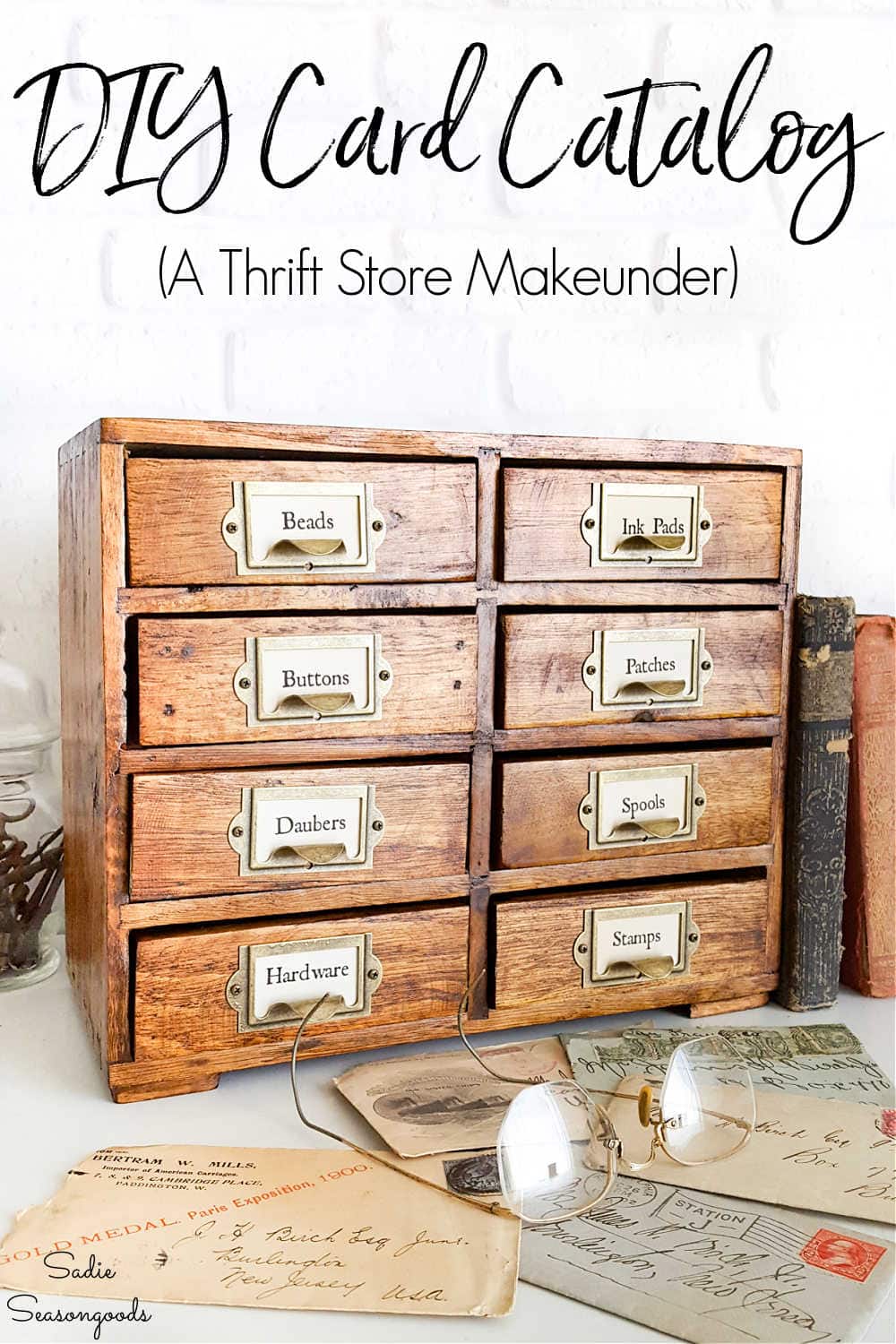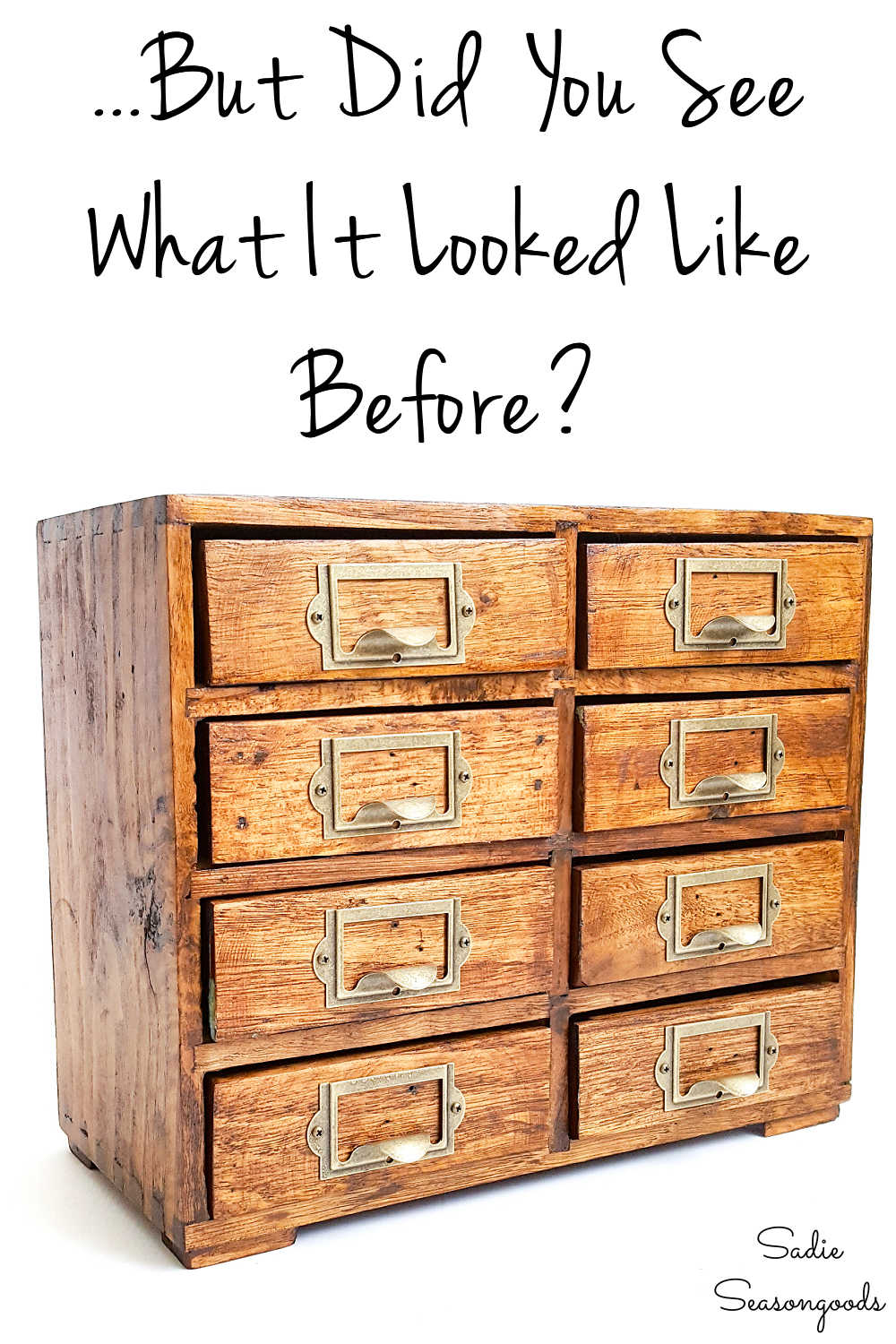 Sarah Ramberg is the owner of Sadie Seasongoods, a website that celebrates all things secondhand. From upcycling ideas and thrifted decor to vintage-centric travel itineraries, Sadie Seasongoods is a one-stop shop for anyone who loves thrifting and approachable repurposing ideas. Sarah is also the author of "Crafting with Flannel" and has been featured in numerous media outlets and magazines.