I don't know about you, but I just love all of the oversized cross stitch project ideas scattered across Pinterest. Whether it's on a large peg board or on a cane back chair, they just look amazing- and I've wanted to try my hand at it for a while now. I wanted to get in on the fun but in my own unique way – with Christmas cross stitch on the heads of vintage tennis rackets!
Luckily for me, wooden tennis rackets are easy to find at thrift stores these days. So, I began gathering them en masse.
Once I had the wooden tennis rackets in hand, it was time to get to work on some unique Christmas decor! This post contains affiliate links for your crafting convenience.
Preparing the Vintage Tennis Rackets for Christmas Cross Stitch
Since the vintage tennis rackets reminded me of oval picture frames, I decided to lop off the handles. I knew a gal with a full wood shop, and she let me use her miter saw to cut them off.
We've since purchased our own since I fell in love with it!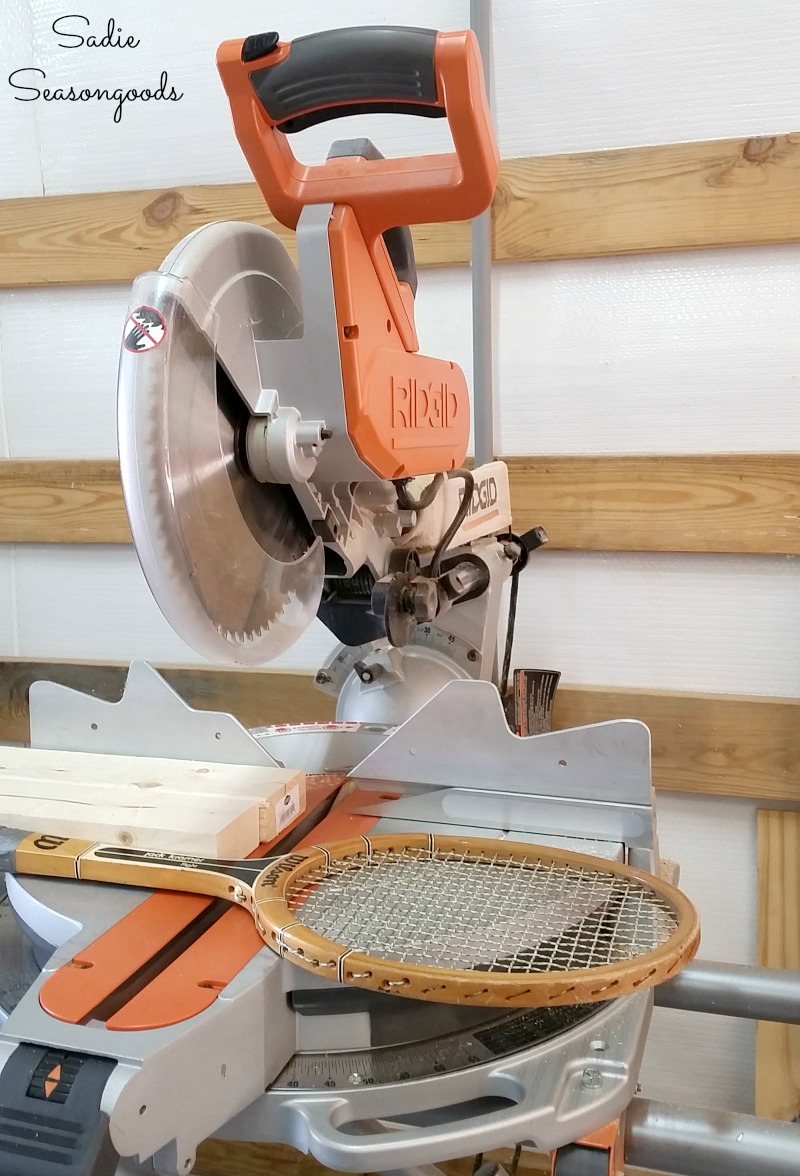 When I was done, I was left with four heads from vintage tennis rackets. These would be much easier to deal with for the Christmas cross stitch that I planned to do.
Curious about the handles? This is what I did with them!
To keep my fireplace Christmas decorations unique, I decided to spray paint a couple of the racket heads. This way, some would be "au natural" and others would be colorful!
Anyway, I was ready to do some Christmas cross stitch on my vintage tennis rackets, but I had no patterns. I'm a complete novice when it comes to this kind of needlework, and I had no idea how to design my own pattern. What's a girl to do?
Working with Christmas Cross Stitch Patterns on Unique Christmas Decor
Well, I turned to one of my blogging "She-roes", Bev from Flamingo Toes.
Talk about coming to my rescue…she created four different patterns for me to use, including this snowflake and Christmas tree. (Want to download the other two patterns? Head over to her blog post to get them!)
Oversized Cross Stitch Pattern – Snowflake
Oversized Cross Stitch Pattern – Christmas Tree
Now that I had the Christmas cross stitch patterns in hand, I could finally work on my idea. Because I was working with vintage tennis rackets, my Christmas cross stitch required chunky yarn.
After studying the first cross stitch pattern, I figured out where I wanted to start and cut off a length of chunky yarn. Just like in real cross stitch, I didn't knot the end. But rather, I caught the tail underneath stitches – but I did use a spot of hot glue to ensure it stayed put.
I used painter's tape (like this kind!) on one end of the yarn (like an aglet on a shoelace) to help ease the yarn through the strings, and it worked like a charm!
I followed Bev's Christmas cross stitch pattern which was easy to do because of the large size. I stopped and started new yarn periodically so that there were no long stretches across the back (which could be seen through the strings).
Fireplace Christmas Decorations with Christmas Cross Stitch on Vintage Tennis Rackets
After a short while, I finished my first Christmas cross stitch! It was super easy to do – and just as I had hoped, the wooden tennis racket was the perfect frame.
I went ahead and made a couple of others, the Christmas tree (scroll up for pattern) and the Poinsettia (pattern on Flamingo Toes' page).
Then it was time to display my Christmas cross stitch results on our fireplace mantel! I cut the racket handles with that little "nub" on purpose- in case I wanted to add a D-ring or sawtooth picture hanger to the back.
But for now, they're just our fireplace Christmas decorations that lean against the wall.
Amazing, right? And super bonus- you can usually find vintage tennis rackets at your local Goodwill or other thrift store. I won't lie to you, I'm quite tickled at how they turned out.
If you enjoyed this upcycling idea for unique Christmas decor, then you'll love these tabletop trees made from serger thread, as well!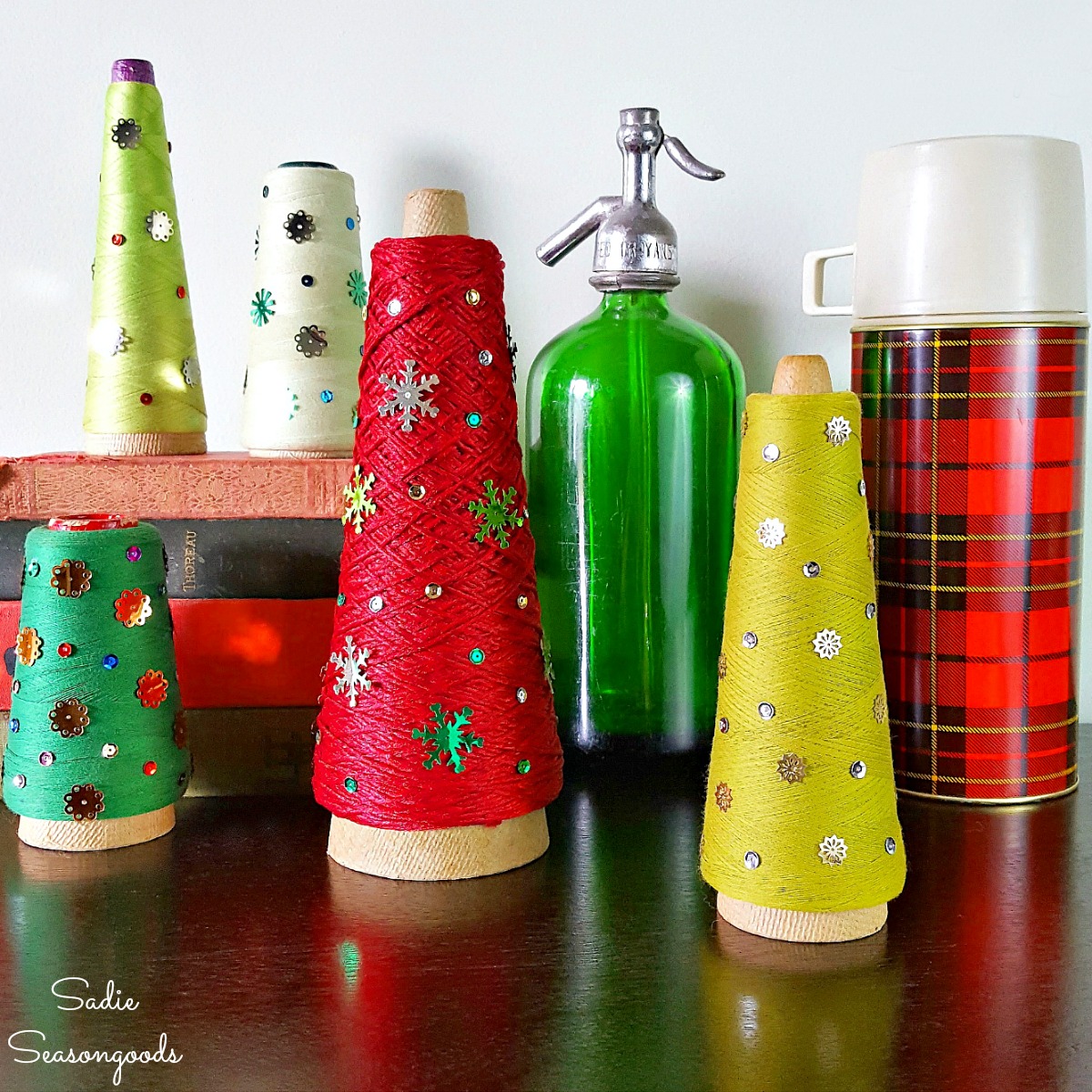 Craft On!
S
Want to be notified when I publish my next upcycling project tutorial?
Subscribe to Blog via Email
Join me on Social Media: