Truth be told, I didn't know the word "chamberstick" before this project and blog post came about. You see, I stumbled up one, and then another chamberstick in the span of a single weekend- at two different thrift stores. I purchased them both thinking that I would figure out a project for these "old time-y candlesticks with handles" (which is what I Googled).
First I found this chamberstick…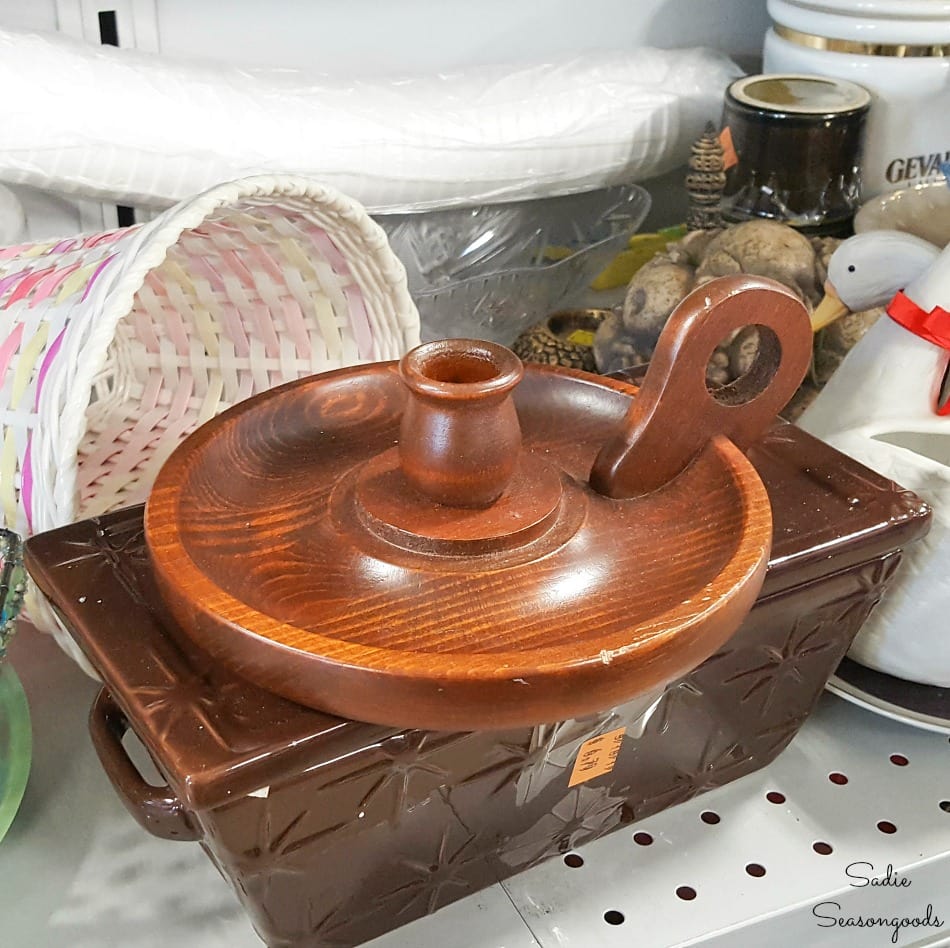 And then this similar fella' shortly thereafter.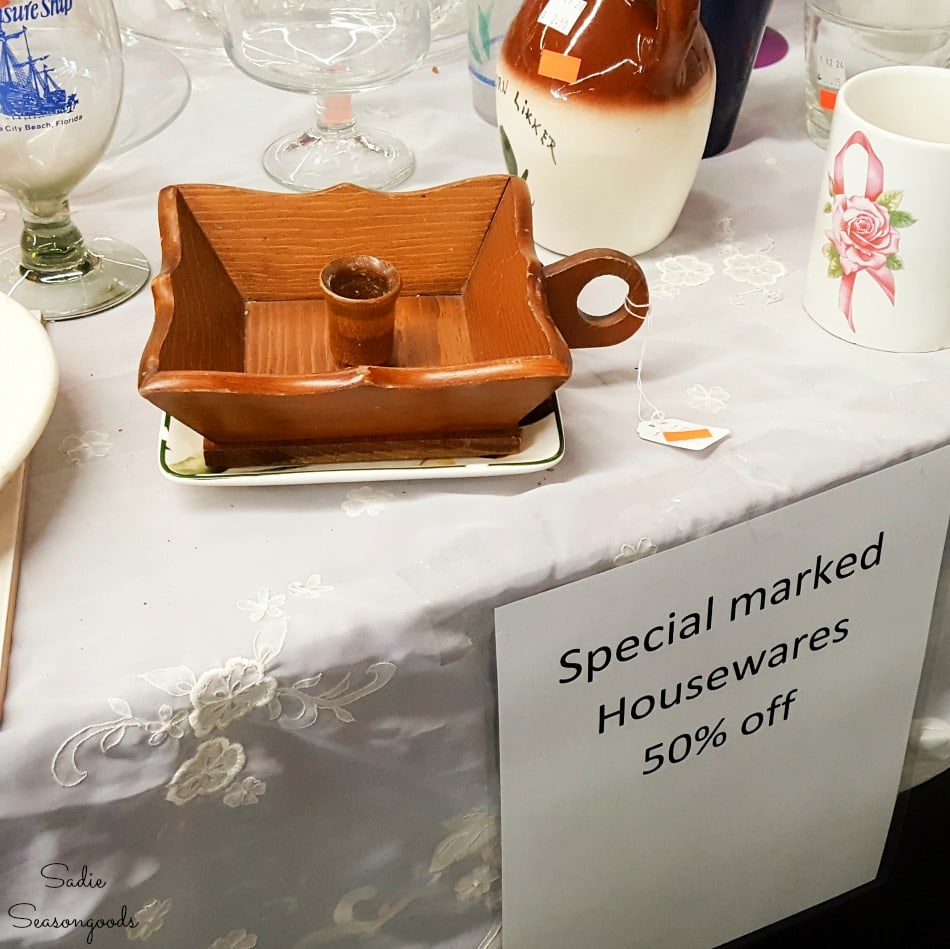 Even though it was May/June when I found them, I couldn't shake the idea that they reminded me (kinda-sorta) of tabletop tree stand. You know, for a small Christmas tree.
So, I decided to bring my idea to life, realizing that not only would they hold tabletop trees, but wrapped candy, as well!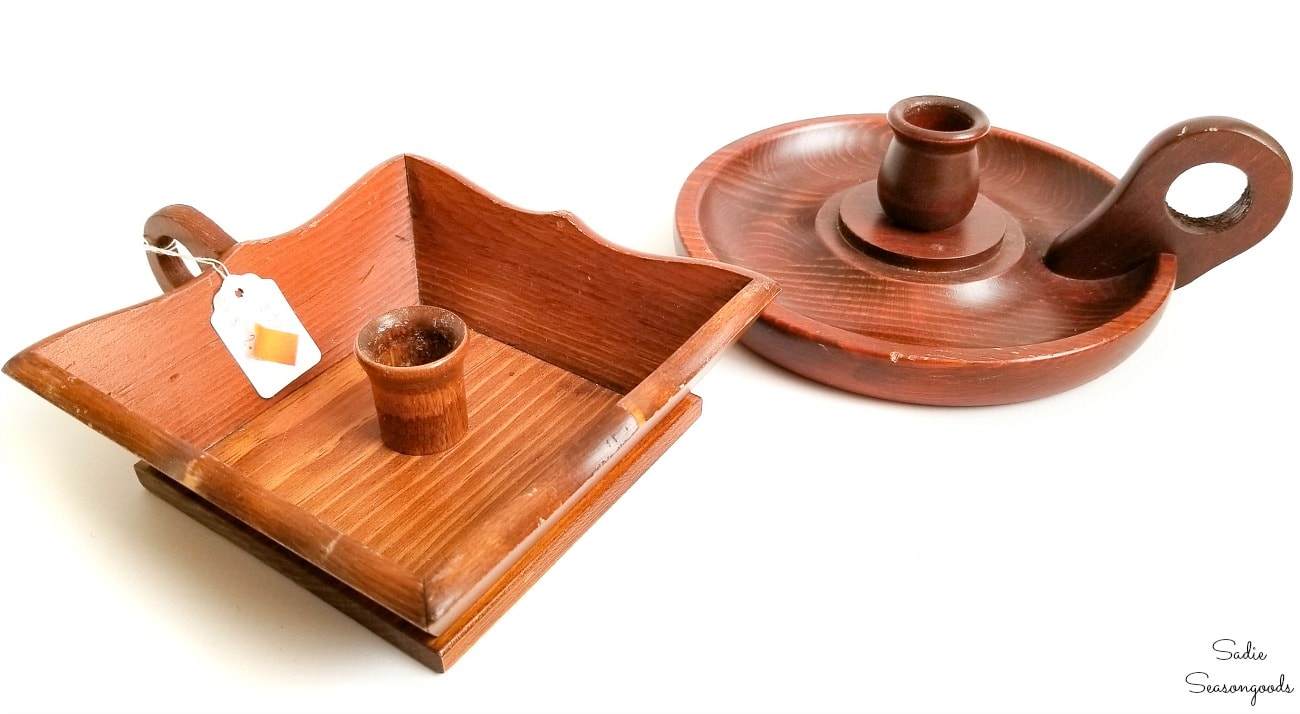 Holiday decor AND a Christmas candy dish, all in one! Definitely and upcycling experiment worth trying.
This post contains affiliate links for your crafting convenience. As an Amazon Affiliate, I earn from qualifying purchases. All blue, bold, and underlined text is a clickable link, either to a product or to a related post.
Using a Chamberstick as a Tabletop Tree Stand
To bring my idea to life, I needed to figure out how to prop up a tabletop Christmas tree inside each chamberstick candle holder. I didn't want to use glue or anything permanent, thinking long term towards storage and such.
After mulling over options, I decided that wine corks from my never-ending stash would be perfect!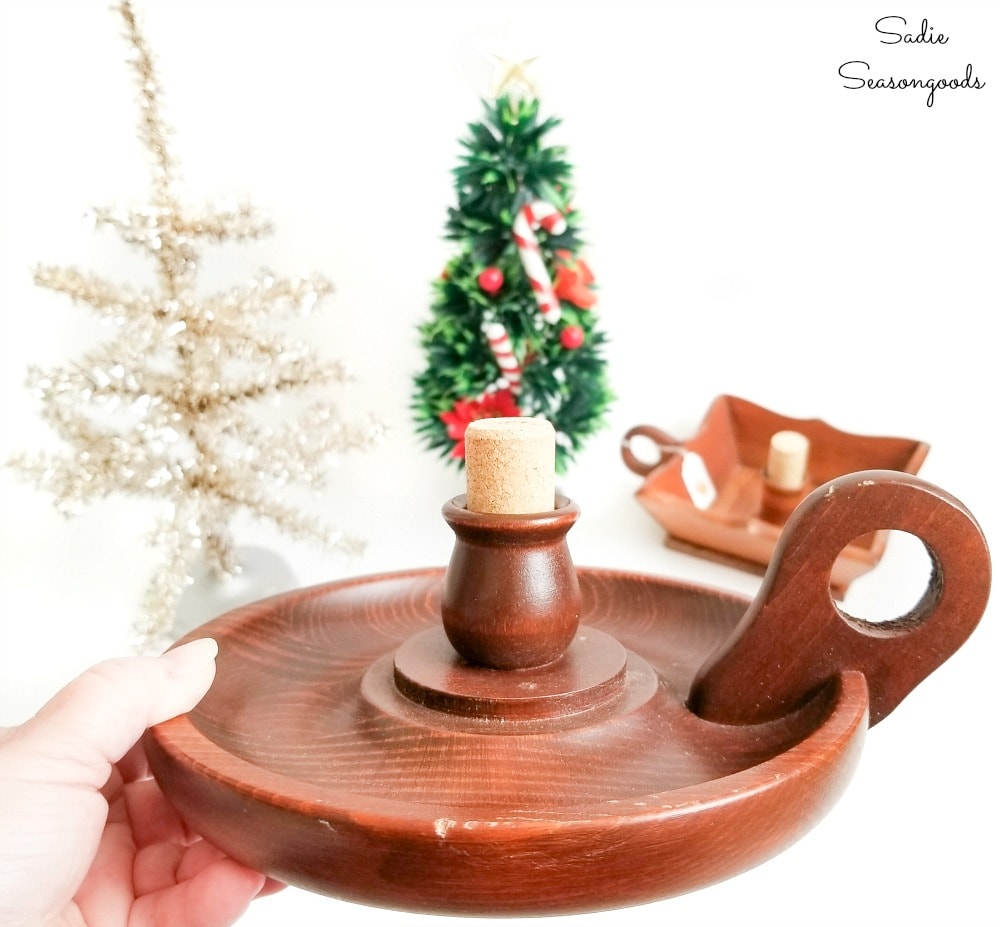 Having selected two very different desk Christmas trees (one vintage plastic tree and one modern tinsel tree), I decided to paint the chambersticks in a coordinating colors.
I used a bright poppy red to match the traditional green tree and a pretty aqua to pop against the silver tinsel tree.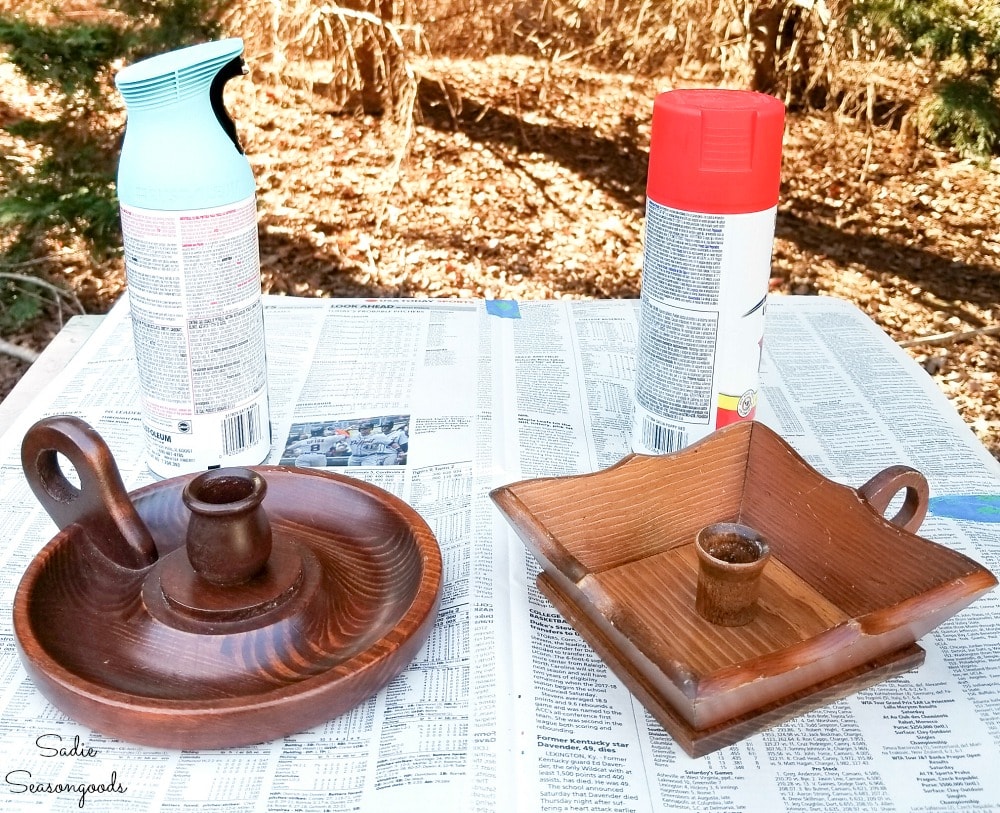 While the chambersticks dried, I cut the wine corks in half (using the red knife in my favorite set) so that they would nestle down completely in each candle holder.
Then, I drilled a hole in each cork in order to hold up their respective tabletop trees.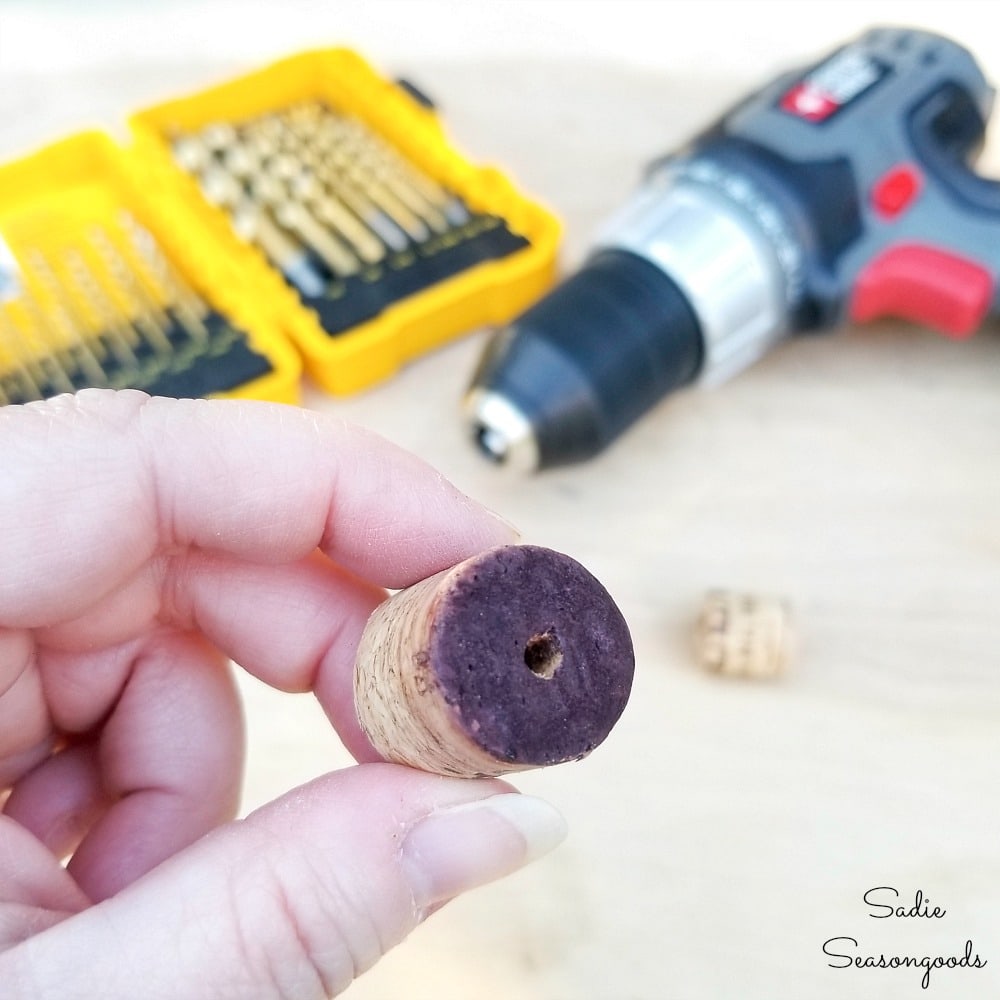 I made sure to compare drill bits against the bottoms of my tabletop Christmas trees before actually drilling.
Transformation of a Chamberstick Candle Holder
And because I couldn't leave well enough alone, I painted each half-cork. I used plain old craft paint in dark green and silver to best match the mini Christmas trees!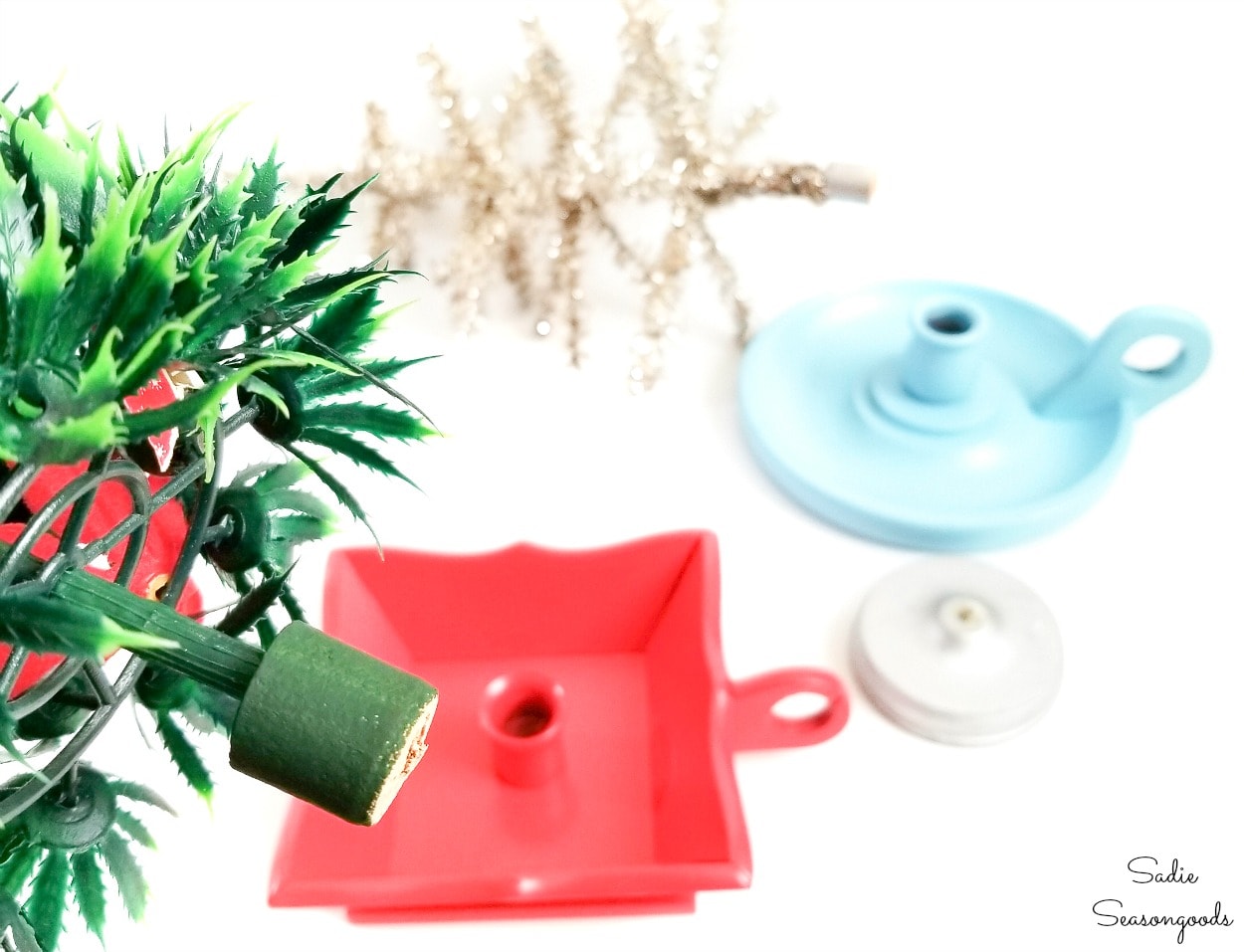 This is seriously the easiest project, I'm telling you!
And that was it! I propped the small tabletop Christmas trees up in each chamberstick and admired my work!
The classic plastic tree worked perfectly in the red chamberstick, and the tinsel tree paired up beautifully in the aqua one. Aren't they adorable?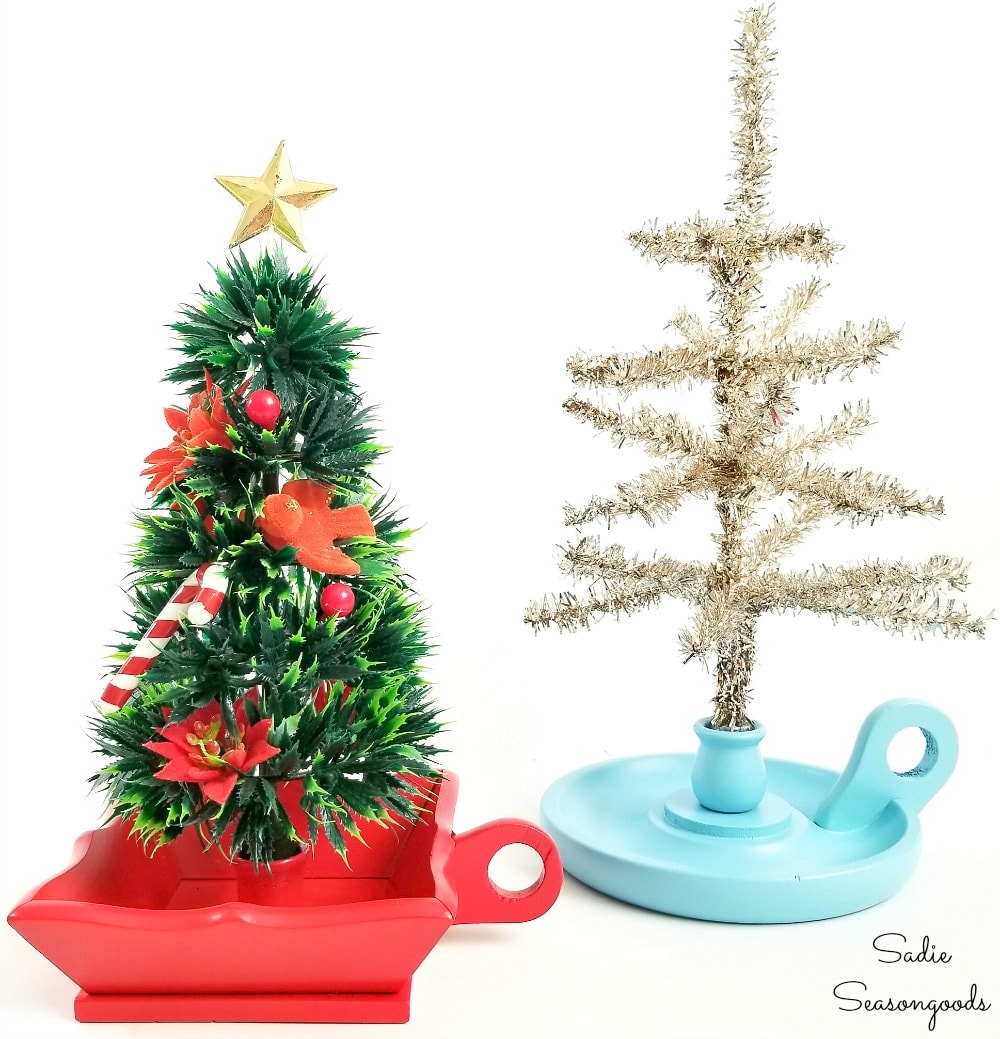 But let's not forget the best (and tastiest) part- the wrapped candy or chocolates!
And yes, I would only use wrapped candies in these since the paint itself is not food-safe.
I found some Dove chocolates that looked like wrapped gifts- PERFECTION- as well as my favorite holiday Hershey kisses. I did my best to pile them up in each chamberstick without eating too many of them!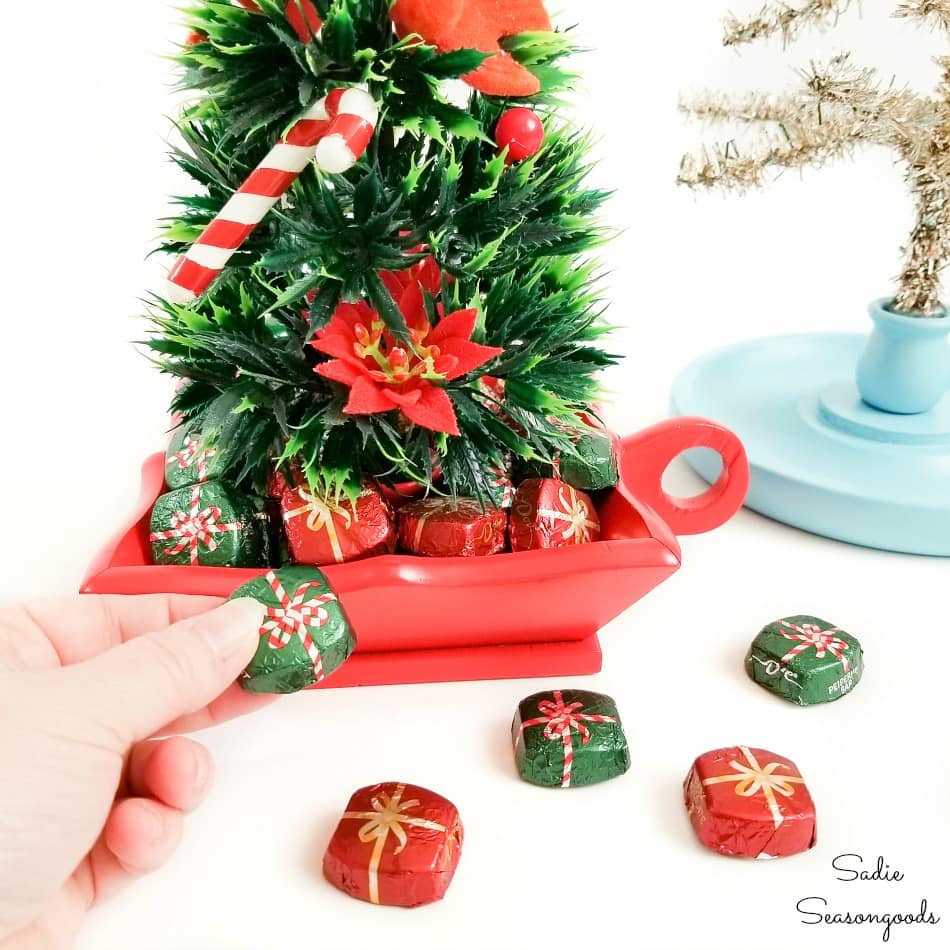 Such a perfect Christmas candy dish and base for a tabletop tree! All from chambersticks that were outdated and donated to a thrift store.
Chamberstick as a Christmas Candy Dish
Talk about meant-to-be, right? And it couldn't be easier- just paint, corks, and a drill were needed, really. Such an excellent way to repurpose older wooden candle holders or chambersticks into festive Christmas decor.
Festive Christmas decor WITH CHOCOLATE, let's not forget.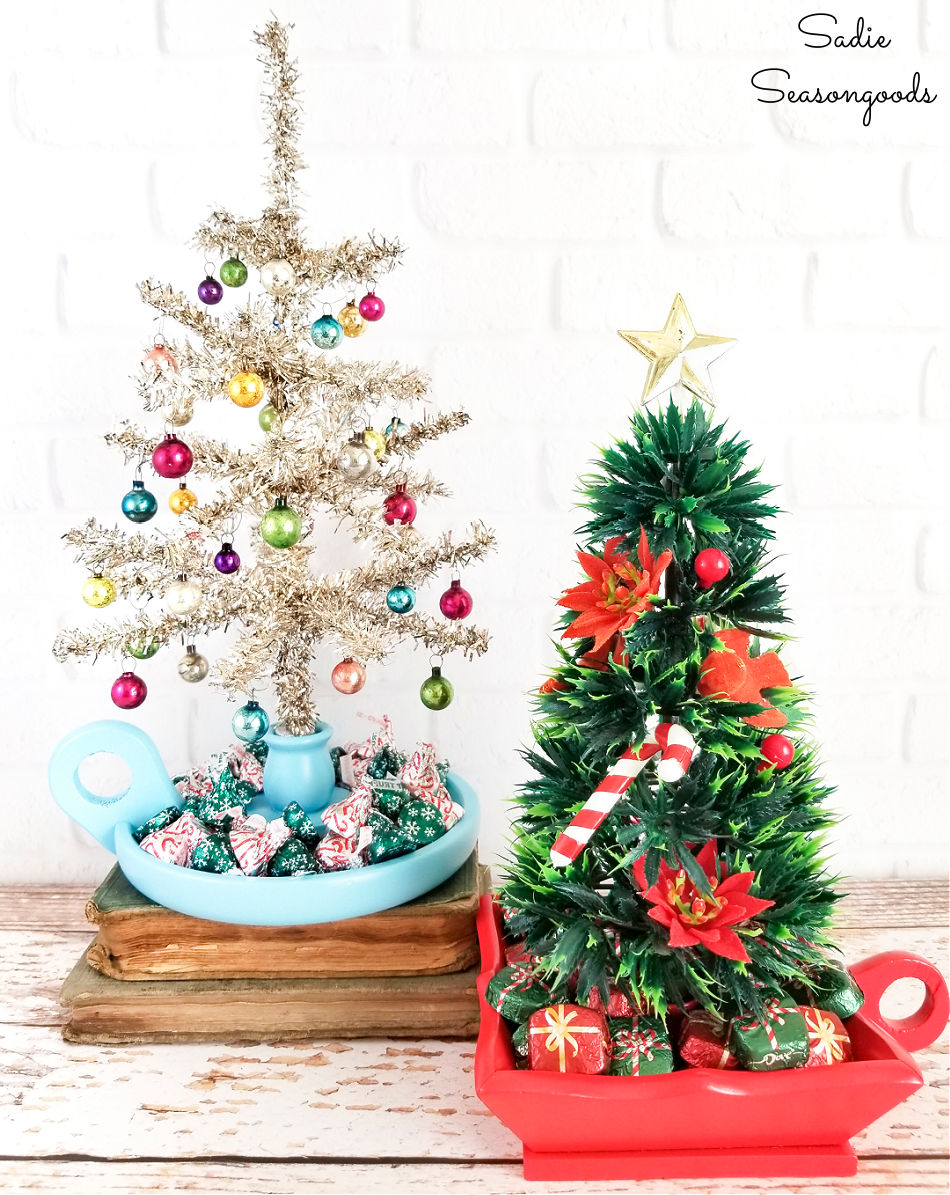 Which one is your favorite? The classic green and red version in the red chamberstick?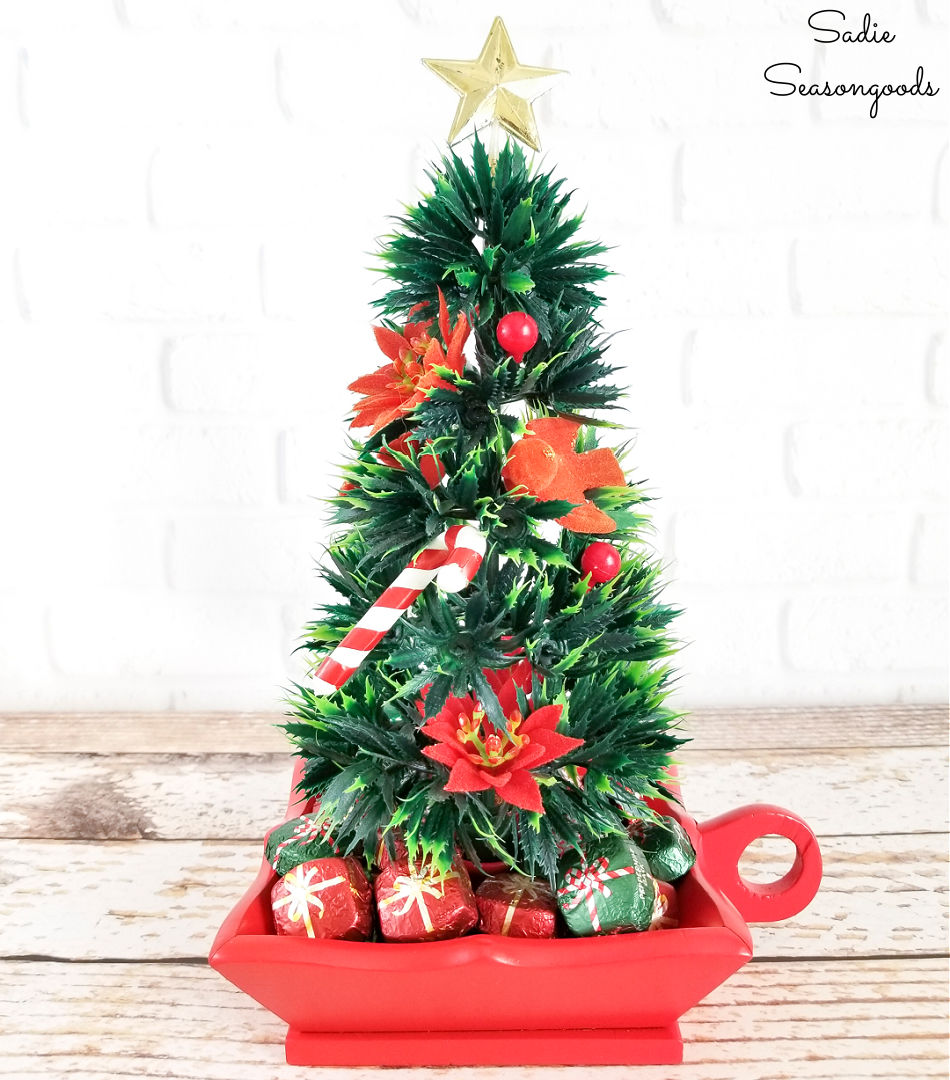 Or the funky, retro aqua version for the mini aluminum tree?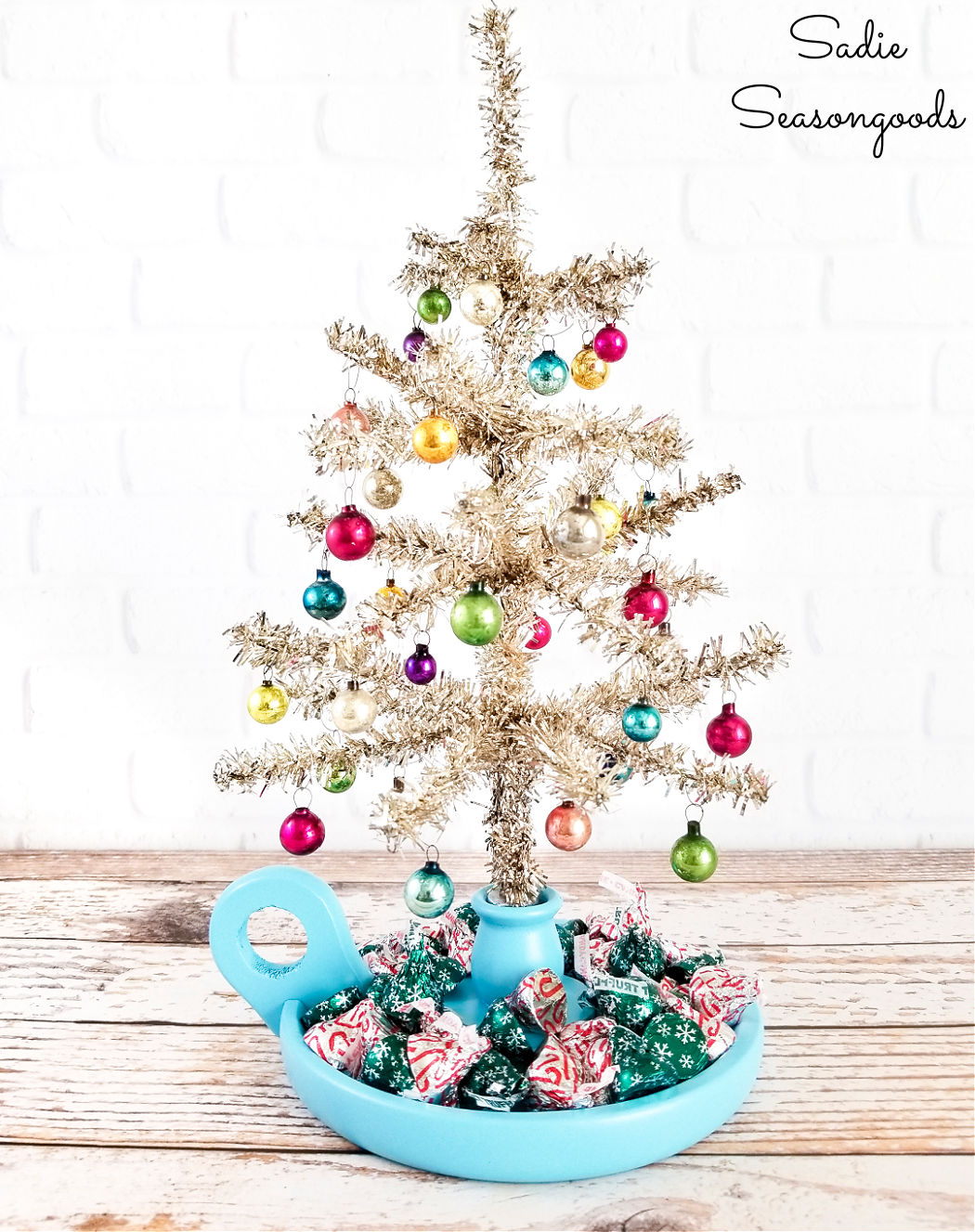 And now that the photos have been snapped, I can eat a few of those chocolates- they've been teasing me for days!
If you enjoyed this upcycling idea for festive Christmas decor, then you'll love these waterless snow globes in vintage glass jars!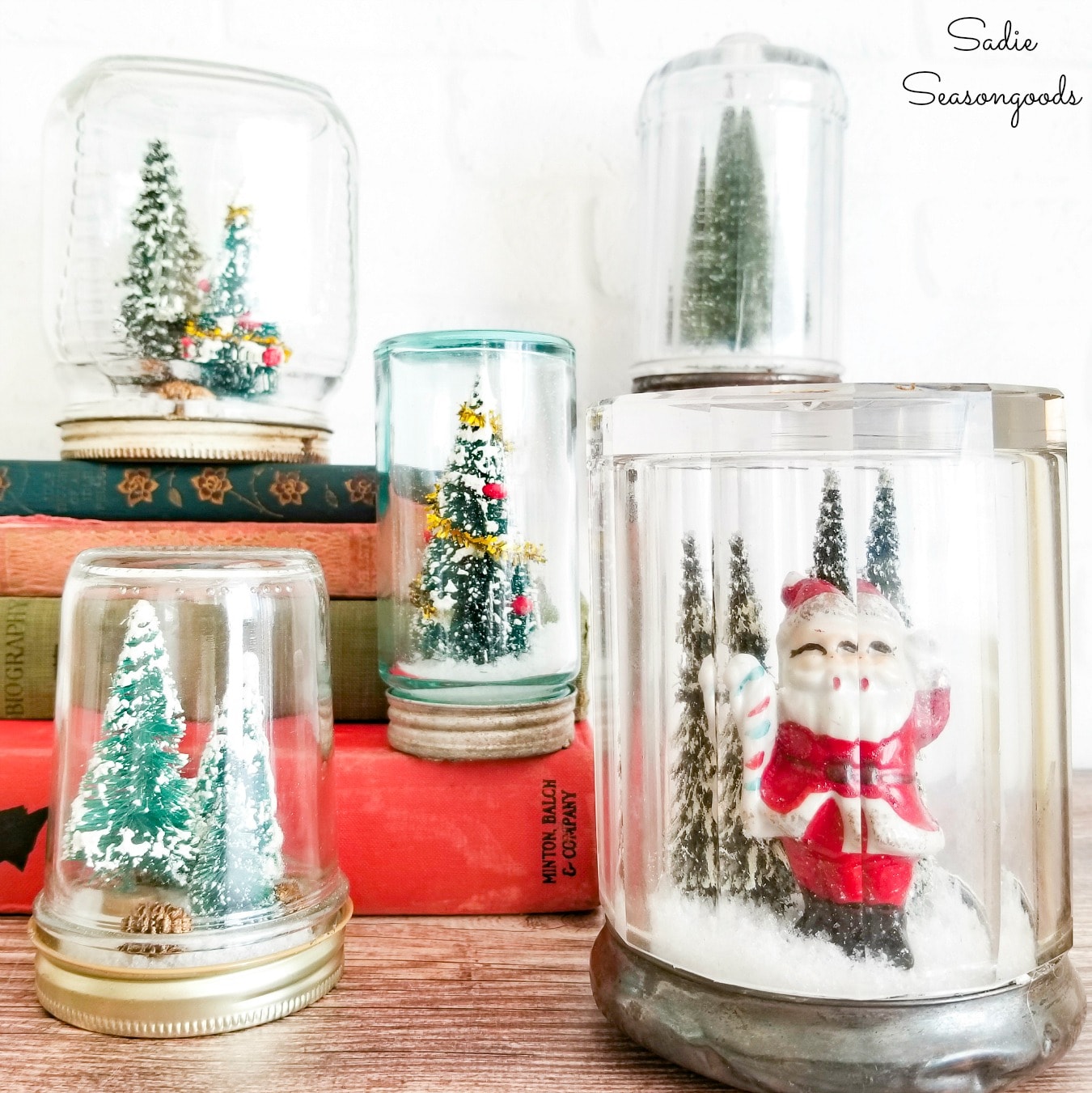 Craft on!
S
Want to be notified when I publish my next upcycling project tutorial?
Subscribe to Blog via Email
Join me on Social Media:
PIN ME!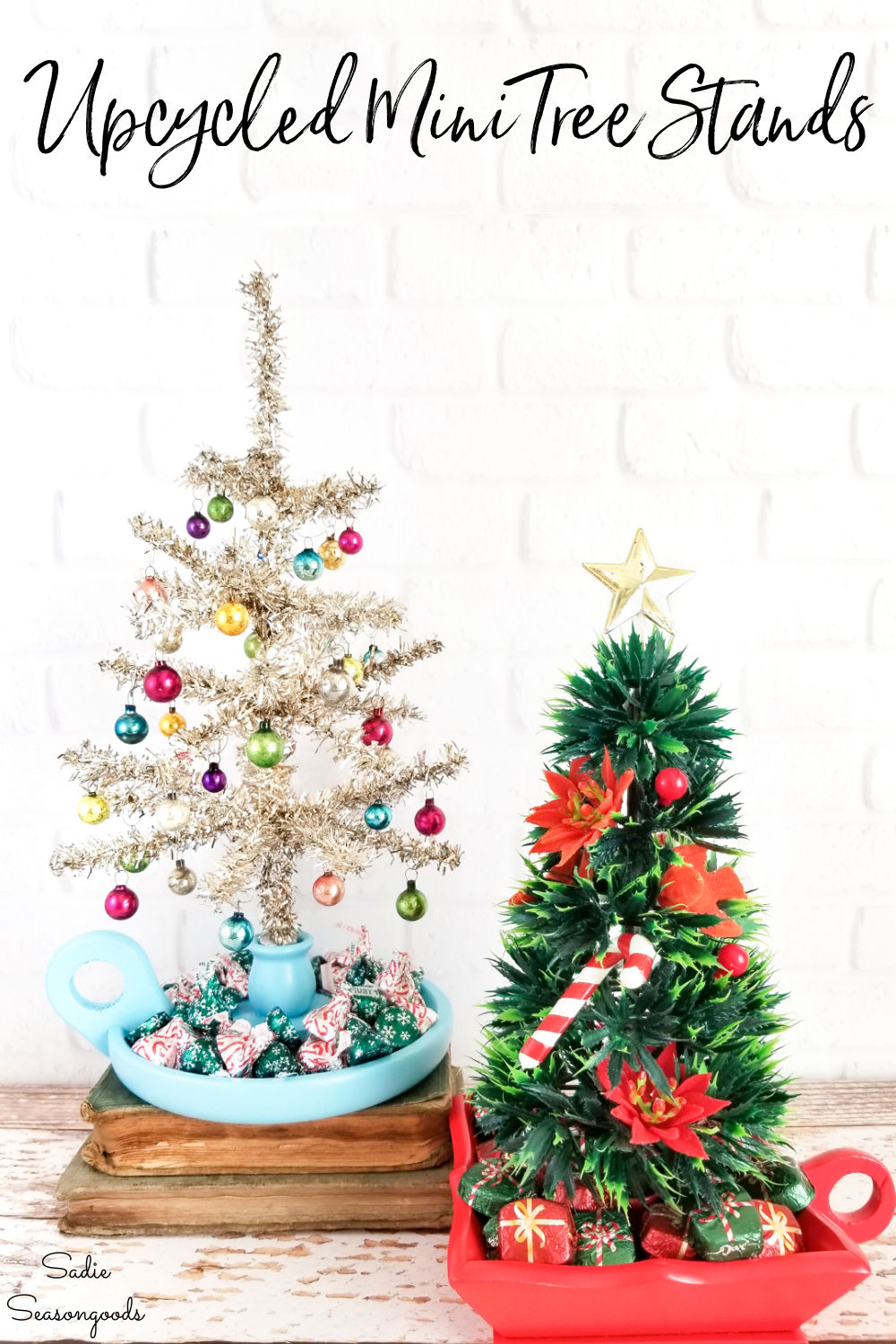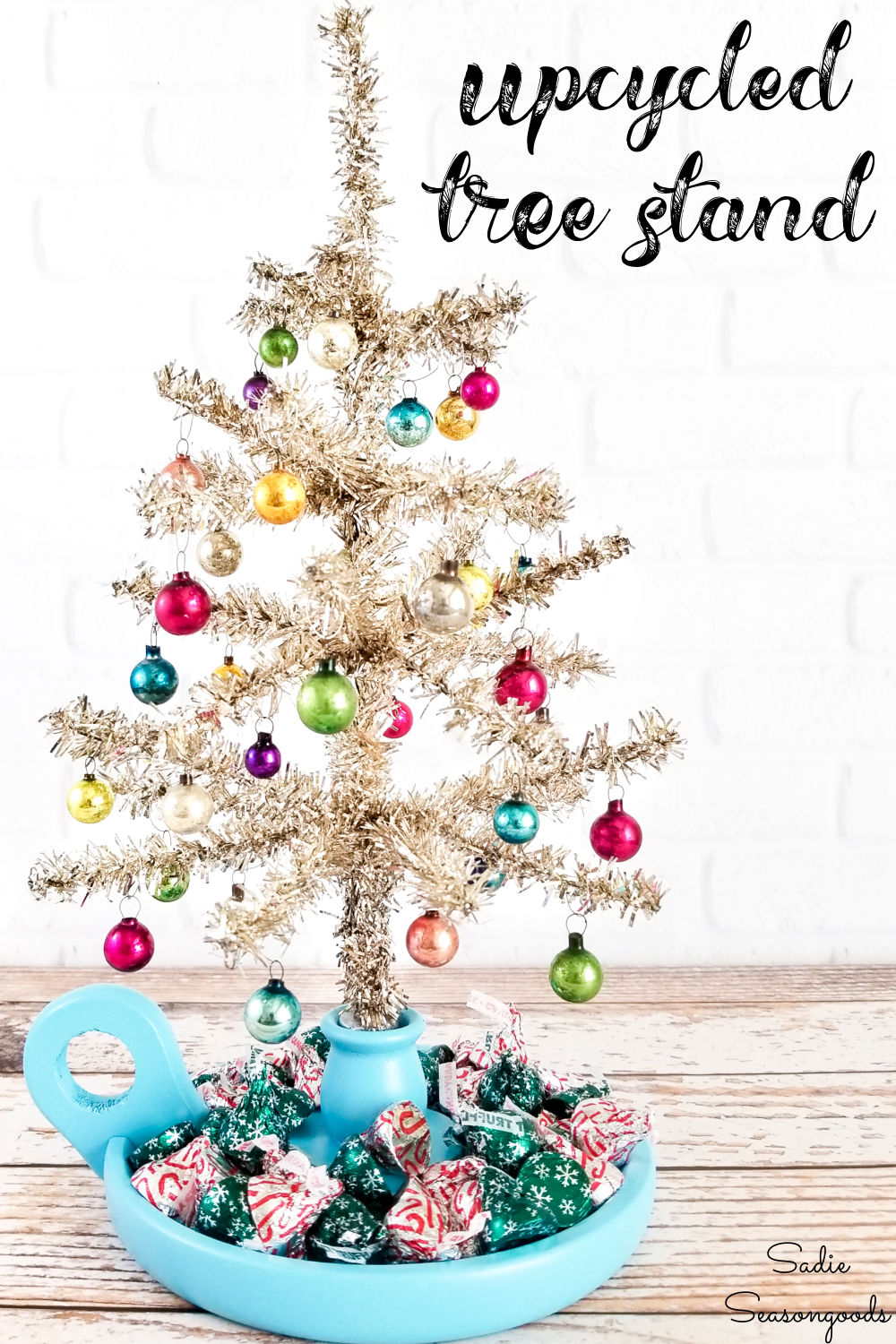 Sarah Ramberg is the owner of Sadie Seasongoods, a website that celebrates all things secondhand. From upcycling ideas and thrifted decor to vintage-centric travel itineraries, Sadie Seasongoods is a one-stop shop for anyone who loves thrifting and approachable repurposing ideas. Sarah is also the author of "Crafting with Flannel" and has been featured in numerous media outlets and magazines.