I was cleaning up my Craft Room a bit and found some cork board sheets that I had snagged on a thrifting adventure in the past. I was about to put them in the "re-donate" pile (which I am CONSTANTLY adding to)…but thought better of it. If I found the perfect vintage picture frames, I could combine them into a framed cork board to use as cute office decor!
I headed to Goodwill because I wasn't thrilled with the vintage picture frames that I already had in my stash!
Insert shocked face here because HELLO, I always have loads of frames on hand.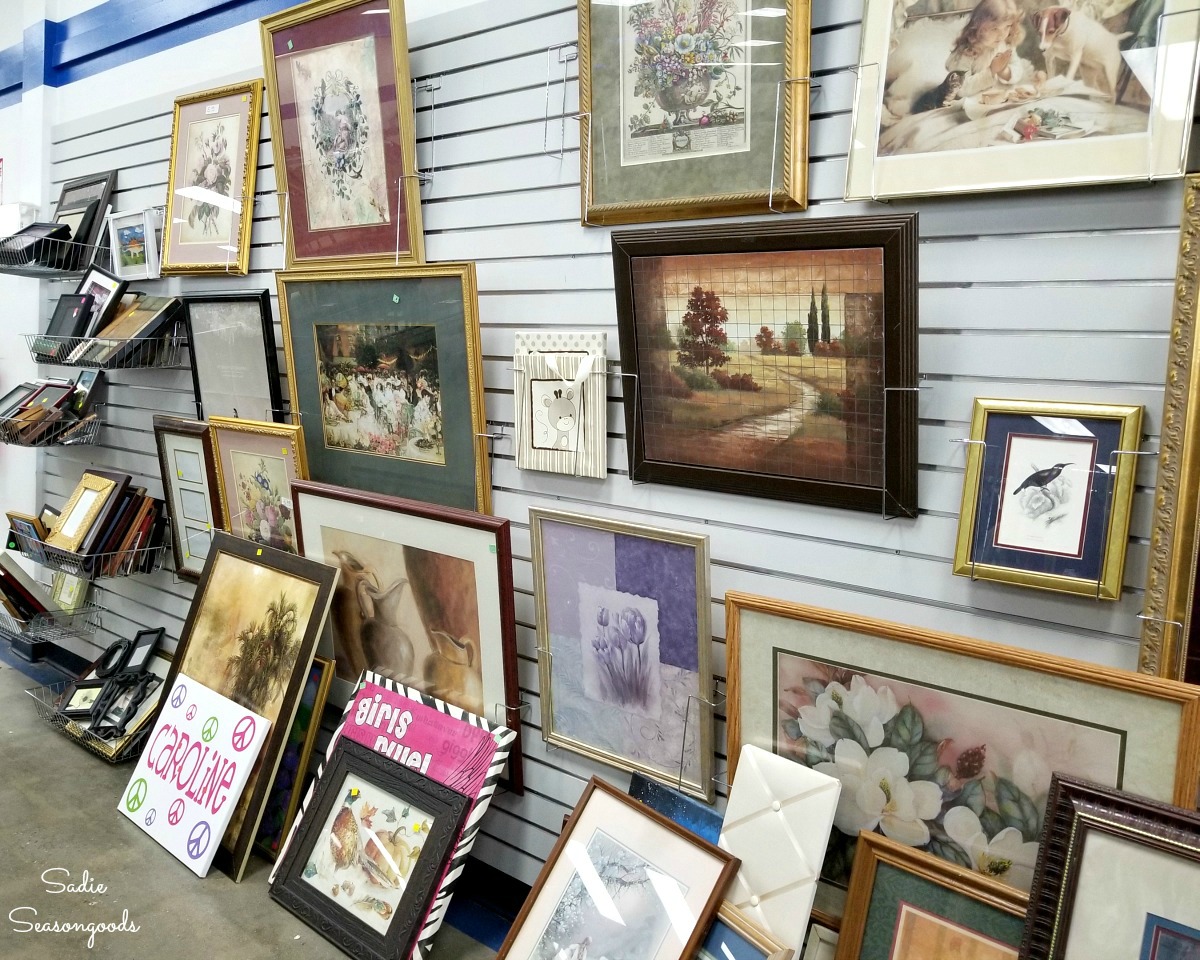 Unfortunately, the antique frames I had weren't the right size and didn't have the right "character" that I had in mind, if that makes sense. Thankfully, I found a couple of options at the thrift store that would work with the cork board sheets in my craft room.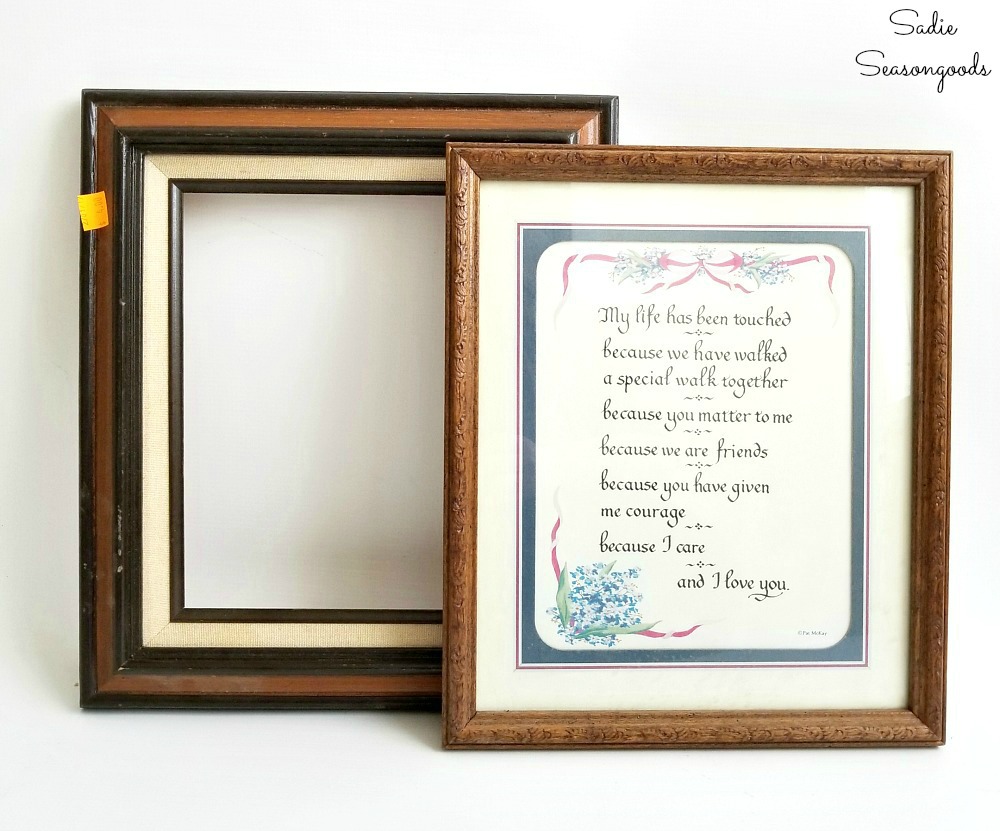 This post contains affiliate links for your crafting convenience. As an Amazon Affiliate, I earn from qualifying purchases.
Creating a Framed Cork Board with Picture Frames and Cork Board Sheets
Interestingly enough, I found some cork roll at the thrift store when I found the right picture frames! But I still wanted to use the cork board sheets in my stash first.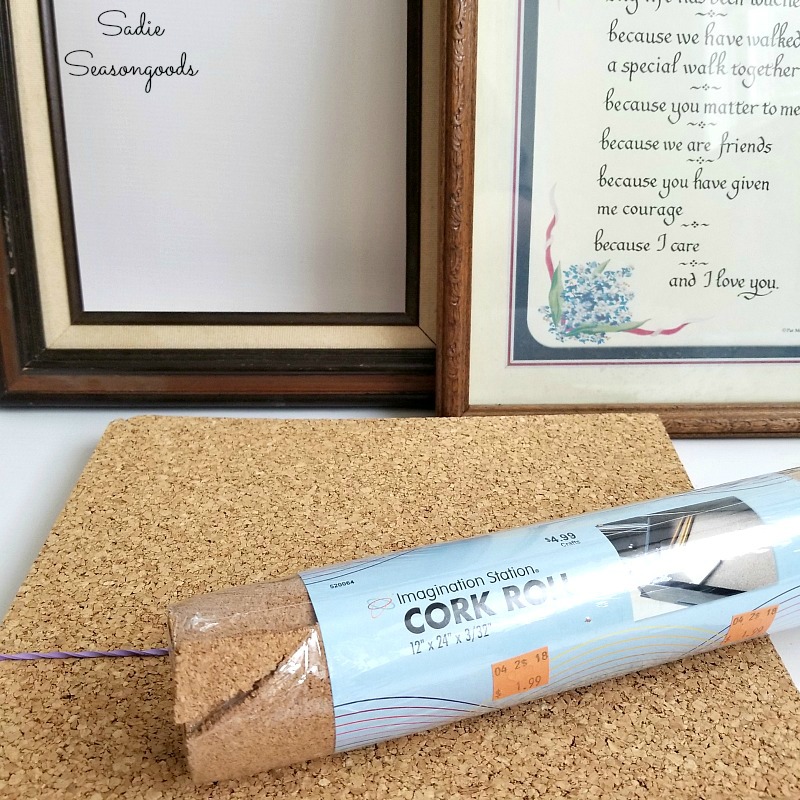 Since I had a vision of what I wanted the framed cork board to look like, I used a specific Behr paint color (In the Moment) that I had a sample of.
It reminded me of the green patina on copper, like the Statue of Liberty.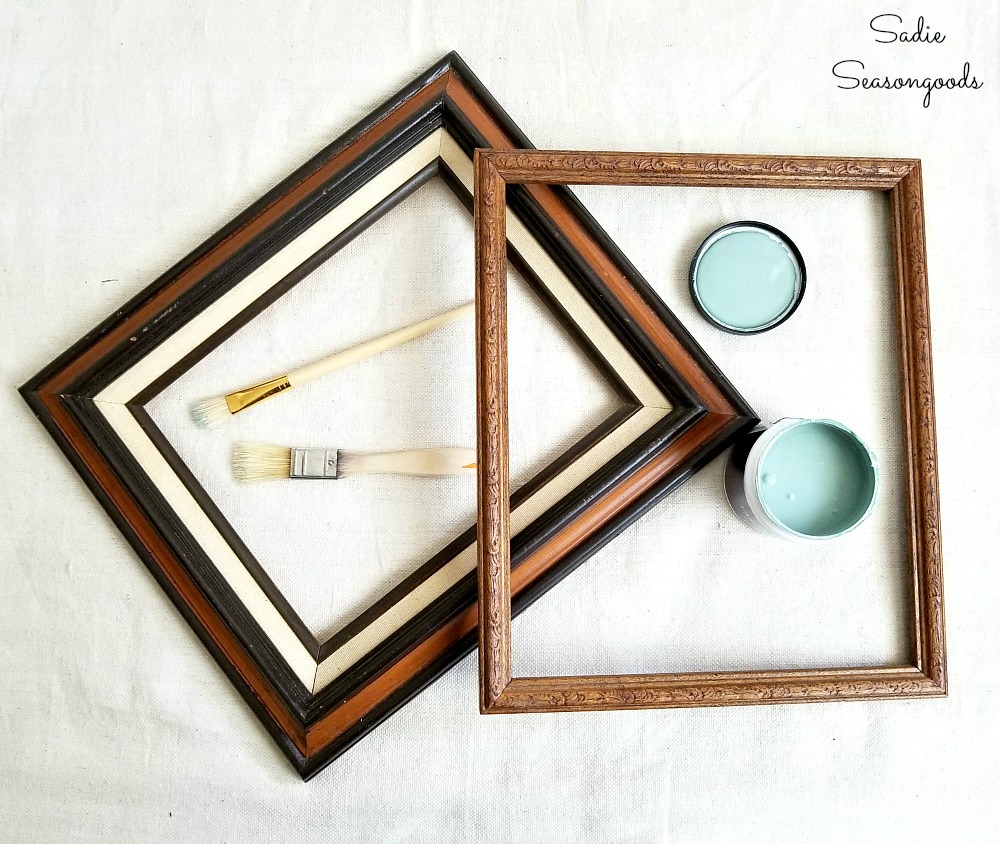 After brushing on two coats of paint, I used my favorite flexible sanding paper to distress the frames ever so slightly.
Now, I could have just cut the cork to fit my frames and be done with it.
But, I couldn't get the idea of sponge painting the cork out of my head. Just lightly painted in an off-white shade, almost like painted brick.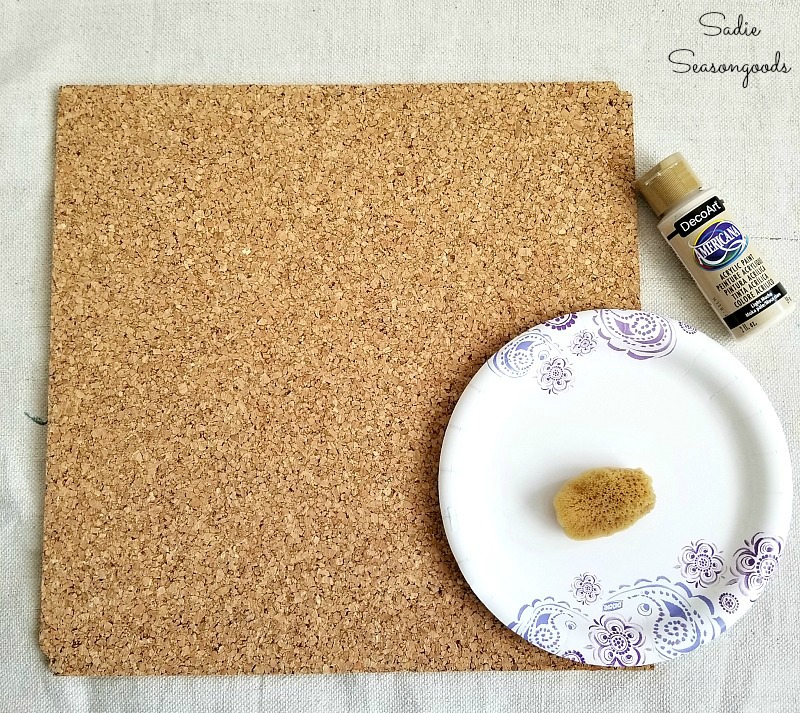 If I hated how it looked, I could simply turn it over in my picture frame, right?
Sound crazy? Maybe…but it was a satisfying process to pounce the paint with a sea sponge all over the cork. Crafting can definitely be therapeutic when you have a lot on your mind…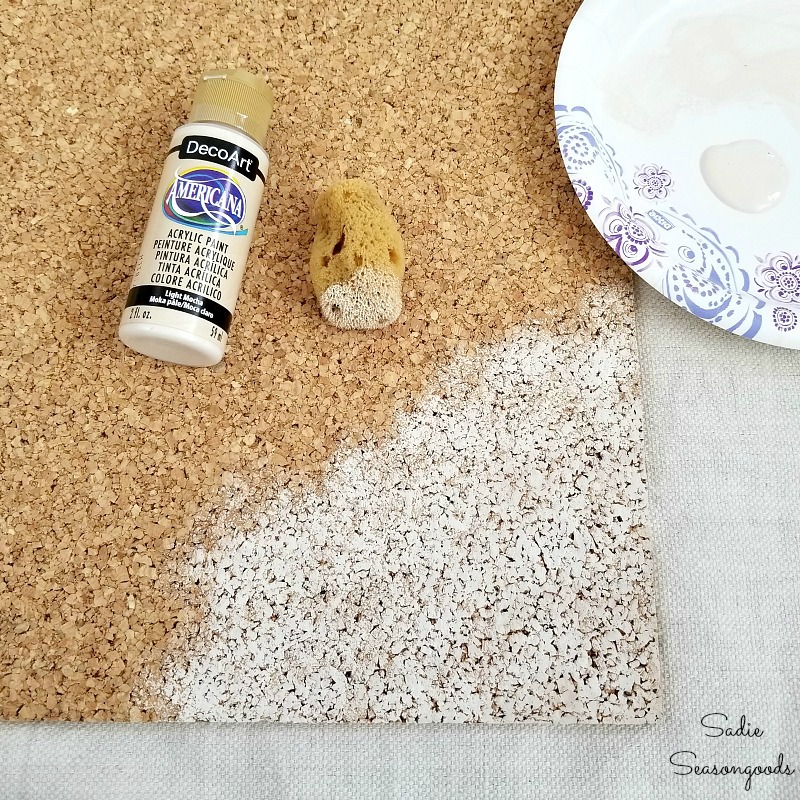 And that was that- no more painting!
Decorative Cork Board for a Home Office
When everything was dry, I trimmed down the cork board sheets to fit my frame. Next, I dotted the inner lip of the frame with my favorite super glue, and set two layers of cork inside.
Why two layers of cork? Well, my picture frame was deep enough for a canvas painting…but two layers of cork is actually ideal for a framed cork board! Deeper cork can more easily accommodate thumbtacks or push pins.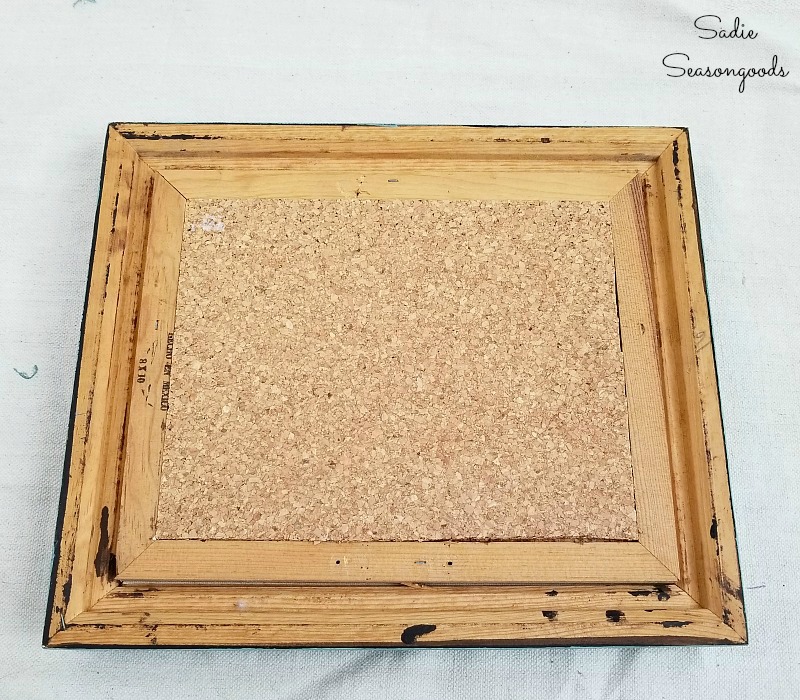 I decided it need one more thing to make sure the cork was held firmly in place and to keep the cork from getting a convex shape over time. So, I repurposed mat board from my other frame to use as backing for the framed cork board.
Then, I simply tapped in some small wire nails around the edge using my pretty craft hammer. You could just as easily use thin cardboard or foam board in the same capacity.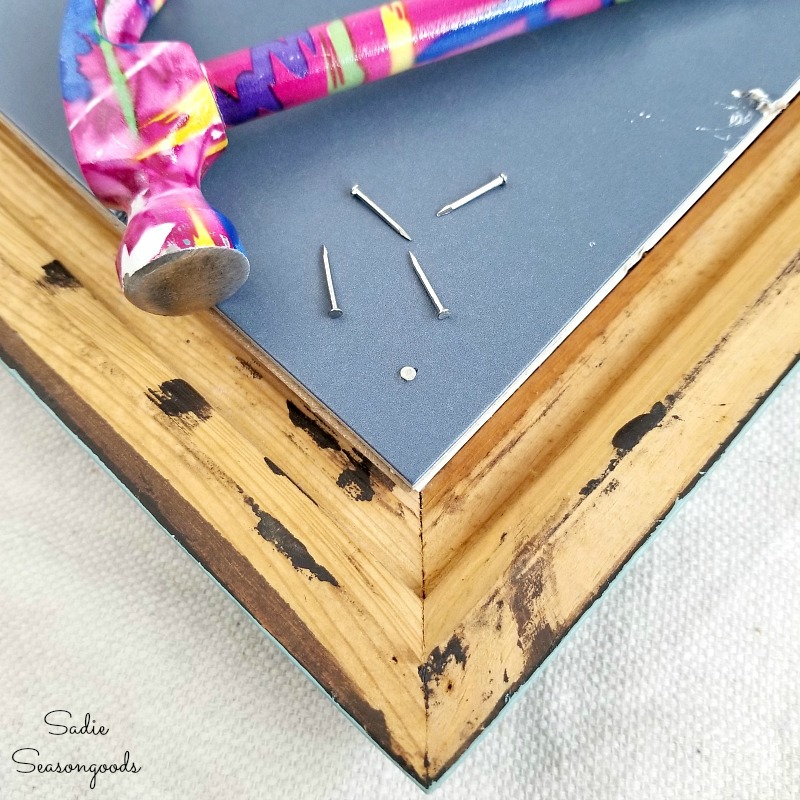 Ready to see what my DIY cork board or framed cork board looks like when it was all done?
Framed Cork Board for Cute Office Decor
Ta-da! I think that's the prettiest framed cork board I've ever seen.
I just love the combination of colors, with the slightly distressed painted frame and the mottled colors of the cork board sheets.
A framed cork board can be hung on a wall or leaned against the wall on a work desk. I love it's vintage farmhouse look – such cute office decor!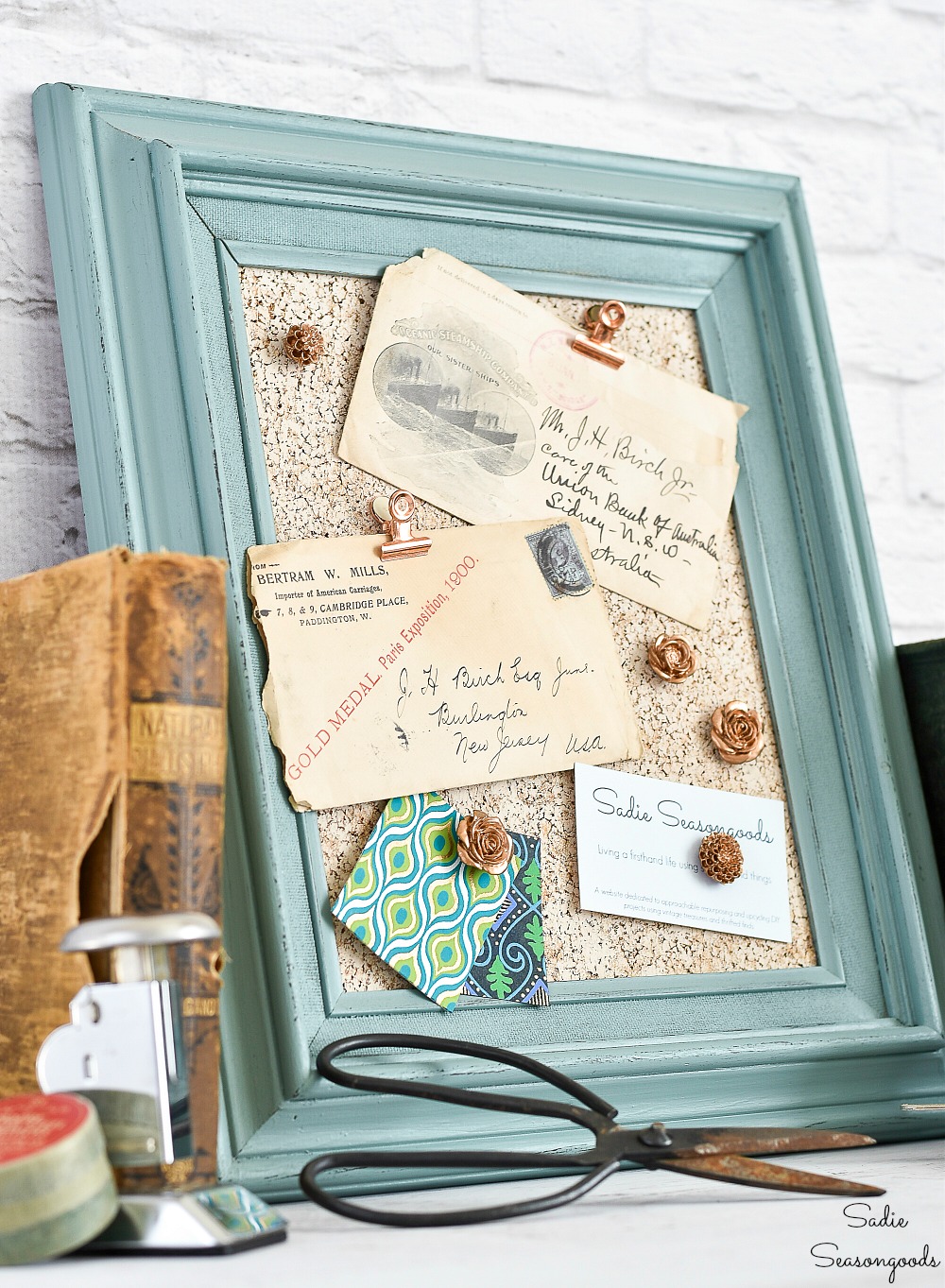 And if you were curious about my metallic flower thumbtacks, I made them, too, and their tutorial can be found here!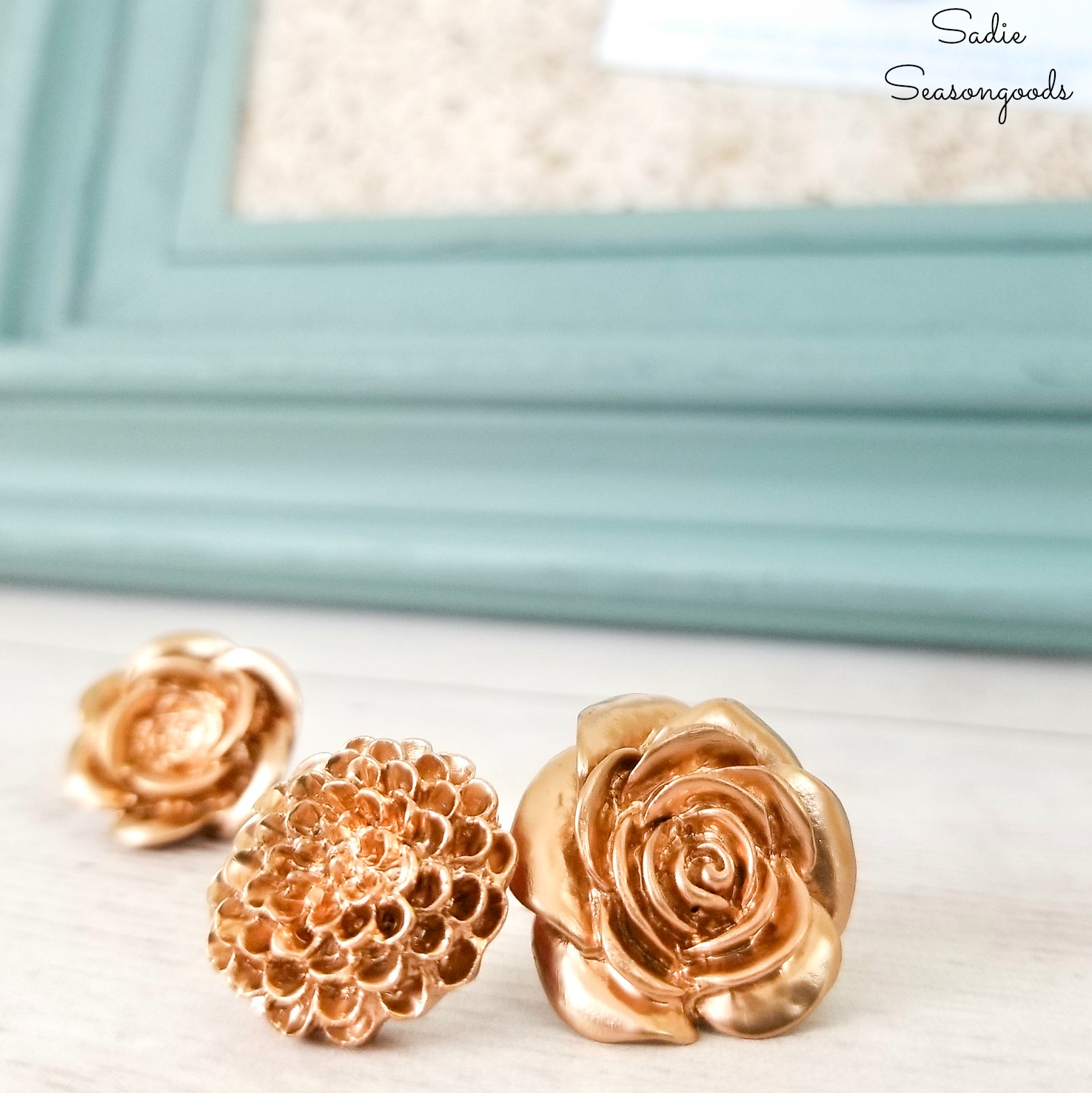 Happy organizing and Craft On!
S
Want to be notified when I publish my next upcycling project tutorial?
Subscribe to Blog via Email
Join me on Social Media:



PIN ME!