Look, I get it. Not everyone reads my blog posts from start to finish, but rather want to see the before and after with nothing in between. We live in an "attention economy" these days, but trust me when I tell you that there is some good stuff in these posts! All sorts of tips, tricks, and other craft essentials that can get lost in the middle. So, I thought it might be a fun exercise to gather all of those tips into a fun round-up post.
And before I get too deep into it, this isn't your typical article about the essentials of crafting. I'm not going to tell you what kinds of glue guns or scissors to buy. But rather, this post will spotlight all sorts of tips or workarounds that I (and my blogging friends) discovered while creating our thrift store makeovers and upcycles!
The unexpected crafting tips. Tricks we discovered on the fly. Solutions to problems you may not have even had yet but could come in handy later on down the (crafting) road!
We had a LOT of fun gathering these tips and craft essentials, too- let me tell you! Looking back through older projects for the workarounds we came up with. Like this trick I figured out with a balloon while spray painting a light fixture!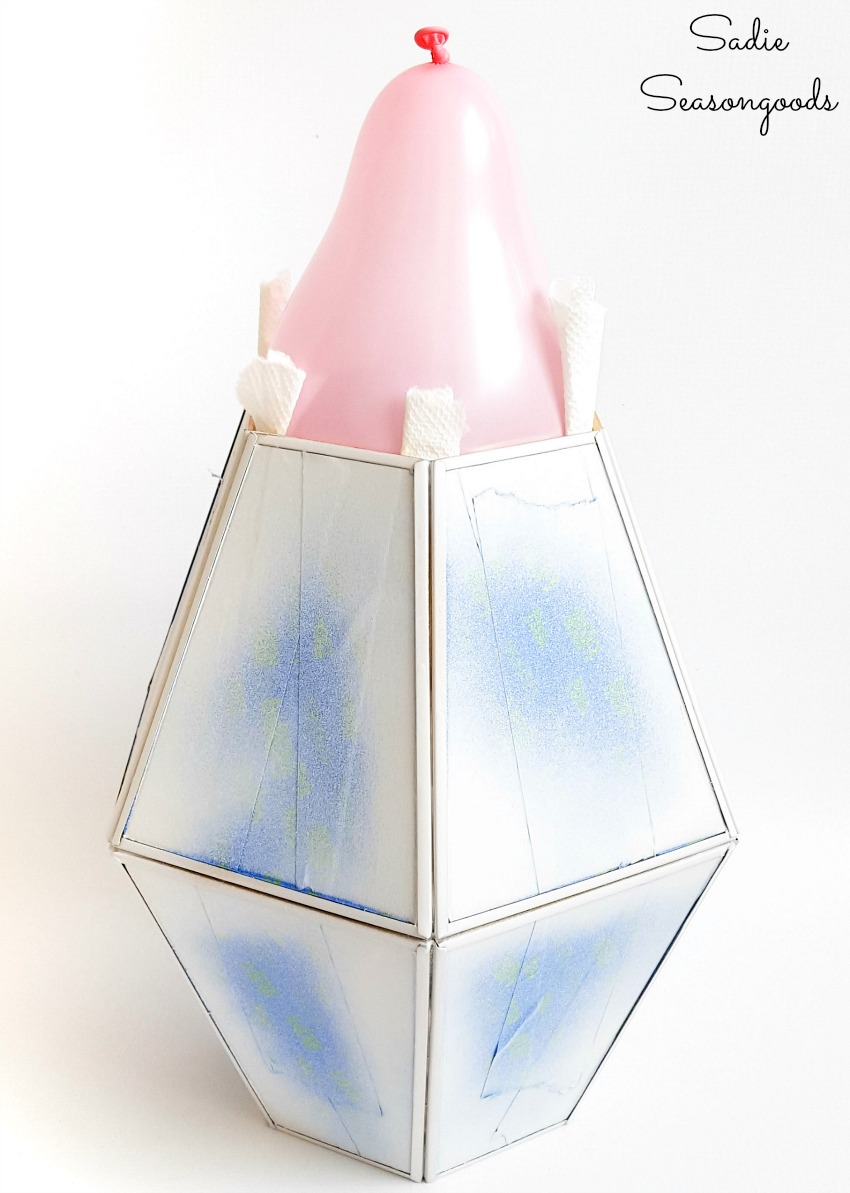 Or this handy-dandy idea I came up with when I needed to spray paint some chain!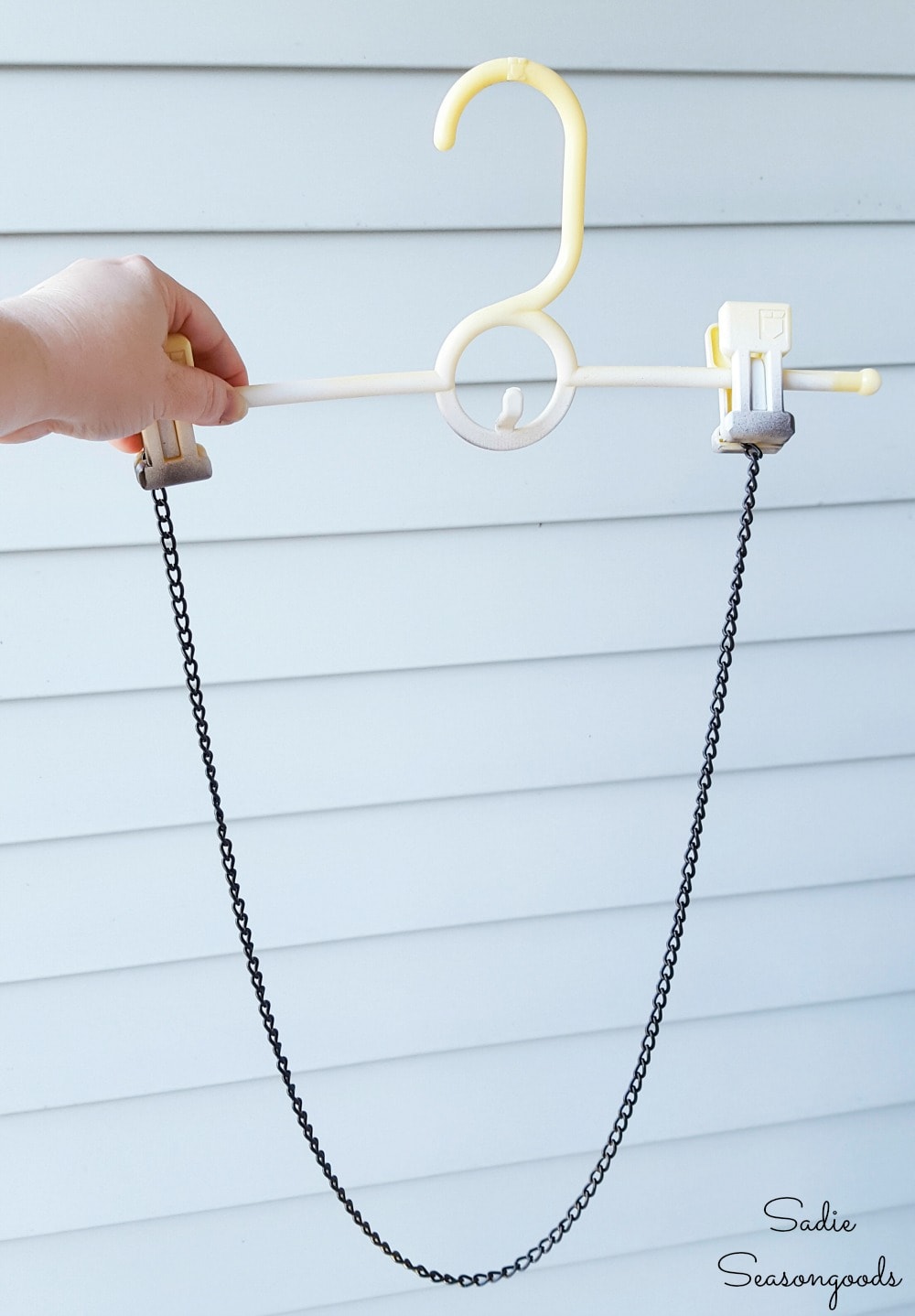 And yes, that tip is buried inside a Halloween project, but it could DEFINITELY come in handy at any time of year!
See what I mean, though? As fun as the before/after transformations are, there's some good meat on those old blog post bones. A trick or solution or even an unexpected cleaning hack for your thrifted treasure…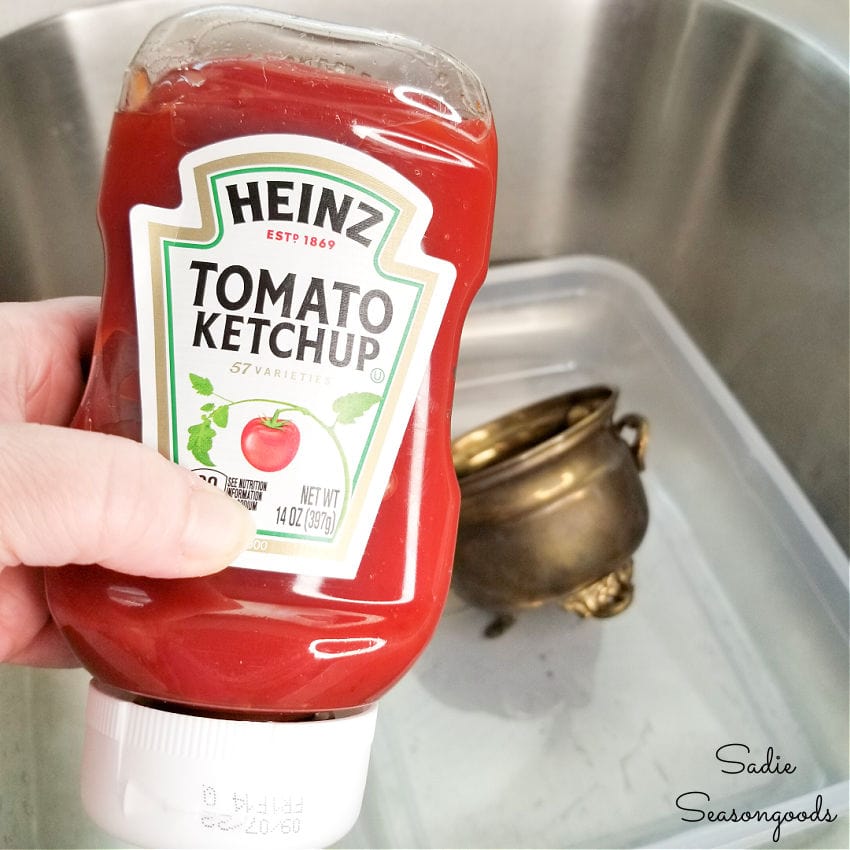 And hopefully, you'll find some great tips and craft essentials inside the collection that'll really save the day for you in the future. But before we get to the full collection, please indulge me while I share a few favorite tricks from my friends!
Craft Essentials and Tips for Any Upcycler
A lot of us have painted furniture over the years, right? It's not my forte by any means, but I've done it before. I just wish I'd thought of using racks like this for spray painting the hardware– it's SO darn smart!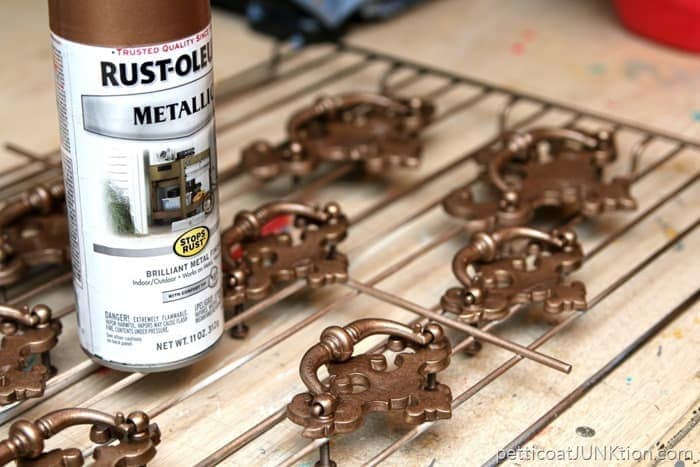 And while I've never stenciled a wall, I've wondered what the best technique would be. And clearly, using a paint roller is the best bet! Instant gratification without an aching back or cramped up hands.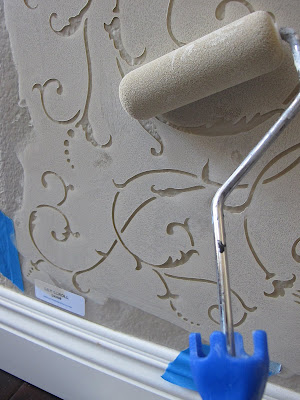 Here are some tips that ANY upcycler or DIYer can use- how to deal with rusted paint cans! Gail at My Repurposed Life has some suggestions and solutions for that problem.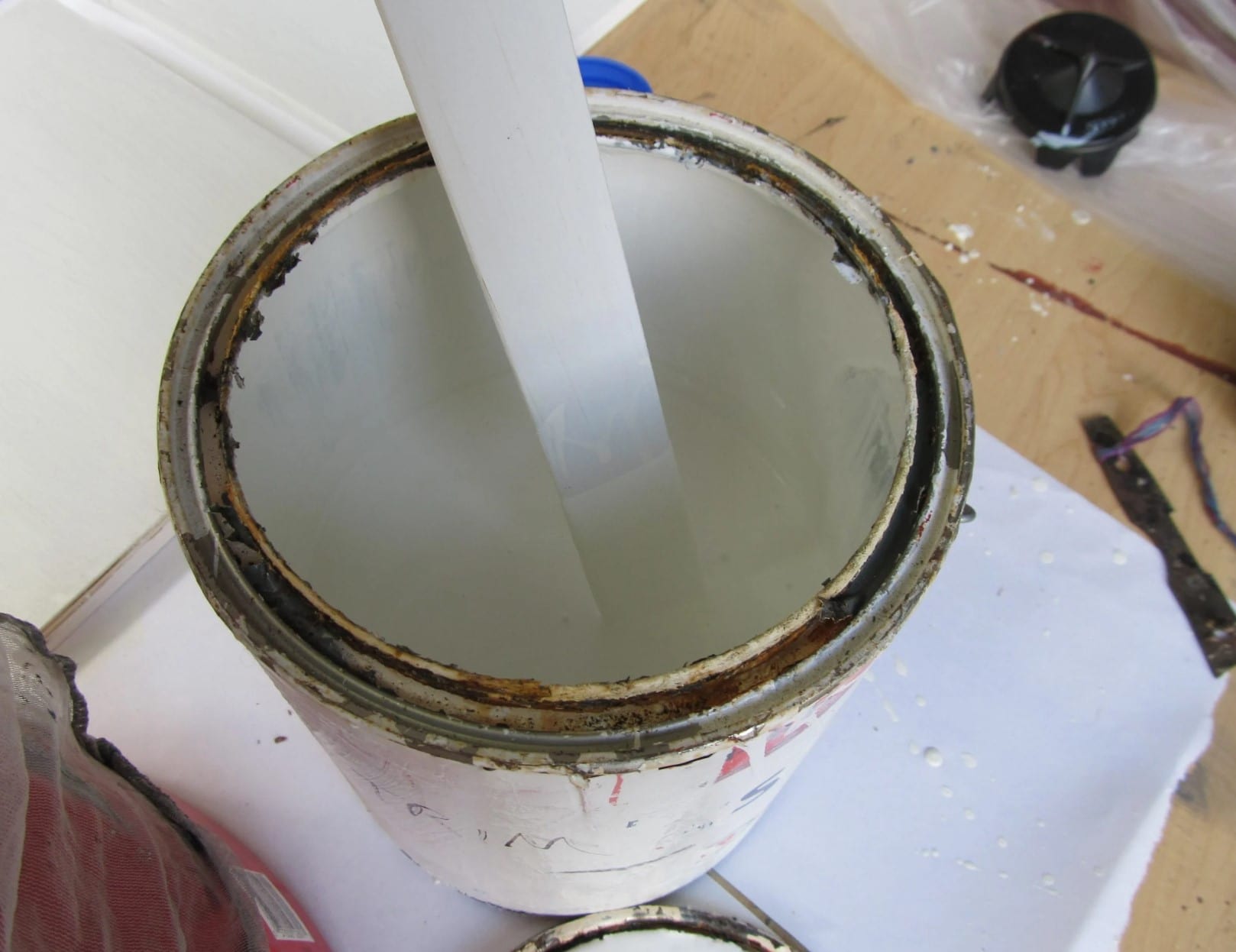 Hungry for more tips and tricks? Then let's get to the full collection without any further delay!
Upcycling Tips, Tricks, and Craft Essentials
You are invited to the Inlinkz link party!


Aren't there some fantastic tips in there? Quite possibly some solutions to problems you haven't even encountered yet! But hopefully having this collection handy will prevent a few problems from even cropping up.
Even More Crafting Hacks to Keep in Mind
Love the look of Buffalo check but don't want to spend money on an expensive stencil? Maryann from Domestically Speaking can help you out with that!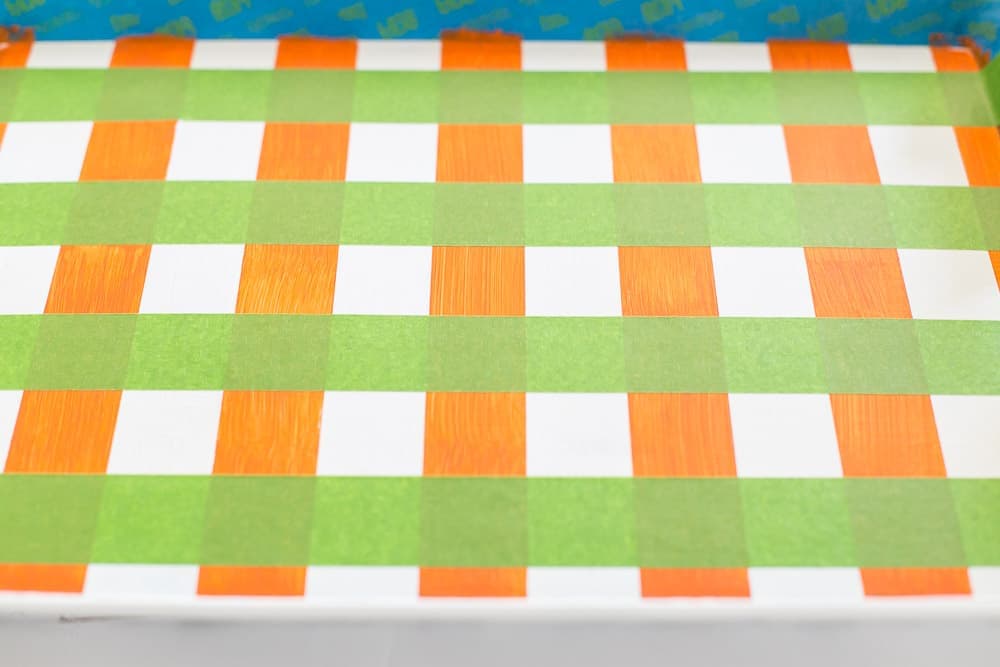 And for a quick spruce of a thrift store picture frame that doesn't involve paint? THIS is such a great solution– it makes the frame pop but keeps that vintage look at the same time.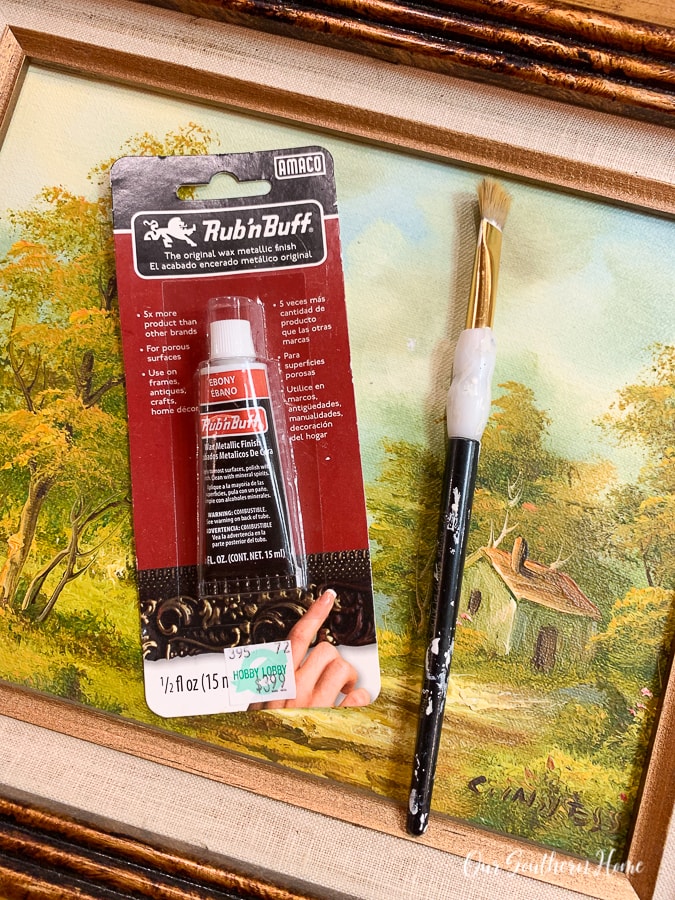 Guess what? I used that frame tip from Our Southern Home for an upcoming project that I'll be sharing on my blog in the next couple of weeks!
I'm also VERY intrigued with this tip for creating stripes on bare wood with wood stain! It gets my mind going with future project ideas, hmm…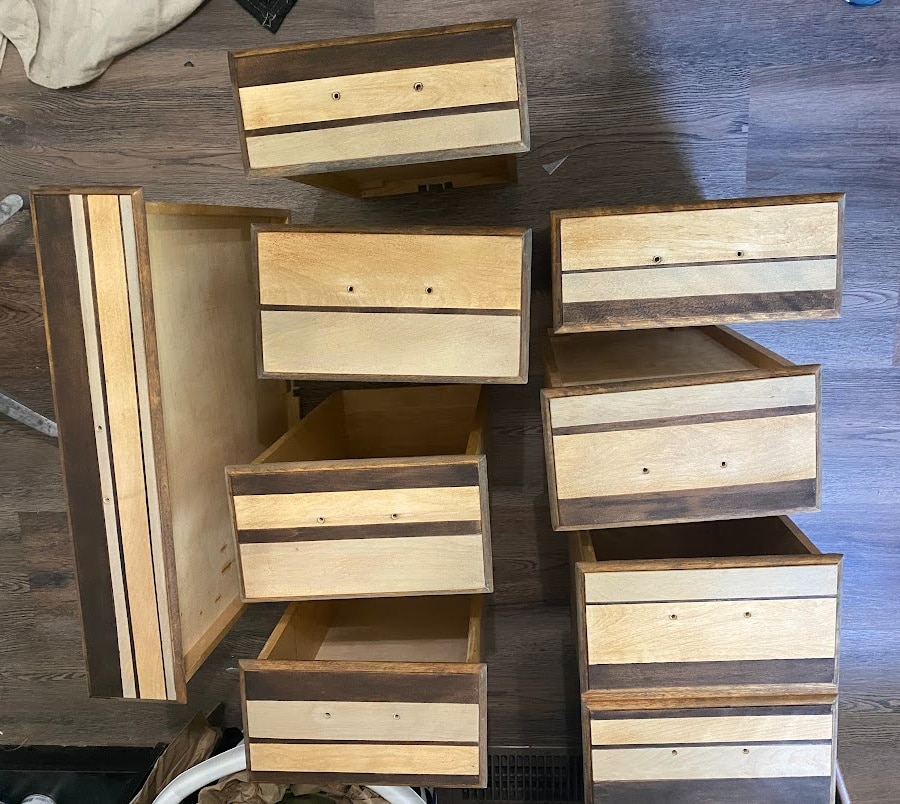 ***
I sure hope you've enjoyed this collection of tips, tricks, and other craft essentials from my blogging gal pals and I! We know your time is as precious as ours, but if we can help you out of a crafting jam (or prevent one entirely), then we'll consider this post a success!
Whether you need to paint brand new hardware to match salvaged hardware…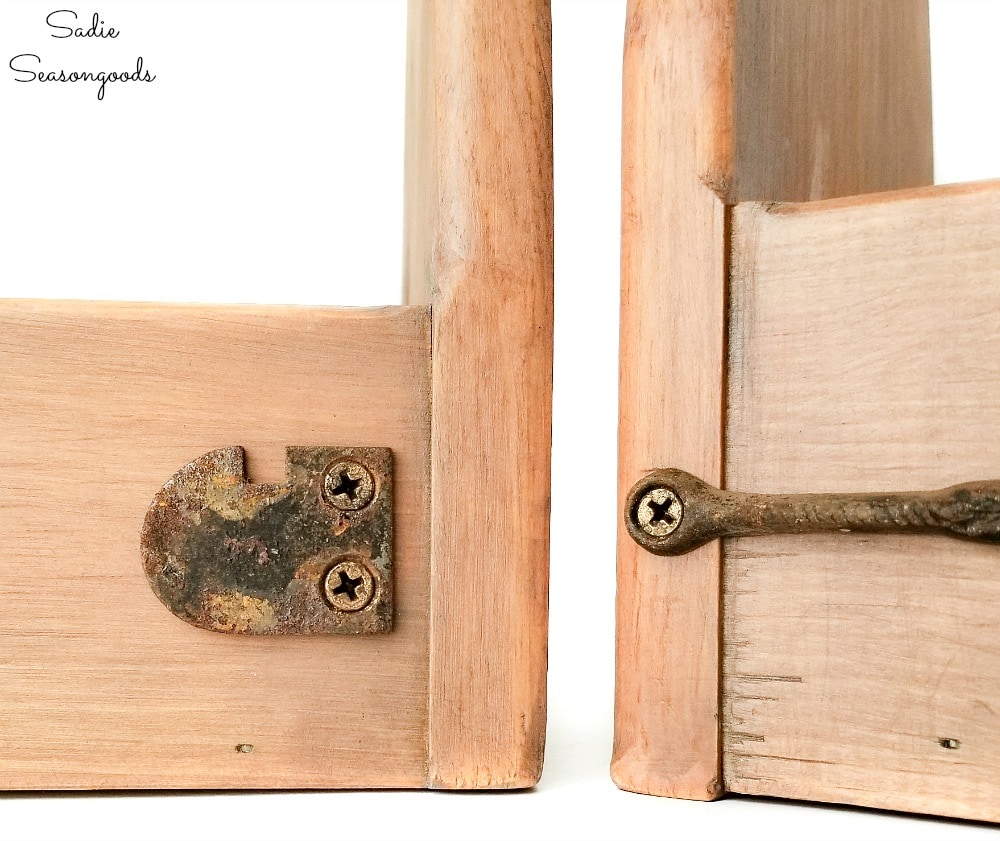 Or clean a smelly cutting board that you want to craft with…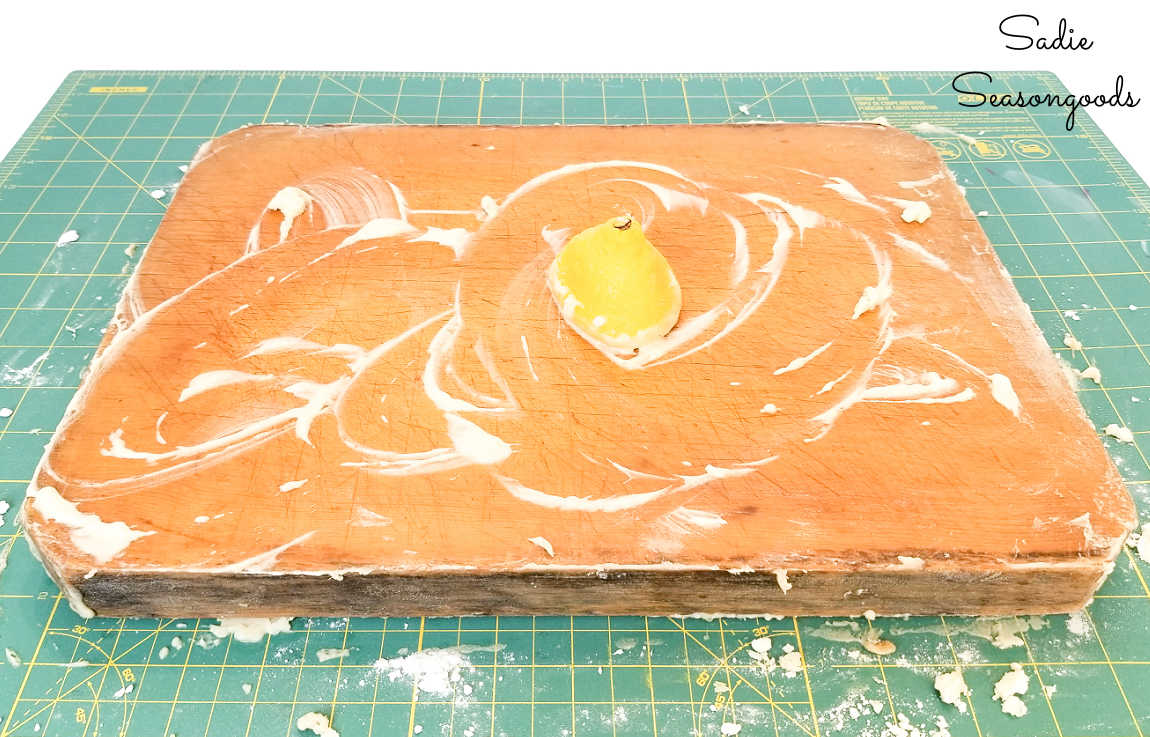 …hopefully, we've got you covered with an idea or solution in this collection of tips!
And if you've run into a problem in your upcycling endeavors that you didn't find a solution for here, please let me know. If I don't have a solution for you, maybe I know someone from the Thrift Store Decor Team who will!
Sadie Seasongoods Petticoat Junktion My Repurposed Life Shop at Blu
Our Southern Home Domestically Speaking My Uncommon Slice of Suburbia
Craft on!
S
Want to be notified when I publish my next upcycling project tutorial?
Subscribe to Blog via Email
Join me on Social Media:

PIN ME!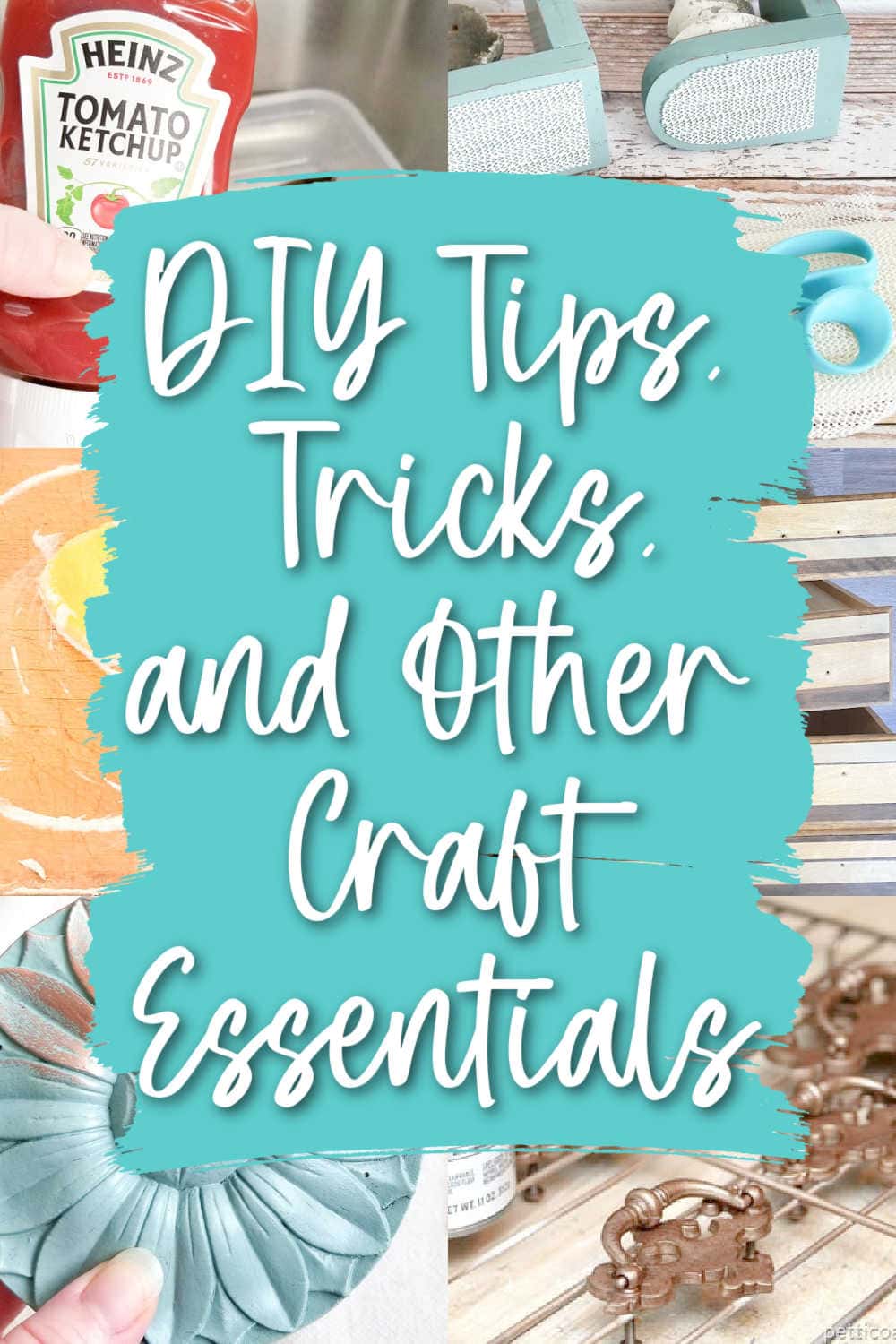 Sarah Ramberg is the owner of Sadie Seasongoods, a website that celebrates all things secondhand. From upcycling ideas and thrifted decor to vintage-centric travel itineraries, Sadie Seasongoods is a one-stop shop for anyone who loves thrifting and approachable repurposing ideas. Sarah is also the author of "Crafting with Flannel" and has been featured in numerous media outlets and magazines.