There are a few Christmas "staples" that I've never created for my blog, and DIY candy cane decorations are one of them. And honestly, I had no earnest intentions to do something about that, until I came across some wooden walking canes at Goodwill.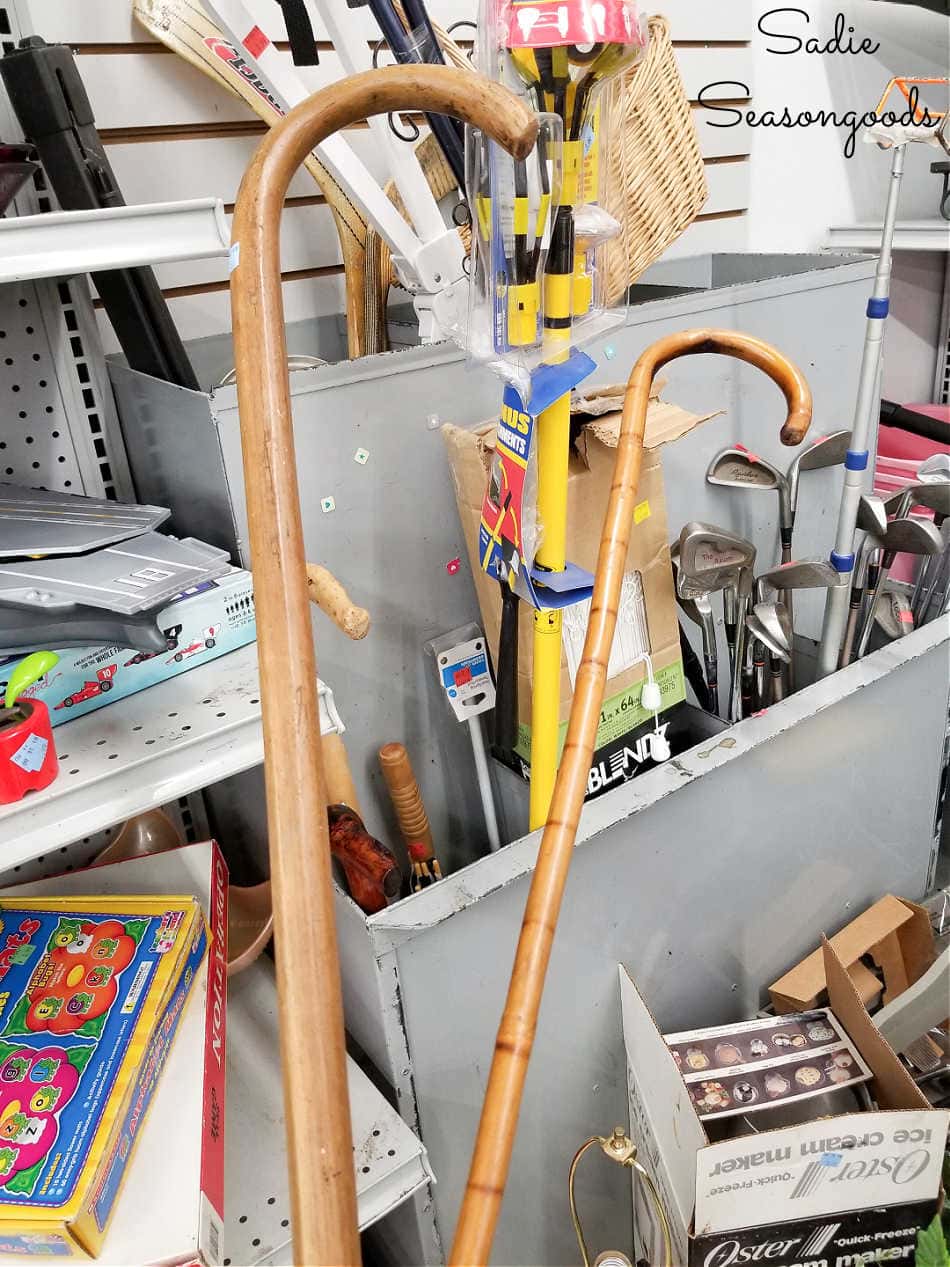 THAT'S when the "duh" moment happened. As if the walking canes had tripped me up, saying "HELLO! DON'T WE LOOK LIKE CANDY CANES TO YOU?".
And well, here we are, upcycling some wooden walking canes into candy cane decorations.
Once the upcycling seed was sown, I kept my eyes peeled for more wooden walking canes. I found one more, and because it was similar in size and texture to one I already had, I nabbed it and got to work.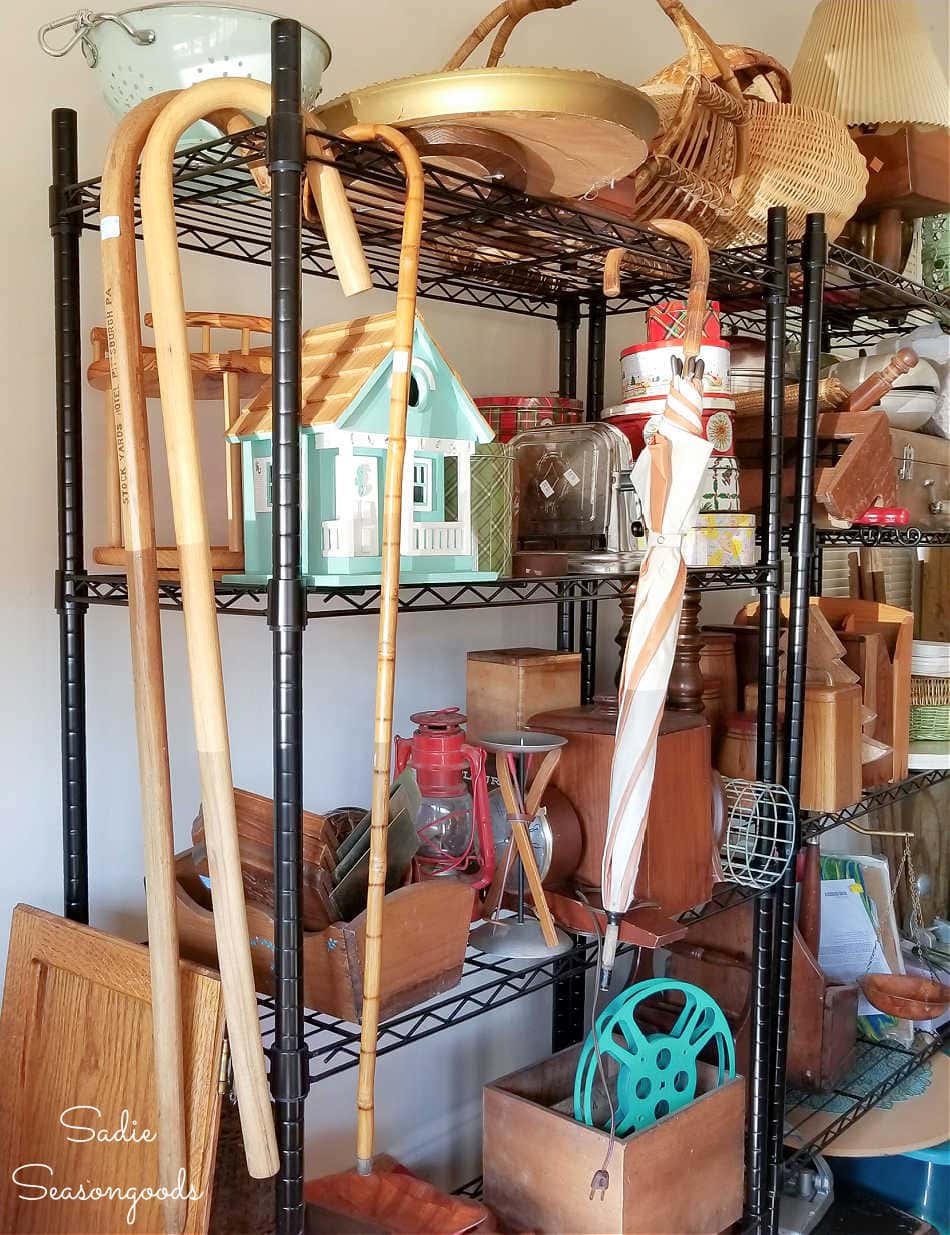 This post contains affiliate links for your crafting convenience. As an Amazon Associate, I earn from qualifying purchases. All blue, bold, and underlined text is a clickable link, either to a product or to a related post.
Upcycling a Pair of Wooden Walking Canes
Now, there were several decorating possibilities here: I could stick them in the ground along my front walkway. Or I could just use them as Christmas porch decorations.
But first I had to paint them to look like candy canes.
The easiest plan was to paint each walking cane white, and then add the red stripes over the white paint. First, I set up my spray painting station and employed the use of a heavy right angle clamp to hold my walking canes while I spray painted each end.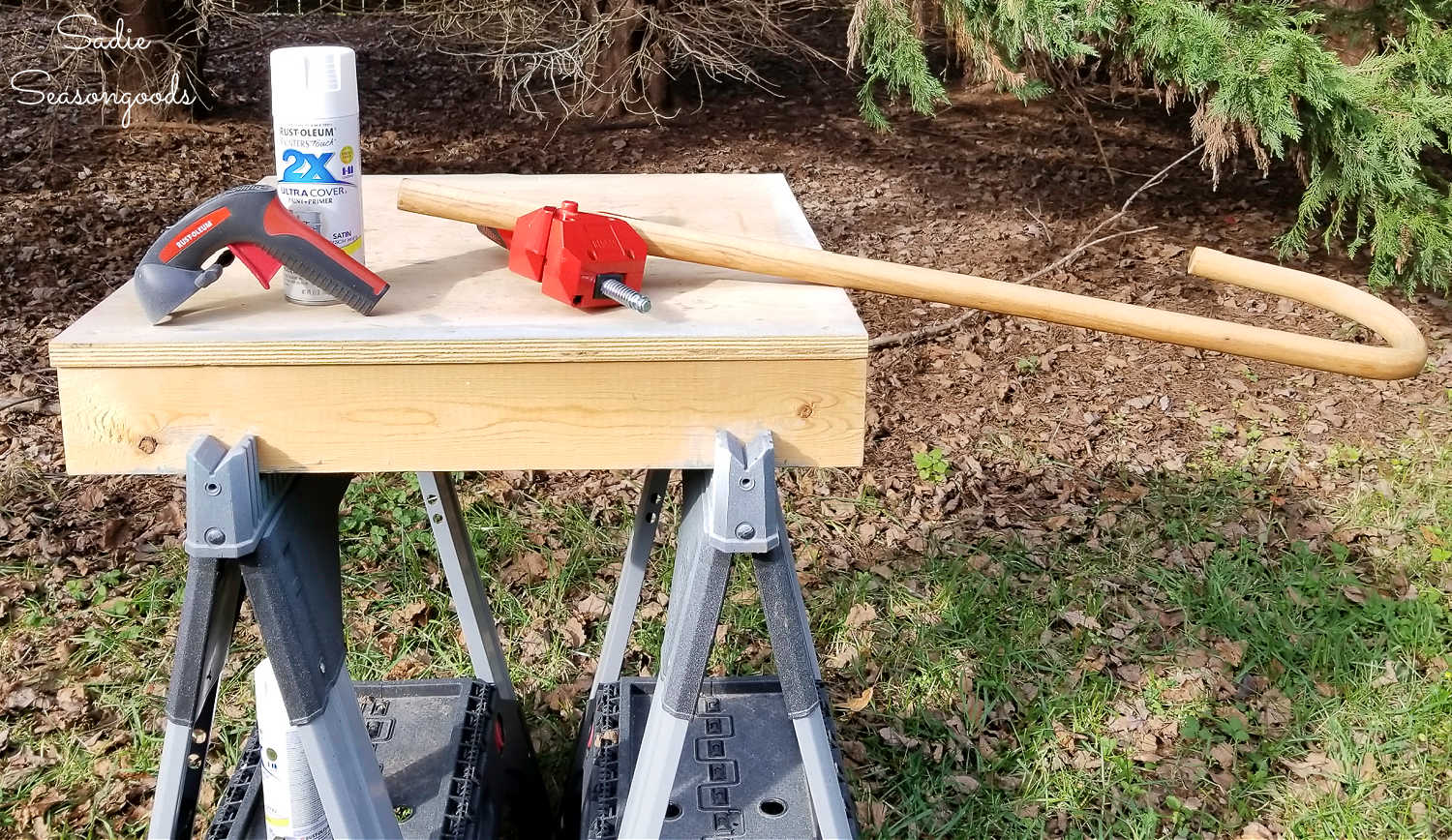 After both wooden walking canes were completely white, I wrapped painter's tape around each cane to create the ribbon shape for red paint.
*Important to note- I used wider painter's tape along the straight "staff" portion of the walking canes, and narrower painter's tape around the crook. I also REALLY made sure that the tape was perfectly smooth to prevent paint bleed.*
Starting to look like some DIY candy cane decorations, eh? Next, I needed to lightly spray my glossy red paint over everything to get that ribbon-y look.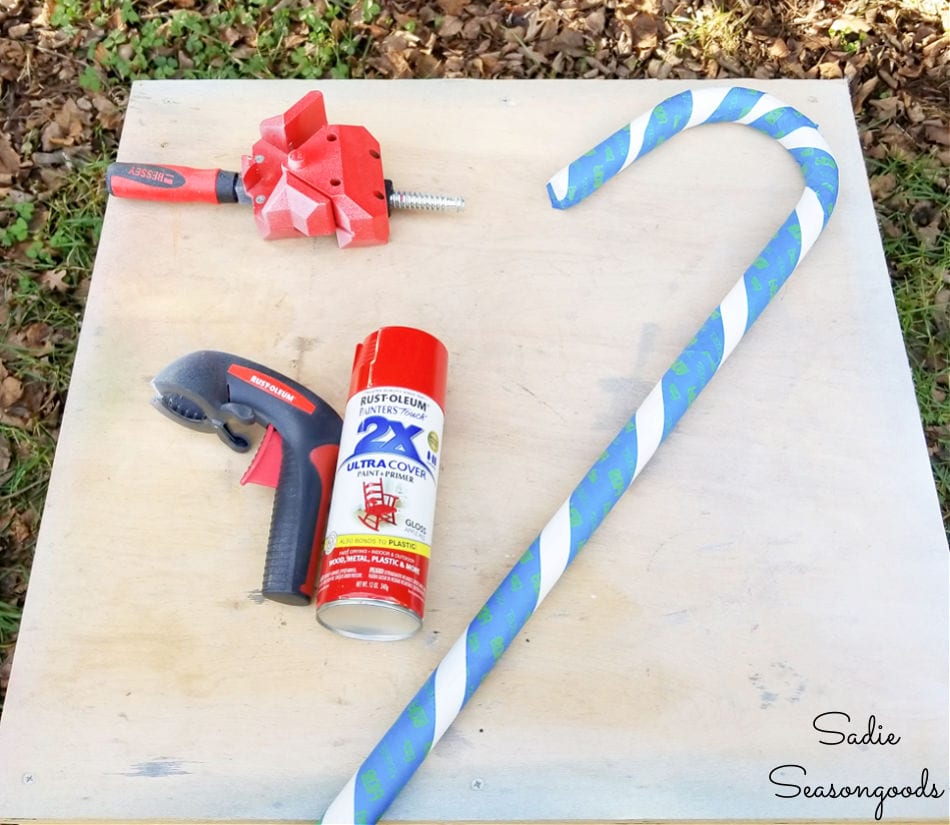 When all the paint had dried, I very carefully removed the painter's tape, revealing that perfect red and white ribbon of your standard candy cane!
And don't worry too much if there's a little paint bleed here and there- you can either leave it as is or touch up with white craft paint!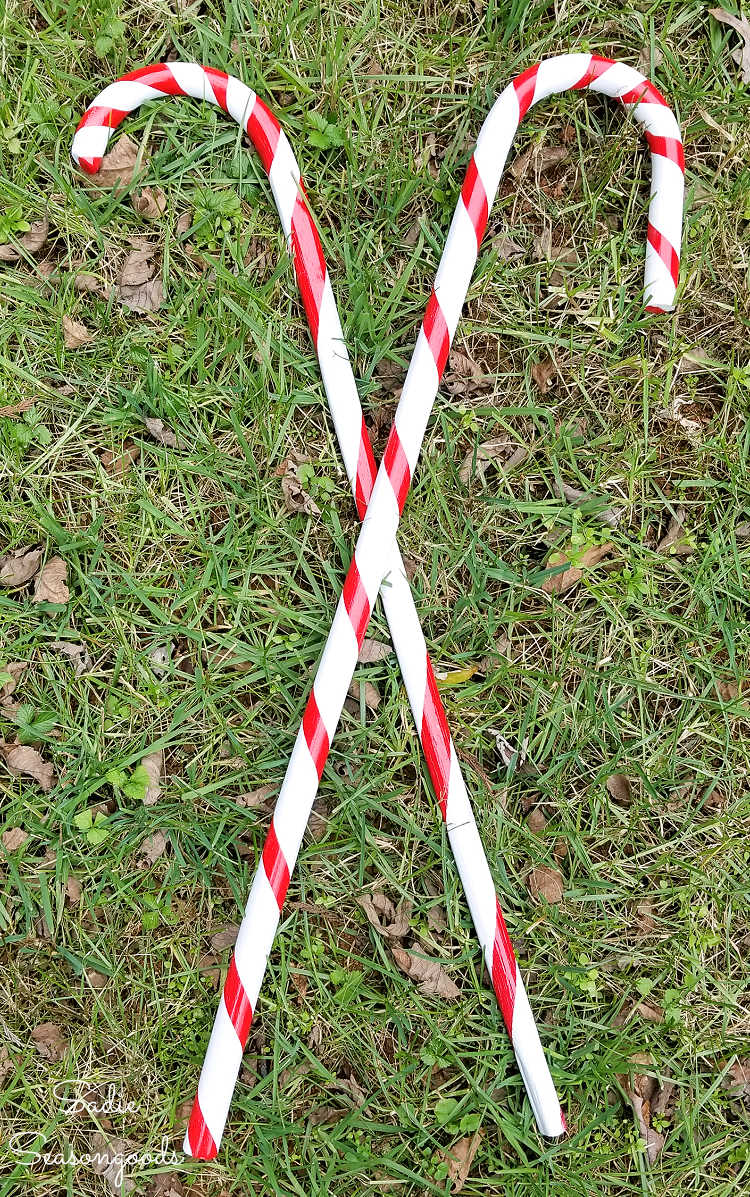 Once the paint dried, I sprayed them both with a glossy top coat to protect them from the elements. They were going to be outdoors (albeit on a covered porch), after all.
Speaking of which, I decided that I wanted them to stand crisscrossed on the porch.
Next, I needed to "connect" them, doing so with a little hot glue and then wrapped (figure 8 style) with basic cotton string (aka, my kitchen twine).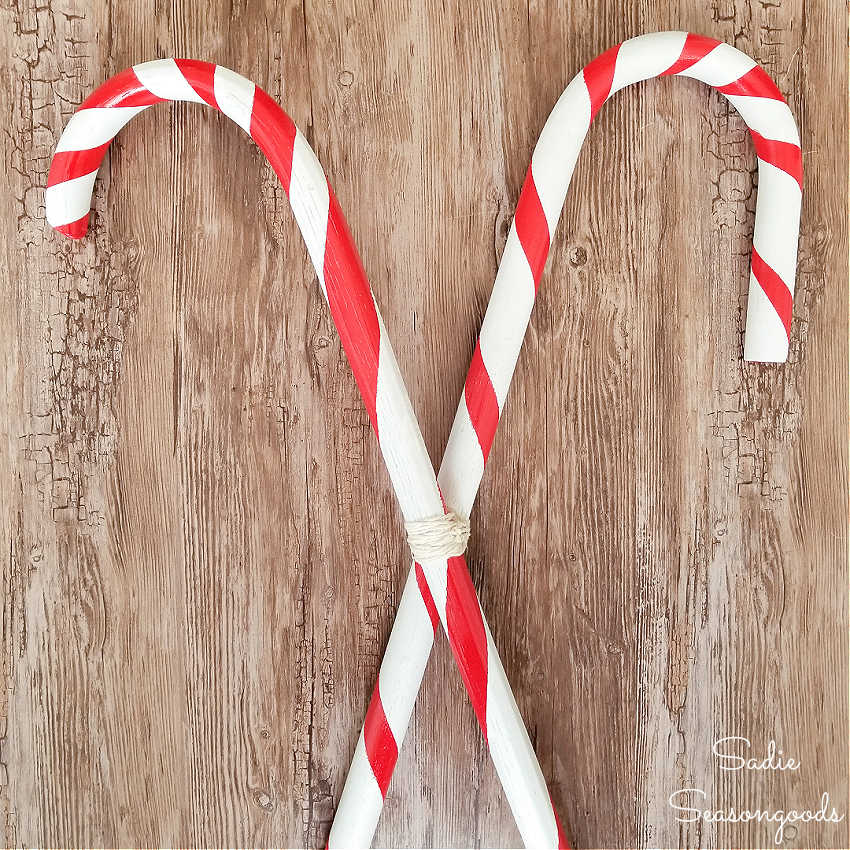 And yes, I know that looks kind of ugly! Which is why I used a large wreath bow (from the craft store) to cover it up (held in place with basically jewelry wire).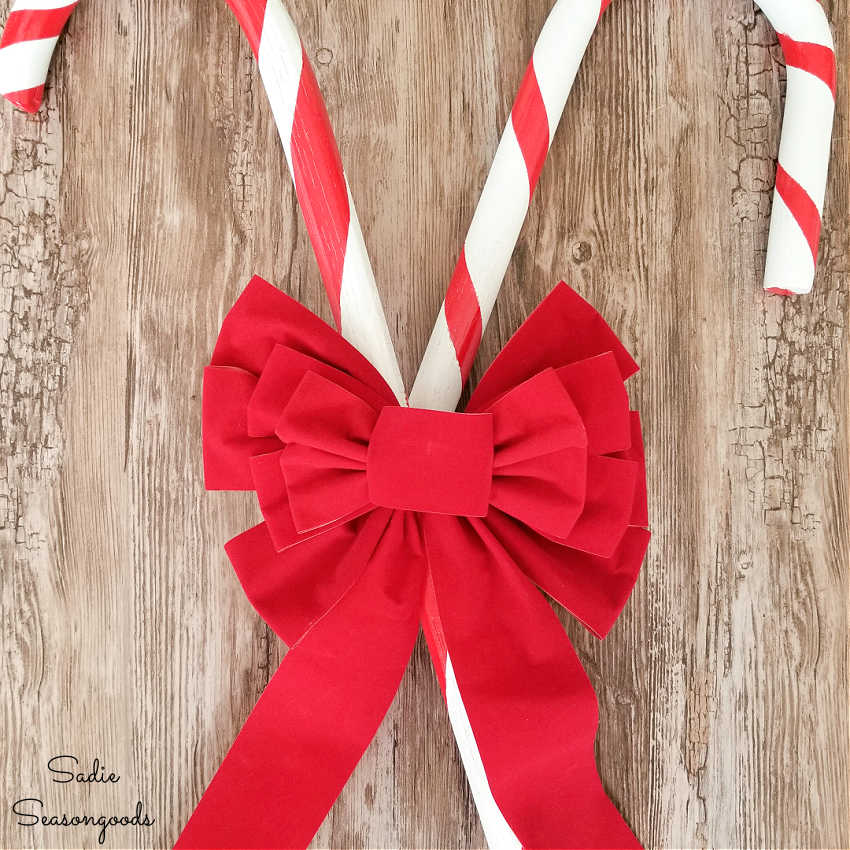 DIY Candy Cane Decorations from Wooden Walking Canes
Lastly, I glued small circles of anti-slip shelf liner (you know what I'm talking about- that sponge-y kind of grip liner) to the bottoms of my diy candy cane decorations to help anchor them in place on the front porch.
Now my candy cane decorations were ready to place on my front porch!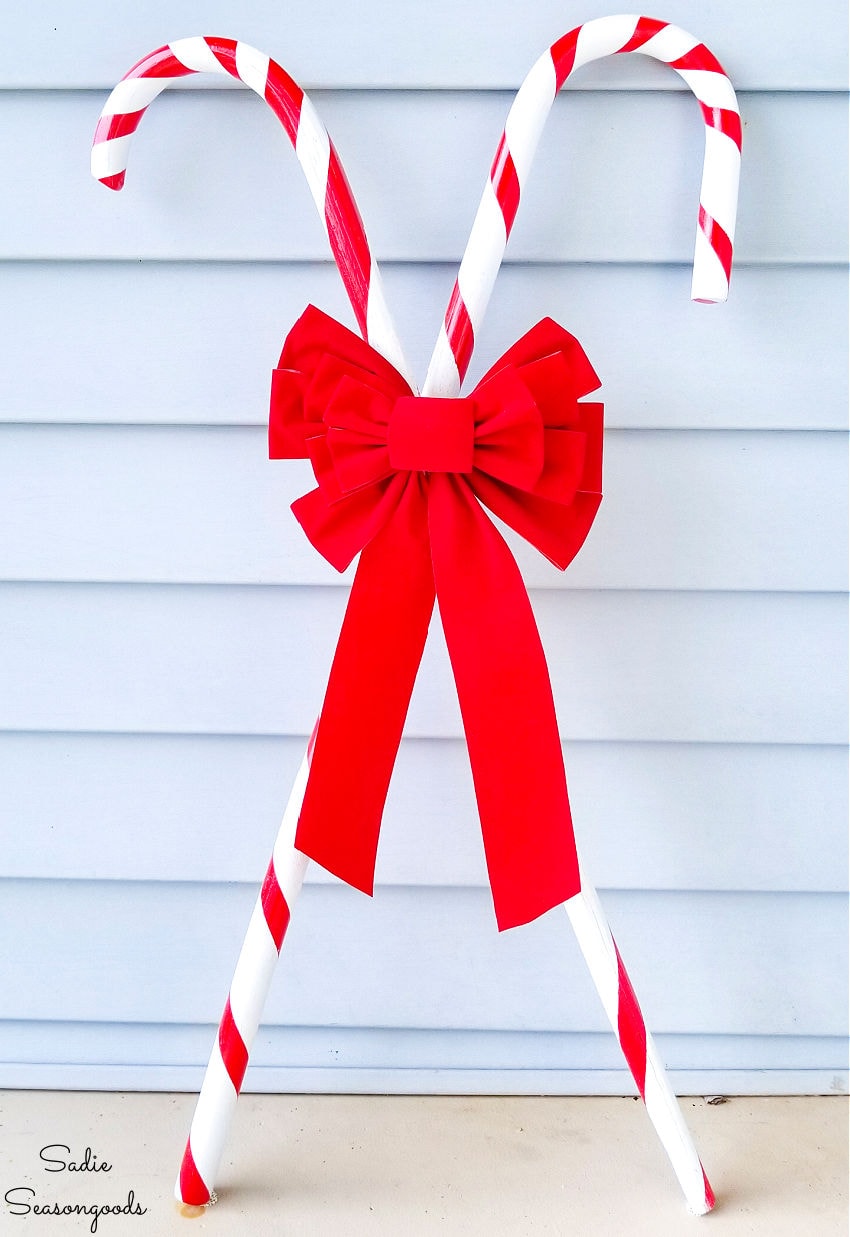 My salvaged chunk of picket fence made for a fun backdrop, eh? And some thrifted holly garland added a touch of (necessary) green to complete the look.
Ta-da! Large candy cane decorations from wooden walking canes that came from the thrift store! They became the perfect front porch Christmas decorations, didn't they?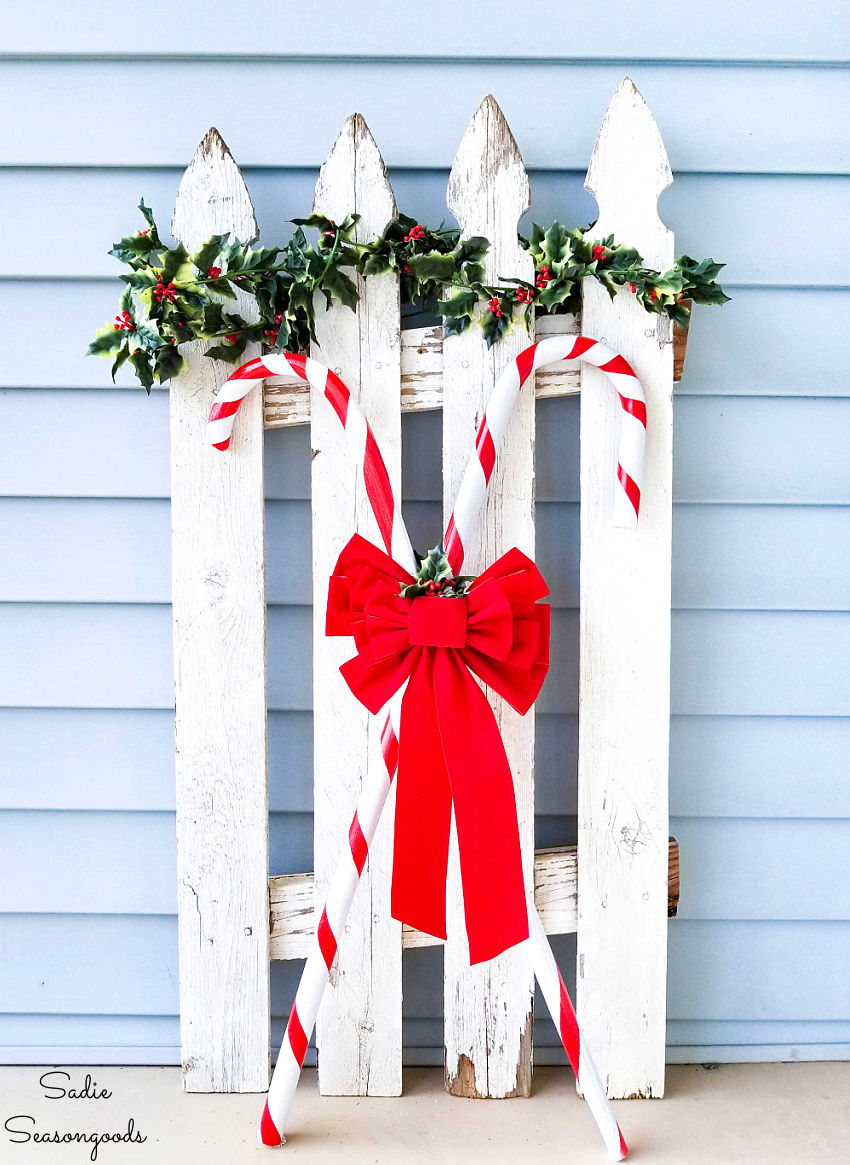 Wouldn't this be a wonderful way to preserve the walking cane(s) from a loved one? I can definitely envision someone not being able to give away an old cane for sentimental reasons…but not being sure what to do with it either.
So, if you've ever wondered what to do with an old cane or walking canes, this is an excellent idea.
Love this upcycling idea for Christmas decor? Then you may also be interested in this mini ice skating scene that I created with an old cheese dome, too!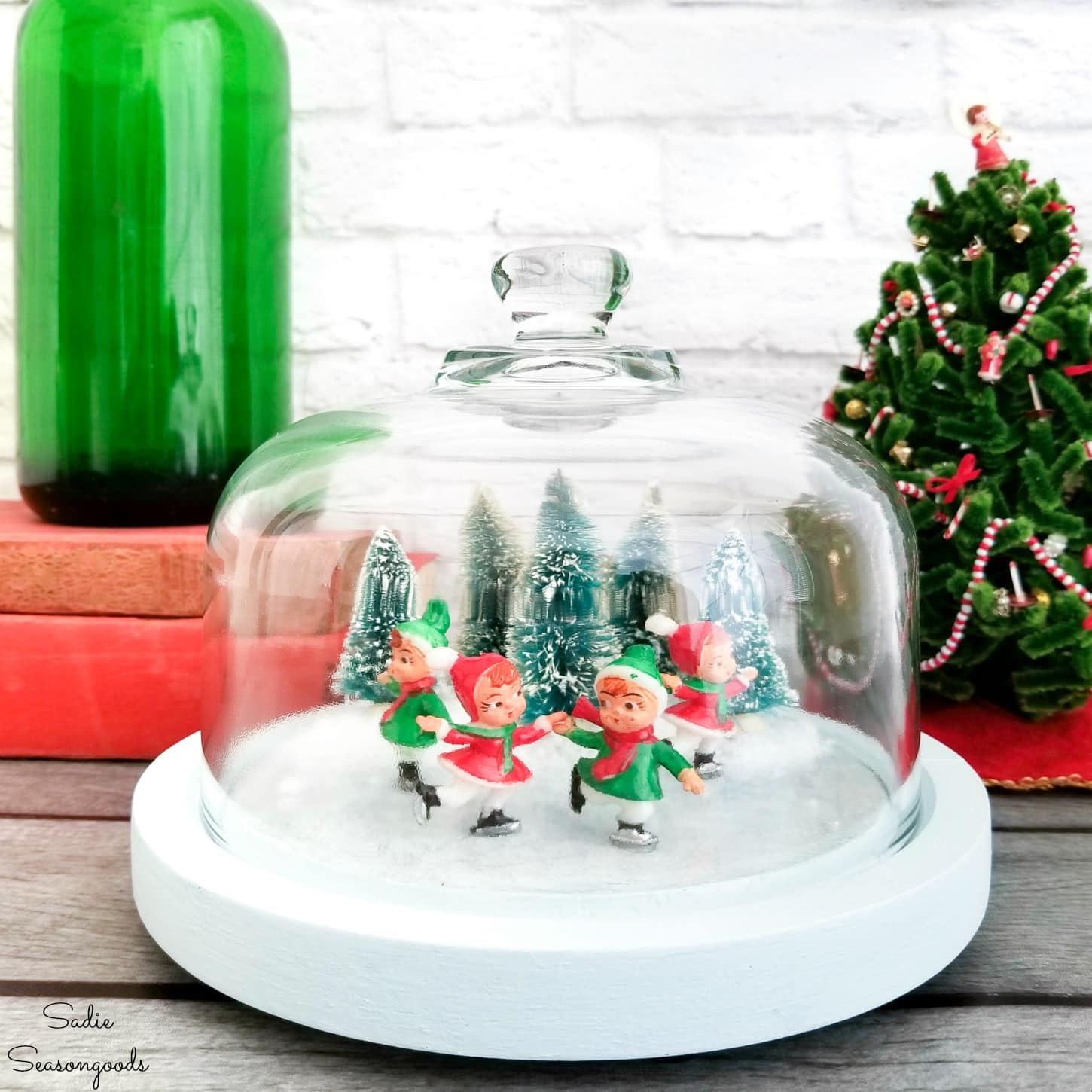 Craft on!
S
Want to be notified when I publish my next upcycling project tutorial?
Subscribe to Blog via Email
Join me on Social Media:

PIN ME!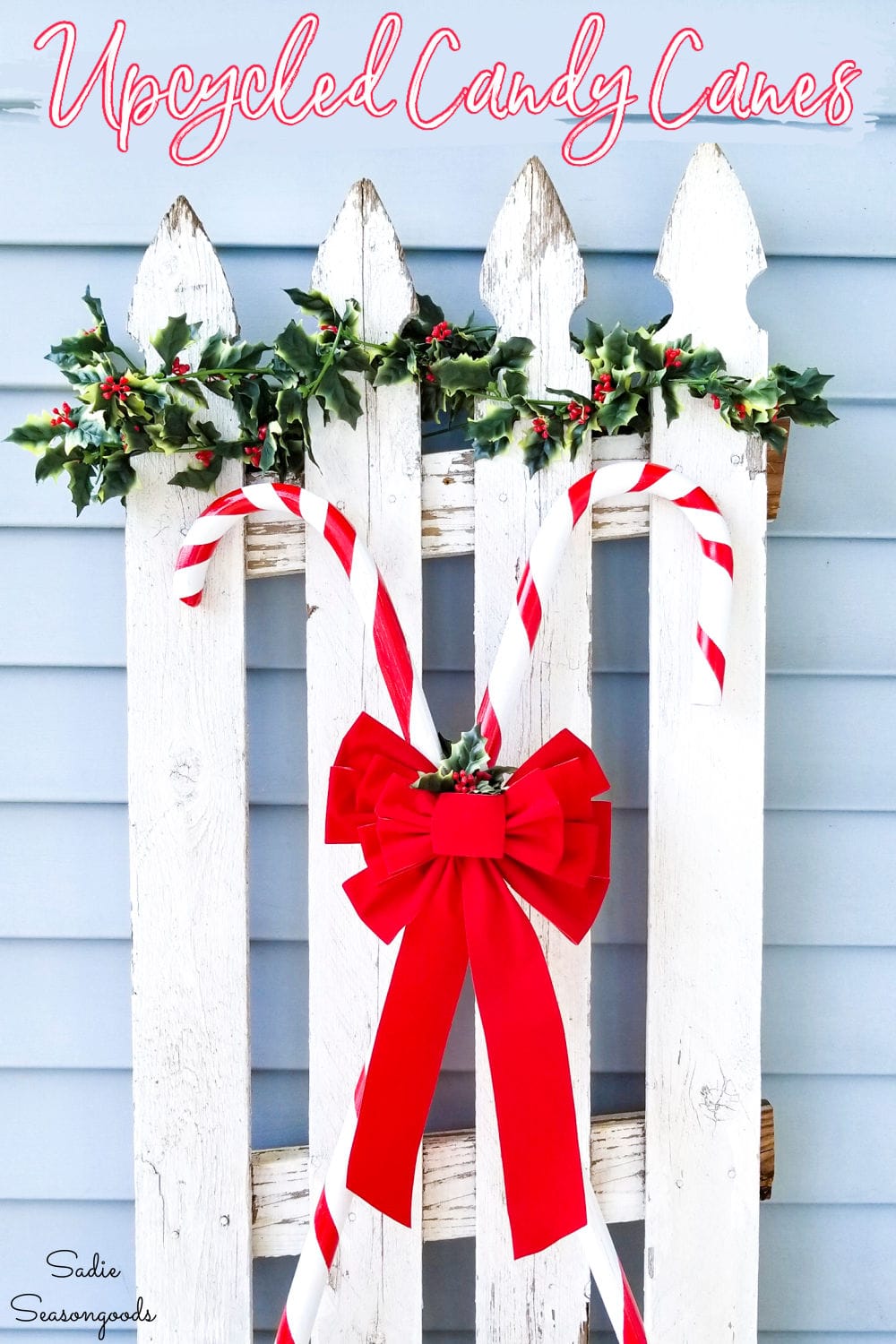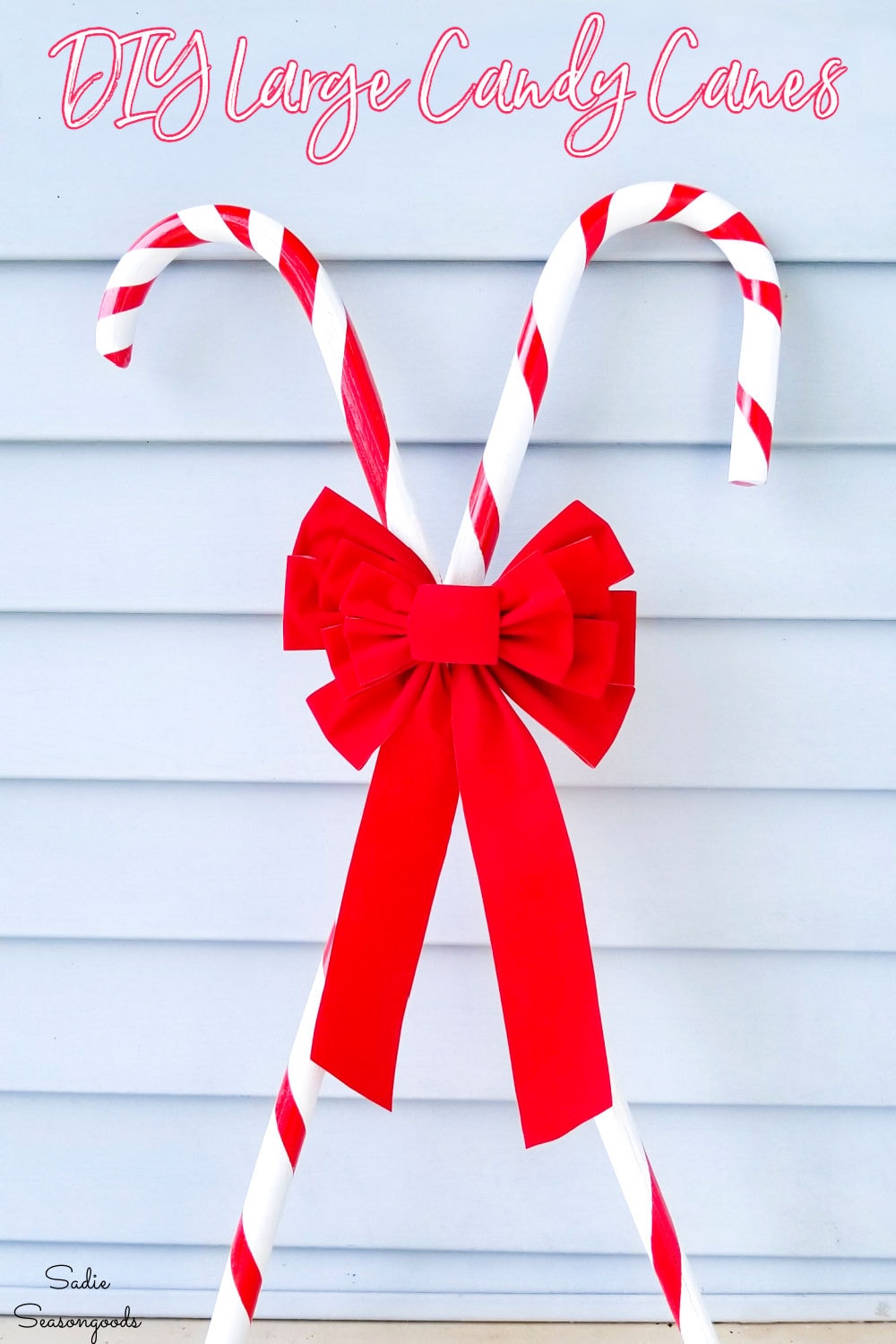 Sarah Ramberg is the owner of Sadie Seasongoods, a website that celebrates all things secondhand. From upcycling ideas and thrifted decor to vintage-centric travel itineraries, Sadie Seasongoods is a one-stop shop for anyone who loves thrifting and approachable repurposing ideas. Sarah is also the author of "Crafting with Flannel" and has been featured in numerous media outlets and magazines.