Now that rummage sale, yard sale, and flea market season is back, the good times are about to roll! But before you set out to score deals and treasures, let me propose a car tool kit that is SPECIFICALLY meant for yard saling! And what, pray tell, will I use to hold these car essentials? A vintage metal lunch box, the kind with the domed lid.
I see these at thrift stores from time to time- but more frequently at antique malls.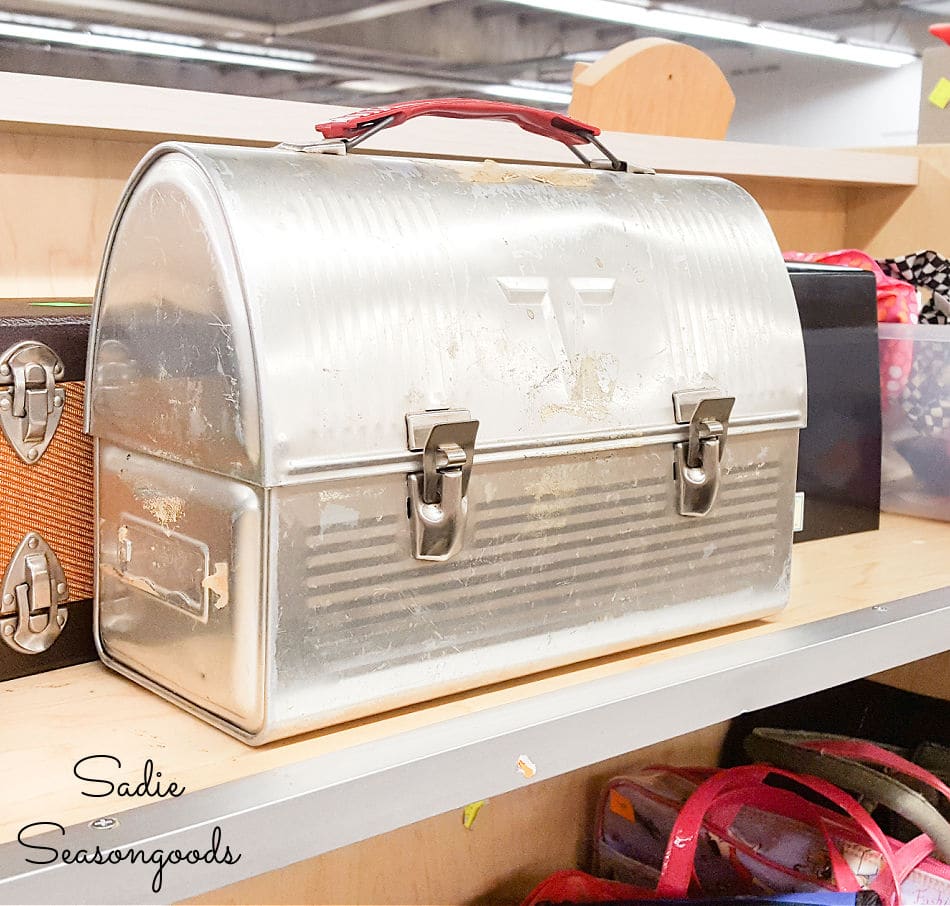 Most people would upcycle a metal lunch box like this into a planter or maybe even a purse. But I just think it would be PERFECT as a "Yard Sale Emergency Kit".
Why? Because to be a successful shopper at a rummage sale or flea market, you need more than just small change and comfortable shoes.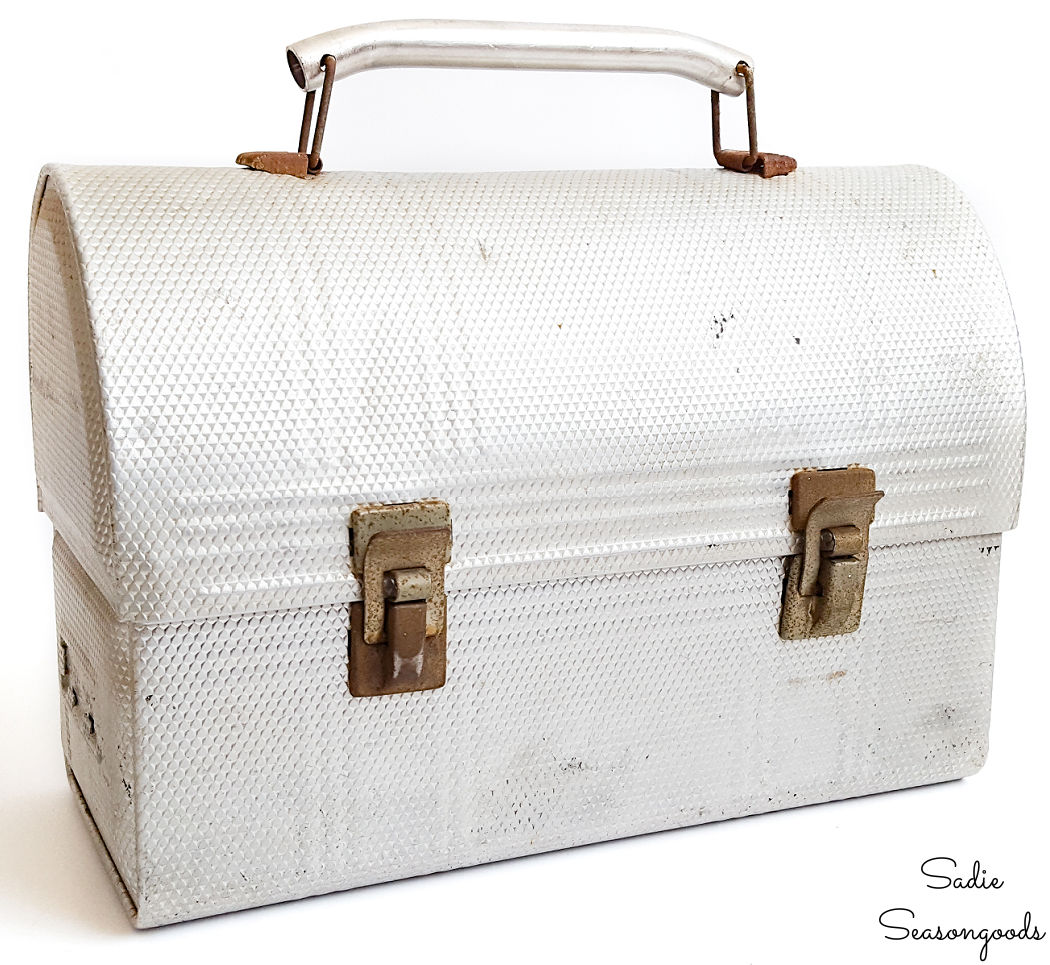 After tinkering with the metal lunch box, I realized that (1) it was a perfect size for this, and (2) being metal, it could handle being tossed in and out of my car. It could get knocked to the floor/ground, and it would be able to stand up to anything I crammed in my car.
So, let's start building this car tool kit for yard sale season!
This post contains affiliate links for your crafting convenience.
Car Emergency Kit List for Yard Sales and Flea Markets
First, I started with some basics: water, snack, sunblock, an extra stash of small bills/change, lip balm, hand sanitizer, and hair ties.
Basically some personal care items while I'm out yard saling.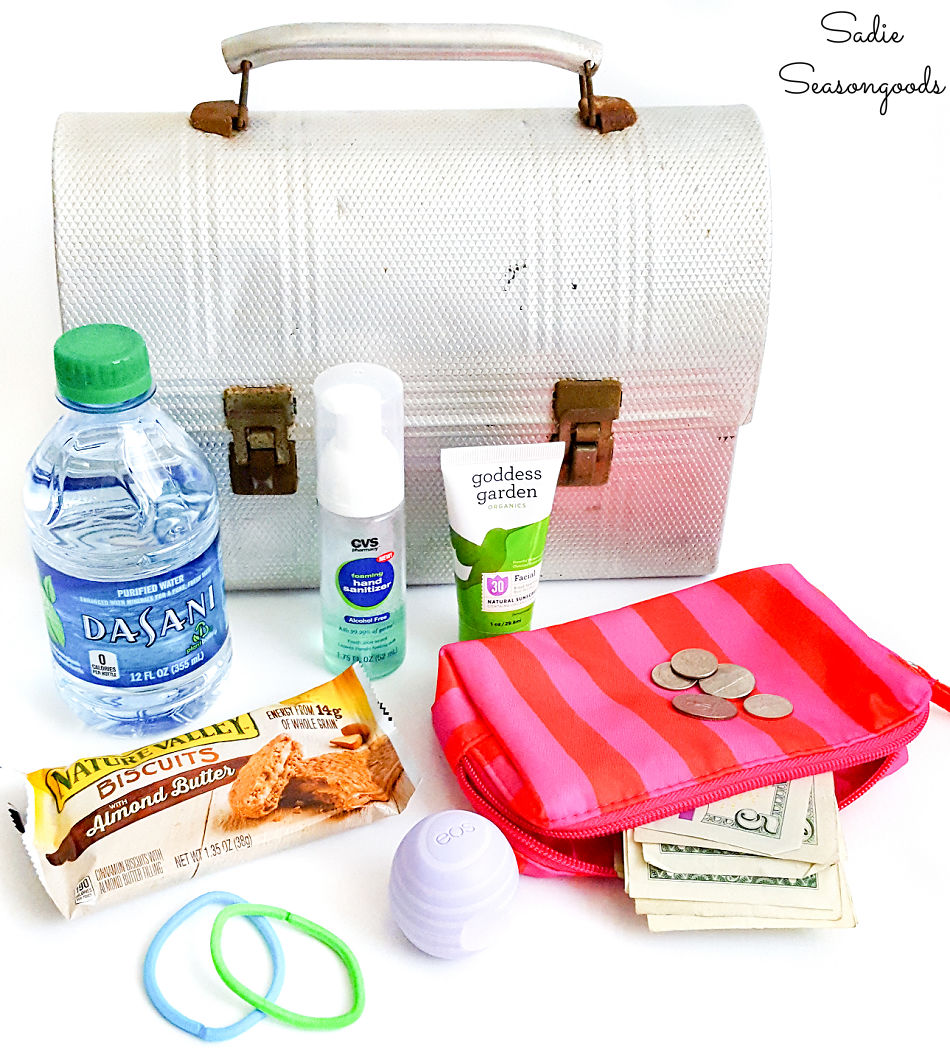 But there was room for more and I definitely wanted this to be a comprehensive kit!
So I added baby wipes (for dirty hands or dirty stuff), bug lotion (for open air markets and barn sales- a MUST in the Southeast), a notepad/pen (for lists of stuff I'm looking for; measurements of walls/windows, etc.), and business cards.
Why the business cards? Well, they're a good "SOLD" tag if I need to leave something and come back. AND I can leave them with sellers that aren't willing to bargain on price until the end of the day.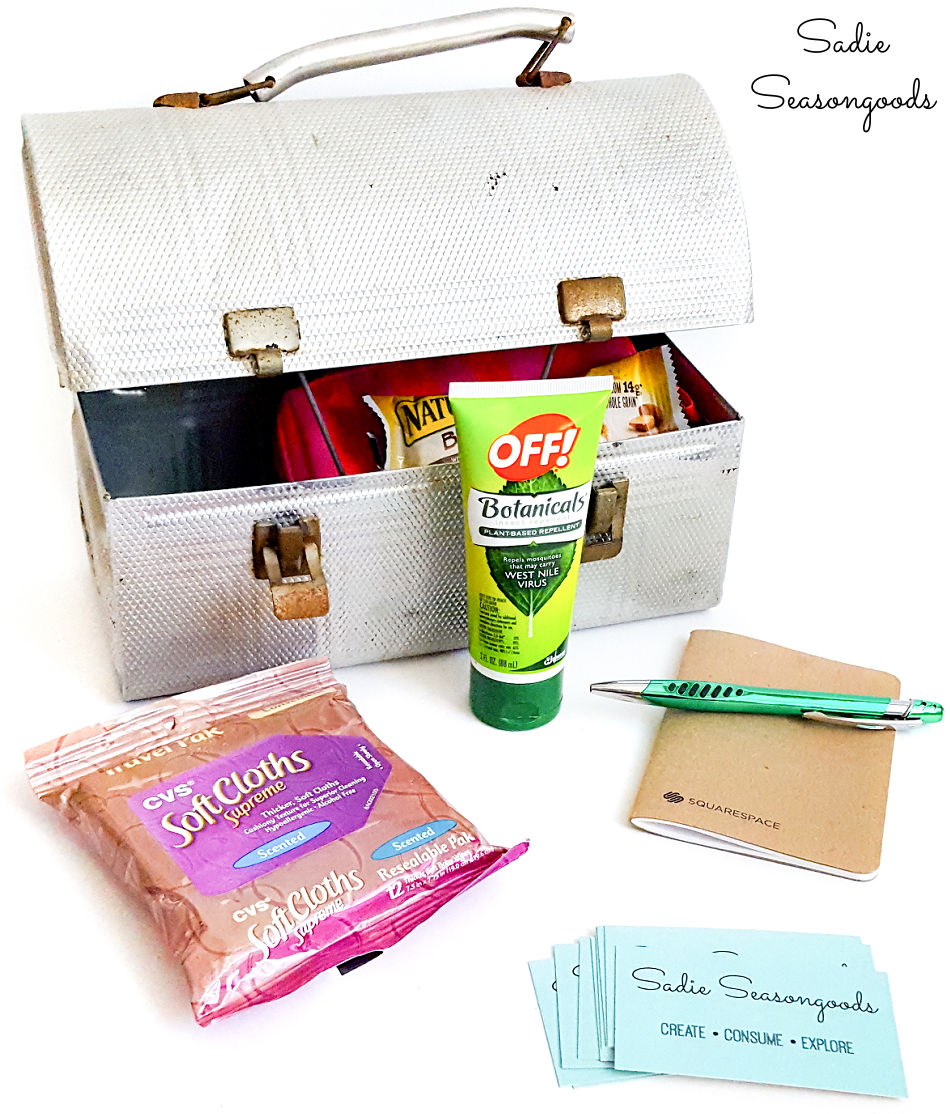 But wouldn't you know it- there was STILL MORE ROOM in the vintage metal lunch box! No fear- I knew exactly how I'd fill it.
A flashlight (again, the barn sales!); plastic bags wrapped in rubber bands; a multi-screwdriver; measuring tapes; a small bubble level; batteries; and a magnet.
Though I'd also want C and D in case I found a cool old flashlight! Whenever I finally locate my Leatherman multi-tool, it'll go in here, too.
This way, I can measure things; check if they work; make sure they're level/stable, etc. And it all fits in my car tool kit!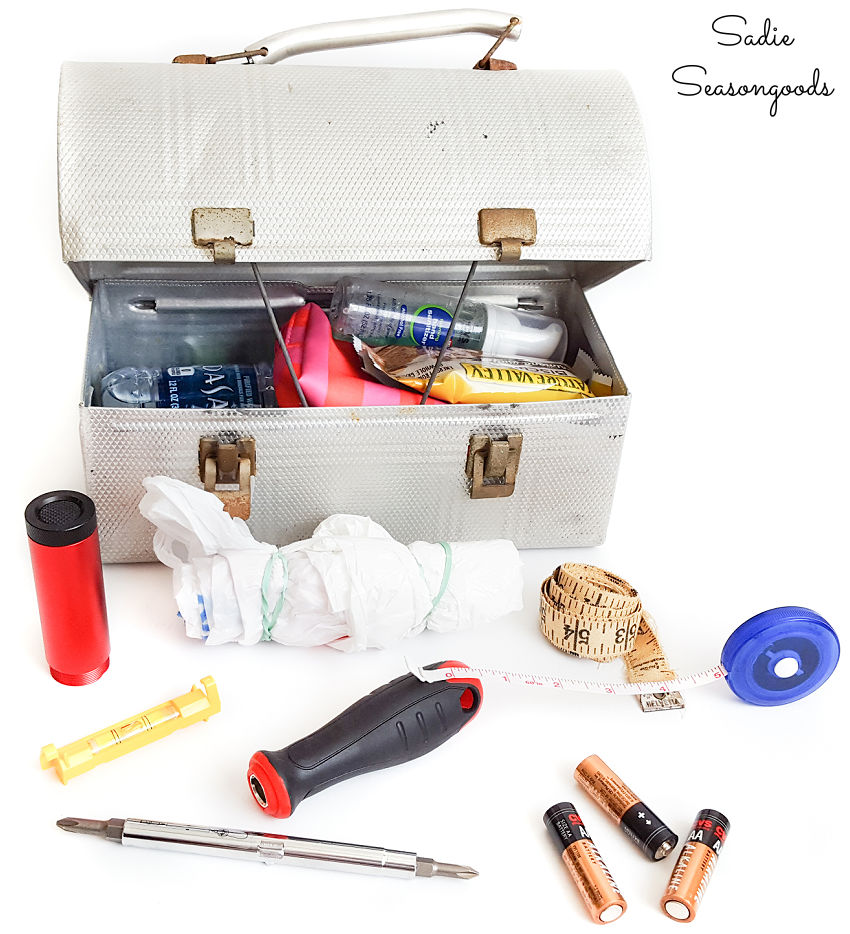 THIS is why a metal lunch box with the domed lid is so ideal for these car essentials. It just holds so much stuff!
And at some point, all of these things will come in handy while I'm shopping at a rummage sale, moving sale, flea market, community yard sale, etc.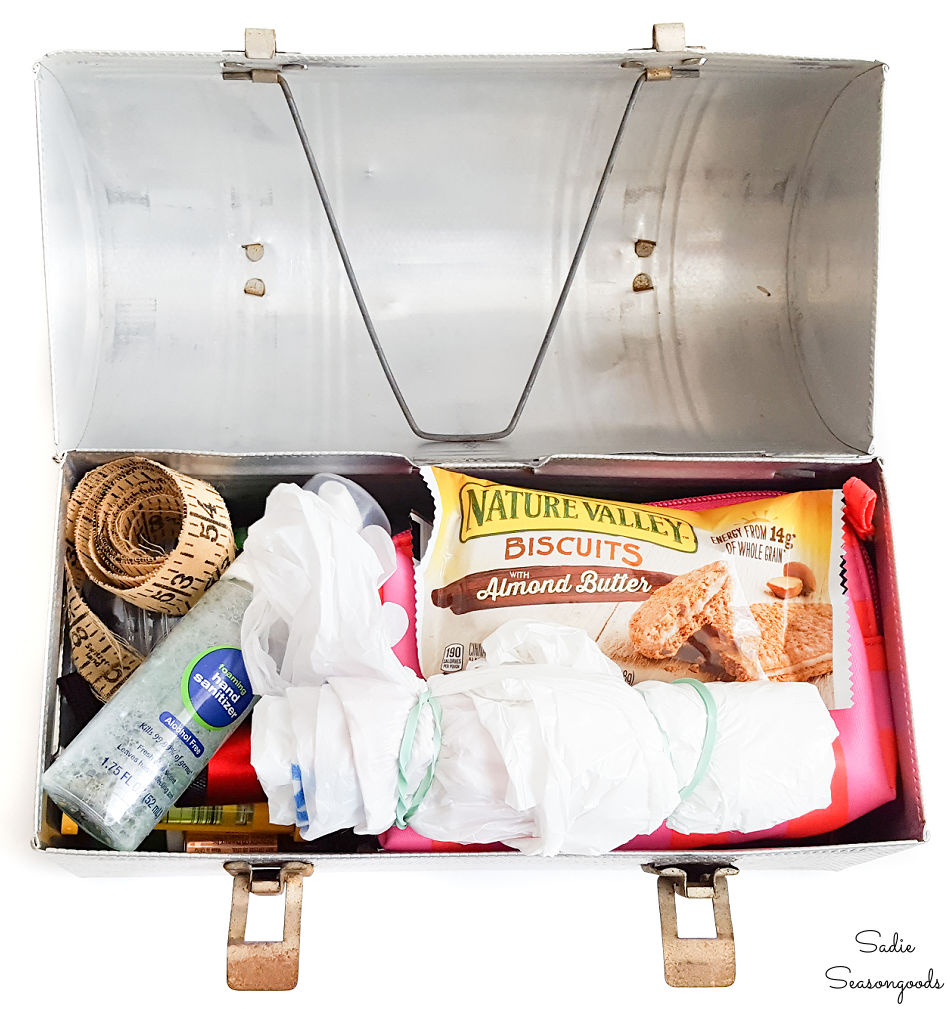 2021 Update– I'd also make sure to bring one of my best-fitting cloth face masks, too!
Car Tool Kit for Yard Saling
Lastly, I decided to "bedazzle" my car tool kit ever so slightly. I made a felt red cross (like any good emergency kit would have!) and a little laminated label for my car tool kit.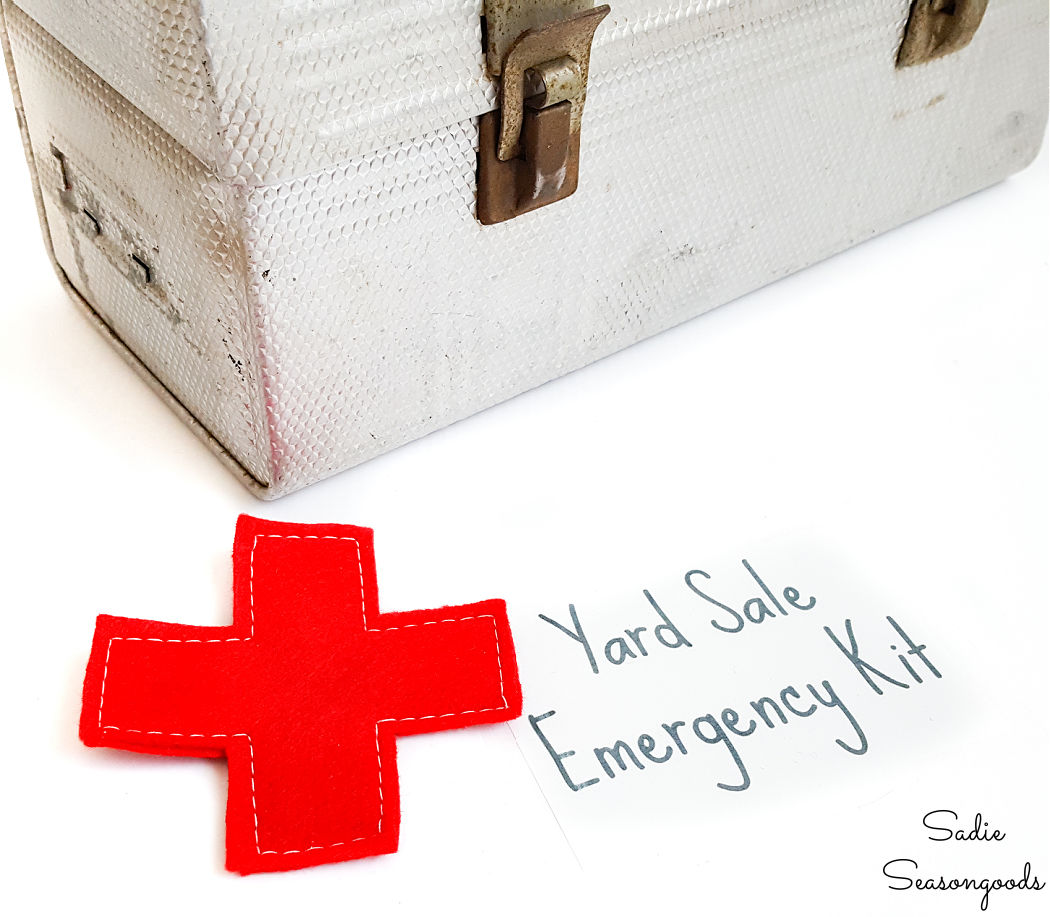 And that was it! My car tool kit now held all the essentials that I could think of for successfully shopping at a rummage sale this season.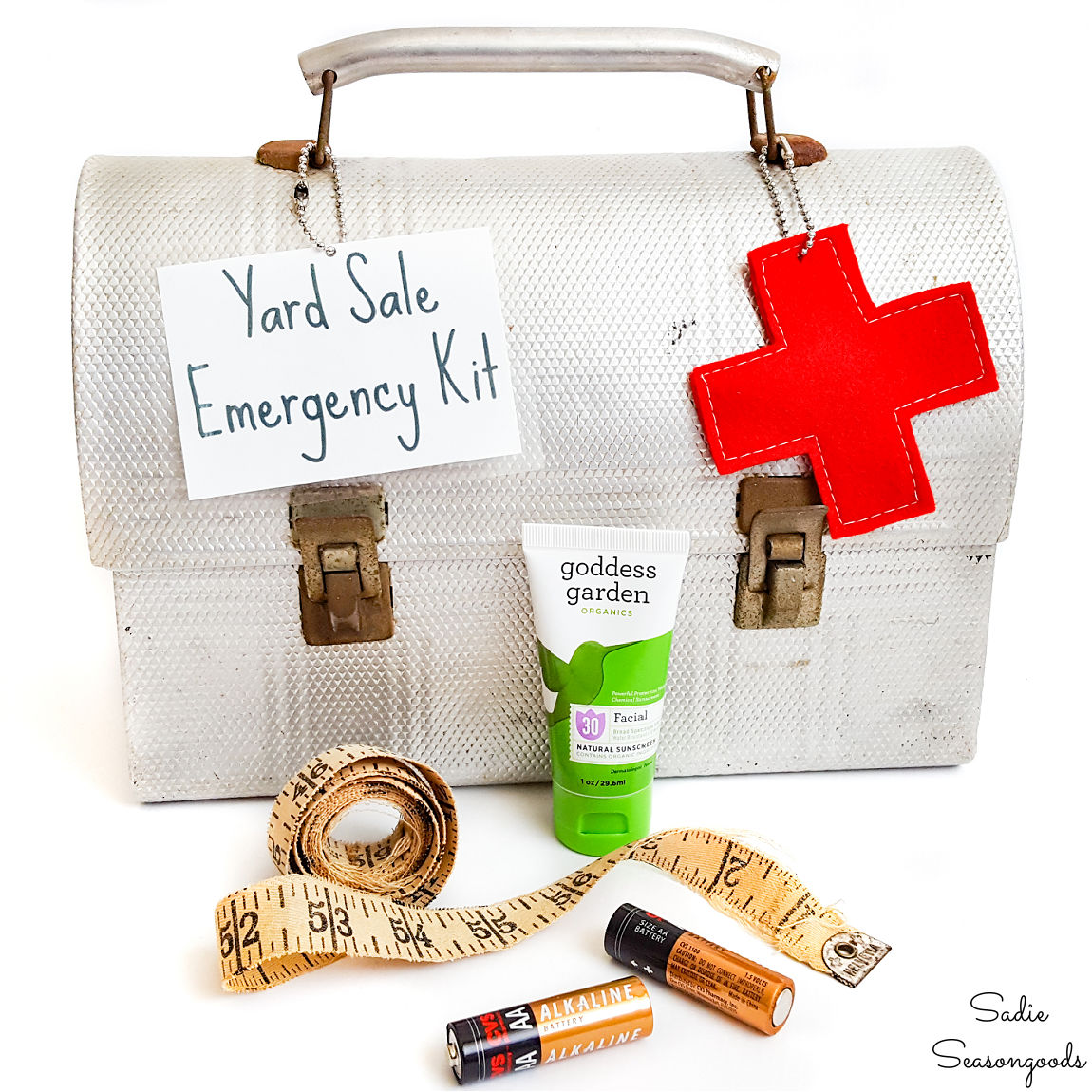 So, tell me, what else would you tuck into your tool kit for the car to be used when shopping at a flea market or rummage sale? Did I forget anything important?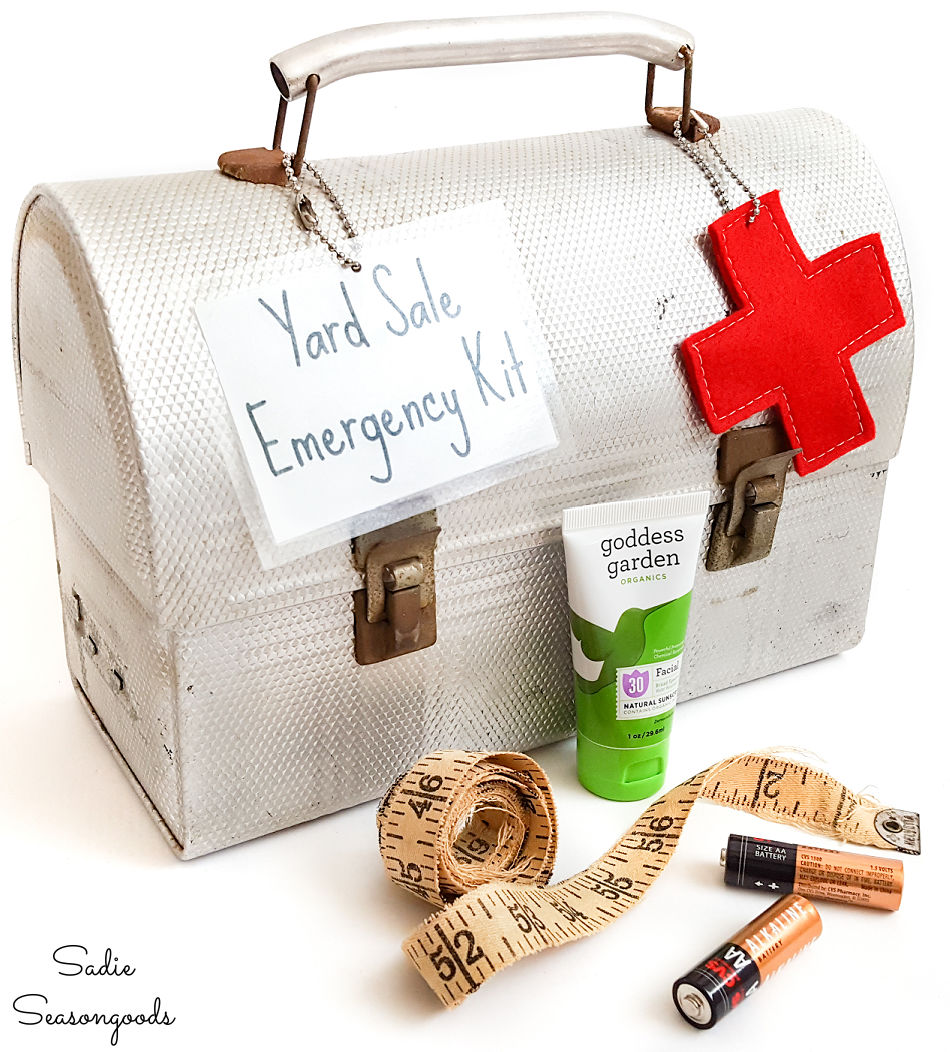 Here's another upcycling idea for you that is PERFECT for shopping at a moving sale or community yard sale, all from an repurposed handbag from the thrift store.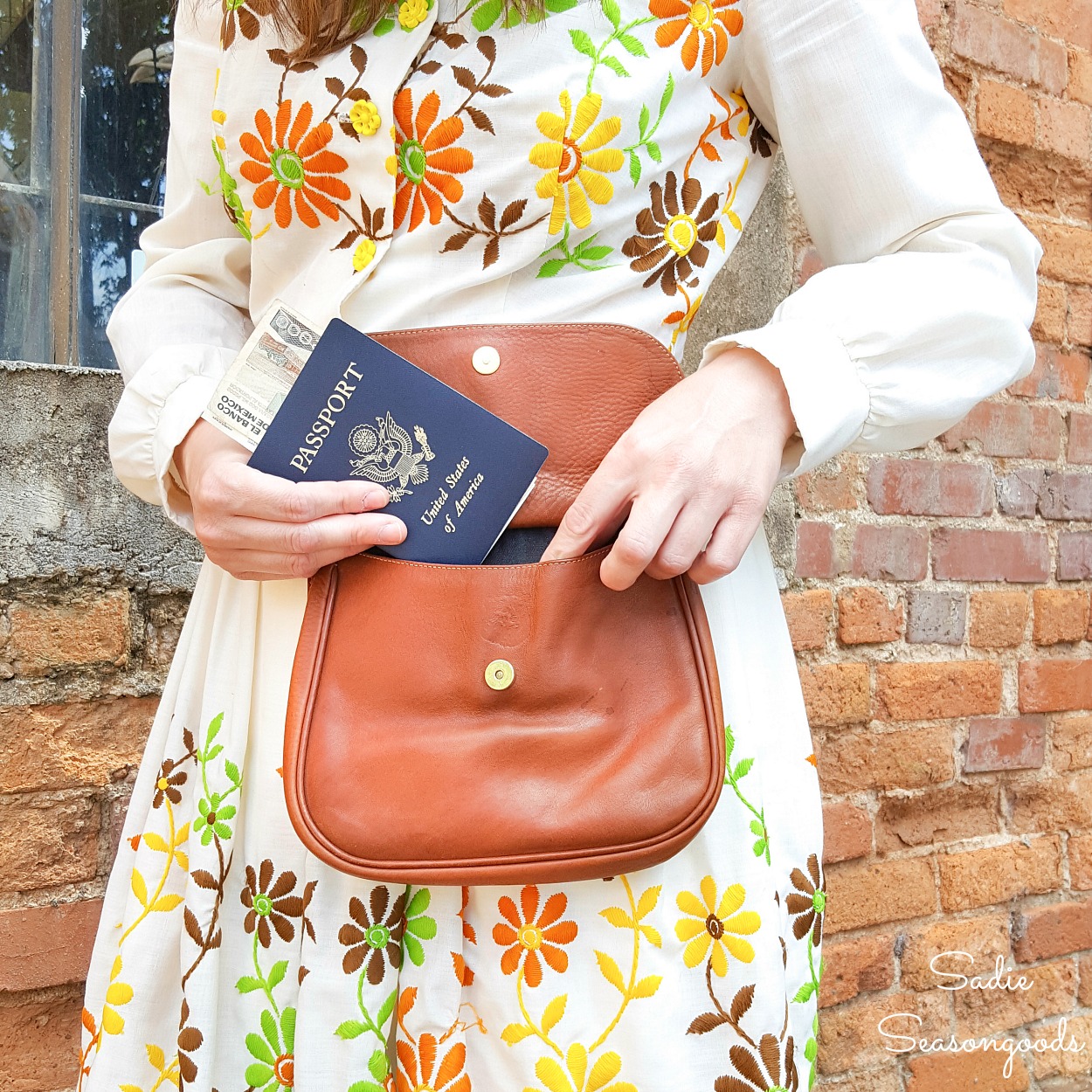 Craft on!
S
Want to be notified when I publish my next upcycling project tutorial?
Subscribe to Blog via Email
Join me on Social Media:


PIN ME!