I wanted to take a quick detour from my normal upcycling / repurposing tutorial for a slightly different kind of blog post. Today, I wanted to dive into thrift store decorating a little deeper, because shopping secondhand is near and dear to me. In fact, it's the foundation of everything I do here on my blog. Think of this as a "Shop the Look" kind of post, but not with fashion. Instead, we're going work on a "Thrift the Look" home decor vignette using a magazine photo as inspiration. And the theme of this Thrift the Look post is French Farmhouse Decor.
This is the inspiration photo that I'll be trying to replicate – from an article on RomanticHomes.com. Even though I'm more of an Anglophile than a Francophile, this photo was everything I love about vintage farmhouse decor: rustic, cozy, homey.
But another way to describe it? Thrift-achievable. Better yet, "thriftchievable"…
Not sure what I mean by that? Well…basically…I had a sneaking suspicion that I could recreate this look with thrift store items. And yes, it may take a few different trips to a few different thrifts to gather everything I needed, but isn't the hunt half the fun? This post contains affiliate links for your crafting convenience.
So, that's what I did- I saved the French Farmhouse Decor inspiration photo to my phone and referred to it as I'd go thrifting. Cutting boards…stoneware pottery or crocks…wooden spoon…tea towel. And slowly but surely, I found similar pieces that echoed the photo.
Cheap Farmhouse Decor for a French Country Kitchen from the Thrift Store
I grabbed more cutting boards and such than I actually needed! Which I suppose is proof positive that you can find cheap farmhouse decor or French farmhouse decor from the thrift store.
Of course, not everything was a perfect or close match and required a touch of upcycling – and that's ok!
For instance, this cutting board had a great breadboard shape, but the faded painted design needed to go. So, I got out my beloved orbital sander to resurface the cutting board.
I always say that if a woman can have any two power tools in her DIY arsenal, one should be a drill and one should be a sander.
Here are a few sanders I know and love, including the one I use all the time:


After sanding with an 80-grit disk (to "open up" the wood grain, making it easier for wood stain to sink in), I was left with a clean and naked bread board. The paint and finish were gone, but many of the old knife scars were still visible, which is what I wanted.
Knife scars gave it the authentic look of vintage farmhouse decor that I wanted!
Once I wiped the surface clean of sawdust (using clean rags or thrift store t-shirts), it was time to stain my cutting boards. I LOVE wood stains, and have a few favorites that work wonderfully for French farmhouse decor:


After I stained my boards, I went over them again with my sander, this time using much smoother 220-grit disk. This just roughed up the stained finish just a hair, and "closed the grain", so-to-speak, for a more satin-y finish.
I had also found a beautiful pale wood ladle as my wooden spoon contribution, but it was TOO pale. So, I gave it a quick coat of a different stain, just to age it a bit.
French Farmhouse Decor from the Thrift Store
Once I had finished all my projects, it was time to recreate the inspiration photo!
I had my cutting boards and wooden ladle, and a faux crock (in my collage photo at the beginning of this post). I paired these with other thrifty finds- a green pottery bowl from an estate sale; a stoneware canister that was a gift from my mom; a faded tea towel from my vintage linens stash; and some fresh rosemary from our yard.
What do you think?? Did I capture the essence of French Farmhouse Decor from the inspiration photo?
So, what's the point of this blog post anyway? I'm hoping that perhaps it will help you as you go thrift shopping- perhaps keeping a professional photo in mind will give you more focus as you scan the shelves. Thrifting can be frustrating- I know that all too well- but a photo…a vignette in your head…might help you see past the clutter in order to hone in on treasures more easily:
Focus on shapes- if I couldn't find cutting boards, would something else that was flat and rectangular or square (like a tray) work?
Don't eliminate based on color or texture alone- paint, stain, and finish can be modified with a little DIY.
Vintage is great, but weathering/age can also be "artificially encouraged". Scuffing with sandpaper…scaring a newer cutting board with a knife before staining…etc.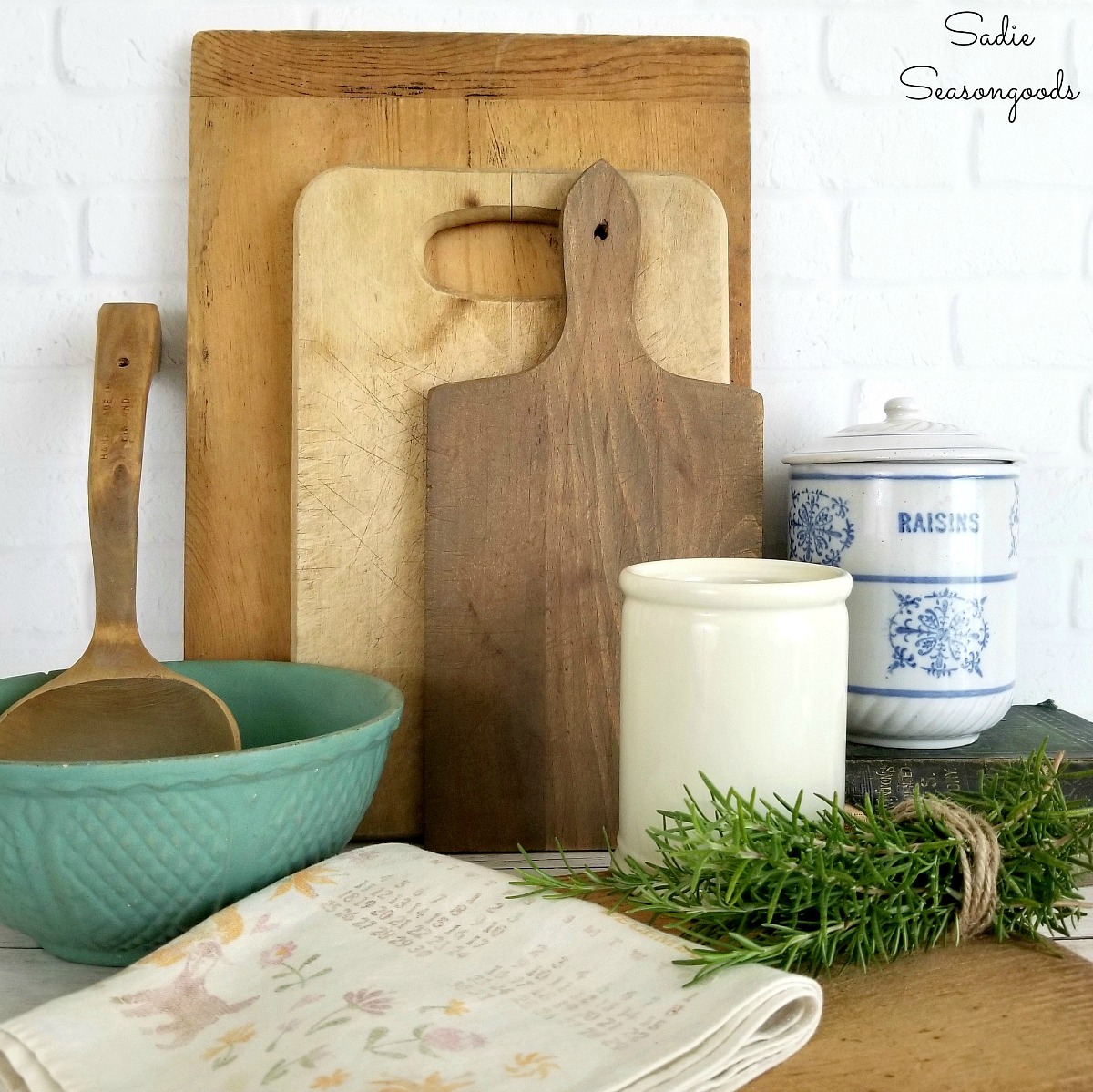 I've since done a "Thrift the Look" blog post on Lake House Decor…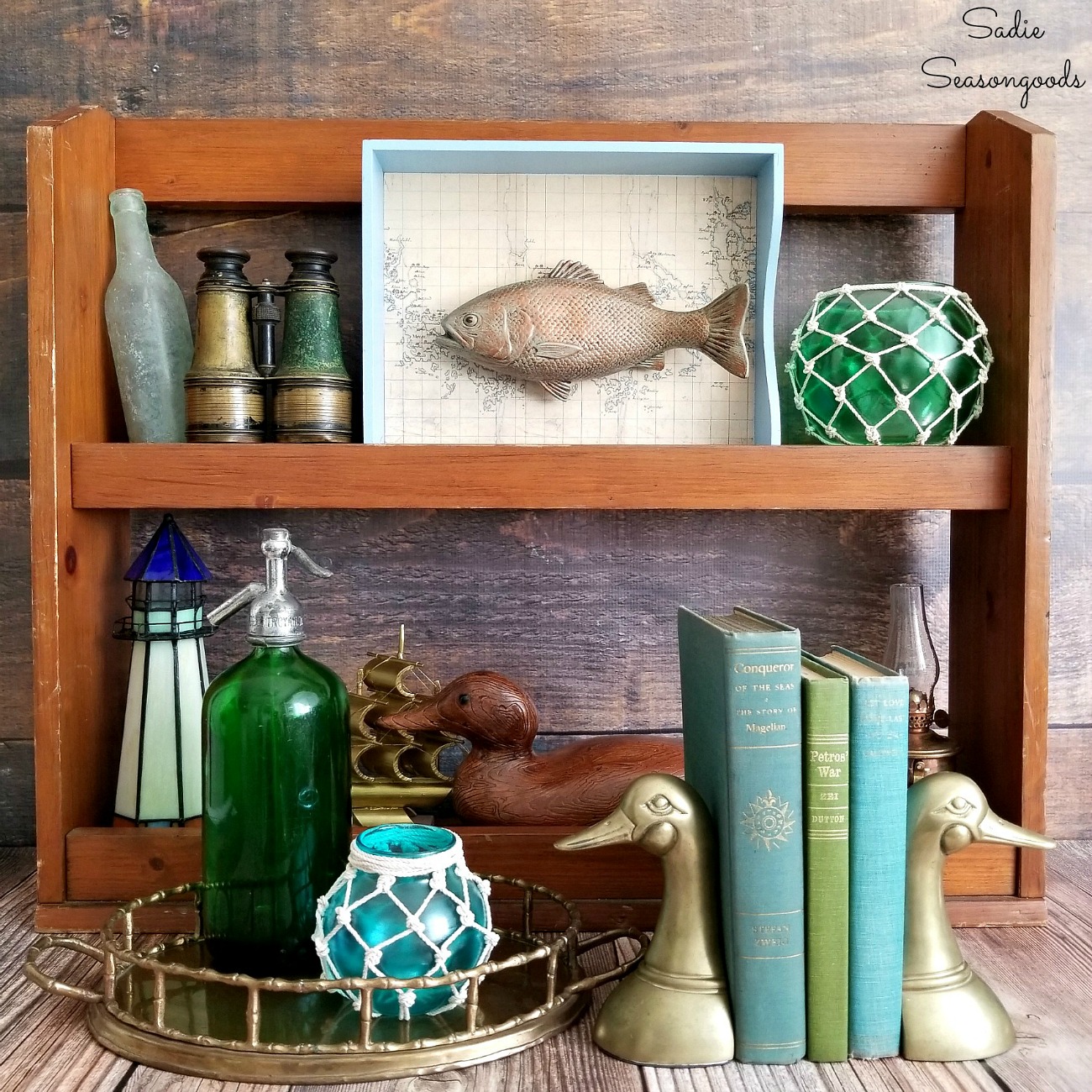 …And Boho Home Decor and had a TON of fun working on each of them.
What kind of home decor style would you like to see me try next? If you ever stumble across a gorgeous vignette photo (with original source) of a particular style, please let me know!
Craft on!
S
Want to be notified when I publish my next upcycling project tutorial?
Subscribe to Blog via Email
Follow me on Social Media: