There I was in Goodwill (how typical of me), casually strolling through the housewares. I wasn't hunting for anything in particular, when I came across this house shaped cookie jar. It was chipped and cracked, so I knew it was primed for a makeover. But not just any makeover- a Halloween makeover! With a little paint and some creativity, I could transform it into a Halloween cookie jar!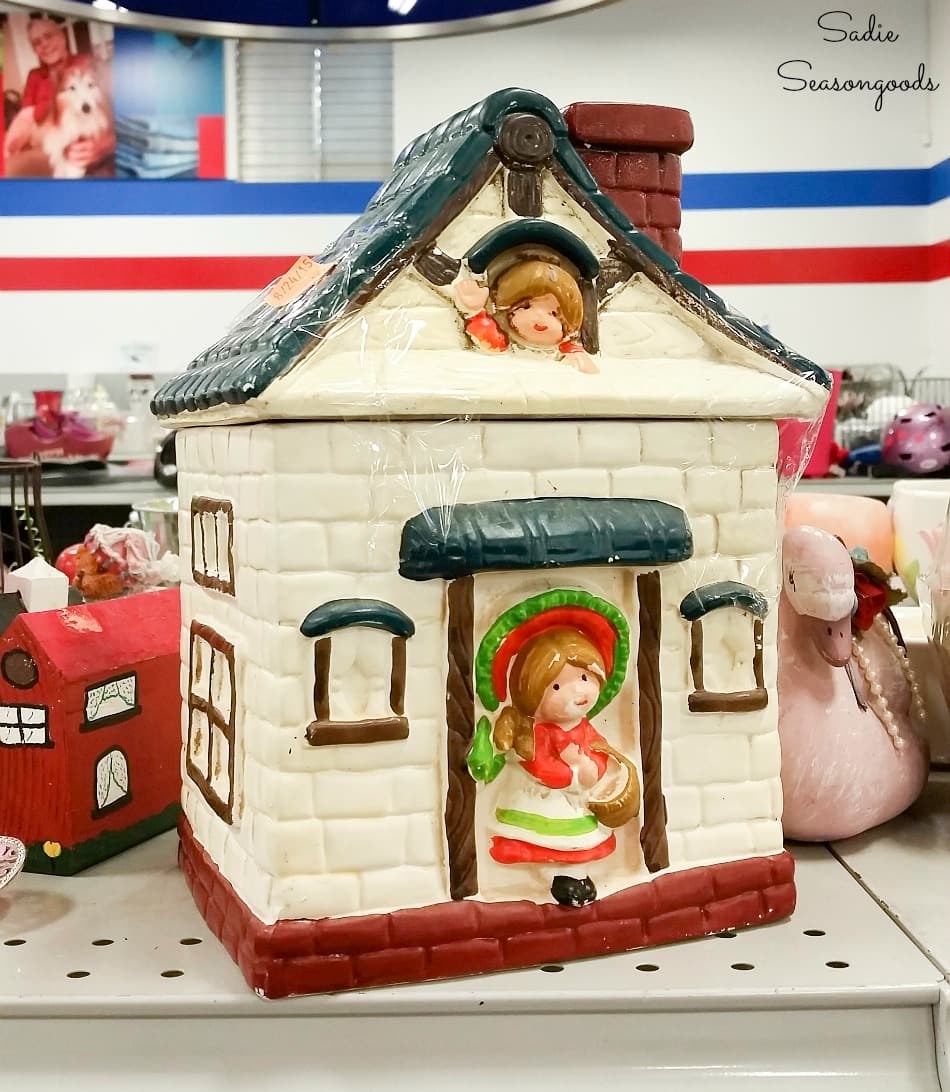 I pondered a few options for this Halloween makeover – aka, "spookification". The hardest part would be covering up the little girl and boy, but I decided to deal with that later.
Ironically enough, I've upcycled Halloween cookie CUTTERS before. Just never a cookie jar…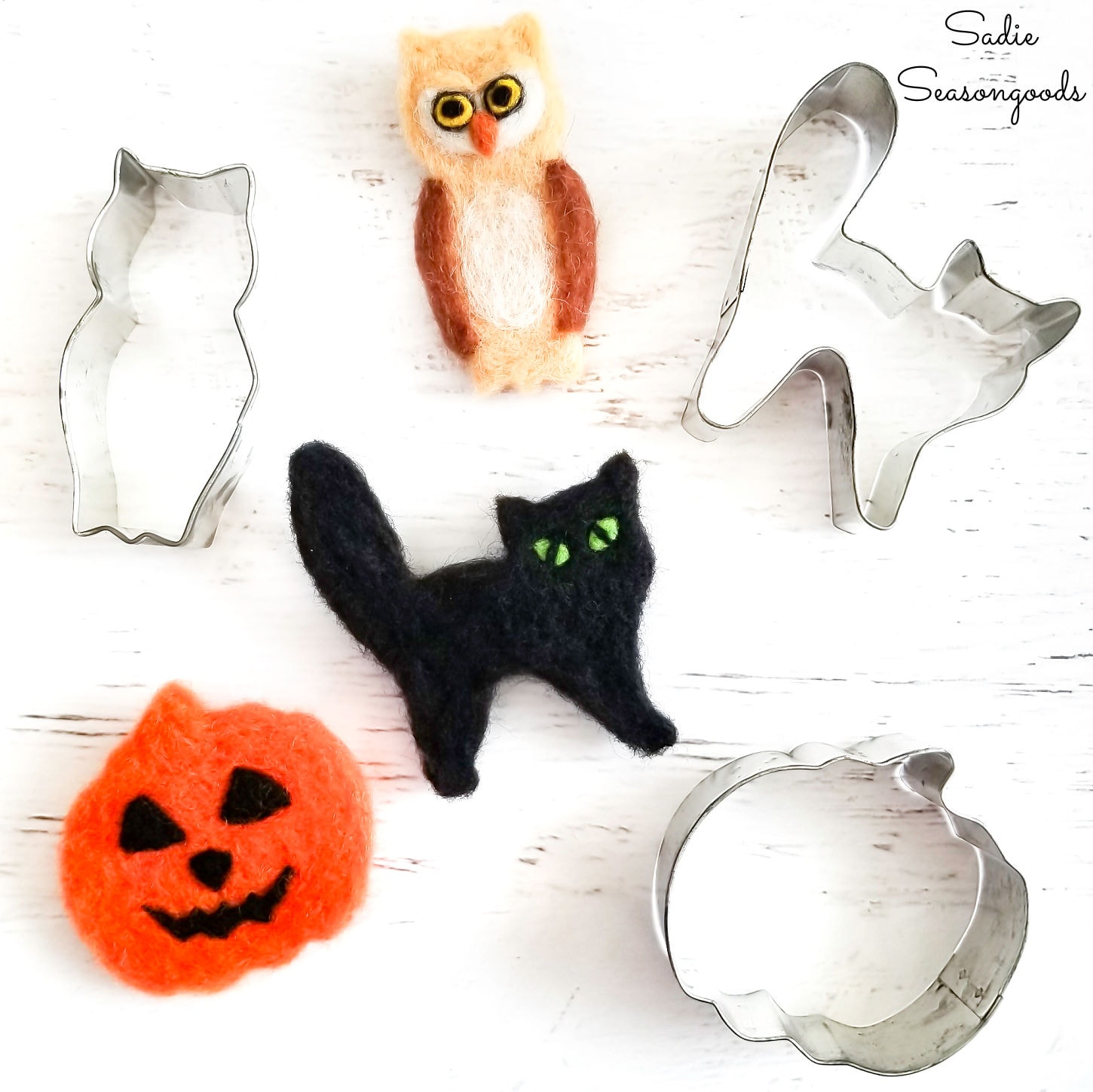 But anyway, back to the cookie jar in Goodwill. I snapped it up and headed to the cashier- ready to see how my project turned out?
This post contains affiliate links for your crafting convenience. As an Amazon Affiliate, I earn from qualifying purchases.
Transforming a Cookie Jar into a Miniature Haunted House
First things first, I needed to spray paint the entire cookie jar for a uniform look.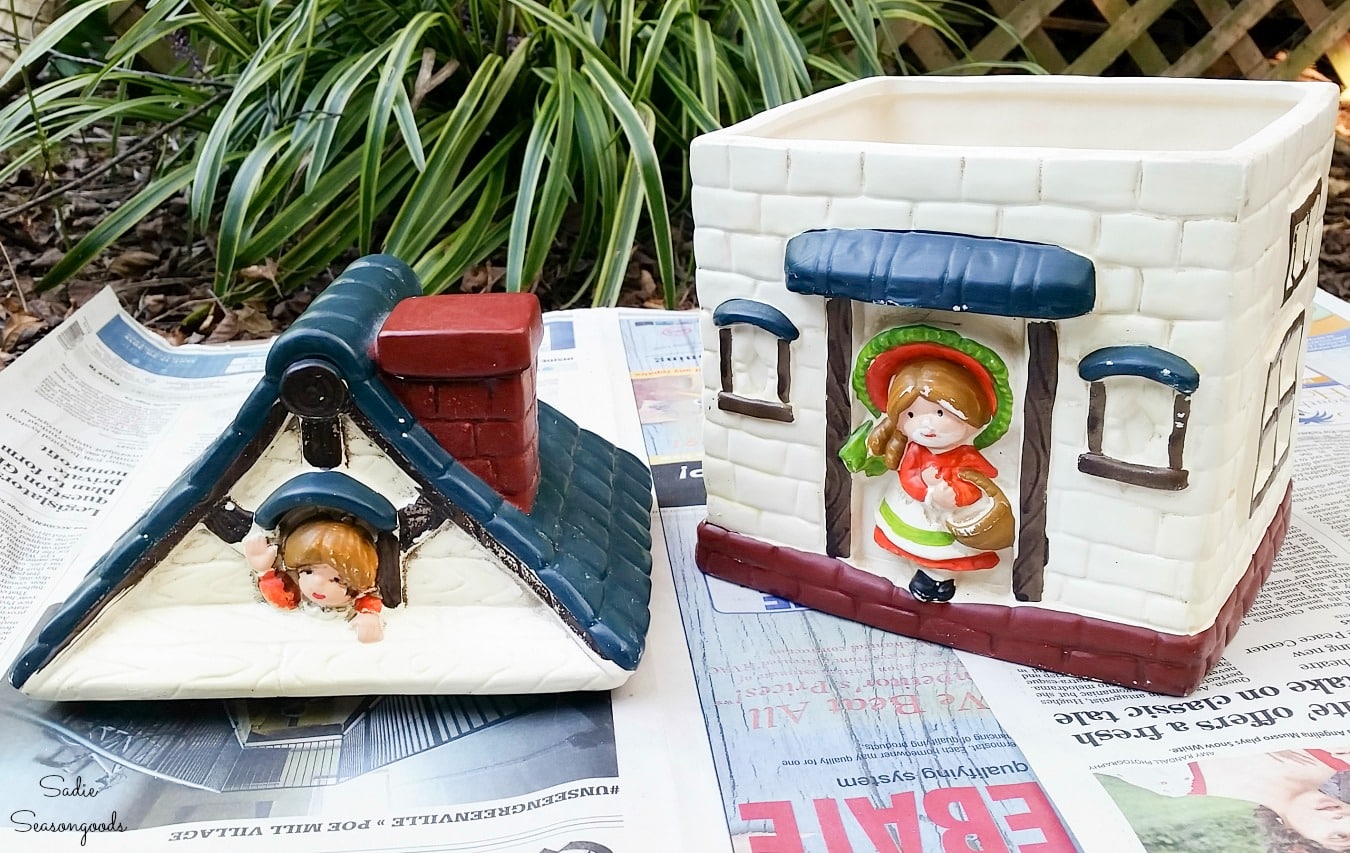 And what better color for a haunted house than gray?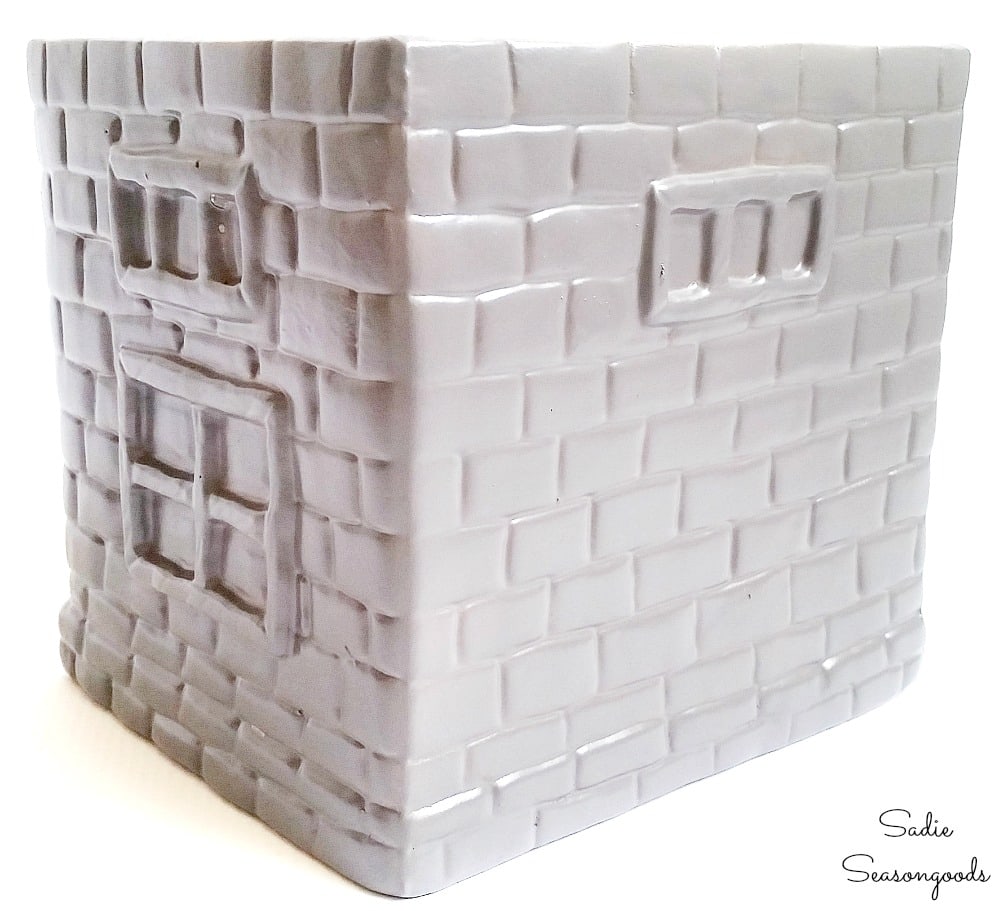 Next, I hand-painted the roof shingles black (using craft acrylic paint).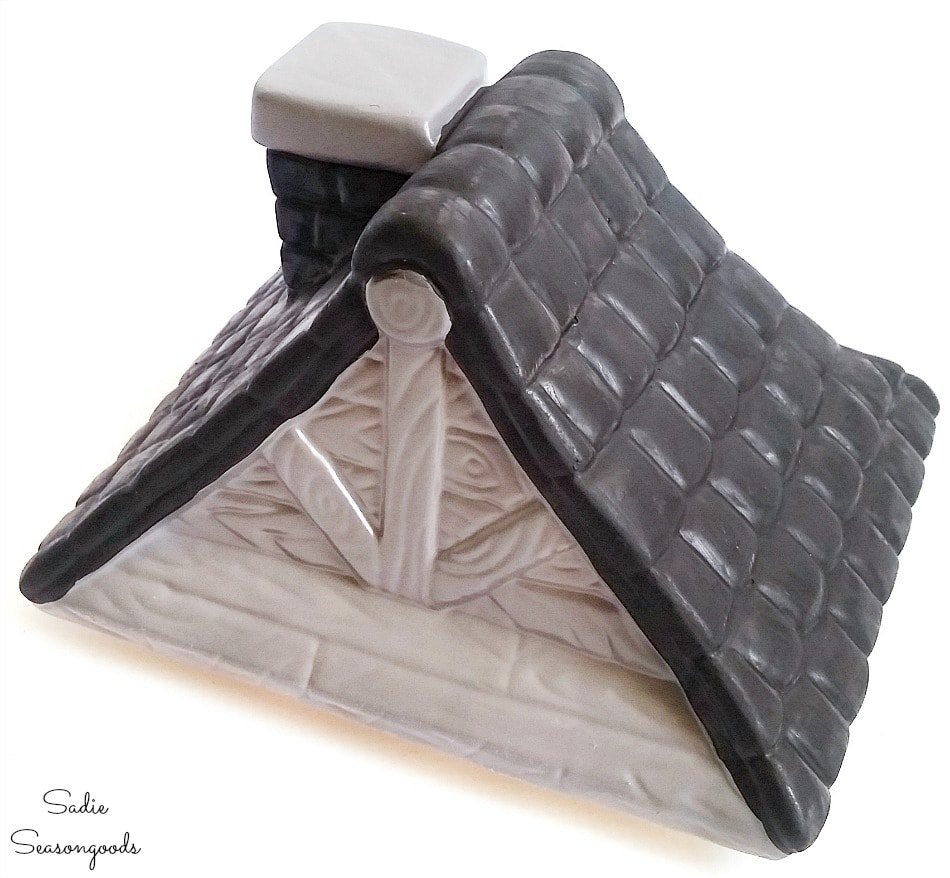 To add contrast to the bricks of my Halloween cookie jar, I used the pointy end of a bamboo skewer to drag hints of black craft paint in between each one.
It wasn't nearly as tedious as it sounds and acted as the perfect "mortar" on my miniature haunted house.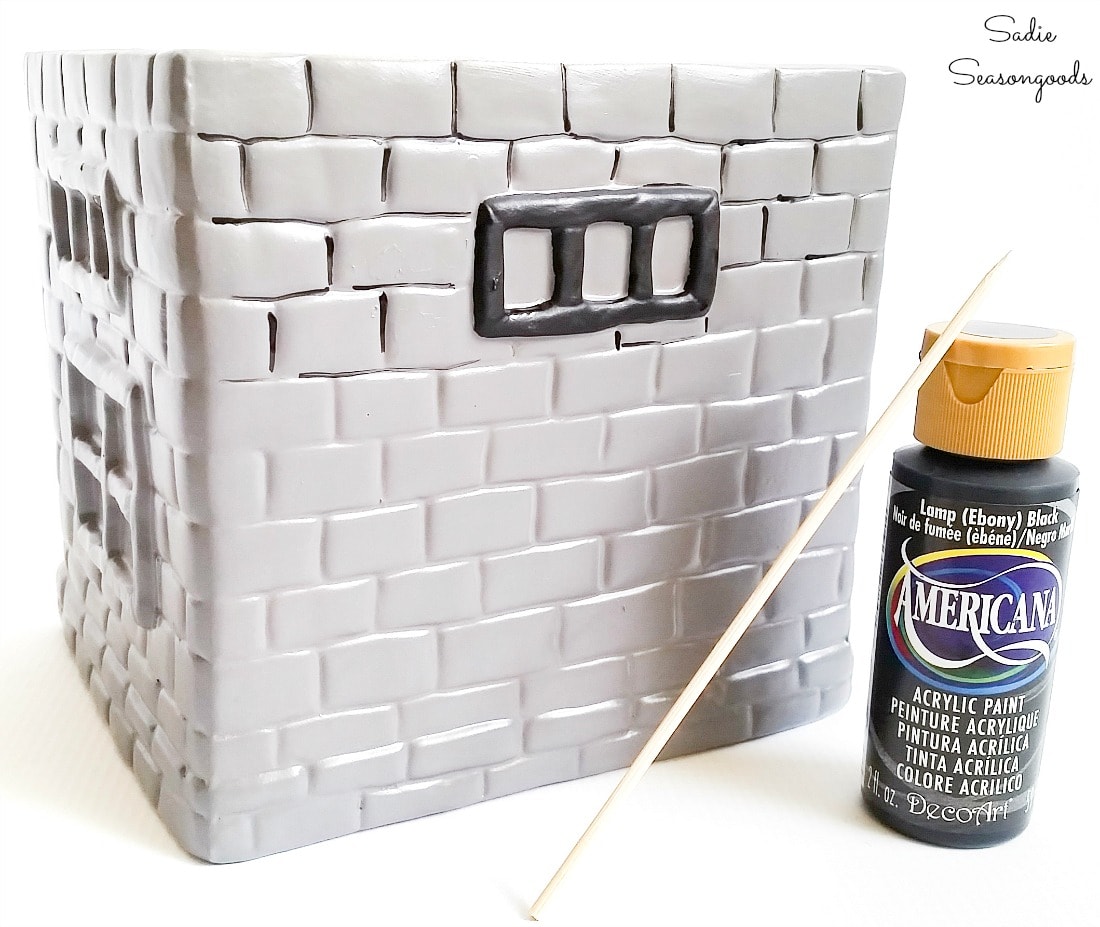 See? Doesn't that add nice definition to the Halloween haunted house? As you can tell, I also painted the window frame black, too.
Next, I continued my hand-painting journey by painting all the window frames black. Then, I filled them in with an eerie yellow-orange.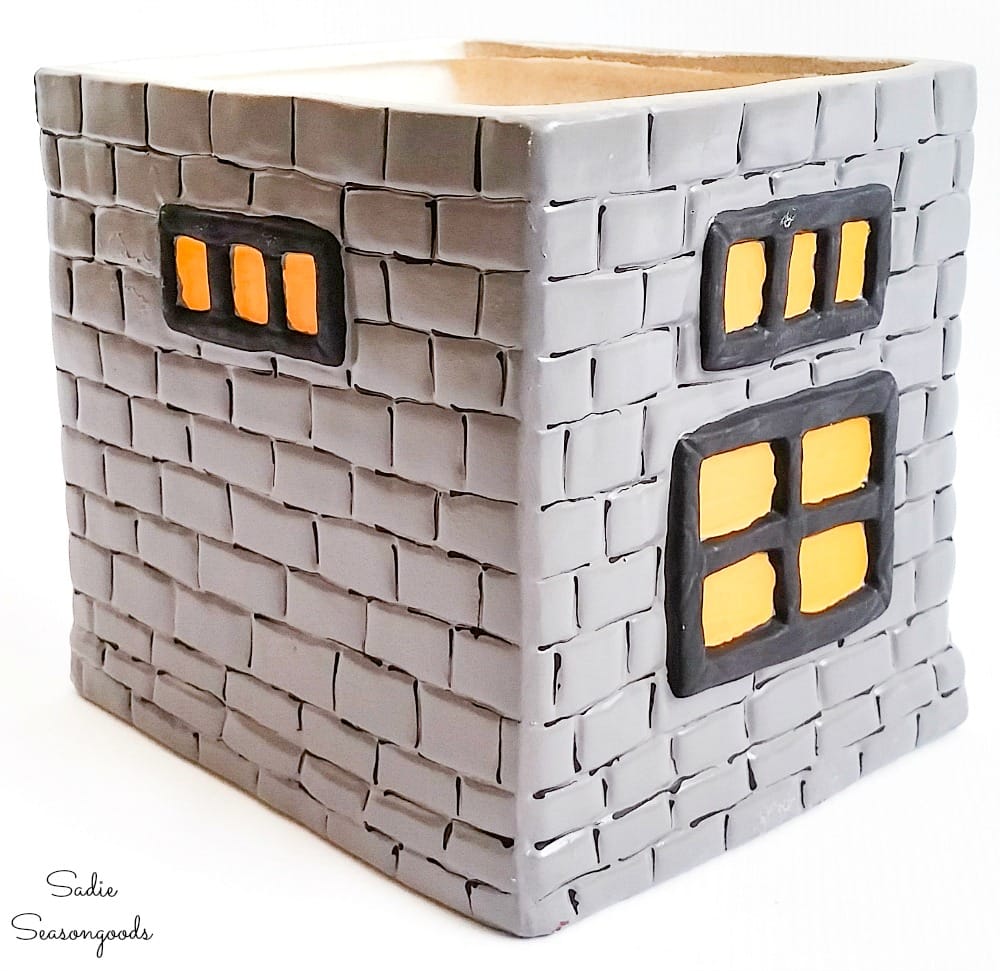 Haunted houses always have a fire burning inside, don't they?
Besides, my Halloween cookie jar needed a pop of color. But it was DEFINITELY transforming before my eyes!
Halloween Cookie Jar and Miniature Haunted House
Then, I added MORE color by painting the windows purple. I wasn't 100% done with painting, but I needed some time to figure out how to deal with the little country folks on the cookie jar.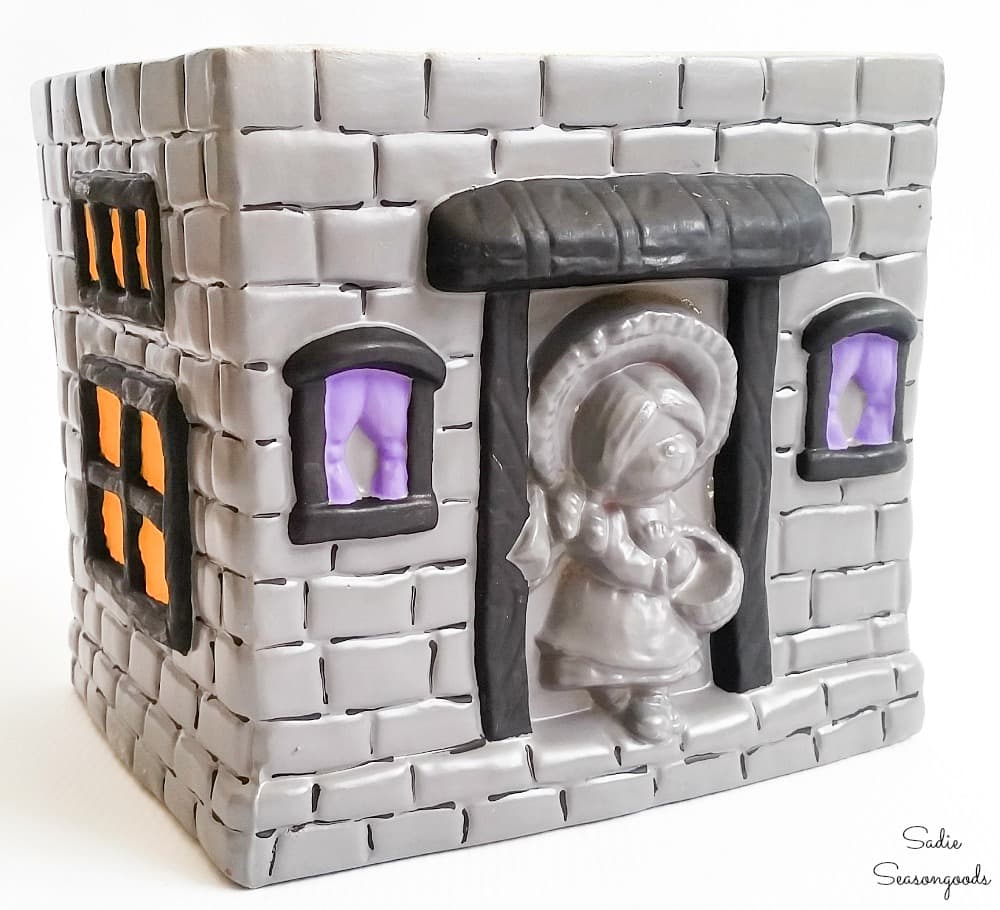 These folks posed a challenge. Could I just paint them as spooky characters? No, that wouldn't suffice. What about using modeling clay over them? Close, but modeling clay never hardens. And oven-dry clay wasn't an option either.
A mix of Google research and a craft store yielded the solution- behold the magic of air-dry clay! I hadn't worked with clay since elementary school art class. But this stuff was easy to use, forgiving, and really quite perfect for the job.
First, I covered the doorway girl in the shape of a Halloween ghost.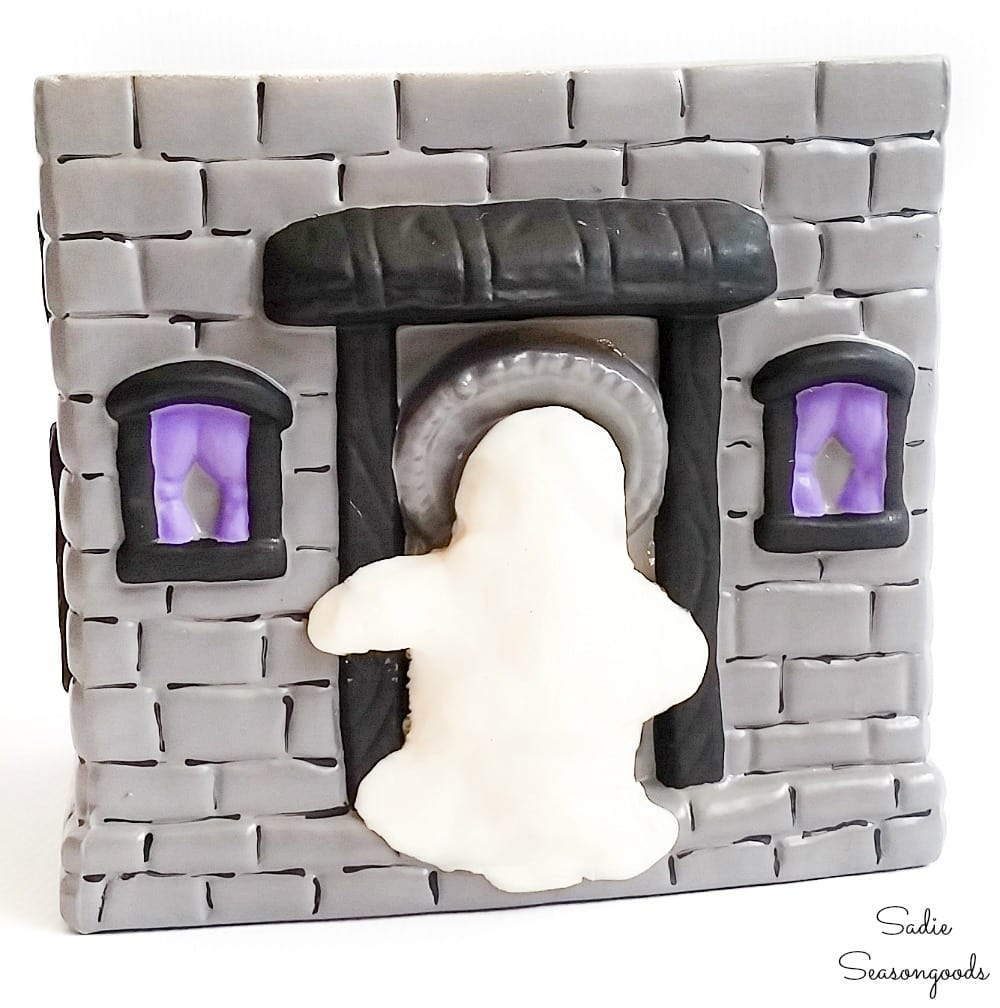 Then, I created little shutters, which I painted the same purple as the curtains in the front windows.
Next, I glued them to the corners of the large side windows on the Halloween cookie jar. Crooked and cockeyed like on a real haunted house.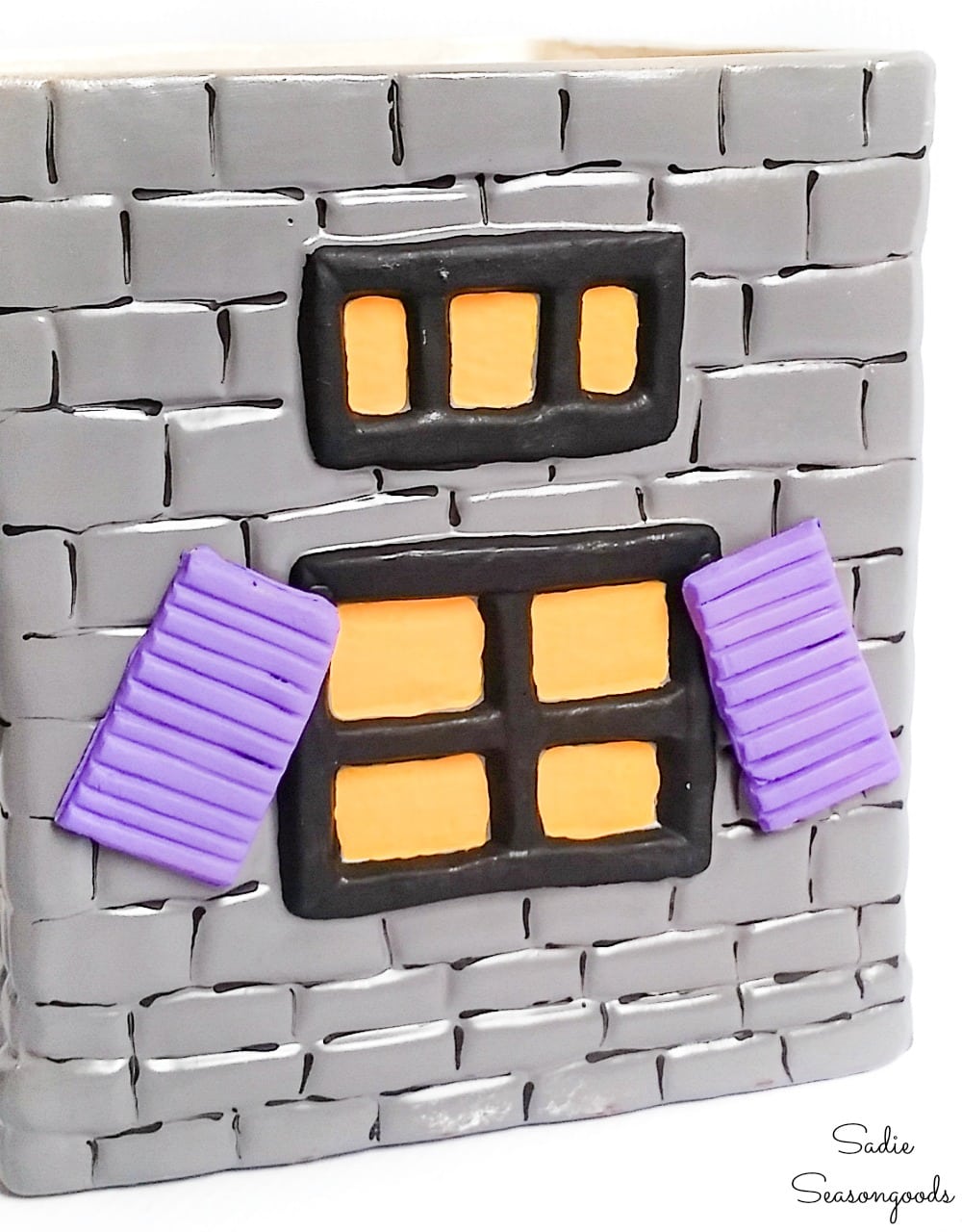 Once all the shutters had been glued on, I was nearly done!
Halloween Cookie Jar
The Halloween cookie jar was coming together nicely. But I still had the little boy (on the other side of the top here) to deal with.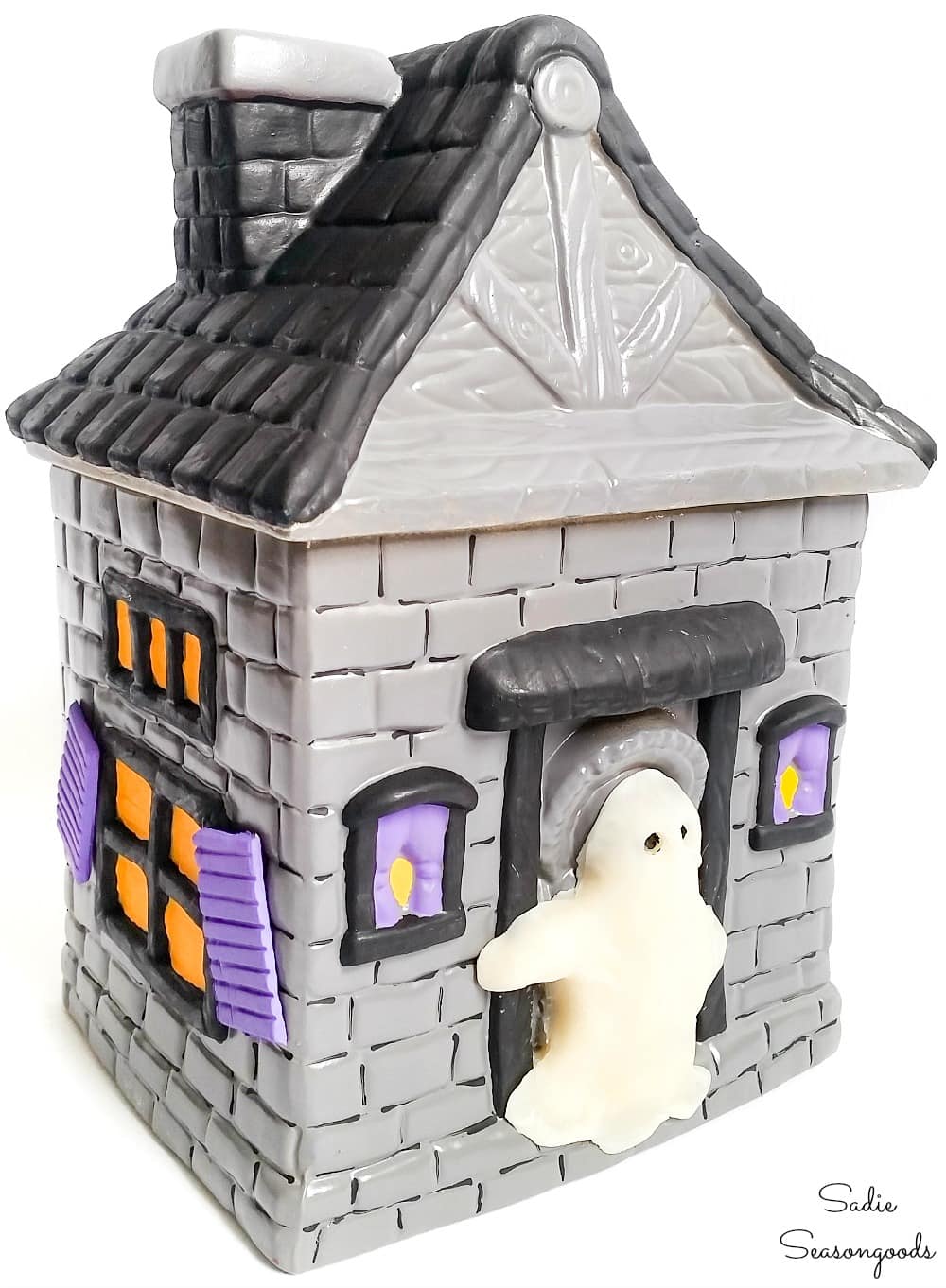 I decided that a little jack-o-lantern made from the self-drying clay would be perfect for covering him up!
I stuck a small stick in the clay for an imprint, then I let it dry before painting. Finally, I replaced the stick in the hole, securing with a bead of glue.
Doesn't my Halloween cookie jar look SO different and perfectly spooky?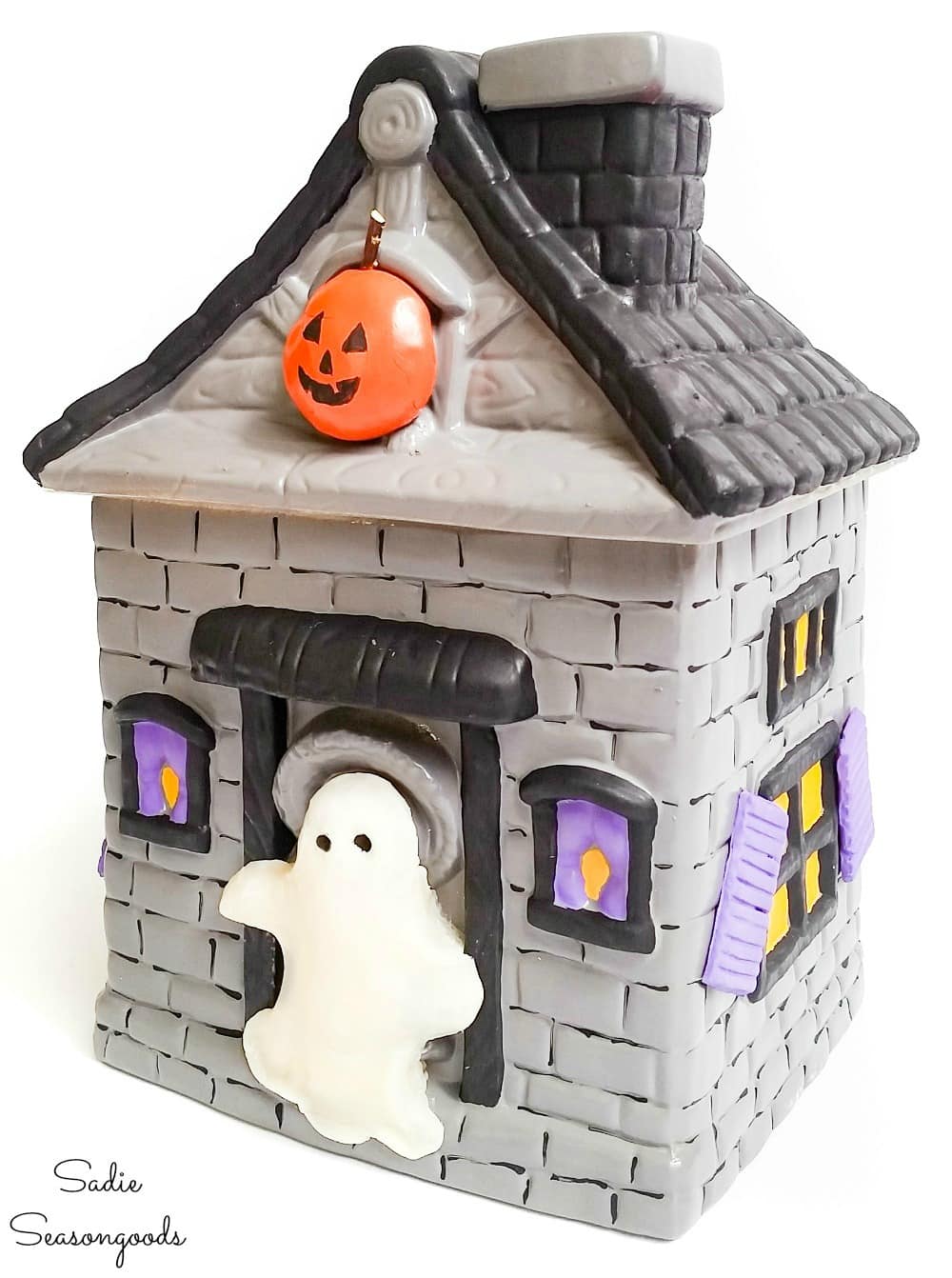 The best part is that the price tag at the thrift store told me that this little cookie jar had been there for several weeks…which is unusual!
I'm so happy to have revitalized it for Halloween. And it now has a starring role in my Halloween mantel display.
If you enjoyed this upcycling idea for a Halloween makeover, then you'll love this Halloween candy bowl stand!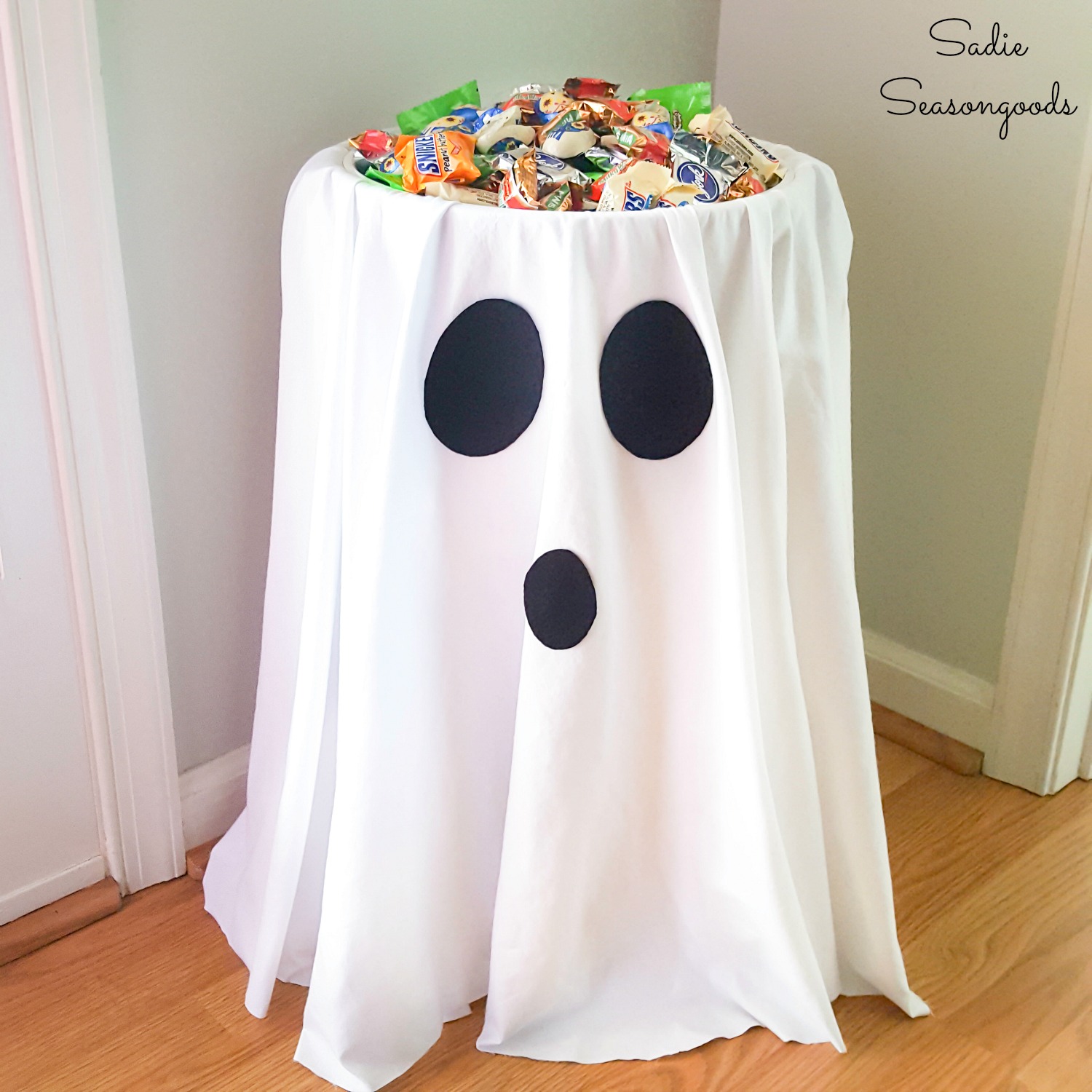 Craft on!
S
Want to be notified when I publish my next upcycling project tutorial?
Subscribe to Blog via Email
Join me on Social Media:



PIN ME!