By now, just about all of us have tried the glitter-on-the-inside ornaments. It's a great craft idea for clear ornaments from the craft store, as it is wonderfully easy and inexpensive. Well, I decided to apply the same principles but with slightly different media- in this case, coarse salt! I wondered if I could create snow ornaments, like little snowballs hanging on a tree.I had stumbled on this partial set of clear ornament balls at Goodwill for $0.50. Either someone made them for a gift and the recipient didn't care for pom-pom filled ornaments.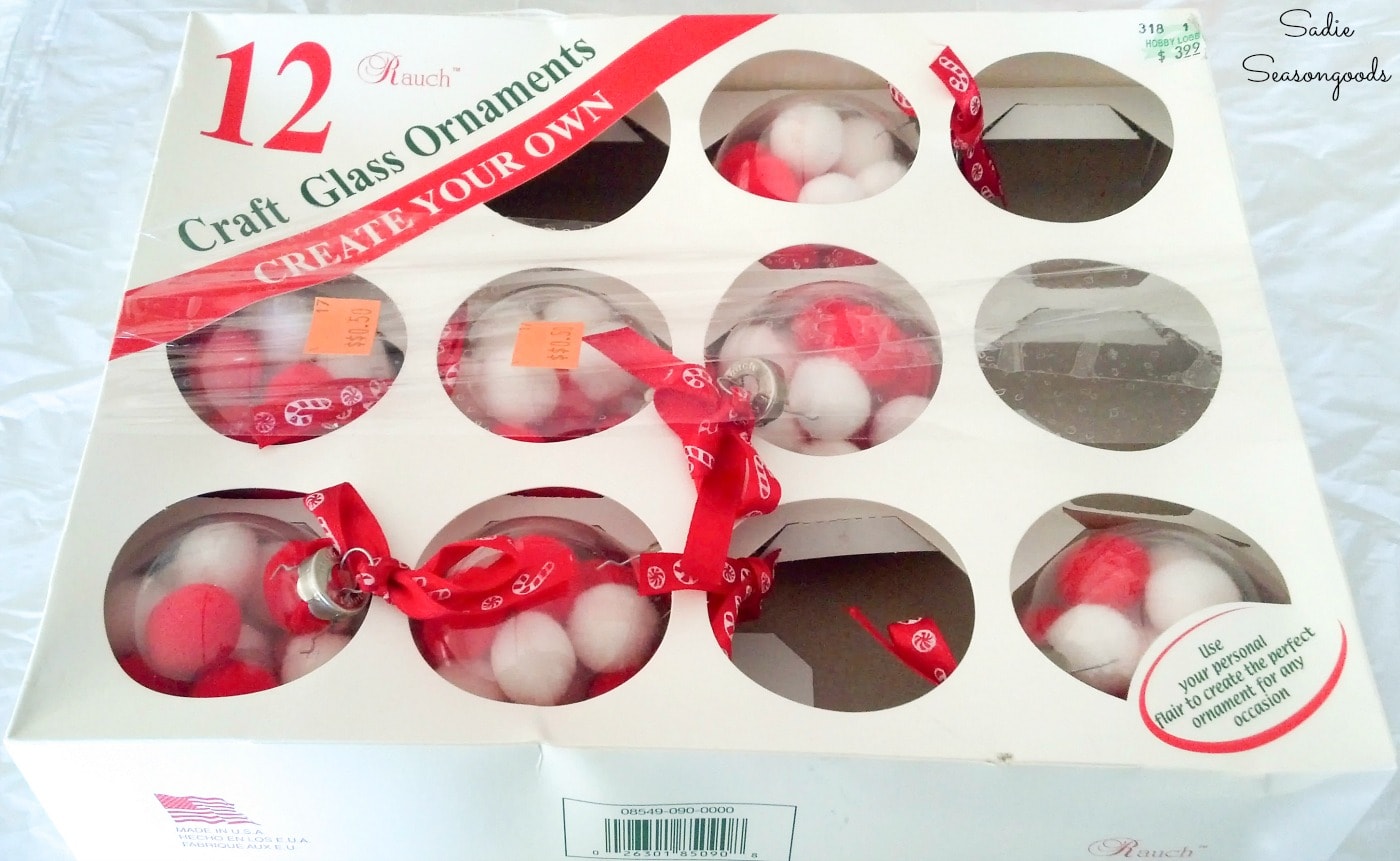 OR perhaps someone didn't like their own craft and tossed it in their donation pile (been there, done that).
Removing the pom-poms would be easy so that I could try my own craft idea with the clear glass ornaments.
So, I gathered a few more things…including coarse salt from my kitchen.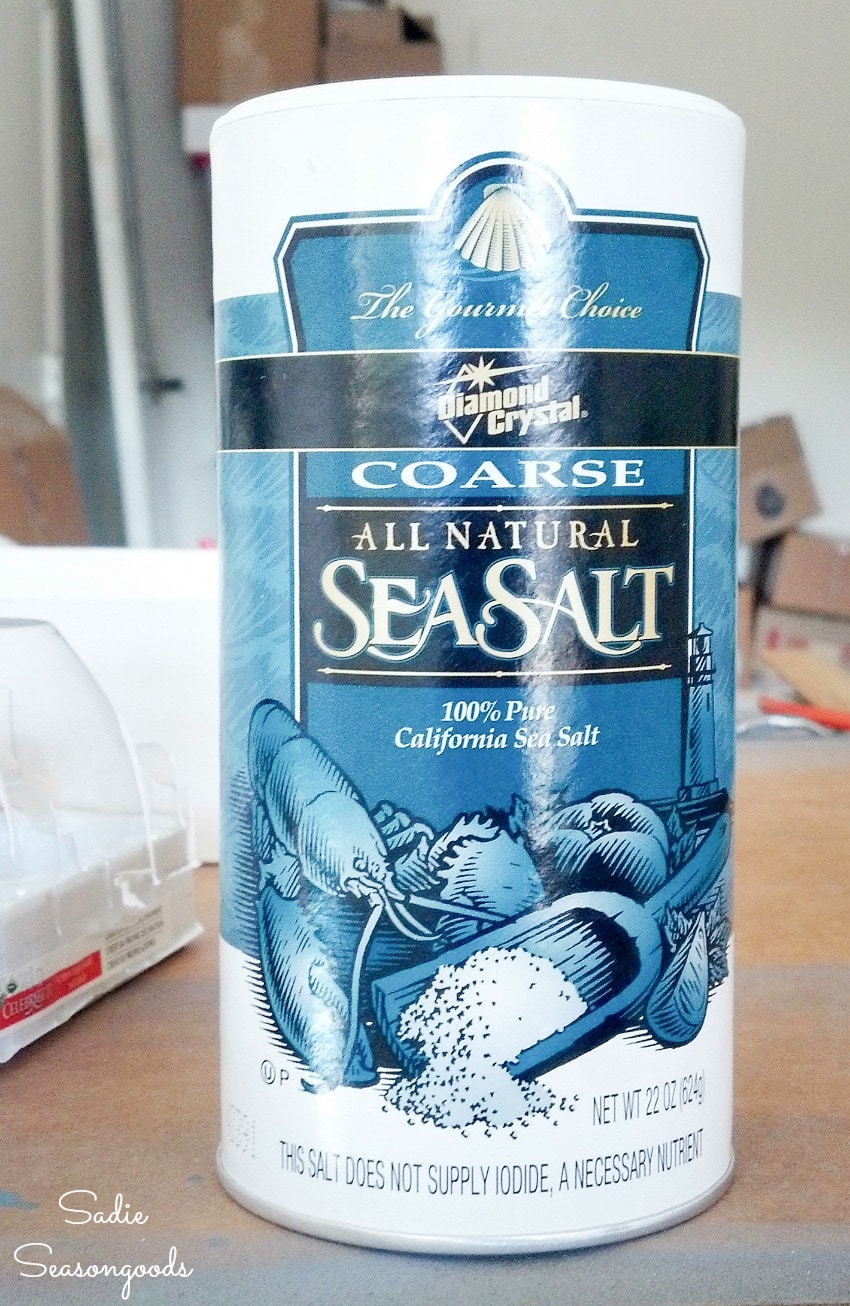 And some crystal glitter from my craft room!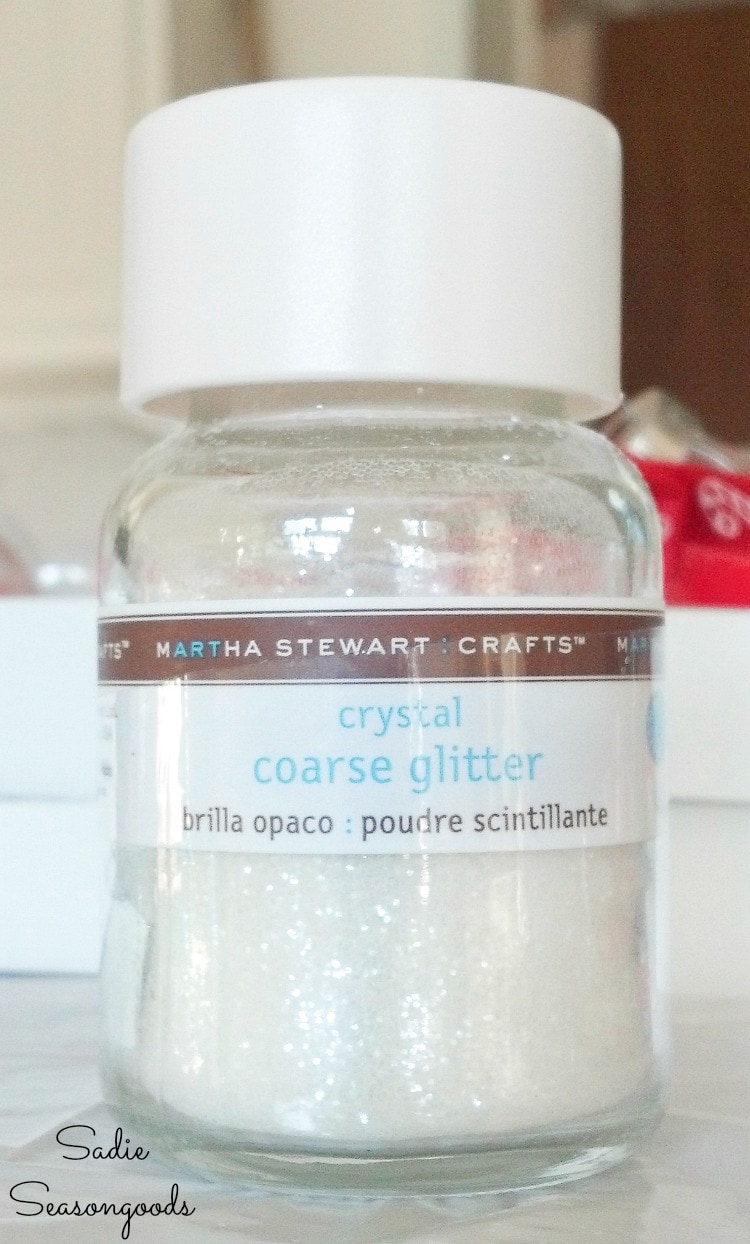 I just needed one more thing to create these snow ornaments. And I bet you'll be shocked when you find out what it is.
This post contains affiliate links for your crafting convenience. As an Amazon Associate, I earn from qualifying purchases. All blue, bold, and underlined text is a clickable link, either to a product or to a related post.
Clear Ornament Ideas with Salt and Glitter
Believe it or not, but the secret ingredient to this ornament idea is Pledge Floor Care! Although, I think they changed the name to Floor Cleaner now…and if you can't find it, I've heard (but not yet tried) that clear glossy polyacrylic will work as well.
Anyway, it is perfectly clear and dries hard, keeping the glitter (or in my case, coarse salt) in place.
After removing the ornament cap, I poured some Pledge into one of my clear ornament balls. Then, I swirled it around several times to ensure a good coating.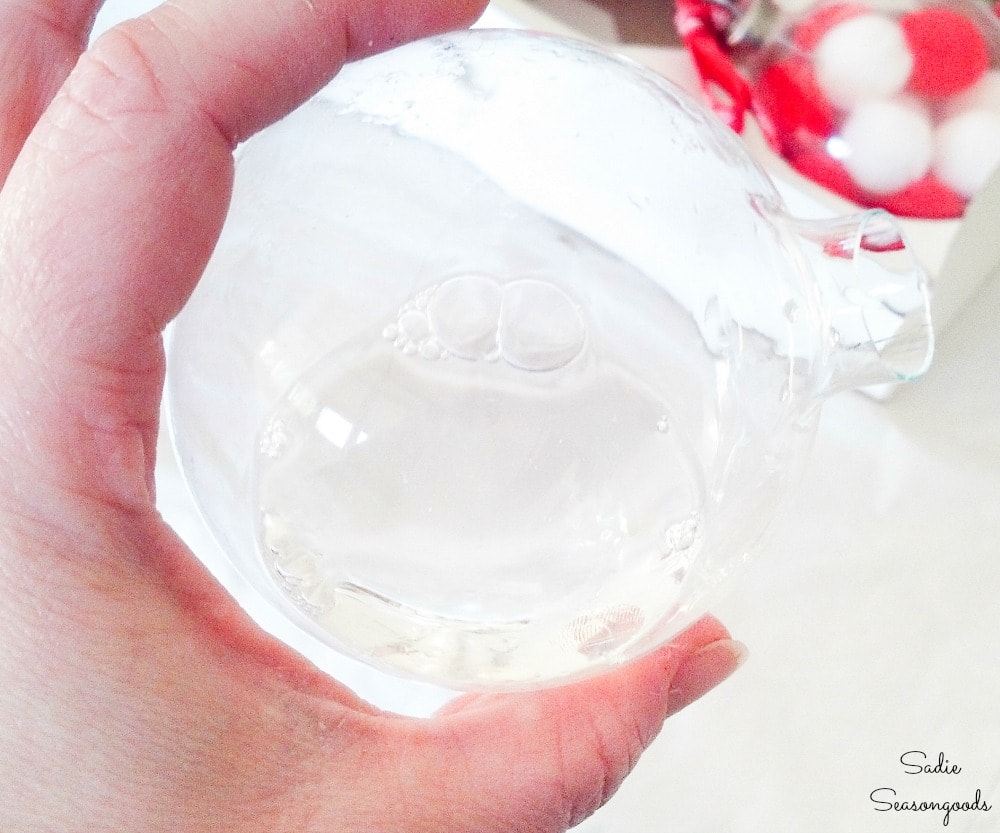 I also swirled it around in the neck of the ornament, too.
When it seemed as if I had thoroughly coated the interior of the ornament, I poured out the excess Pledge back into the original bottle.
Next, using a craft funnel, I poured in a couple of tablespoons (approximately) of coarse salt.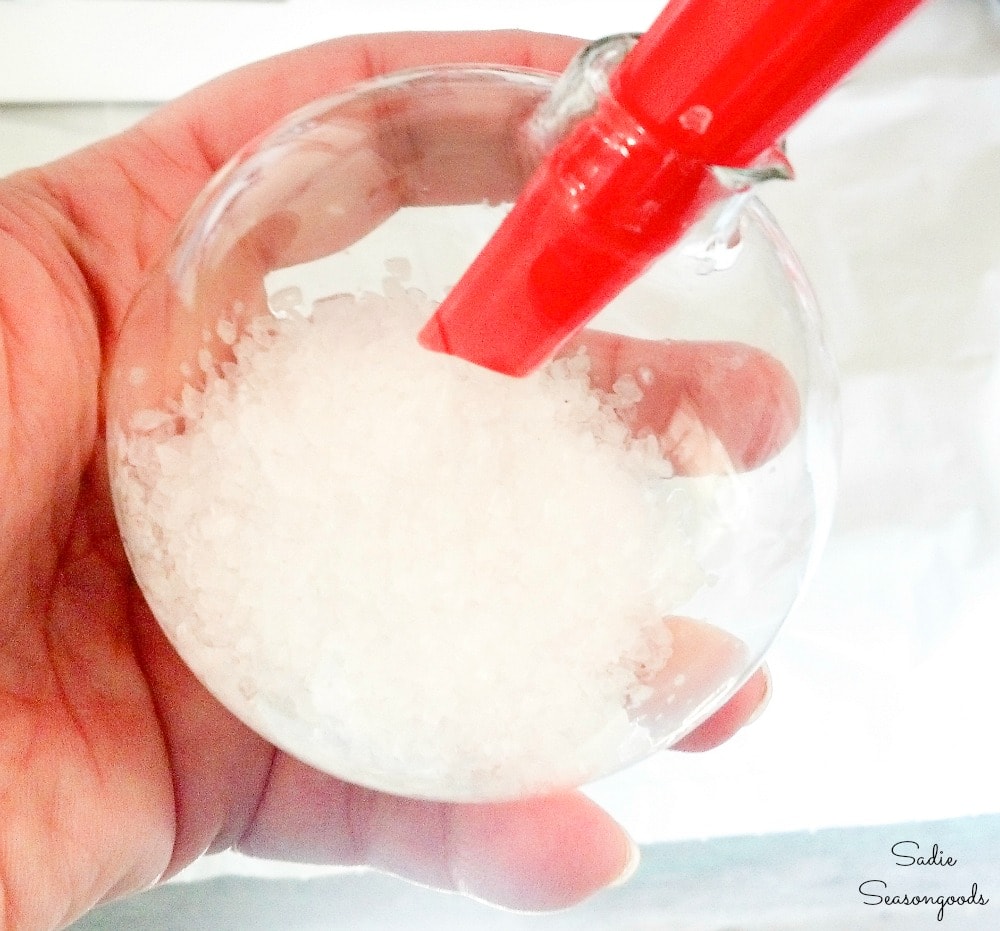 Now, unlike the glitter ornaments where you shake the glitter vigorously, the coarse salt requires a far more gentle approach. So, I slowly turned the clear ornament ball in my hands, allowing the salt to coat the interior.
Shaking the ornament causes the salt to clump up instead of clinging to the sides. Trust me, I figured this out the hard way!
When I was satisfied with the salt coverage, I tapped out the excess salt onto the paper plate (NOT the container of salt). You could either toss the excess salt or possibly use it for the next ornament, but do not use it for cooking or eating.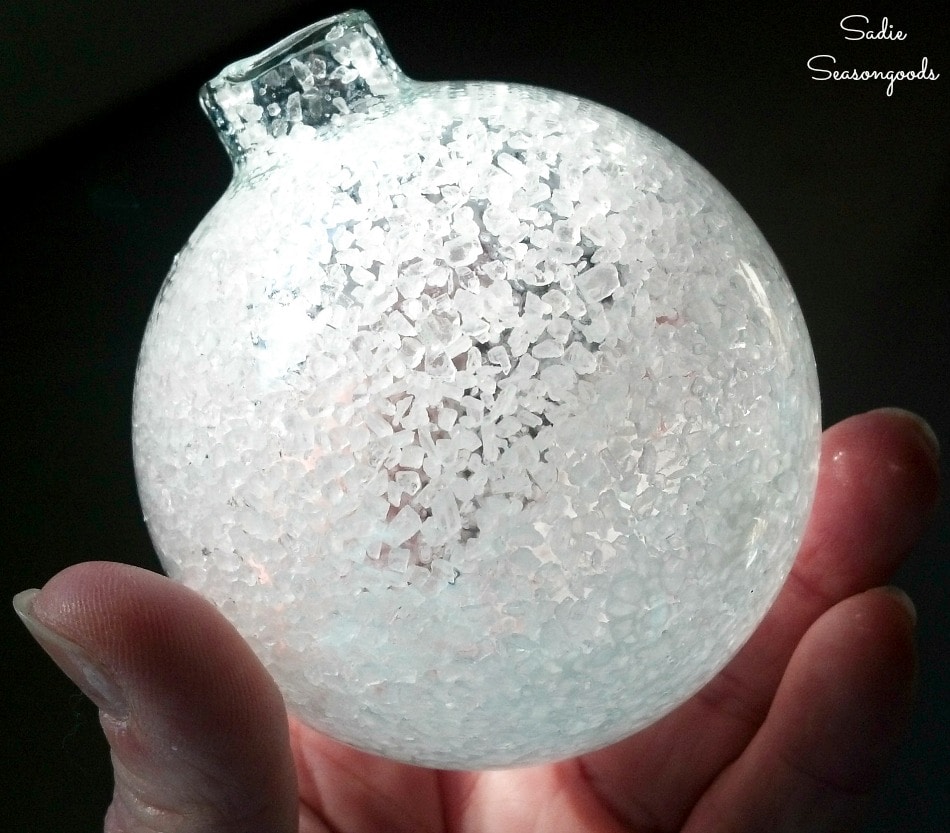 Snow Ornaments for Your Christmas Tree
To fill in the gaps between salt particles, I added some crystal glitter to the clear ornament. Once again, I slowly turned the ornament ball in my hand to allow the glitter to coat the interior.
When I was happy with how it looked, I dumped out the excess glitter on a paper plate. And this is what I was left with!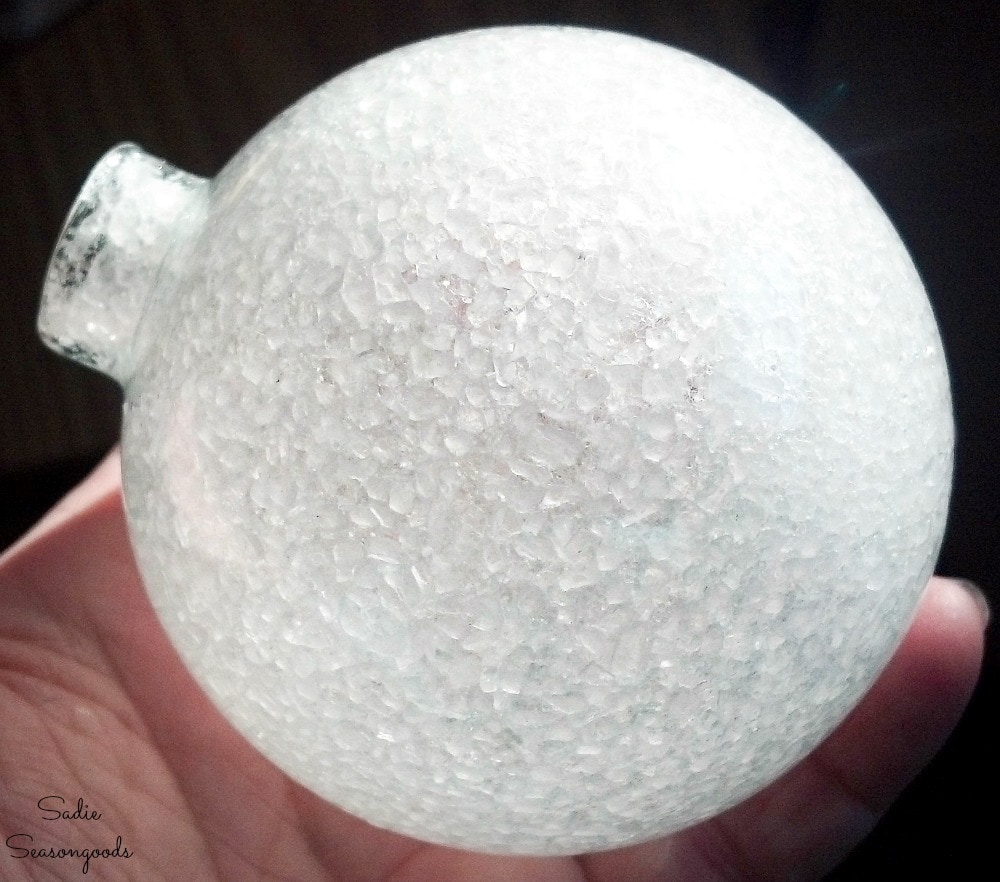 Next, it was time to finish off my snow ornaments by putting the ornament caps back on. But not the original ornament caps that came with them. I'd saved vintage ornament caps from broken ornaments for this very purpose! I just love the ridged caps.
But back to replacing the caps on my snowball ornament. If I did it in one step, I would likely scratch the salt and glitter in the neck.
So, I first removed the hanger wire from the cap and set the cap on the ornament.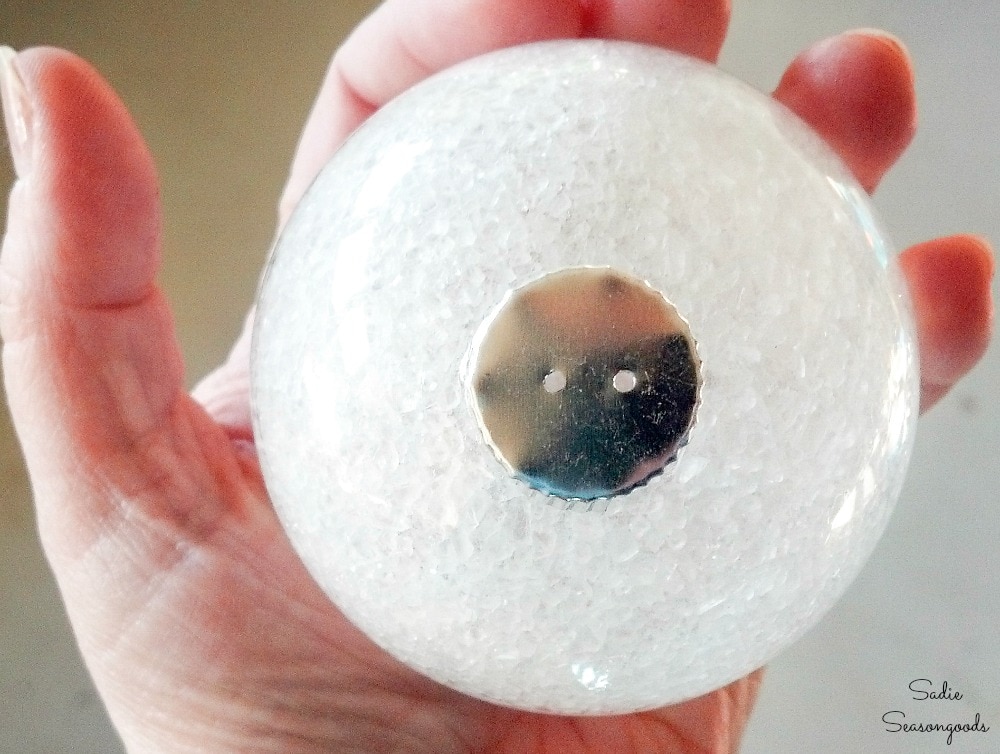 Next, I squeezed the wire hanger and set it in the holes of the ornament cap.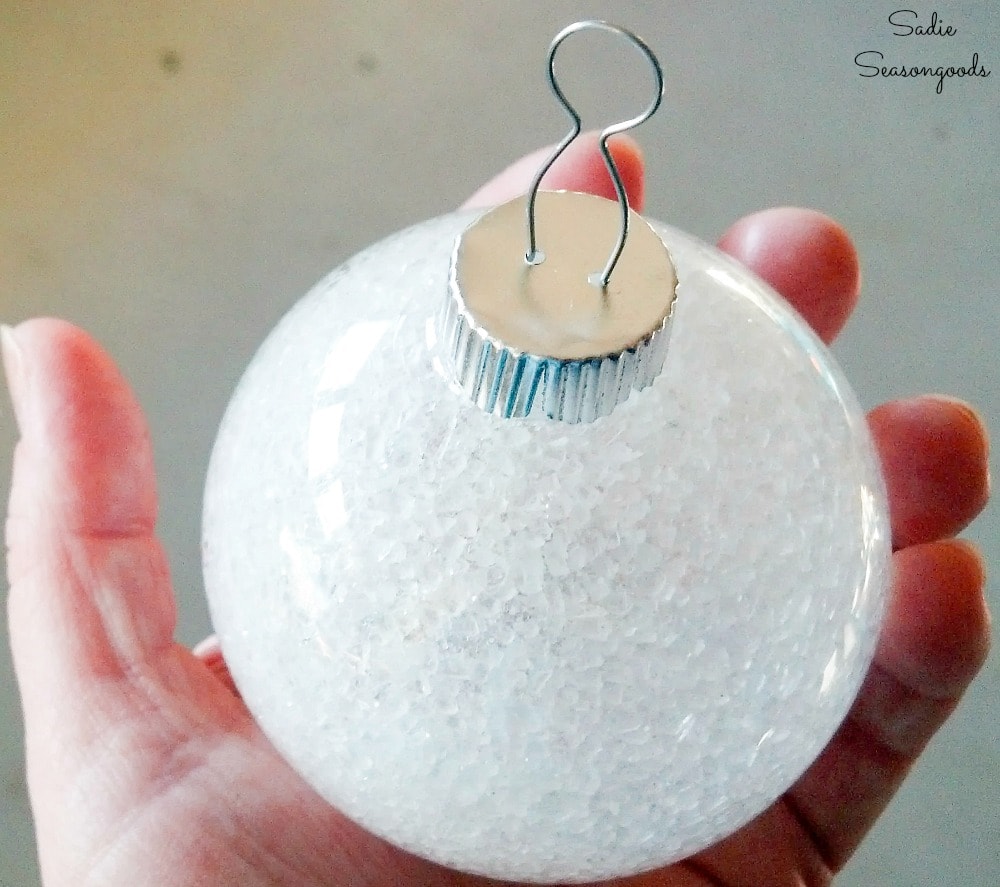 Lastly, I pushed it down gently until it "clicked" into place. No scratches, no mistakes!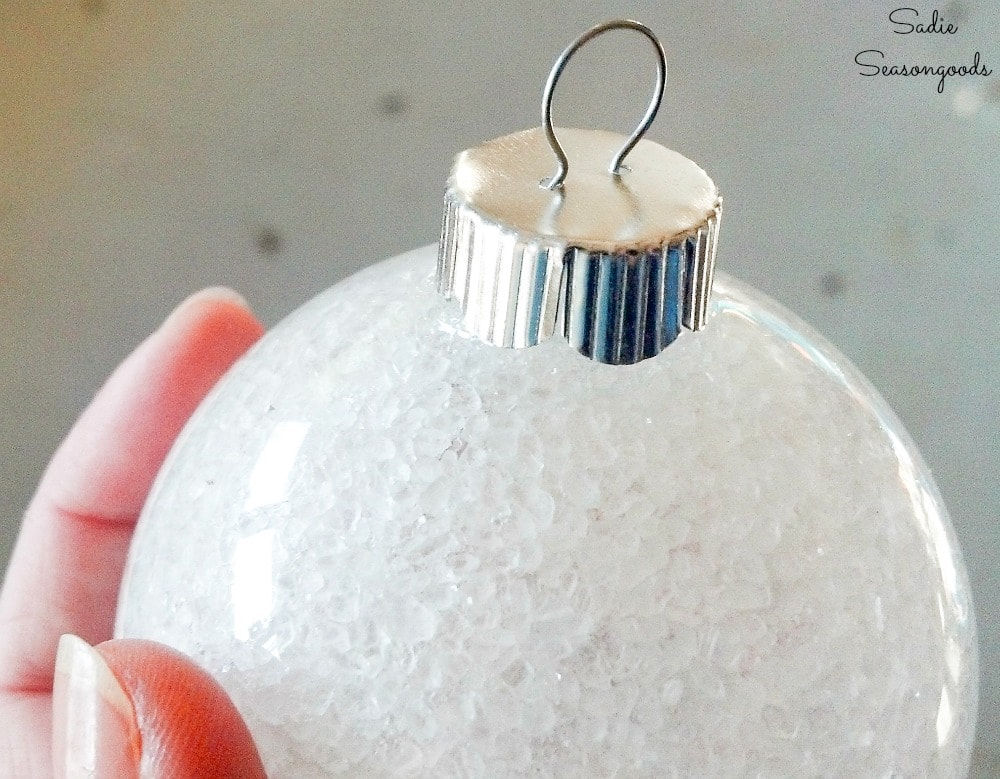 And just like that, the first of my snow ornaments was done!
Snow Ornaments from Clear Ornament Balls
There you have it, a no mess snow ornament that won't get glitter on everything it touches.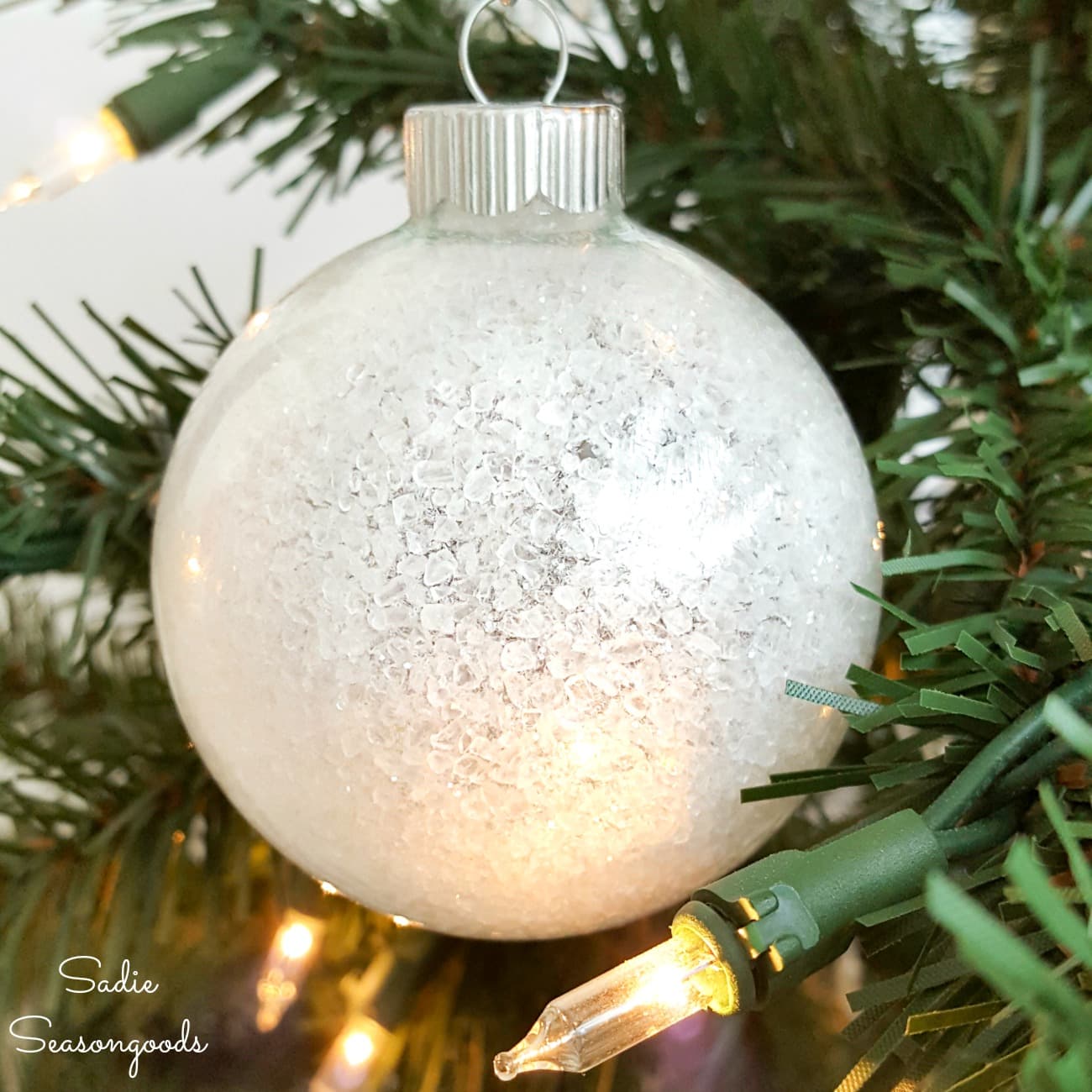 And update, I've had the same ones for years and it looks as good as it did when I first published this Christmas craft project tutorial!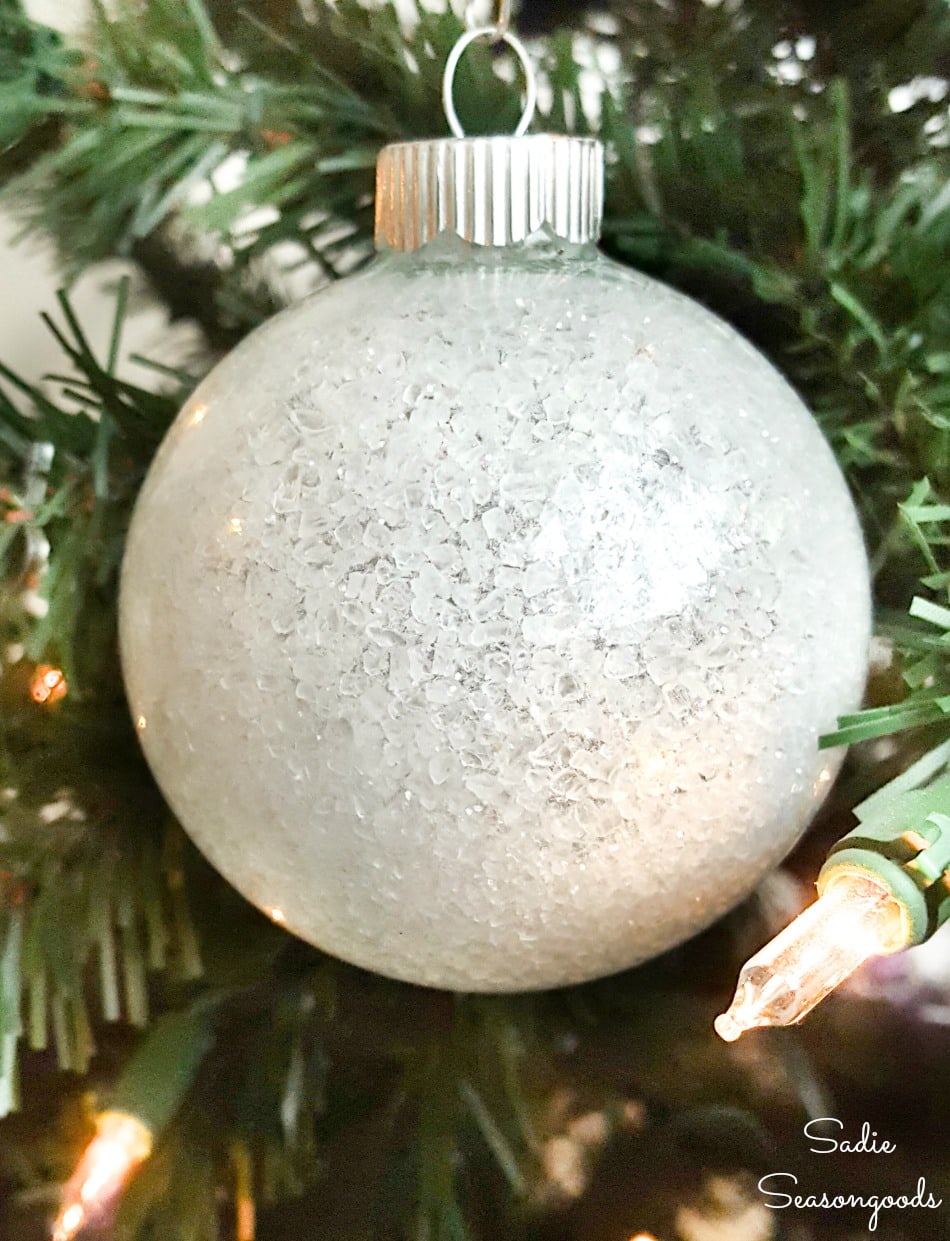 Here's another fun idea for embellishing these clear glass craft ornaments in a mess-free way! Check out what my blogging pal, Morgan, did here– such a nod to the look of lowcountry South Carolina or Savannah, Georgia.
And if you enjoyed this upcycling idea for gorgeous Christmas ornaments, then you'll love my rustic Christmas wreath that was made from flannel shirts!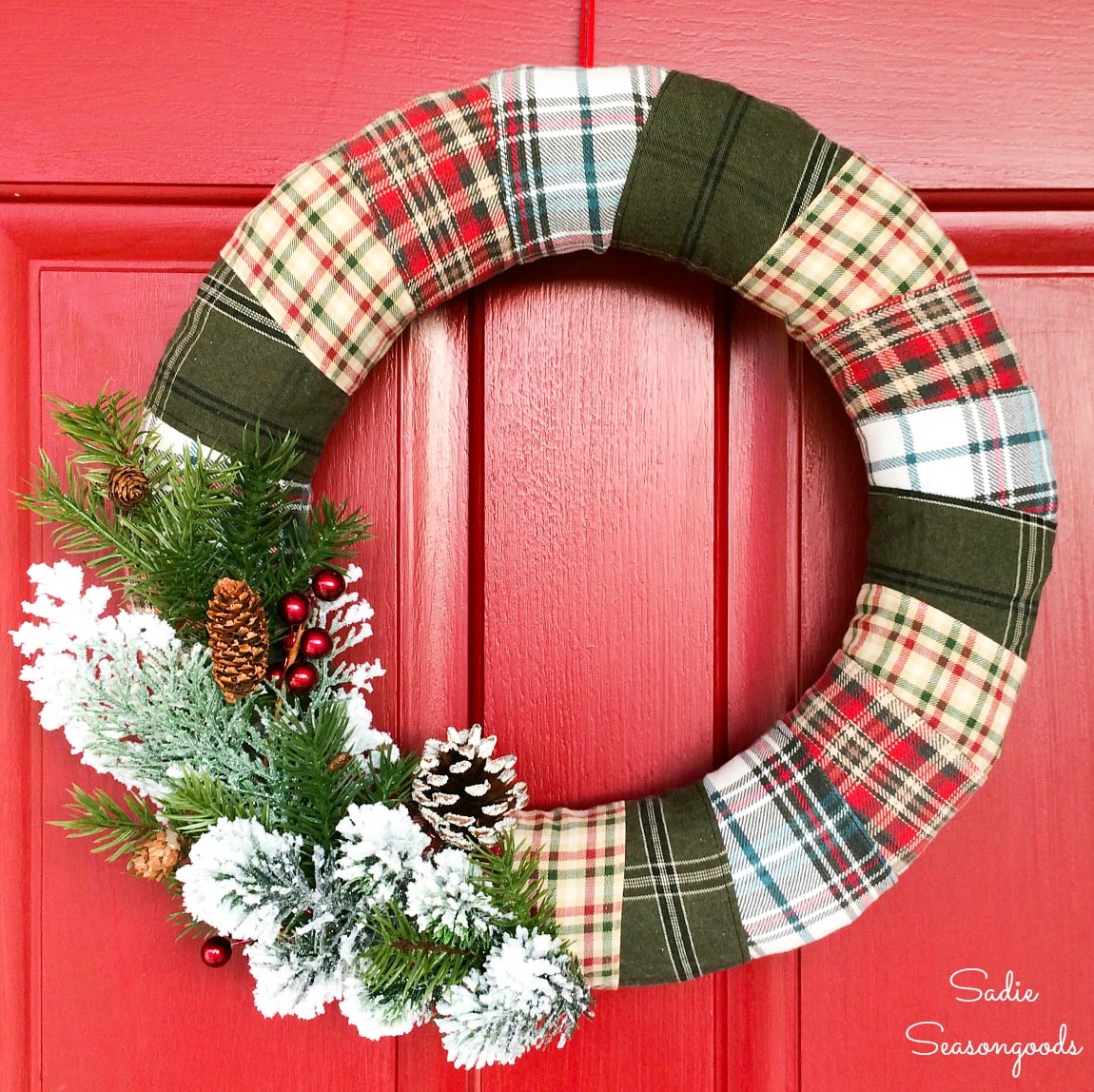 Plus, don't forget- my first book, "Crafting with Flannel", has an entire chapter dedicated to Christmas projects. Including three upcycled ornament ideas!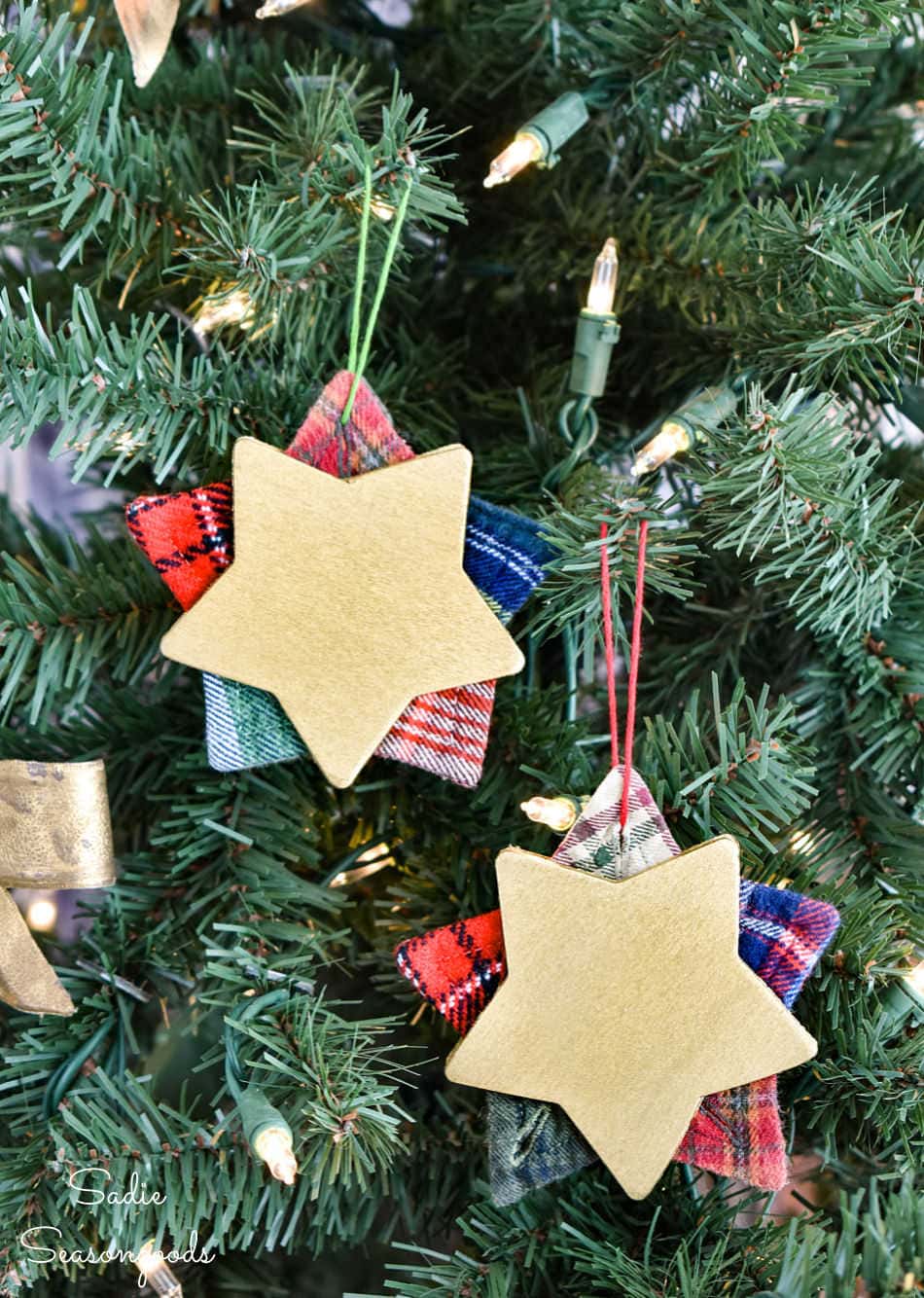 Craft on!
S
Join me on Social Media:

PIN ME!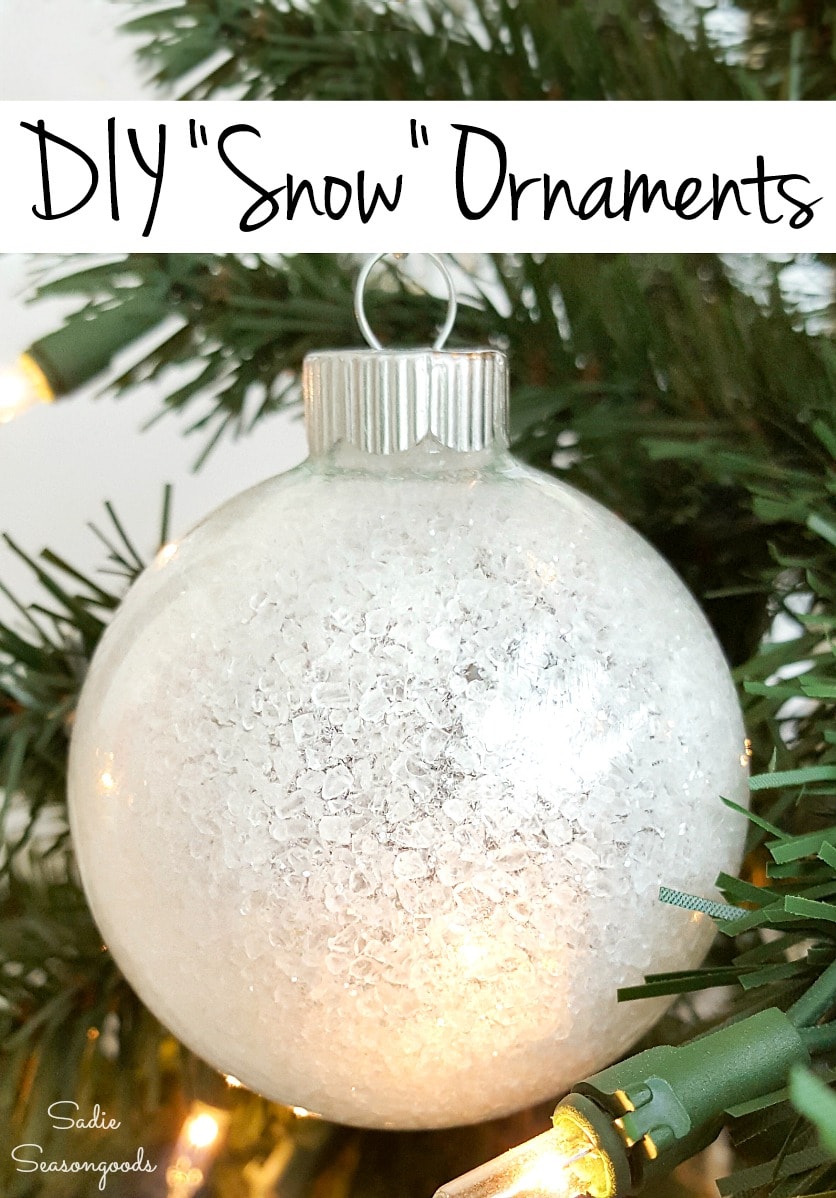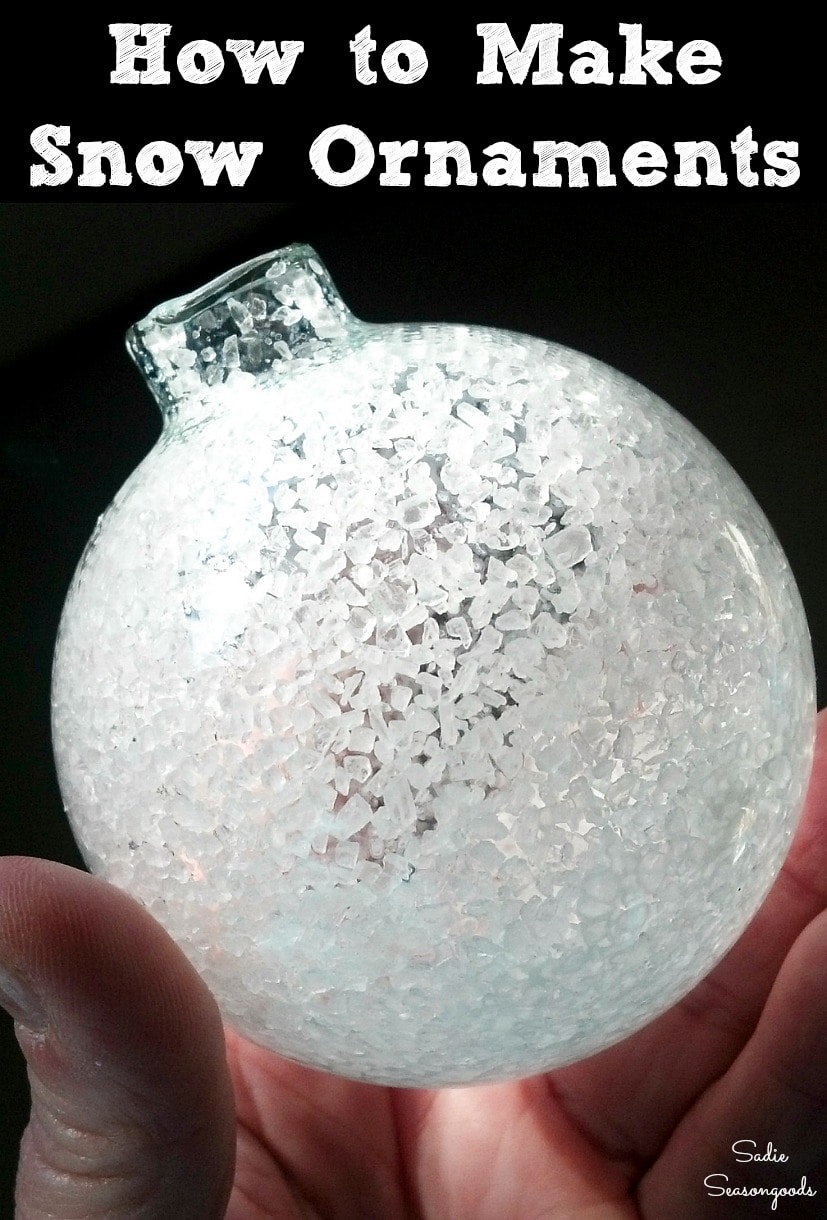 Sarah Ramberg is the owner of Sadie Seasongoods, a website that celebrates all things secondhand. From upcycling ideas and thrifted decor to vintage-centric travel itineraries, Sadie Seasongoods is a one-stop shop for anyone who loves thrifting and approachable repurposing ideas. Sarah is also the author of "Crafting with Flannel" and has been featured in numerous media outlets and magazines.