I found a bin of fan blades that were SUPER cheap, and there was a pack of white blades on the top. Right off the bat, I saw the potential of creating some Halloween tree decorations or Halloween ornaments. Halloween ghosts from fan blades isn't a completely original idea, but I had a feeling that I could get two ornaments from each ceiling fan blade.
So, I brought the fan blades home and played around with the idea of creating some Halloween ornaments to hang from small trees / large bushes or shrubs in the yard! This post contains affiliate links for your crafting convenience.
Halloween Ghosts from Fan Blades as Halloween Ornaments
In my mind, each fan blade would yield two similar, but slightly different ghost shapes.
The bottom ghost would require a rounded cut for the head, but would utilize the flowy shape of the bottom of the fan blade. The top ghost already had a rounded "head" (and holes for adding hanging thread and eye placement), but would require a sawtooth cut along the bottom.
I did my best to transfer this idea to the fan blades with a pencil, compass, and ruler. There would be a little strip of leftover fan blade from between the two Halloween tree ornaments, but that's ok.
Then, Jon used our jigsaw to cut out the Halloween ornaments from each fan blade.
Next, I sanded down the cut edges to smooth them out. For the "bottom blade" ghosts, I also had to drill a small hole at the top of each one in order to hang them.
Now, even though the blades were white, the other side was, unfortunately, faux wood grain. So, I spray painted both sides with a fresh coat of white paint- this hid the brown of the wood grain on the flip side and covered up my pencil marks on the white side!
Now came the scariest part (or, rather, most nerve-wracking) part- adding faces to the Halloween ornaments / Halloween tree decorations.
And, well…I did the best I could! Free hand painting is NOT my forte, but with a little practice, they came out alright.
Last but not least, I gave the Halloween tree decorations a coat of water resistant sealant – I'm hanging them outside after all!
Halloween Ornaments / Halloween Tree Decorations from Fan Blades
And for hanging, I used clear monofilament…which can be a pain to tie in a knot but is also good for handling the outdoors. Finally, I hung them on the tree outside – and just like that, I had an entire set of Halloween ornaments!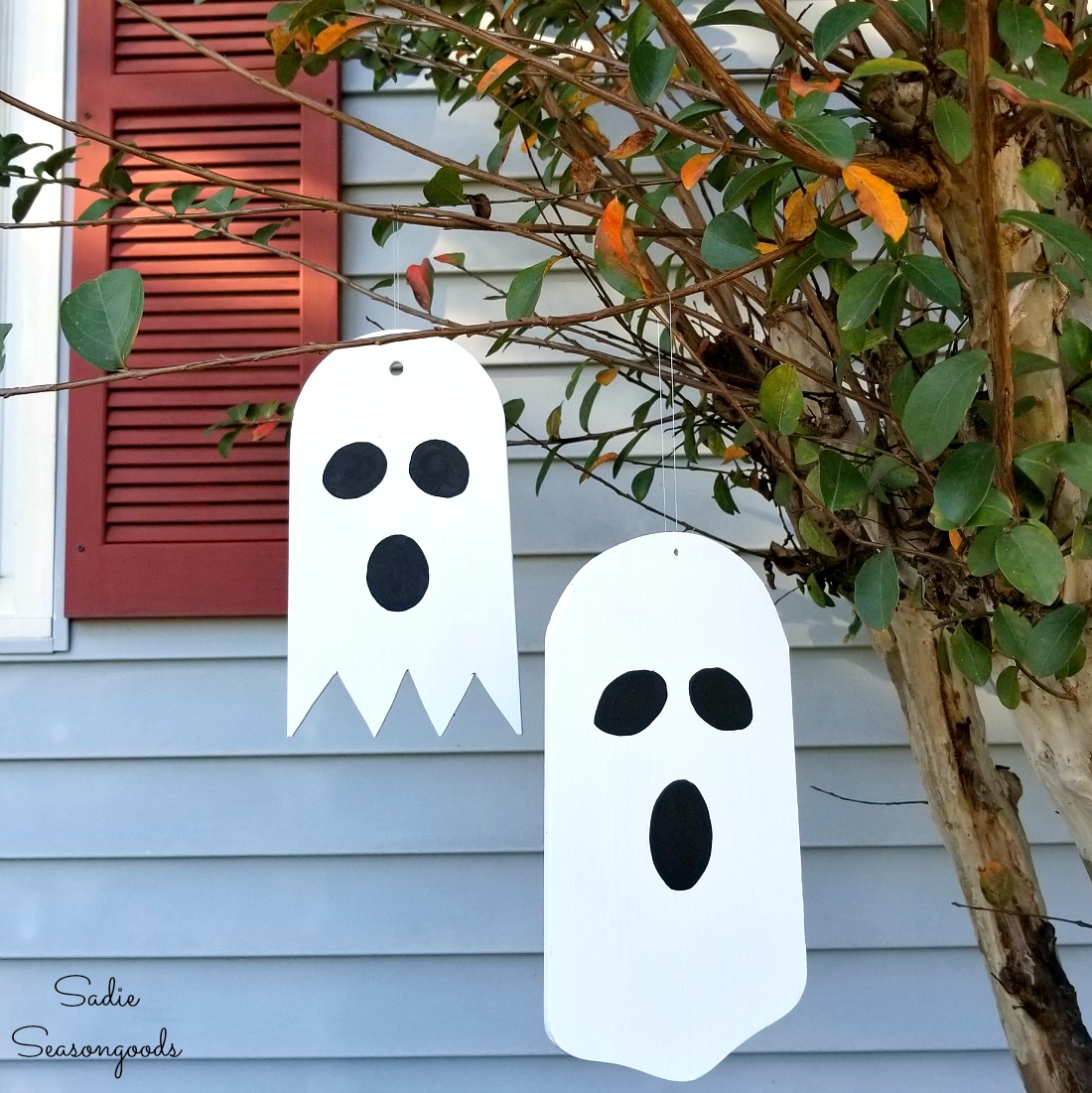 And just for fun, I took them to a hauntingly beautiful spot not far from where I live, the Poinsett Bridge! A fun little photoshoot…
If you enjoyed this upcycling idea for Halloween decor, then you'll love this Halloween wreath from a paper plate holder!
Craft on!
S
Want to be notified when I publish my next upcycling project tutorial?
Subscribe to Blog via Email
Join me on Social Media: