There are a LOT of tutorials for a Harry Potter-inspired Halloween Spell Book out there. But, I've wanted to create my own versions for a while now. It wasn't until I found a couple of old yearbooks while thrifting that an idea took root. Their textured leatherette covers and embossed designs REALLY seemed destined to become a Book of Spells or even steampunk books, perfect for Halloween decor!
While plain hardcover books are a fine starting point for old spell books, you have to take extra steps to make them look old, textured, and maybe a little spooky.
But that's already done for you with old yearbooks!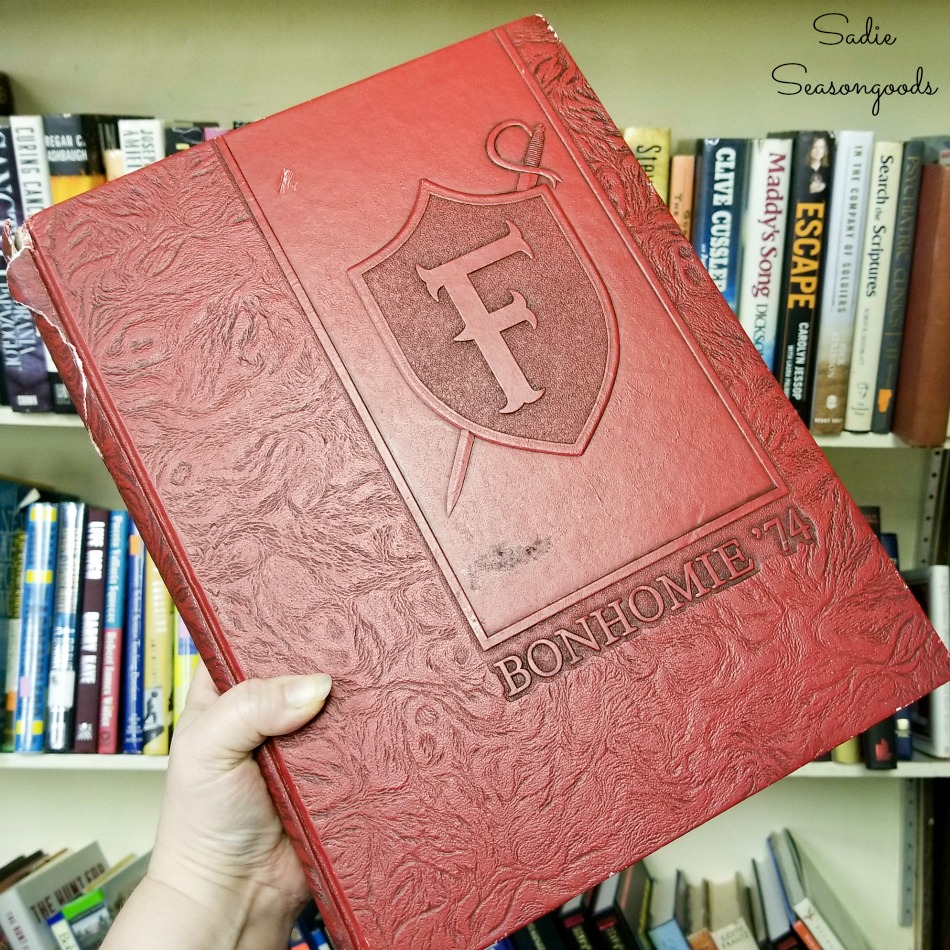 Wrinkled like old leather, and perfect for upcycling into a Halloween spell book.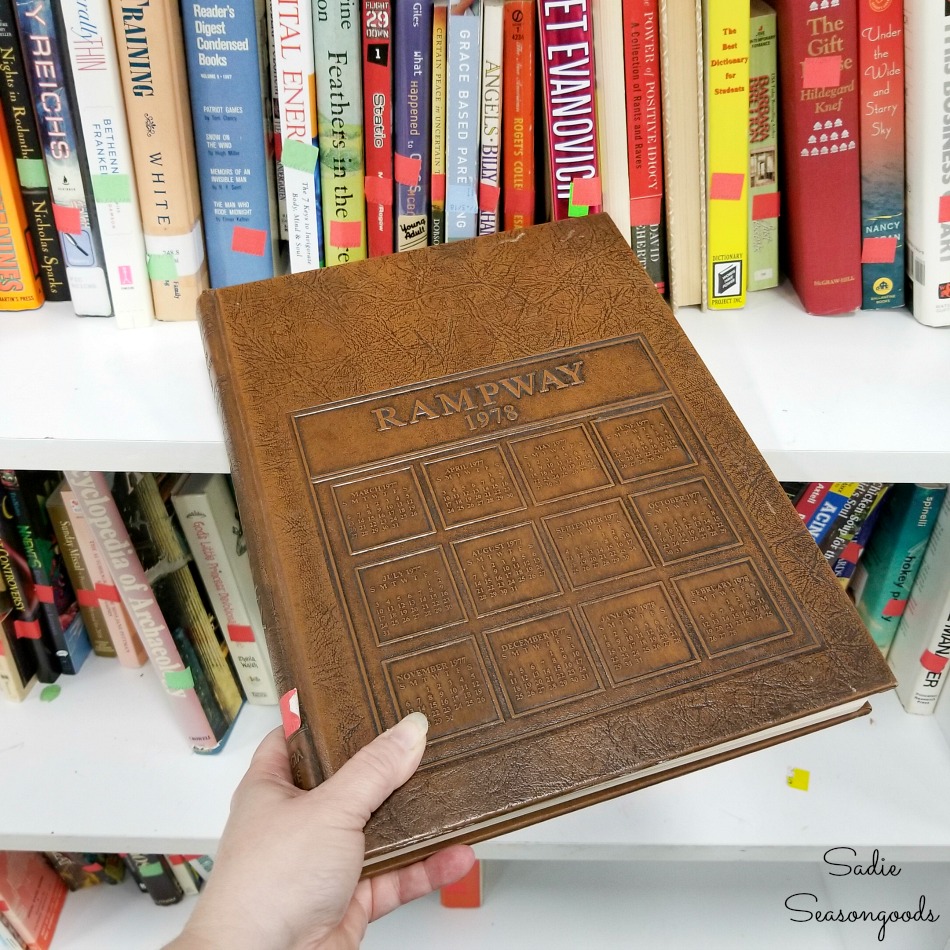 Can't find any yearbooks? Old encyclopedias, atlases, and other reference-type books that are oversized and textured would be just as good!
My altered book idea for a Halloween spell book required a few other embellishments. I drew inspiration from the Harry Potter movies and the library at Hogwarts.
So, I gathered some rubber snakes and friends and associated friends…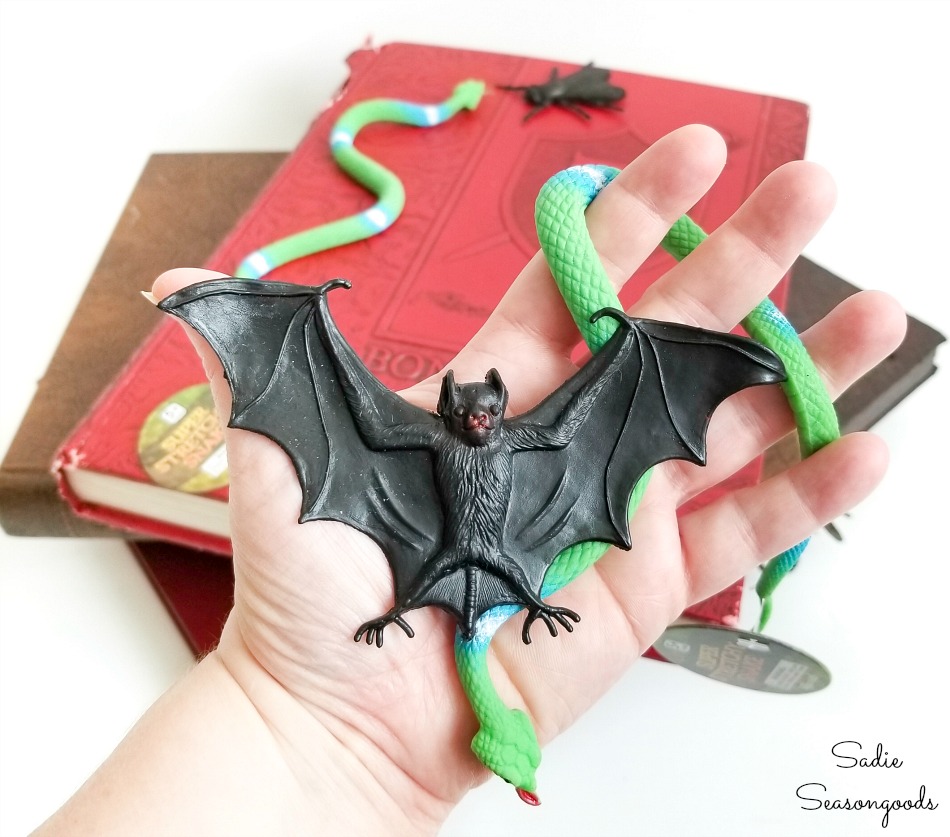 And some scrap booking stickers.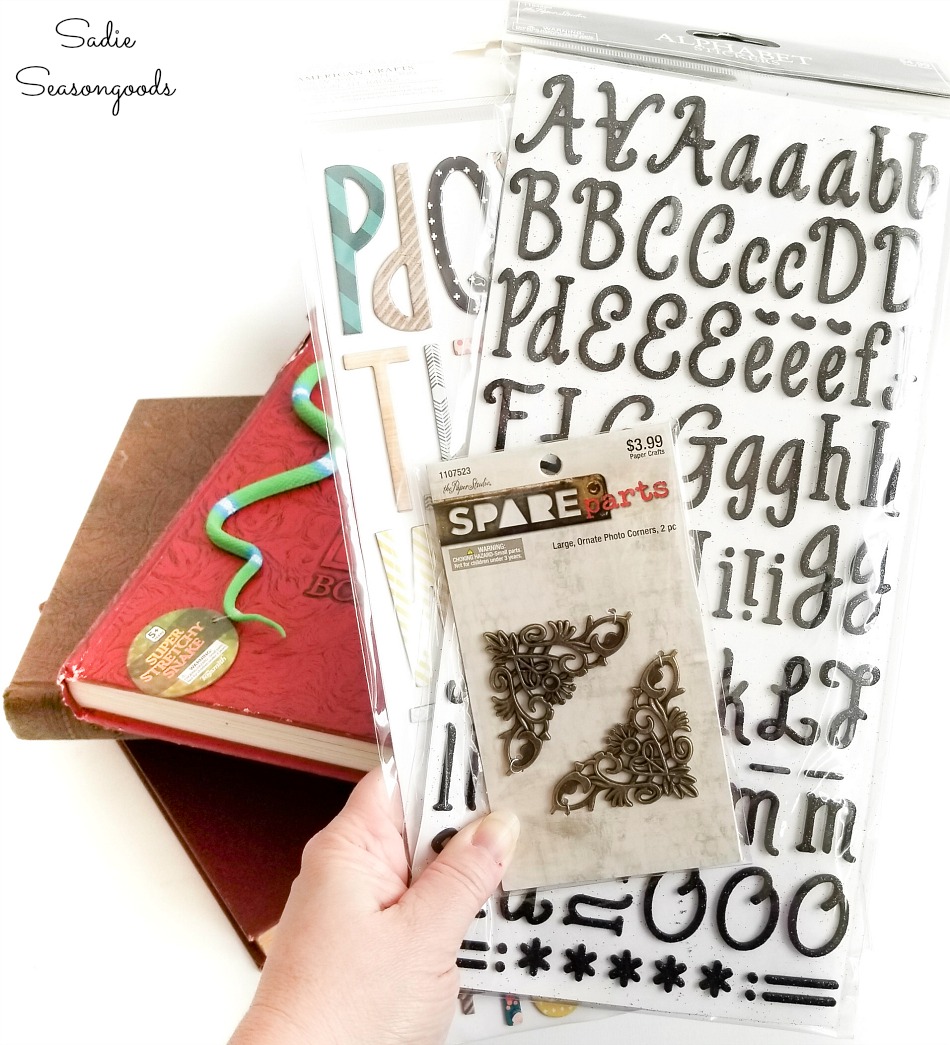 I also gathered various paints, brushes, gilding waxes, glue, pieces of hardware (like hinges, handles, and clock parts), and leather scraps. This is a fun mixed-media project so use whatever you can scavenge or already have on hand!
I made three different old spell books, all using slightly different crafting techniques to yield varying styles.
This post contains affiliate links for your crafting convenience. As an Amazon Associate, I earn from qualifying purchases. All blue, bold, and underlined text is a clickable link, either to a product or to a related post.
Transforming an Old Yearbook into Halloween Spell Book Decor
I started with the dark red yearbook. I loved the red color but wanted a more mottled appearance.
First, I covered the edges of the pages with painter's tape before brushing on the blackest latex paint I could find. While the paint was still wet, I blotted it over and over again with a crumpled-up paper towel.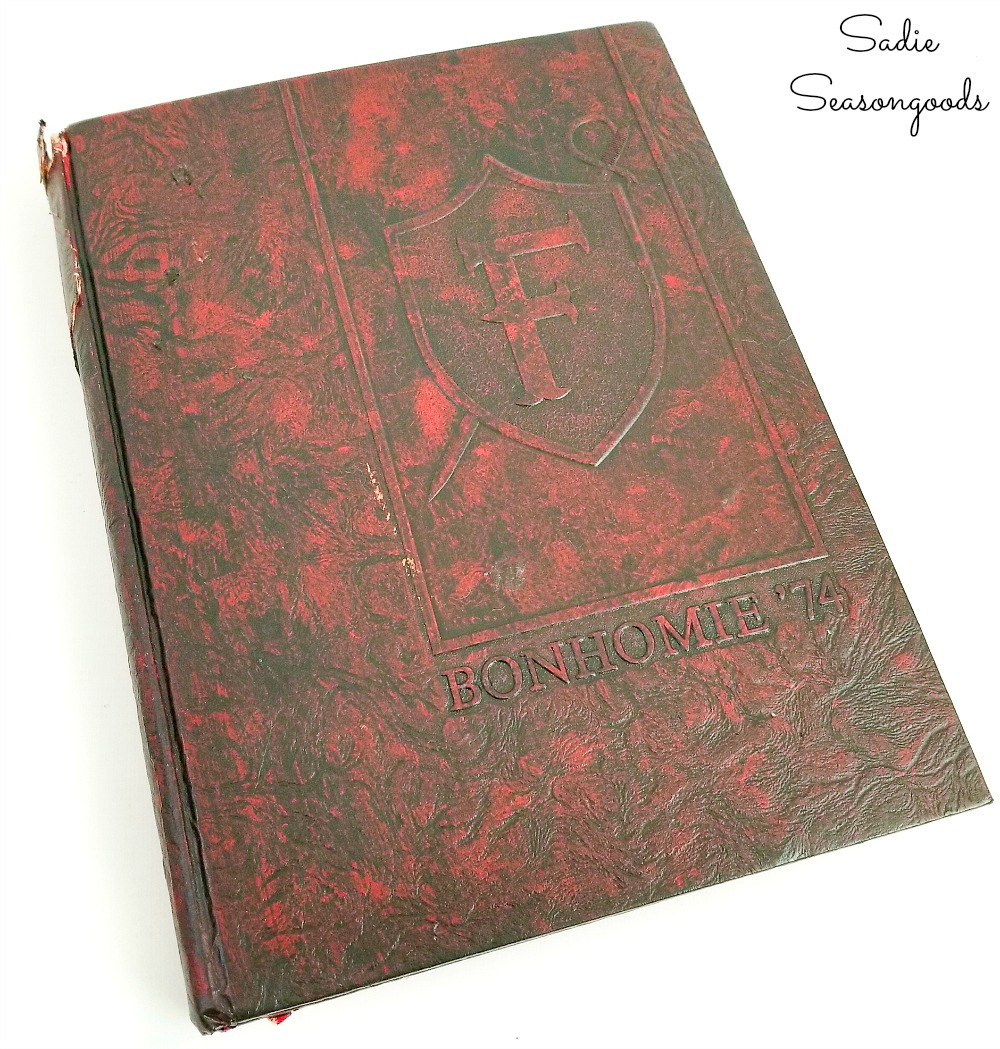 Then, I rubbed on antique gold wax to various pieces of hardware and glued them on the cover. I also use the same gold wax on the shield-shaped embossed design.
All that was left to do was to cover up the yearbook name and graduating year. I used brass jewelry findings leftover from this Christmas project, and flattened metal buttons leftover from this jewelry project to do so.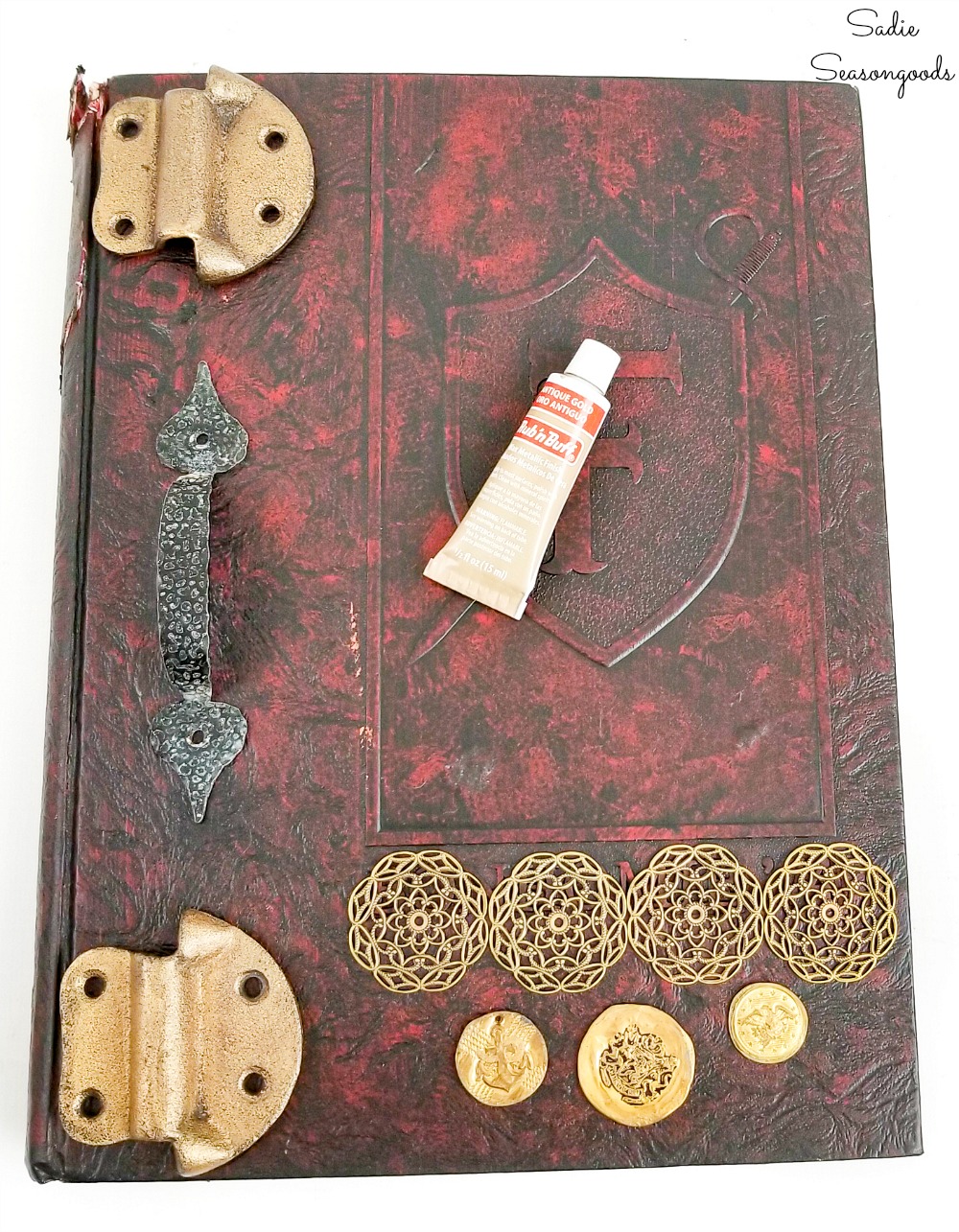 To finish it off, I removed the painter's tape from the pages and brushed on metallic craft paint to gild the edges in a fiery copper.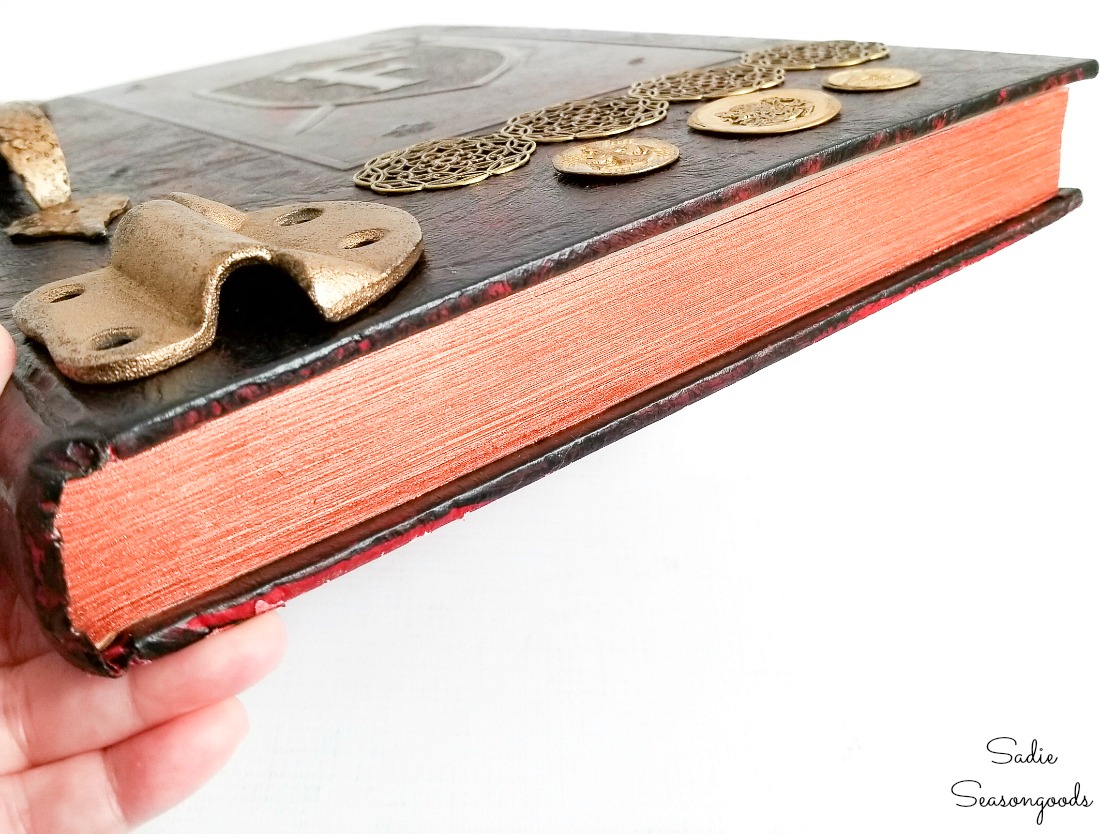 When all was said and done, my Halloween spell book was done! And I ABSOLUTELY LOVED IT.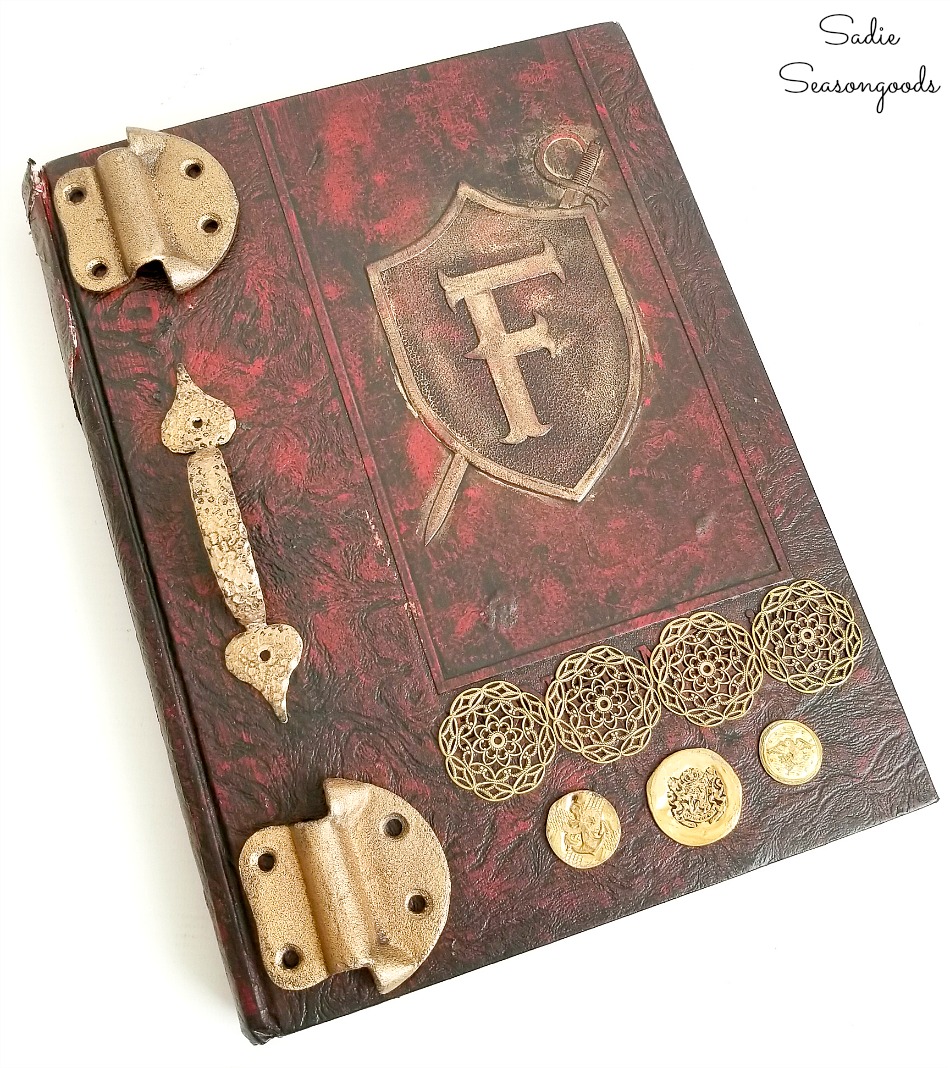 Altered Book Ideas for Old Yearbooks
For this Halloween spell book, I decided to incorporate some of the rubber snakes and bugs.
First, I arranged everything on the cover and snapped a photo so I could recreate it later.
The texture of this particular old book reminded me of lizard skin, so I brushed on green paint (leftover from this cabinet makeover). Instead of blotting the paint, however, I wiped off some of the paint with a folded paper towel.
This left most of the green paint, but took enough off to allow the original brown to peek through. It gave the old spell book a nice "reptile skin" effect!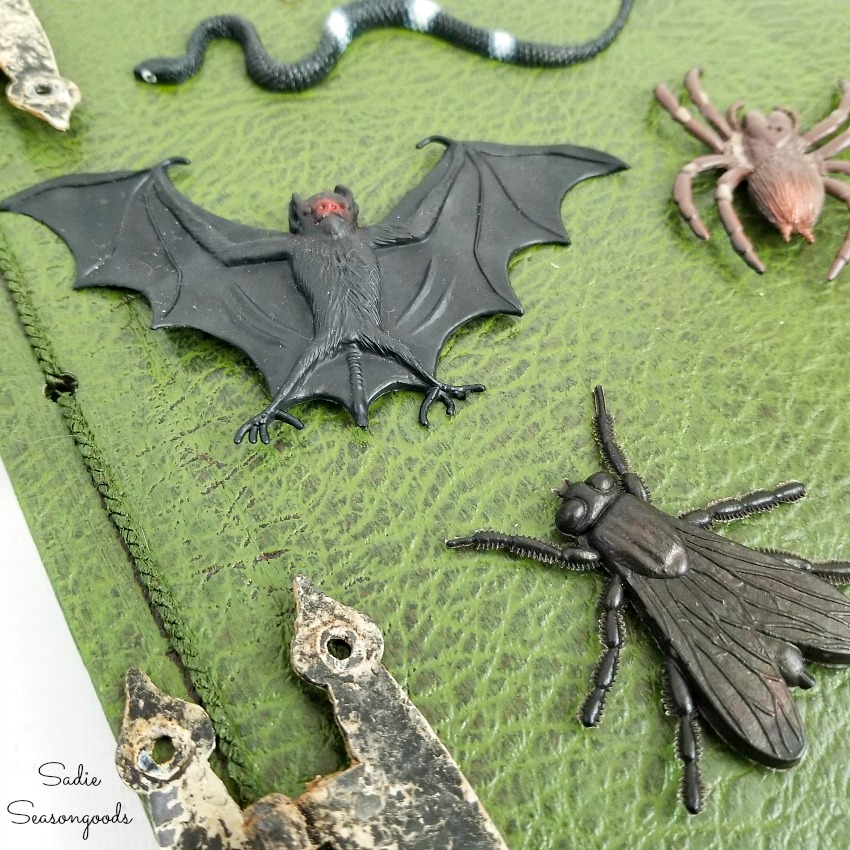 Next, I spray painted the sticker letters gold and then glued everything in place, using my original photo as my guide.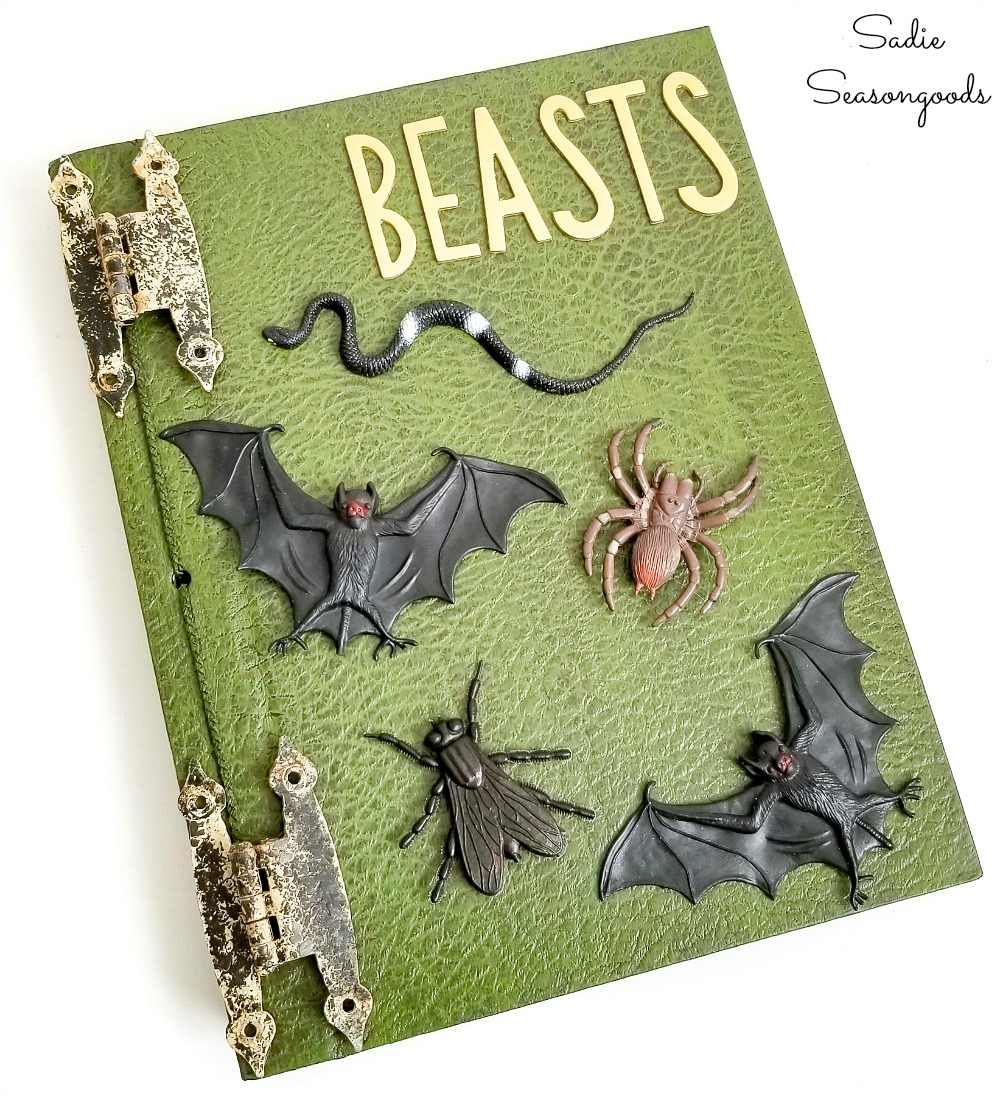 And just like the antique spell book I had created previously, I gilded the edges of this Halloween spell book with gold craft paint.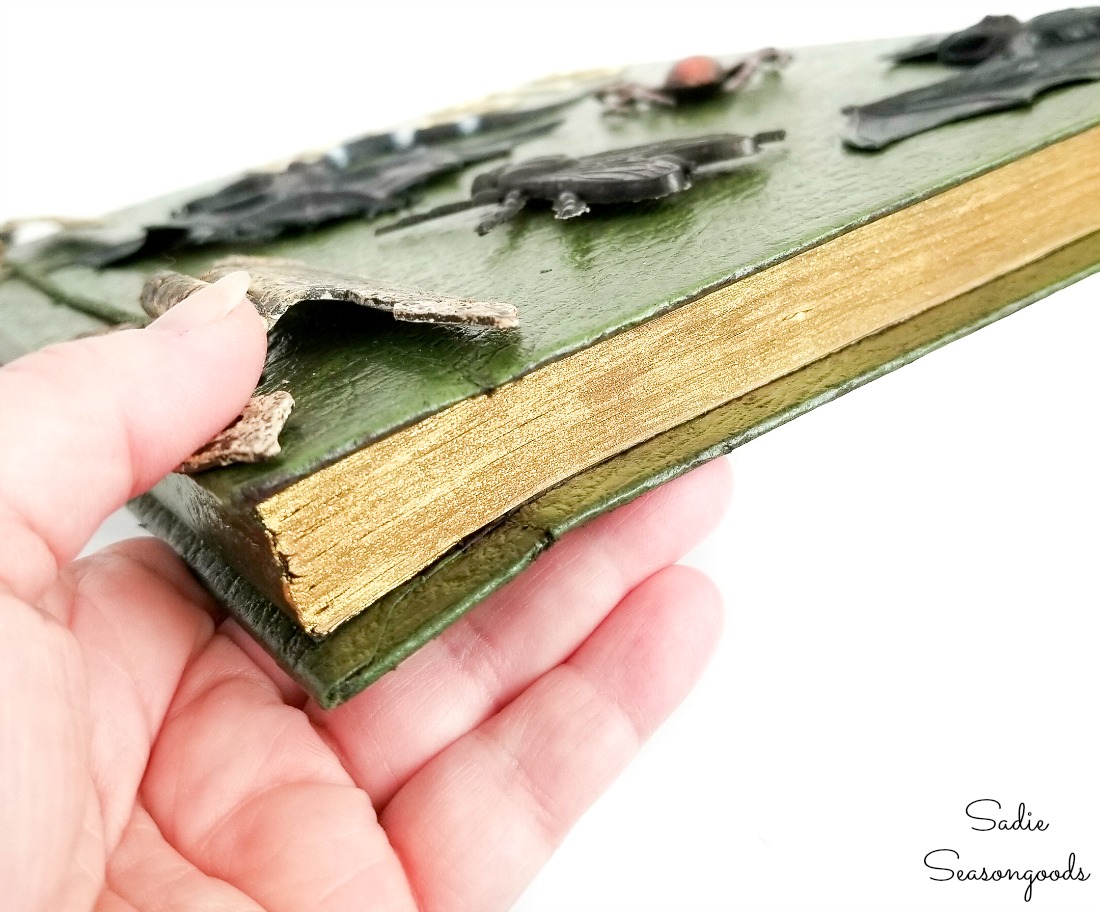 Halloween Spell Book for Spooky Decor
For this Halloween spell book, I wanted to go with more of a steampunk style.
I gathered up all the gears I could find as well as some old keys. To cover up the yearbook name, I used a strip of scrap leather (under the keys).
I arranged everything on the cover and snapped a photo to recreate it after painting.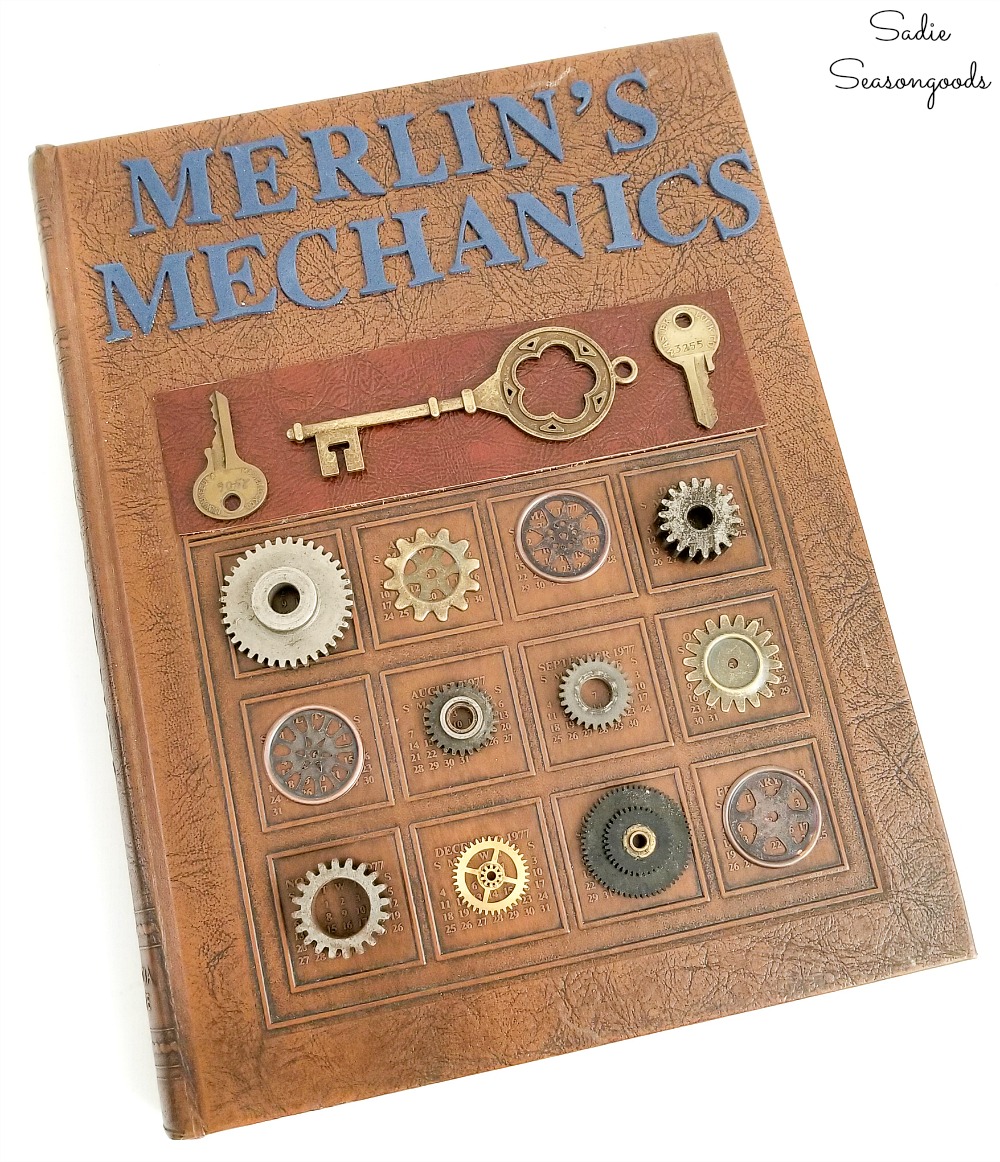 After sticking on the scrapbook sticker letters, I painted the entire book with a medium gray craft paint.
Then, I glued the gears and keys in place before re-painting the letters and page edges with a silvery gold craft paint.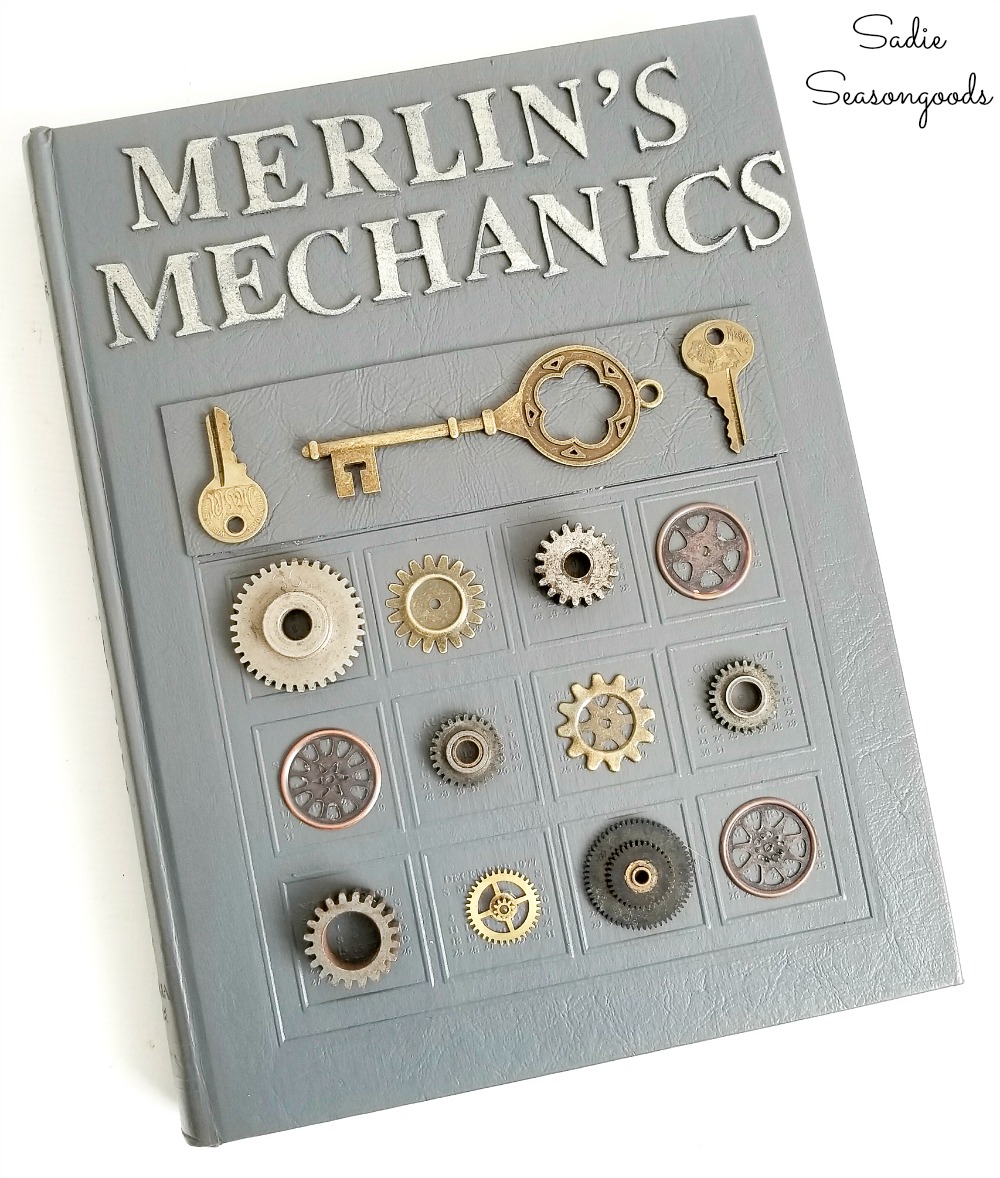 I'm so in love with this one. I think I need to make more Steampunk books, don't you?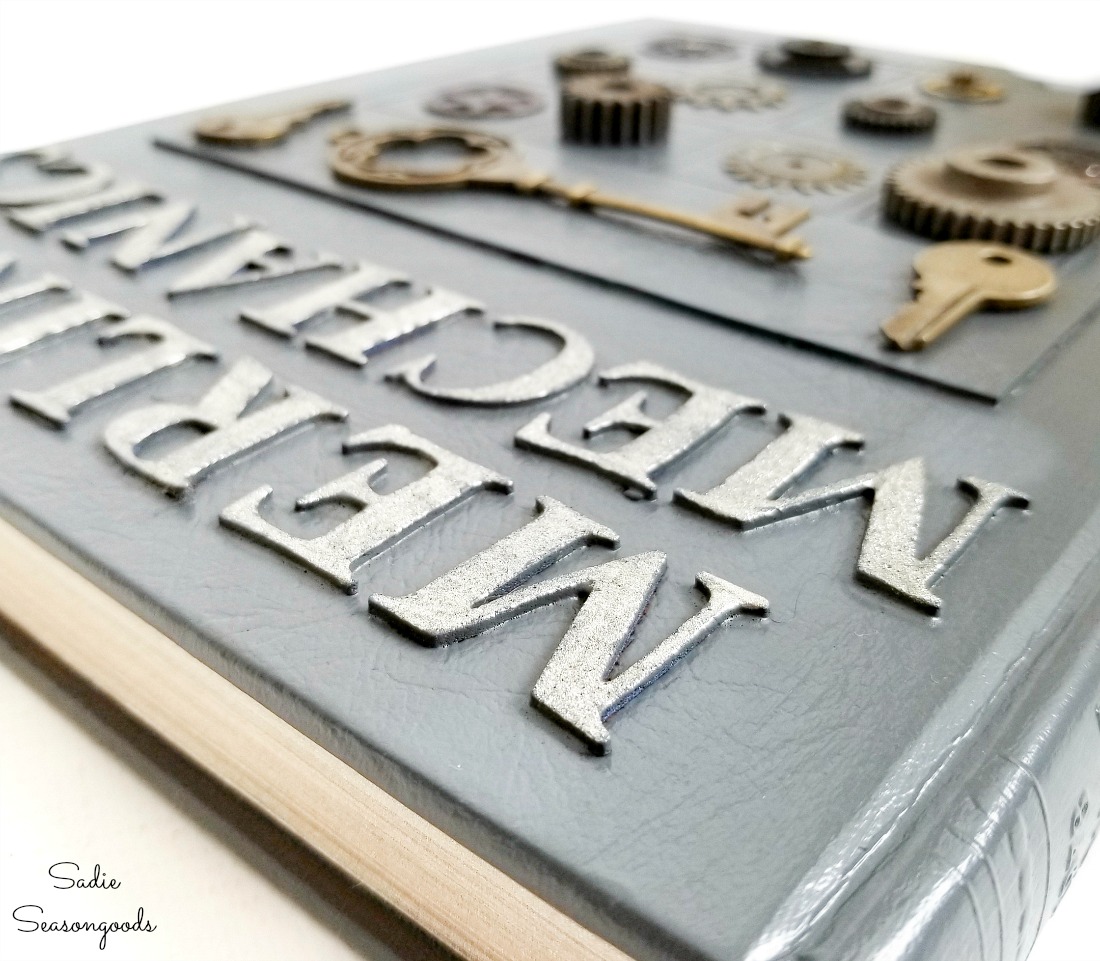 And just like that, the last of my Halloween spell book decor was done!
Making a Halloween Spell Book from an Old Yearbook
These were SO incredibly fun to create. And they really are perfect as Harry Potter crafts as well as Halloween book decor.
Plus, gathering all the decorative elements for each Halloween spell book was like a magical scavenger hunt.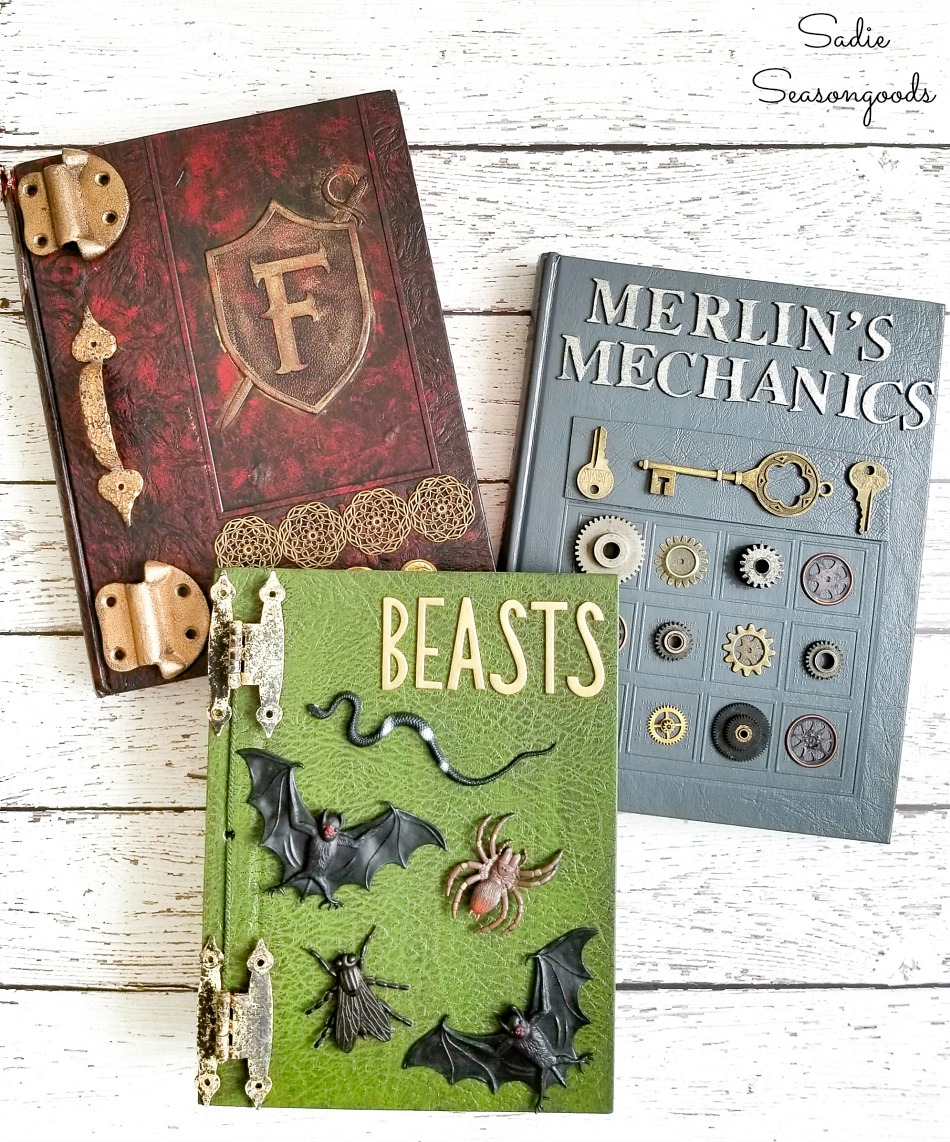 This project is also ideal for a Halloween crafting part. Gather your pals and ask them to bring all kinds of crafty products so that you can swap and share. That way, you can make your Halloween spell book in your own personal style.
I'm also excited to announce that my first book is now available! If you enjoy upcycling clothing and simple sewing projects, then you will love my book on flannel crafts!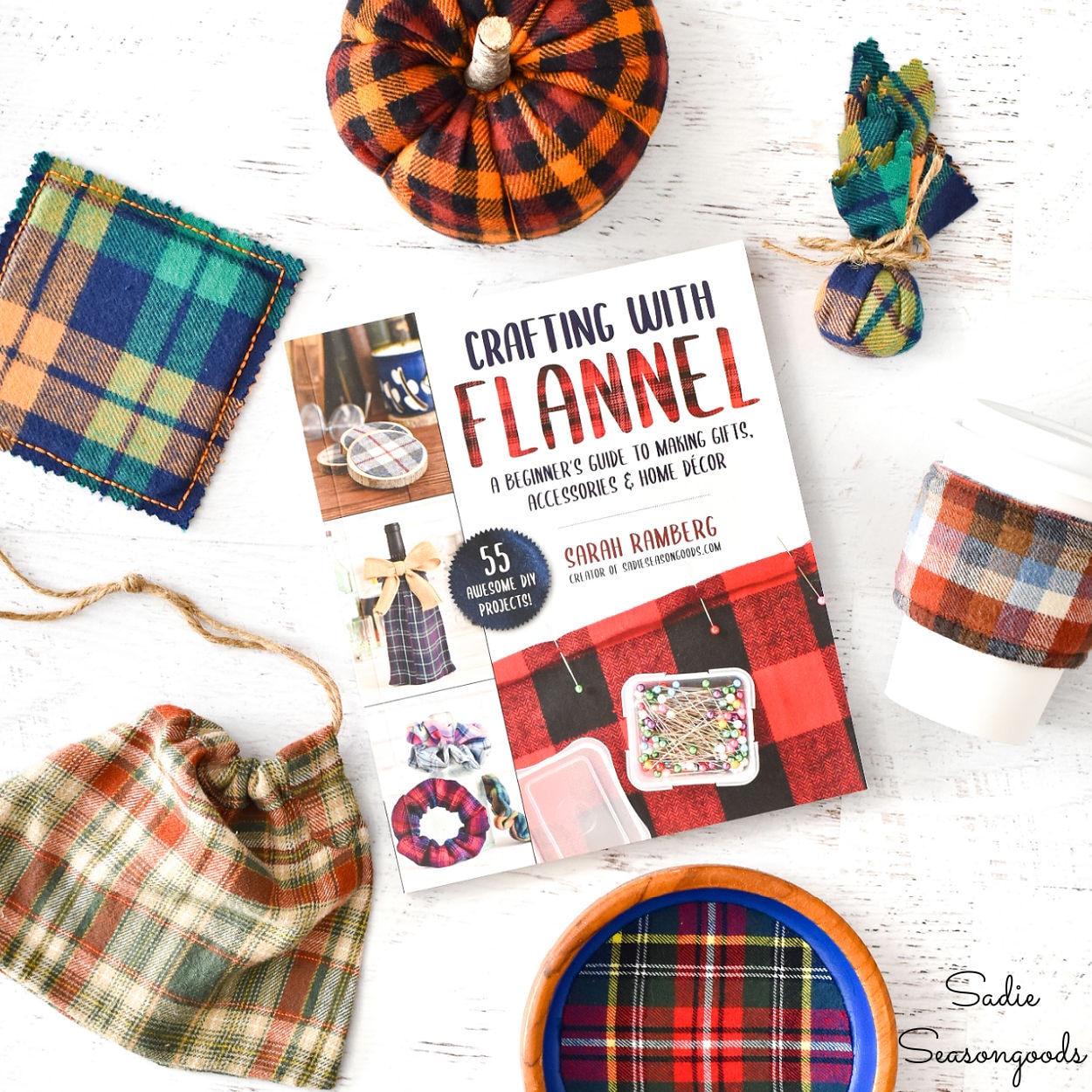 If you enjoyed this upcycling idea for a Book of Spells and Harry Potter crafts, then you'll love these potion bottles from a vintage spice rack!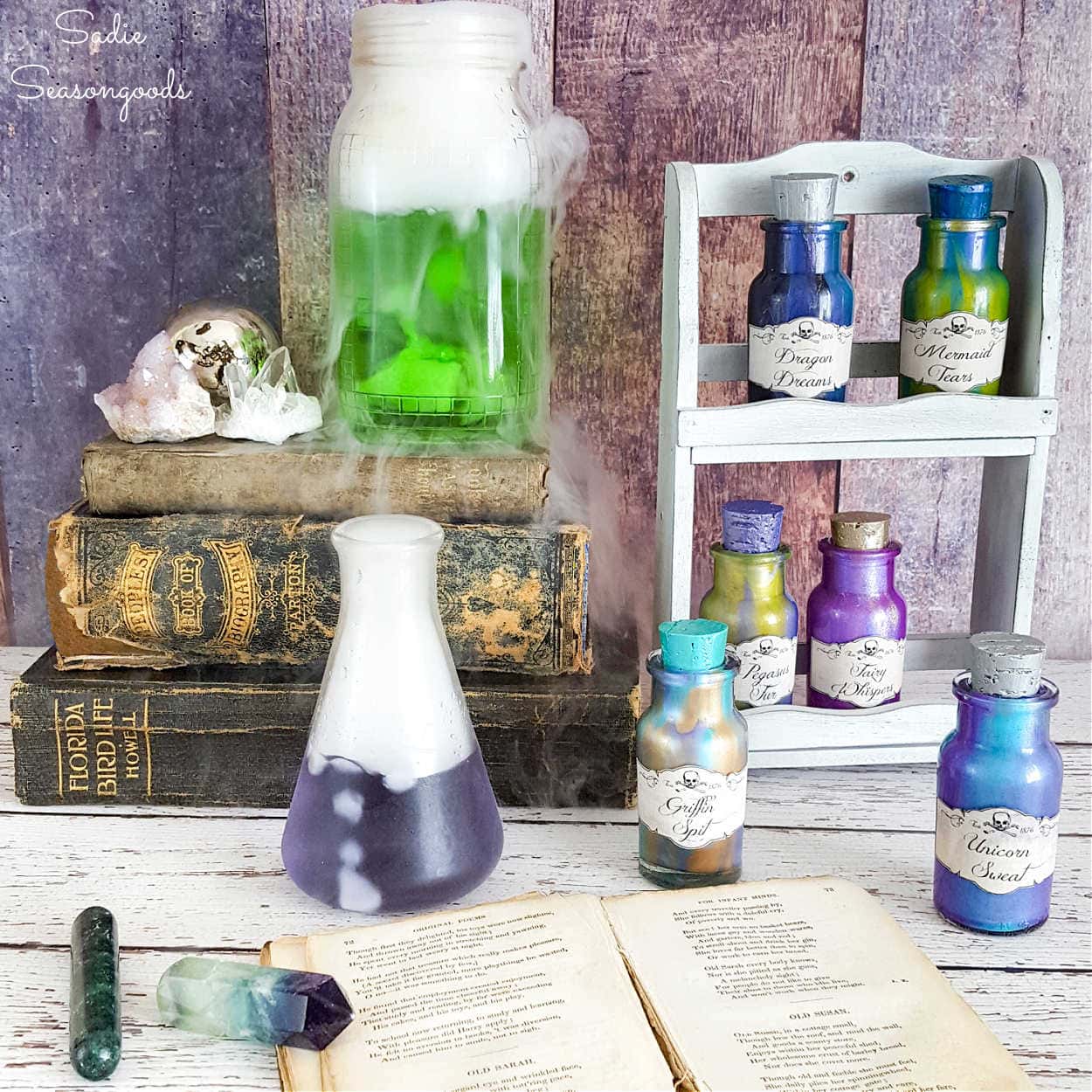 Craft on!
S
Want to be notified when I publish my next upcycling project tutorial?
Subscribe to Blog via Email
Join me on Social Media:

PIN ME!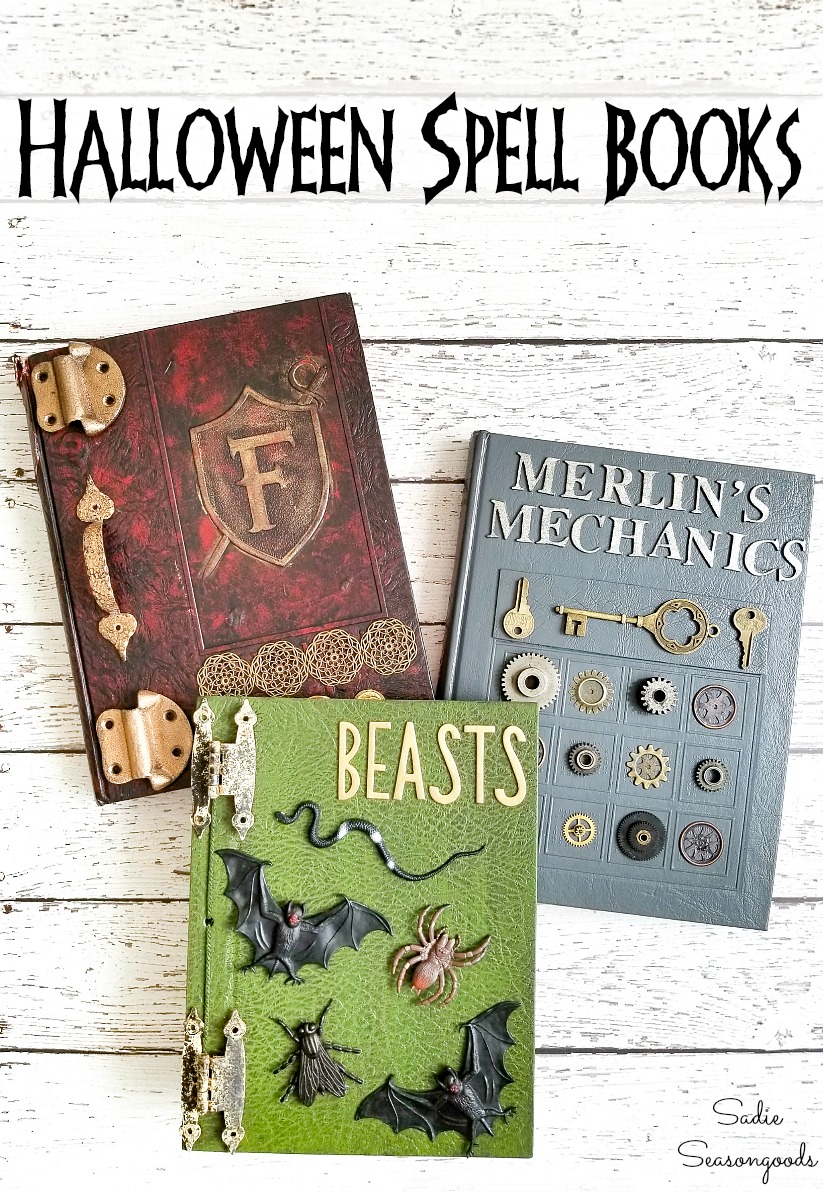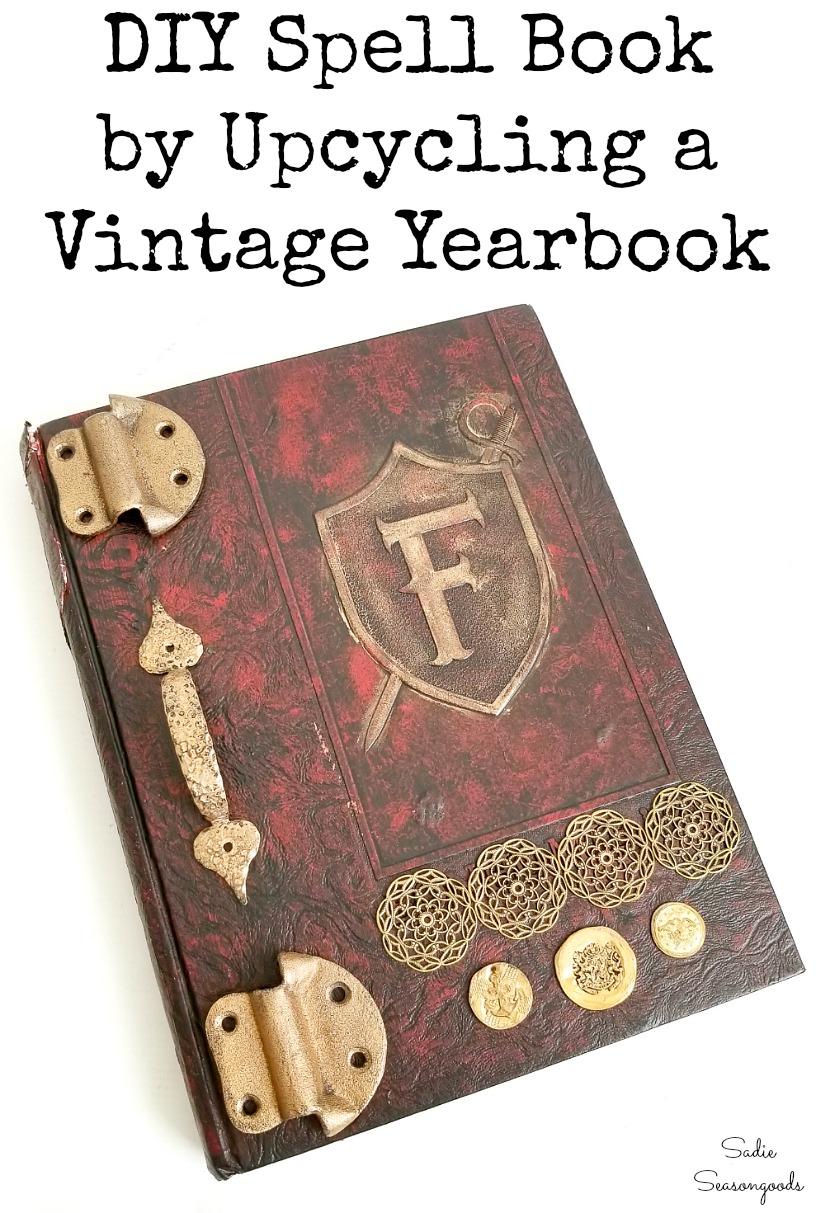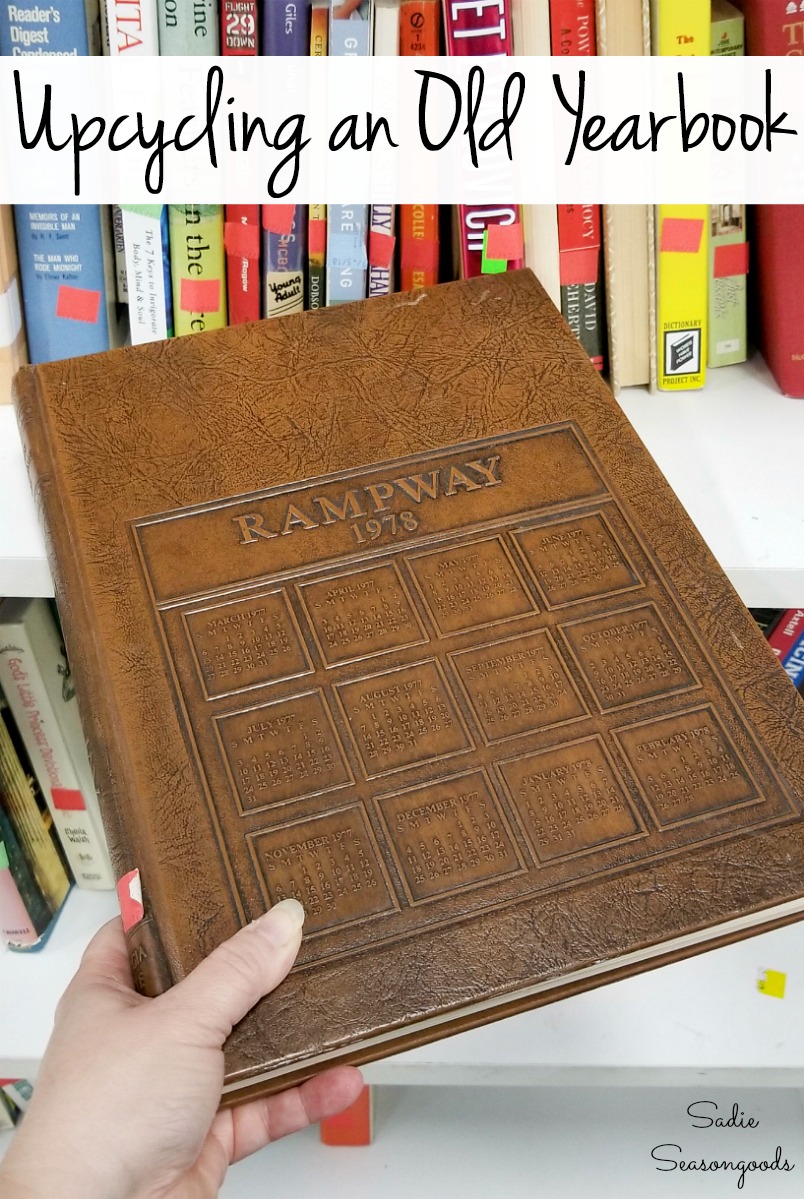 Sarah Ramberg is the owner of Sadie Seasongoods, a website that celebrates all things secondhand. From upcycling ideas and thrifted decor to vintage-centric travel itineraries, Sadie Seasongoods is a one-stop shop for anyone who loves thrifting and approachable repurposing ideas. Sarah is also the author of "Crafting with Flannel" and has been featured in numerous media outlets and magazines.