I absolutely love coming up with new upcycling ideas and repurposed projects for Halloween decor. And this time, I was inspired by the one and only Harry Potter. I had found this vintage spice rack and wanted to transform it into a set of magic potion bottles.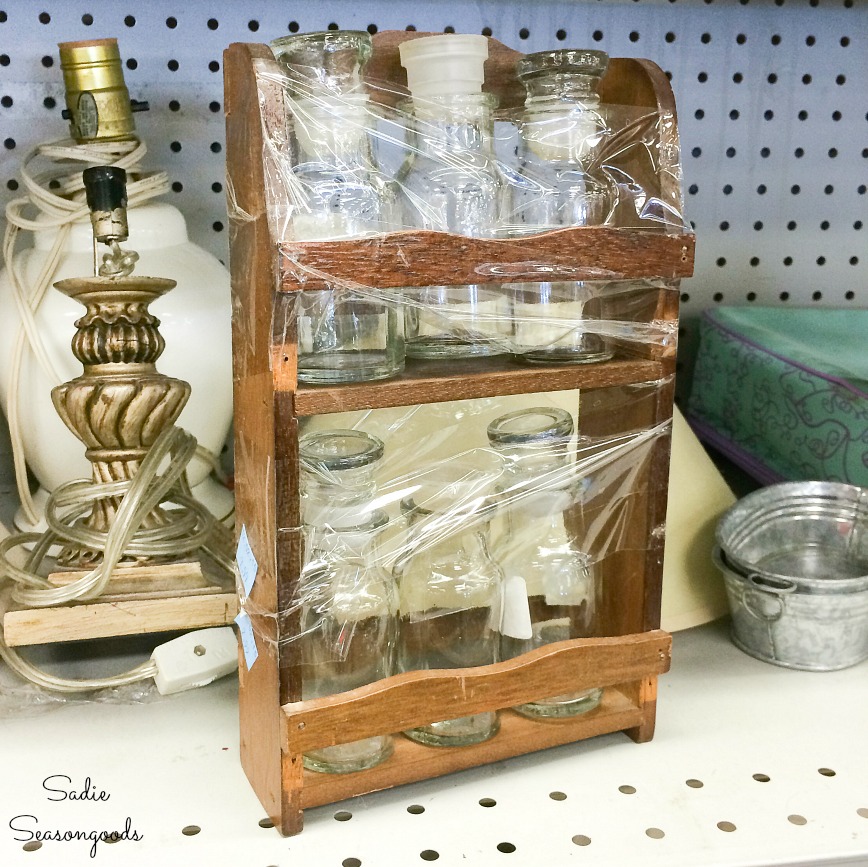 The vintage spice rack was missing two cross slats in the front, and the bottles had a motley assortment of caps (some glass, some plastic). The whole thing was also covered with ripped off labels and thrift store tape.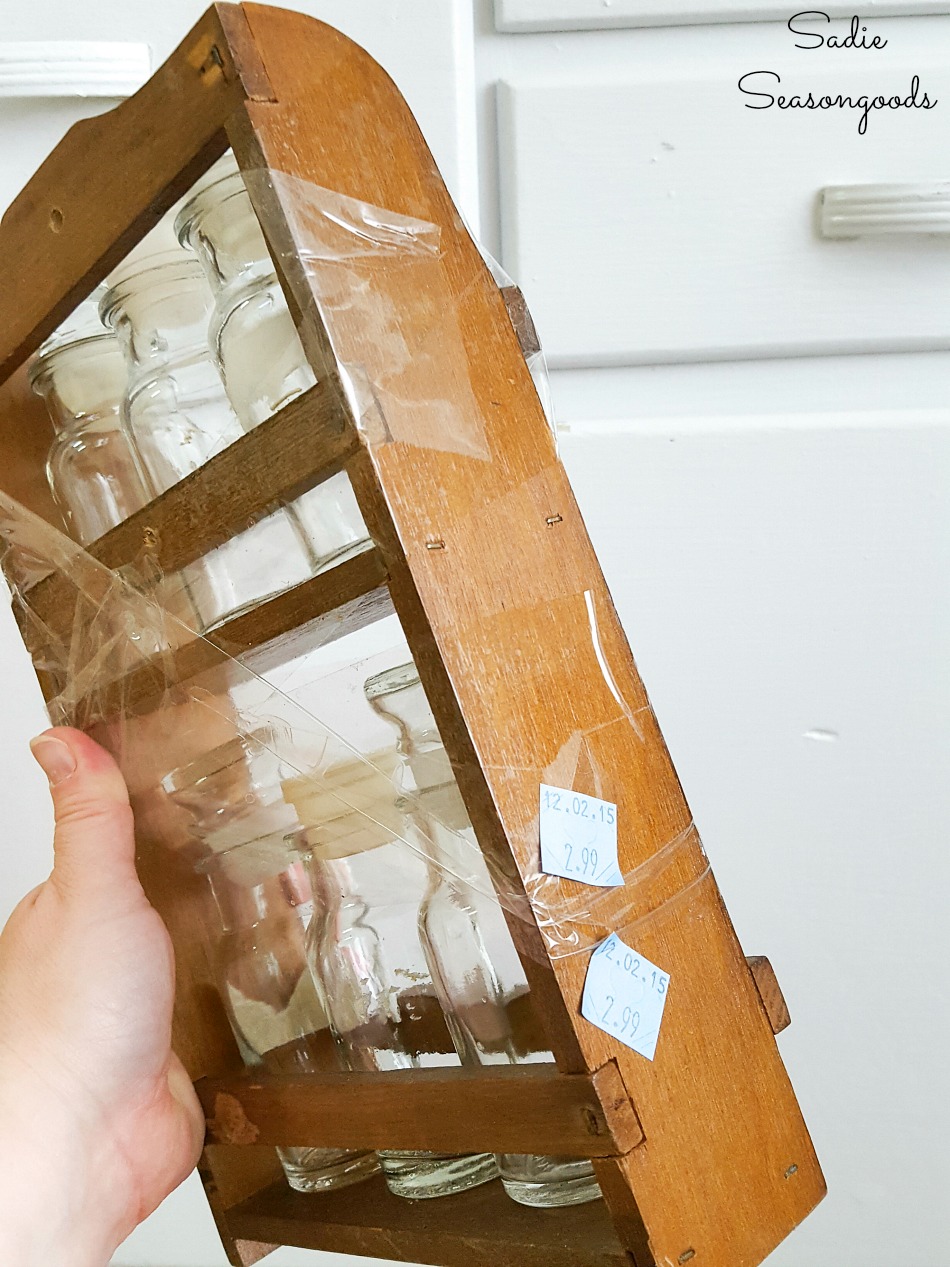 So it was a prime candidate for an easy upcycling project. And yet another Halloween project inspired by Harry Potter- remember these Halloween spell books that I made?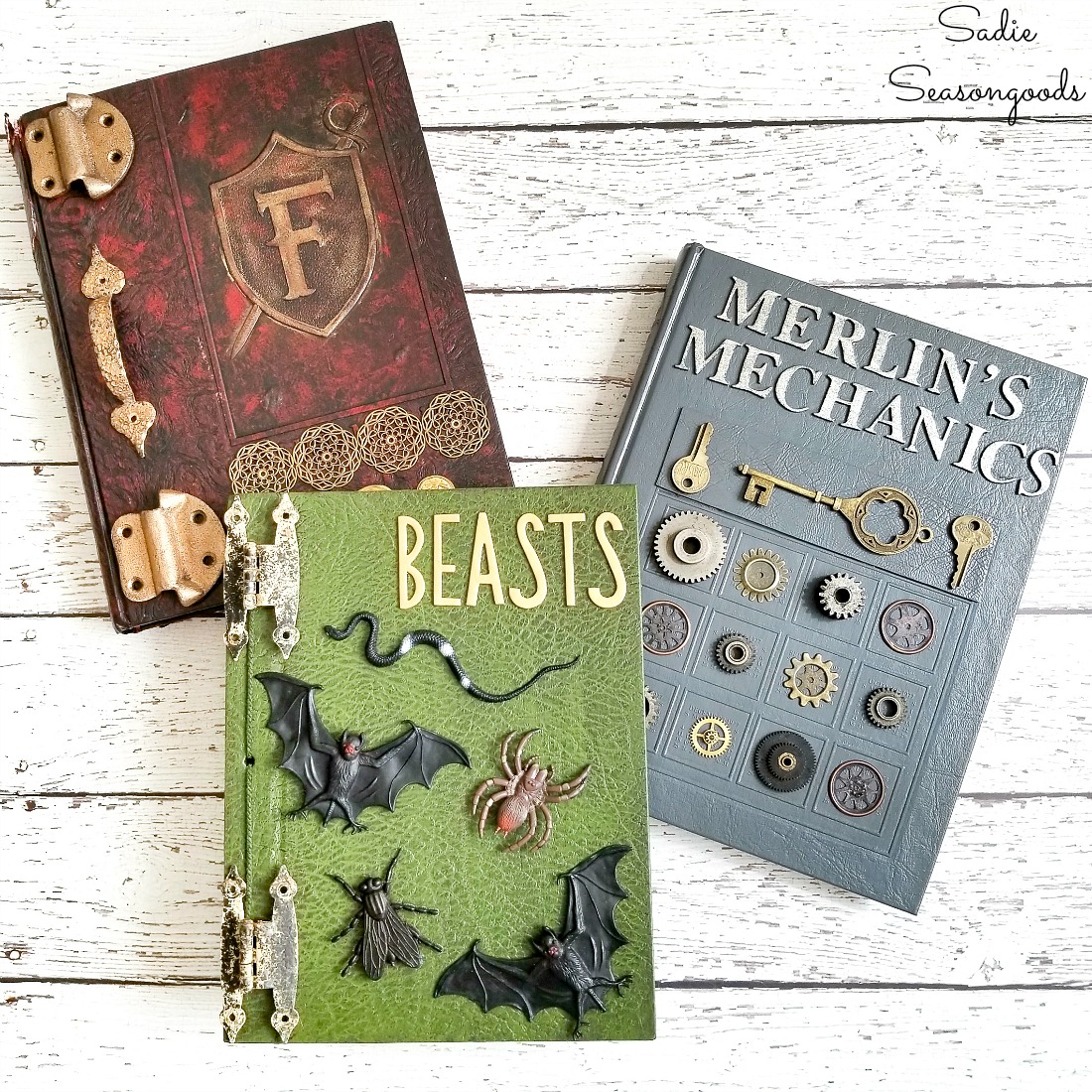 But instead of old books this time, I'd be using this old spice rack. In other words, DIY potion bottles, here we come!
This post contains affiliate links for your crafting convenience. As an Amazon Affiliate, I earn from qualifying purchases. All blue, bold, and underlined text is a clickable link, either to a product or to a related post.
Color Shift Paint for Magic Potion Bottles
Since I had already created spooky "poison" bottles several years ago, I was excited to go in a "Halloween magic" direction this time. The dainty bottles of the spice rack were ideal for little potion bottles.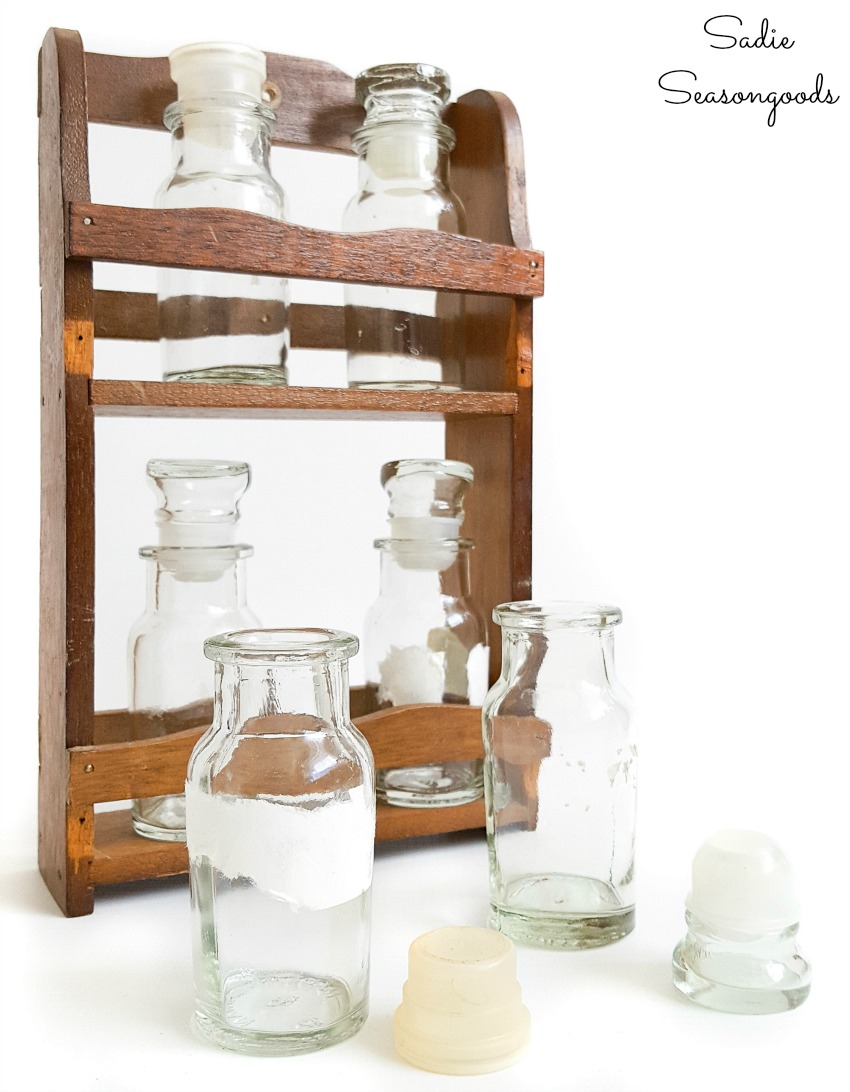 And to do that, I needed just the right paint(s) for the job…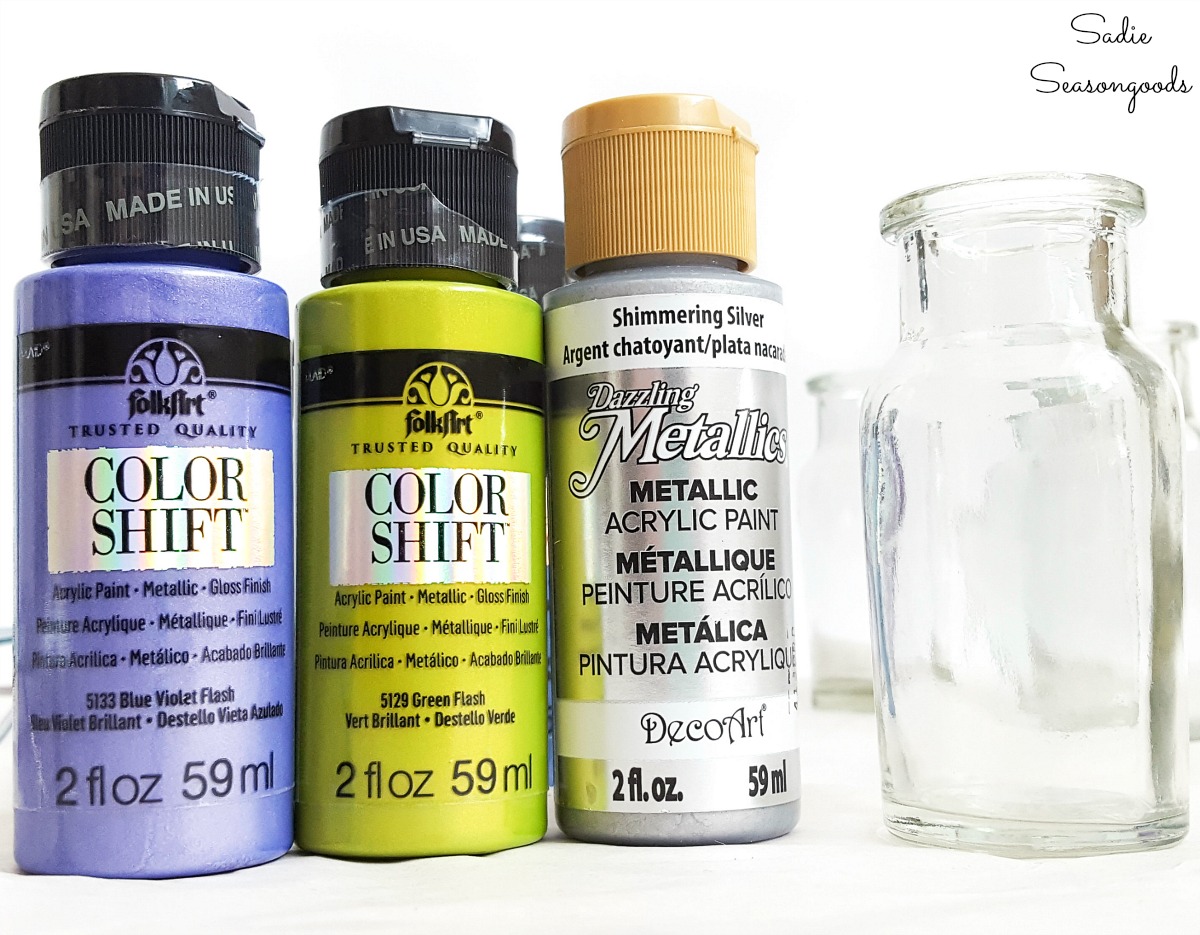 I had never worked with color changing paint or color shift paints before, but they just seemed PERFECT for DIY potion bottles. Don't you think?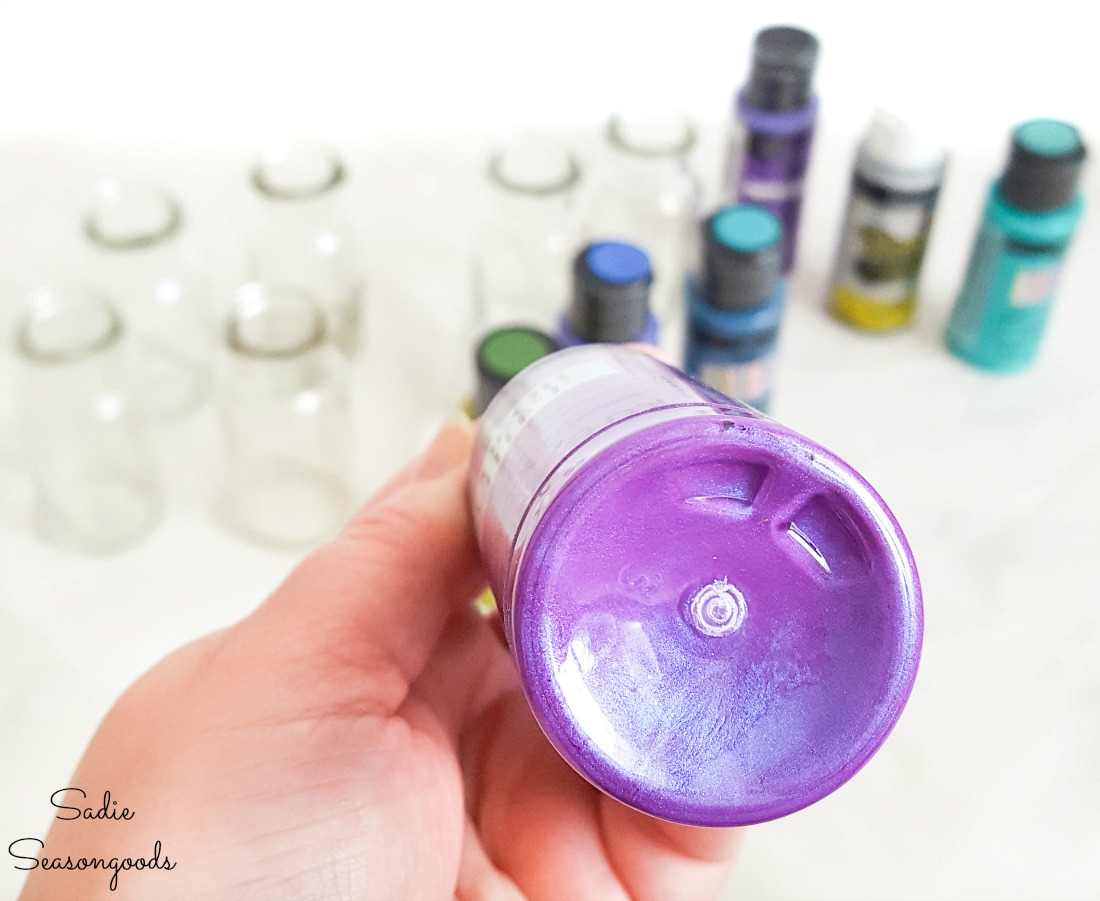 Here's what I did. First, I gathered 2 or 3 of the color shift paints (and/or regular metallic craft paint) that were in contrasting colors.
Then, I dribbled paint randomly inside each glass spice bottle.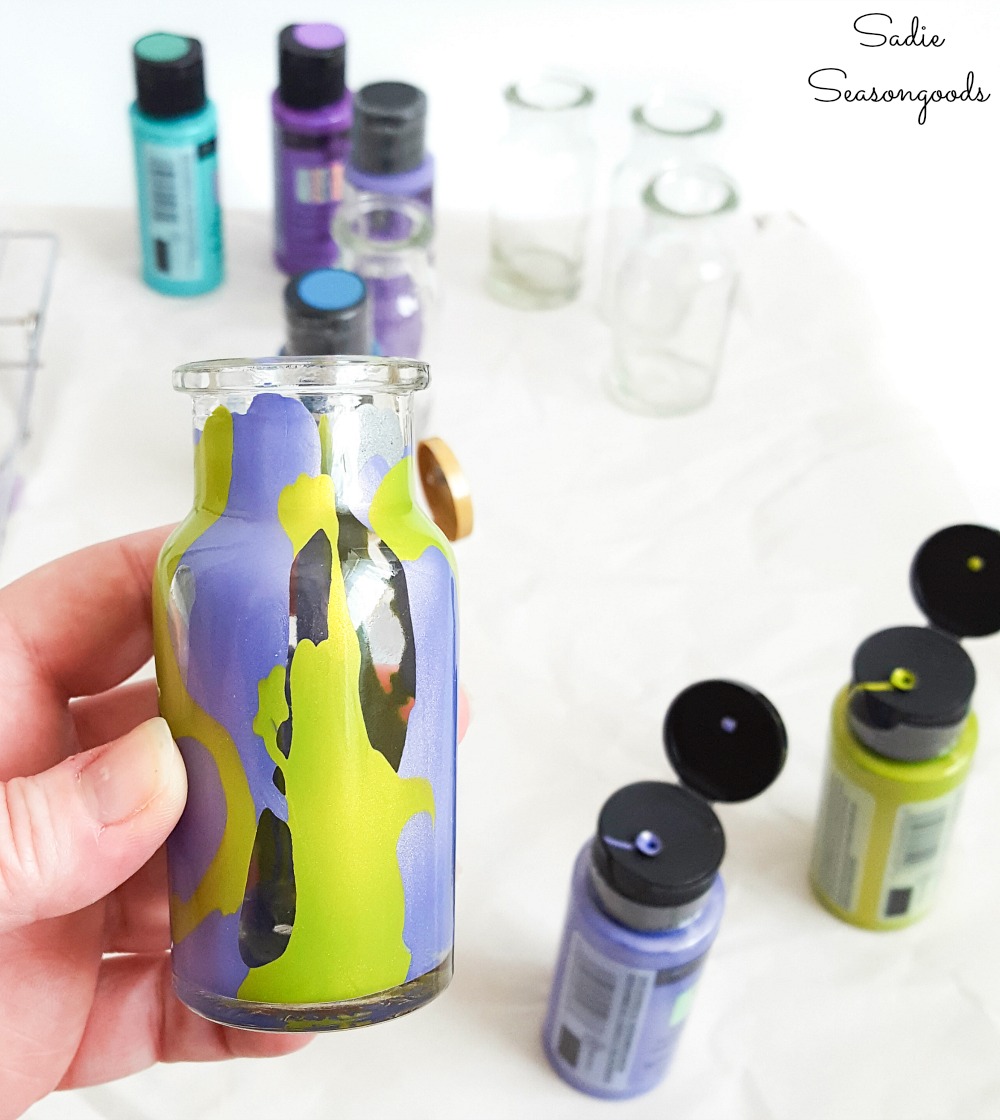 Next, I covered the opening of the bottle with a folded paper towel and shook the bottle vigorously. I also rolled it and/or rotated the bottle as I shook it. All the while, I made sure to hold the paper towel in place over the opening.
This way, I could make sure that the entire interior was covered in paint AND to also ensure some asymmetrical mixing and swirling of the colors occurred.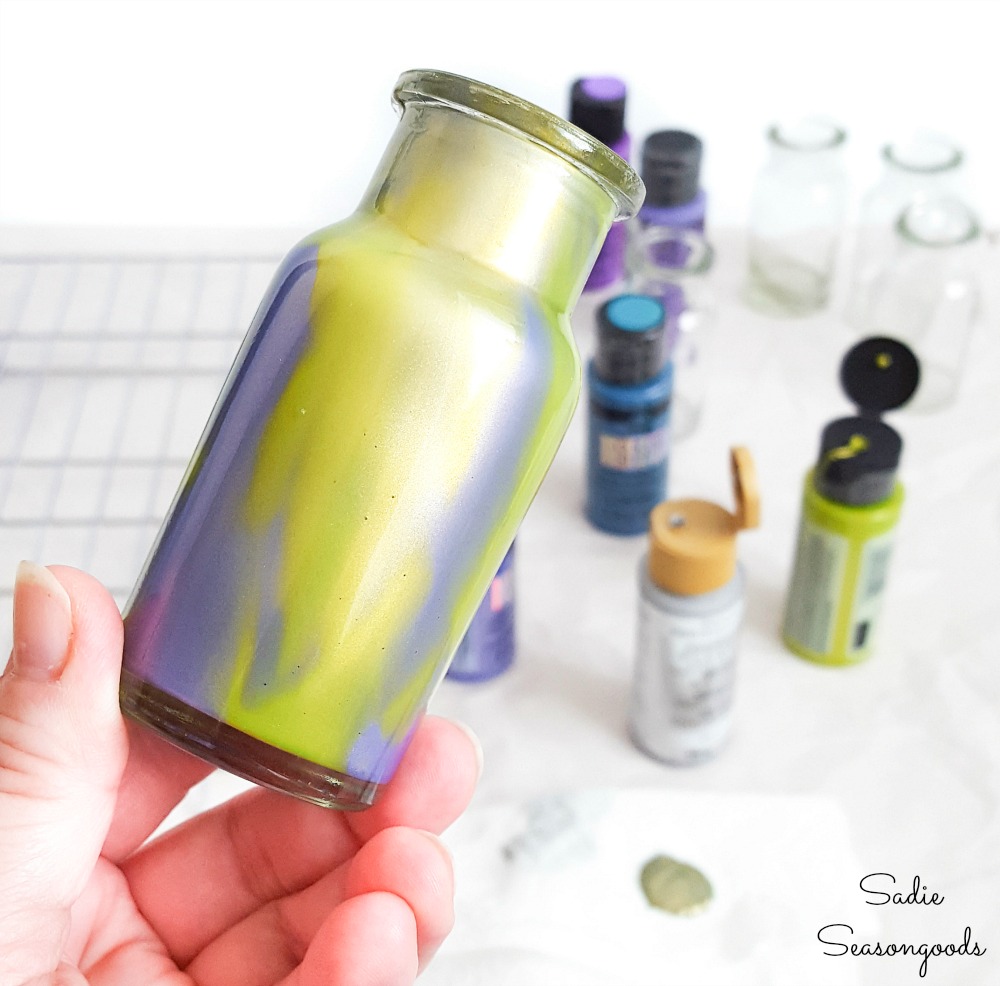 There, doesn't that look magical and Harry Potter-ish?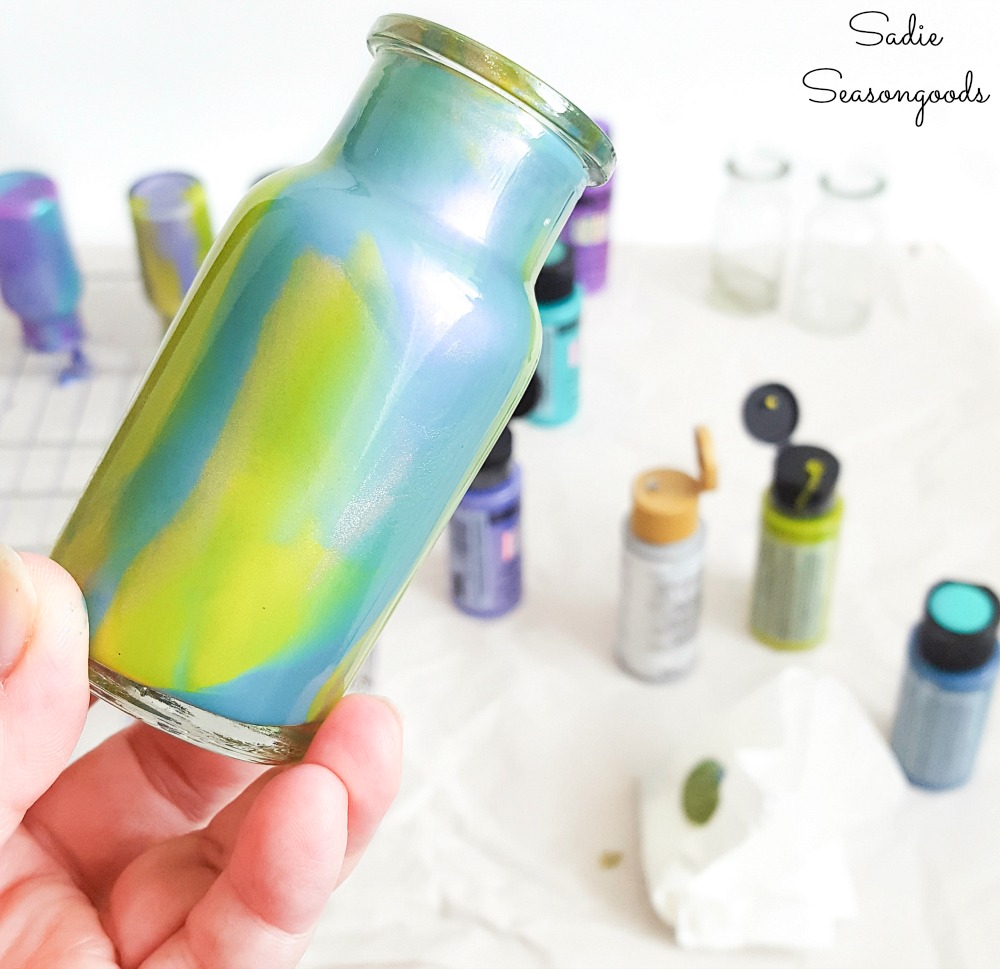 That's when I started to REALLY get excited about these Halloween potion bottles!
Adding the Potion Bottle Labels
When all of the magic potion bottles had been swirled and whirled, I turned them upside-down on a baking rack to allow excess paint to drain out.
And no worries about that baking rack- acrylic craft paint peels right off when it's dry and I can run it through my dishwasher to sanitize!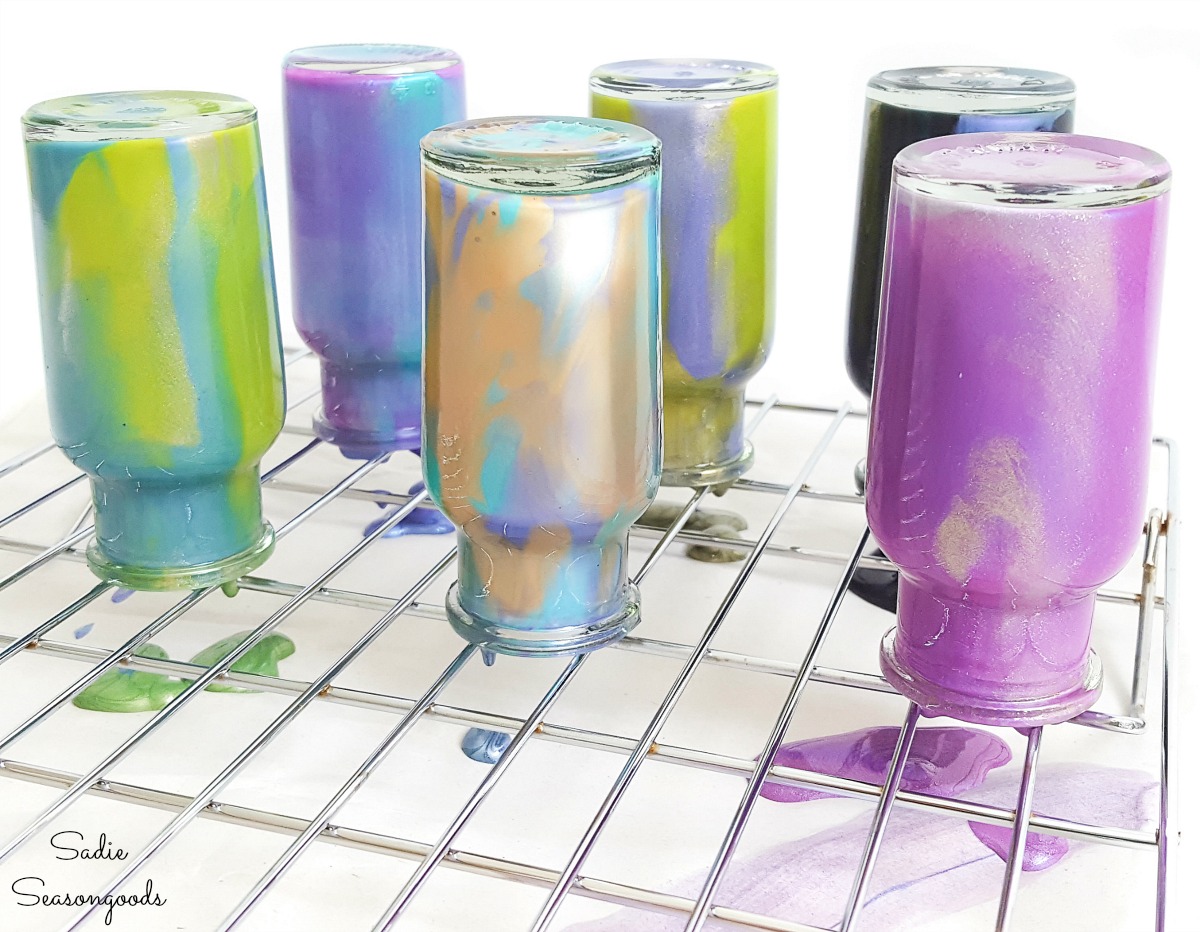 Next, I added some potion bottle labels. I created some fun versions, cut them out, and glued them to Harry Potter bottles.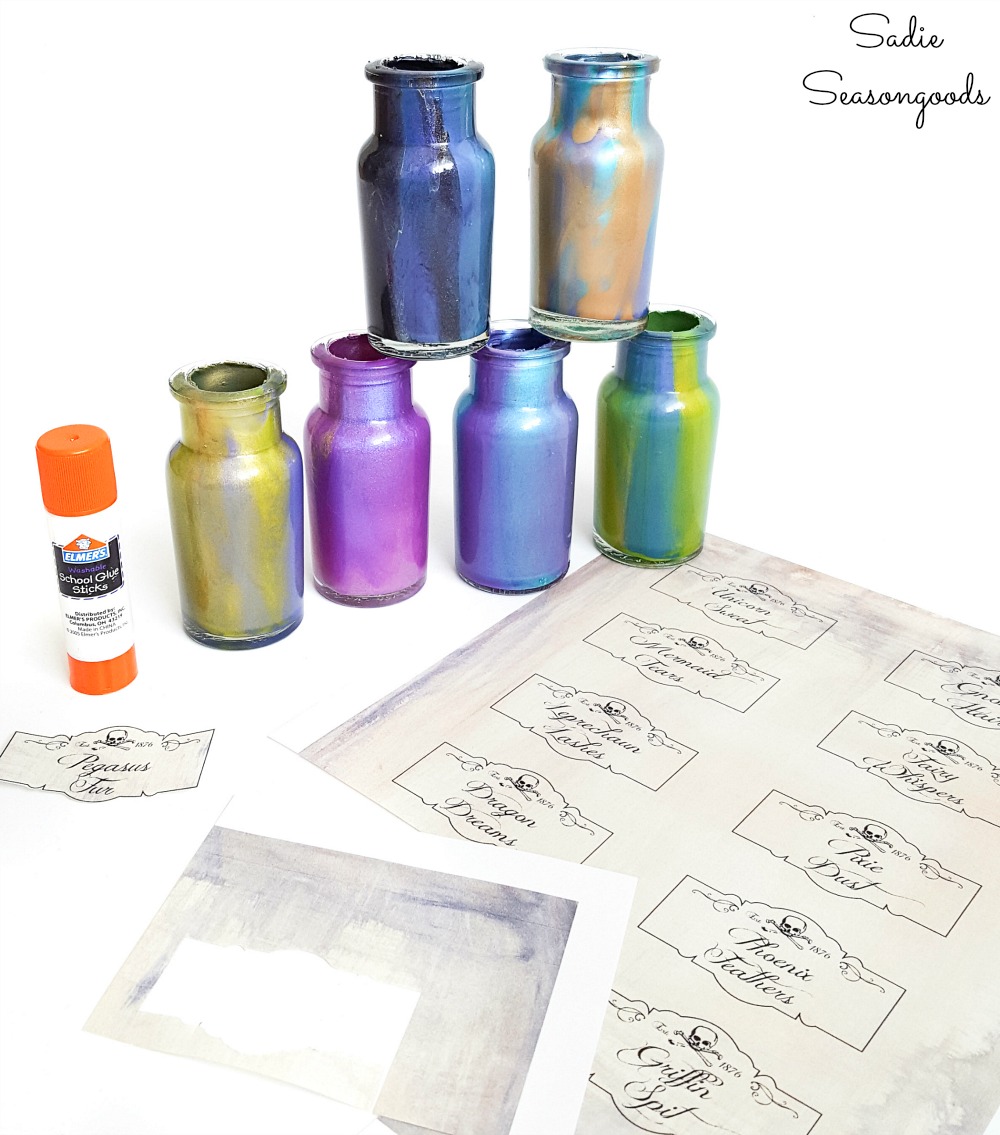 And just like that, I had a set of Halloween potion bottles that were perfect for Harry Potter Halloween decorations. The color shift paint had worked brilliantly and the potion bottle labels were the icing on the cake.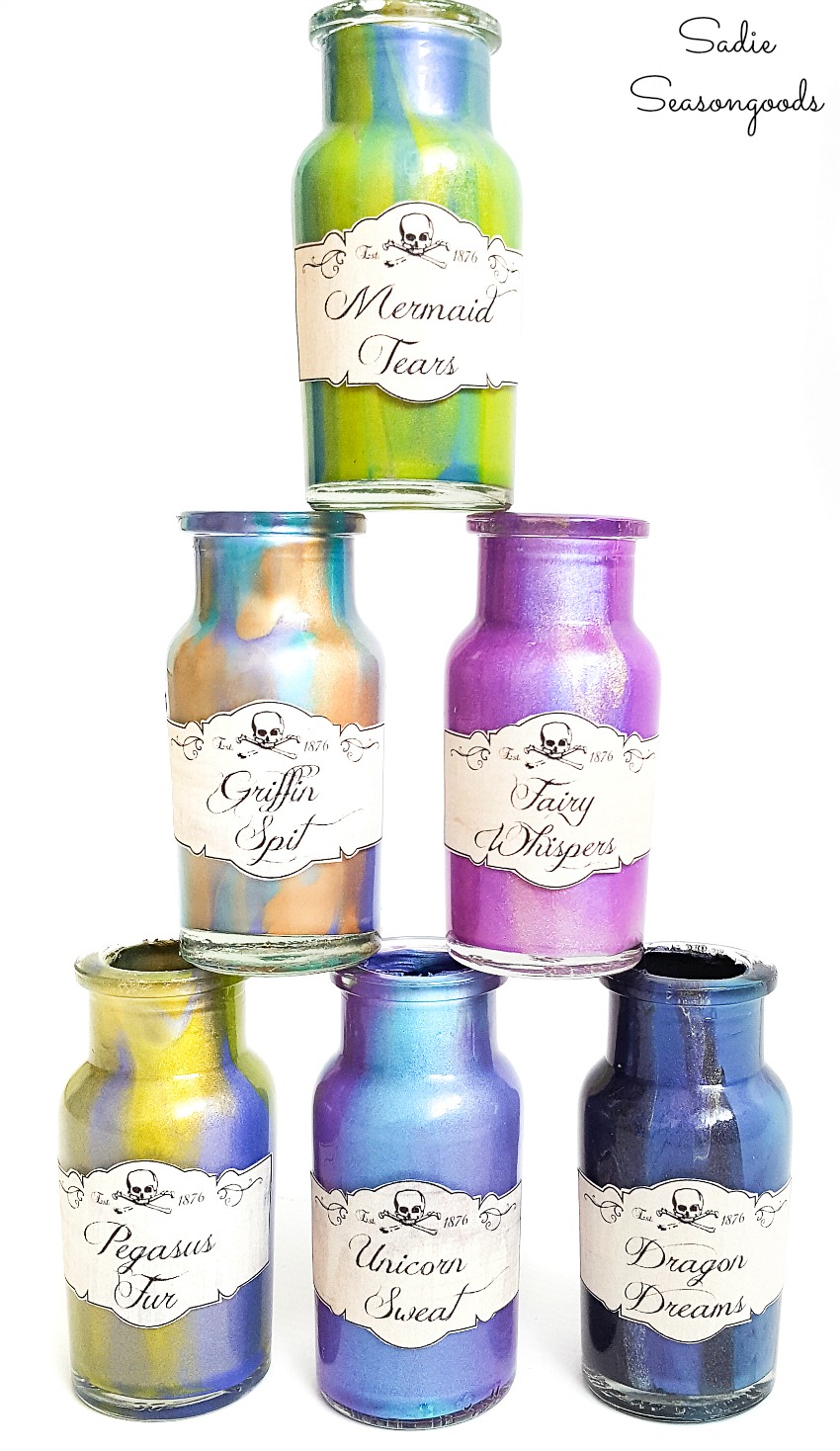 Next, I needed to cap the potion bottles. To give them a more uniform appearance, I swapped out the original mismatched tops for cork stoppers.
I used the same color shift paints on the cork stoppers, as well.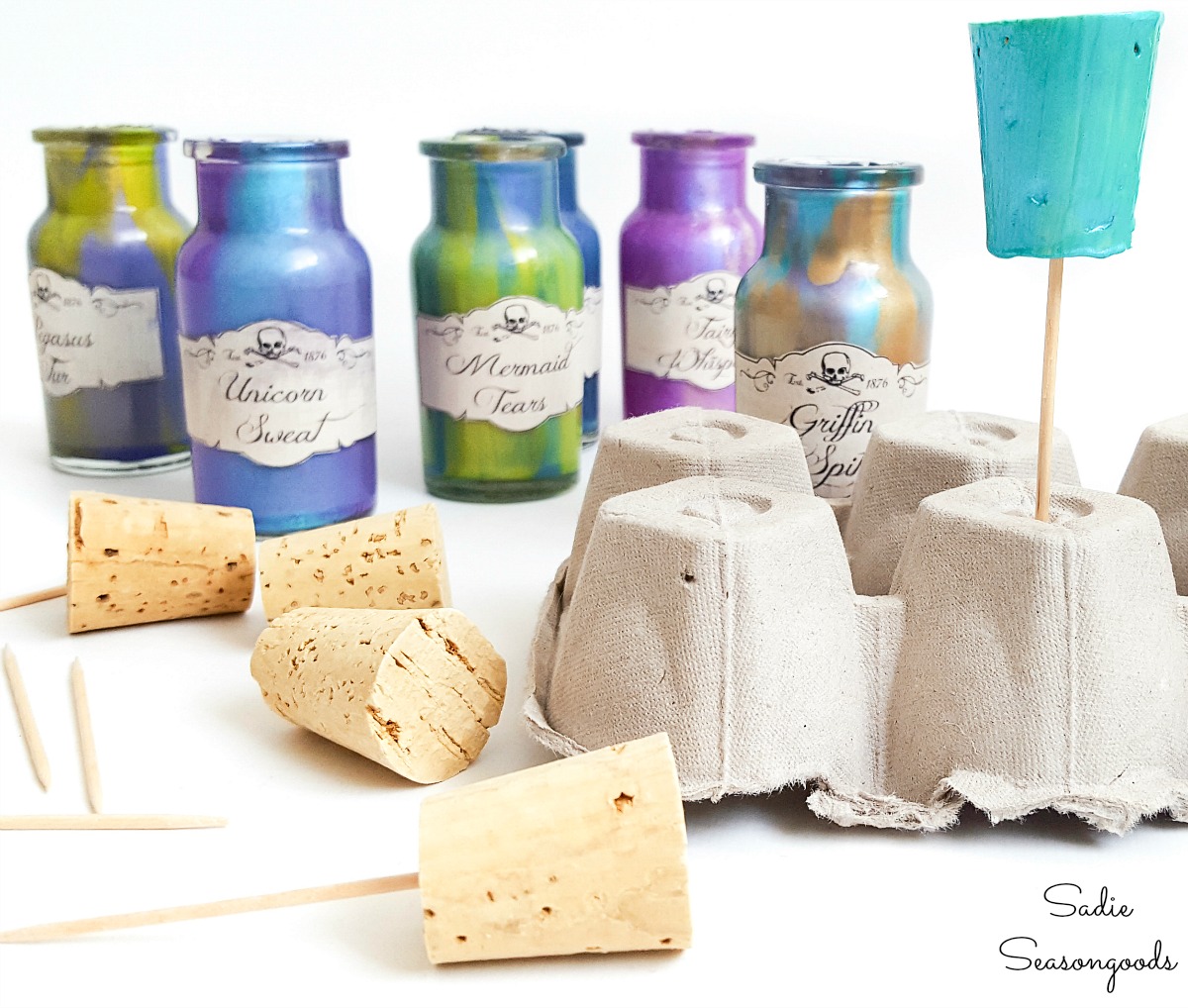 And for the rack itself, first, I pried off the two front slats and moved them lower. I simply re-hammered them in with the nails that came off with them.
Finally, I spray painted the whole thing white, lightly distressed it, and finished it off with a stormy-colored pickling wash.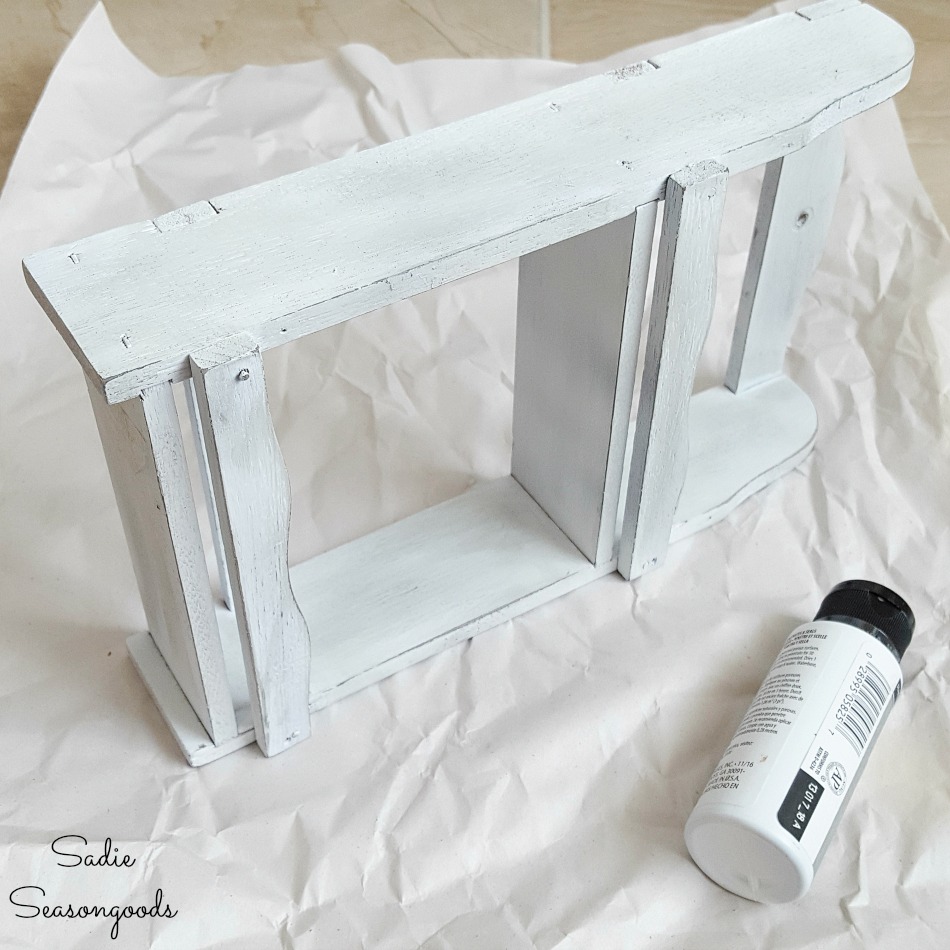 Ready to see my DIY potion bottles all together?
Magic Potion Bottles for Halloween
The vintage spice rack had been completely transformed into a set of magic potion bottles. Aren't they fabulous and fun? Not spooky or creepy at all as Halloween decor.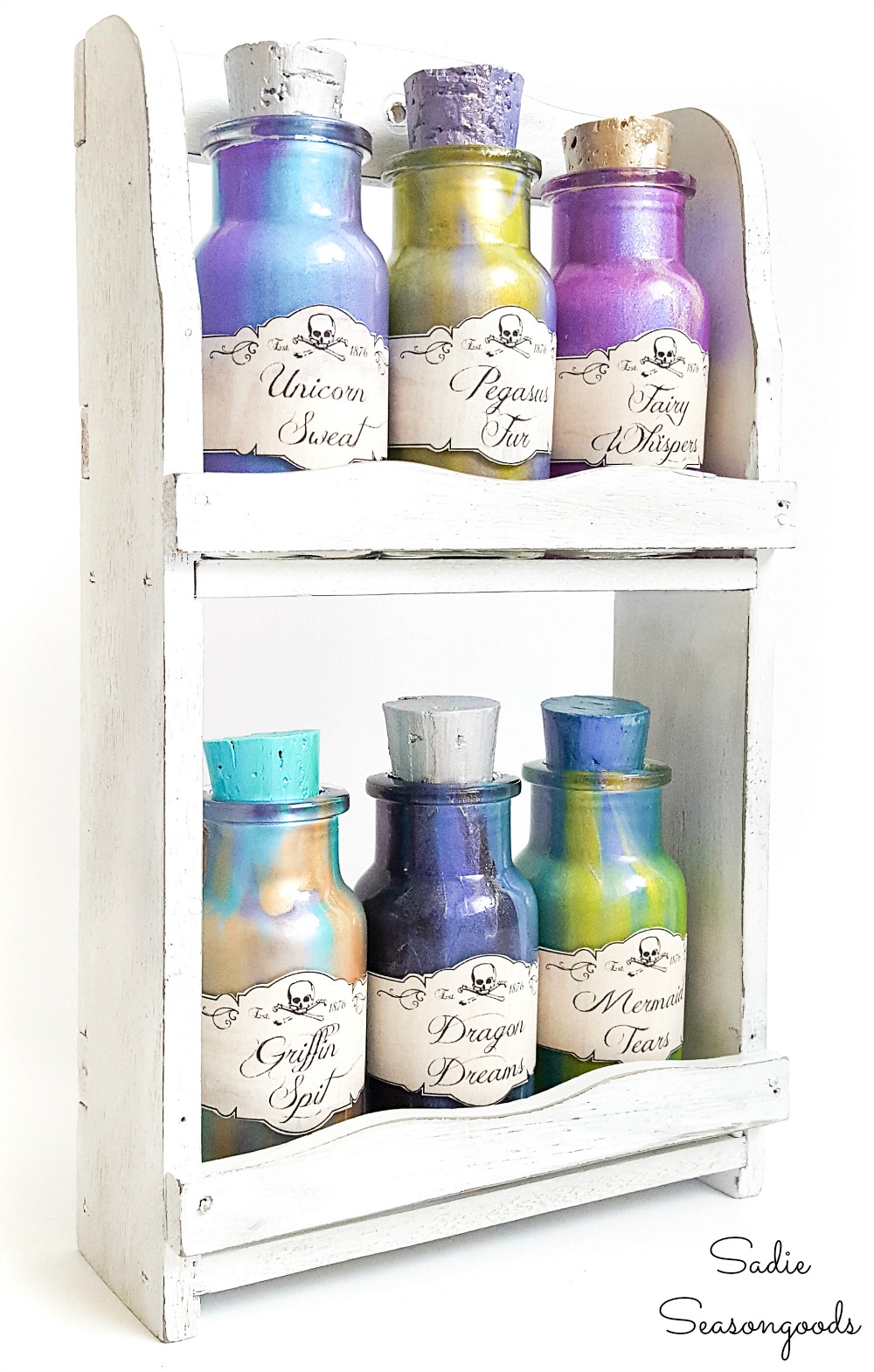 Whether you love Harry Potter, or Merlin, or Gandalf, or some other mythical, magical character, these would fit right in to that fantastical style. You could even use these DIY potion bottles for a Halloween Mad Scientist theme, too.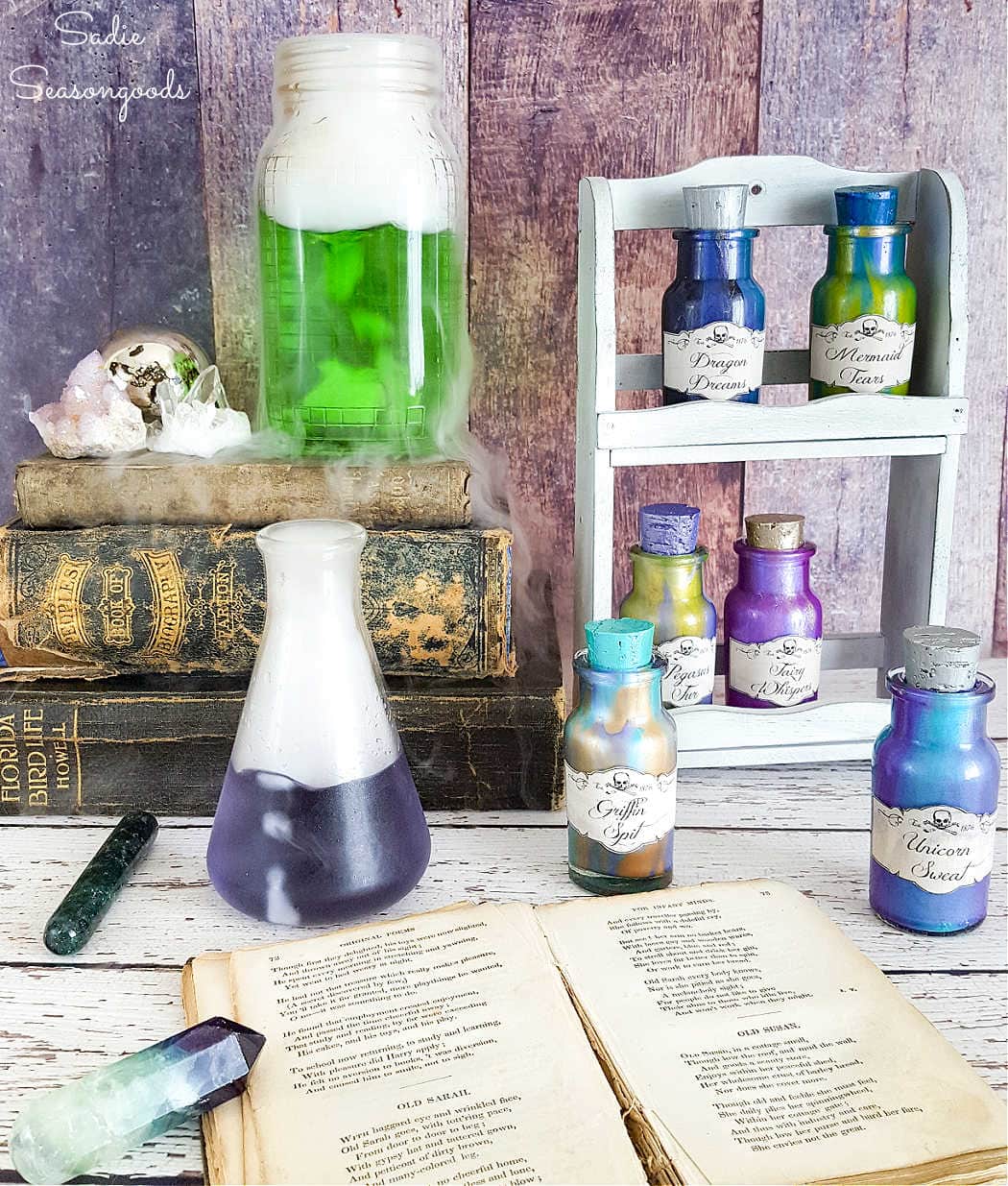 This is one of those projects that is truly fun to make. You simply don't know how your potion bottles will come out, which is part of the fun!
And if you enjoyed this upcycling idea, then you'll love these spooky silhouettes that I made from other thrift store finds!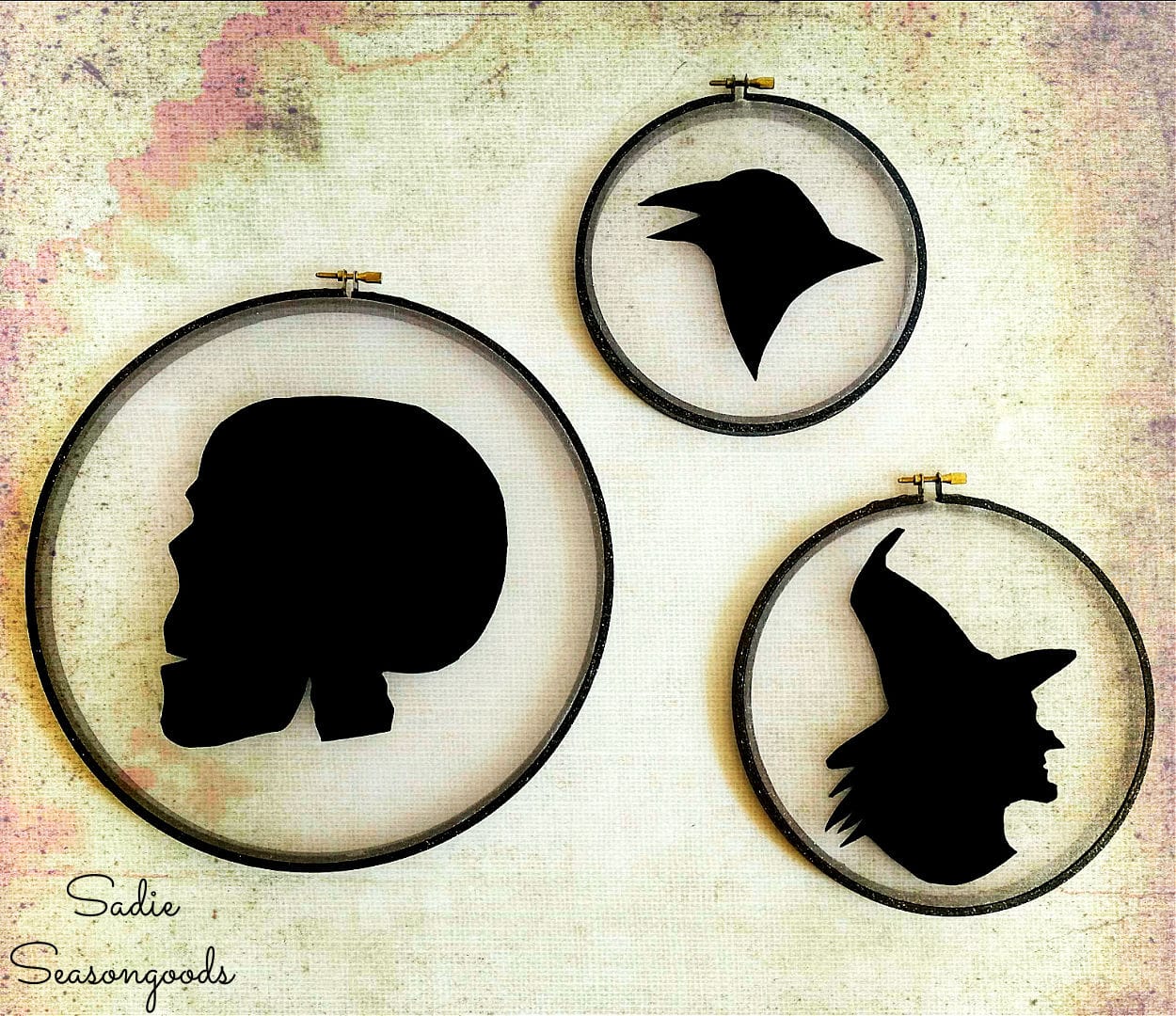 Craft on!
S
Want to be notified when I publish my next upcycling project tutorial?
Subscribe to Blog via Email
Join me on Social Media:



PIN ME!