A Hudson Bay Point Blanket with its iconic stripes was a mainstay in my childhood home. And while I don't have that blanket anymore, I had a burning desire to recreate that same look. Upcycling thrift store pieces seemed like the easiest way to do so. Namely, I wondered if I could paint some plain white dishes with Hudson Bay stripes.

I have a history of adding those iconic stripes on other things, as well…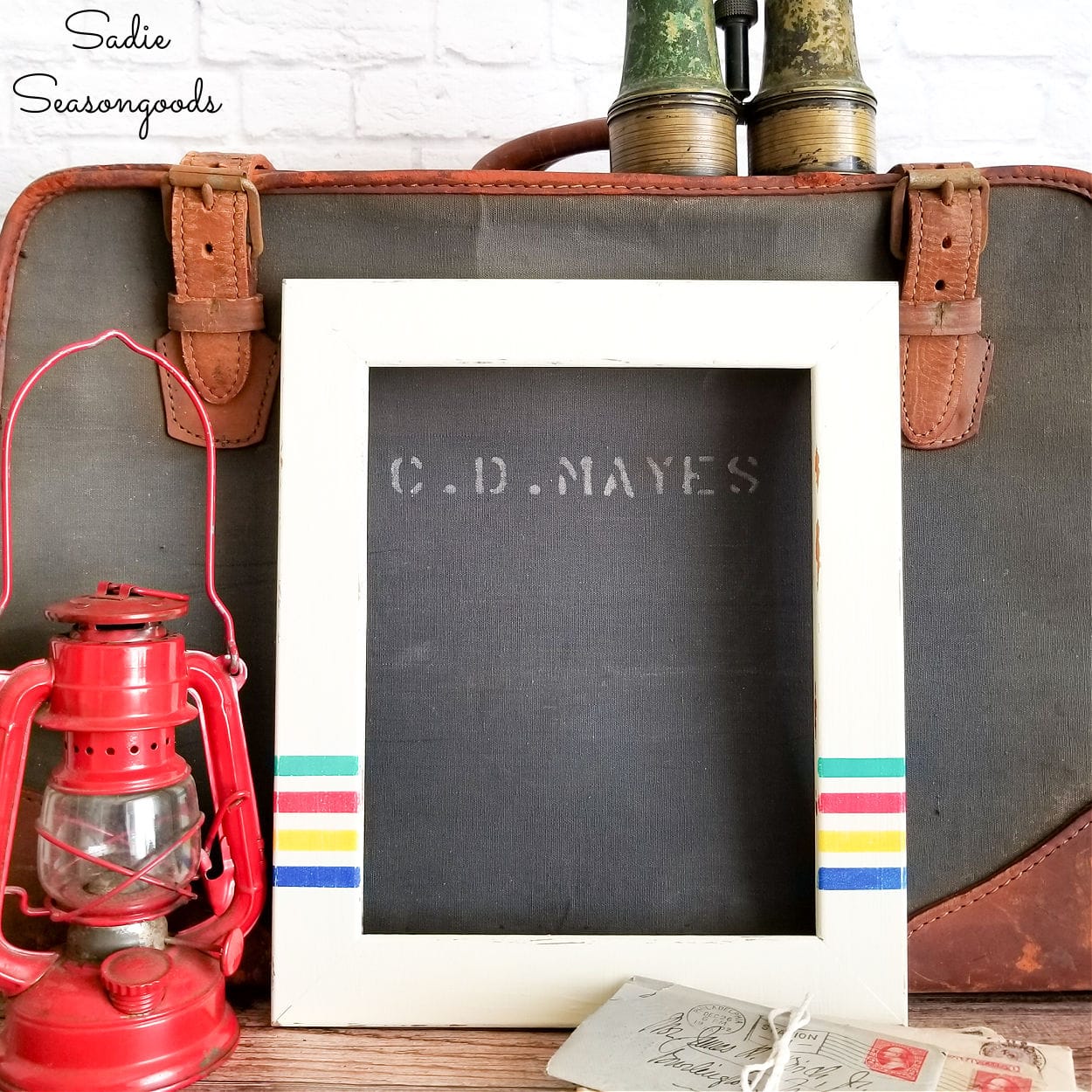 Anyway, I went out thrifting in search of the perfect pieces to transform into DIY cabin decor. First, I found a white ceramic canister that was begging for a makeover.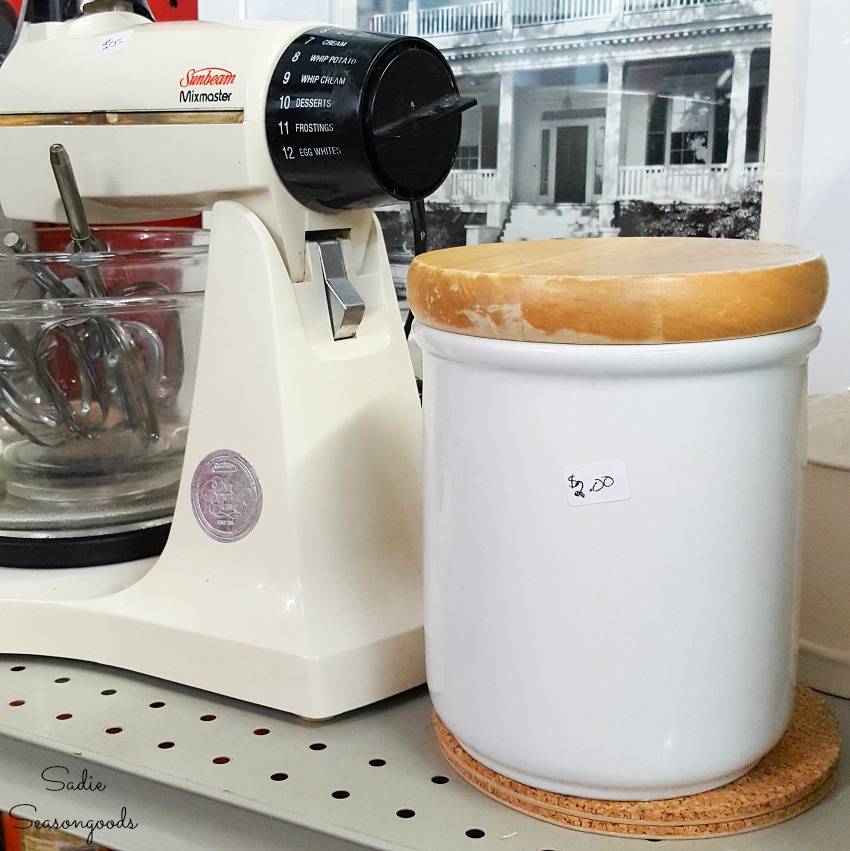 And shortly thereafter, I found a beer mug and chipped bowl to try out my upcycling idea on.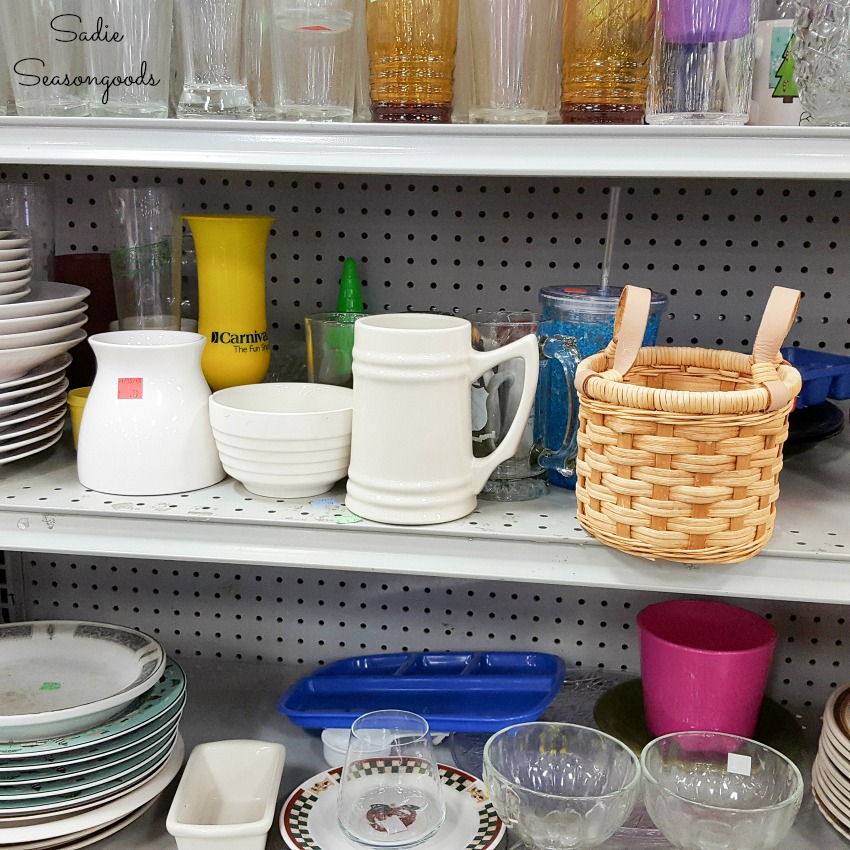 My plan was to paint them with colorful stripes evocative of a Hudson Bay Point Blanket! I had never painted on ceramics before, so I was excited to give it a try.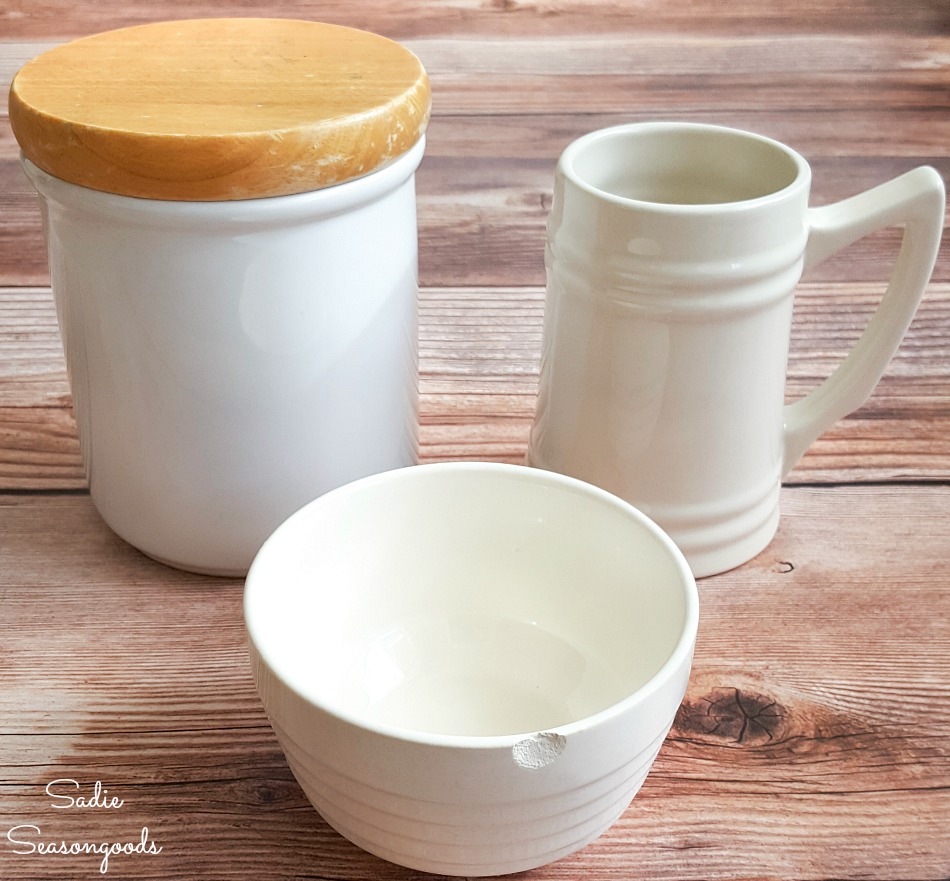 This post contains affiliate links for your crafting convenience. As an Amazon Affiliate, I earn from qualifying purchases. All blue, bold, and underlined text is a clickable link, either to a product or to a related post.
Recreating the Hudson Bay Stripes
To get inspired, I dragged out my beloved market bag that Hawks and Doves created with a damaged Hudson Bay blanket.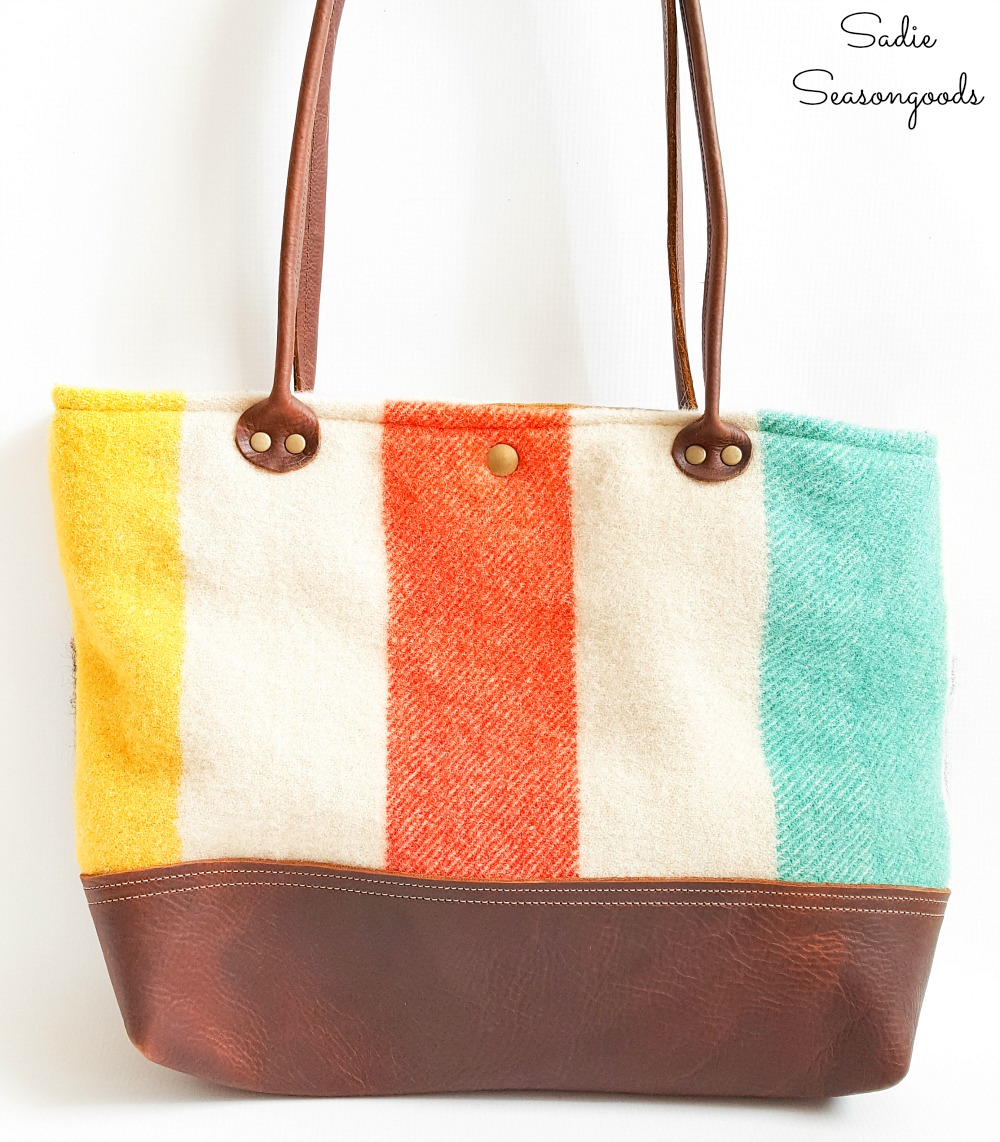 First, I color matched craft paint using my tote bag as a guide in red, yellow, green, and a deep blue.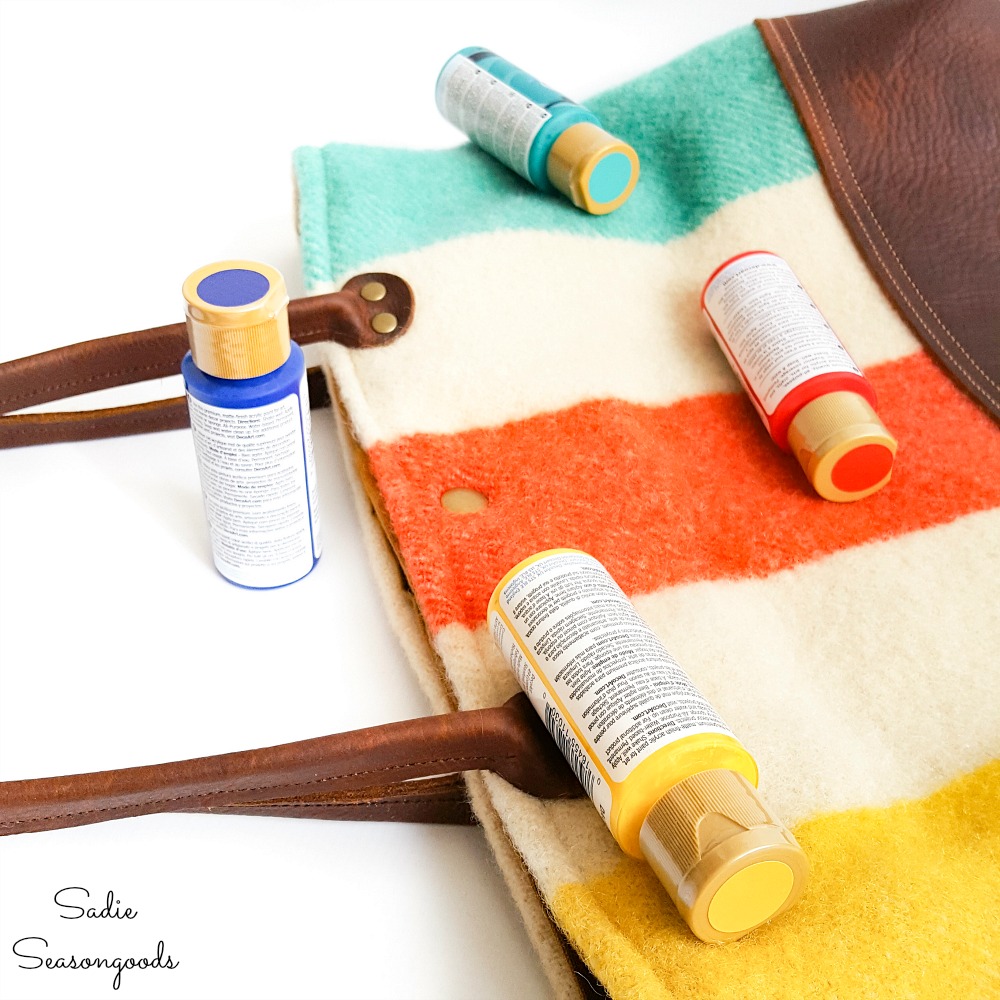 I've gotten some flack from people who disapproved of color-matching from my market bag because the colors are faded / vintage. But that's just the way the cookie crumbles!
Next, I used my rotary cutter set to create thin strips of painter's tape, which I wrapped around the ceramics. These would act as stencils for painting on the Hudson Bay stripes.
I pressed the tape down as much as possible to keep the paint from bleeding under.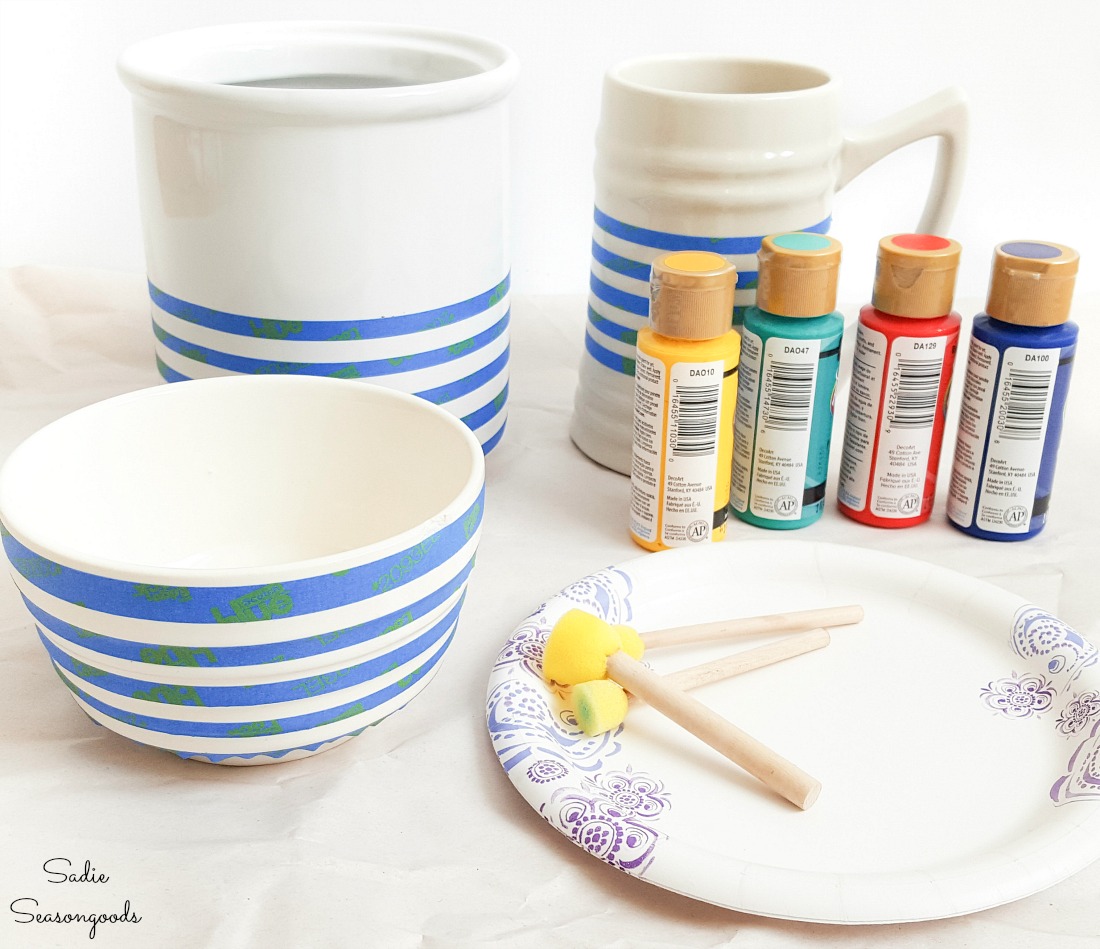 When I was satisfied with the tape placement, I carefully stippled paint in between strips of tape, creating the quintessential Hudson Bay stripes of a Point Blanket!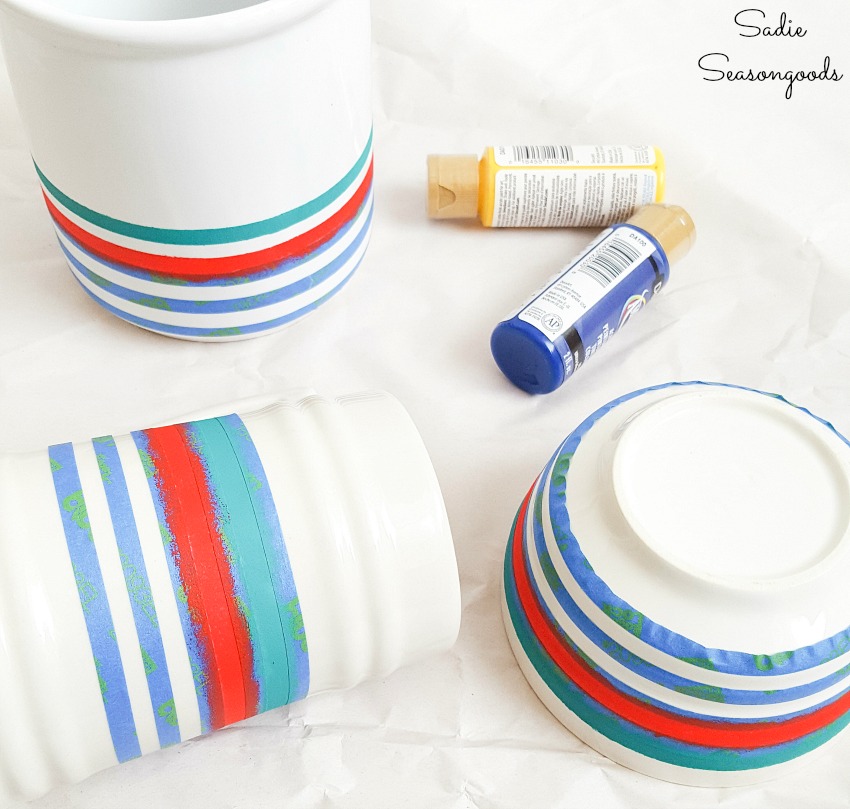 After the stripes dried, I gingerly removed the tape.
Even though I have no intention of ever running one of Hudson Bay dishes through the dishwasher, I decided to "cure" the paint job in the oven.
I set all three pieces in an oven-safe dish inside a cold oven. I pre-heated the oven to 300°F, and when the oven reached temperature, I set the timer for 30 minutes.
After 30 minutes, I turned the oven off and left everything inside to cool down naturally. Once everything was room temperature again, I removed everything from the oven.
For further insurance, I gave each dish a light spray of clear sealant.
DIY Cabin Decor with Hudson Bay Stripes on Plain White Dishes
And that was it! My dishes sported perfect Hudson Bay stripes now and I couldn't be more pleased!
Aren't they fantastic? I just adore how they turned out, even though the paint job isn't 100% perfect.
I can fill them with pine cones or branches…or just leave them empty. And for the canister, I sanded down the top and conditioned it to give it a clean, fresh surface (the original shellac had started to chip away).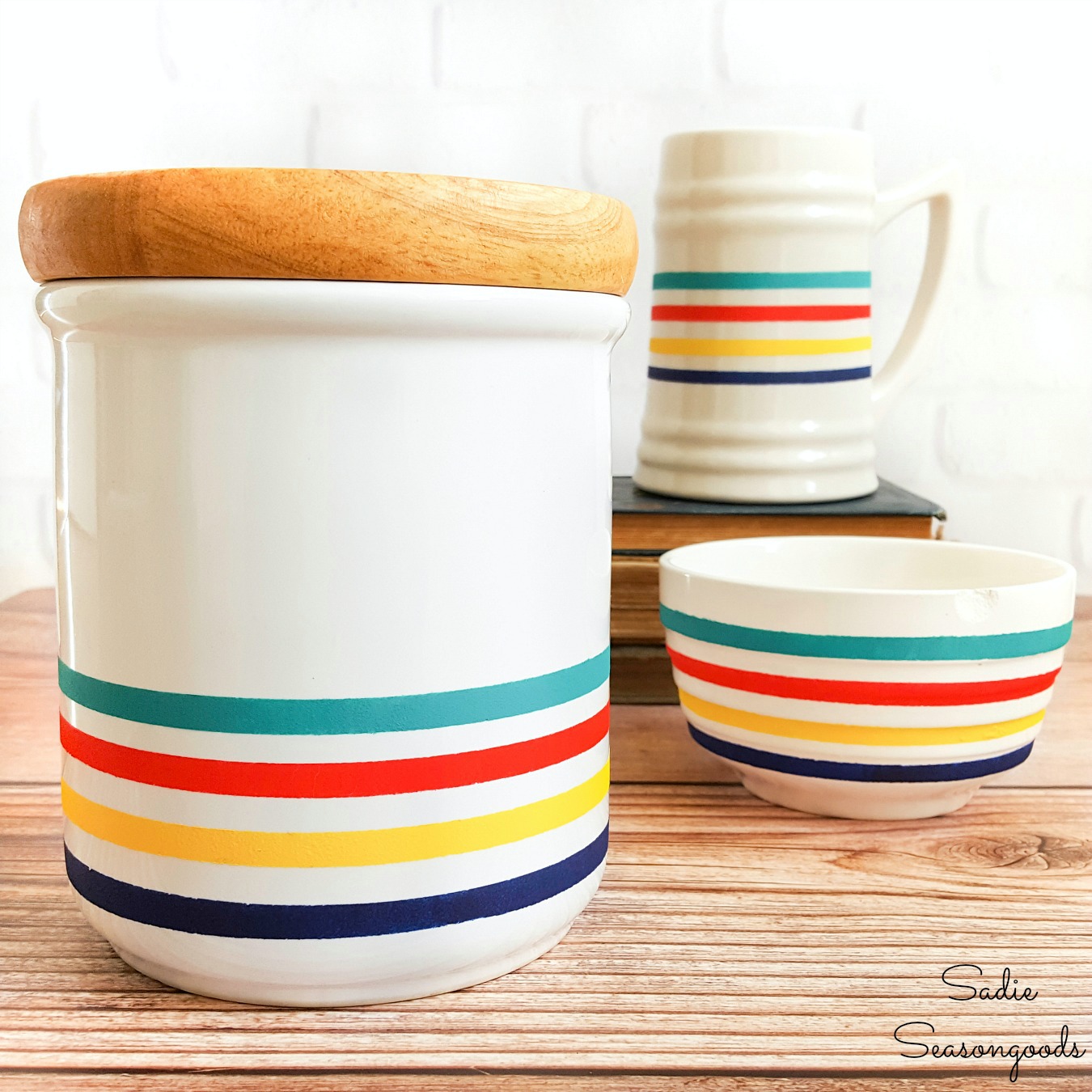 These are a nice change of pace from my go-to flannels and plaids for DIY cabin decor. And such a fun way to jazz up plain housewares from the thrift store.
If you are familiar with Hudson Bay stripes, be honest: what do YOU think about the colors I used?
I think these DIY cabin decor dishes could be used throughout the year. They're such a fun way to add a little lodge decor or log cabin decor to your home without spending a fortune.
If you enjoyed this upcycling idea for DIY cabin decor, then you may also be interested in these decorative books I made with thrift store shirts, too!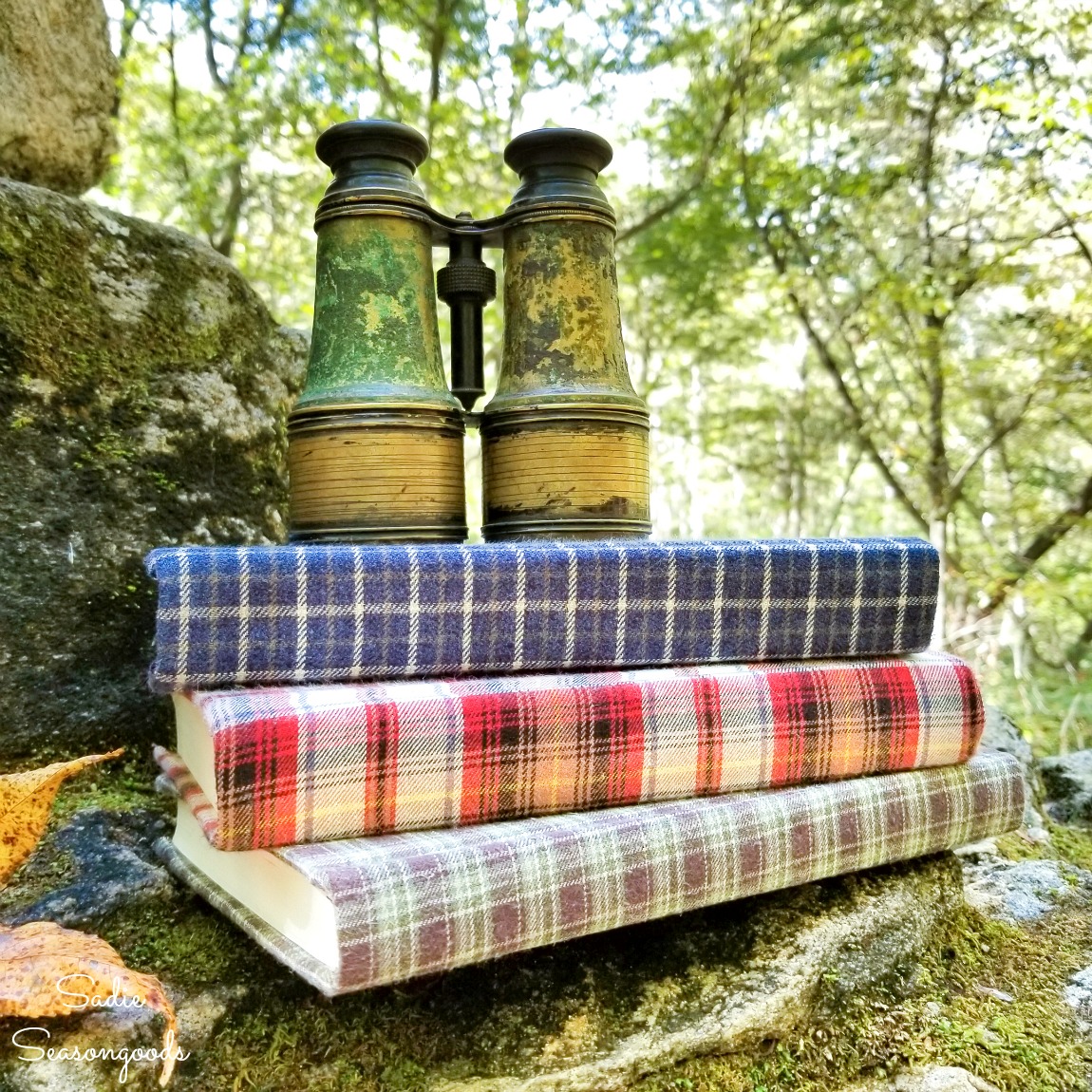 Craft on!
S
Want to be notified when I publish my next upcycling project tutorial?
Subscribe to Blog via Email
Join me on Social Media:



PIN ME!