As many of you know, my in-laws have a gorgeous cabin in the North Georgia mountains. Their cabin Christmas tree is always decked out in cabin style, with ornaments that celebrate fly fishing. And I always thought that an ornament that looked like a mini version of a Hudson Bay wool blanket would fit right in.
After all, I've already established how much I love the look of Hudson Bay blankets with previous projects!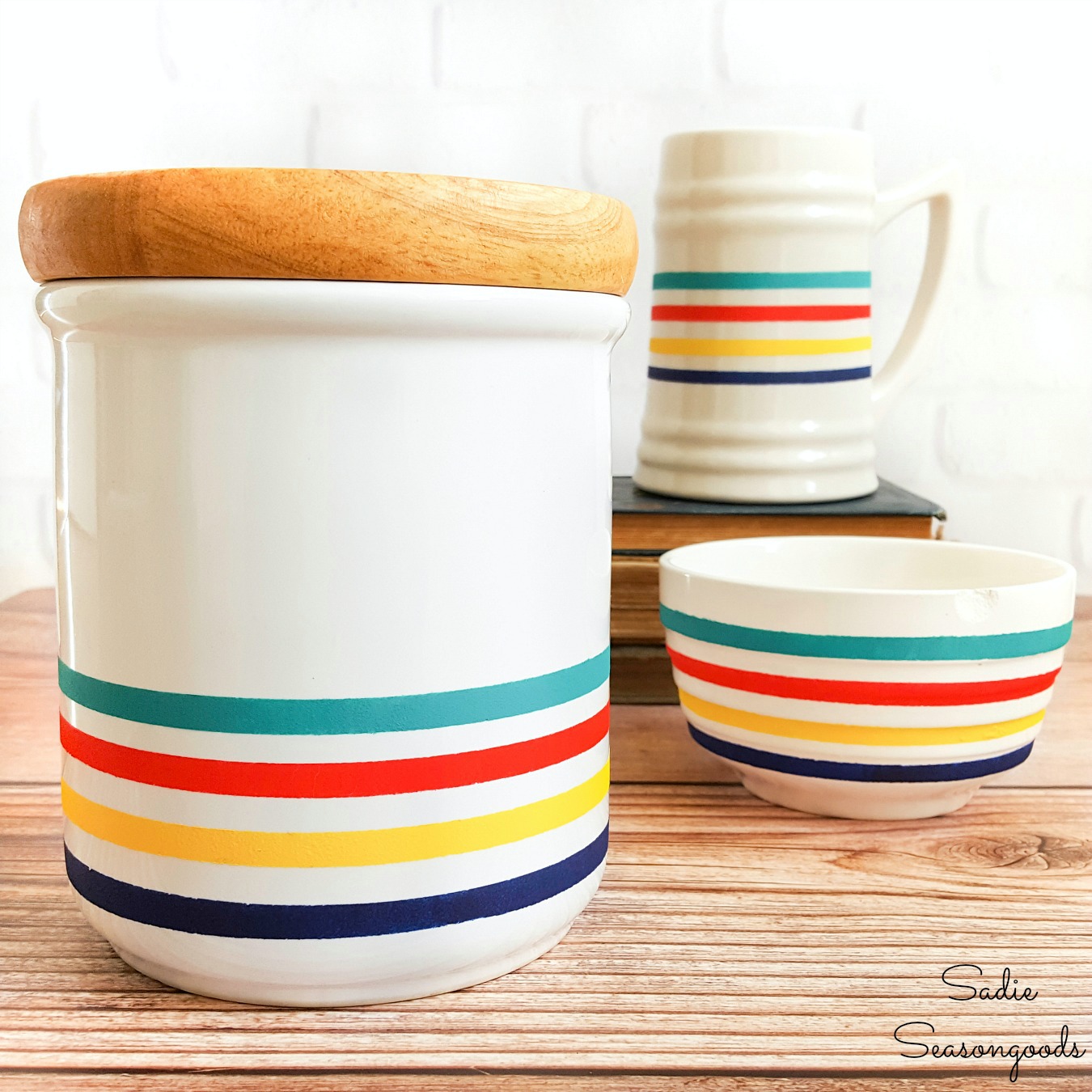 See what I mean, though? Mini creel ornaments that are actual baskets.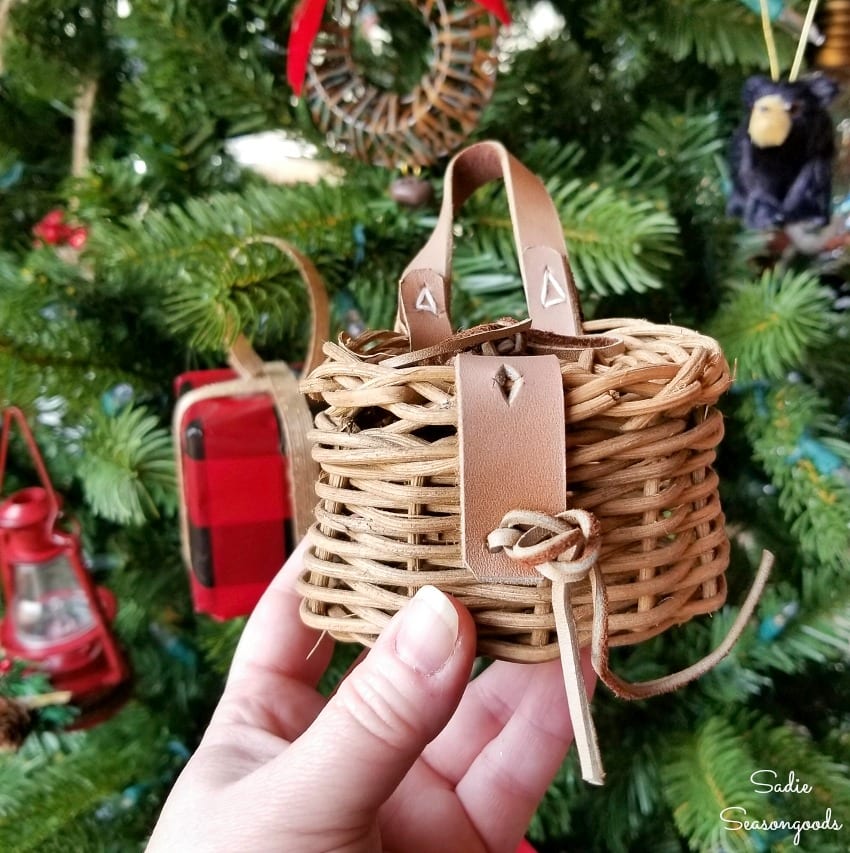 And little fly fishing vests with real zippers and pockets!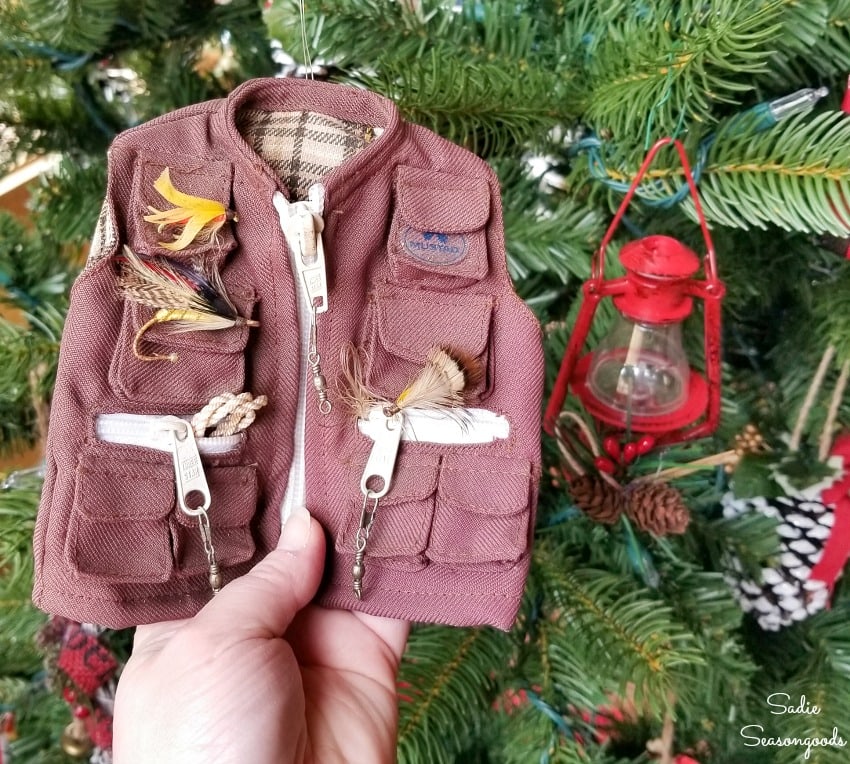 Anyway, I decided to do something I NEVER do- a "new" craft, without any upcycling. To make a Hudson Bay wool blanket out of felt to use as Christmas ornaments.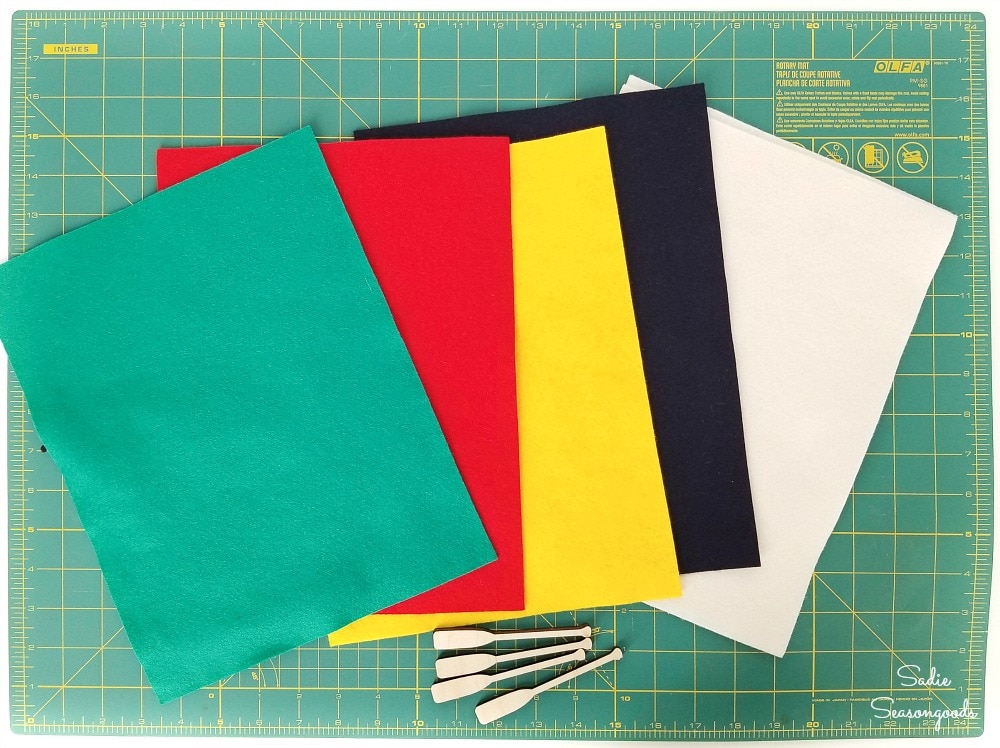 This post contains affiliate links for your crafting convenience. As an Amazon Affiliate, I earn from qualifying purchases. All blue, bold, and underlined text is a clickable link, either to a product or to a related post.
DIY Felt Ornaments for the Cabin Christmas Tree
To stay true to a real HBC blanket, I wanted to use wool (or wool blend) felt. And I also wanted to "Shop Small" from an Etsy shop.
So, I purchased the following felt sheets:
First, I created a blanket template with scrap paper that measured roughly 3" x 5". Then, I used my pattern to cut out the blanket from the Fresh Linen felt.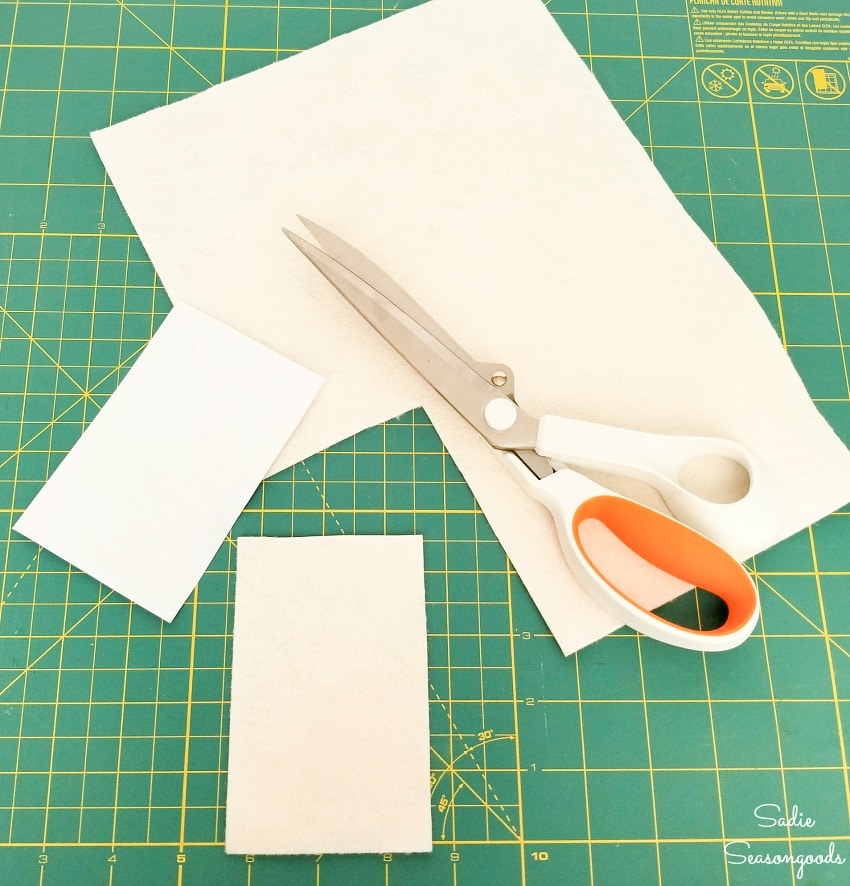 I used my super sharp multimedia shears to cut it out, but would have preferred my rotary cutter. However, the rotary cutter seems to be a casualty of our move this summer, as I can't find it anywhere!
I've asked Santa for a new rotary cutter, but the scissors worked just fine.
Anyway!
Next, I cut out long rectangles from each Hudson Bay stripe color that were ½" wide and about 3½" long. Then, I halved each one, creating a pair of skinny "stripes".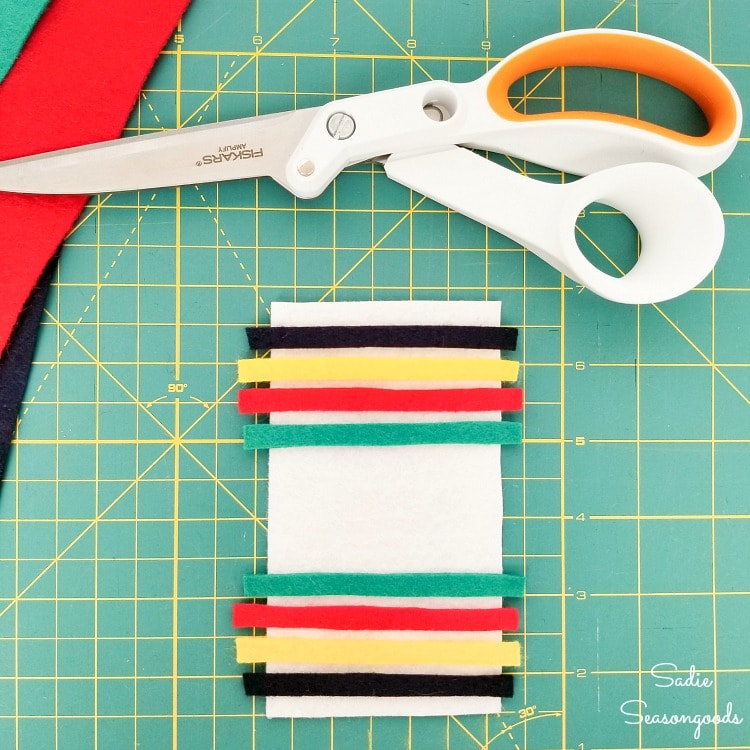 Then, I used fabric glue to attach each stripe in place!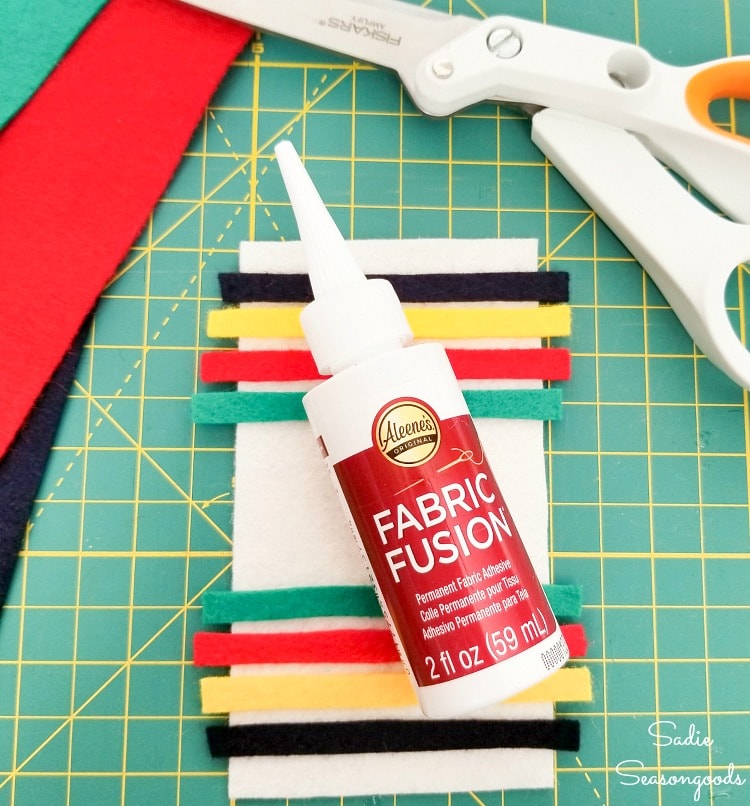 My mini version of a Hudson Bay wool blanket was really coming together nicely!
Ornament Version of a Hudson Bay Wool Blanket
Once the glue dried thoroughly, I snipped off the excess stripe felt right along the edge of the "blanket".
And even though it's NOT true to form of a real Hudson Bay point blanket, I created teeny tiny fringe at each end.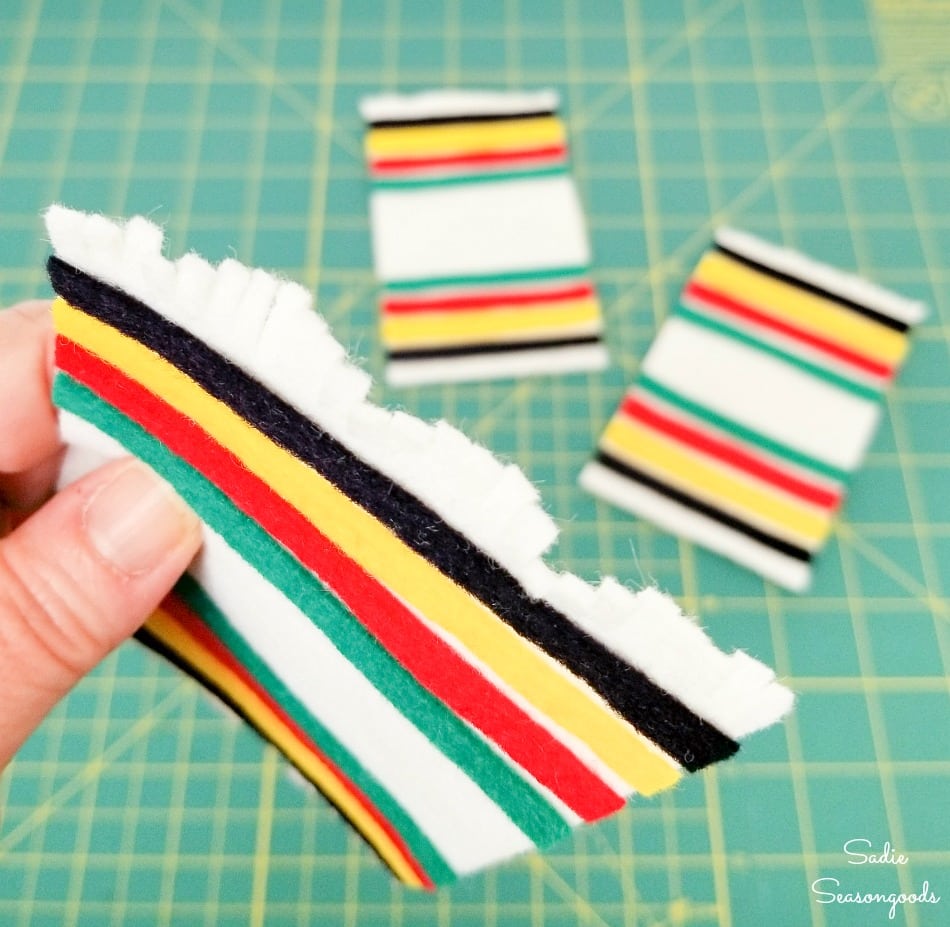 I thought the fringe would add just a little texture and dimension to my mini HBC blankets.
With that, my wool blanket ornaments were done!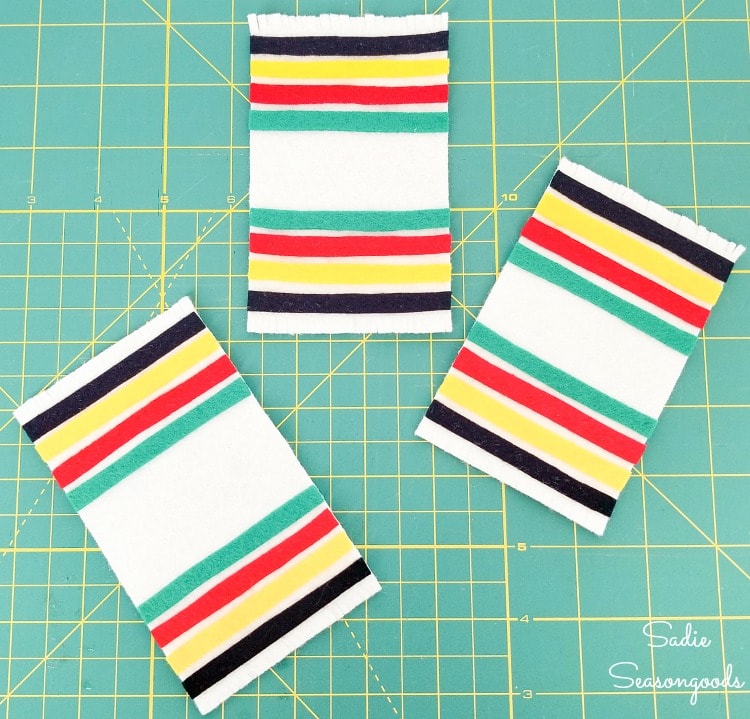 I swear to you, that's a dark blue stripe, not black. It just looks black in the photos.
Now, to mix things up and support a second small craft business, I also bought some mini wooden oars from this Etsy shop. I used wood stain on 4" paddles to pair up with my mini HBC blankets.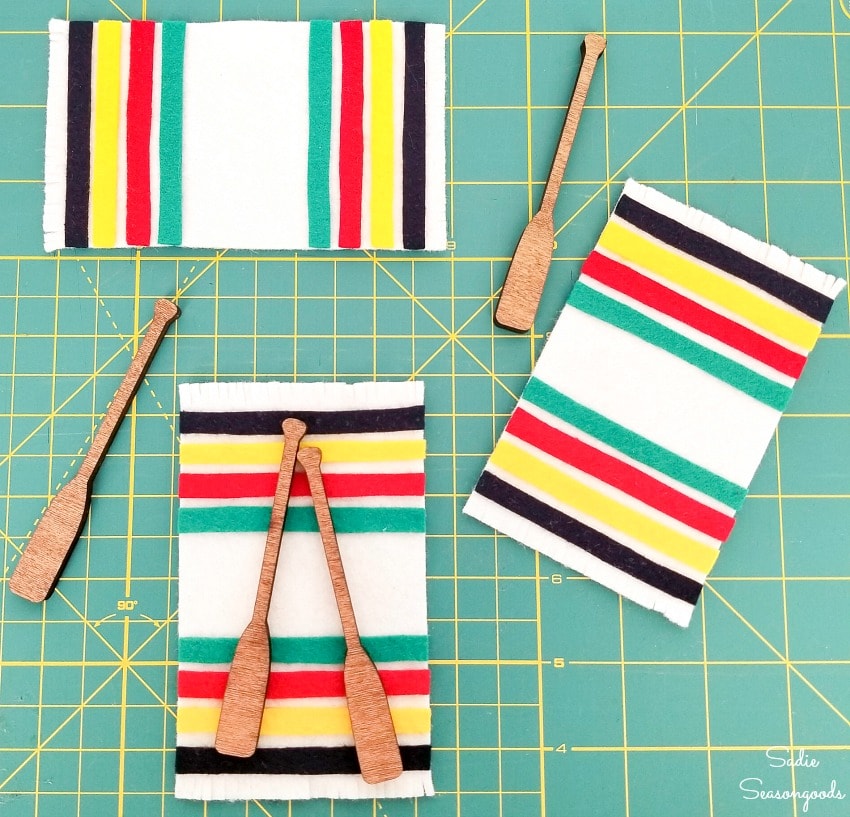 Just for kicks, I glued a pair of paddles to one of my Hudson Bay wool blankets. The remaining paddles would become stand-alone ornaments, as you'll see in a moment.
Finally, I threaded a long loop of off-white craft thread through the top of each blanket ornament, knotting on the backside.
Making a Hudson Bay Wool Blanket Out of Felt
With that, my mini Hudson Bay blanket ornaments were all done. Aren't they the CUTEST??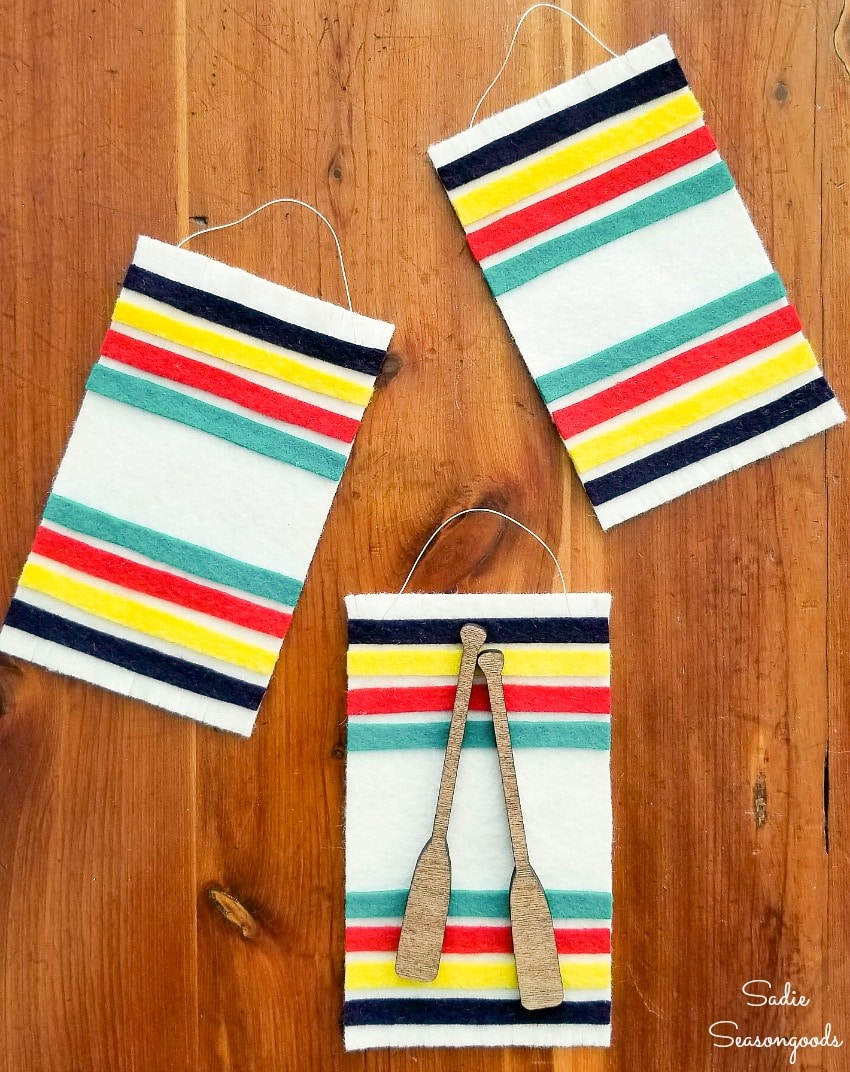 People who don't love cabin stuff or Hudson Bay wool blankets might not "get" these ornaments. But those of us that DO love them?
Swoon. Sigh. Can't handle this level of cuteness.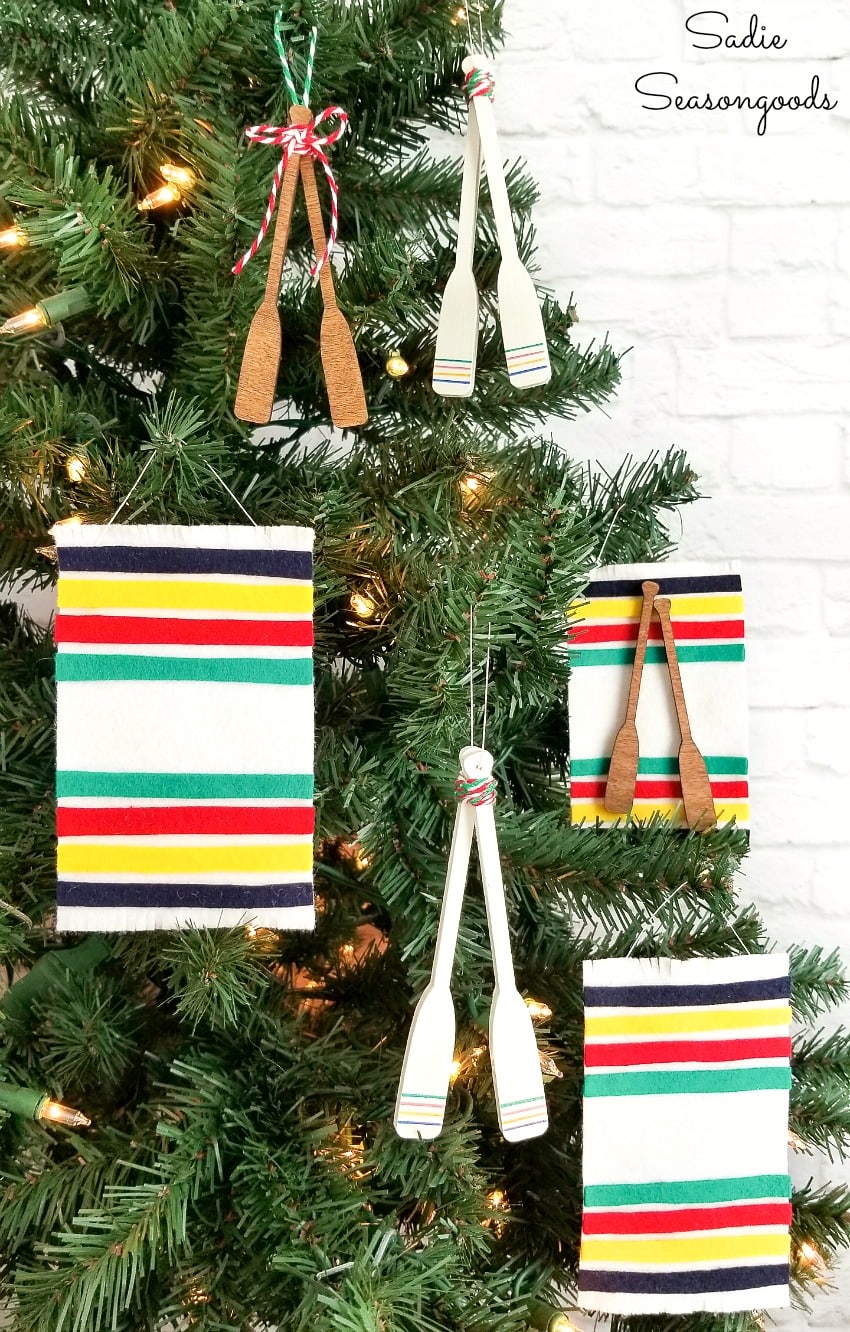 These almost make me want to get a dollhouse again, too. So that I can make a felt version of a Hudson Bay blanket for every room!
But for now I just need to get them on the cabin Christmas tree! Maybe next year…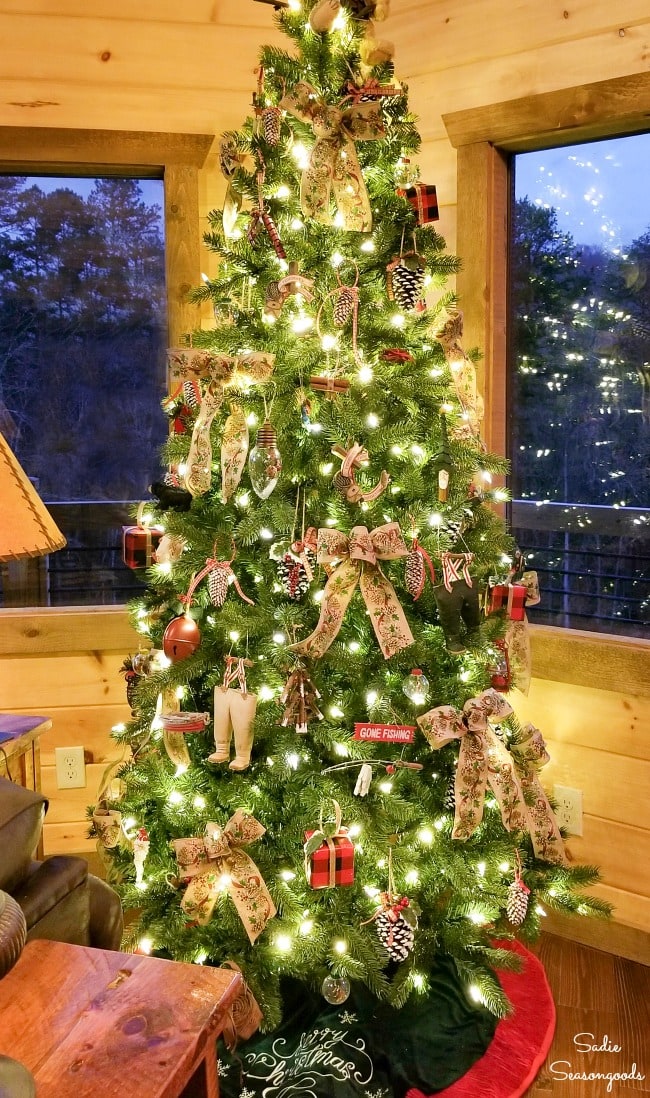 If you enjoyed these DIY felt ornaments that looked like a Hudson Bay Point Blanket, then you may also enjoy this plaid holiday wreath from flannel shirts!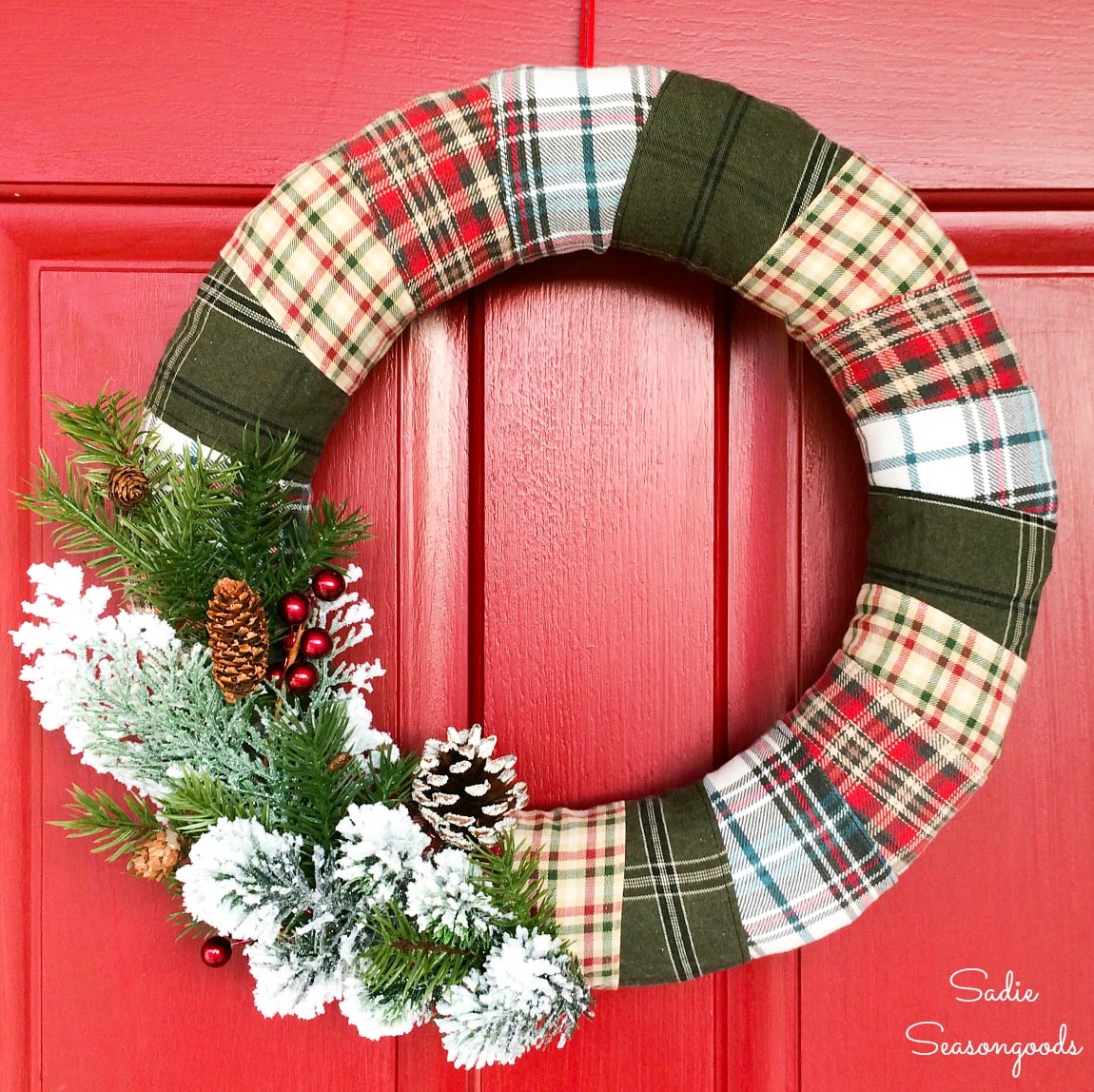 And, I'm also excited to announce that my first book is now available! If you enjoy working with flannel fabric on craft projects, then you will love my book on flannel crafts!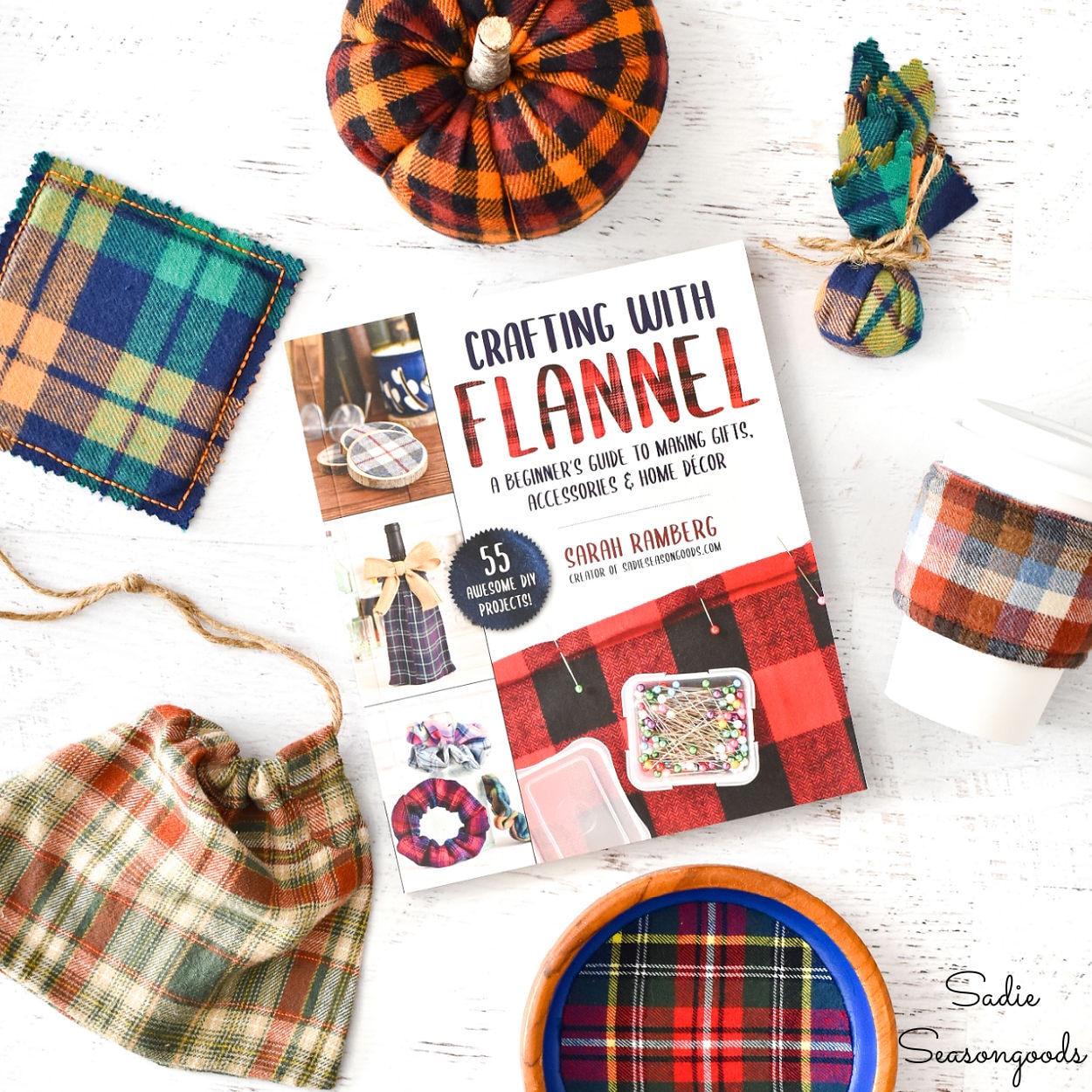 Craft on!
S
Want to be notified when I publish my next upcycling project tutorial?
Subscribe to Blog via Email
Join me on Social Media:

PIN ME!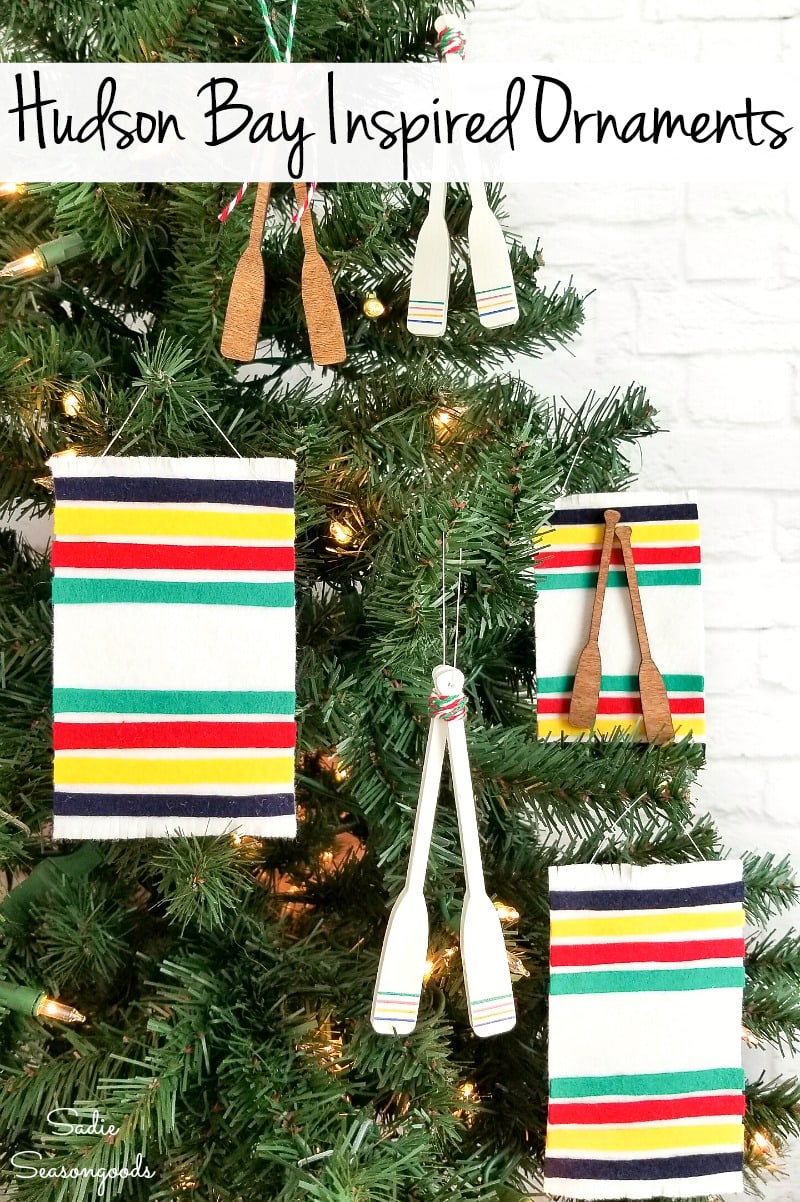 Sarah Ramberg is the owner of Sadie Seasongoods, a website that celebrates all things secondhand. From upcycling ideas and thrifted decor to vintage-centric travel itineraries, Sadie Seasongoods is a one-stop shop for anyone who loves thrifting and approachable repurposing ideas. Sarah is also the author of "Crafting with Flannel" and has been featured in numerous media outlets and magazines.